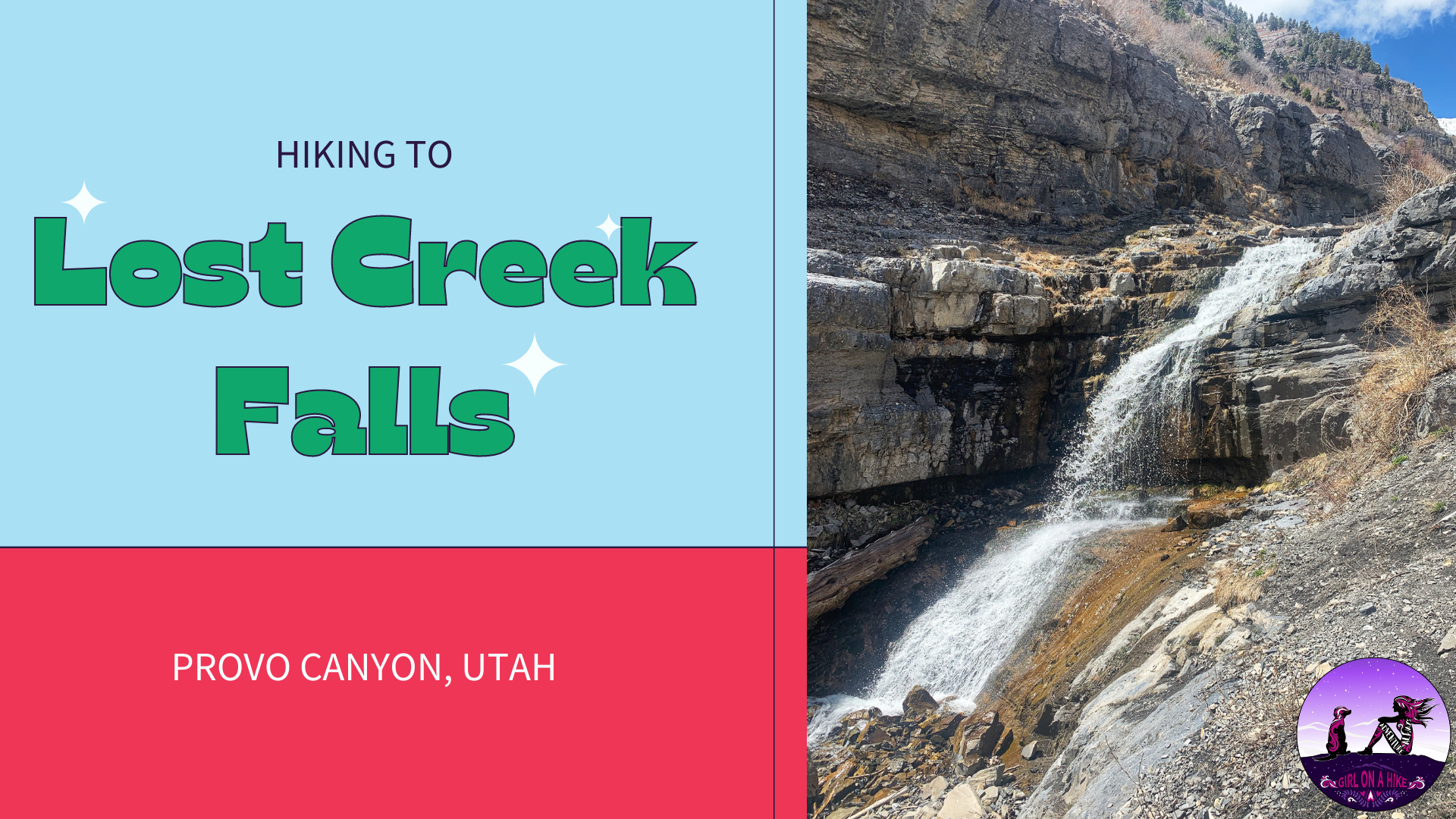 Hiking to Lost Creek Falls, Provo Canyon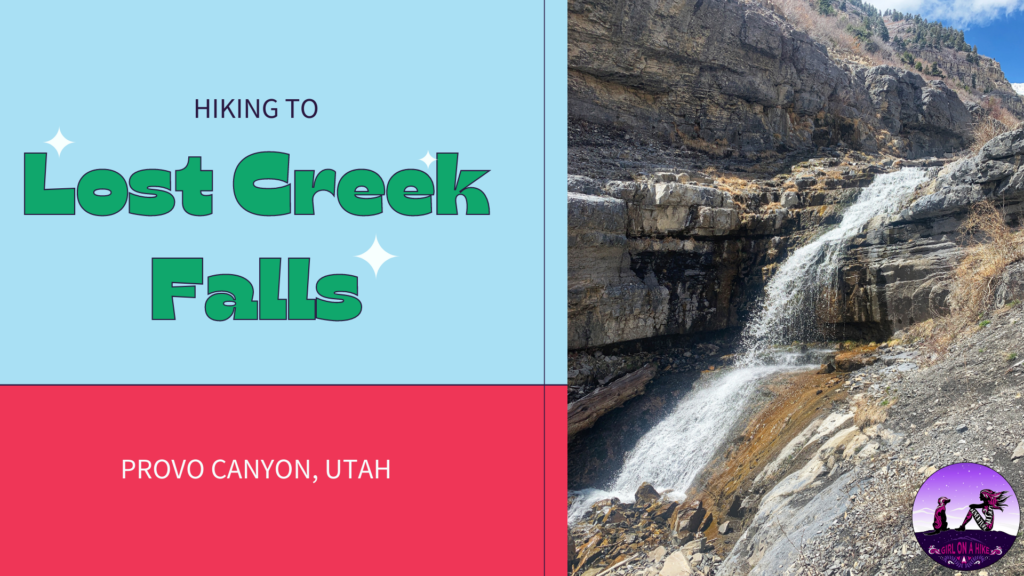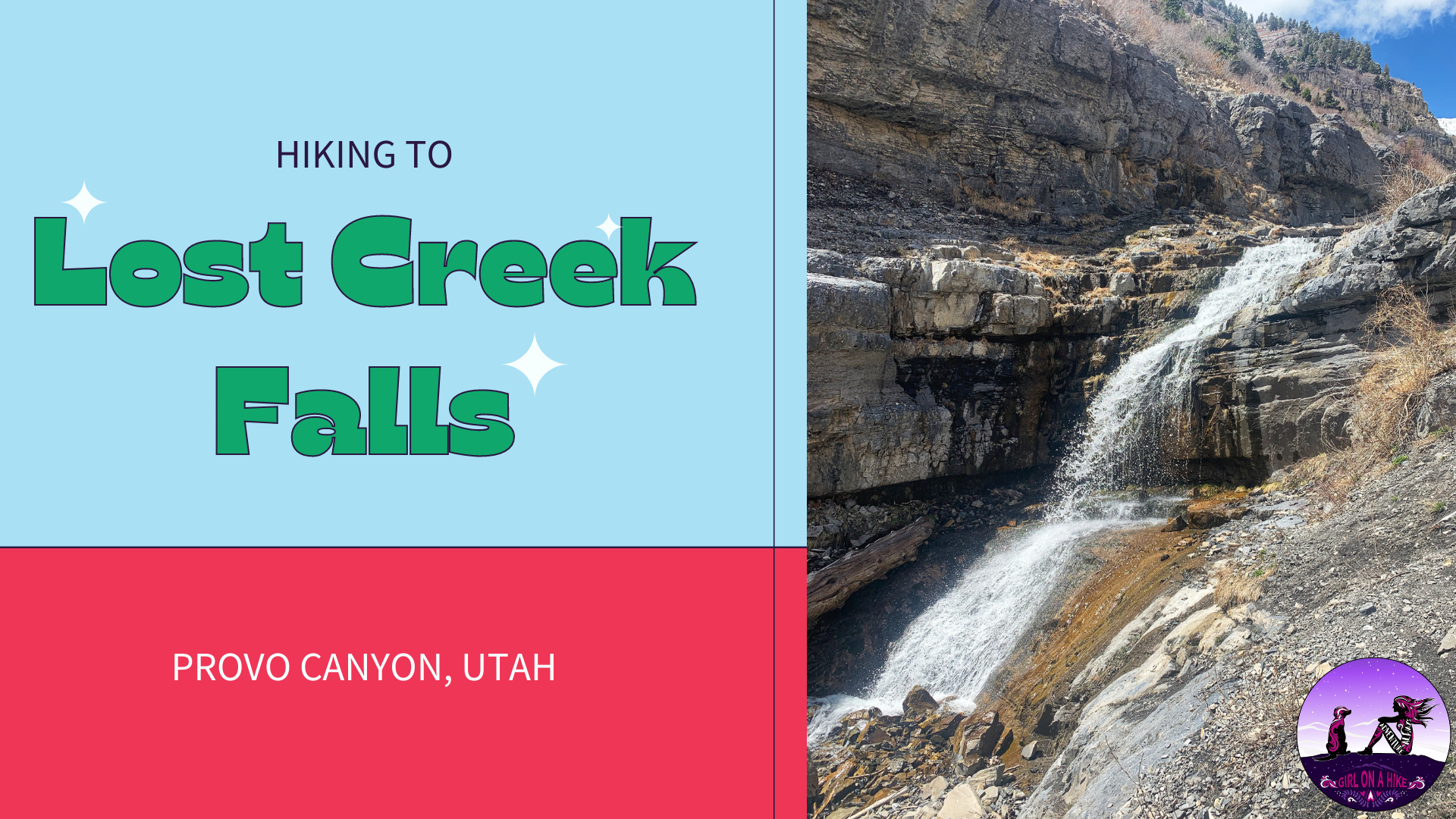 Lost Creek Falls is located in Provo Canyon, Utah, and is a perfect Spring hike to check out this fun waterfall. It's great for dogs off leash to explore and cool off in the creek, plus great for kids of all ages. The "trail" starts out by following an old, narrow dirt road, and eventually you are left to hike steeply along Lost Creek.
The trail is very rocky, so wearing your normal hiking shoes is best rather than water shoes. You can stay dry on this hike even though you are hiking along water half of the time. The best time of year to do this hike is late Spring, when there are no avalanche considerations and the creek is flowing well. Winter would be extremely dangerous due to continual avalanches in this gully (not to mention you wouldn't even be able to see it since snow would be covering the falls), and Summer is way too hot. By Fall, most of the creek has been dried up.
Warning – Do NOT hike this in Summer with dogs!
The very first time I attempted this was in the middle of August, when day time temps reached 92F. I thought, "this shouldn't be an issue because there's supposed to be water the entire hike." Boy was I wrong! The water doesn't start for 1/2 mile and there's very little shade. Within 10 minutes of hiking Charlie's paws started to burn and he got overheated. He also buried himself into the the smallest bush he could find, just to have shade. I immediately knew we weren't going to make it even 1/2 mile to reach the water. I know when his paws are too hot because he will sit in the middle of a trail and hold his paws up, one at a time, to keep shifting. So if you still want to do this in summer with the pups, start super early to beat the heat!
Directions
The parking area & "trailhead" is located here. It is located in Provo Canyon, directly across from Bridal Veil Falls, in a small dirt and rocky parking area just in front of a gate.
Trail Info
Distance: 2 miles RT
Elevation gain: 800 ft
Time: 2-3 hours
Dog friendly? Yes, off leash
Kid friendly? Yes, all ages
Fees/Permits? None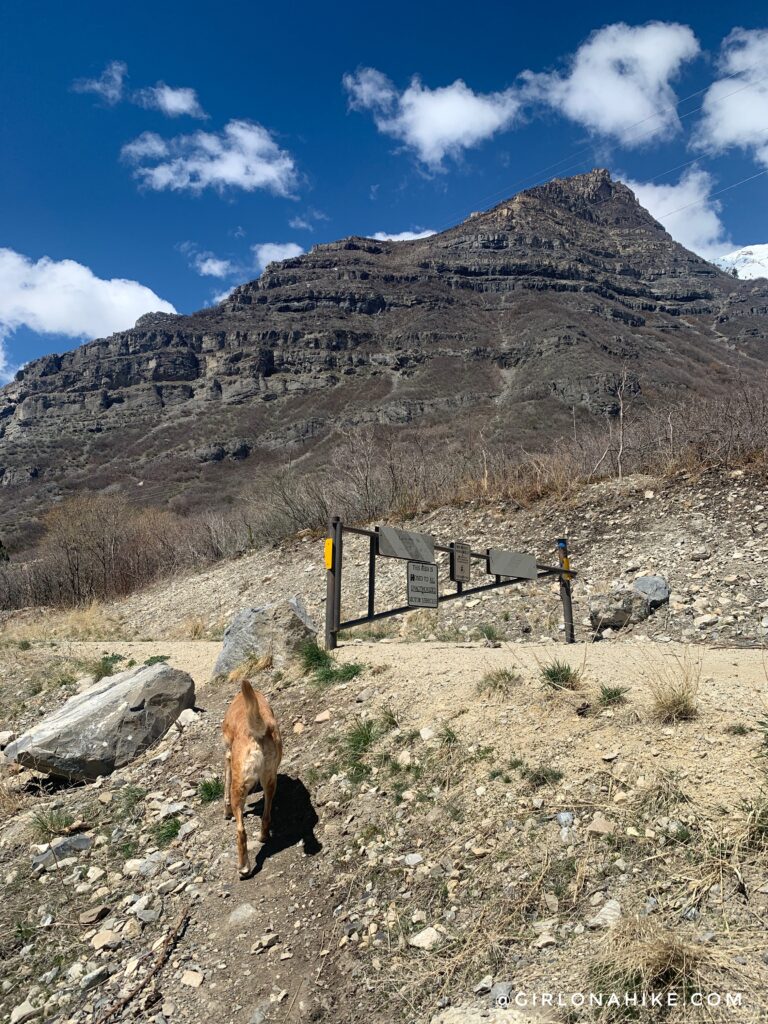 The trail starts at the pullout in Provo Canyon at this gate. Follow the dirt road West for just a few minutes.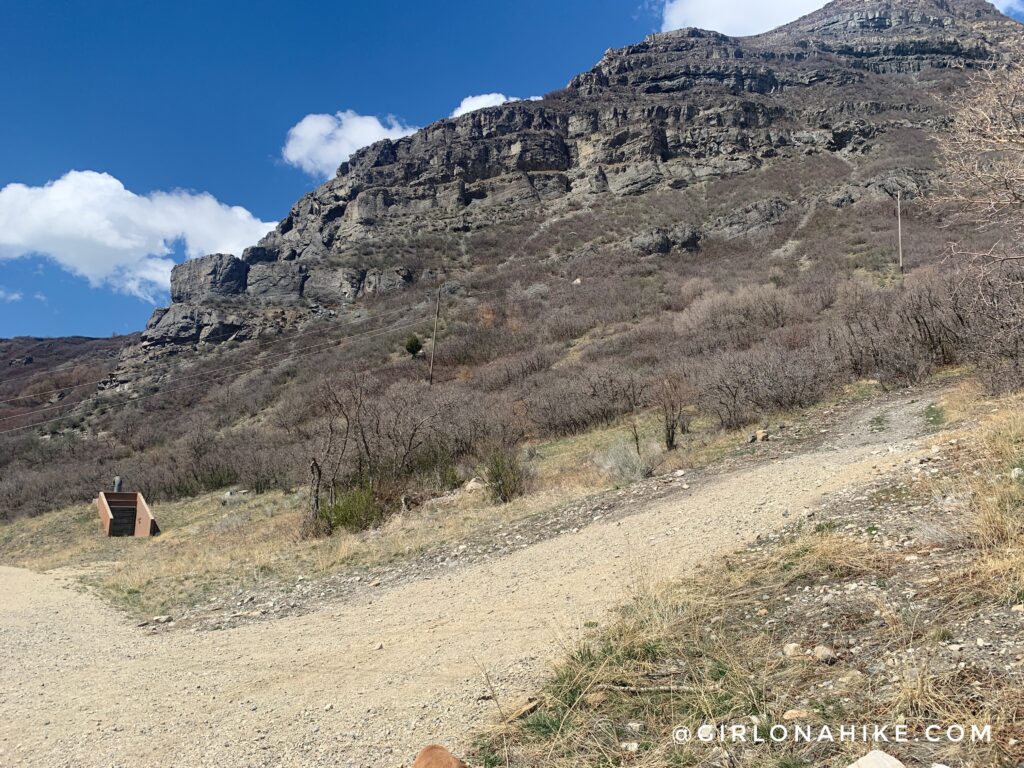 Turn right at the pump house, continuing to follow the dirt road, which now becomes steep.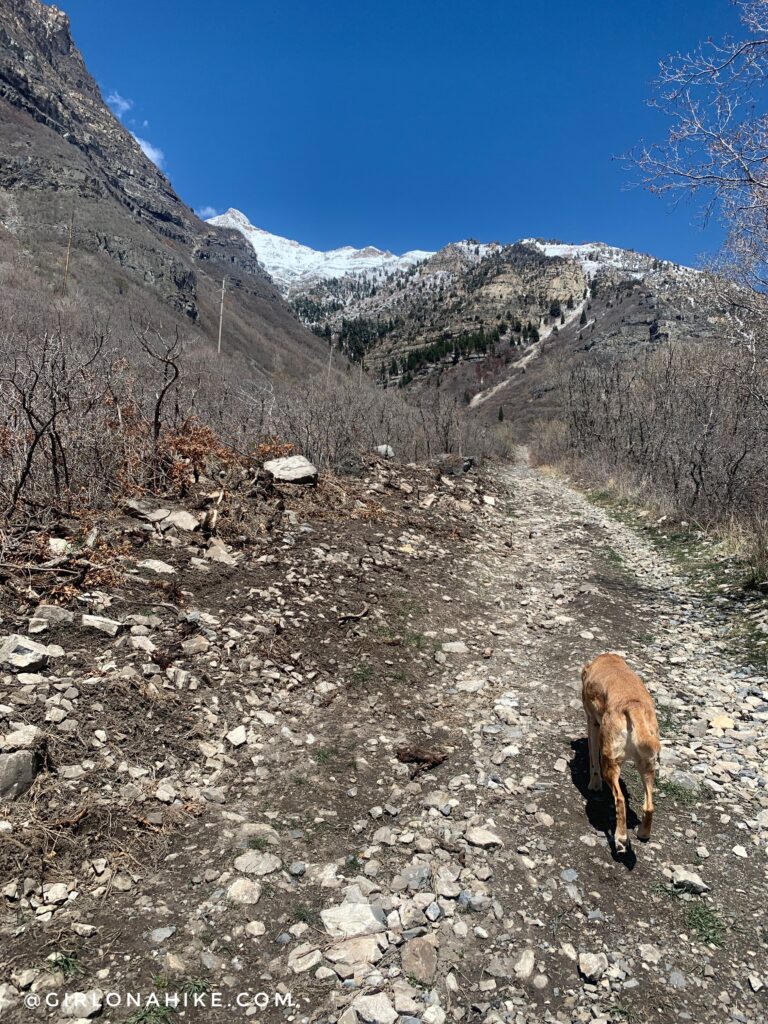 The narrow old road becomes rocky. There is no water and very little shade the first 1/2 mile.
Reach the creek. Don't forget to look back across to Bridal Veil Falls!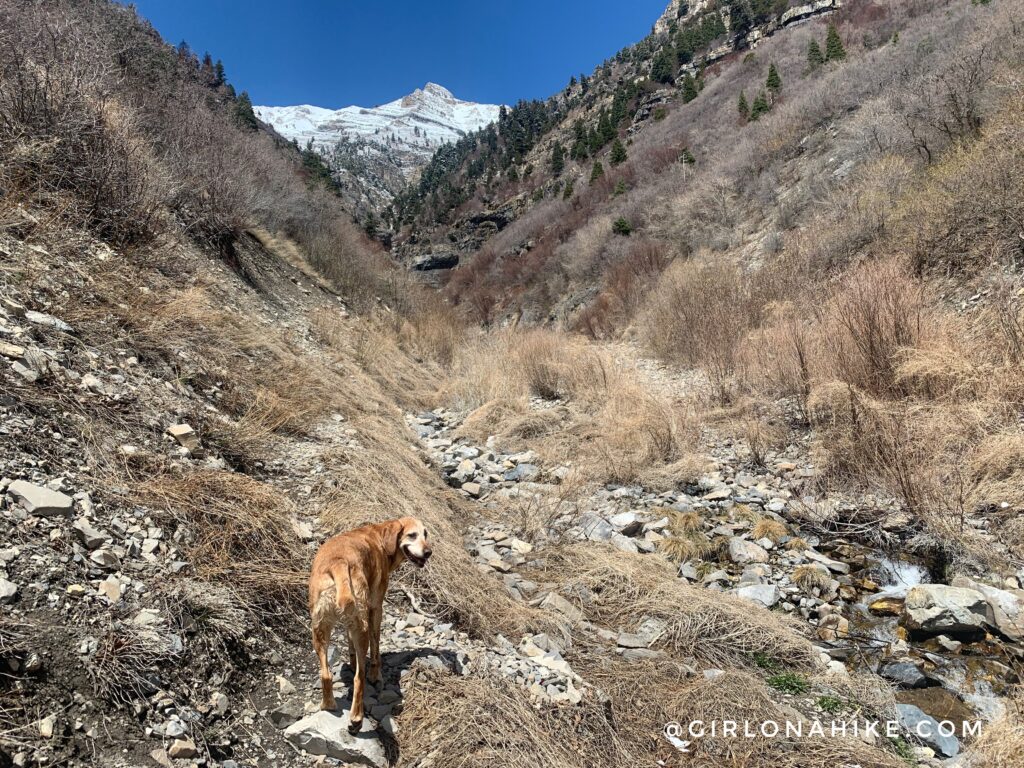 He was so happy to be in cool temps exploring something new. You'll see faint trails on either side of the creek, but you can also just walk right in the creek. It doesn't matter – just keep following the stream up.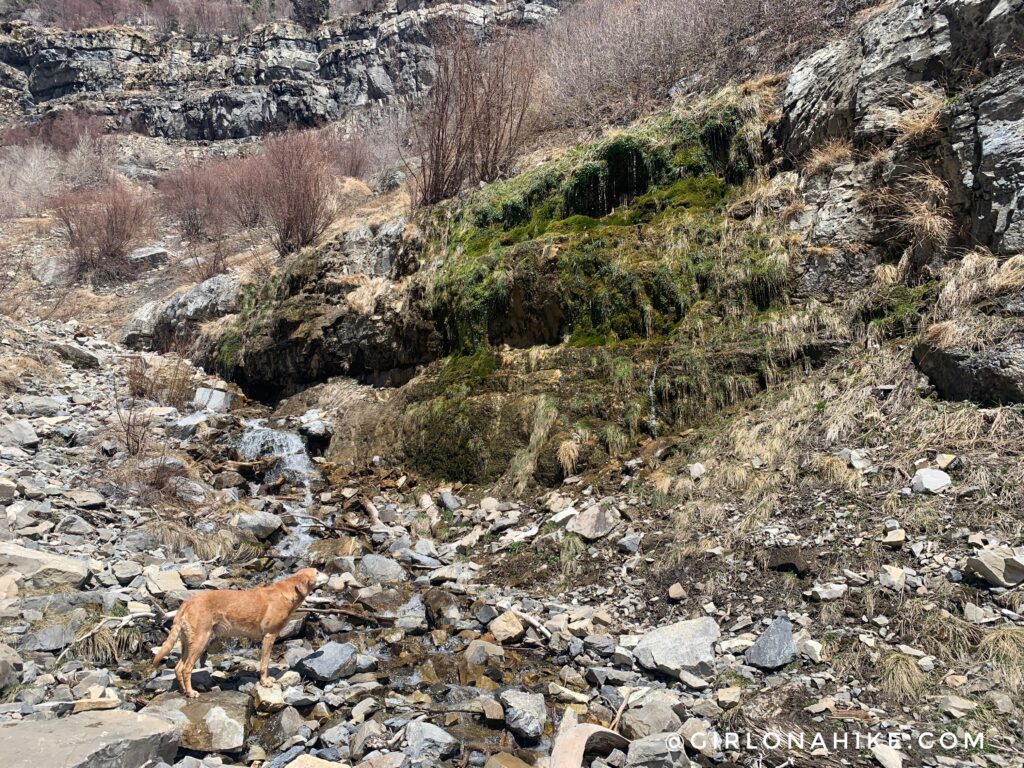 Pass this cool spring, coming out from the rocky wall on the right (East) side of the creek. This may be dry later in the year.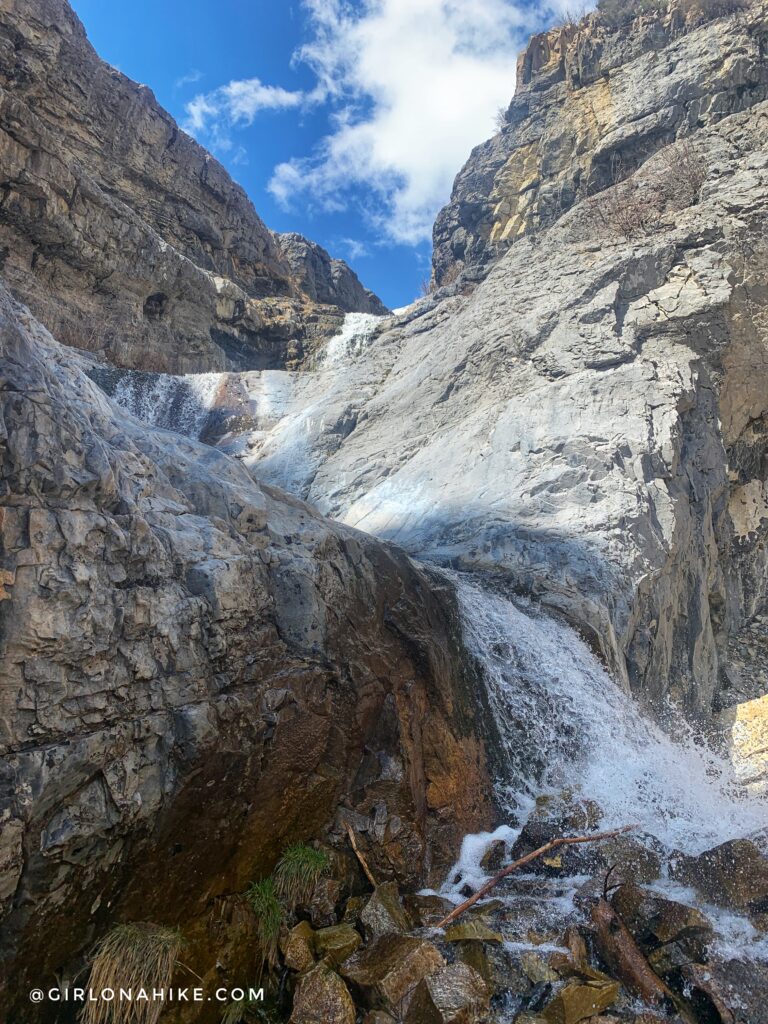 Just around the corner from the spring is Lost Creek Falls! It is kind of hard to get a good view from below, so drop you pack here and climb up to get a better view. If you bring kids, I wouldn't climb up higher than this spot with them.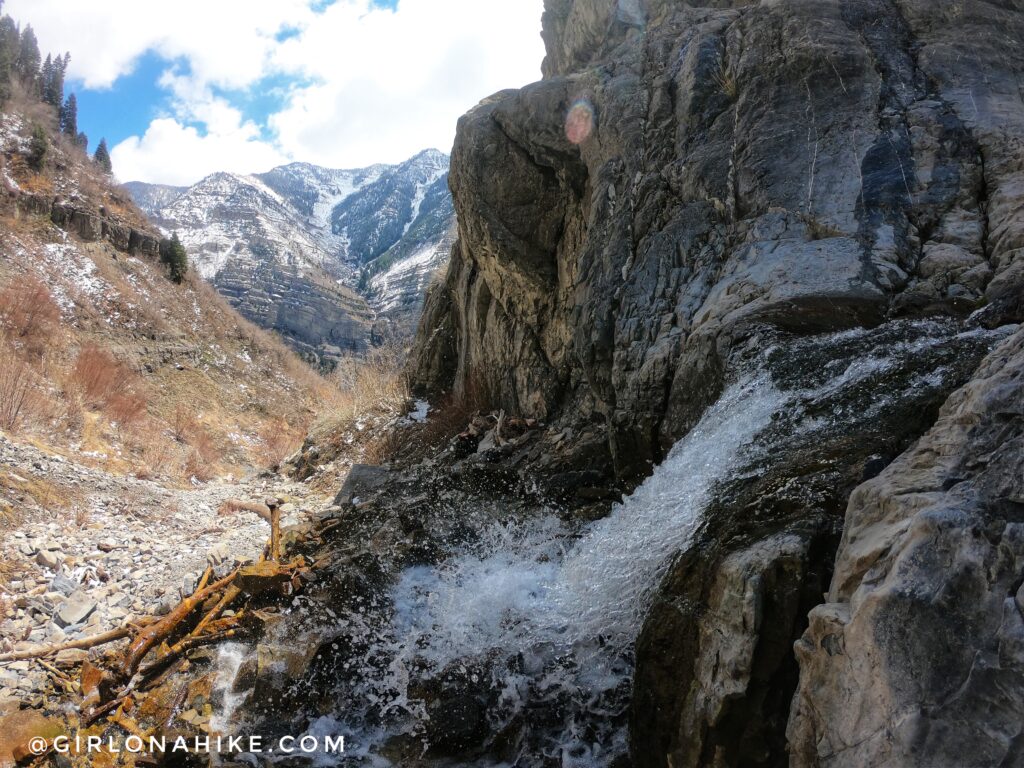 Base of Lost Creek Falls looking South down into Provo Canyon.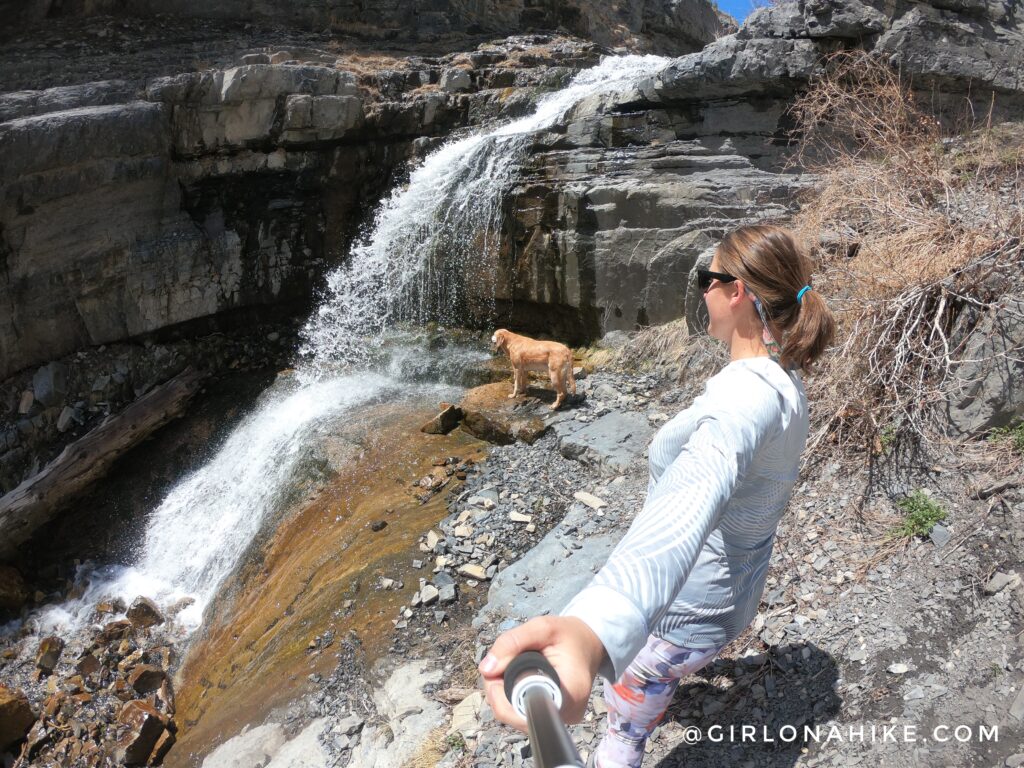 We climbed up higher and had a much better view. Just be aware that the brown spots are VERY slick!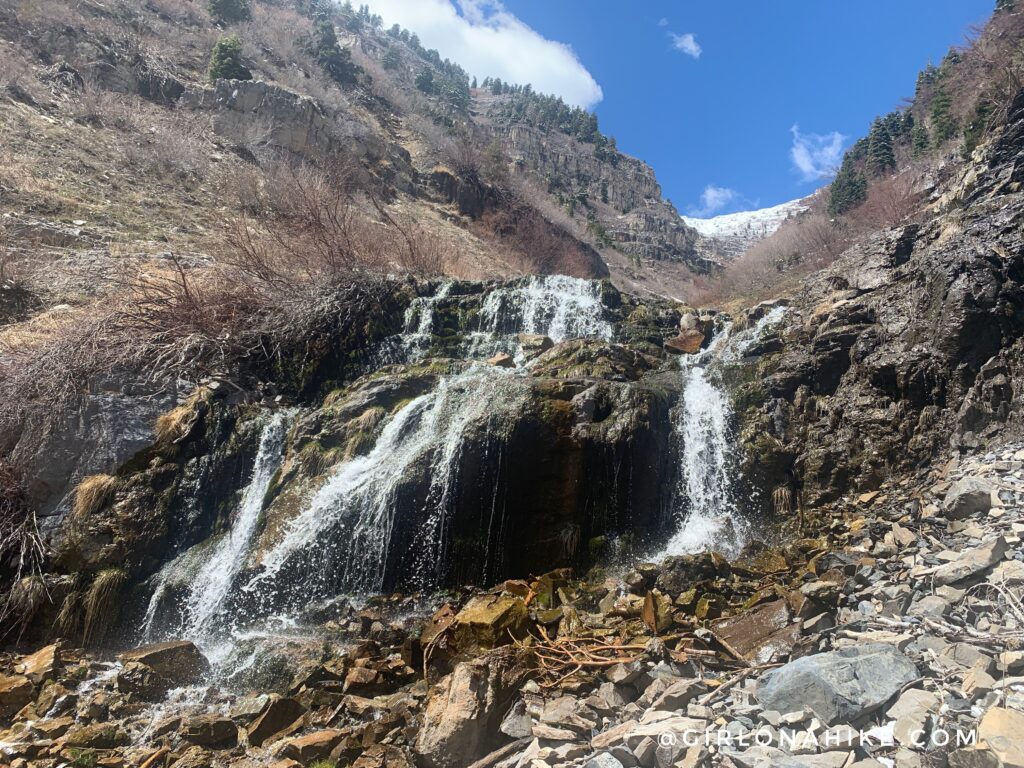 I wanted to climb even higher, and went to the Upper Falls. This is only doable if the water flow is low enough to climb up here though a small, narrow section in the falls. Even though the water was low enough to climb up, I still got wet.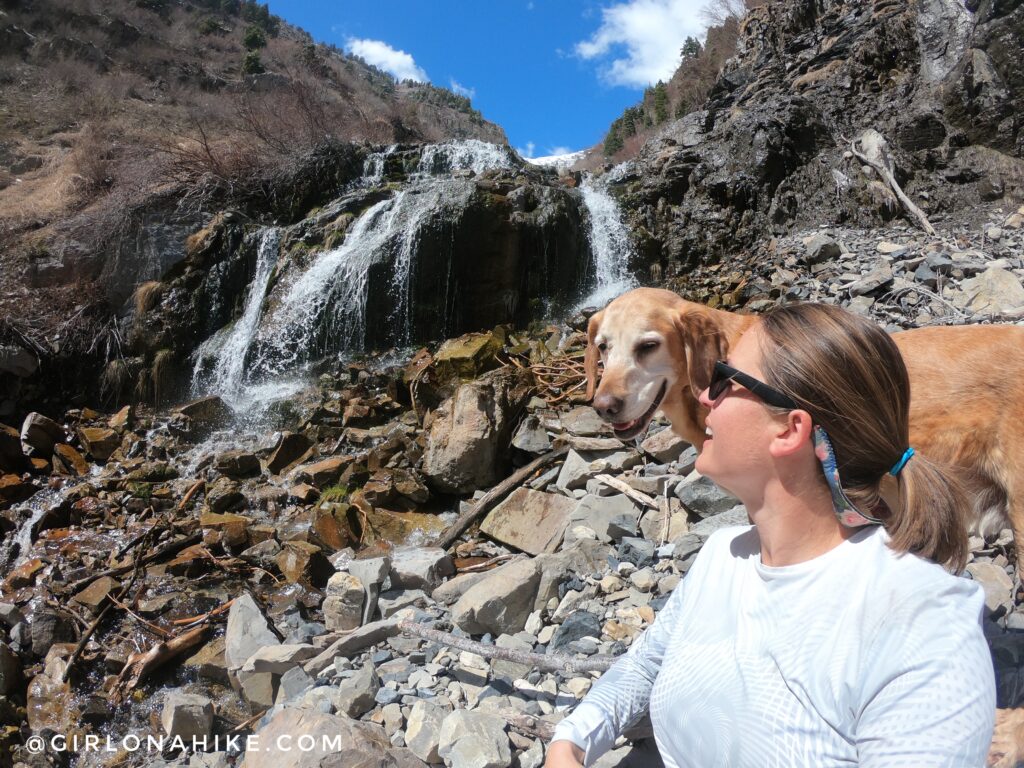 Charlie is really a mountain goat disguised as a dog, so he had zero issues getting up here himself. I like to think we had a great conversation in this photo haha! You can continue further up here, but at some point becomes quite steep with loose rock. We didn't feel the need to continue past here.
We're a silly pair, but definitely made for each other!
What a great spot! Even though this hike is super short, playing in the water and exploring the falls was really fun. We spent about 2-3 hours just enjoying the scenery and the day.
Trail Map
My track via Gaia GPS – the best tracking app! Get your app here for a discount.
Recommended Gear
Nearby Hike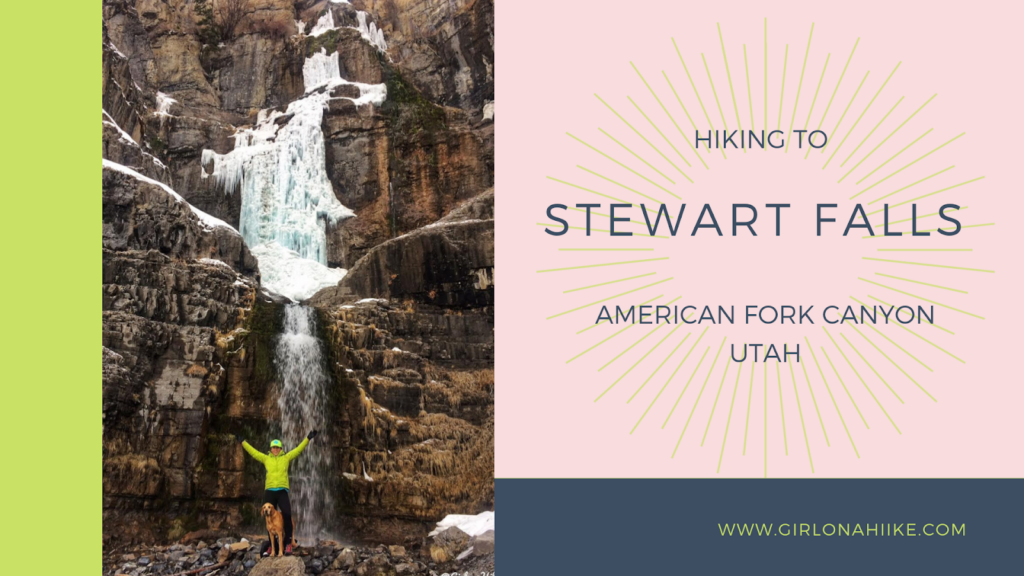 Save me on Pinterest!