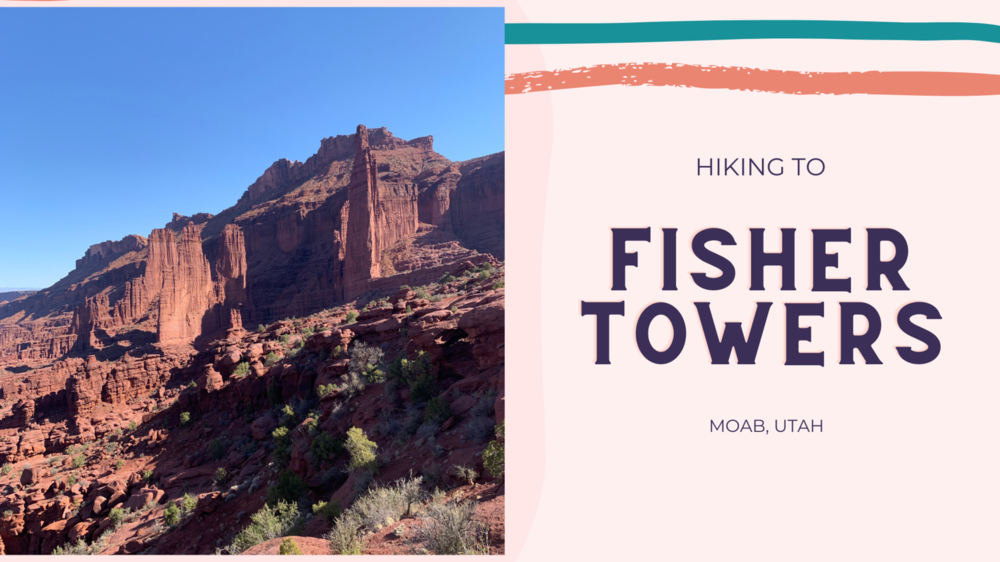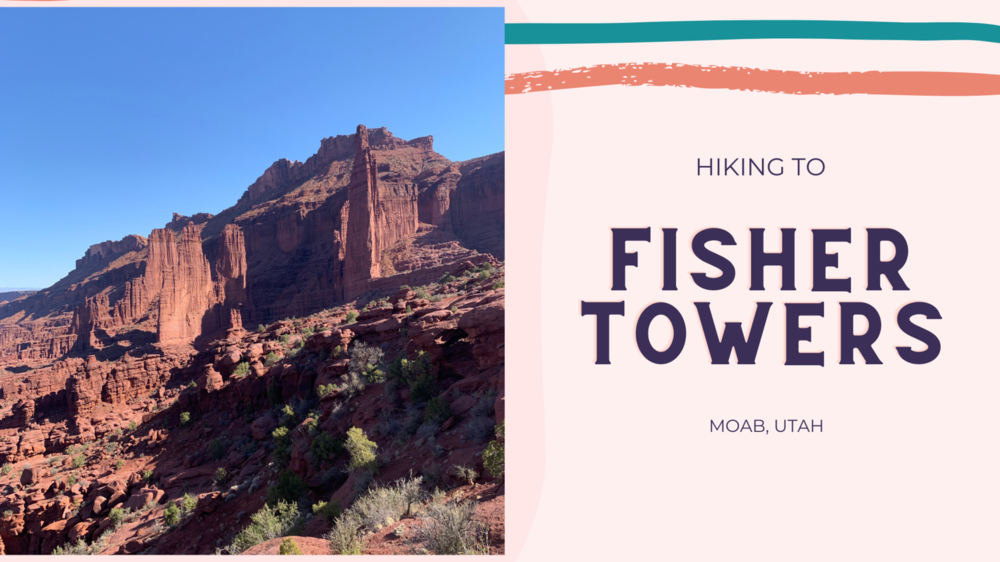 The Fisher Towers Trail is located 16 miles North East of Moab, Utah, and offers a 4 mile (RT) hike that winds through these fin-like structures. The Fisher Towers are composed of Moenkopi and Cutler sandstone, and have eroded into many shapes and sizes. These towers are one of the most outstanding scenic features of Utah's Colorado Riverway, as the rock pinnacles soar above a maze of red and pink hued canyon, and overlook the Colorado River,

Onion Creek

, and the famous rock "Priest & Nuns" to the south.
This short hike is exposed to all elements, so be sure to wear plenty of sunscreen, a hat, and bring snacks and a minimum of 3 L of water per person, plus water for the dogs (if you bring them). This trail is kid and dog friendly. Though we saw several dogs on leash, it is not required. Most people will only hike to the half way point, where you can see the tallest tower, The Titan. Keep going though – the best view is near the end when you get a full panorama view of The Fisher Towers.
Directions
 From Moab, head North on HWY 191, then head East along the Colorado River (HWY 128). Drive for 21 miles, then look for the brown Fisher Towers sign. Just over and down the hill, you will turn Right onto a dirt road. Compact cars, such as my Sonata, will make it just fine. Drive to the very end of the dirt road until you reach the parking lot and TH. Be aware that after 9am on weekends, the parking lot fills up very quickly, and you may need to park down the road, then walk up to the TH. Here's a driving map.
Trail Info
Distance: 4 miles RT
Elevation Gain: 700 ft
Time: 2-5 hours
Dog friendly? Yes, off leash
Kid friendly? Yes
Fees/Permits Required? No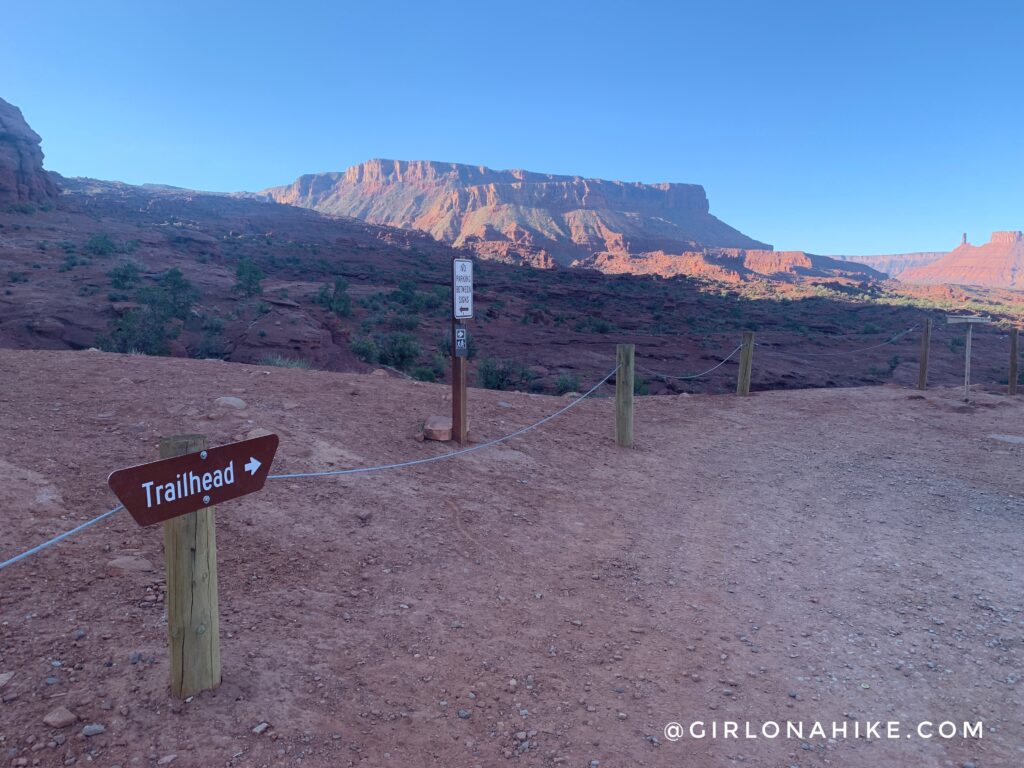 The trail begins in the SE corner of the parking lot.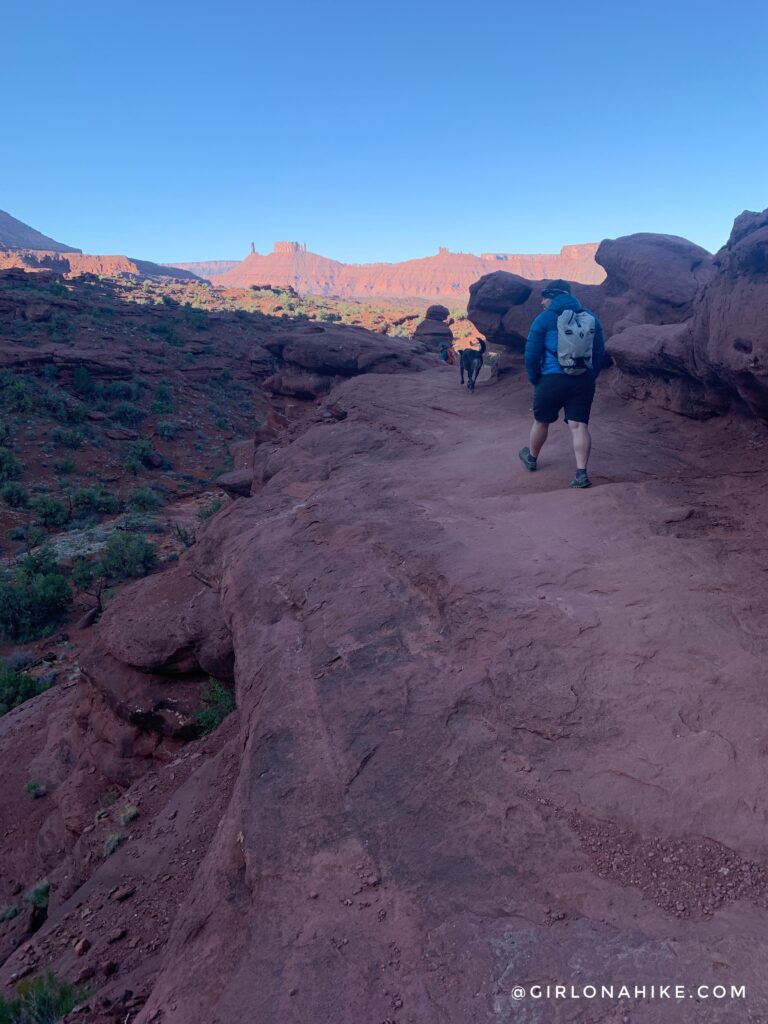 Immediately the trail drops down, then you will hike along a ledge.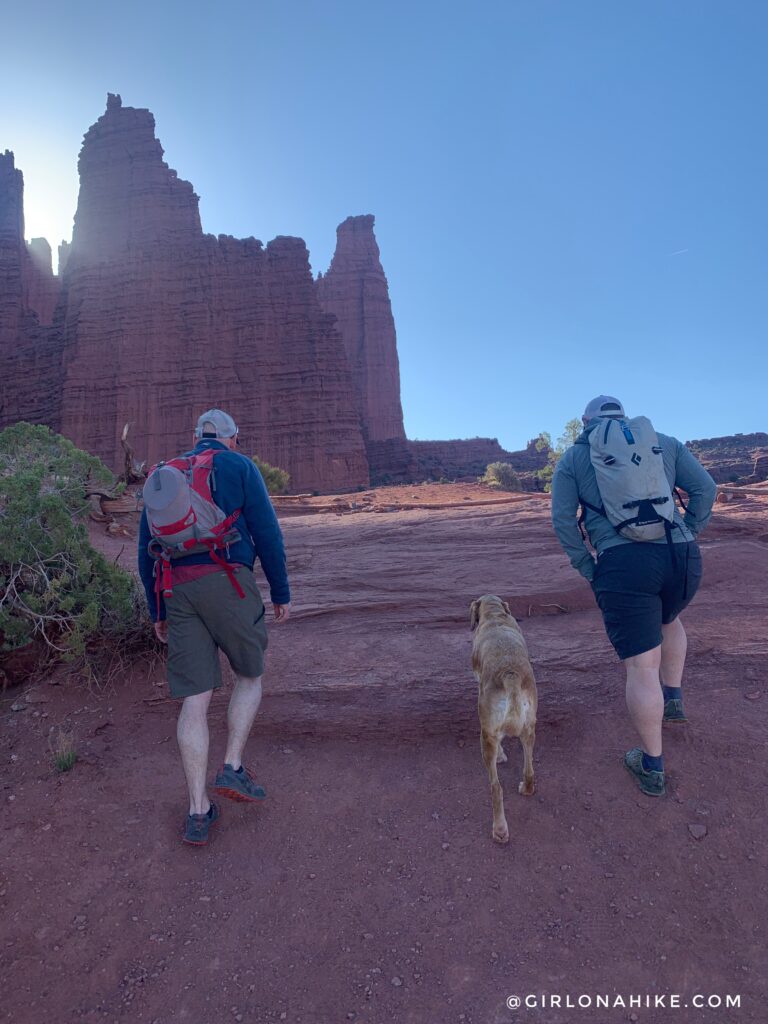 Within the first 10 minutes of hiking, you will cut between two large rock walls, with rock steps to help you down. Again, hike back up, continuing to follow the marked trail.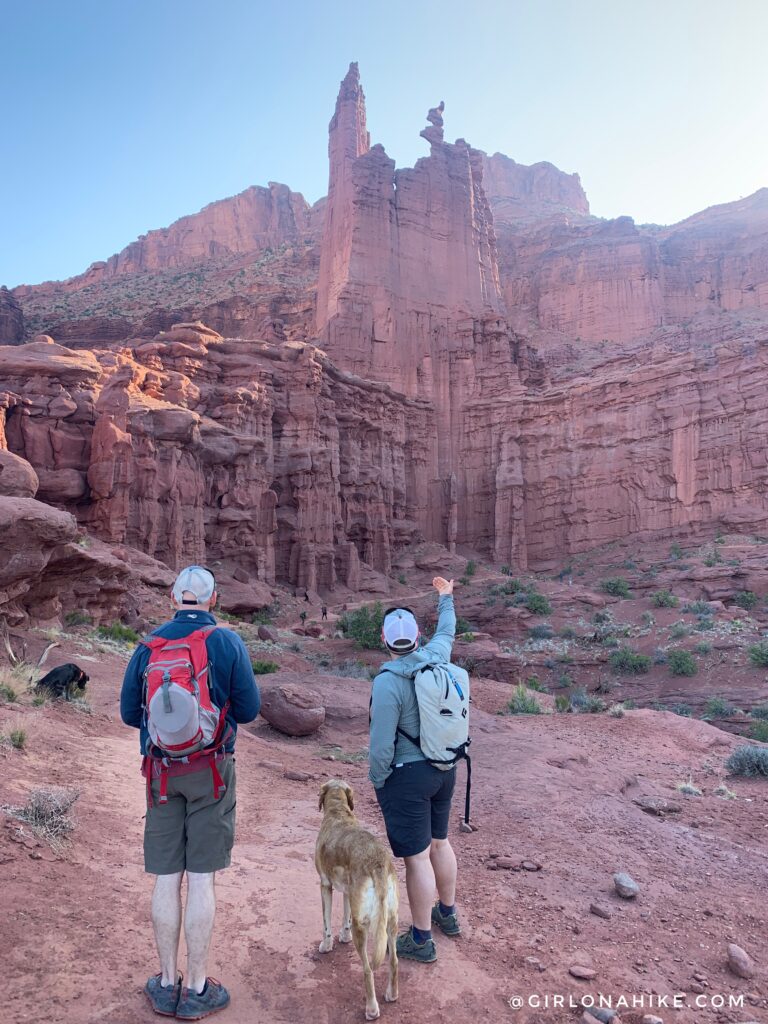 The famous "Corkscrew Summit" – a climber's paradise with amazing view. To see what it looks like from the top, check out this video.
Our long time friend Lou was visiting, and Ian explained how the climbers get on top of it from the backside.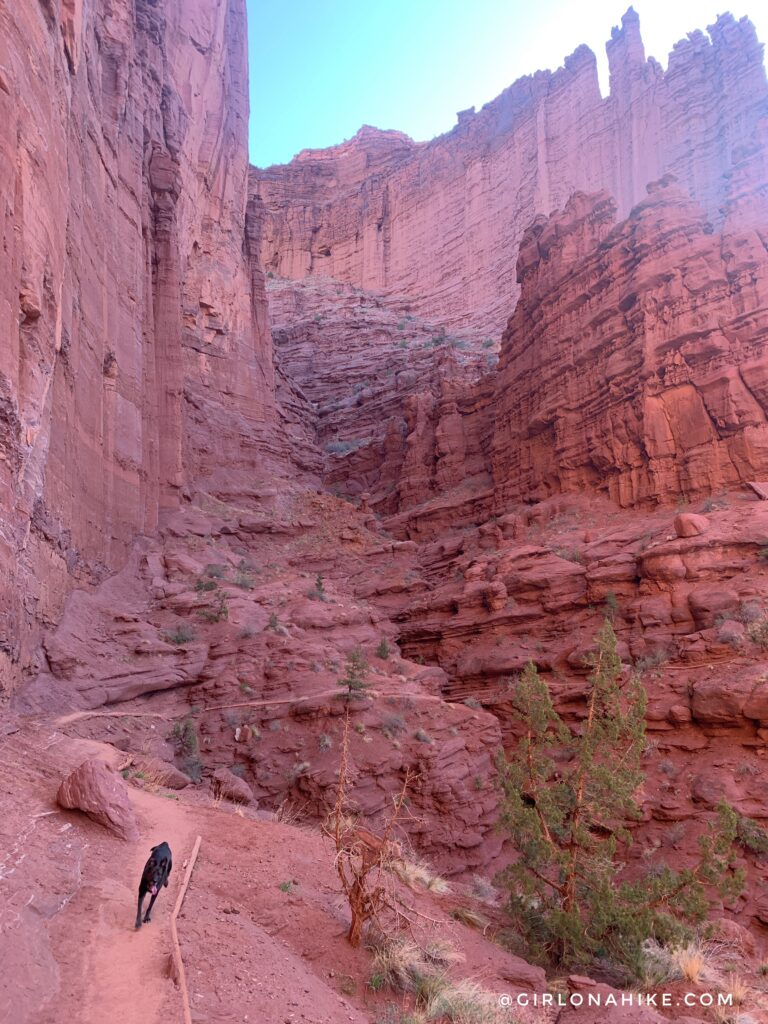 The highest tower (not 100% visible here), The Titan, which is 900 ft, was first climbed in 1962 by three men from Colorado. Their ascent was described in the "We Climbed Utah's Skyscraper Rock" published in National Geographic, November 1962. Although the crumbly texture of the Fisher Towers offers less than ideal conditions, rock climbing is now relatively common in this area as a result of improved climbing equipment and techniques.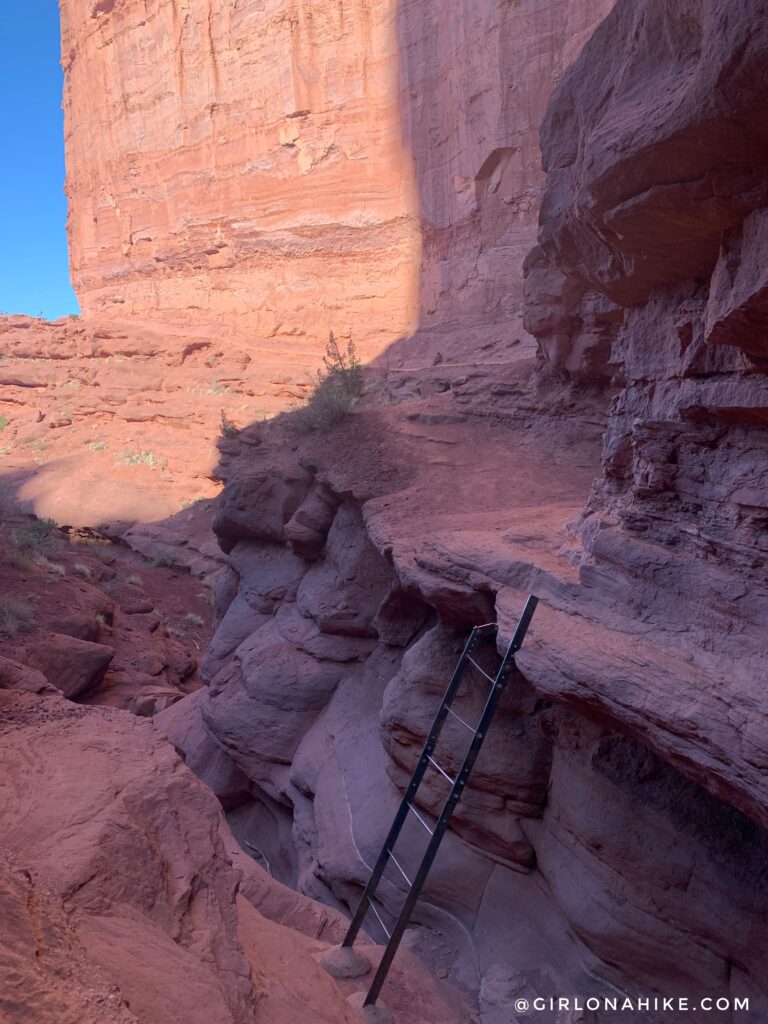 Hike along the East facing wall, which will drop down, and will need to go down this ladder.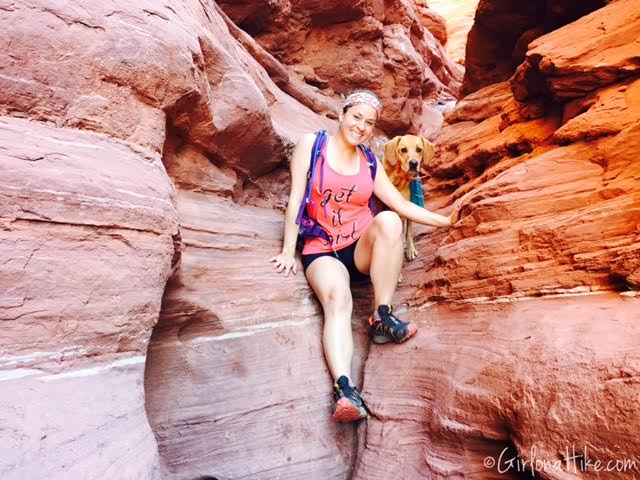 Large dogs will not be able to get down that ladder, even with help from a friend. The easiest way for the dogs to get to the other side, is to actually hike above the ladder (up the hillside), then down this little slot canyon. All of our 8 dogs needed to do this, and hiking through it was more fun and prettier than taking the ladder. This photo was taken on our first trip to Fisher Towers in 2015!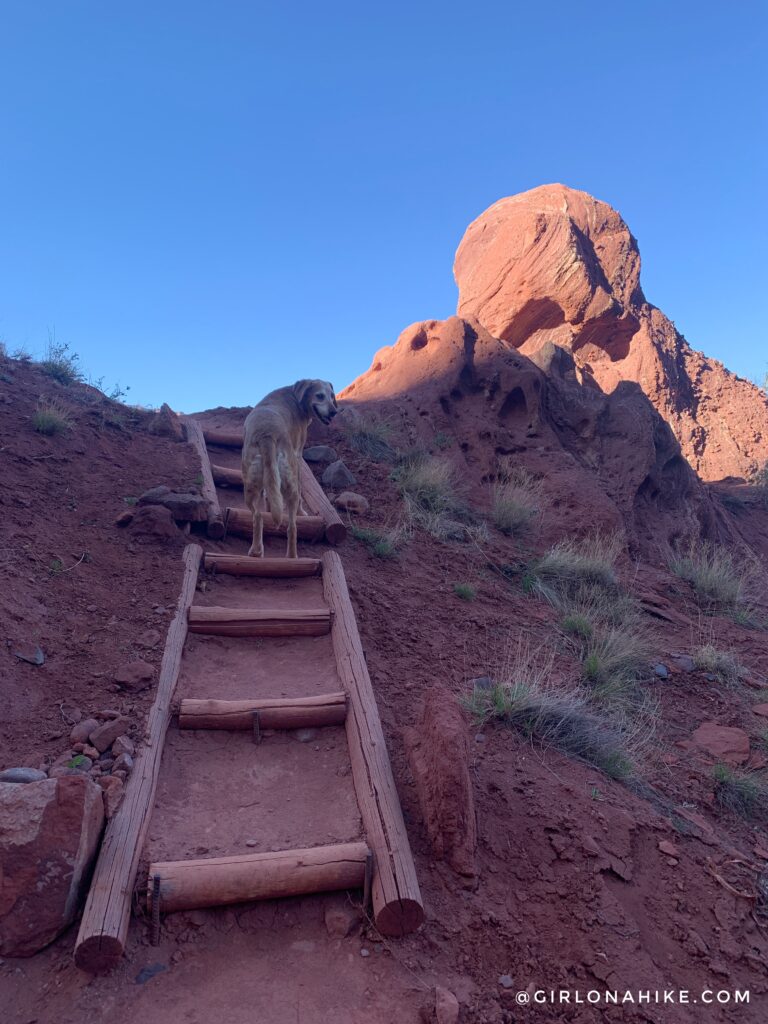 Continuing on the trail, you will hike on this flat ladders, to help you step up. I think it also helps with erosion.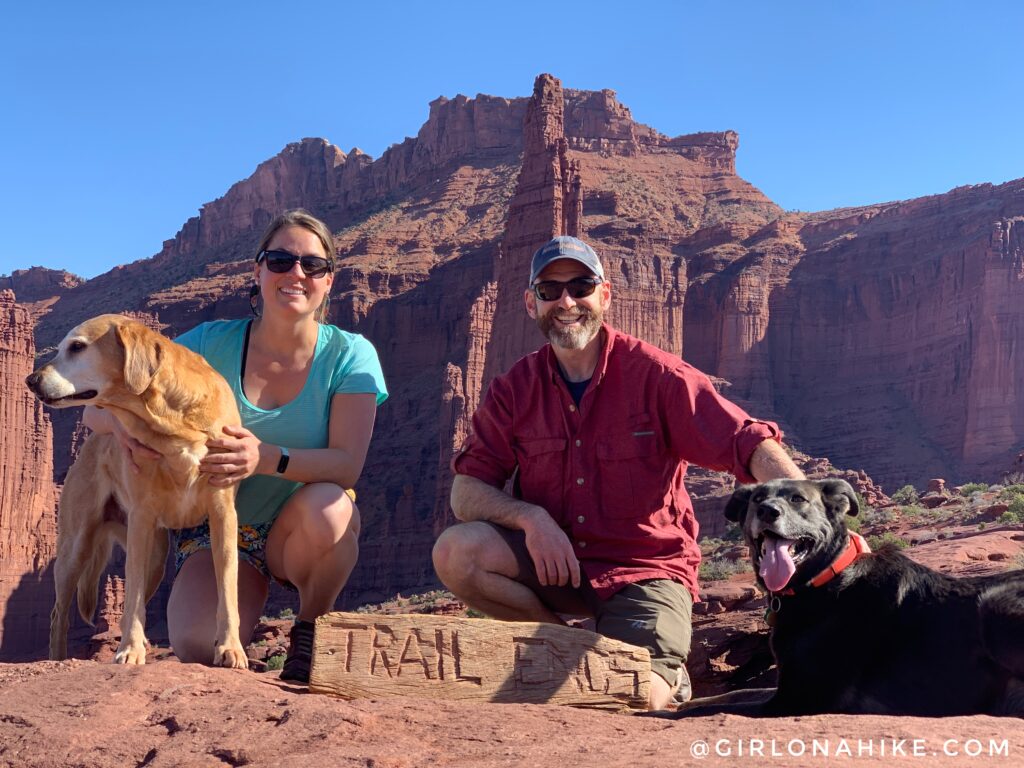 At about 2.2 miles, the trail really opens up and you will have fantastic views of the Fisher Towers behind you. Visitors are sure to be impressed with this trail!
We still love this hike even years after doing it the first time!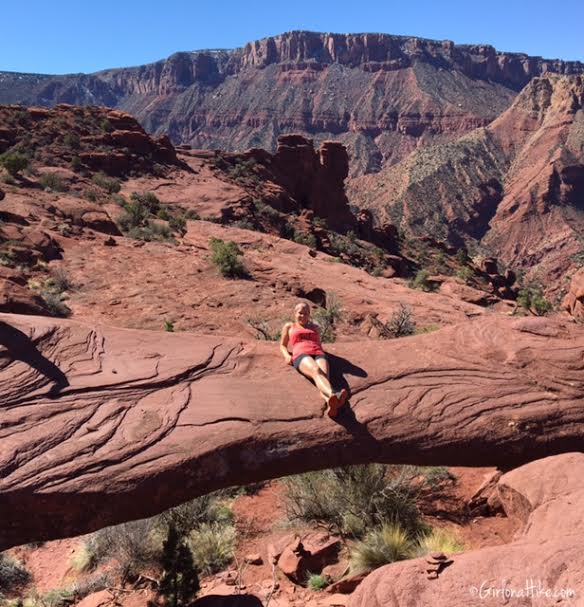 If you can find it, there's a small natural bridge in the area!
Since 1949 the Moab area has been a popular location for movie, commercials, music videos, and brochure photos.
Movies filmed near Fisher Towers
 1949 Wagon Master
 1950 Rio Grande
 1951 Battle at Apache Pass
 1952 Son of Cochise
 1953 Border River
 1953 Siege of Red River
 1954 Canyon Crossroads
 1954 Smoke Signal
 1956 Fort Dobbs
 1958 Warlock
 1959 Ten Who Dared
 1960 Gold of Seven Saints
 1961 Comancheros
 1963 The Greatest Story Ever Told
 1963 Cheyenne Autumn
 1964 Rio Conchos
 1965 Canyonlands U.S.A.
 1967 Blue
1967 Fade In
 1971 Seeta, the Mountain Lion
 1975 Against a Crooked Sky
 1984 Choke Canyon
 1992 Knights
 1992 This Boy's Life
 1995 The Sunchaser
 1996 Breakdown Mile
 1999 Nurse Betty
(source: DiscoverMoab.com)
Trail Map
My track via Gaia GPS – the best tracking app! Get your app here for a discount.
Nearby Hike
Mary Jane Slot Canyon & Waterfall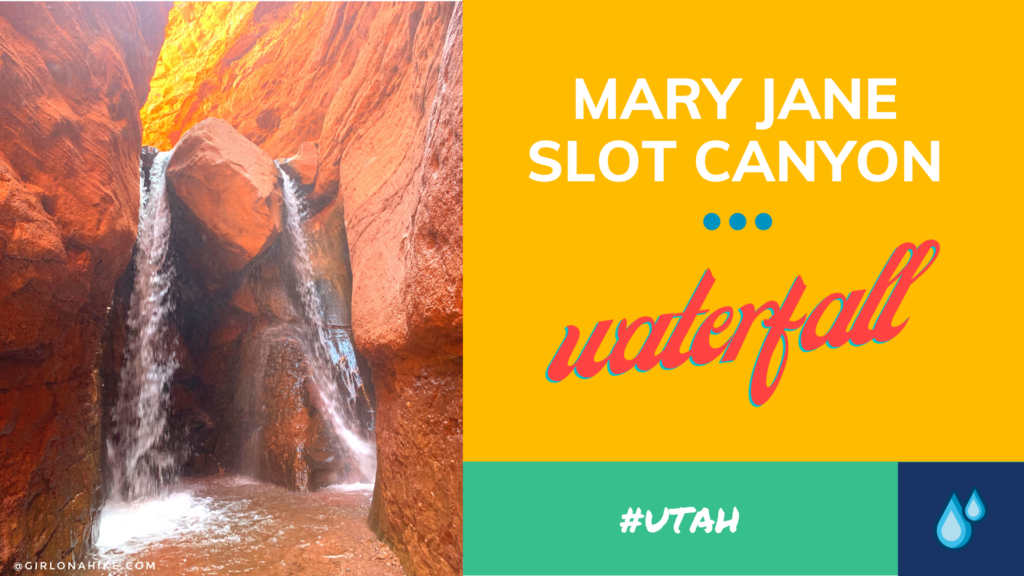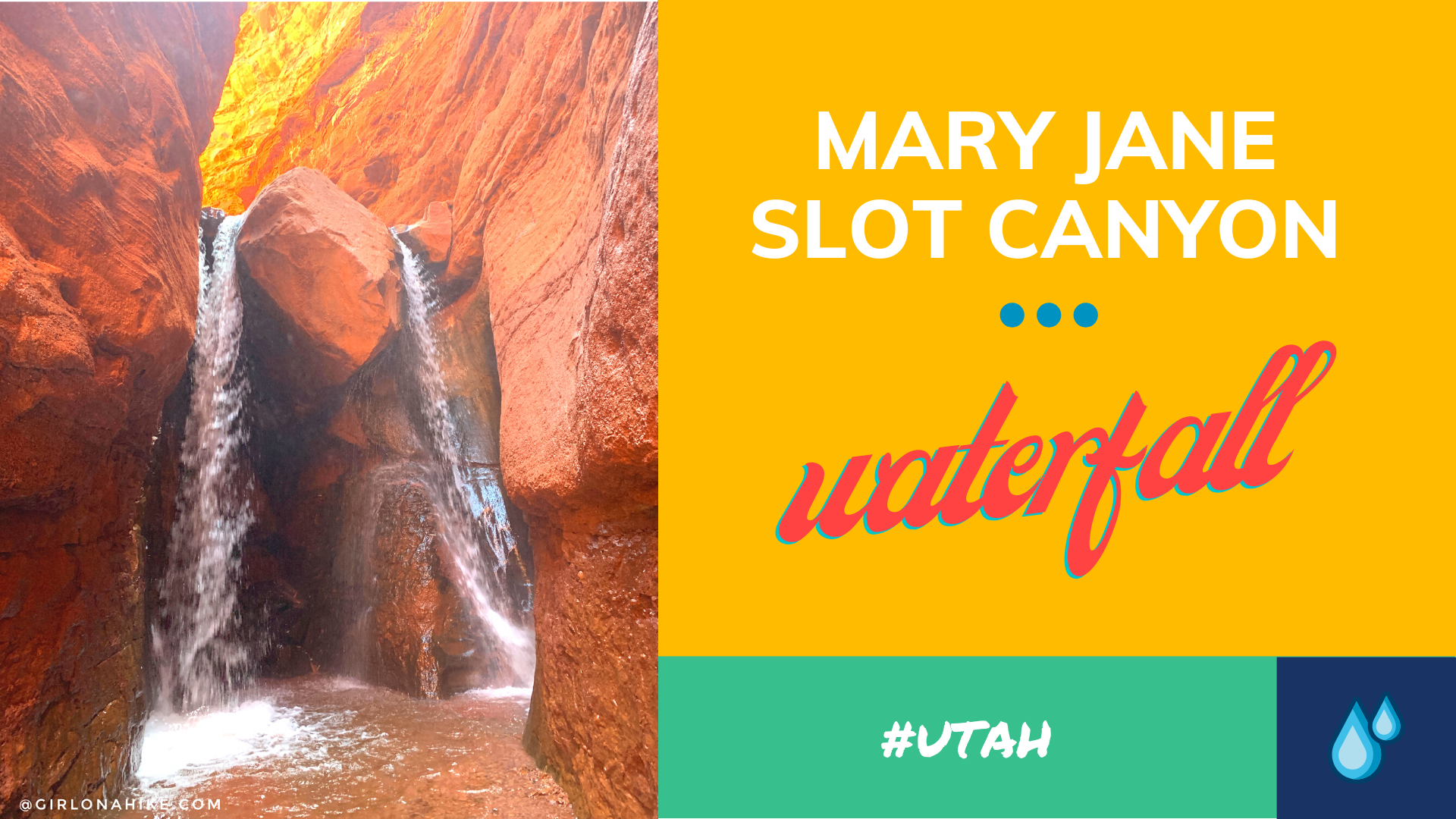 Save me on Pinterest!