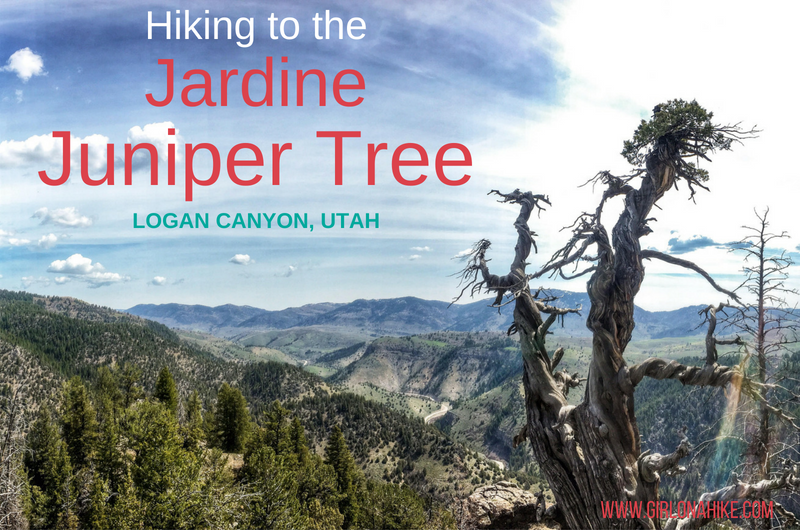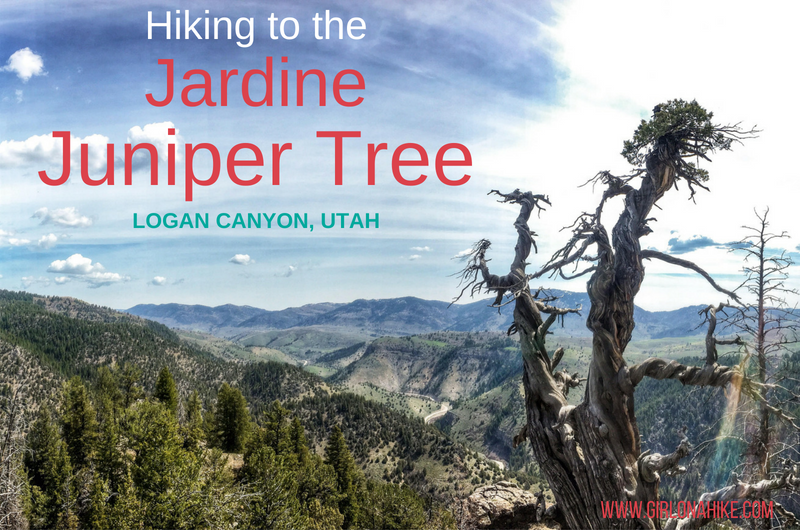 The Jardine Juniper Tree is location in Logan Canyon, Utah, and is 1,500 years old! It is close to 40 feet tall, and 23.6 ft in circumference. The Jardine Juniper was discovered in 1923 by Maurice Linford, who was a student at Utah State (then called Utah State Agricultural College), and the tree was named after the former US Secretary of Agriculture William Marion Jardine.
About
Besides all the interesting history of the tree, this trail is really pretty, provides plenty of shade, and a stream nearby for the first mile. It's accessible year round, however I like it best in Spring when all the wildflowers are in bloom and the temperatures are cooler. Late Fall is also a great time to visit, when all the Aspen trees are red, orange, and yellow. Many people consider this hike a "Northern Utah Classic" – popular among all ages for its beauty and ease. The trail gradually gains over 2,000 ft elevation over 5 miles, making it feel much easier than on paper. Families and dogs alike will enjoy all that the Juniper Tree trail has to offer.
Directions
From Logan, UT drive East up Logan Canyon for 12.5 miles. Turn left for the Wood Camp Campground, and drive across the bridge, to the very end of the road where the trail starts. Here's a driving map.
Trail Info
Distance: 10 miles RT
Elevation gain: 2,032 ft
Time: 4-6 hours
Dog friendly? Yes, off leash
Kid friendly? Yes!
Fees/Permits? None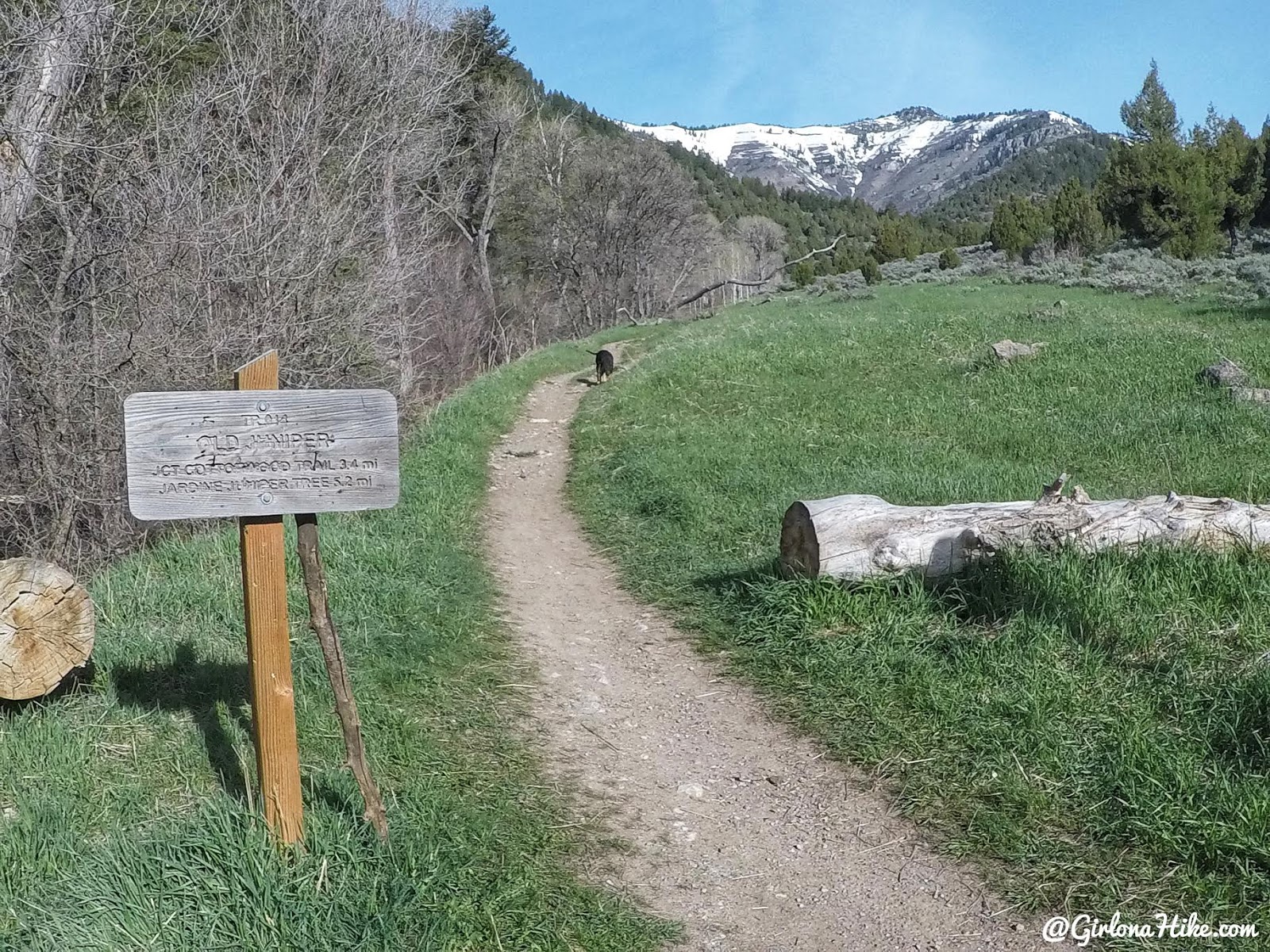 The trail begins at the end of the dirt road, near the Wood Camp Campground. There is a port-a-potty available, but may be locked in winter.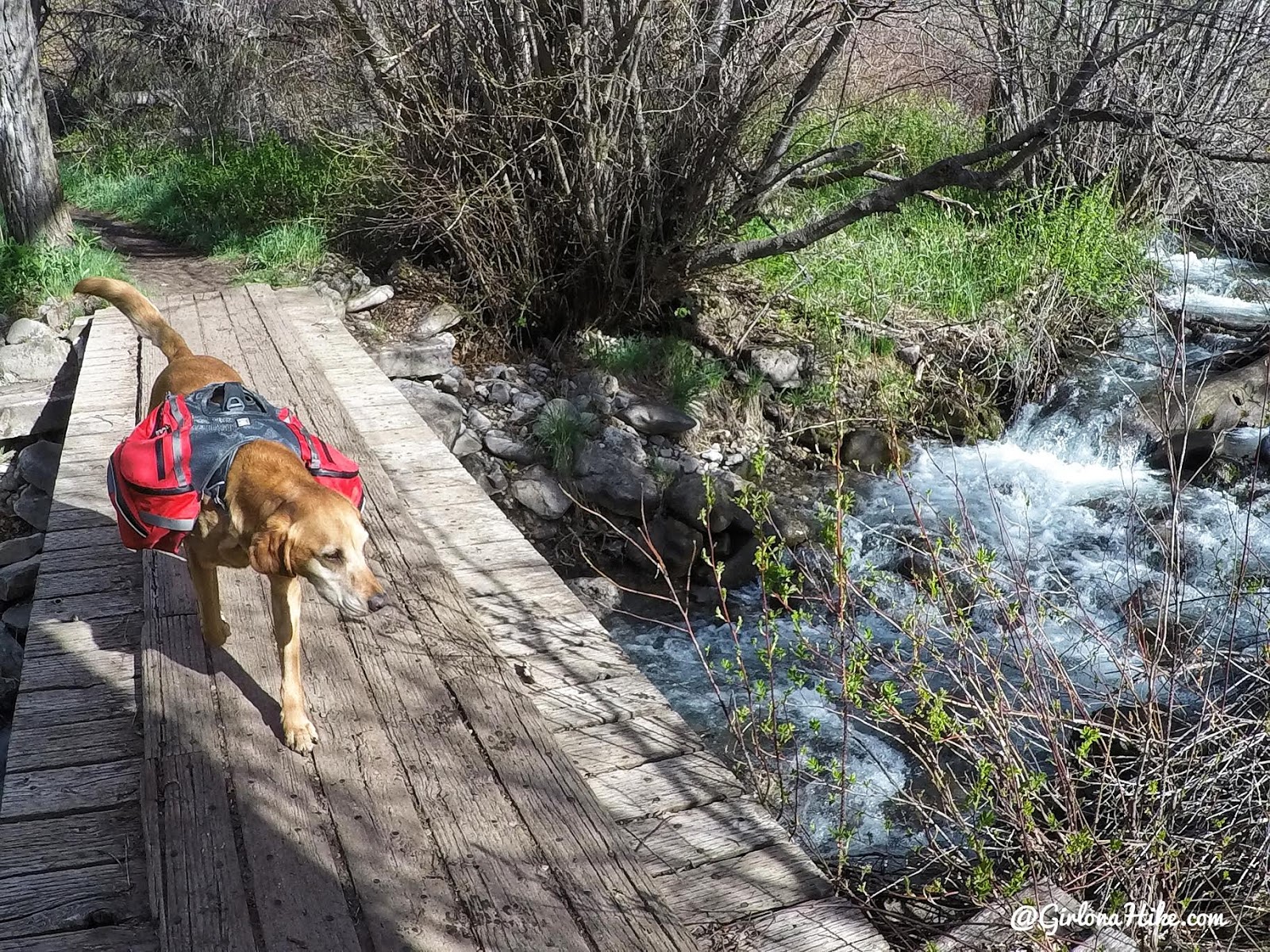 Cross a bridge, over the creek that you'll follow for the first part of the hike. I made Charlie wear his new Ruffwear Palisades Dog Pack to start training for our summer adventures, plus I knew it was going to be hot so I had him carry an extra 2 liters of water. We've been loving this pack so far!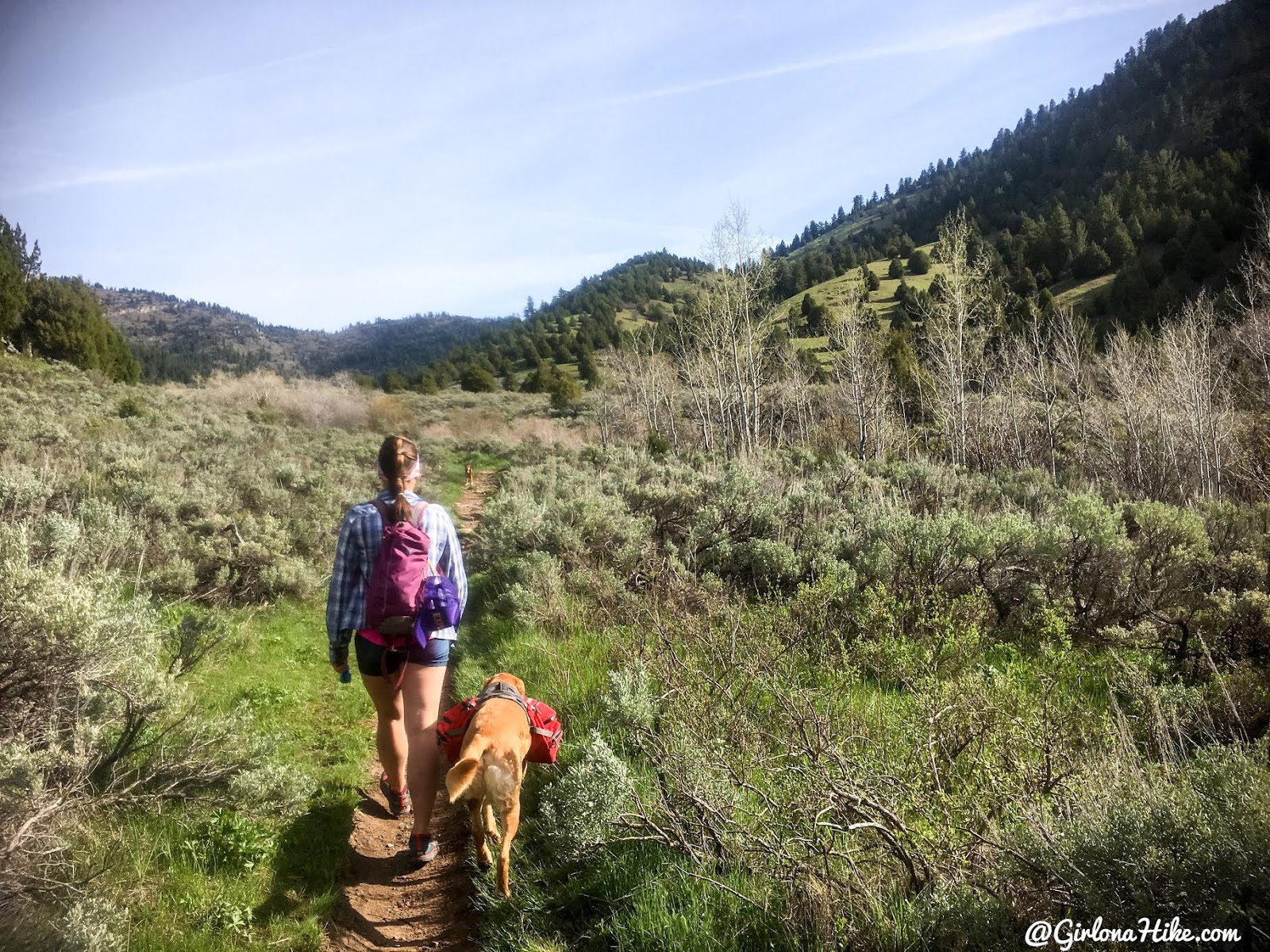 The trail is very mellow and very easy to follow the entire way. Lots of sagebrush for the first mile.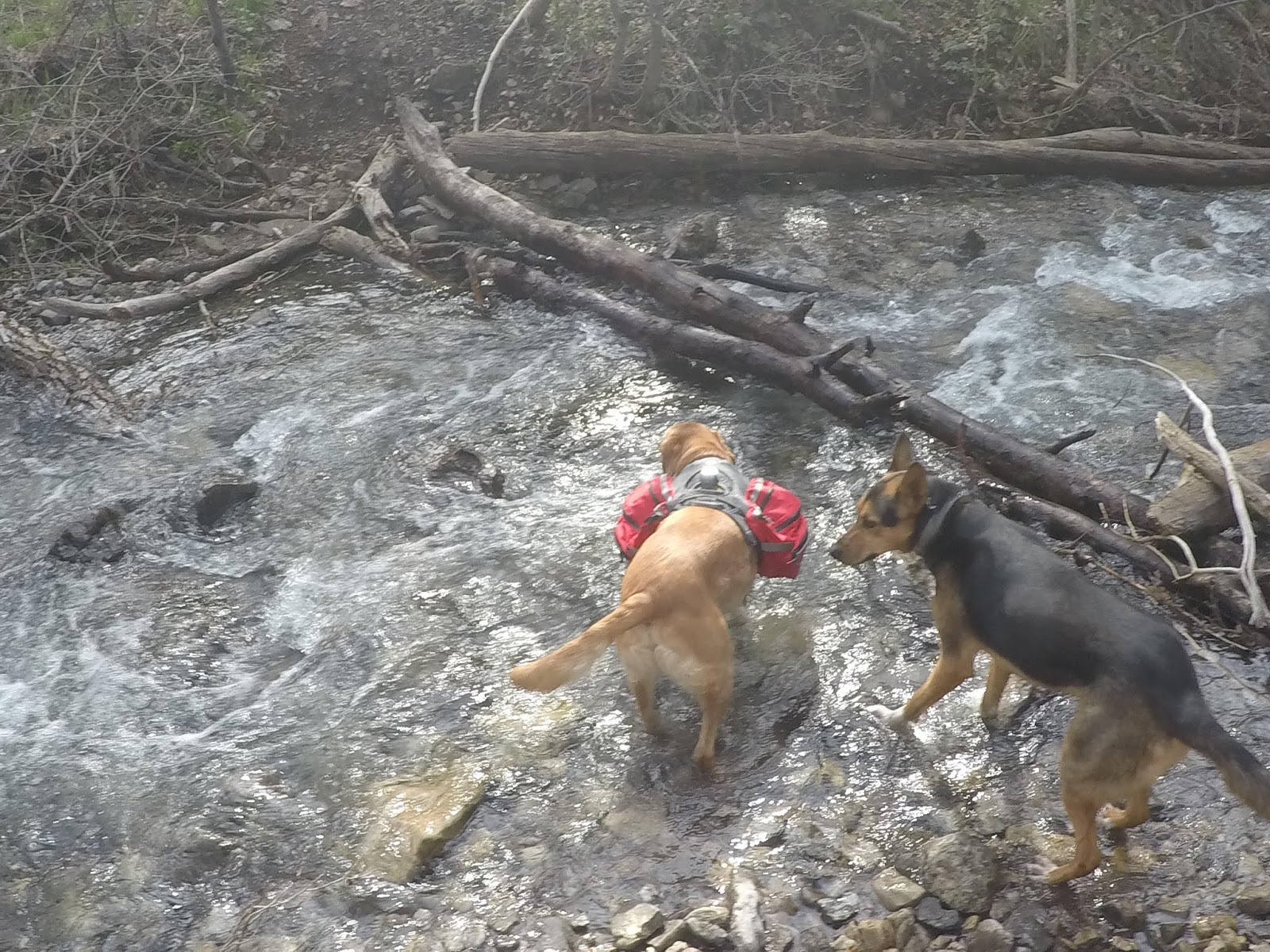 The stream was a bit high to cross and we didn't have water shoes, so we found another way.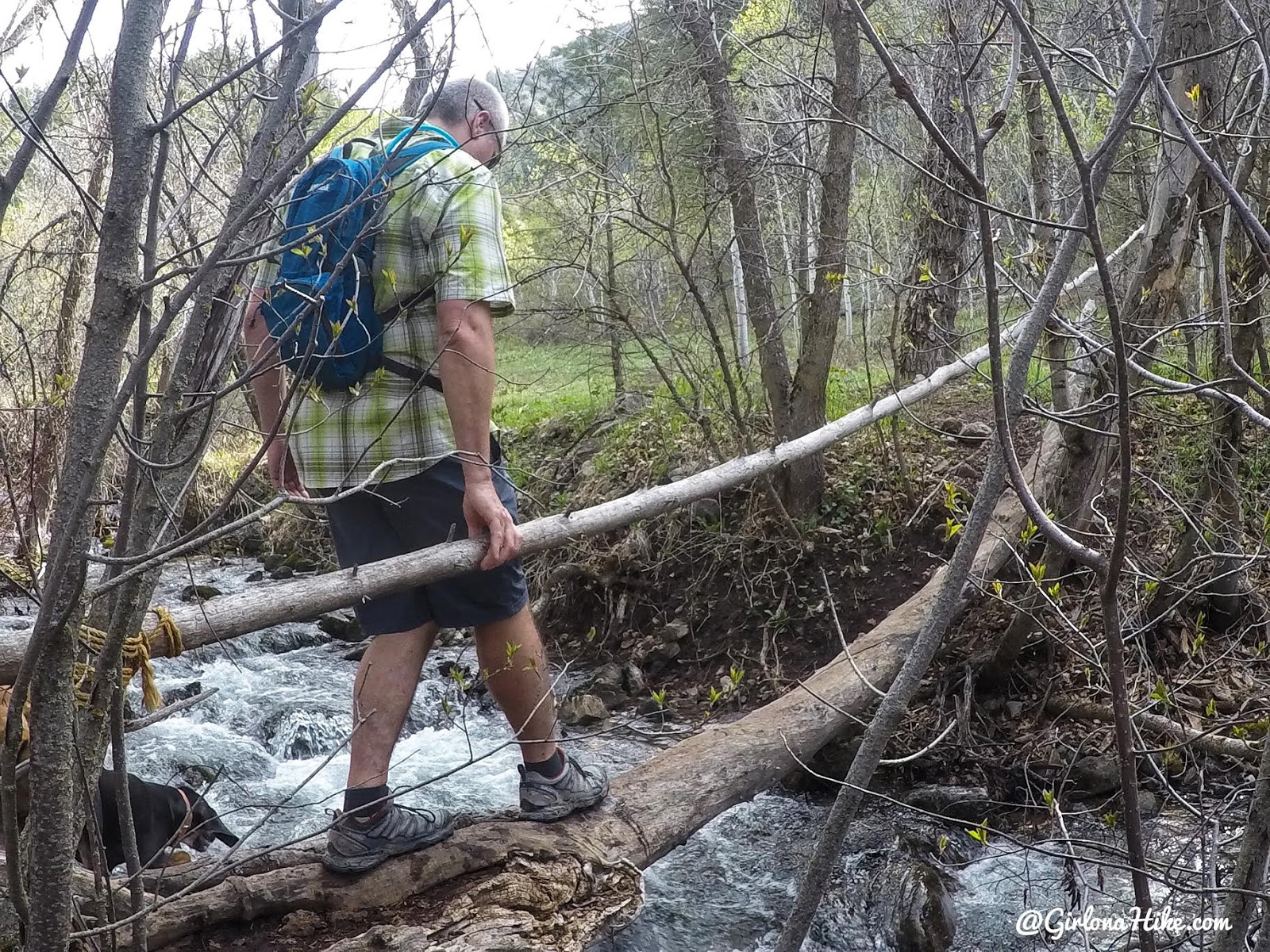 A perfect little bridge to cross without getting wet!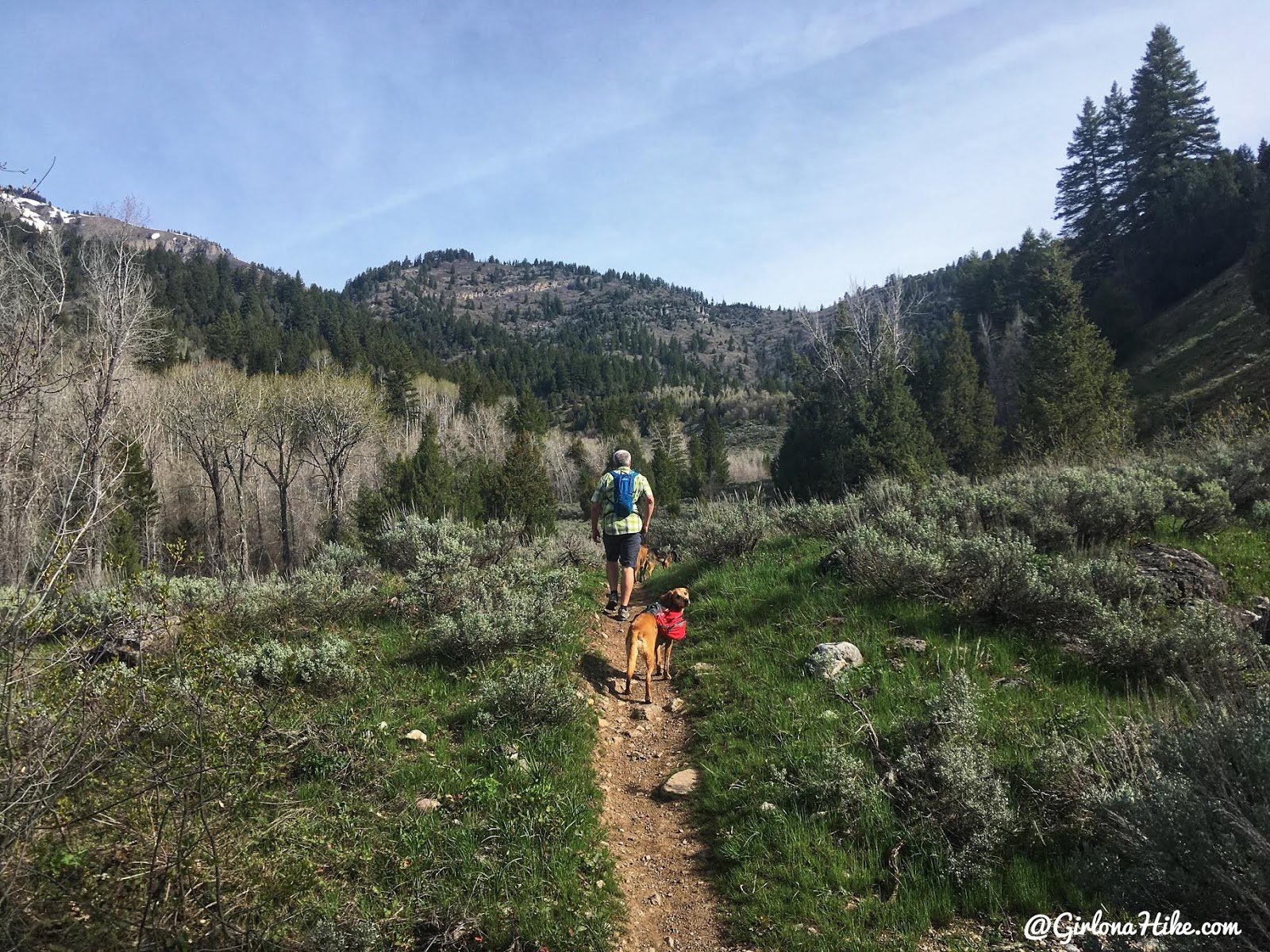 Once you cross the creek the trail picks back up heading North. You will hike up several long, mellow switchbacks after this.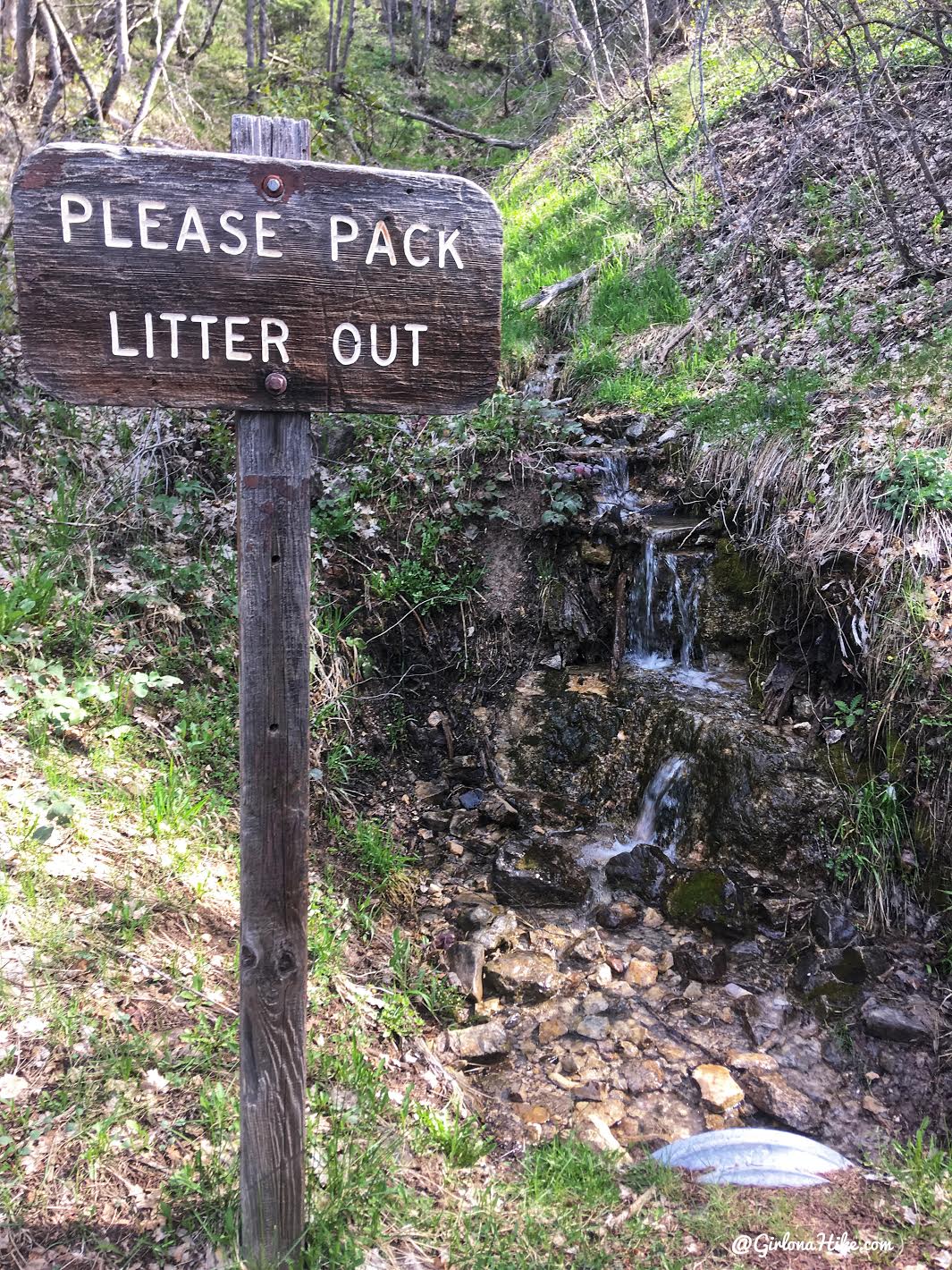 This sign is kind of funny and misplaced. I still think it's weird we need to have signs to tell people to carry their trash out – it should be expected you do that!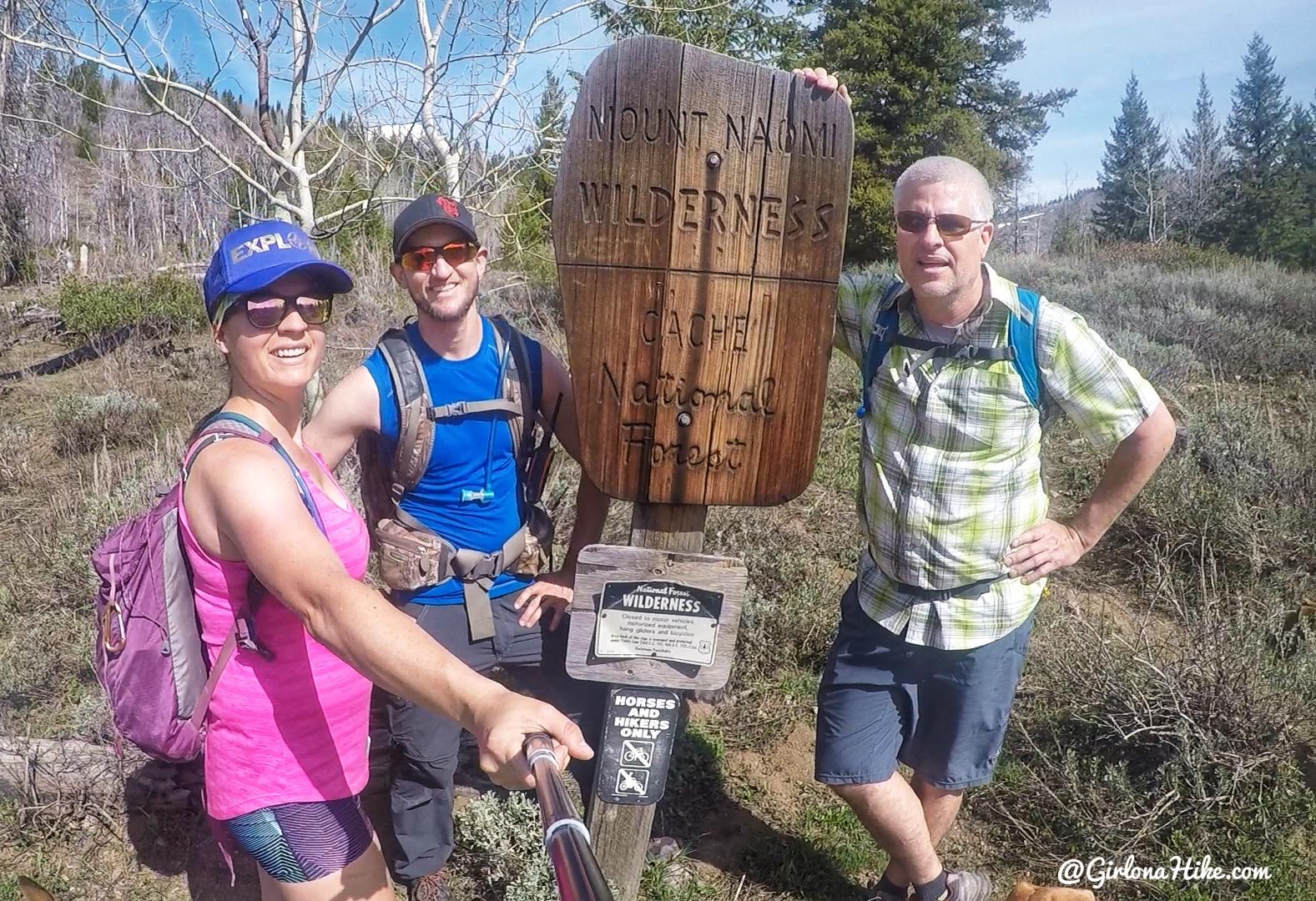 After some more switchbacks you'll pass by the Naomi Wilderness sign, and a bench is just beyond that.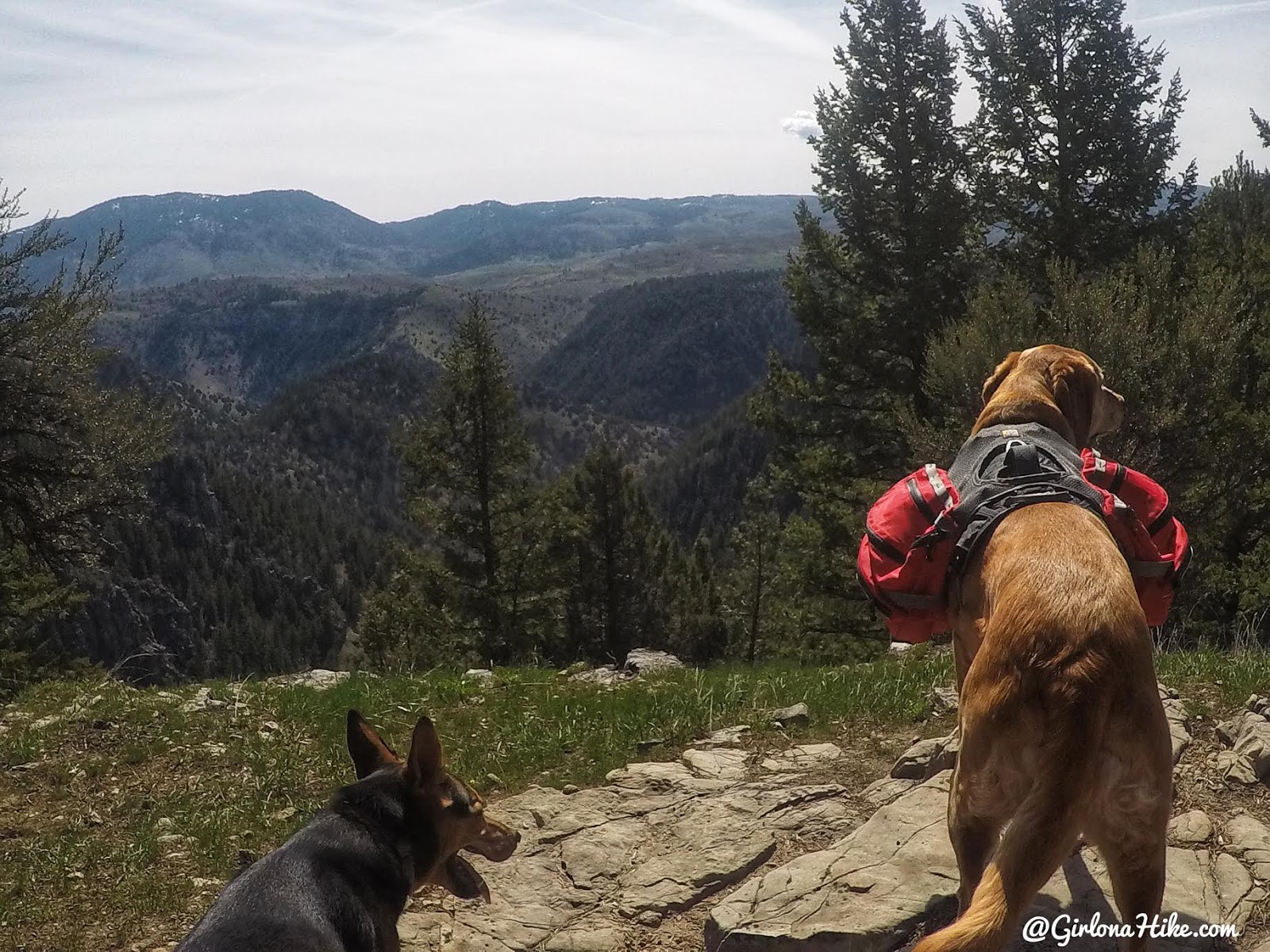 You'll make your way up to a clearing along the trail where you have a great view into the valley below.
Keep going – the views to the West are so pretty with some remaining snow!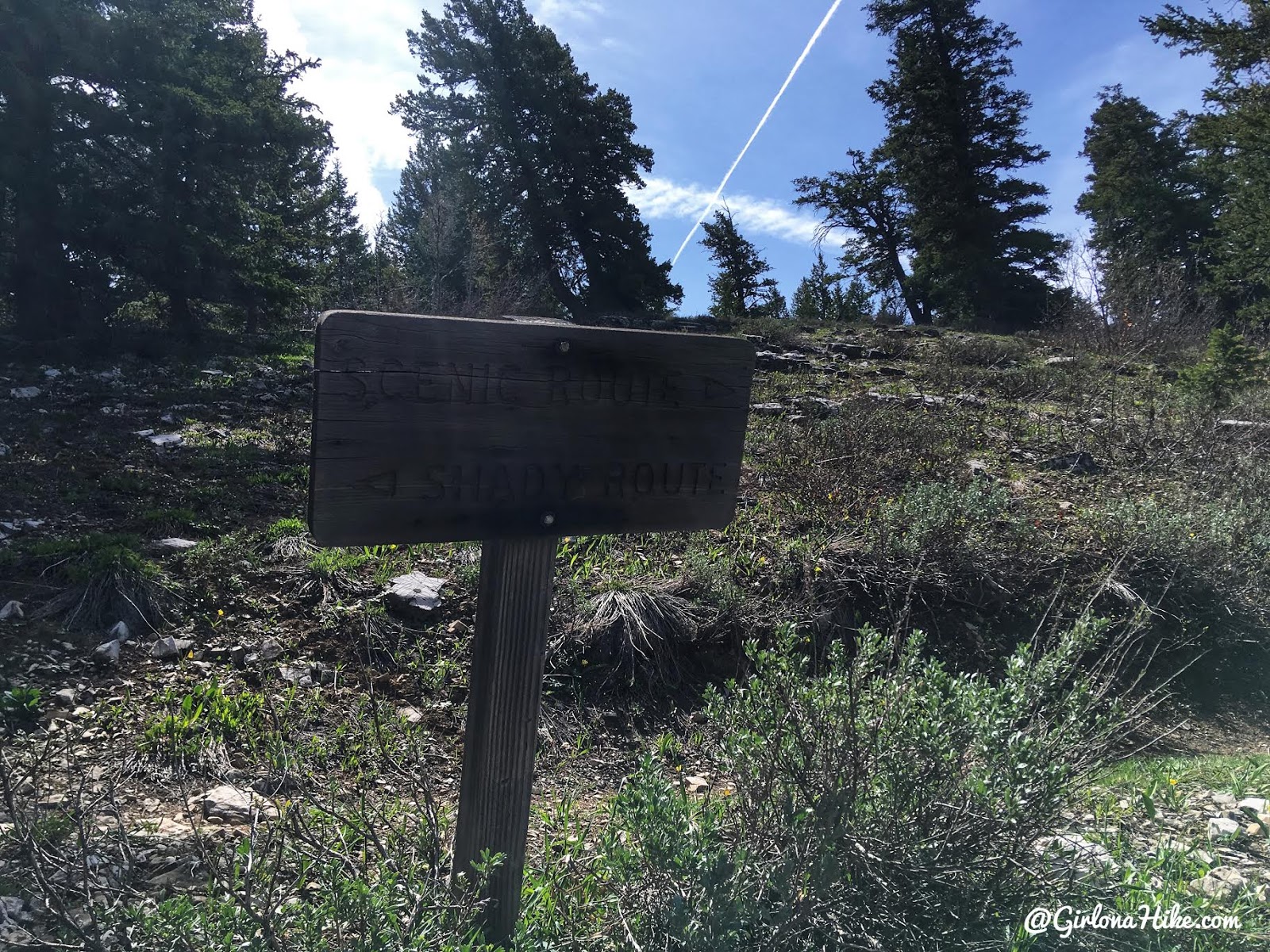 The top portion of this trail makes a loop. Definitely do both to see everything. We decided to take the shady route first. They call the other side the scenic side, but I thought the shady side was scenic, and the scenic side not as much!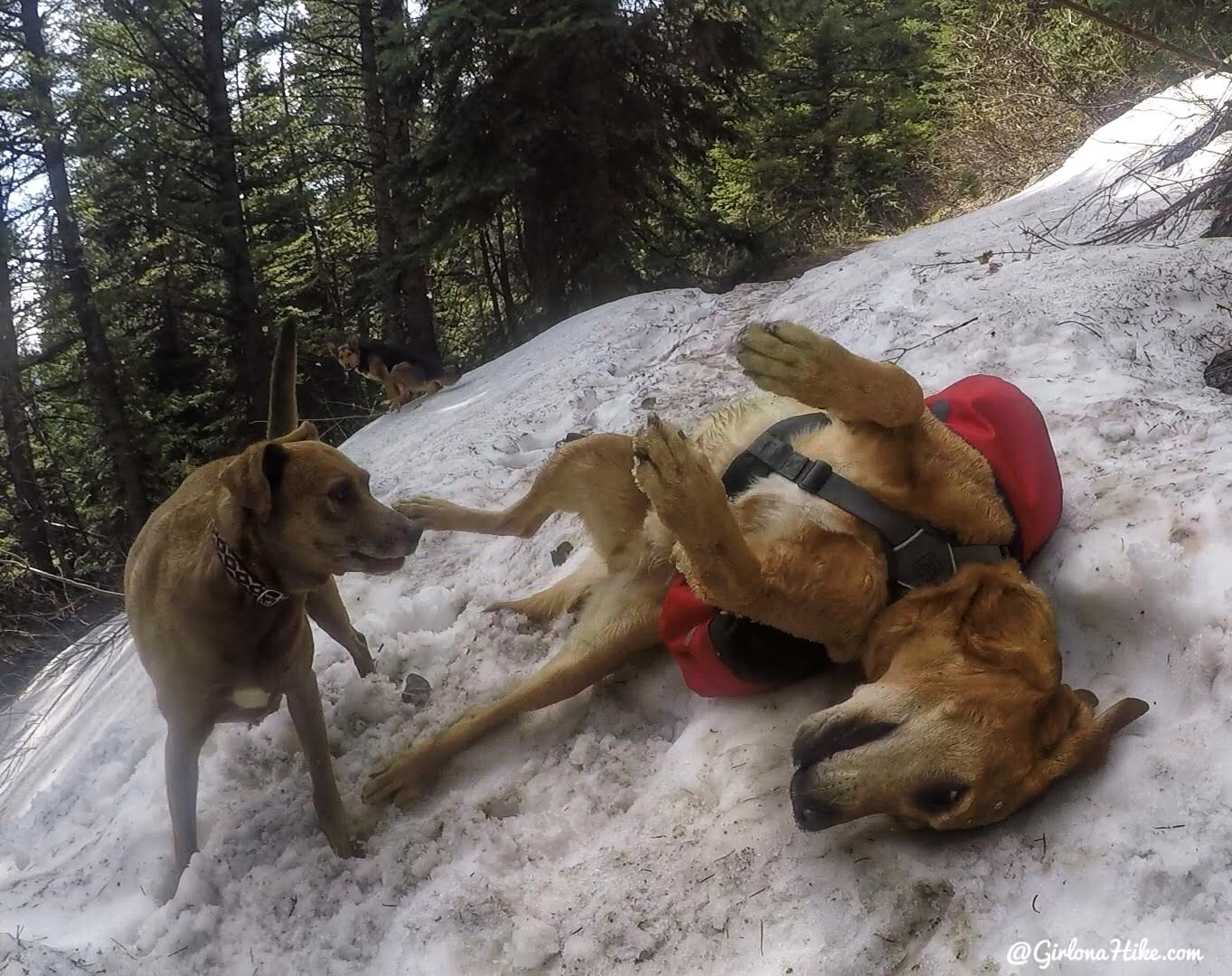 Ahhh leftover snow feels so good on the back!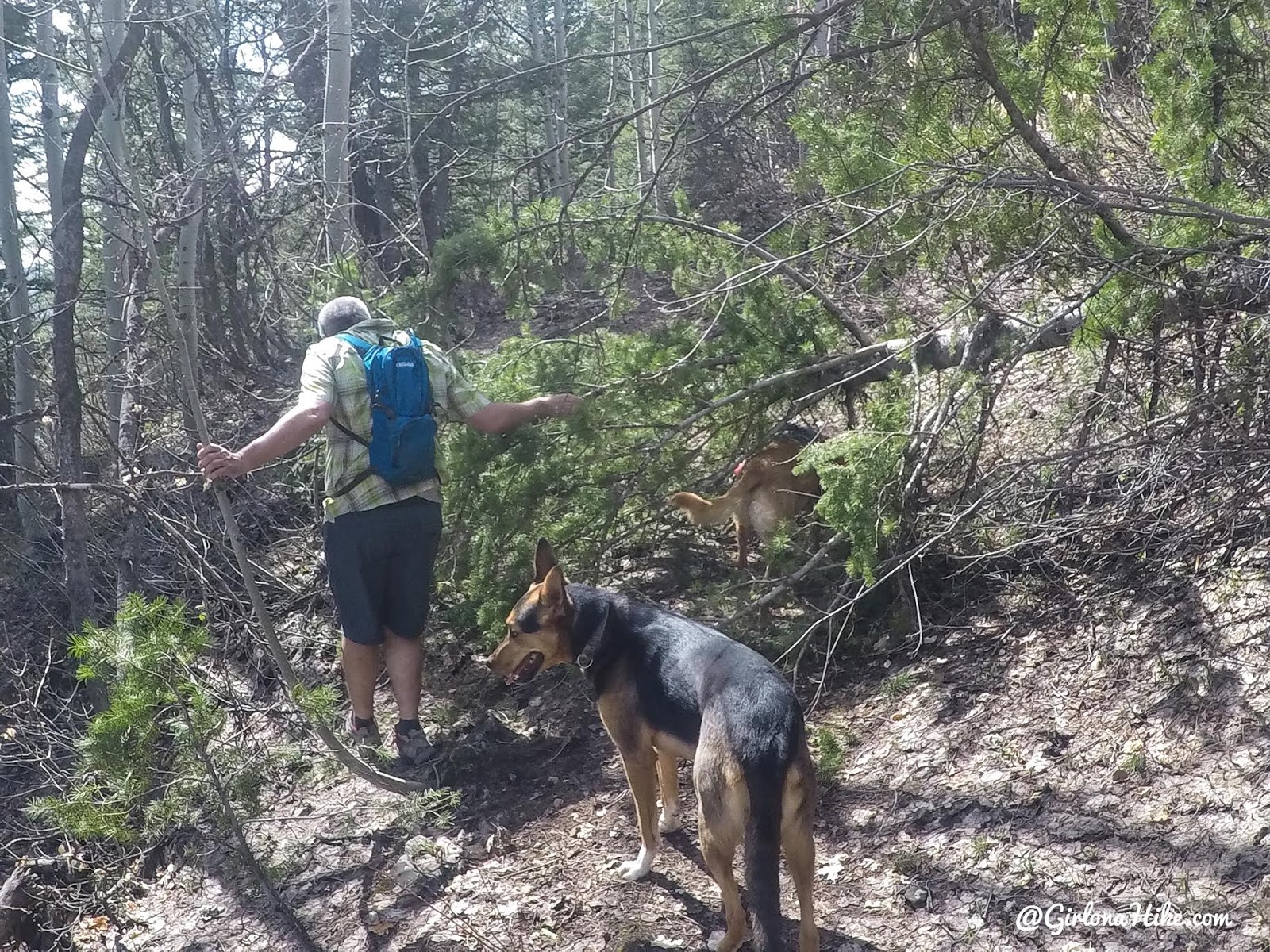 A few dead trees covered the trail but were easy to get around.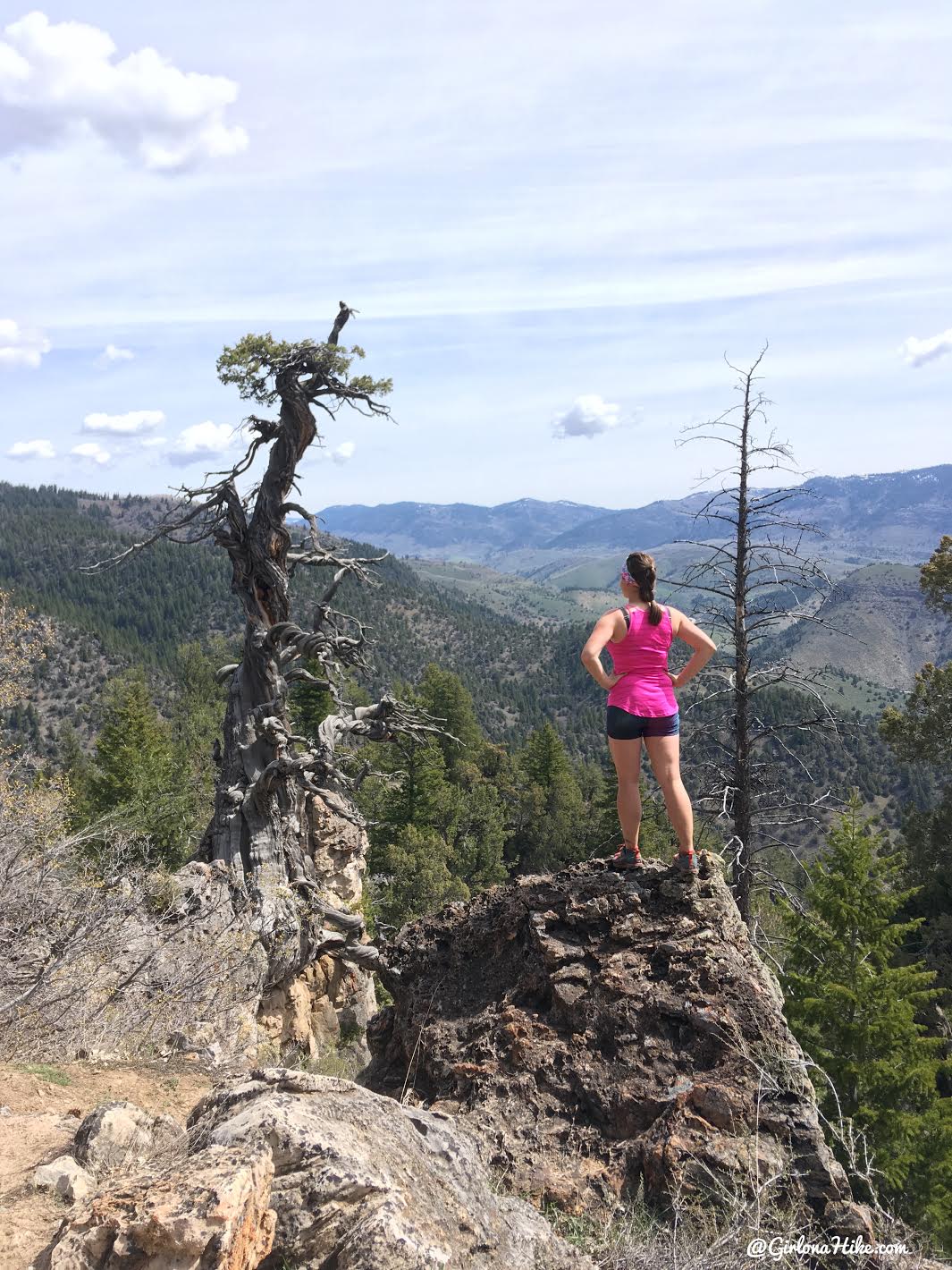 Eventually you will reach the Jardine Juniper! It's even bigger in person! Great views from this area as well. Can't wait to come back in the fall and do this as a trail run.
My track via Gaia GPS – the best tracking app! Get your app here for a discount.
Recommended Gear