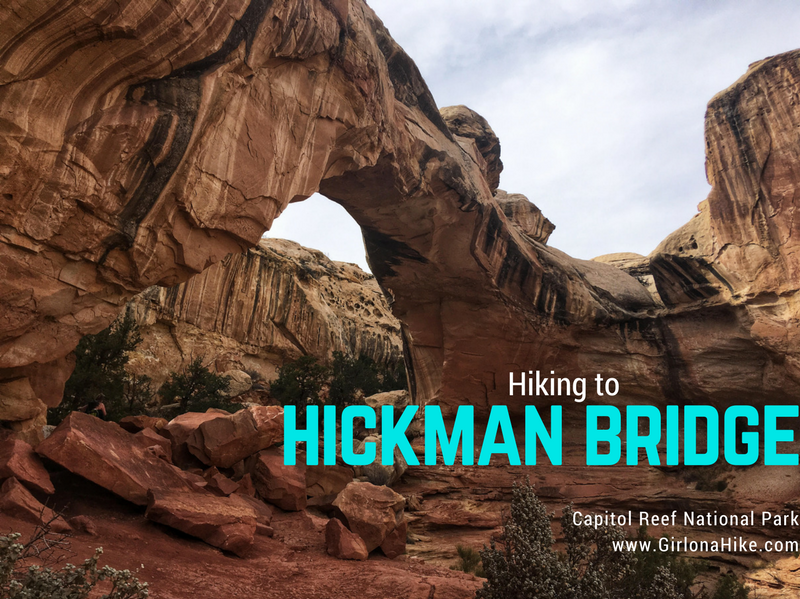 Hiking to Hickman Bridge, Capitol Reef National Park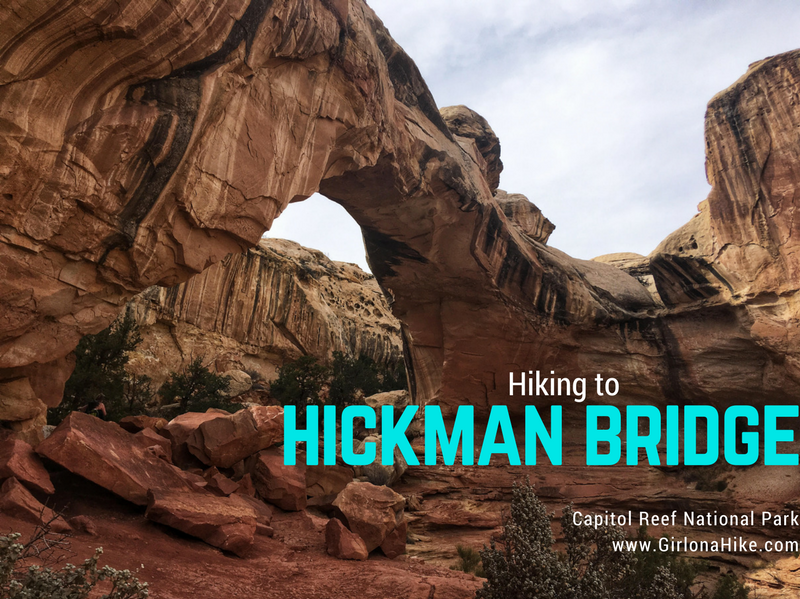 Hickman Bridge is one of the most popular trails in Capitol Reef National Park, and the bridge itself is 130 ft across and 125 ft high. The NP provides a brochure, describing 18 numbered points of interest.
About
The trail starts by following the Fremont River, goes up a hillside, which passes the trail split for Navajo Knobs, crosses an open area then drops down into a shallow, rocky canyon. Hickman Bridge has a very impressive setting, with amazing surrounding views. It was named after Joseph Hickman, a local school administrator and Utah legislator who was an early advocate for the CRNP area. This hike is great for all ages, however dogs are not allowed on this trail.  Many people compare Hickman Bridge to the bridges/arches found at

Natural Bridges National Monument

.
Directions
From the CRNP Visitor Center, drive East on HWY 24 for 2 miles. Turn left at the Hickman Bridge TH sign.
Here's a driving map.
Trail Info
Distance: 2 miles RT
Elevation gain: 316 ft
Time: 1-2 hours
Dog Friendly? No, dogs are not allowed on this trail
Kid Friendly? Yes!
Fees/Permits: None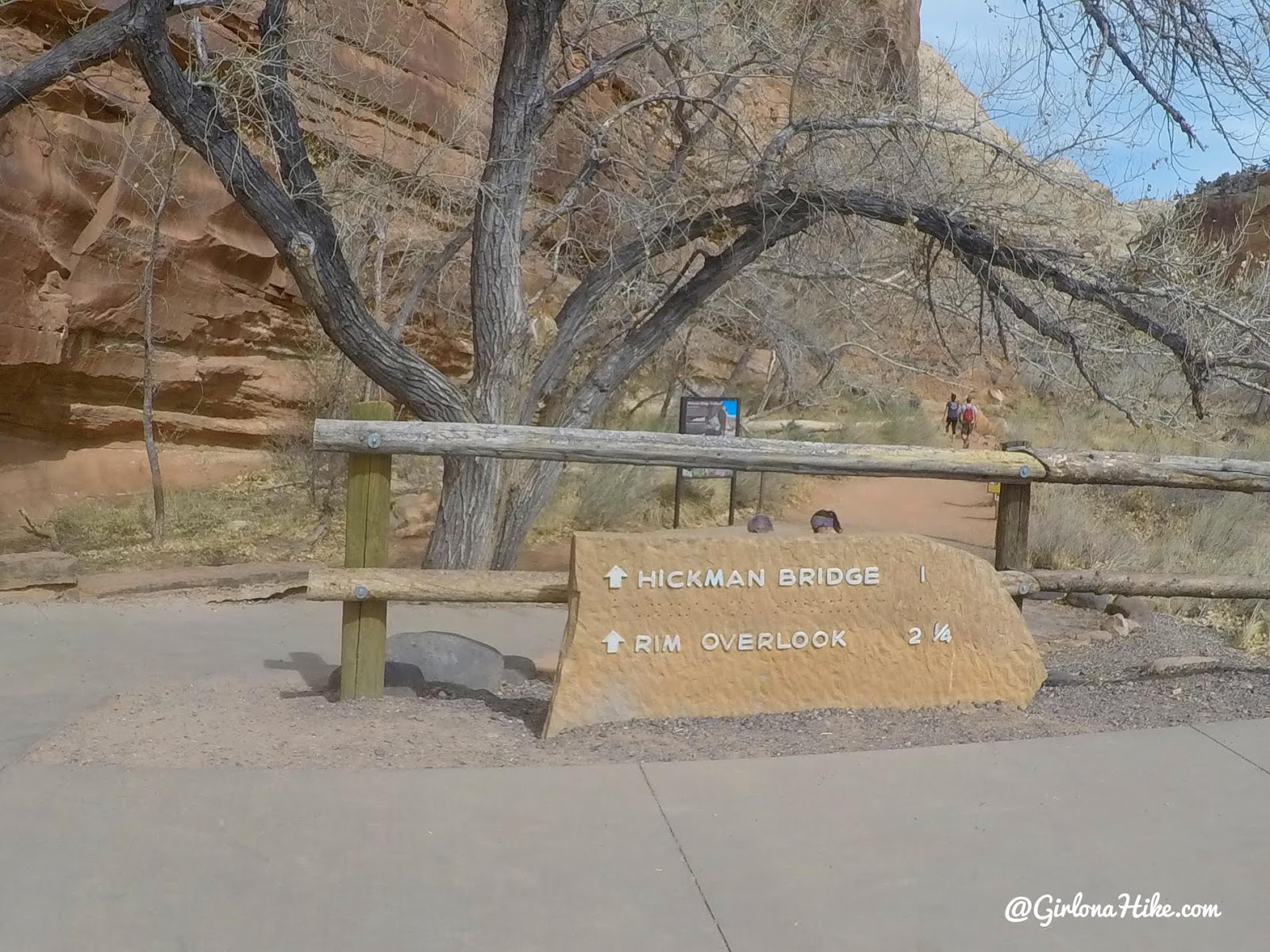 Trailhead sign

If you parked a car shuttle here for hiking to

Cassidy Arch and the Frying Pan Trail

, this is a great hike to do right after since it's short and you will already be there anyway. Knock out two hikes in one day! That's what our group did, so it was 8 miles in one day.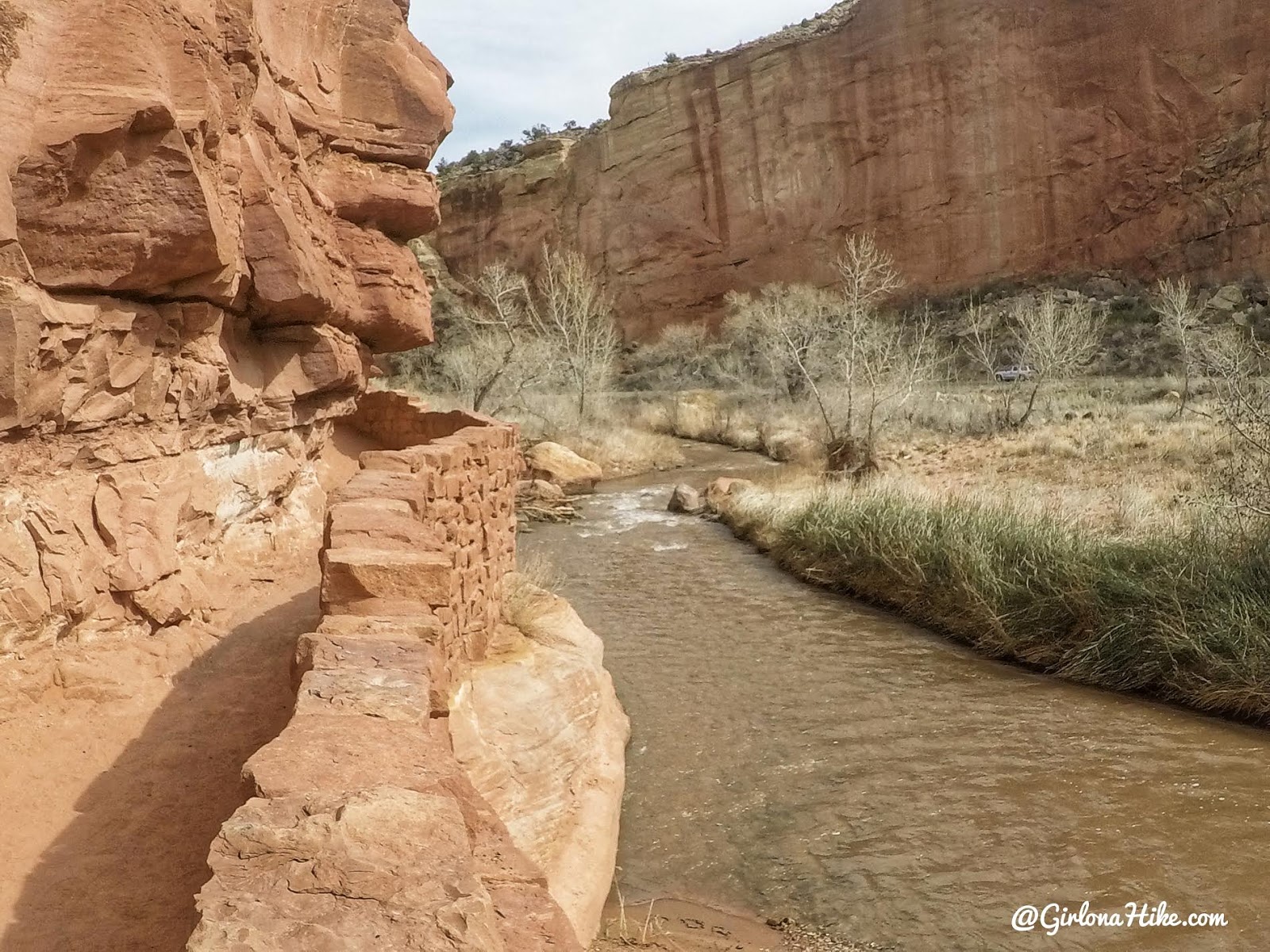 Hike along side Sulphur Creek, and hike up a few small switchbacks.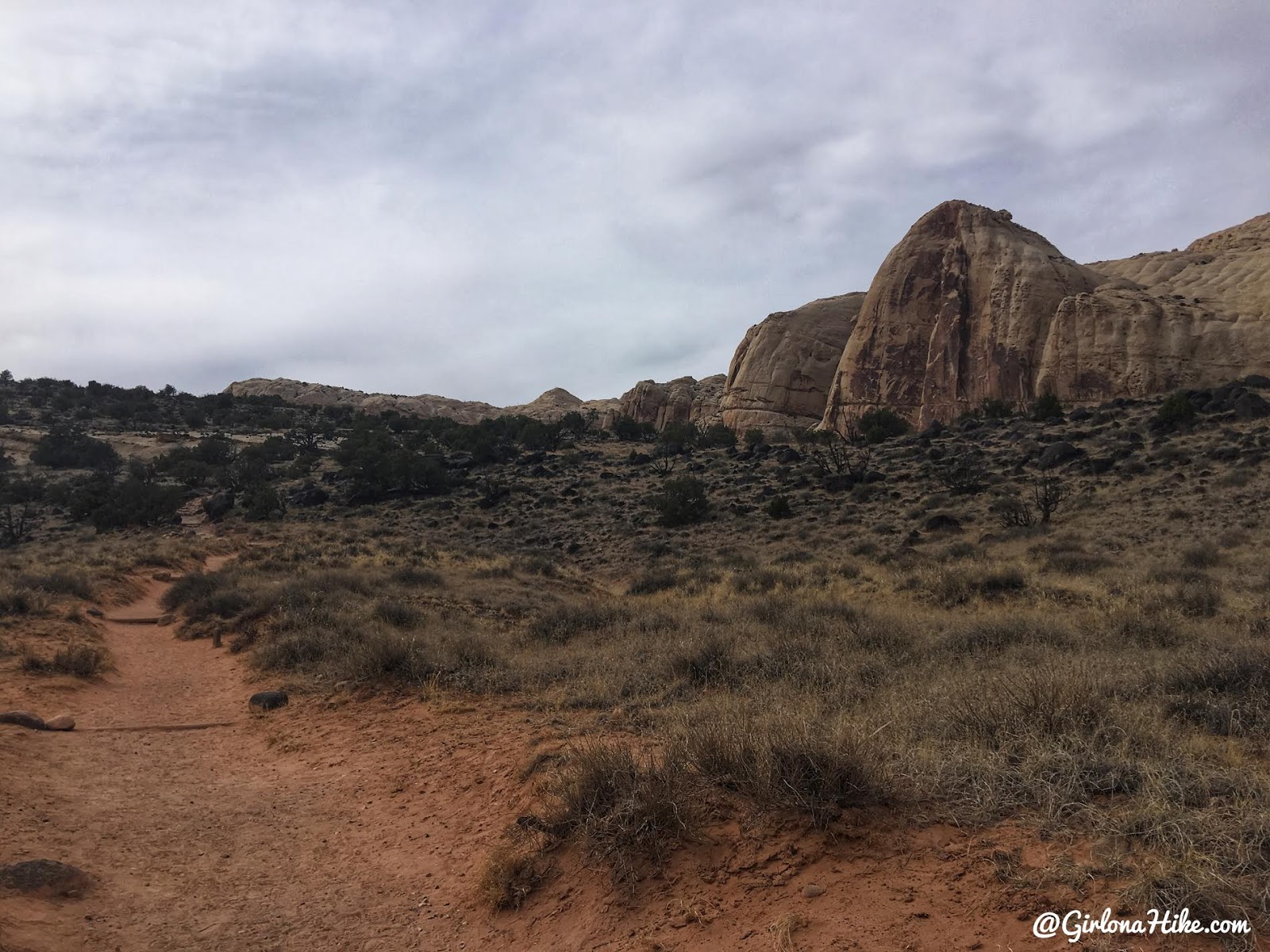 The views will open up, and large white cliffs will be on your right.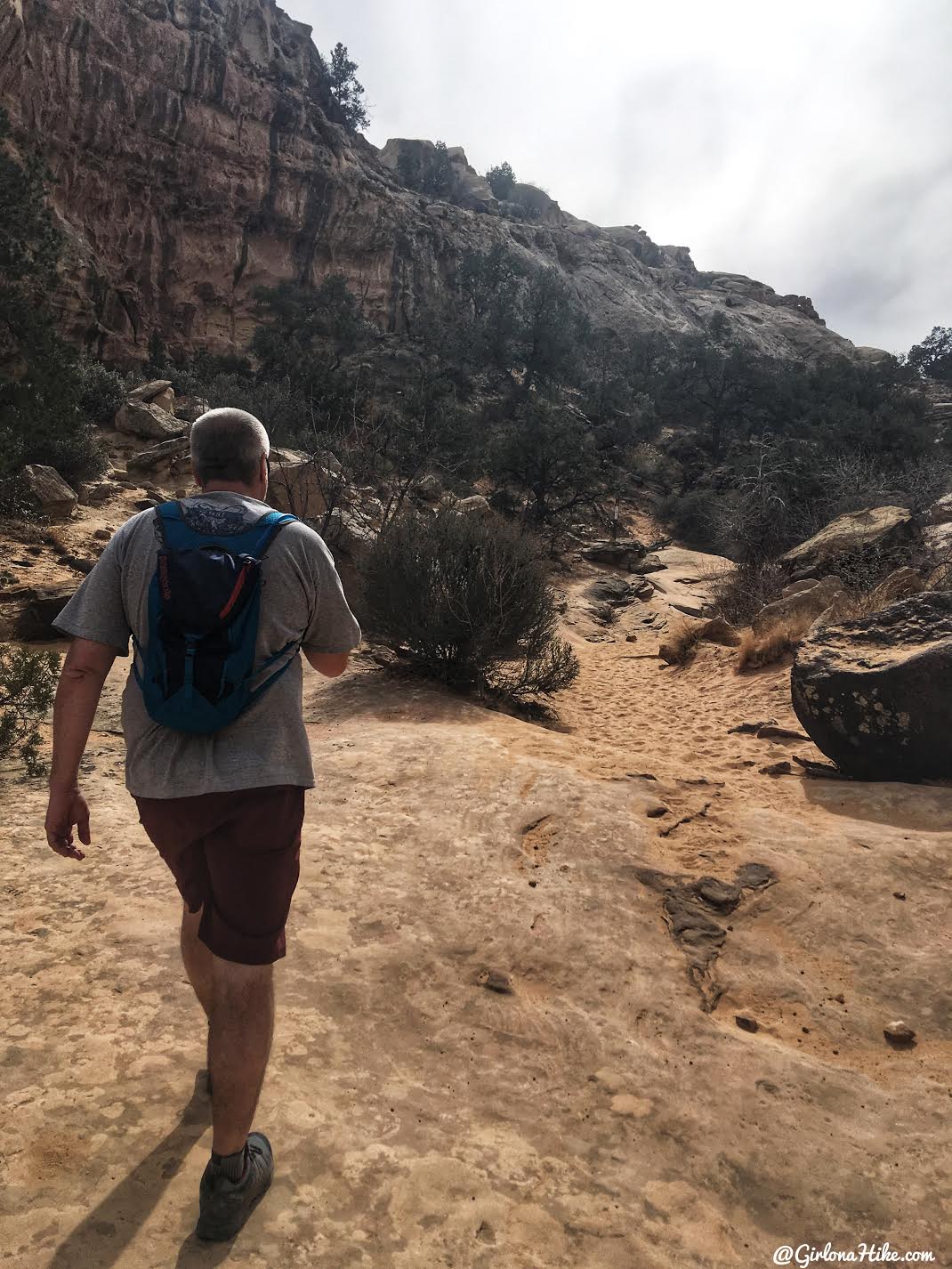 The trails turns kind of sandy, but this is a really easy trail.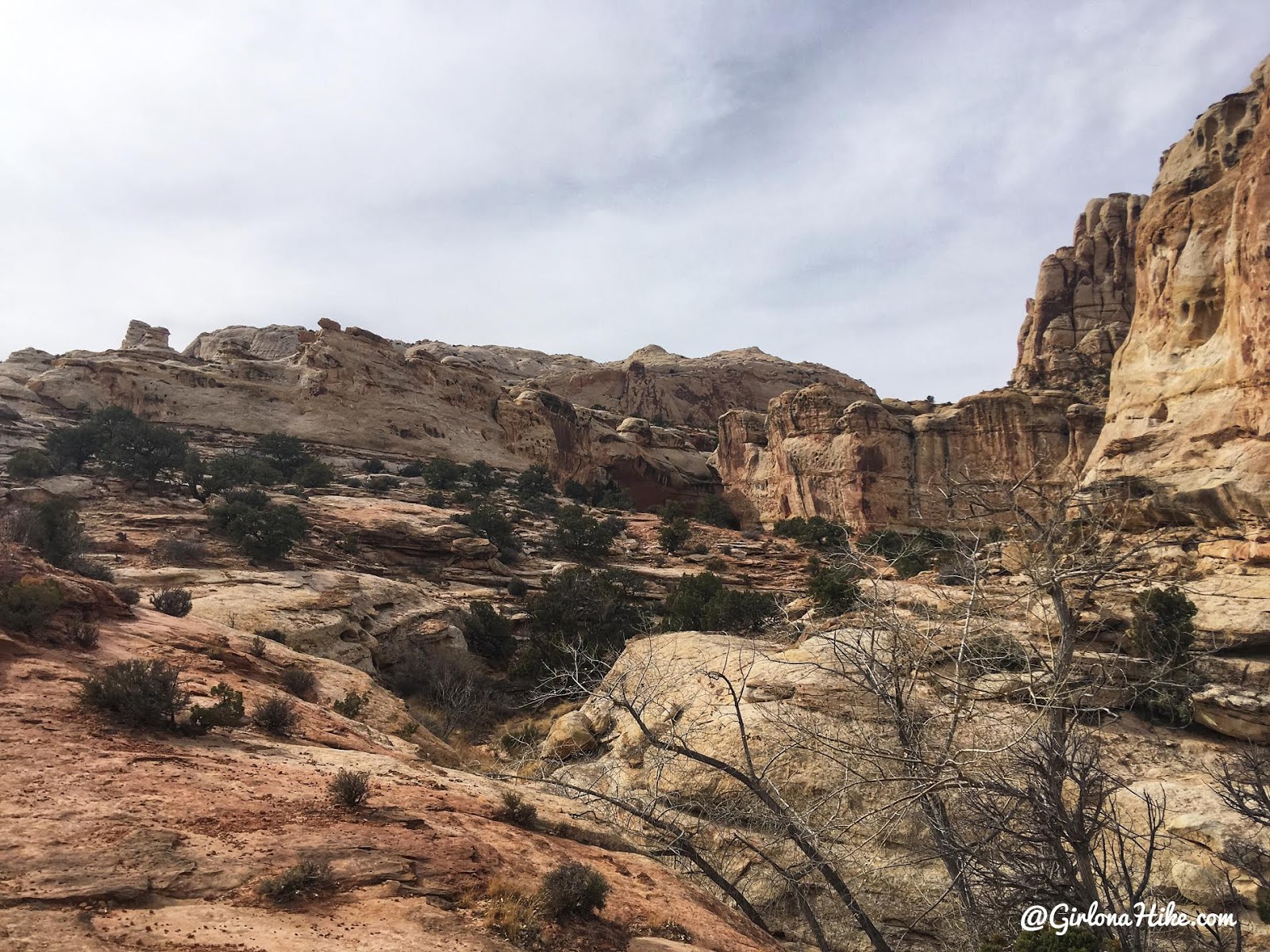 You can actually see Hickman Bridge from here.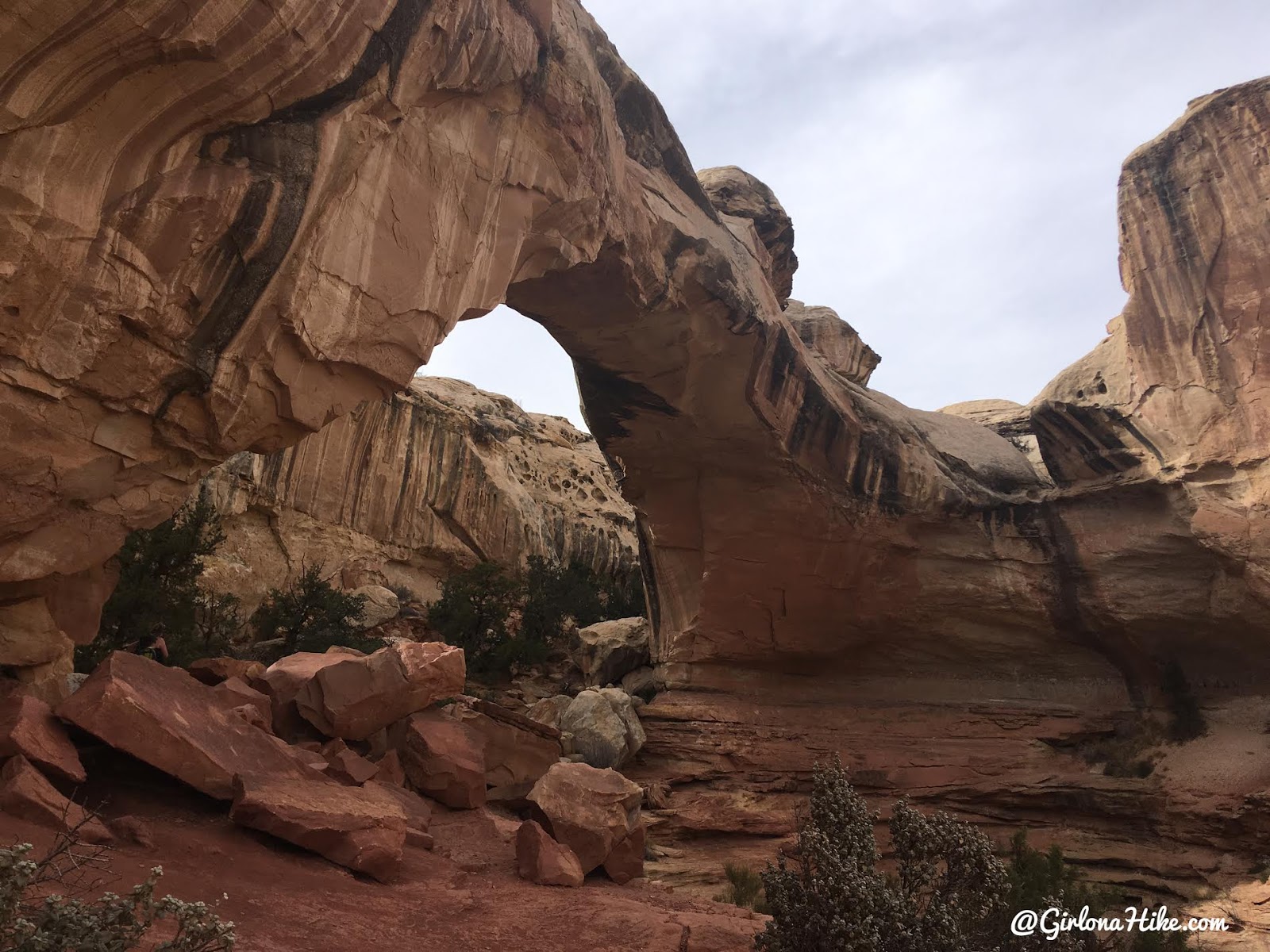 Hickman Bridge was much larger than I was expecting!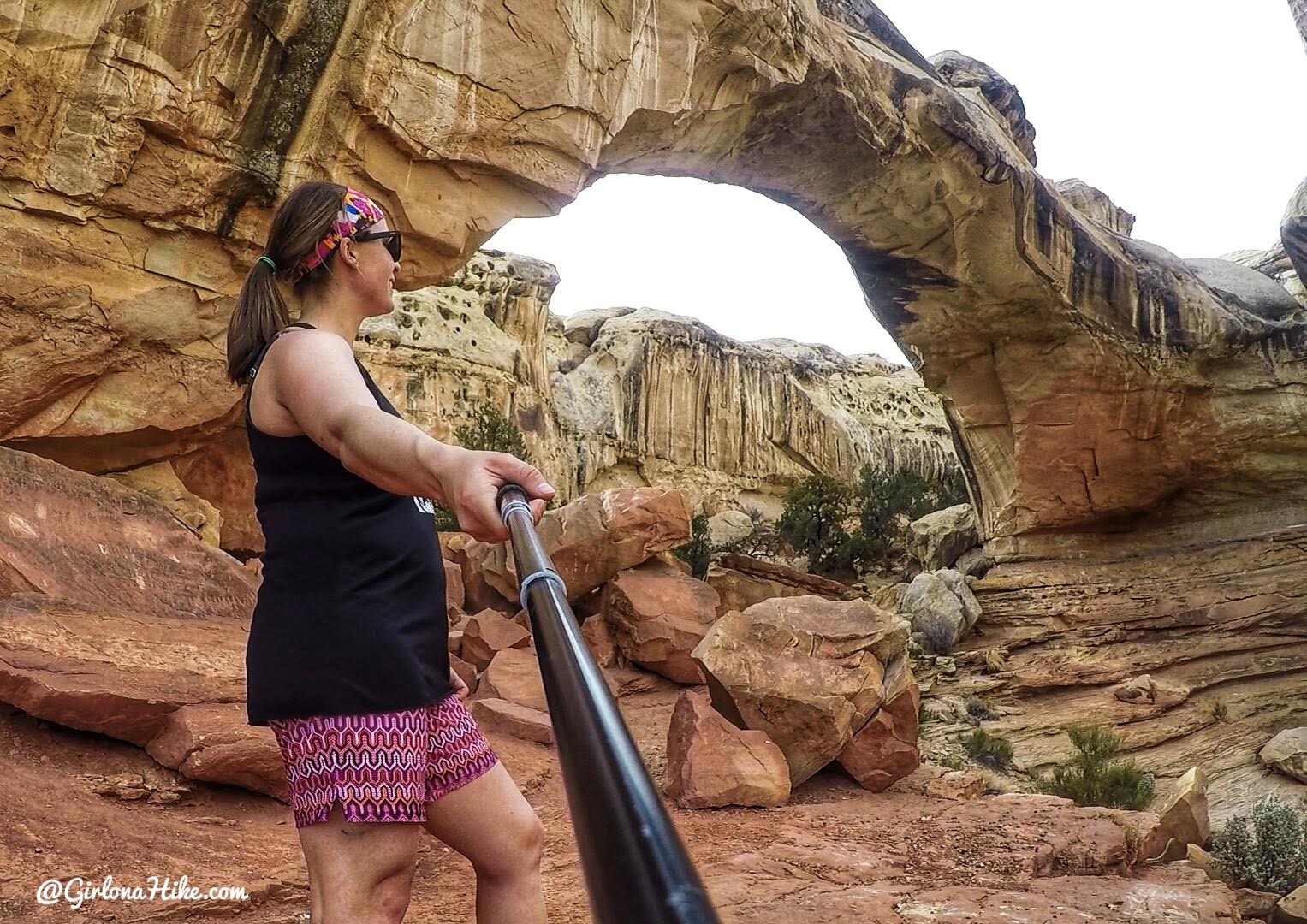 What a cool arch! I figured there had to be a way to the top so I explored a little on my own.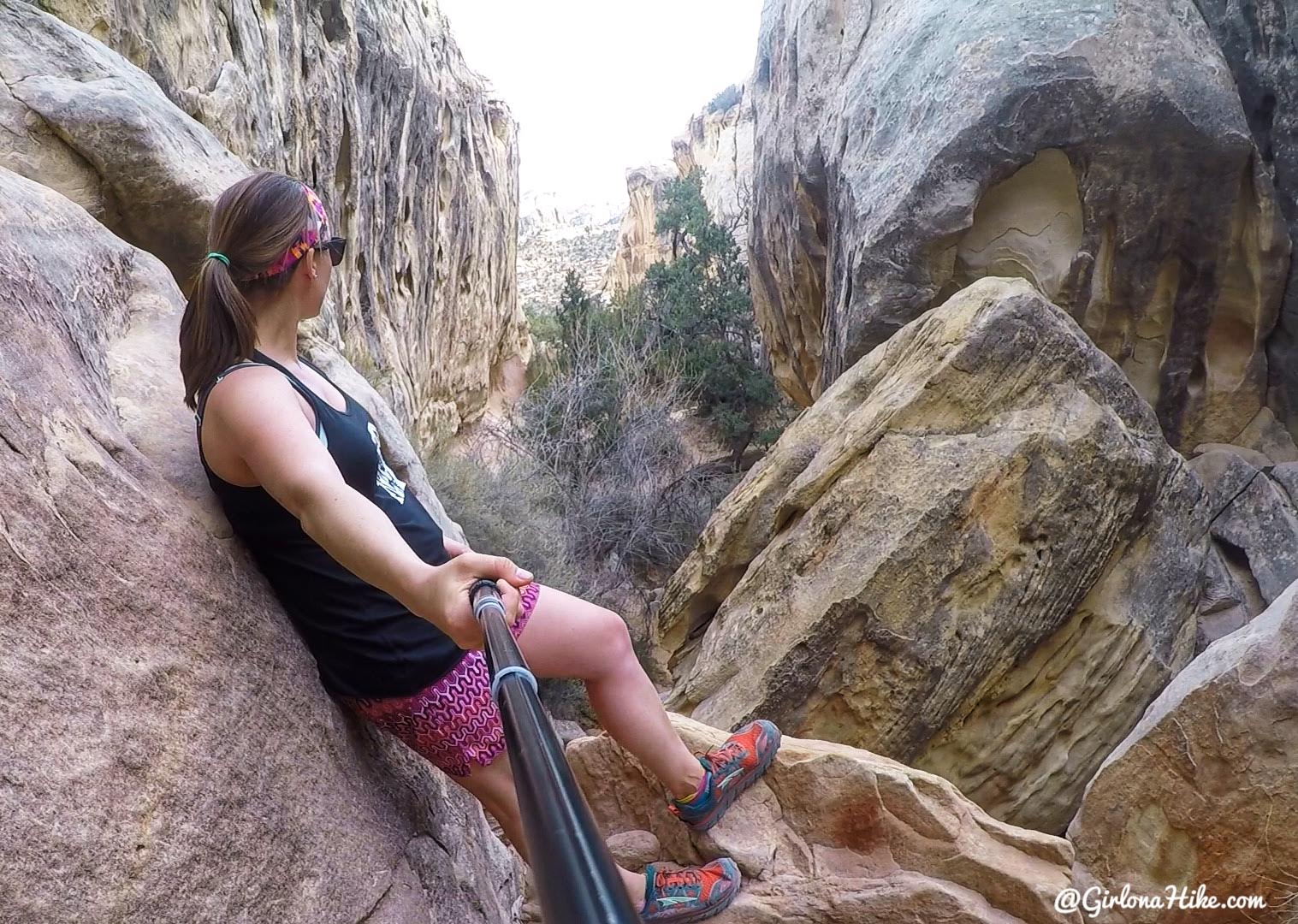 I went by myself, and had to do some light scrambling. This was one section I wasn't sure I could climb up safely, but my friend ended up coming to this same spot and spotted me on the climb. I don't recommend people do this, but I was obsessed with finding a way.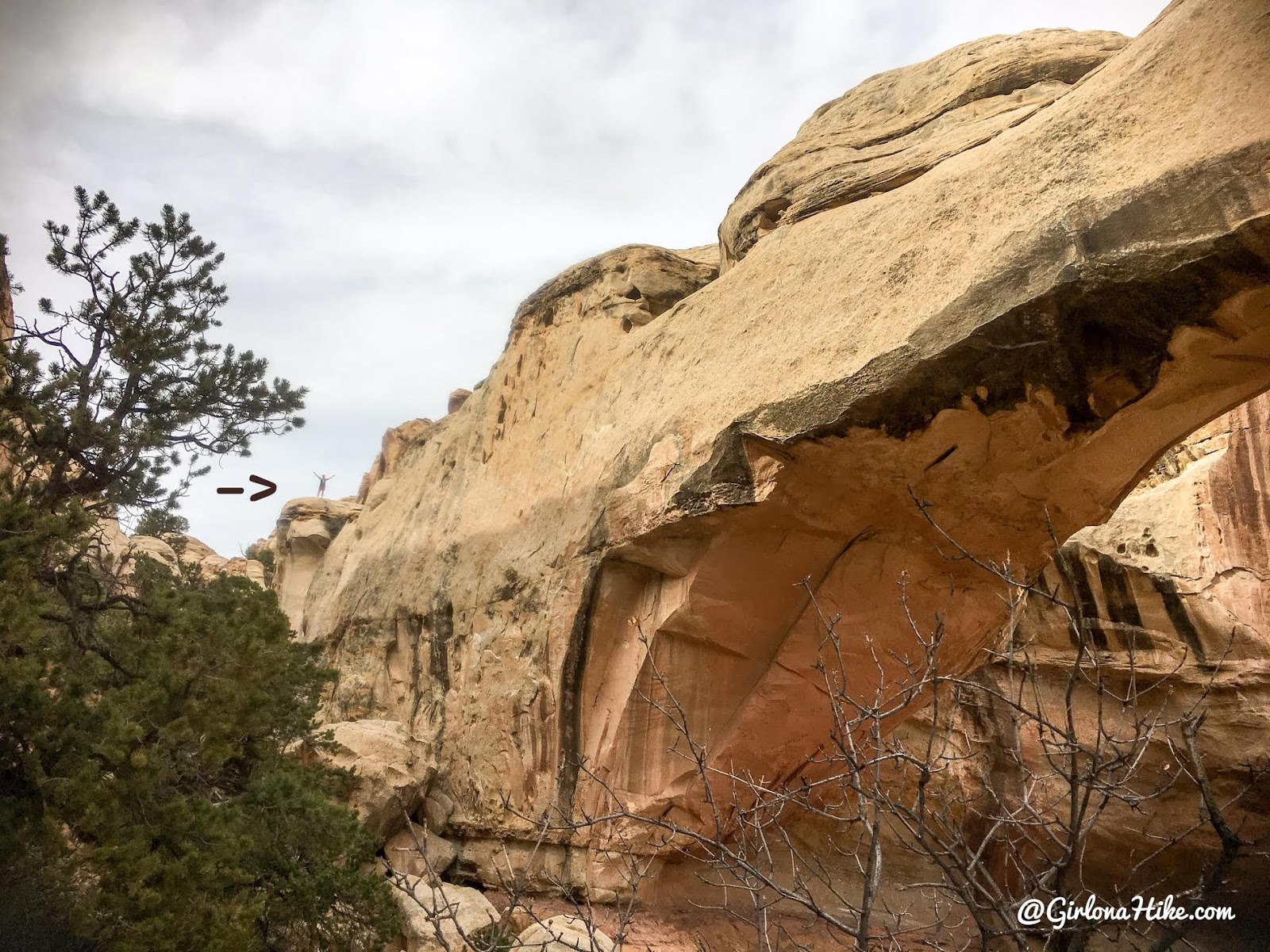 Look how small I am! So I found out there's no way to climb/hike to the very top of the arch. From where I'm standing there's about a 20 ft drop in-between the rocks, and about 20 ft across. There was no other option, so I turned around. Bummer!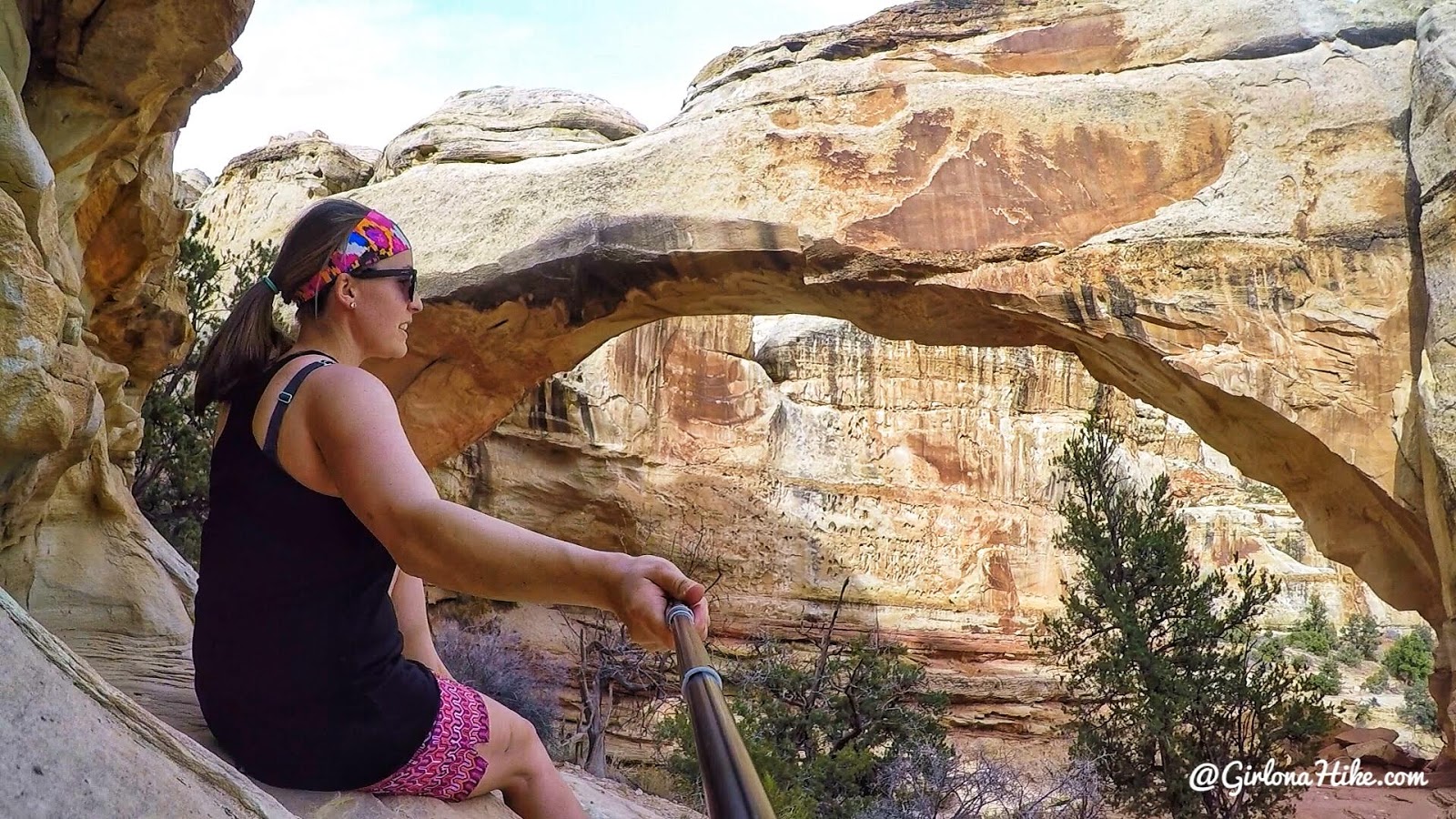 Back down on solid ground, taking in the view from the other side of the arch.
Trail Map
My track via Gaia GPS – the best tracking app! Get your app here for a discount.
Recommended Gear
Nearby Hike
Hiking to Cassidy Arch & the Frying Pan Trail, Capitol Reef National Park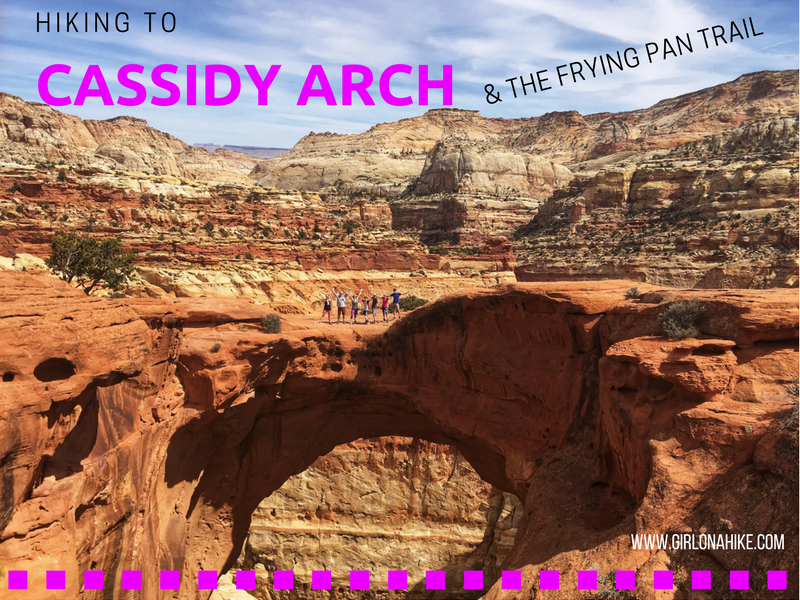 Save me on Pinterest!