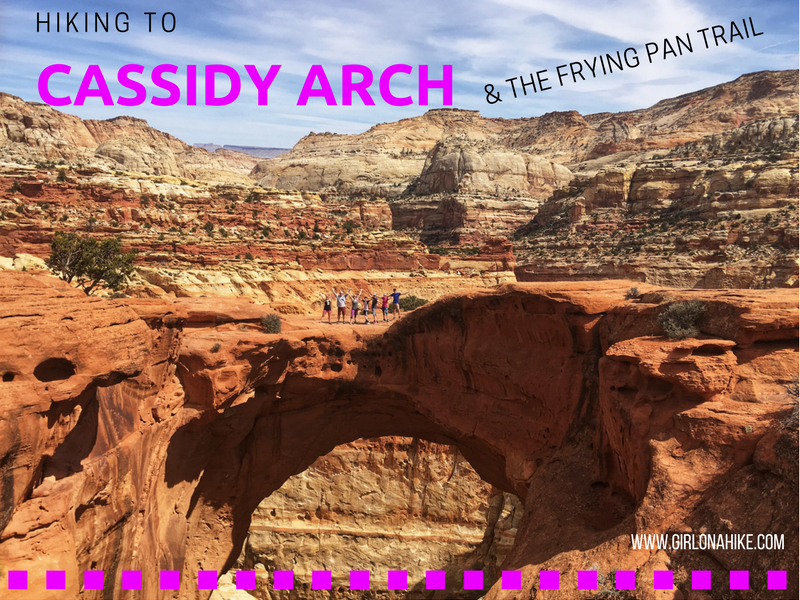 Hiking to Cassidy Arch & the Frying Pan Trail, Capitol Reef National Park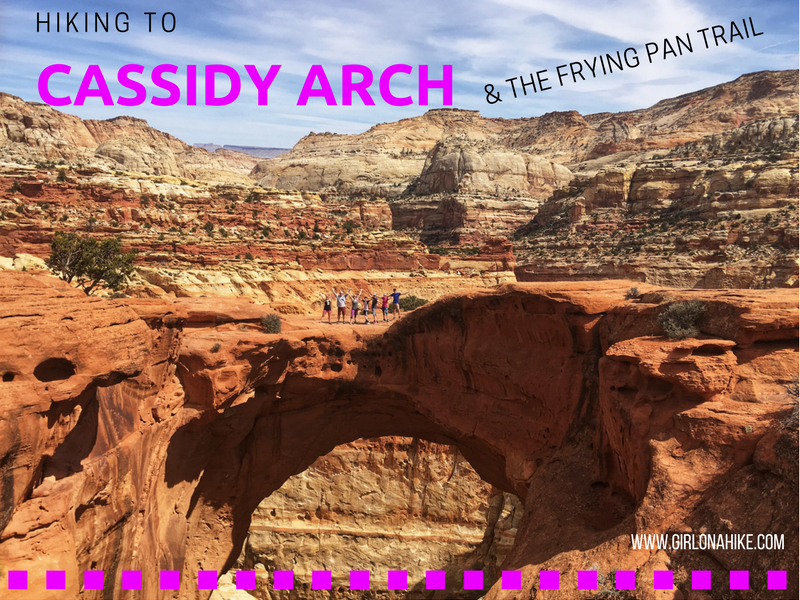 Cassidy Arch is located in Capitol Reef National Park, in the heart of the Waterpocket Fold, a 100-mile monoclinal flexure (simply, a "buckle") in the earth's upper crust. It runs North to South, all the way down to Lake Powell. Along the Fold, rocks have been pushed up and erosion has cut through layers creating deep, narrow canyons and formations. Cassidy Arch, named after Butch Cassidy, is roughly 40 ft across near the top of the arch and the trail provides amazing views of the Grand Wash/Capitol Reef area.
About
If you only want to hike to the arch, it's 3 miles RT. However, the best way to really get the most bang for your buck, er.. hike, is to hike the Frying Pan Trail past the arch, point-to-point, and connect over to the Hickman Bridge/HWY 24 trail head. Doing this requires a car drop, so you'll need two cars OR, you can try to hitch a ride back to your starting point. Point to point, including Cassidy Arch, is only 5.5 miles. This route provides some of the best views in Capitol Reef National Park. You get to walk along cliff edges, climb on top of rocky area, & see the famous orange, red, and white stripes that make up a large part of Southern Utah.
The trail is best in Spring or Fall, when the temperatures are much cooler. Summer would be miserably hot – there is also very little shade and no water along the way. Even in cooler temps, be prepared with at least 3 liters of water. Dogs are not allowed, of course since its a National Park, and older kids will also enjoy this route.
Directions
From the CRNP Visitor Center, drive south on Camp Ground Rd for 3.4 miles. Turn left at the Grand Wash TH sign. Follow this to the end of the road where the trail starts.
Here's a driving map.
Trail Info
Distance: 3 miles RT to Cassidy Arch
5.5 miles point-to-point from the Cassidy Arch TH to the HWY 24/Hickman Bridge TH
Elevation gain: 1,400 ft (point to point)
Time: 2-4 hours
Dog Friendly? No, dogs are not allowed on this trail
Kid Friendly? Yes, but only to Cassidy Arch
Fees/Permits: None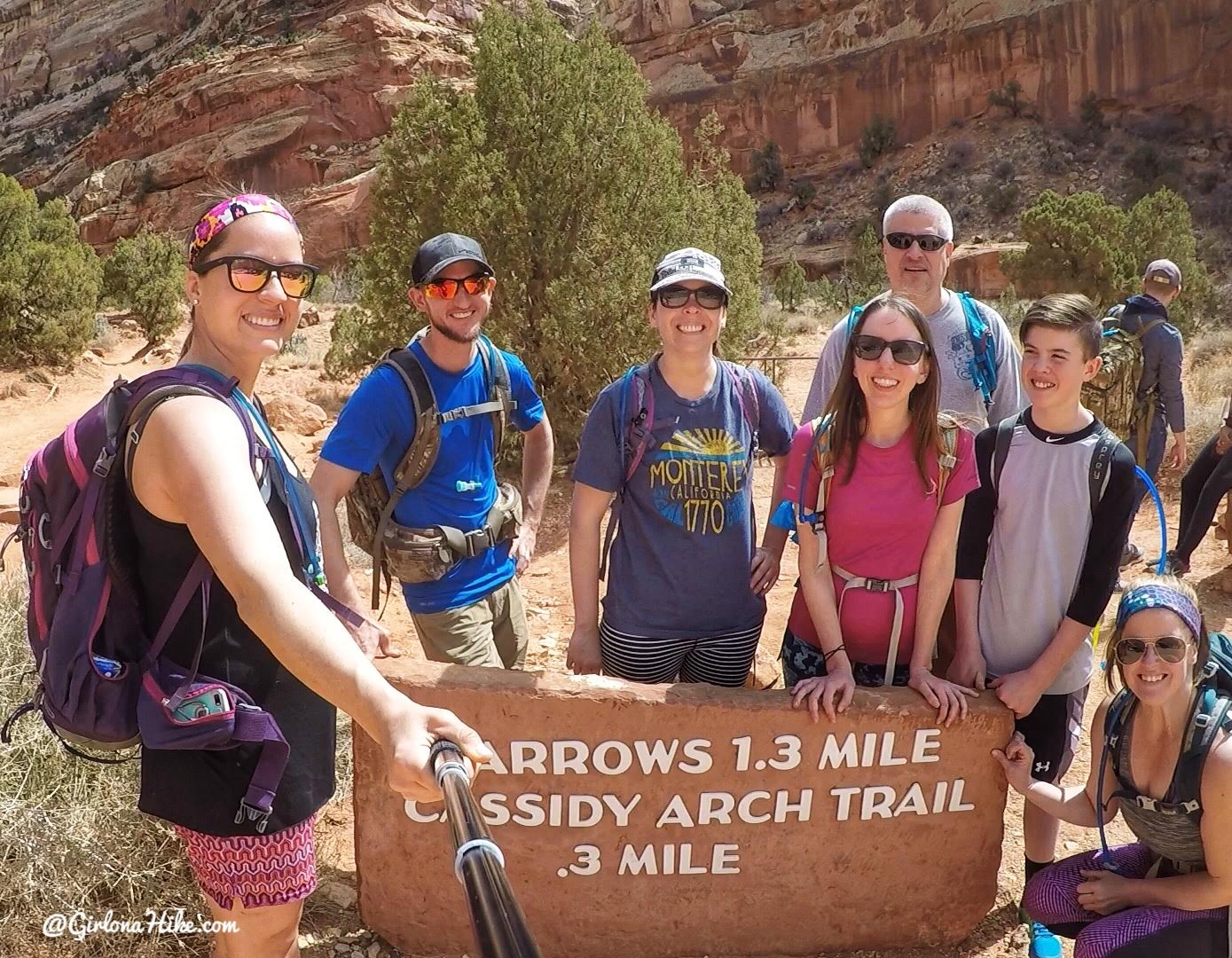 Ready to go! We didn't start hiking until noon or so, and it was already hot for Easter weekend.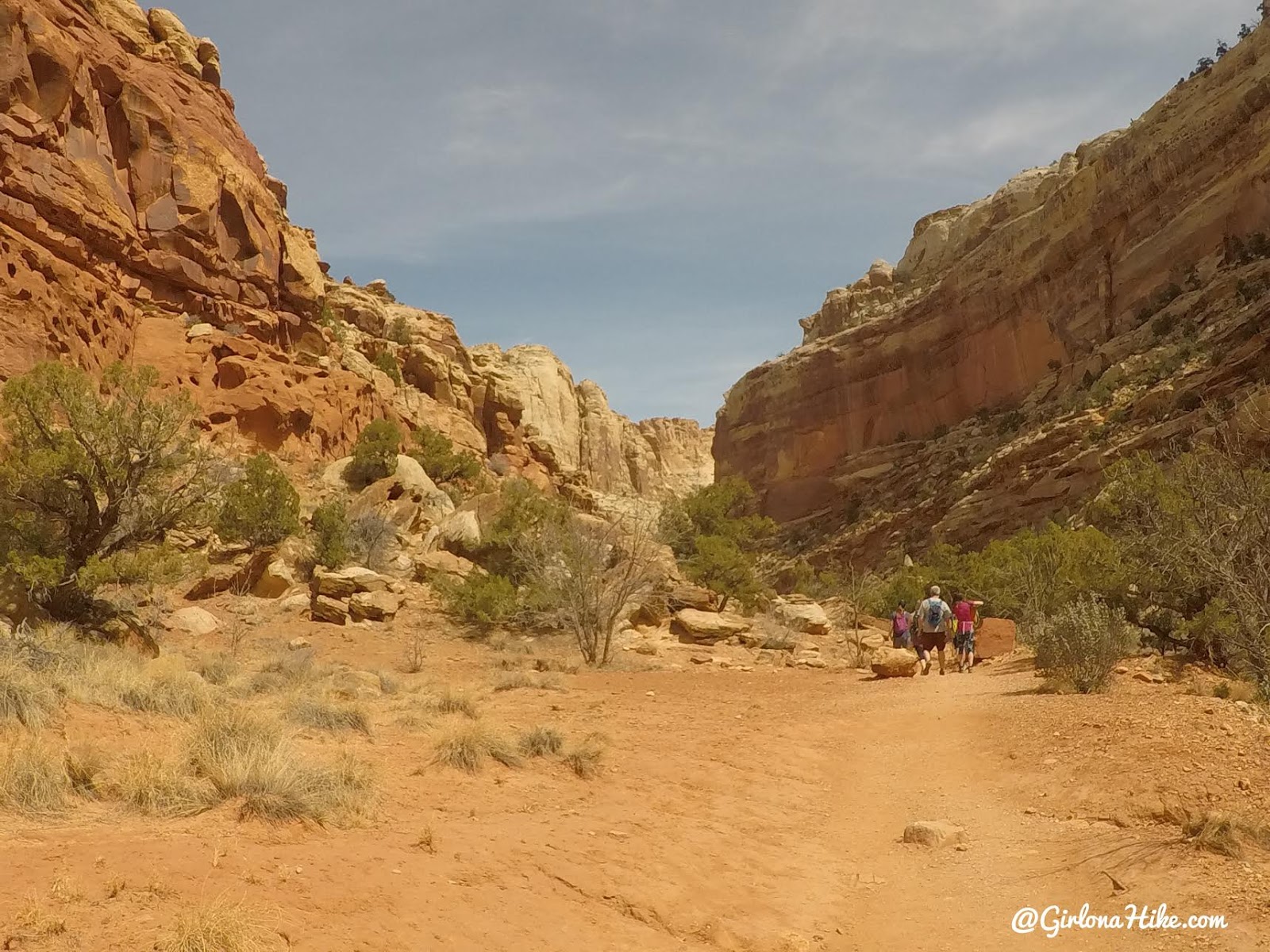 Start by following Grand Wash.
Keep an eye out for the water and trail sign on the left side of the canyon. This is how you will reach Cassidy Arch, and connect back over to your car via the Frying Pan Trail to HWY 24.
You'll immediately gain elevation and have amazing views of Grand Wash.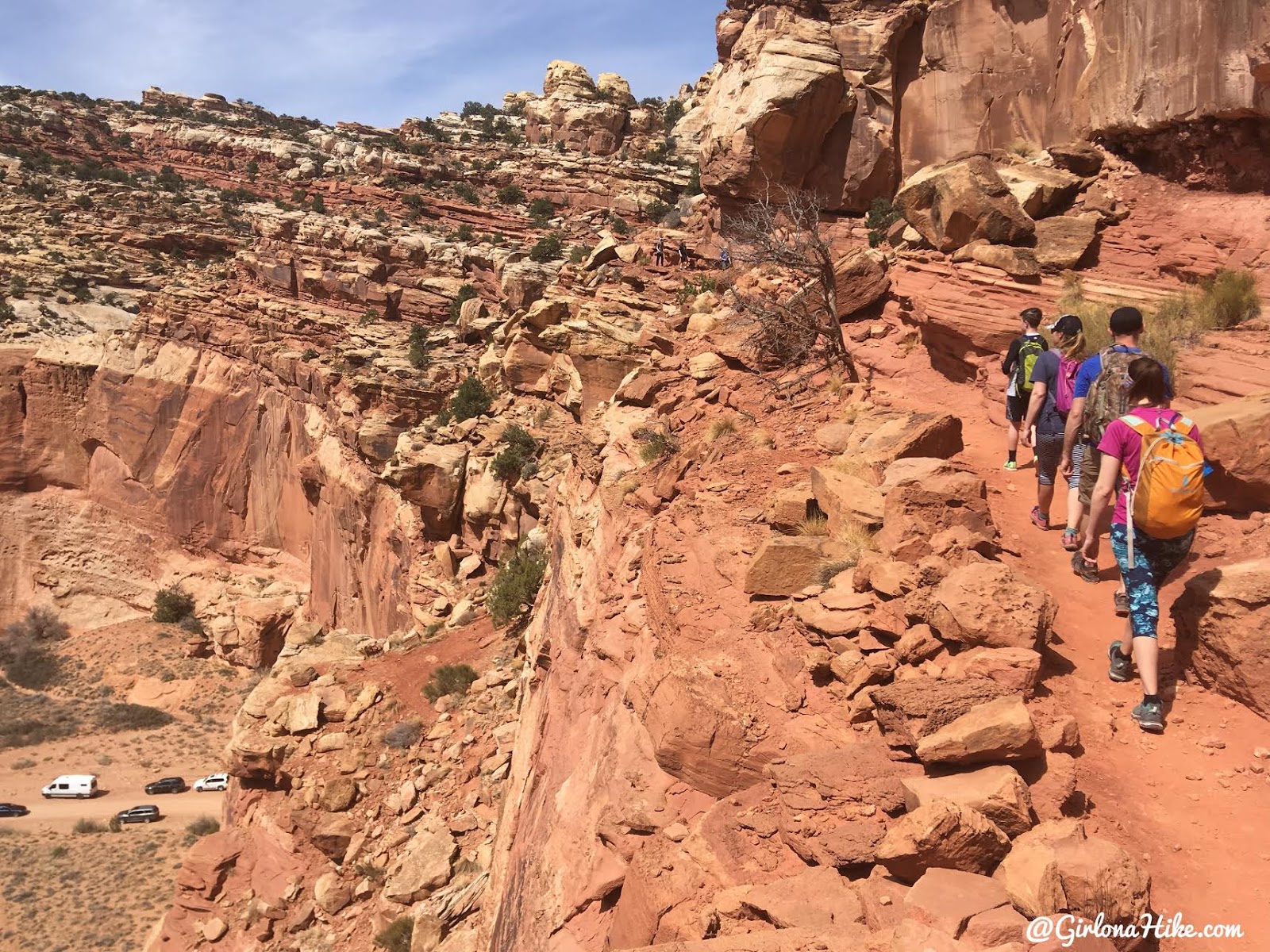 I spy a white van….that's our car way down there!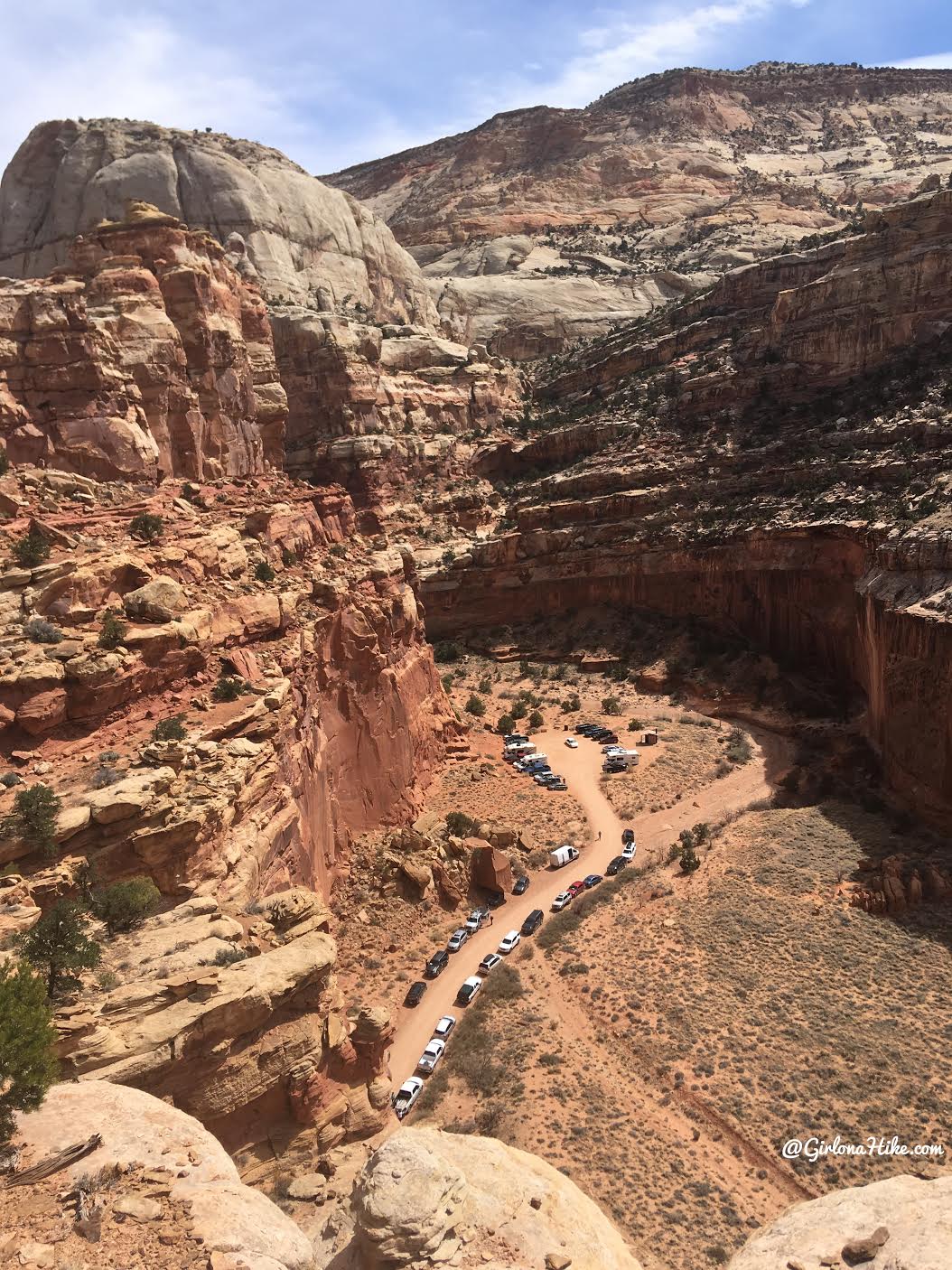 Looking back, and down to the TH – the trail was really packed.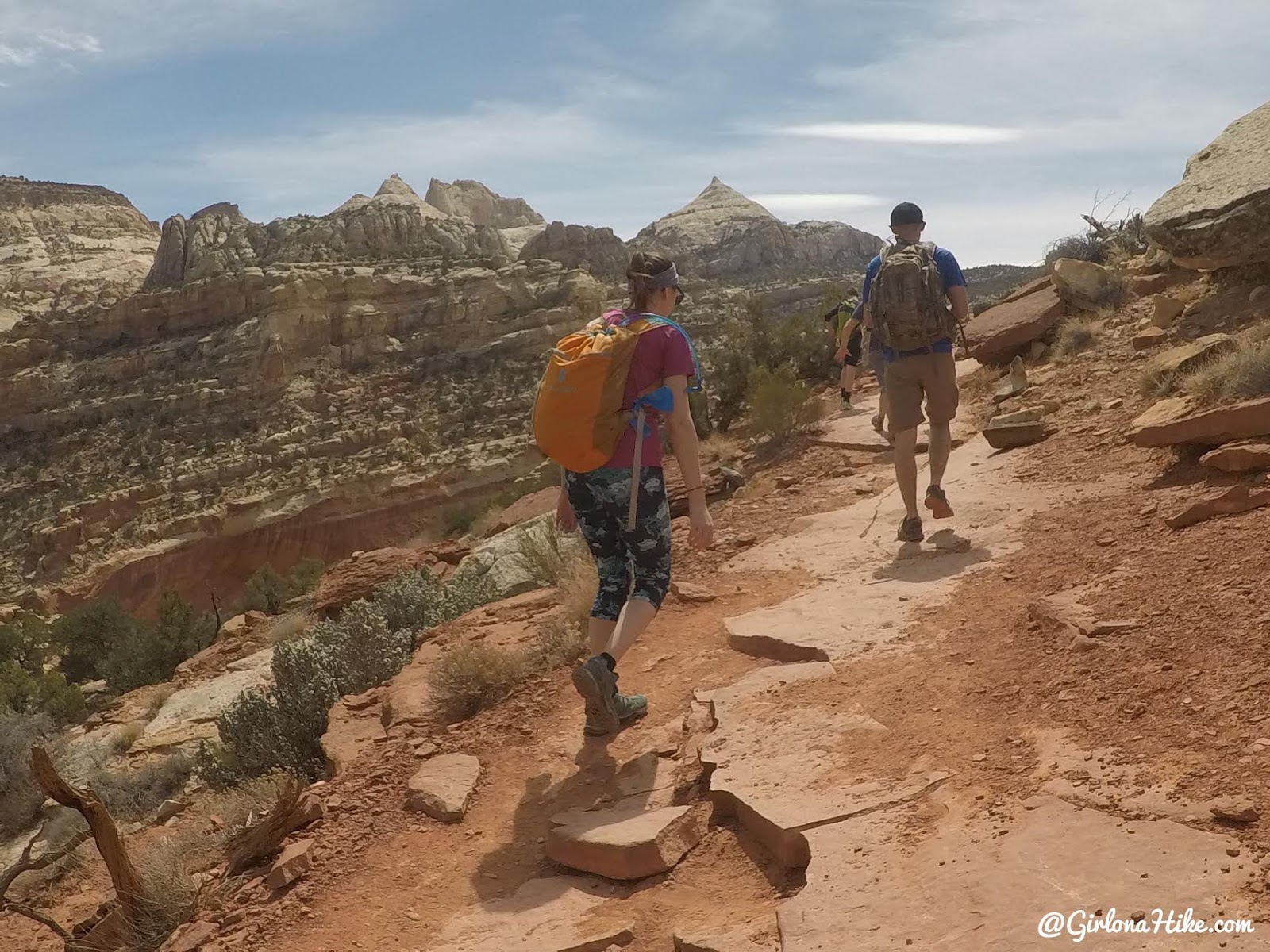 Hiking along the ridge, with "Fern's Nipple" in the distance.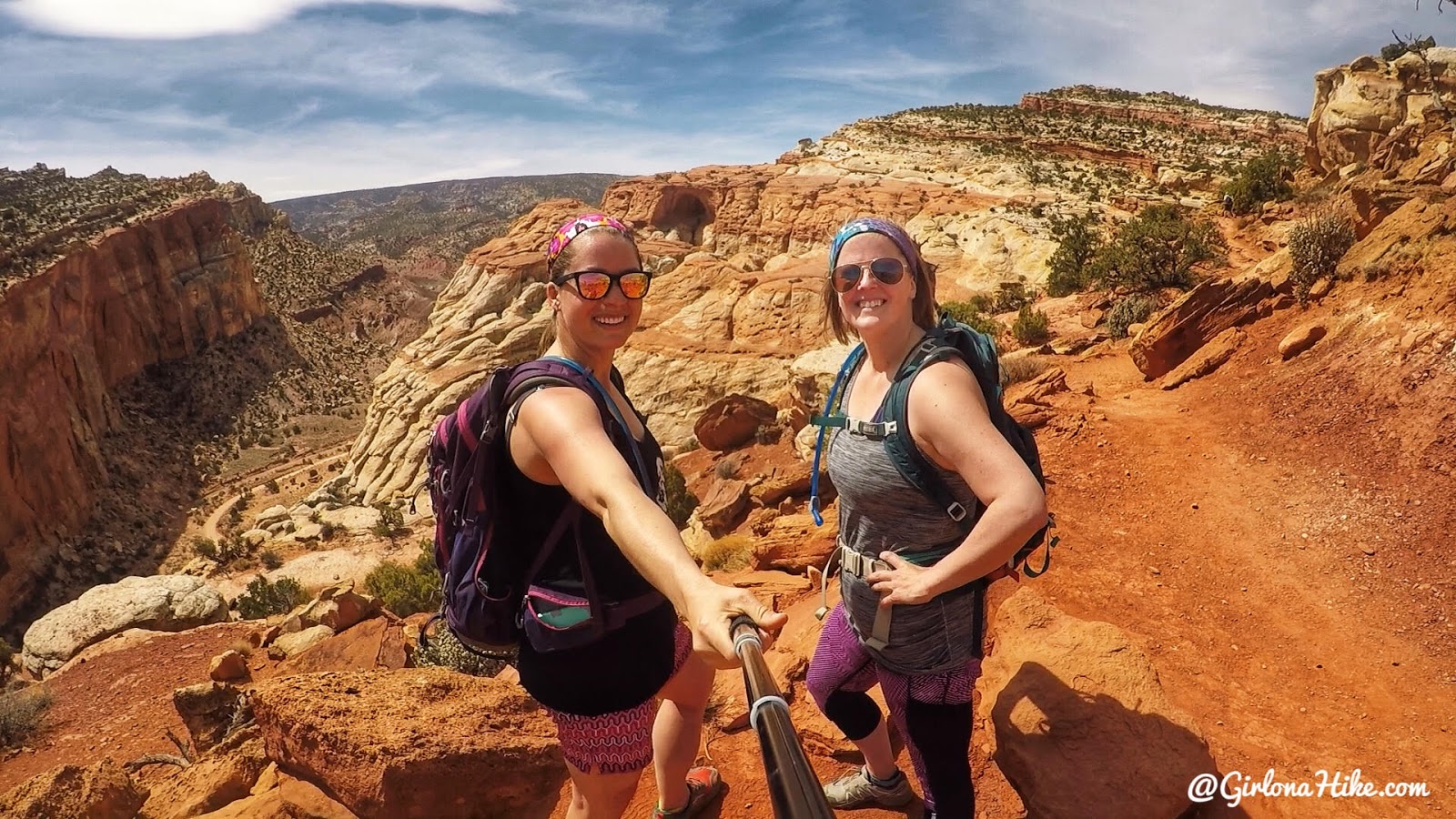 Cassidy Arch is right next to my head in the distance – you're halfway there!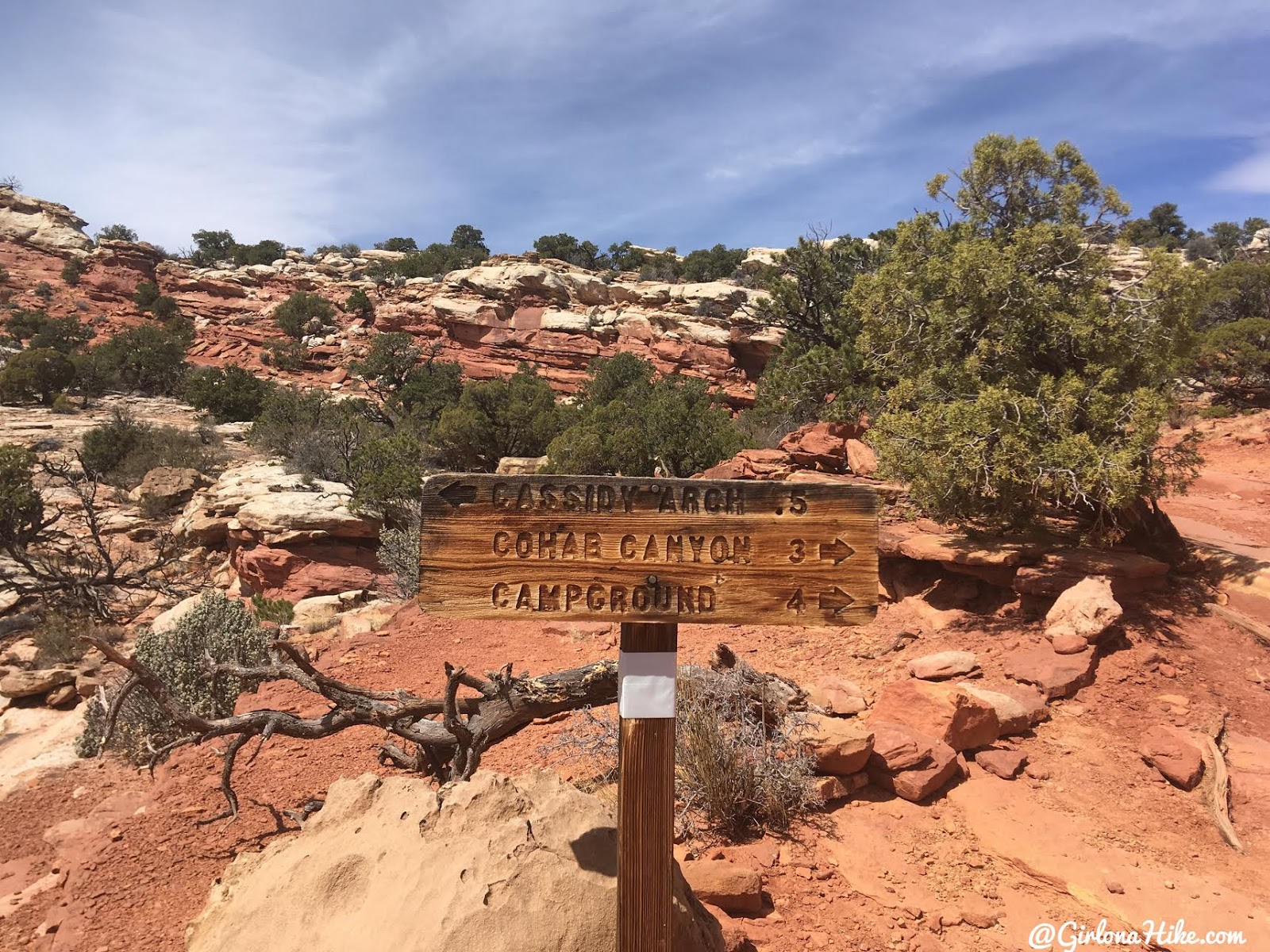 You'll reach the trail split – Cassidy Arch is to the left and about another 10 min hike. Stop here first before coming back to this split and connecting to the Frying Pan Trail. You won't see a trail sign for HWY 24 or the Frying Pan Trail until the very end, but this is the right way.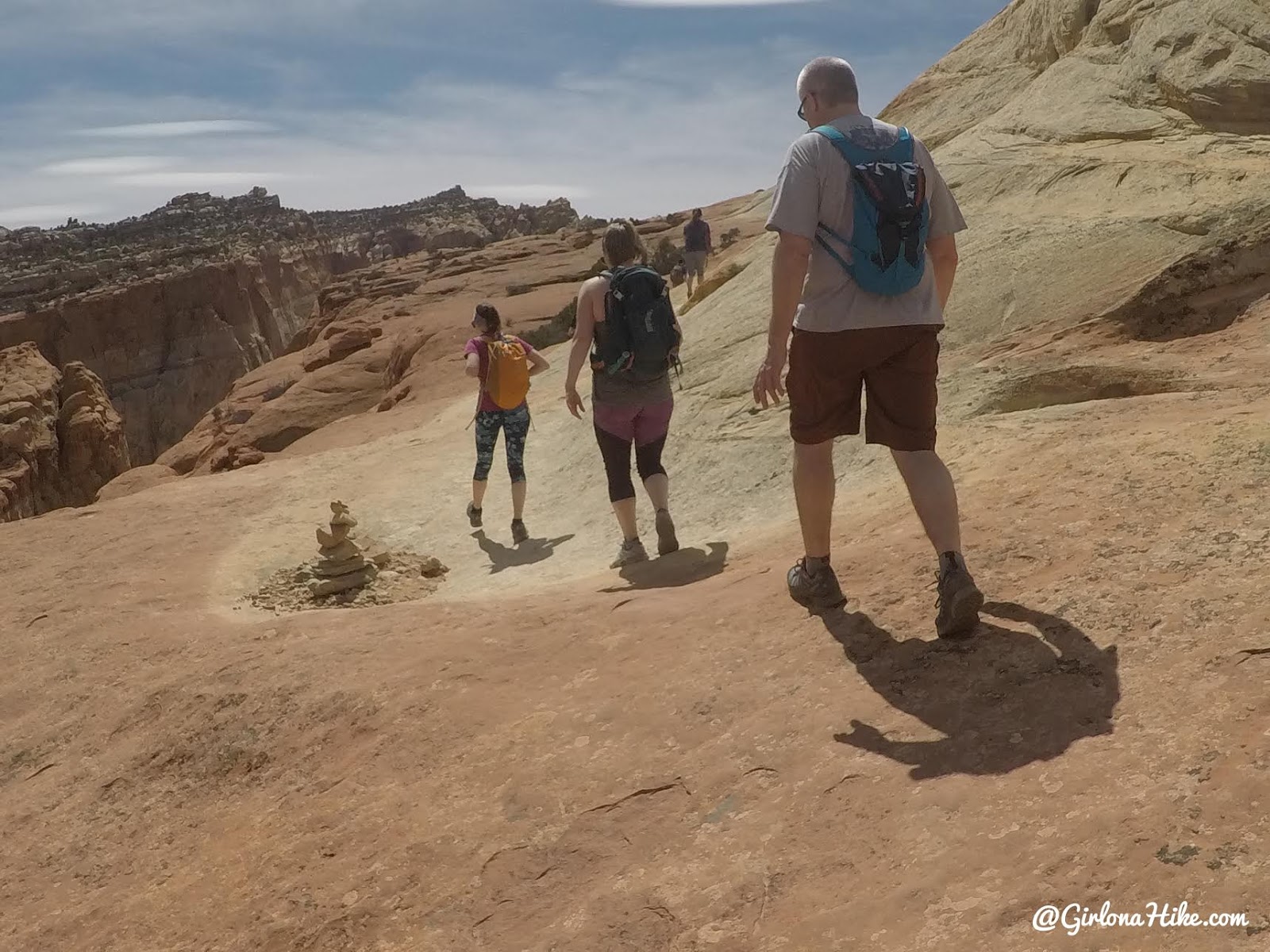 The trail to Cassidy Arch turns into slick rock. If you haven't noticed yet, there's zero shade on this hike. If you are hiking in hot temps, be sure to start early in the morning to beat the heat.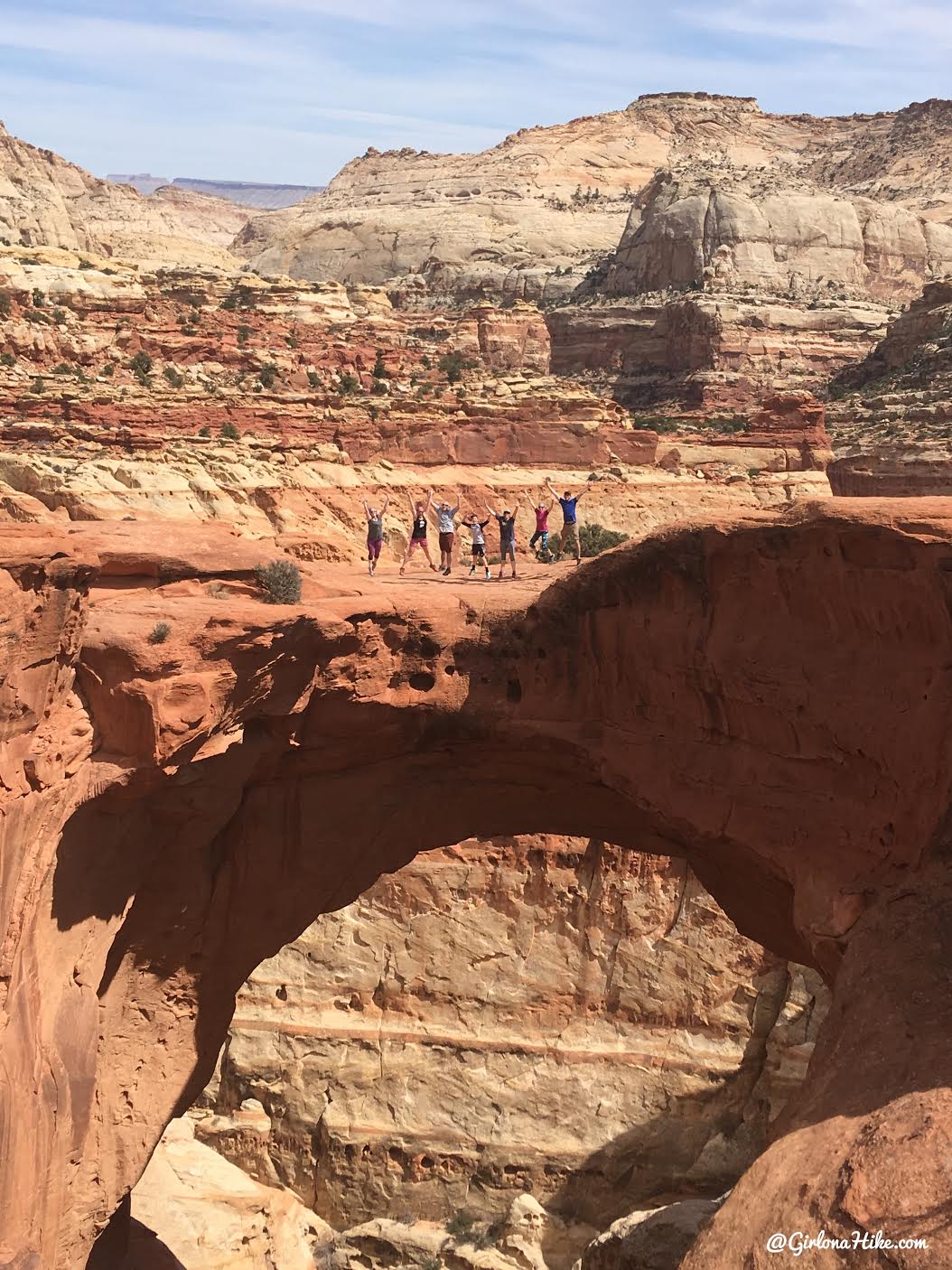 We made it! Standing on top of the arch is not scary at all – it's about 20-25 feet wide so there's plenty of room to walk.
Group selfie!
One more photo! This arch is really cool but also hard to get pictures since there's so many people. Thankfully we waited a few minutes and people cleared out.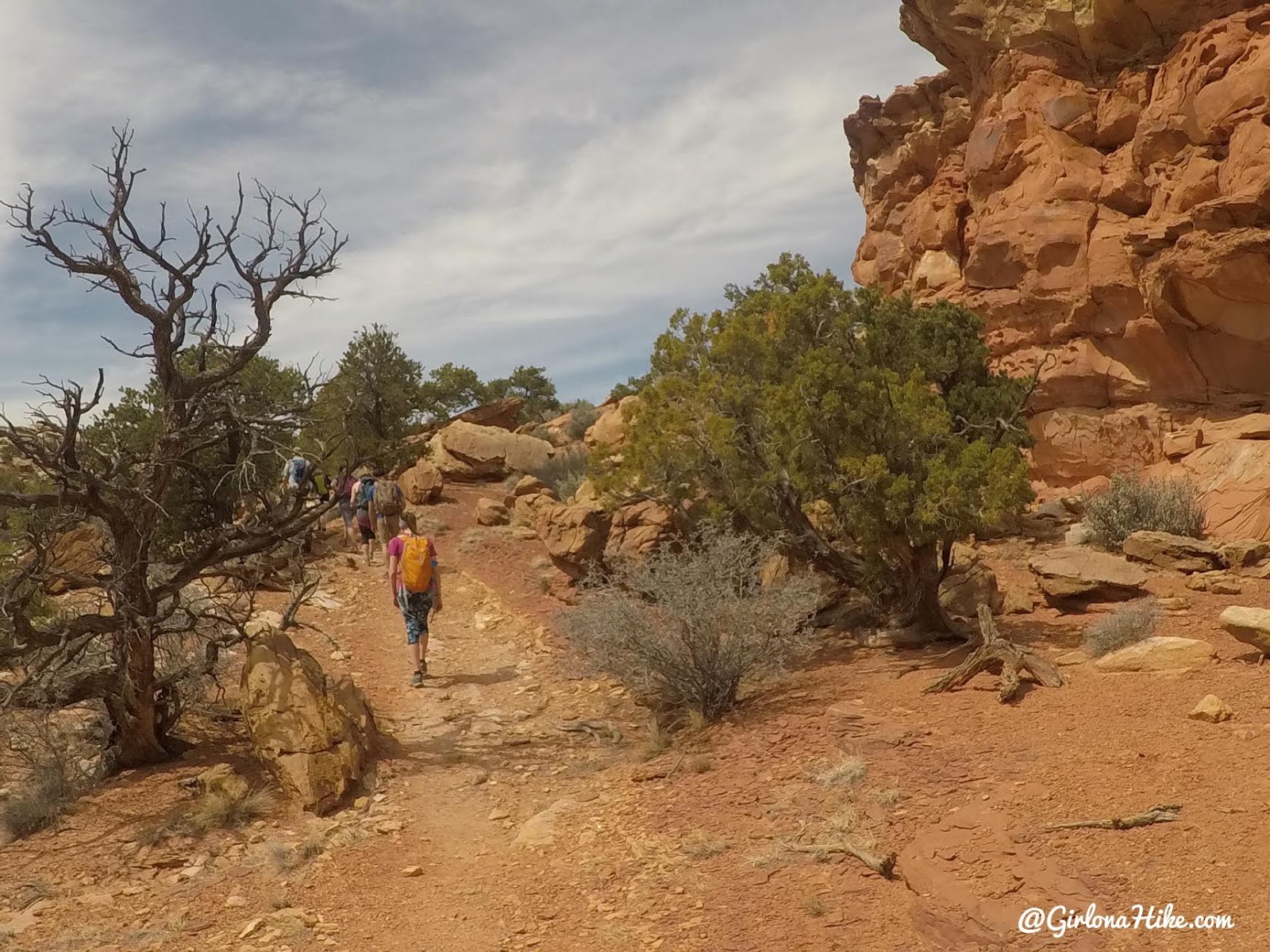 Back at the trail split, stay right to connect over to HWY 24, if you are doing this as a point-to-point hike.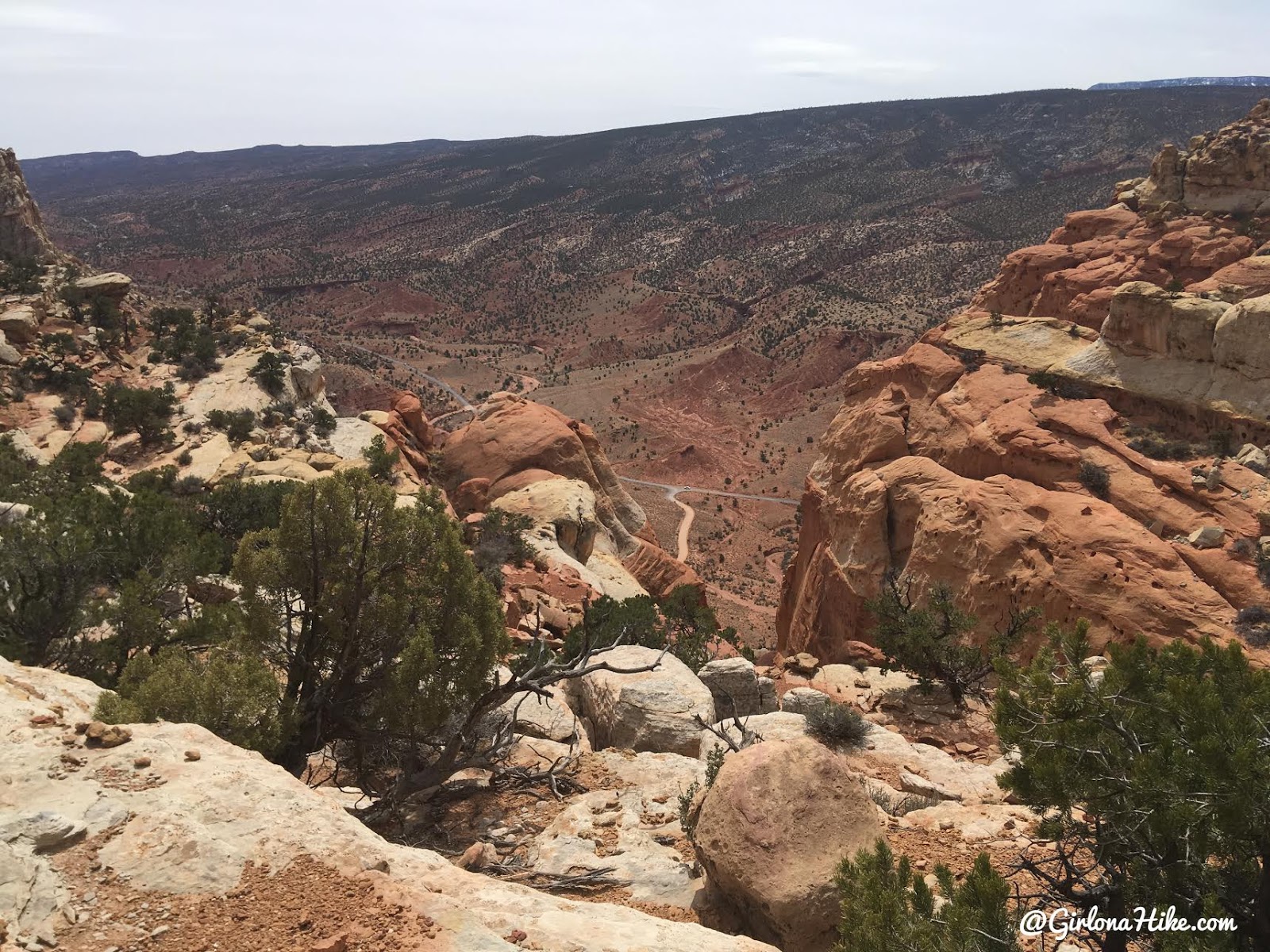 You'll gain even more elevation, and have amazing views near the top at the highest point along the trail.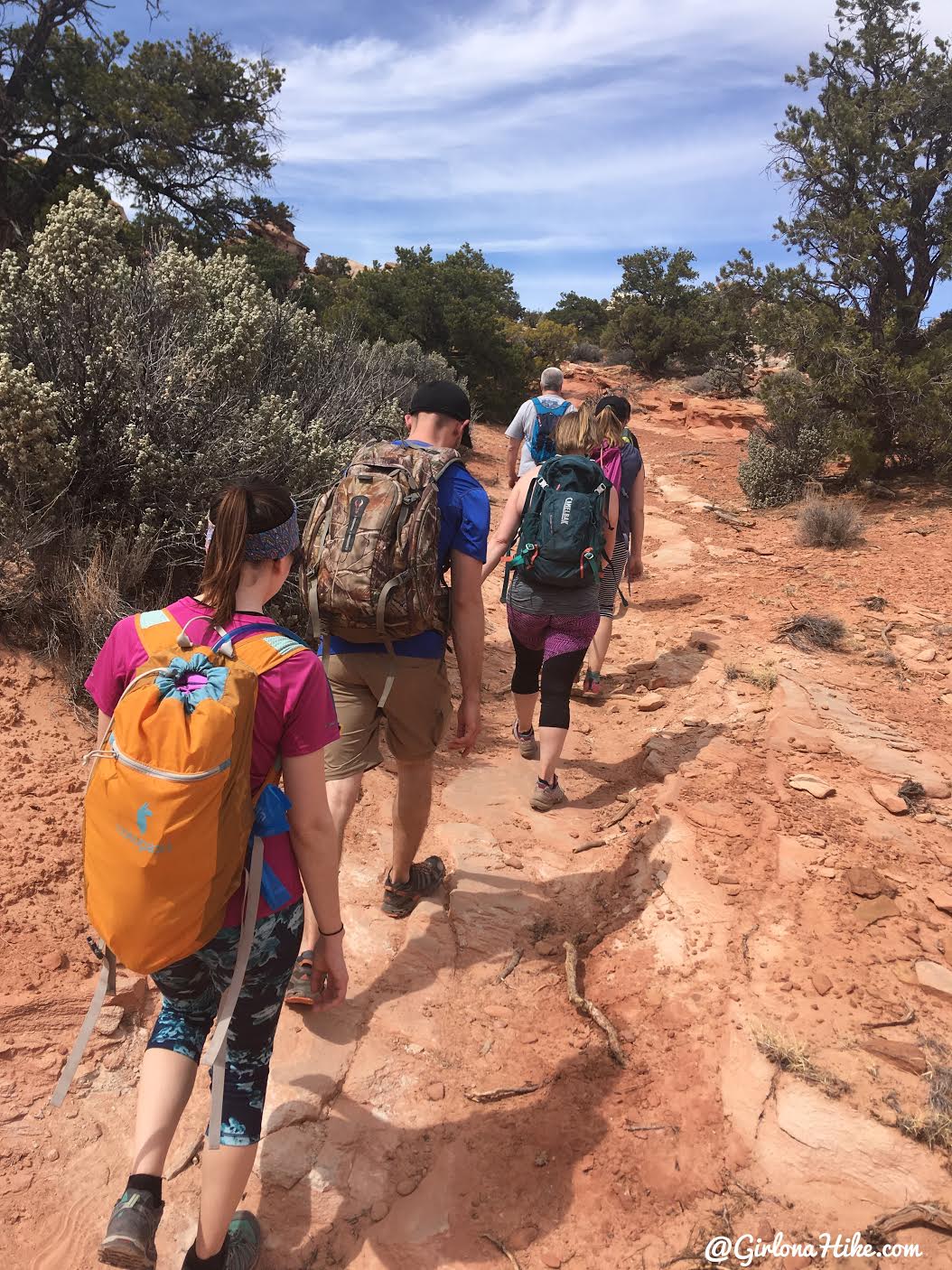 All heads are down…it must mean were are all focused on the trail haha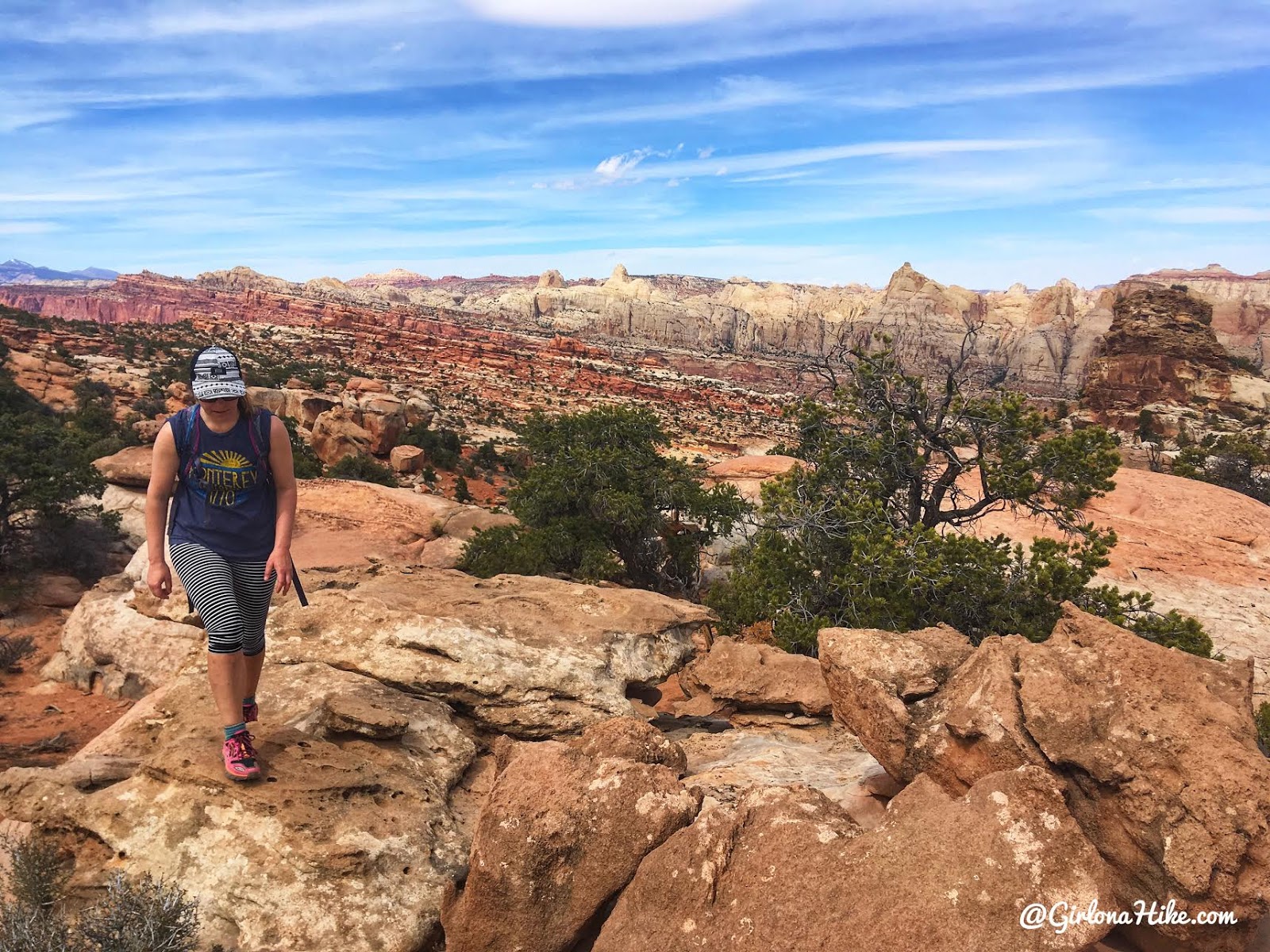 The views from the high point are so pretty!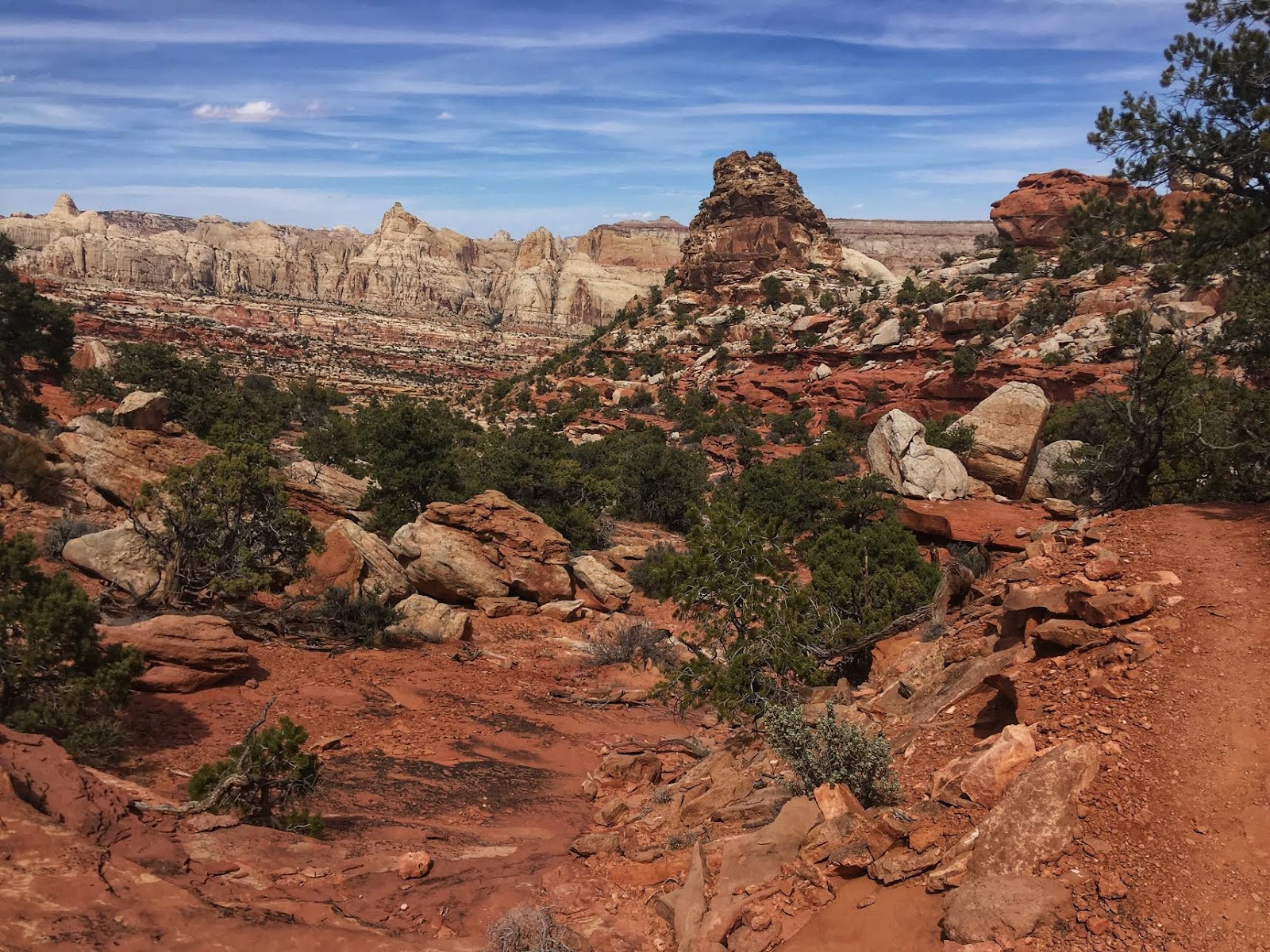 The trail will then drop in elevation for awhile, before picking right back up.
Orange, red, and white for days!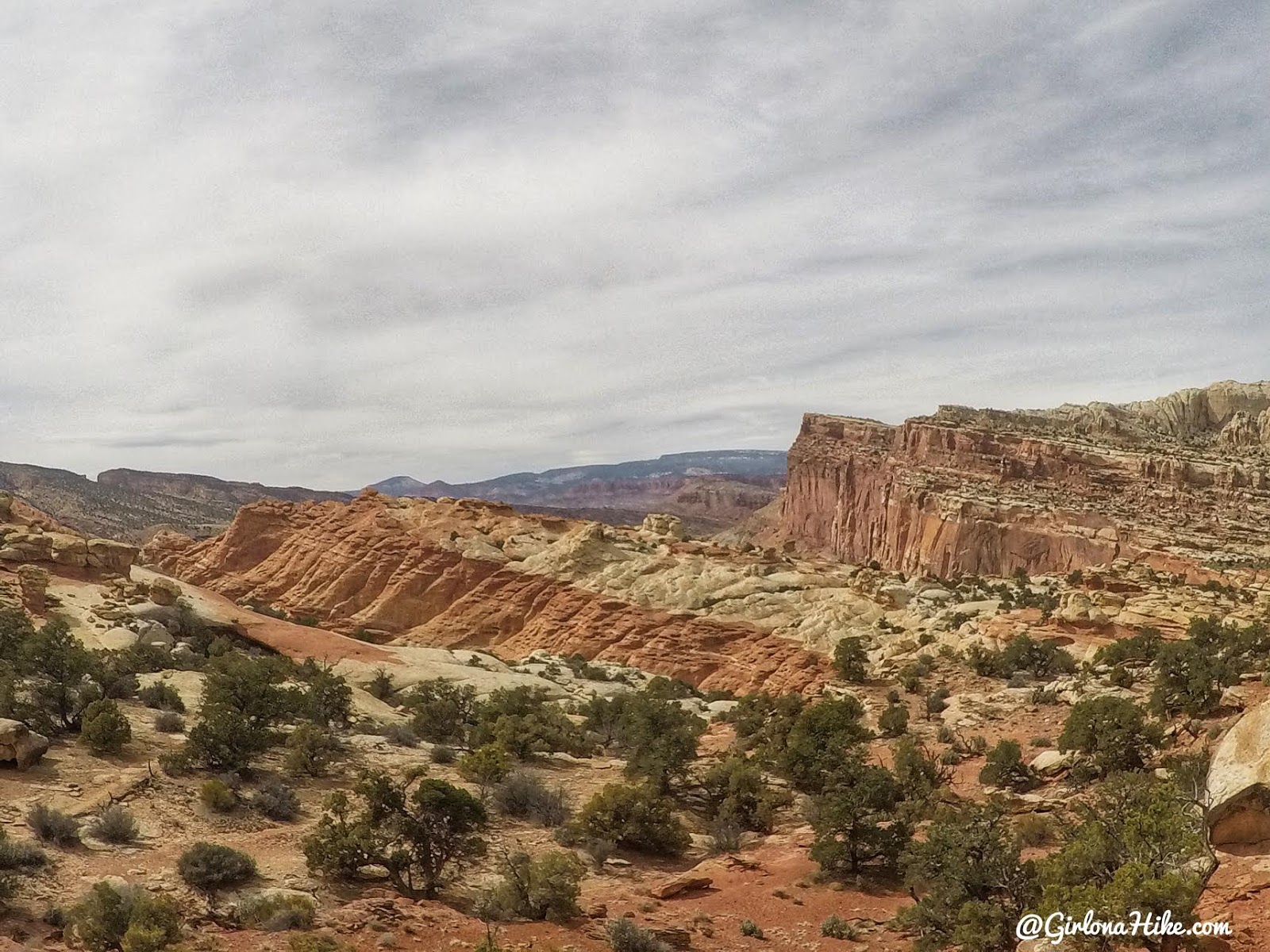 Cohab Canyon is now in view. You can exit this route, if you parked a car at that TH or keep going to the Hickman Bridge/HWY 24 TH. Both are about the same distance just opposite directions.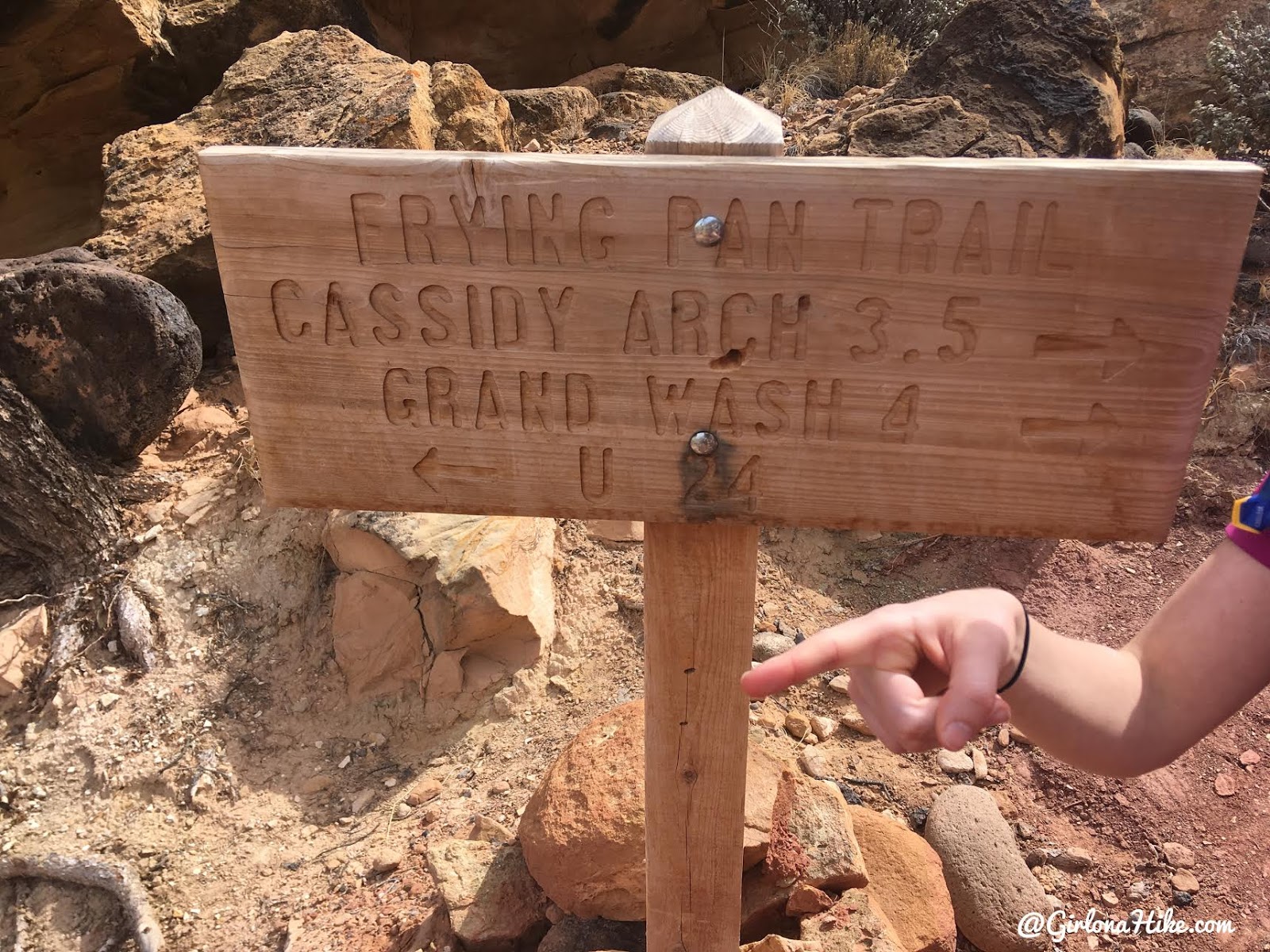 You'll come to the next trail split. It's a little confusing here. The trail kind of splits in a "Y" – to get to HWY 24 make sure to take the trail up and right. Going down and left will take you into Cohab Canyon.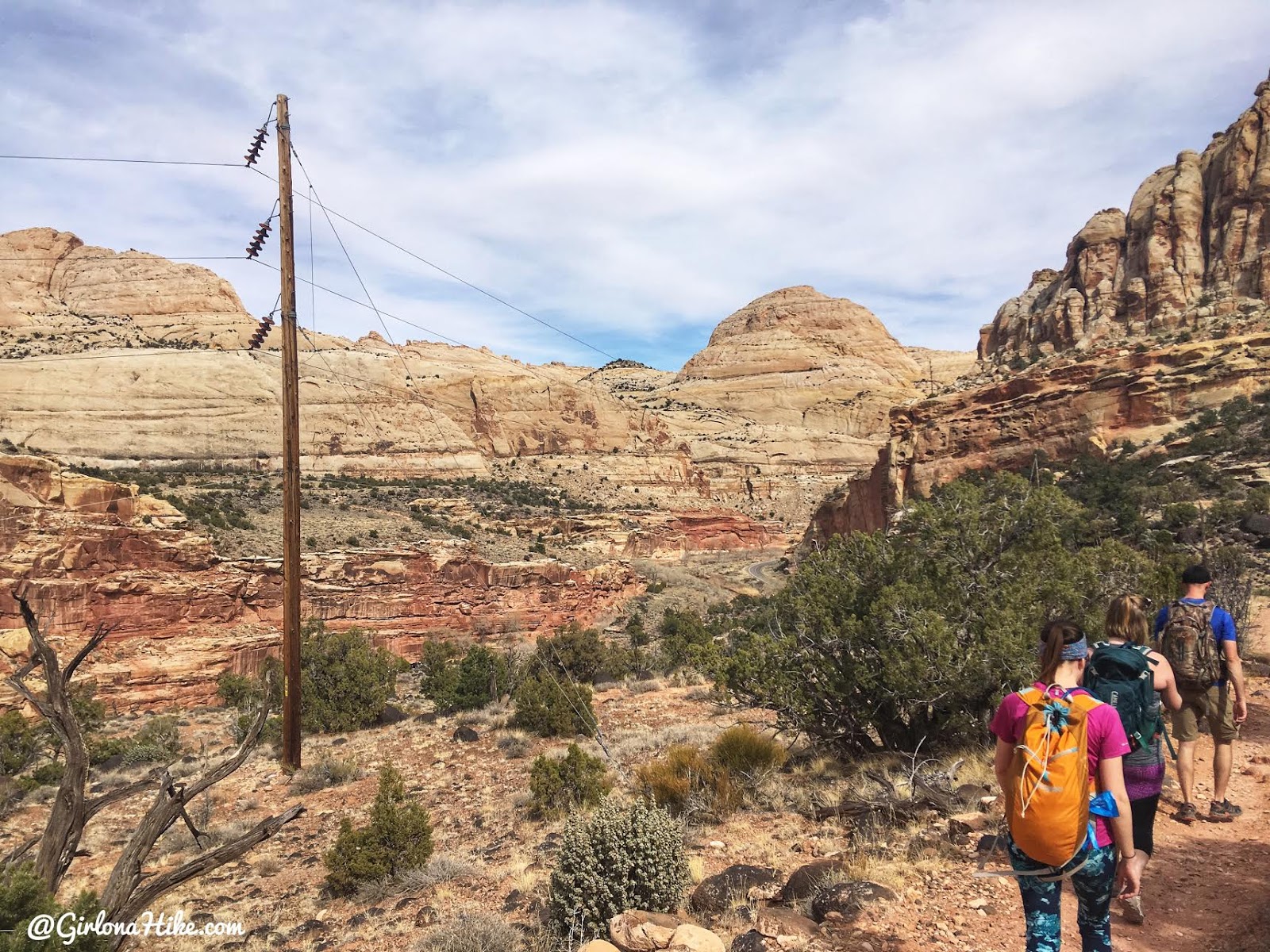 You should hike past the electric poles heading East.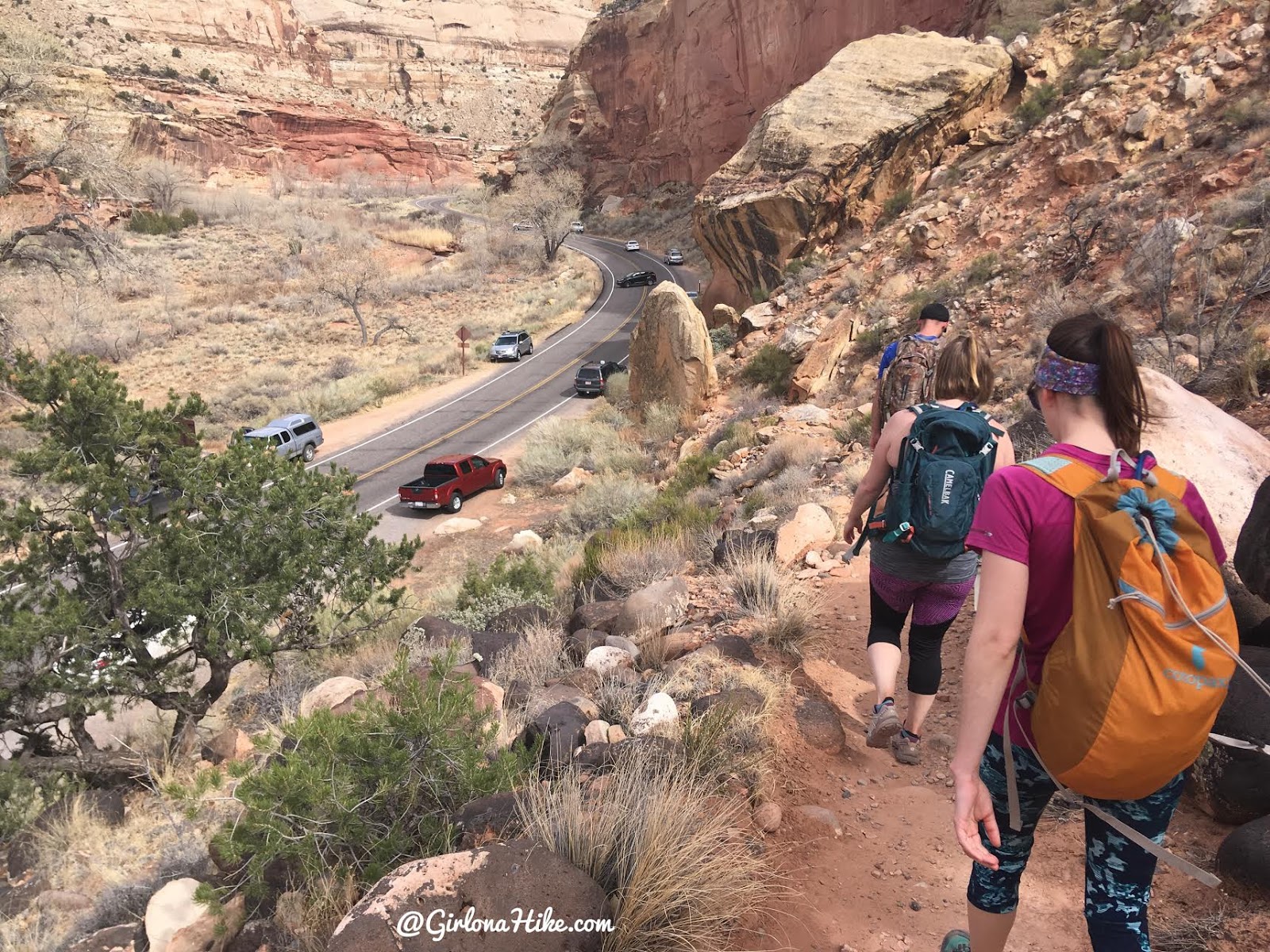 You'll see the parking lot, and the trail will lead you down to the road.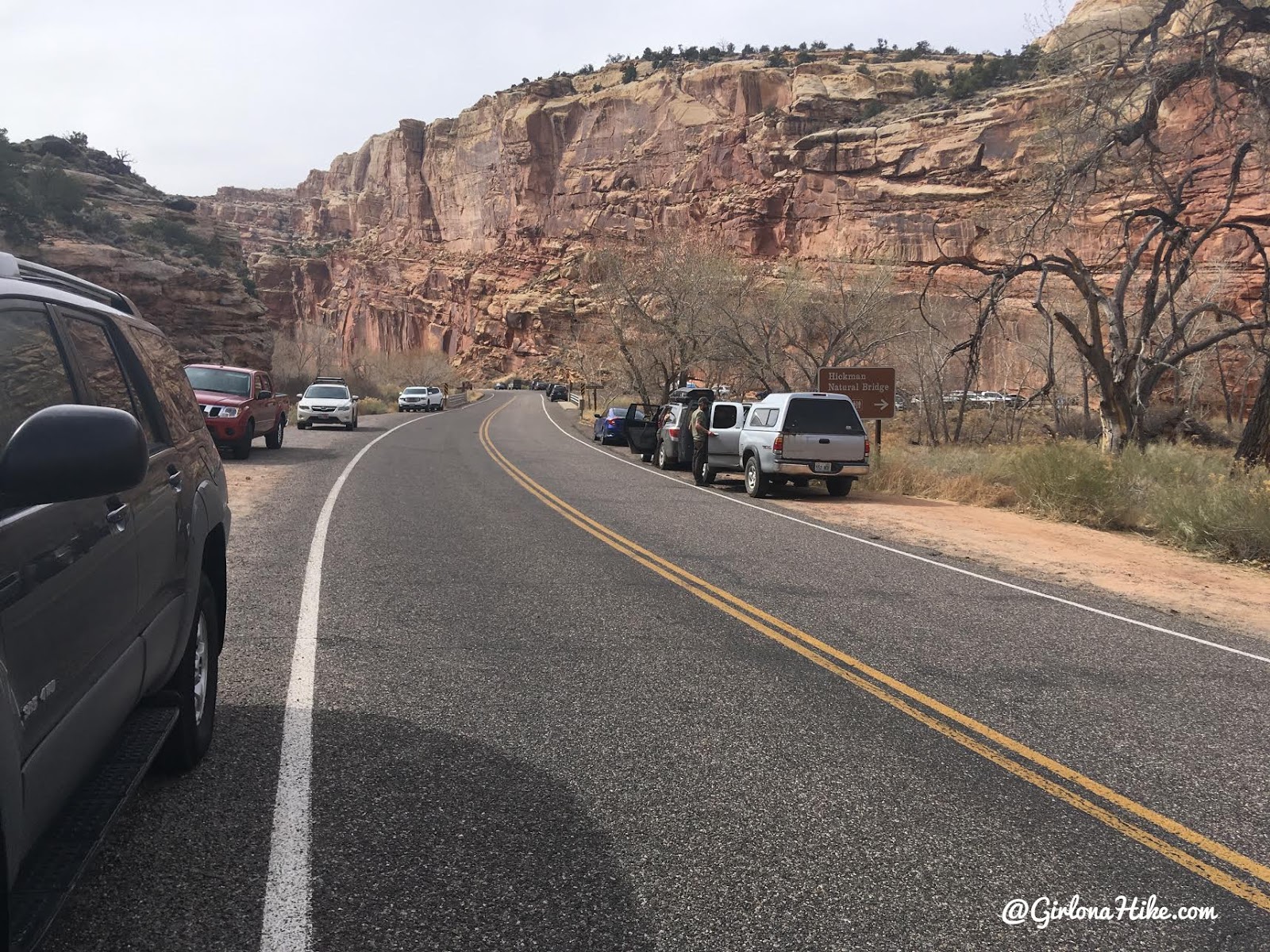 Walk back to your car along the road. From here you would drive back to get the other car you parked at the Cassidy Arch TH, then drive back here to get the rest of your group. If you are in one car then you'll need to hitch a ride back.
Trail Map
My track via Gaia GPS – the best tracking app! Get your app here for a discount.
Recommended Gear
Nearby Hike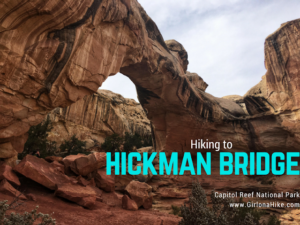 Save me on Pinterest!