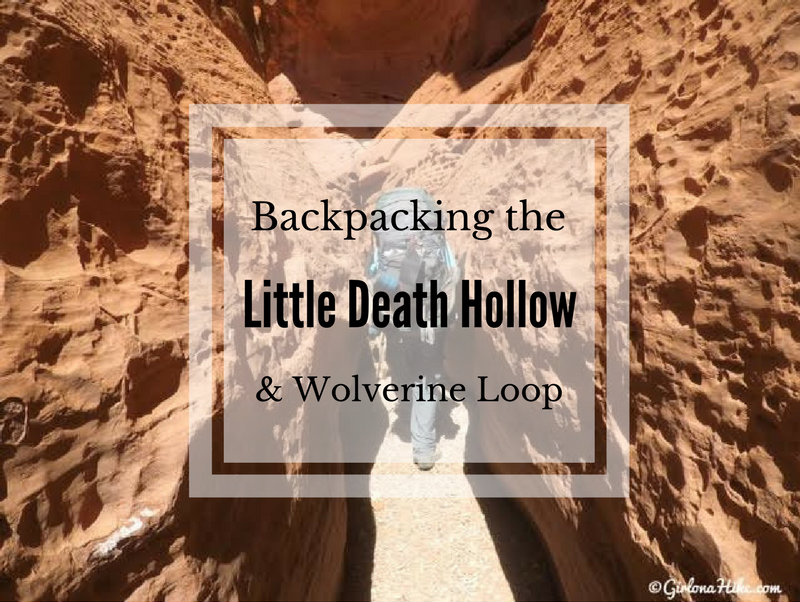 Backpacking the Little Death Hollow/Wolverine Loop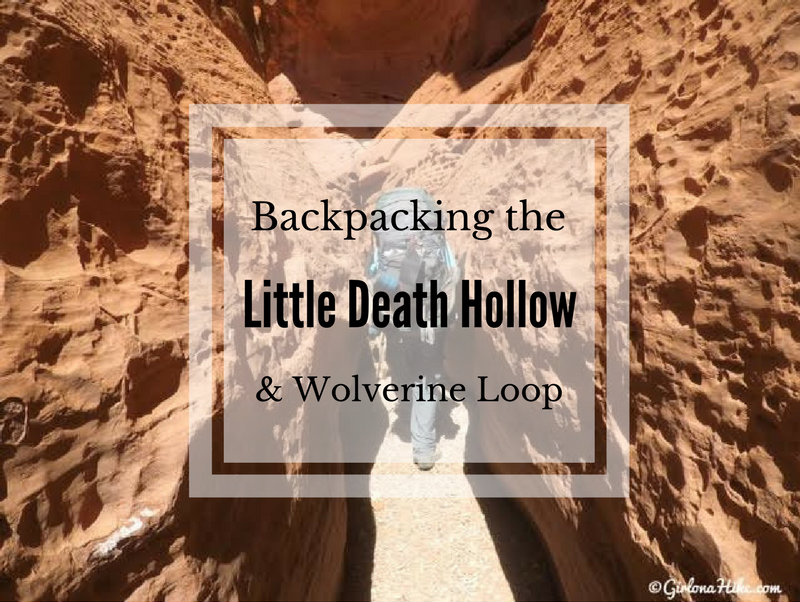 Little Death Hollow is a slot canyon in the northeast corner of Grand Staircase-Escalante National Monument in an area called the Circle Cliffs. Not to be confused with "Death Hollow" near Boulder, UT, Little Death Hollow offers a 4 mile slot canyon that, when dry, offers few obstacles, and beautiful high red sandstone cliffs which deepens and narrows as you continue down canyon.
About
The swirling sandstone is mesmerizing, yet hard to stare at as you try to scrape through with your pack on. Little Death Hollow could be done in a day, but backpacking at least 1 night (2 nights preferred) allows you to really explore the area and surrounding canyons, swim in the Escalante River, and create a loop.
Little Death Hollow was a great option for our Memorial Day Weekend backpacking trip since the permit is free and easy to get, dogs are allowed off leash, it was flat, went through a slot canyon, and we were excited to swim in the Escalante River and hang out on "the beach".
Route Options
1) LDH to the Escalante River, and back out the same way (so an out and back, which would be hard because of the obstacles in the slot canyon. Not the best option, but doable)
2) LDH to the Escalante River and back out to the Wolverine TH (you would need to drop a car at this TH, then go back to get the other car at LDH. The most popular route)
3) LDH to the Escalante River and back, exit via Wolverine, then Little Brown Bench, making one big loop. This was our route choice and the one will be describing (maps follow at the end).
Directions
If driving from SLC, use this map.
Trail Info
Distance: 26 mi RT (loop) down to the Escalante River
Elevation gain: 1300 ft (on the way out)
Time: 1 night minimum, 2 nights preferred
Dog friendly? Yes, off leash
Kid friendly? Yes, but it may be too long for younger kids
Fees/Permits? There is no fee, but you do need to get a permit, which is available at the trail head. Group size is limited to 12. Dogs do not count toward your group size.
You can request full GPS Coordinates of my route by emailing me at girlonatrailmail@gmail.com. The cost is $5.

Night Before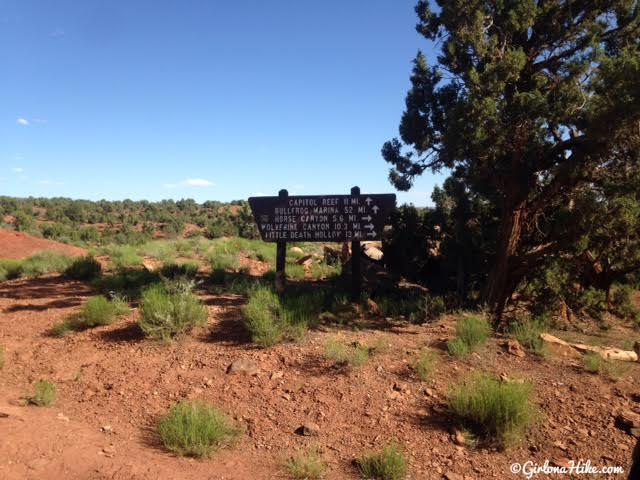 The sign for the turn off of The Burr Trail Road. The Burr Trail Road is paved up until you have to turn off, and a very pretty drive.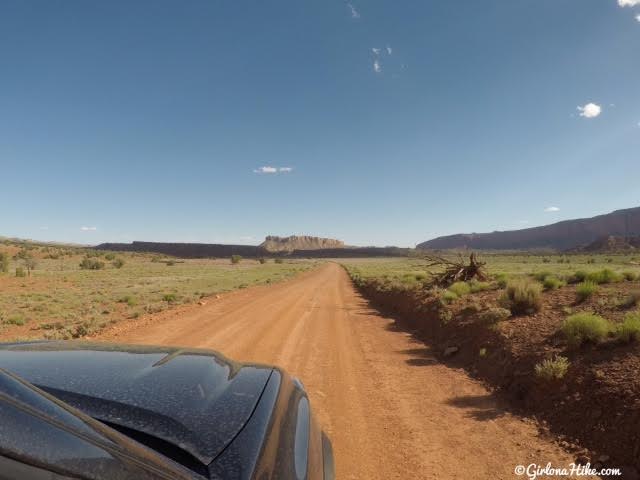 The drive down to Little Death Hollow! We had a Tacoma and Tahoe, but I did see a few smaller Subaru's. I don't think having 4×4 is necessary unless you come after a rain storm or the road hasn't been graded yet. You do have to cross a few dry washes.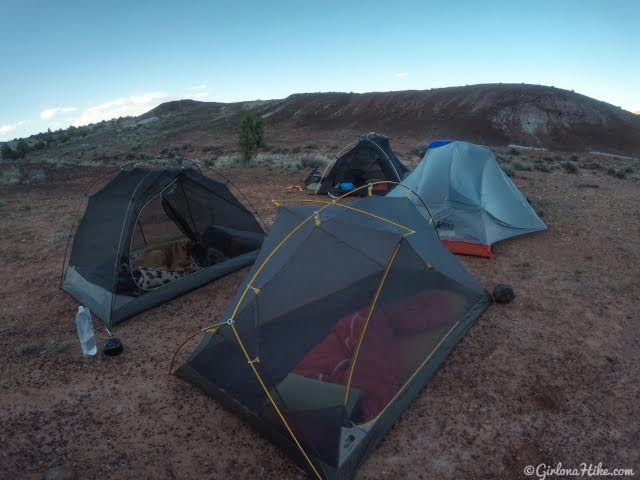 The night before we camped a little ways up from the TH on a dirt pull out. Technically camping isn't allowed at the TH  – there are plenty of pull outs before it though so it wasn't really an issue.
Day 1
Distance: 12.5 mi down to the Escalante River
Elevation gain: 300 ft
Time: 6 hours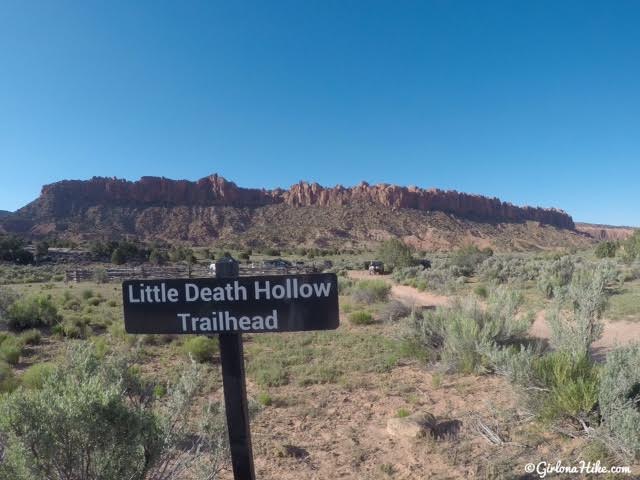 Official TH!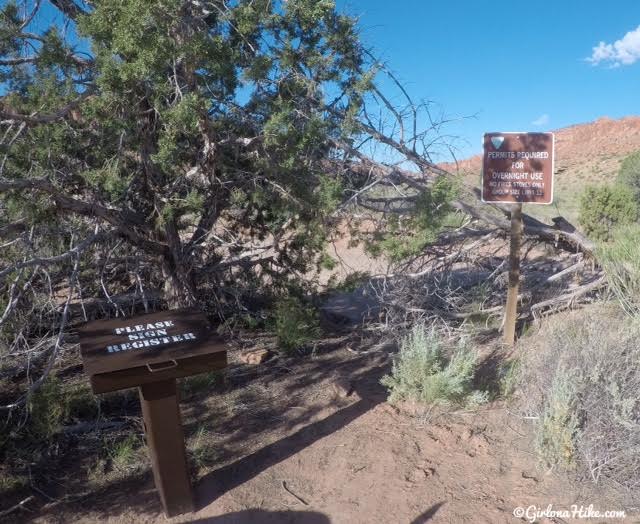 Pick up your permit at the TH.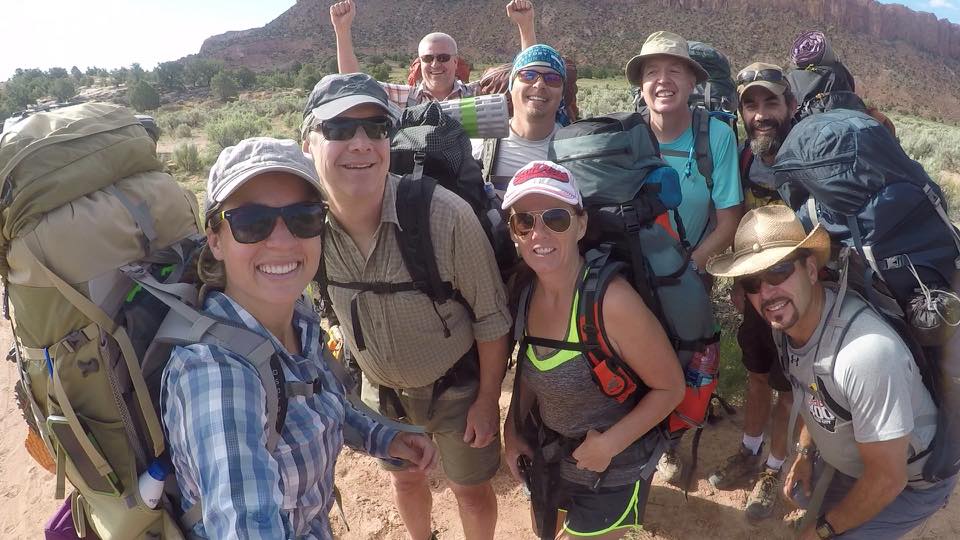 The group is ready to go!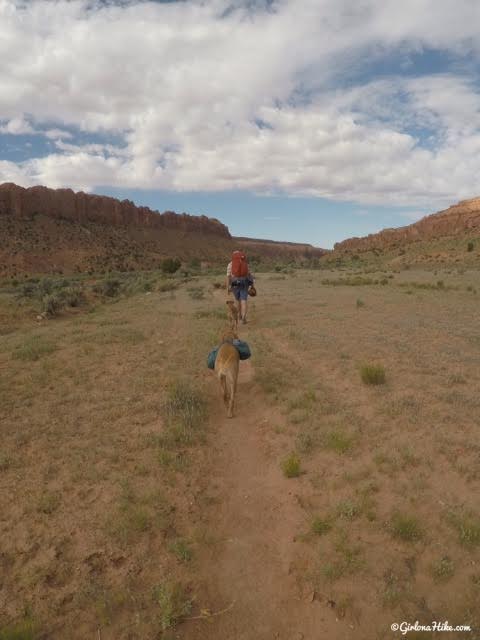 Starting out, you'll be hiking through a wide open sage brush field. The trail is well defined.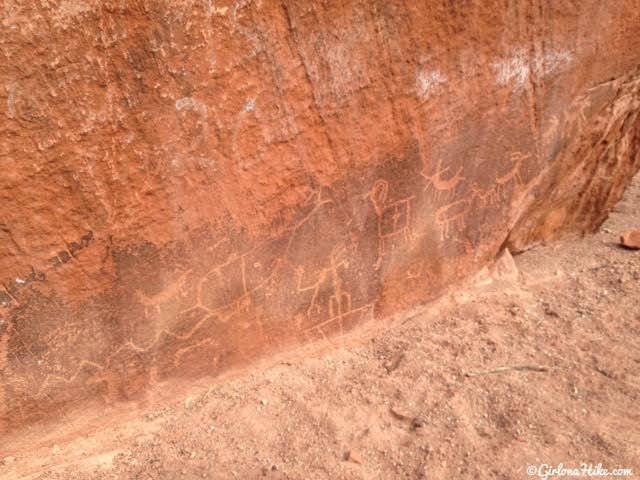 About 1 mile in, you'll see a large boulder on the right side of the trail. Petroglyphs line the bottom of the boulder.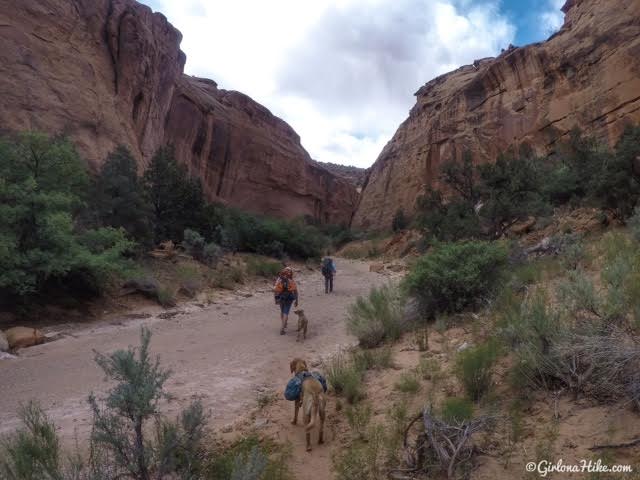 As you continue down canyon, it starts to slowly narrow with every turn. The trail cuts in and out of the dry wash and can become tiring quickly.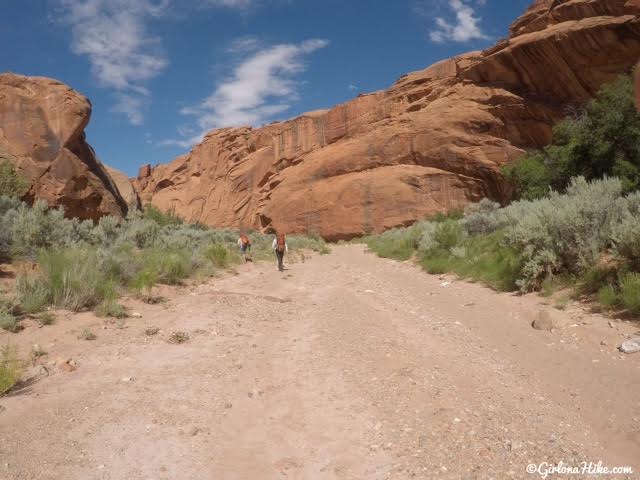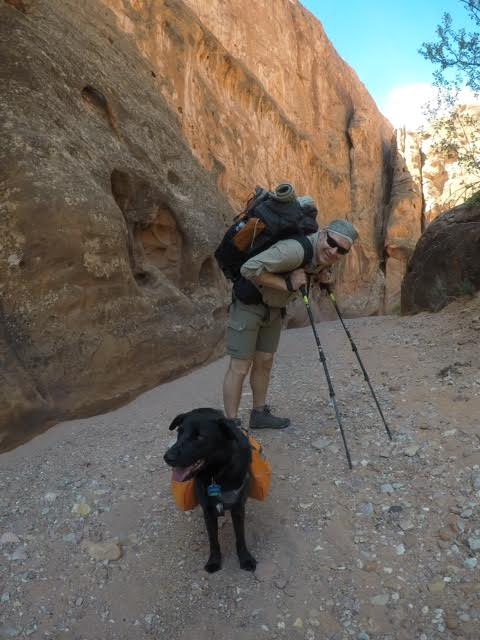 Larry & Lucas-dog take a quick break.
All three of the dogs used their Ruffwear Pack to carry their own food.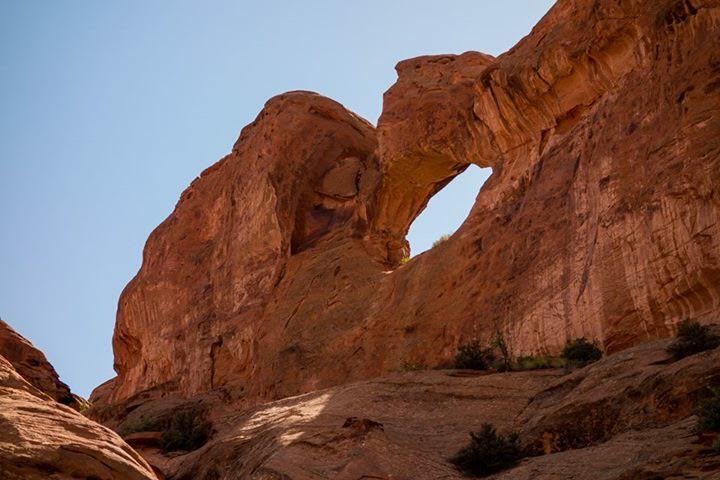 Around mile 4, you'll see an arch up to the left.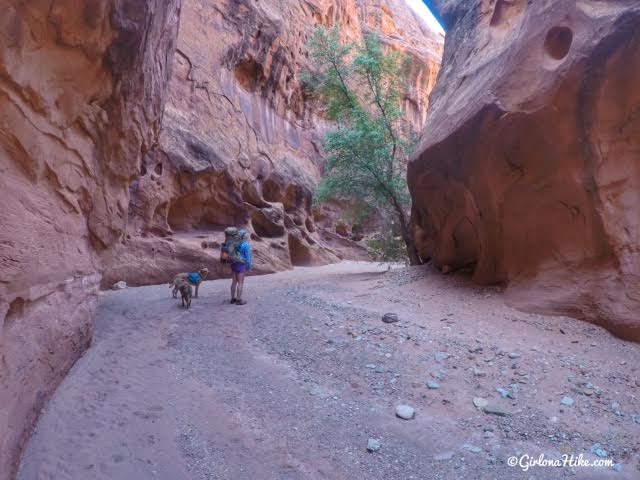 Mile 5 is when Little Death Hollow starts to become even narrower. I was surprised how green the trees were in the canyon for being so hot and dry.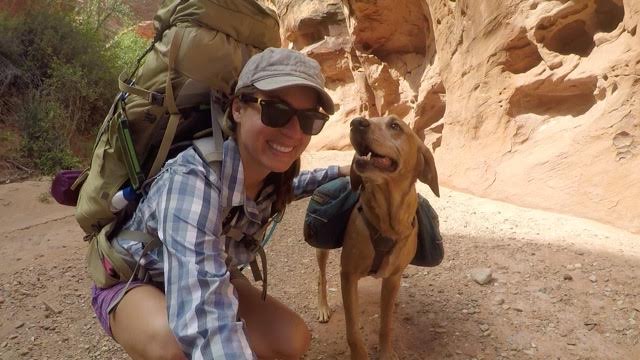 #Selfie!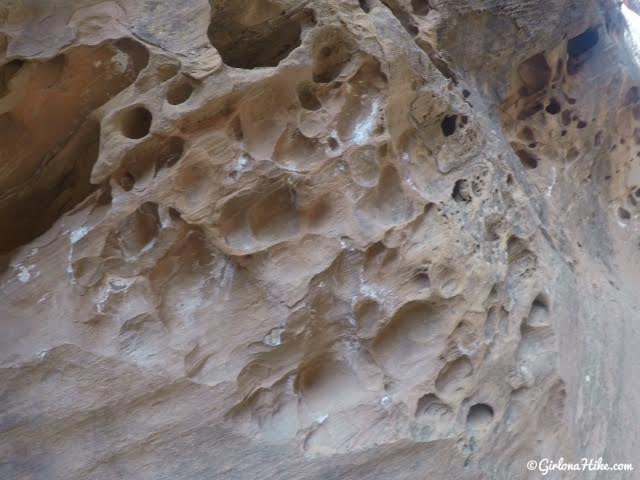 There is actually a name for these holes – huecos! It's a Spanish word pronounced like "way-coes" and is referred to the many water-holding depressions in boulders and rock faces.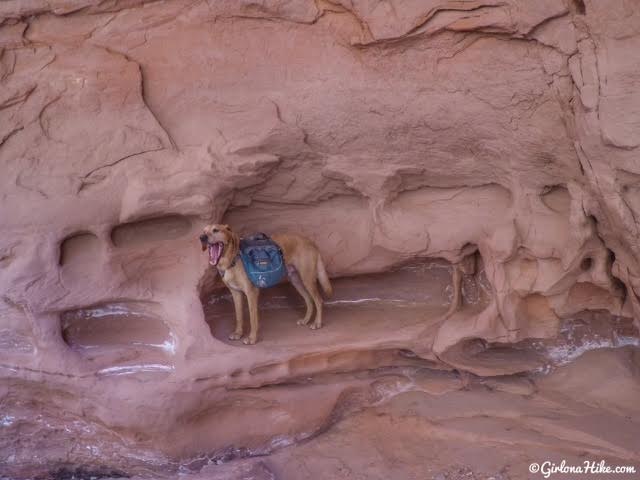 Taking a break in the shade with a quick yawn. We're only halfway there, Charlie!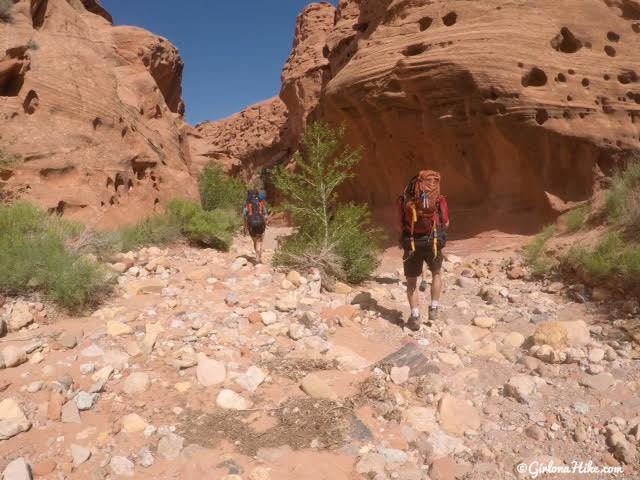 The trail became more rocky as we went as well. My feet started to hurt after backpacking over all these.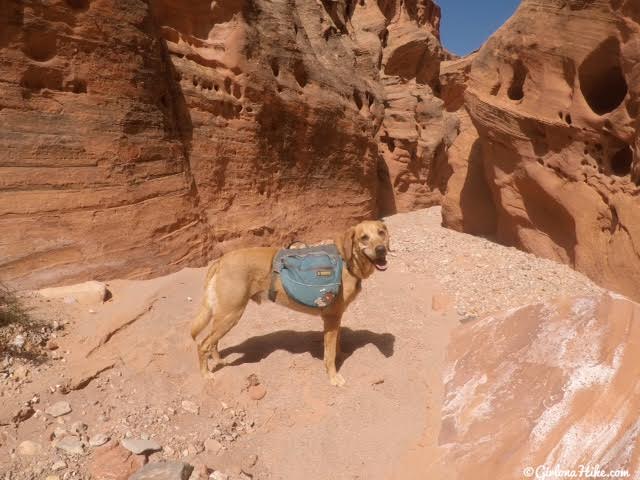 About 2-2.5 hours into backpacking is when Little Death Hollow starts to become a slot canyon.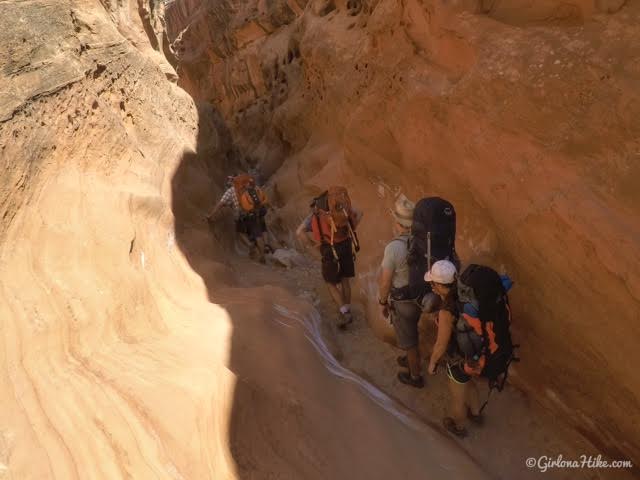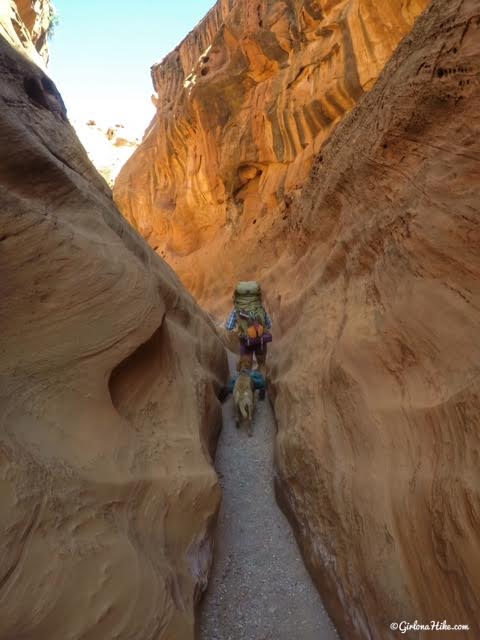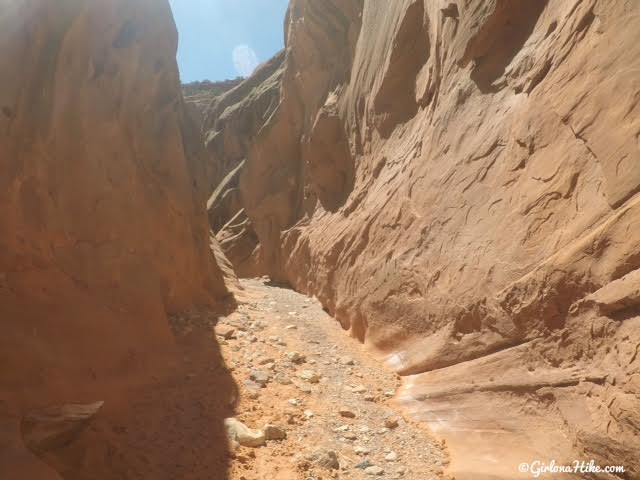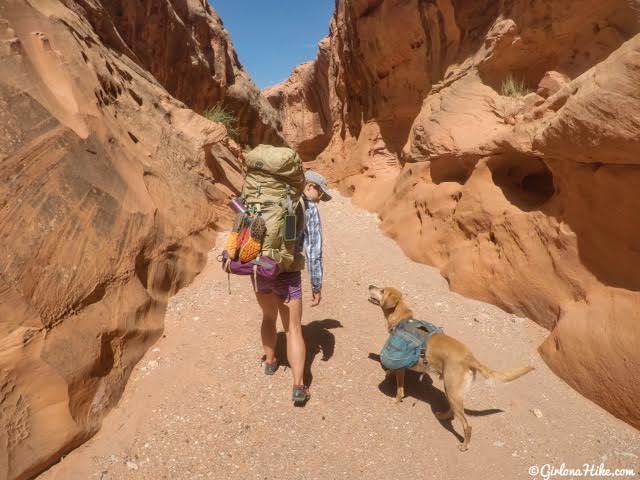 One of my favorite photos from the trip.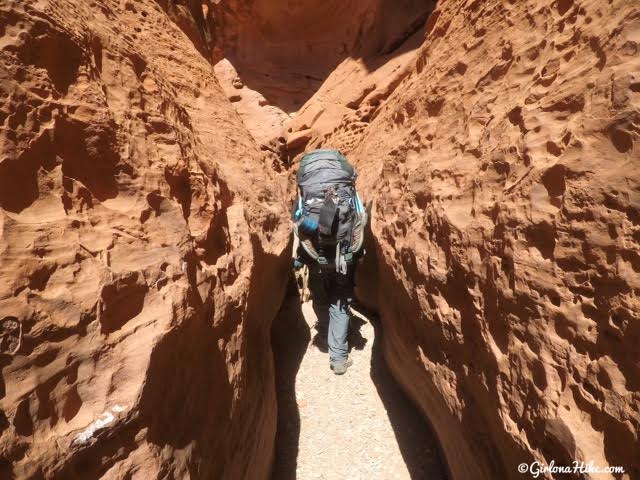 Little Death Hollow is just wide enough for you and your pack it fit through the tightest parts of the canyon.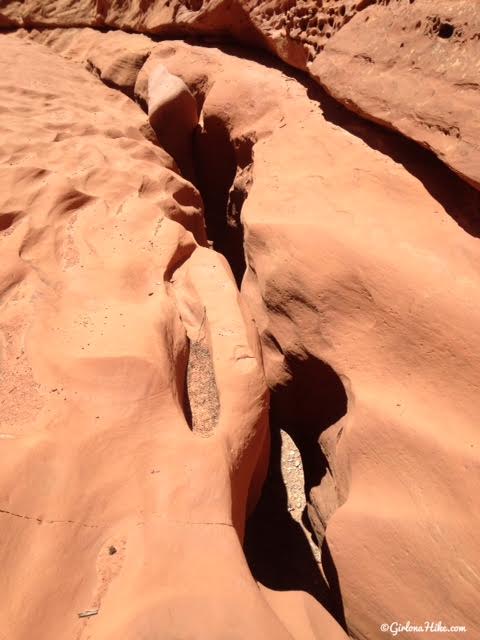 We came upon our first 3-tiered obstacle: a 4ft drop, followed by a 7 ft drop, followed by another 4 ft drop. I tried to get down without my pack on and it was just too far down for me to reach the 2nd drop. There was no way we'd be able to get the dogs down. Instead, we hiked up and over the top of the slot canyon, jumped over a 2 ft wide section (that was a little scary), then found an easier way down. I wasn't able to get a good photo of the obstacle, but I did take one from the top of it.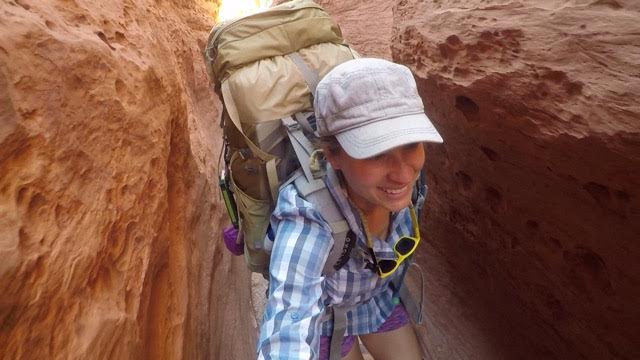 Back down in the slot and in the shade.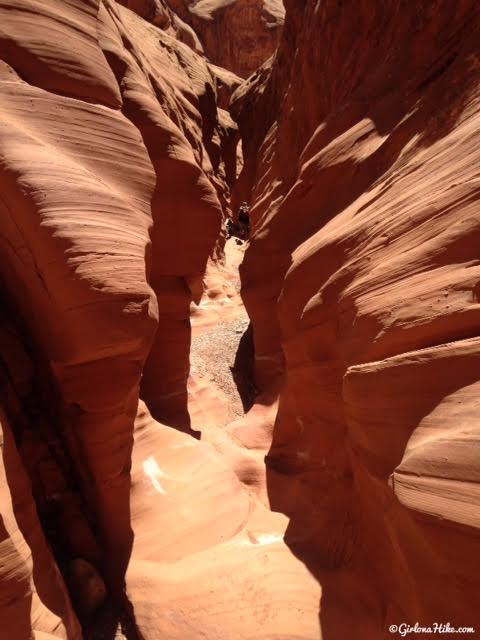 It seemed like the canyon became prettier and prettier!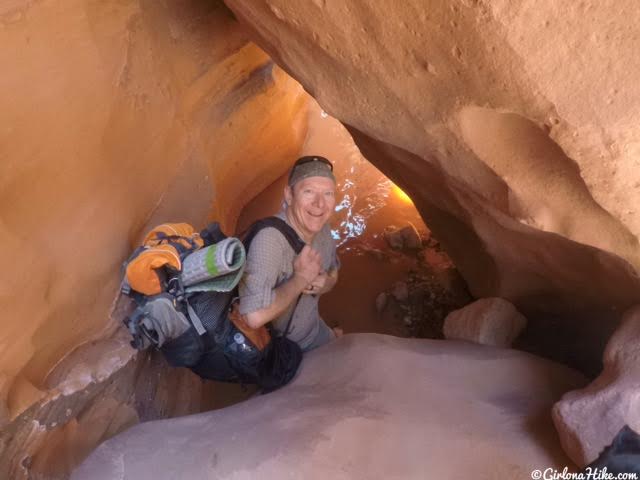 Around mile 7 or 8 we came to our next obstacle – ducking underneath this boulder and walking through calf-deep water. That water was ICE cold! We switched over to our water shoes, and had to shimmy around the boulder with our packs held awkwardly.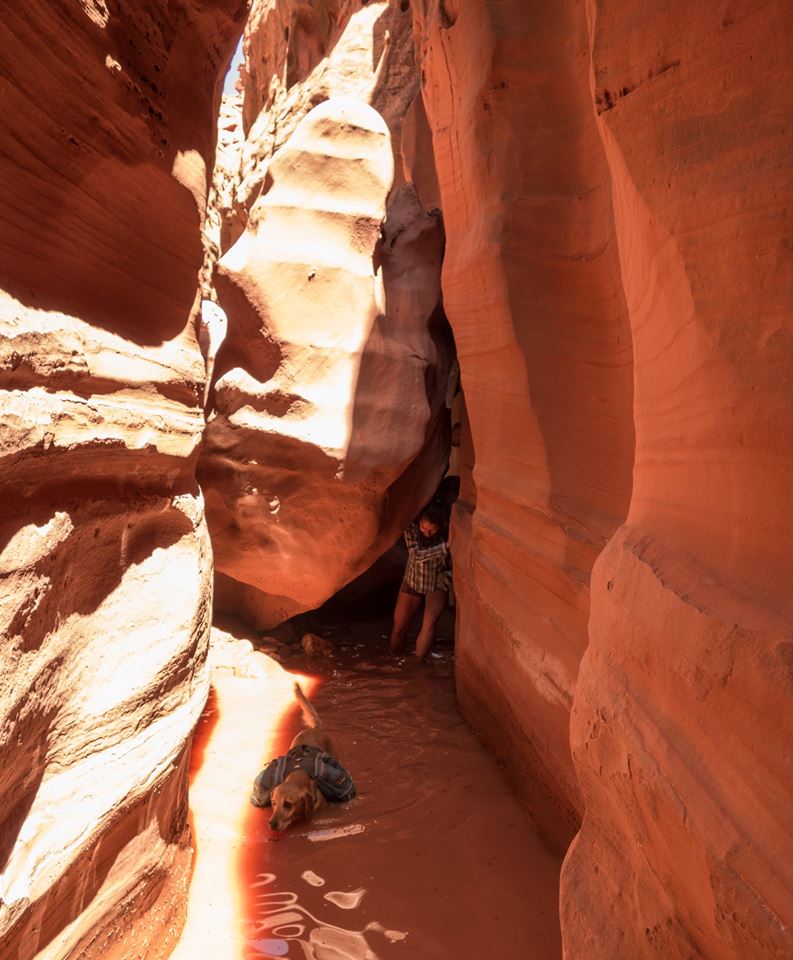 The dogs were really happy to take a dip in cold water, I on the other hand, was really nervous because I have a slight fear of water when I can't see my feet. When I dropped down into the water I tried to go slow until my feet hit the sand/rocks.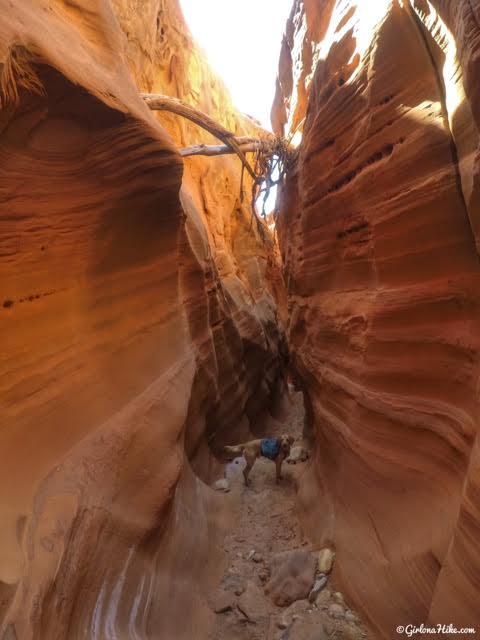 Can't believe the water has been that high before!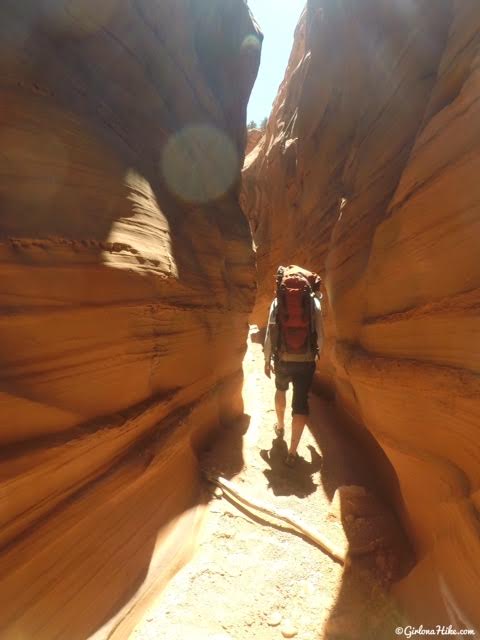 We figured that when we go to the Horse Canyon intersection there would be water, so we just kept out water shoes on for the next mile.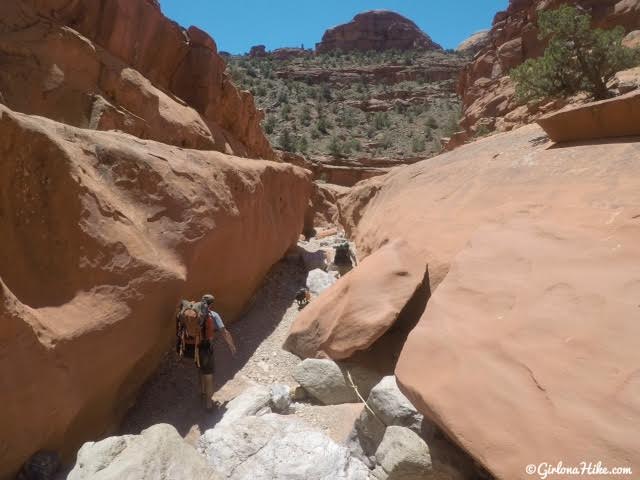 Little Death Hollow started to open back up again.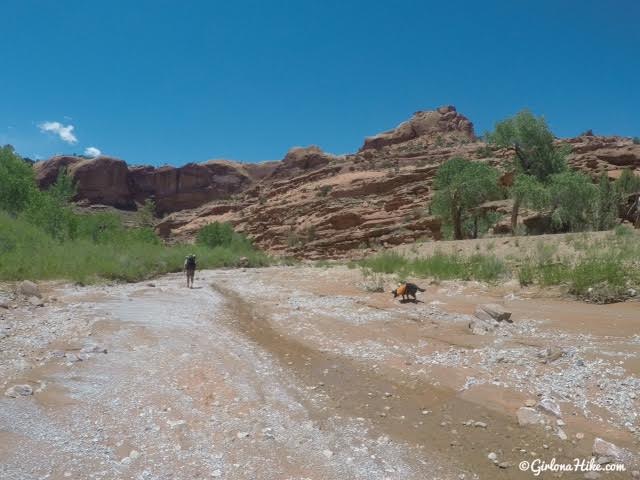 This is the intersection of Little Death Hollow & Horse Canyon. Our original plan was to camp in those trees to the right. Other reviews I read about online this area showed the creek flowing and nice campsites. However, as you can see it was bone dry! This wasn't going to work for us. By this point we hiked 10 miles. Though we were really tired and hot, we had to keep hiking down to the Escalante River so we could be by water. We needed to filter more drinking water, needed it for our meals, and to keep us and the dogs cool. We switched back into our regular hiking shoes and continued on another 2.5 miles.
I think if you came here earlier in the year (more like March/April) there would be water here and would be a great place to camp.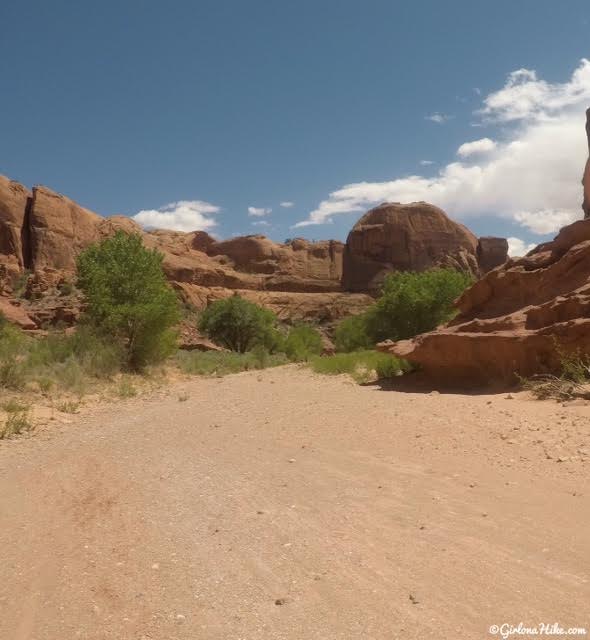 Hiking down to the Escalante River via Horse Canyon.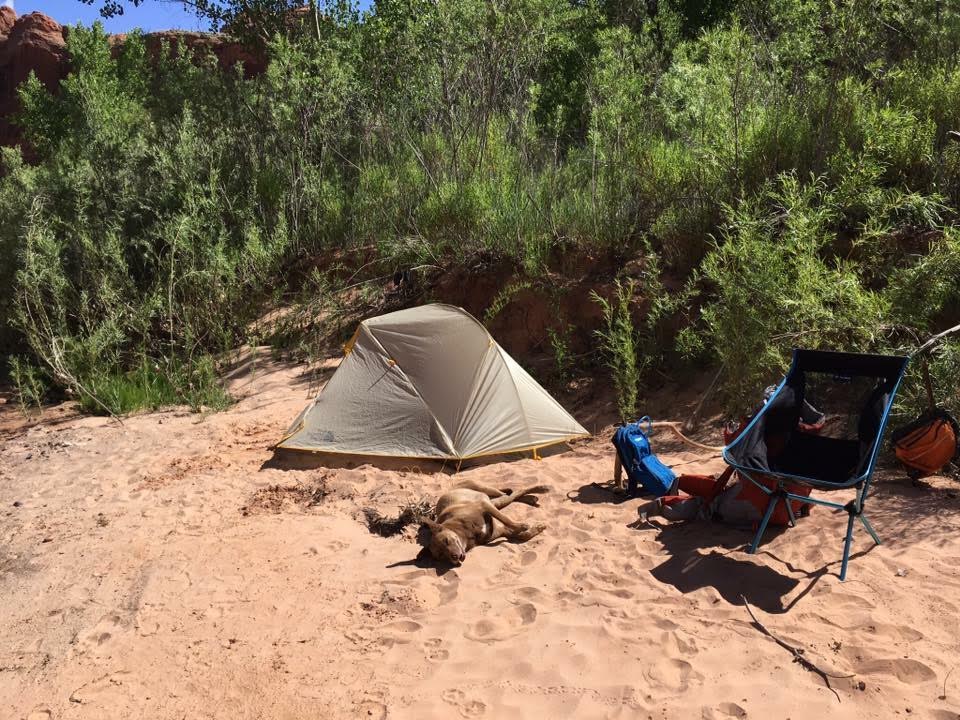 We finally reached the Escalante River and found a perfect place to set up all of our tents. Two of us camped right on "the beach". In my map below I do have about 4 campsites labeled.
Day 2
Distance: 2-4 miles along the Escalante River
Elevation gain: flat, through water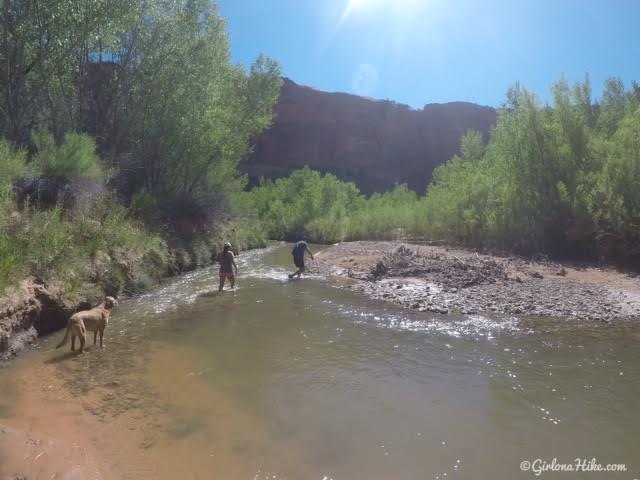 After backpacking for 6 hours and 12.5 miles on Day 1, we were all totally beat. We got a slow start to the morning, and eventually took a day hike down river. The Escalante River was never more than thigh deep, so it was perfect for a casual river walk. The dogs were really happy to cool off as well.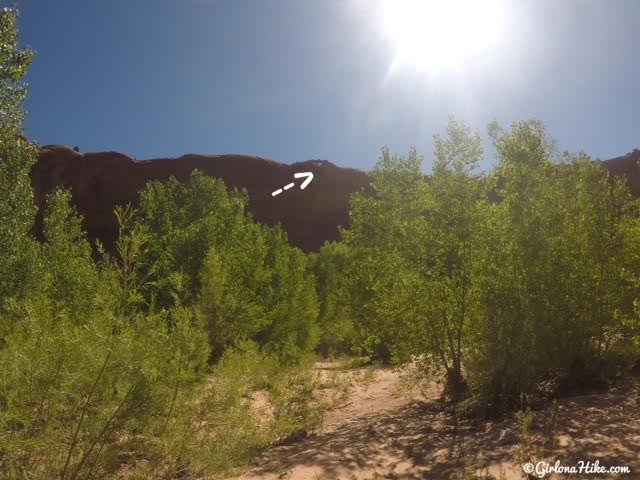 On the Gaia GPS app and paper maps you'll see a "natural arch" marked on the canyon wall just around the bend from the Horse Canyon/Escalante intersection. I was hoping we'd be able to hike up to it like Stevens Arch in Coyote Gulch, but as you can see from the photo the arch was quite unimpressive. Small, and definitely not hikeable.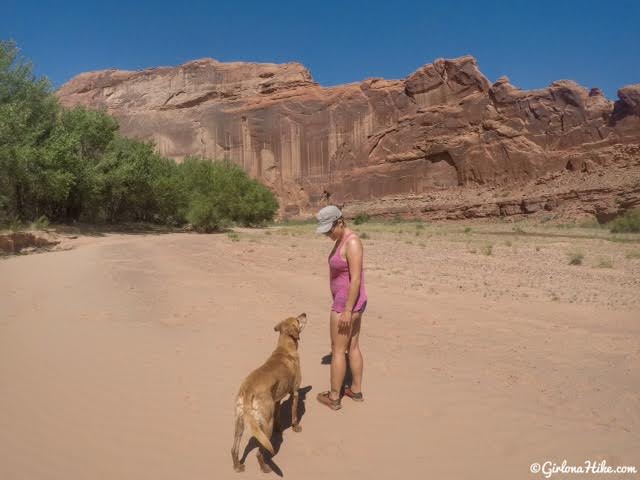 I had gotten two terrible blisters the day before from switching in and out of water shoes, so I only hiked down about 1 mile from camp then turned around. I just wanted to rest and swim at camp, and let my feet heal up for our long hike out the next day.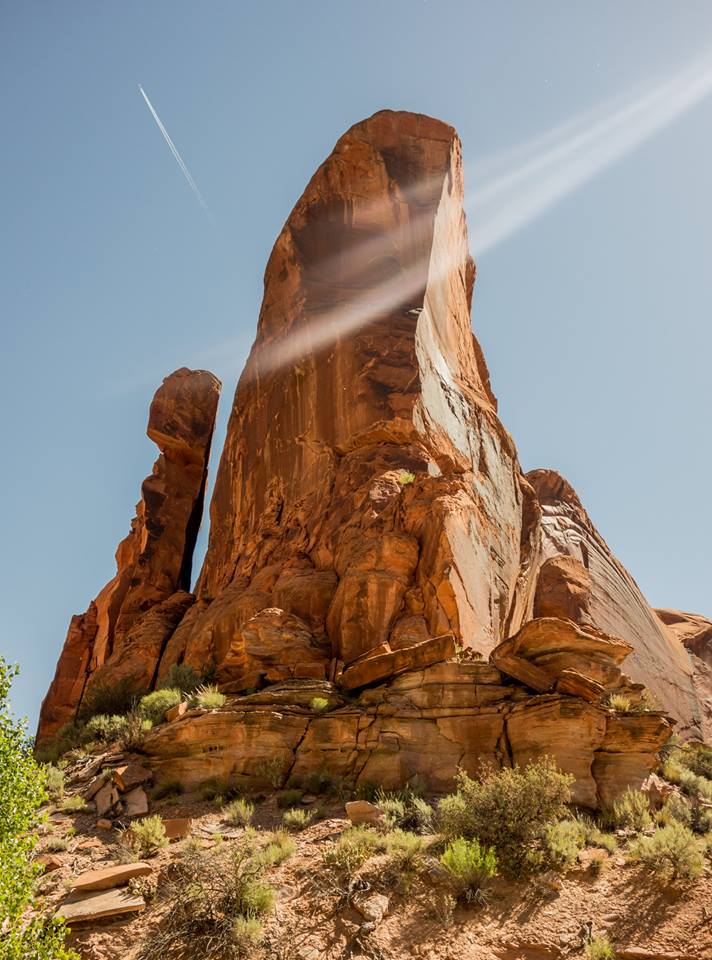 The rest of the group continued on and got some amazing photos.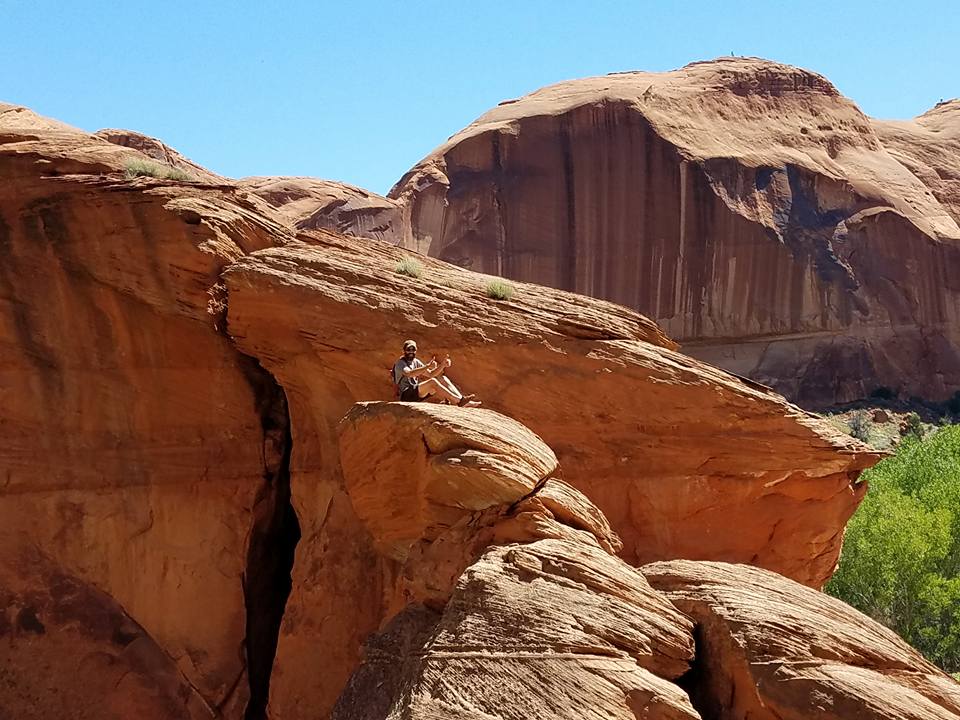 They even found some rocks to climb up!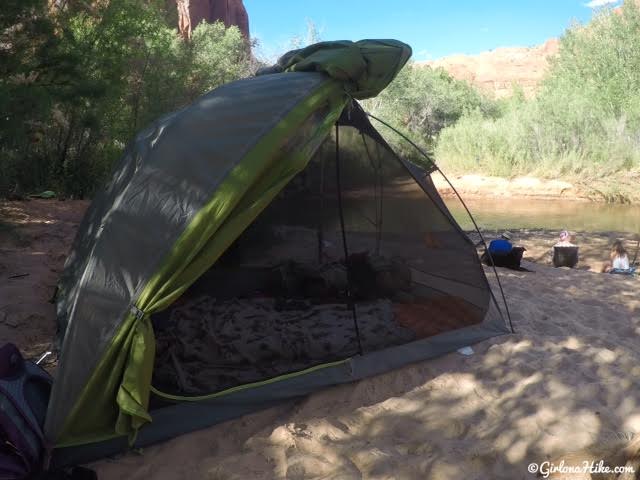 Back at camp.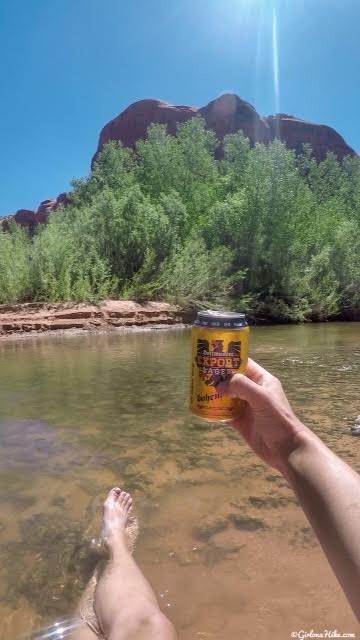 Cheers!
Day 3
Distance: 12 mi out through part of Wolverine Canyon, then Little Brown Bench, and back to the TH
Elevation gain: 1300 ft
Time: 5 hours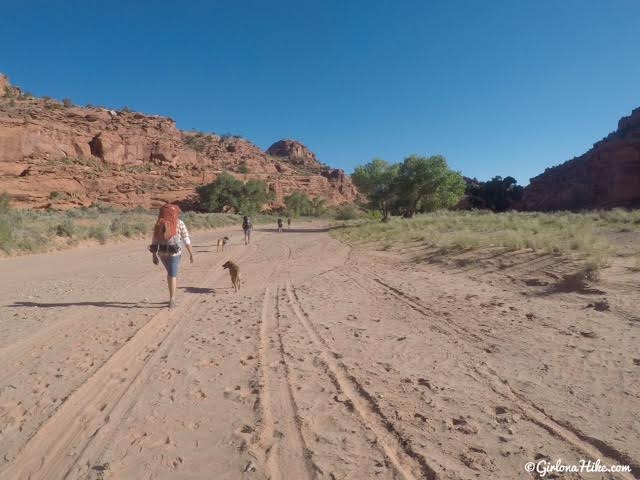 Day 3 we woke up early and started hiking by 7am. We knew it was going to be even hotter, so we wanted to hike as long as we could in the shade to keep the dogs cool. As we continued north up Horse Canyon, the trail turned into a 4X4 road. Lots of tire tracks everywhere, which made the hike out for the first 3 miles a little easier.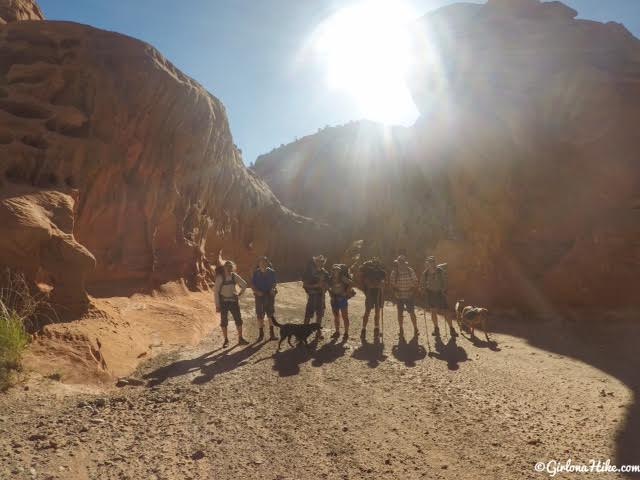 The hike from the Escalante River to the Wolverine Canyon entrance (aka Golden Gate), took us 1 hour 45 minutes. You'll want to make sure that you don't miss this turn heading East, because this is where the trail loops back for you to return to your car, either at the Wolverine TH or Little Death Hollow TH.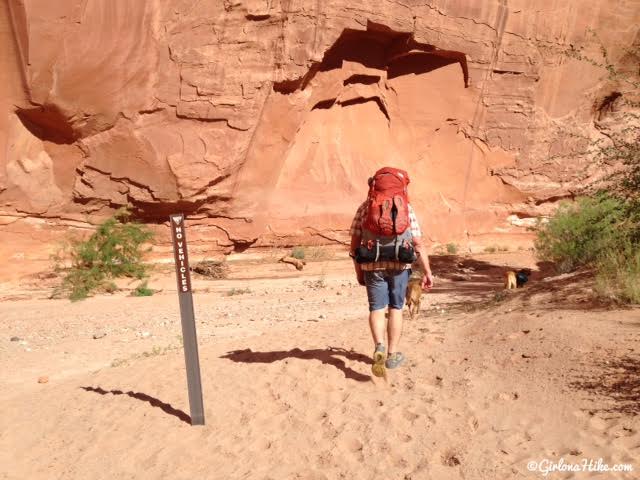 Apparently 4x4s can drive a little ways up Wolverine. You'll know you are on the right track when you see the "no vehicles" sign.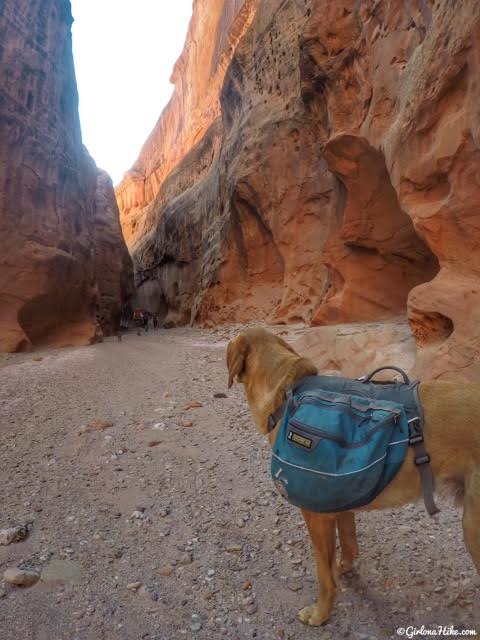 Thankfully Wolverine Canyon was still slightly shaded. No water once again for the dogs. I carried 3 liters of water, and Charlie drank probably 90% of my water because he was so hot.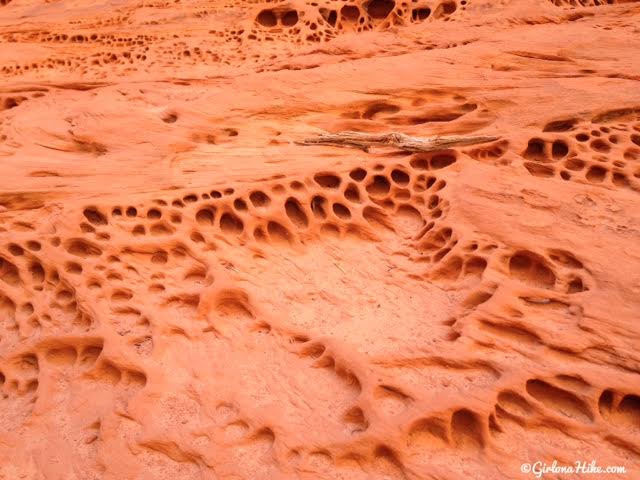 Look at all these tiny huecos – they were about the size of various coins.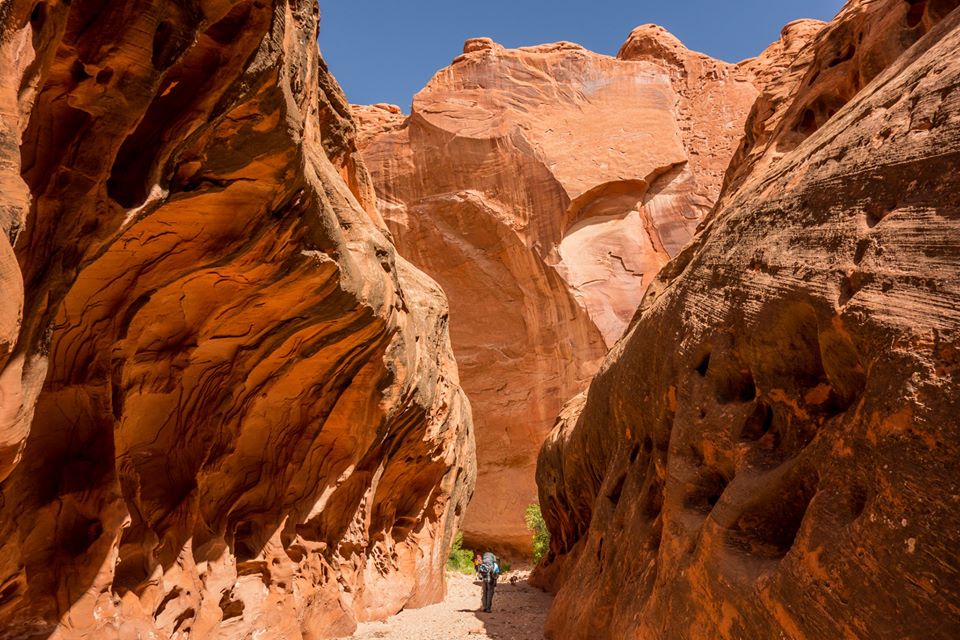 Wolverine Canyon is really pretty and much larger and wider than Little Death Hollow. This makes it much more ideal to hike back, rather than hiking up Little Death Hollow. You definitely want to do this loop in a clockwise direction.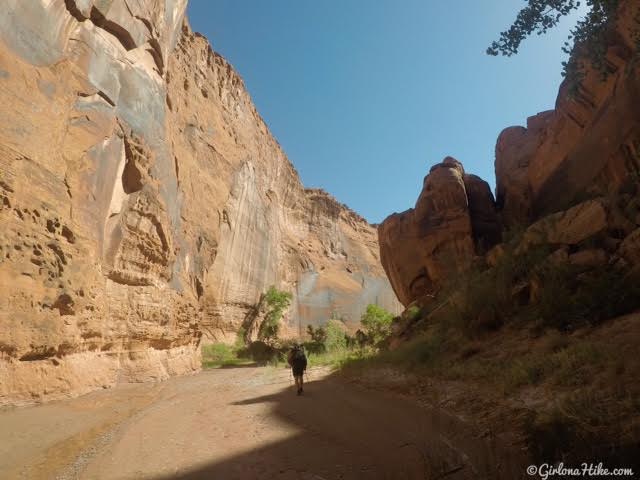 The canyon walls had to be at least 400 ft tall. Eventually the walls become shorter and you get further out of the canyon.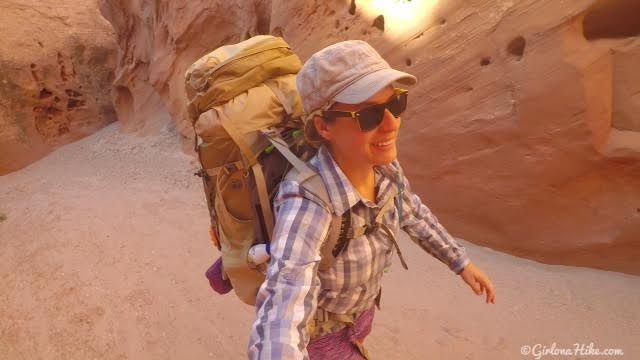 Exiting the canyon and trying to stay in the shade for as long as possible.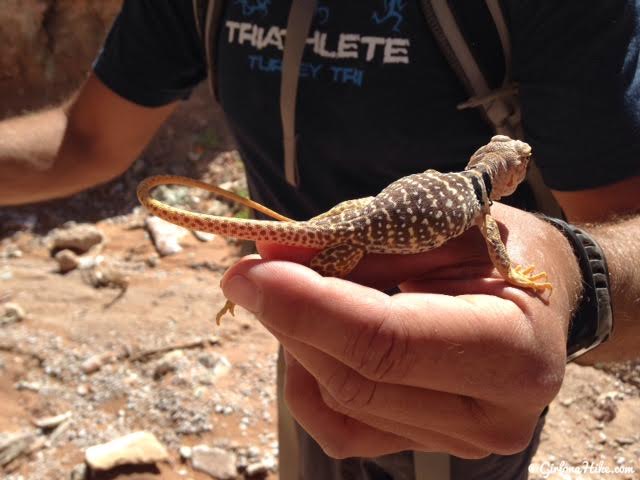 My guess is this type of lizard is a Collared Lizard, based on his two black circles around the neck. They are harmless and non-poisonous.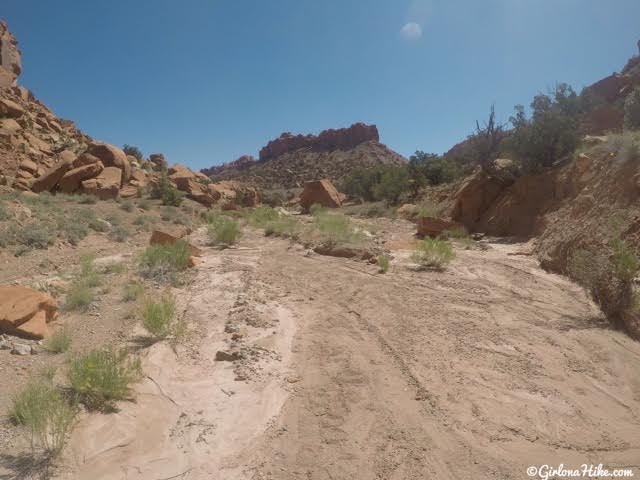 You'll come to a very wide open dry wash – make sure you turn in the direction you need to get back to your car. If you left at car at the Wolverine TH follow the main canyon out. If you are looping back to the Little Death Hollow TH, make sure you exit via Little Brown Bench canyon.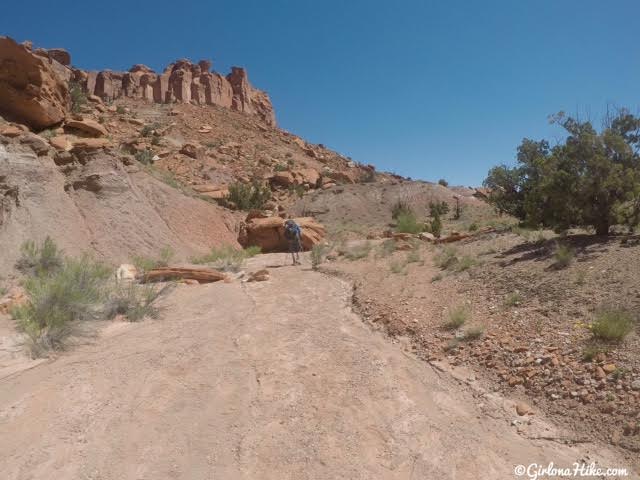 This was the hottest part and I was worried the dogs weren't going to make it out. They were sooo hot and I was running out of water quick. I basically stopped drinking my water so I could give it to Charlie. Both dogs kept wanting to stop under every piece of shade but we had to keep them moving. I eventually took Charlie's pack off of him to cool him off and I carried it on top of my pack.
One cool part about exiting this route was all the petrified wood. I can't believe how much there was – literally fields of it.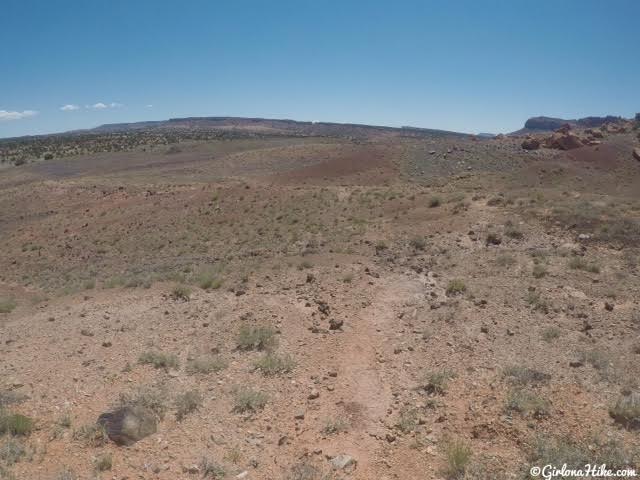 On the way out, we backpacked cross country. The trail faded and we were left to figure out our own way back to the cars. It wasn't bad though – just exposed.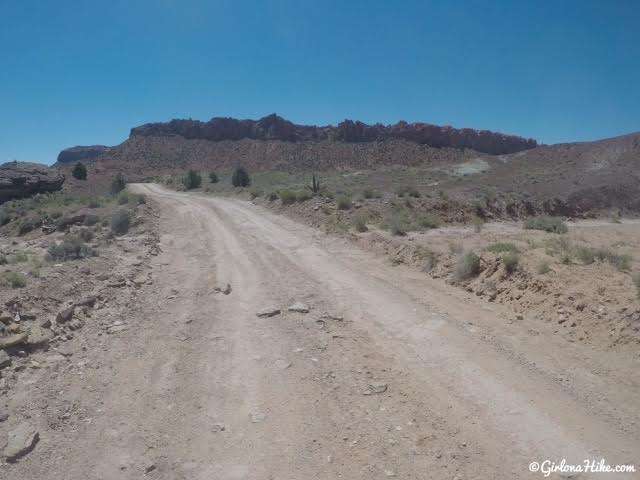 I finally found the road and followed it back to the trailhead for about 10 minutes. Once I got back, I chugged about a liter of water, changed clothes, put the sandals on, and was ready for a burger and milkshake.
If I backpacked Little Death Hollow again I would do a few things different.
1) Go earlier in the year, like March or April
2) Start hiking much earlier if it was hot, like 5 or 6am to beat the heat
3) and I would leave a car at the Wolverine TH instead of making a full loop.
Overall it was an awesome trip and the group had a blast – my favorite part was the slot canyon in Little Death Hollow.
Trail Map
On my trail map you don't see Day 2 listed – that is because we just walked down the Escalante River and there was no need to keep track.
Recommended Gear
Nearby Hike
 Backpacking Death Hollow, Escalante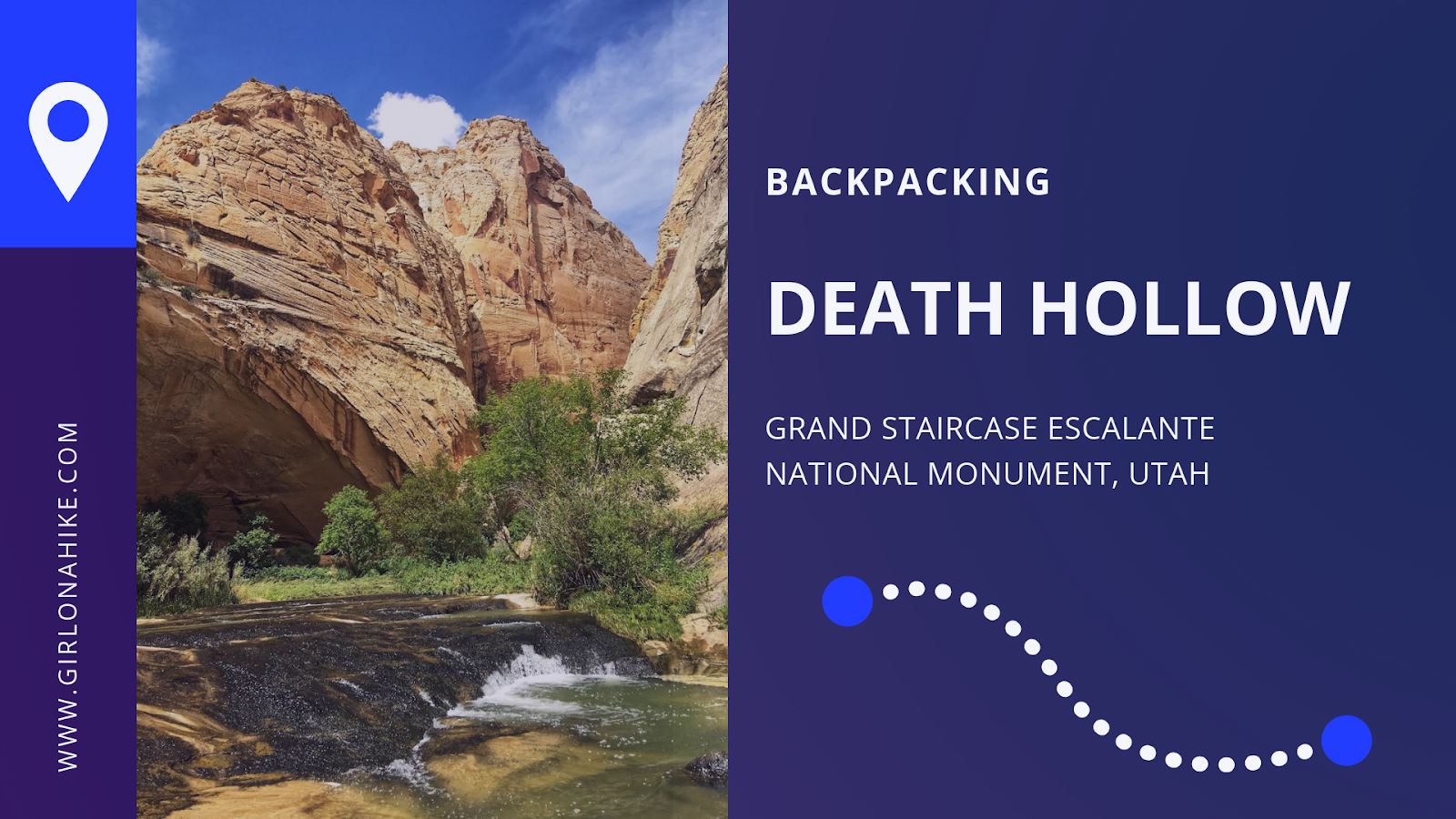 Backpacking the Escalante River Trail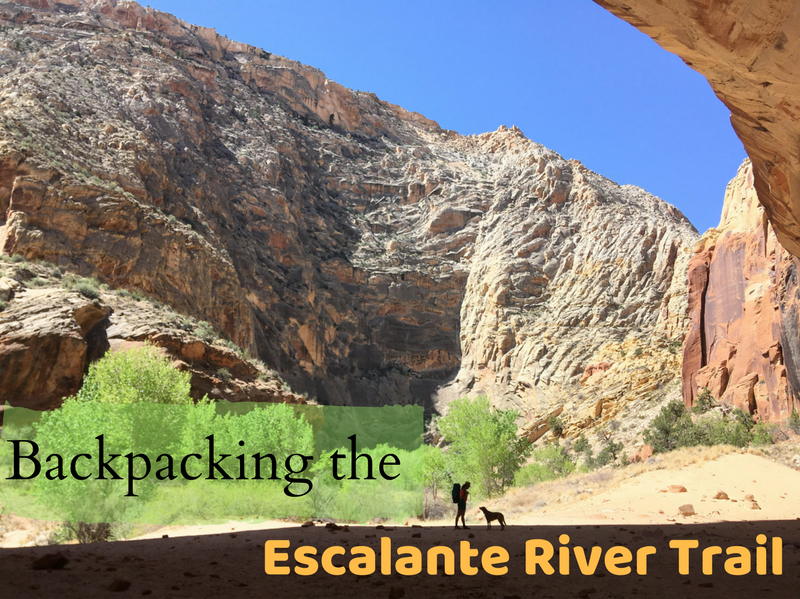 Save me on Pinterest!