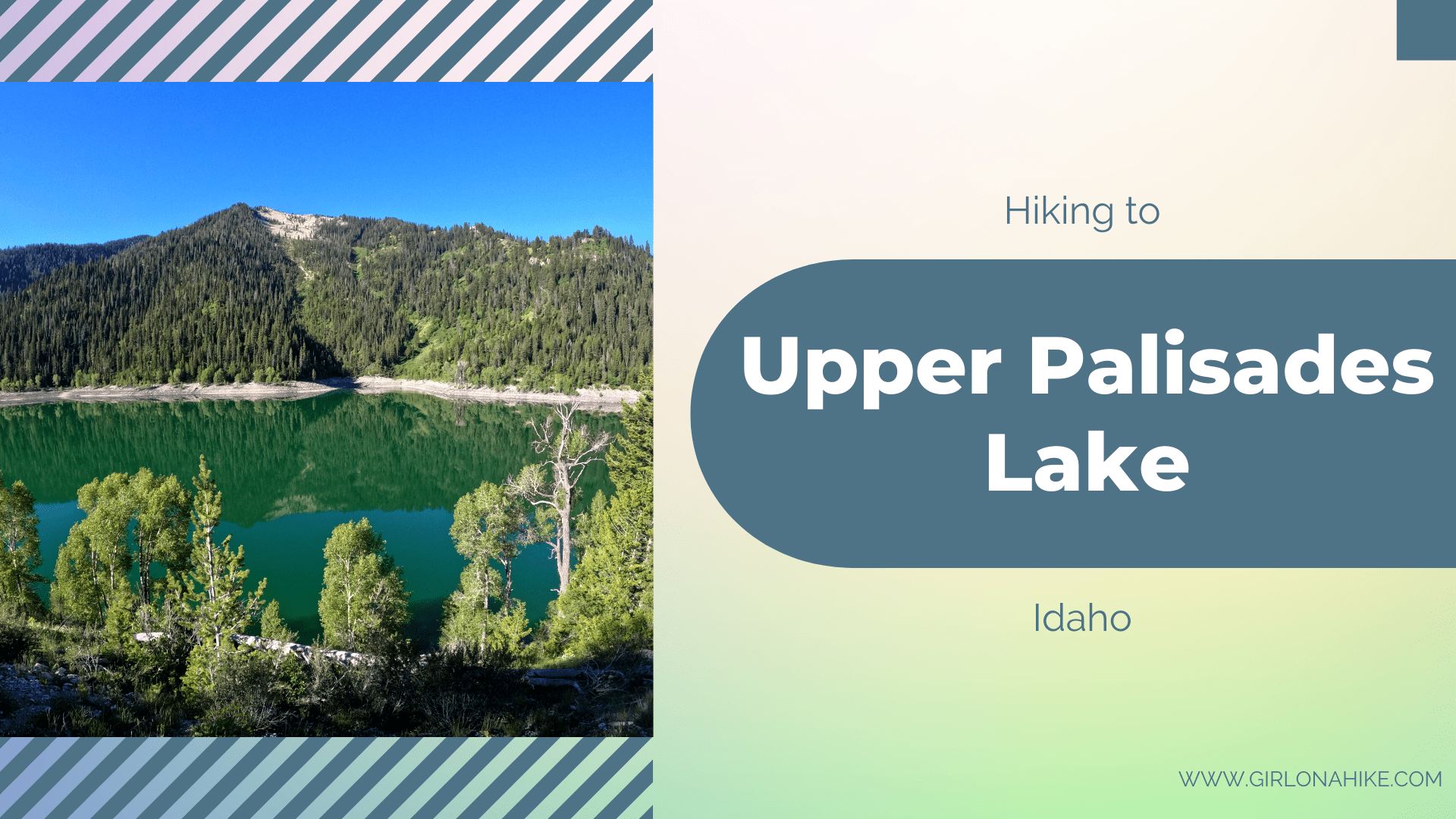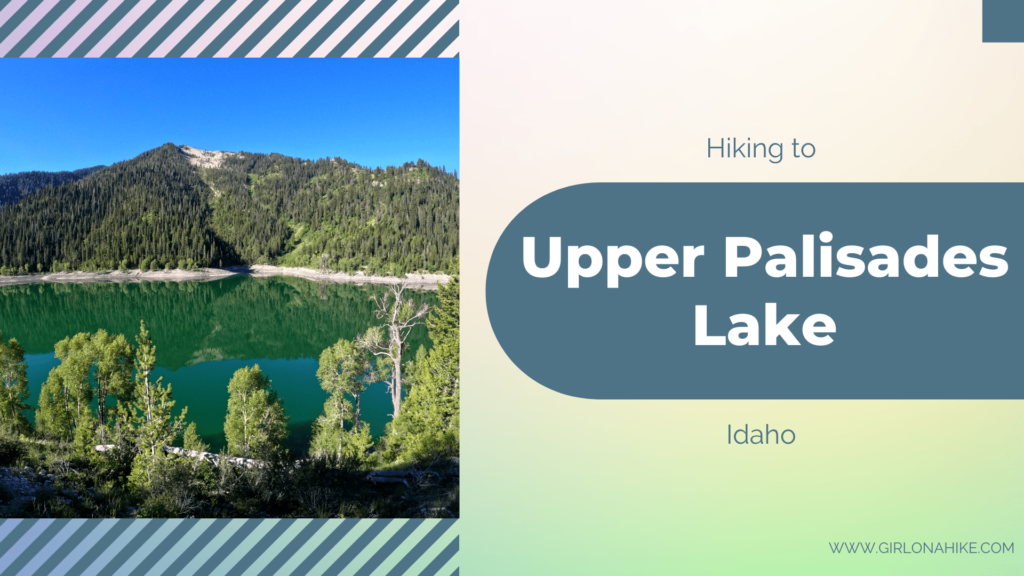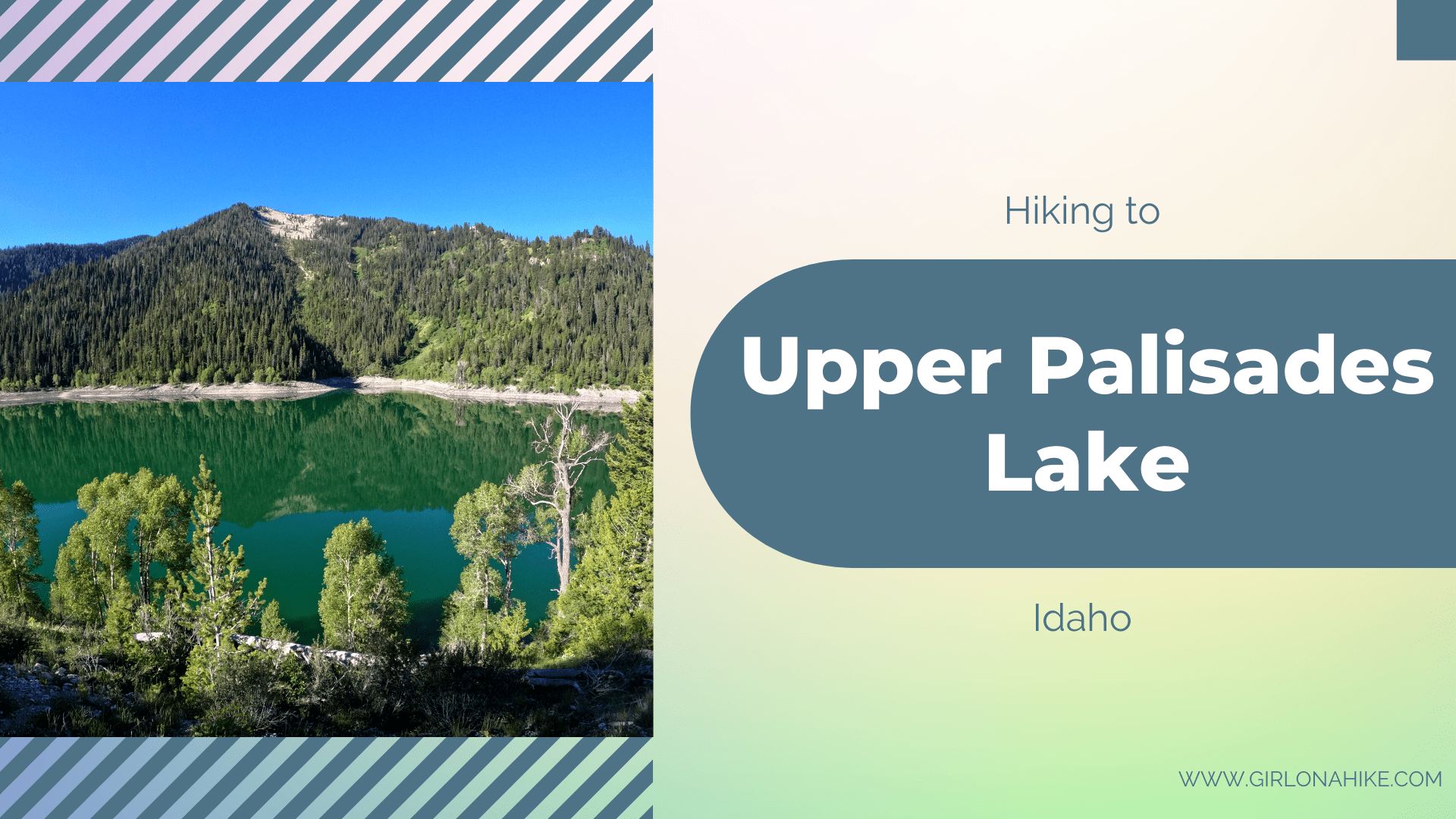 Upper Palisades Lake is a beautiful alpine lake on the Idaho/Wyoming border that sits at an elevation of 6,700 ft.
About
This is an extremely popular route for backpackers, as there are two lakes – lower and upper. Many backpackers opt to camp at Lower Palisades Lake, then day hike to Upper Palisades Lake. Others choose to go all the way to Upper, then day hike to the waterfall in Water Canyon. And for me, I decided to run it in a day, putting me at 17 miles for the day! There are several options to do, which is another reason why this is so popular.
This trail is very gradual and at a low elevation, so most people feel strong on this hike. Over 7 miles, the trail only gains a total of 1,200 ft. I went to the Water Canyon/Vacation Canyon trail split, which was 8.5 miles one way and still only 1,500 ft gain. This is one of the reasons I chose to do this run in a day. It was perfect for my marathon training!
This hike is kid and dog friendly, however, be aware of wildlife. Bears and moose frequent this area. I also saw two small garden snakes, each about 2 feet long. The great thing about this trail is that it is very well shaded and there is plenty of water, as you follow Palisades Creek.
If you want to do this in a day like me, I highly recommend camping the night before at Palisades Creek Campground. It's $17/night, very clean, and you can start hiking right from the campground.
Directions
From the town of Alpine, WY, head North on HWY 26, and look for the sign for the turn off. It's easiest to type in "Palisades Creek Trailhead" in Google maps.
Trail Info
Distance: 14 RT to Upper Palisades Lake
Elevation gain: 1,200 ft
Time: 6-8 hours
Dog friendly? Yes, off leash
Kid friendly? Yes, ages 10+
Fees/Permits? None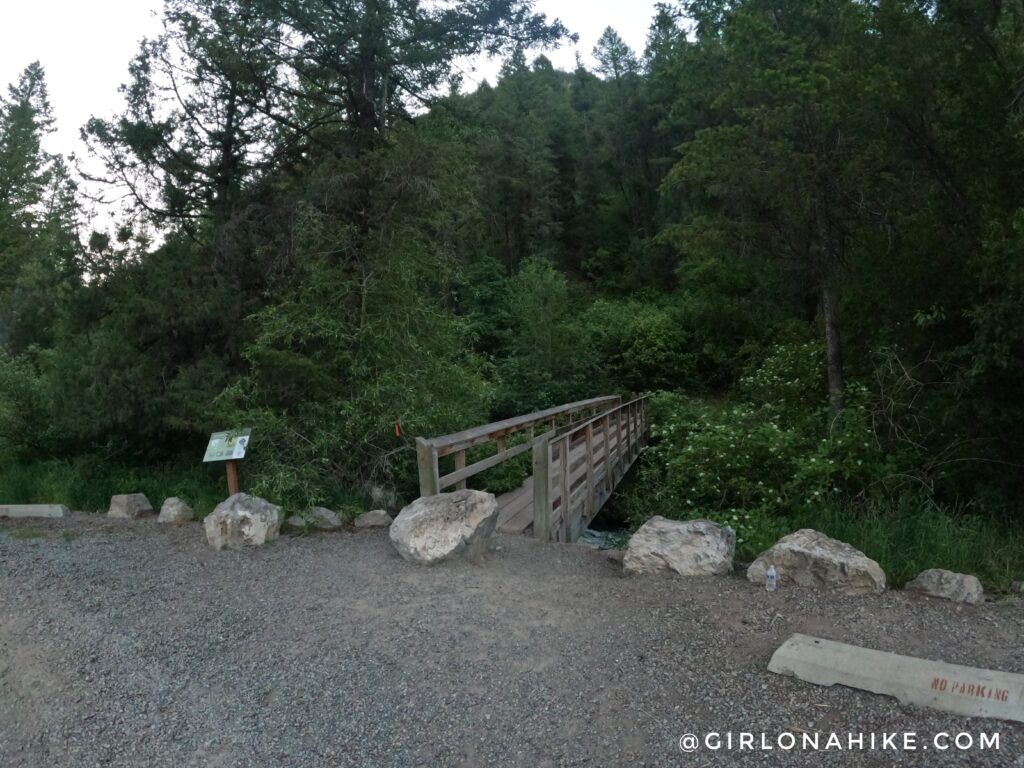 The parking lot was packed by 6am on a Saturday. The trail begins at the bridge, and there is a port-a-potty and several trail info signs. Make sure to carry bear spray.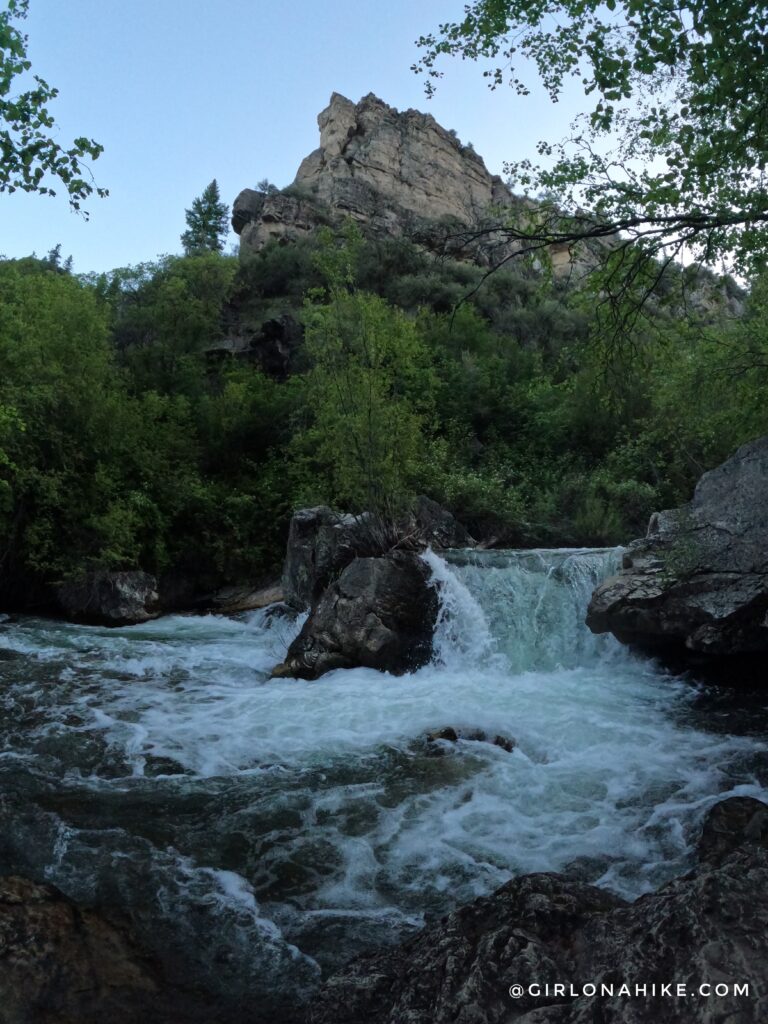 The trail was SO green and pretty! The trail follows the creek the entire time, which is great if you need to filter water or cool off.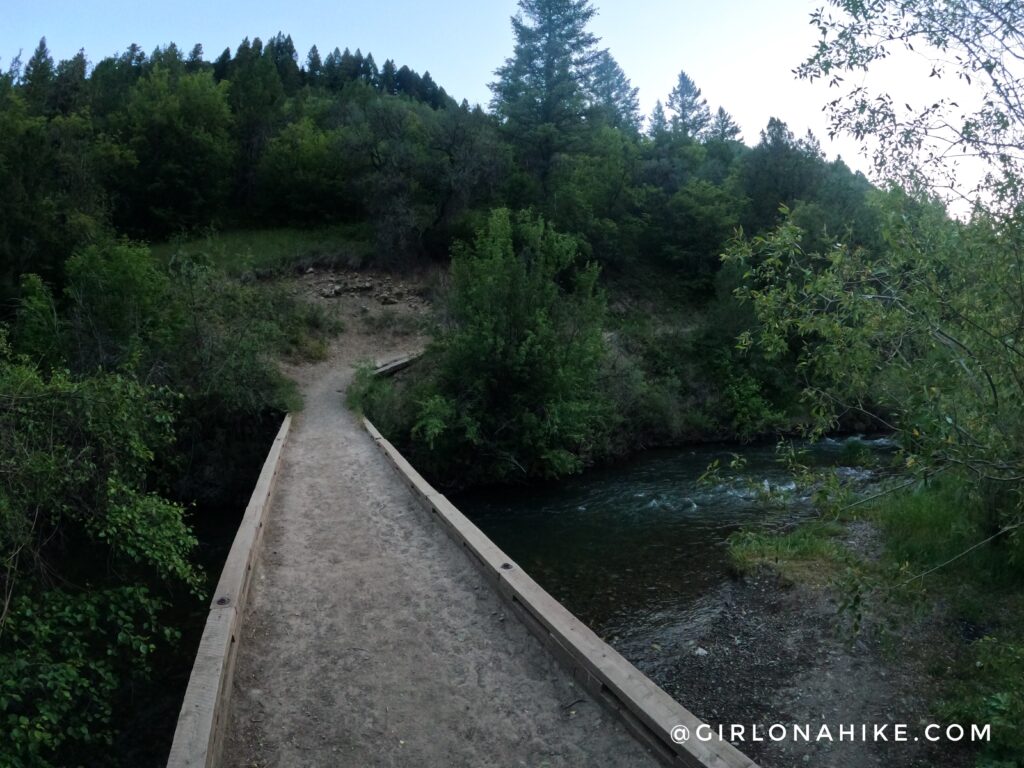 Pass the first bridge at 1 mile.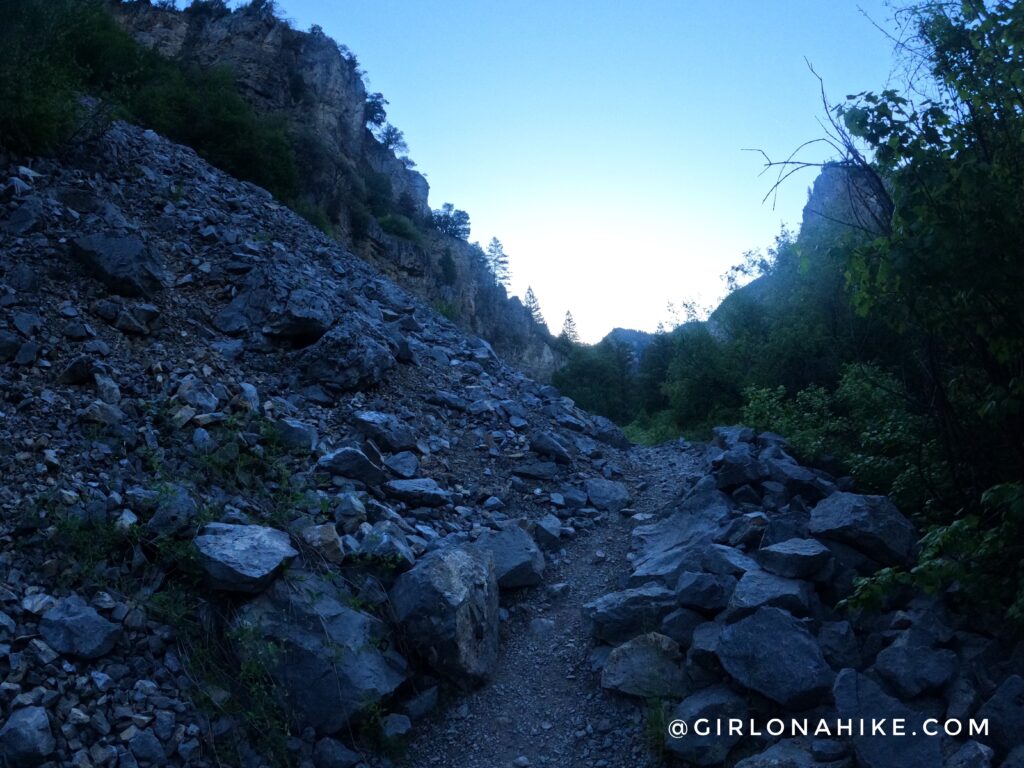 Hike through two rocky sections.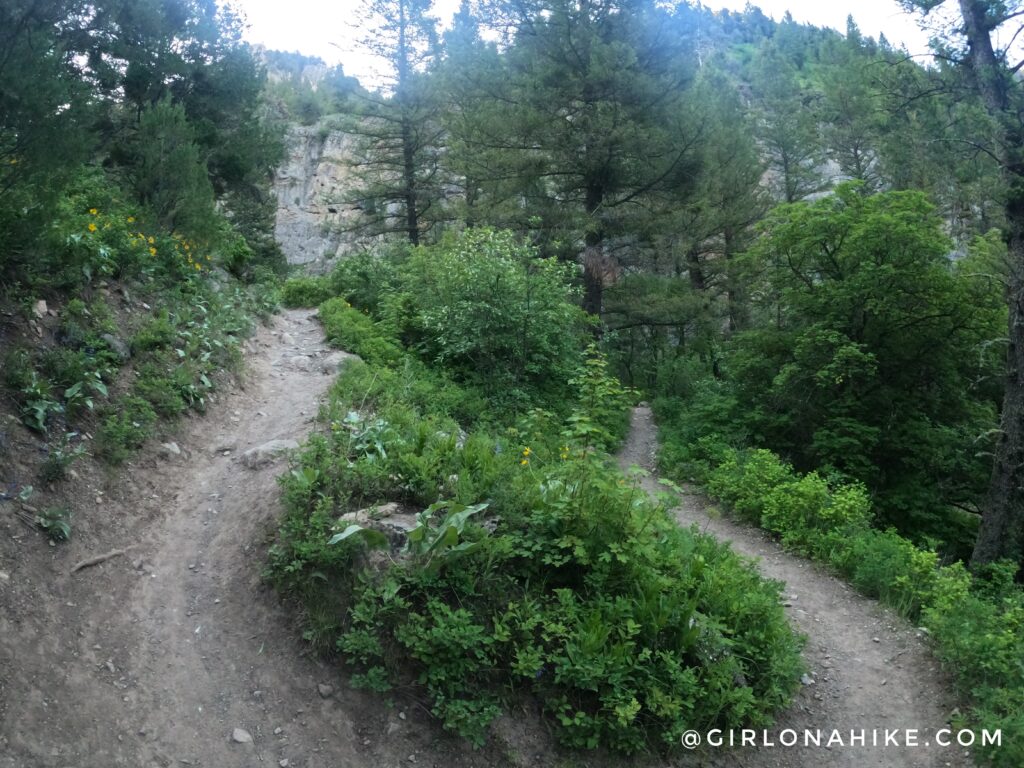 At 2.7 miles, reach the first set of short switchbacks.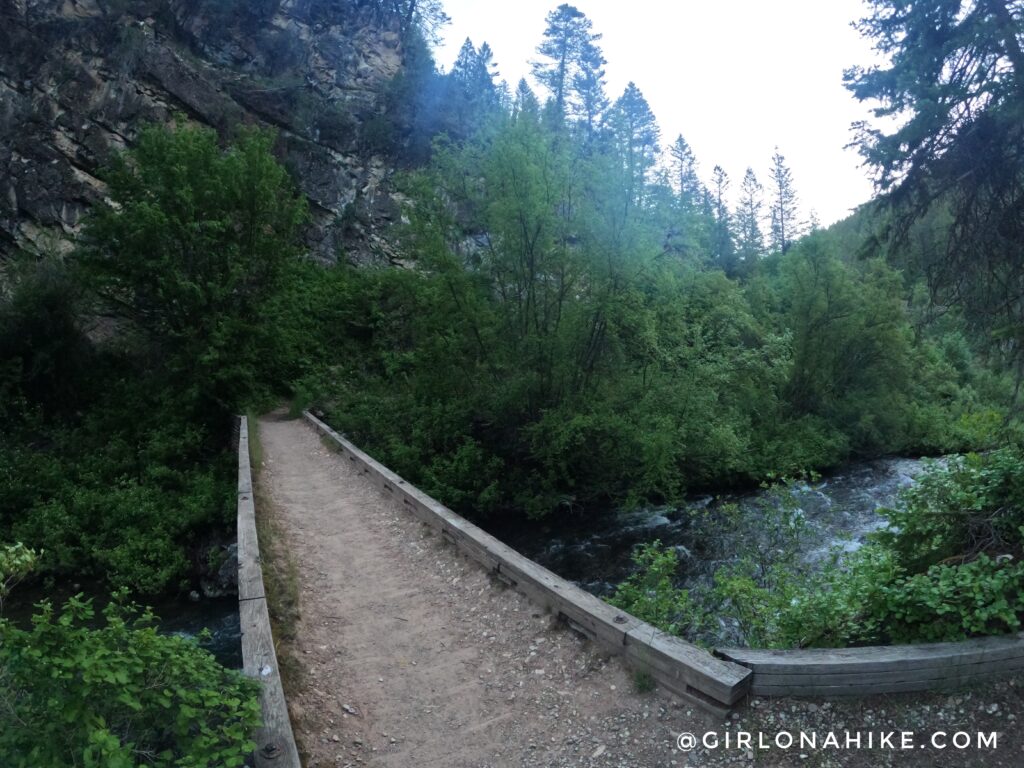 You will cross bridges at miles 3.3, 3.4, 3.6, and 3.7.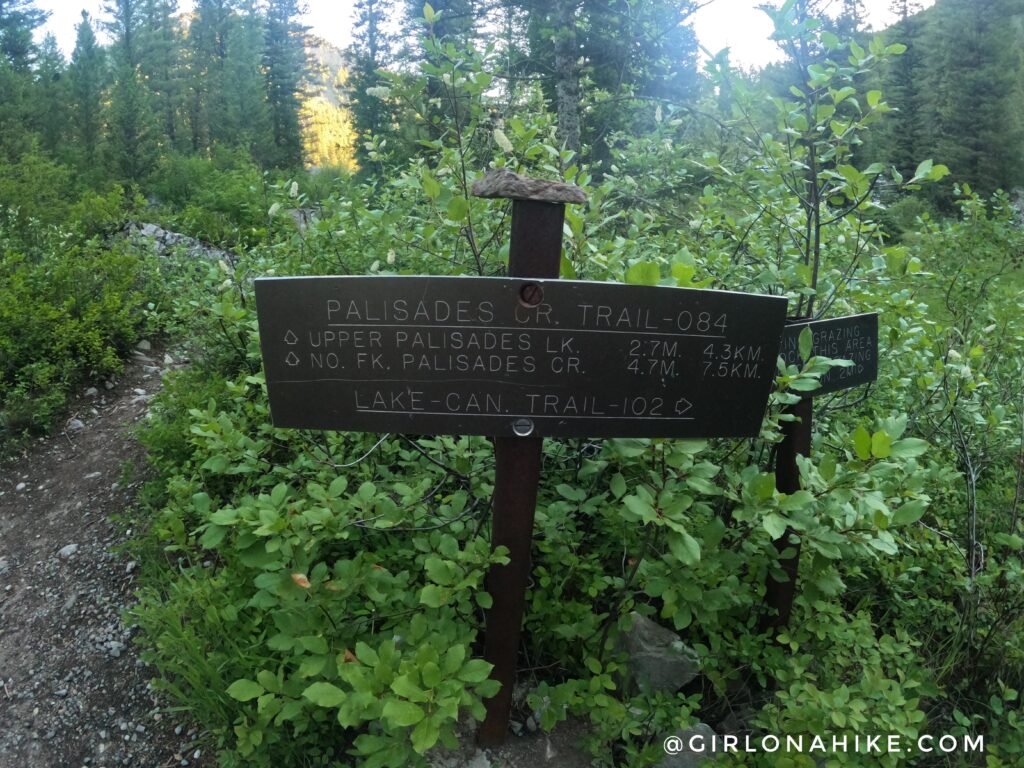 At 4 miles there is a trail split with the Lake Canyon Traill to the right, and also a huge camping area with a picnic table. However there were about 10 tents here so it seems this one goes fast, if you are planning to backpack.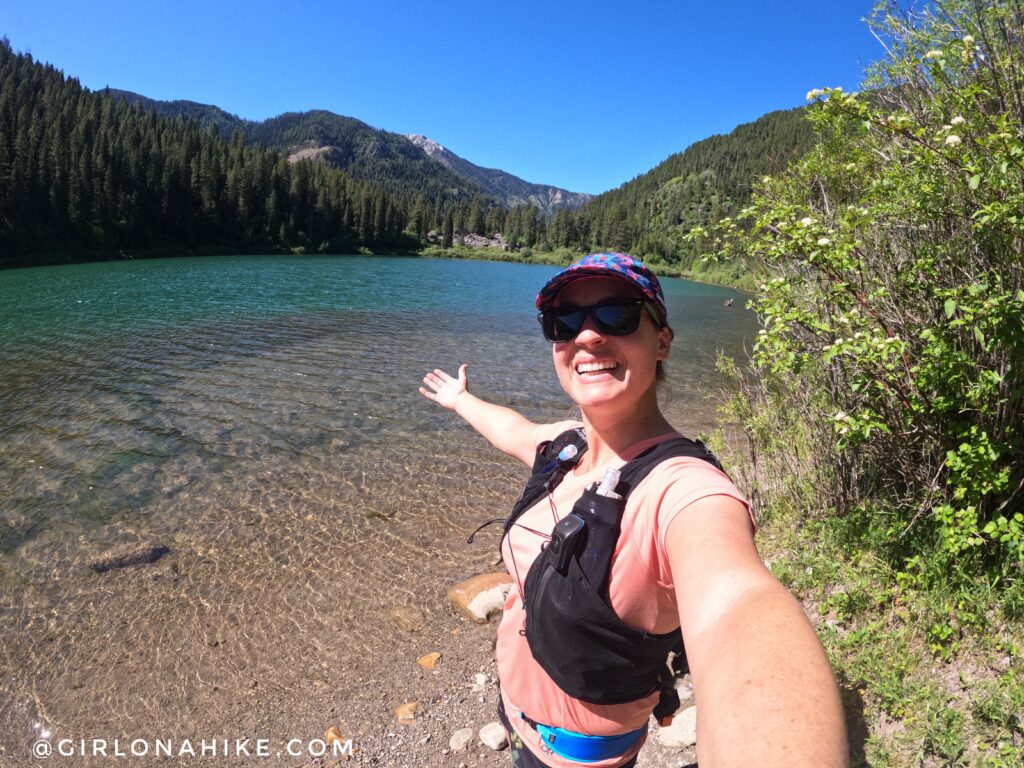 Lower Palisades Lake!
If running/hiking this in a day I highly recommend the Scat Belt for carrying bear spray. It worked out really well and I could barely tell I was wearing it.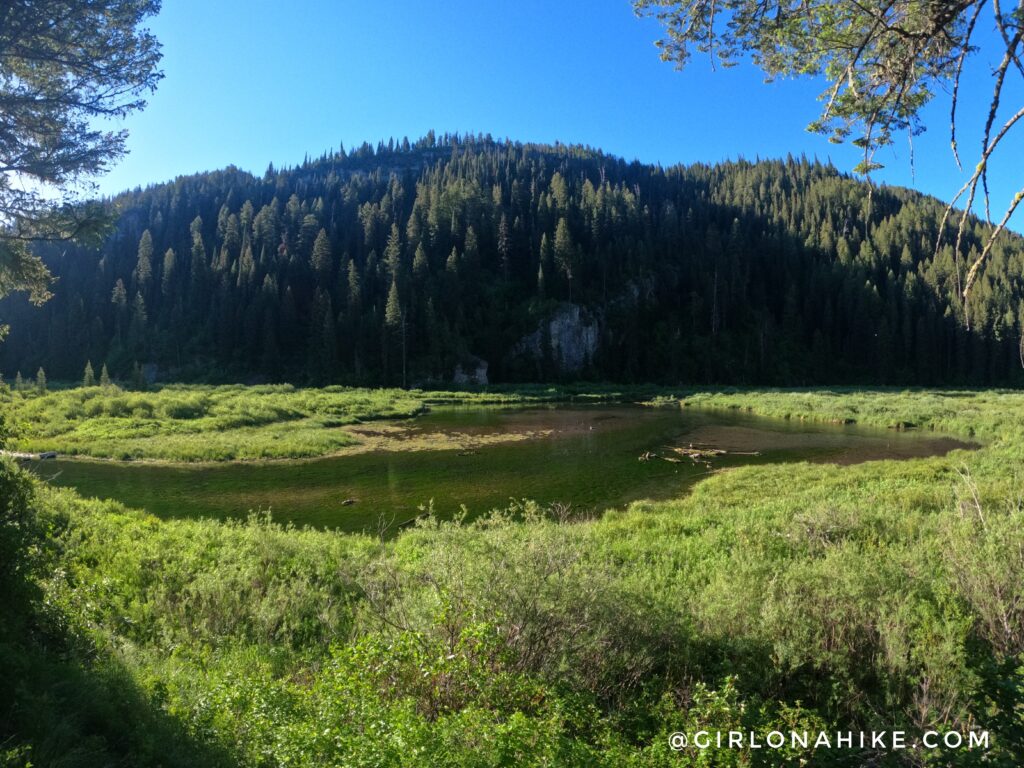 The trail cuts through tall grass and felt overgrown, however, every once in a while I would get a little higher and have great views of the inlet above the lake.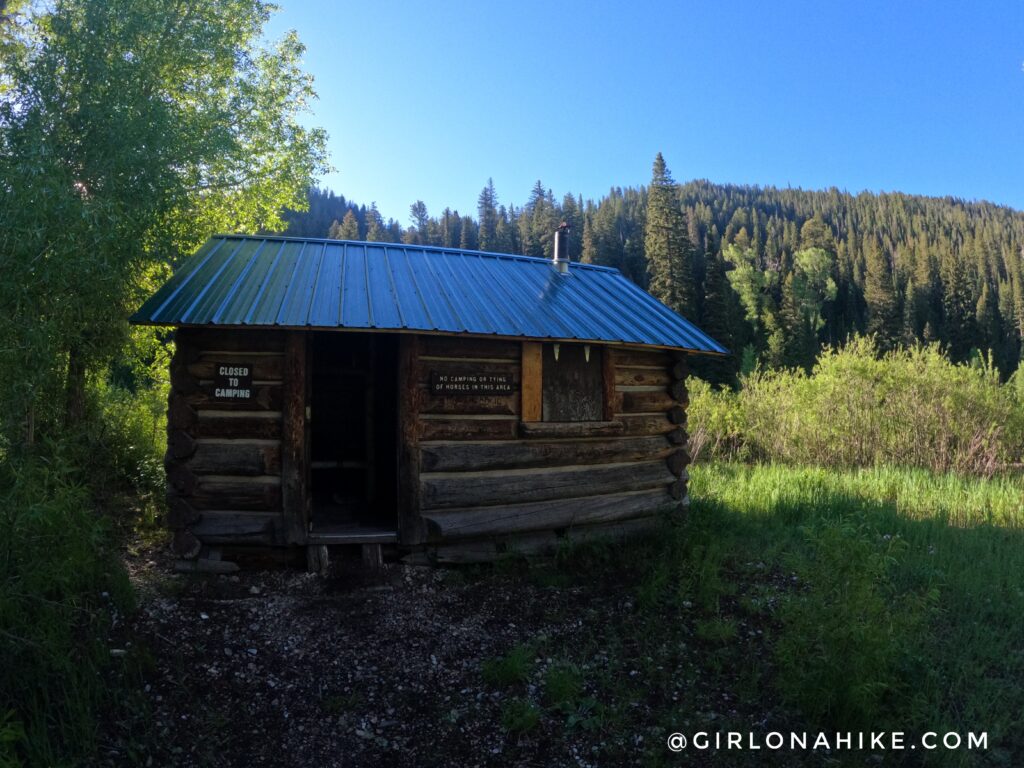 At mile 5.3 there is another great camping site, a trail split with Spring Chicken Canyon, and this cool cabin!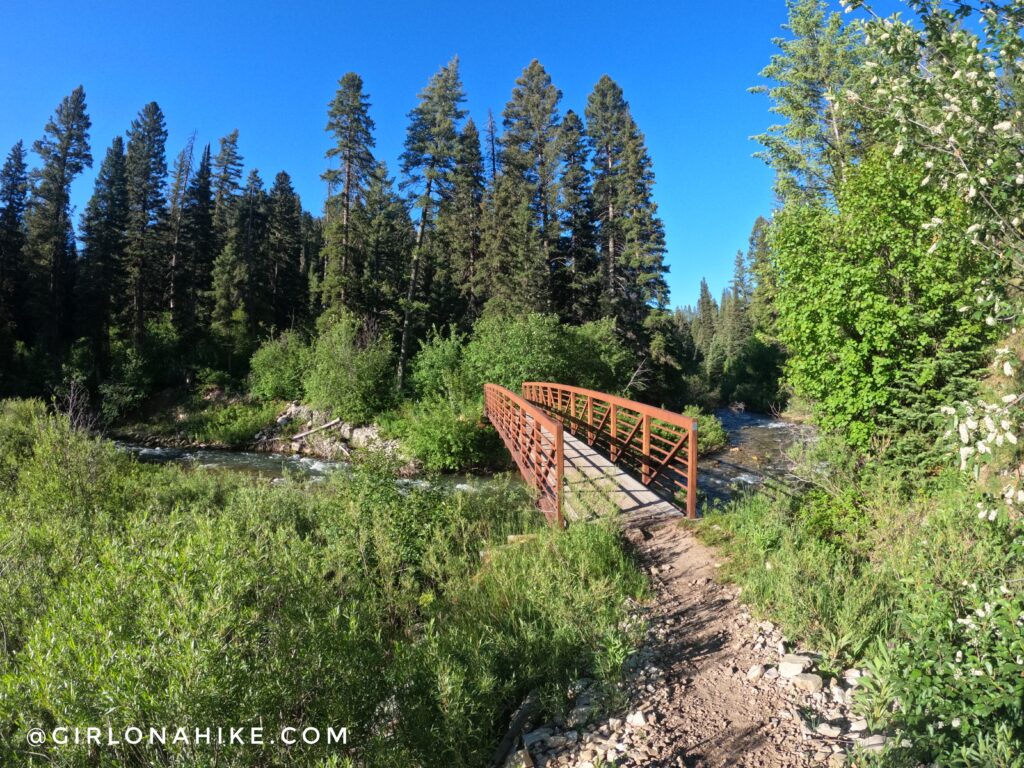 Finally, the last bridge to cross at mile 6.1! From here you will hike up more switchbacks. Nothing is ever super steep.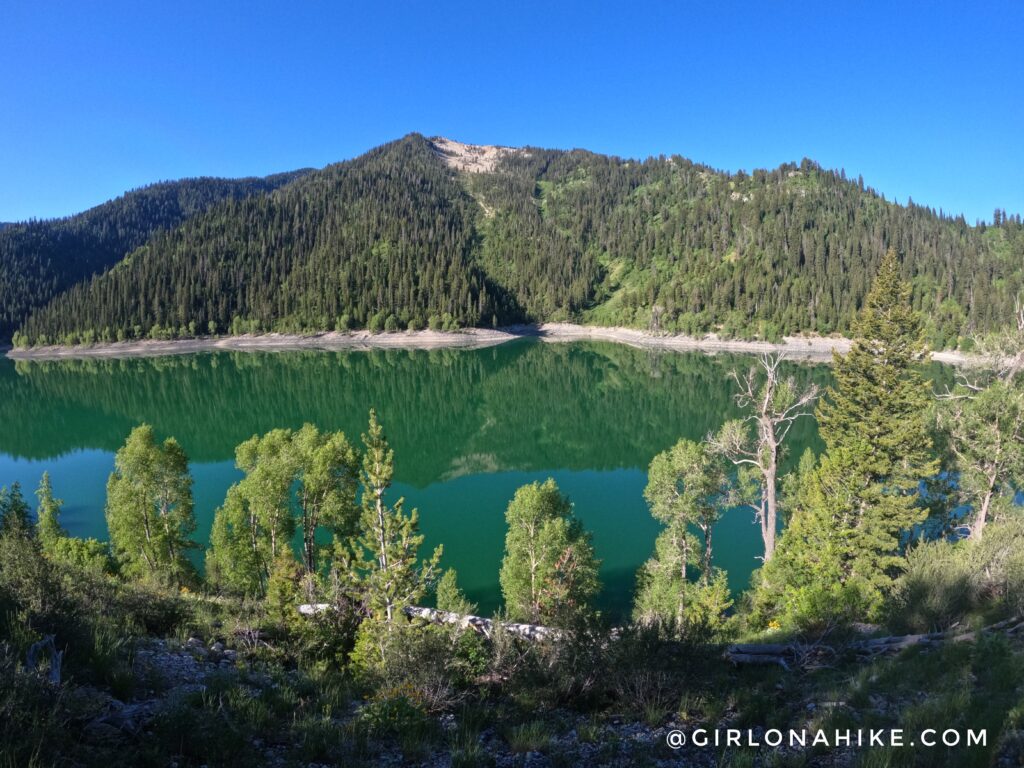 Yay, made it to Upper Palisades Lake!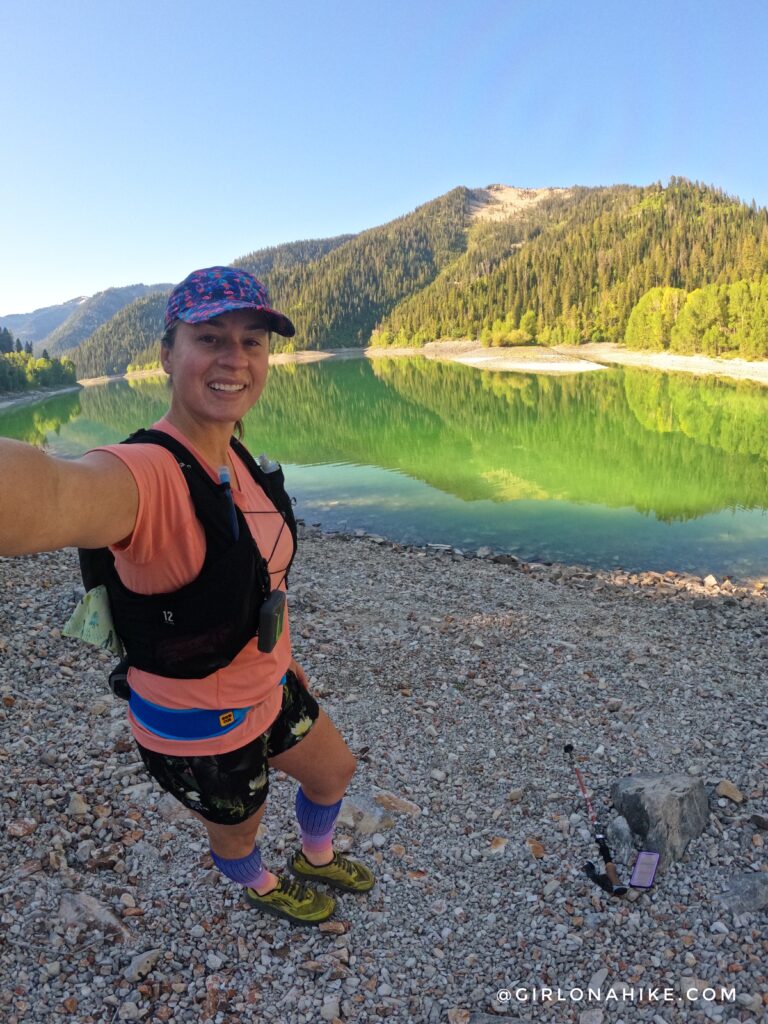 Mile 7 and feeling pretty good! I was surprised how low the lake water level was. I also saw more backpackers here.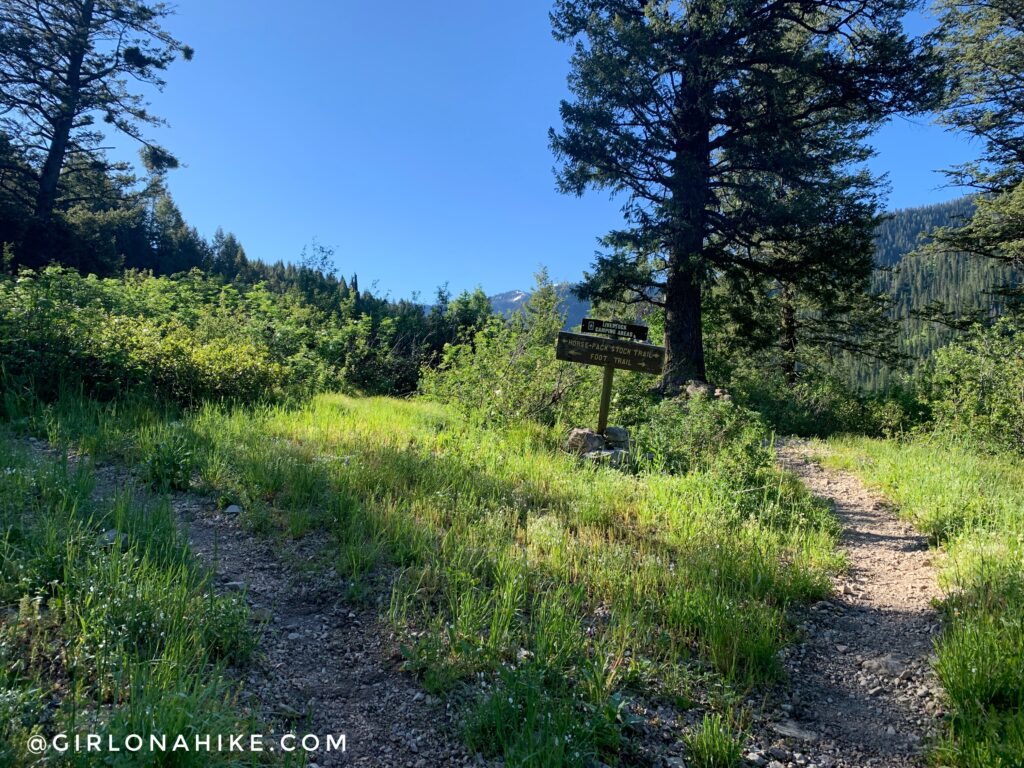 I had to hit 17 miles, so I kept going, following the lakeside. There is a trail split, and the upper trail is for horses so stay right.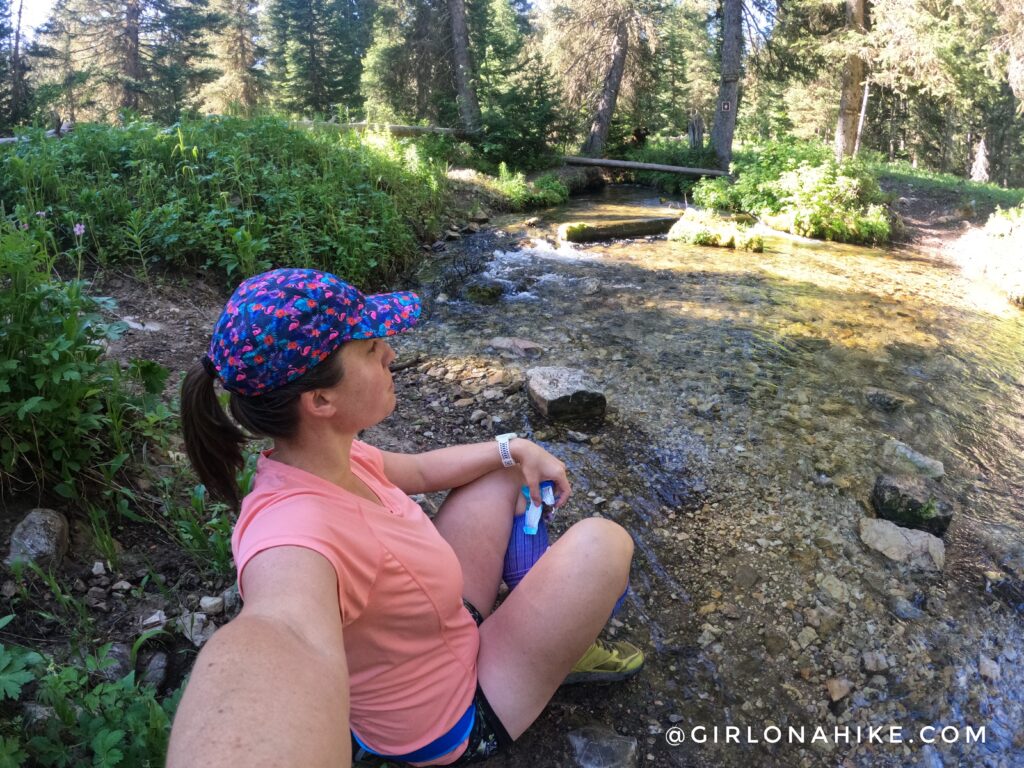 At mille 8.5 I as at the trail split for Water Canyon, which leads to a waterfall. However, from this crossing it's another 3 miles one way. That would have put me at 24 miles for the day and I just like that would be too much. So, I filtered water here, ate another snack, and then it was time to head back and run down!
On the way down the running felt great, but, I passed probably 100 people! It was insane – I constantly had to stop and let the uphill hikers pass. So if you want more solitude I highly recommend doing this mid-week as weekends are crazy busy. I had no idea how popular it would be! Glad I got this route done, it was so fun and pretty.
Watch my video on

Youtube

!
Trail Map
My track via Gaia GPS – the best tracking app! Get your app here for a discount.
Recommended Gear
Nearby Hike
Hiking to the Darby Canyon Wind Caves, Wyoming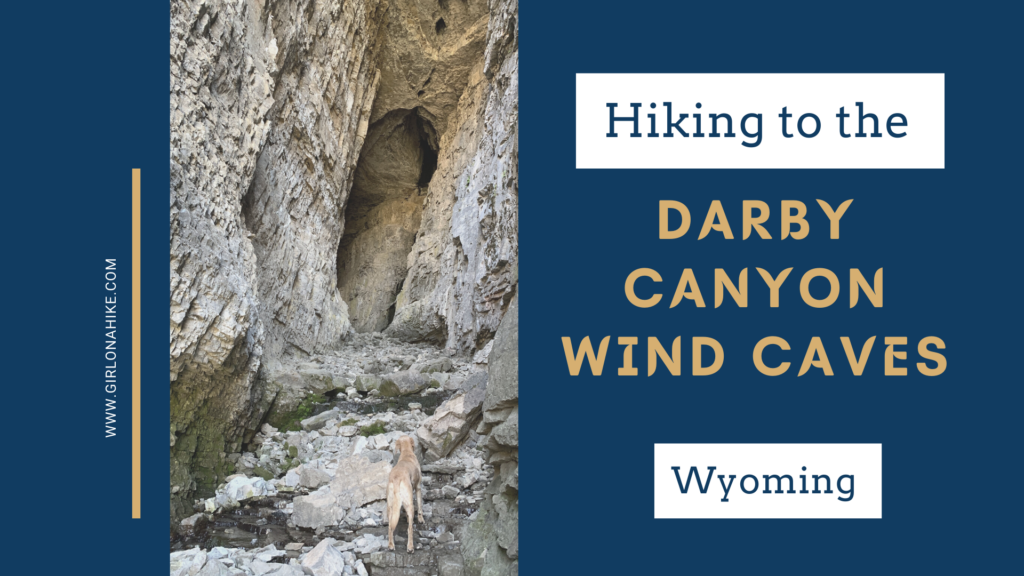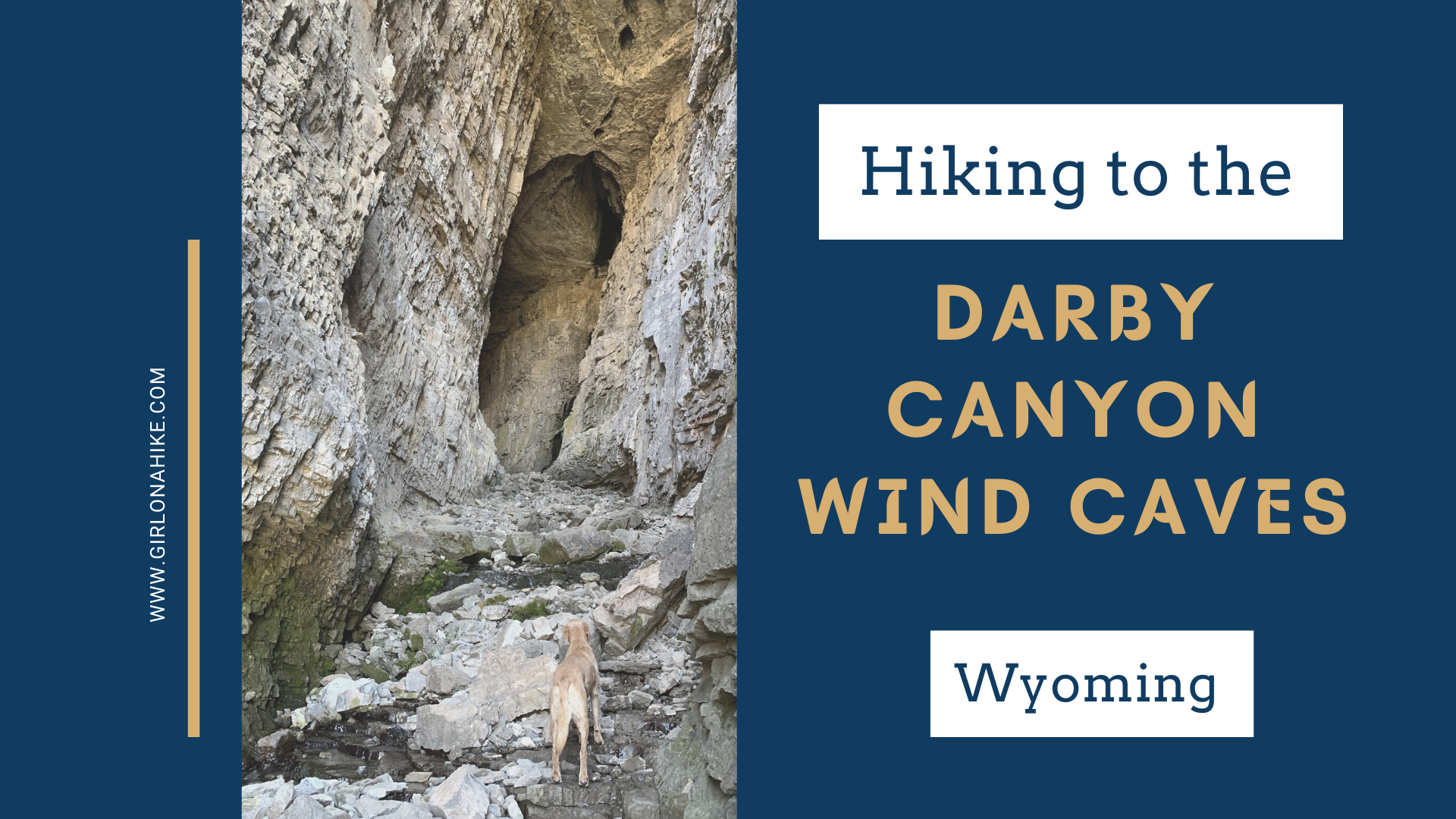 Save me on Pinterest!