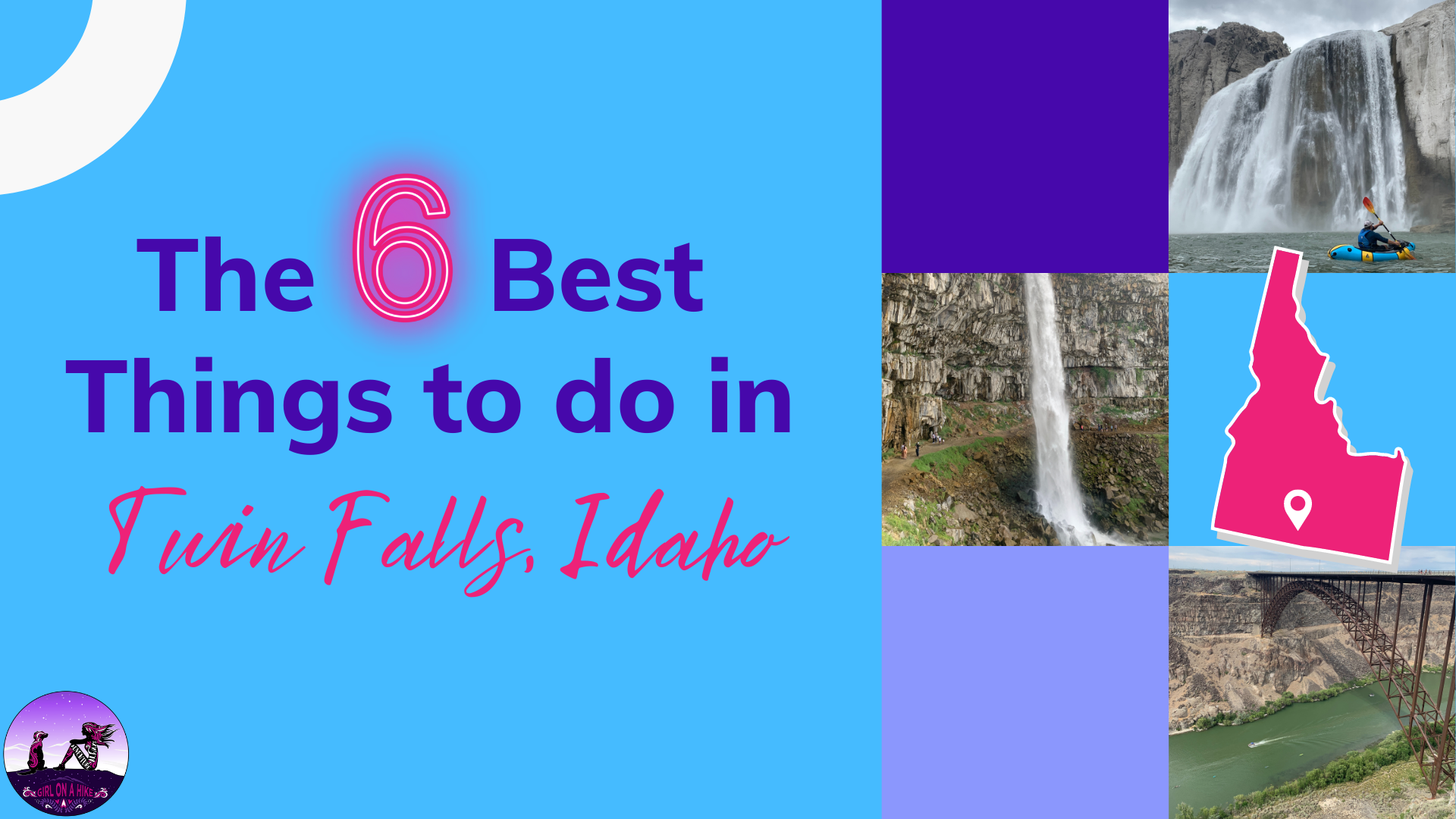 The 6 Best Things to do in Twin Falls, Idaho are all within a short drive! Over July 4th weekend we decided to check out this area for a few reasons. First is that most of you know I'm still recovering from foot surgery and am limited to 1 mile walks. Boring! Second, I needed to find an area that we could focus on getting our Alpacka Rafts out and/or easily walk up to cool sights. Third, I didn't want to drive super far – Twin Falls is only 3.5 hours from SLC! After doing a bunch of research on the area, this left us with several options, and over 2.5 days we checked out these amazing locations! From kayaking and very short walks, there is something for everyone in Twin Falls!
The 6 Best Things to do in Twin Falls, Idaho

Kayak to Shoshone Falls
Shoshone Falls is located along the Snake River, and your journey starts from the Centennial Waterfront Park. Parking is FREE but fills up by 10am on weekends. You can get kayak/SUP rentals which need to be reserved ahead of time through AWOL Adventure Sports, however you can also use your own watercraft. We used our Alpacka Rafts and it worked out great! Kayaking to Shoshone Falls is 8 miles round trip, and requires carrying your boat across the Pillar Falls Portage (about a 200 yard walk over rocky terrain), and is therefor not great for beginners. It took us about 6 hours RT including time to check out Pillar Falls and explore the base of Shoshone Falls. Most people plan for 8 hours. The current is extremely slow is summer, and you really can't tell which way the river even flows! You WILL be paddling in both directions – do not rely on the current to get you back faster. Make sure you bring plenty of water, snacks, and sun protection, all in a waterproof bag. Viewing the falls from the base is a fun, unique experience, and you really get a feel for how powerful the waterfall is!

Visit the Perrine Bridge Overlook
Next up on the list is viewing the Perrine Bridge right in Twin Falls, Idaho! From the Visitor Center, you will 2 minutes to have the grand view – 486 ft tall, and 1,500 ft across! If you're lucky you may even get to watch base jumpers take a dive off the bridge and then land with their parachute. Continue walking along the Canyon Rim Trail for as far as you want to get a slightly different view. If you kayak to the base of Shoshone Falls, you will also paddle right underneath! Cost: FREE!

Visit the Malad Gorge Overlook / Devils Washbowl
Just 30 minutes west of Twin Falls, Idaho is the Malad Gorge State Park, which includes the Devil's Washbowl. When water levels are high, experienced kayaks actually make the trip over the falls! Check out this video at 3:45 to watch him go over. Yikes! The water level was extremely low when we visited July 4th, but it was still super cool to see this raging waterfall. It does cost $7/car to enter, but all ages will enjoy seeing this small gorge directly below I-84. Walk over the metal bridge to get a great view 250 ft above the falls. The best time to visit is mid-day when the sun is shining on the gorge for the best lighting.

Visit Niagara Springs
Niagara Springs is located just outside the Niagara Springs State Park fee booth, making this a FREE attraction. Anyone can easily walk up to this spring, with about 50 steps to the viewing deck. The water flows at a staggering 250 cubic feet per second! That is a lot of water gushing out above the Snake River. Be warned though – the drive down to Niagara Springs is a narrow, un-paved road making it not accessible to RVs and trailers. 4WD is not needed and all other cars can make it. While there are some other, smaller springs in the state park, this is the best so save your money for something different.

View the Perrine Coulee Falls
En-route to the Centennial Waterfront Park to Kayak to Shoshone Falls, stop at the sharp curve on the same road and pull-out to view this 200 ft waterfall! Perrine Coulee Falls is also great for all ages – either enjoy a short 200 yard walk to the base of the falls, or simply view from the road. Because it has such easy access it gets crowded – go at an odd time of the day mid-week to avoid the most people. Perrine Coulee Falls can also be seen from above, or along the Canyon Rim Trail (paved). Cost: FREE! This is definitely one of The 6 Best Things to do in Twin Falls, Idaho!

Kayak to Blue Heart Springs
Blue Heart Springs is located along the Snake River, and your journey starts from Banbury Hot Springs. You have to have a reserved parking pass ahead of time ($10 as of 2021), even if you are only kayaking to Blue Heart and not visiting the actual hot springs. They do offer kayak/SUP rentals which also need to be reserved ahead, however you can also use your own watercraft. We used our Alpacka Rafts and it worked out great! You'll paddle 1.5 miles downstream first, find Blue Heart Springs, then work your way back up stream. The current is generally extremely slow – what makes paddling back upstream hard can be the wind! Kids of all ages were paddling on their own, and little ones were sitting on their parents lap. It took us an hour each way to paddle, and we only hung out at Blue Heart for 15 minutes. We went on July 4th weekend, so it was a giant party scene the day we went. If you can go mid-week you'll see way less people. Also just a heads up – the water isn't as blue as Instagrammers make it out to be. Algae is starting to take over, however you can find a few pockets of clear blue water. Despite this, it's a great, easy 3 mile RT paddle for those looking to get out for just a few hours or who want to try kayaking for the first time.
Check out my video of Kayaking to the Base of Shoshone Falls!
Recommended Gear
Recommended Hike


Save me on Pinterest!