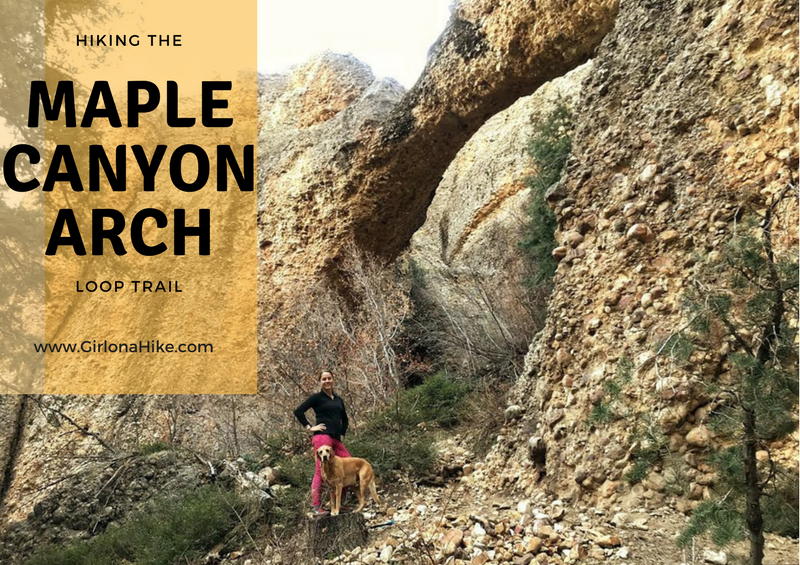 Hiking the Maple Canyon Arch Loop Trail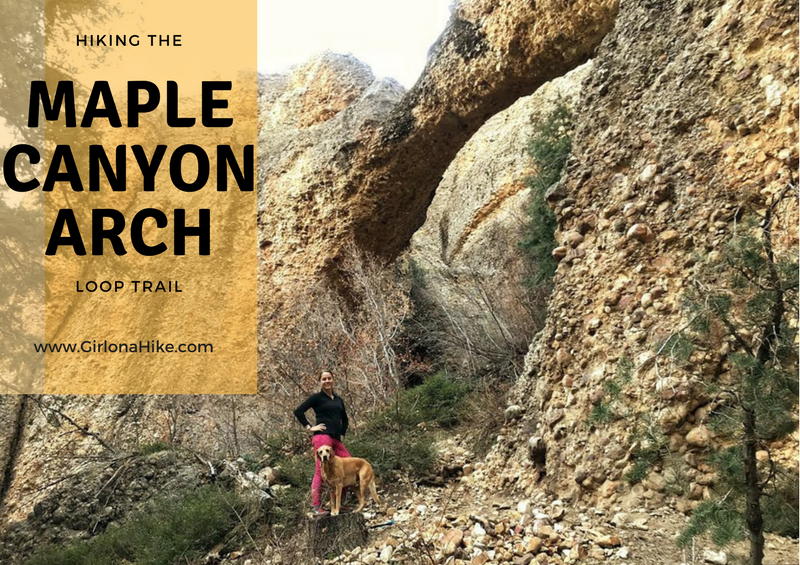 Maple Canyon is located near Fountain Green, Utah, and the canyon offers several dog-friendly trails and routes for climbers. Maple Canyon is made of conglomerate rock with embedded, rounded clasts, ranging in size from pebbles to boulders, hence the nickname "cobble climbing". Maple Canyon also gets its name from the hundreds of Maple trees lining the trails and road. Fall is the best time to visit, as the leaves burst with orange and red. My friend and I missed the best of the leaves, but this canyon is often dry making it a good hiking area year-round. Camping is also available, but pets must stay on leash in the campsites (reserve here).
Directions
From SLC, head south on I-15 until Nephi, Utah. Take exit 225, and drive East to Fountain Green, UT. From Fountain Green, follow the brown signs for Maple Canyon.
Here's a driving map.
Trail Info
Distance: 5.8 miles (loop)
Elevation gain: 1,600 ft
Time: 2-4 hours
Dog Friendly? Yes, off leash
Kid Friendly? Yes, but only to the arch from Middle Canyon
Fees/Permits? $5 fee to park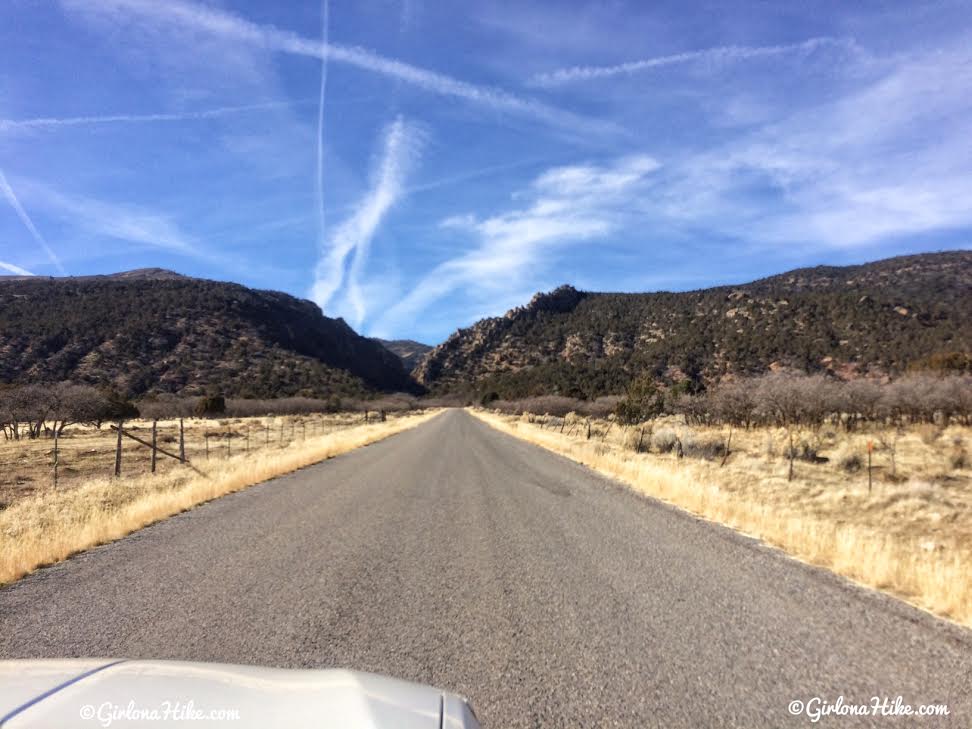 Driving up to Maple Canyon. It quickly turns to a dirt road, but even small cars can drive it. Pass the Uinta National Forest sign, cross a bridge, then park on the right side of the road where there is a port-a-potty.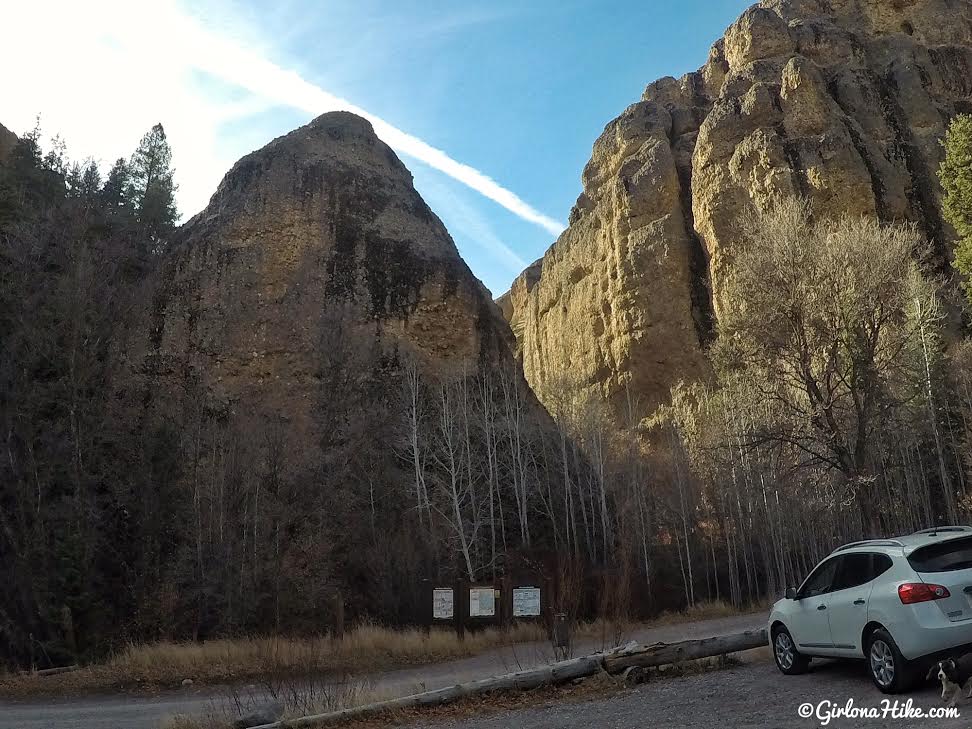 Parking area. The canyon straight ahead is Left Fork. If you are hiking this in a clockwise direction like we did, you'll first hike up this canyon. The arch is located in Middle Fork canyon, which you will see on your way back down, if completing the loop.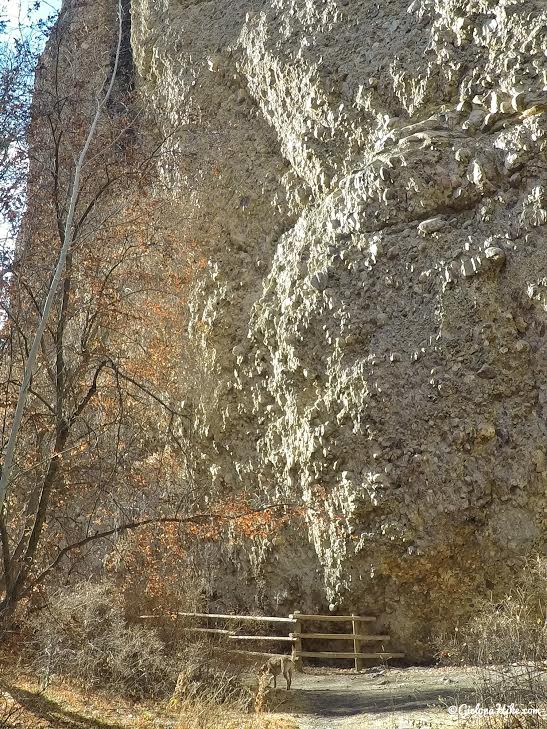 You'll immediately hike by really tall rock walls, popular with climbers.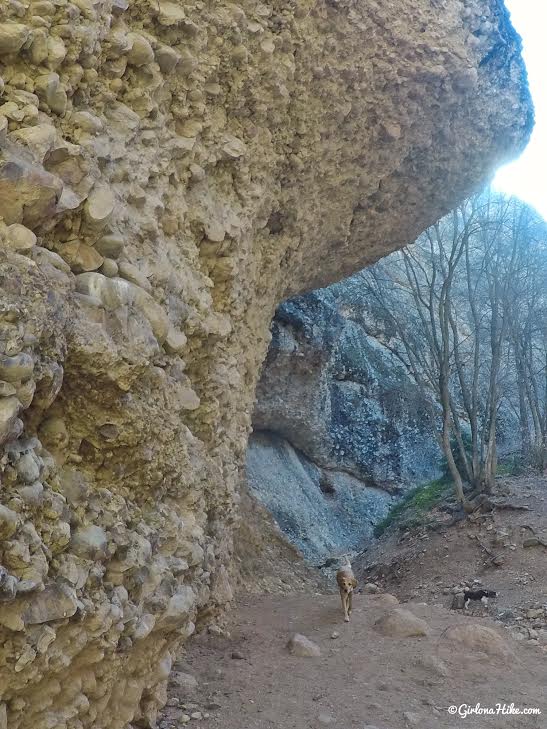 Several rocky overhangs offer a more challenging climb. Continue hiking up canyon (heading West).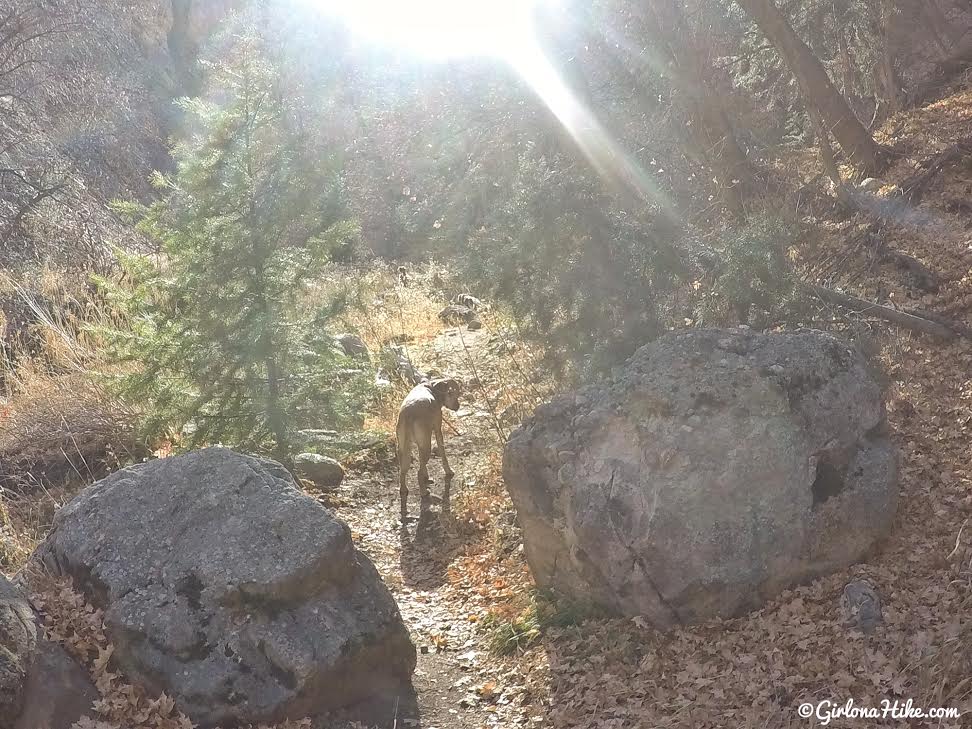 The trail will cut through two small boulders, and starts to gain more elevation.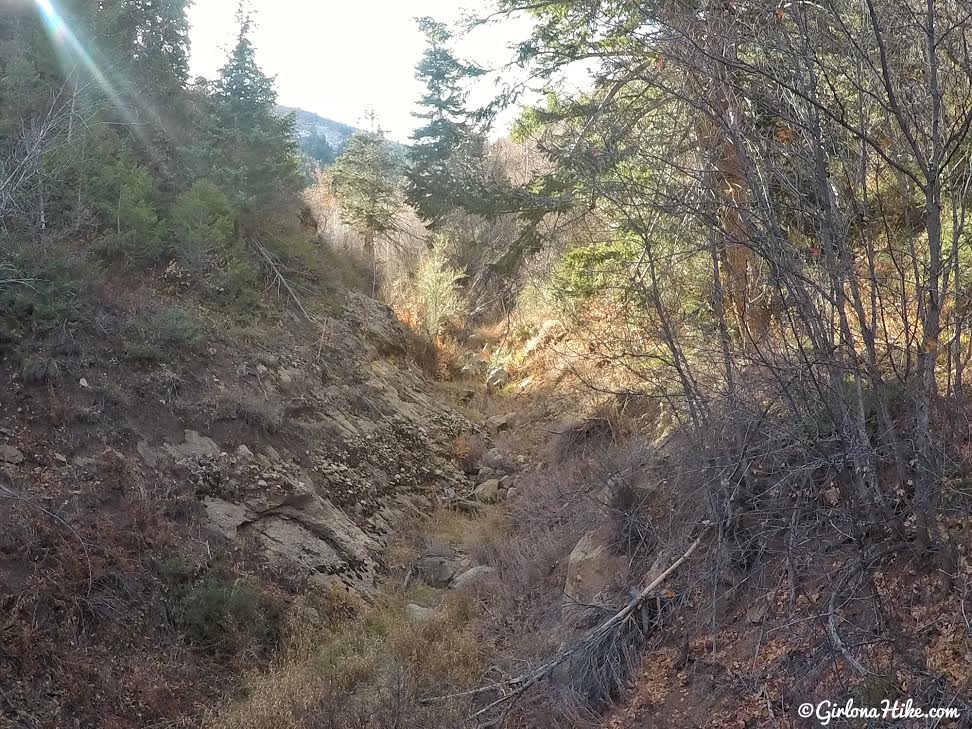 Around 1 mile you'll see the rock walls fade away, and you are now hiking through a forested area. The small gully was dry, but in Spring and early Summer it still flows. You'll want to bring plenty of water for you and your dogs, since there is no water source in Fall/Winter. I also highly recommend wearing pants, since the low brush will scrape up your legs.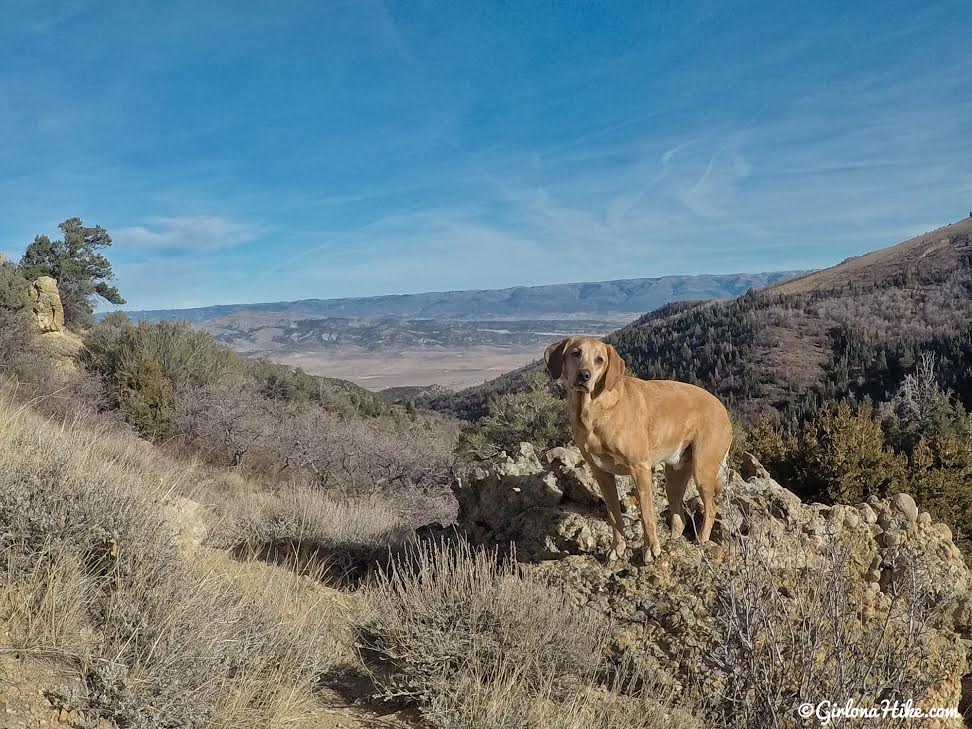 The views will clear, and you'll have an awesome view to the East. Take a sharp left turn up one switchback.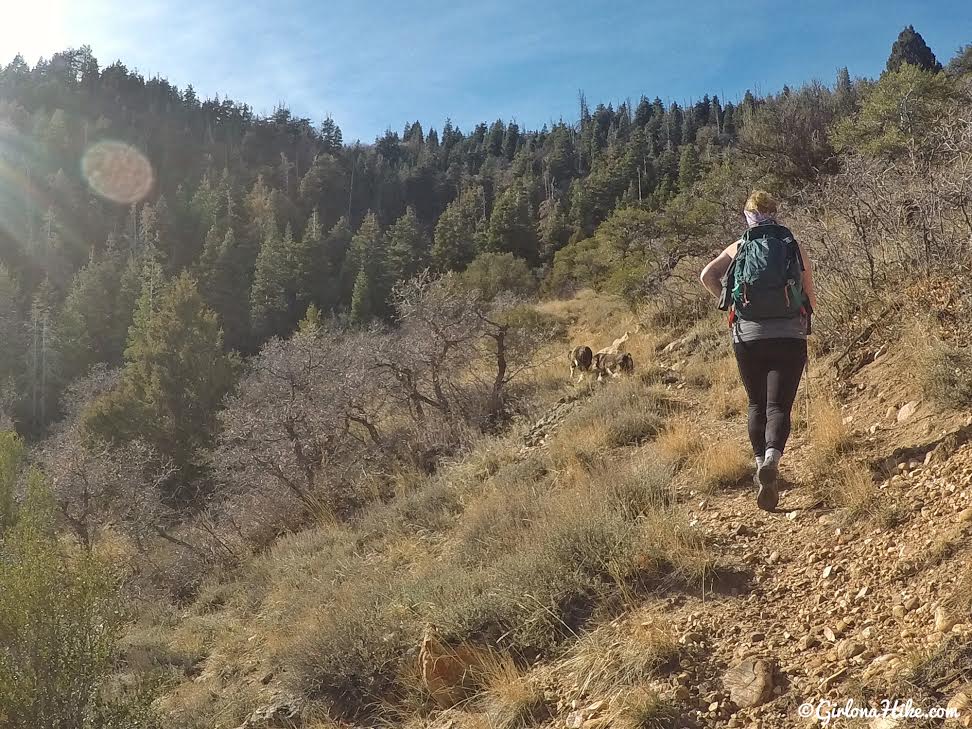 Almost to the ridge and dirt road. Even in December this trail can get hot.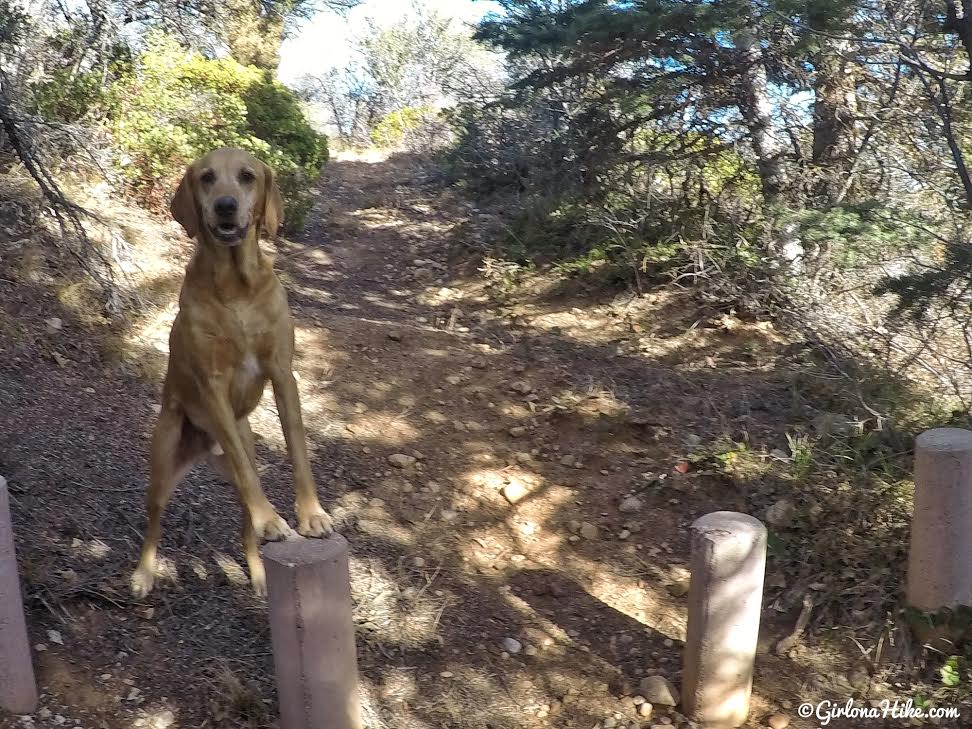 Pass these four concrete posts (they prevent jeeps and ATVs from driving down the trail).
Charlie loves climbing anything he can get his paws on!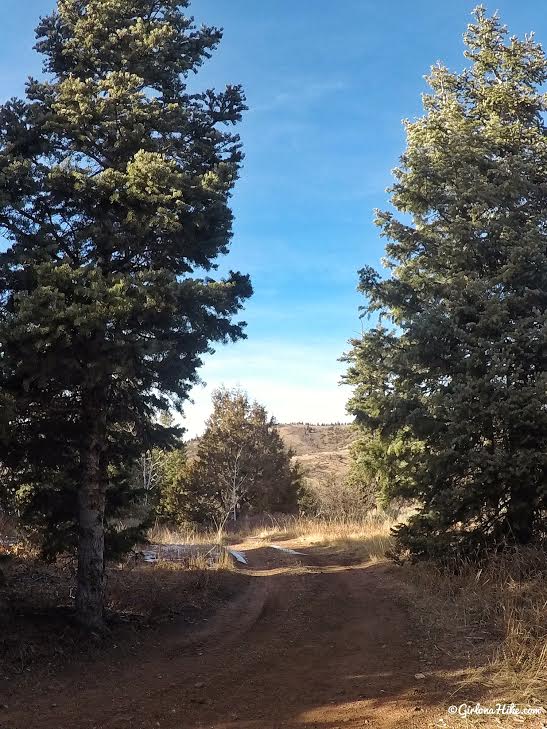 You should now be on the jeep road. You will follow this for 1.1 miles, until you reach the trail split for Middle Canyon.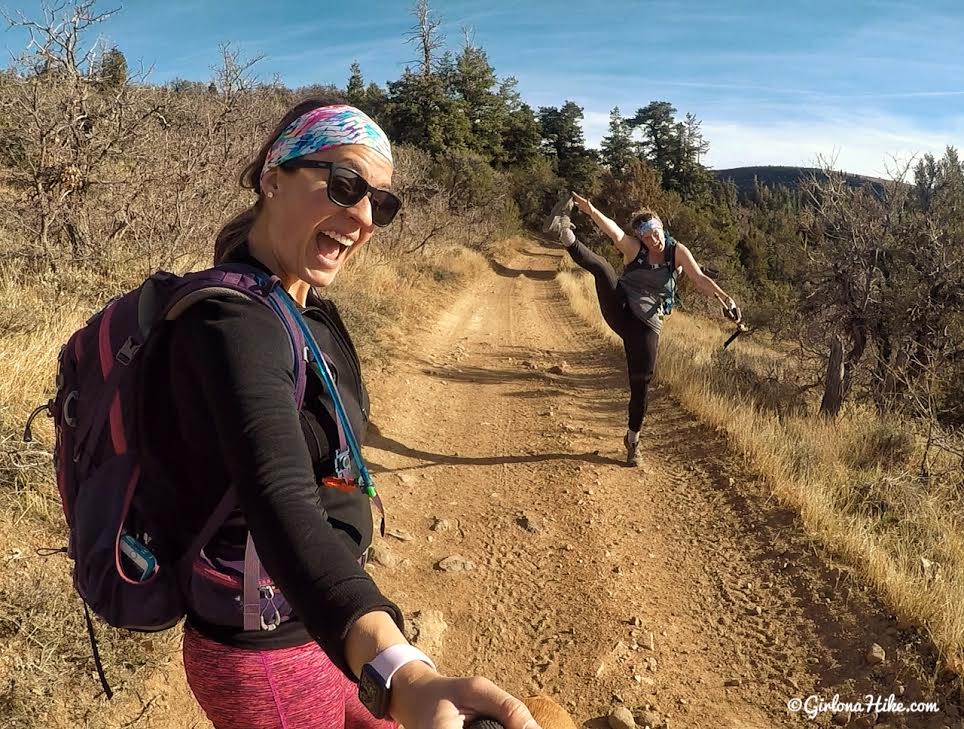 When you are on a dirt road and there's not much elevation gain, you make up your own entertainment!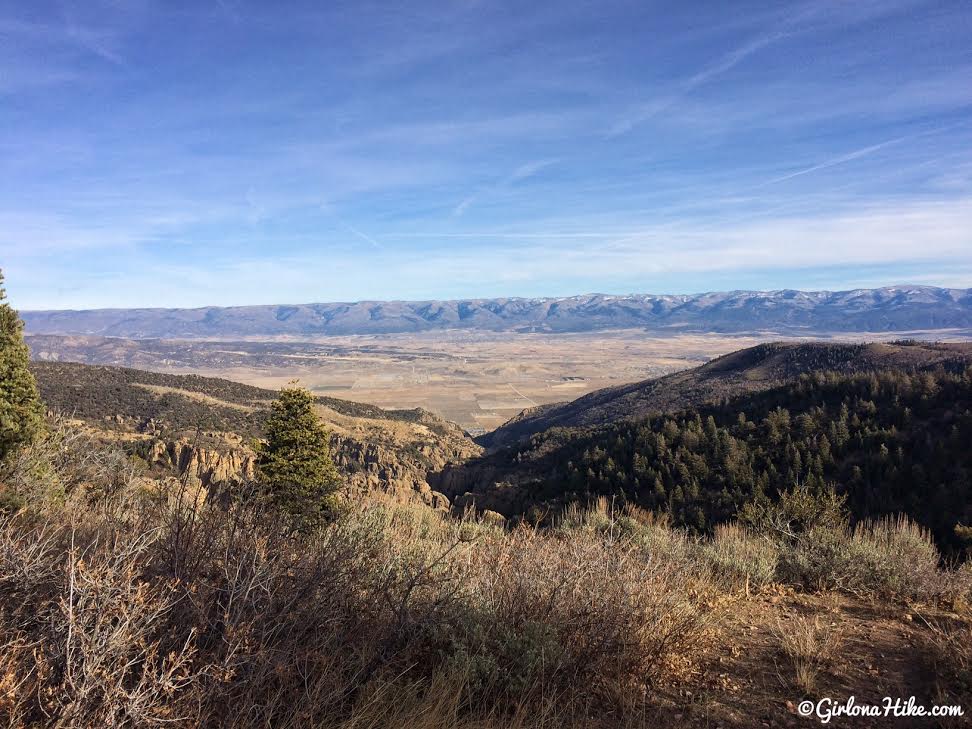 Great views looking East down to Fountain Green, Utah.
 Still walking on the dirt road, happy to be with my baby!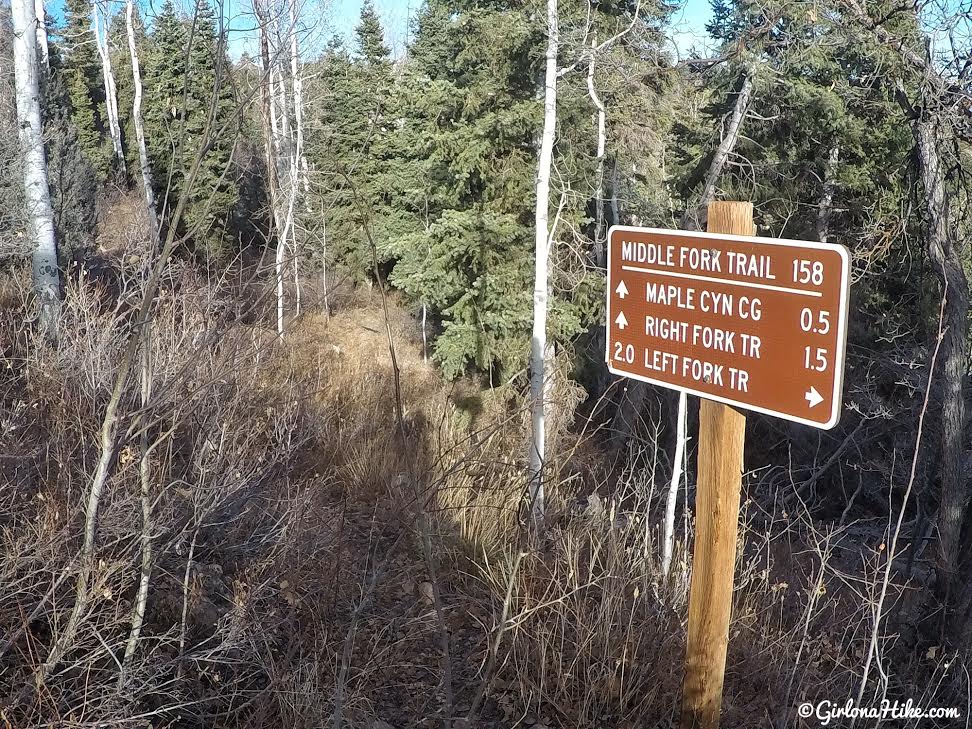 Keep an eye out for the brown sign leading down to Middle Canyon, where the arch is located. This sign is inaccurate – the campground is actually 2 miles, not 1/2 mile. And the Left Fork Trail, where you should have just hiked from, is not 2 miles its only 1.1 to the trail split. Either way, follow this sign down the canyon.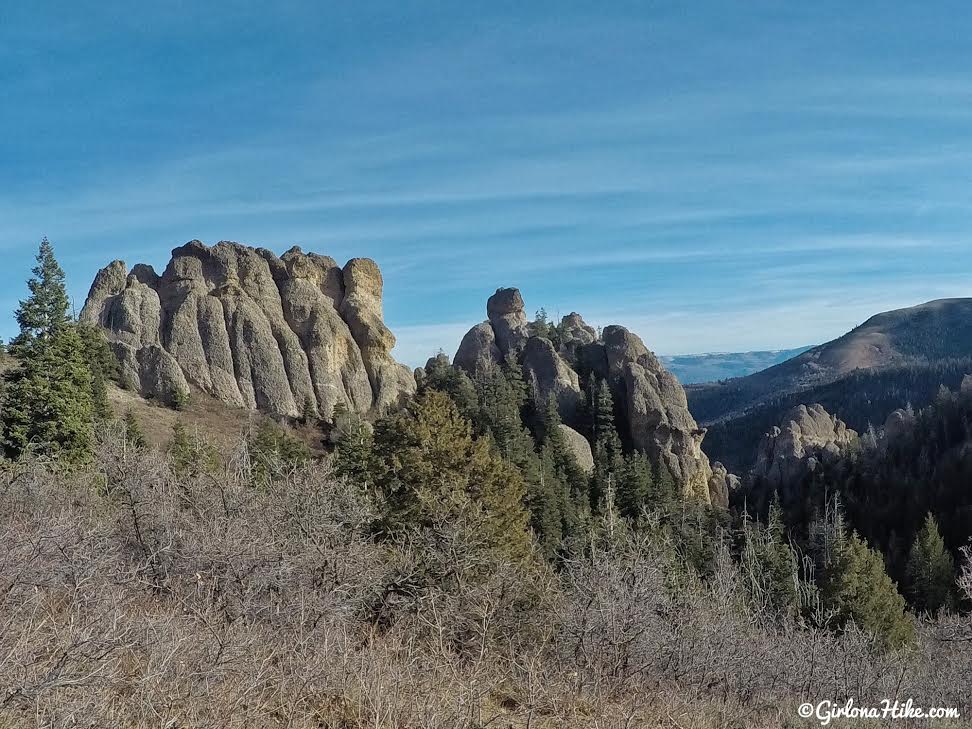 You'll know you are in the right canyon when you also see these two clumps of rock walls. The trail leads down to the base of them on the right side.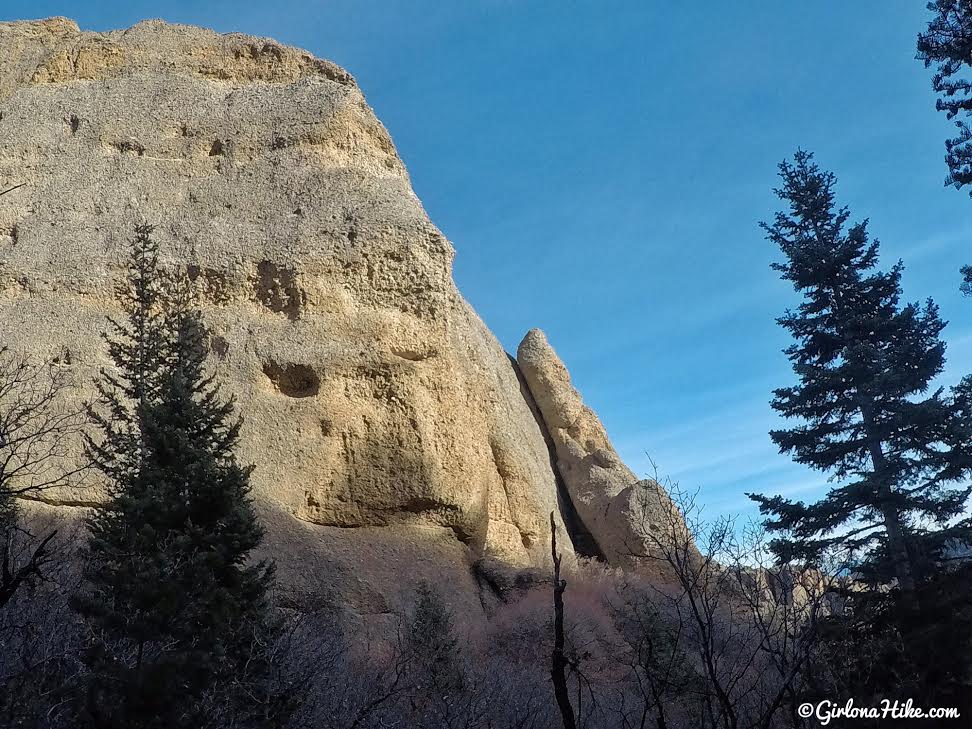 Passing by the rock walls.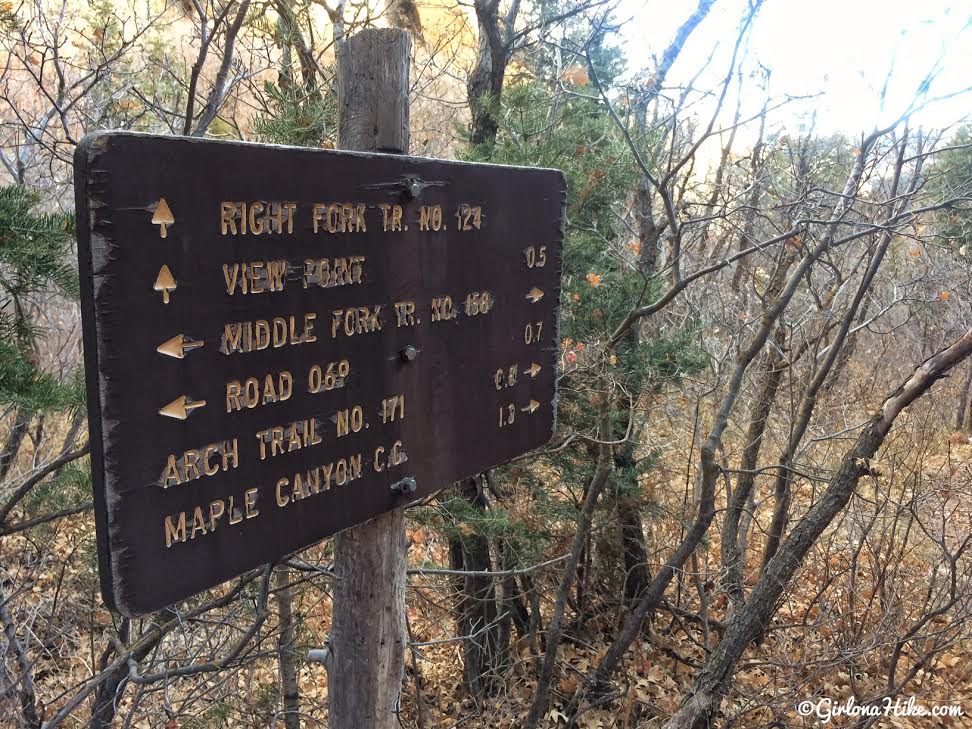 You'll see another trail split sign, which again contradicts the previous sign you just saw (the other brown sign said 0.5 miles to the CG while this one now says 1.8 miles). To get to the arch, stay straight (right). Going left will take you to an overlook of the rocky area and canyon.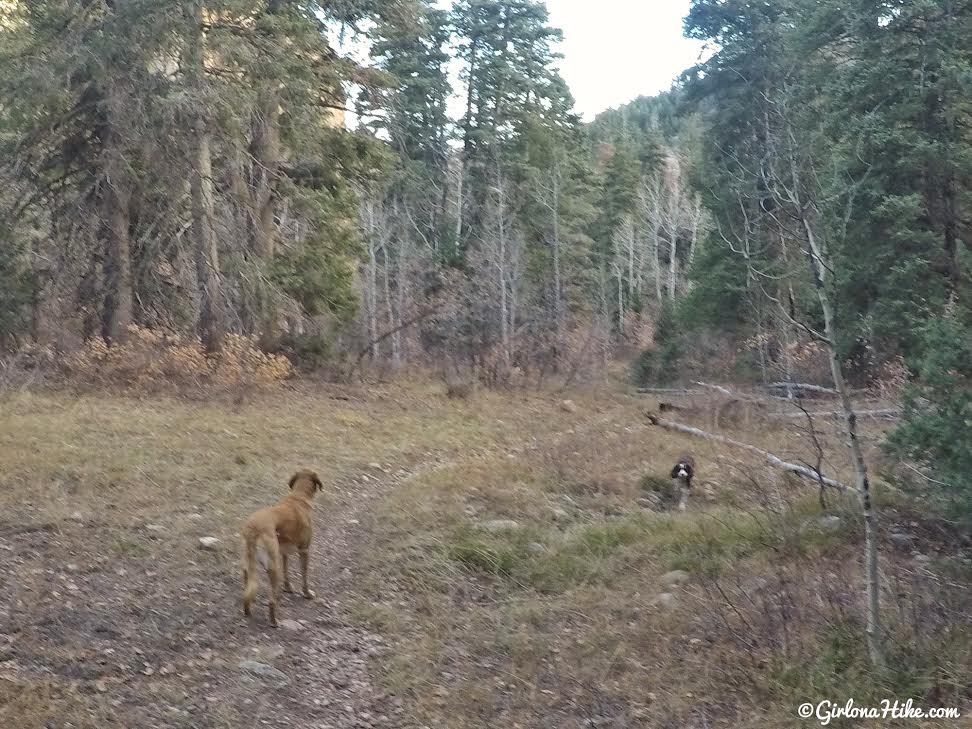 Cut through a small meadow.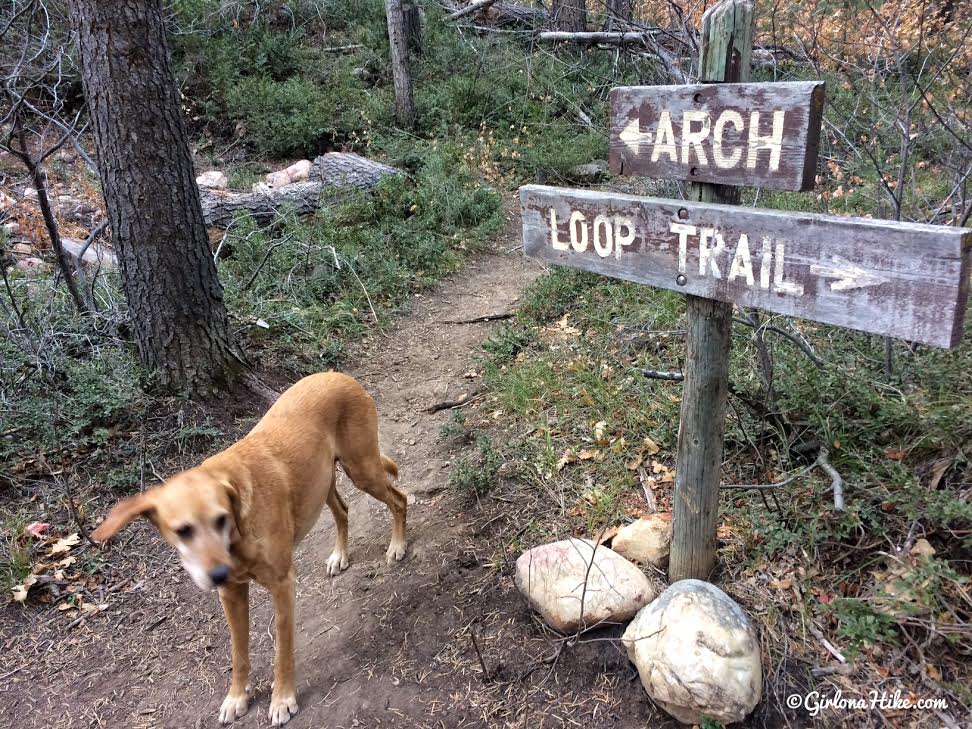 Finally, the sign for the turn off to see the Maple Canyon Arch! Walk up about 100 yards, then look up.
 Yay, we reached the arch!
By this point, we hadn't seen a single hiker this day.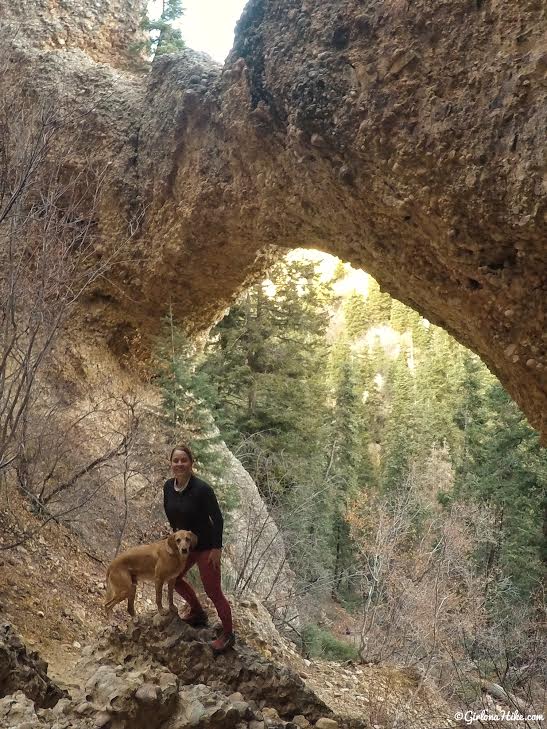 Maple Canyon Arch looking North.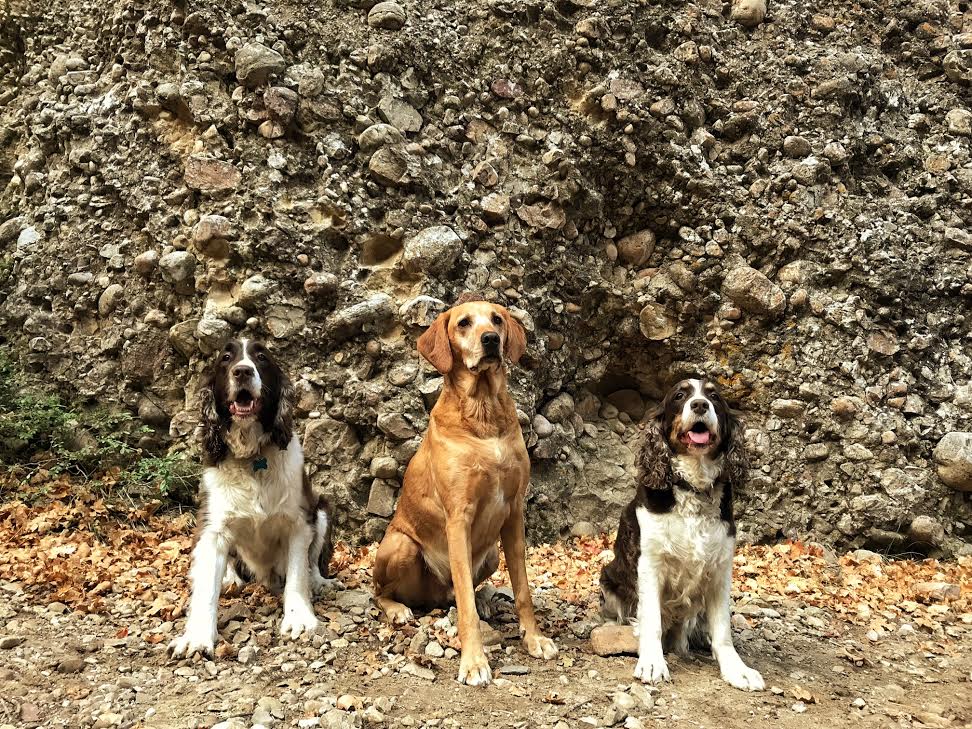 Furr-friends! Make your way back to the car.
Trail Map
If you wanted a shorter hike and only want to see the arch, you could hike up from the main TH up Middle Fork to see it. It would make your hike about 2 miles RT.
My track via Gaia GPS – the best tracking app! Get your app here for a discount.
Recommended Gear
Nearby Hike
The Devil's Kitchen is located off the Nebo Scenic Loop Road, and is only accessible if the road is still open for the season. It's on the way to (or from) Maple Canyon, so it makes for a good quick stop. The Devil's Kitchen is nicknamed the "mini Bryce Canyon National Park", since the formations resemble the geology found there. Because the walk is so short and the overlook is small, its worth combining with a bigger hike to make the drive worth it. This overlook is perfect for families with kids or strollers. Call the Forest Ranger's office at 801.999.2103 to make sure the Nebo Loop Road is open.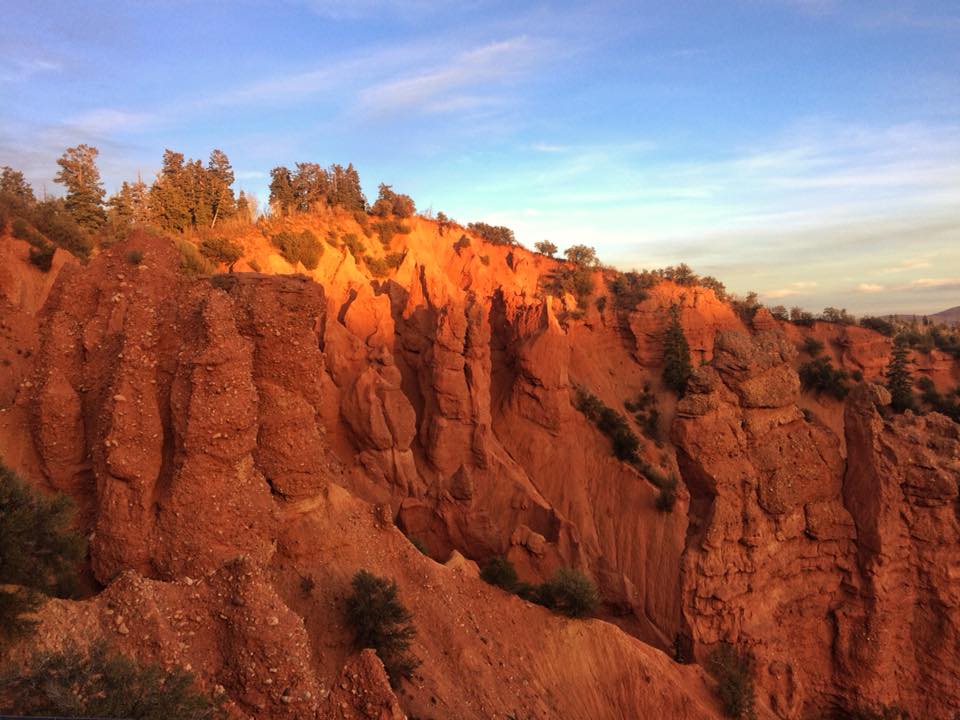 The Devil's Kitchen Overlook at sunset. The walk is about 1 block in length, gains a mere 26 ft, and is free.

Save me on Pinterest!