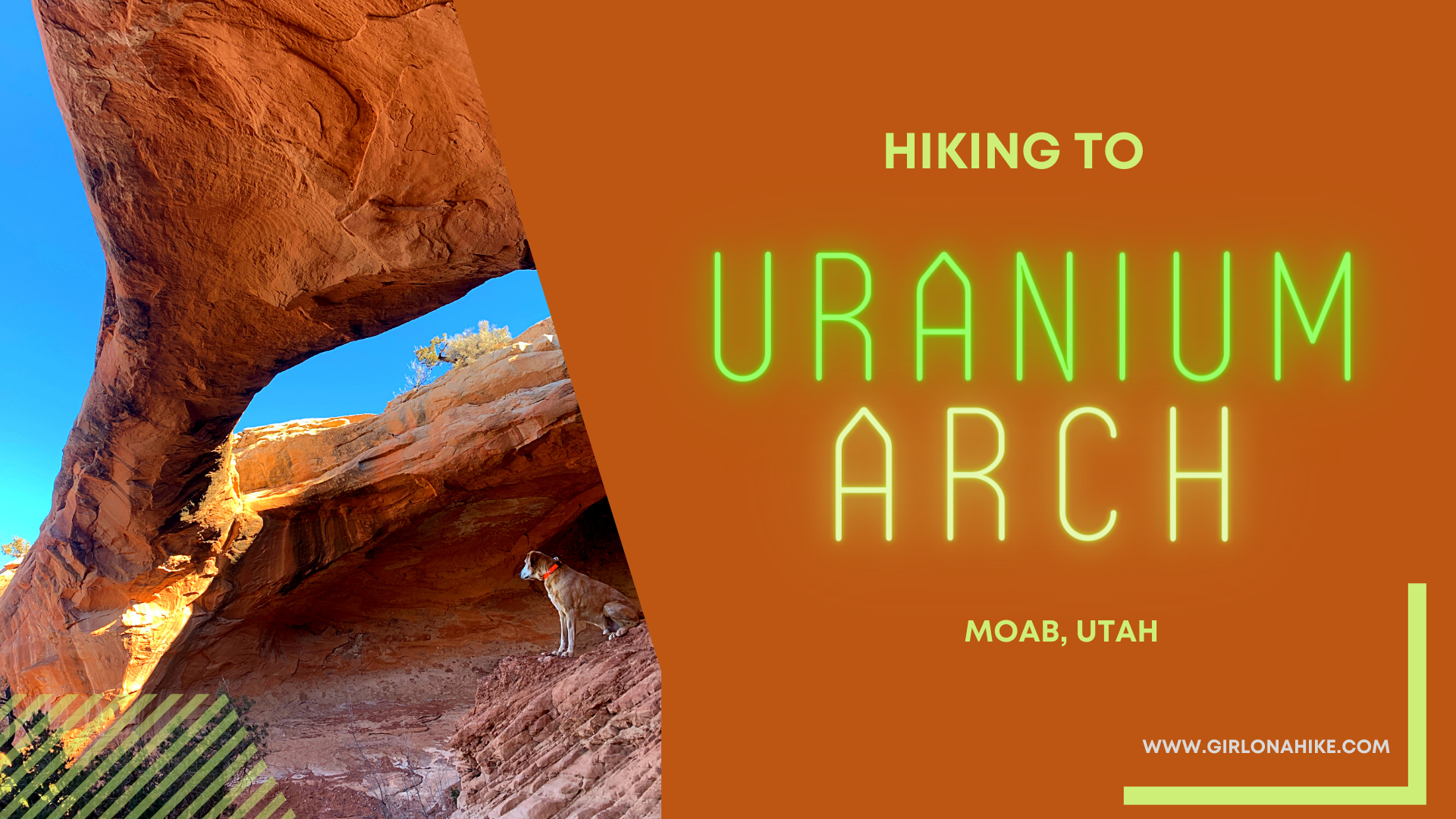 Hiking to Uranium Arch, Moab, Utah

Uranium Arch is a popular arch for hikers, bikers, and ATVs to explore, just outside of Moab, Utah.
About
Uranium Arch has a span of 75ft, and even though the name sounds dangerous, Uranium is not present. In the 1950s Uranium was mined several hundred feet below the arch and rim of this area. During that same time several miles of tunnels were dug out, and ore was hauled to the Colorado River, where it was processed into "yellow cake." Mining activity stopped in the 1980s as the nuclear-based demand for uranium declined, and international sources of uranium were discovered.
The hike itself is quite easy for being 6.2 miles RT – its mostly flat along a designated Jeeping road, marked by the white stripes. Trail markers are abundant. This is great for all ages as well as dogs off leash, but be aware of ATVs riding through and be sure to move off the jeeping road. There is zero shade, so this one is best hiked in the morning and off season months to avoid heat. The sand can get really hot, so avoid burning dog paws mid-day, and be sure to carry plenty of water for you and the doggos.
Directions
From Moab, head north on HWY 191, and turn left at the sign for Mill Canyon Dinosaur Tracks. Once you turn and cross over the railroad tracks, drive 2.2 miles. You will pass the Dinosaur Tracks and Courthouse Rock campground on your right. If you have a small, compact car, this is where I would park. As long as you have an SUV or large, continue and cross a creek which tends to have very little water in it. At the 2.2 mile mark, you will see a fence and a fire pit on your right. This is where you need to park. Past this point, you will need a Jeep or ATV.  Here is a driving map.
Trail Info
Distance: 6.2 miles RT
Elevation gain: 563 ft
Time: 2-3 hours
Dog friendly? Yes, off leash
Kid friendly? No
Fees/Permits? None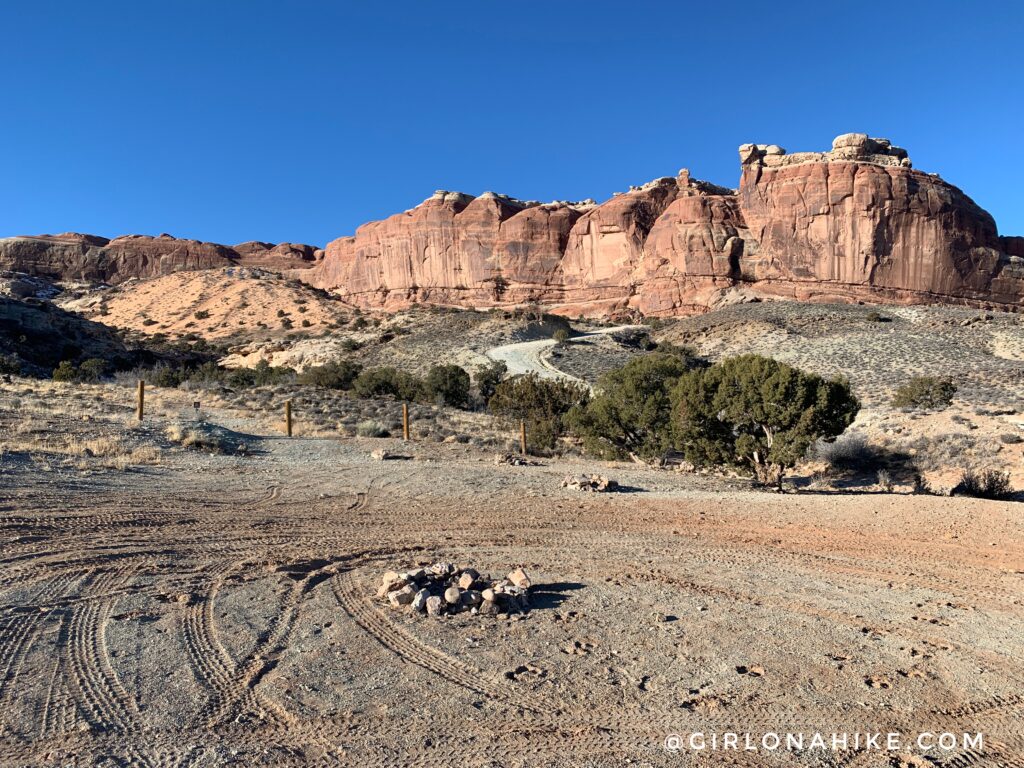 The best place to park is at the fence line right off the right side of BLM Road 215 (aka Cotter Mine Road). You can also camp here for free, but many cars & ATVs fly by creating a lot of dust. If you need to camp, I recommend the Courthouse Rock Campground, you should have passed on your drive here. It's $20/night, but more off the road (so no dust) with a picnic table, fire ring, and port-a-potty.
Park here, and begin walking up the road, known as "Sand Hill Climb".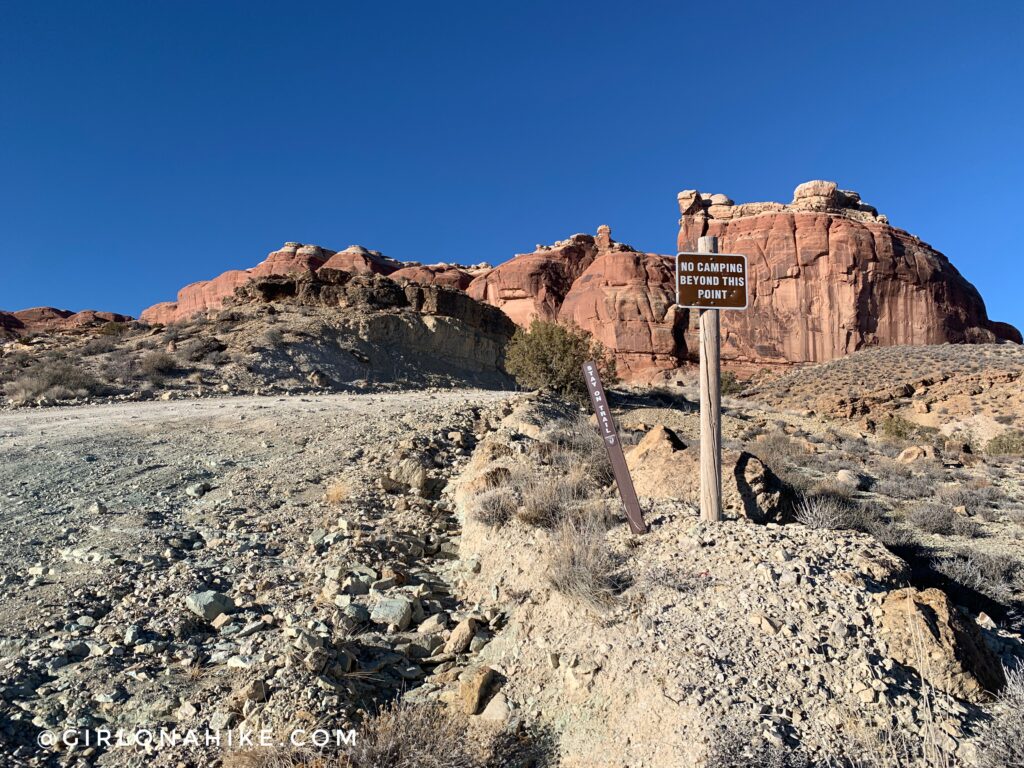 Only Jeeps & ATVs will be able to make it past this sign, as you are now on a Jeep route.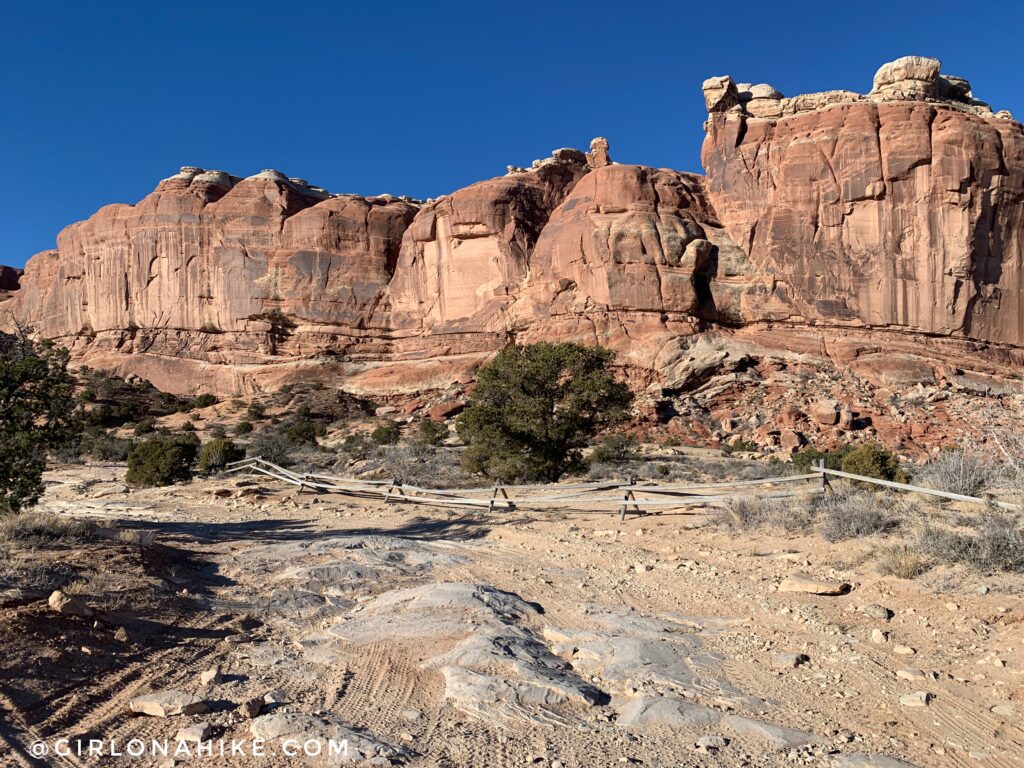 At the top of Sand Hill Climb, you will see a fence and the road immediately gets rough.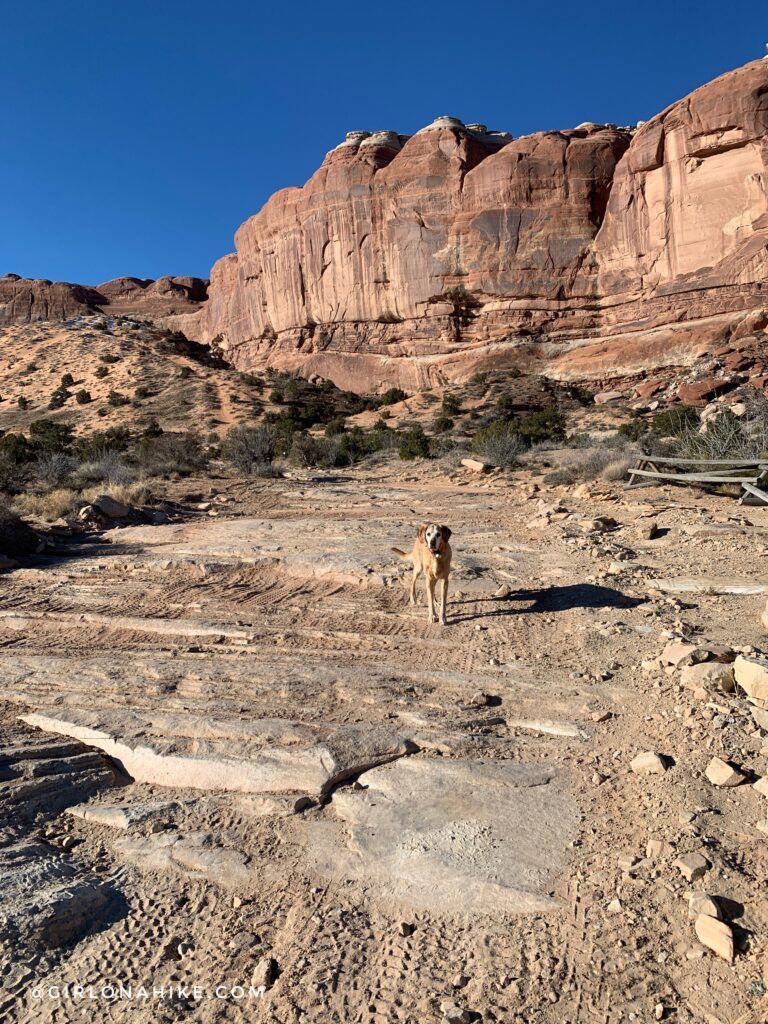 It's hard to tell from my photo, but some of the rock cliffs were 1-2 ft drops!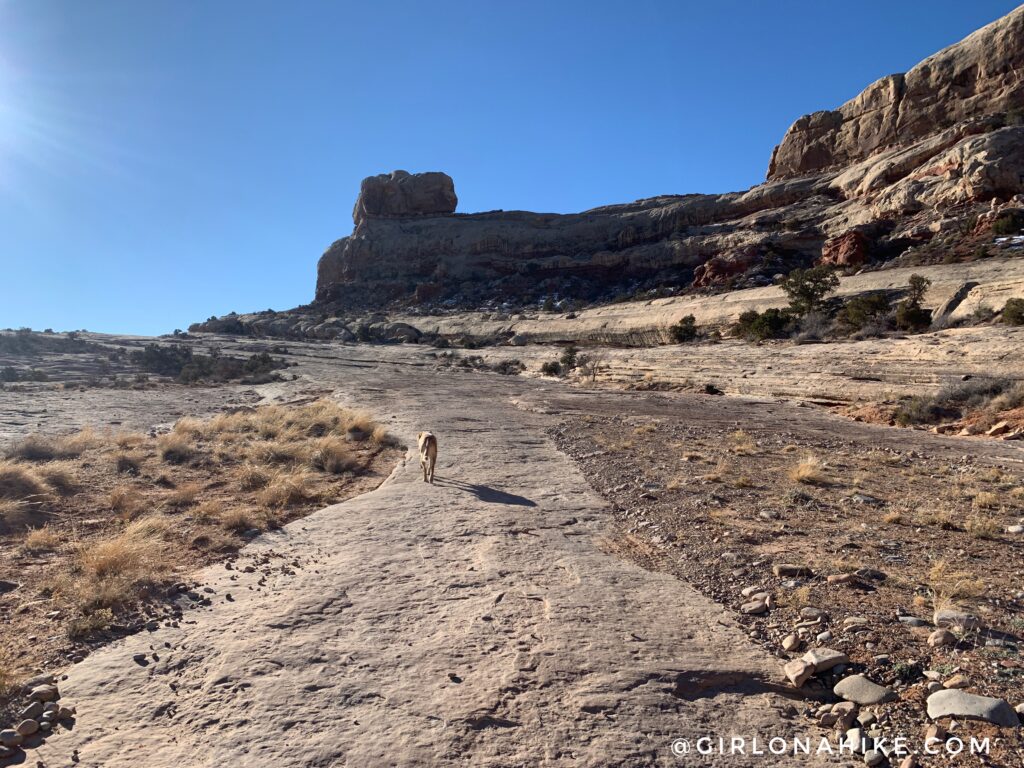 It's really easy to follow this trail, as you walk across pure slickrock. You can also follow the white painted markers on the slickrock to help guide you were to walk.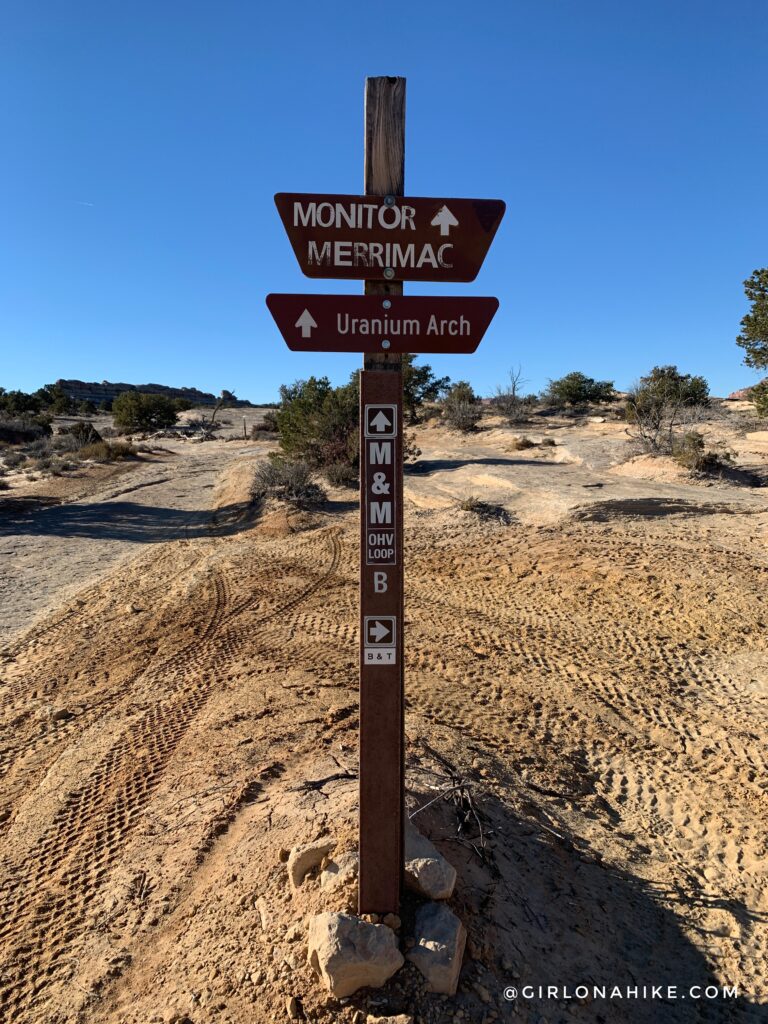 At 0.9 miles you will see the first of 9 trail signs for Uranium Arch.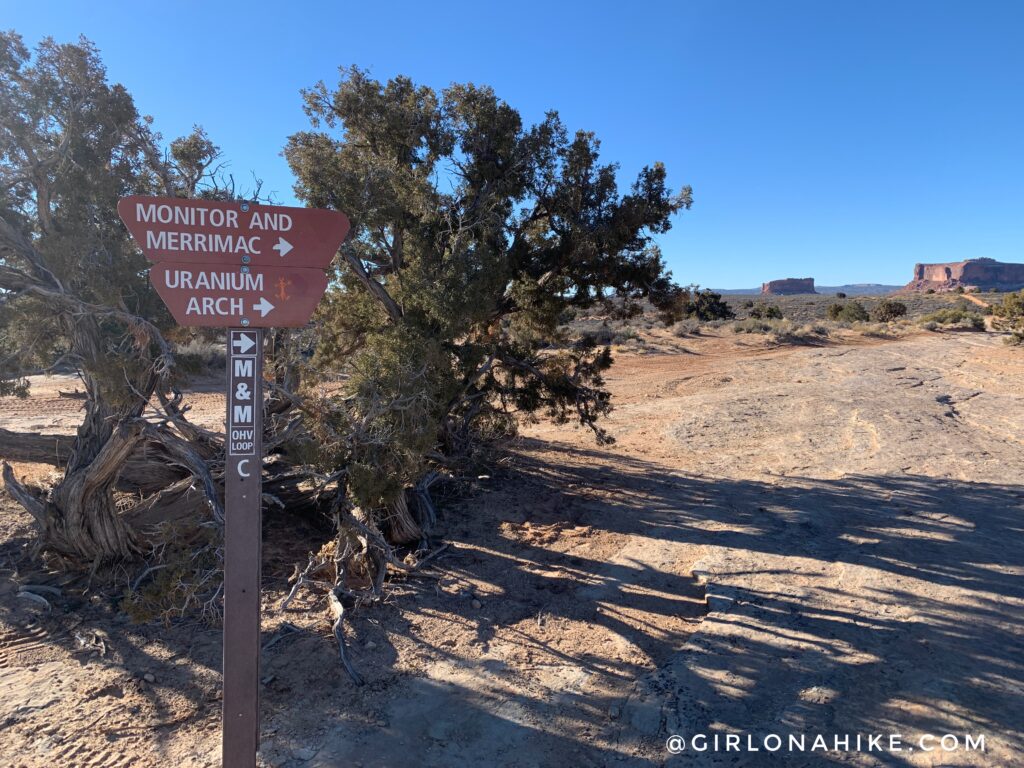 Turn right. Immediately after this, you will see another trail split & sign in a 3-way intersection. Take the far left.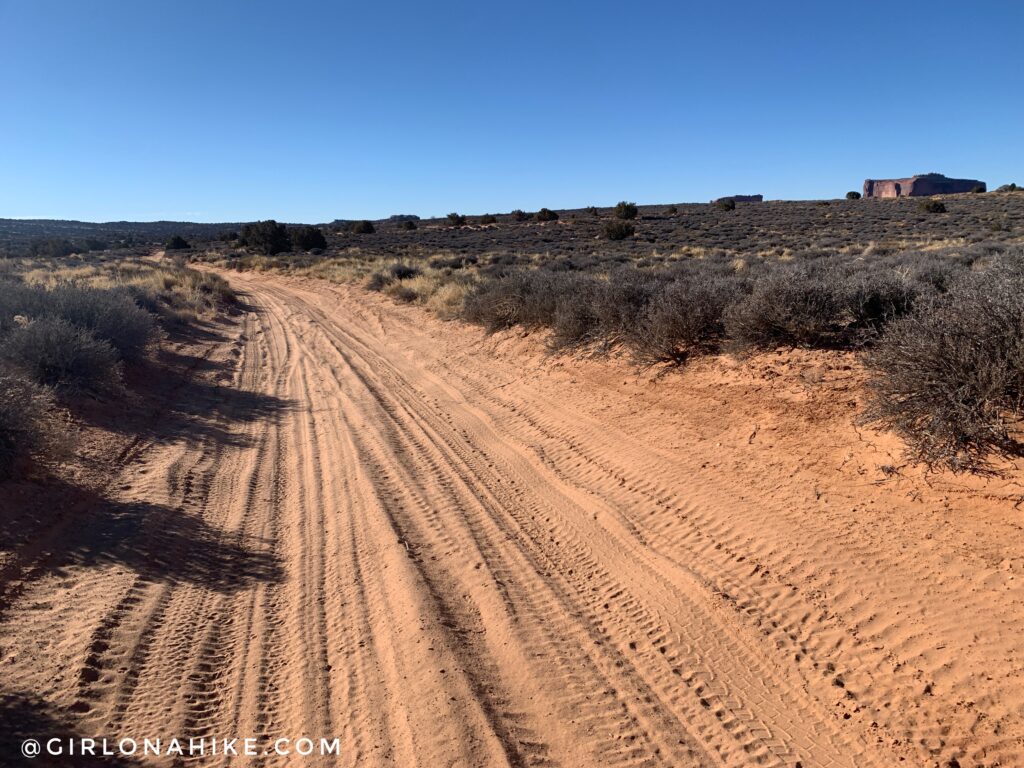 You should now be on a sandy, dirt road. It wasn't so deep that I couldn't run thankfully. Charlie and I had a fun trail run through here.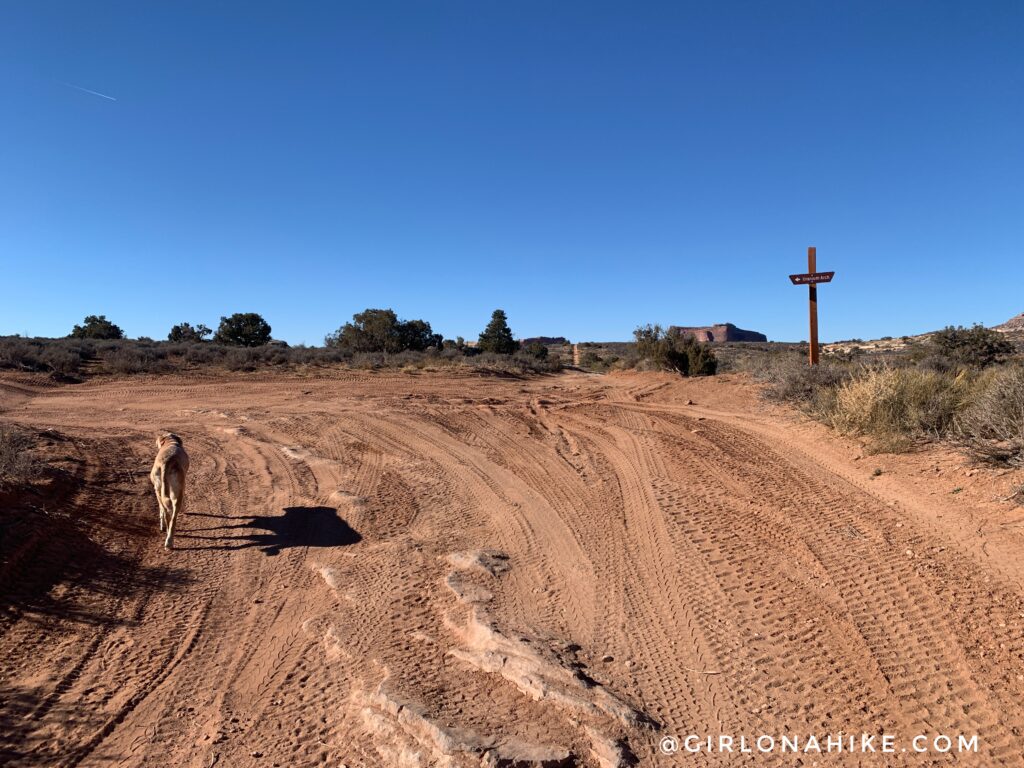 Another sign, turn left. More dirt roads mixed in with the jeep route.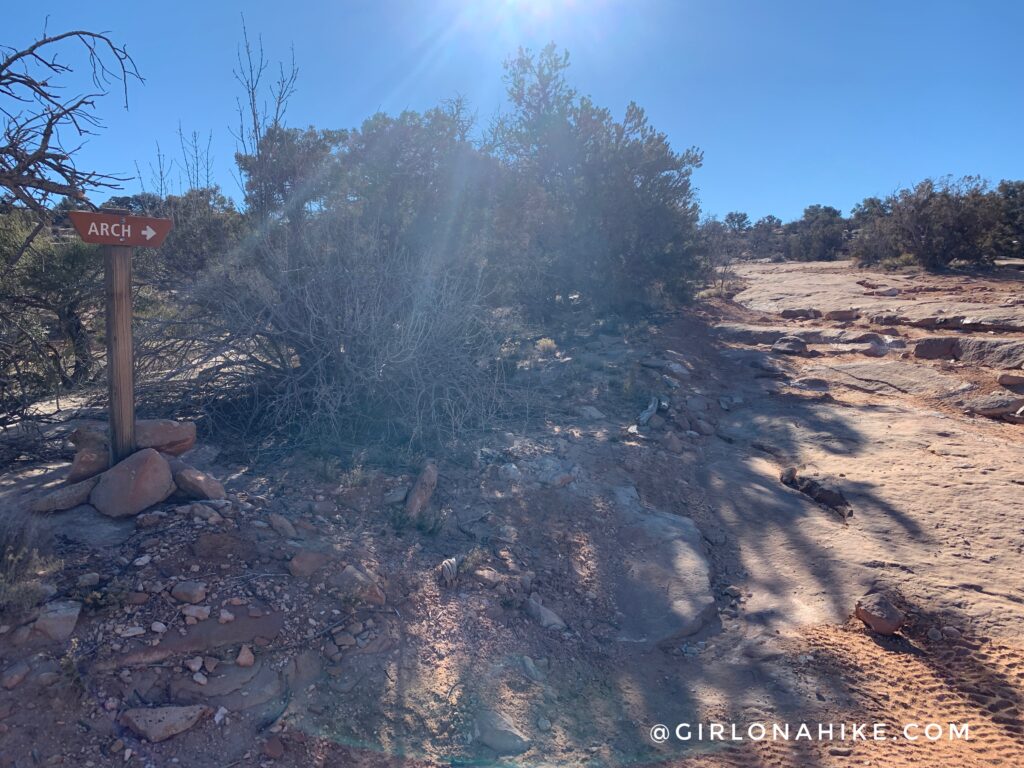 The very last sign simply says "arch", whereas all the other signs up to this point have said "Uranium Arch". Now you know you are close!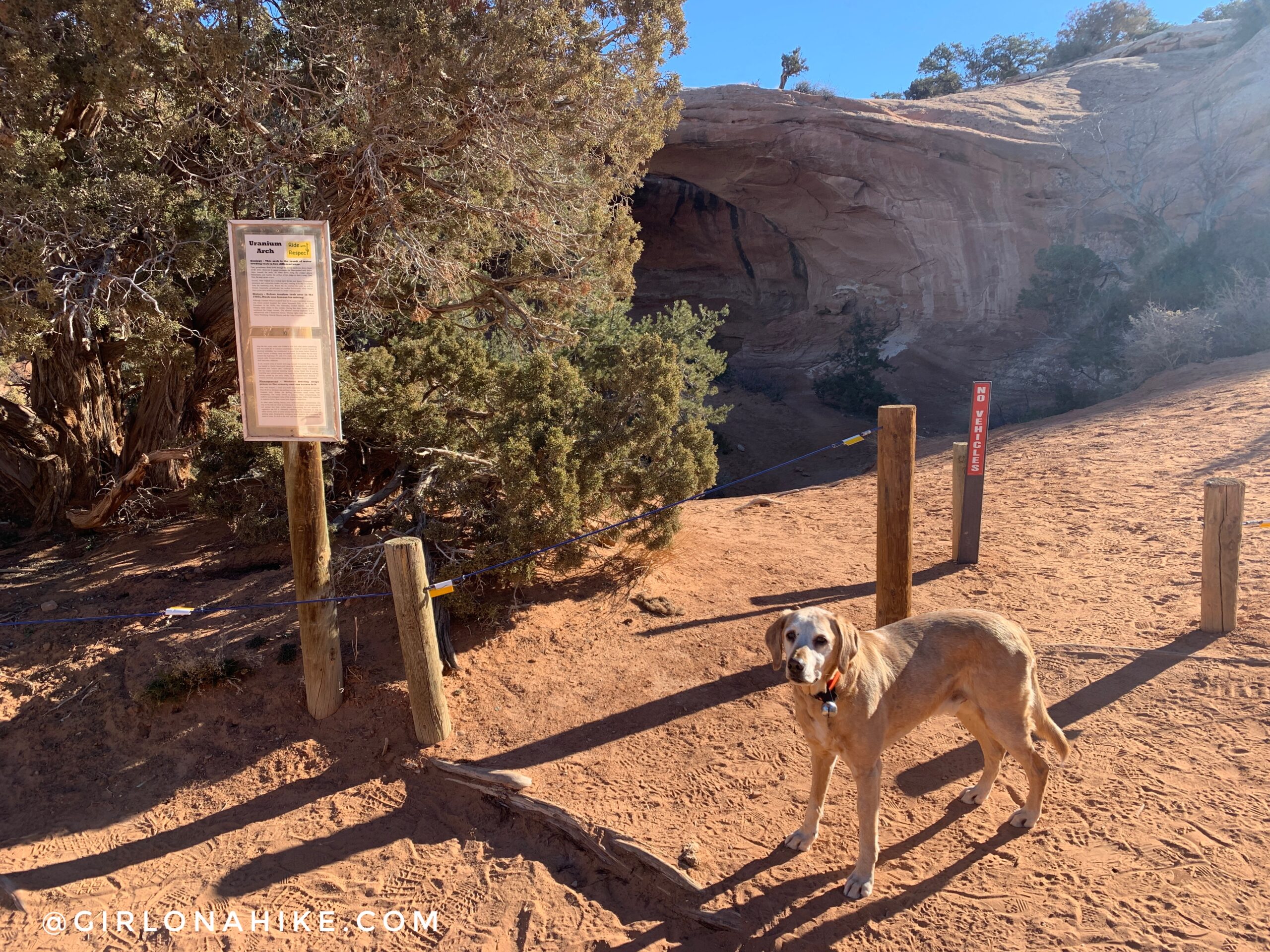 Whoohoo we made it! The area is marked by more fencing and a sign that talks about the history of mining in the area, and preservation.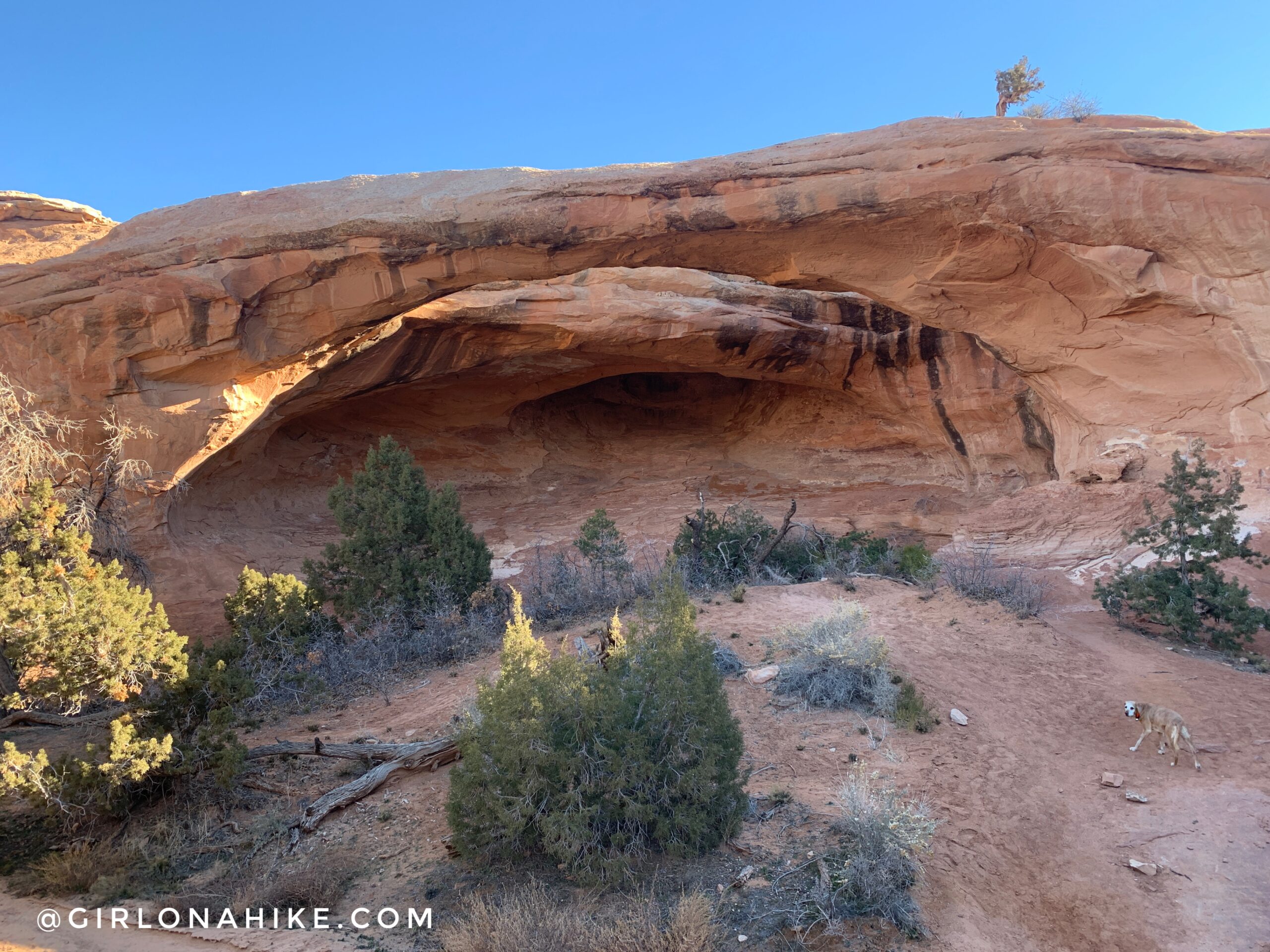 You can hike all around the arch, and it is great to view from various angles.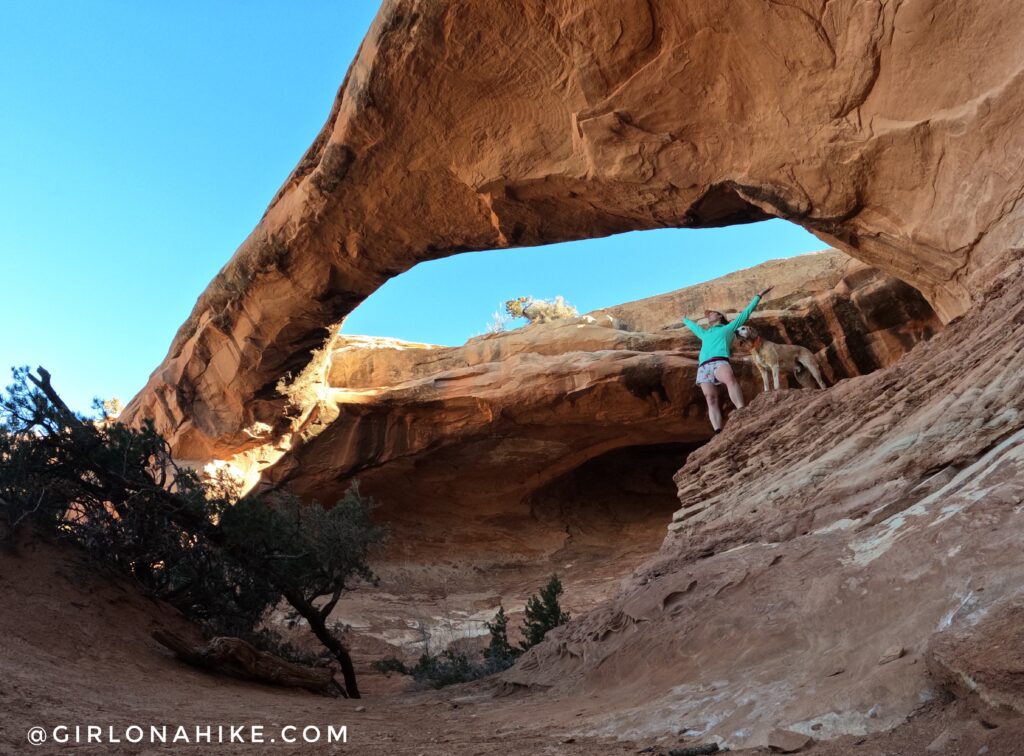 Arch selfie!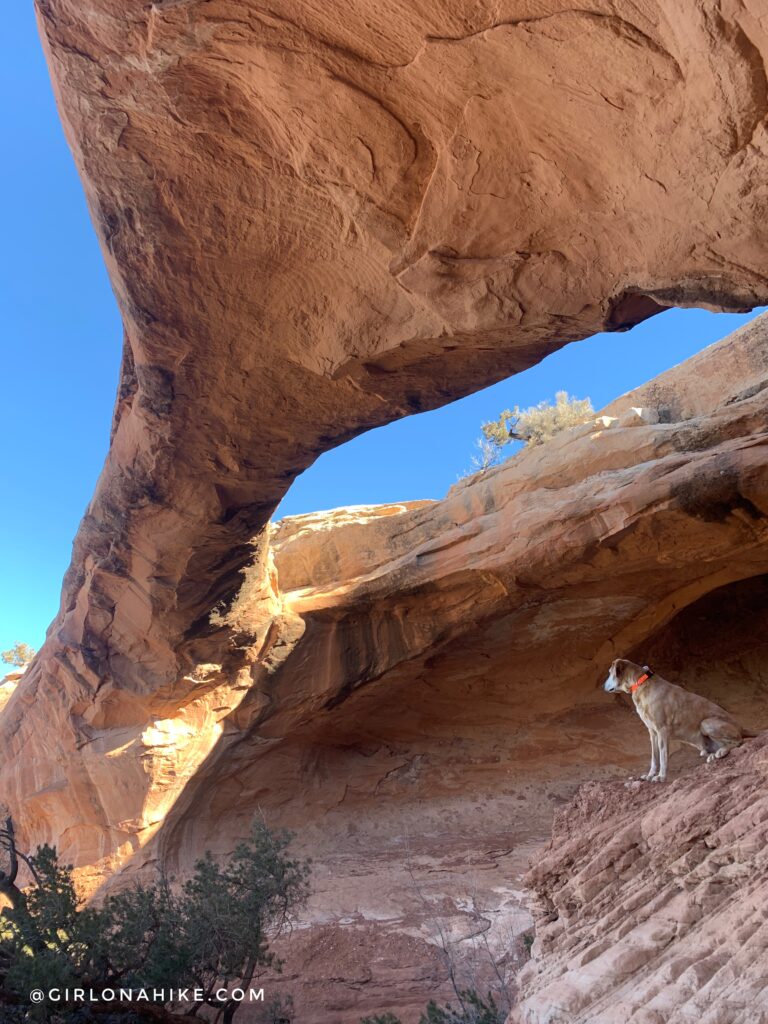 I was very impressed with Uranium Arch! It looked way better in person compared to photos. It was also really nice that we had it all to ourselves. In fact, the entire day we only saw one ATV and no other people!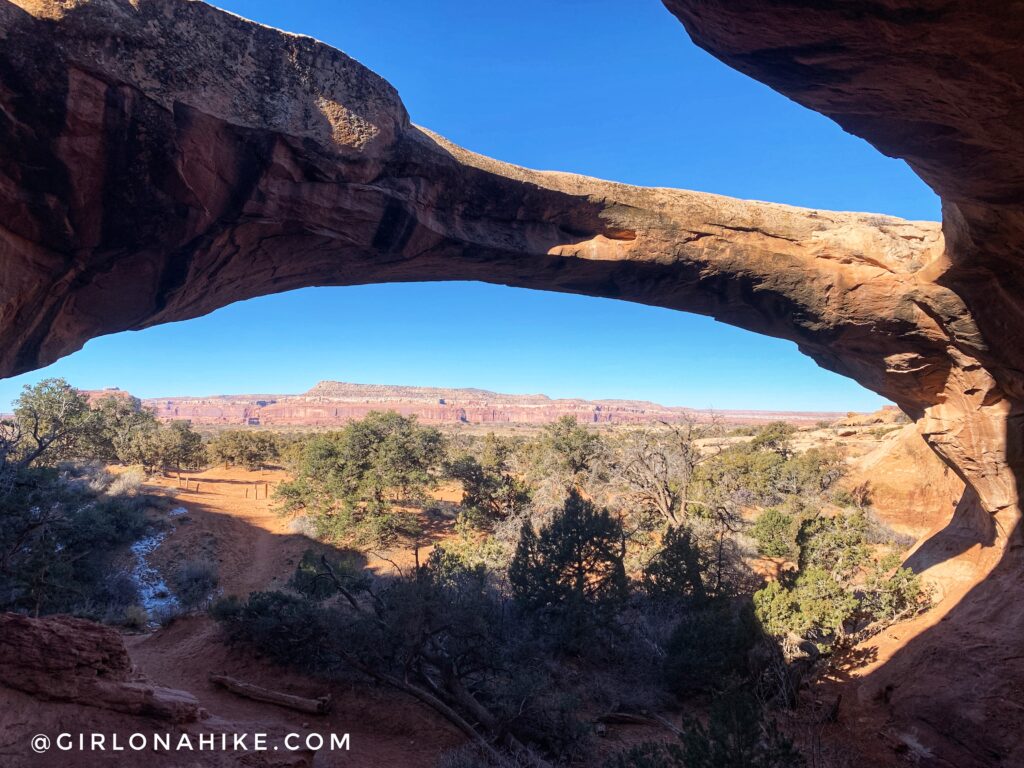 What a great view! I would totally do this hike again – we loved turning it into a trail run and the views and scenery were so pretty!
Trail Map
My track via Gaia GPS – the best tracking app! Get your app here for a discount.
Recommended Gear

Save me on Pinterest!