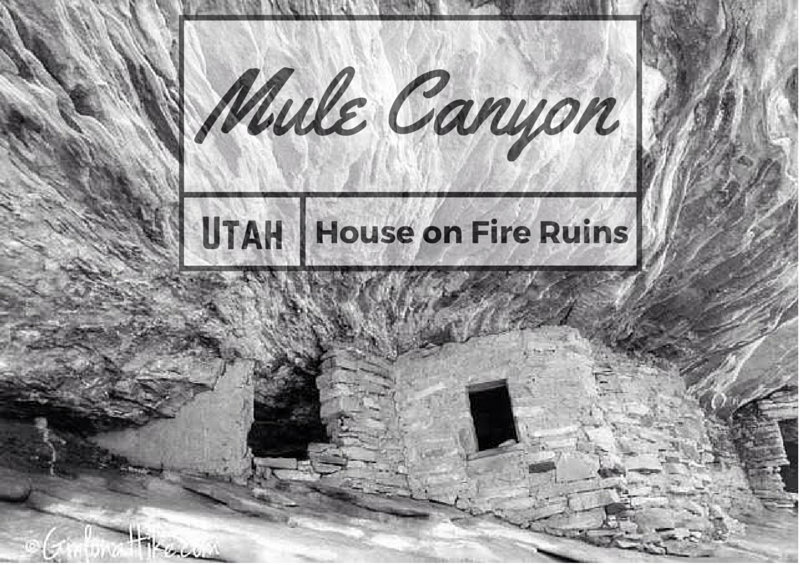 Hiking to Mule Canyon & House on Fire Ruins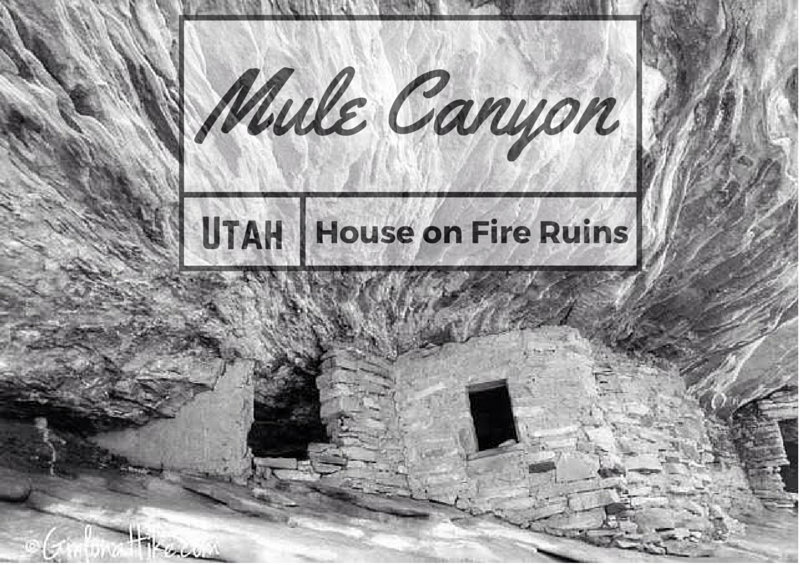 The famous "House on Fire" ruins lie Mule Canyon, in between Natural Bridges National Monument and Blanding, Utah. Southeast Utah is home to the most numerous and varied collection of ruins, spread over a remote area of about 30 X 25 miles. Besides hundreds of ruins, mostly cliff dwellings, the Cedar Mesa area contains many petroglyphs and pictographs, all between 800 – 2000 years old from the Anasazi and Pueblo Indians. Most are found in canyons, where water was easily accessible and conditions were cooler in summer months. All land is public, managed by the BLM, and as of  2016 is protected under the Bears Ears National Monument.
About
If you have old maps, circa 1960, you will see that most ruins and cliff dwellings were pointed out on the map. Today, you won't find that. This is because the BLM and other agencies realized these areas were precious, needed to be protected, and somewhat hidden, from the public. The BLM wanted to make sure ruins and artifacts weren't stolen, cliff dwellings weren't vandalized, and the trails to them being over populated.
Please be aware that going inside the dwellings is strictly prohibited, and stealing of artifacts is against the law. Please help protect these canyons and ruins, and Leave No Trace – they are all we have left of the Indian cultures.
Directions
From Blanding
Drive south on HWY 191 for 4 miles, then turn right onto HWY 95. Drive on this road for 25. Look for signed Texas Flat Road on your right side, and drive 0.3 miles down the dirt road to the parking area. The road is a little bumpy but our Honda Accord made it just fine.
From Natural Bridges National Monument
From the Junction of HWY 295 and HWY 95, drive East for 8.6 miles. You will see a sign for "Mule Canyon Ruins" – this is NOT where House on Fire is located. This is a developed site with a kiva, informative signs, paved parking lot, and a vault toilet. So soon as you pass this, the turn for House on Fire will be your next left on Texas Flat Road. It's right after mile marker 102. Drive 0.3 miles down the dirt road to the parking area. The road is a little bumpy but our Honda Accord made it just fine.
Here's a driving map.

Distance: 1 mile to House on Fire Ruins, but the canyon heads West for 3.5 miles
Elevation gain: flat
Time: 1 Hour – 5 hours, depending on distance
Dog friendly? Yes, on leash
Kid friendly? Yes
Is there a fee or permit required? Yes, there is a $6 per person per day use fee.
Can you backpack here? Yes. Check the Cedar Mesa Permit page for fees/permits.
The parking area can fit roughly 6 cars, and if that is full, park near the initial turn off by the road, then walk down to the TH. There are no restrooms, and no services nearby. This trail is exposed to all elements, so be prepared to start early in the day, and bring plenty of water, food, and sunblock. Keep an eye out for cactus.
Great video on visiting ruins by Friends of Cedar Mesa.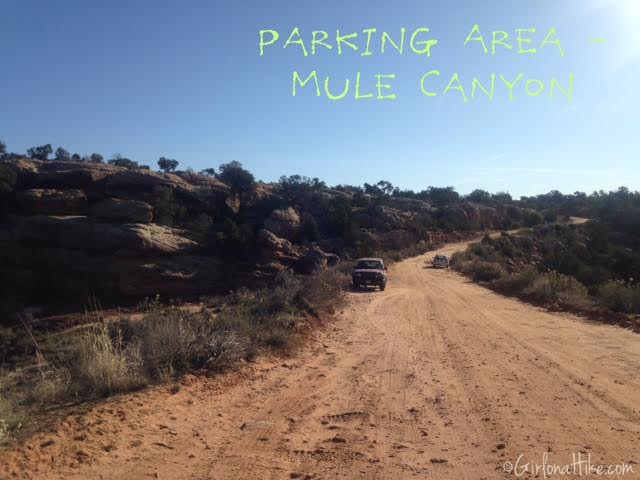 Parking area. You can see that cars simply park along the side of the road. I don't recommend driving down to this area if you have an RV (park off the side of the main road, then walk down here), but a small, compact car will be fine.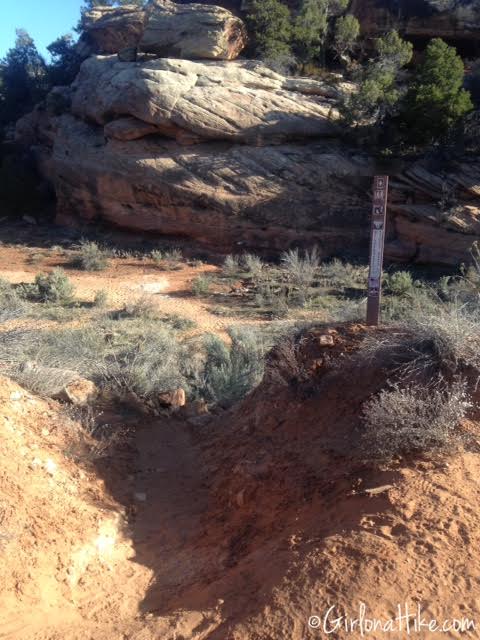 The trail starts by dropping down this small dirt hill, and within 20 feet you'll see the official canyon trail info with a register box.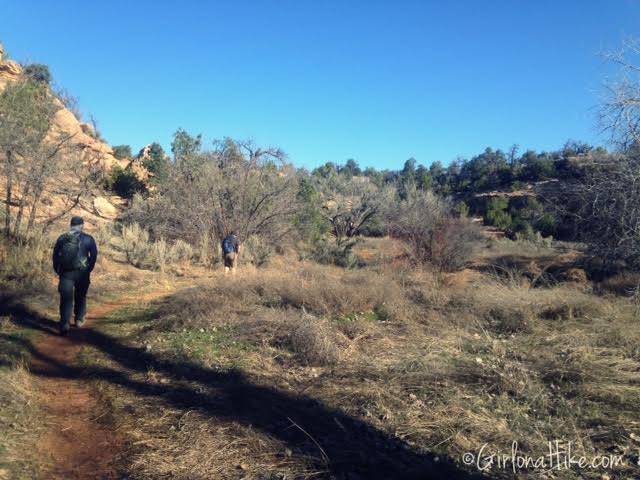 In the beginning, the trail cuts through a shaded, almost swampy, landscape.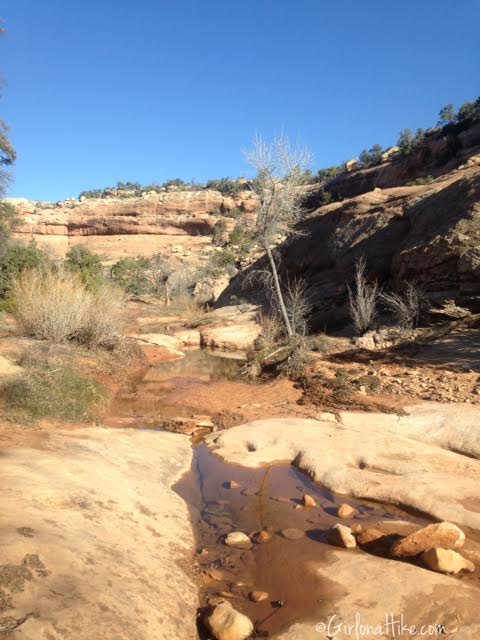 But after 15 minutes, the trail opens up and you'll now be following the Mule Canyon stream. The trail cuts in and out of the mostly dry stream bed, and back up to the stream banks. You do not want to attempt hiking here during or right after a big rainstorm, due to flash floods.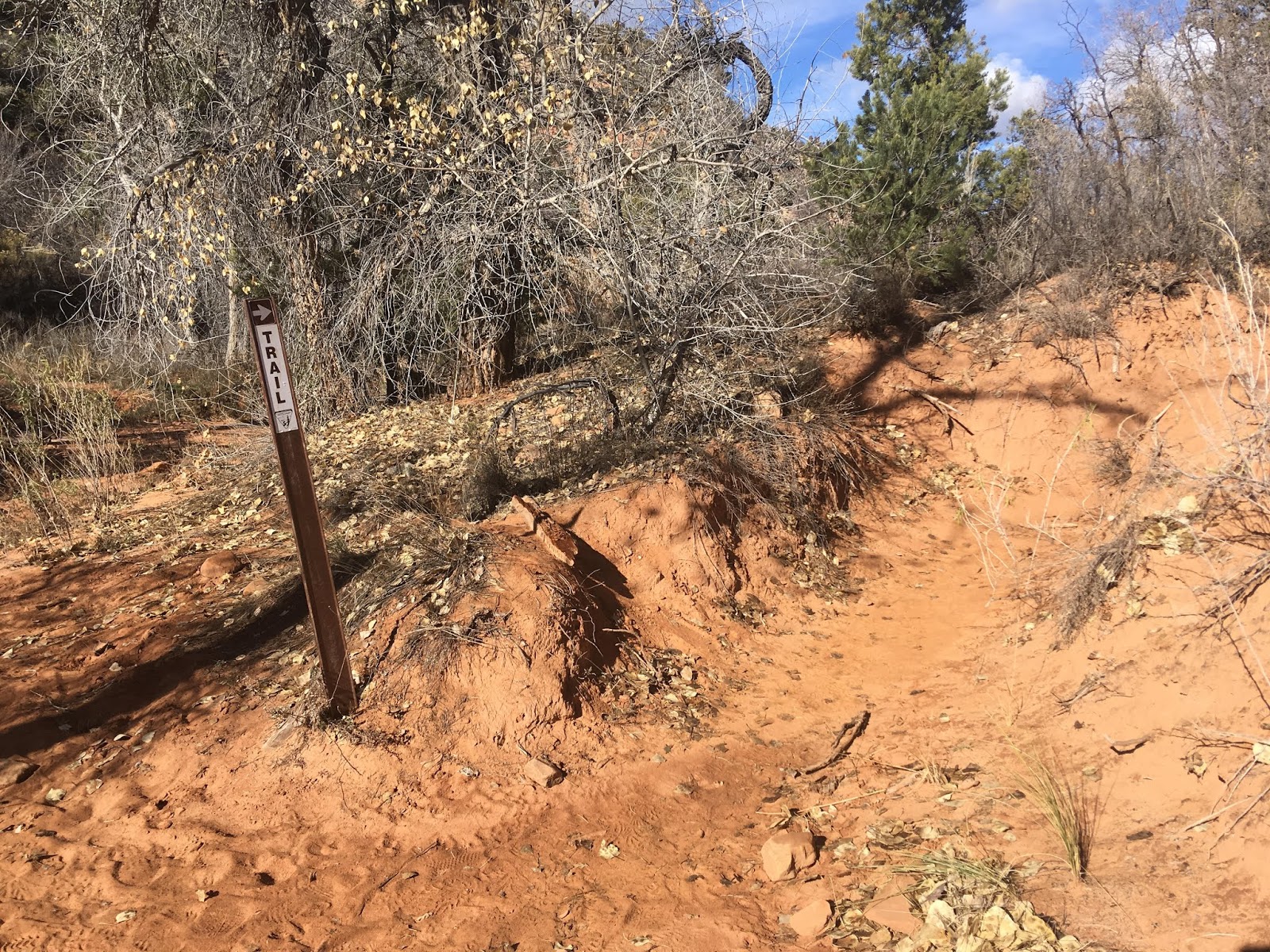 At 1 mile you will see the brown trail sign – the ruins are just up the short hill to the right (North).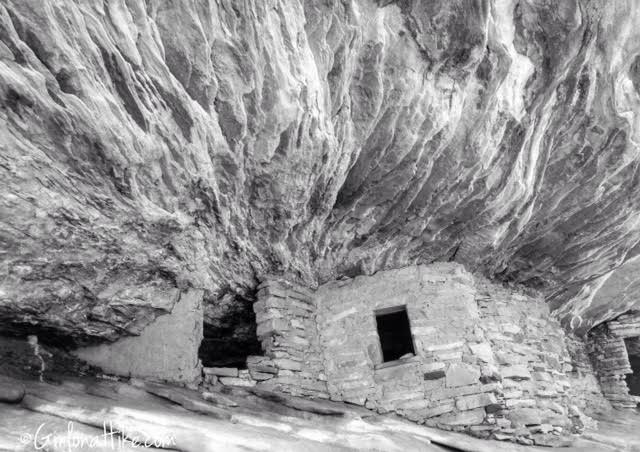 The famous House on Fire ruins!
Always keep your eyes up and look to the North side of the canyon for ruins. The Indians built on the North sides of canyons to be warmer in the winter months, and to have more sunlight coming in.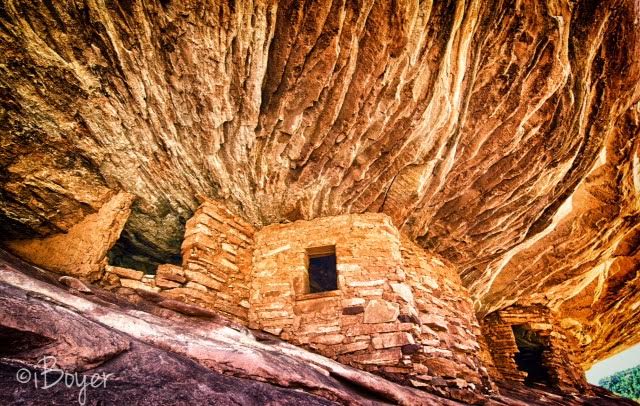 This photo by @iBoyer shows exactly why this is called House on Fire – the "roof" or ceiling above the dwelling looks as if it is on, well, fire. Other blogs/websites will say there is a better time to view the light on the ceiling, and we found that to not be true. We came upon the dwelling at roughly 10am, and stopped on the way out of our hike around noon, and the lighting looked the same for us.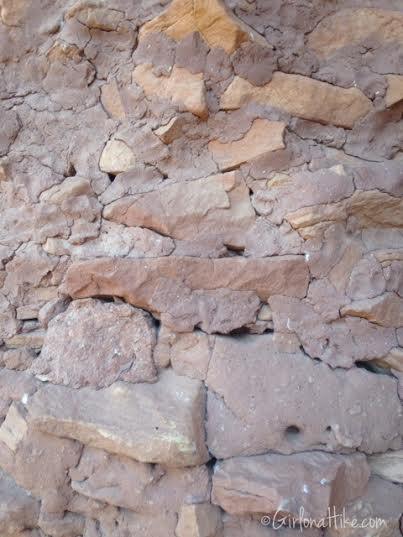 A close up of the structure of their dwelling. Amazing that their design has lasted so long!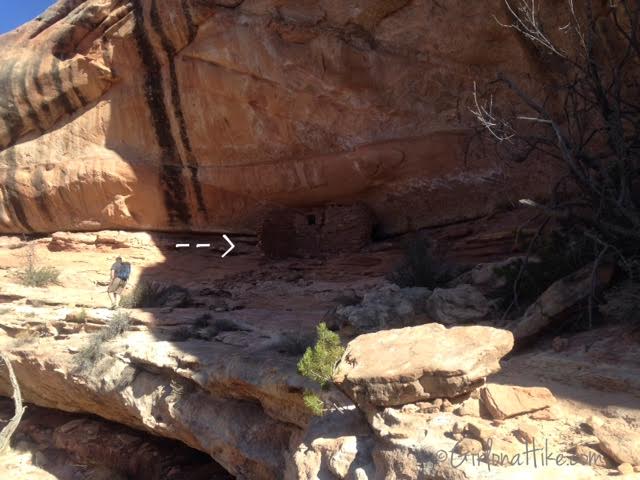 Many people will stop at House on Fire, then return to their cars. However, if you continue down (West) Mule Canyon, there are actually several cliff dwellings. The canyon stretches for a total of 3.5 miles on way, and contains 8 other dwellings. Some of them may be easy to miss, so always keep your eyes up for structures on the south facing side of the canyon.
November 2018
It was a bit colder this time of year, and we still saw a decent amount of people but the ruins were just as cool!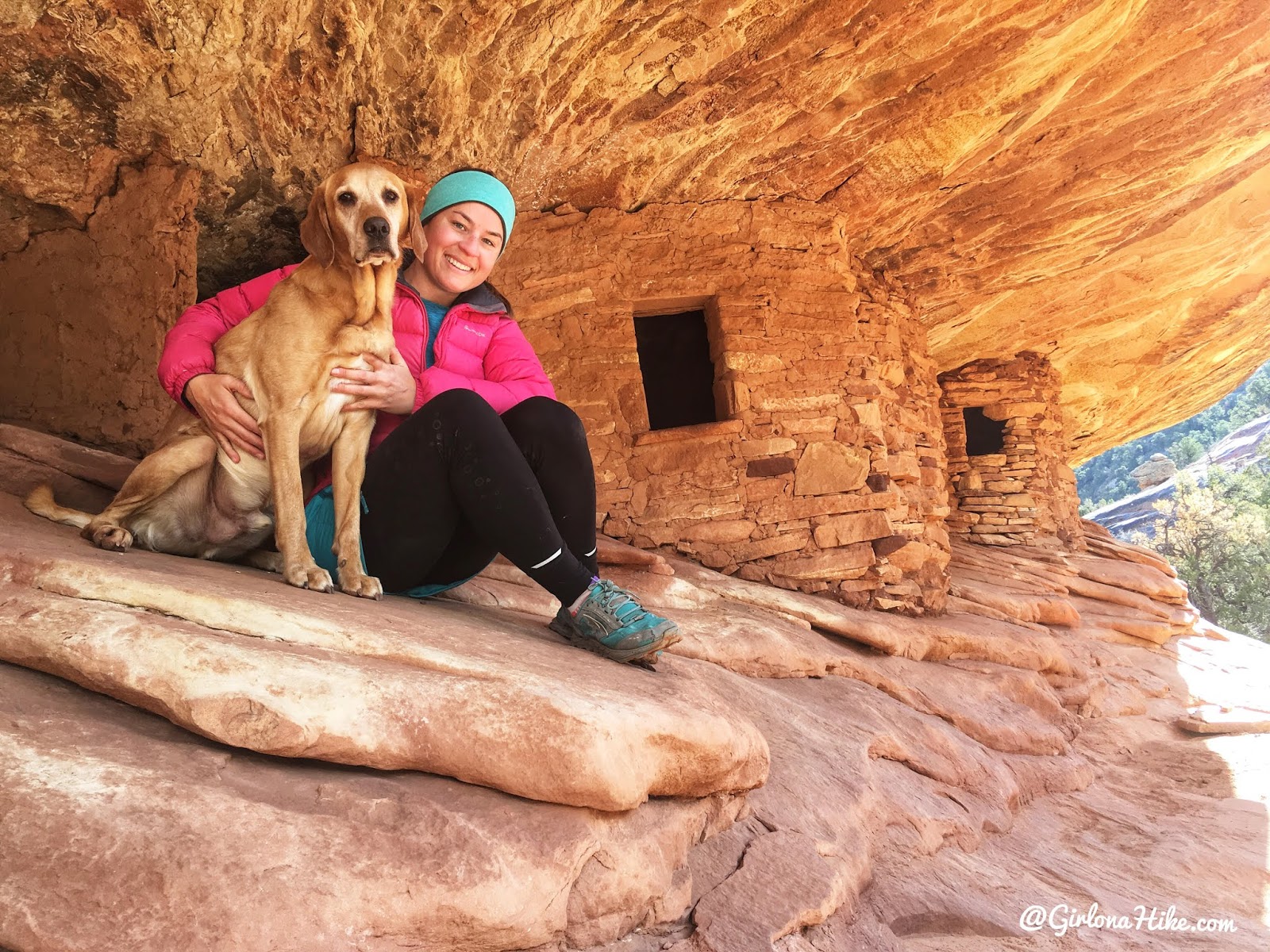 Trail Map
My route ends at House on Fire. Again, if you continue West, you will find 7 other dwelling sites. Return to your car the same way you hiked in.
Nearby Hike