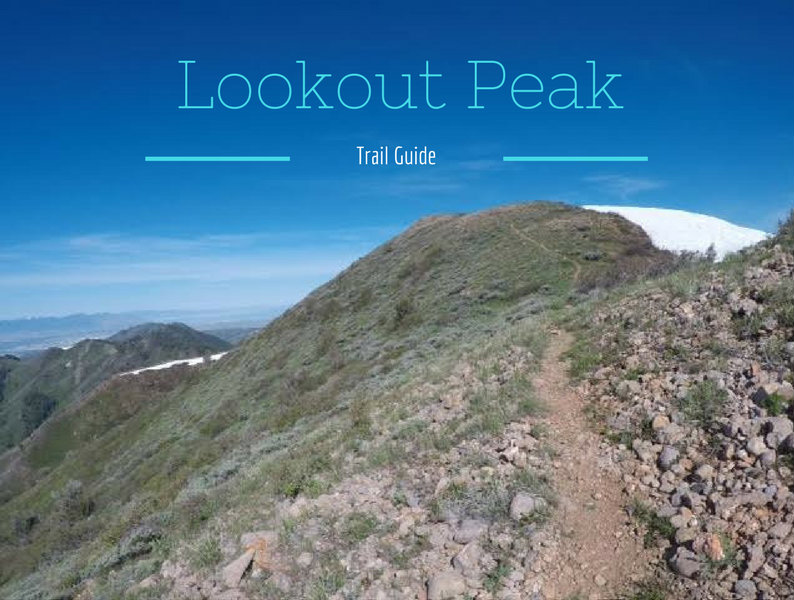 Hiking to Lookout Peak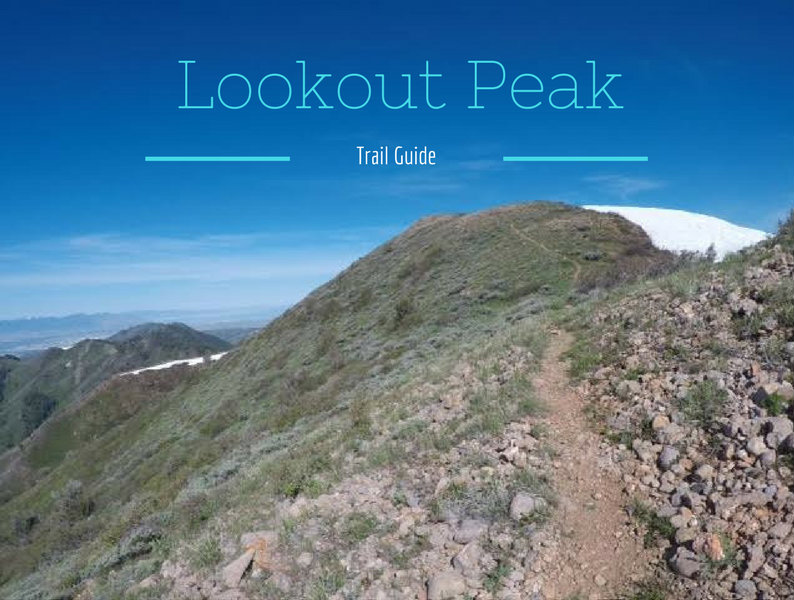 Lookout Peak sits at an elevation of 8,954 ft up Killyons Canyon in Salt Lake County. The summit is not the most spectacular, but the ridge on the hike up offers amazing views of Parley's Canyon, Emigration Canyon, and City Creek Canyon. Although it is considerably lower in elevation compared to the more famous peaks of the Wasatch Front, Lookout Peak still rises over 4,000 ft above SLC. Though there is a well defined trail, Lookout Peak gets much less traffic compared to other peaks. Many people just do not know about it. This peak would not be good to hike in spring or after a big rain/snow, since it gets very muddy.
Directions
In SLC, head north on Foothill Blvd, and turn right on Sunnyside Drive (this turns into Emigration Canyon Rd). Drive 6 miles, then turn left on Pinecrest Canyon Rd. Drive 1/4 mile and park right before the road splits for Killyons and Pinecrest on the right side of the road. You should see the trail parking sign. You will then need to walk up 1 mile to reach the official TH. If you are driving from SLC, use this map.
Trail Info
Distance: 10 miles round trip
Elevation gain: 2,900 ft
Time: 5-7 hours
Dog friendly? Yes, off leash
Kid friendly? Yes, but only for the 1st mile or so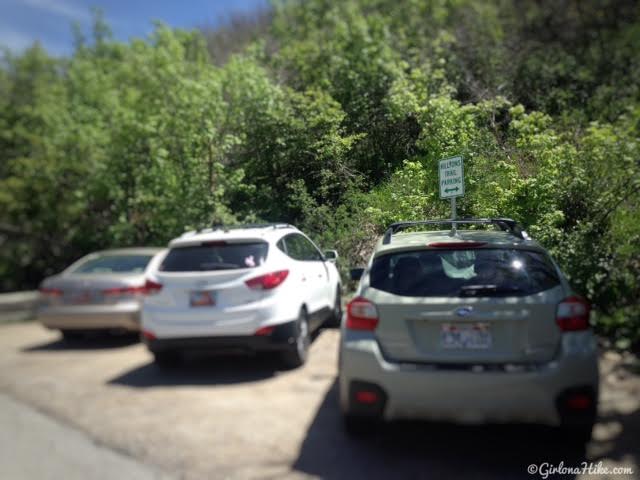 As of October 2016 you can no longer park right at the TH nor in Killyons Canyon Rd. You have to park all the way down the road, then walk up about 1 mile to reach the official TH. You should see two areas with the "Killyons Trail" parking sign on your right as you turn onto the road. About 4-5 cars can fit at each pull out.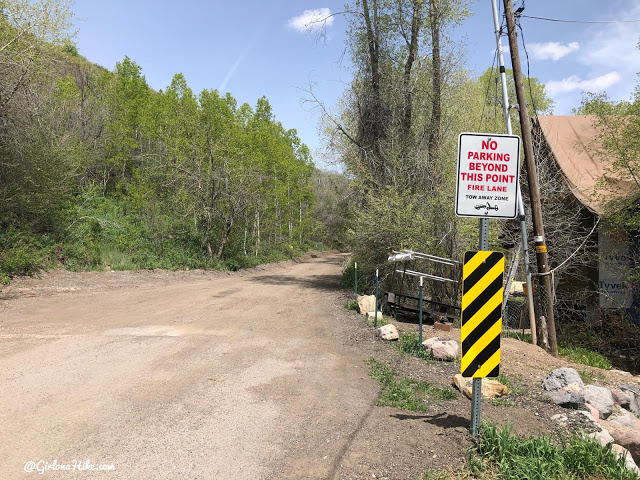 Walking up the road – no parking is allowed beyond here.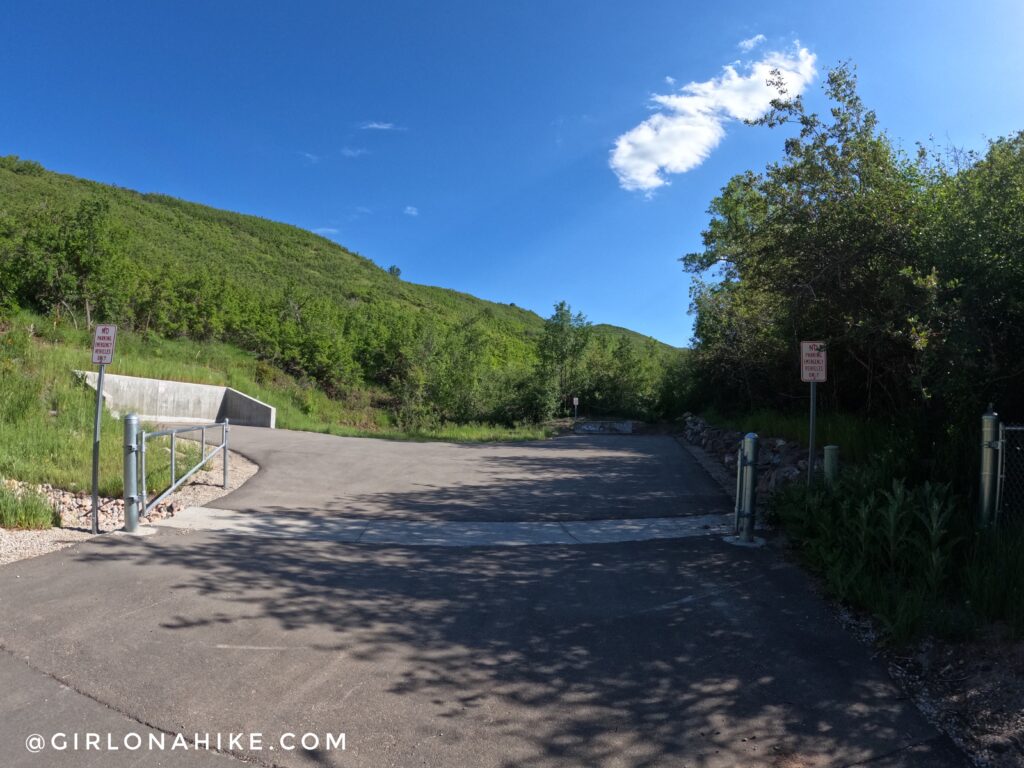 The actual trail begins here.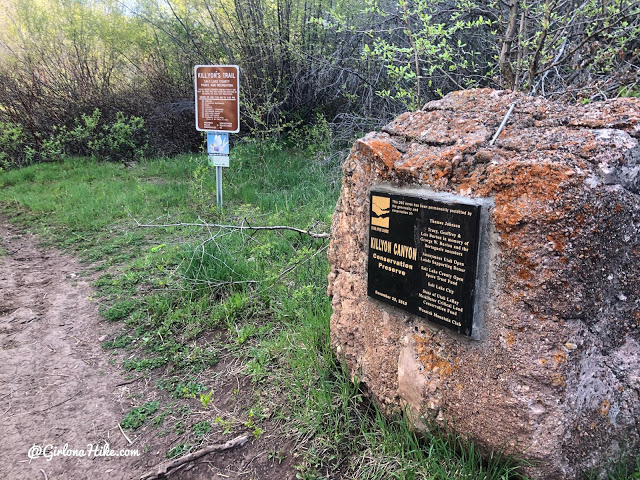 10 minutes into hiking the main trail, you'll see the "Killyon Canyon Conservation Preserve" sign. So glad to see this area is protected! Cross two bridges after this.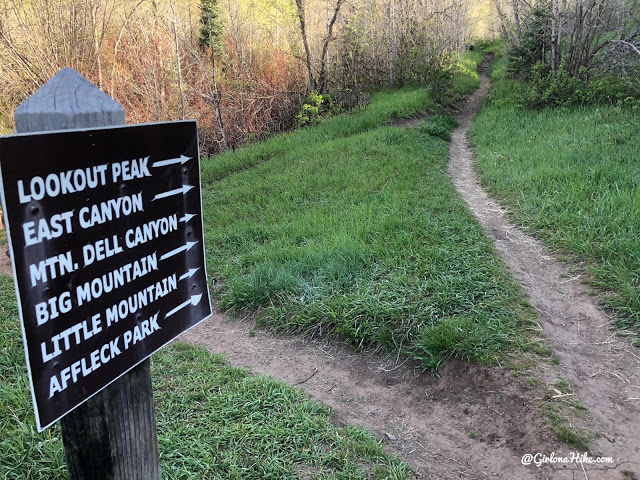 Stay right for everything!
 At mile 2, you will come to a 4-way intersection. Head left (north) from here. If you go straight it will take you to Affleck Park, and right follows the ridge south.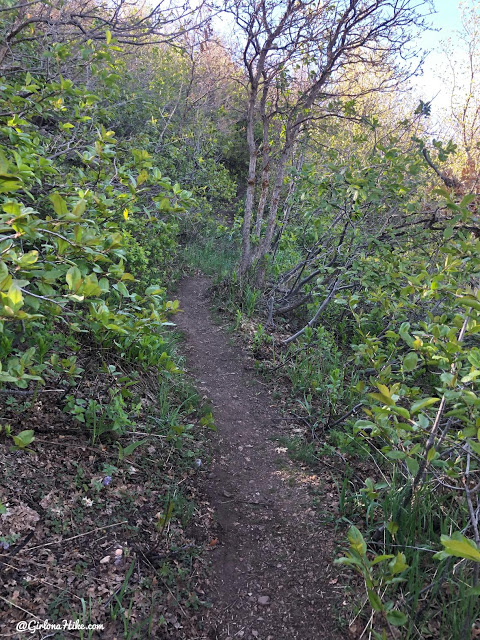 Hike up 2 long switchbacks.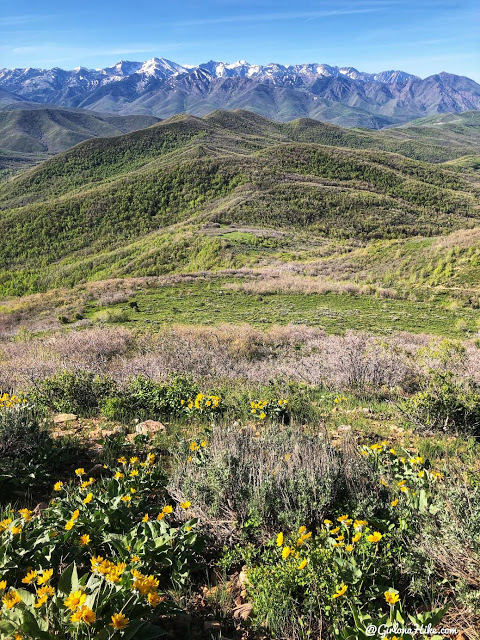 May & June is my favorite time of year to hike to Lookout!
At the first saddle. The trail is always very easy to follow, and well-traveled.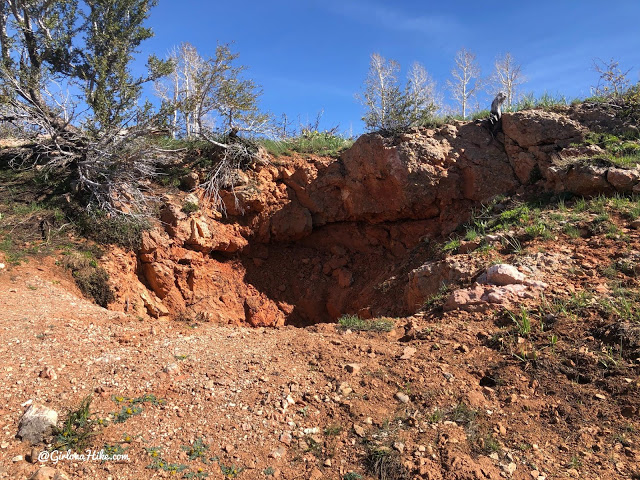 Passing by an old mine pit.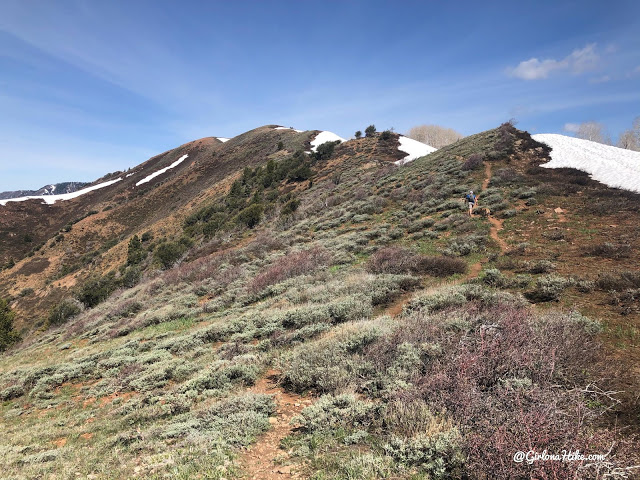 Several small up & down sections.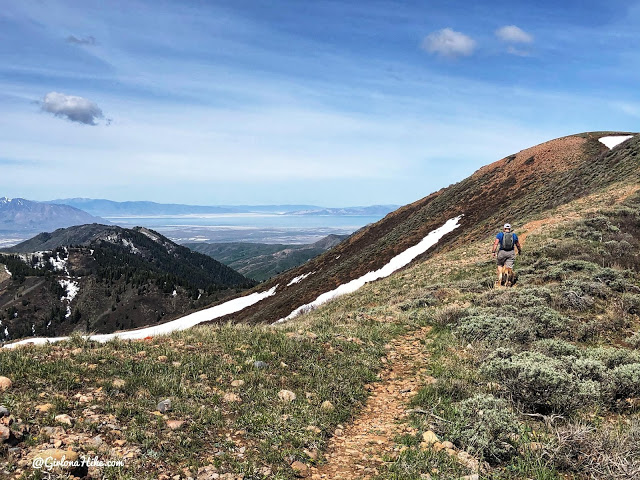 I love the view out to the Great Salt Lake from this ridge!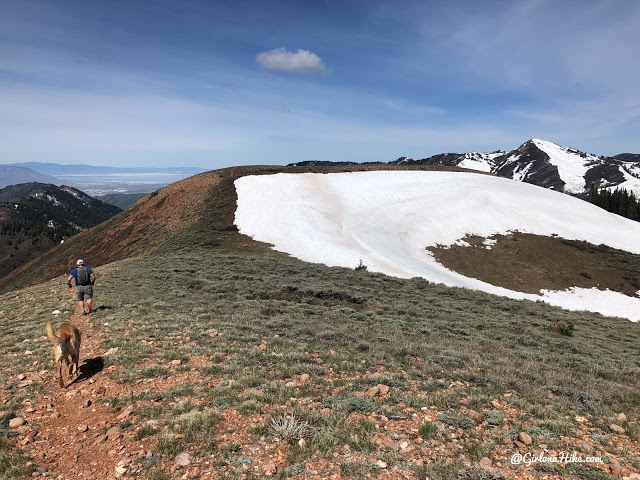 One more dip down, before reaching the actual summit.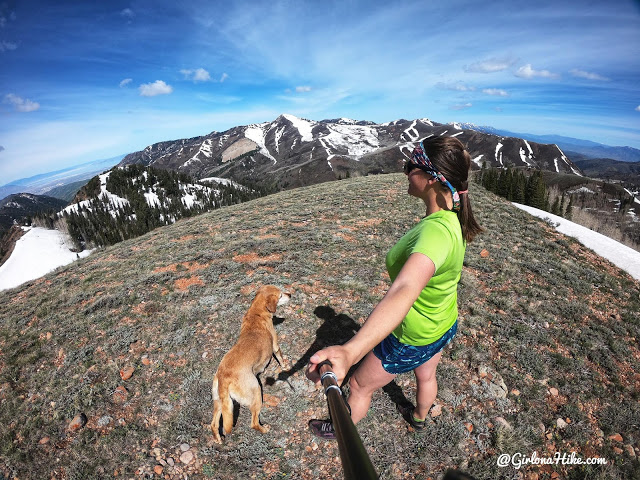 Whoo-hoo what a view on the summit! The peak ahead is Grandview Peak, another fun but long trail.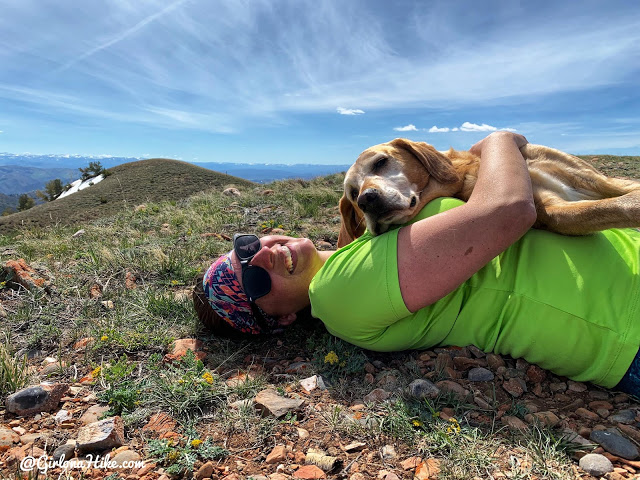 Charlie's favorite – summit snuggles! This peak is basically a large, open meadow.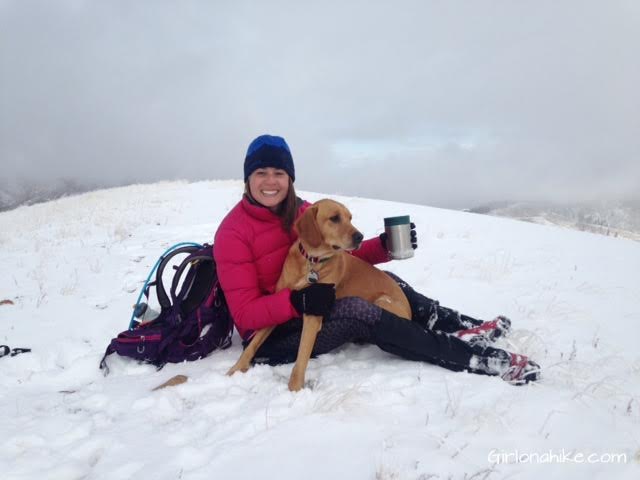 October 2015 – a bit of snow the very first time we summited.
The best way to keep warm on a summit? A dog in your lap, and hot chocolate in your hands!
Lookout Peak – June 3, 2017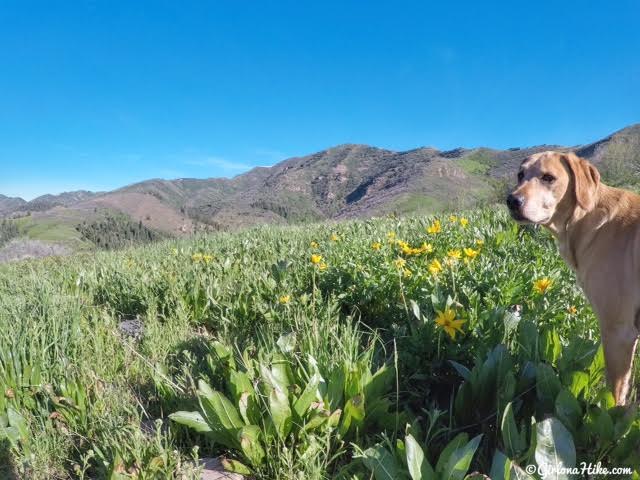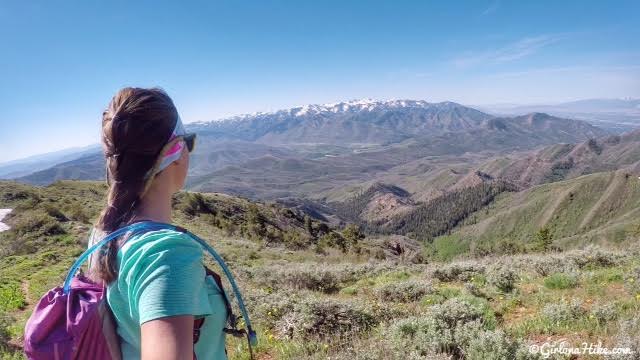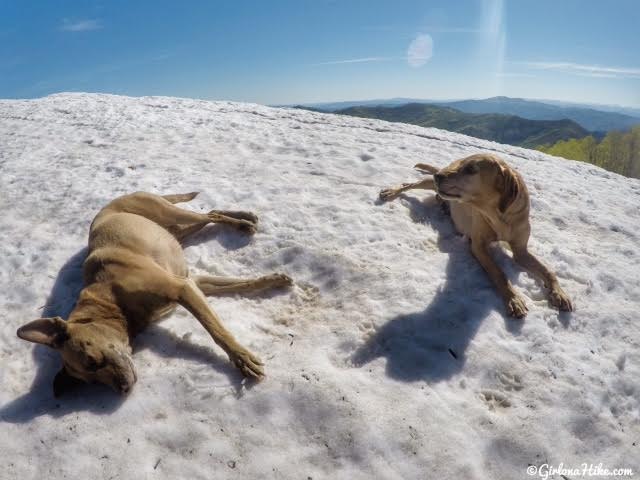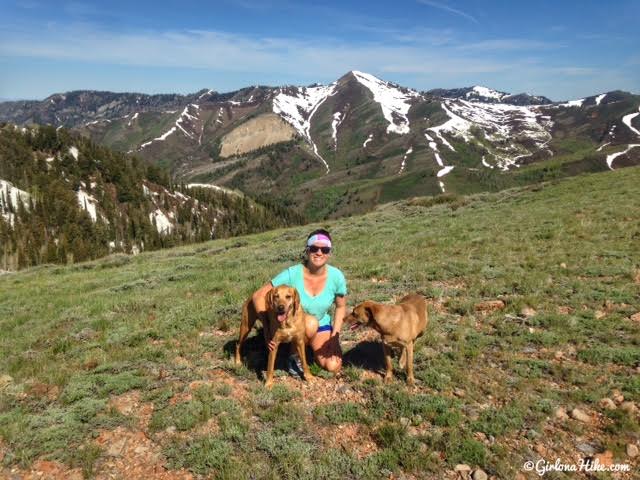 I enjoyed hiking up to Lookout much more without snow. Made it much easier!
June 2018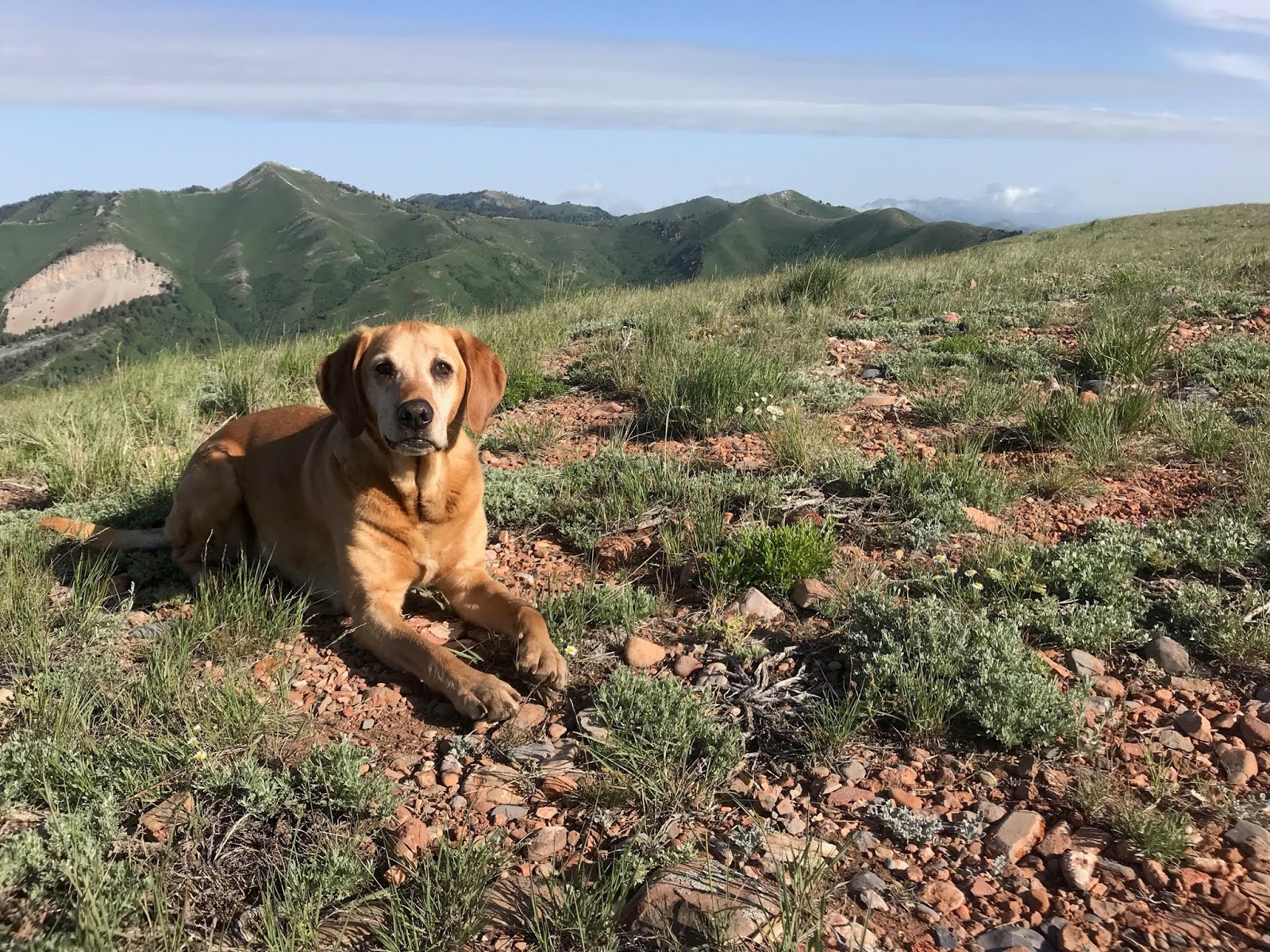 Charlie and his dad summited June 2018 – what a difference in snow levels (none!)!
Trail Map
My track via Gaia GPS – the best tracking app! Get your app here for a discount.
Recommended Gear
Nearby Hike
Hiking to Grandview Peak from Killyon's Canyon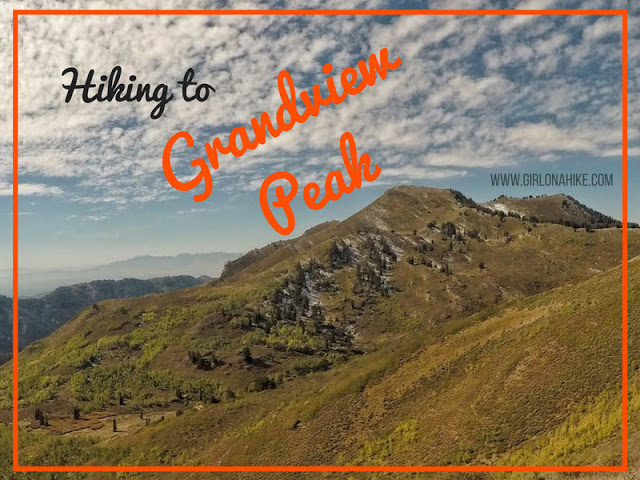 Save me on Pinterest!