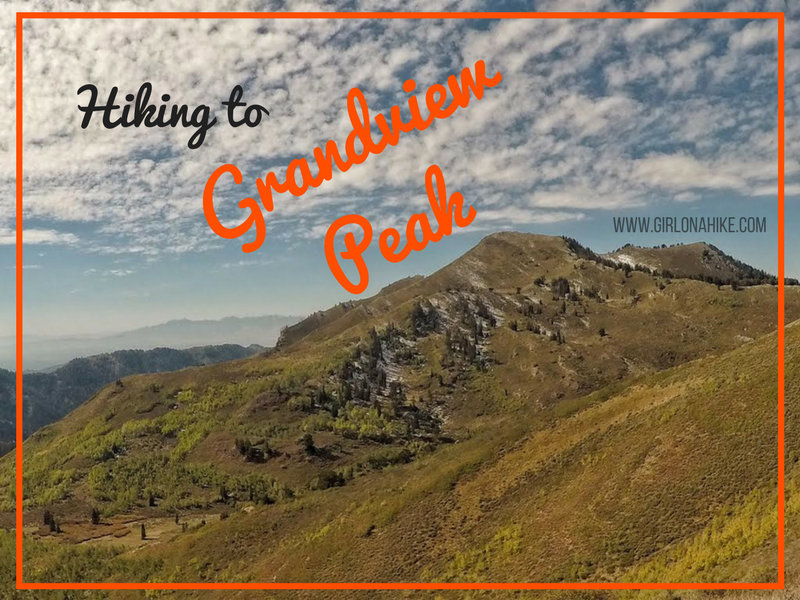 Hiking to Grandview Peak from Killyon's Canyon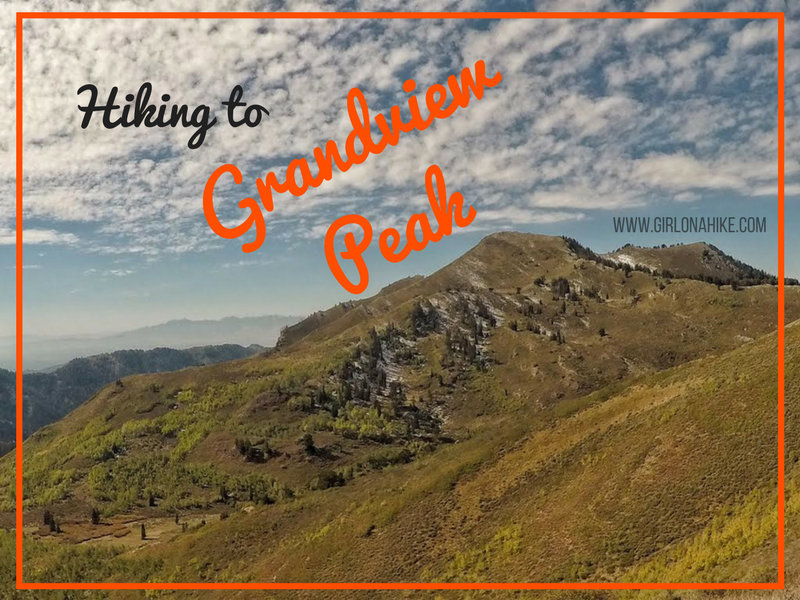 Grandview Peak (9,410 ft) sits at the Salt Lake/Davis County line and is one of the seldom visited peaks along the Wasatch Front. It's a long hike in from all directions, there's no water source, very little shade, and a little bushwhacking required. No matter which route you choose (described below), be prepared for a full 10-12 hour day. However, I've been staring at this peak for 4 years now, and I just HAD to knock it off my peak list. Wednesday night I was looking at the weather for the week, and it was supposed to have perfect blue skies, comfortable temperatures, and the Fall colors were also almost at their peak. 
I texted my friend Wednesday after work around 7pm, "How do you feel about doing 18 miles tomorrow?" She almost instantly replied, "Amazing LOL, when and where?" Told her what I was thinking, and she said, "well, what about work?" Oh yeah. Work. We'd have to skip work…."Sure! See you at 7am!" This actually gave us no time to think about it and back out of hiking to Grandview Peak – so if you ever want a friend to come along on a tough, long hike don't give them time to back out lol!
Routes
There are a few routes to summit Grandview Peak
1) Killyons Canyon (this blog post)
Dogs allowed, no 4×4 drive required, 18 miles RT and 3,700 ft elevation gain.
2) City Creek
You can only take cars on even days up the canyon. 12 miles RT and 3,700 ft elevation gain. No dogs. From what I hear, this route has the most bushwhacking.
3) Big Mountain Pass
The longest route. 21 miles RT and 4,400 ft elevation gain. No dogs.
4) Bountiful Ridge/Great Western Trail
You need 4×4 drive to access the ridge. 17 miles RT and 5,500 ft elevation gain depending on how far up your car can make it up the rough dirt road. Dogs allowed.

Looking at each option, we quickly narrowed it down to Killyon's and Bountiful Ridge since the dogs could go those routes. The next thing we had to eliminate was the 4×4 drive since neither of us have a truck/jeep. They are all roughly the same distance/elevation gain, so based on all these things Killyon's was the best choice for us. The best time to hike to Grandview is in Fall – the temperatures are cooler, there's no snow, and the leaves are really pretty. Summer would be extremely hot since there's no shade. Winter is doable if you have backcountry ski gear and are comfortable with avalanche danger and rescue techniques.
Just want to emphasize a few things
1 ) There is NO water or shade. We each packed 3L of water, and my friend ran out of water on mile 7 (she and her dog shared water). We then had to skimp on water the rest of the hike since we needed to share what I had left of my 2L for the day. I was fortunate to find some snow on the north side of one of the ridges, and packed her camelbak with snow, so that it would eventually melt and we could give that to the dogs. Make sure you pack at least 5L of water per person OR have your dog carry it's own backpack filled with water bottles. 

2 ) Another issue we ran into was the sun exposure. We were hiking and of course, sweating, so we were down to our last layer, both in a tank top since the temperature was about 50F (the breeze felt perfect, not cold at all). However, when we got back home we found ourselves totally fried red from the sun. Make sure you pack sunblock, even in Fall.

3) We didn't hike far enough for the last trail split that leads to the NE ridge leading up to the summit. We ended up bushwhacking, when if we had just hiked a little further we would have found the trail. Because we didn't take the actual trail, bushwhacking really slowed us down the last mile. You'll see on my map below that I've marked where the trail actually splits back left to the NE ridge. 
With all this being said, we had an amazing time and was SO worth the effort and hard work. It's a really pretty hike, and you'll likely see no people (we only ran into 6 hunters over 11 hours). 
And now I can finally stare at Grandview Peak and know that I've been up there!
Directions
Use this map, if driving from SLC.
The trailhead parking is on your right side of the road with a tall white/green parking sign. Park here, then walk up Killyons Canyon Road to the very end where you'll reach the official TH.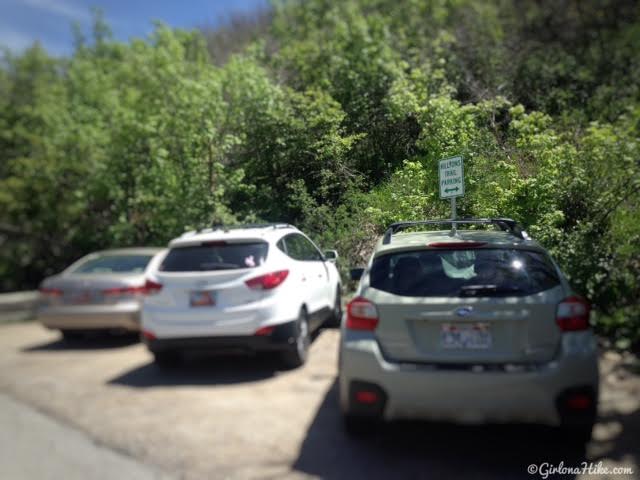 Trail Info
Distance: 18 miles RT
Elevation gain: 3,900 ft
Time: 10-13 hours
Dog friendly? Yes, off leash
Kid friendly? No
Fees/Permits? None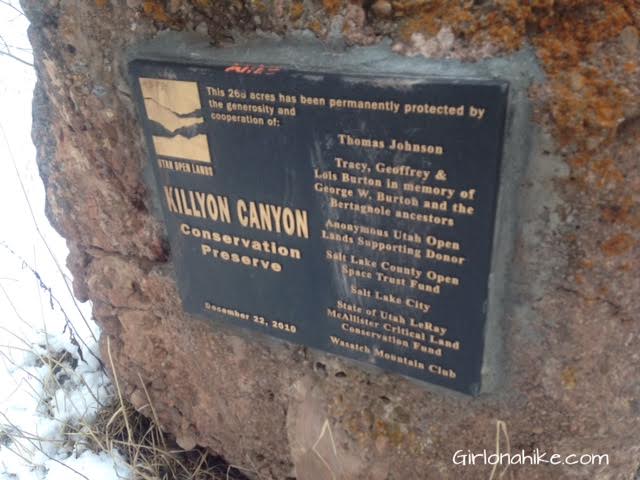 As you hike up the trail you'll pass this sign within the first 15 minutes, then cross two bridges.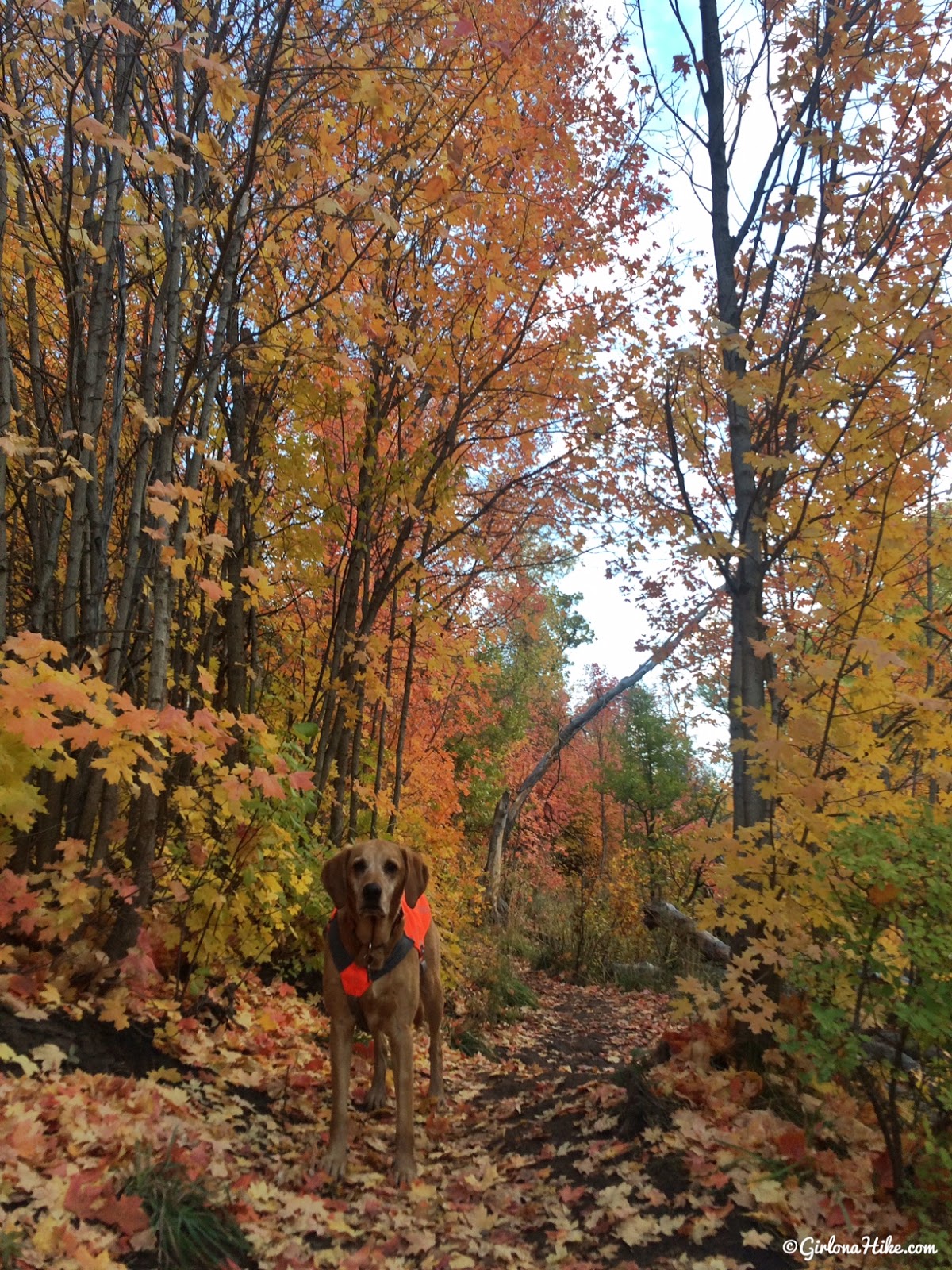 The Fall colors were amazing!
Charlie is wearing his Ruffwear Track Jacket since this is a popular area for hunters.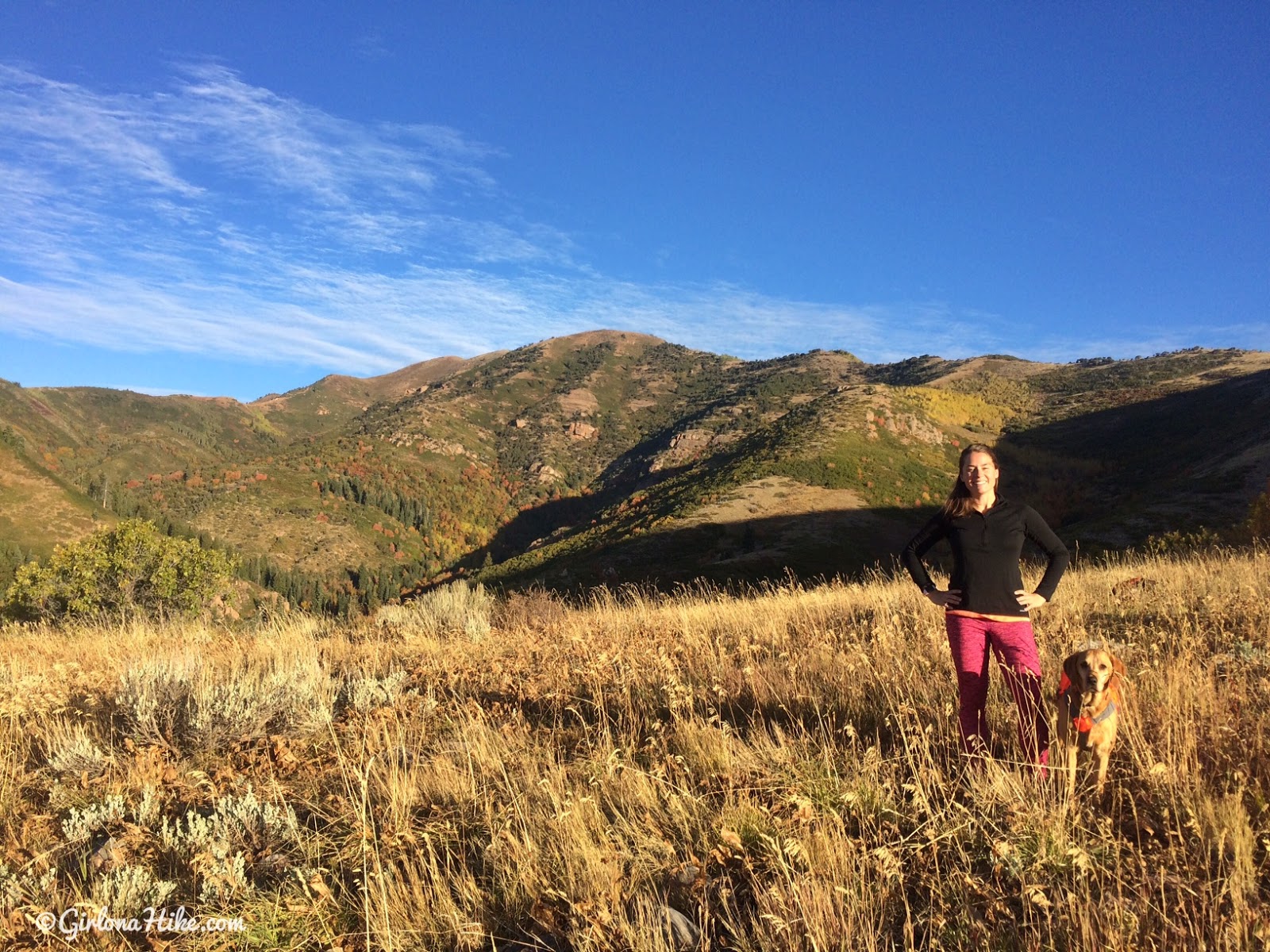 When you reach the first 4-way intersection, turn left, and you'll make your way to the ridge. You'll come upon this nice little overlook – Lookout Peak is the 3rd hump in the back.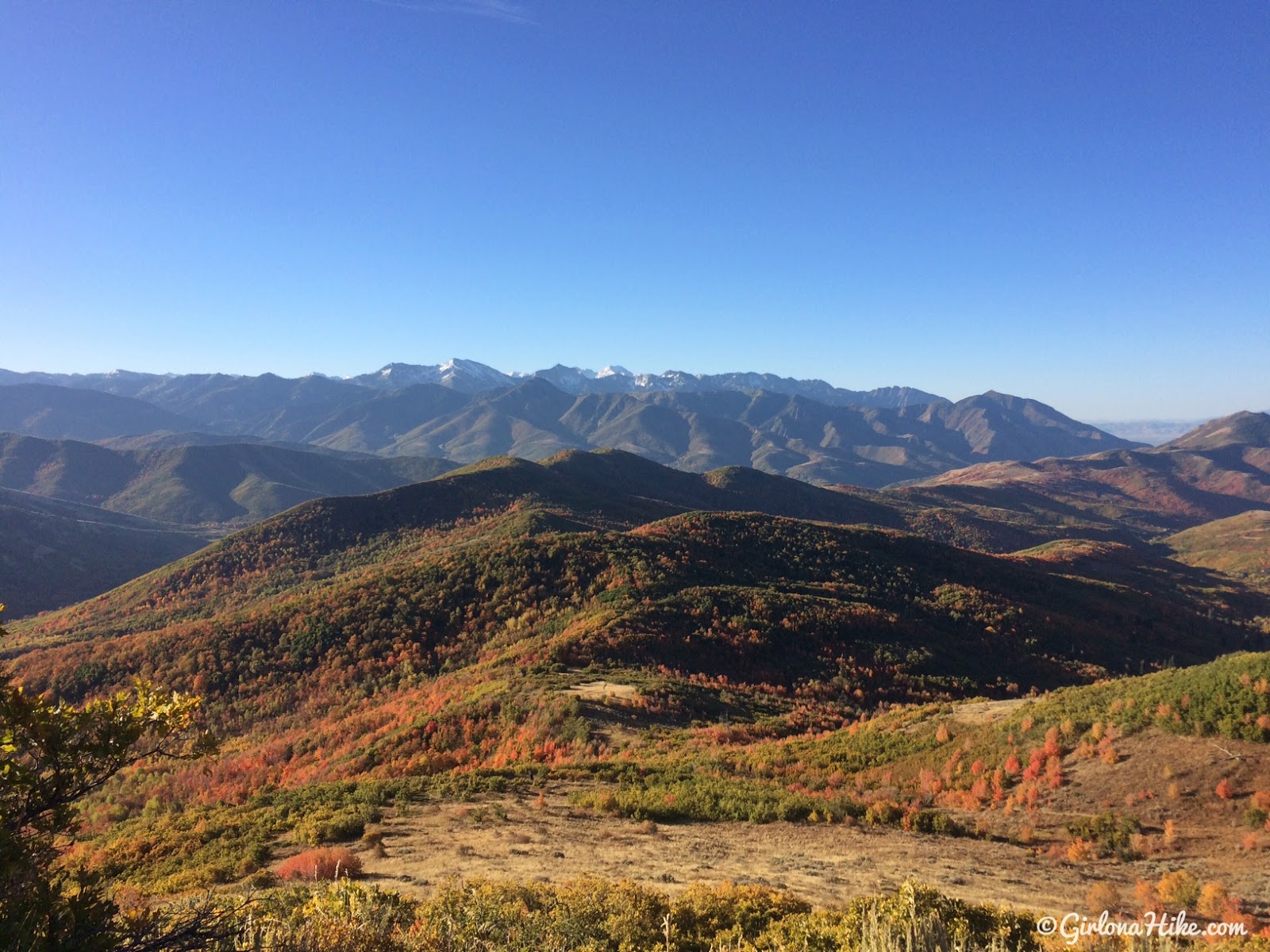 Nice view out to the Wasatch.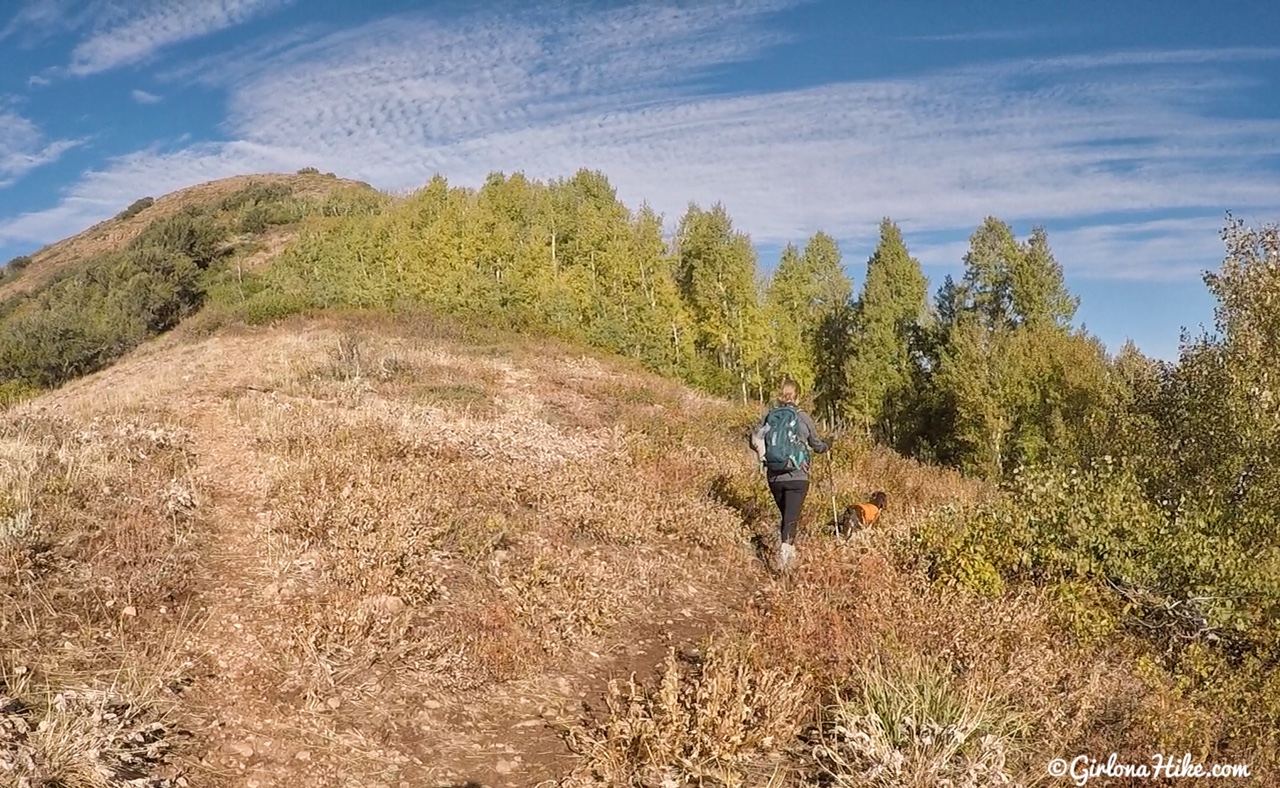 As you hike along the ridge, keep an eye out for a faint trail split to the right. This is your turn. Going straight will lead you to Lookout Peak. If you had time, you could easily knock out Lookout before heading over to Grandview. It would make your day closer to 20 miles RT.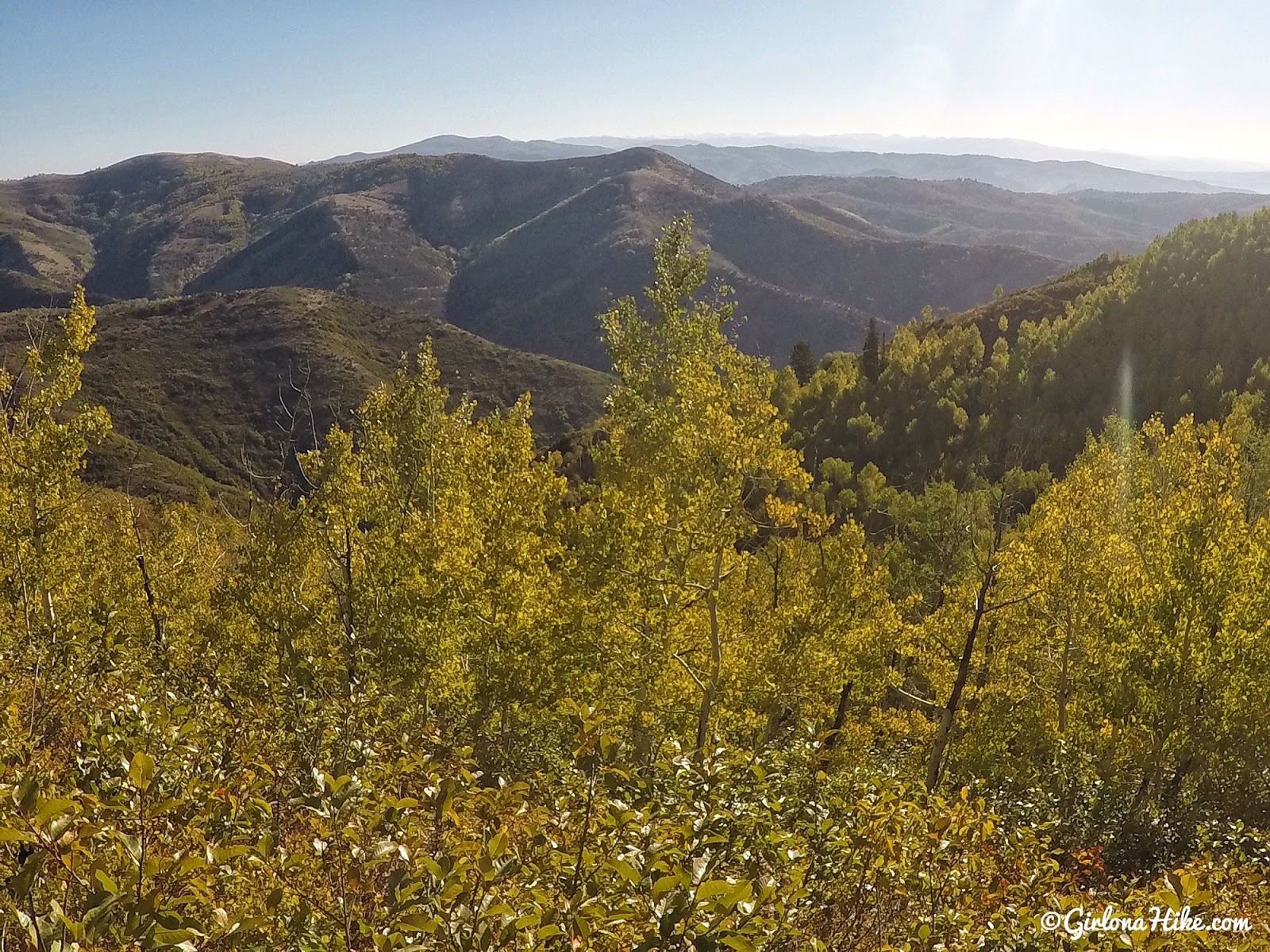 After you take the trail split,  you will hike through several Aspen groves, and weave in and out of the NE hillside for the next 2 miles.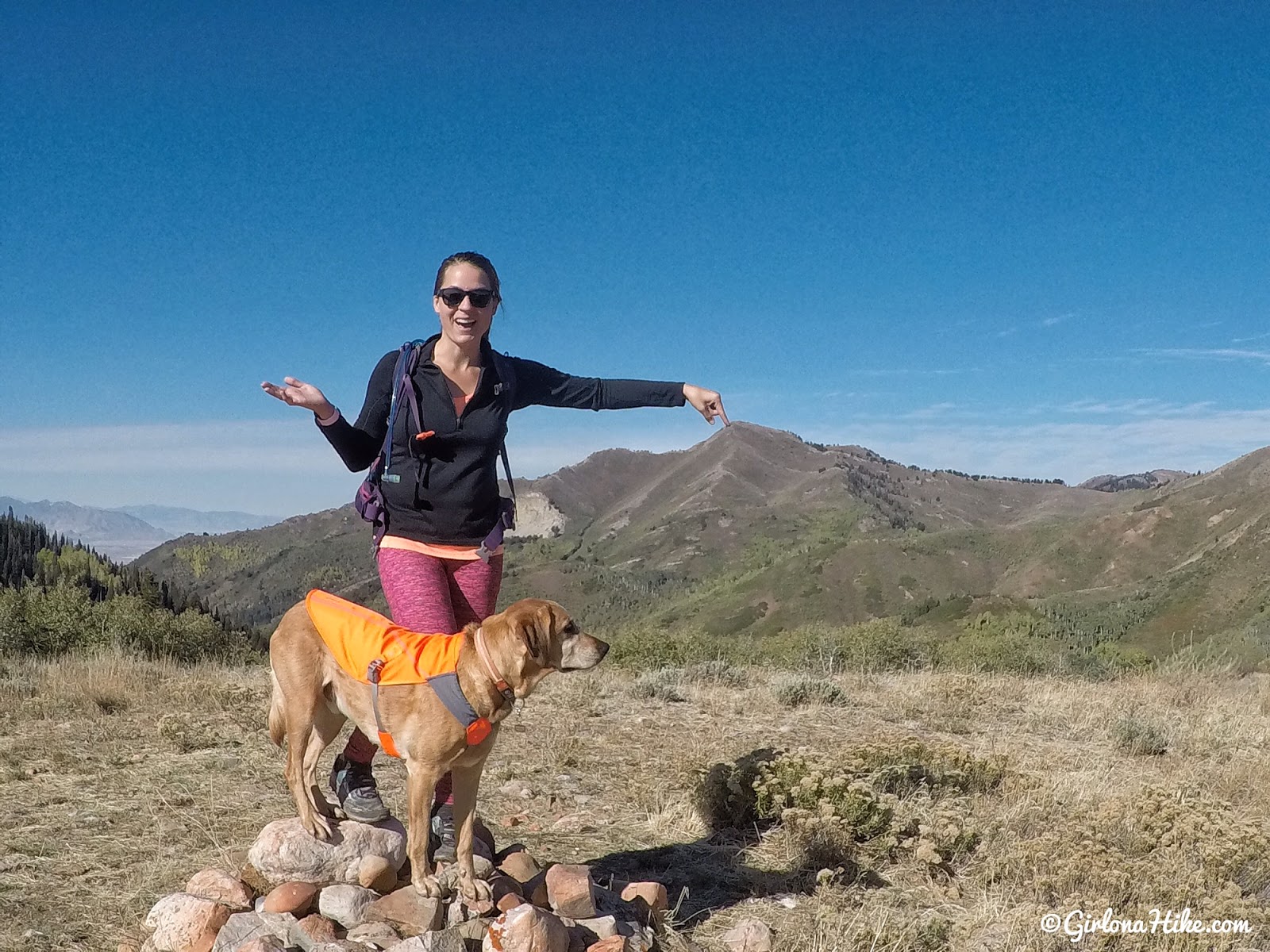 "We're going HERE?!"
On a small unnamed peak, yet still a long ways to go. This is also your first really good view of Grandview.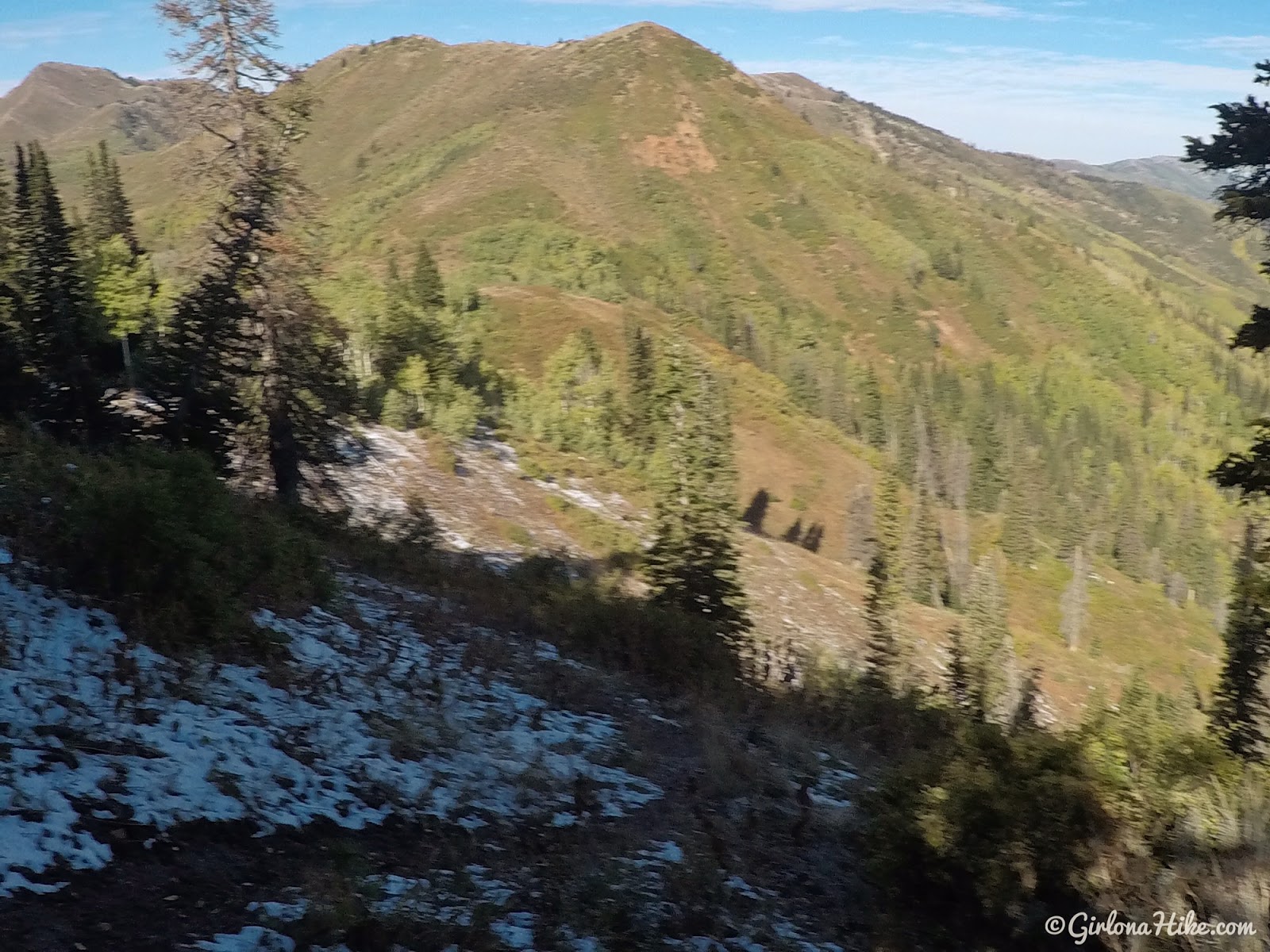 Around 5.8 miles you'll take the trail split left, and head downhill on the north side of the hill. See that ridge across the way? You'll eventually end up on top of that.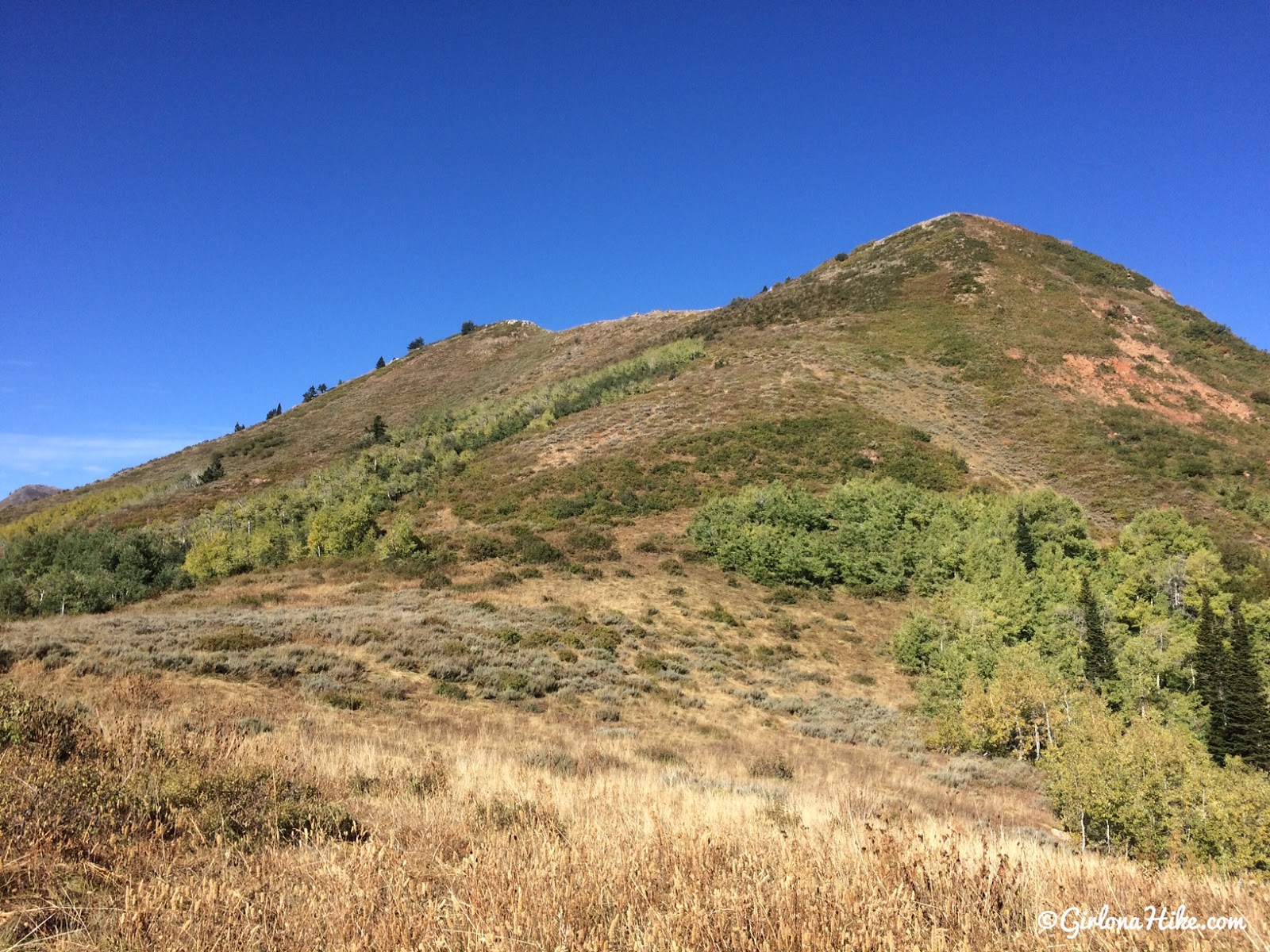 At the bottom of the hill, and now you'll hike up a few switchbacks to reach the ridge. It gets really overgrown through this section, but it's always easy to stay on trail.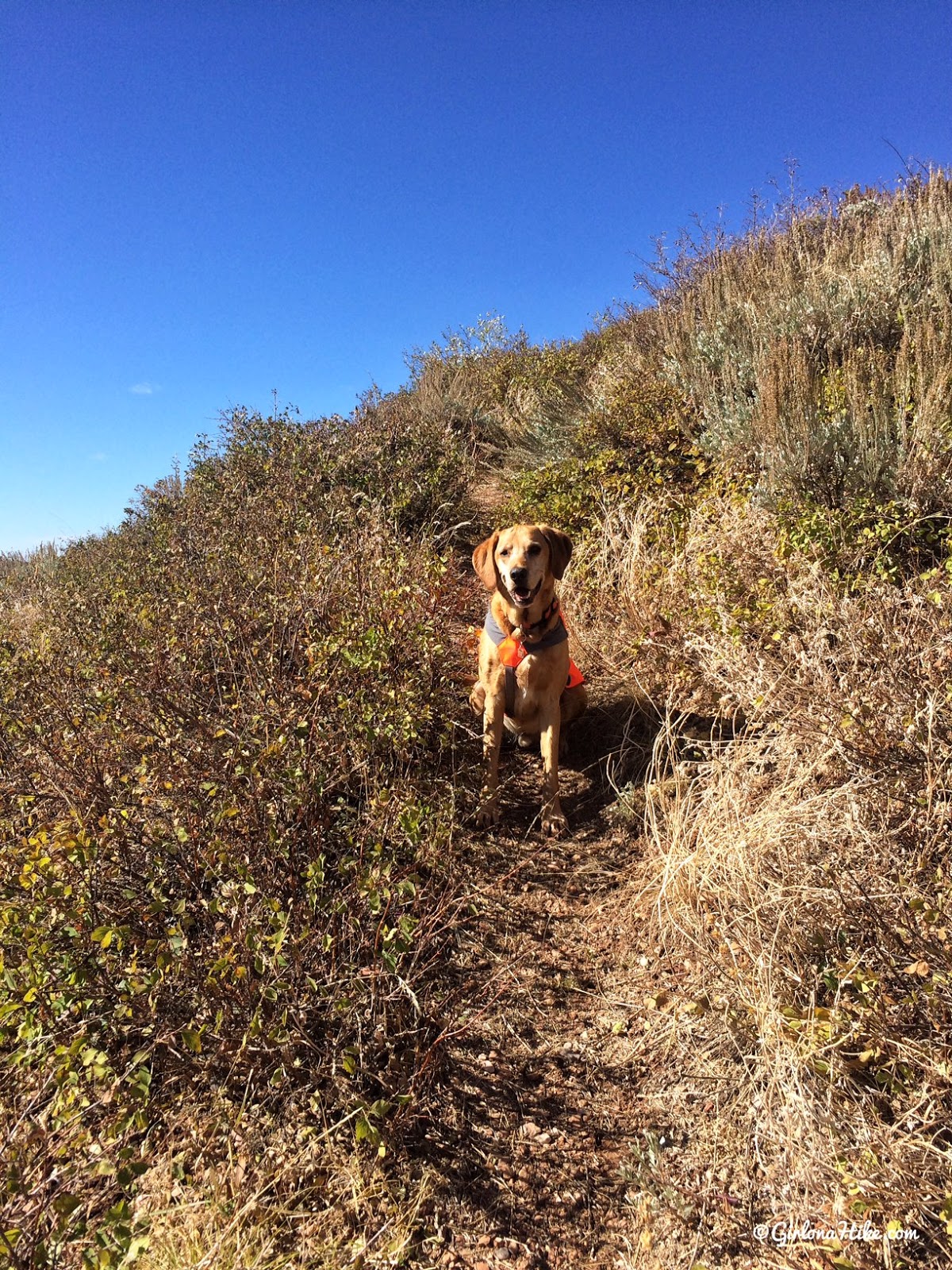 Charlie takes a quick break.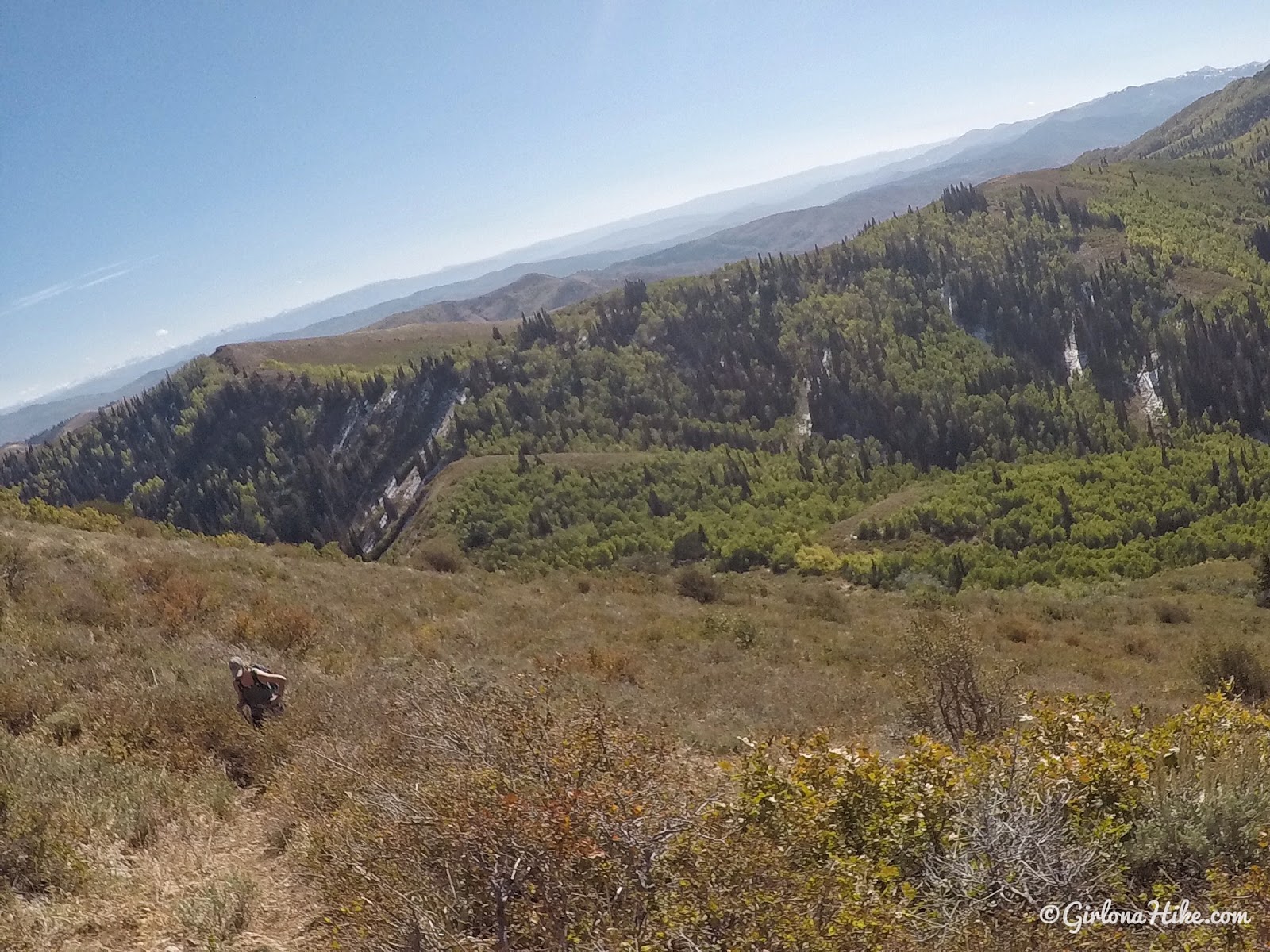 Looking back down to the hill we just hiked up.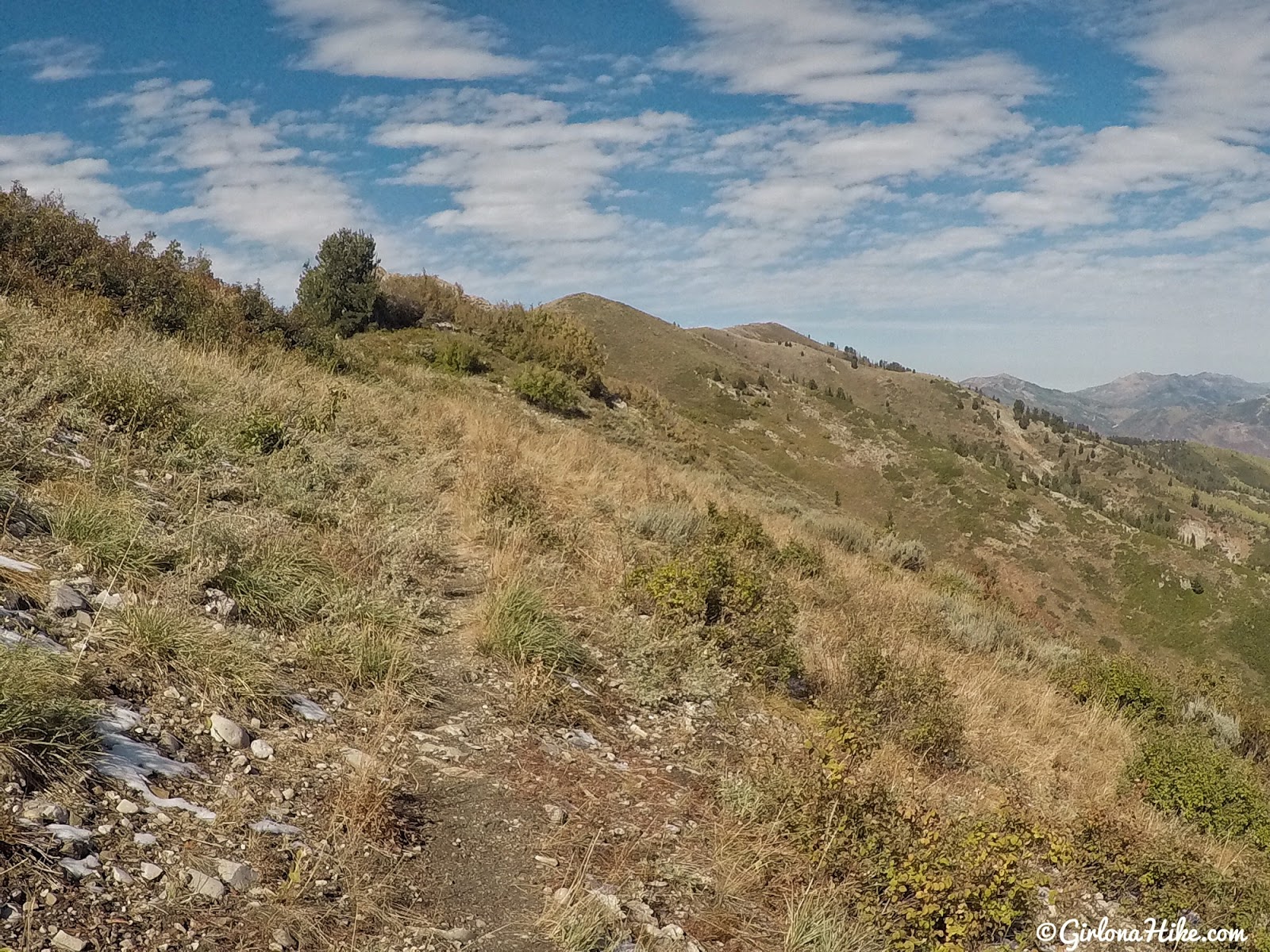 Once on the ridge, it's easy ridge walking for another mile.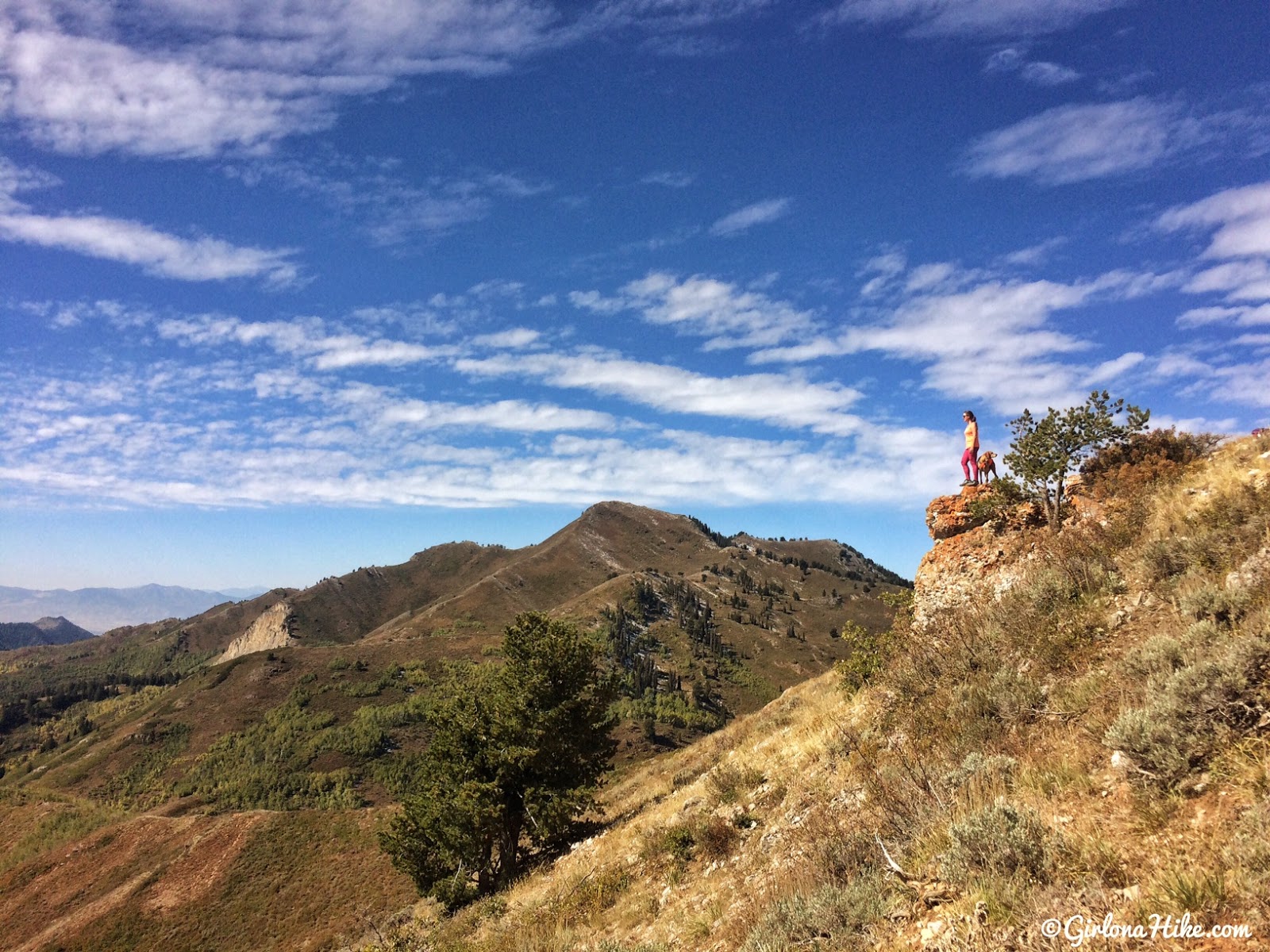 You should have pretty amazing views of Grandview by this point.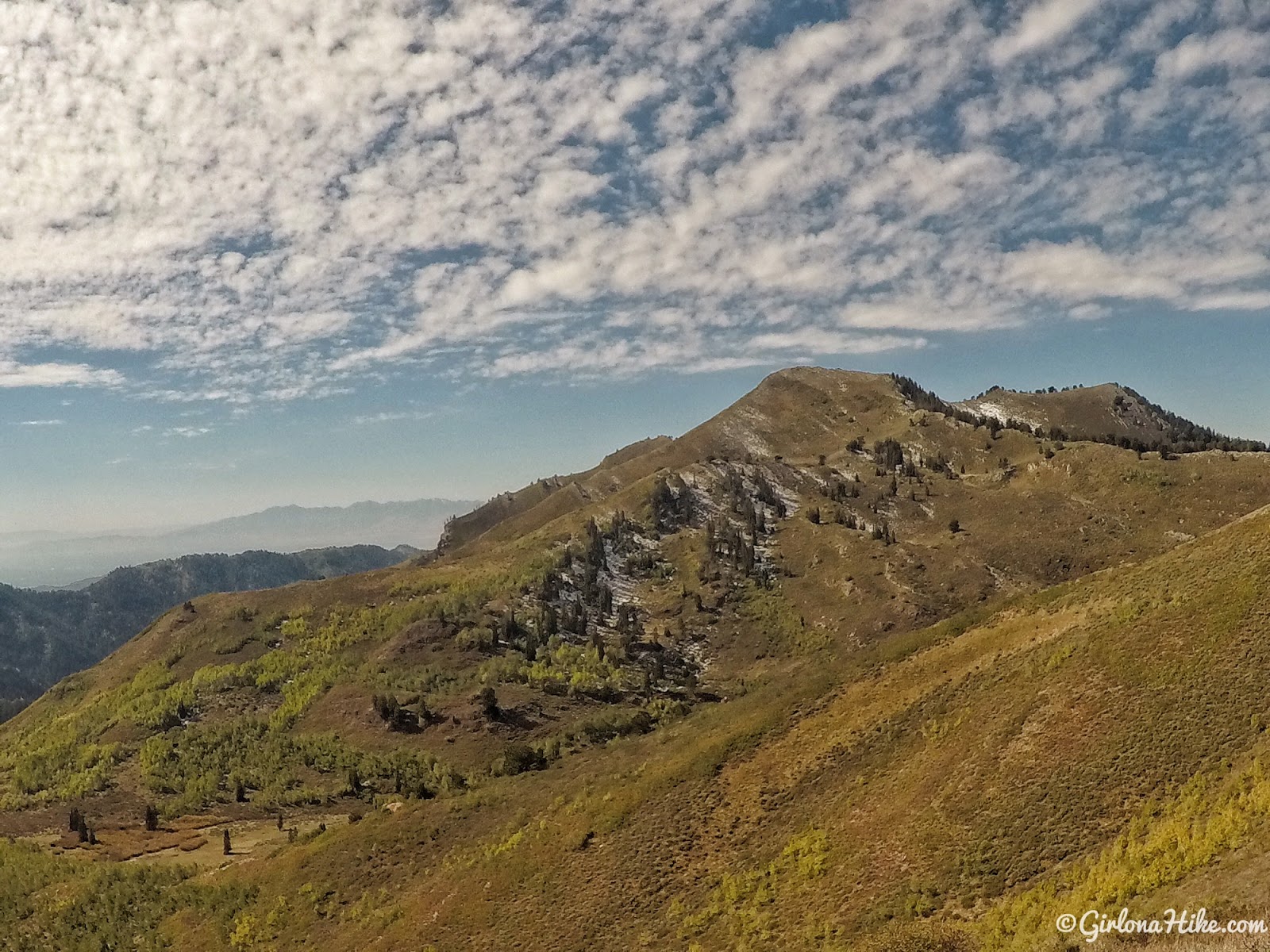 You'll continue following the trail as it starts to wrap around to the North. It will feel as if you missed the next trail split to the NE ridge of Grandview but it's there. We felt like the trail map was off, and decided to bushwhack to the red dirt patch (not pictured here). However, on the way back we followed the actual trail. So, make sure you stay on the trail heading North, until you see the split to the left heading over to Grandview.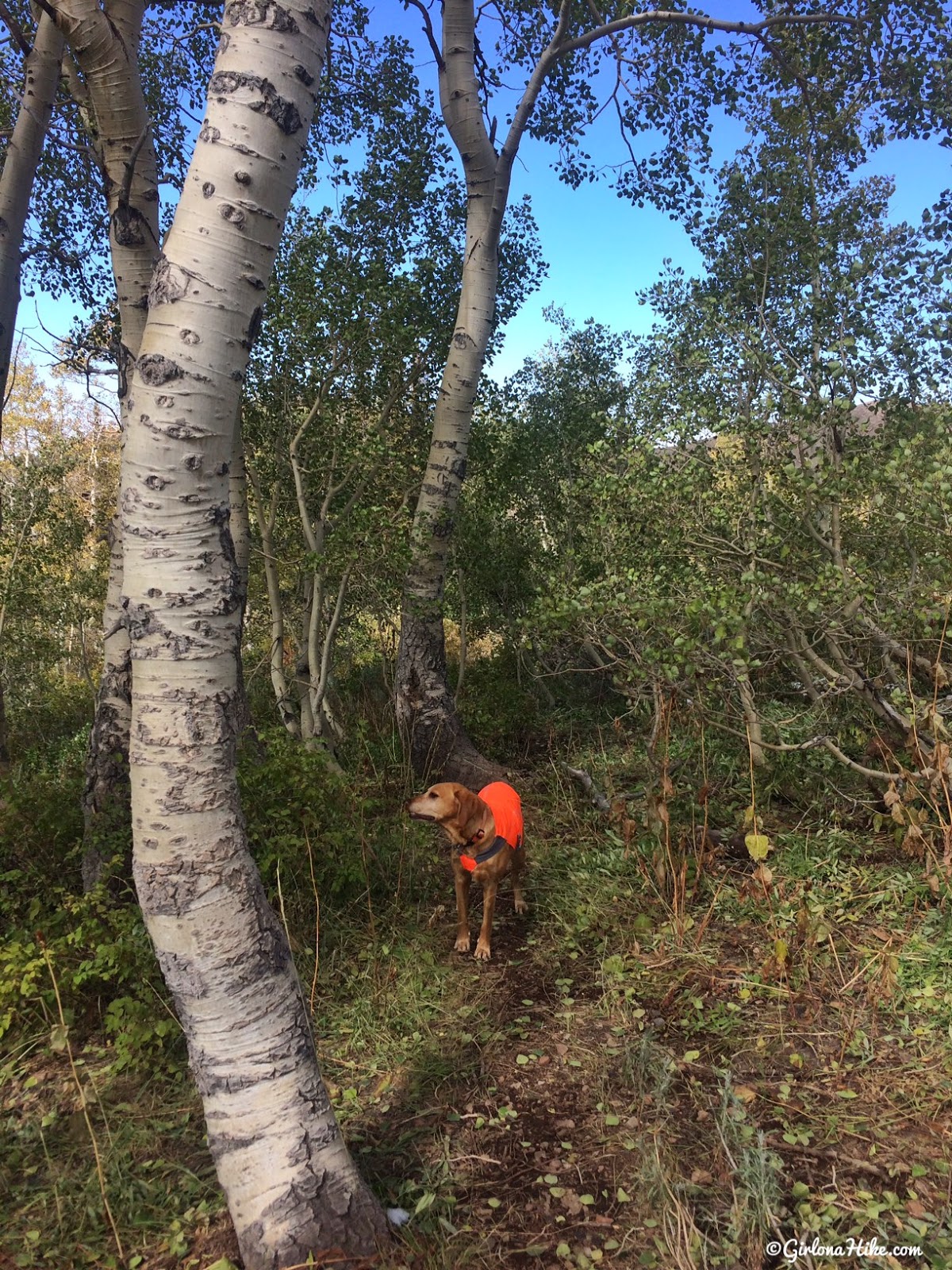 After bushwhacking we picked up the trail again. So much easier!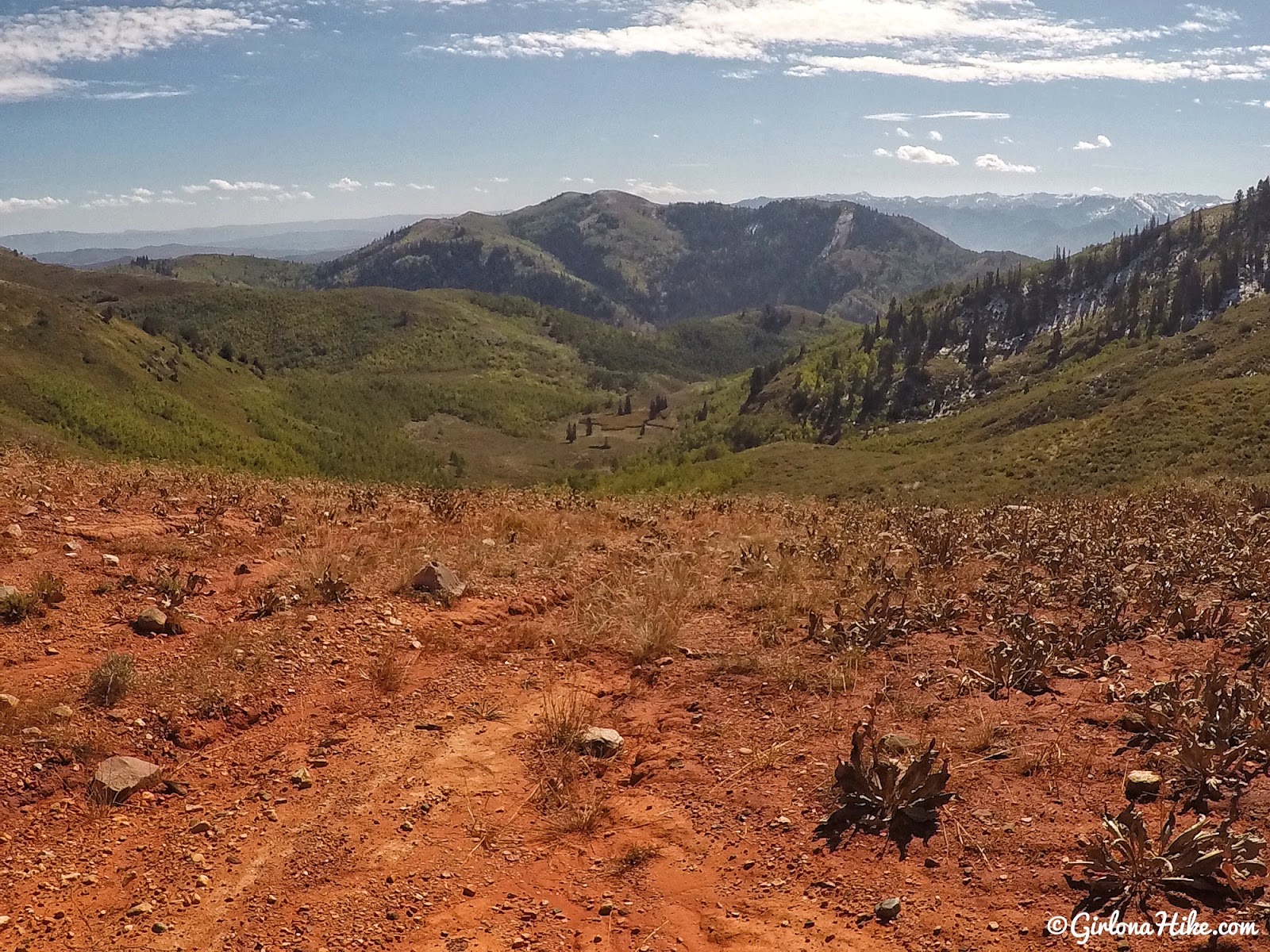 The "red dirt patch" you can see from a mile away. The trail will cross this, and continue along the NE ridge. From here, the trail seems to favor the West side of the ridge as there is a decent trail the whole way to the peak.
Great view of Lookout Peak from this area.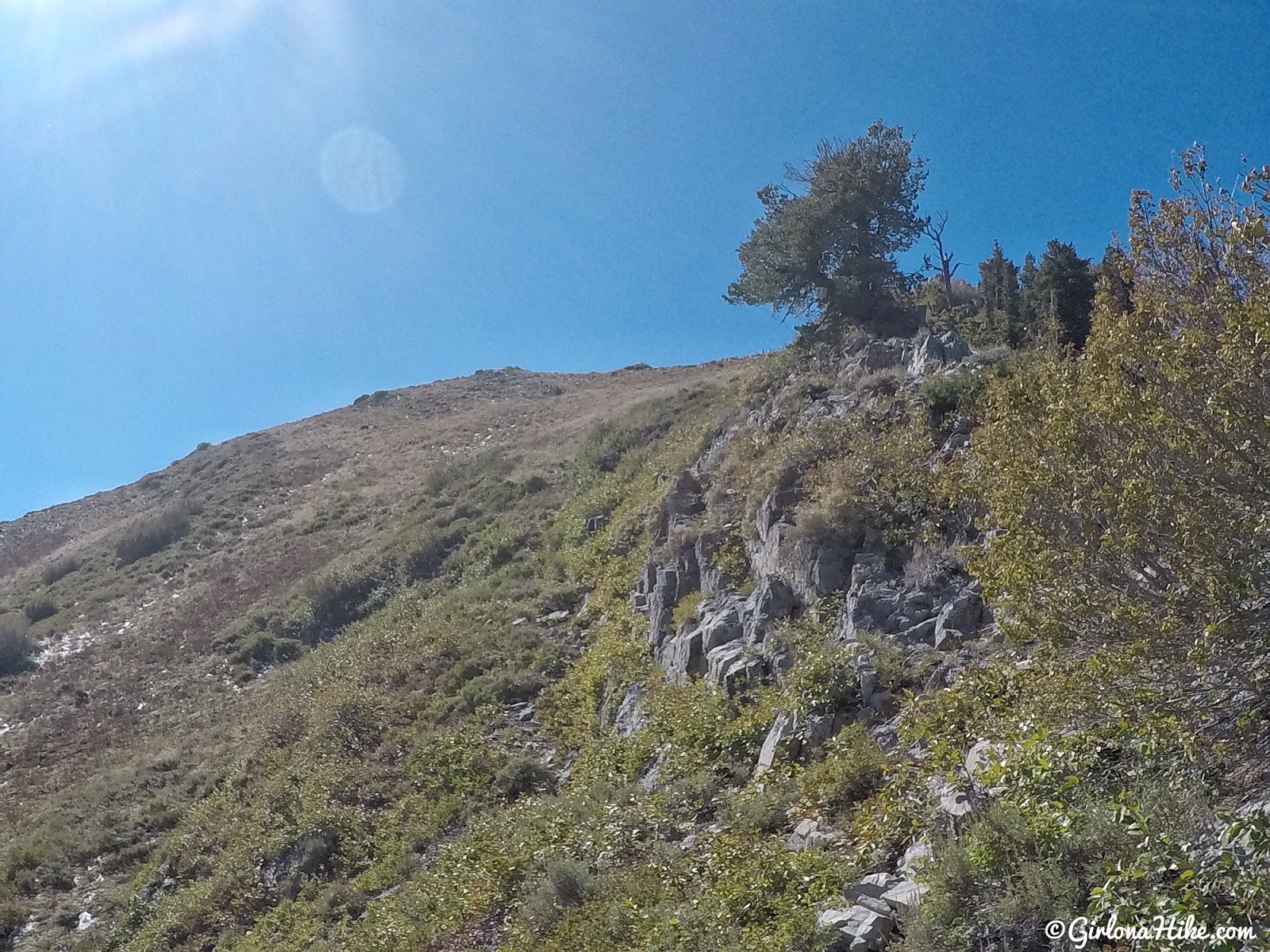 You'll reach a really small saddle, and from there, stay on the East side of the ridge following this rock wall. It will get really steep the last little bit.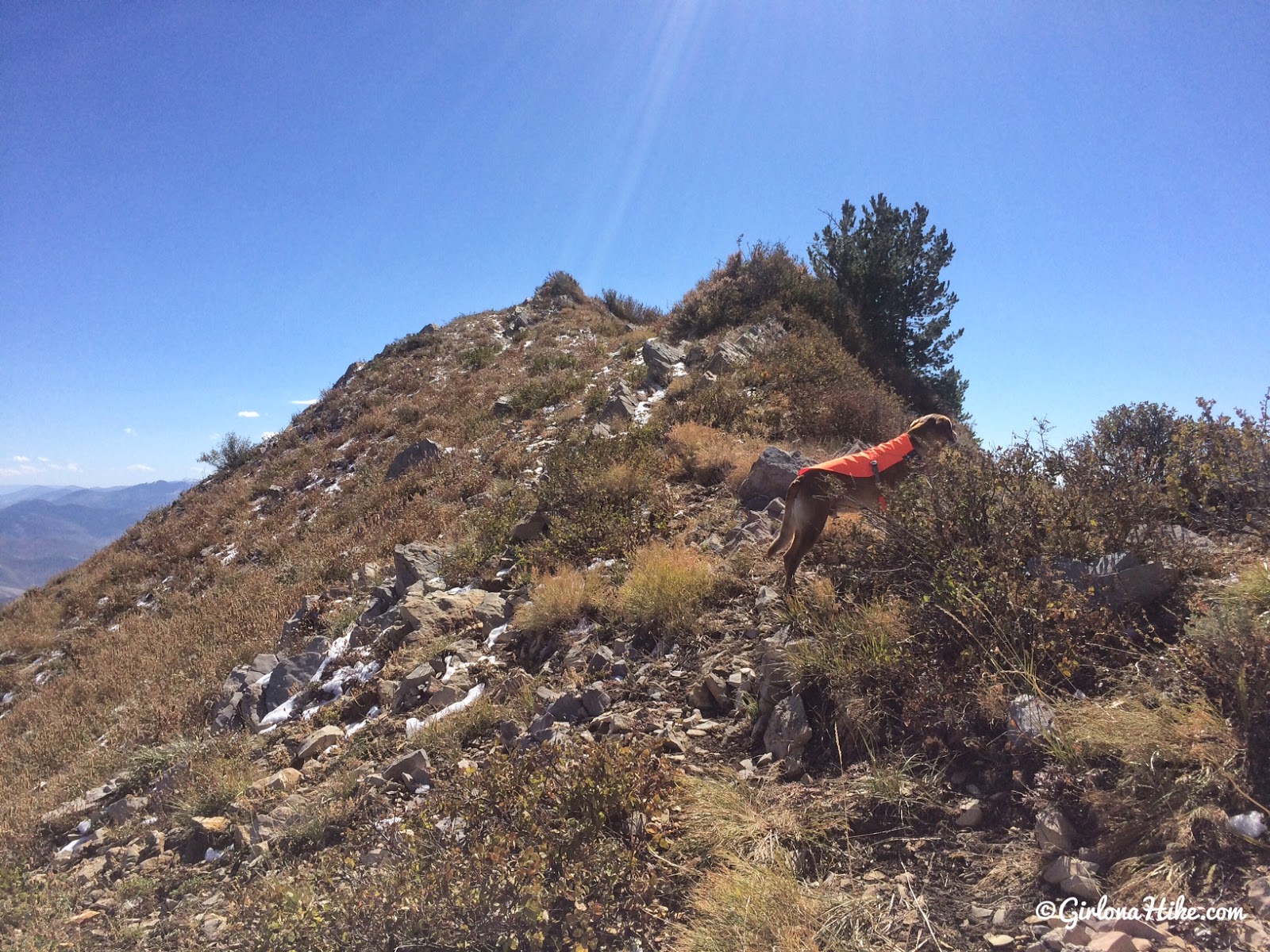 Finally on the ridge, now the last few minutes to the summit.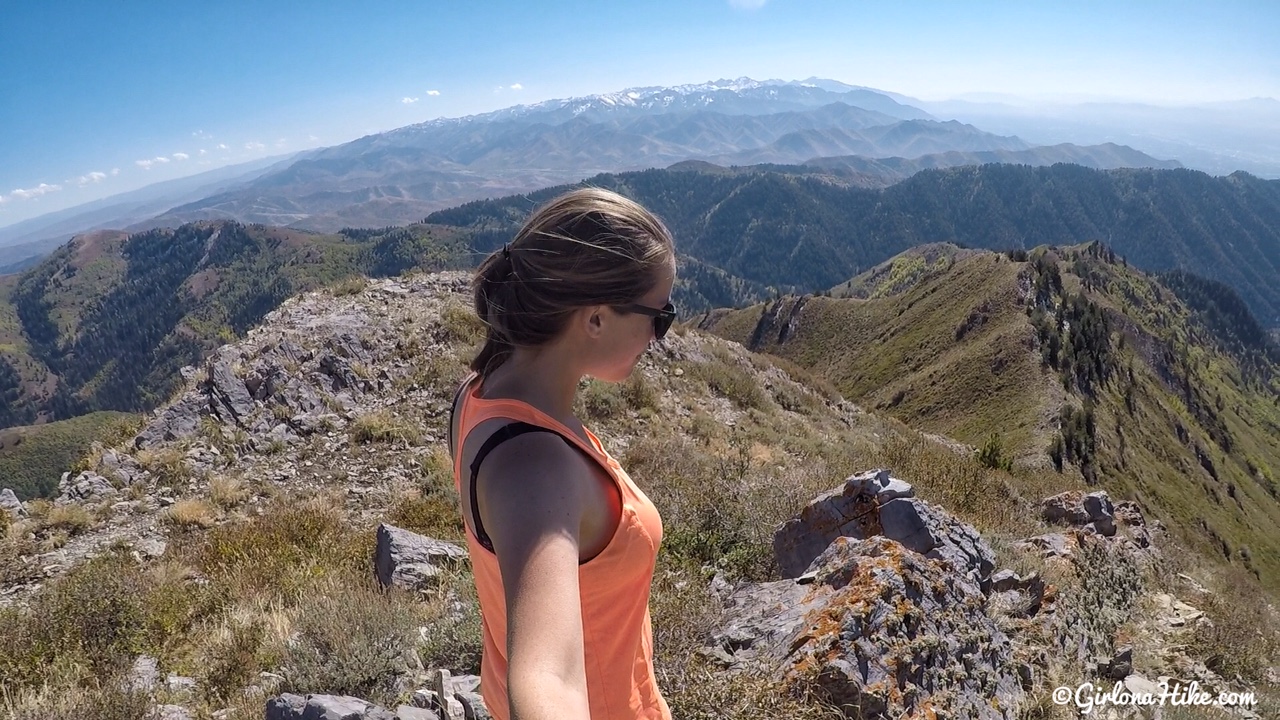 Grandview summit!!!!
It took us just over 6 hours to reach the summit. The last mile kicked our butts since we had to bushwhack, we kept looking at the map, plus we were slowing down from already having done 8 miles. I've stared at this peak for so long, I was so happy to knock it off my list.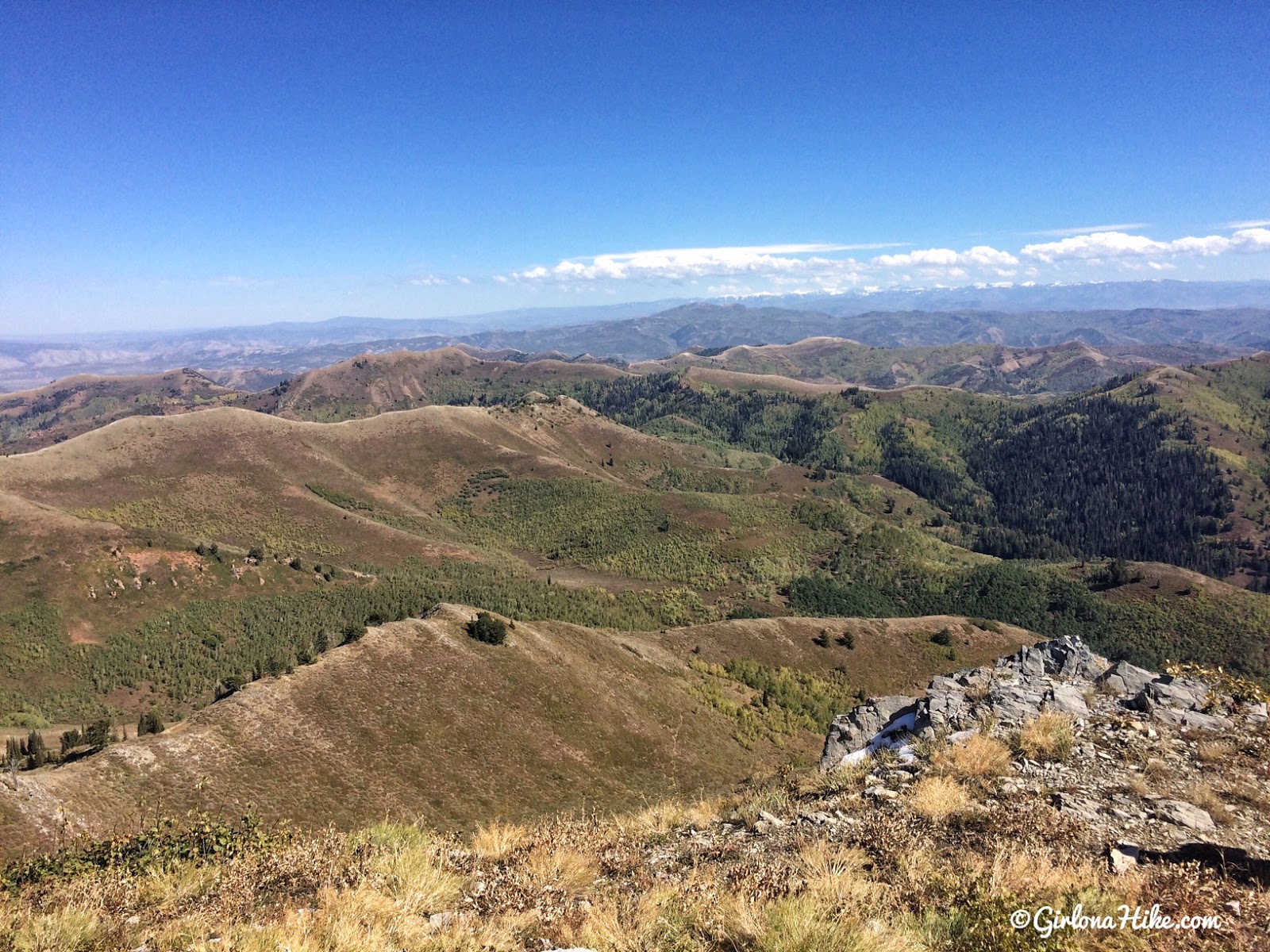 Summit view looking directly East. The snow capped mountains are the Uintas!
 Summit photo, looking down to the SLC valley in a haze.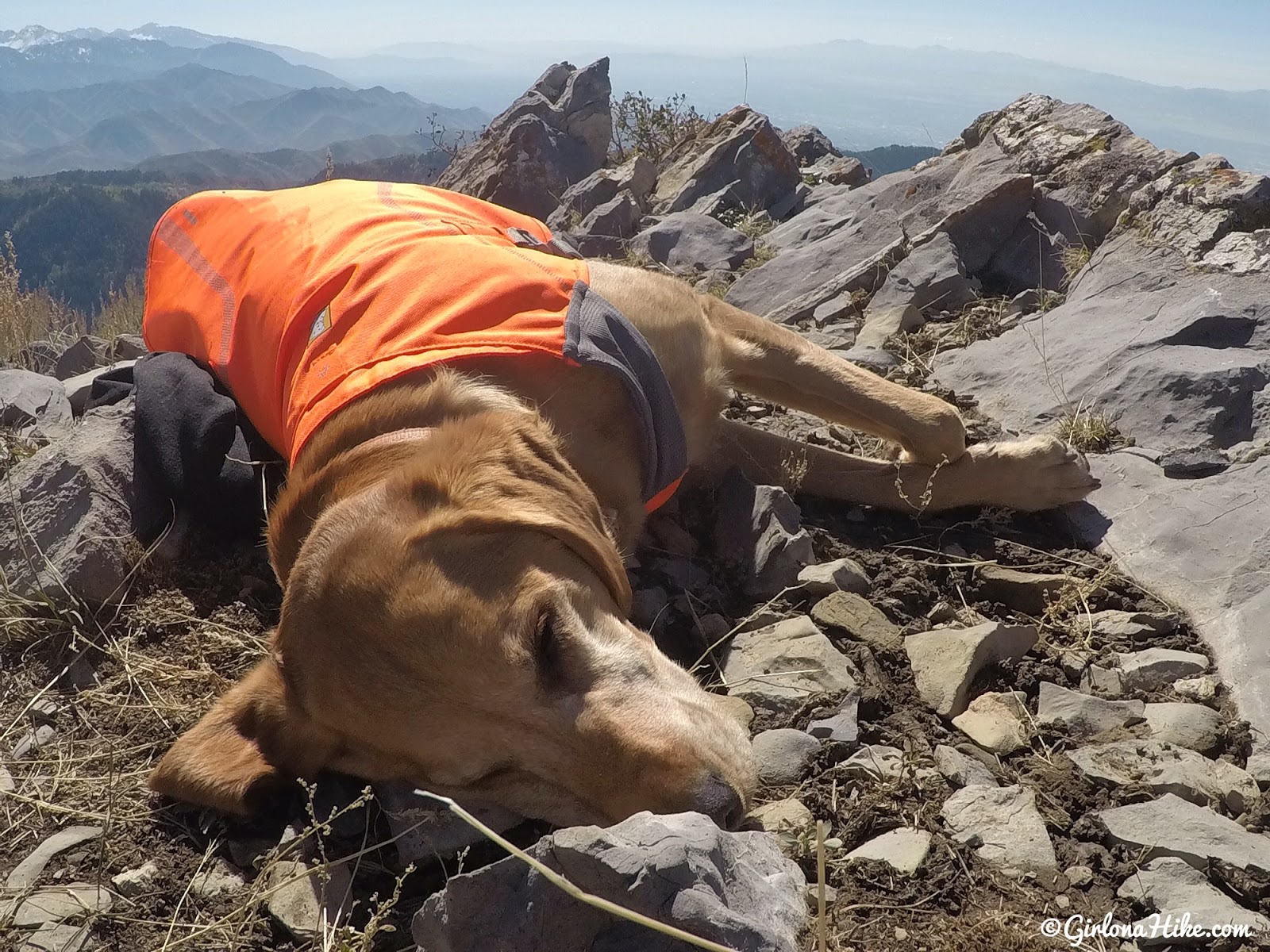 Charlie takes his usual summit nap.
Return the way you came.
As an alternative, you could do this summit as a point-to-point route starting from Killyon's and ending either at City Creek or the Bountiful ridge (or the reverse),  you would just need to schedule a friend to pick you up from your end location.
Trail Map
I put a dot/note on my map of where the actual trail split is for the last mile leading up to the peak. We turned off too soon and had to bushwhack our way across to the red dirt patch. If you keep hiking around to the North, you will see the actual trail split (and a MUCH easier way) on the left to reach the red dirt patch. It will feel like you are hiking in the wrong direction, but trust me, it's there.
January 2019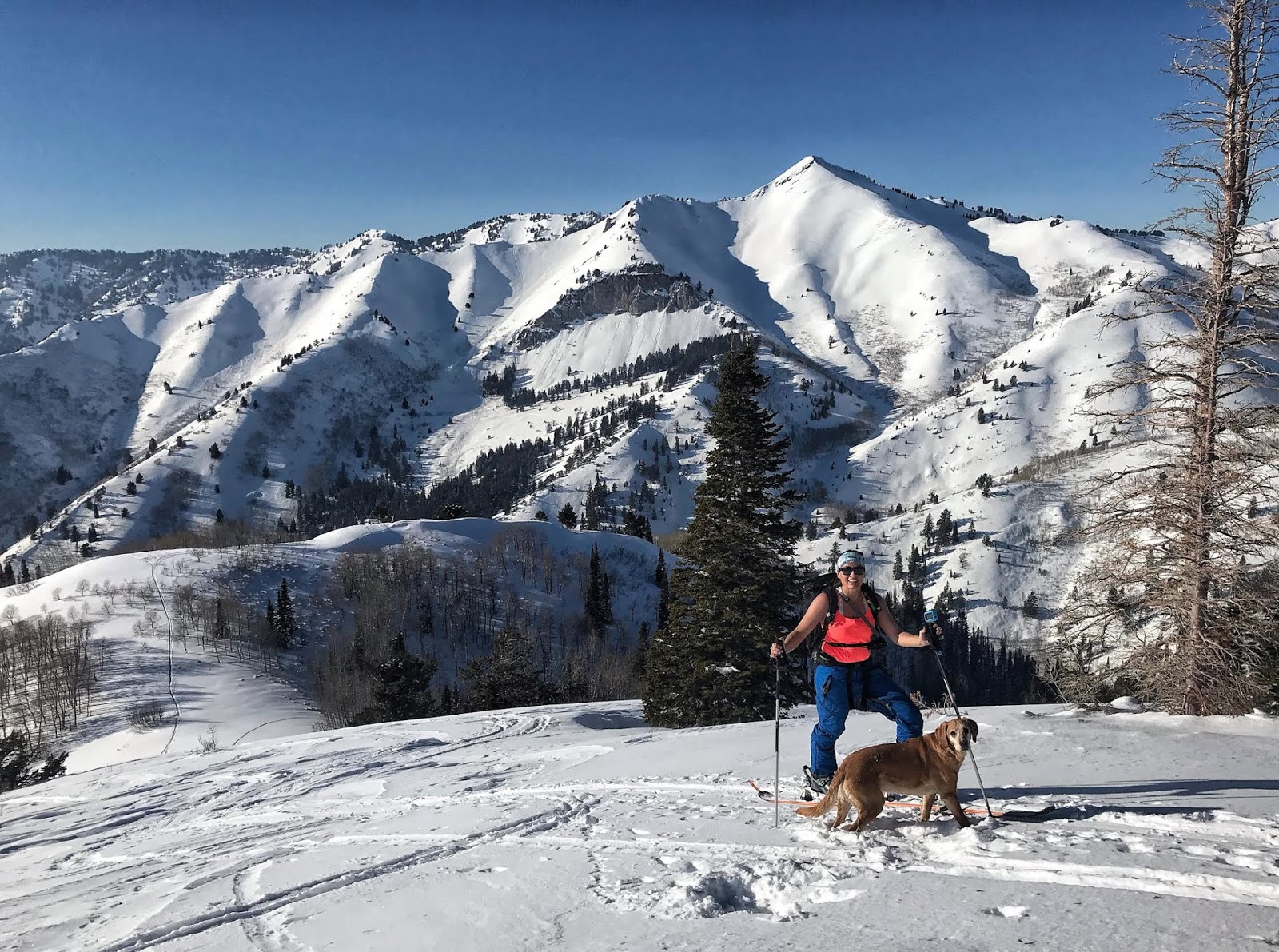 View from a different angle – this is looking NW to Grandview Peak. We backcountry skied up to this ridge and had an amazing view.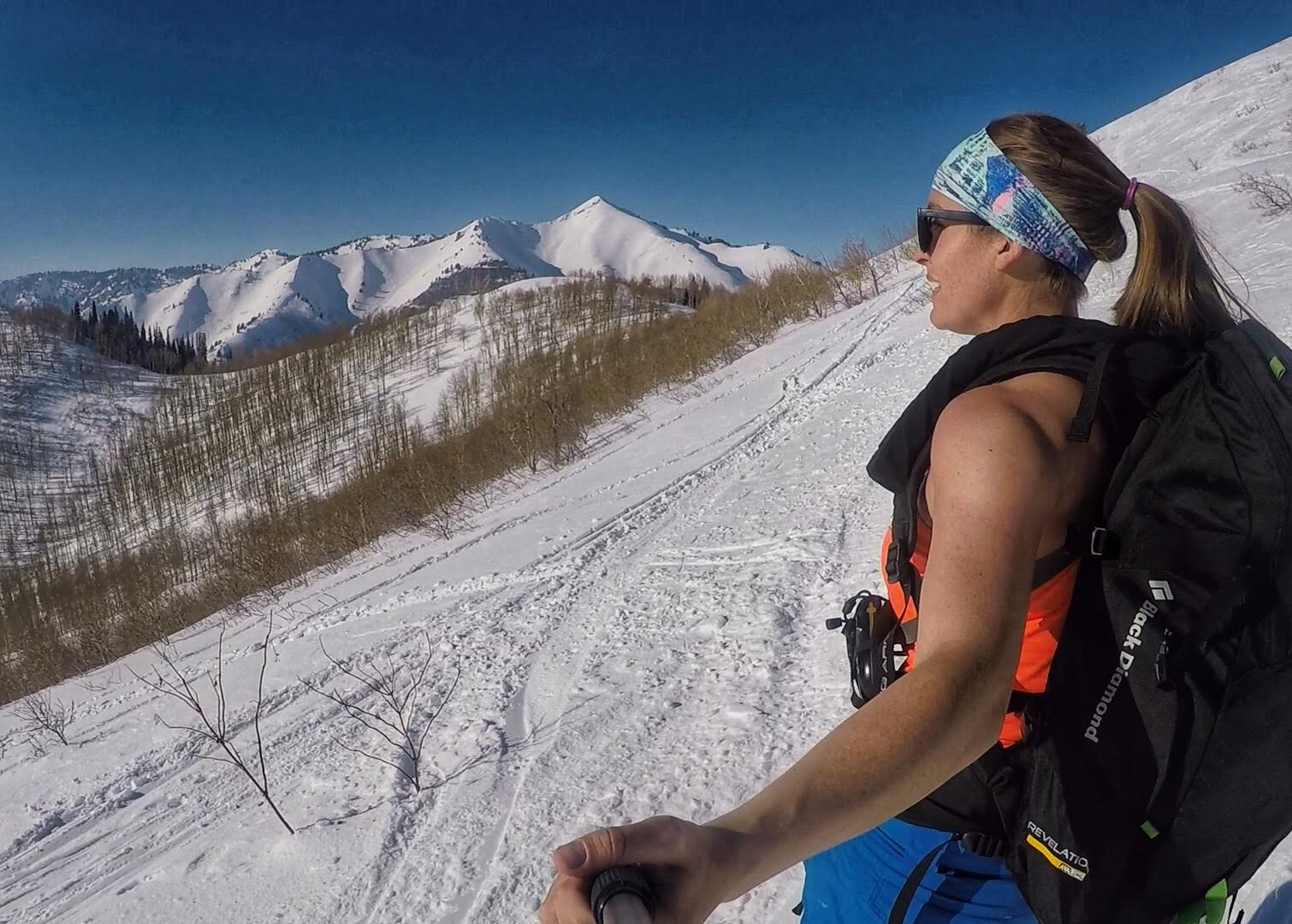 Really cool to see this area and ridge covered in snow. It was fairly warm out this day, hence the tank top.
Recommended Gear
Nearby Hike

Save me on Pinterest!