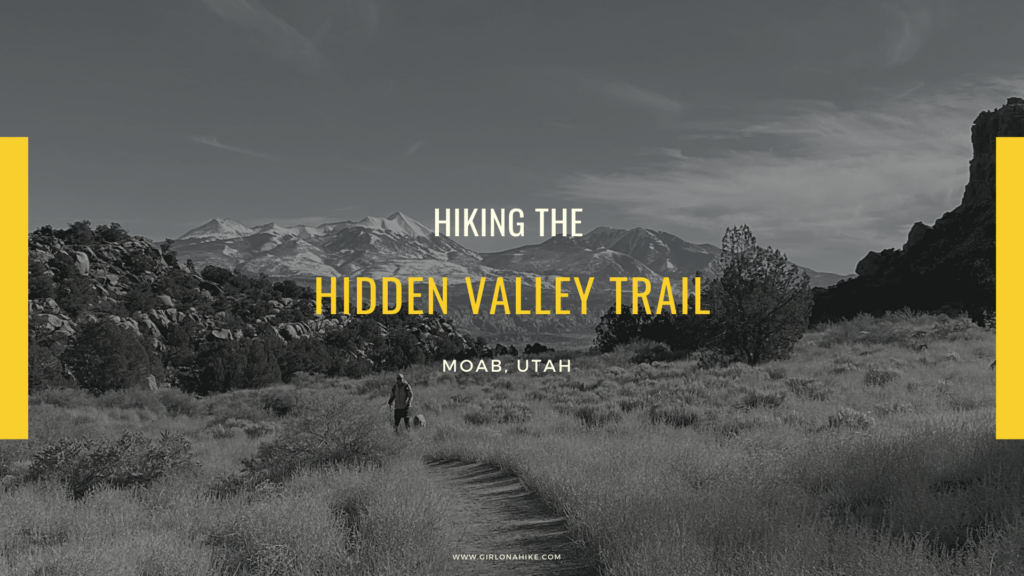 Hiking the Hidden Valley Trail right outside of Moab makes you feel like you are in a totally different place – look anywhere in Moab and the dominant sight is the Moab rim. It's known as "Behind the Rocks" – an interesting mix of sandstone fins, large rock walls, and domes. Is Hidden Valley really a valley? Not quite.  It's actually two hanging terraces that descends into Behind the Rocks and eventually widens into a 4-wheel drive road while a boot-beaten path detours along the base of a sandstone wall with petroglyphs.
Hidden Valley is best hiked in Spring (March & April) when the terraces are bright green, the temperatures aren't too hot, and tourists season hasn't quite kicked in yet. Dogs and humans will appreciate frolicking through the fields with no loud motorized vehicles. Winter can also be really nice. How are the views? I have hiked all around Moab and the Hidden Valley Trail offers one of the most amazing views of the LaSal Mountains, perfectly framed by sandstone and the valley.
Directions
 From Moab, head south on HWY 191 for about 4 miles. Turn right onto Angel Rock Road – there is a brown BLM sign, but it's really easy to miss. Another good way to keep an eye out for the road, is that it's right at the corner of "Moab Dental Health Center" – if you drive past the Spanish Trail RV Park you've gone too far. Once you turn onto Angel Rock Road, drive to the "T" and turn right. Follow this as the road curves left and leads you directly into the dirt parking lot. Here's a driving map.
Trail Info
Distance: 5 miles RT
Elevation gain: 750 ft
Time: 2-3 hours
Dog friendly? Yes, off leash
Kid friendly? Yes
Fees/Permits? None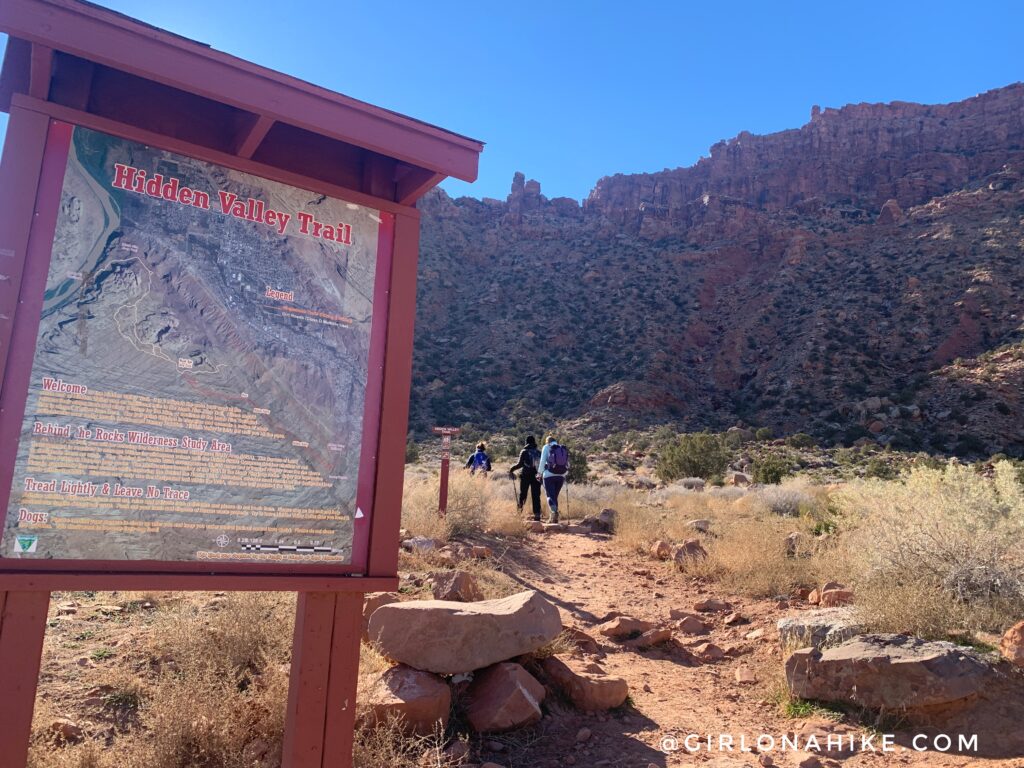 At the parking lot you'll actually see two trailheads – left is for Hidden Valley, right is for the Pipe Dream Trail.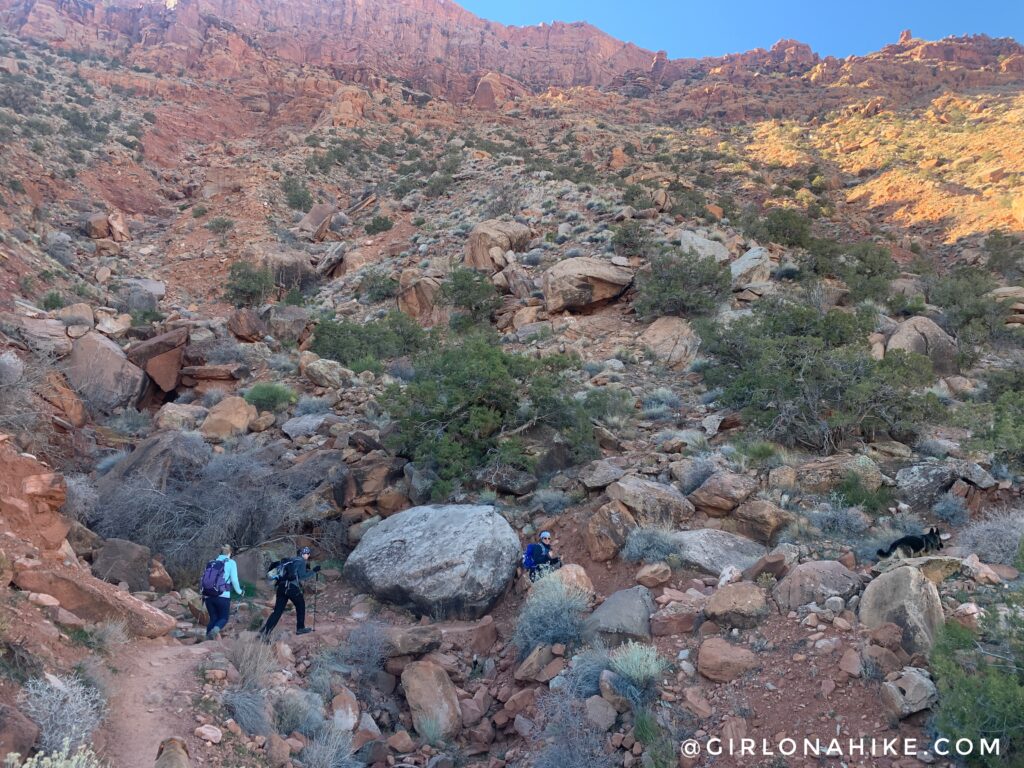 The trail departs the south corner of the parking lot, and soon begins a rocky, switch backing ascent, gradually curving NW.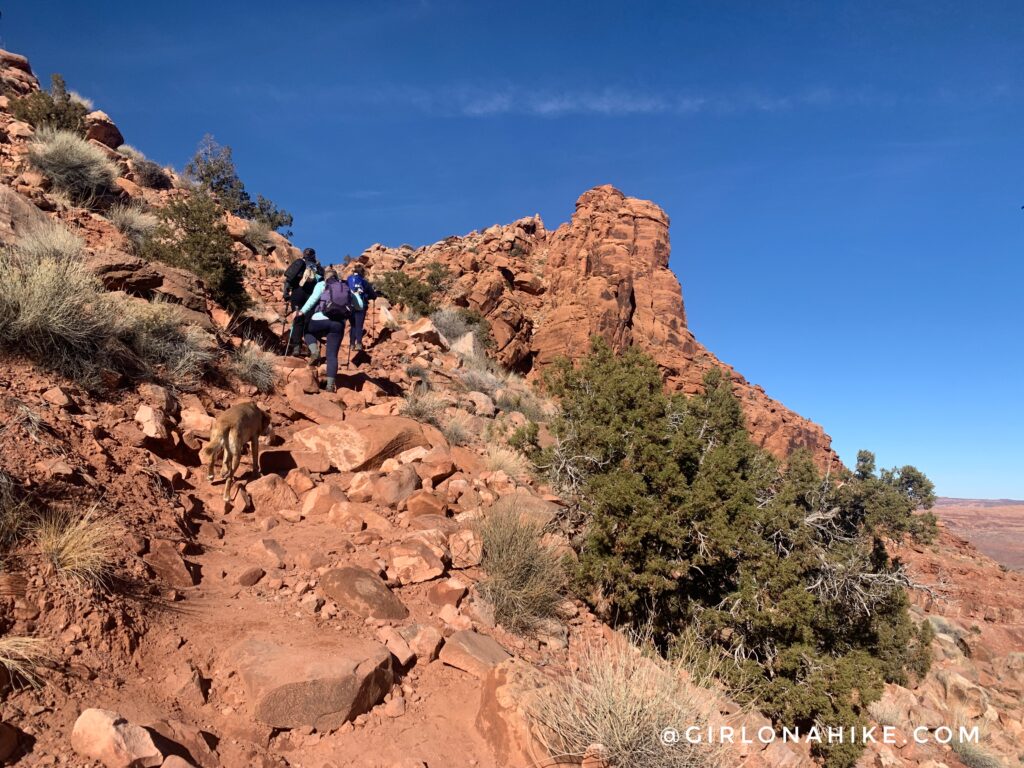 Hike up several short, but rocky switchbacks.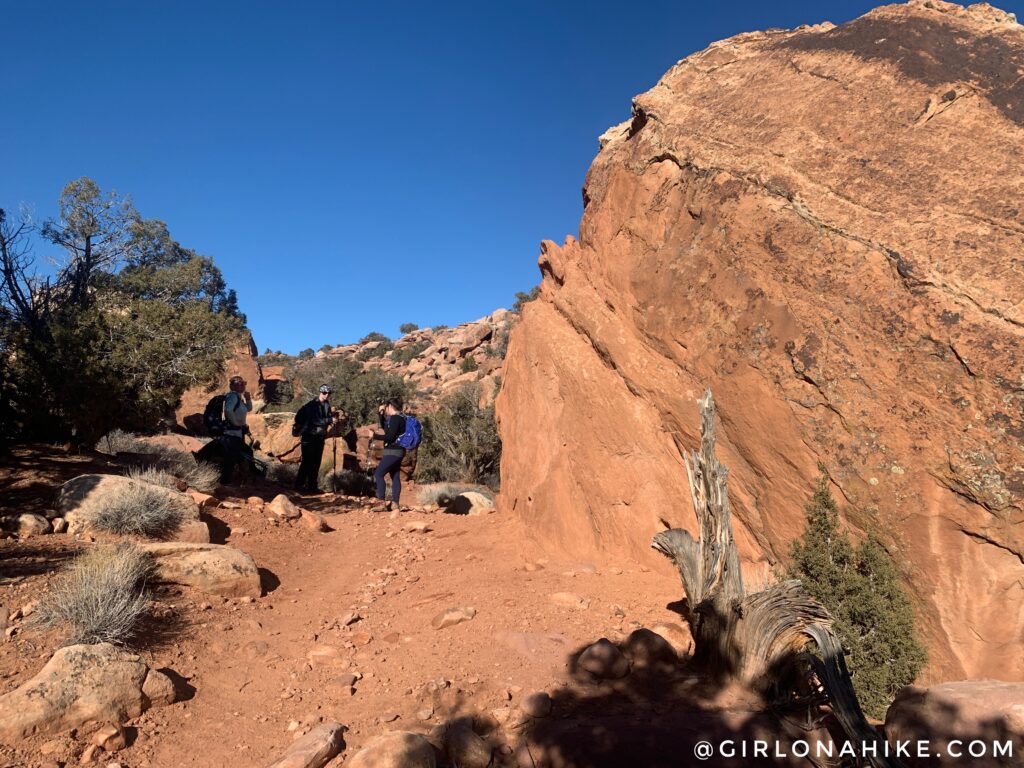 After 20 minutes or so, the trail levels out and becomes flat with no rocks. You'll also pass a field of juniper trees, cactus, and sage brush.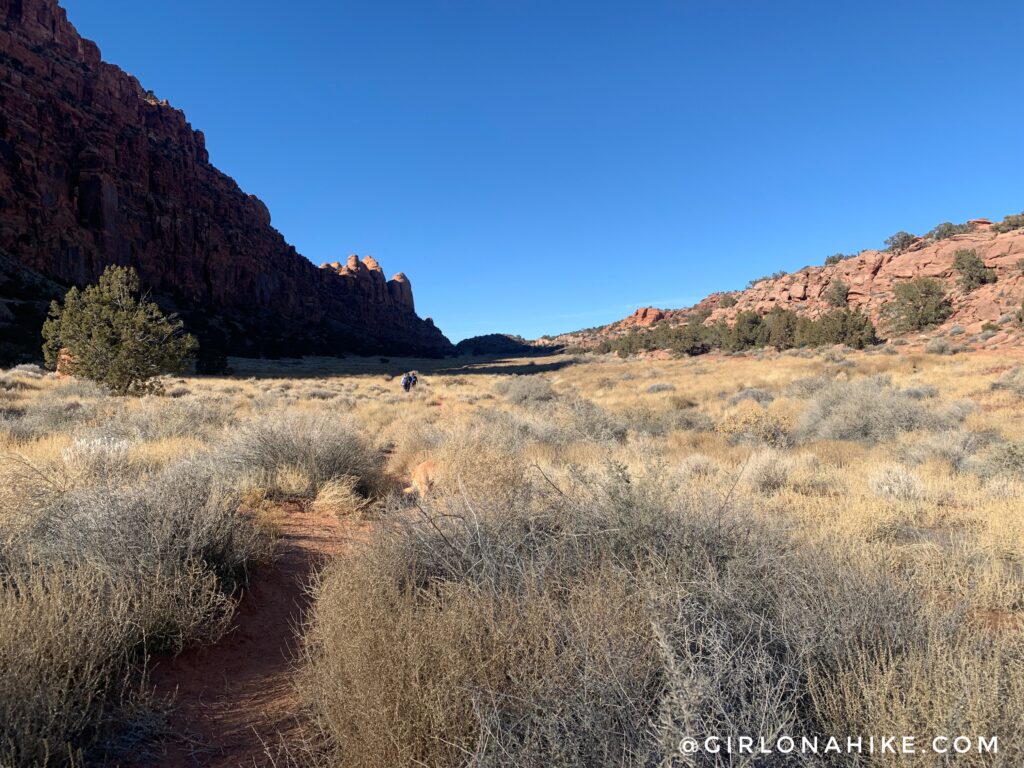 Fit hikers should approach the first "valley" or terrace in 20-30 minutes. I absolutely loved this section! It's so wide and open.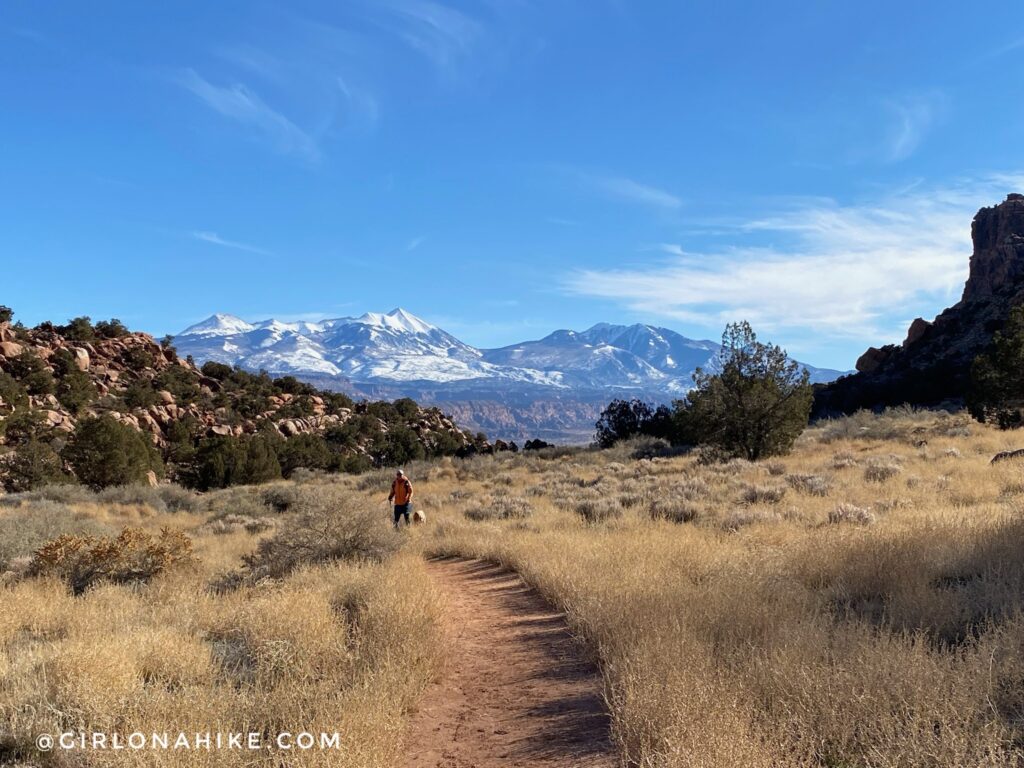 Don't forget to look back for the best views of the LaSals!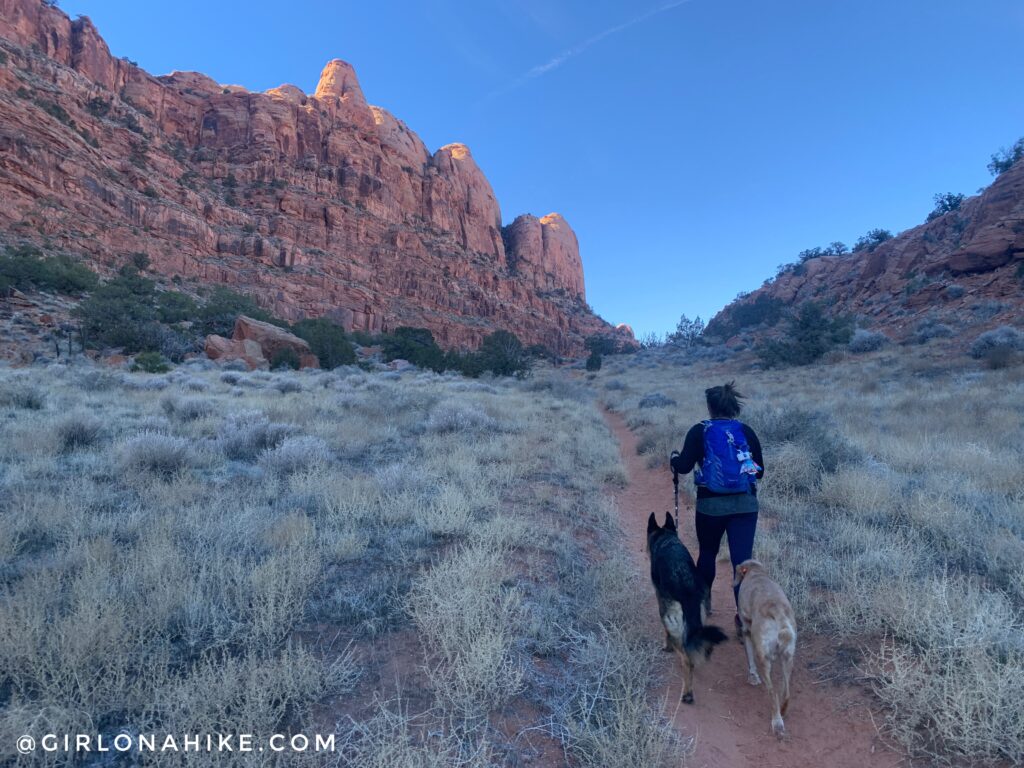 After a long, flat, grassy stretch, you will briefly gain a little elevation gain, then drop into the second valley for another long stretch.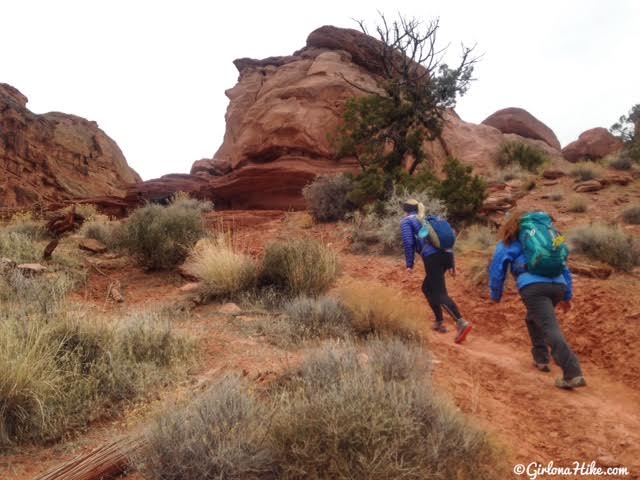 At roughly 2 miles, you'll reach what's known as "Petro Pass" and you should see this large rock right on the right side of the pass.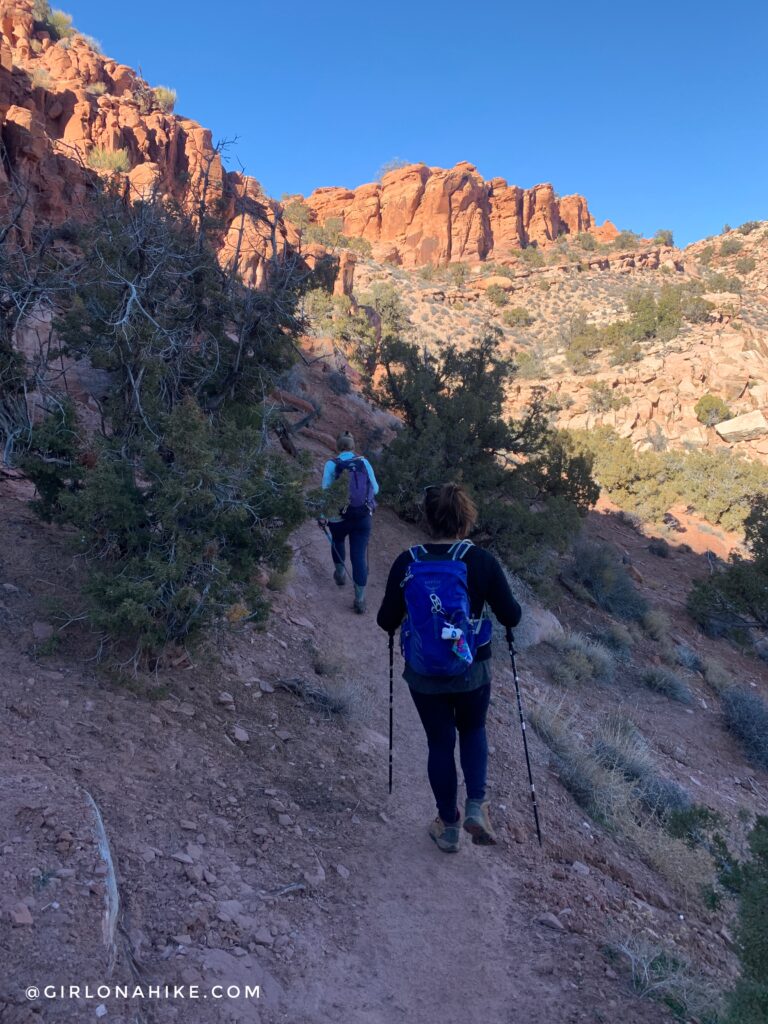 At this pass the trail actually continues North and you should be clearly able to see where the trail goes. However, take the boot beaten path heading right to find the petroglyphs.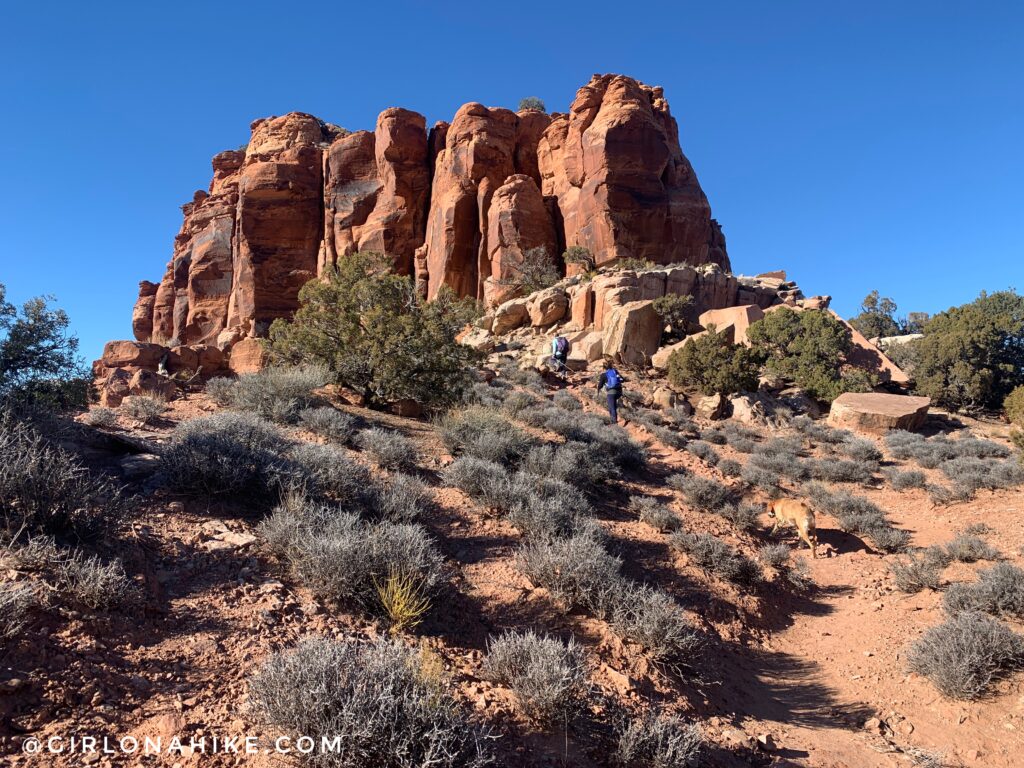 The Hidden Valley trail will lead you to this rock, and will wrap around the West (left) side.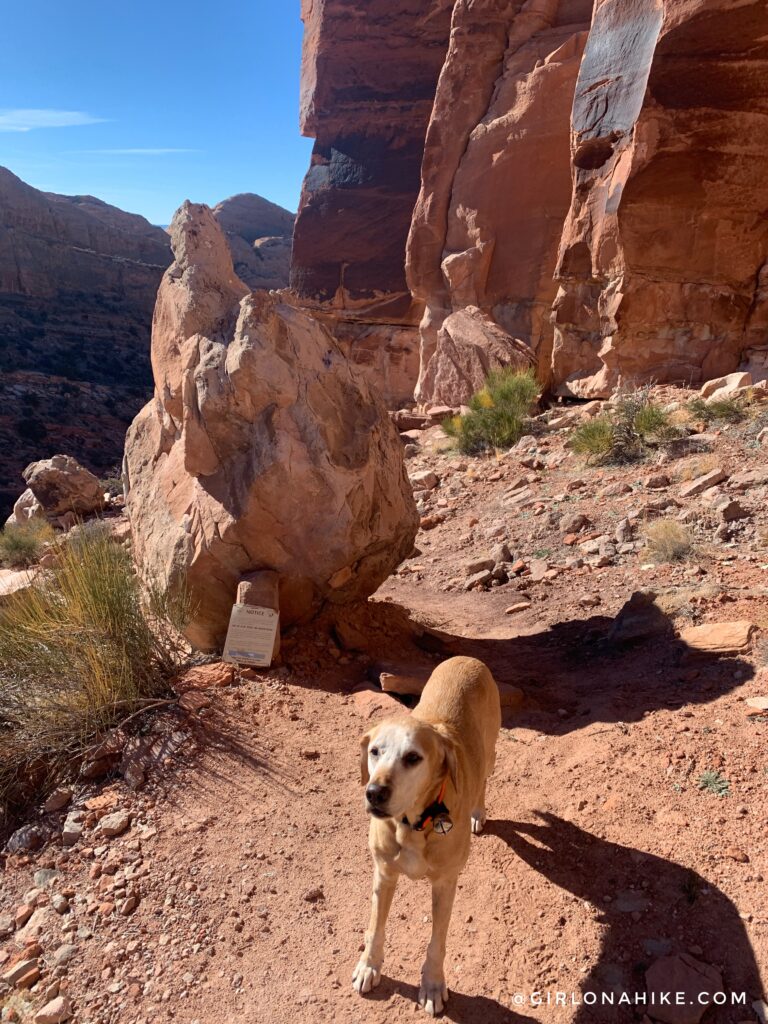 Head towards the tall sandstone wall and veer left. You should see this notice sign about the rules for the area. PLEASE protect your land, Leave No Trace , and follow common etiquette around petroglyphs.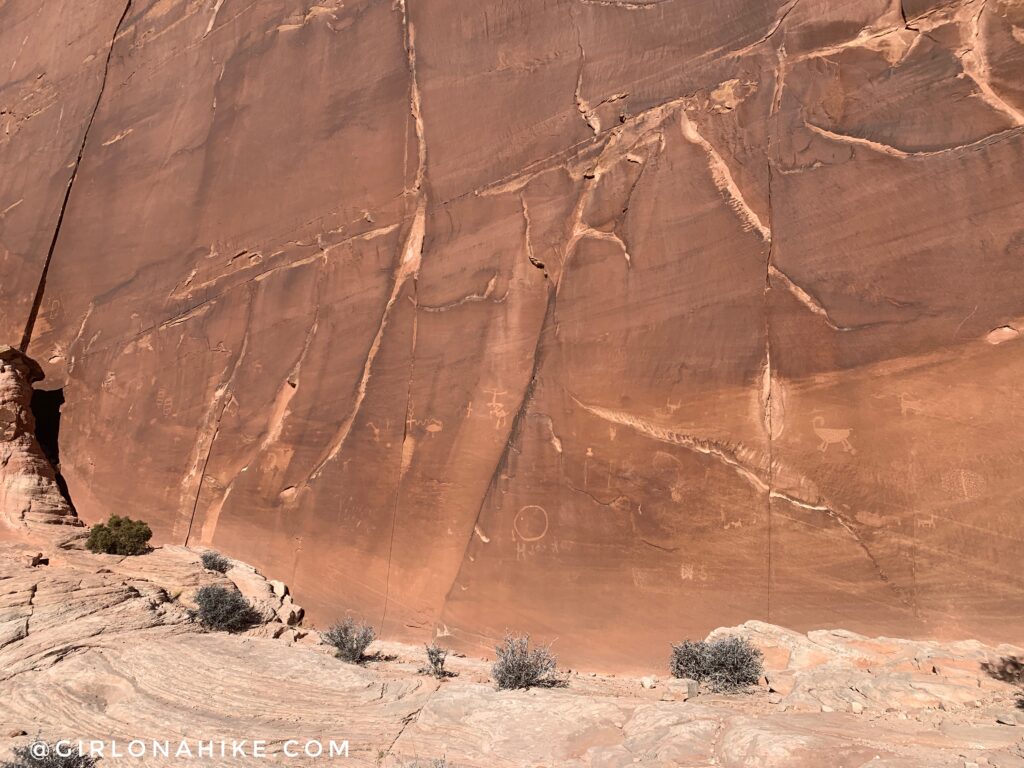 Follow the sandstone wall left as it curves west then north again. Look on the wall for the petroglyphs.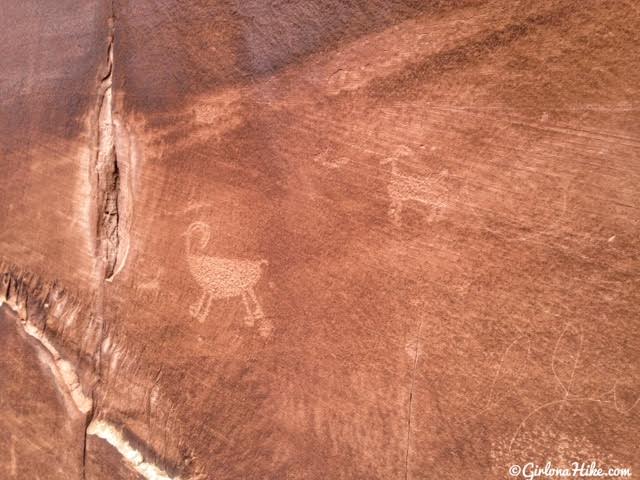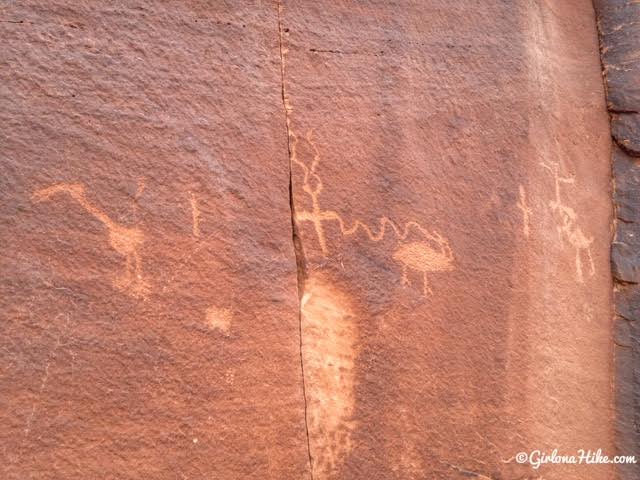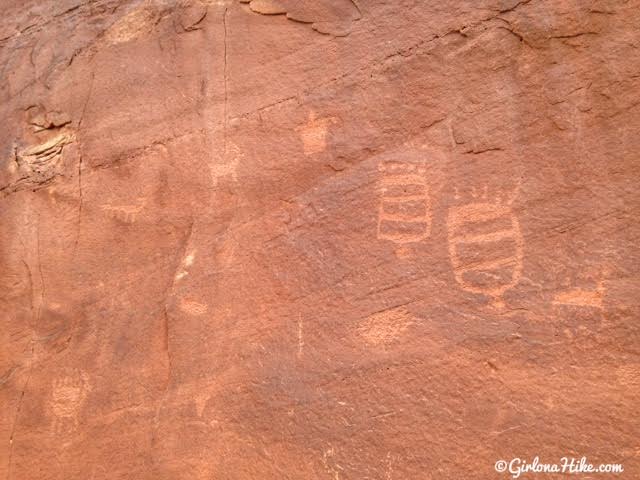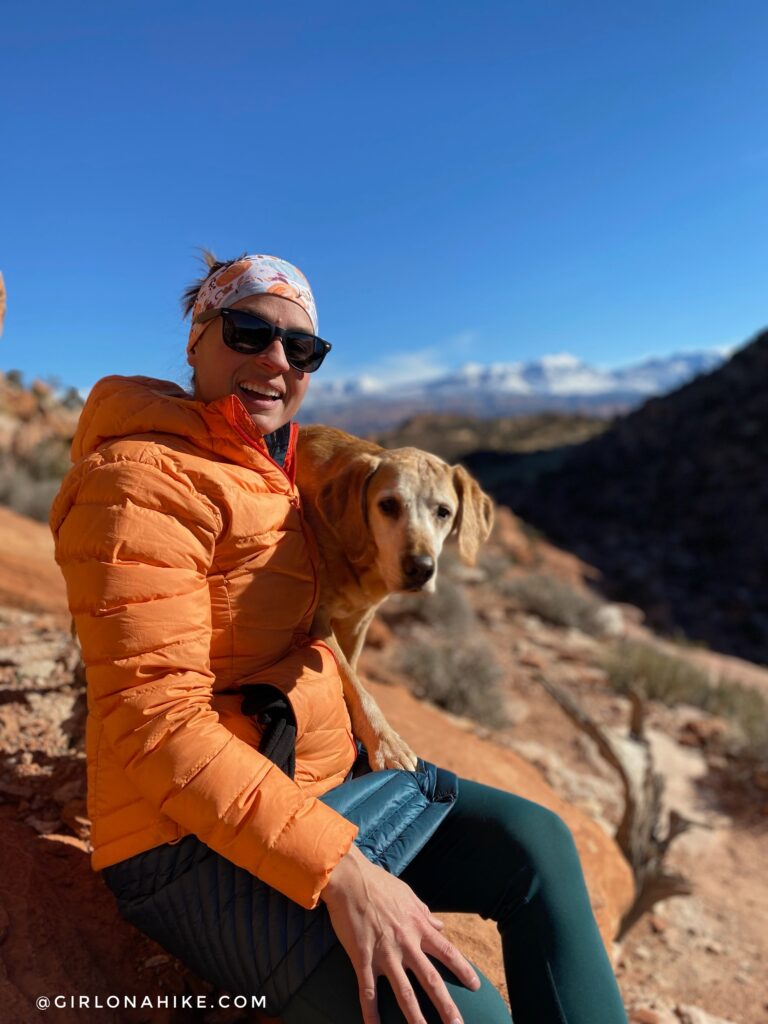 I love this spot because not only do you get to see cool petroglyphs, it's a great photo spot with the LaSals!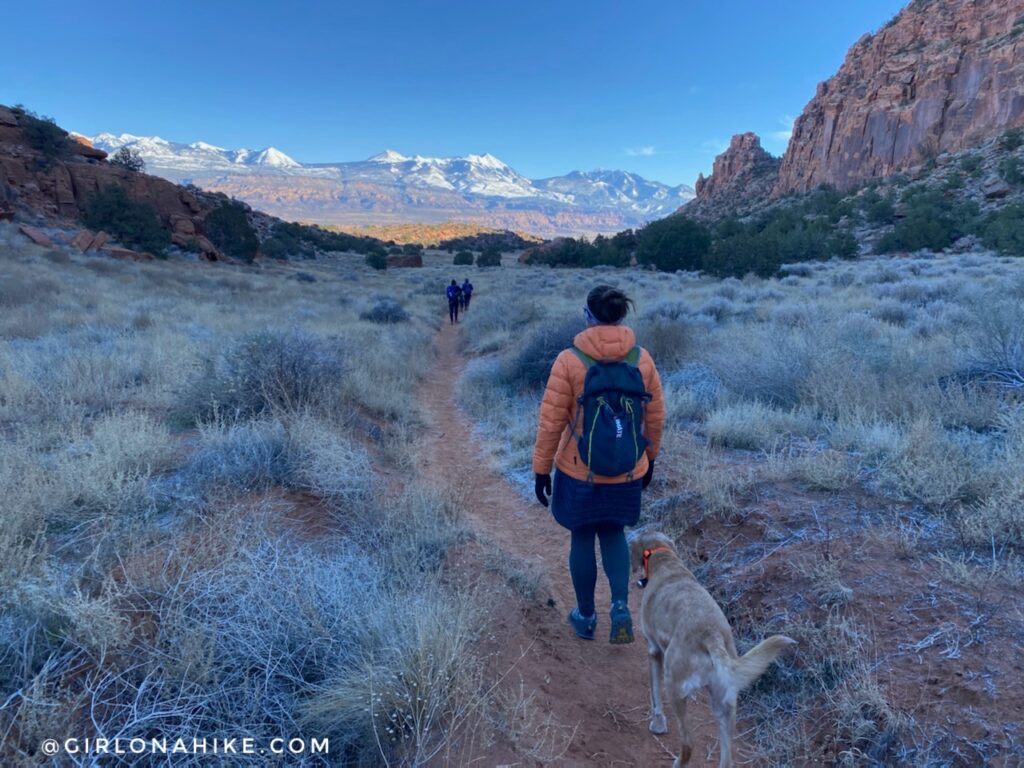 Head back the same way you came.
How I track my hikes – Gaia GPS! Sign up now here for a discount.

Don't forget to

clean your camelbak bladder

when you get home!
Nearby Hike
Hiking the Stairmaster Trail, Moab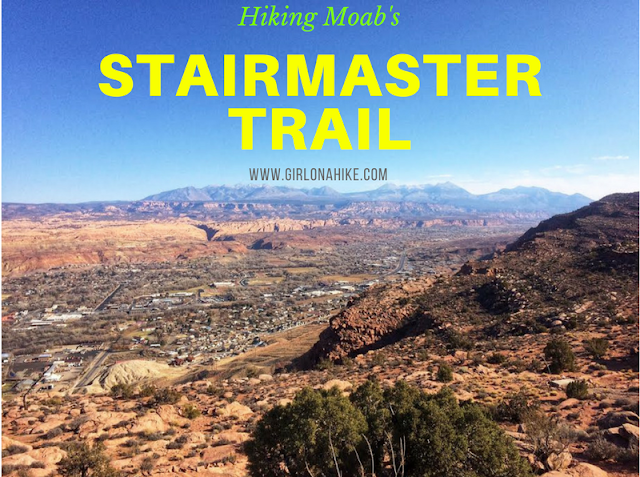 Save me on Pinterest!