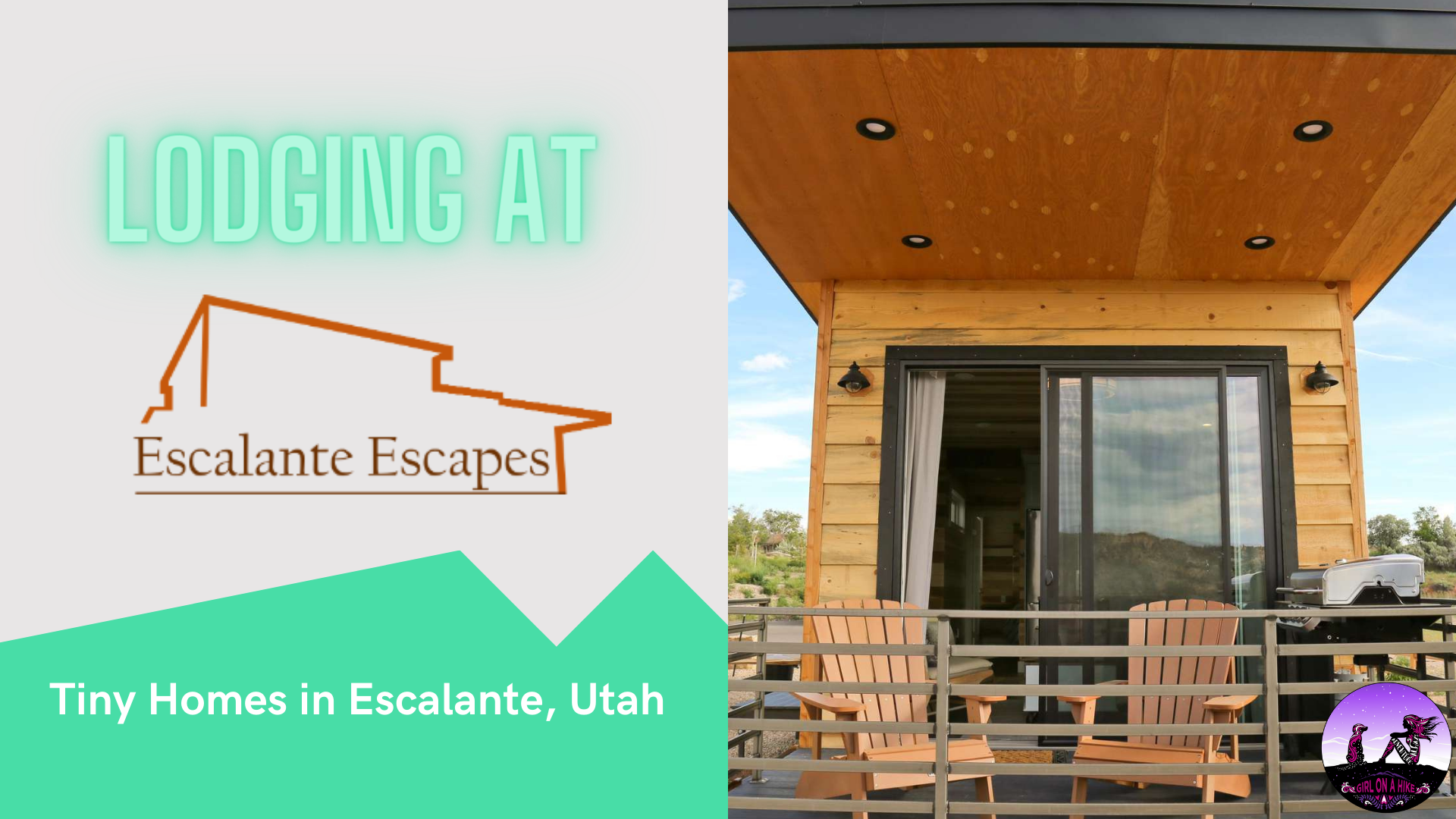 Lodging at Escalante Escapes – Tiny Homes in Escalante, Utah!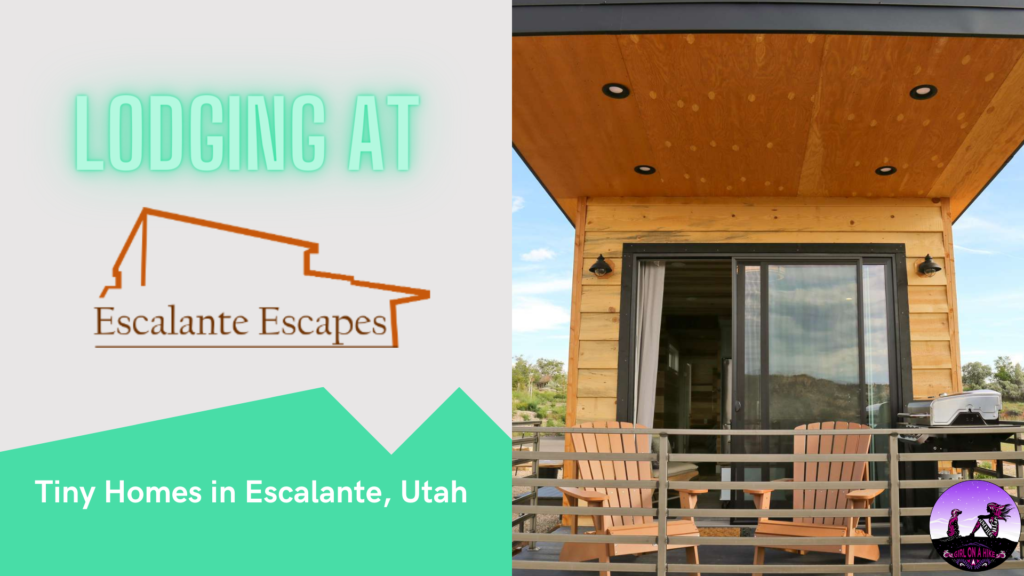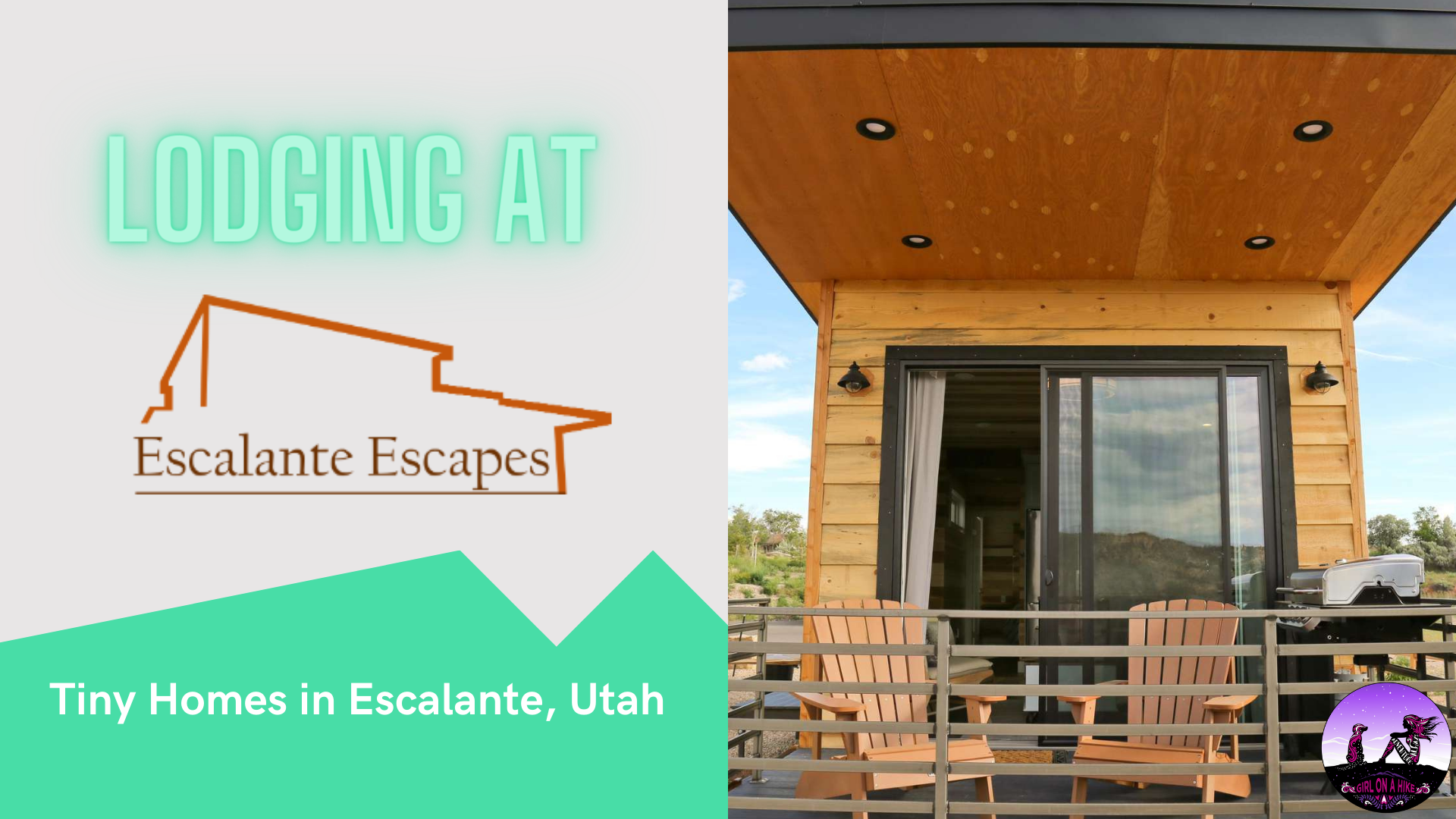 Escalante Escapes offers luxury tiny homes in Utah, near Grand Staircase Escalante National Monument! Choose from nine tiny home styles over a 4-acre area, each with their own private fire pit and deck, and more. Escalante Escapes is the perfect home away from home after a fun filled day of hiking.
This premier tiny home lodging offers everything you need. Depending on what style of tiny home you choose, you will sleep in luxury in a large master bedroom that features a king bed, a large flat screen tv, clothes closet, storage shelves as well as storage under the bed for luggage, a long desktop that is convenient for working on a laptop or getting ready for the day, and a thermostat for individual climate control. The Kitchen and living room is an open floor plan with a large sliding door that opens to the deck and beautiful views. T
he living room has a queen sized sofa sleeper, two lounging chairs, a hand crafted coffee table with storage of extra bedding, and large smart tv.  The kitchen is well stocked with kitchen essentials, beautiful stainless steel appliances, a convection microwave oven for cooking and baking, a stovetop, a large refrigerator, and a keurig coffee machine, granite countertops, farmhouse sink, dishwasher, and a table/prep island with seating for 4.
While the property is not dog-friendly, it is 100% perfect for the kids! Choose the "Loft Escape" tiny home so they can enjoy their own area with just a few steps up a ladder that has two twin xl beds, and is separate from the king master bedroom. Since it was just me and my partner for this trip, we opted to stay in the "King Escape" style. Pricing varies by season, with the most affordable during the off season November – February. To get the style of tiny home you want most, be sure to make your reservation several weeks in advance.
Escalante, UT has a grocery store, a pub for cocktails, two outfitters (with pizza and coffee), a sit-down style restaurant, a Subway, a classic drive-in with milkshakes, two gas stations and more. The best part about lodging at Escalante Escapes? It's close to SO MANY TRAILS!
Directions
You can simply type in "Escalante Escapes" on your Google Maps app, and it will pull up the location here. Its easiest to do this so you can put in your start location.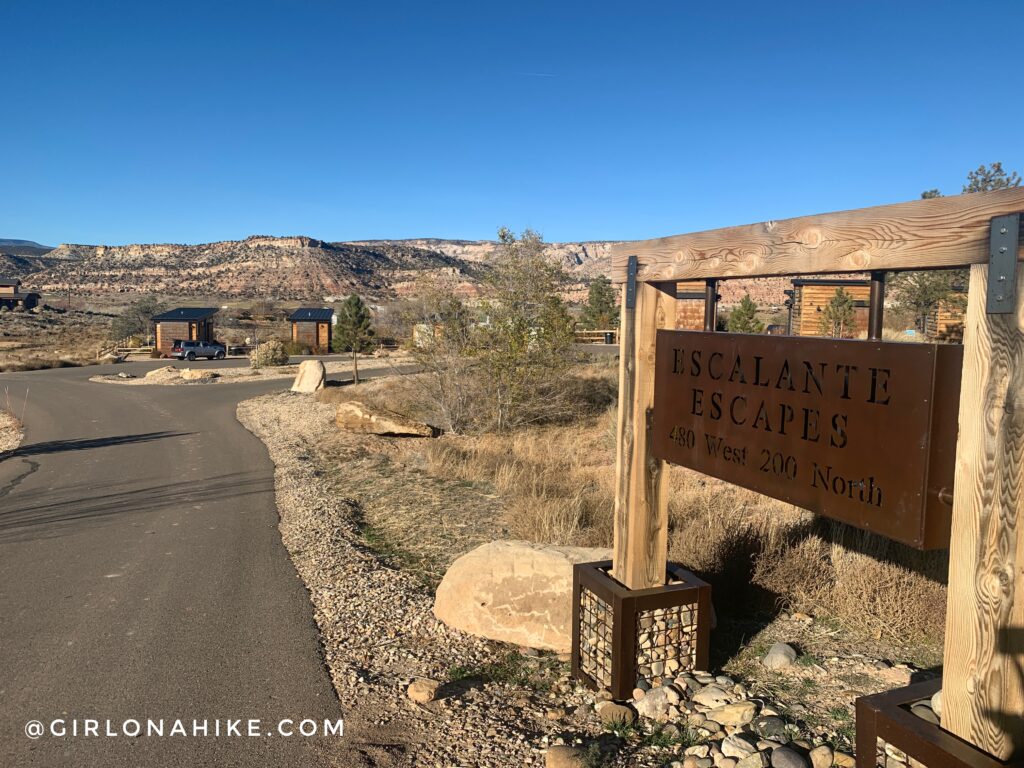 Here we go! Our first tiny home adventure.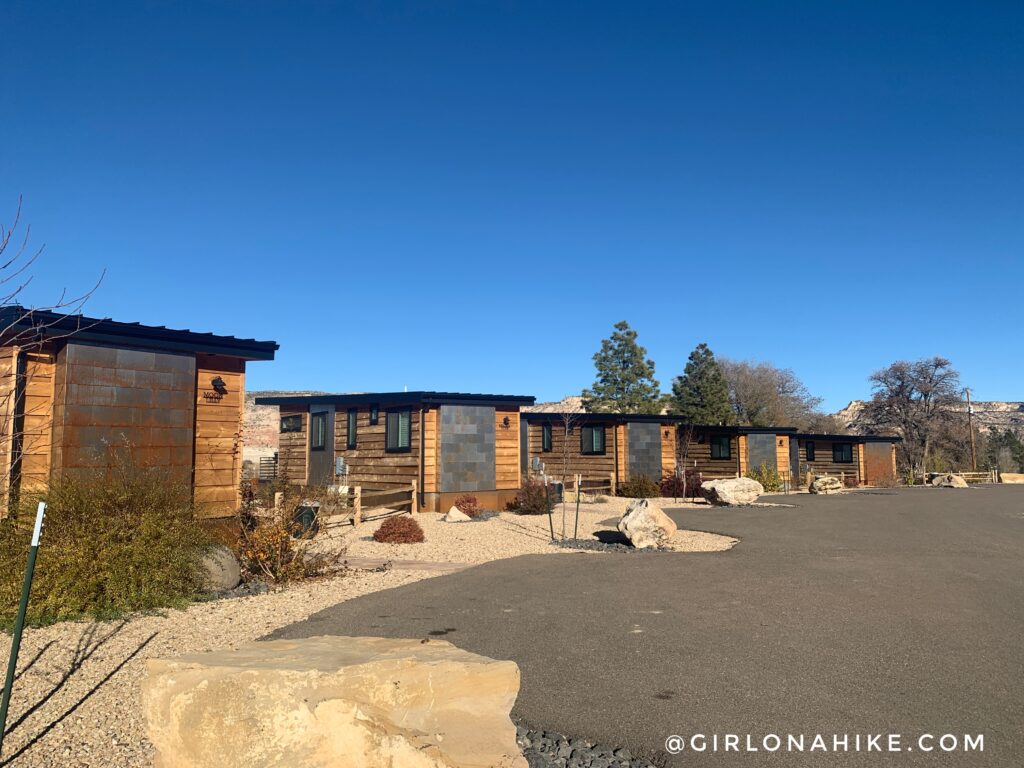 All of the tiny homes are next to each other, with the loft style up on a hill to the right (not pictured). Each tiny home has space for one car, but a second car can be parked across from the tiny homes in this main lot.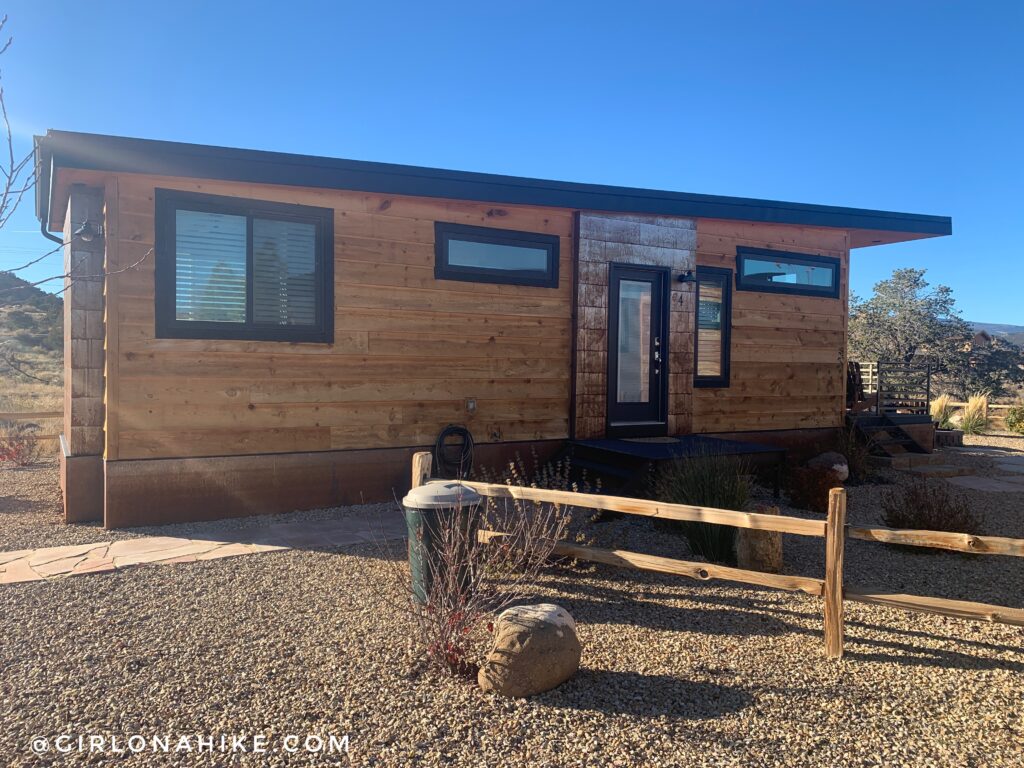 The King Escape is the smallest tiny home model, at 370 square feet. It was designed with the couple getting away in mind, yet are plenty spacious if you need to sleep four.  Built into the hillside just below Loft Escapes, views of the surrounding mountains and canyons are not compromised, even preferred by many.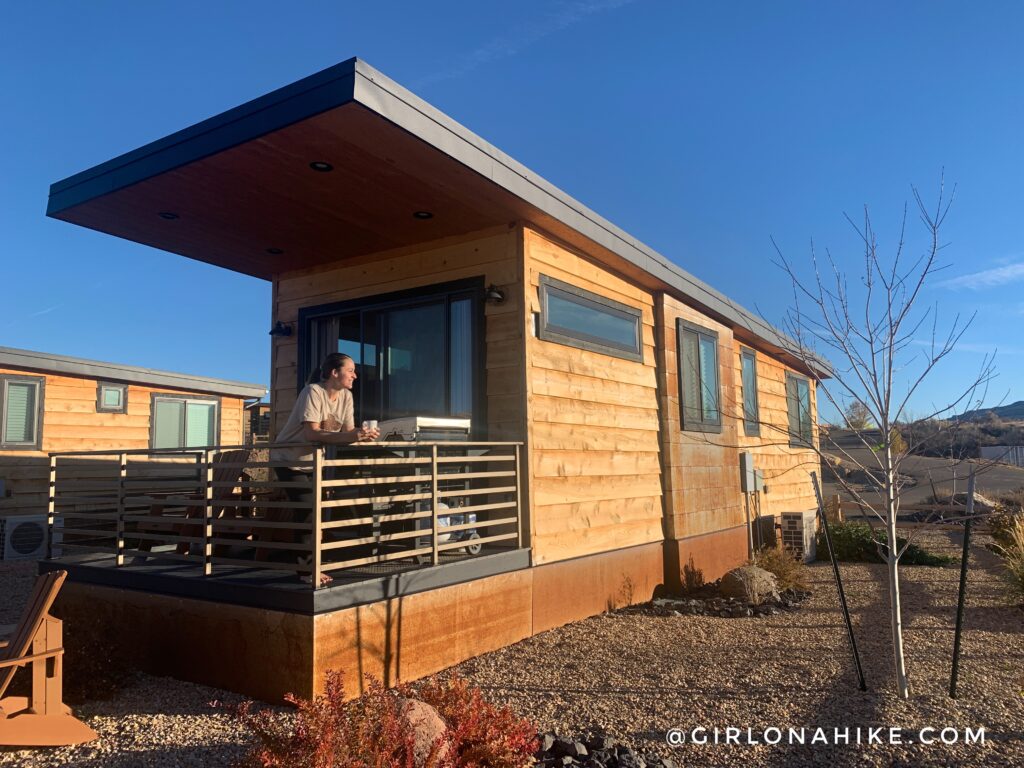 Soaking up the evening sun! While temperatures were in the 40s in SLC, here it was 60F – in November!
The deck and exterior features include a propane bbq grill, four Large Adirondack lounge chairs, a private fire pit, and astounding views.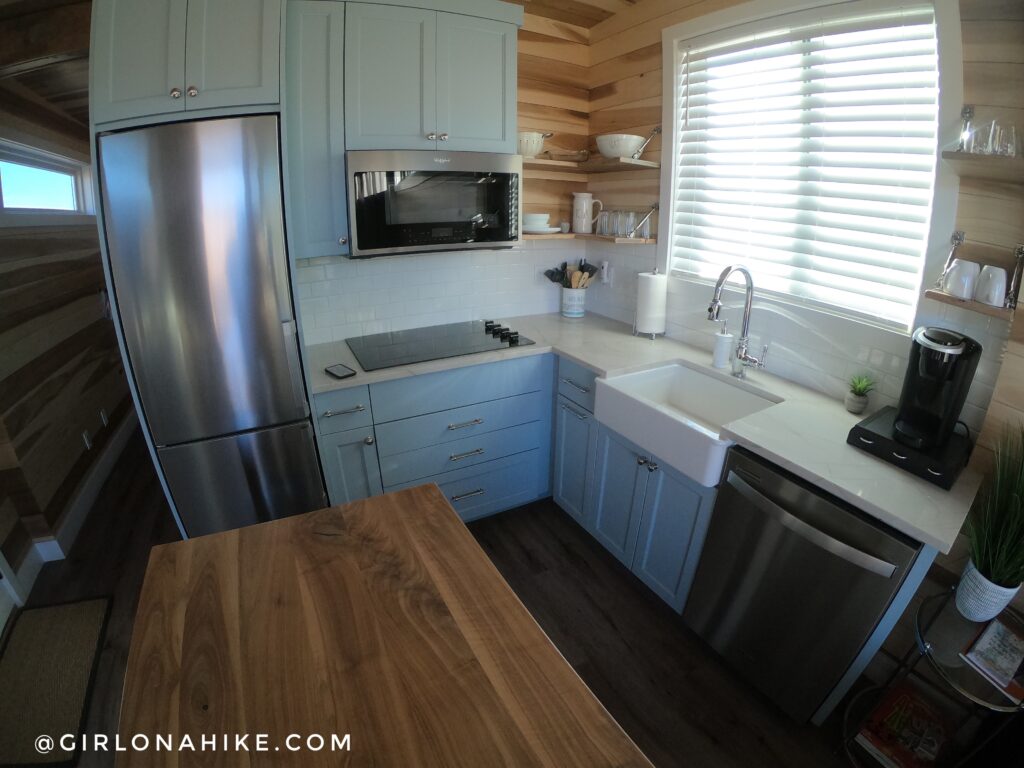 The kitchen is well stocked with kitchen essentials – everything you need to make a home-cooked meal. Coffee and hot chocolate keurig cups were provided, but again if you like a special flavor, bring your own.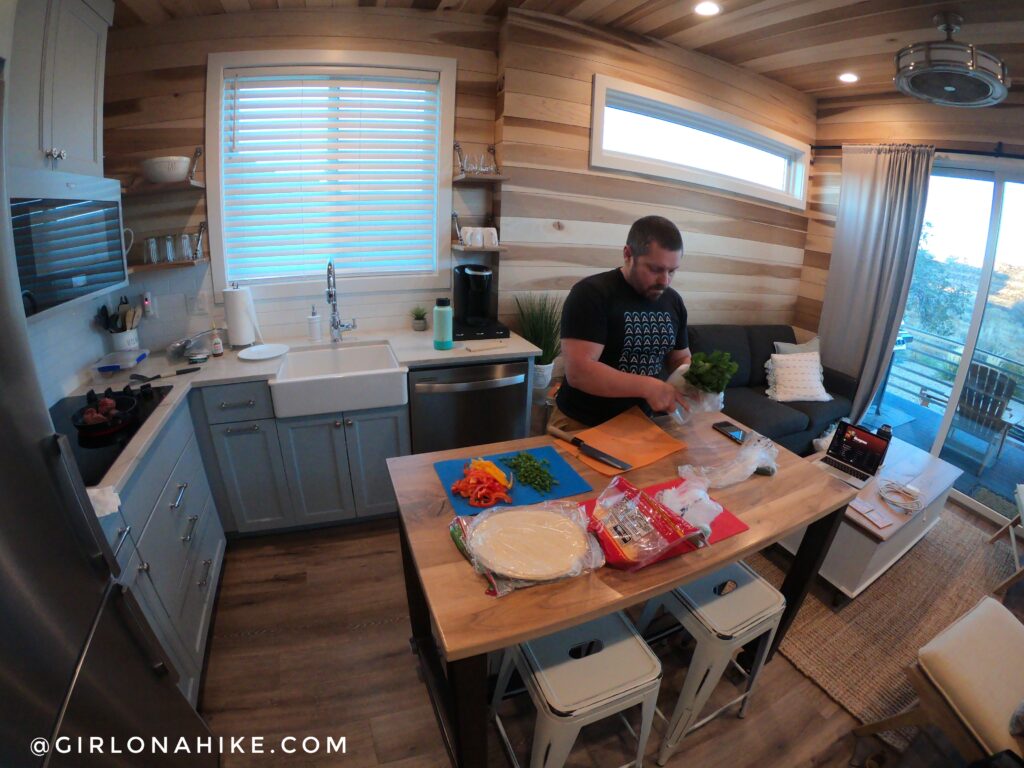 We are super picky with sharp knives so we brought our own. If there is something specific you will need, it's best to bring your own (just don't forget to bring it home). We had fun making fajitas our first night in the tiny house. The island prep/dinner table was key to having enough room for us to do everything.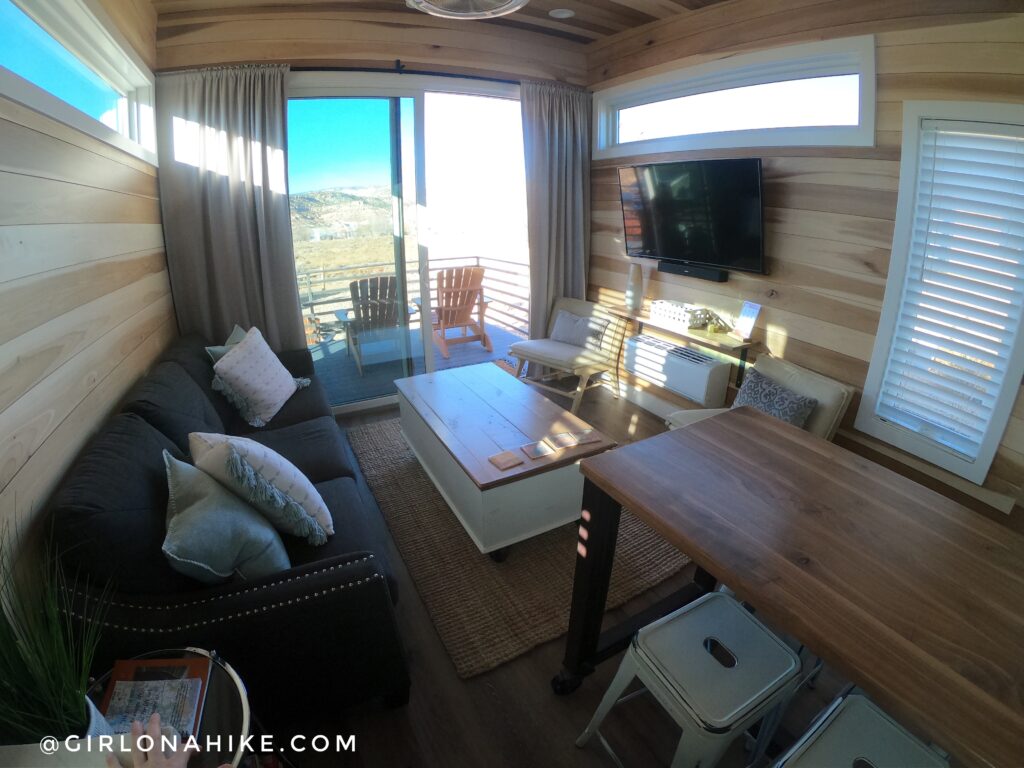 View of the living room. Let me just say that we don't even own a TV (we use my laptop at home to watch "tv"), so when we turned this one on we both said "whoa!" at the same time haha! We were very impressed. You can access Netflix, Amazon Prime, Youtube, and Apple TV on it. The couch is actually a pull out queen-sized bed in case you had four people in this tiny home. Extra blankets and pillows are stored inside the coffee table.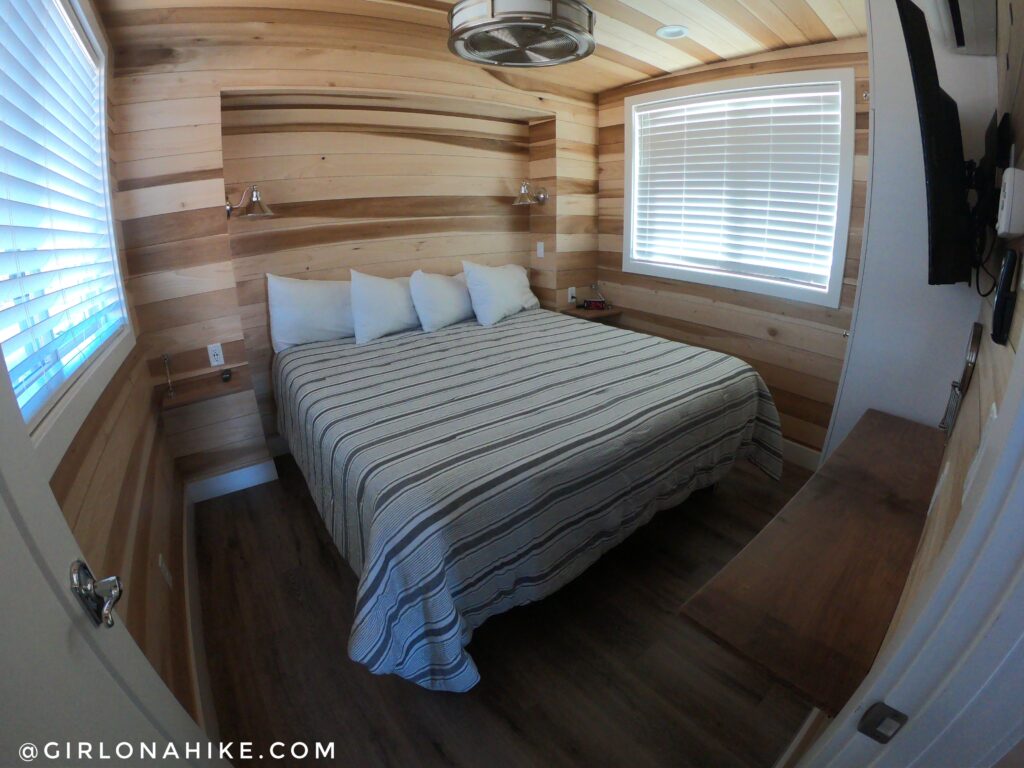 The master king bedroom. This bed was so comfy! Storage is available under the bed, but with just the two of us the small table to the right was plenty.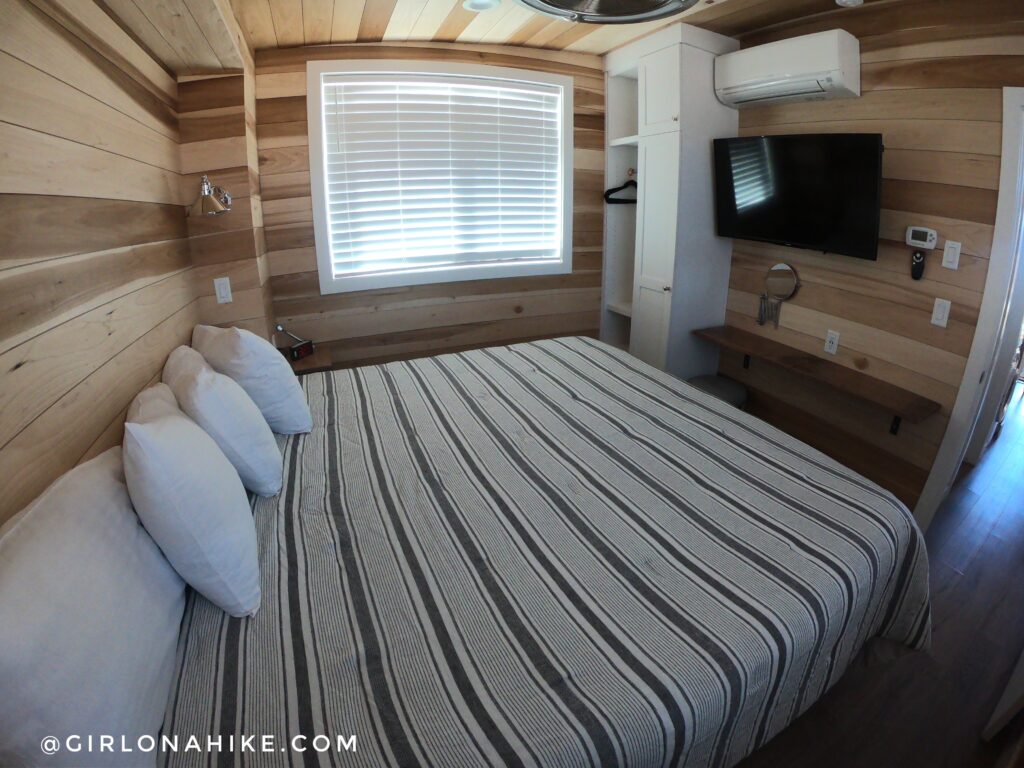 Master bedroom looking the other direction.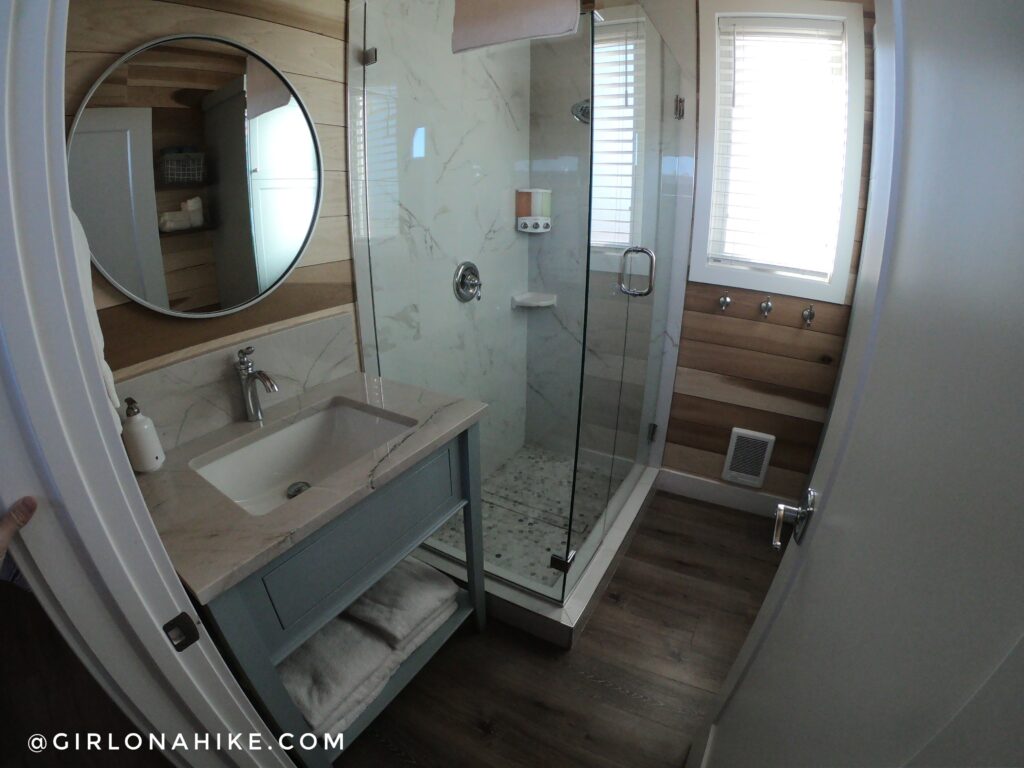 Bathroom features include a large sink, flush toilet, large glass shower, rain shower head, hair dryer, towels, shampoo, conditioner, body wash, and hand soap.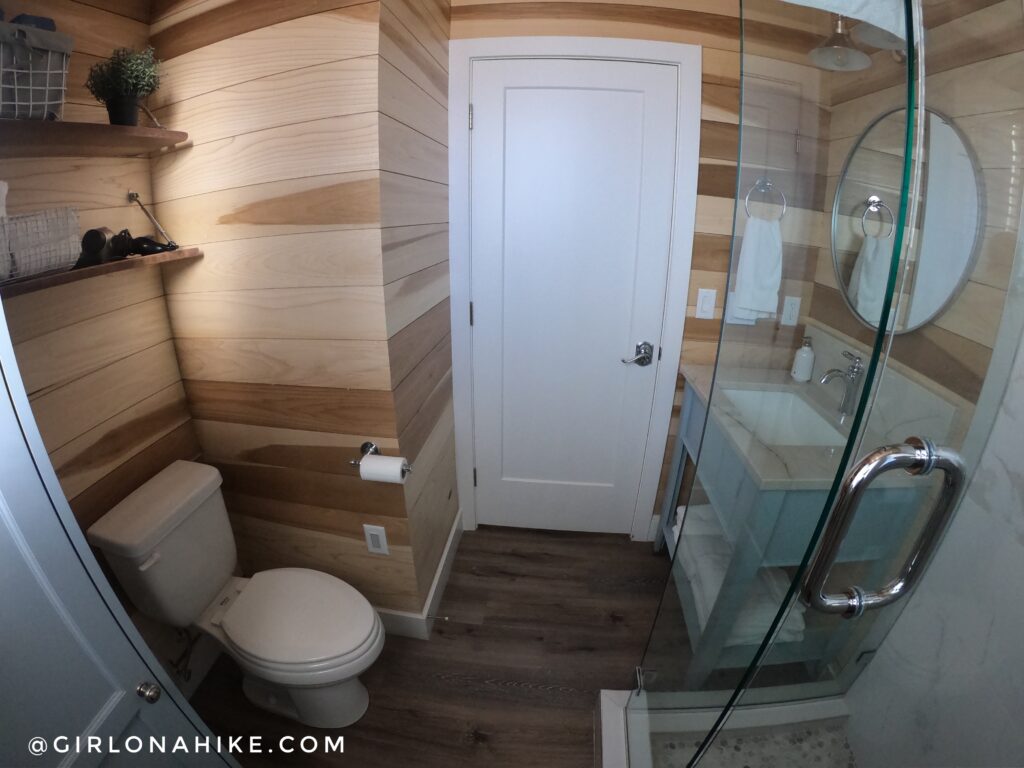 Bathroom view the other direction.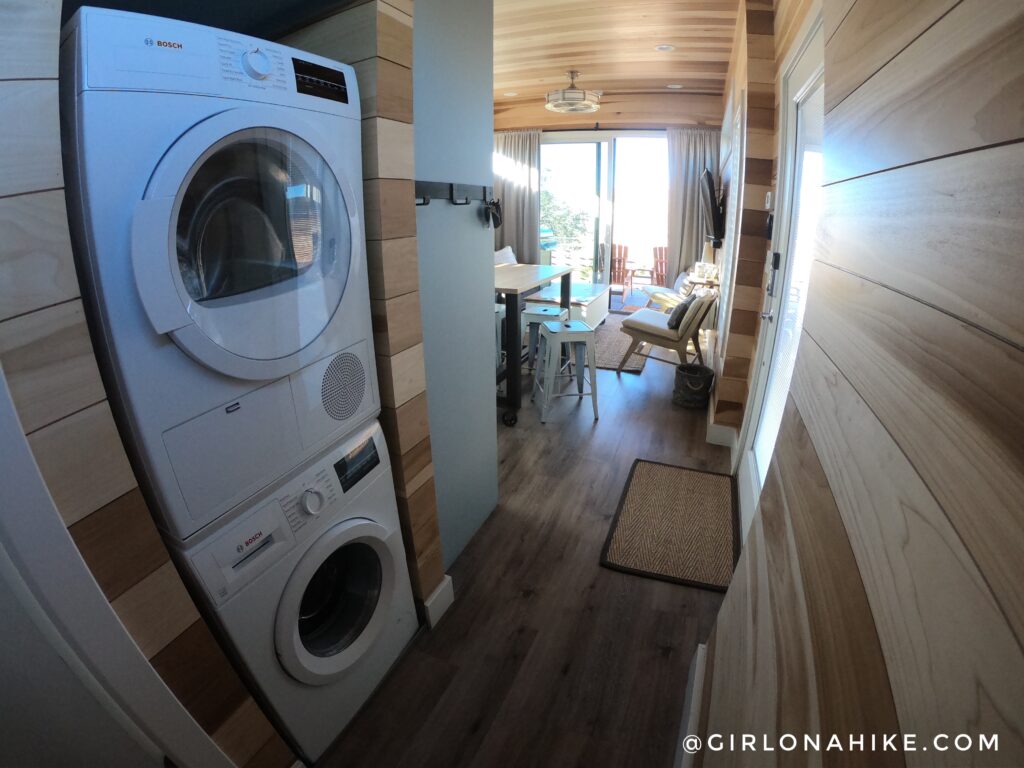 Even a washer and dryer is available (detergent is provided)!
We absolutely LOVED staying at Escalante Escapes – our time there was too short!
Check out my video for the full tour!

Don't forget to follow Escalante Escapes on Instagram & Facebook!

Save me on Pinterest!