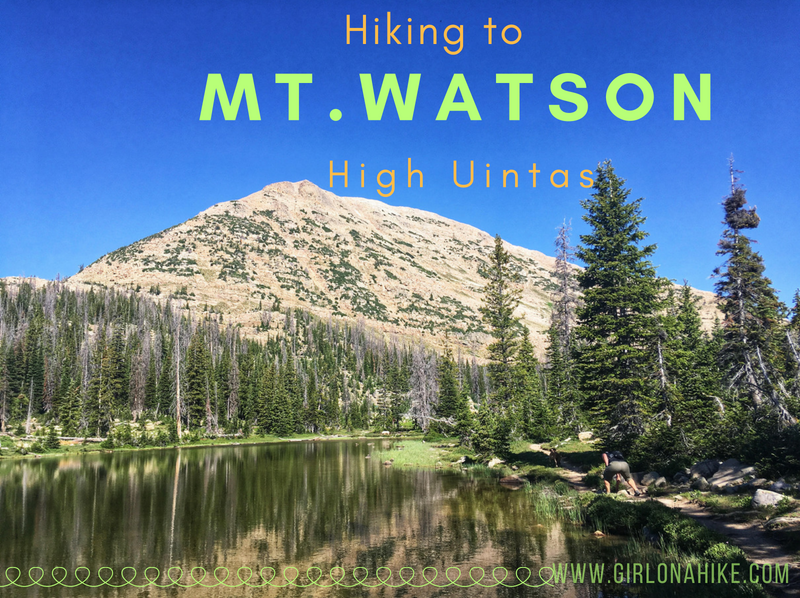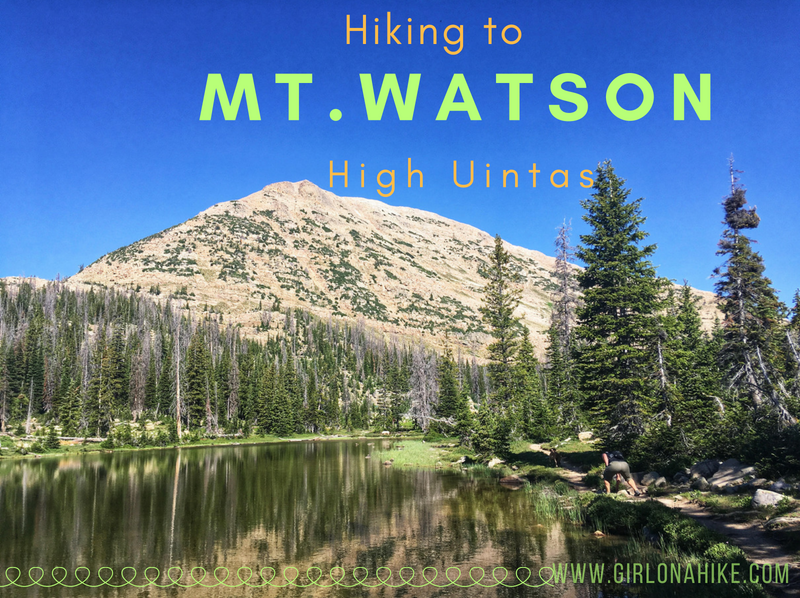 Mt. Watson (11,521 ft) is located on the West end of the High Uintas Wilderness, and though it is surrounded by several popular trails and lakes, most people do not summit this peak. There is a trail for the first 2 miles, but you're on your own after that to reach the top. That's what makes part of this peak fun – it's a "choose your own path" adventure!
About
Hiking in the Uintas offers a cool relief from the valley heat, but that means you'll be hiking at an elevation of 10-11,000 ft. The Uintas are known for have daily afternoon thunderstorms as well, so be prepared for any kind of weather.
This peak is not for the beginner hiker or kids. You should be comfortable with heights, and steep, loose boulders. Dogs should do well, as long as they too, have plenty of peak bagging experience and their paws are used to hiking over rough terrain. There is plenty of water for the dogs to drink from on the trail, but you should have at least 1 liter on the way to the summit.
Directions
From Kamas, UT drive East along the Mirror Lake Highway for 25.4 miles and turn left at the sign for the Crystal Lake Trailhead. Follow the signs for Crystal Lake, and park at the main lot. You may have to park in the overflow lot.
Here's a driving map.
Trail Info
Distance: 5.2 miles RT
Elevation gain: 1,464 ft
Time: 3-5 hours
Dog friendly? Yes, off leash
Kid friendly? Maybe, depends on their peak bagging experience
Fees/Permits? The Mirror Lake Highway charges a $6 fee for a 3 day pass. It's free if you have an annual Mirror Lake Hwy, American Fork Canyon pass, or National Park Pass. No permit is required.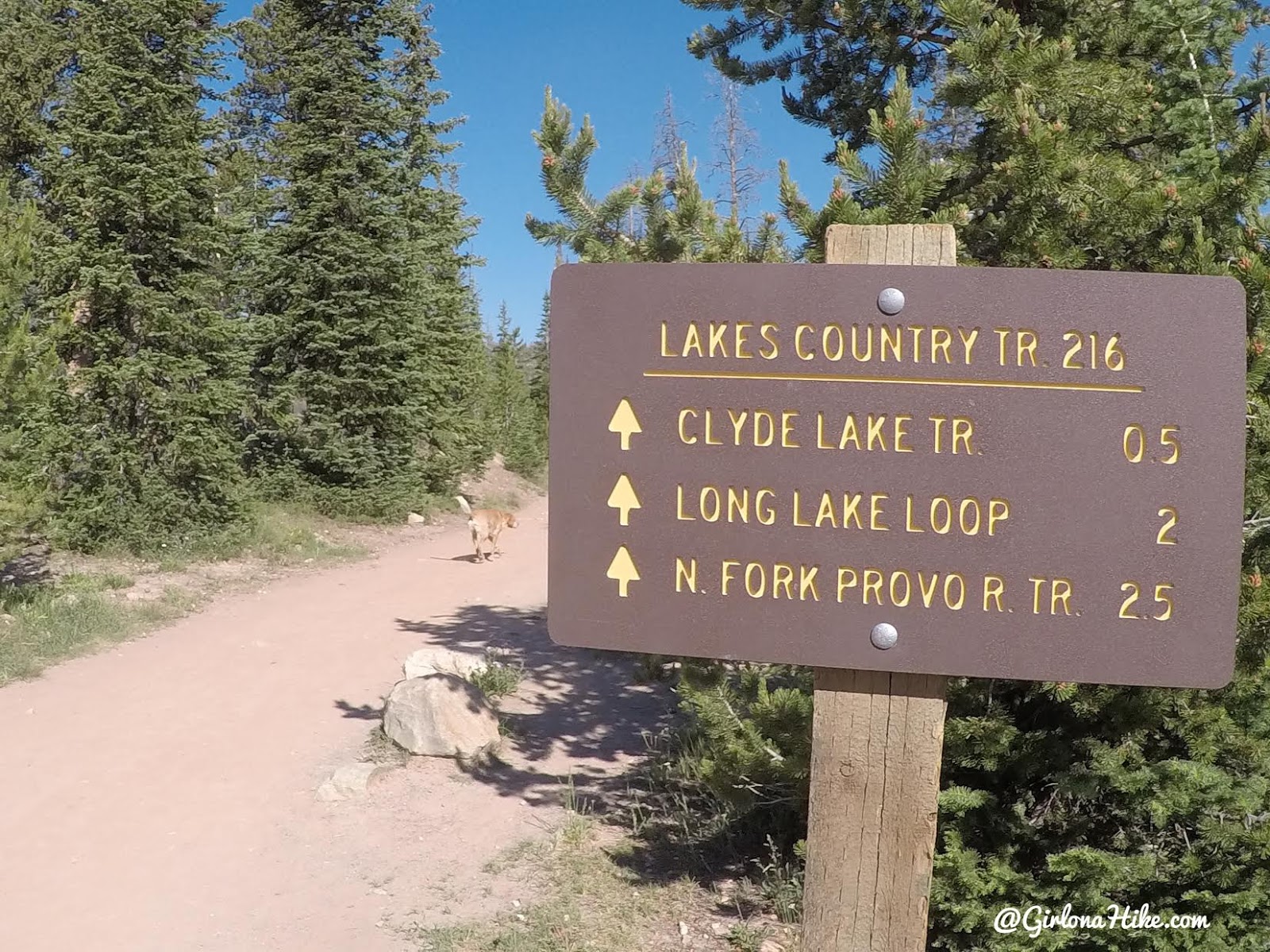 Start by following the Clyde Lake Trail, on the West side of the parking lot. You may need to hike up from the overflow parking area to reach this spot.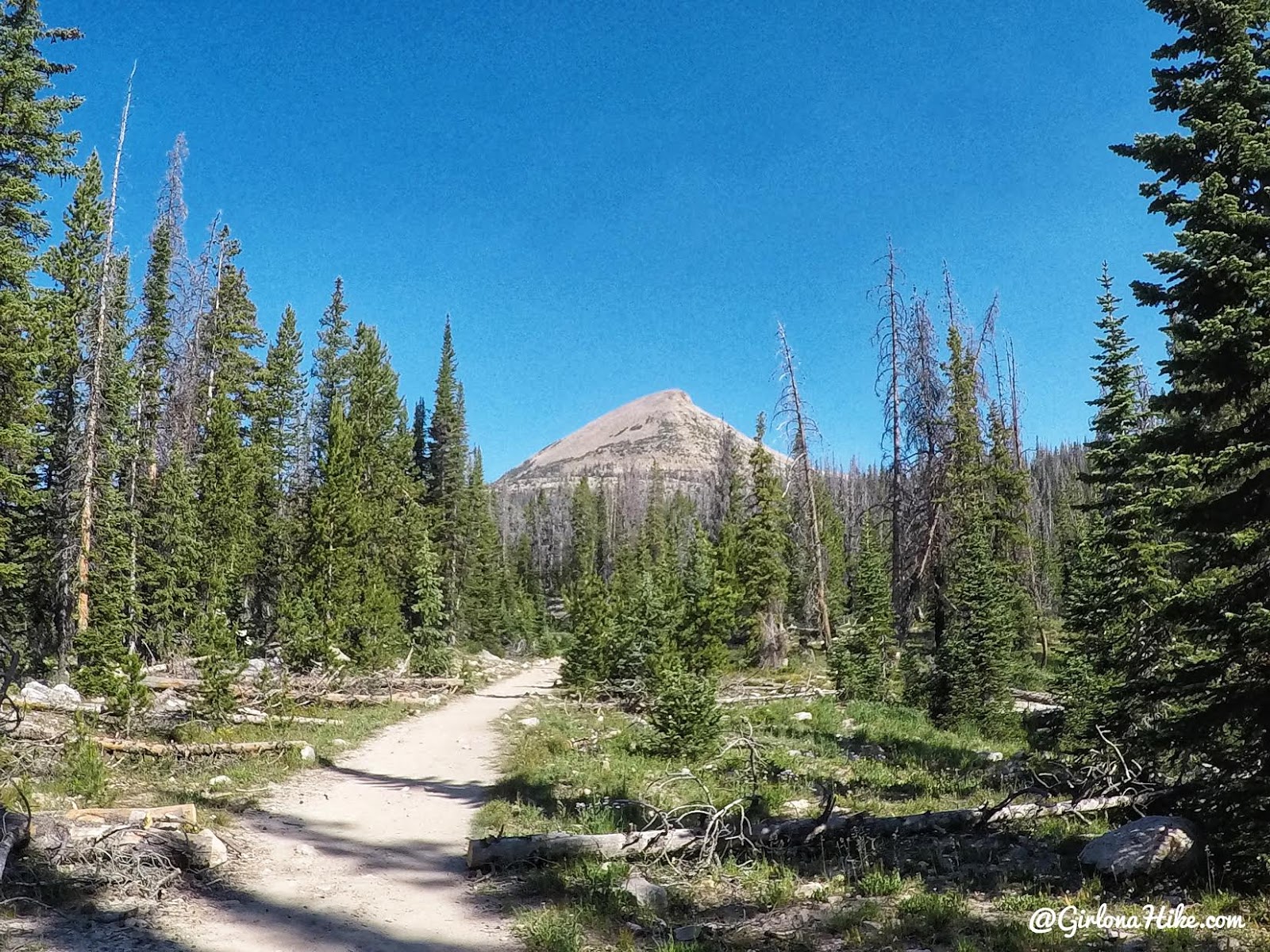 Right away you'll see your destination!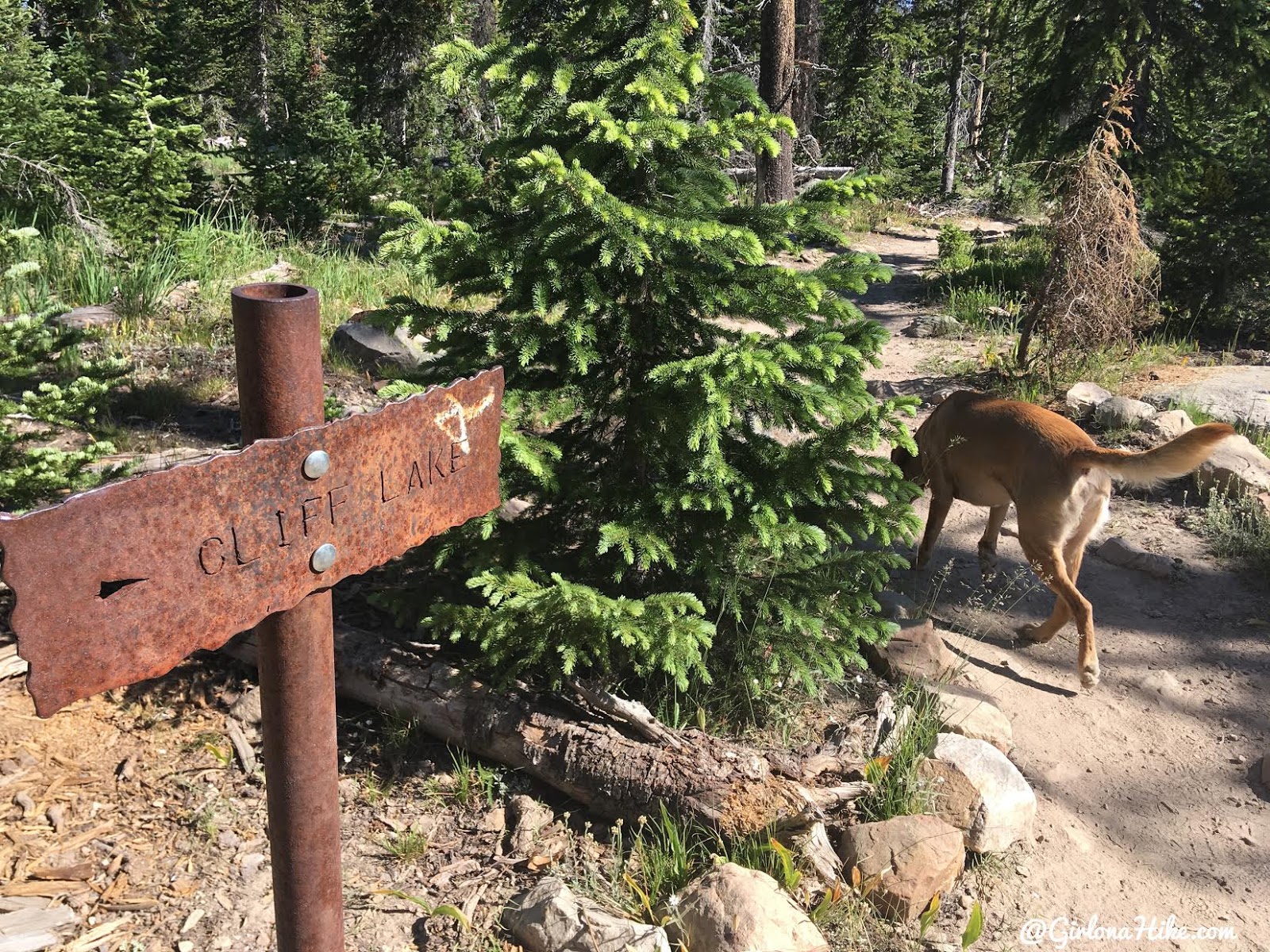 Turn right at the Cliff Lake sign.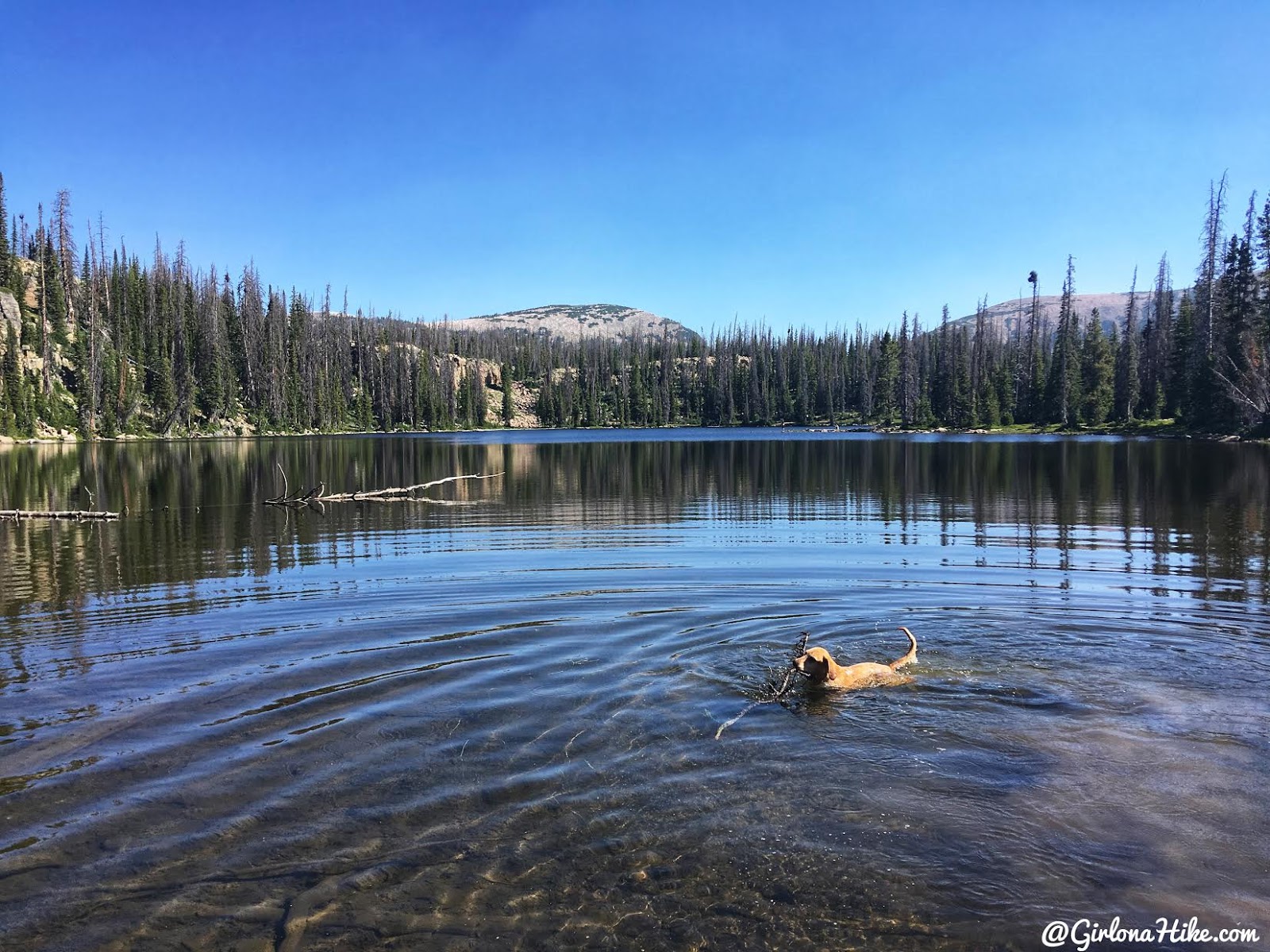 Charlie takes a swim in Cliff Lake!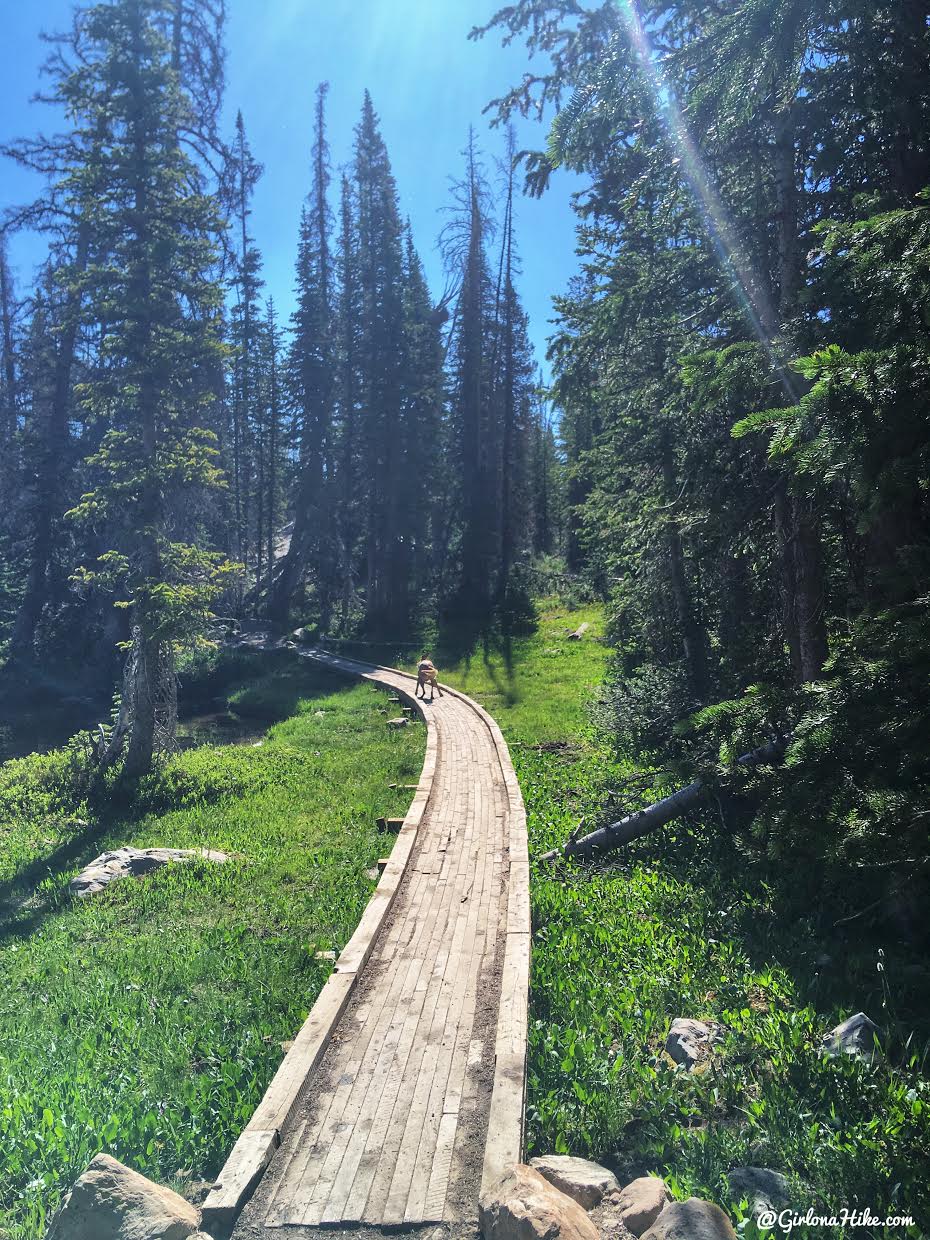 Continue on the main trail, crossing over the boardwalks.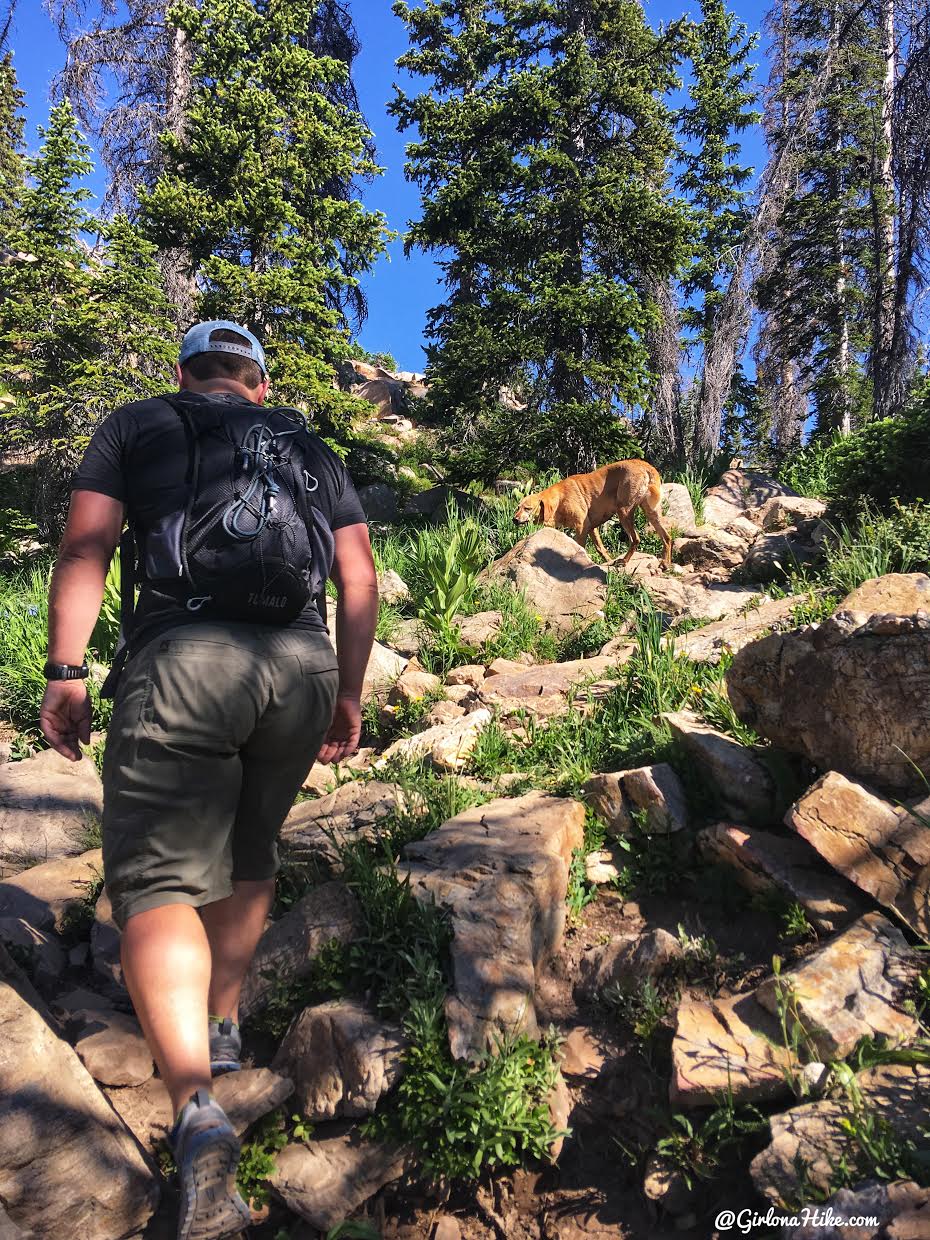 There are a few steeper, rocky uphill sections but don't last very long.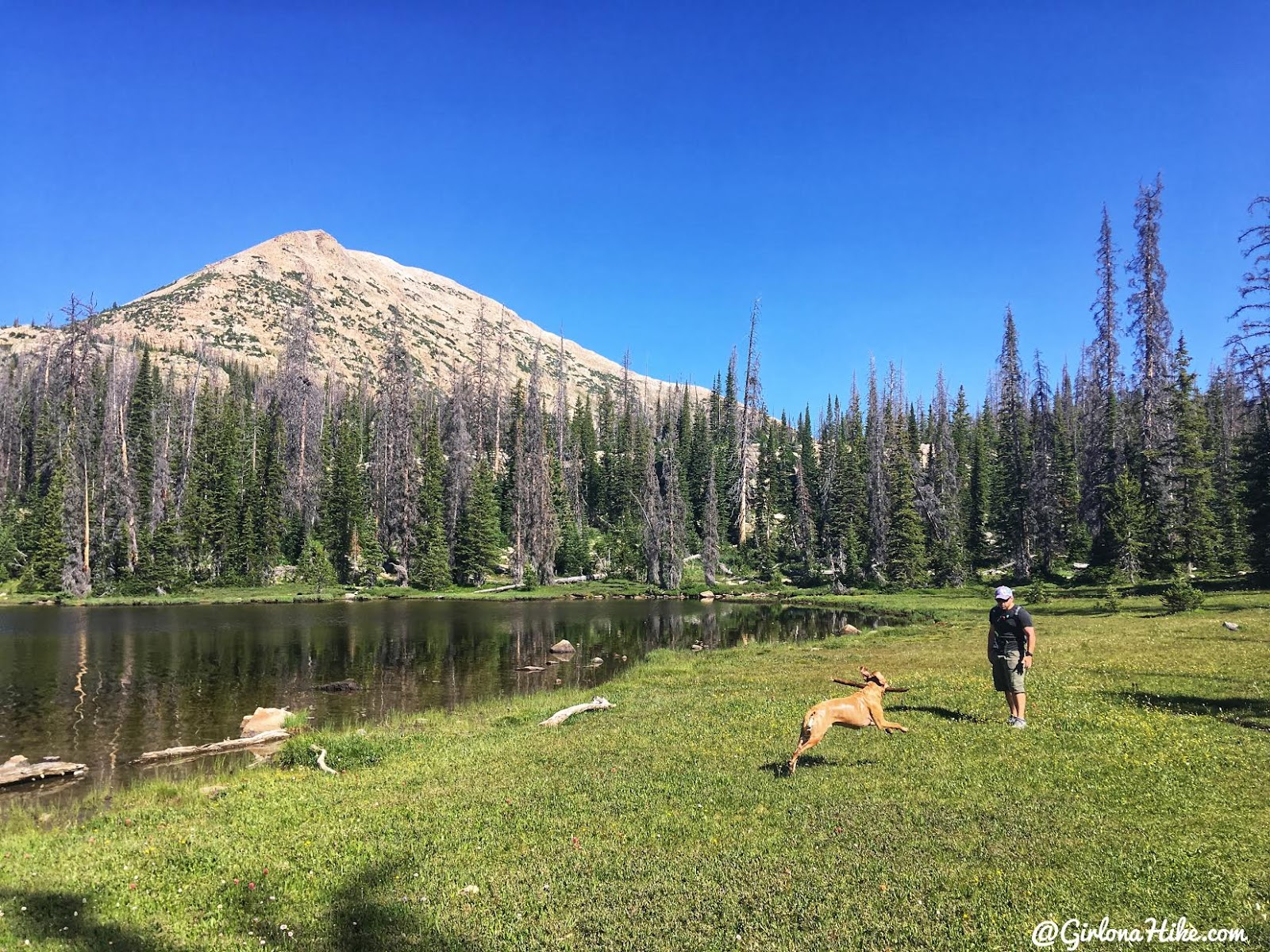 More frolicking and swimming at Watson Lake.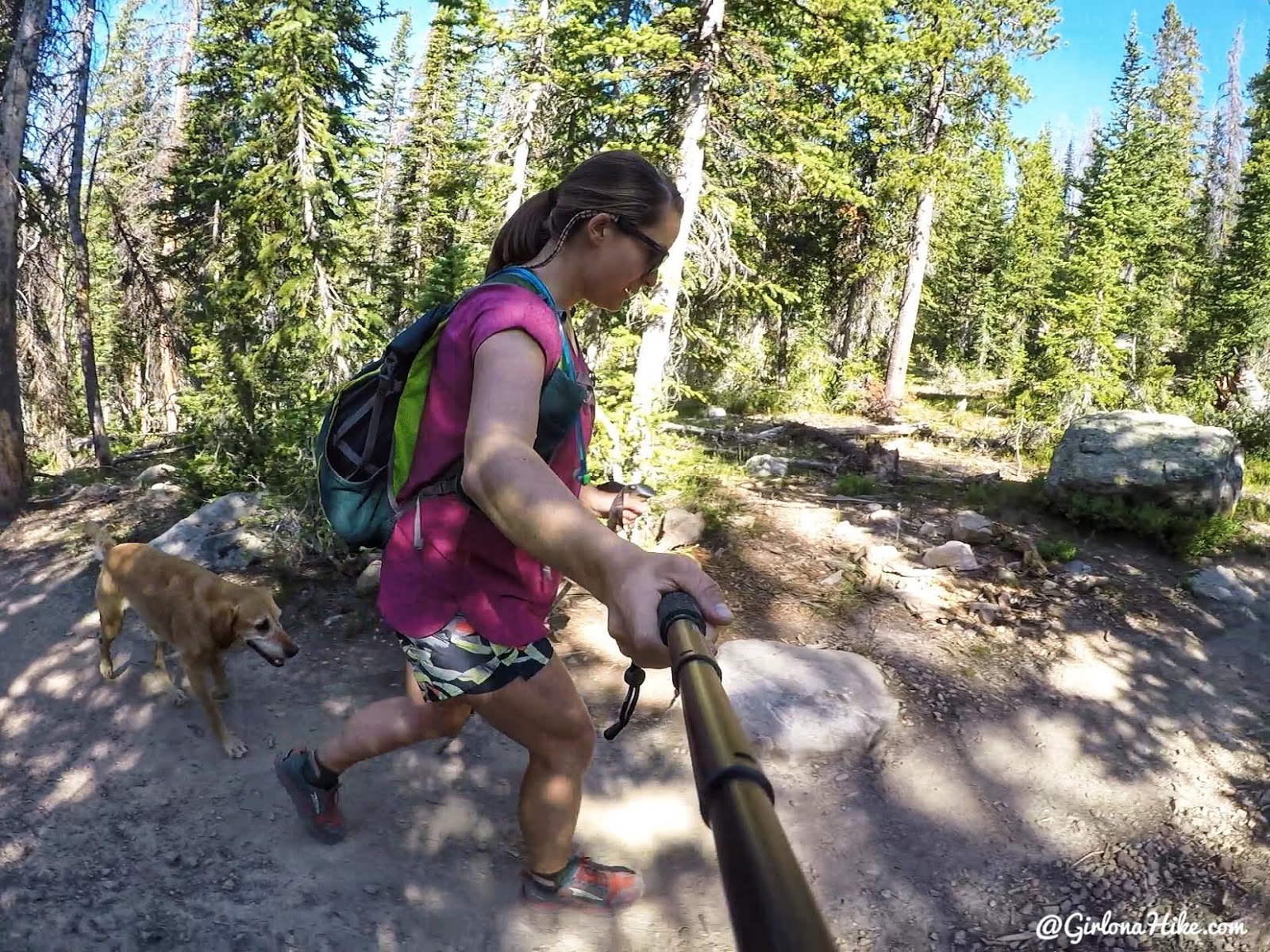 Because you are hiking at 10K feet, it will feel a little harder to breathe.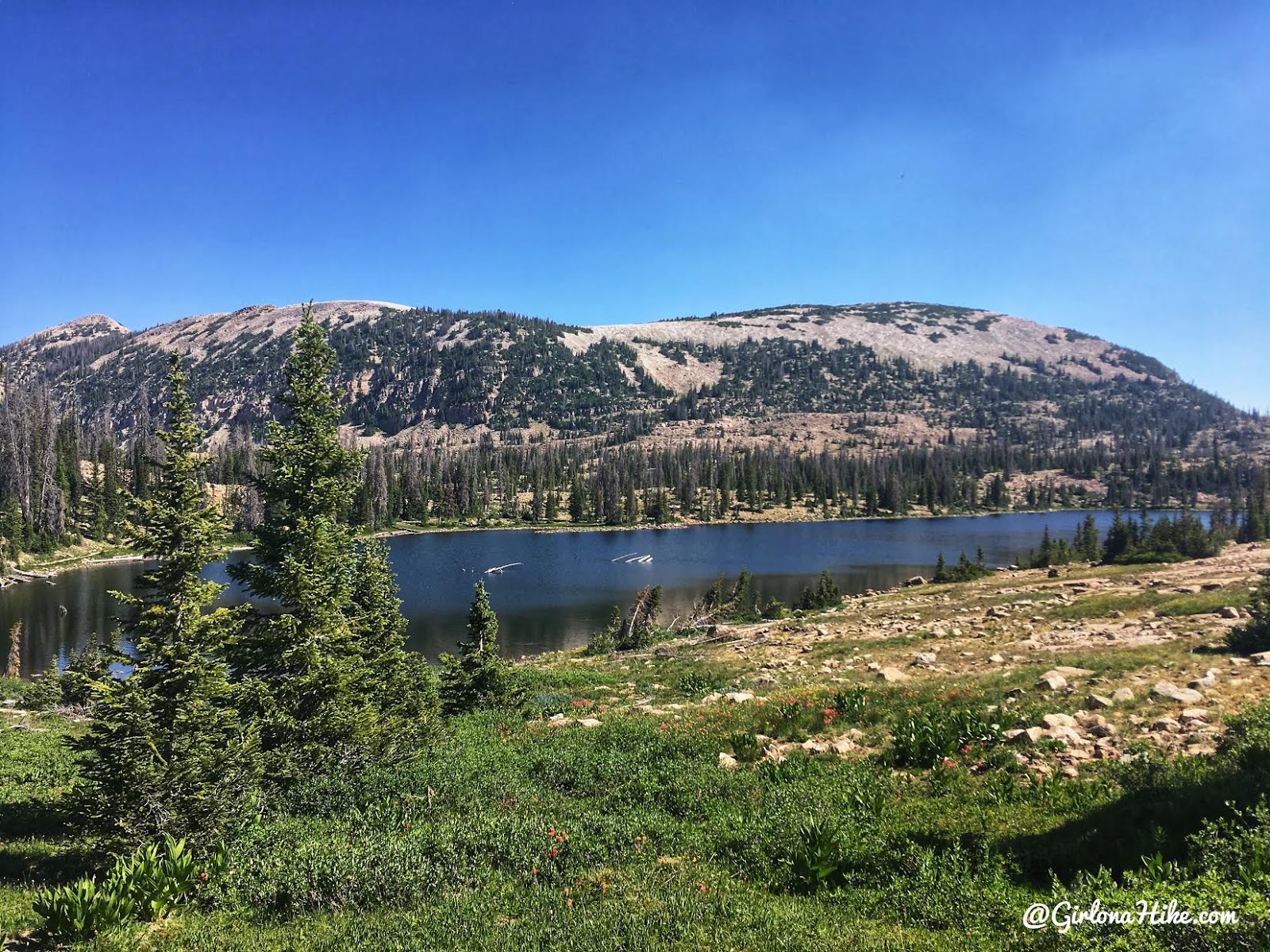 Approaching Clyde Lake, and the West summit of Notch Mountain.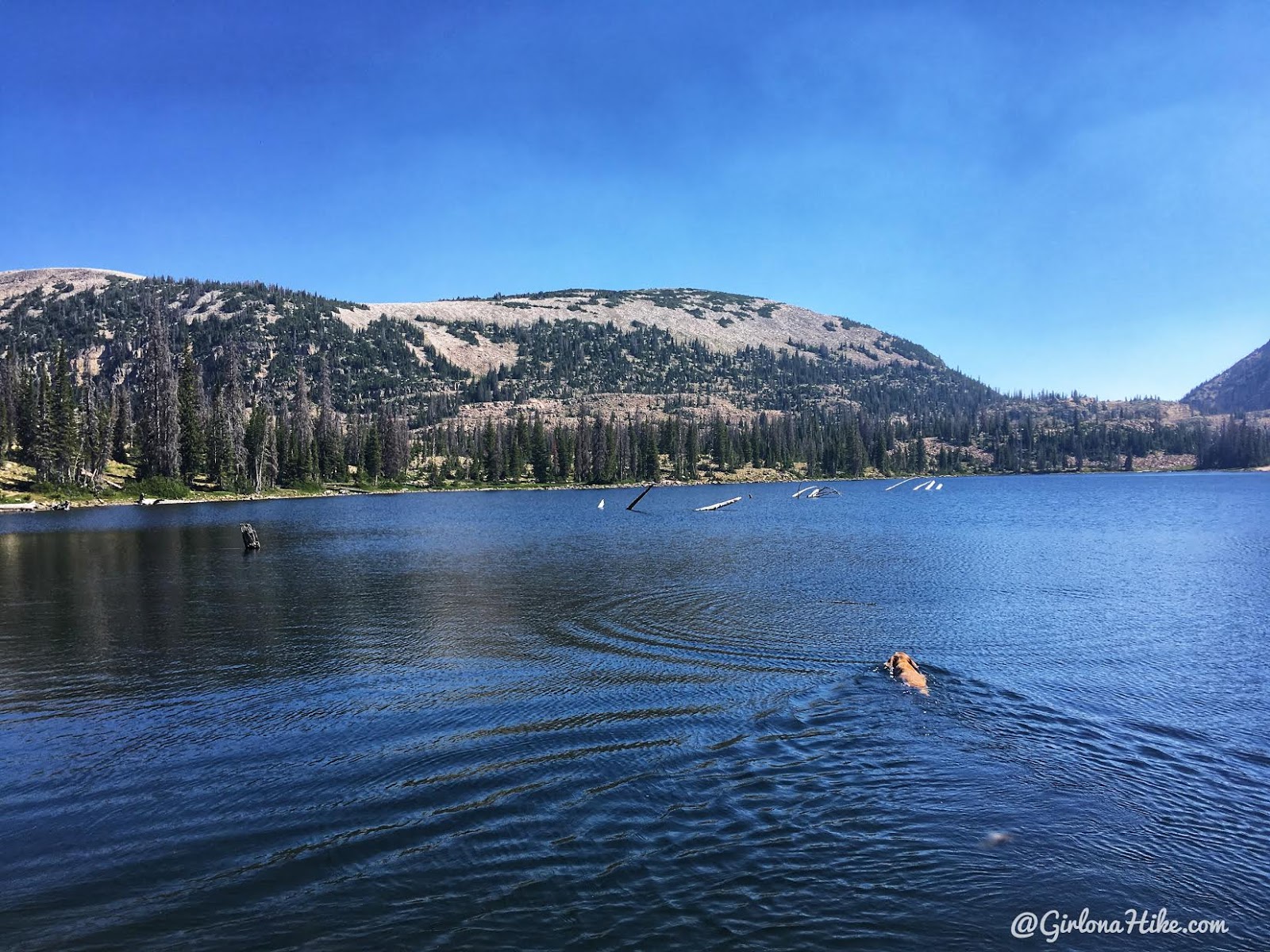 Once again, Charlie wanted swim.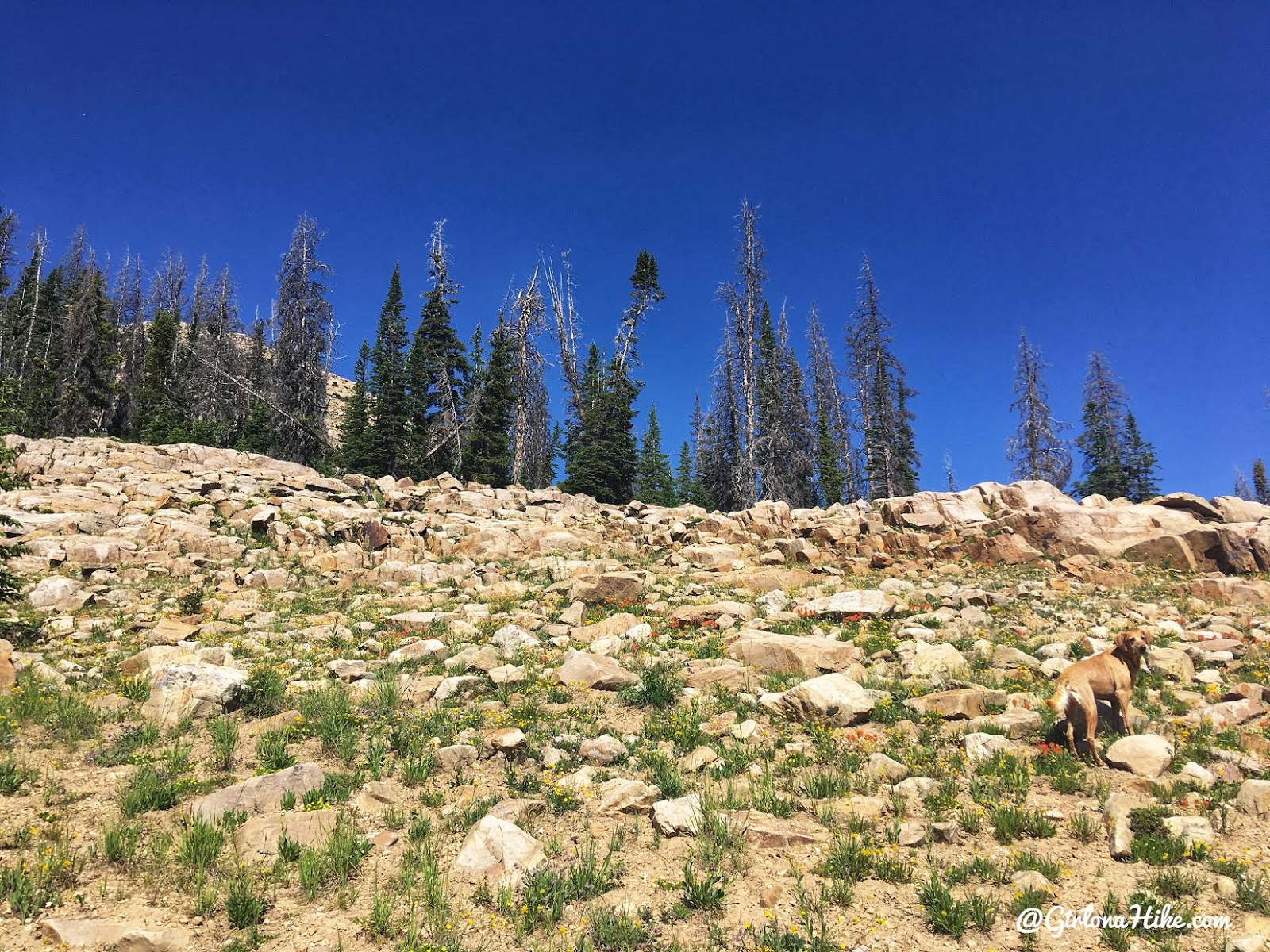 At exactly 2 miles, you'll see a rocky opening in the trees on your left (West) side. This is where you'll want to start hiking up along the ridge to Mt. Watson. It's right at the south end of Clyde Lake. This is also where you'll start hiking your own route – there is no trail.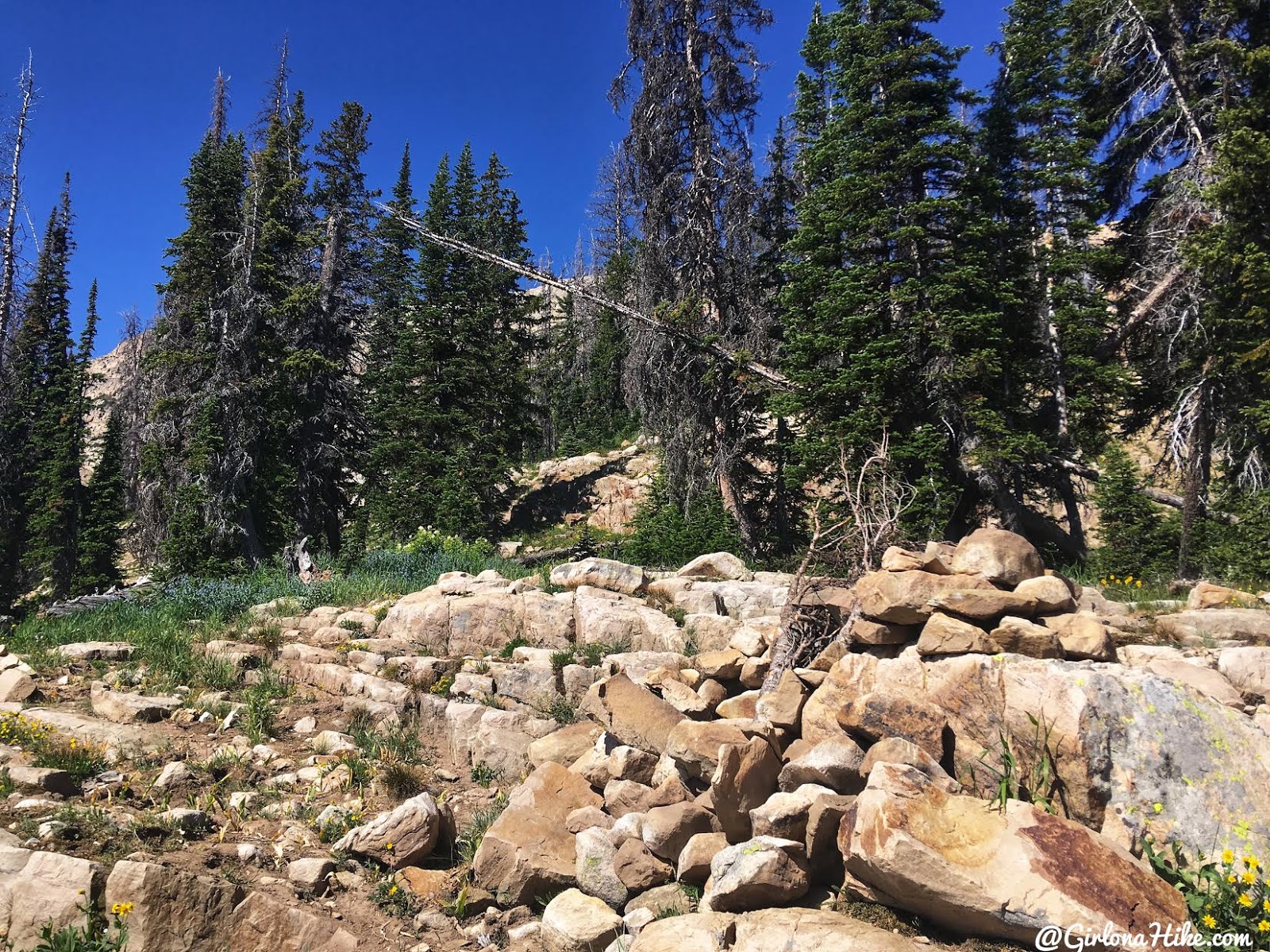 We saw this pile of rocks and hoped it was a cairn, but there was a note in a ziplock bag about it being a hideaway for Ranger gear.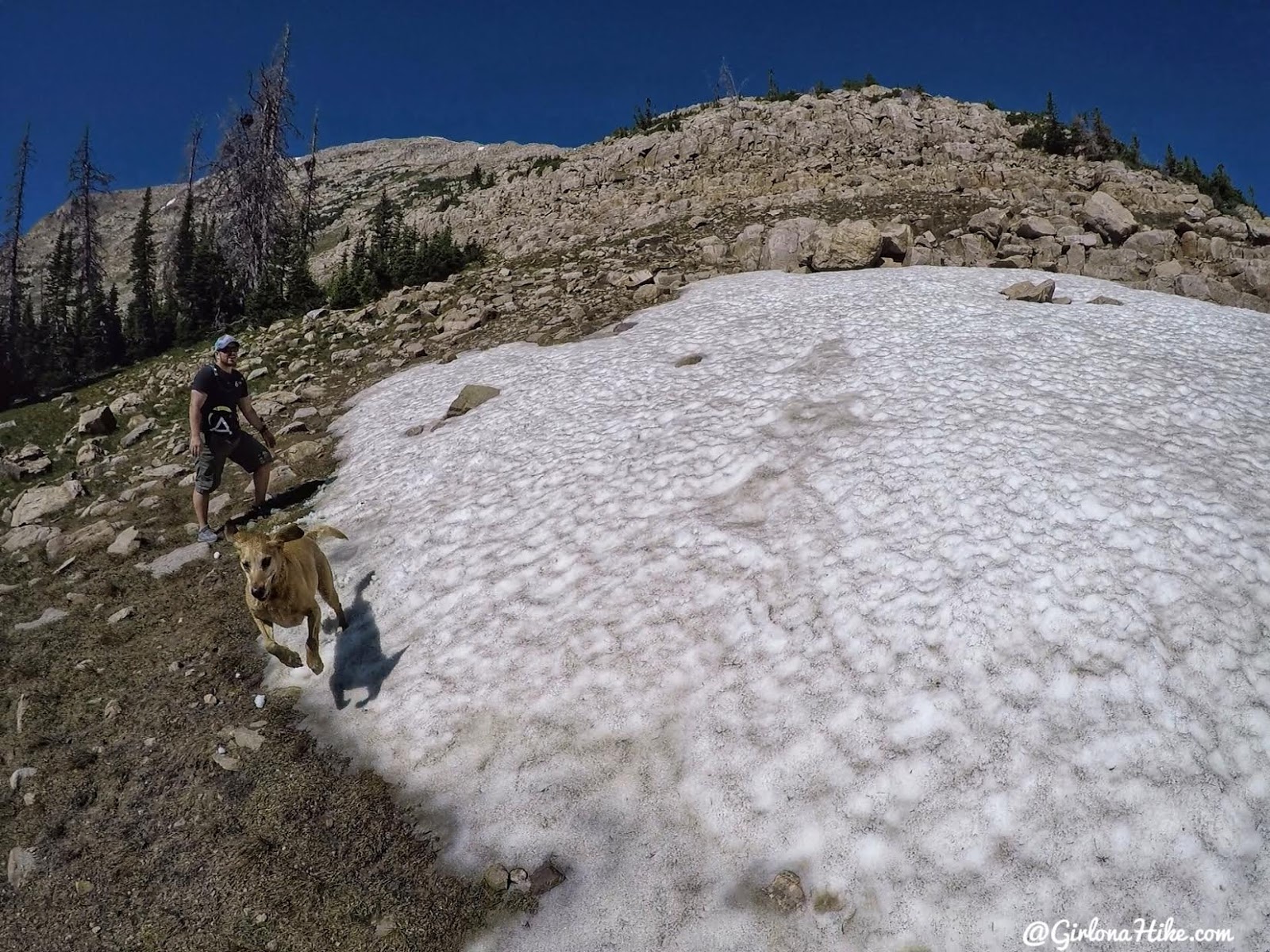 Generally you'll want to stay on the East side of the Mt. Watson ridge.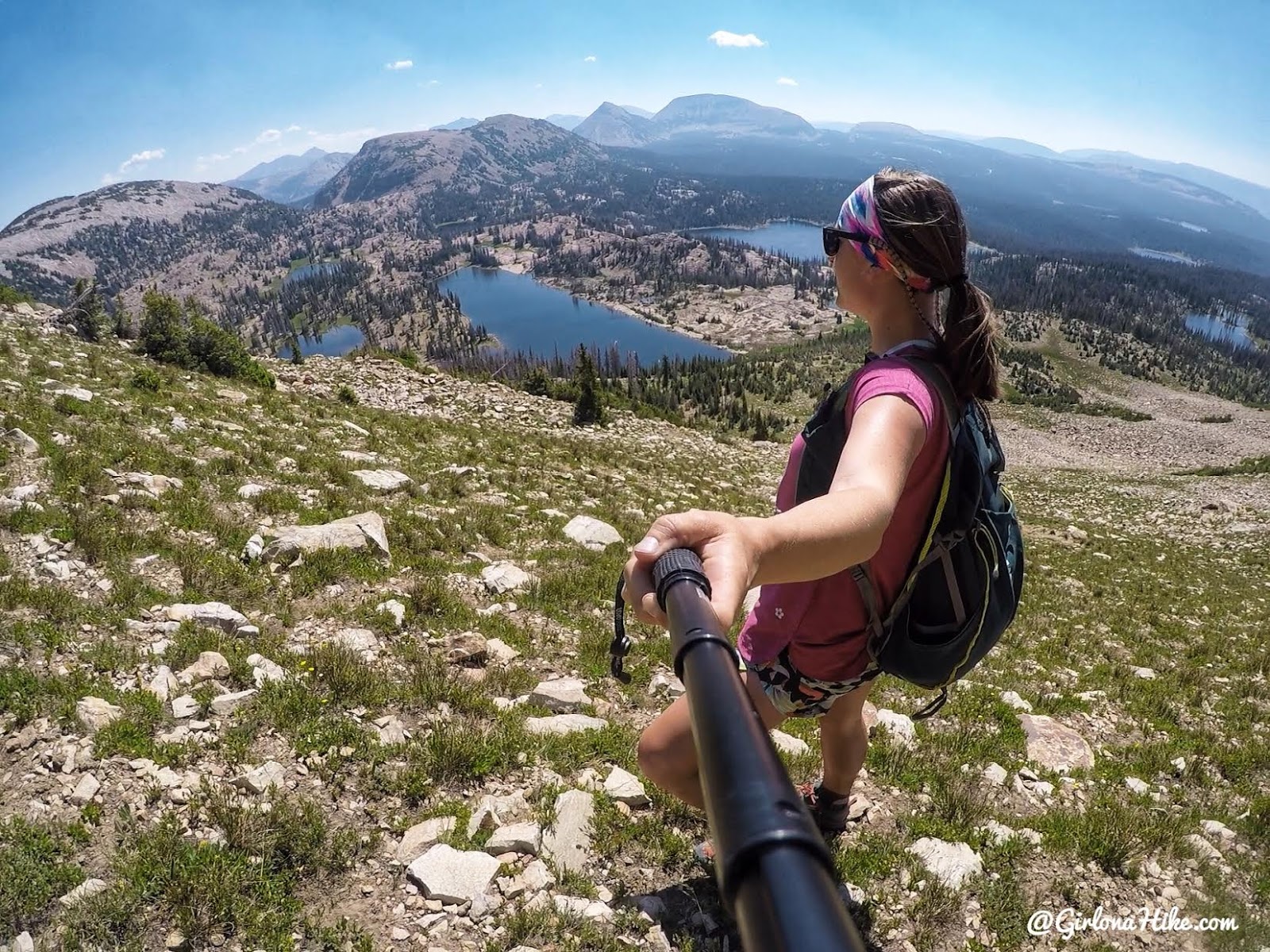 Working up higher and higher. It was SO steep that I just made up my own switchbacks to reach the ridge. Don't forget to look back at your views.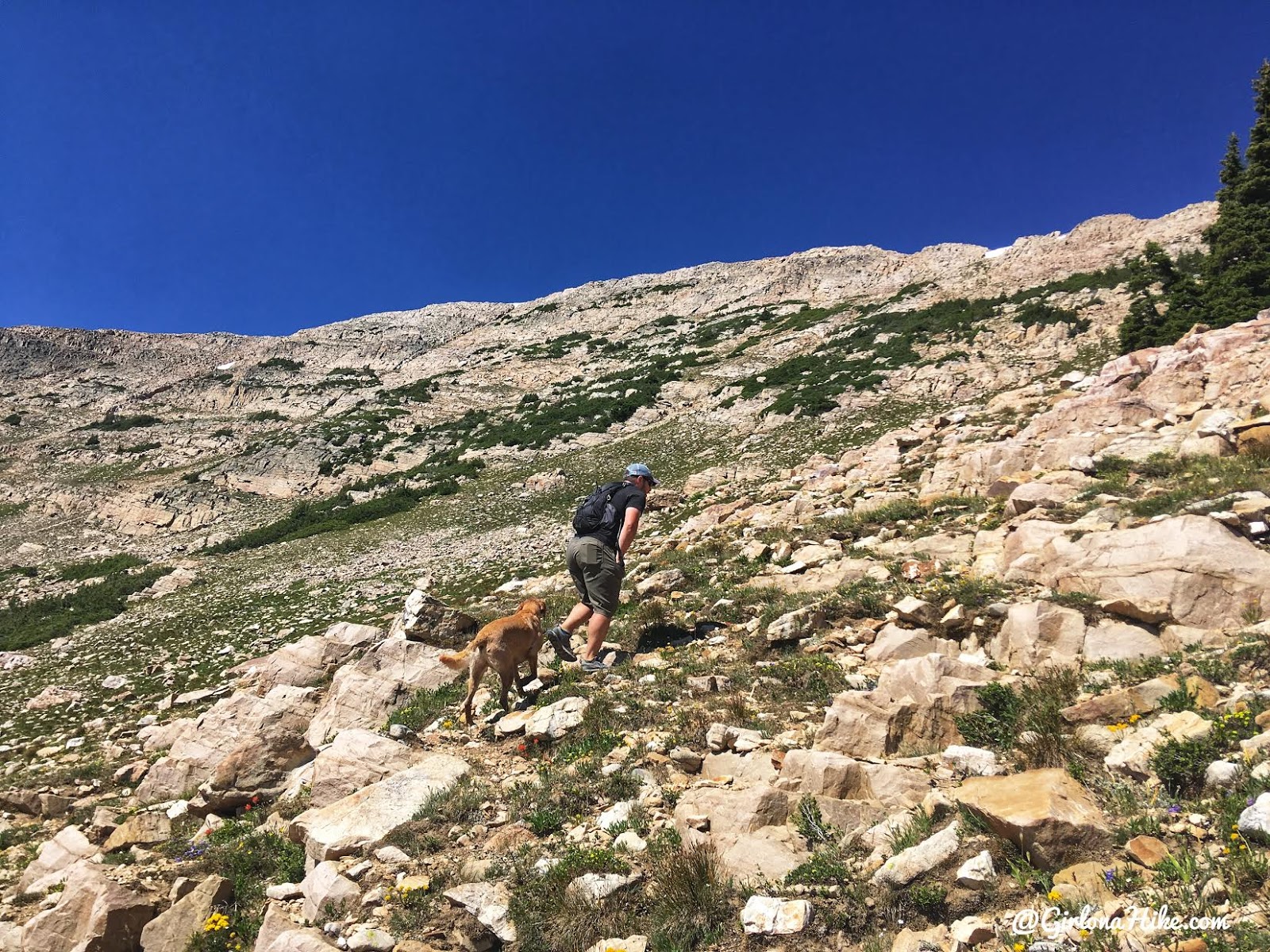 The worst part of this hike for me was initially getting of the trail and the hike up to the ridge. It's just really steep and you have to choose your own route. We aimed for the small snow patches along the ridge.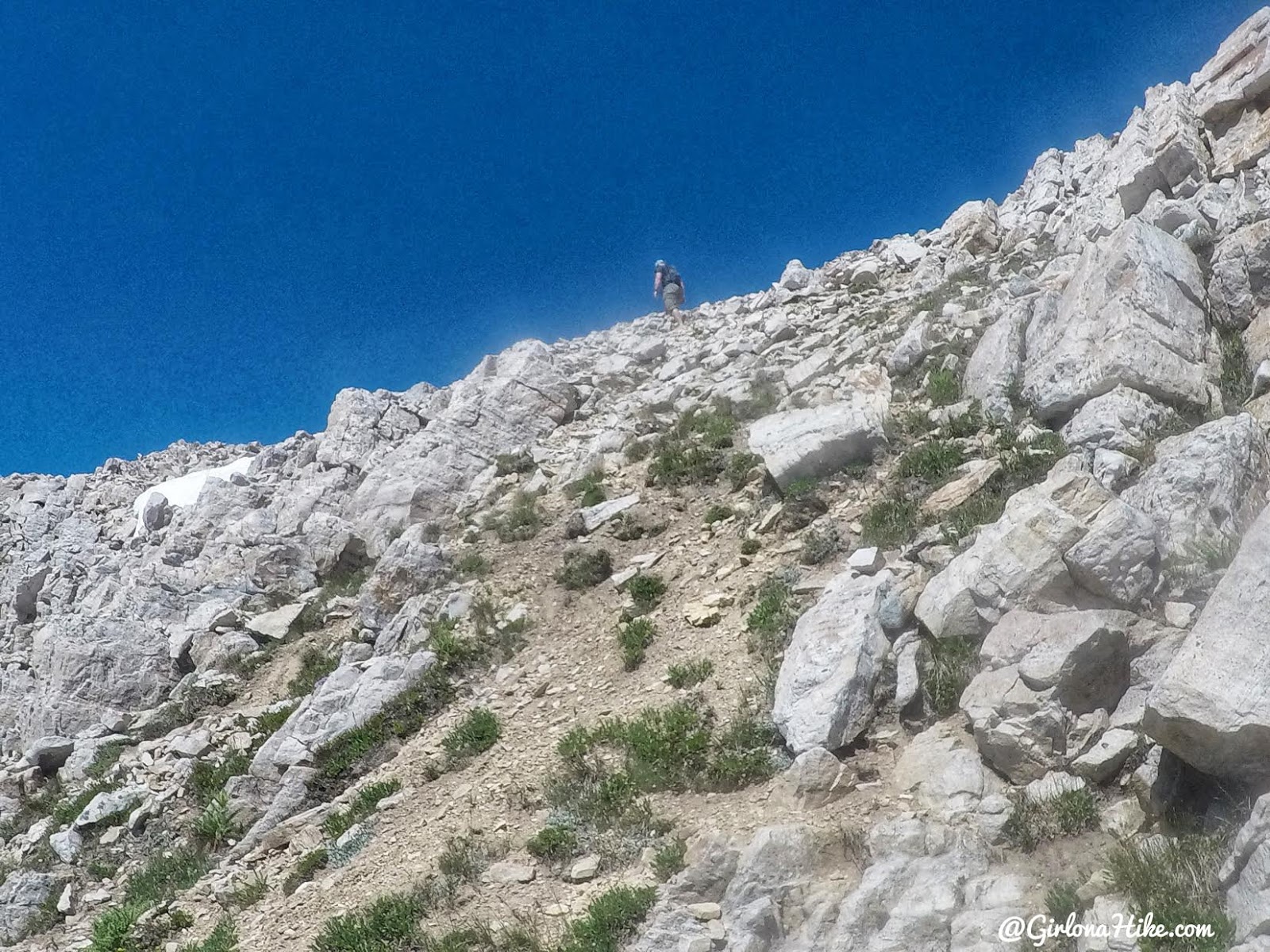 Nearing towards the ridge.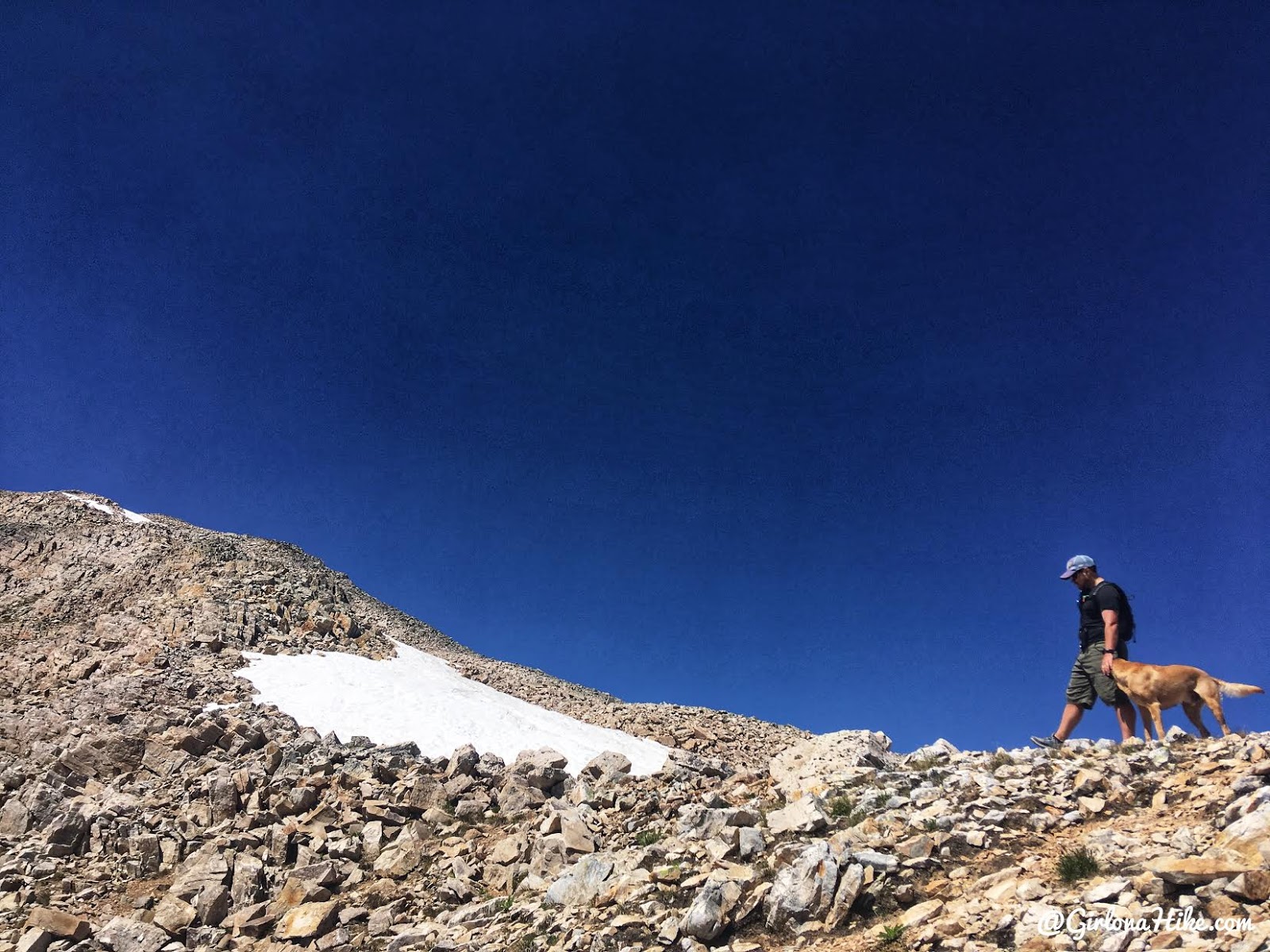 Once on the ridge the hike gets easy again, as you simply follow it to the summit of Mt.Watson.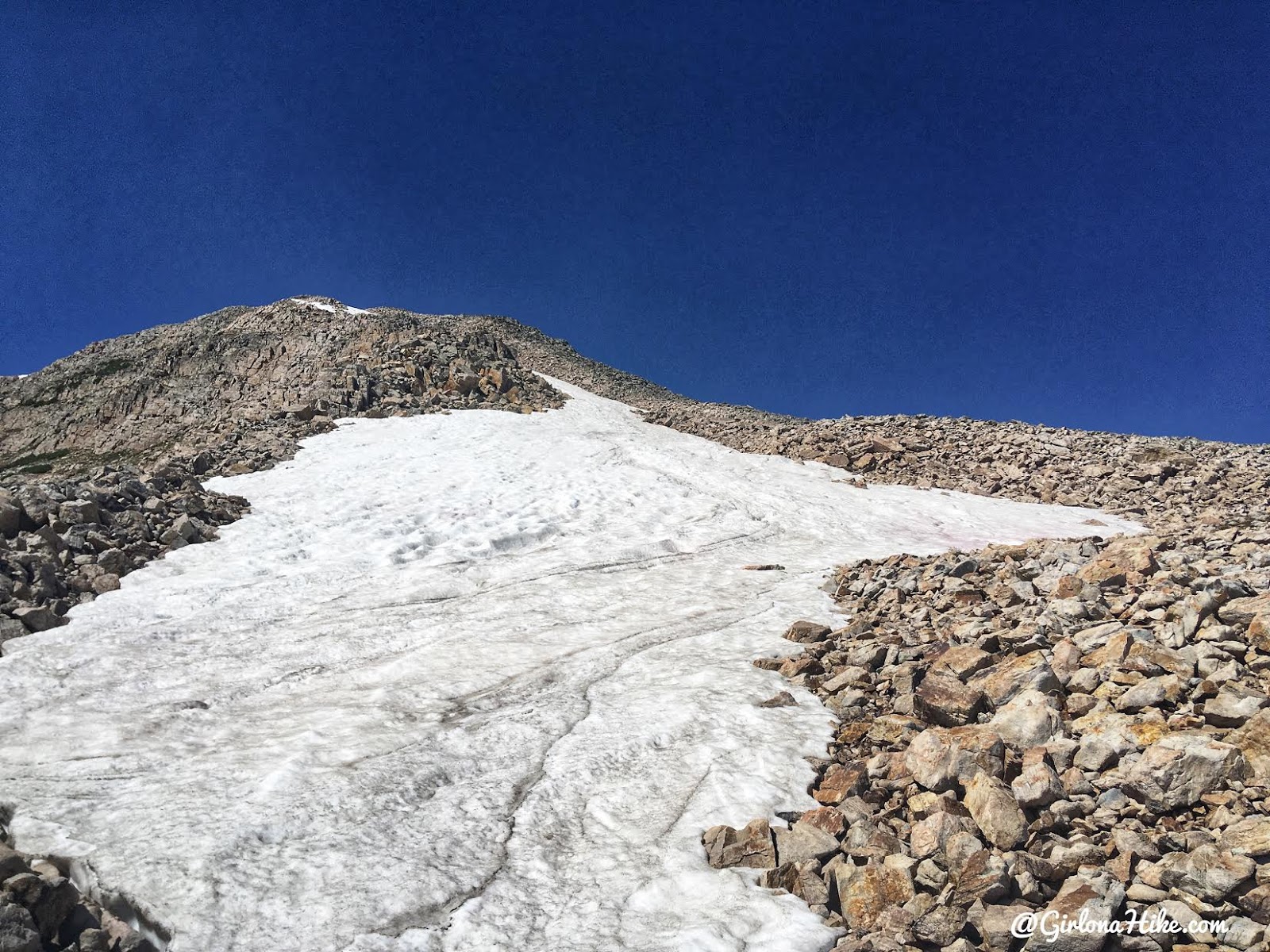 A long patch of snow still remained on July 4th!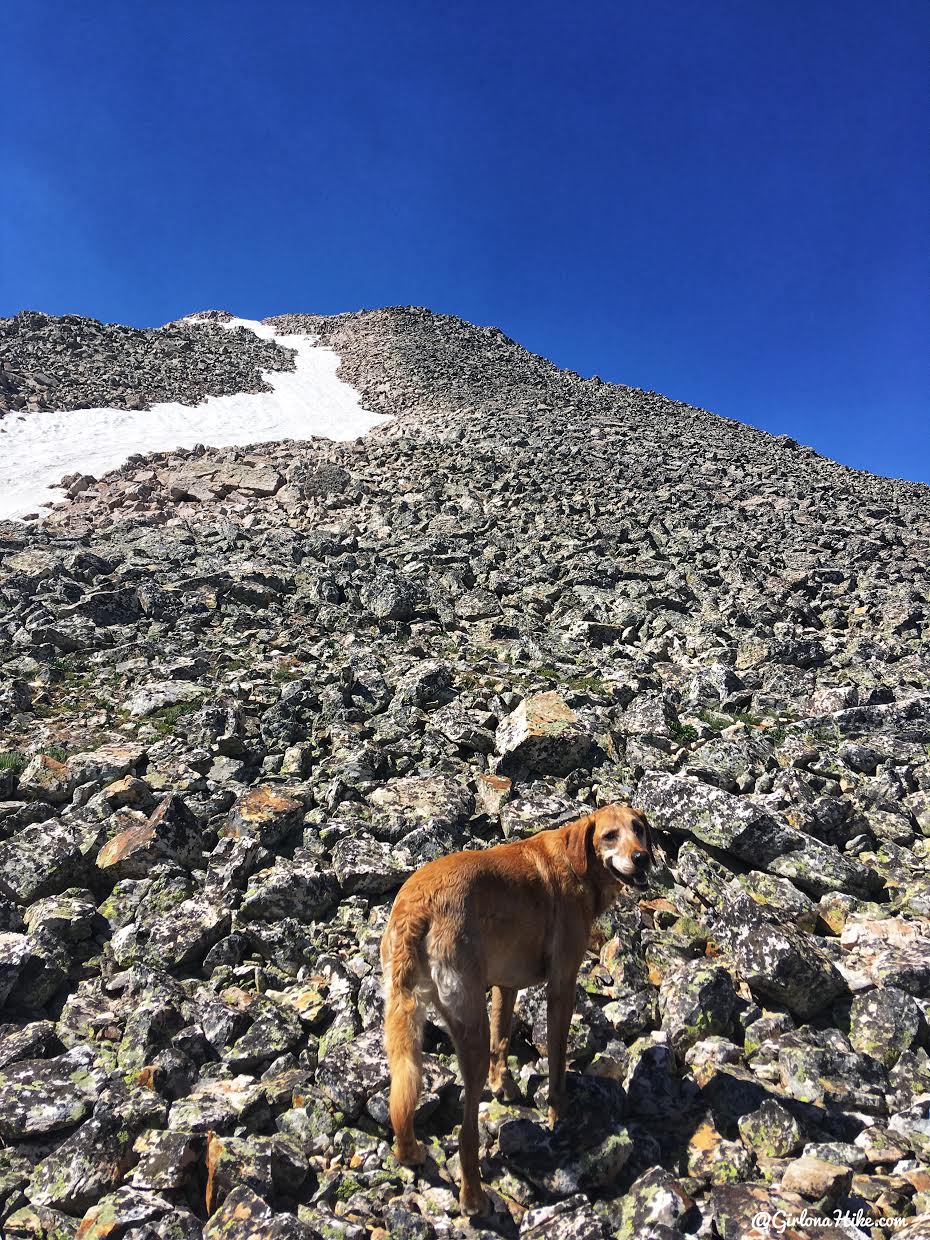 The ridge to the summit is all lava rock – if you bring your dog, make sure they have prior experience in this kind of terrain. When I've dog sat in the past and brought them along, they all tore up their pads and bled, or tore nails. Make sure you have a Dog First Aid Kit in case something happens. Charlie regularly does peaks with me and is used to rough rock.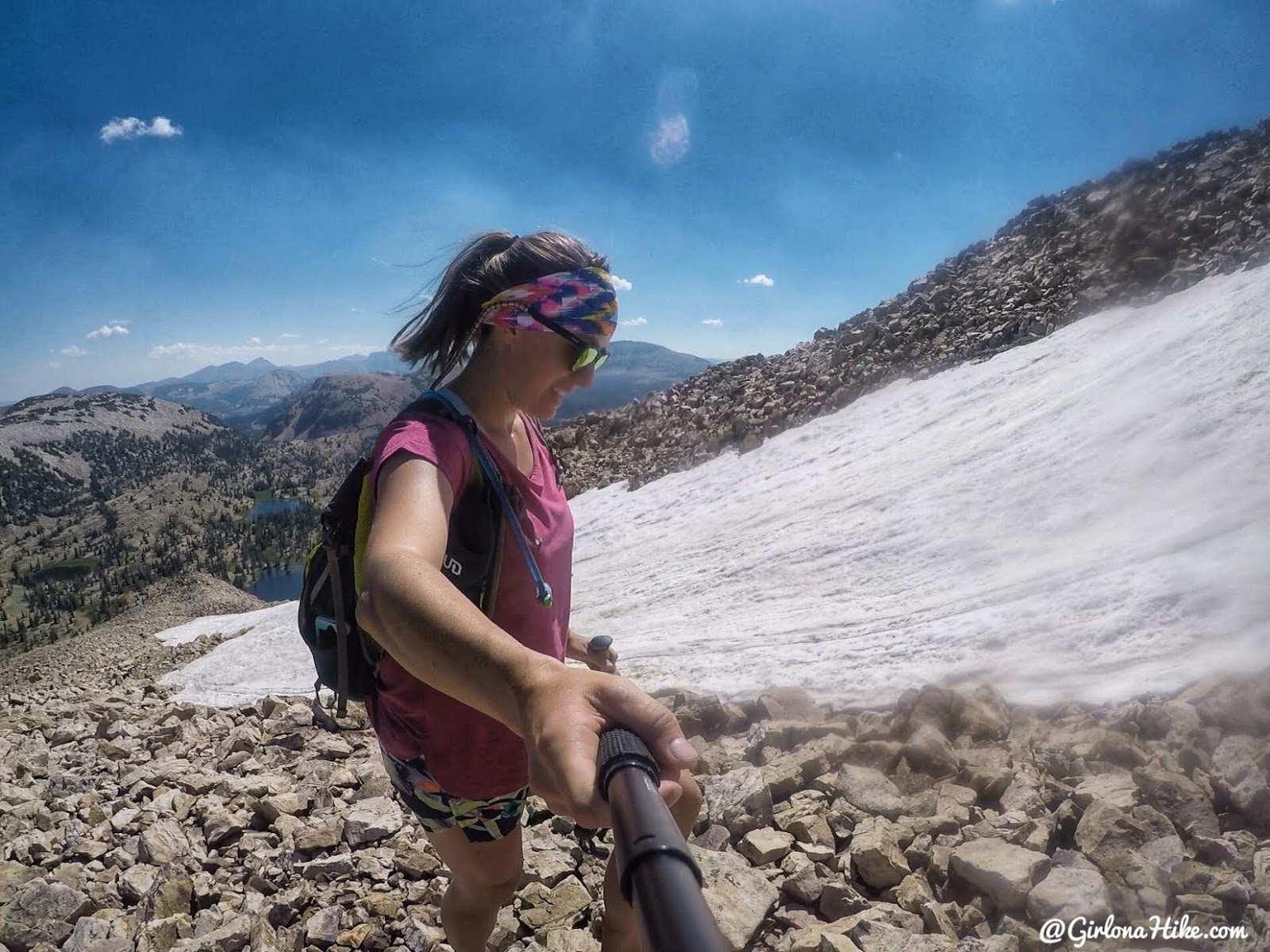 It was easiest to hike up the ridge next to the snow patch since it was a little slippery – but you know on the way down we glissaded!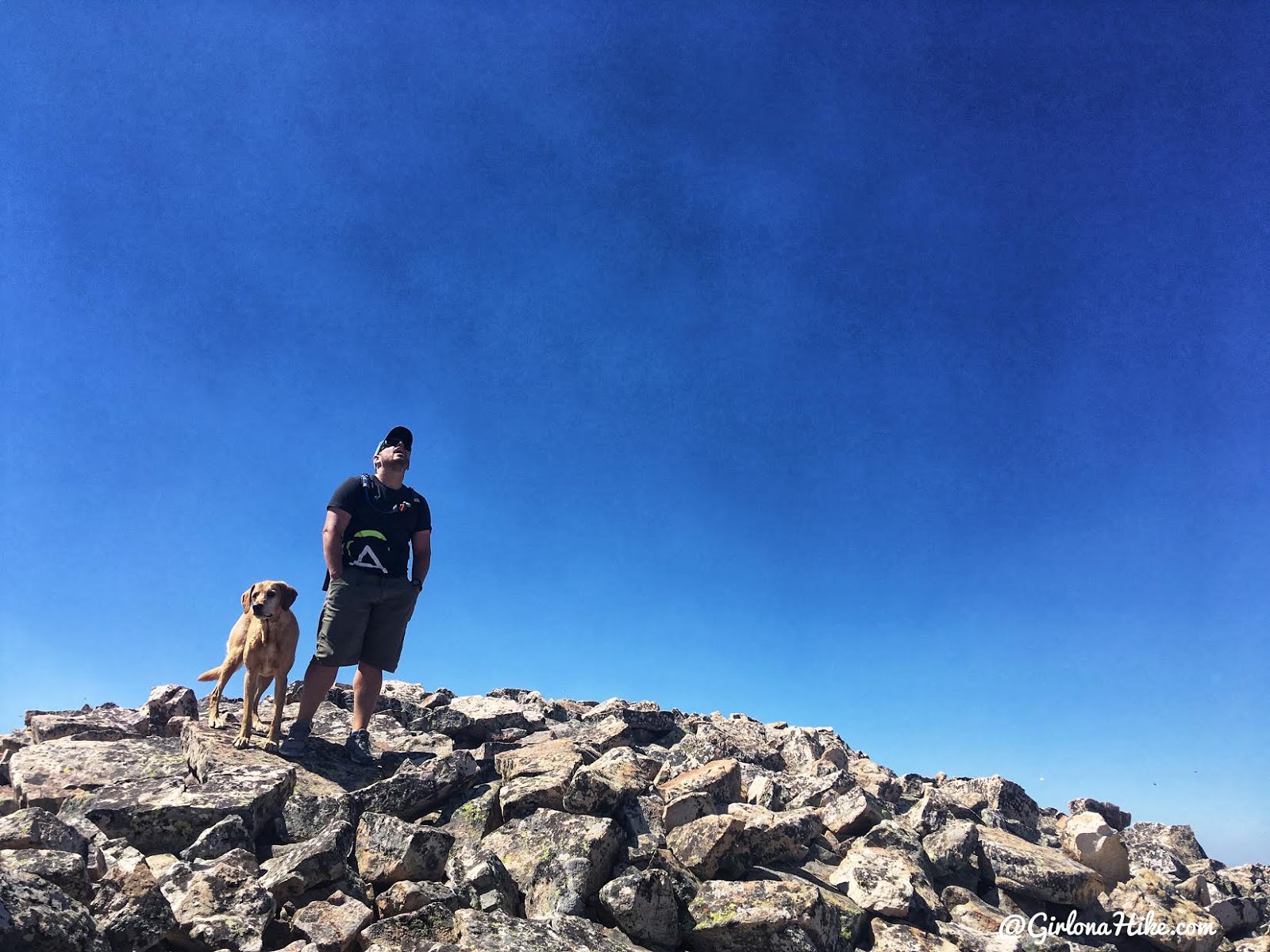 The boys lead the way! Almost there.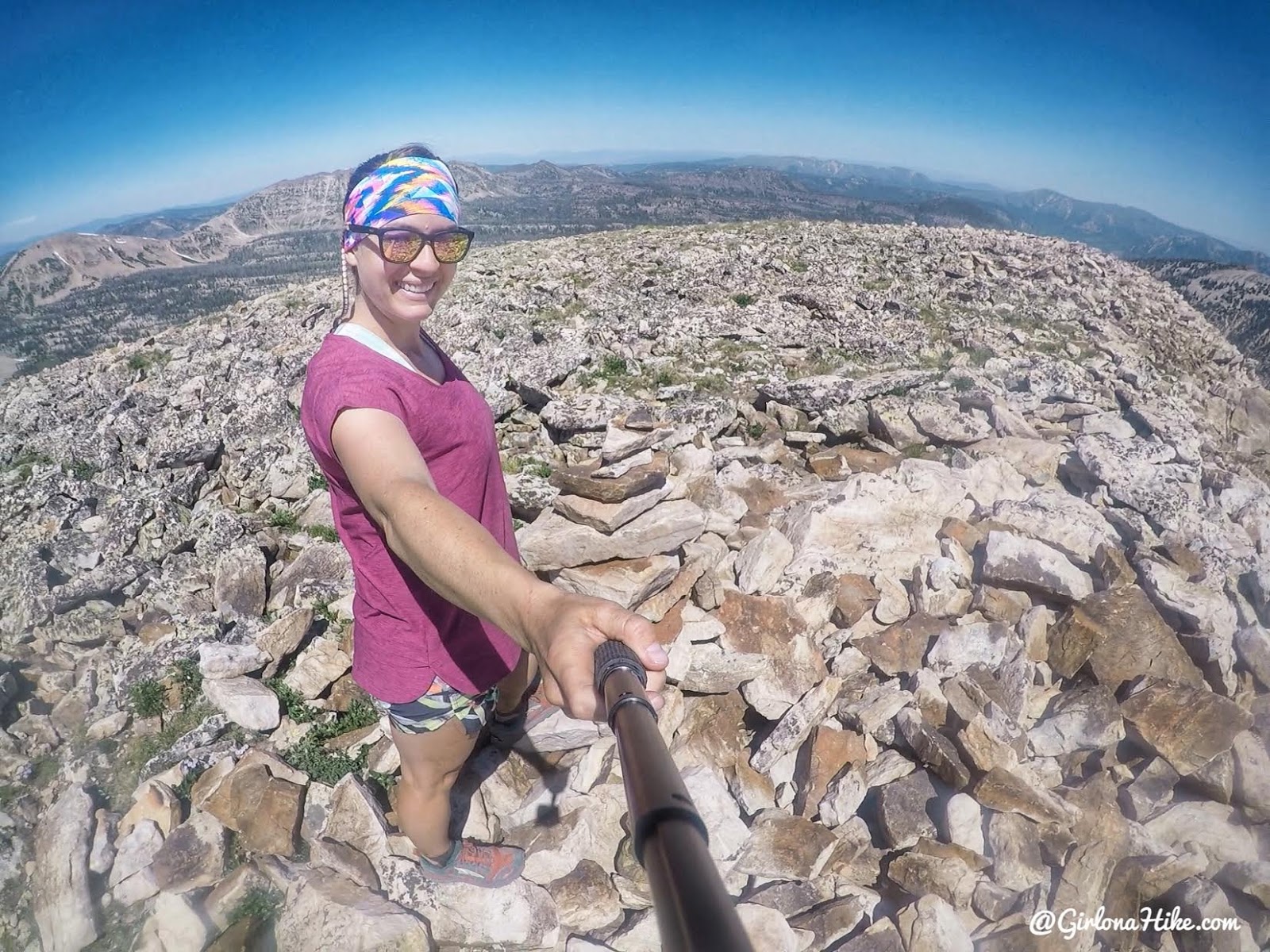 On the summit! Took us 1 hour 40 minutes. There was no summit register so who ever goes up next, it would be nice to have one 🙂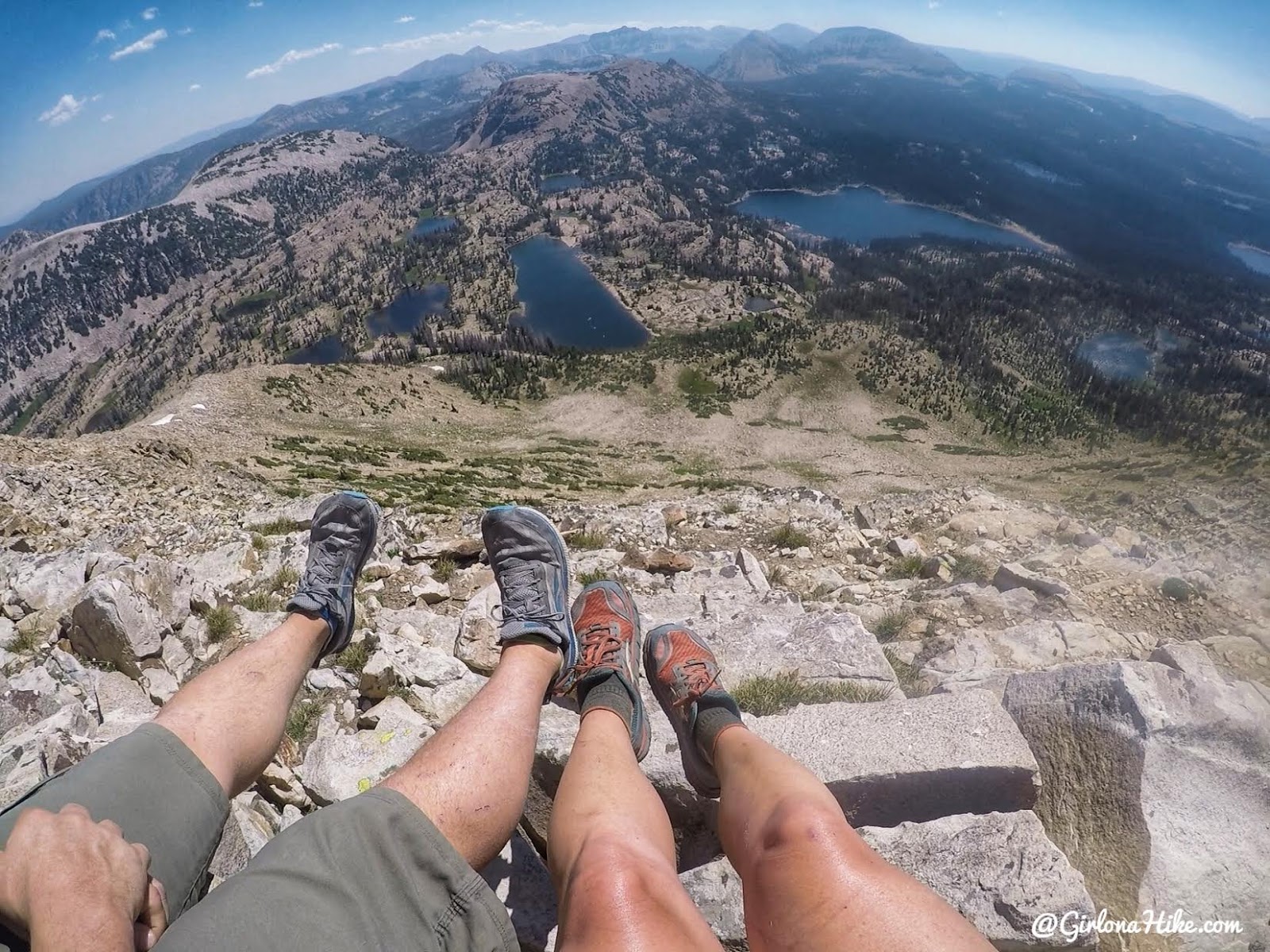 Great views to the NE from Mt.Watson! Clyde Lake & Wall Lake are the two biggest lakes you can see. Bald Mountain is in the distance as well. You can also clearly see The Notch which takes you over to Ibantik Lake.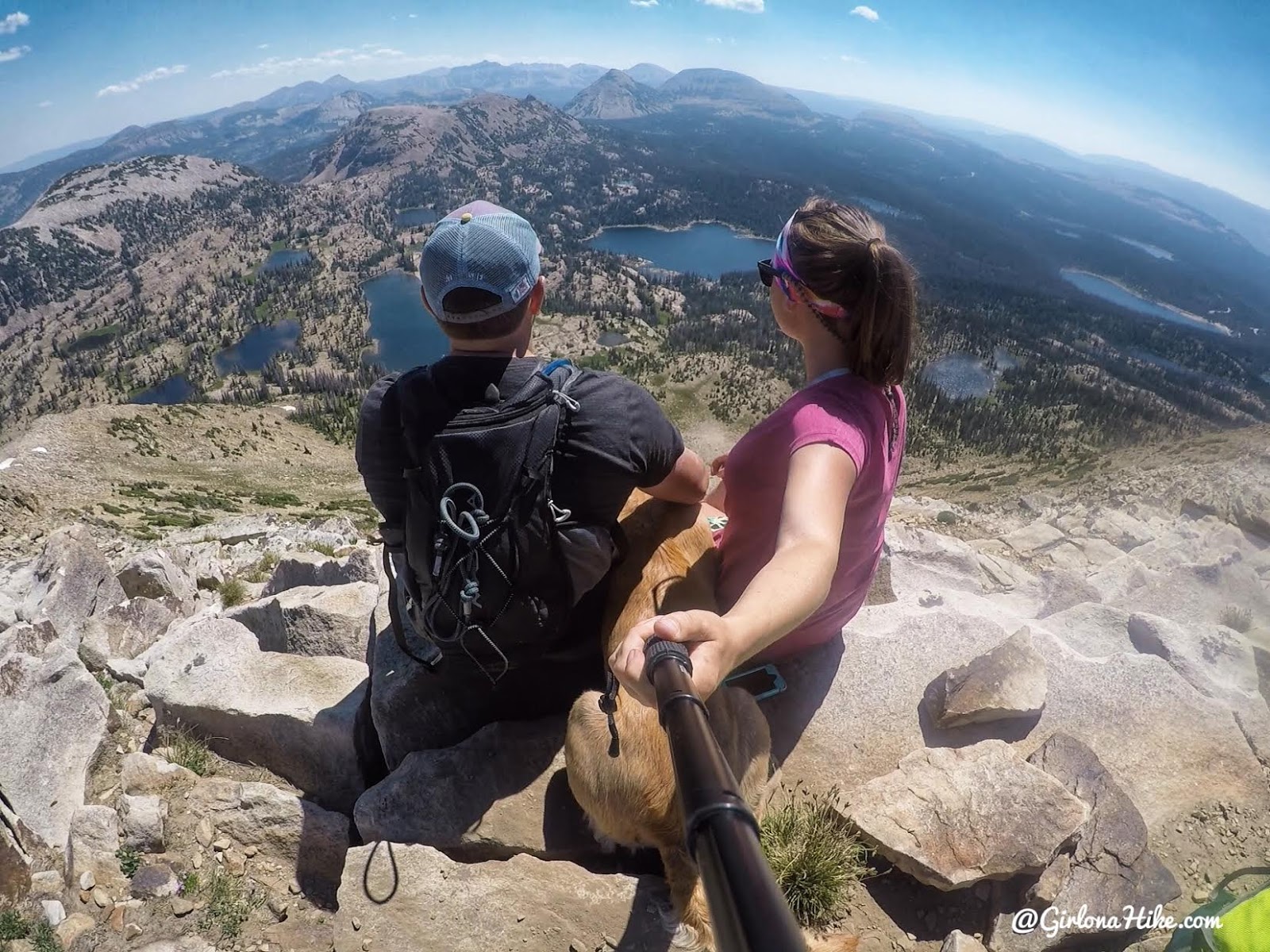 Family photo from the summit.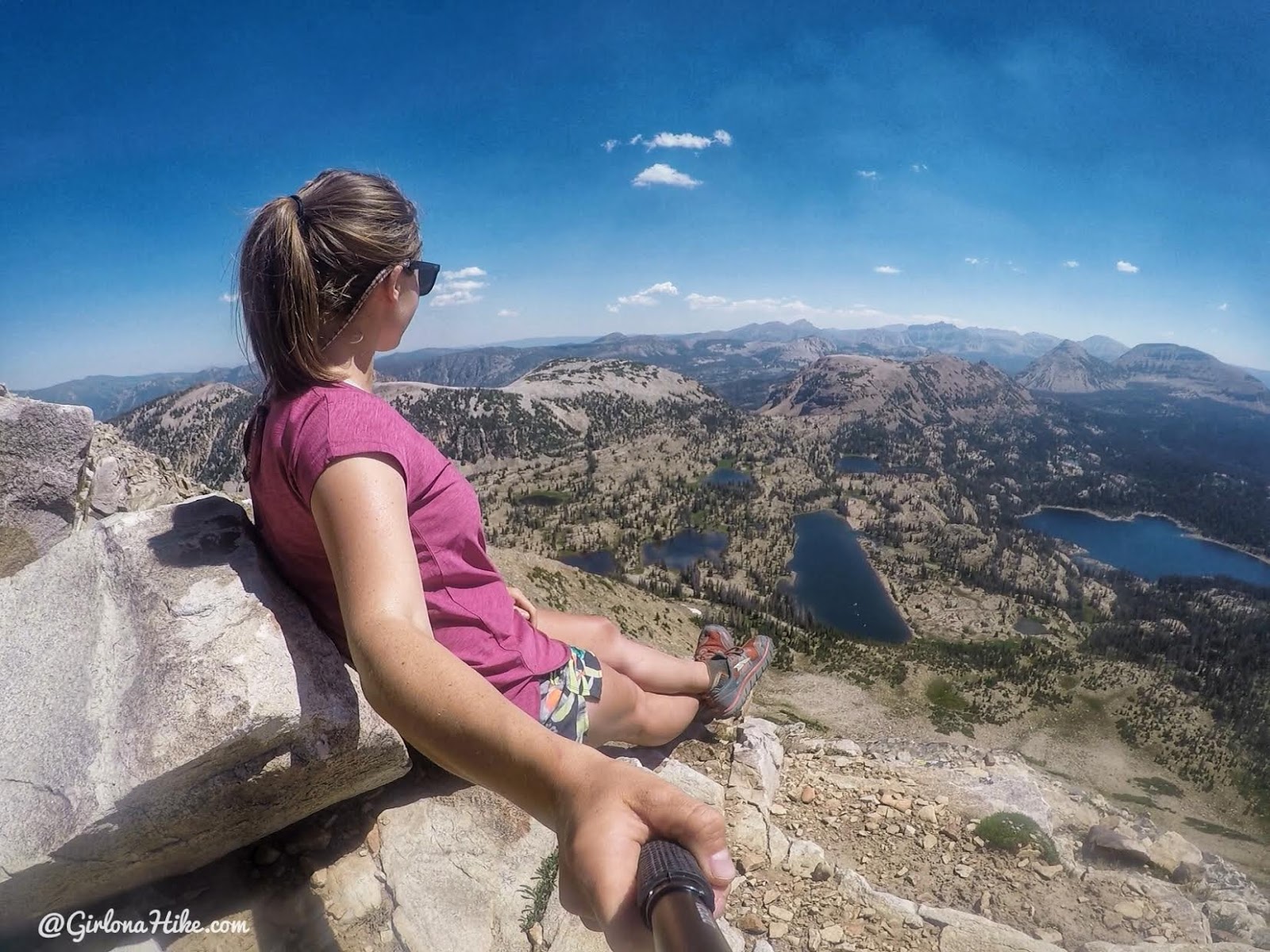 Just hanging out on the side of a mountain, no big deal LOL.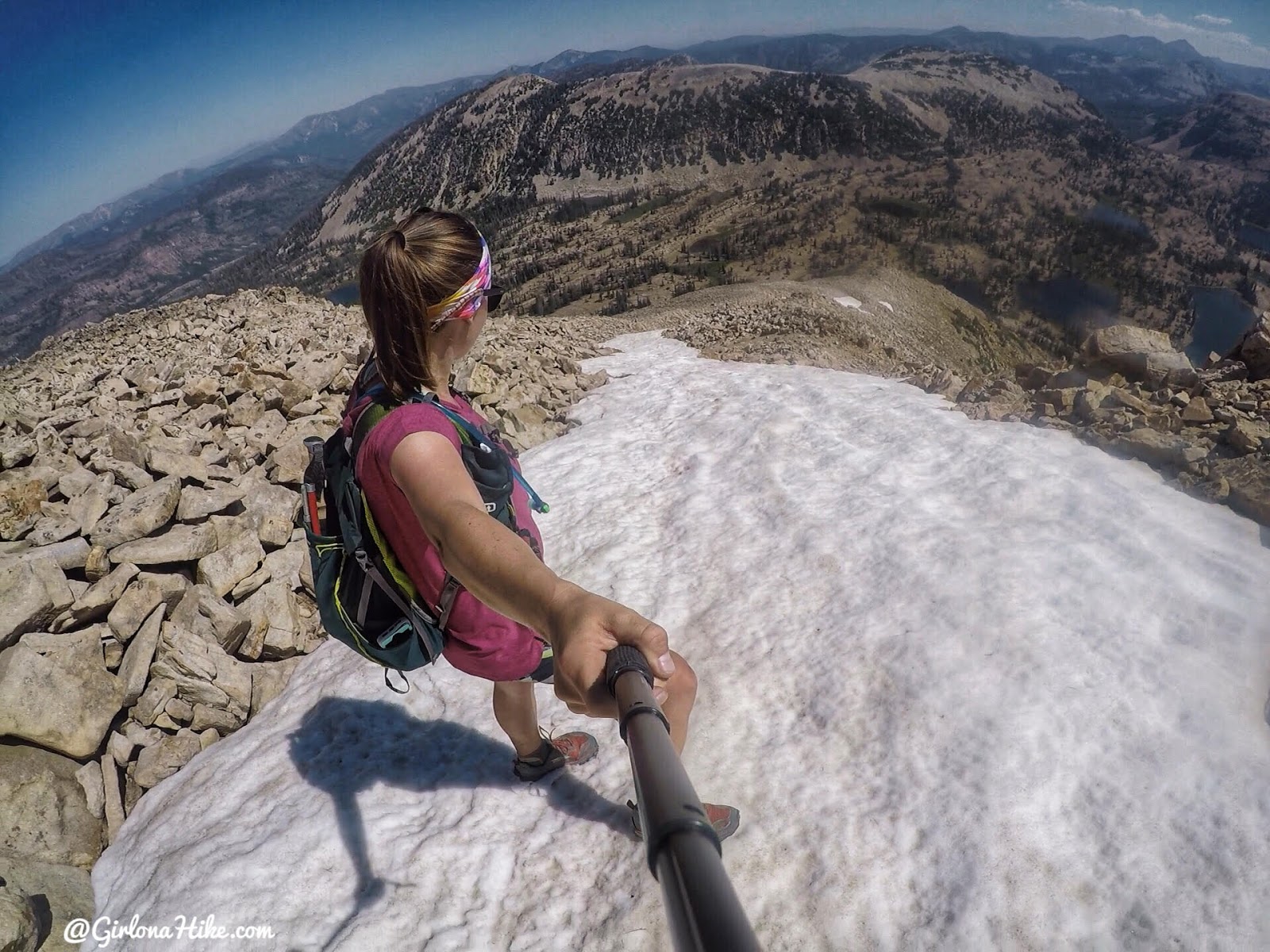 On the way back down we definitely wanted to glissade down!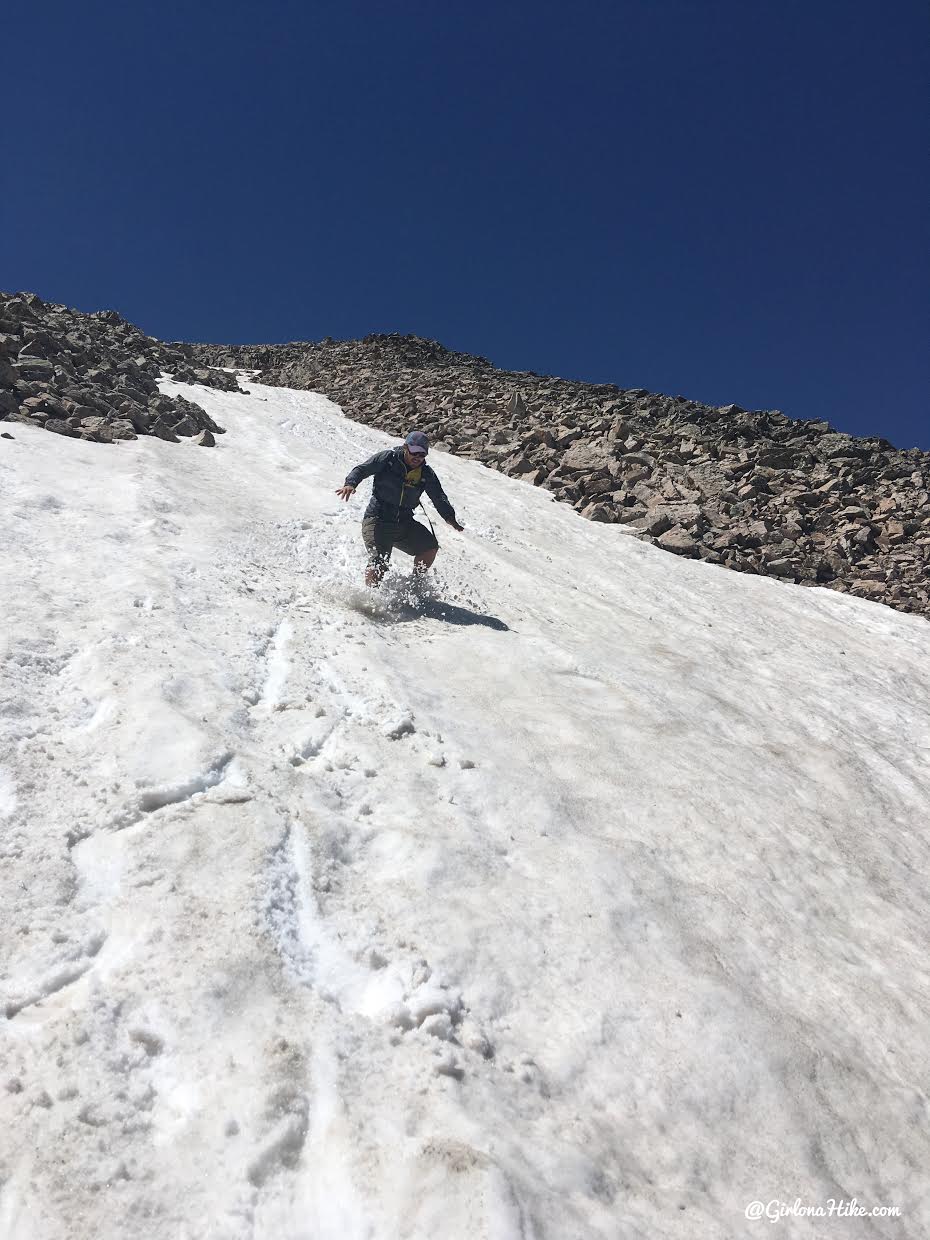 Weeeee!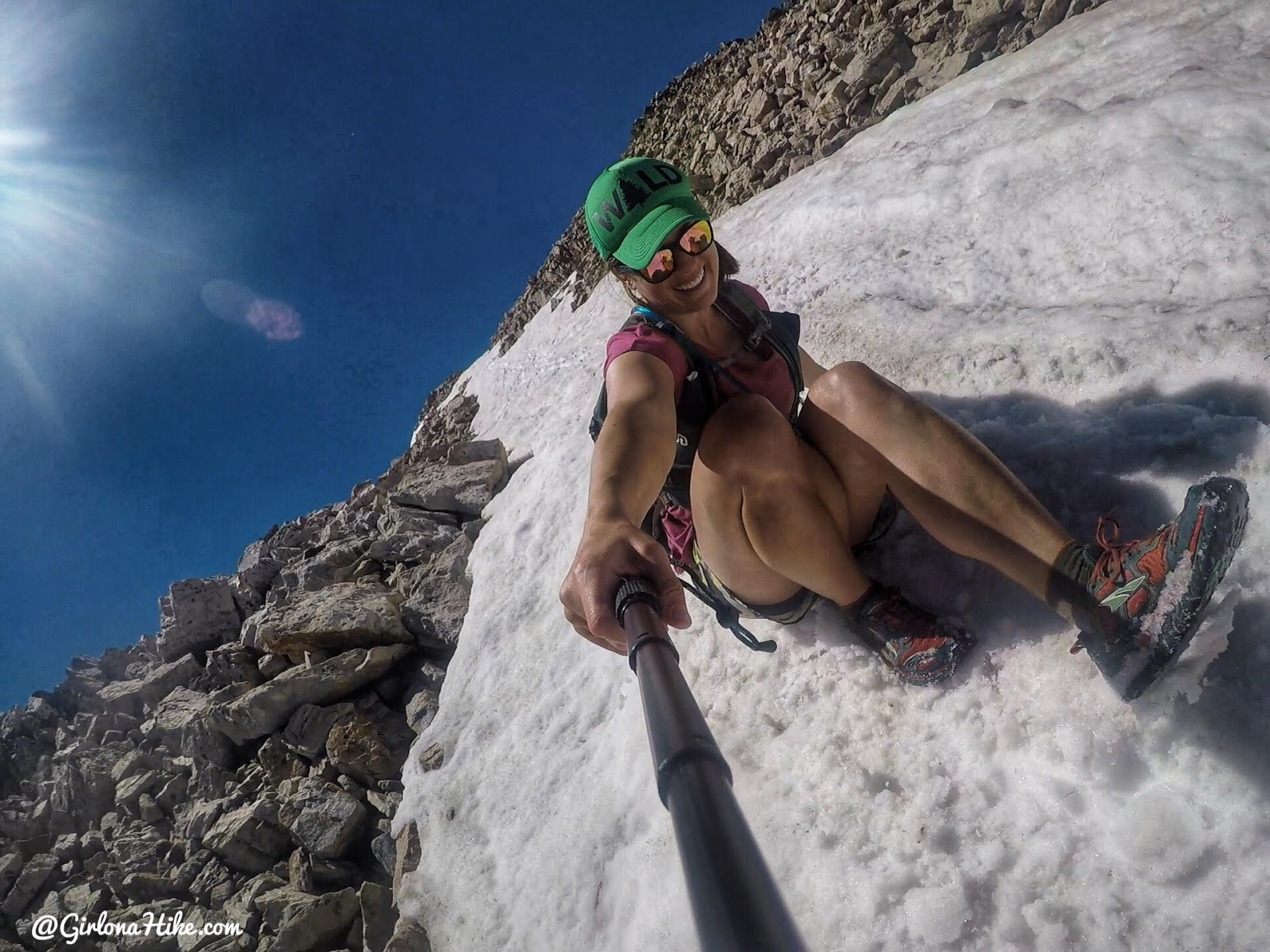 So. Much. Fun!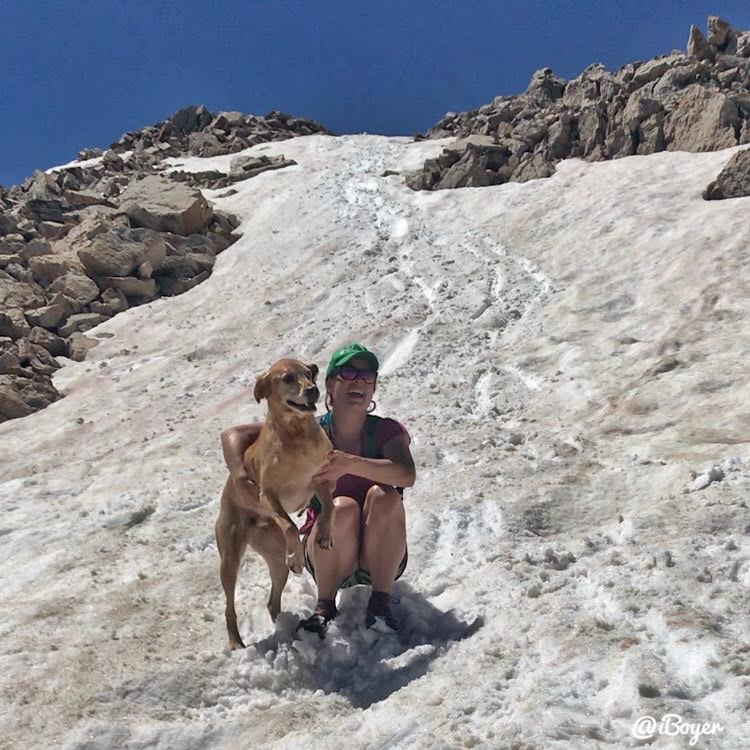 Love this fur-ball!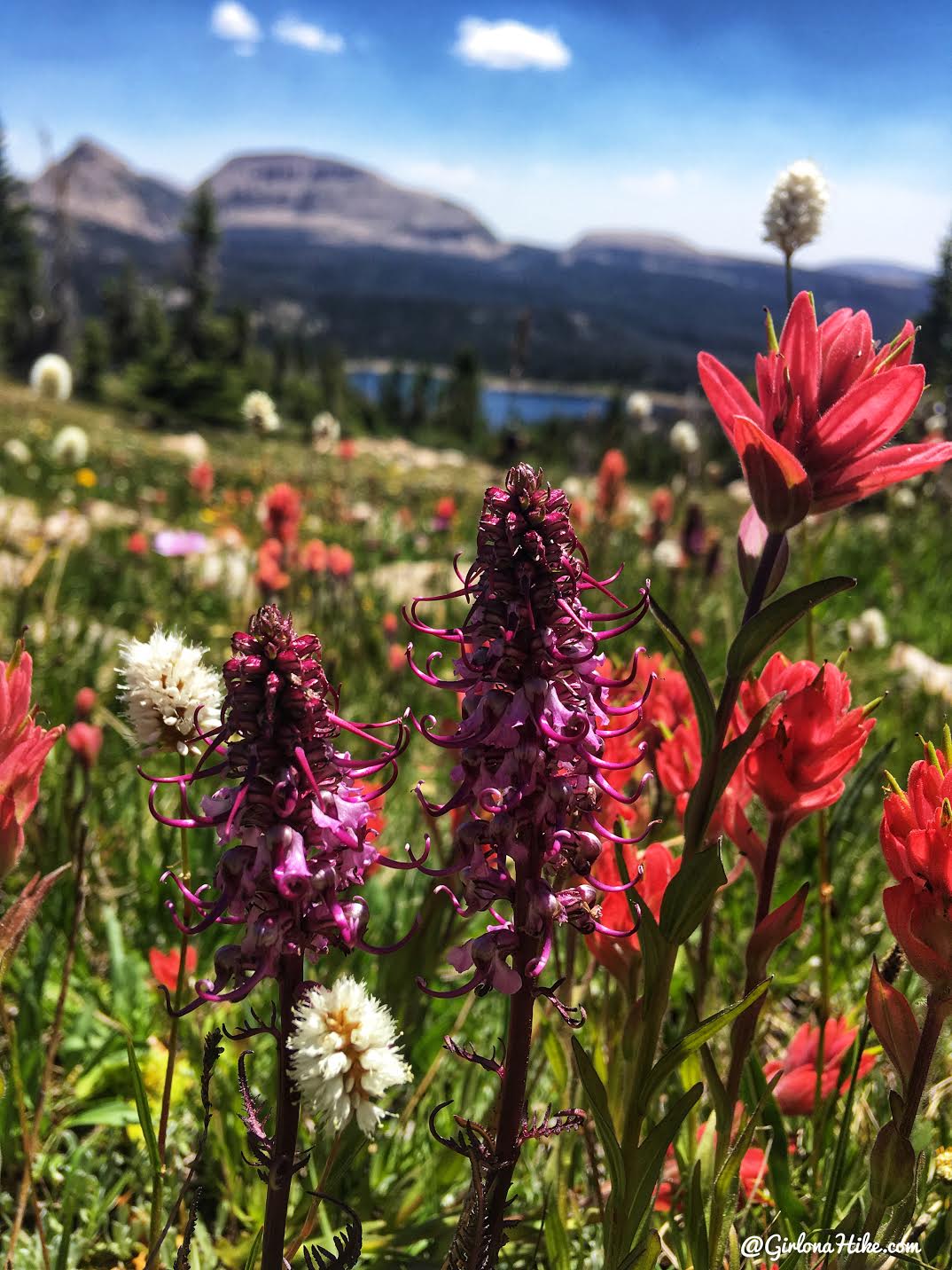 On the way down we took a slightly different route, which was a bit more direct back to the main trail, and also led us through a really pretty meadow. The pink flowers are Indian paintbrush, and the purple are Elephants Head.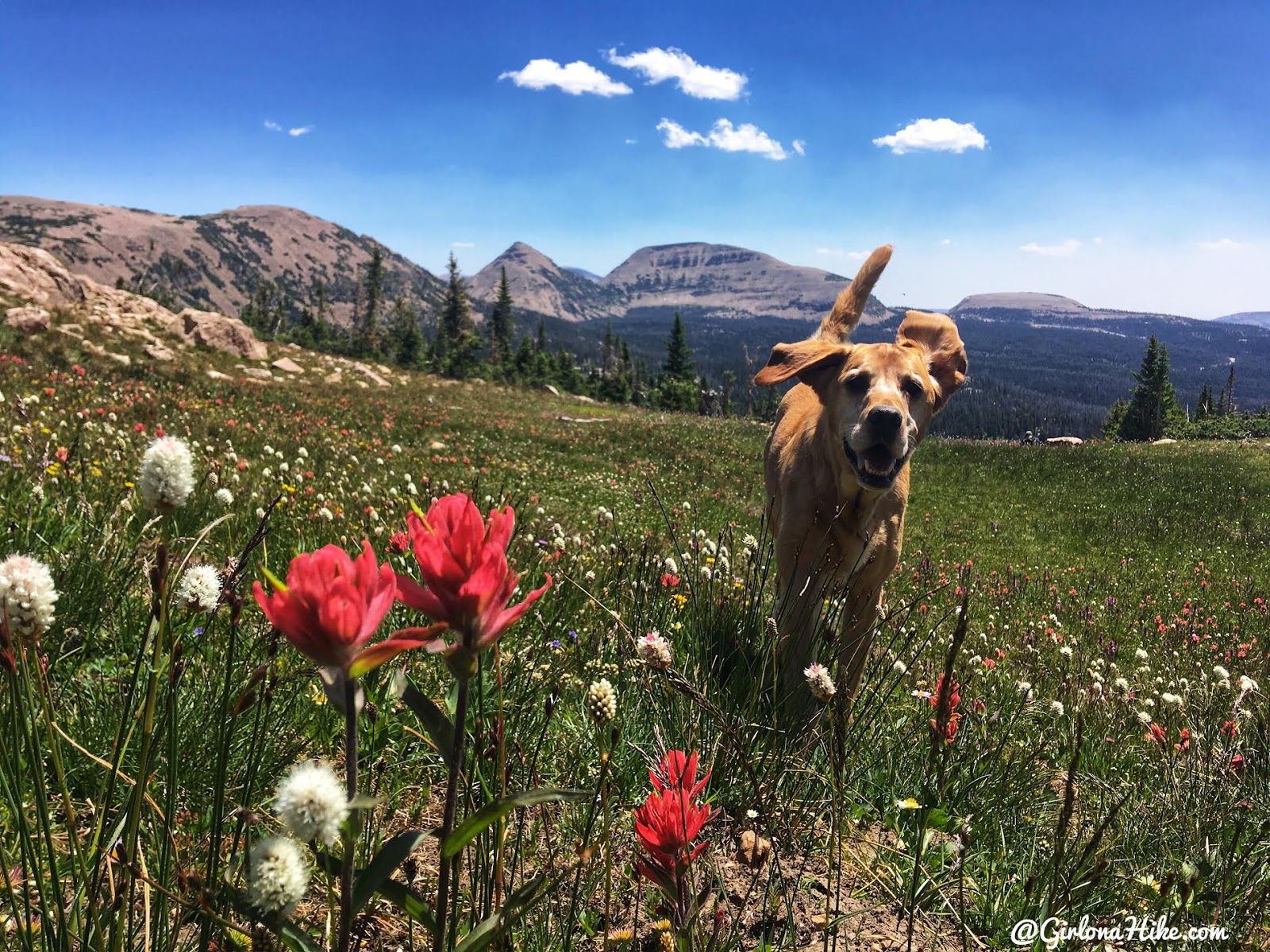 A beautiful day to gallop through wildflowers and meadows!
Trail Map
Purple – hike up. Easiest approach.
Green – optional route down.
My track via Gaia GPS – the best tracking app! Get your app here for a discount.
Recommended Gear
Nearby Hike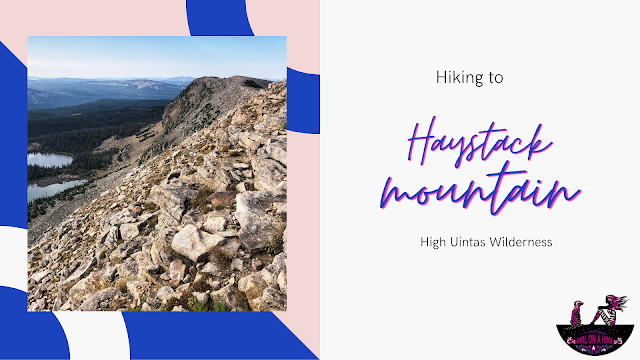 Save me on Pinterest!