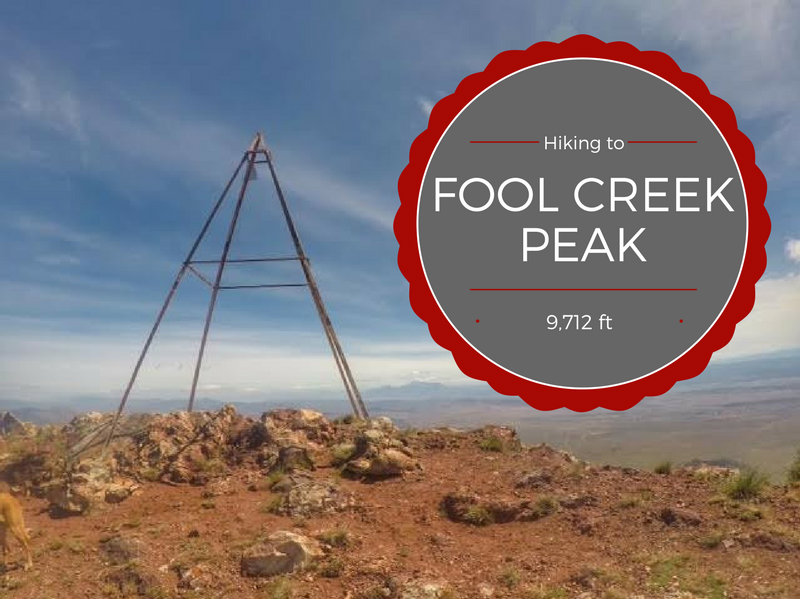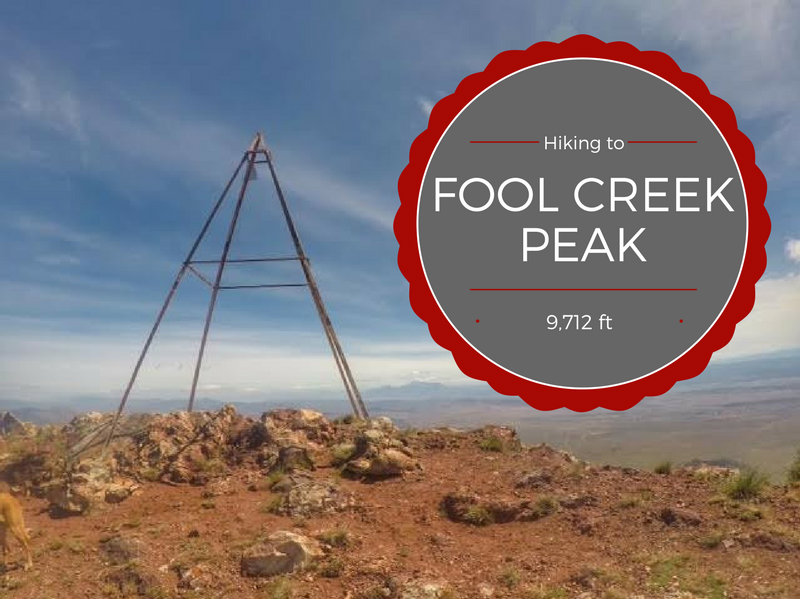 Fool Creek Peak (9,712 ft) is the highest summit in the Canyon Mountain Range in central Utah, and ranks #20 on the Utah Prominence List with 3,712 ft. I bet everyone has seen this peak, but nobody knows the name as you drive by it heading south on I-15 in Scipio, UT. This is one of the reasons I just had to hike this peak – every time I would drive on I-15 I said to myself "One day I'll hike to that peak!" So I did.
About
The summit of Fool Creak Peak is accessed from the West in Oak City, Utah. The drive is easy – even small passenger cars can drive up the canyon to a point. The terrain is a mix of desert and low brush. The forest fire from 2013-2014 really wiped out a huge section of this area. Surprisingly, there was quite a bit of new growth since then. The trees still have the burnt look, but the lower brush and oak has regrown. Which brings me to an important tip – I highly recommend wearing pants for this trail. Parts of the trail are overgrown since it's not a popular hike, and it will scrape up your legs and make you itch.
Because the trees have not fully regrown, there is zero shade on this trail. Bring plenty of sunblock and water. There are three small stream crossings within the first 1/2 mile, but after that you are own your own. I carried 3L of water and put another liter of water in Charlie's dog pack. By the time we got back all the water was gone.
One of the best parts about hiking to Fool Creek Peak is that you will likely have the trail and summit to yourself. We only saw two other people the entire day, and they were locals who told us all about the fire and area.
Directions
Drive south on I-15 and take exit 228 for Main St. in Nephi, UT and stay on this road for 2.8 miles. Turn right on HWY132 and stay on this for 28 miles. Turn left in Leamington, UT for HWY125 and drive 12.5 miles. In Oak City, UT turn left on Center St., then Center St/L St turns right and becomes 200 E. Drive 5.7 miles to Oak Creek  Canyon Rd.
If you are driving from SLC, use this map. If you reach the Plantation Campground you've gone too far (though it does look like a nice camping area). I've marked it to the spot in the road where small cars will need to park. If you have a truck, you can drive up another mile North on FR1653 up Walker Canyon. The parking area for trucks is right by a small brown sign that says "Trail 087 – Vehicles than 50 inches wide". There's enough parking for 2 cars here. This is where we started hiking from and where my mileage is based from.
Trail Info
Distance: 6.7 mi RT
(That's if you can drive up as far as we did. If you have to park off the main road it's 8.7 mi RT)
Elevation gain: 2,900 ft
Time: 4-6 hours
Dog friendly? Yes, off leash
Kid friendly? No
Fees/Permits? None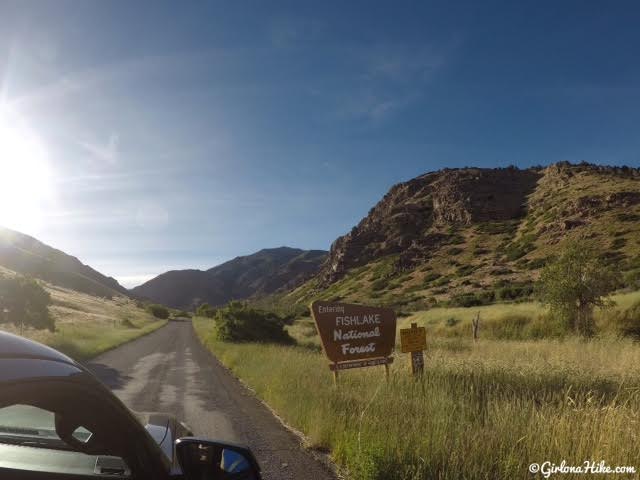 After driving through Oak City, UT you will see the Fishlake National Forest sign.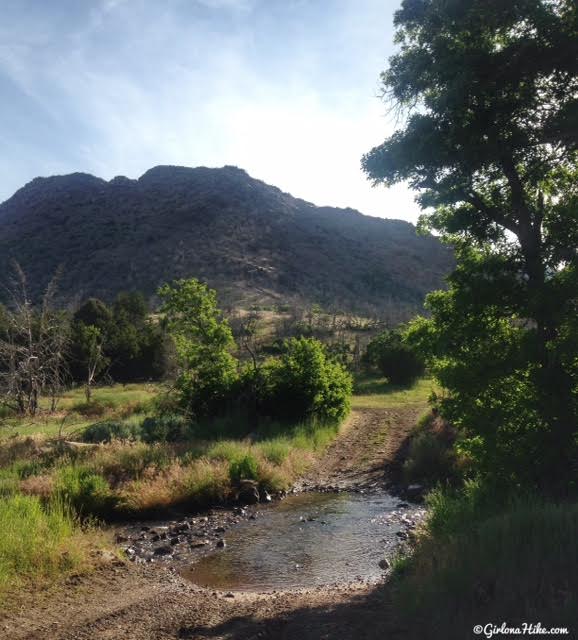 Soon you will see the Oak Creek Campground on your left. Drive another 1.7 miles to FR1653 (it's not signed, make sure you have a real map with you) and turn left here across this small creek up Walker Canyon as far as you can drive. This is where small, passenger cars will need to park because the road gets really rutted out.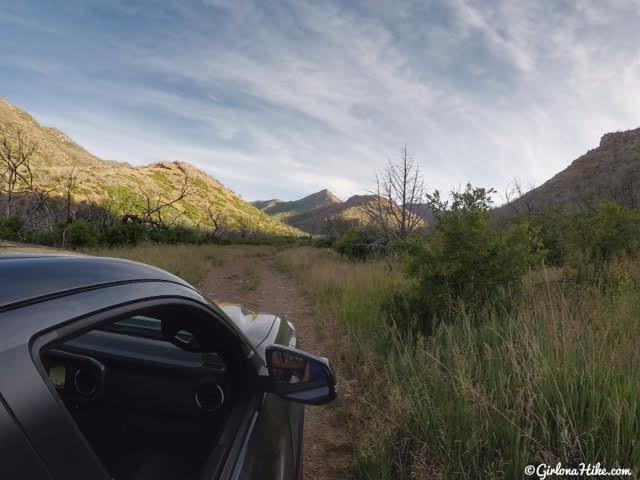 We drove up about a mile in the truck as far as we could.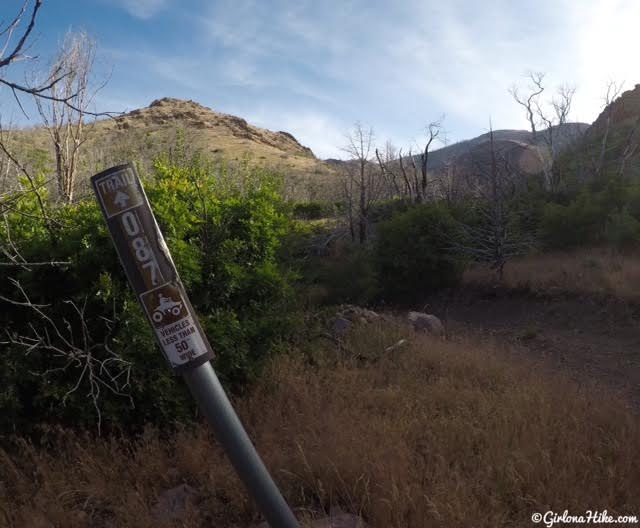 We reached the small brown sign that says "Trail 087 – Vehicles than 50 inches wide" and parked to the right on the dirt road.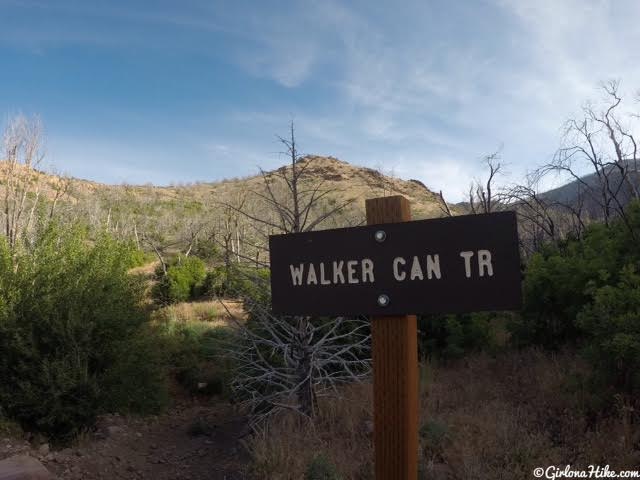 At that same spot, you should see the Walker Canyon Trail sign. This is where you begin hiking.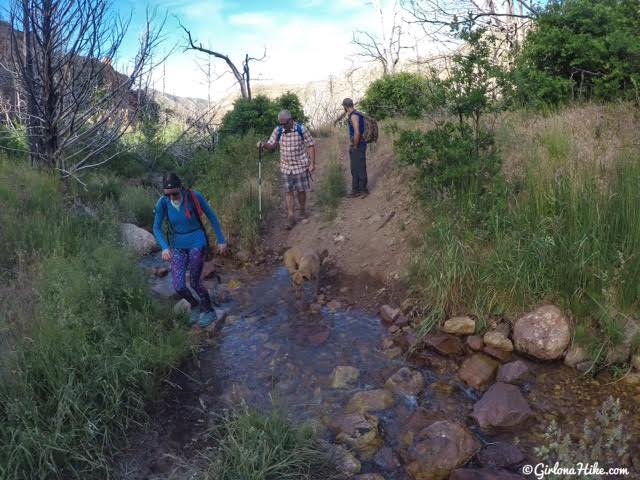 You'll cross three small streams within the first 1/2 mile. Perfect for the dogs to drink from.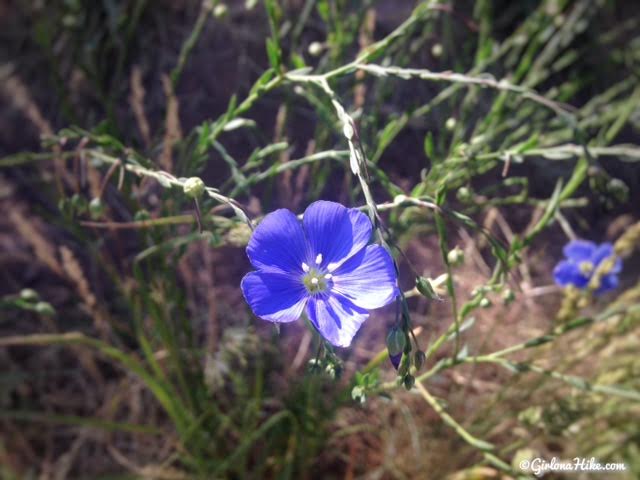 Wild Blue Flax wildflowers along the trail were everywhere!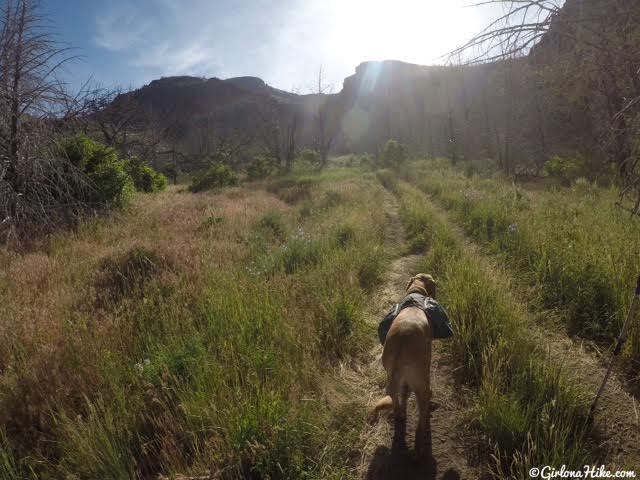 The first mile of the hike is along the ATV trail.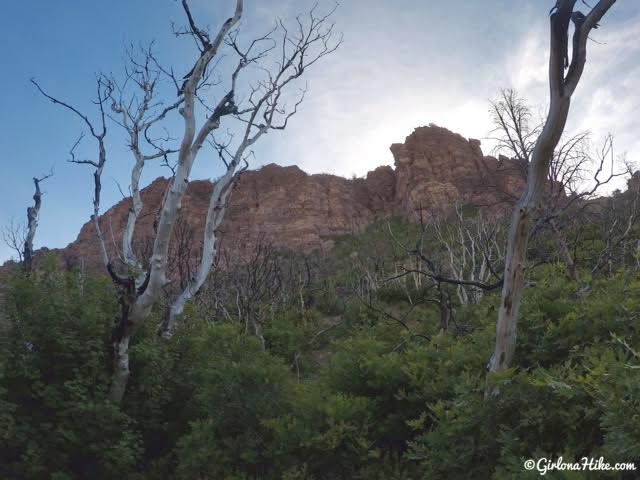 We started hiking around 8:30am, so we still had some shade thanks to this cliff wall.
You can see the new growth along with the burnt trees that are still standing from the fire.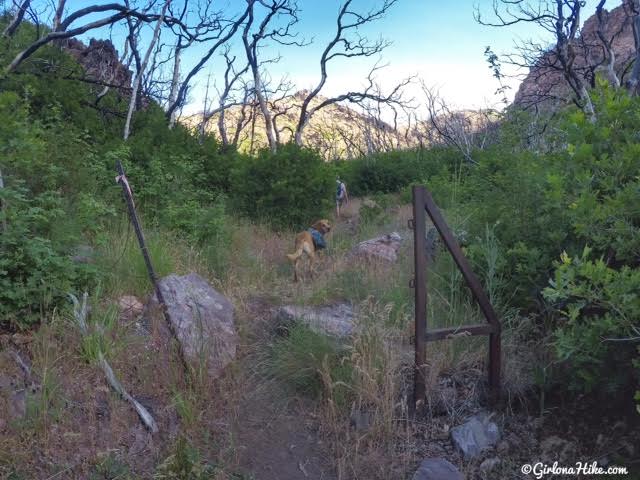 At mile 1, you'll reach this small open gate. This is where ATVs are forced to turn around, and where the trail turns into a single track.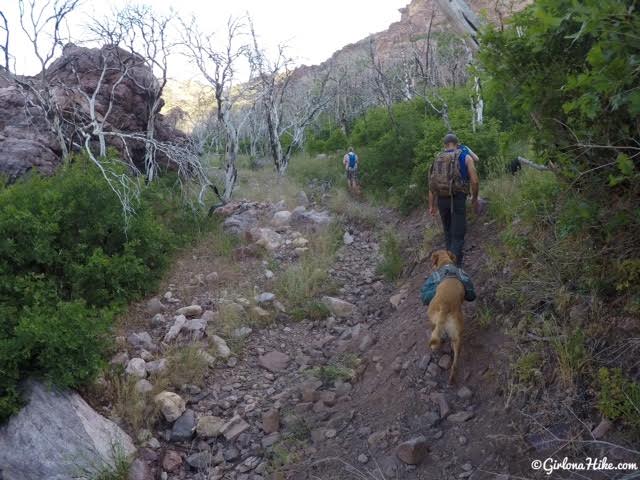 You'll follow this dry wash for about 1/2 mile. I imagine if you hiked here earlier in the year there would still be water here.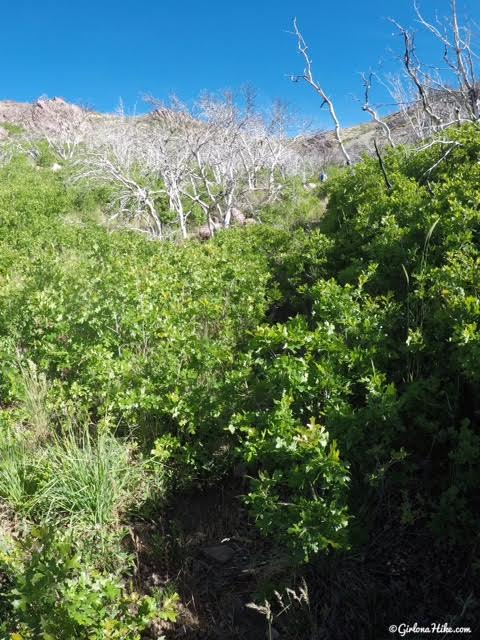 This shows exactly why I recommend wearing pants. Parts of the trail are overgrown since it's not a popular hike, and it will scrape up your legs and make you itch. The trail does get faint at times, but we never fully lost it. Two days later as I write this, my legs are still itching even though I had pants on. I'm allergic to oak, so my eyes were red for the next two days as well. That was the not-so-fun part about this trail for me. Dang allergies!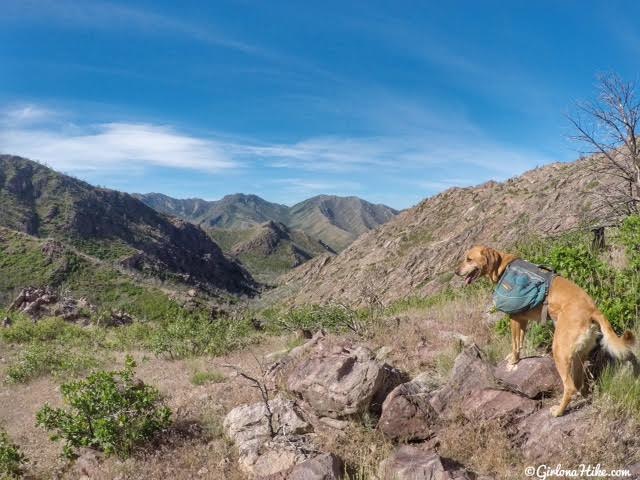 Working our way up the switchbacks, Charlie takes in his view looking South where we hiked up from.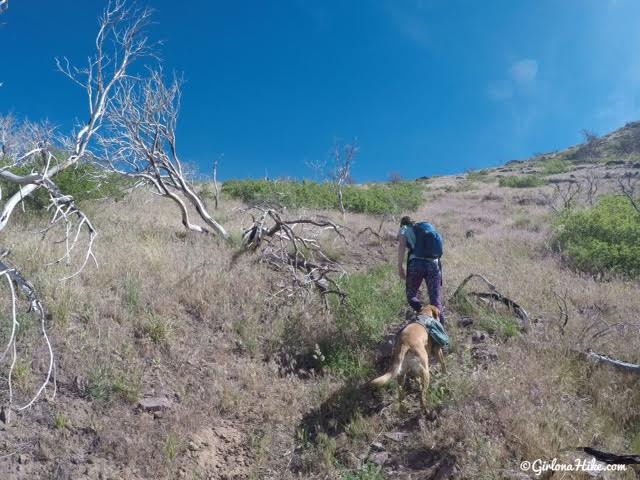 Almost to the first saddle. We were now fully exposed to the sun.
At the saddle, looking North. You can actually hike up from the North but I hear the road is really bad. Thankfully the breeze here was really nice and cooled us off a little.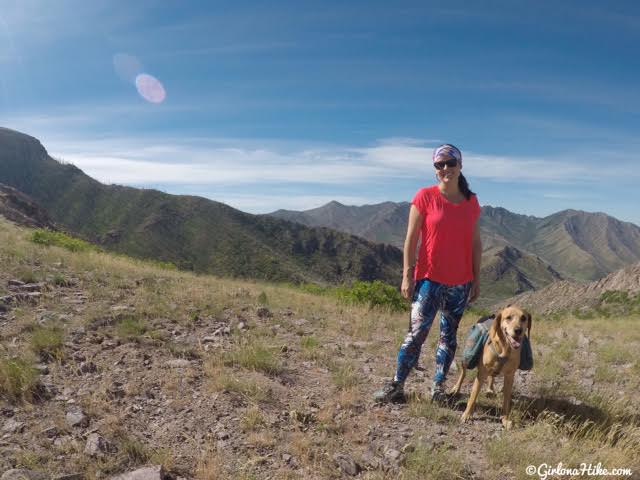 At the saddle looking South.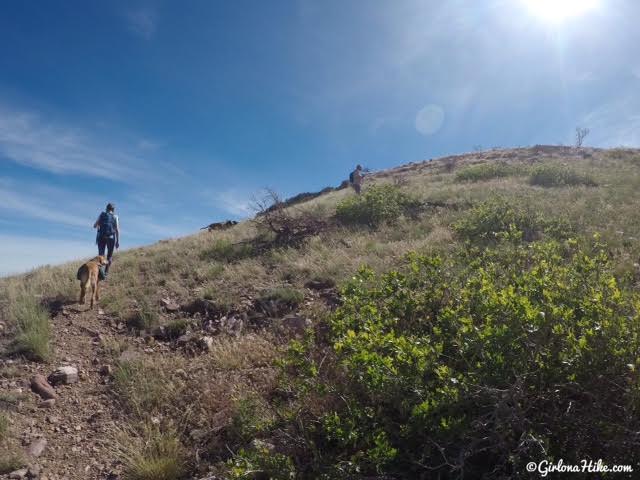 Once at the saddle, head right (East).
You'll hike up and over a rocky section, then drop down to the second saddle. No scrambling is required. Fool Creek Peak looks so close….yet it took us longer than expected.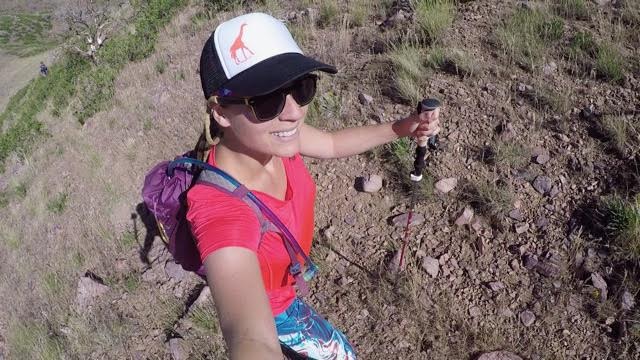 Trail selfie!
Testing out my new trekking poles from Paria Outdoors. Update: 2021 – these lasted 4 years before breaking!
 The hike up past the second saddle was the steepest, and where we lost the trail for 100 yards or so. It wasn't too hard to pick it up again if you stay along the ridge. Lots of burnt trees.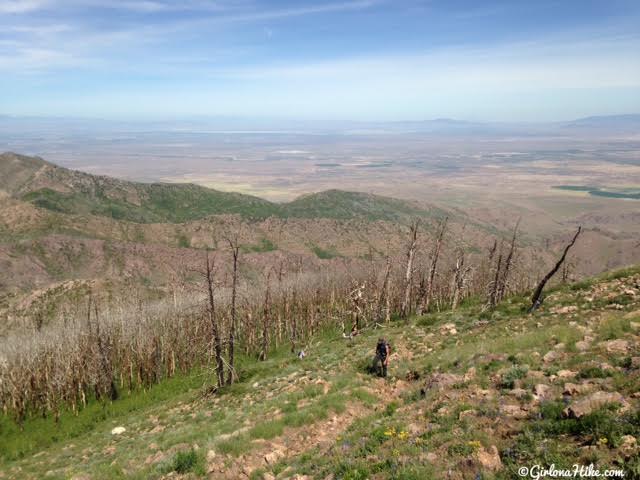 Finally above tree line, looking down to my friends making their way uphill. On a clear day you can see Notch Peak directly West. It was a little hazy, so we could only barely see Notch as well as Ibapah Peak.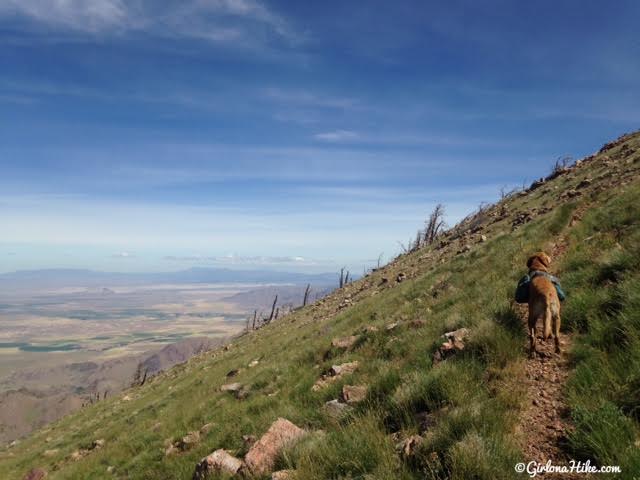 Charlie makes his way up – you can see how steep of an angle this area is. You'll hike up 4-5 switchbacks on this section.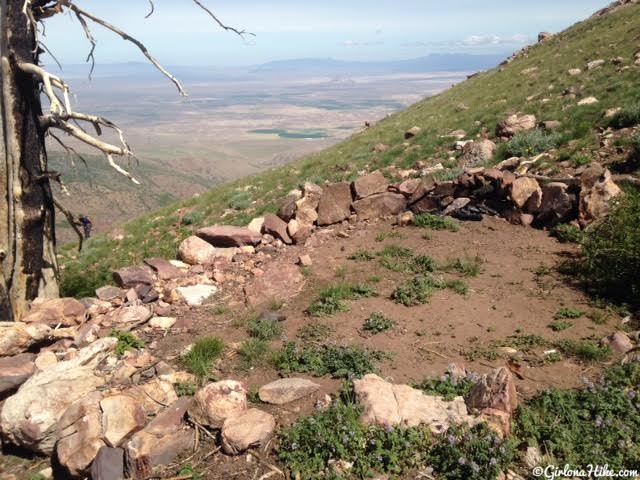 Possible campsite near the summit. If you camped here you'd need to carry enough water and have tent stakes secure, as it can get really windy.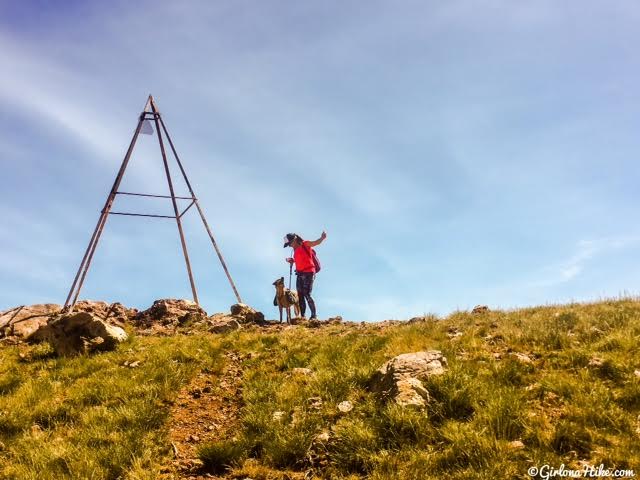 Made it to the summit in about 2.5 hours!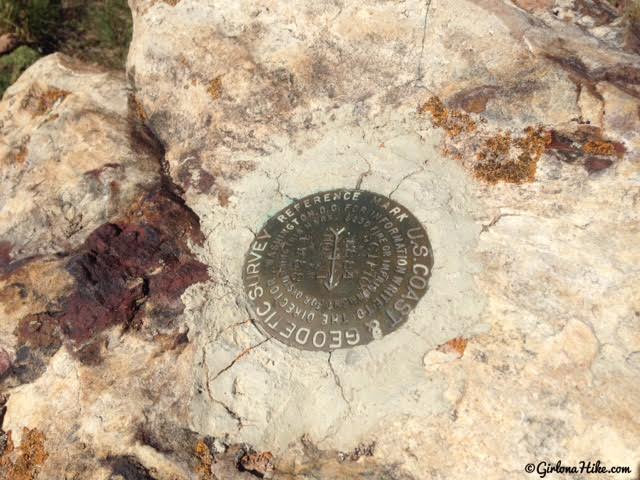 Summit marker. There are actually two summit markers on Fool Creek Peak.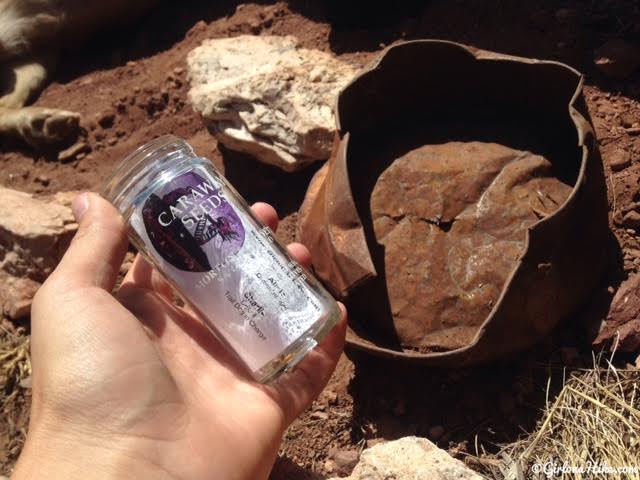 We didn't see this until we were about to leave but there is a summit register under this old tin cover. Somebody brought up an old seasoning jar as the register. Whoever hikes up here next should bring a larger mason jar, full size notebook, and new pencil. This thing was so tiny!
 Sitting on the summit, looking West down Cow Canyon.
Everyone is always curious what shoes I wear hiking and backpacking, so here they are. Altras for the win! I love trail running shoes for everything; I've never been a boot fan. Trail runners are light, have amazing tread, comfortable, breathable, and allow for more natural foot movement.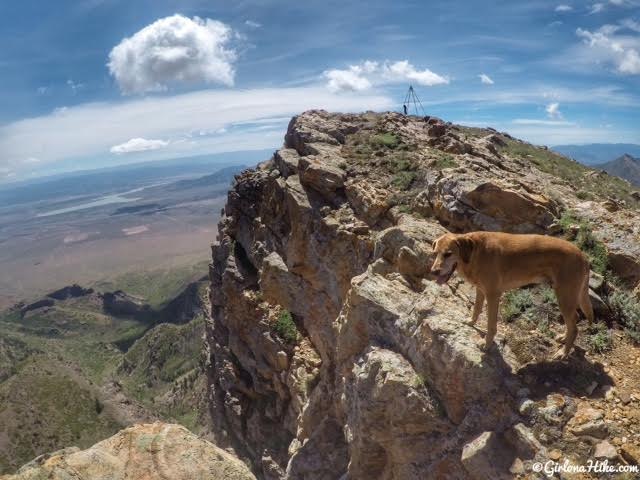 Charlie explores the summit. It's hard to tell how much of a cliff face Fool Creek Peak has, but again, if you are driving down I-15 you'll definitely see it.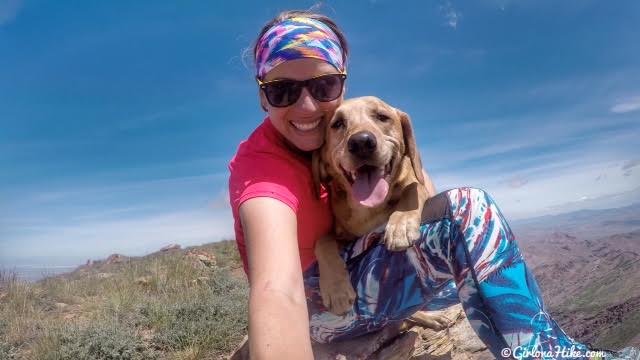 Summit Selfie!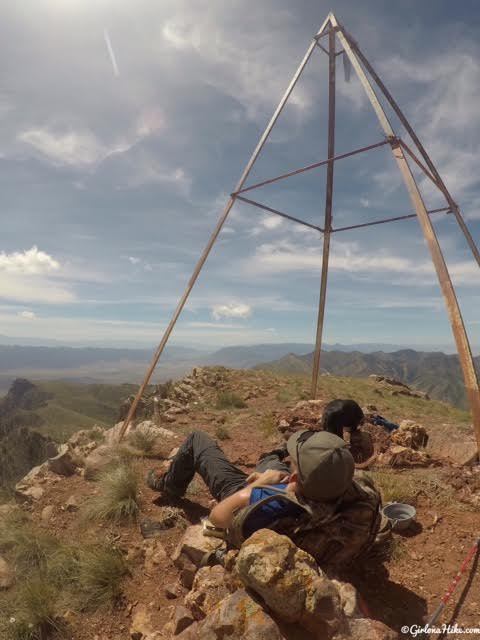 Snooze-town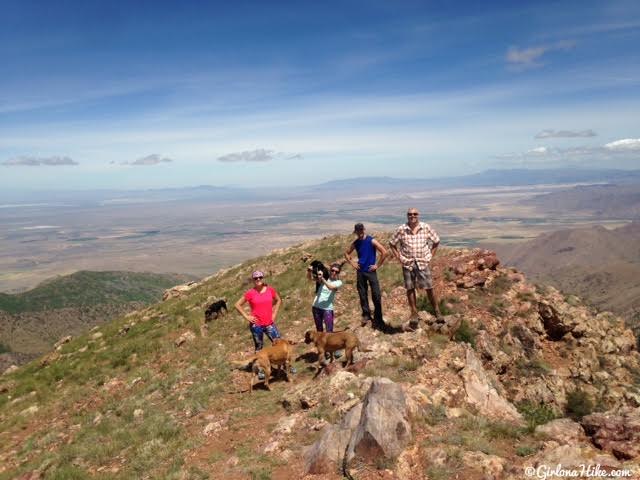 Group photo looking NW.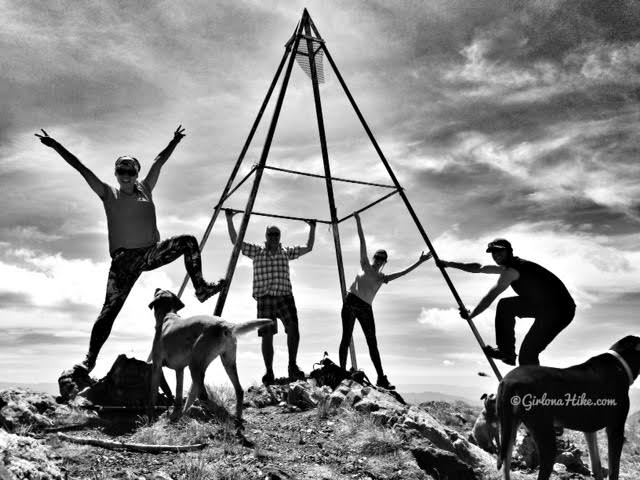 Group photo on the summit!
Trail Map
My track via Gaia GPS – the best tracking app! Get your app here for a discount.

Save me on Pinterest!