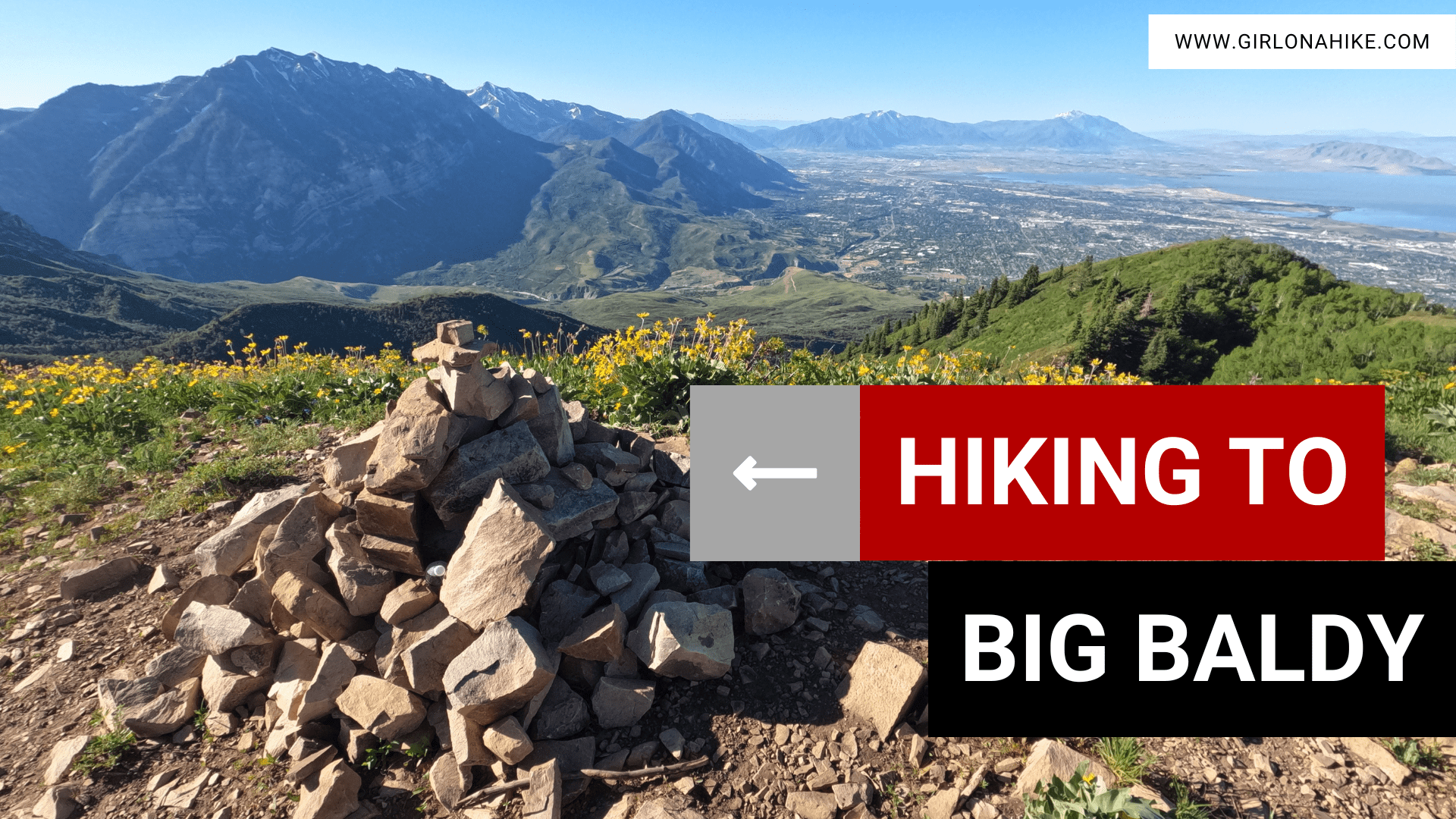 Hiking to Big Baldy, Wasatch Mountains

Big Baldy (8,750ft) is a prominent peak just to the West and below Mt.Timpanogos. It is a very challenging hike.
About
While the Big Baldy summit is only 3.6 miles one way, you will gain 3,200 ft! There are several routes to reach this peak, so this blog post will cover hiking UP the Dry Canyon route, and then DOWN via Curley Springs. Most hikers do this as an out-and-back via Dry Canyon to make it shorter. However, I prefer a loop when possible plus I hadn't been don't the Curly Springs side before.
It's steep the entire time, and no matter which route you take, you're sure to get in a leg workout. Because of the steepness, this hike is not suitable for dogs/humans with joint issues. I highly recommend wearing compression socks to help save your calves to recover faster.
While this is technically dog friendly, I highly recommend not bringing them since there is no water source to cool off and drink from. I also suggest that you start hiking no later than 6am to beat the heat. Even though I started at 5:45am and got back to my car around 11am, it got super hot! Again, if you do this as an out-and-back it shouldn't take nearly that long (my route was around 10 miles).
The views from 360-degree views Big Baldy are amazing, and the close-up view of Mt.Timpanogos is really cool!
Directions
From SLC, use this map.
Trail Info
Distance: 7.2 miles RT (for an out-an-back), 10 miles for the loop (see map below)
Elevation gain: 3,200 ft
Time: 3-6 hours, depending on your route
Dog friendly? Yes, off leash, but not recommended
Kid friendly? Ages 10+ with peak bagging experience 
Fees/Permits? None

Up bright and early to start hiking by 5:45 am! The trail begins in the South part of the parking lot.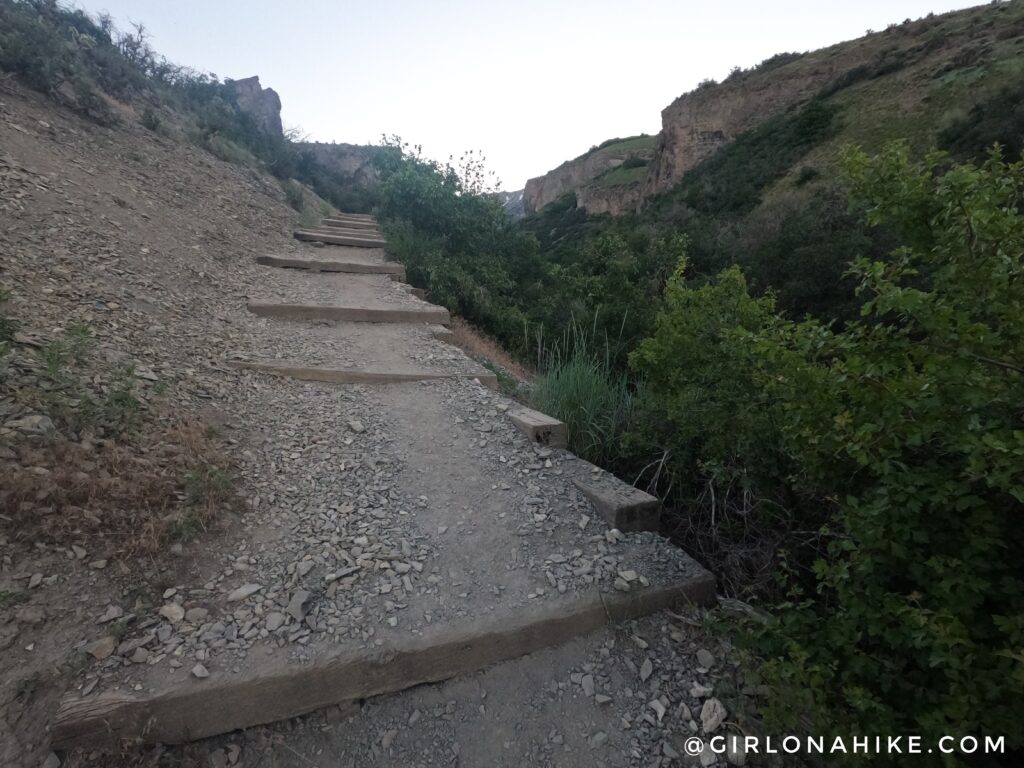 You will immediately hike up some stairs. Let the climbing begin!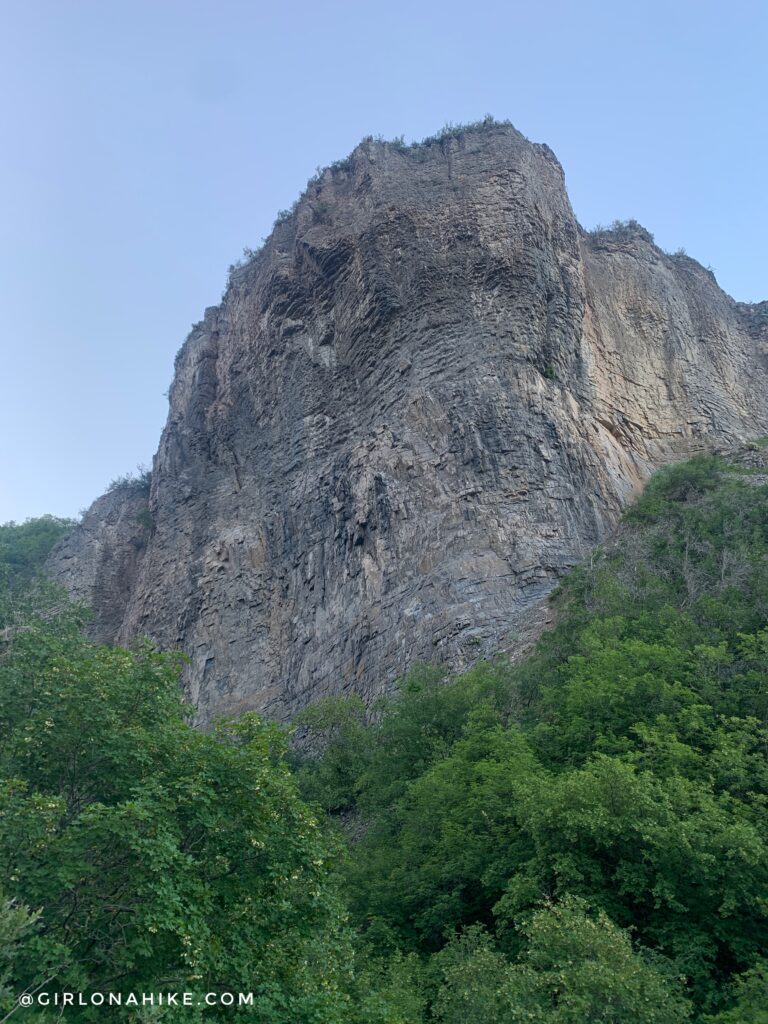 Hiking through Dry Canyon is actually quite pretty despite the name.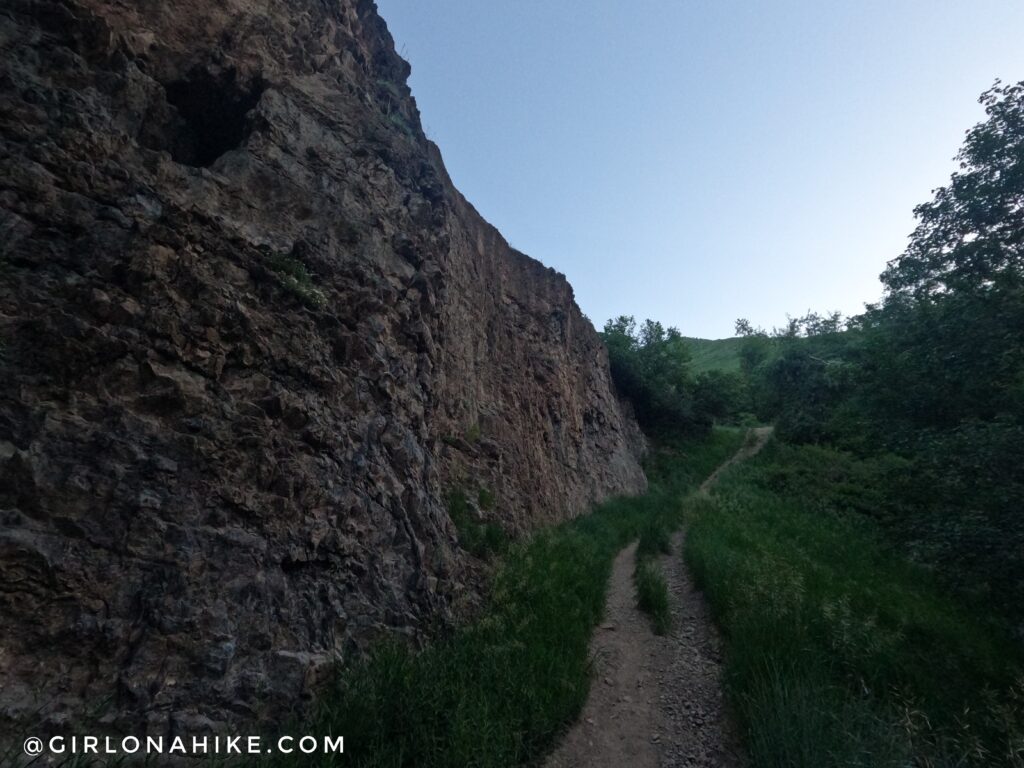 I could see this being quite the opposite later in Summer when all the green goes away and it gets extra hot. June seems to be the best month to hike to Big Baldy, in my opinion.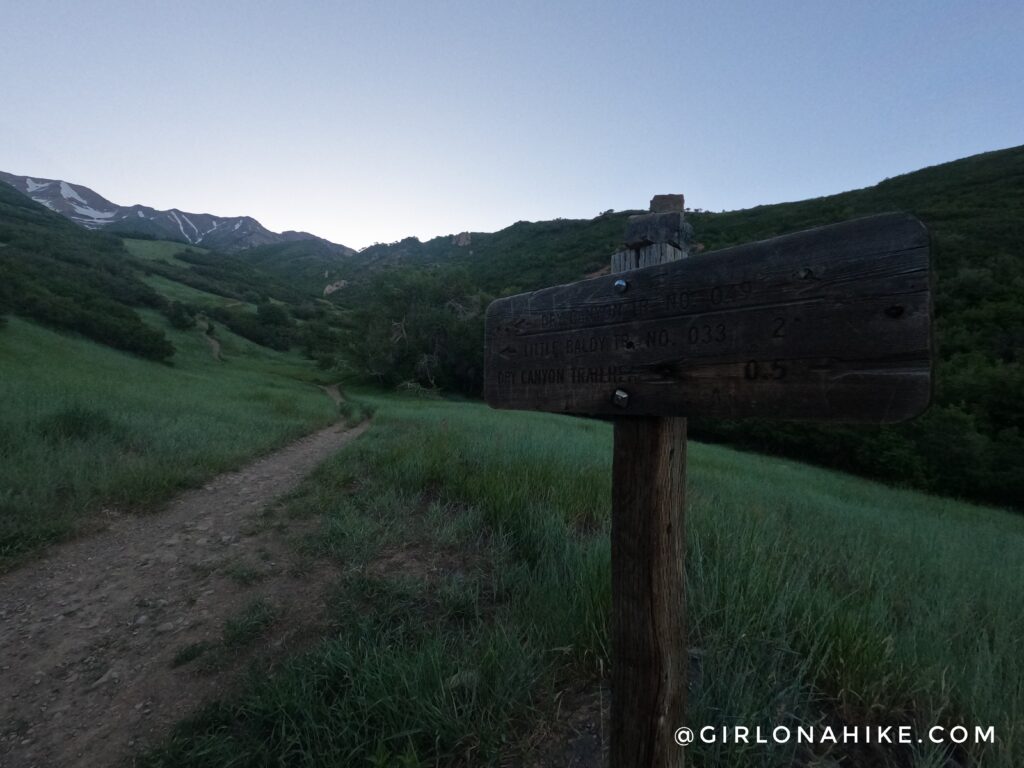 At the first trail split sign, keep hiking straight. If you do the loop, you will end up back here coming in from the North.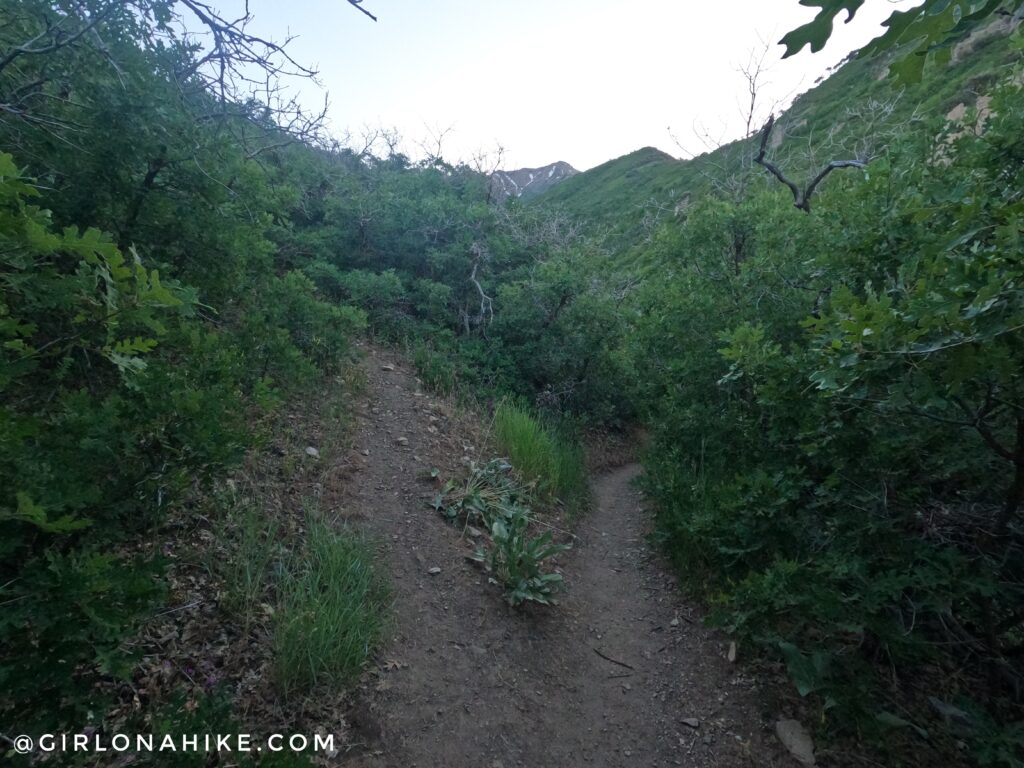 Around mile 1, you will see an unsigned split. If you go left, it will take you up the ridge route, which is even steeper. In just 1.2 miles it will gain 2,362 ft! So for now, stay right/straight.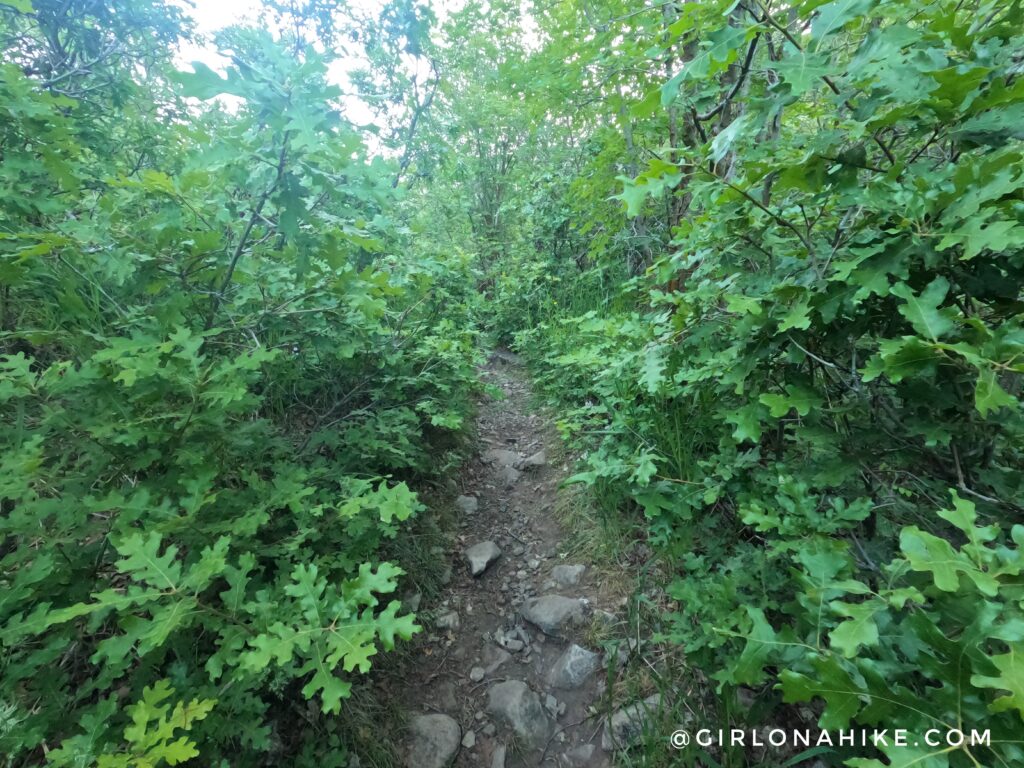 The trail is pretty overgrown in sections, and this is another reason I like wearing compression socks – to protect my legs from scratches.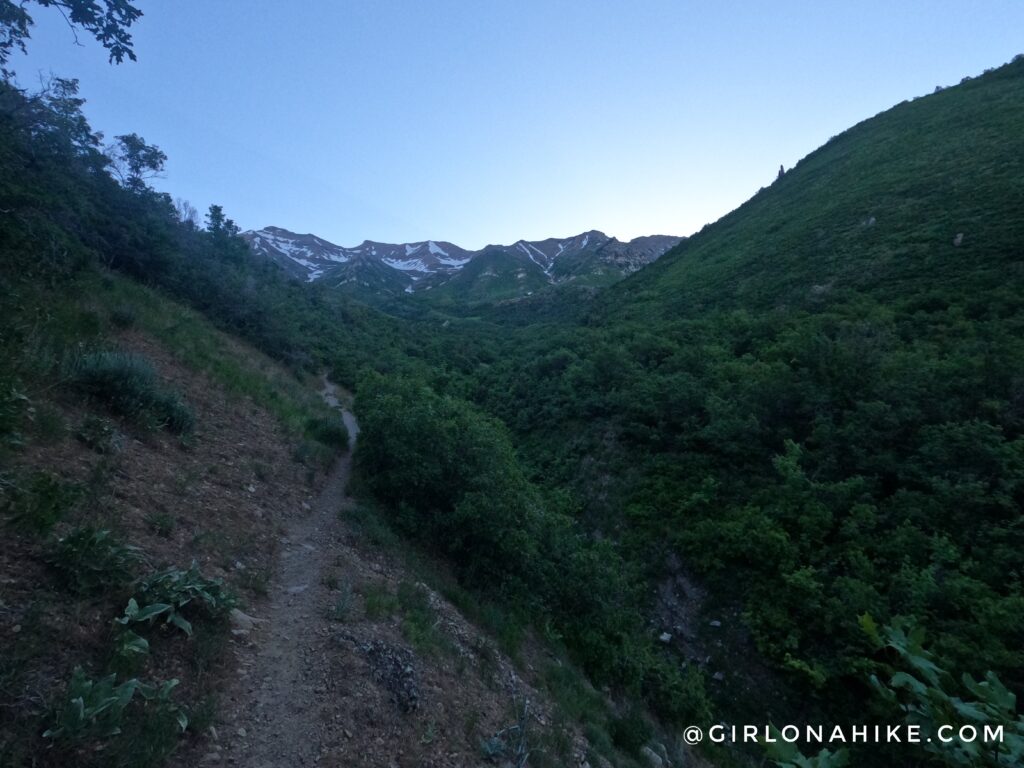 A short, open area to view the canyon. So pretty! So far you have climbed 2,100 ft.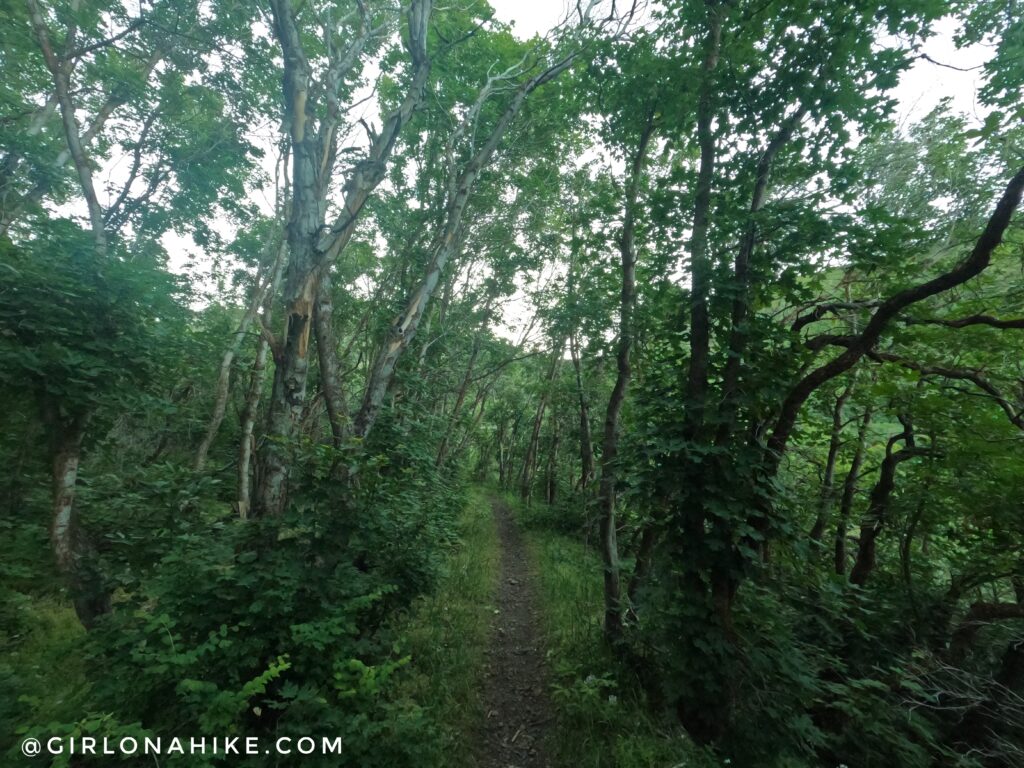 The trail levels off very briefly and is less overgrown.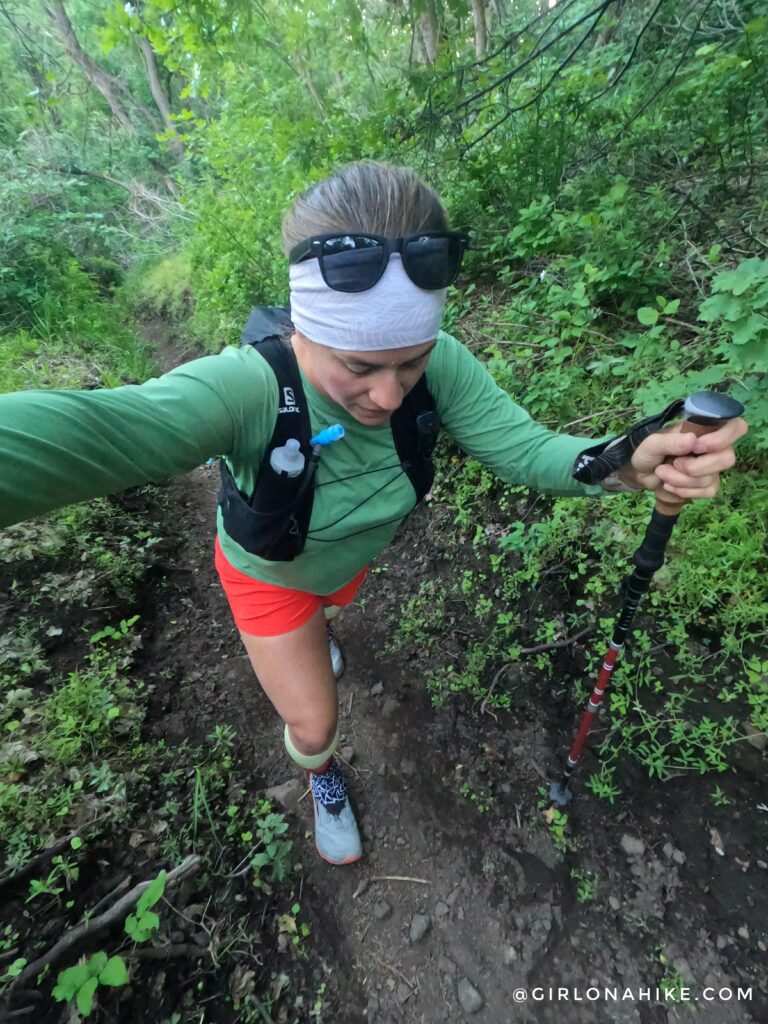 But don't worry, it gets steep very quickly again. Whew, it's hard to tell how hard I am working up this hill but my calves were really feeling it. Poles are also very helpful.
PS Get 10% off your headband order, use the code: "HIKE" here.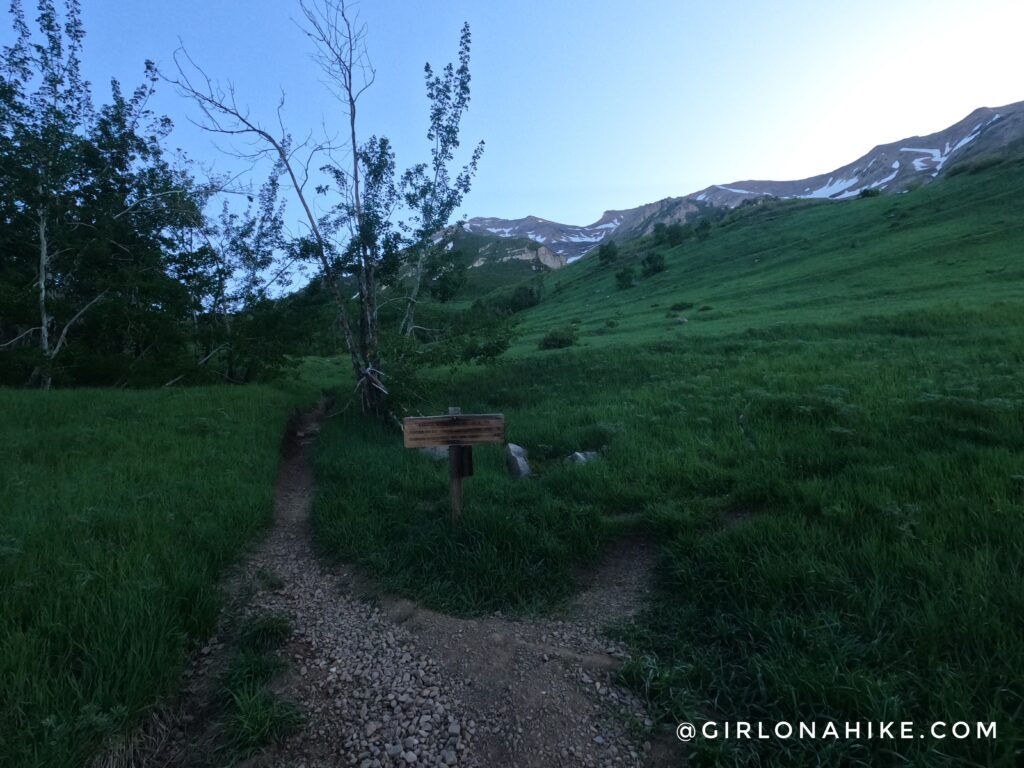 Finally, at mile 2.5, you reach the trail split for the Provo Parkway/Little Baldy. Stay left here.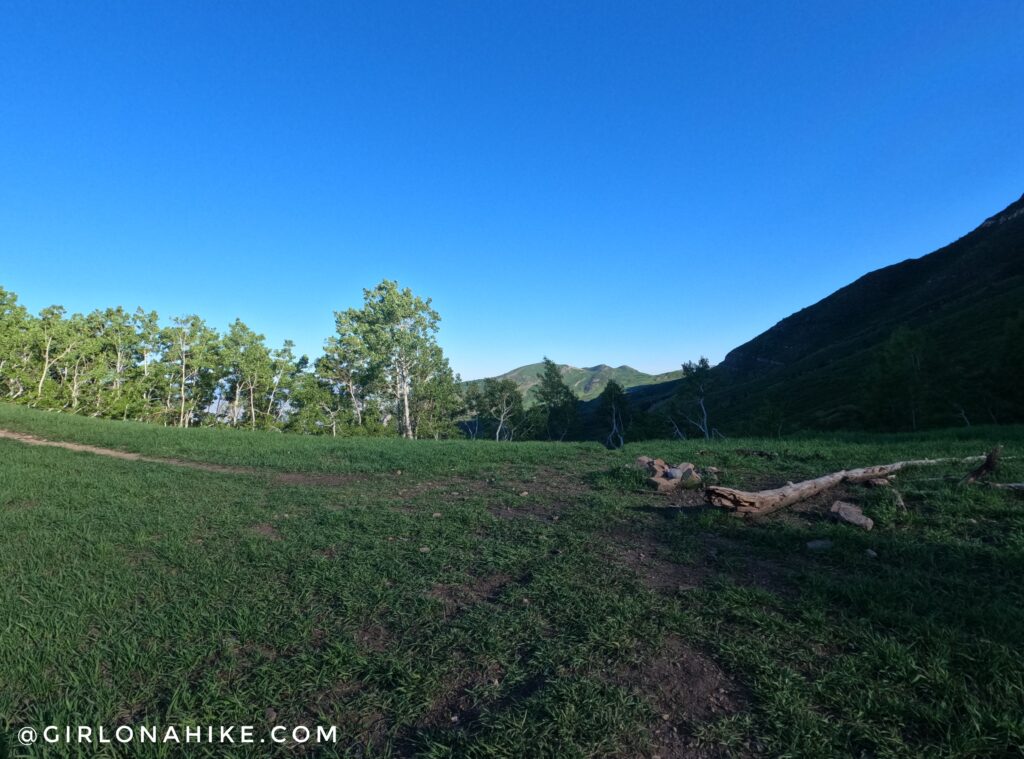 As soon as I reached the saddle the sun appeared. I was able to hike for 2 hours in the shade starting super early. From here, turn left.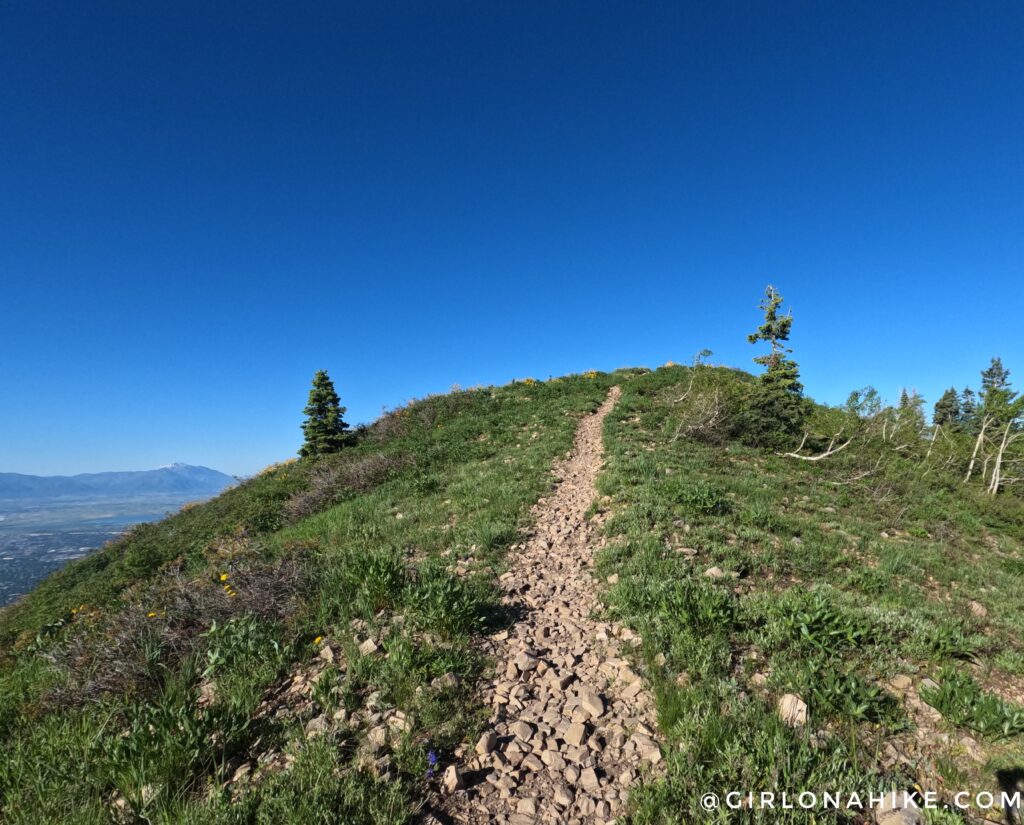 Almost there!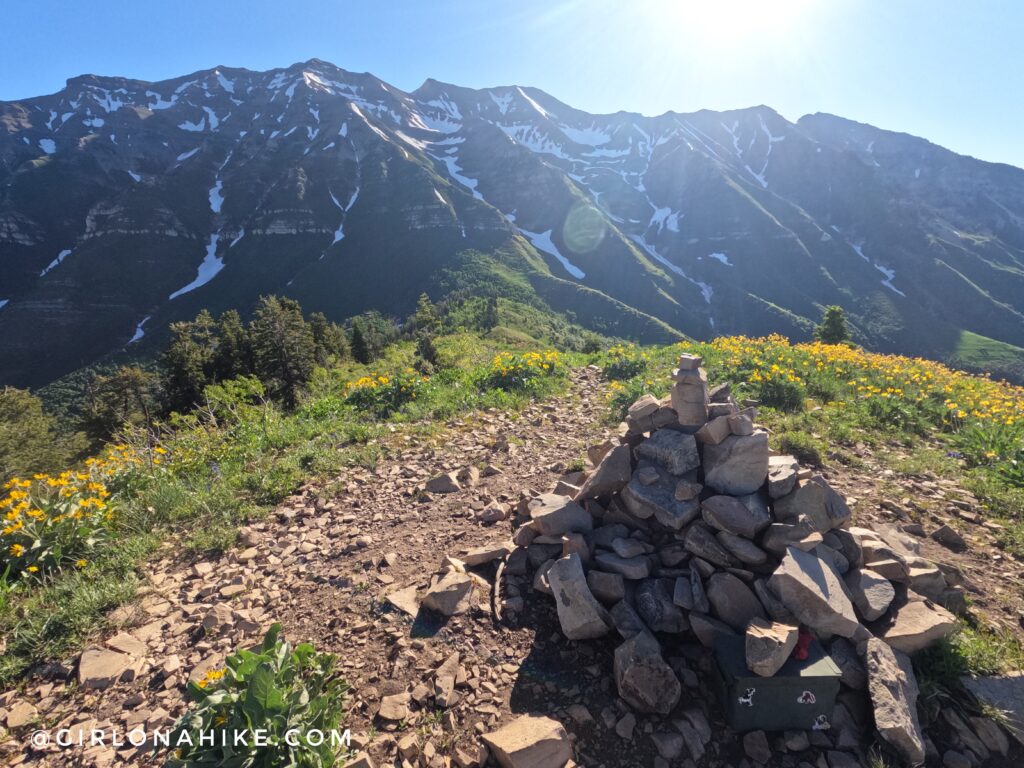 Finally on Big Baldy. It took me 2:15 minutes for a mere 3.6 miles yikes! That tells you how steep it really is. I love looking back at Mt. Timpanogos from here. Still so much snow in June!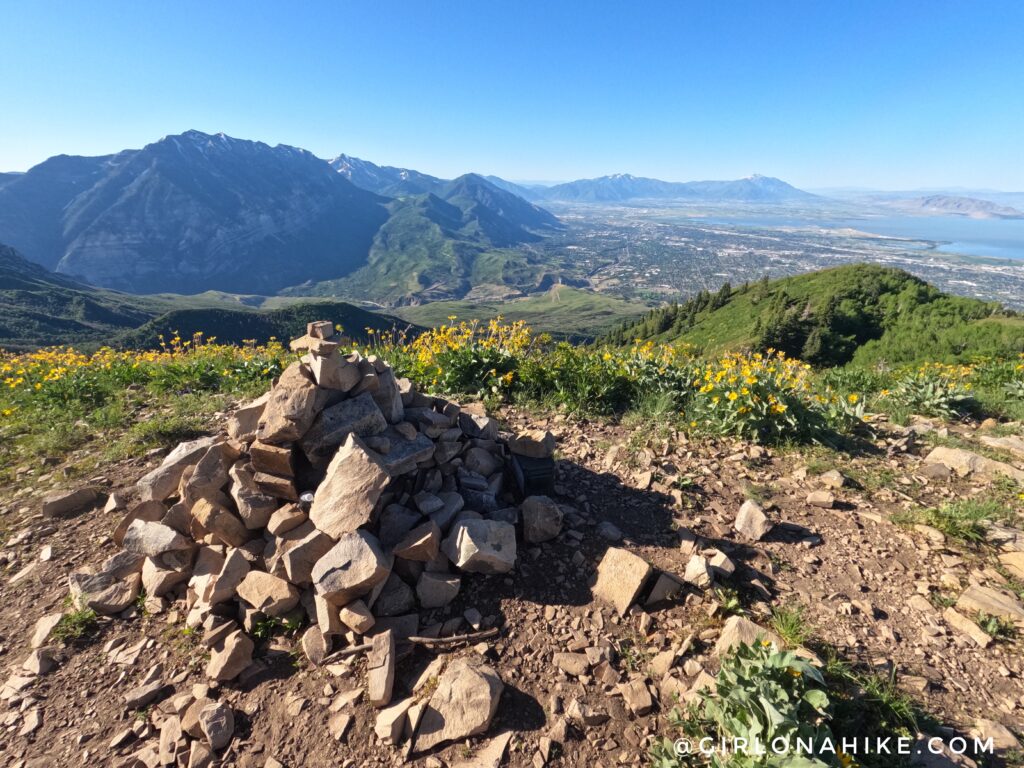 Another great view looking South, with Utah Lake to the right.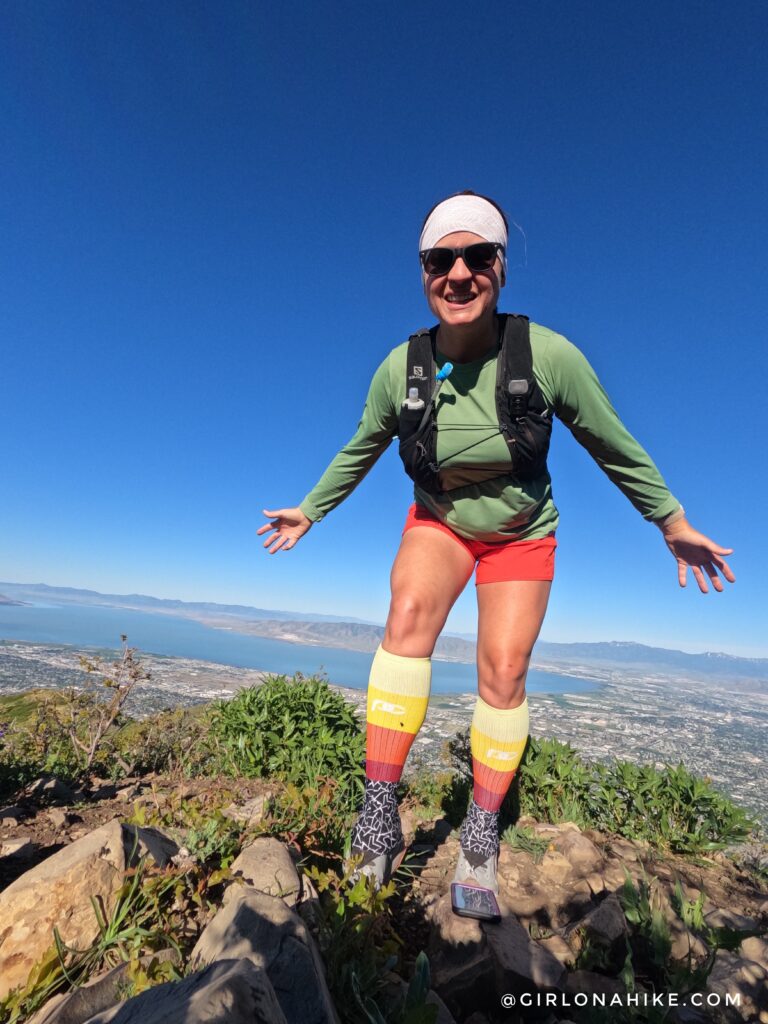 Summit selfie! Time to head down.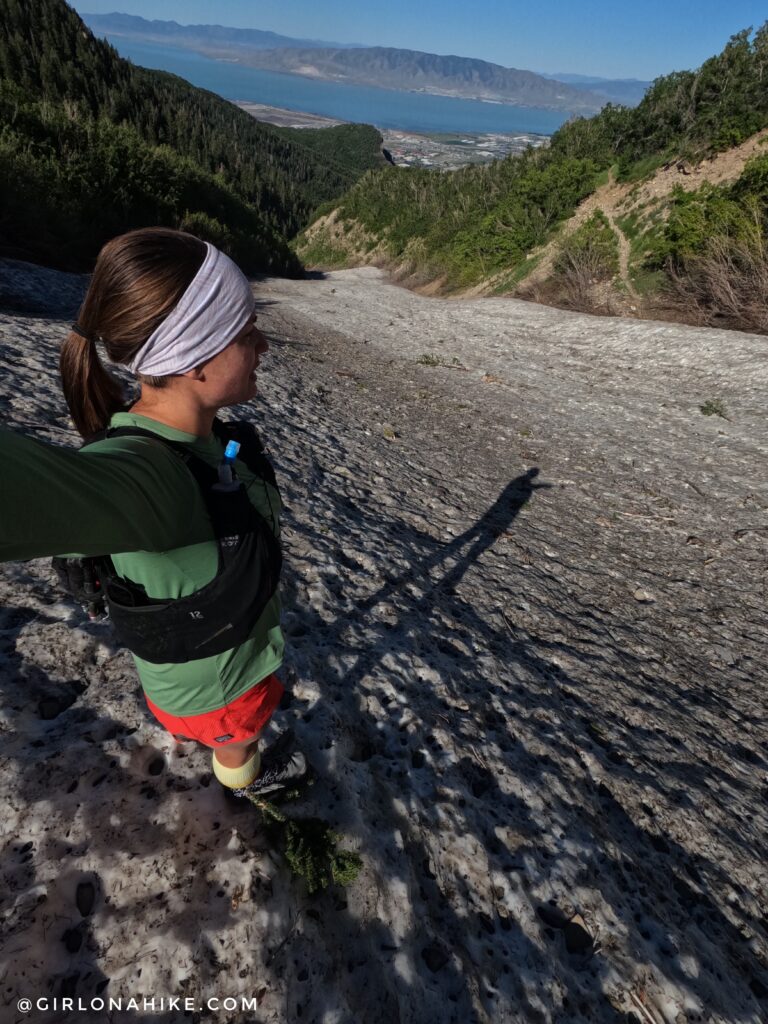 For only 3 more miles it made more sense to me to run down the loop via Curly Springs trail. First, I had to cross this giant couloir. I didn't want to hike back down the same trail because 1) I know I can't run trails that steep 2) I wanted to see something new and 3) I needed to hit 10 miles for the day for my training. This couloir is roughly at mile 5.6. Soon after I had to cross a creek but was able to stay dry.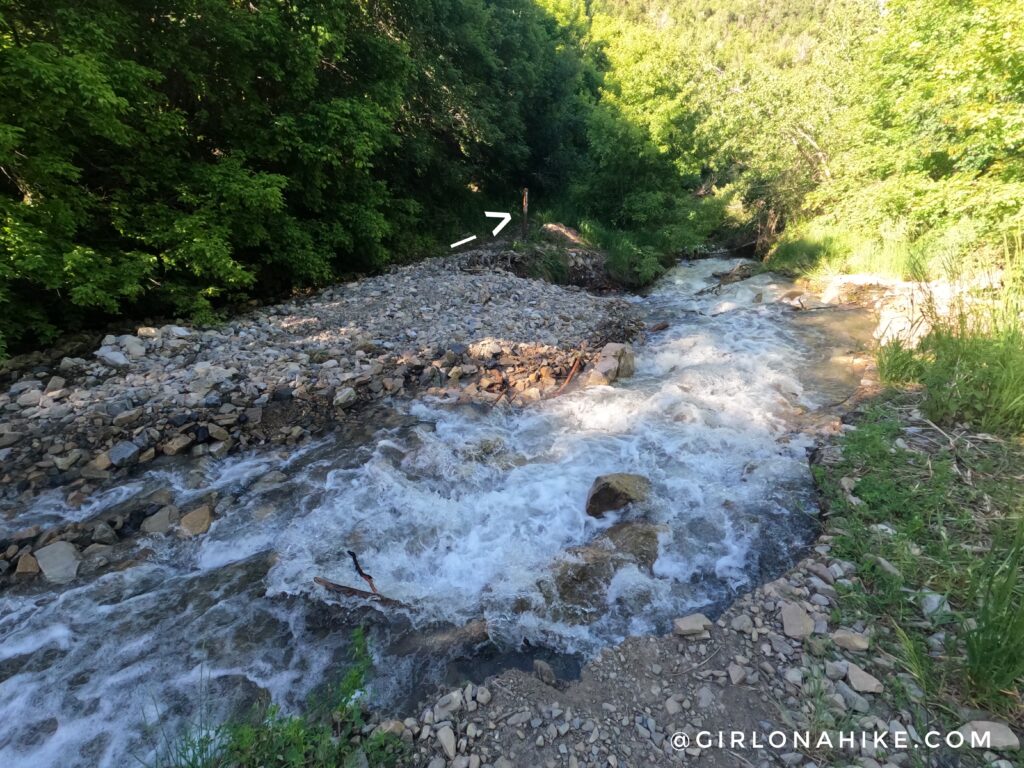 Eventually, I made it down to my last trail split. But the trail was completely washed out – you can see where its supposed to go with my arrow. I had two options, go down via Battle Creek Falls (but that would make for a much longer day to get back to my car, and I didn't have enough water or my water filter), or suck it up and get my shoes wet and just cross here as planned. So, I opted for that. Nothing like running the last few miles with soaked shoes haha!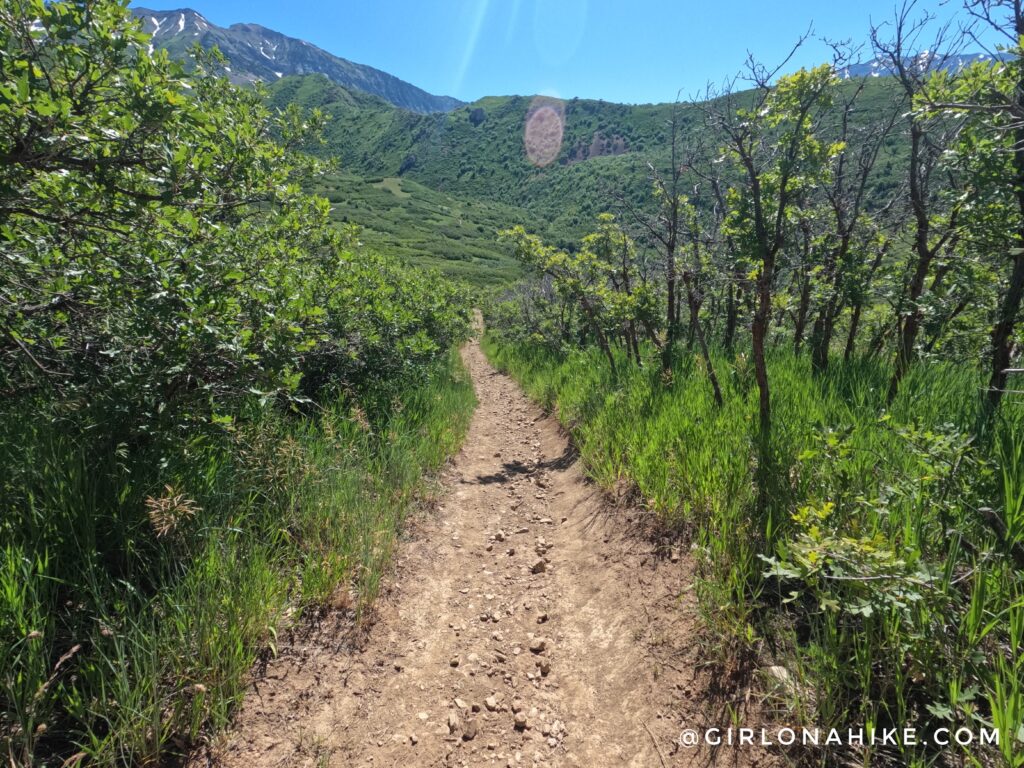 I made my way back to the first trail split, and I was back to my car in about 4.5 hours total. What a day! I couldn't belive how cool it was in the morning when I started, then to end it very hot! I am glad I did this as a loop but its not my favorite trail and its a long drive to the TH for me. I probably won't be back.
Trail Map
My track via Gaia GPS – the best tracking app! Get your app here for a discount.
Recommended Gear
Nearby Hike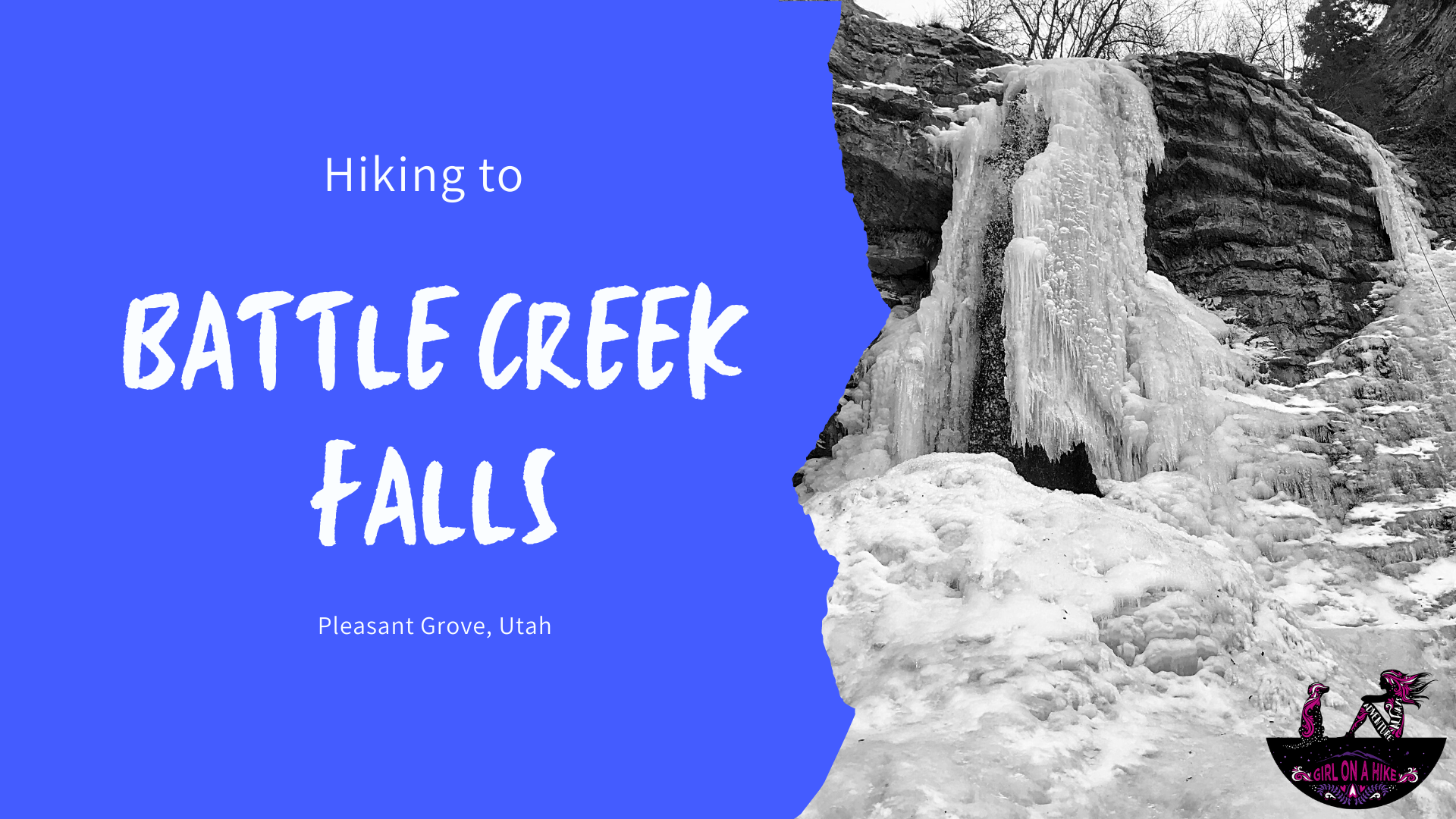 Save me on Pinterest!