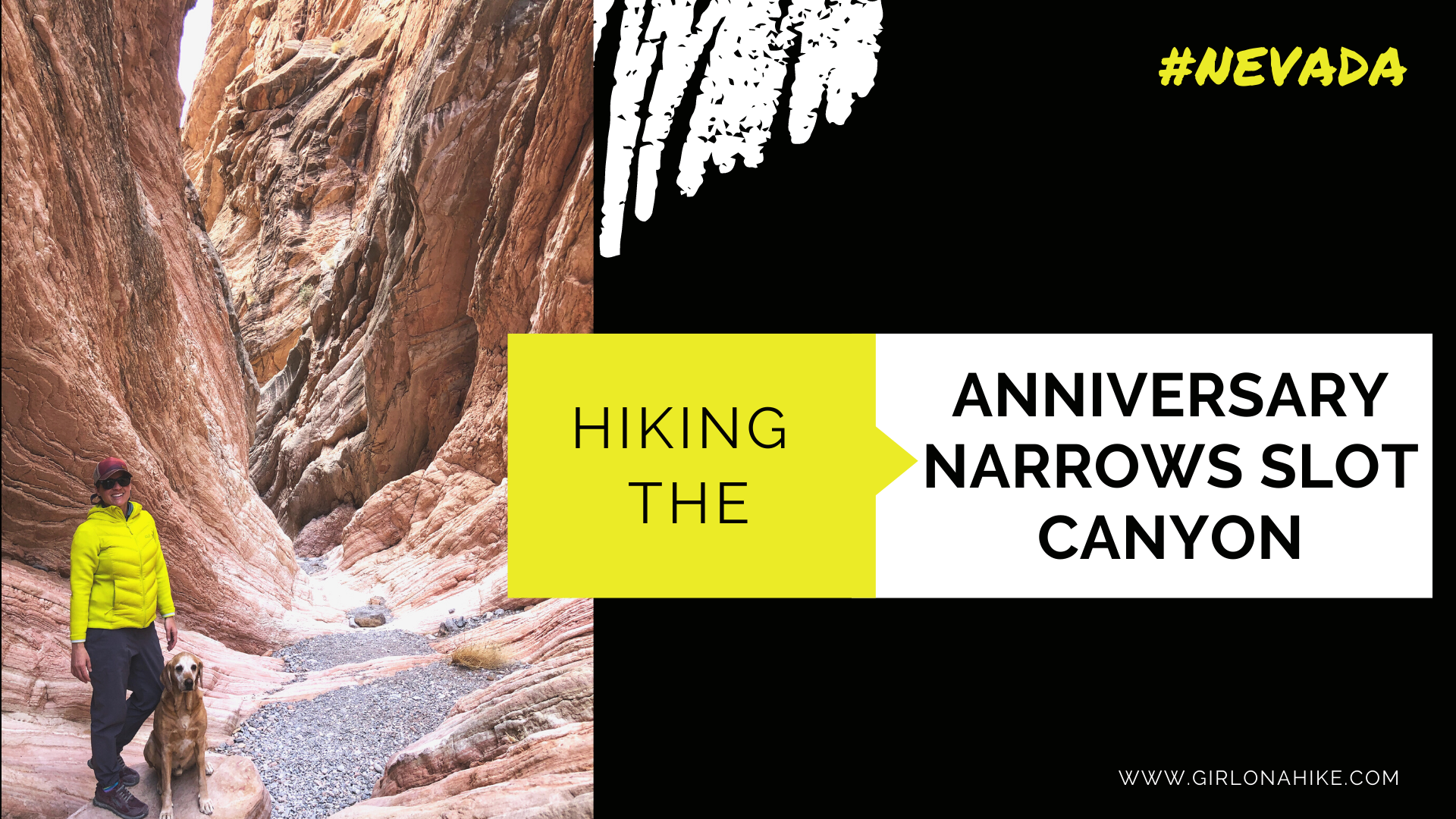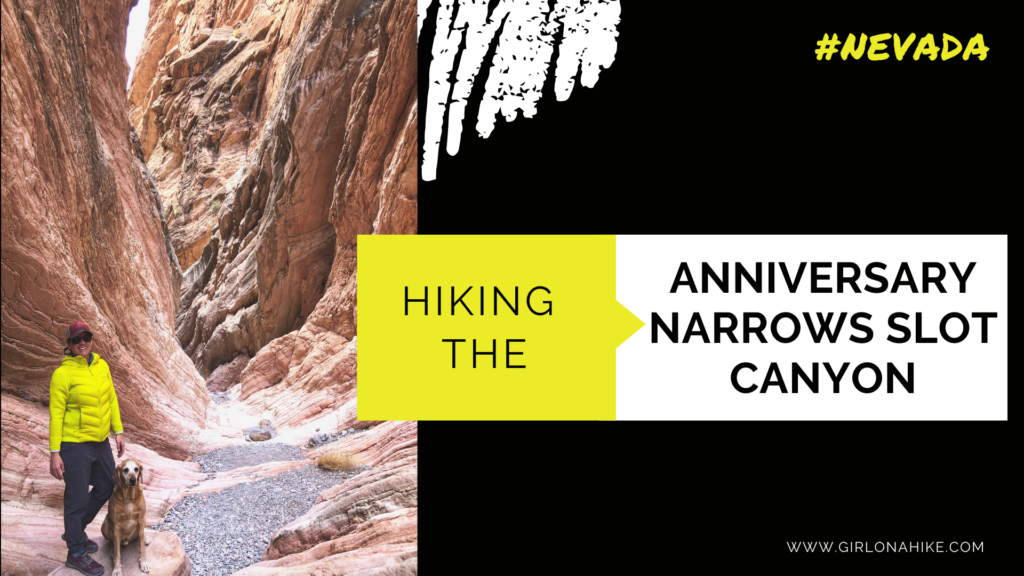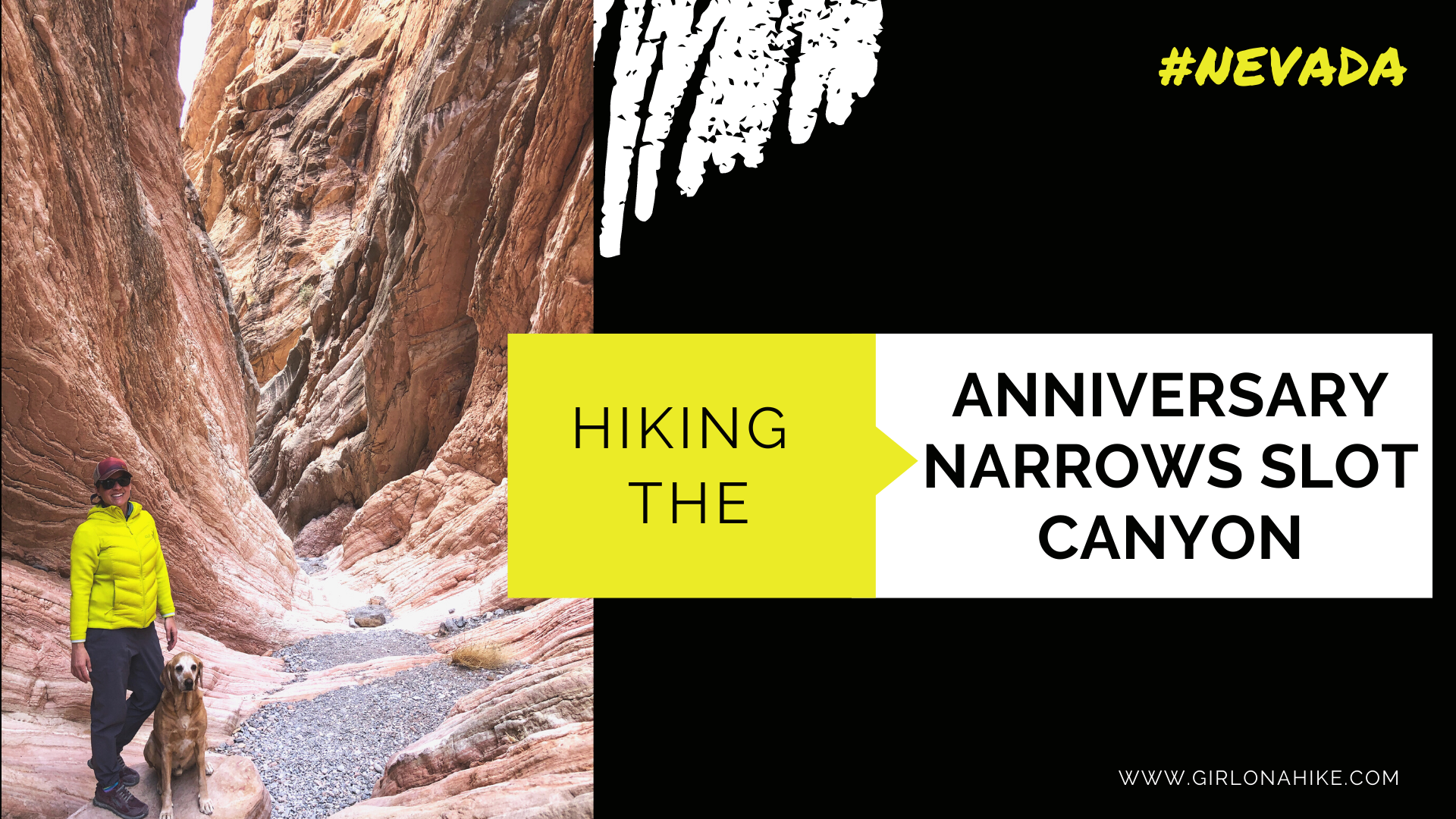 Anniversary Narrows Slot Canyon is located within the Lake Mead Scenic Byway area, just outside of Las Vegas, Nevada. Hiking this trail is best November through March when the temperatures are much cooler.
About
There is zero shade and water, and there's no "official trail". Despite this, hiking the Anniversary Narrows Slot Canyon is perfect for the whole family, dogs included (off leash). Small children and dogs will need help over a few obstacles, but there is nothing technical required.  Because of it's short mileage, this slot canyon is perfect combined with hiking around Red Rocks Canyon National Conservation Area (such as Turtlehead Peak) or even Valley of Fire State Park.
Directions
GPS of parking spot: 36.212630, -114.706330
Google Maps doesn't understand how to get to the exact spot so follow this. From Las Vegas, drive East on HWY 612, which turns into HWY 147. Continue on this past the Lake Mead Scenic Byway entrance station. Drive to milepost 16, and turn left. This is where you will want to park a small car. If you have a higher clearance car (SUV or bigger, you don't need 4×4), continue following the main dirt road. You will see this sign below and turn left. Continue until you reach the parking area just before the main wash. See my driving route at the end of this post.
Here's a driving map to the turn off at milepost 16.
Trail Info
Distance: 5-6 miles RT (depending on how far you want to go)
Elevation gain: 300 ft
Time: 2-3 hours
Dog friendly? Yes, off leash
Kid friendly? Yes, all ages
Fees/Permits? There is an entrance fee to drive along the Lake Mead Scenic Byway. Pricing varies by pass type.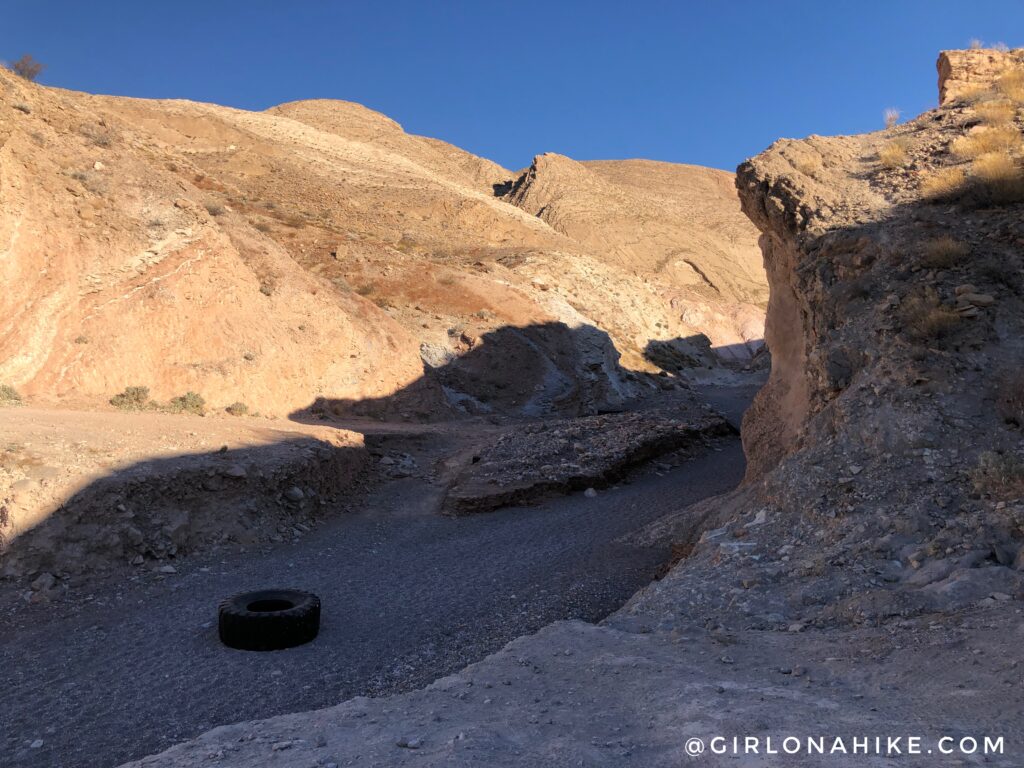 Park at the GPS location I provided, then walk down the rest of the road. The reason why you don't want to continue driving down the road is because you'll reach this sudden drop off. It would be difficult to back up all the way to the top where you should park.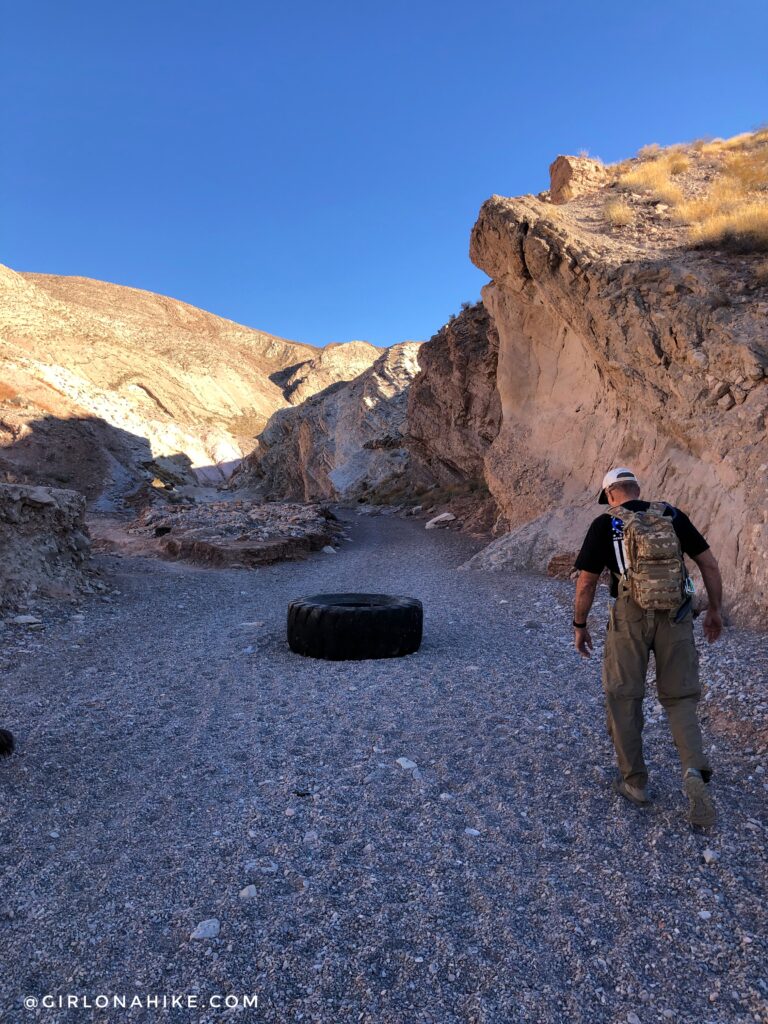 Once in the wash, follow it North (don't keep follow the road across the wash). My friend Eric, who lives in LV, showed us the way!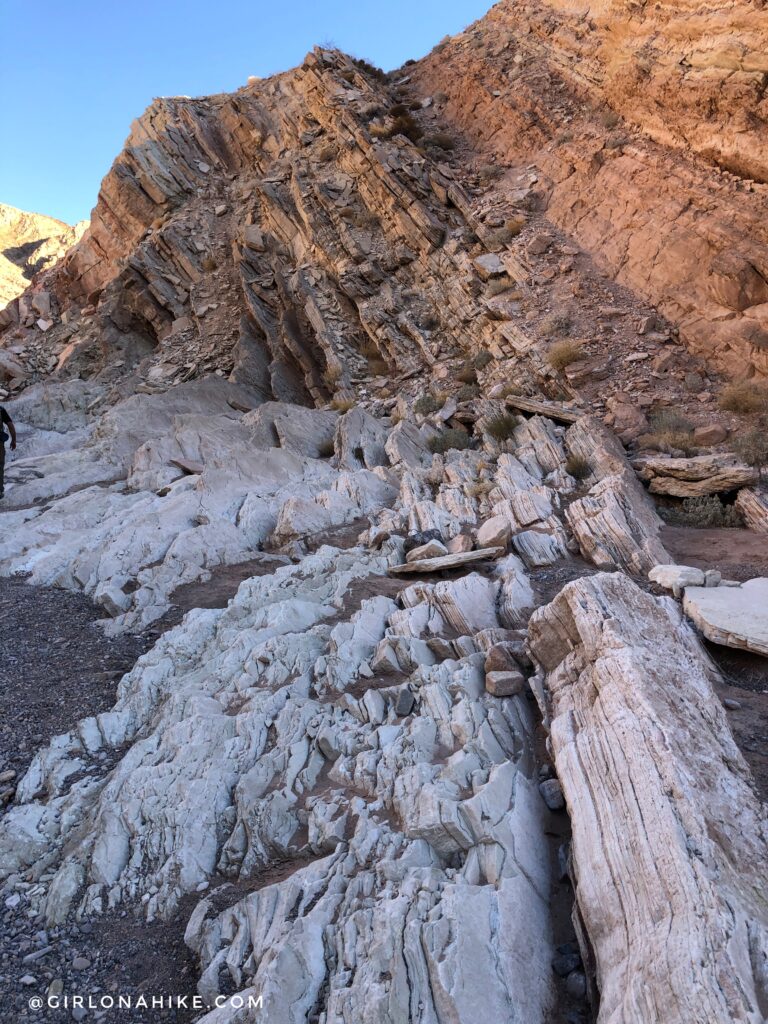 Immediately we saw really cool rocks. We weren't even at the slot canyon yet!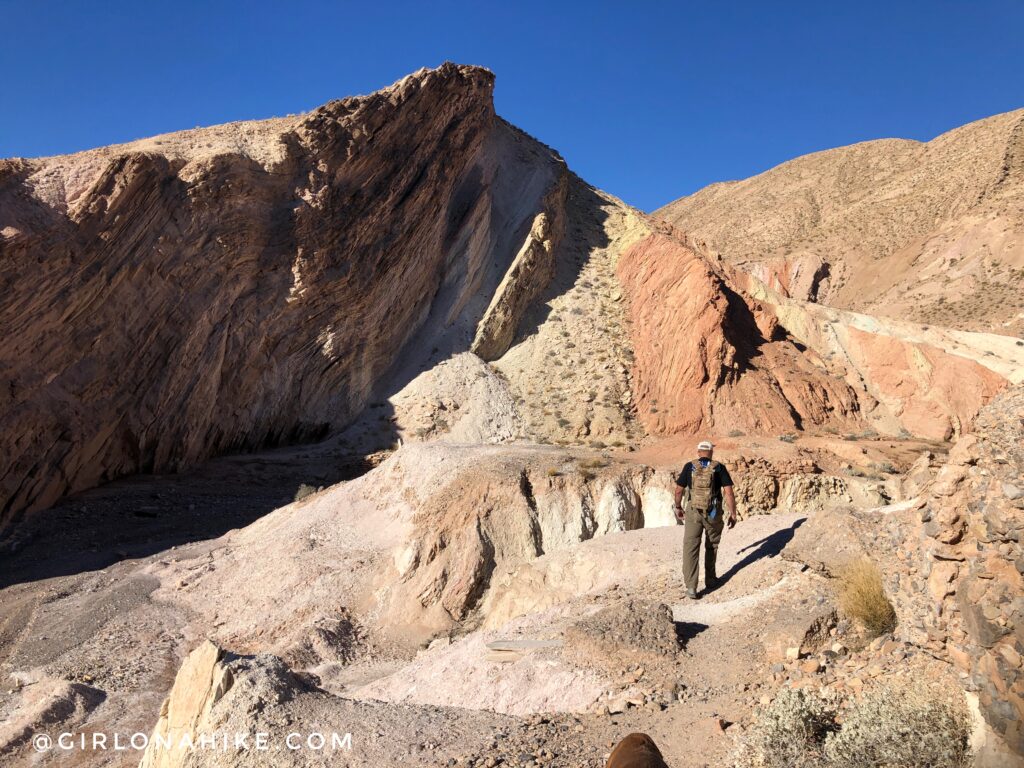 There are some old mine remnants in the canyon that are also fun to look at.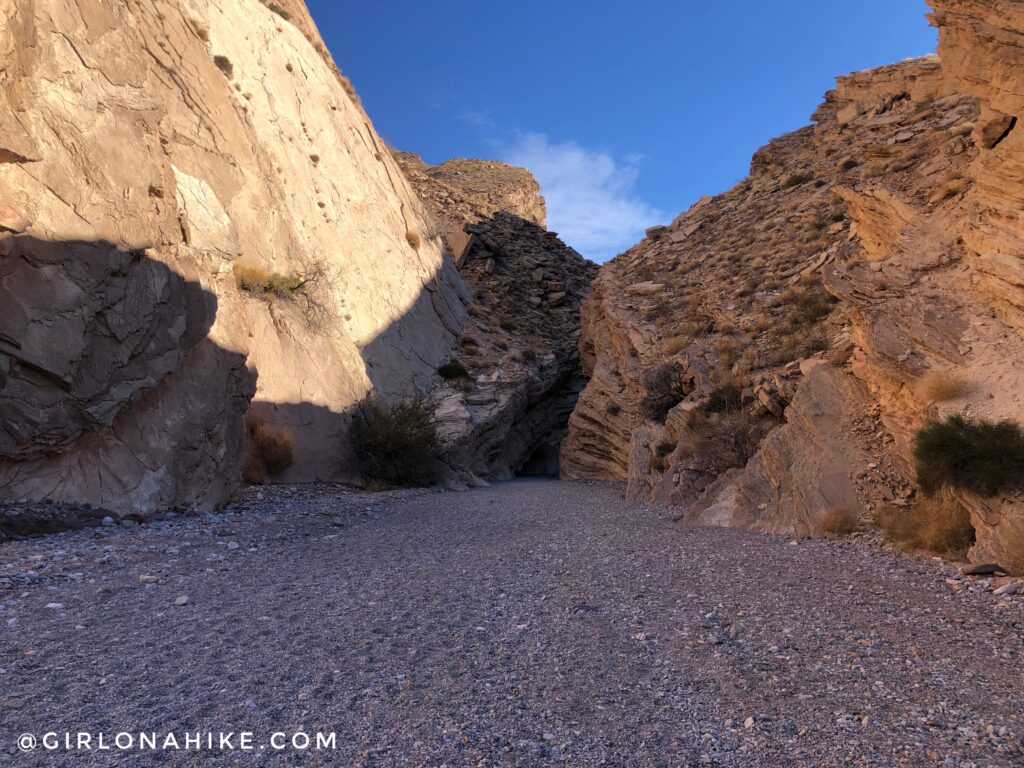 At 0.8 miles you will reach the entrance to the Anniversary Narrows slot canyon. Now the real fun begins!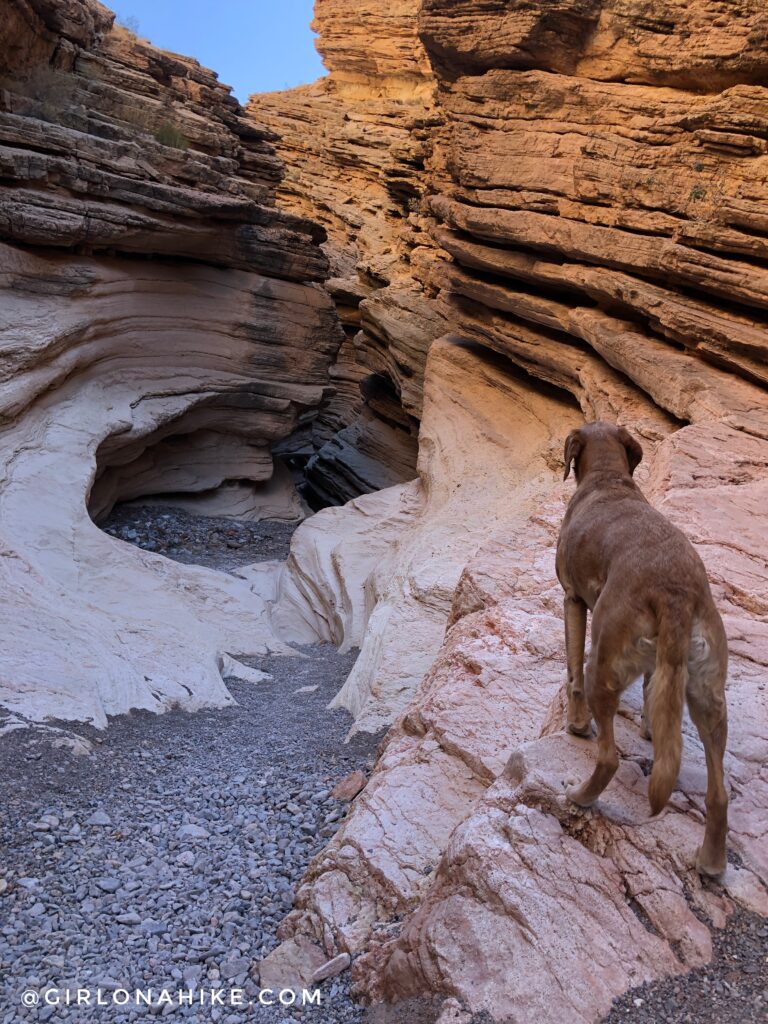 Charlie checks out his surroundings before entering.
We've hiked a lot of slot canyons in Utah, so this was no big deal for him. Just more rocks to play on!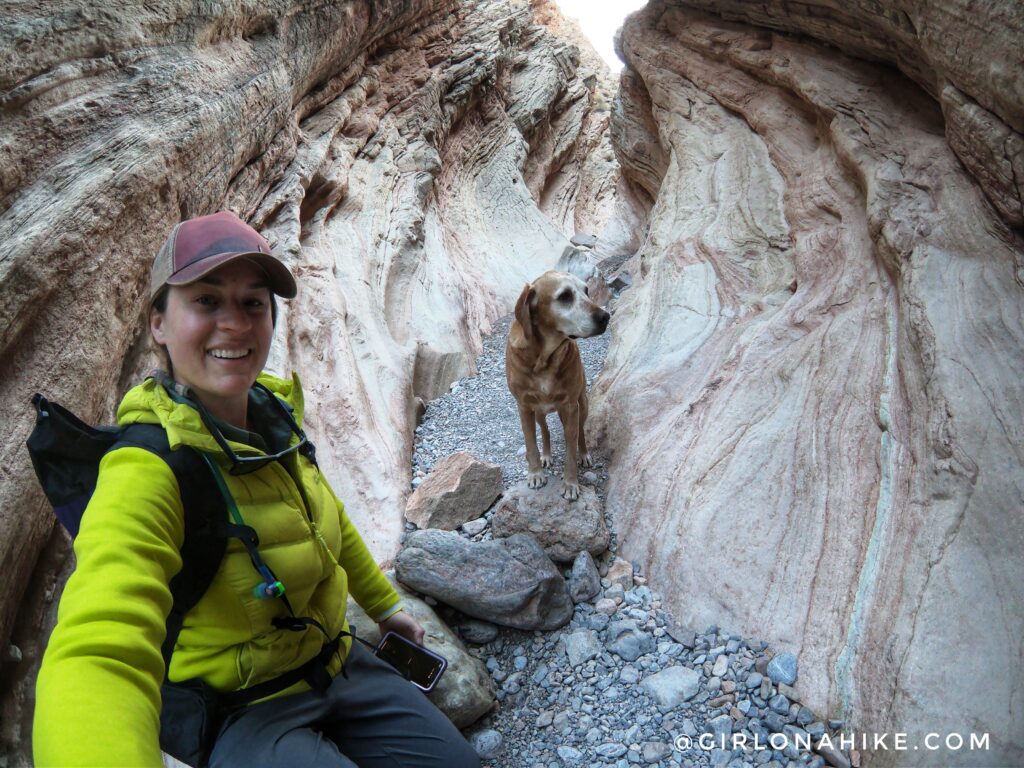 Sooo happy to be back in a slot canyon!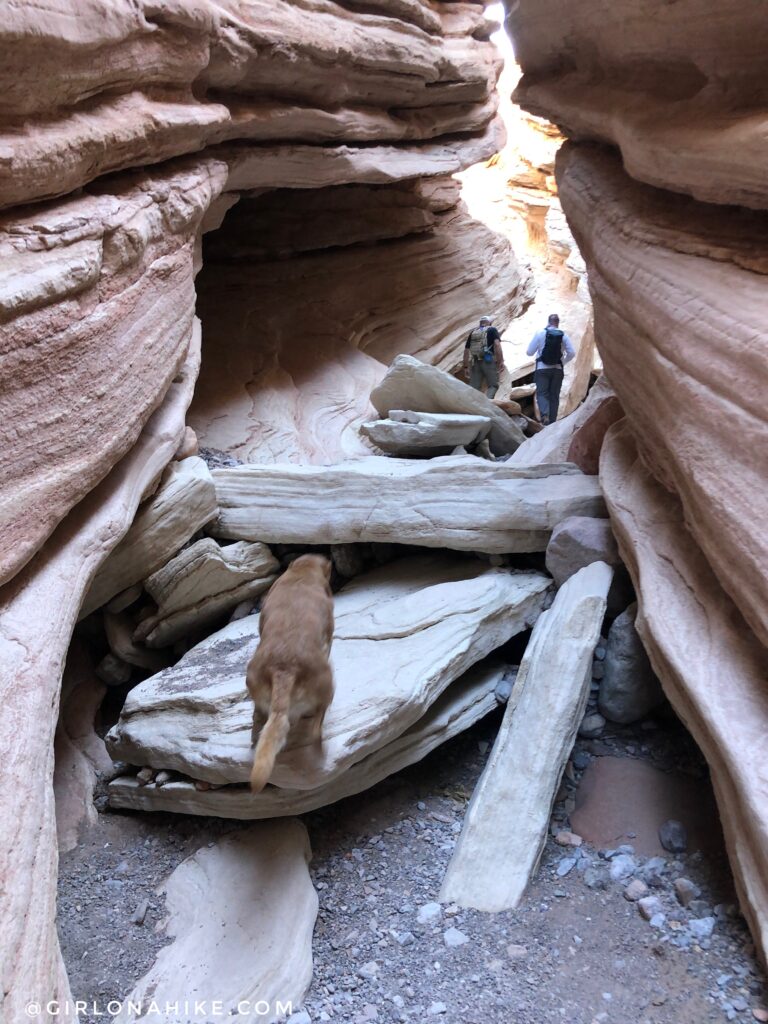 There are a few obstacles. He was able to jump most of them himself. Little kids may need help.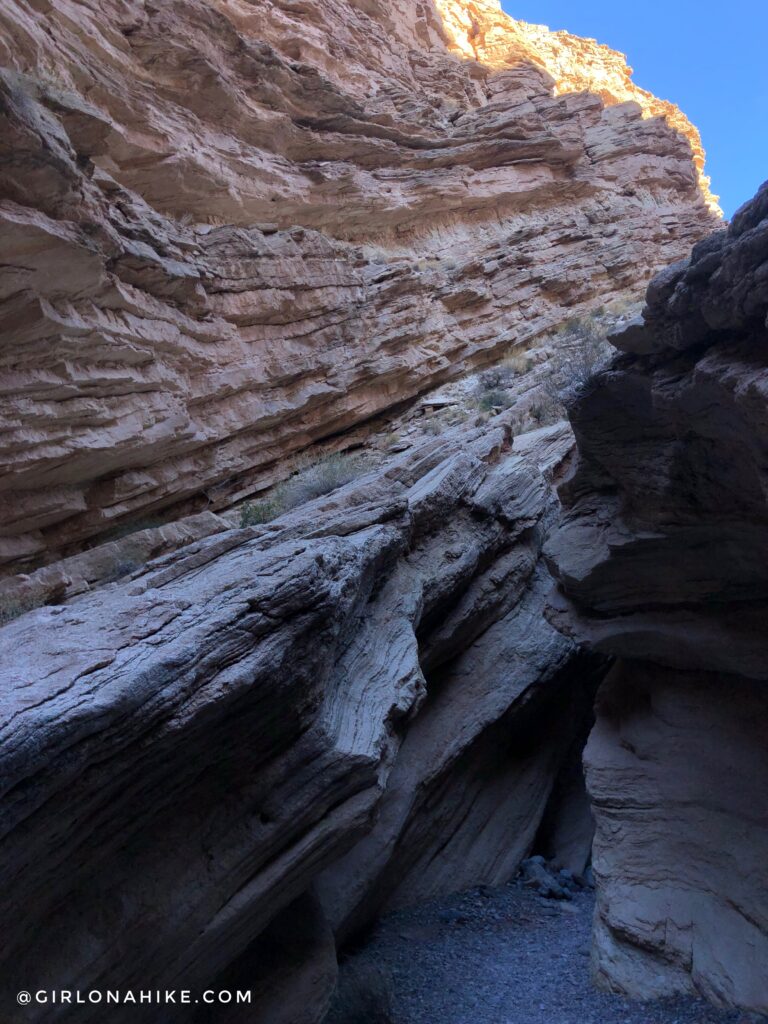 I love all the colors slot canyons offer – everything from dark and scary, to bright and cheery! It was a super windy day, so I was glad we were in the slot canyon to escape the wind.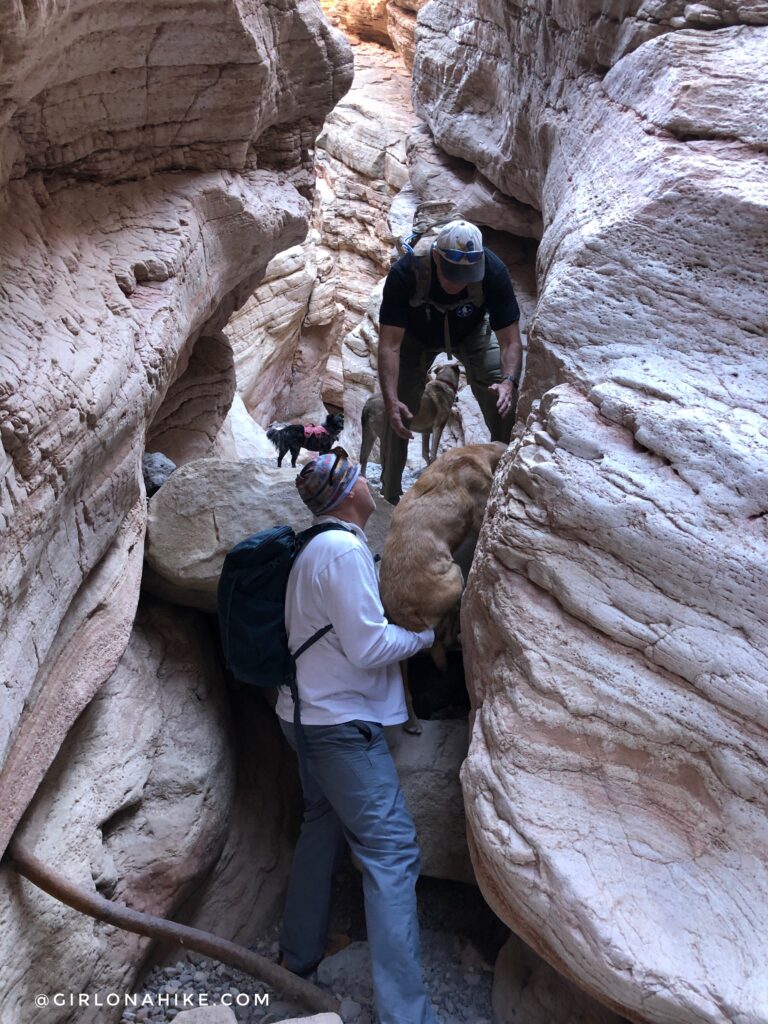 There were a few obstacles towards the end of Anniversary Narrows Slot Canyon that the dogs needed a boost on. I wish I had brought Charlie's harness for this!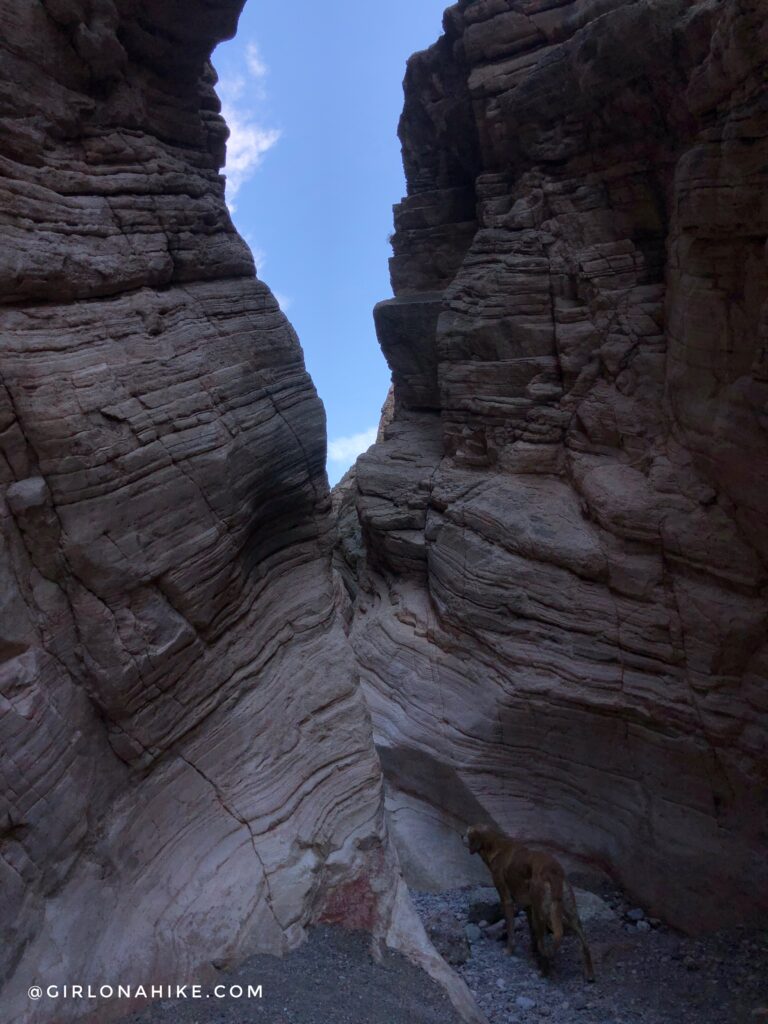 What's around the corner, Charlie?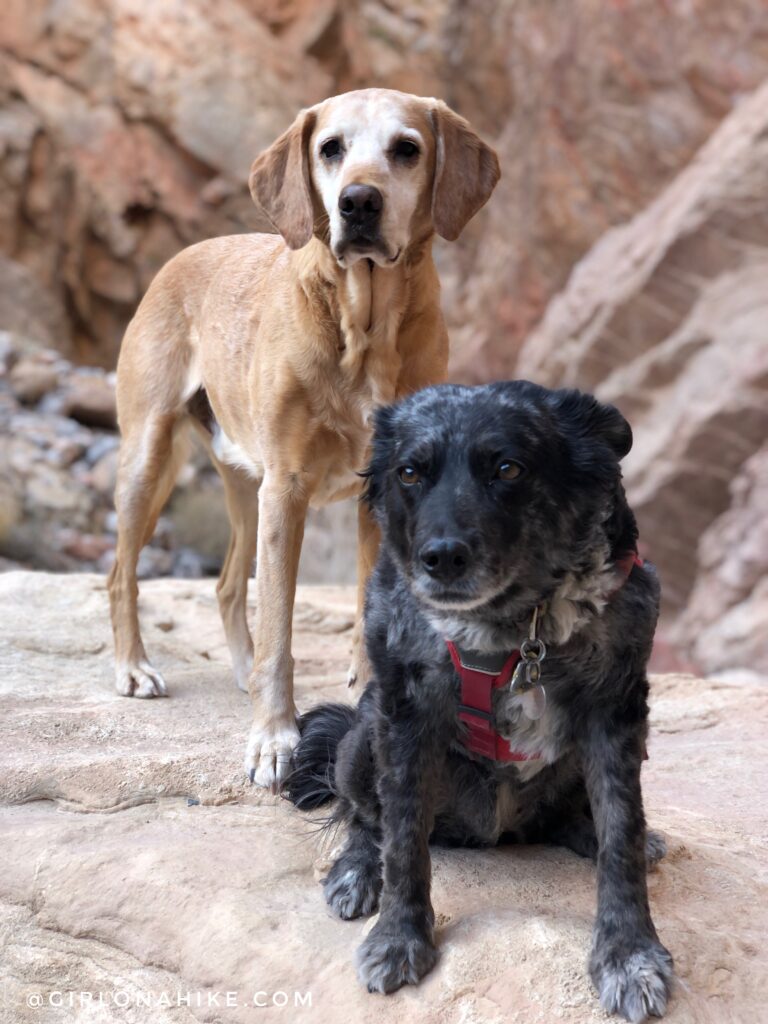 We turned the last corner and exited the slot canyon. Charlie's pal Jacy joined us for the hike, and of course we had to get a good photo of them! She is quite the hiker for also being 9 years old.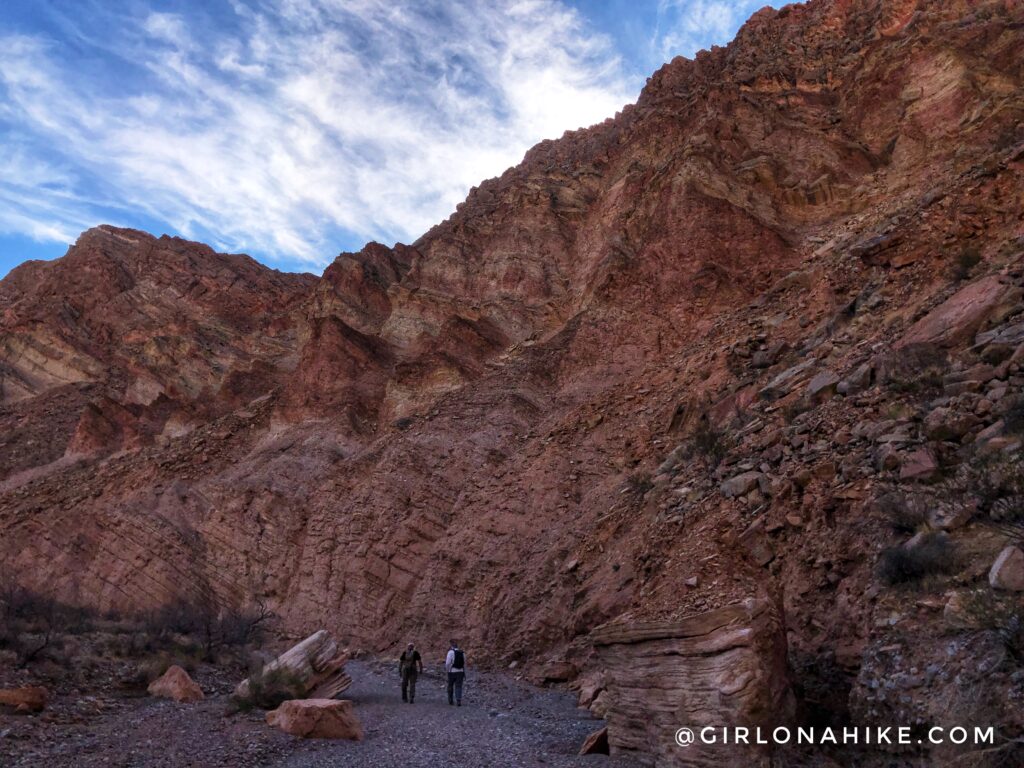 Once you are out of the slot canyon, the "trail" turns into a wash. From here, just continue as far as you want. We only went about 1/2 mile past the exit of the slot.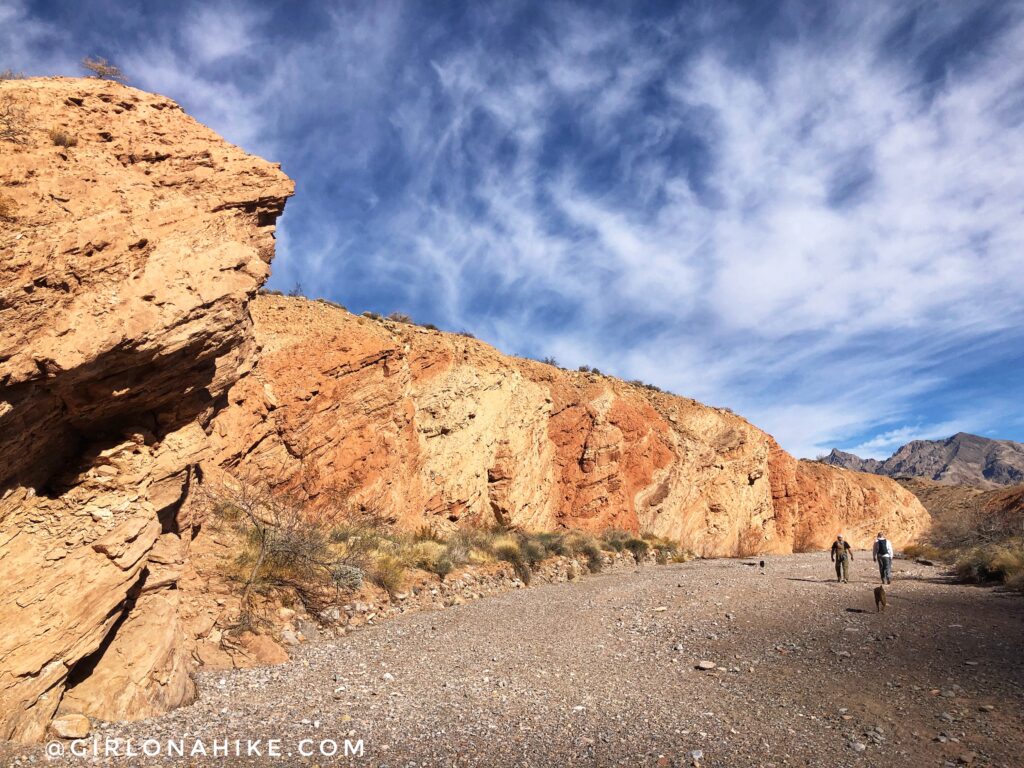 Trying to get some warmth off the sun, but it was very chilly in the strong wind.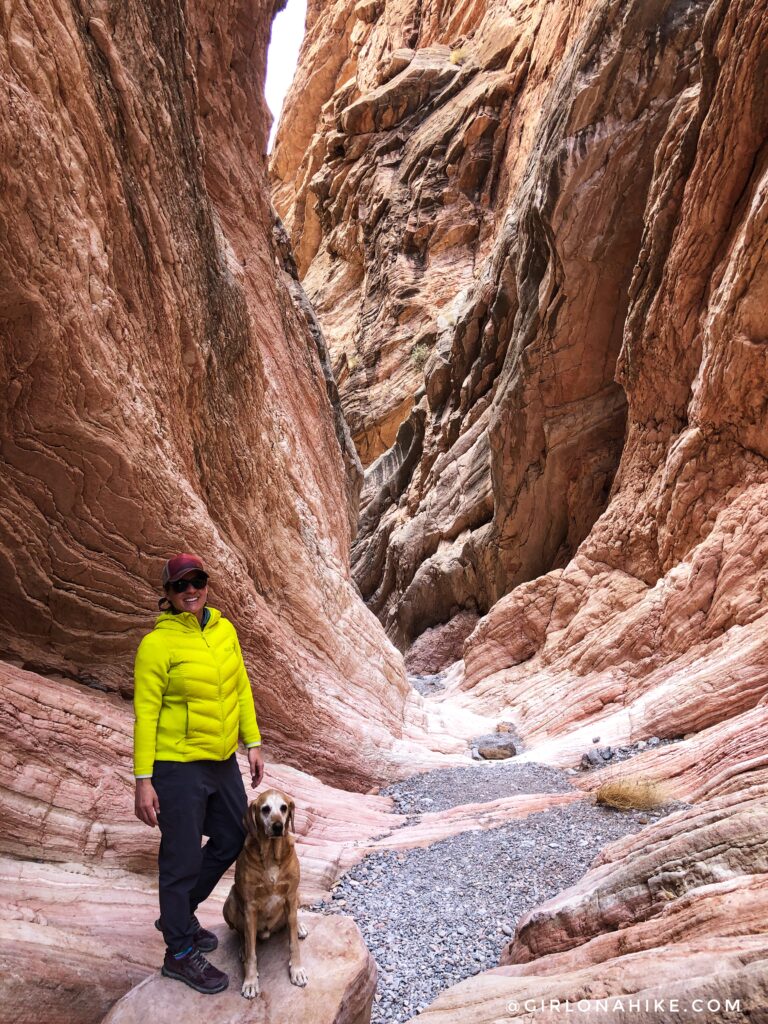 Time to head back to Utah!
I get so many compliments on this Jack Wolfskin coat and I love the neon yellow! Get 20% off your entire order, use the code "Alicia20" at checkout!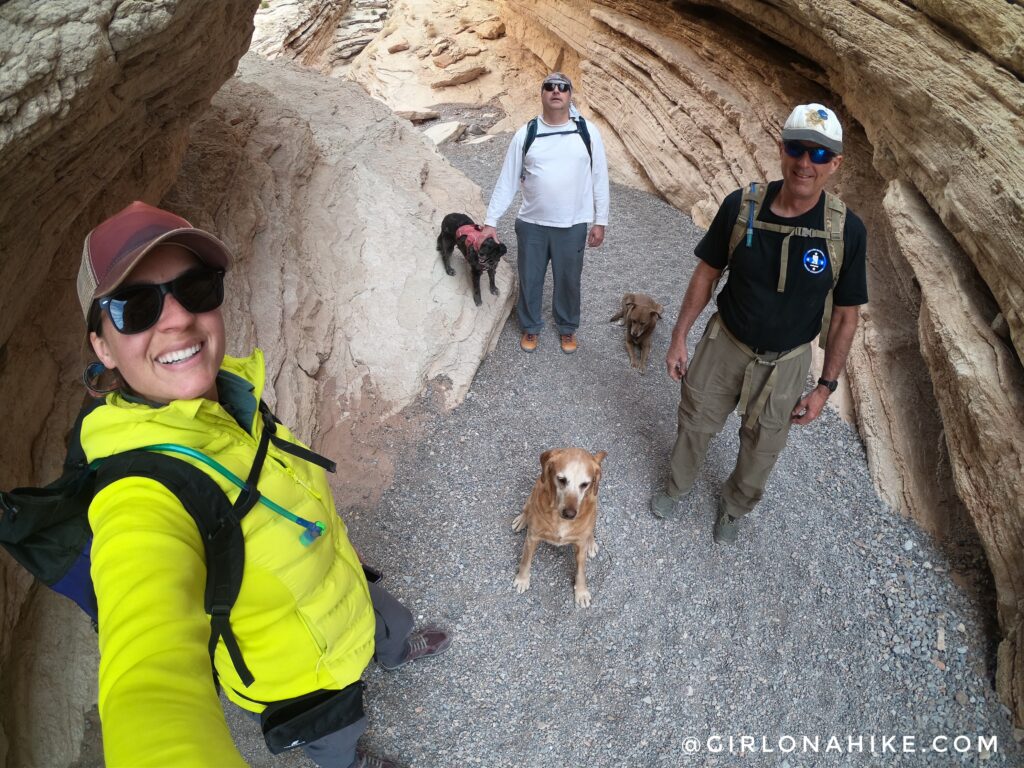 Thanks for being MY guide, Eric!
Check out my short video of our hike!

Trail Map
My track via Gaia GPS – the best tracking app! Get your app here.
Recommended Gear
Nearby Hike
Turtlehead Peak, Red Rock Canyon National Conservation Area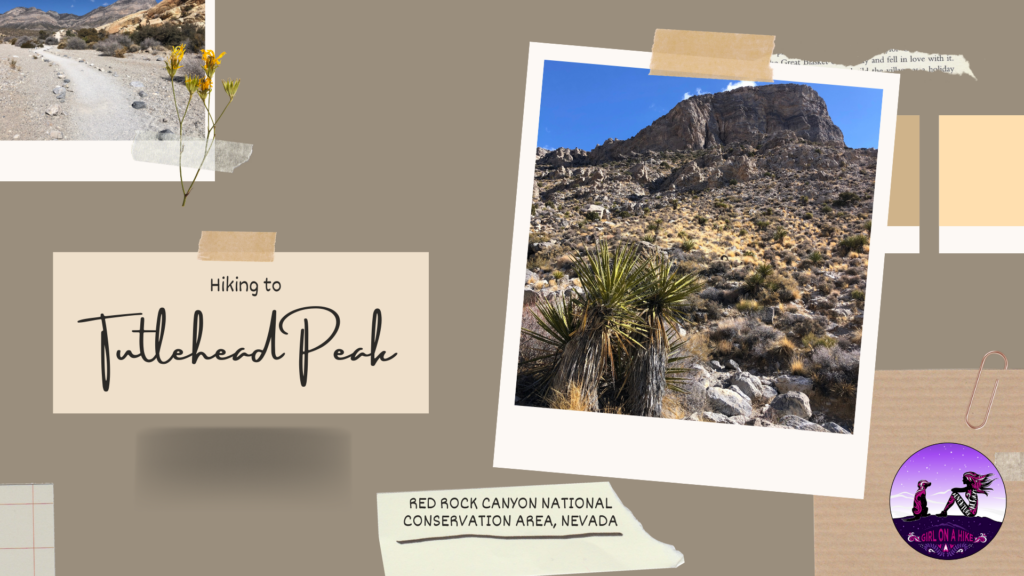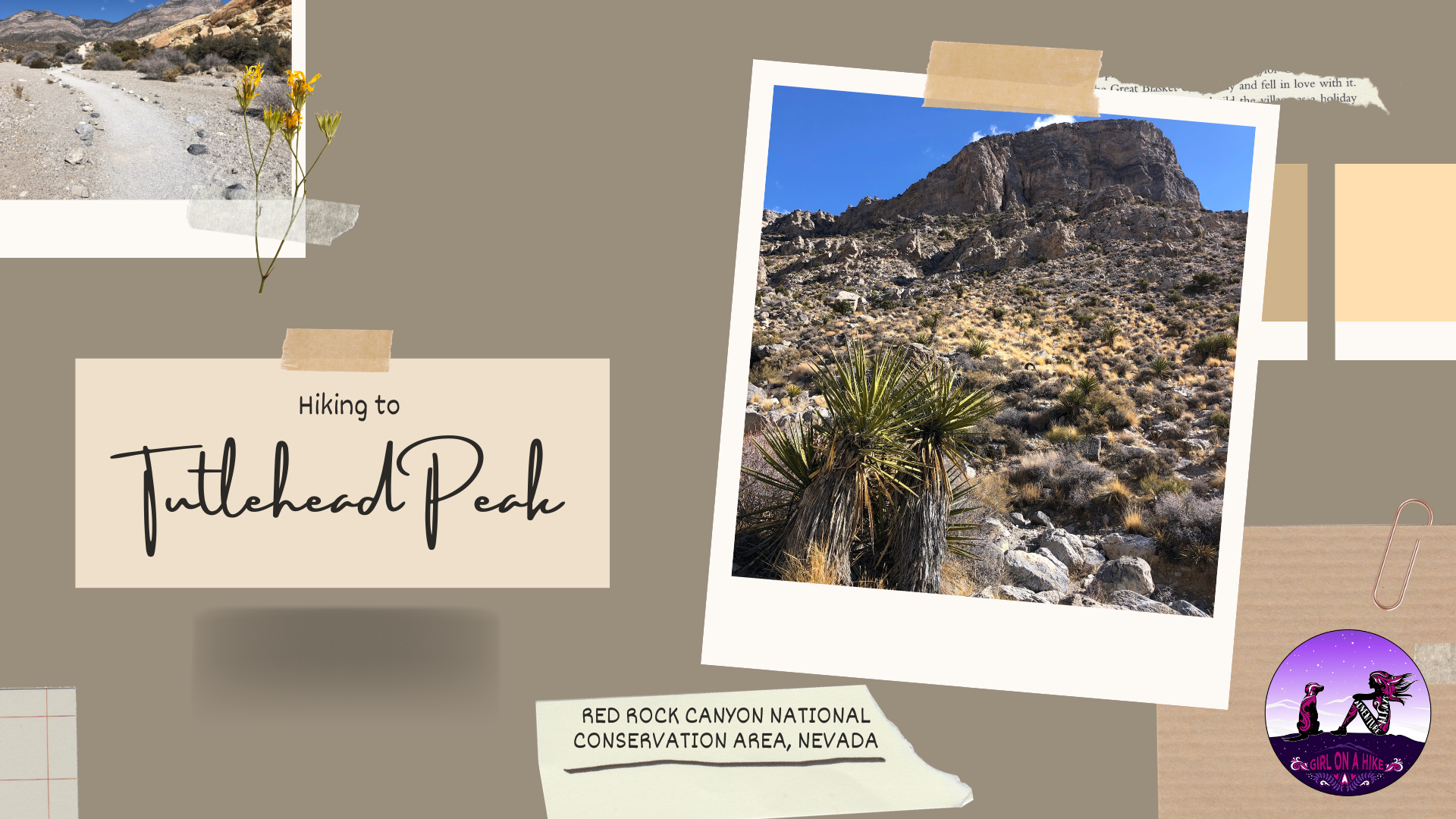 Save me on Pinterest!