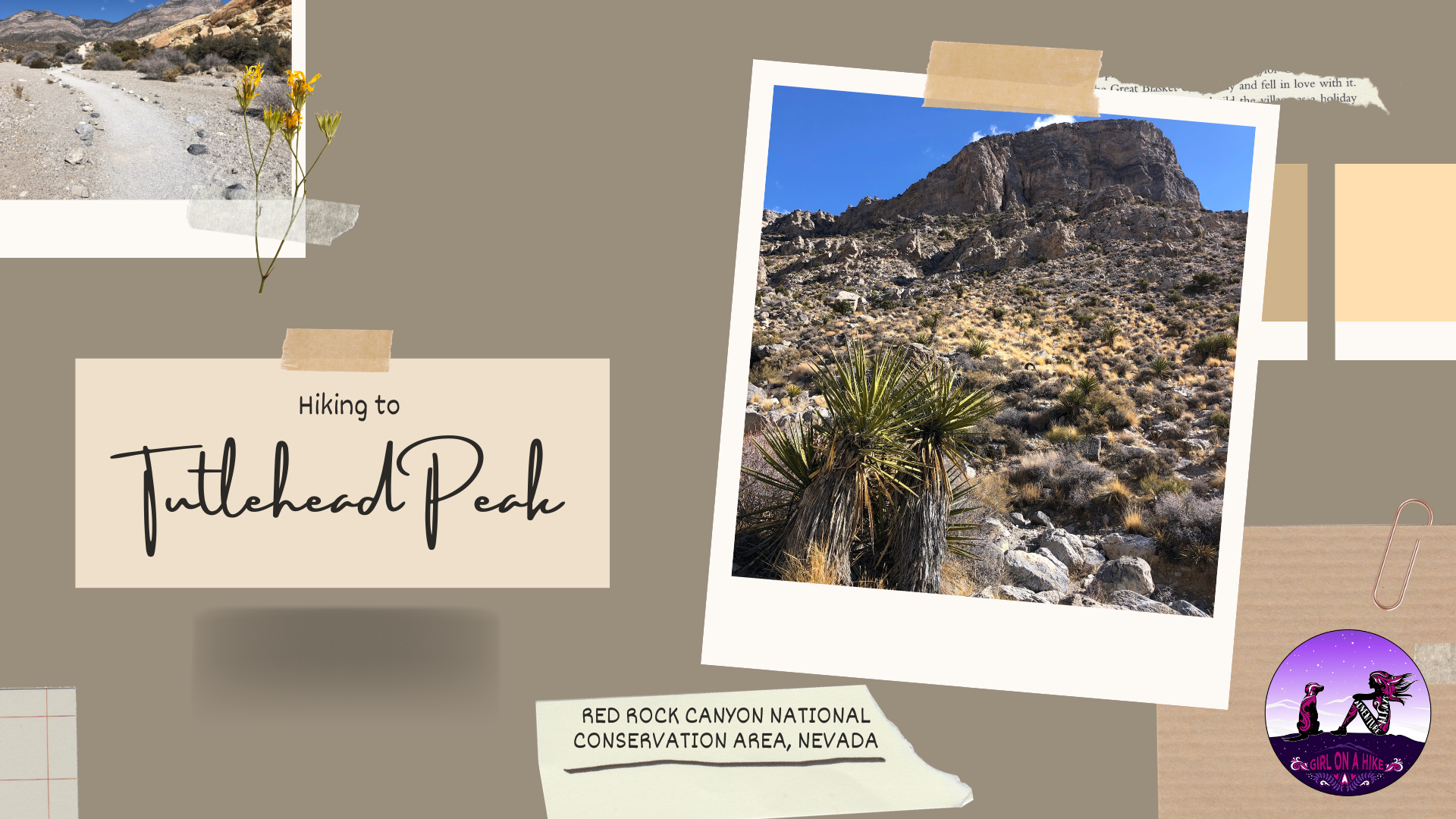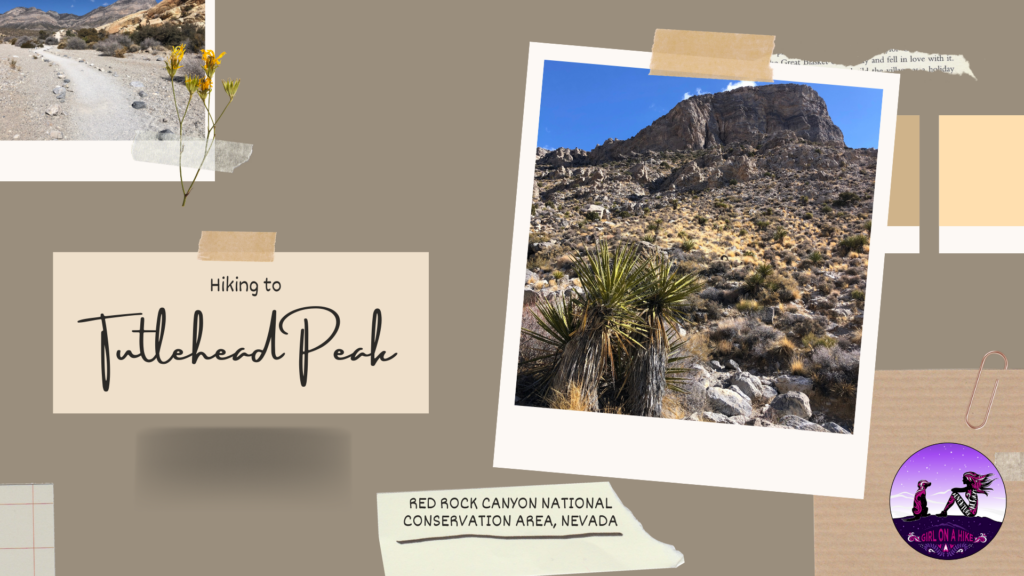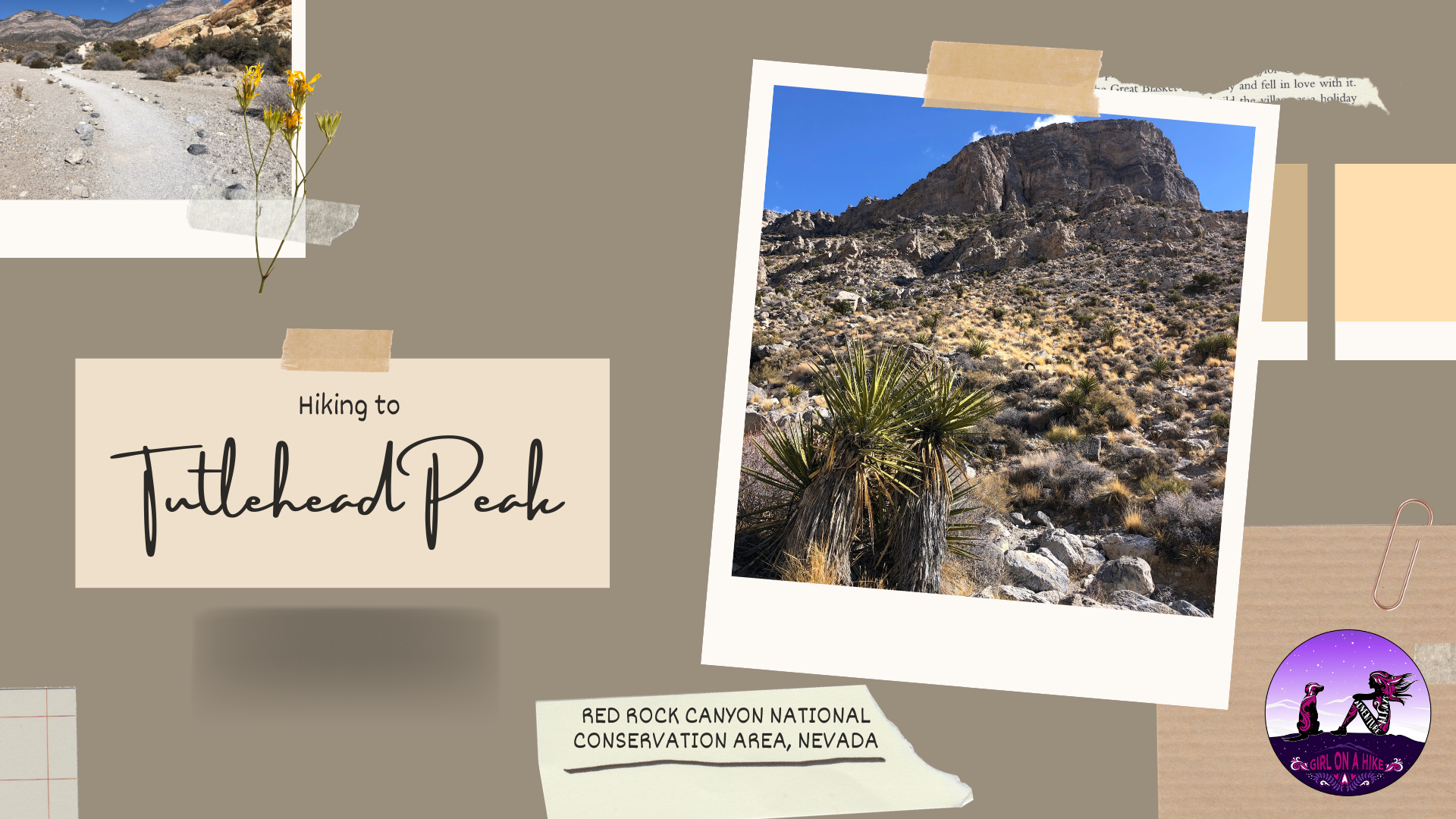 Turtlehead Peak (6, 323 ft) is located in Red Rock Canyon National Conservation Area, and one of the most popular hikes in the park. To reach the trailhead (TH) you must have a timed entry reservation for Red Rocks (get that here), and start hiking early to beat to people all the people and weather. Turtlehead Peak offers amazing views of the entire area, and on a clear day you can even see the Las Vegas Strip!
About
While many consider this a "strenuous" hike, it really depends on your fitness level. I thought this hike was easy, but my friend really struggled. I think, as with all hikes, it really depends on your fitness level and how much you've been hiking in order to knock this peak out while still feeling great afterwards. In 2.5 miles this trail gains 2,000 ft, so in the SLC area there are so many hikes to train for that it didn't feel like much to me.
That being said, always be prepared for extreme weather changes. On our hike it started out with deep blue skies, but windy and on the cool side. Once we were on the summit for maybe 5-10 minutes, clouds rolled in, and it actually flurried on the hike back down! You never know what to expect in the desert, so definitely wear layers and bring plenty of water.
Dogs
This trail is dog-friendly, but they do need to be leashed. Dogs should be used to hiking over rocks and steep terrain to enjoy this hike. Bring a dog first aid kit – there are plenty of cactus they could potentially step on or even rip a paw pad on the rocks. That wouldn't be fun for you or them! Between just me and Charlie we drank 2 liters of water on this hike – and it wasn't even that hot.
Directions
From Las Vegas area, head West on HWY 95, and take exit 81A to stay on HWY 613 west. Drive South on HWY 215, and then take exit 26 west for Red Rock Canyon. Continue driving west until you reach the park entrance. Here is a driving map.
Trail Info
Distance: 5 miles RT
Elevation gain: 2,000 ft
Time: 3-4 hours
Dog friendly? Yes, ON-leash
Kid friendly? Ages 10+
Fees/Permits? Yes, you need a timed entry reservation in order to reach the TH. You can get that here. Costs vary by vehicle and pass type.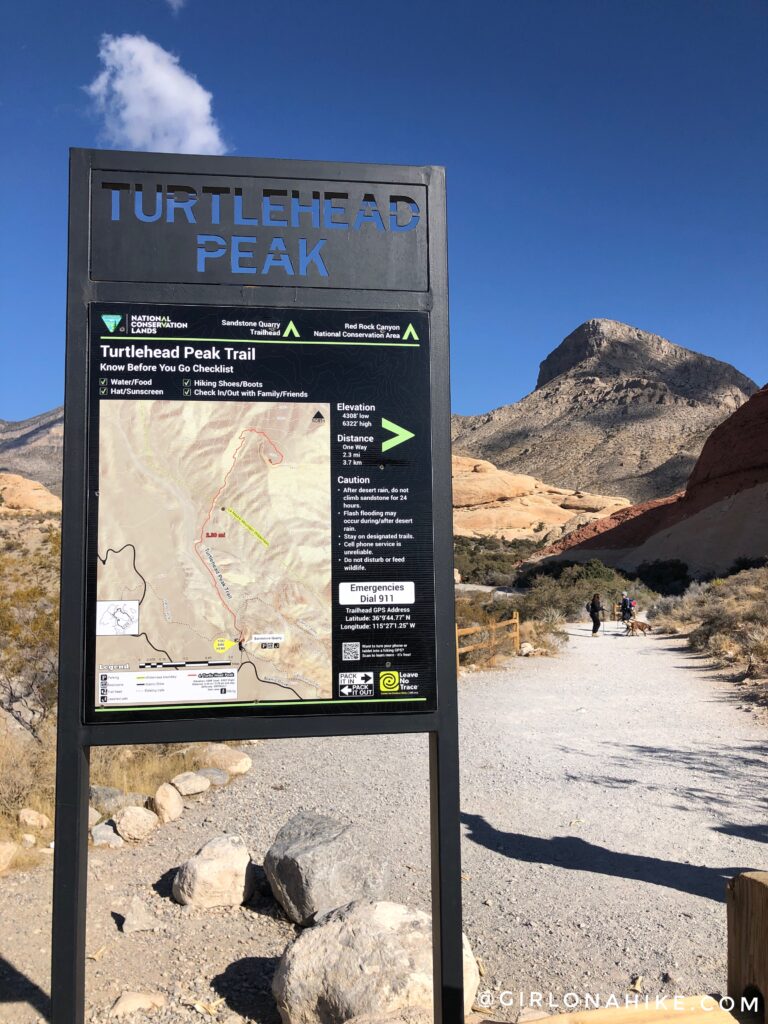 Let's get started! At the TH is a nice, descriptive sign, as well as a port-a-potty. The parking lot is quite large, but can still fill up. Be sure to get an early start to not only beat the heat, but also grab parking. Surprisingly, this was the only area in the park I had cell signal (AT&T), and was able to send a few texts from the peak as well. Start by following this large path, and then cut over to the right, through a wash.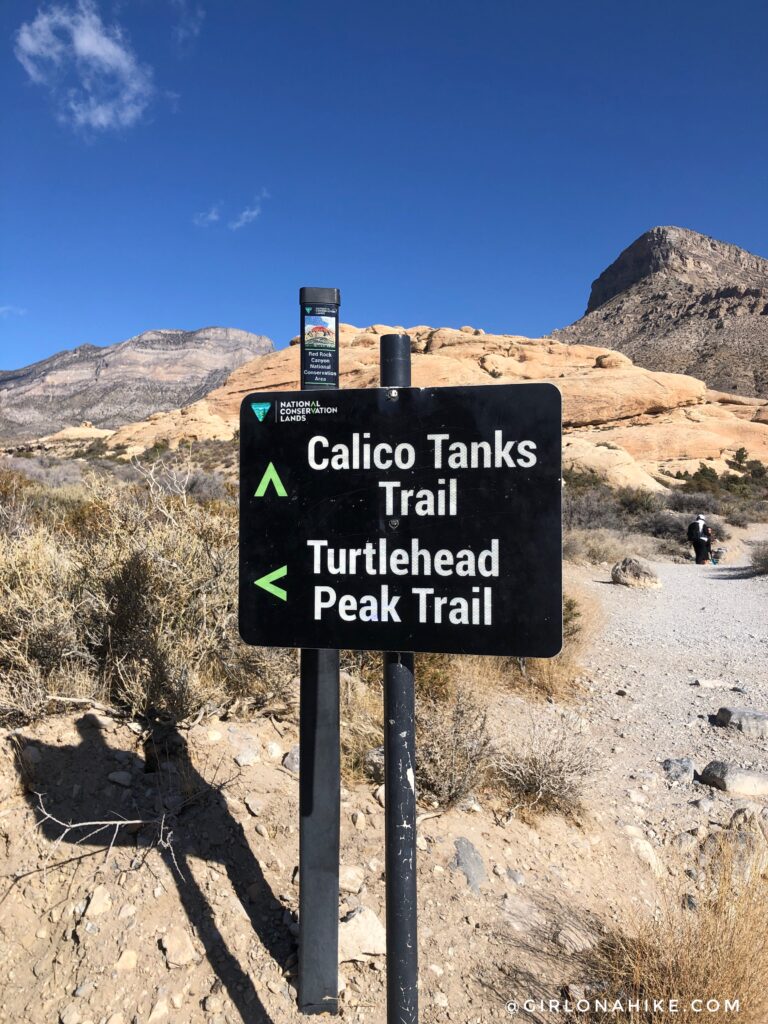 You should see the split for Calico Tanks, but stay left. What a great view of Turtlehead Peak already!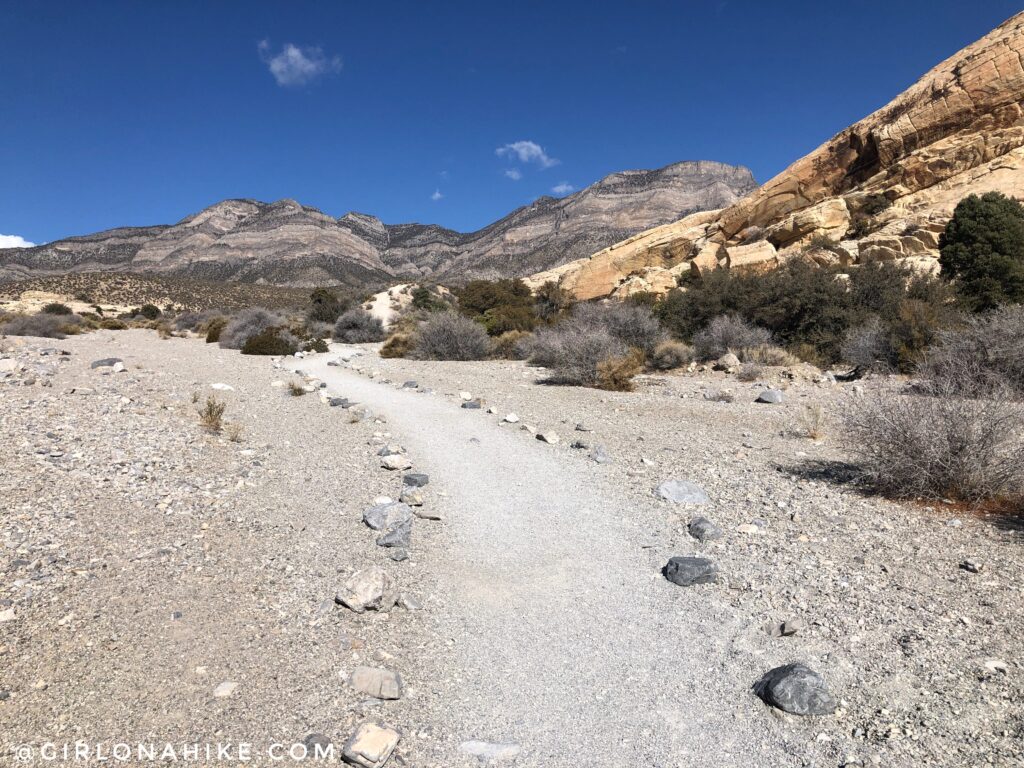 The trail is very well marked and easy to follow.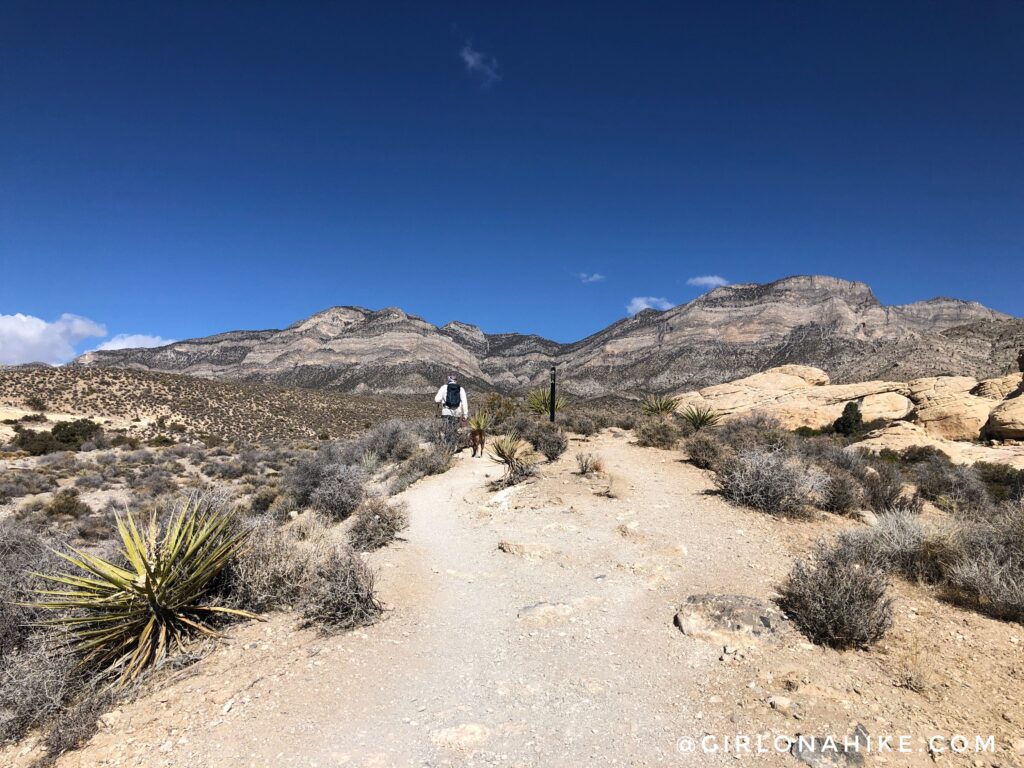 What a great view of La Madre Mountain! The day started out with deep blue skies, but it wouldn't last long for us.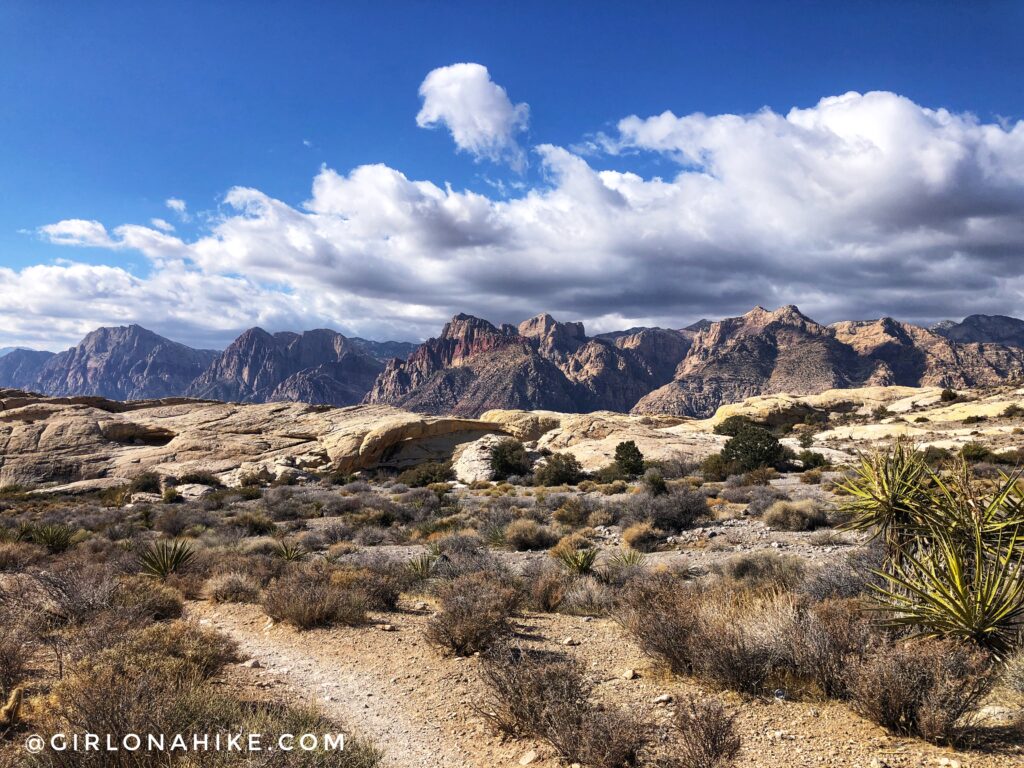 Don't forget to look back at Red Rocks! Now the clouds were starting to appear too.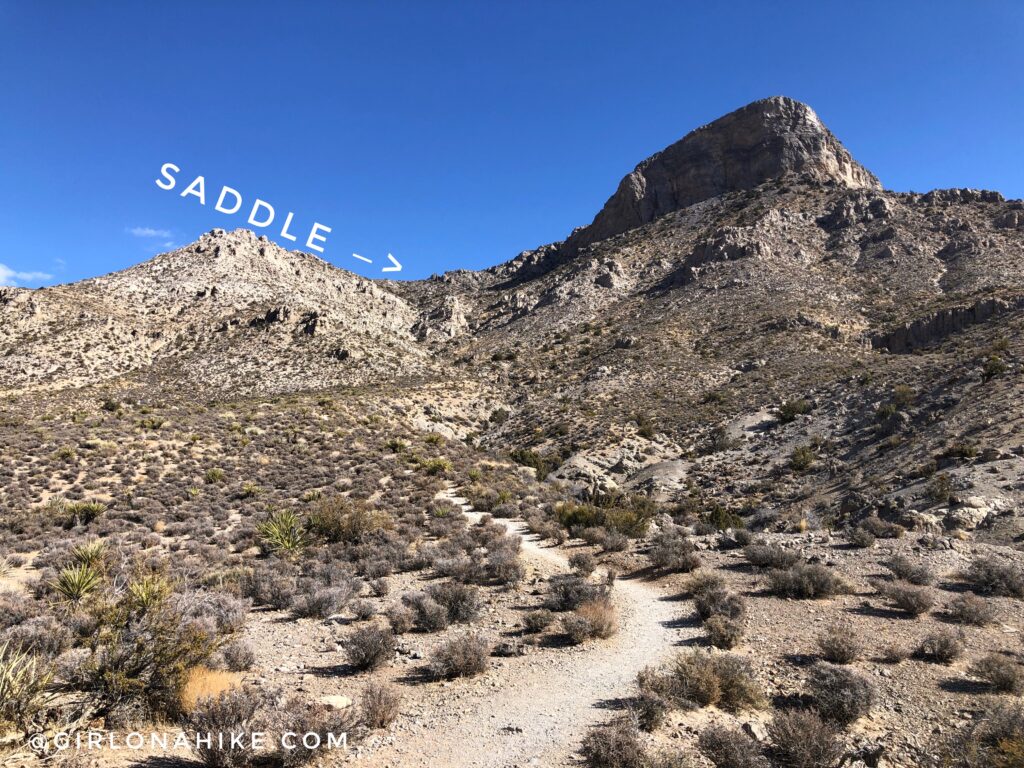 Around 1.5 miles the trail really begins to climb in elevation. Up to this point, it's been pretty flat and easy. You can clearly see the saddle you will hike to, and Turtlehead Peak of course.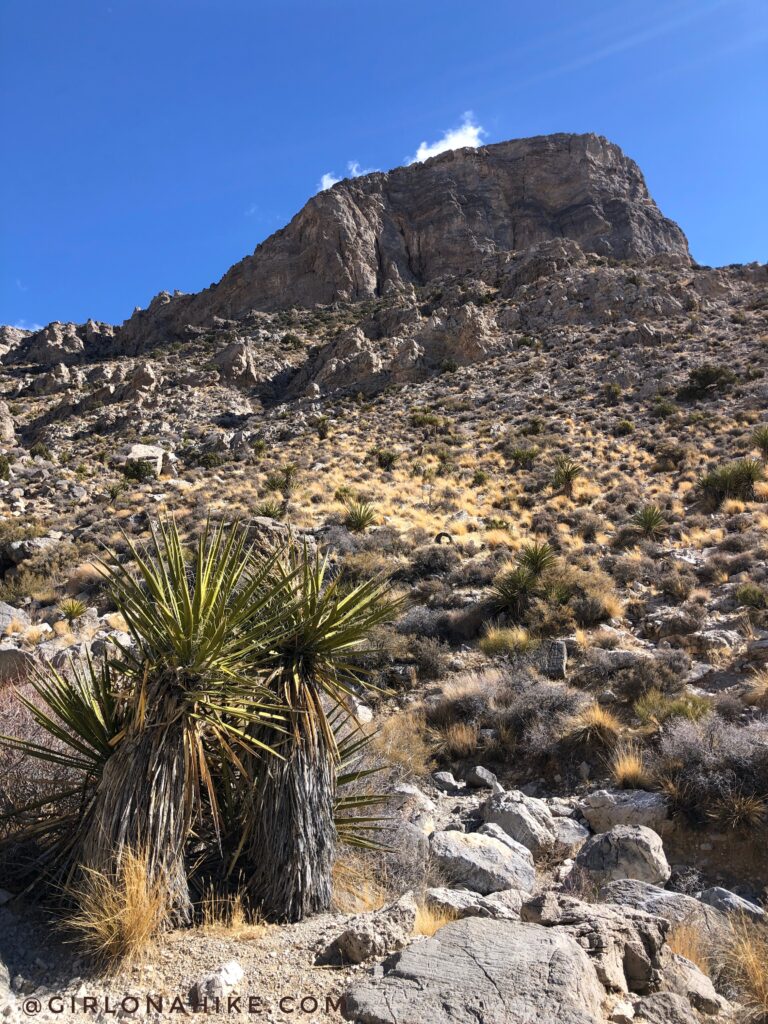 Wow, what a great day to be in the desert. While it may look warm, it was only about 50F but because the wind was strong it still felt cold.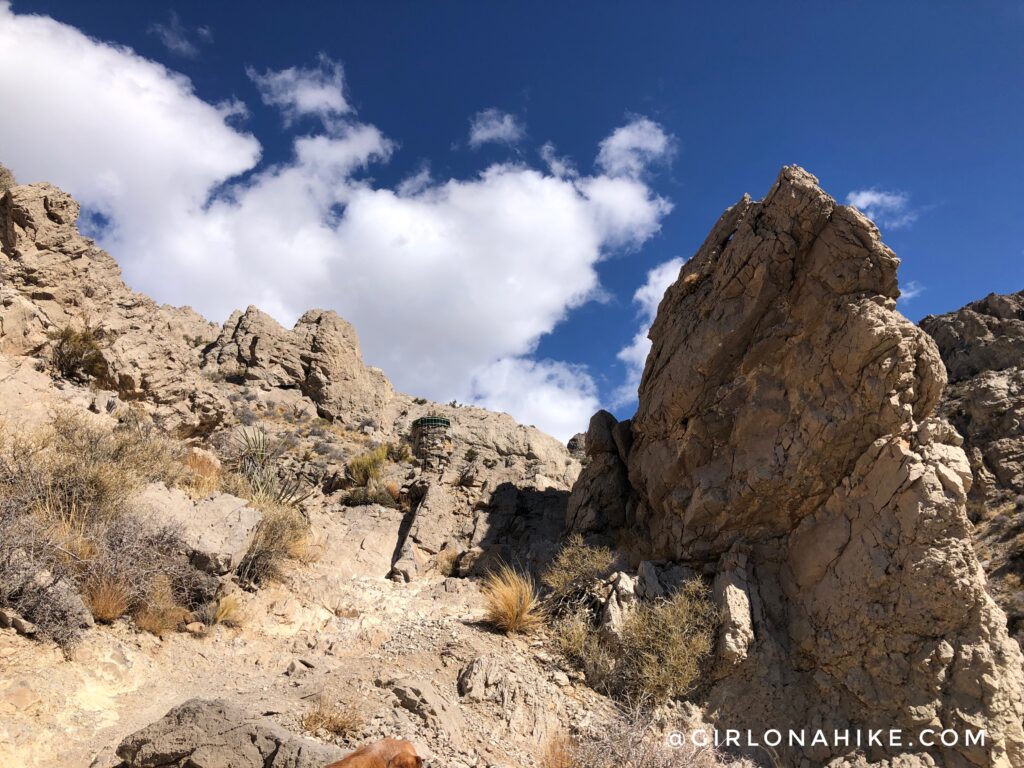 See the stacked, round pile of rocks with a black top? As you get further into the hike you will start to see these trail markers. If you don't see them, you went up the wrong gulley. The trail is marked by white and red spray painted dots.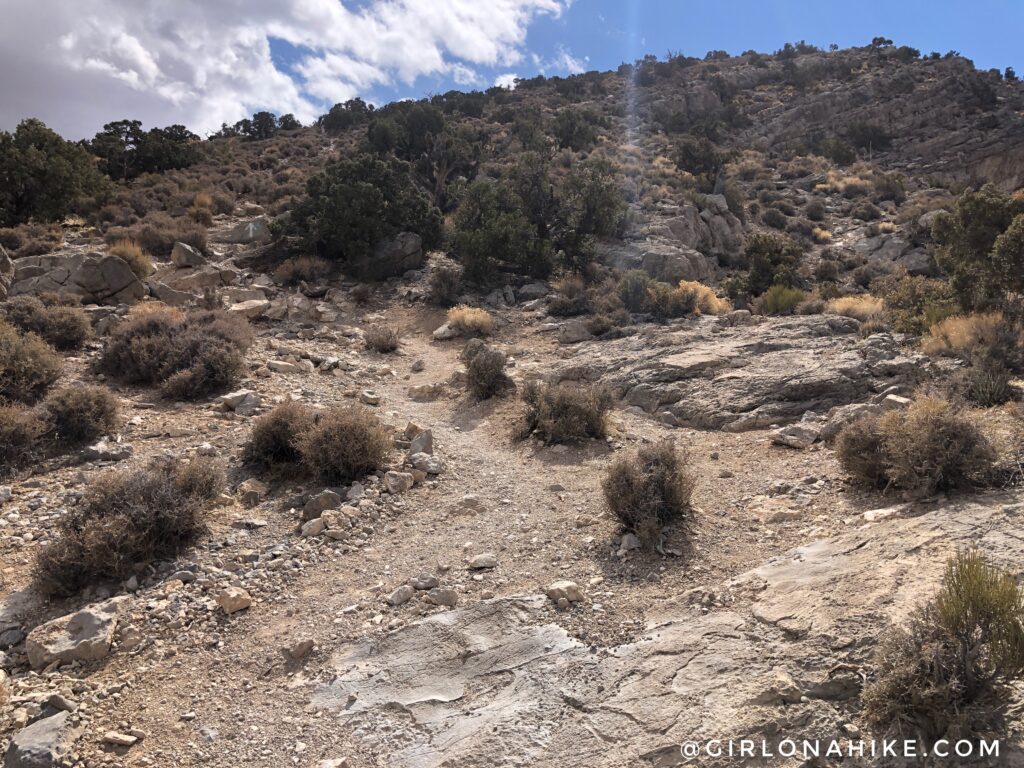 Once you reach the saddle, the trail wraps around the backside of the peak briefly, as you get close to summiting. You will now also see teal colored spray paint dots as a trail marker.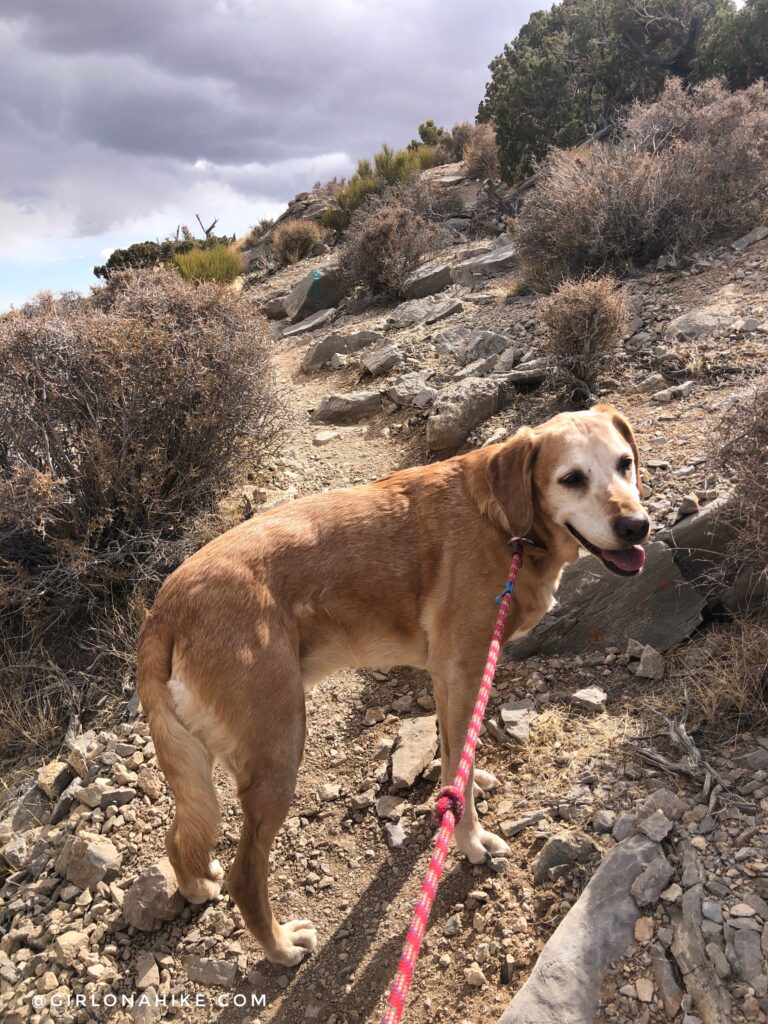 Charlie prefers hiking off leash (as I prefer for him as well), but he wasn't used to hiking on a lot of rocks yet, since everything back home is snow-packed and he was moving a little slow. His paws were a little tender the next few days after this. Now you can see the teal dots to follow.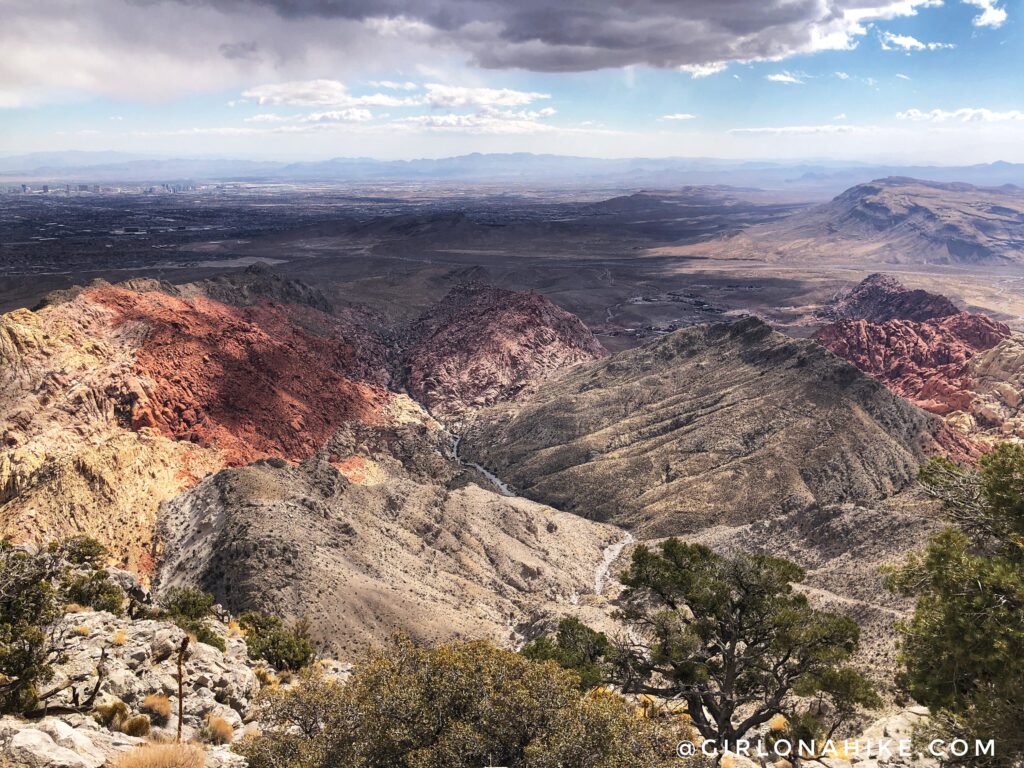 Almost to the summit, with a great view down into the Calico Tanks area. You can just barely make out the Las Vegas Strip on the far left.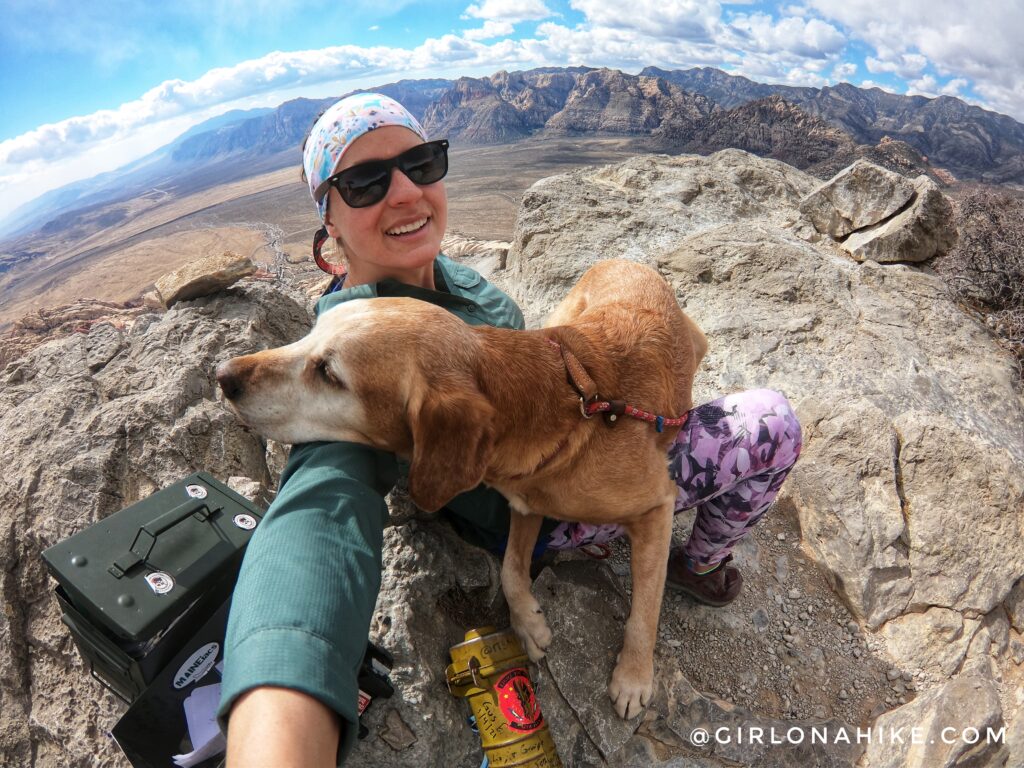 Whoo hoo! Made it to the summit and even had it to ourselves for about 10 minutes! Charlie takes a break on my lap, as usual.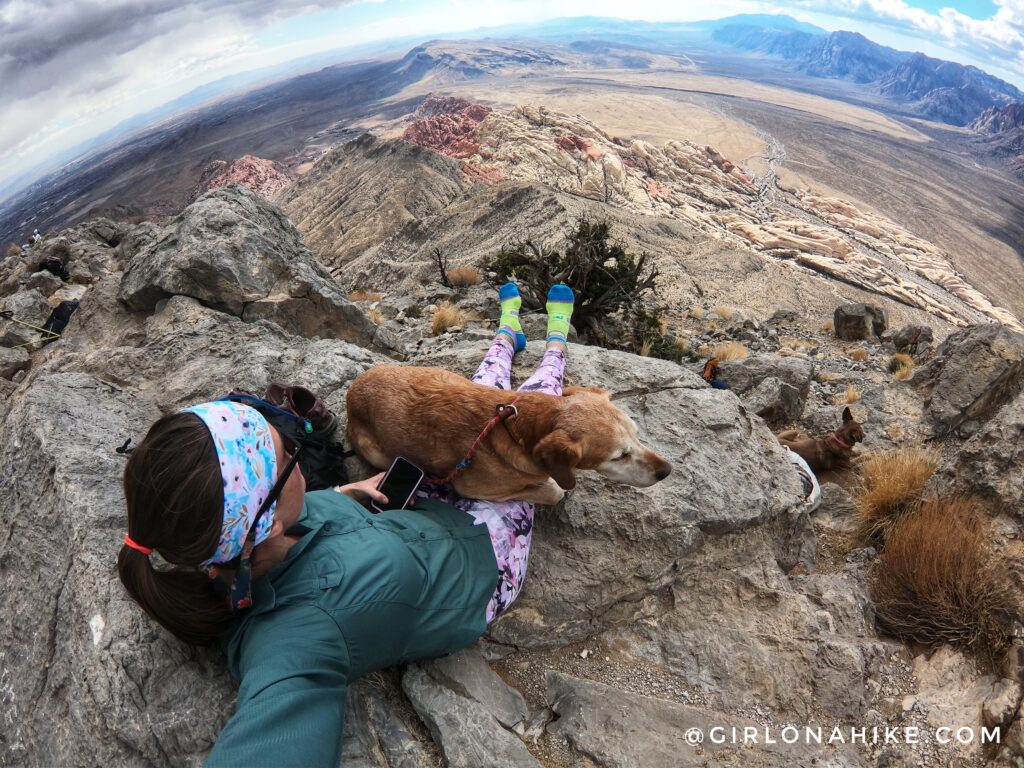 Such a beautiful day! I always take my shoes off on peaks so my feet can dry out to prevent blisters. I love these ProCompression socks! Both the ankle and over-the-calf work so well.
Check out my short video of our hike!

Trail Map
My track via Gaia GPS – the best tracking app! Get your app here for a discount.
Recommended Gear
Nearby Hike

Save me on Pinterest!