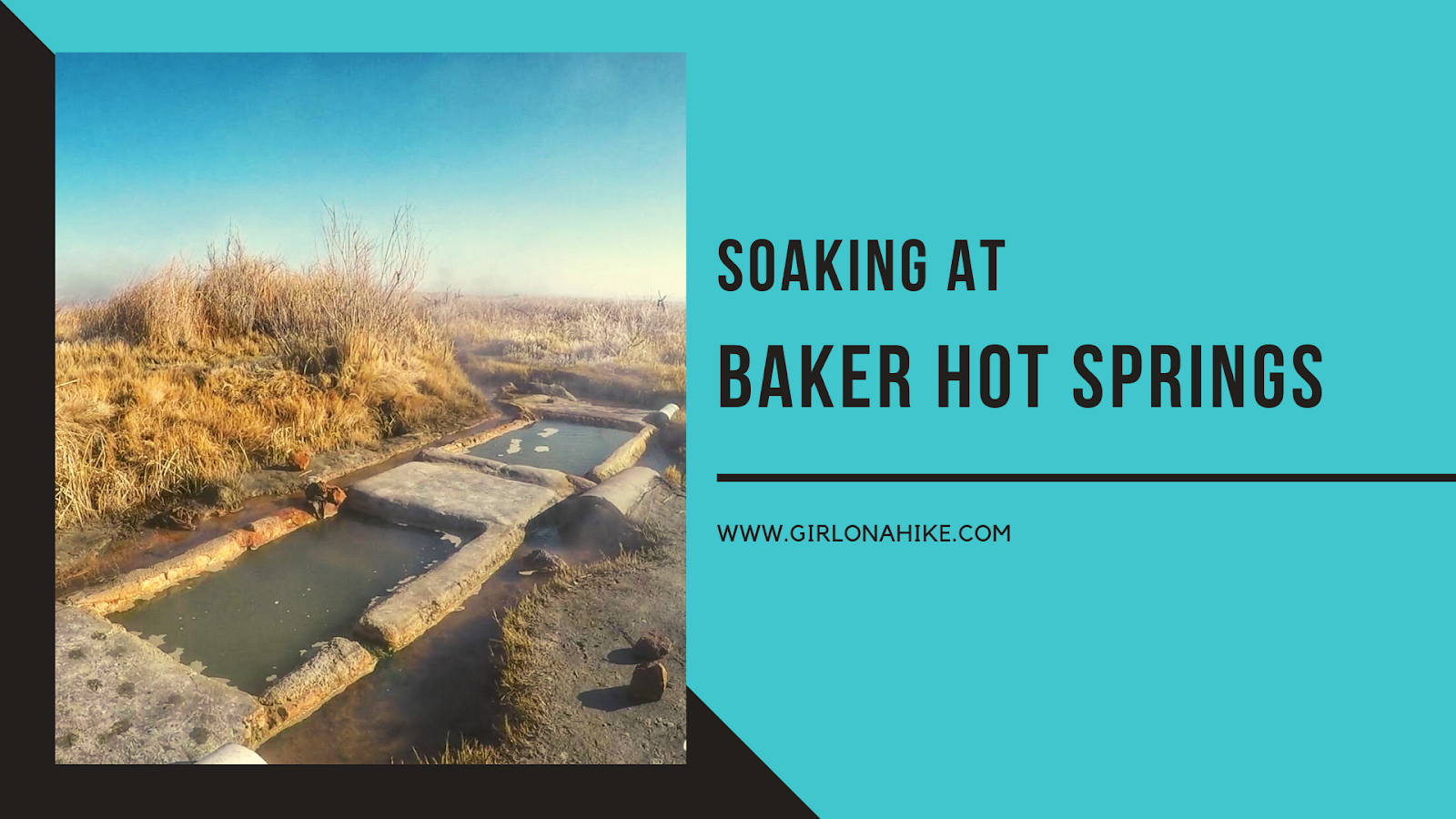 Soaking at Baker Hot Springs, Utah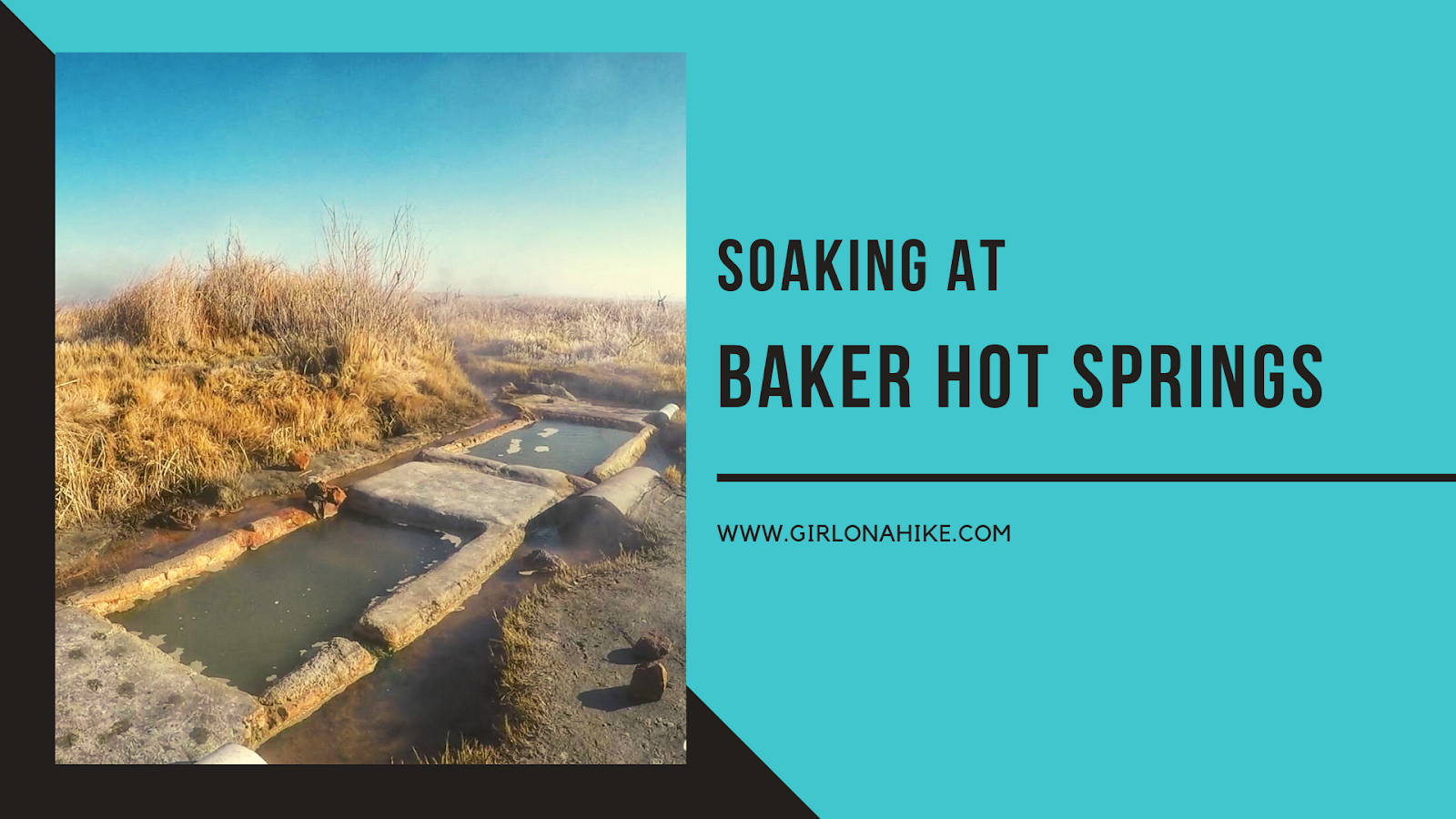 Baker Hot Springs is a small, natural hot springs located in Central Utah, not too far from Delta, Utah. The source of the hot springs is around 180F, but a trench helps the water flow down to three large tubs and cools off the further you are away from the source. The tub closest to the source is the hottest, the middle tub is, well in the middle for temperatures, and the furtherest is the coolest. However, you can "regulate" the temperature by using one of the provided rags to block out the hot water and let cold water from a pipe in.
FAQs
Can my dog be with me off leash? Can dogs swim in the pools?
Yes to both. However, be advised that not all dogs do well in water temperatures above 100F. Please be courteous of other swimmers and make sure your dog doesn't shake off or step on other people's stuff. Bring a long line just in case you need to tie your dog up to a tree if others aren't comfortable with dogs in the area. You also need to bring along your own dog poop bags – none are provided.
Do I need to bring anything special with me?
Aside from dressing appropriately and layering, make sure to bring a towel to dry off. I also carry my Chacos with me so I don't have to walk around on the snow, and I bring 2-3 plastic grocery bags (per person) to put my wet swimsuit and towel in before driving home. I also brought some beer and a hot thermos of tea. Something fun would be to bring along a Jet Boil to make hot chocolate on the spot!
 GPS Location:
39.61051, -112.73069
Just a word about trash – there are no trashcans on the road nor the area, so please Leave No Trace and carry out what you pack in! Let's keep it clean.
Directions
Head south on I-15 and take exit 228. Continue south on HWY 28. Turn right on HWY 132, and drive West until you reach the "T" in the road, HWY 6. Turn left and drive 6 miles, then turn right onto HWY 174. Drive 19 miles, past the power plant, then right onto Brush Wellman Road. Drive another 7 miles and you will see another dirt road leading off to the right. This is where the hot springs is located, and parking is right there.
Here's a driving map from SLC.
Trail Info
There is no hiking required to reach the hot springs. There are no fees either.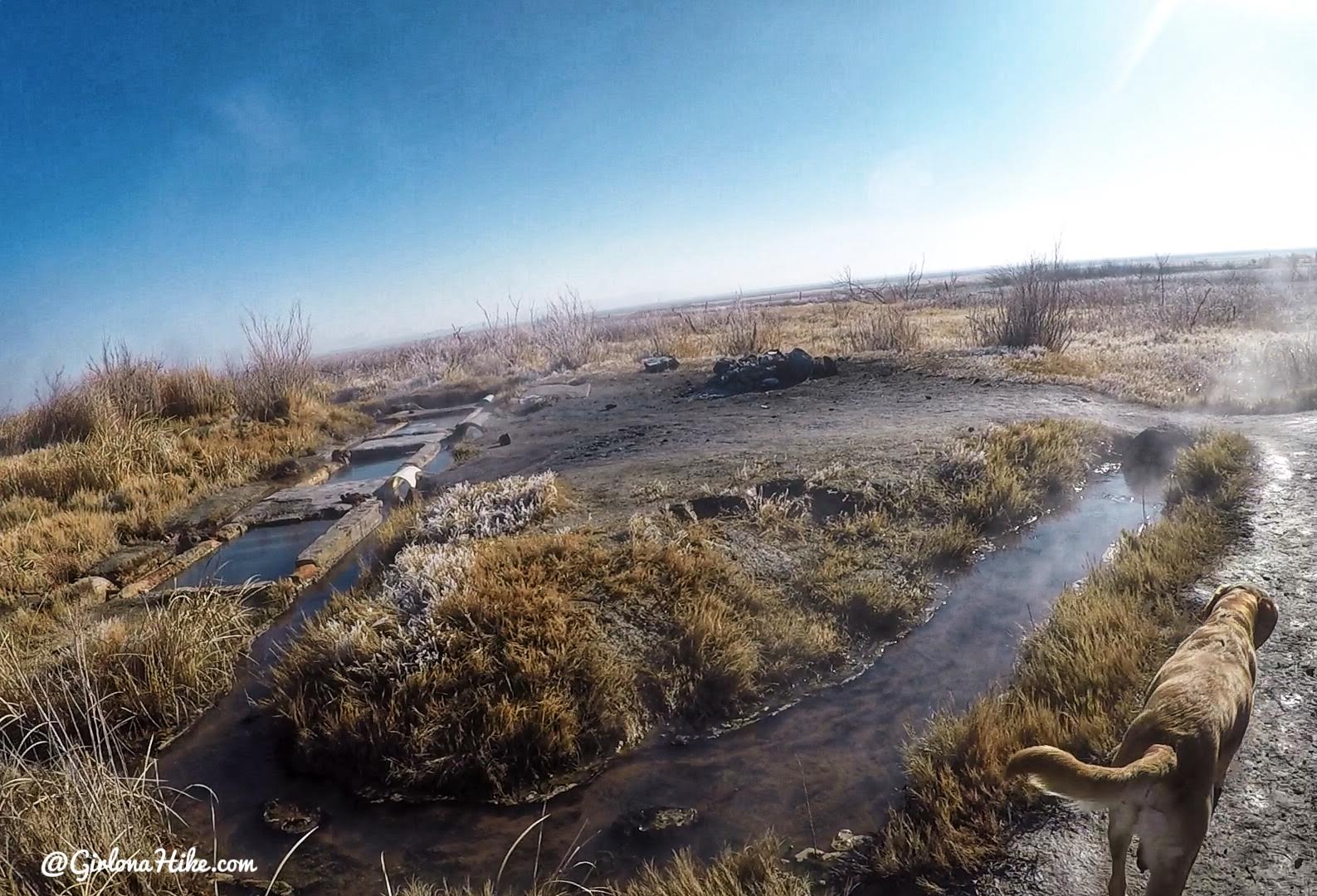 Walking up to Baker Hot Springs.
There's plenty of parking and primitive camping here as well.
It's definitely a small area, with only three tubs to soak in, but each tub could hold 5-6 people comfortably.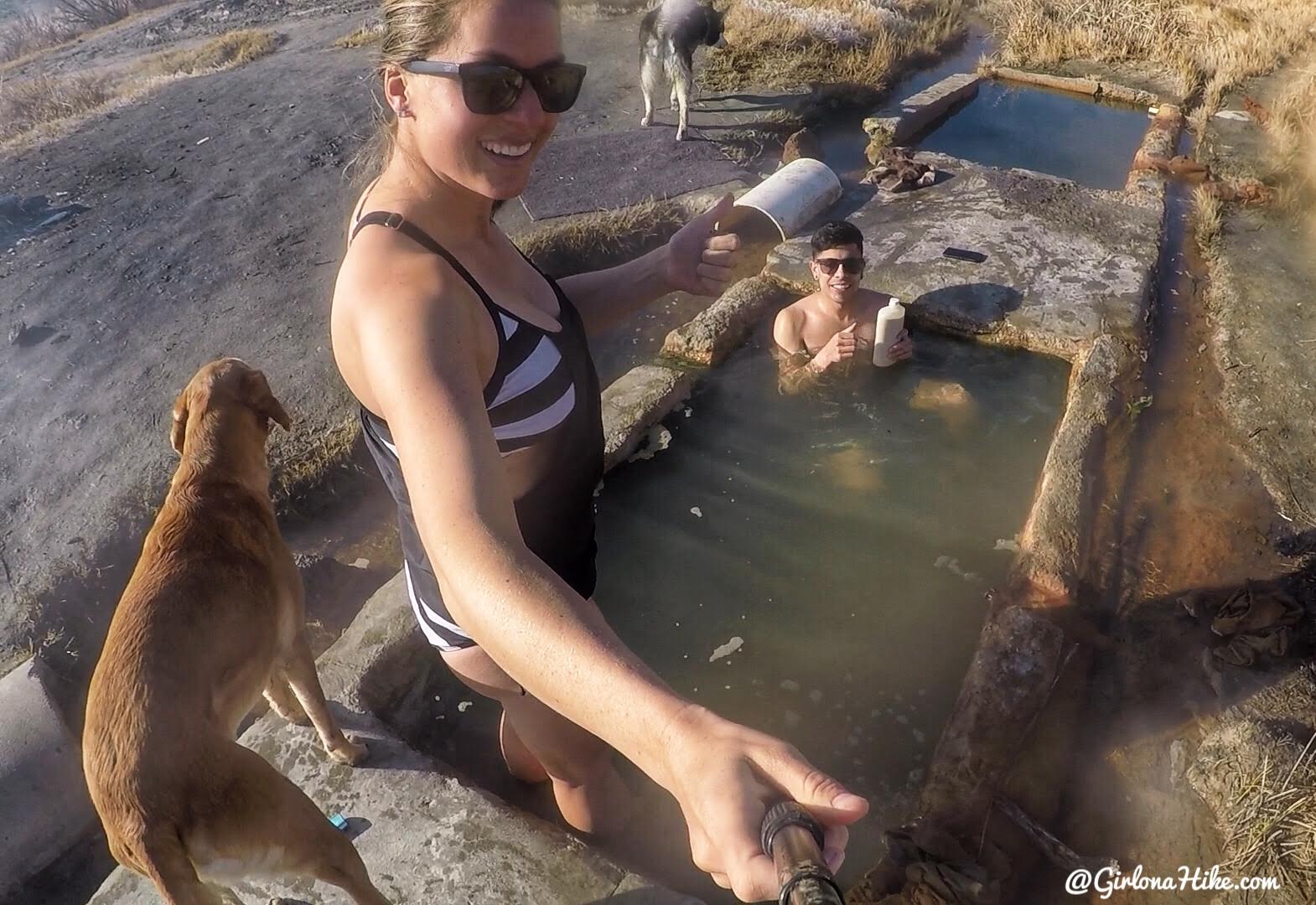 Yay, ready to relax! The tubs are only chin deep, so maybe 2 feet.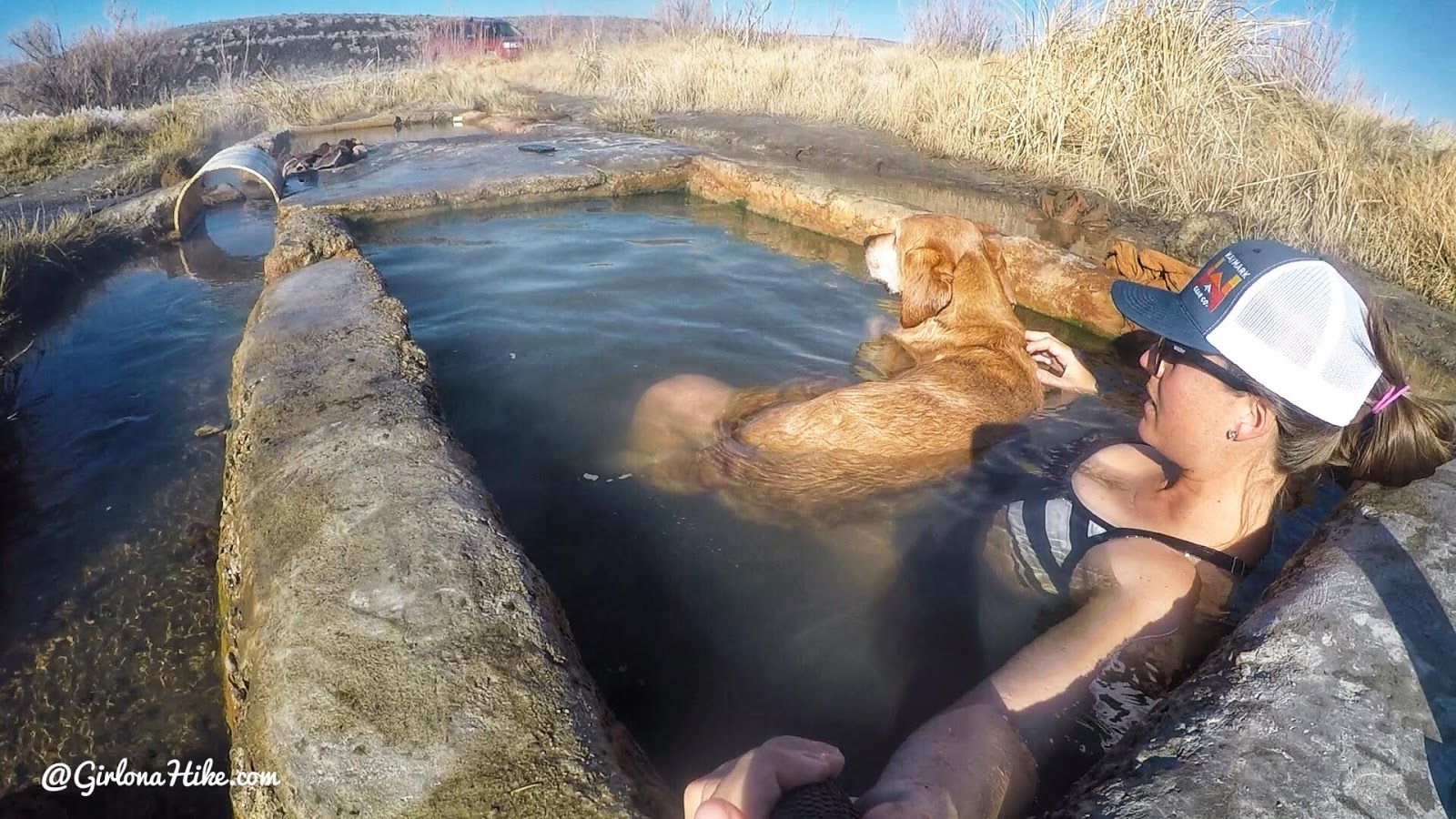 Sooo nice to relax for a day!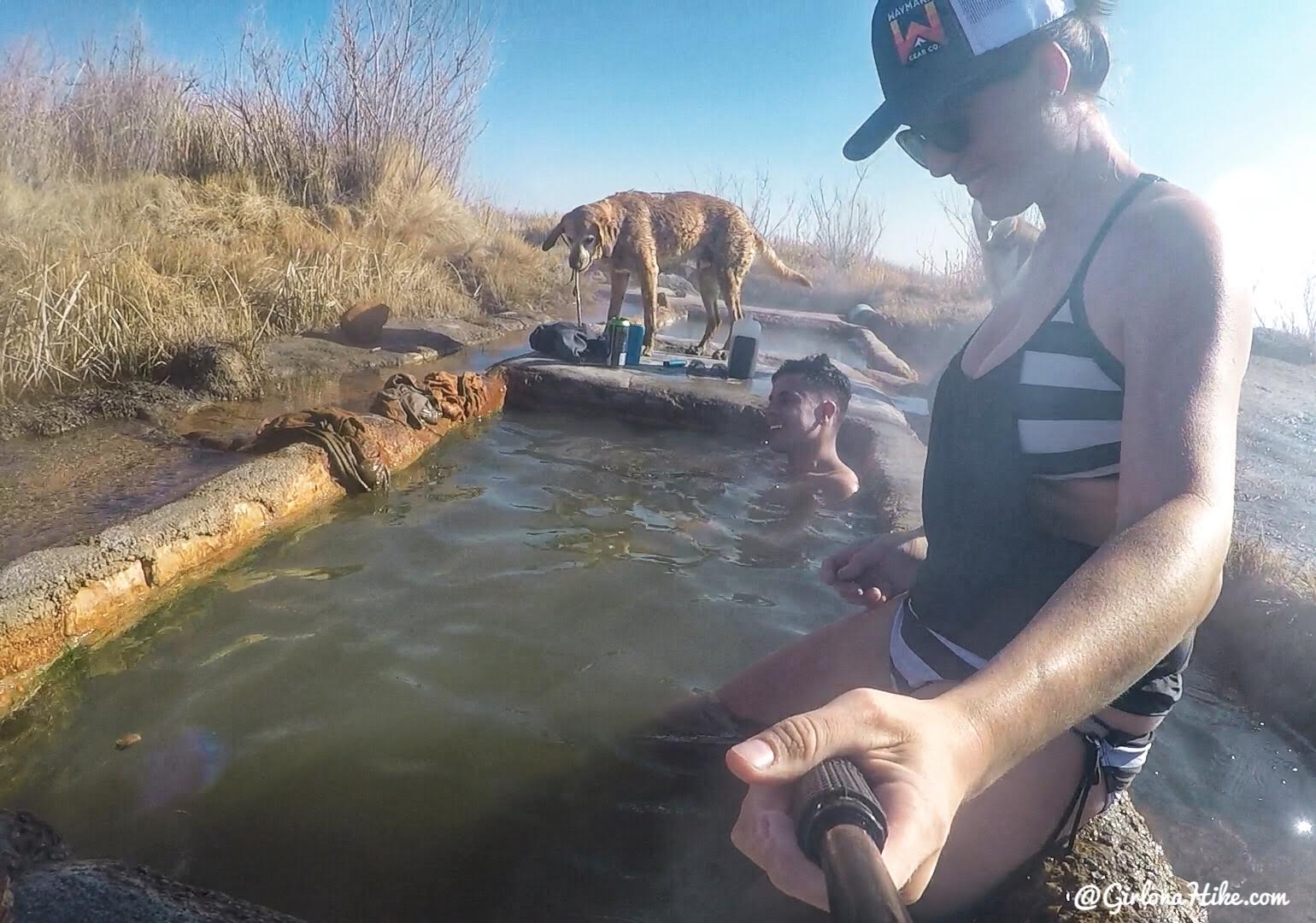 Sometimes it would get too hot and I needed to sit out to cool off. Don't forget to bring sunblock, even in winter!
Bring a hat too – it was really bright and sunny when we went. With the water reflecting my eyes were squinting all day. My hat is made by Waymark Gear Co – get 10% off any item using the code "GIRLONAHIKE" at check out here!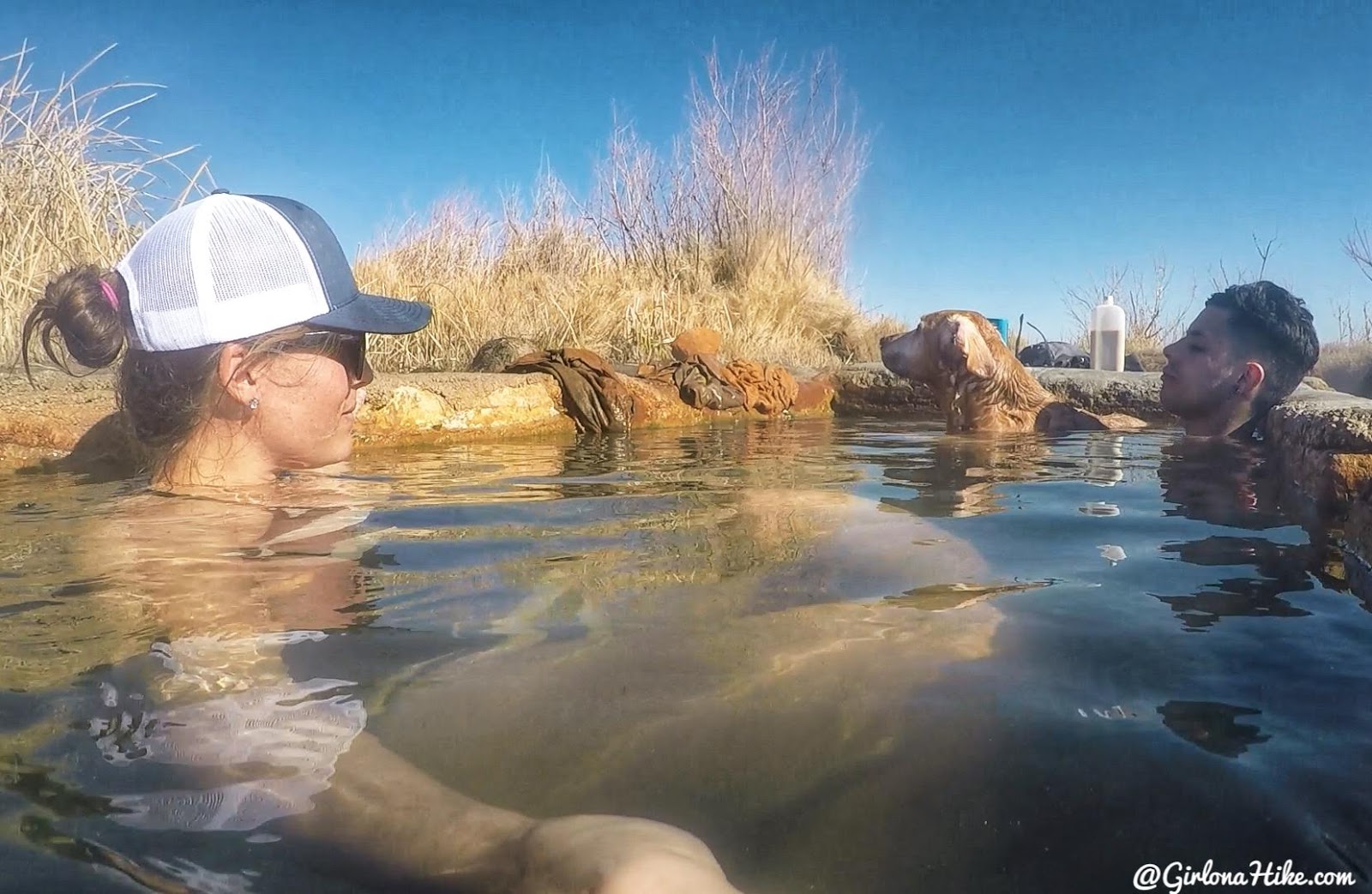 The water is mostly clear – a little algae but not bad. I don't like gross water, and even I was able to have fun in this water. Totally doable.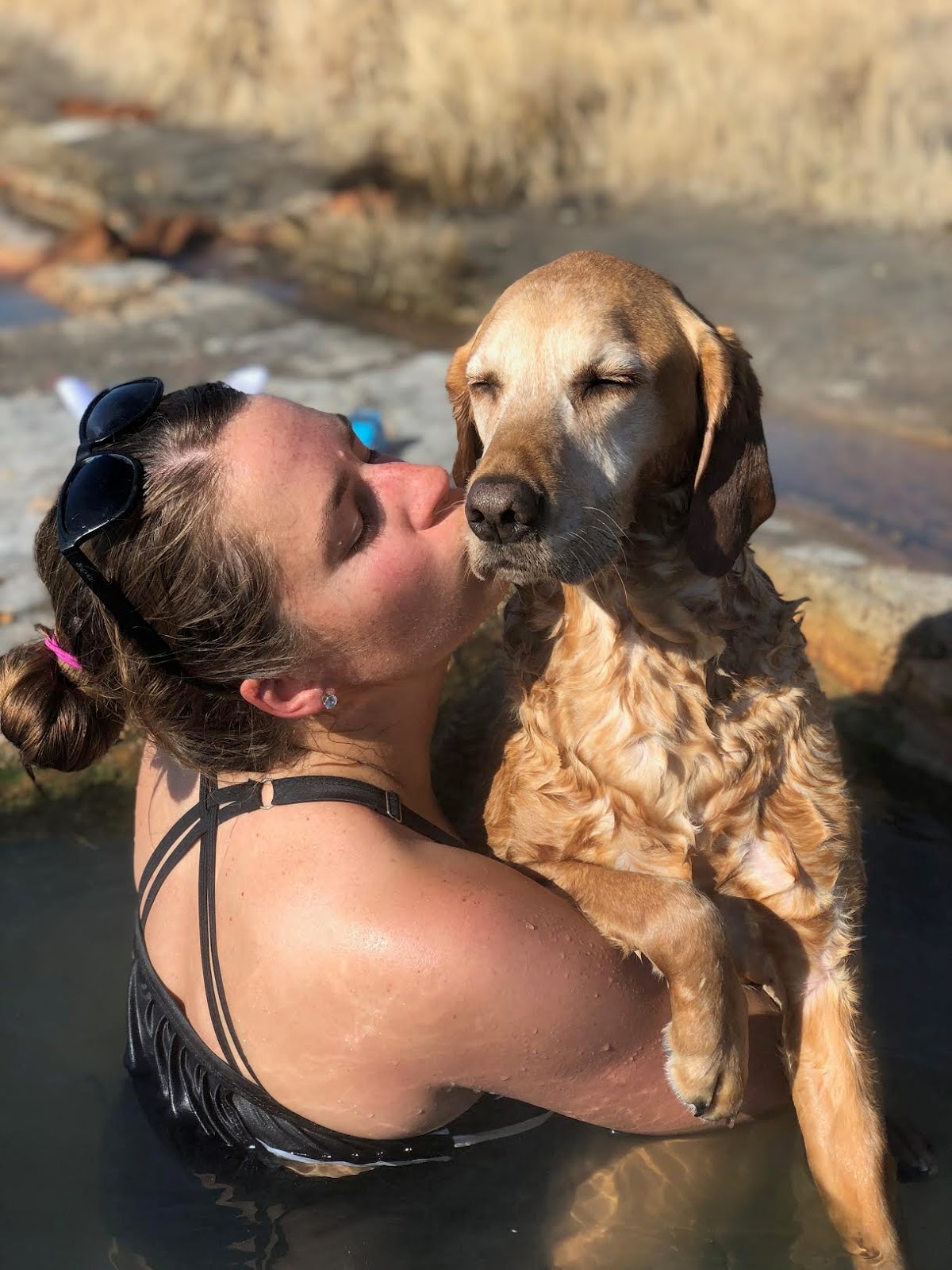 Awesome photo by Will!
Charlie has always loved soaking in hot springs with me – it fully relaxes him too!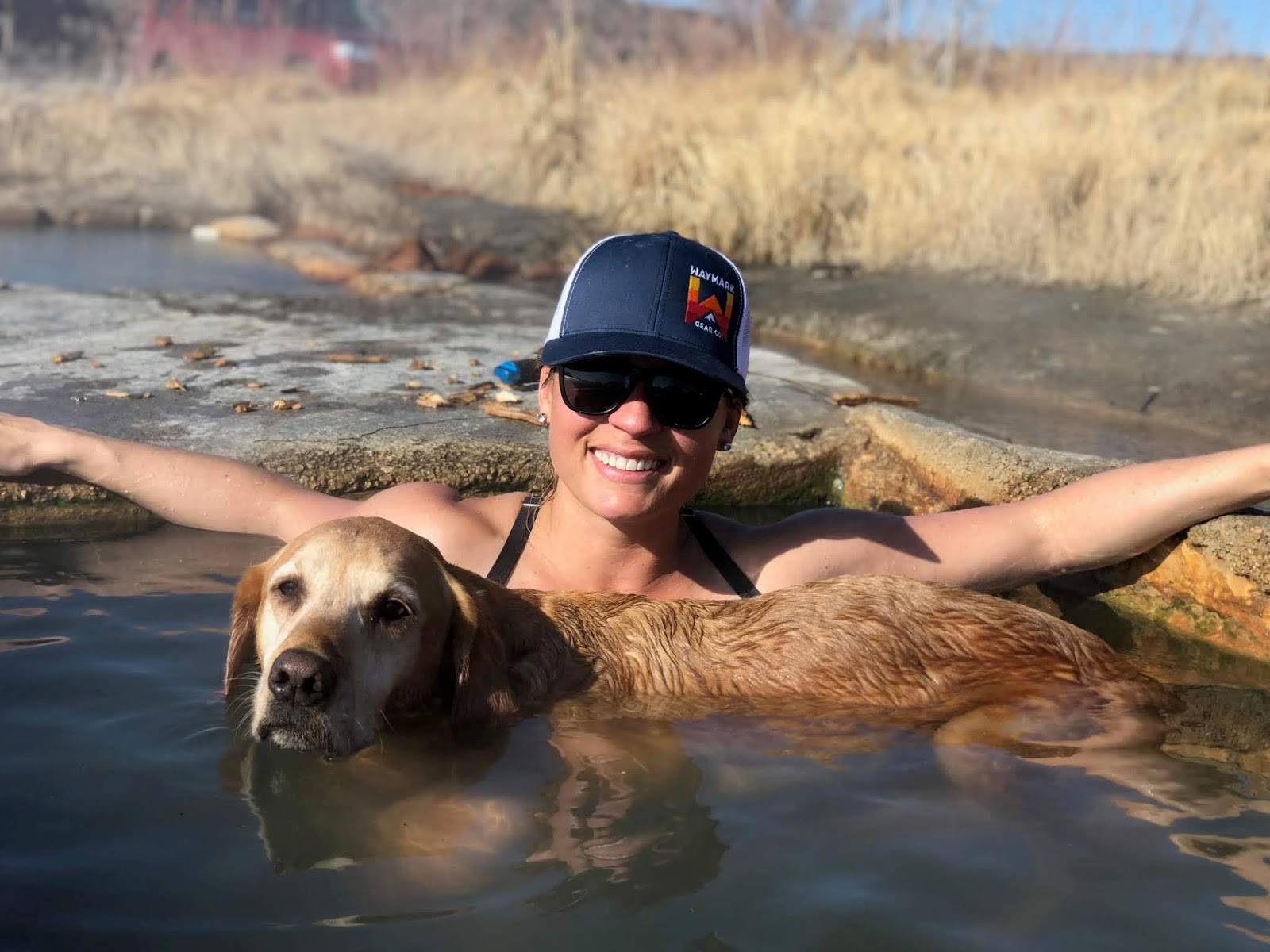 Can't believe we haven't soaked here before! I was pleasantly surprised. No people (at least mid-week), regulated water temperatures, in the middle of nowhere, plus free and dog friendly – that's my kind of place!
Check out my YouTube video!
Recommended Gear
Nearby Hike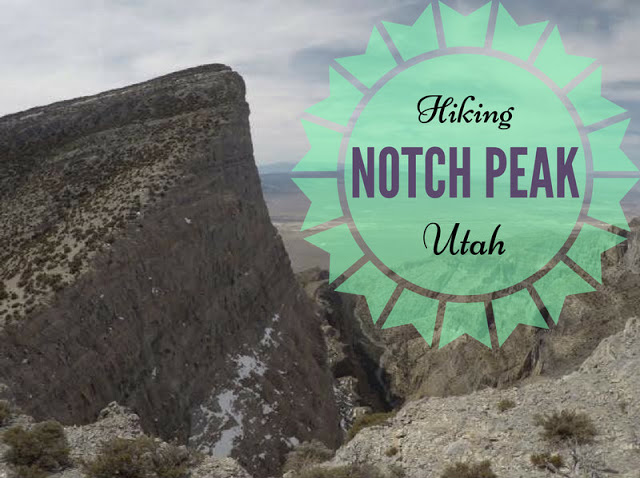 Save me on Pinterest!