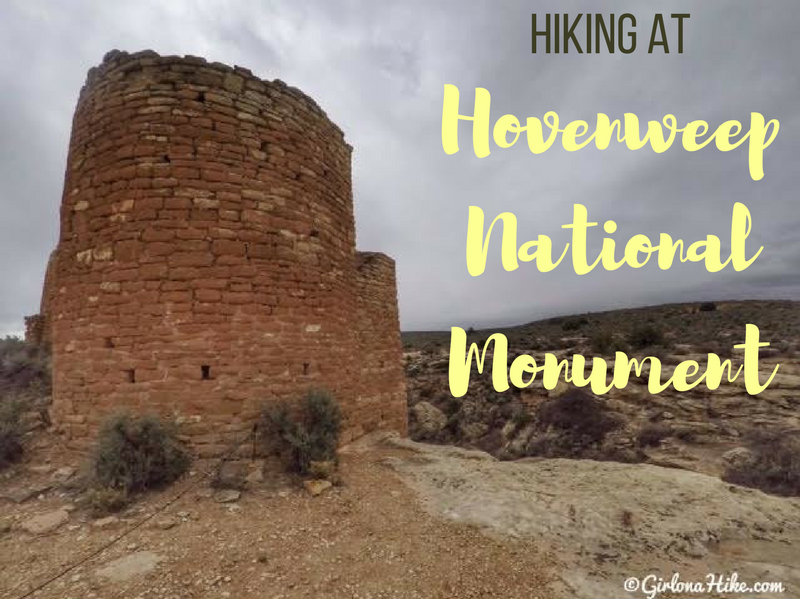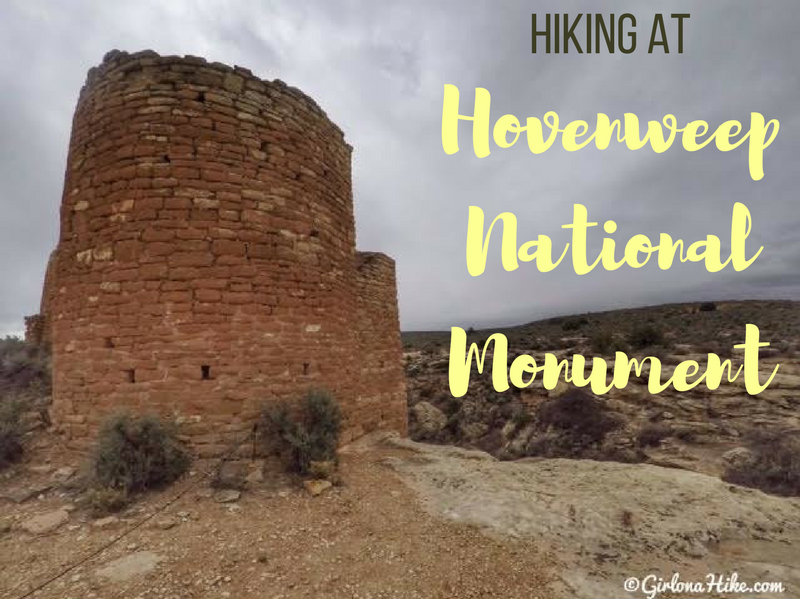 Hovenweep National Monument is home to six prehistoric, Pueblo villages spread over a 20 miles range of mesa tops and canyons along the Utah-Colorado border. Multi-storied towers perched on canyon rims and balanced boulder lead visitors to marvel at the skill and motivation of the builders. The trail system at Hovenweep provides excellent views of all the archaeological sites.
About
The first reports of theses abandoned buildings at Hovenweep were made by W.D. Huntington, the leader of a Mormon expedition into Southeast Utah in 1854. "Hovenweep" is a Paiute/Ute word meaning "deserted valley". In 1917, the Smithsonian surveyed the area and recommended the structures be protected, and in 1923 Hovenweep became a unit of the National Park System.
I never thought I'd explore this National Monument since it's in such an isolated area of Utah. However, the previous day while hiking Jeep Arch in Moab, Charlie slightly tore up his paws while hiking. We drove further south and camped at Goosenecks State Park again (one of my favorite camp spots), and my partner decided he needed to fit in a long run at Valley of the Gods for training for his 50K in June. Since Charlie wasn't up for a big hike in the area, I decided to drive out to Hovenweep. Normally I wouldn't go to a National Park because dogs aren't allowed in most places. I figured I would quickly run a short trail to view the structures while Charlie slept in the car.
When I arrived, I saw another person walking their dog. So I asked the Park Ranger, and he let me know that dogs are actually allowed at Hovenweep. Dogs are allowed to hike The Rim Trail Loop on-leash, and can hike off-leash on the trail to the Holly Tower. Since the Rim Trail Loop is only 1.5 miles RT, I figured Charlie would be up for that – the fact that Hovenweep even allows dogs is pretty awesome! One of the reason's you rarely see blog posts on here from National Parks is because dogs aren't allowed, therefore I don't travel to them (unless I get a dog sitter which isn't fun for me nor Charlie – he goes where I go.)
Directions
Use this map if you are travelling from the south, such as Mexican Hat, UT.
Use this map if you are travelling from the north, such as Blanding, UT.
Trail Info
This trail info is for The Rim Loop Trail
Distance: 1.5 miles RT (loop)
Elevation gain: Flat, 97 ft
Time: 1 hour
Dog friendly? Yes, on leash
Kid friendly? Yes
Fees/Permits? 
None, Hovenweep is one of the few national monuments that does not charge an entrance fee.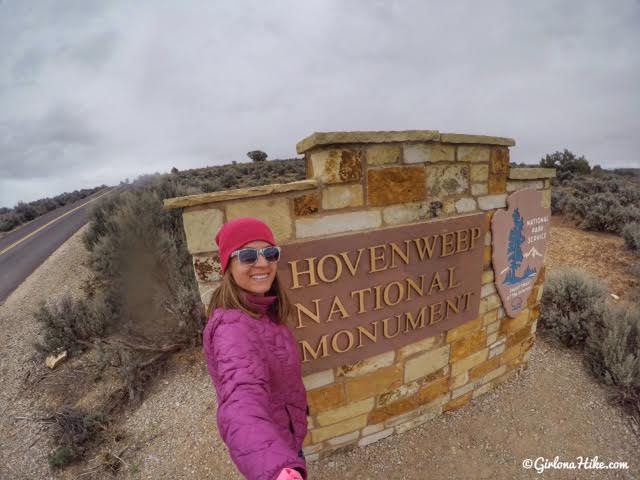 A storm was in the area, and made it a bit chilly. Rain threatened my hike the whole time, but I never got a sprinkle. Thankfully I packed warm clothes! Utah weather is so crazy, you never know what it will do.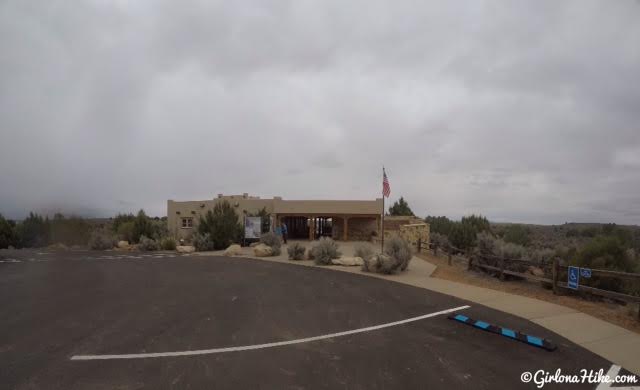 Visitor Center
This must be a newly built building – it was so nice and clean. They have one of those cool water bottle fountains inside that shows how many plastic water bottles you saved by using your own bottle.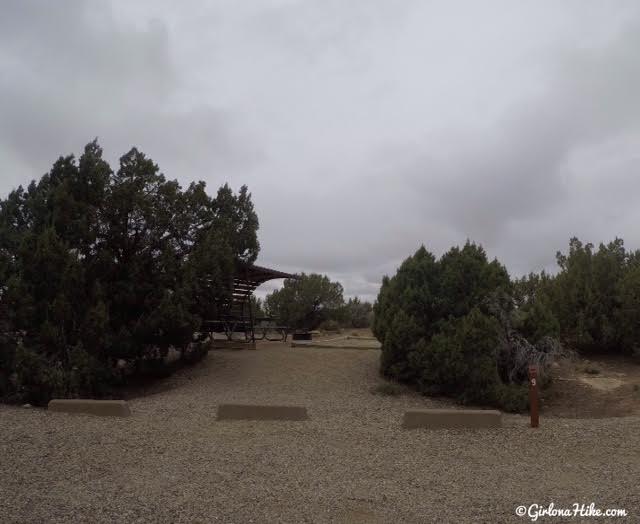 Before hiking I drove down the road to check out the campground – only two campsites were taken our of 31 sites. Each site has a picnic table, half shelter, tent pad, and fire ring. The campground is first come, first serve and sites. Here is more info on the campground.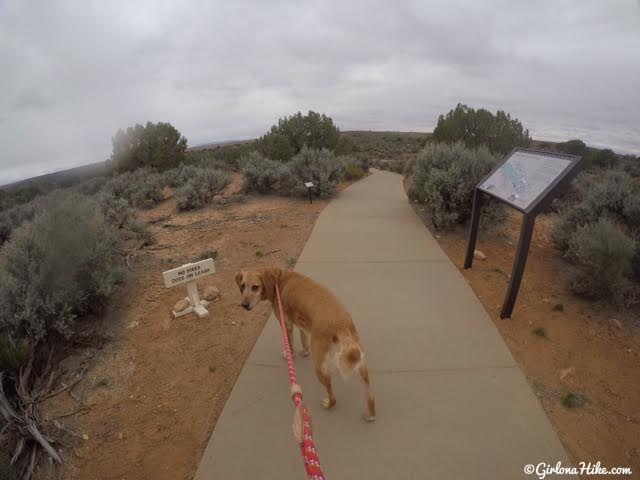 The Rim Loop Trail starts on the East side of the Visitor Center, and begins as a paved walkway. Signs are everywhere to keep dogs on-leash.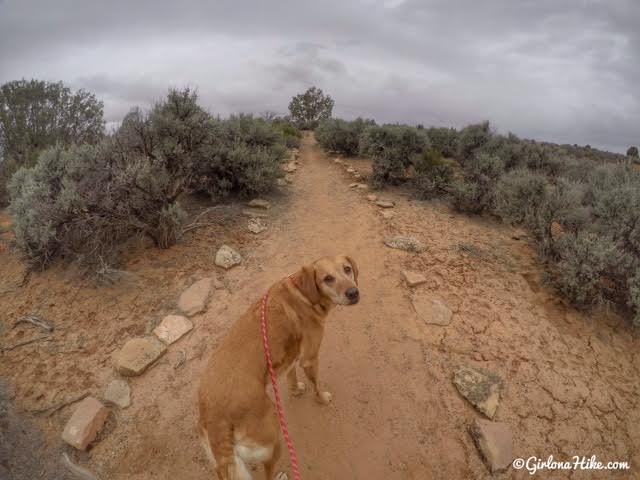 Charlie always check on his mama! He wasn't too happy to hike on-leash, but at least he was allowed in the park itself. We hiked the loop in a counterclockwise direction.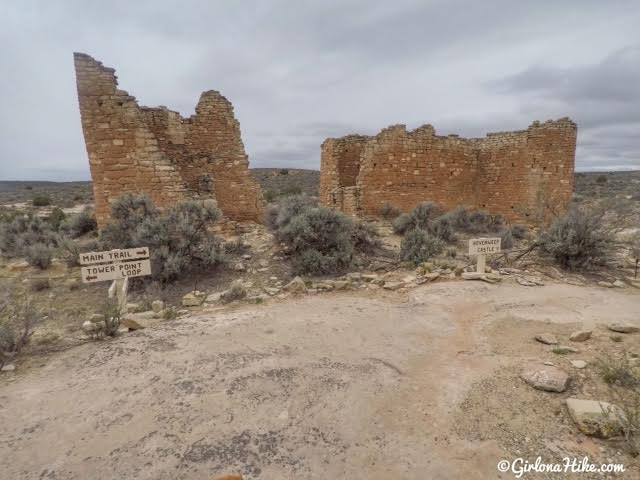 The Hovenweep Castle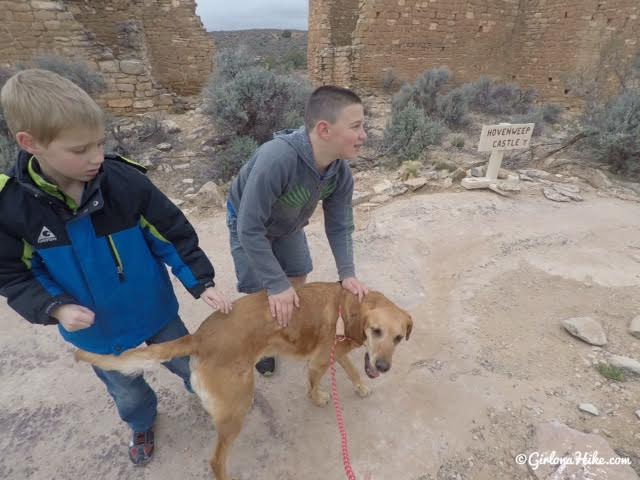 Charlie makes friends everywhere we go!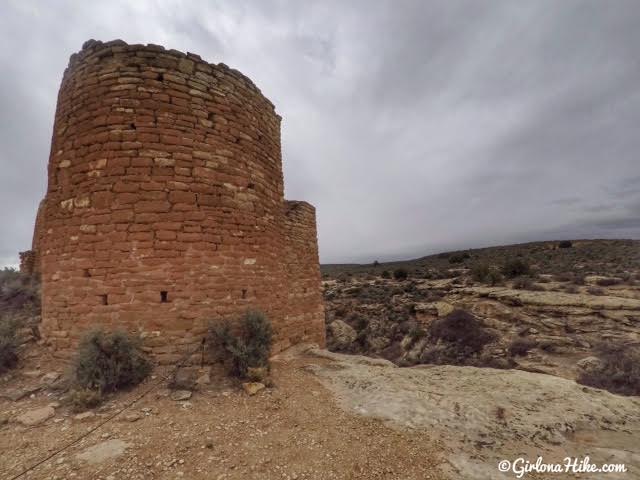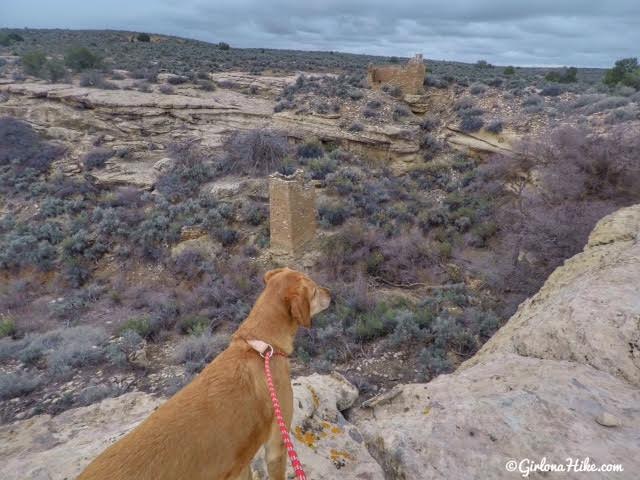 Looking into the canyon with more structures.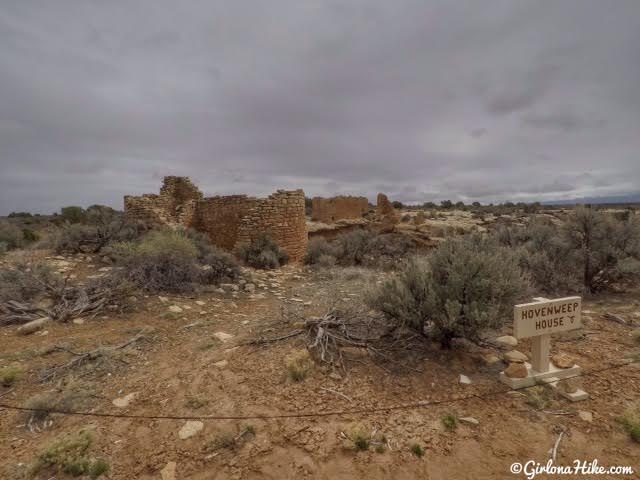 Hovenweep House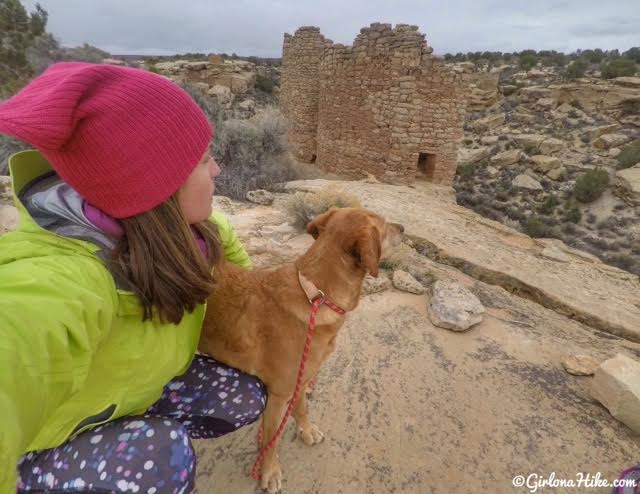 Rim Rock House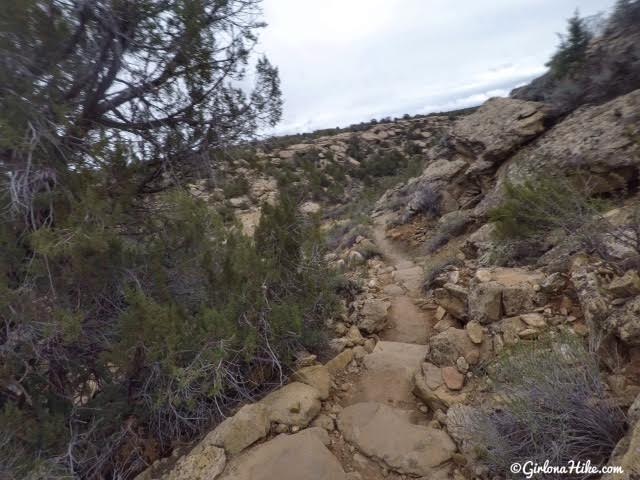 The trail will dip into the canyon – watch your step on the rock stairs.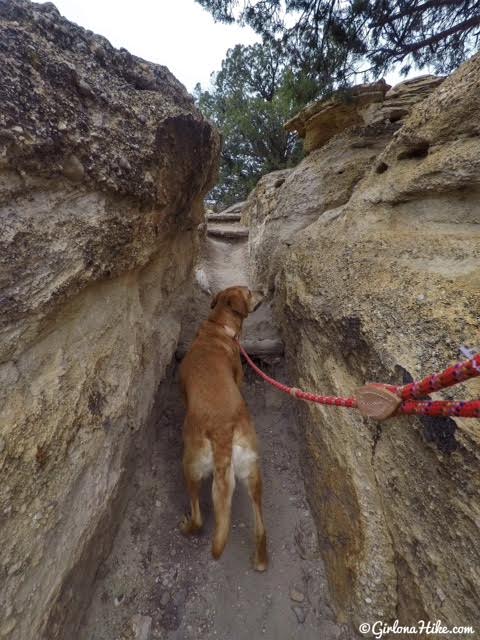 Work your way back to the Visitor Center.
Trail Map
Hovenweep says that The Rim Loop Trail will take you up to 2 hours – I completed it in 37 minutes. I guess if you have kids or take more time along the trail it could take 2 hours but that seems a bit extreme.
This is a fun, quick hike if you are short on time. I'm glad I was able to stop by and get my National Park Stamp!

Save me on Pinterest!