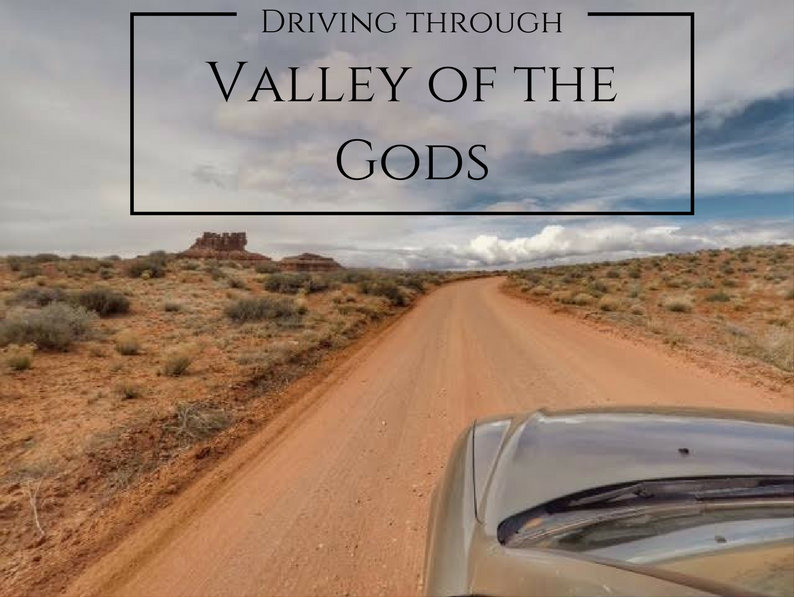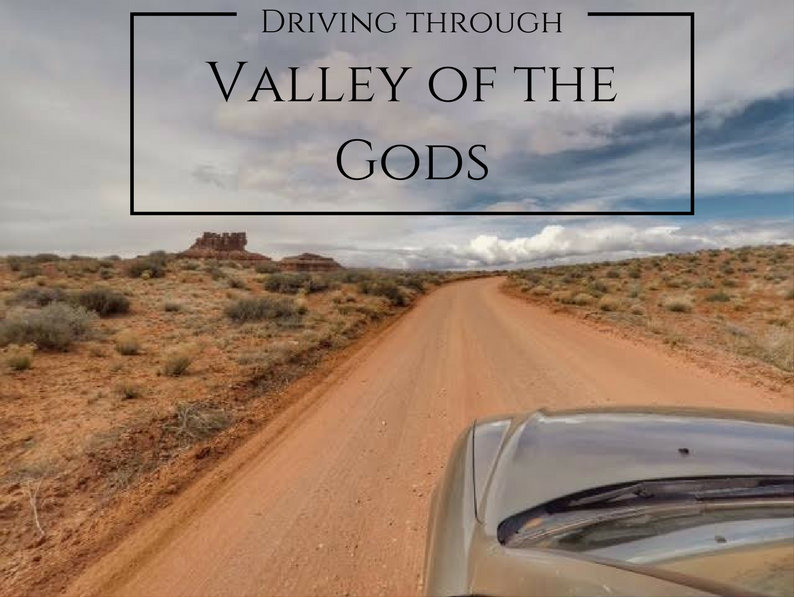 Valley of the Gods is a scenic backcountry area in Southeastern Utah, near Mexican Hat, UT. It's a 17 mile point-to-point drive along a well graded dirt road that even small, passenger cars can drive. It is a beautiful area with scenery similar to the nearby Monument Valley, without the fees or tourists.
About
Valley of the Gods offers views of isolated buttes, towering pinnacles and spires, and wide open spaces. Because of it's isolation, people exploring and driving through Valley of the Gods need to be well prepared and self-sufficient and carry emergency supplies. Have a full tank of gas and plenty of water at the minimum.
Valley of the Gods is on Navajo Nation land (and administered by BLM), and therefore exploring beyond the road for hiking, biking, and camping requires a permit. Though the road is recommend for high clearance cars, most cars can make it in good, dry weather, but be advised the road can still be rough at times and like a washboard. You do not want to drive through here during or right after a rainstorm as the road becomes a mud trap. Even 4×4 cars can have a hard time escaping a wet road.
Because this road is point-to-point, you can enter it either off of HWY 163, or just below the Moki Dugway on HWY 261.
For those looking for a more personal experience, you can run or bike the 17 mile road. My partner is training for a 50K in June, and needed to get a long run in. I dropped him off on the West side, and he ran Valley of the Gods towards the East side while I was Hiking at Hovenweep National Monument. When I picked him up after my visit, we drove the road so I could see it – he completed the run in a few hours.
Directions
If you are coming from the South such as Mexican Hat, UT use this map.
If you are coming from the North such as Blanding, UT use this map.
FAQs
Are dogs allowed?
Yes, dogs are allowed but as stated before, to hike in the backcountry you do need to get a permit from the Navajo tribe.
 Is this a good place for kids?
Yes, definitely!
 Where is the best place nearby to camp or get a hotel?
The best and closest place to camp is Goosenecks State Park, only 9 miles away from the West entrance.
The closest town for decent hotels is in Mexican Hat, UT where they have either the San Juan Inn or the Hat Rock Inn.
Best place to eat nearby?
I love the Comb Ridge Bistro! Excellent coffee, lattes, sandwiches, and diners. Really clean and artsy inside & a great staff. Plus it's local!
How do I get a permit?
Please check the Navajo Nations' website for permit info
Fill up on gas, and let's get driving!
Road Info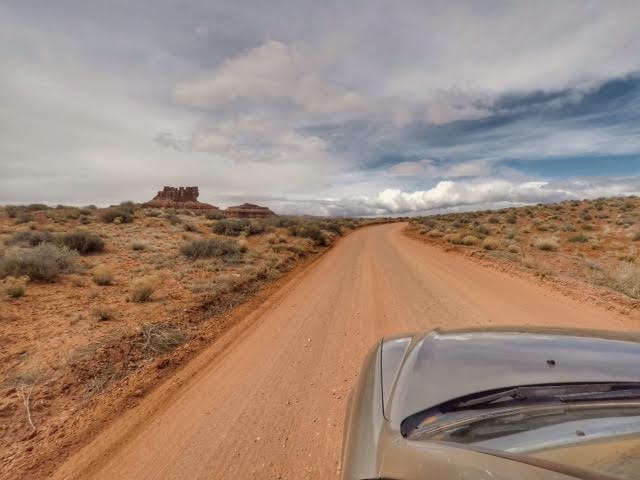 My little Sonata was able to drive the entire route with no issues. Sections of the road were like a washboard, but as long as you drive slow (25 mph & under) it was fine.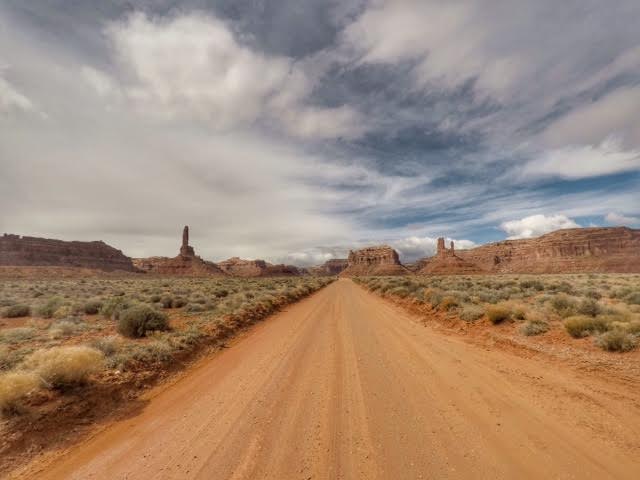 What a view! The best section of the drive is halfway, where you drive closest to all the amazing buttes.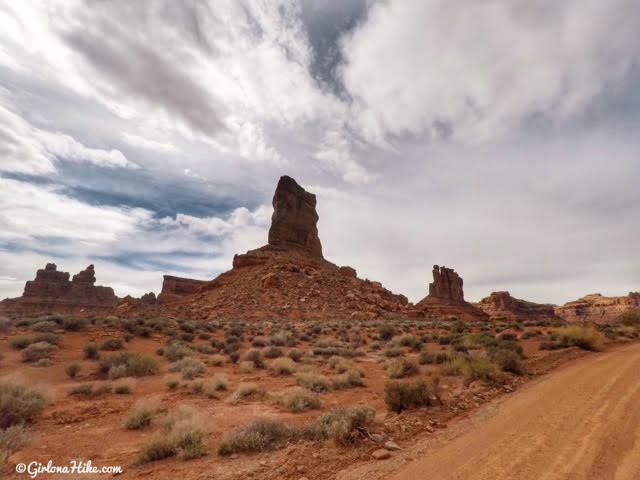 Geology Info
The statuesque buttes in Valley of the Gods are all sculpted from Cedar Mesa sandstone dating to the Permian age, 250 million years old! The 1200 ft thick sandstone was cemented by calcium carbonate interspersed with red siltstone and was deposited in huge sand dunes near the shores of an ancient sea. Erosion by water, wind, and ice over millions of years chiseled these amazing rock formations and shapes we see today. (source)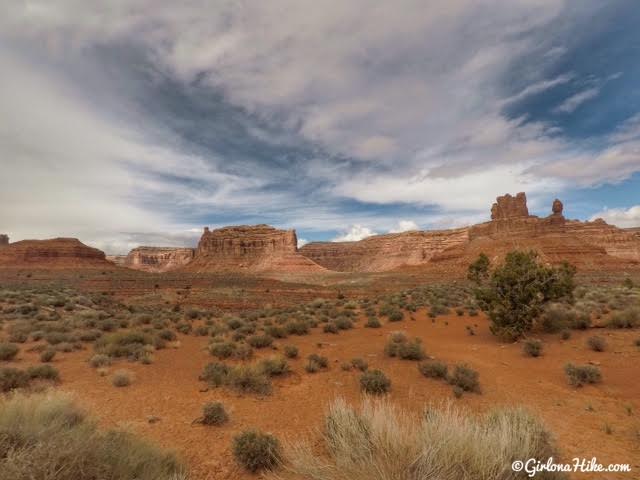 The Navajo interpretation of the Valley of the Gods rock formations means that they "are places of power in which spirits reside." They believe that these buttes are Navajo warriors frozen in stone, who can be appealed to for protection – they are guardians whose power and strength aid young servicemen and women going to war.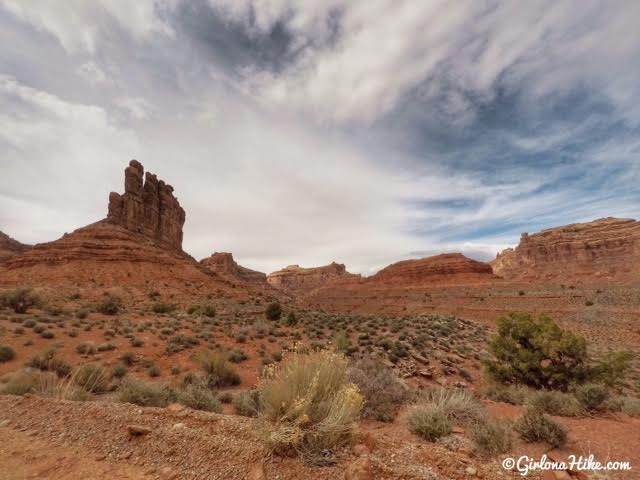 Filming Info
The Valley of the Gods and Moki Dugway are popular filming locations because of its classic "western" look. Filming projects include still shots and moving film for major films, commercials, promotions, and recreational events such as hot air balloon rides and even background shots for a PlayStation game. The CBS show, Airwolf, which aired from 1984-1987, used a mesa here as the secret hiding place of Airwolf. Two episodes of the BBC science fiction TV show, Doctor Who, were also filmed here.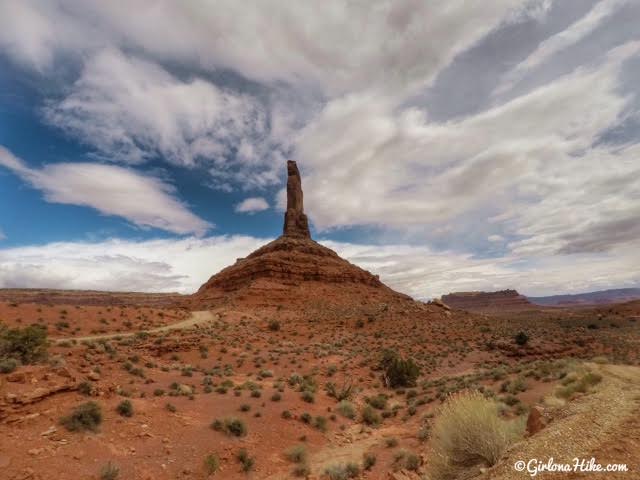 The formations at Valley of the Gods have all been given names from the locals – Rooster Butter, Sitting Hen Butter, and Balanced Rock/Lady in a Tub!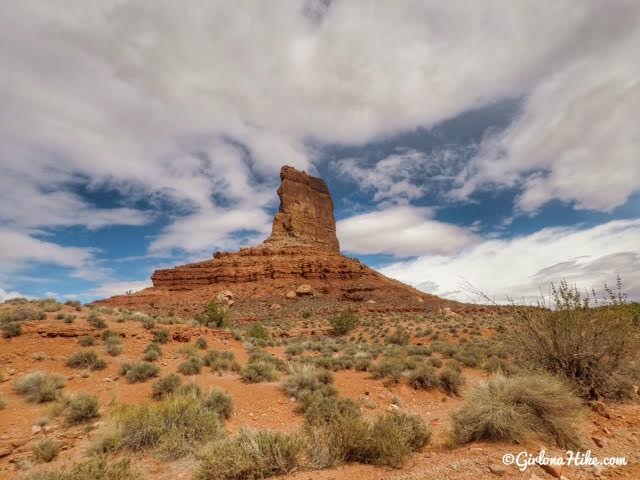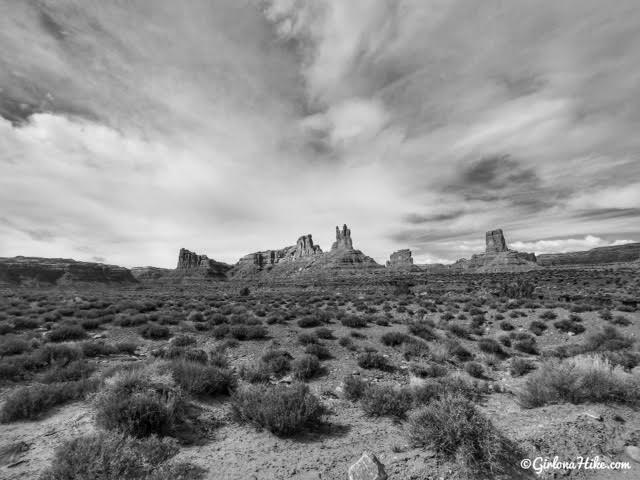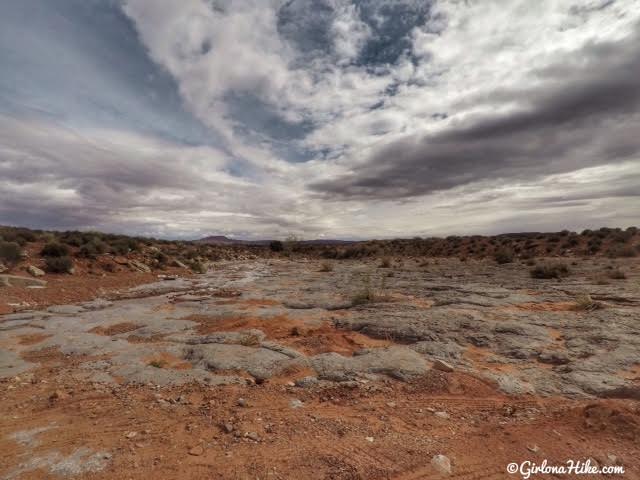 Old lava rock??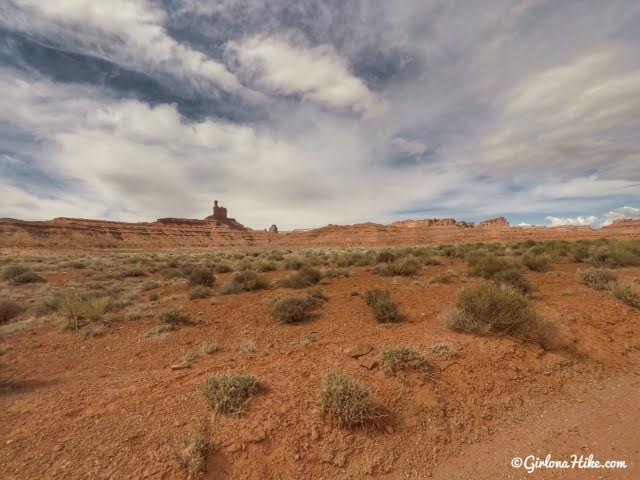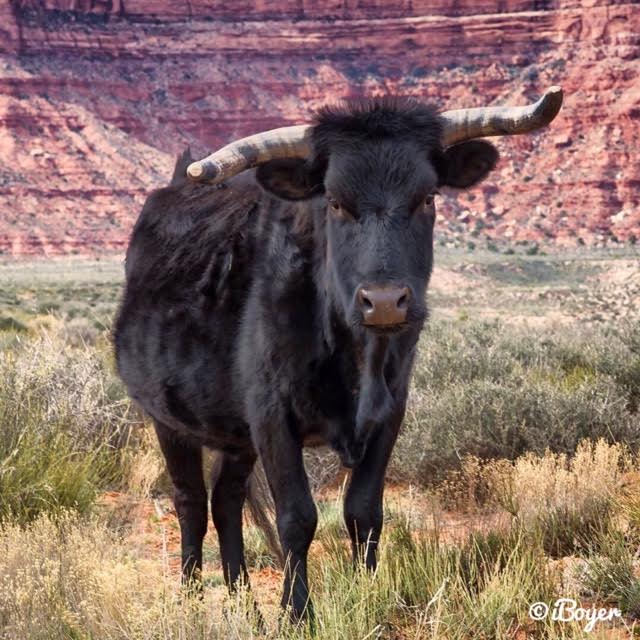 Keep an eye out for cattle!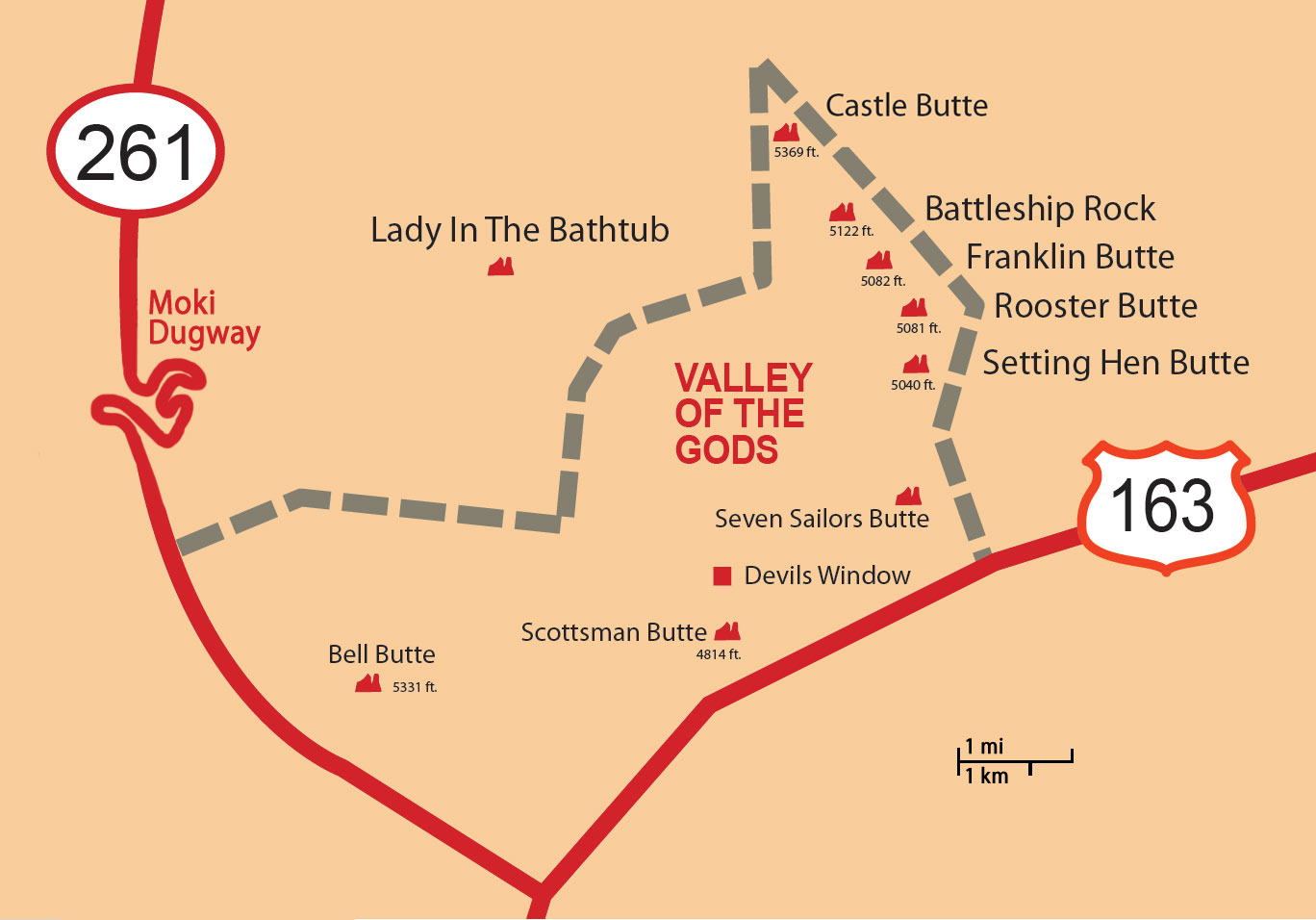 Map of the buttes.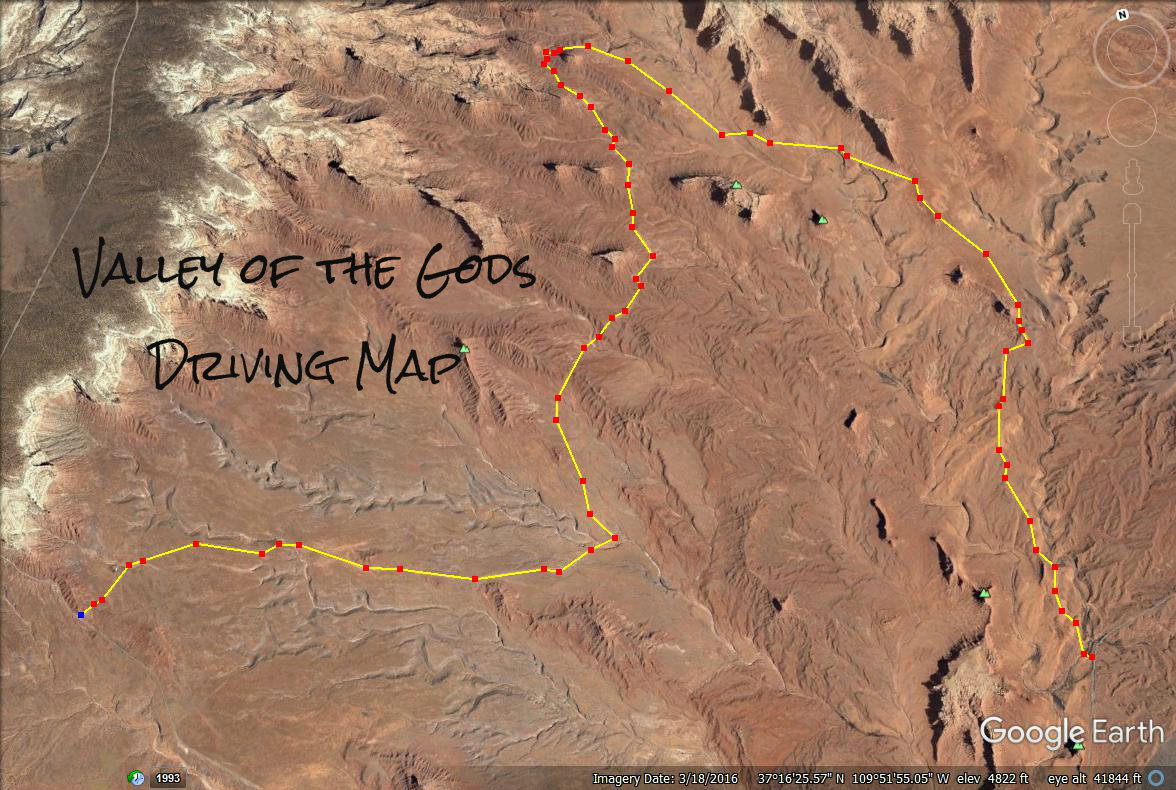 Valley of the Gods driving map.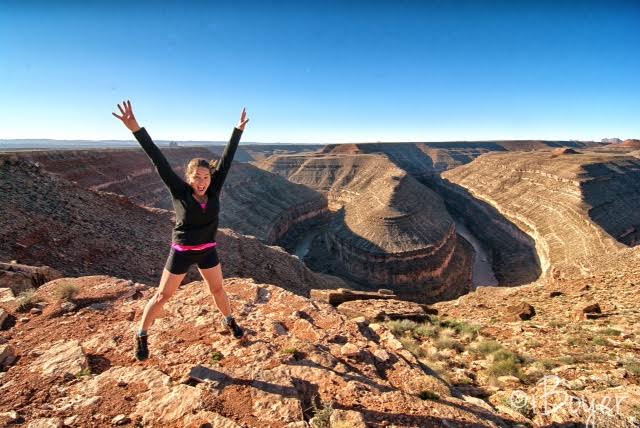 Make sure you stop by Goosenecks State Park! It's one of my favorite places to camp and even just sit to enjoy the view.

Save me on Pinterest!