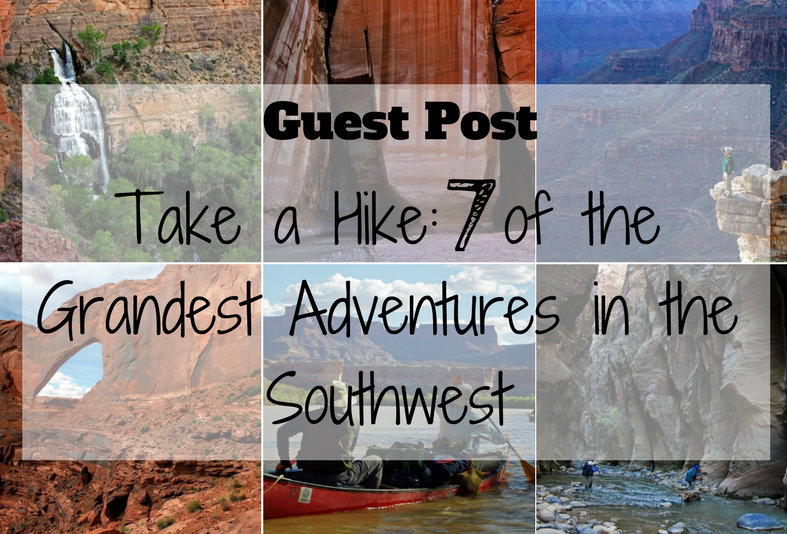 Today's Guest Post is brought to you by Mitch Stevens, the founder and lead guide of 

Southwest Discoveries

.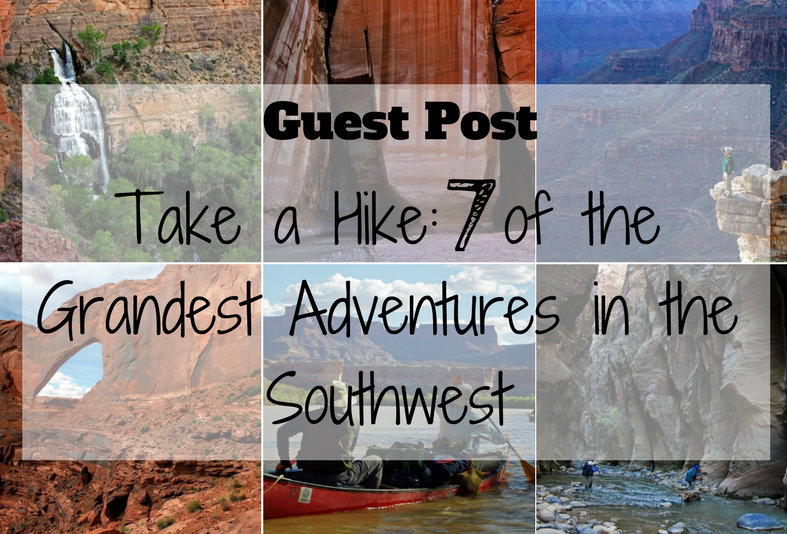 These trips of a lifetime will challenge you physically and engross you spiritually, leaving an unforgettable and enduring impression of the richest wild places on the planet. The southwest contains literally thousands of amazing hikes. Therefore, we decided to separate the wheat from the chaff and give you the absolute cream of the crop. We rounded up 7 of the grandest adventures in the southwest, treks we have experienced firsthand.
As you immerse
yourself in this landscape, you will understand why hiking in the southwest
should be on every adventurer's travel bucket list. Experiencing it fully isn't just about
putting one foot in front of another; it's about stepping into the geology,
history and stupendous scenery of canyon country.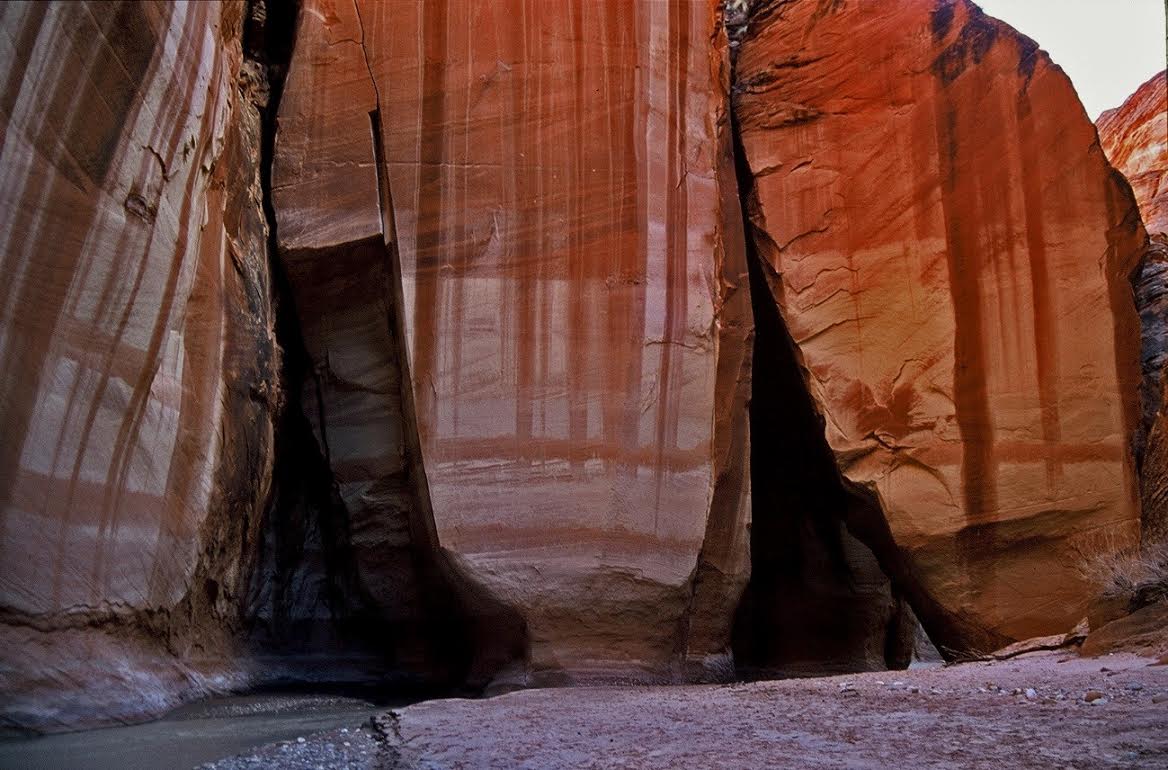 #1) Buckskin Gulch 31 miles, 4 days
Trekking Buckskin Gulch
and Paria Canyon is about walking down narrow gorges; places where sunlight
seldom enters, obscured from even the most intrepid of hikers. When you journey
down these two canyons you enter the sublime. The Paria Canyon – Vermillion Cliffs Wilderness beckons
adventurers who hanker for solitude, scenic glory and the chance to explore
some of the most majestic canyons in the world. Serpentine red rock walls are streaked
with desert varnish and canyons are so narrow in places that the sky is reduced
to a narrow ribbon of blue.
Words cannot describe the rock walls, amphitheaters
and labyrinth shadowed hallways. Navajo Sandstone cliffs tower 1,500 feet
overhead. While hiking Buckskin Gulch, the longest slot canyon in the world,
you will start to see
water seeping from canyon walls. Shortly
thereafter you come to the Paria River. At this point, your "trail" will
continue down the Paria River. You will notice springs, old homestead relics
and a side canyon which features Wrather Arch, a cave type natural arch measuring
165 feet in height and 250 feet across. National Geographic once wrote "the Taj
Mahal would fit comfortably into the arch."
On your last day trekking Paria Canyon,
impressive panels of Anasazi petroglyphs are located along the stream course.
Before long you will reach Lee's Ferry and the storied Colorado River, culminating
an unforgettable canyon country adventure.
Turn
up your speakers and enjoy Seven Awesome Canyons of the Southwest.
Best time to go? March to May and September to November
Extra Credit: Explore the Wave and Coyote Buttes and take in unearthly, multi-colored sandstone beauty, scene by few people.
How challenging is it? Moderate hiking involving frequent creek crossings.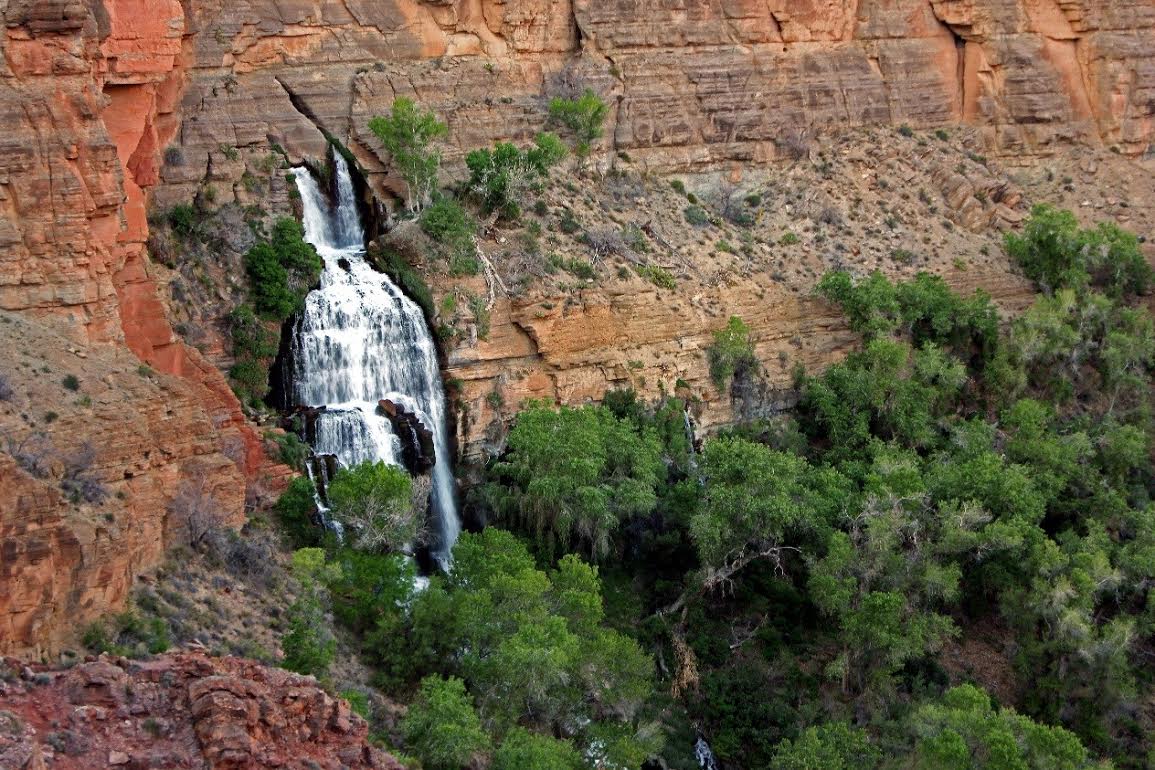 #2) Grand Canyon – Deer Creek/Kanab Creek Loop 55 miles, 8 days
Throughout this journey,
one of the best backpacking trips in the southwest, you'll discover the true
essence of one of the seven wonders of the natural world.  You'll have the opportunity to backpack your
way through this powerful landscape as you take in the vastness, plunging
depths, soaring pinnacles, spires, mesas and a multitude of labyrinthine topography.
Your
trek will start at the North Rim's Monument Point, accessing the Bill Hall
Trail. After 8 miles, you will come upon Thunder River, two vigorous springs
gushing out of precipitous Redwall Limestone. Thunder River is thought to be the
shortest river in the world. Hiking across Surprise Valley will enable you to observe
Deer Creek Narrows and the sheer plunge of 200-foot Deer Creek Falls.
The acid green
Colorado River winds sinuously below, cutting through 1.7-billion-year-old
Vishnu Schist and Zoroaster Granite.  This
rock strata represents about a third of our planet's history. Above the river are
rock layers of the ages; Tapeats Sandstone, Bright Angel Shale, Mauv, Red wall
Limestone, Supai, Hermit Shale, Coconino Sandstone, Toroweap and finally the
Kaibab formation capping both rims. This prominent limestone layer represents
the youngest rocks of the Grand Canyon, about 220 million years old. It was
formed when a huge inland sea covered much of western North America as the
super continent Pangaea began to break apart. 
Hike along the Colorado River for 7 off-trail miles and you will enter
the Kanab Creek Wilderness. It contains springs, a bubbling clear stream and
side drainages such as Whispering Falls Canyon, a narrow cathedral-like abyss. Its
pink canyon walls are adorned with redbud trees, monkey-flowers and ferns. The
sound of dripping water will be your background accompaniment. The climax is
Whispering Falls itself, a spring fed moss covered waterfall spilling 125 feet
into an emerald pool. Scenes and experiences such as this makes backpacking
into the Grand Canyon priceless, worthwhile and why we return time and time
again
Turn up your speakers and enjoy Grand Canyon – Deer Creek Kanab Creek loop.
Best time to go? March
to May and October and November
 How challenging it is? Strenuous backcountry hiking for intrepid Grand Canyon backpackers
 Extra credit: Hike Snake Gulch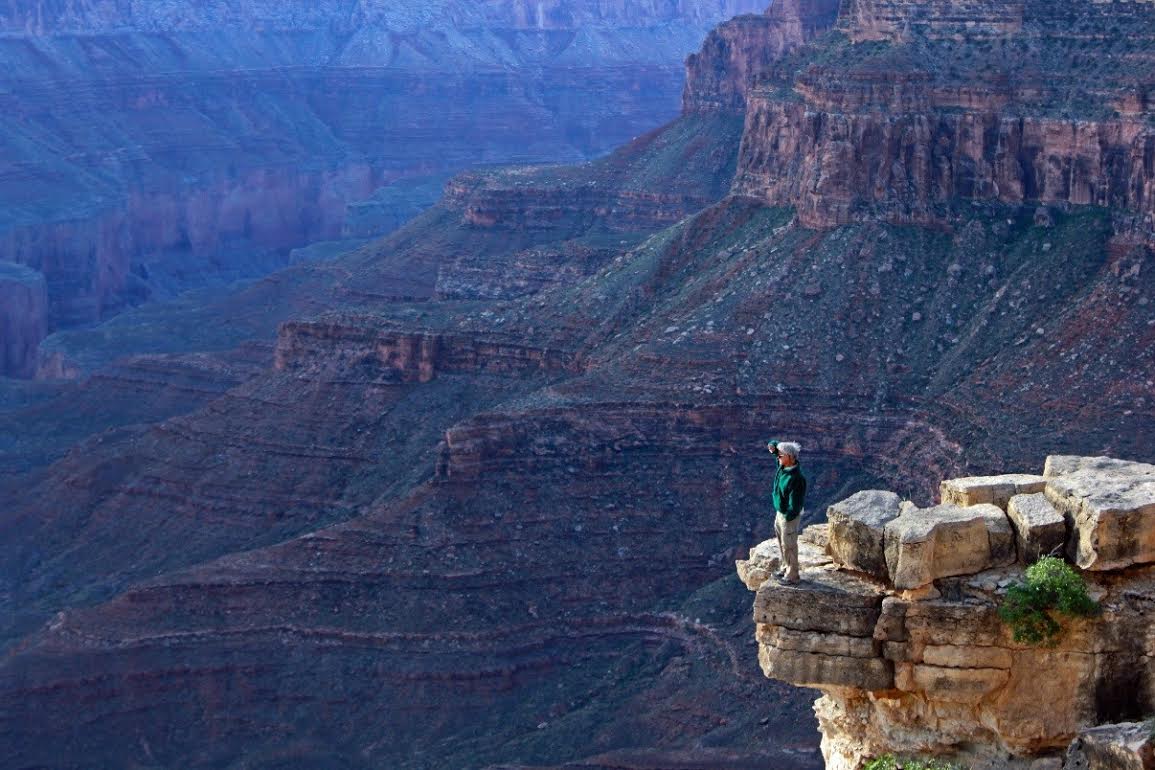 #3) Grand Canyon – Nankoweap Trail 40 miles, 7 days
It's no surprise
that this post includes two Grand Canyon rambles among the 7
grandest adventures in the southwest.  If your desire is to
experience majestic vistas and ruins of the ancient ones in splendid isolation,
Nankoweap is your calling card.
The Nankoweap Trail
was constructed in 1882 by the western explorer and geology enthusiast John
Wesley Powell, the first man to delve into the depths of the Grand Canyon. The
trail originates at the North Rim's Kaibab National Forest and gently ascends
through a ponderosa pine and aspen woodland. After a few miles, you will reach
the rim of the Grand Canyon where unbelievable panoramas will unfold.
You're surrounded
by extraordinary geology, reflecting our planet's past 300 million to 750
million years ago. Far below, Nankoweap Creek cuts into an enormous plateau, surrounded
by colorful rocky ridges and lofty buttes. The most striking is Mt.
Hayden, a sheer spire rising to an elevation of over 8,000 feet.
After reaching the
bottom of the gorge after 11 rugged miles, your camp for the night will be among
the cottonwood trees and flowing waters of Nankoweap Creek. The following day head
down canyon along the trickling creek to the Colorado River, following the path
of least resistance. Views of the emerald green Colorado River in the distance are
mesmerizing. Not only will you finally see the river but you'll hear the roar
of the rapids, amplified by the walls of Marble Canyon.
Subsequent days can
be spent exploring seldom scene Native American granaries, pottery shards,
waterfalls, narrow wooded canyons and geologic richness. A short spur off the
main trail along the Colorado leads to Anasazi ruins and a spectacular view of
the winding river flanked by monumental rock formations, seemingly stacked one
on top of the other.
Should the Grand
Canyon be included on your travel bucket list? Most certainly. And the
uncrowded Nankoweap trail is one of the best ways to experience the real Grand
Canyon, the unspoiled splendor of one of the seven natural wonders of the
world.
Turn
up your speakers and enjoy Nankoweap
– a Grand Canyon Classic.
Best time to go? March to May and October and November
Extra Credit: Hike Cathedral Wash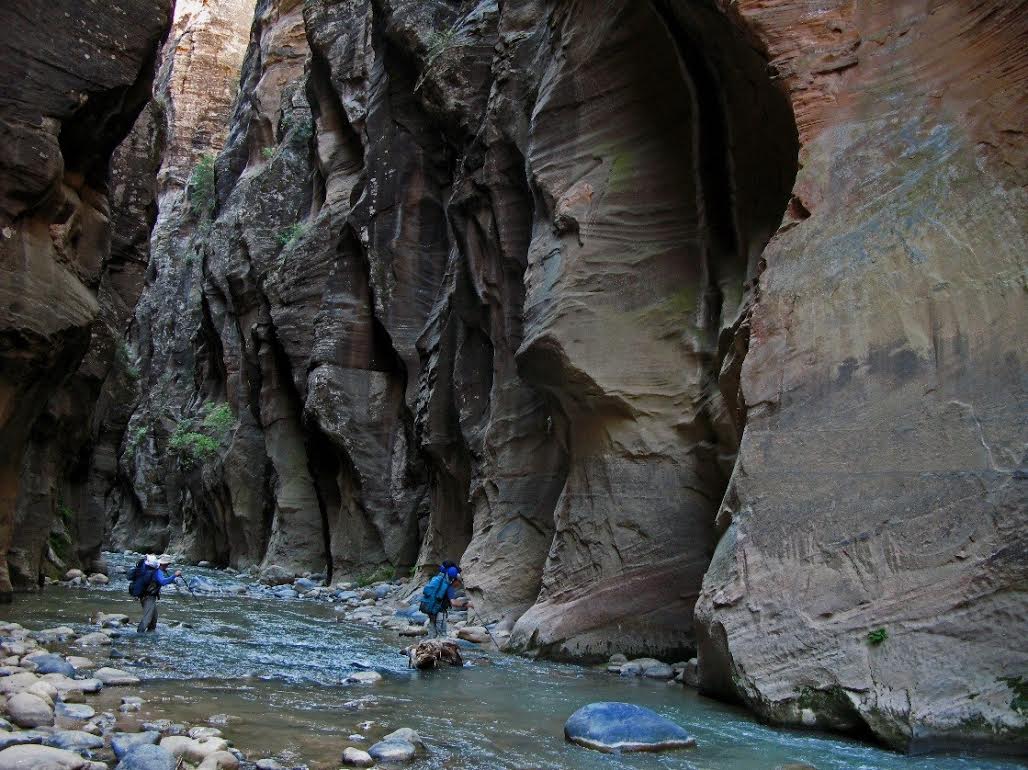 #4) Zion Narrows 14 miles, 2 days
The Virgin River has carved a spectacular gorge in the upper
reaches of Zion Canyon: 16 miles long, up to 2000 feet deep, and at times only
20-30 feet wide. You will walk in the shadow of sandstone grottos, natural
springs, and hanging gardens, an unforgettable wilderness experience. This epic
hike, one of the most beautiful treks in the world, will take you down the
North Fork of the Virgin River from Chamberlin Ranch to the Temple of Sinawava
at Zion National Park. A few miles into the hike you'll be cut off from the
world above by canyon walls that can reach over 2000 ft. above. From time to
time crevices, ramps, and side canyons make their appearance. Deer and other
wildlife descend from the world above to forage and drink from the life-giving
Virgin River.
The dominant rock formation in this part of the world is
Navajo sandstone, a hard but porous rock. The river has sliced through this
formation much like a knife cutting through layer cake. During your first day
of hiking the Narrows, the contact between the Navajo sandstone and the Kayenta
formation appears. The Kayenta is impervious so rainfall and snowmelt over the
eons which has percolated through the Navajo is forced out of the canyon walls
where it reaches the Kayenta. The result is seemingly hundreds of exquisite
springs, hanging gardens and lush riparian vegetation. These lovely springs
will accompany you throughout the rest of the hike.
As if the immense canyon walls with their vivid
striations and desert varnish aren't enough, you'll also encounter waterfalls. Consider
Big Springs for instance, which you will see on the second day. Water that has collected
and permeated through thousands of feet of stone burst forth from canyon walls
in crystal clear cascades over ivy covered rocks. Near the end of the hike,
you'll see Mystery Falls streaming down over orange varnished walls. The hike
will culminate at Zion's Riverside Walk where an easy 2-mile stroll along a
paved path will bring you back into civilization. 
Best time to go? May
and June, September and October
How challenging is it? Moderate hiking including numerous stream crossings.
Extra Credit: The Zion Subway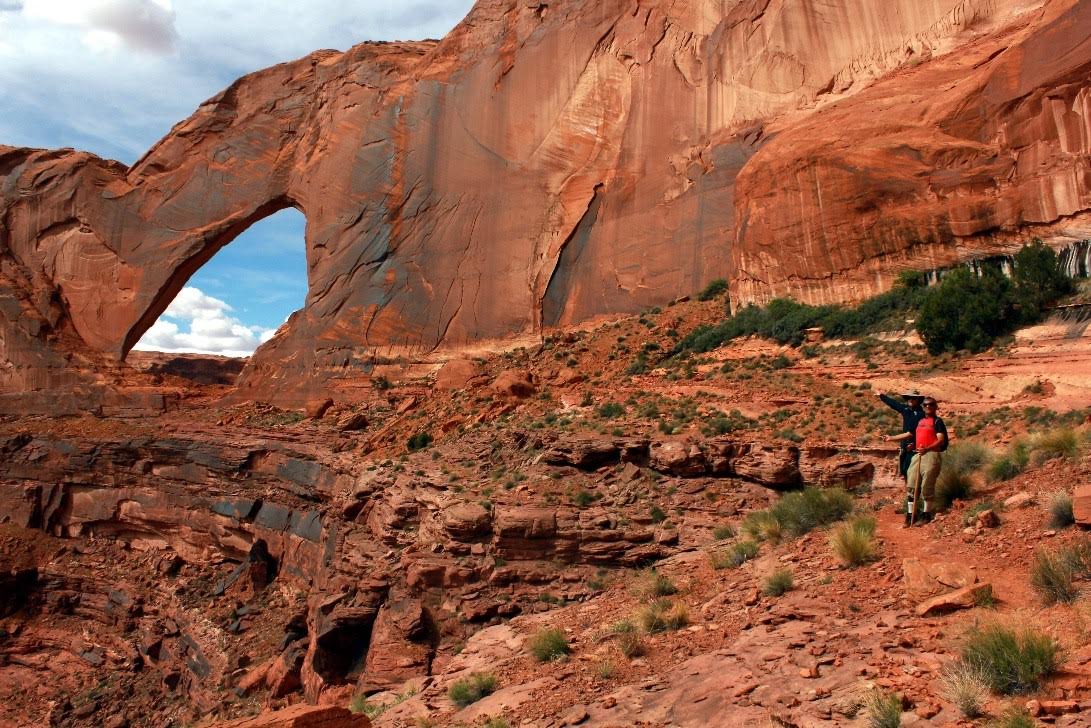 "May your
trails be crooked, winding, lonesome, dangerous, leading to the most amazing
view. May your mountains rise into and above the clouds." Edward Abbey, the
famed western writer and fiery environmentalist, elegantly summed up the canyon
country in this iconic quote. And Coyote Gulch, located on the fringes of Grand
Staircase Escalante National Monument, is a prime example of the canyonlands at
their best.
Coyote Gulch is a dramatic side canyon of the Escalante River,
said to be the last river to be discovered in the continental United States.It is reminiscent of what
the old Glen Canyon used to be before it was flooded by Lake Powell in the
1950's. Check out Mitch's full article on backpacking Coyote Gulch.
For prime vistas, we recommend you accessthe canyon via Crack in the
Wall, south of U.S. 12, off Hole in the Rock Road. Turn left at Forty Mile
Ridge Road and follow it for 4.3 miles to the trailhead.
After an easy two miles, you will reach the rim of the canyon. The
Crack in the wall is a narrow slot sliced through sandstone, just wide enough for
hikers to squeeze through unencumbered by packs. Backpacks can be lowered down a
30-foot cliff utilizing ropes. Once at the canyon bottom, exhilarating views of
gargantuan red rock formations and Stevens Arch in the distance will open up. Of
all the hikes in the southwest, this stretch of trail may be the most
impressive of all.
To complete an amazing three or four-day backpacking loop, hike up
Coyote Gulch and exit at Hurricane Wash. You will take in natural arches and
bridges, numerous springs and hanging gardens, huge sandstone amphitheaters,
luxuriant vegetation and the cascading Coyote Creek, cutting through the Navajo
and Kayenta Formations.
Ed Doran, a talented
photography and hiking enthusiast, describes Coyote Gulch, "Magical rock formations, geologic wonders full of color,
texture, and spellbinding beauty inhabit the area. One becomes acutely aware of
how small and insignificant we are against the backdrop and solitude of the area.
Endless slot canyons and crevices beckon you, each with its own unique
perspective and hidden secrets." Check
out Ed's excellent narrative and photography.
Turn up your speakers and enjoy "Walkingin a Dream" a five-minute cyber journey showcasing the sublimity of Coyote
Gulch and Grand Staircase Escalante National Monument.
 Best
time to go"? March – May, September – November
How challenging it is? Moderate backpacking through the creek
Extra credit: Spooky & PeekaBoo slot canyons
#6) 
Stillwater Canyon, Canyonlands National park
40 miles, 6 days
One
of our favorite places is Stillwater Canyon at Canyonlands National Park. A
float trip down the Green River is one of the premier adventures of the West. Although
this isn't a backpacking trek, there are many great hiking opportunities along the
Green River. Soaring rock formations, intriguing side drainages, old pioneer relics,
Anasazi ruins, rock art and crystalline air add to the allure.
At the confluence, the Green
River, which originates in Wyoming meets the Colorado River, born in the snows
of the Rockies, The Colorado engulfs the Green and then goes on to chisel some
of the most awesome canyons in North America, Cataract Canyon, Glen Canyon and The
Grand Canyon.
Stillwater canyon is a place
to savor such scenery. Besides observing varied riverside panoramas, by taking
a hike at any of the side canyons you will begin to grasp the essence of this
place.
Consider Water Canyon. As you walk up this canyon, you will eventually
top out at the rim overlooking the Maze. You will gaze at windows, arches and
the geologic layer cake characteristic of the Colorado Plateau. The Maze was
one of Edward Abbey's favorite haunts in fact. Glimpses of red rock spires,
twisting canyons and snowcapped mountains are unforgettable. Water Canyon is
just one of the many attractions of the Green River, one of the most beautiful places
you'll ever experience.
Turn up your speakers and enjoy "The Journey".
Best
time to go? April
and May, September and October
How challenging is it? An easy float trip down the Green River
Extra credit: Delicate Arch
#7) 
Arizona's Galiuro Mountains, The Place Time Has Forgotten
32 miles, 4 days
Not many hikers people venture into Arizona's
amazing Galiuro Wilderness, one of the best kept secrets in the southwest. Early
pioneers vanished, leaving many of their belongings behind. This superb 4-day
adventure will start out at beautiful Ash Creek, resplendent in the fall with
fiery maples which sport riotous colors.
The Galiuro Mountains rise to over 7,500
feet, comprising one of the dozens of Sky Island mountain ranges in the western
U.S. Giant saguaro cactus and other Sonoran Desert vegetation surround the mountains
while huge Arizona cypress trees, sycamores, maples and cottonwoods flank
riparian areas.  The high-country encompasses
stands of ponderosa pines, Douglas Firs and Quaking Aspens.  You will
visit these life zones and more.
Your hike will span not only Ash Creek
but Rattlesnake Canyon, one of two main drainages in the Galiuro Mountains
including Redfield Canyon. If you are lucky you might see a jaguar, a few have
been spotted roaming southern Arizona's mountains. Mountain lions, bighorn
sheep, mule deer and coatimundi also make their home here.
Active volcanos, which occurred 18 to 35
million years ago, formed red rhyolite cliffs and other igneous strata in the
wilderness. These volcanoes created mineral rich deposits which drew many
prospectors to the area to develop mines. Some of their cabins, machinery and relics
are still present and you will come upon them along your route. Early settlers
also grazed cattle there.
Hiking along the West Divide trail in
Rattlesnake Canyon, you will access Powers Garden. The historic cabins and
gardens are in an idyllic setting, a meadow bordered by Ponderosa pine trees
and peaks ascending above. The Power family farmed, ranched and mined in
Rattlesnake Canyon shortly after the turn of the century. They eked out a
living there until 1918.
It was then when one of the most famous
shootouts in the West occurred. A sheriff's deputy was shot and killed in the
vicinity in 1918, leading to the biggest manhunt in Arizona. A few miles from
Powers garden you will visit Power's mine and cabin where the famous shootout
took place.
You will conclude you epic backpacking
excursion in the Galiuro Wilderness by hiking down a steep but lovely trail to
the Deer Creek Trailhead, capping a memorable journey.
Turn
up your speakers and enjoy "Ash CreekFall Color".
Best
time to go? February – May, October – December
How challenging is it? Moderate backpacking
Extra credit: Chiricahua National Monument – Heart of Rocks Loop


Read Mitch's original post here.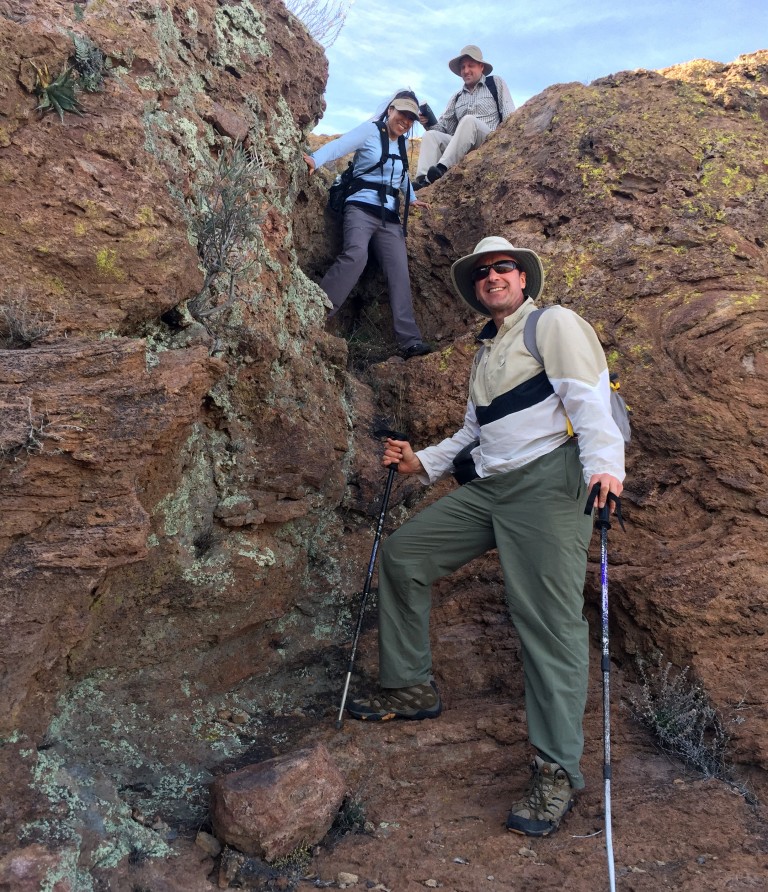 Mitch Stevens is the founder and lead guide of Southwest Discoveries. Born and raised in New York City, Mitch came to discover the great outdoors and fall in love with Arizona's special places. Through his countless trips across the state and region, Mitch made it his mission to encourage fellow hikers and enthusiasts to protect the beauty of the desert.
After growing up surrounded by asphalt, Mitch pursued an education at City College of New York. After graduating with a degree in geology, he eagerly left the confines of the city and he and his wife moved to Tucson, Arizona in 1984.
Now, he continues to embrace his fascination with the desert beauty by creating and leading multi-generational tours throughout the southwest. His experience coupled with his passion for the great outdoors make him a unique tour guide and outings leader.

Be sure to follow Southwest Discoveries on Pinterest & Facebook. For more info you can also email Mitch at info@southwestdiscoveries.com 

Pin now, Save for later!