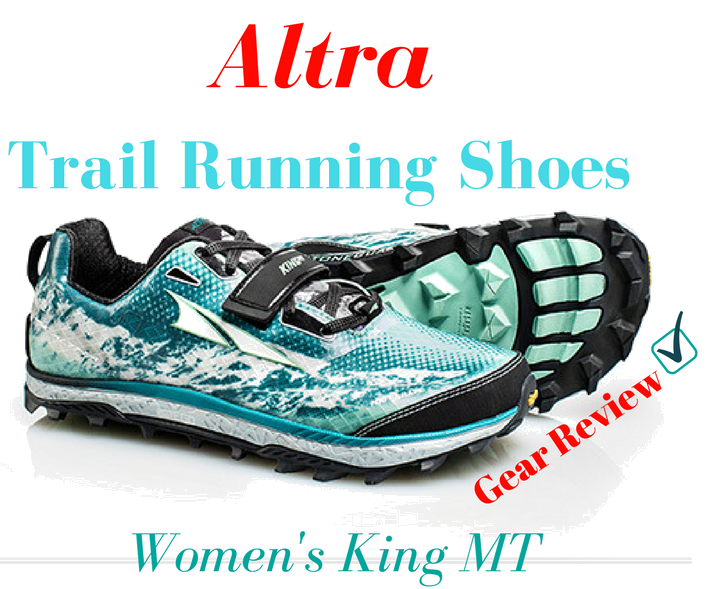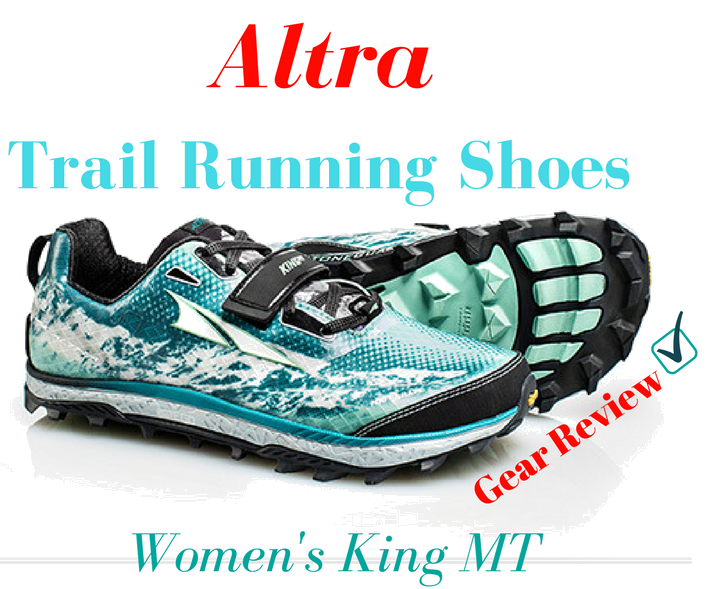 It seems every 6-8 months I need to hiking & trail running shoes because I wear out the tread so quickly from my high miles. I had started to see a lot of people wearing Altra Footwear on the trails, so I knew I had to give them a try. Altra's newest style,

The King MT

, is the company's grippiest shoe yet. I quickly discovered that this Utah brand of footwear really can go the distance while providing comfort and grip. Named for Utah's highest peak, Kings Peak, this shoe is ready to dominate everything from dirt to tough ridges.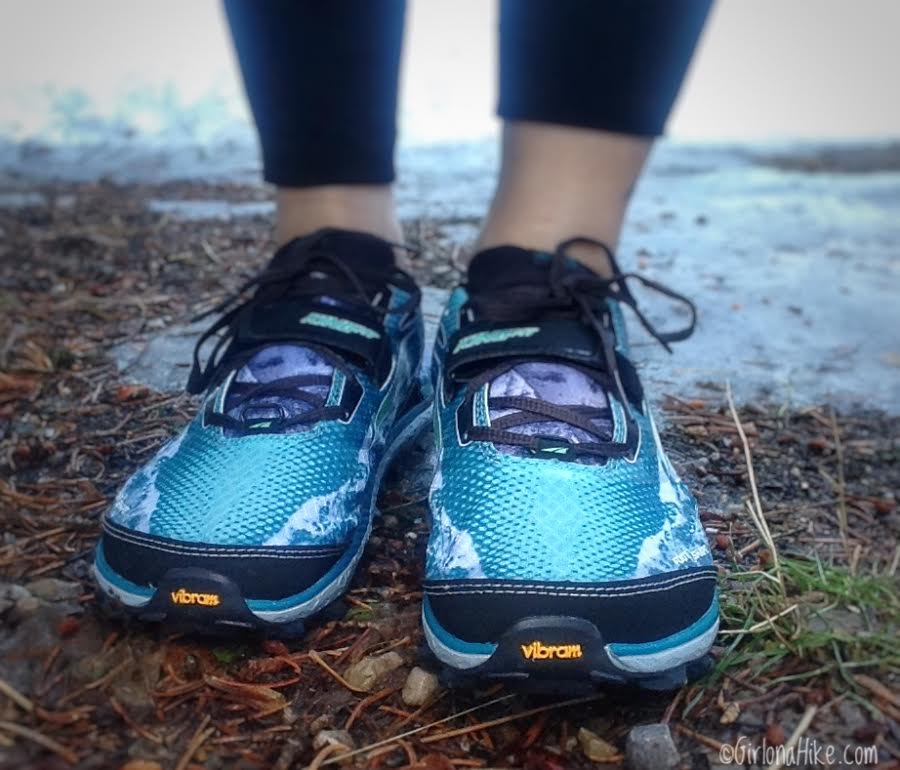 As soon as I opened my box, the first two things I noticed were 1) the amazing blue color resembling snake skin – rad! 2) the velcro strap across the top of the shoe.
The women's version of the

King MT

comes in 3 color choices: pink/purple, teal/blue, and black/white. 
The men's offers red, blue, and white/black.

The overlayed and upper foot lock strap (the velcro piece) lets you adjust your shoe to perfection on-the-run and doubles as a lace keeper. In my opinion, this strap is a bit unnecessary to me. I typically double knot my laces for trail runs and don't feel the need to lock my foot down. However, I could see that if you have very thin/flat feet you may need the extra security and adjustments.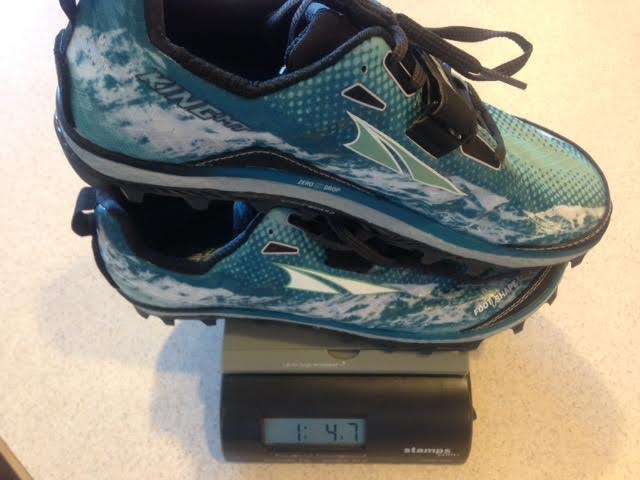 Altra claims that the shoes weight a mere 8.4 ounces. Now, my scale may be slightly off, but I got 1 lb 4.7 ounces, making each shoe about 10.2 ounces. Either way, this shoes is still really lightweight. When you pick up each shoes, it's like picking up a super light weight; practically nothing.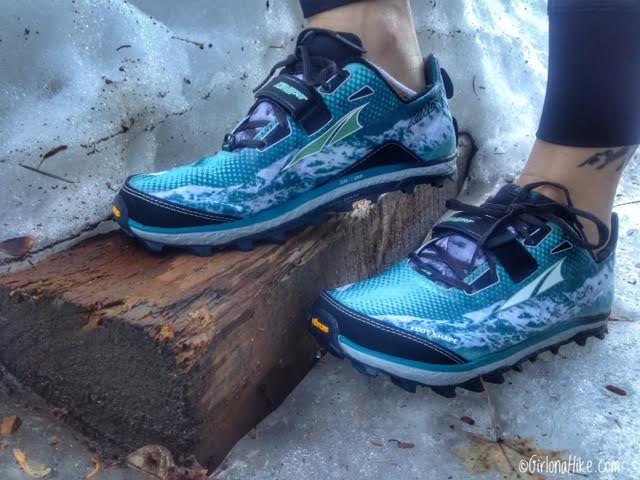 One of the things Altra's shoes are known for, is the toe box aka "Foot Shape" fit. I have pretty wide feet so when I first slipped these shoes on I reacted with a "ooohh ahhh" feeling. Finally, a trail running shoe that fits!
The King MT are also considered "Zero Drop" trail shoes. This means that there is no slant from the heel to the toe – this gives the shoe a "barefoot" feel and a more natural gait.
The two key components of a barefoot shoe are drop and stack height. Drop is the height difference between the heel and ball of the foot. When you stand flat on the ground, your heel and feet are at the same height, which means "zero drop." Stack height is the thickness of whatever is under your foot.
So, the King MT measures in at 19mm heel/19mm toe creating a flat, or zero, drop. As a comparison, the Salomon Speedcross 3s are a 29mm heel/18mm toe, making the difference 9 mm and therefore not considered a zero drop shoe.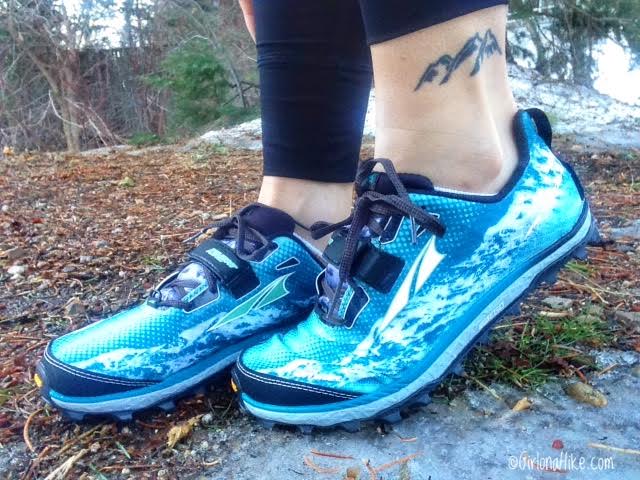 Don't get scared that this shoe will not provide comfort with the "zero drop" – the King MT shoes are really comfortable! Altra considers this shoe "light cushioning", meaning for more experience athletes or runners who want a fast, lightweight performance. I love the lightweight feeling however, I have friends that prefer a much heavier shoe because they think it provides more stability for them. It's really up to how you want it to fit and what you plan on doing with the shoe.
These shoes are not recommend for road running – the pavement will create a harsh feel. It's best to use the King MT for peak bagging, ridges, mud, softer dirt, and off trail use.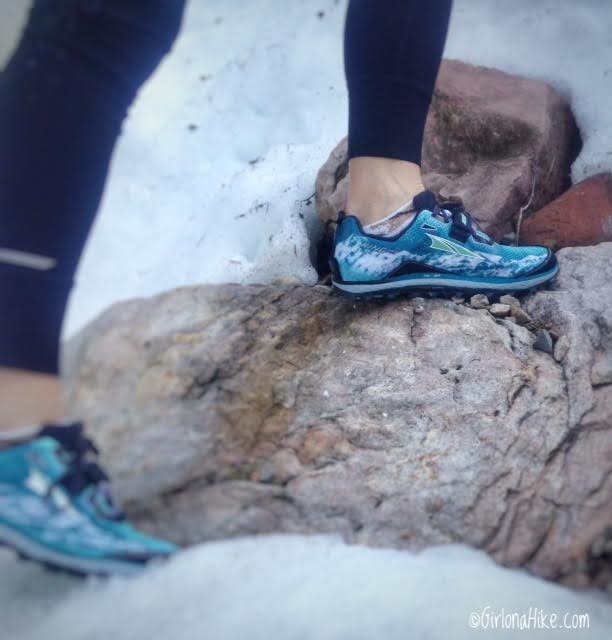 The Altra Ego midsole is an all-new Altra-exclusive compound which is also lightweight, highly responsive and snappy. There is also a flexible wrap-around StoneGuard which give you extra underfoot protection. The StoneGuard protects your feet from sharp rocks and if for some reason it bothers you, you can remove it.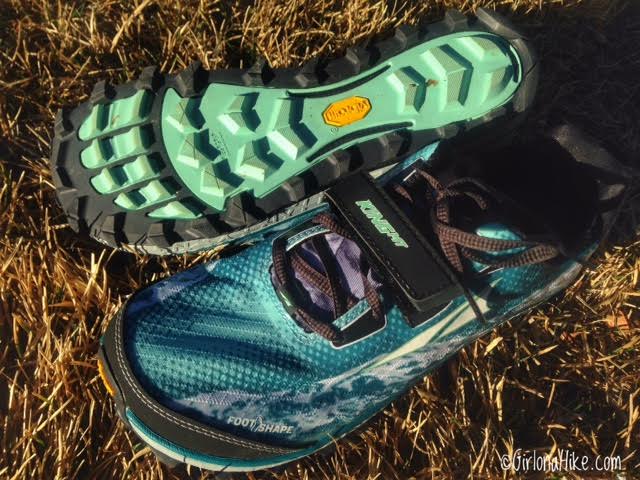 Lastly, the Vibram outsole features 6 mm lugs (or teeth/cleats) to provide you with excellent medial gripping and traction in wet, loose, or rocky conditions. The only other company that even compares to the amount of grip that comes with the King MT are the Inov8 Mud Claw shoes (these were the shoes I used prior to the King MT).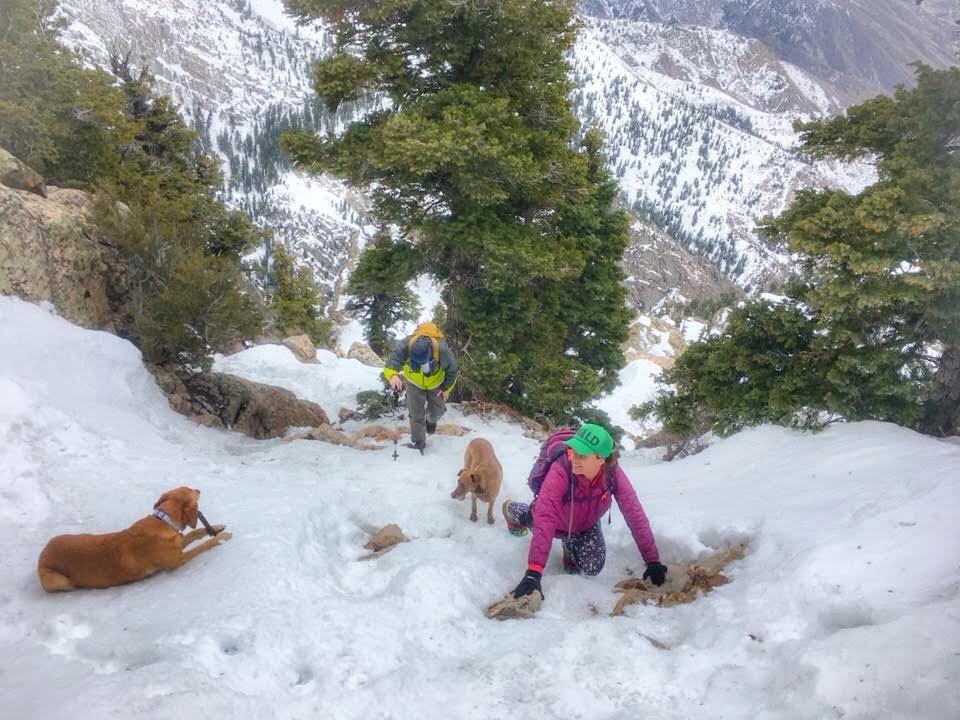 I tested the

Altra King MT

trail running shoes while hiking up

Mt. Olympus

. While the trail eventually became snowy and iced over, these shoes worked extremely well. However, I would say that the King MT are better in drier/warmer conditions, as the main layer of the shoe is thin and my feet got cold pretty quickly, which is probably expected with any shoe in snow. I did combine these shoes with

microspikes

for the last mile to dig into ice. I loved the lightweight feeling, and how much room my toes had to move around in the FootShape (toebox) area.
6 months later…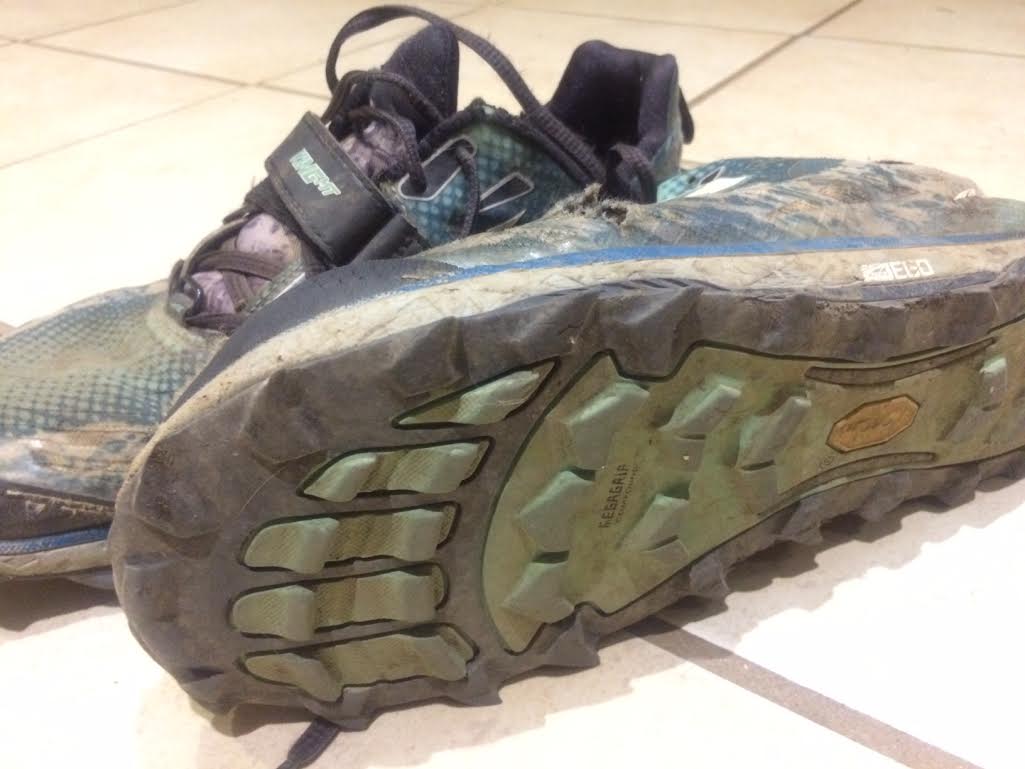 I put roughly 400 miles of hiking & backpacking on the King MT over this summer.
 The tread held up pretty nicely.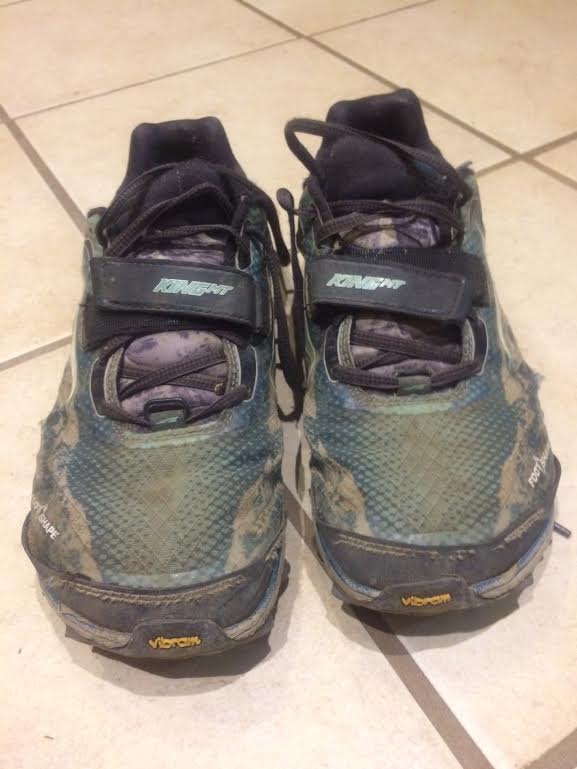 The pinky toe area sitching started to come undone on both sides, but I think that's from kicking boulders and may just be from how I hike. All of my shoes in the past have rubbed the same areas. The top toe area (where the vibram logo is) also held up great. Sometimes (especially with Keens) you'll see the toe area start to peel back and these did not budge. Win!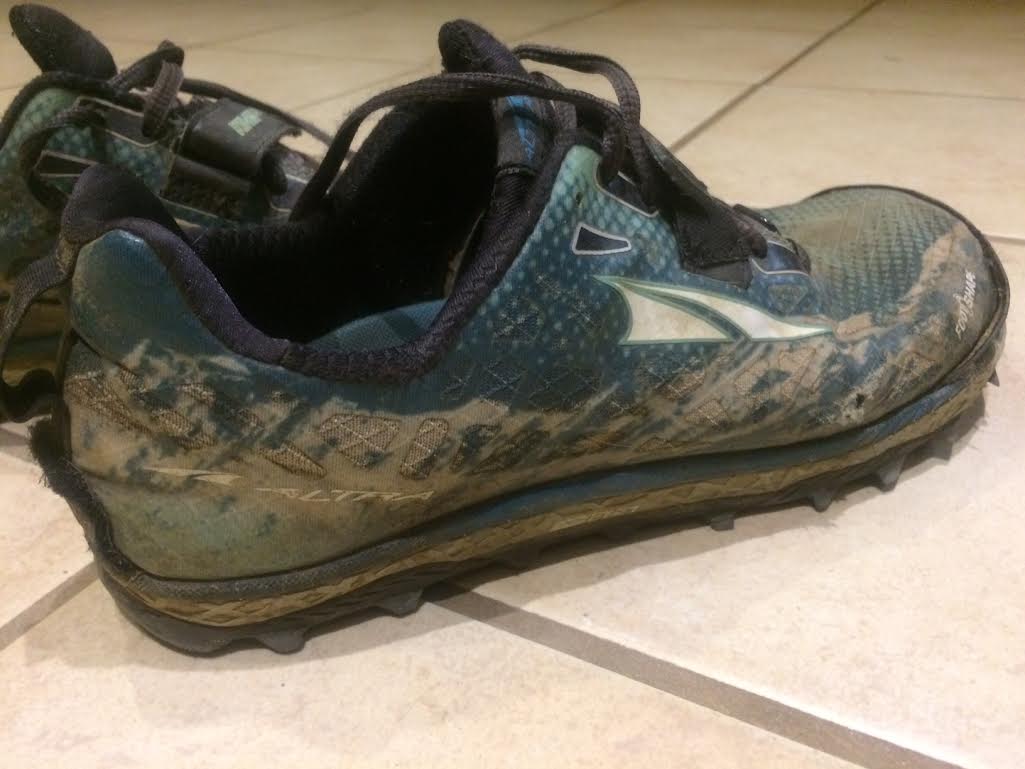 More side areas rubbed. But dang! Overall the King MTs are awesome shoes! I was really impressed with the tread, how comfortable these were, and that my toes never felt squished, even while backpacking and carrying 30 lbs. I'm definitely going to buy another pair of these.



Be sure to check out all of

Altra's

footwear – they have a ton of awesome styles for every shape or foot or need per activity. You can follow Altra on

Instragram

,

Facebook

,

Twitter

, &

YouTube

!