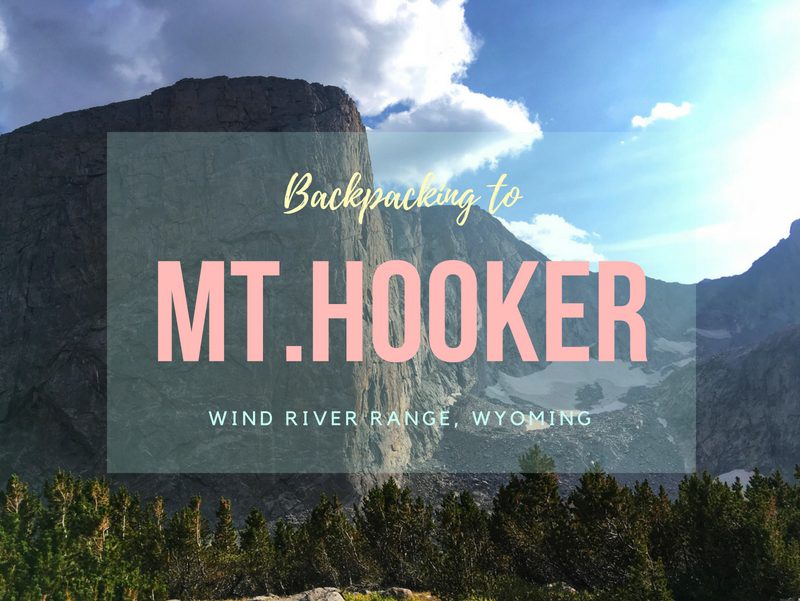 Backpacking to Mt. Hooker, Wind River Range
Ready to start hiking! Since the drive took us about 5.5 hours, we didn't start hiking until around 3:30pm. We knew we'd still be able to make it to either Dad's or Marm's Lake for our first night, 7.5 miles in, before it got dark. Our packs were pretty heavy – mine was at 39 lbs, and Ian's was 46 lbs for 6 nights/7 days. WOW! I haven't carried that much weight in probably 2 years since backpacking the Bright Angel Trail in the Grand Canyon (back when I had much heavier gear). See a full list of my backpacking gear here.
We were hoping to escape the smoke and haze from the SLC area, but this summer has been pretty bad for the California fires, and the smoke was still present even in the Winds.
Our first major trail split. Heading left for Dad's Lake. Hiking straight at this trail split will take you towards the Cirque of the Towers.
The first few miles are really green and forested.
Eventually the views open up, and you will hike through several pretty meadows. We were still feeling good as we approached Dad's Lake, so we kept moving, even as a small rain storm moved through.
We found a nice, secluded campsite at the far end of the lake.
Day 2 we started towards our main destination, Mt. Hooker and Baptiste Lake. Finally, we were starting to see real mountains!
Hiking towards Hailey Pass, which you can't quite see yet.
Stopping to check out Twin Lakes, just below the pass.
Approaching Hailey Pass.
Yahoo, we made it to Hailey Pass! It was really cool to see the large wood sign for crossing over from the Bridger Teton Wilderness into the Popo Aggie Wilderness. This is looking South.
 Whew, that is COLD water! But we had to cross the stream to get to our last trail split for the day to Baptiste Lake.
We originally planned on only staying 2 nights at Baptiste Lake, but it quickly turned into 3 nights. We had an amazing campsite with this view of Mt. Hooker, decent weather considering our elevation (it rained every day in the Wind Rivers, and was often windy), we really enjoyed the views, hardly anyone else was there, and wanted two full days to explore the basin. The temperatures definitely got chilly at night, but we had amazing light!
Exploring the basin, great views of Mt. Hooker all around!
Unnamed pond under Musembeah Peak.
Ok Wind Rivers, you win. You've outdone yourself for a 3rd year in a row! What a view!!!
Charlie waits for his dad to call him over.
Wow, I was super impressed with Musembeah Peak. If you have the skills/gear/motivation, it can actually be climbed. Check out this link for climbing info.
More exploring!
Ok Charlie, stop showing off. You're too cute.
Time to get the Alpaca Raft out! We have the Scout raft, and including oars it weighs a mere 3.5 lbs. It's been really fun having this along for lake/backpacking trips.
My co-captain. Charlie does really well in the pack raft. The material is pretty thick, but even so, I always make sure he is laying down, or his paws when he's up like this are partially on my lap or legs. We do everything we can to prevent him from popping it. He loves his rides with us in there.
After 3 nights at Baptiste Lake, it was time to move on. We made our way down towards Grave Lake, now on the Bears Ears trail, and we passed this cool waterfall.
Passing under Pilot's Knob and by Grave Lake.
By now we were only 2 miles away from Washakie Lake. We lost a lot of elevation, but that meant we now had to climb back up to the lake to reach 10, 600 ft.
 One night at Washakie Lake came and went, and it was time to hike up the last uphill towards Washakie Pass.
Passing by Macon Lake, and a great view of Washakie Lake. We had to hike up all that?? I kept telling myself, "Don't worry, you got this. This is your last uphill, then it's all downhill from here." I was soooo slow.
As we got closer to the pass, a large remaining snow field blocked the trail, so we skirted around it and actually found another trail. This snowfield must be here often if there are two trails to get to the pass.
 As we started down the south side of the pass, I immediately felt better. Downhill, a little warmer, and great views.
 We decided to switch it up and instead of camping at Marm's Lake again like our first night, we found a great campsite at Dad's Lake. From here, we'd only have to hike out 6 miles the next day.
Hanging our food & Charlie's dog pack one last time. We don't own (nor do I want to get) bear canisters. They fit weird in a pack, and weigh more. It's easier, cheaper, and lighter to just hang food. Just make sure you know some really good knots!
Day 7
We hiked the last 6 miles to the car! YAY, we made it!
Trail Map