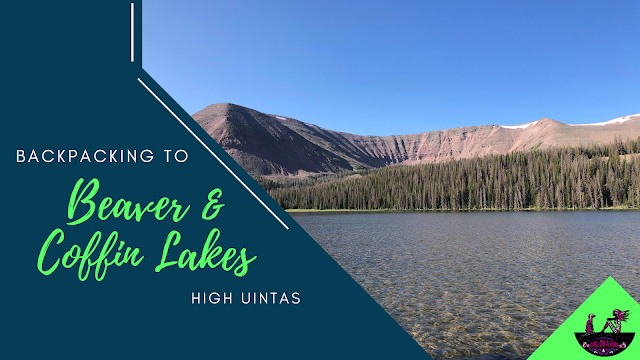 Backpacking to Beaver & Coffin Lakes, High Uintas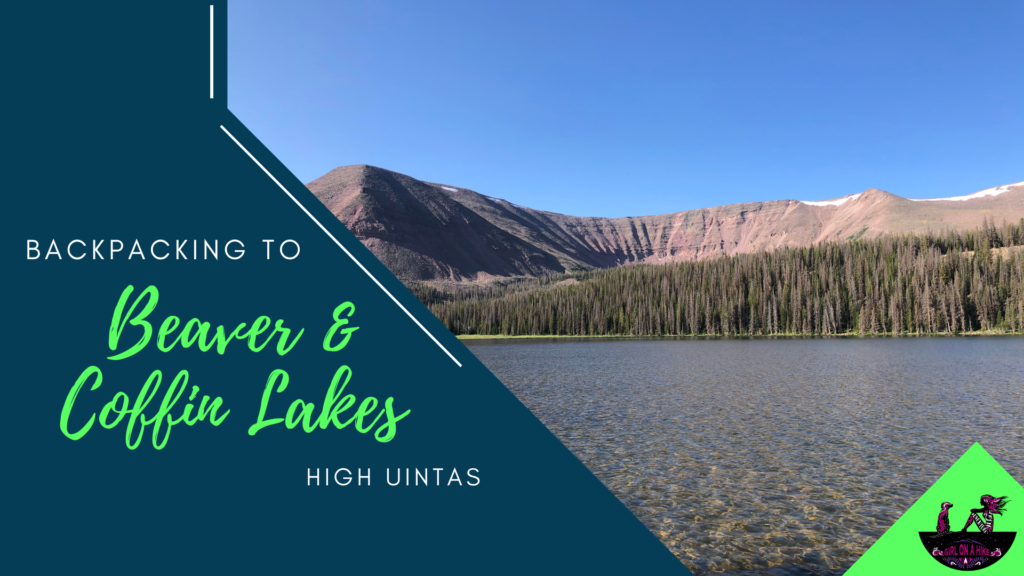 Backpacking to Beaver & Coffin Lakes are part of the Middle Beaver Basin and trail, and sit at just over 10K in elevation. 
About
The Middle Beaver trail is about 7 miles to reach Beaver Lake, and just over 8 miles to Coffin Lake – the trail is constantly hiking up and down in elevation. Over two full days we only saw a total of five hikers, and only two of them were backpacking so if you're looking for some peace and quiet, this is the lake for you. We also saw a lot of wildlife, and the water in both lakes is very clear. Older kids can definitely hike this, as well as dogs used to hiking more than 6-7 miles in one way. While this can be done in one day, I recommend backpacking here to take it all in!
Directions
From the town of Mountain View, WY, head East on HWY 414 for 23 miles. Turn right on Road 295. Continue on this dirt road for a total of 10.6 miles following the signs for Middle Beaver TH.
I highly recommend the Utah Road and Rec Atlas map in case you lose cell service. I also recommend having an SUV or larger to reach the TH. Small cars may have issues with rutted/rocky roads, especially in wet weather.
Here is a driving map from SLC.
Trail Info
Distance:
7.2 miles to Beaver Lake one way
8.3 to Coffin Lake one way
Elevation gain: 
1,400 ft to Beaver Lake
1,800 ft to Coffin Lake
Time: 1 night minimum, or 8-12 hours for a day hike
Dog friendly? Yes, off leash
Kid friendly? Yes, ages 10+
Fees/Permits? None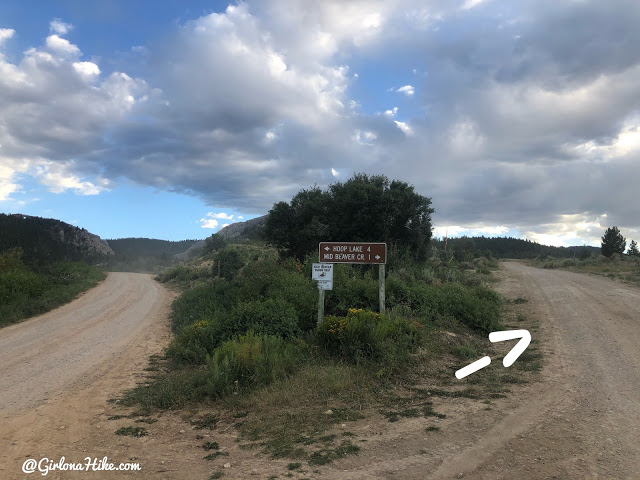 The dirt road is mostly well-graded, but there are sometimes ruts and bigger rocks.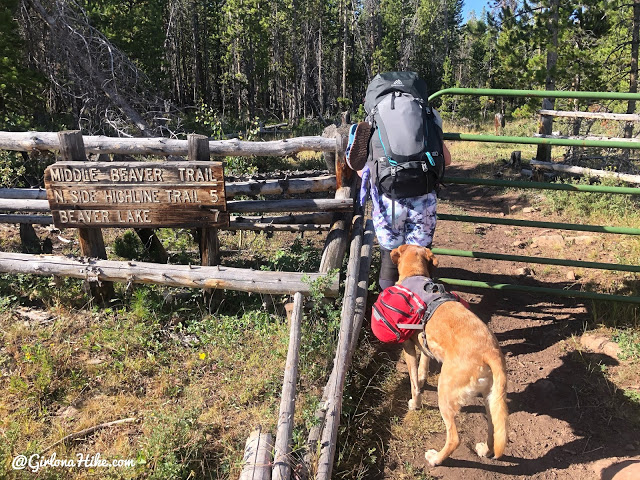 The trail sign is accurate for once – I tracked 7.2 miles to Beaver Lake.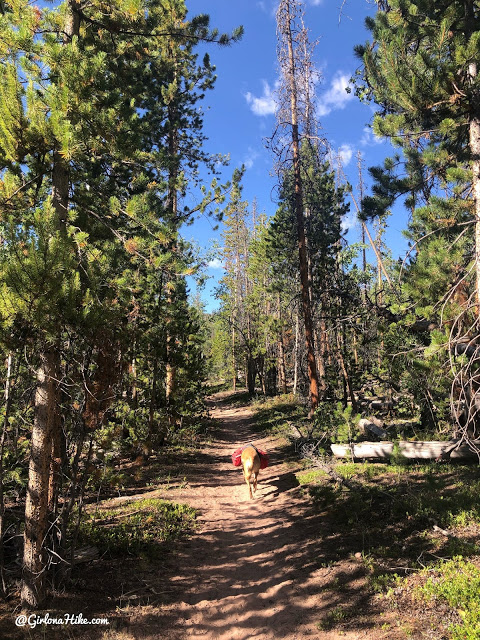 The first mile is very sandy and rocky. Thankfully in the morning it didn't feel too hot, but on our way out the next day I was worried the sand would be too hot for Charlie's paws. Thankfully nothing happened, but you'll want to make sure to knock this section out early to beat the heat.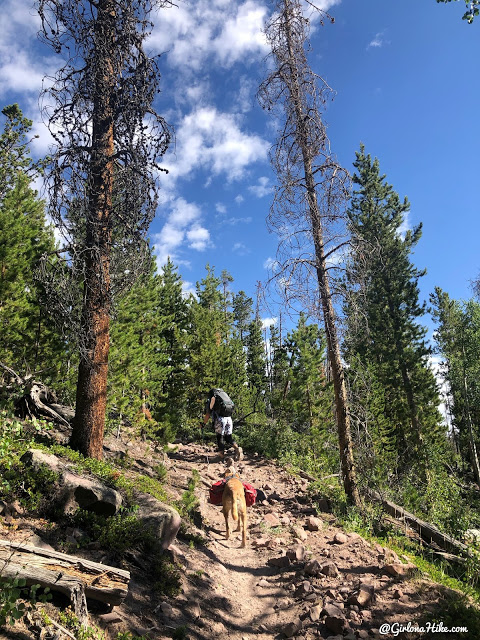 At 1.0 mile hike up the first steep switchback. From here, it's up and down the rest of the way.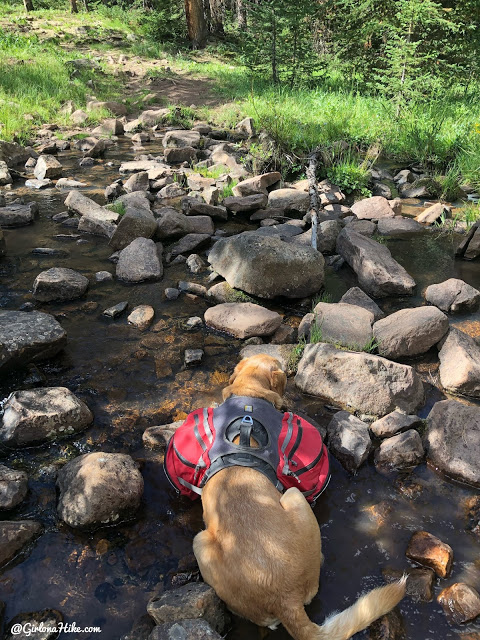 At 2.3 miles cross the first of several stream crossings. Charlie took advantage to cool off his belly. Here are some things to look for when buying a pack, and what Charlie carries.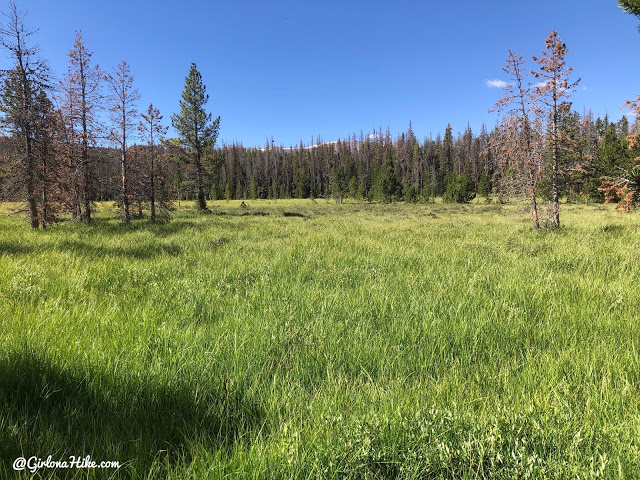 A nice open meadow. This was the one section of trail that was pretty messed up from mud and horses. We were able to stay dry by rock hoping.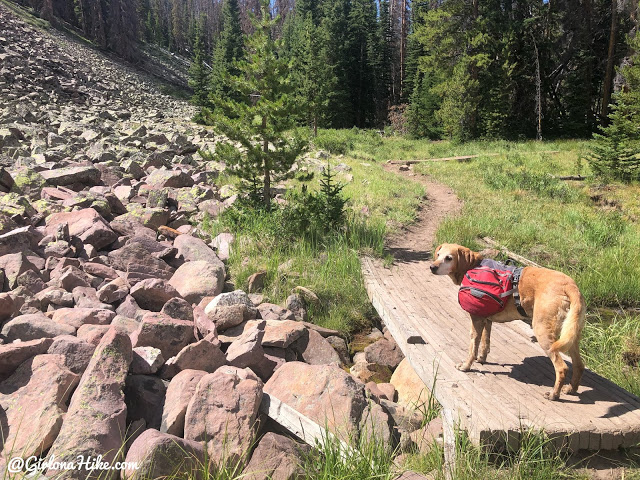 Charlie leads the way across a few boardwalks and one boulder field on the left.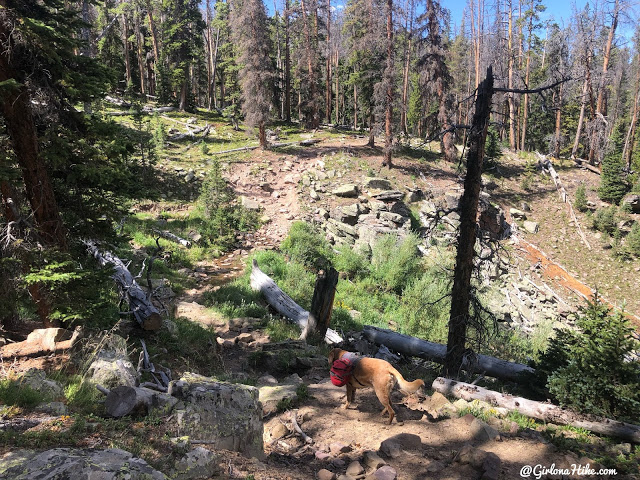 The trail is constantly up and down.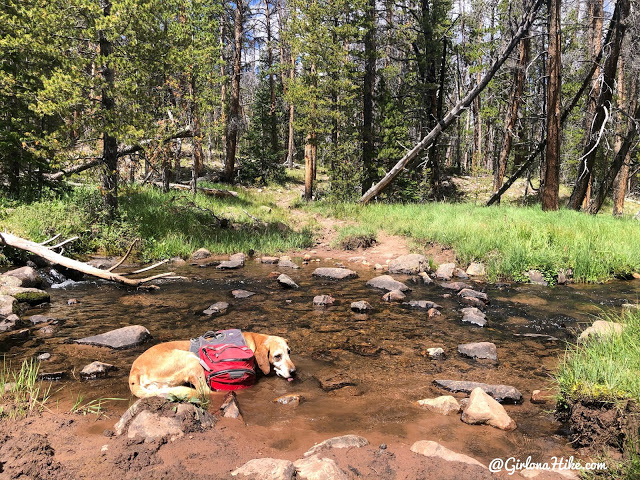 So glad there were so many creek crossings so Charlie could hydrate. I carried a full 2 liters of water, and with my own drinking plus giving him some here and there, we ran out of water 8 miles in at Coffin Lake.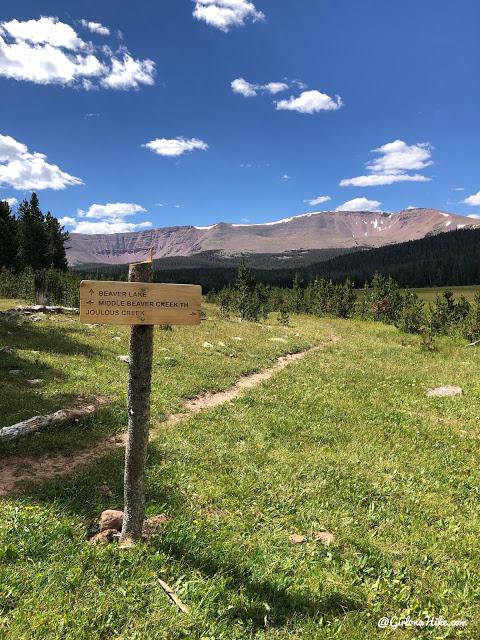 Brand new trail signs! At 5.5 miles reach the first trail split. Stay straight for Beaver Lake.
Super excited to have joined the Jack Wolfskin Brand Ambassador team for Fall! My top is the "Centaura Flex Shirt", and the shorts are the "Trail Shorts". Loved both items – perfect for backpacking!
Get 20% your entire order, use the code "Alicia20" at checkout here!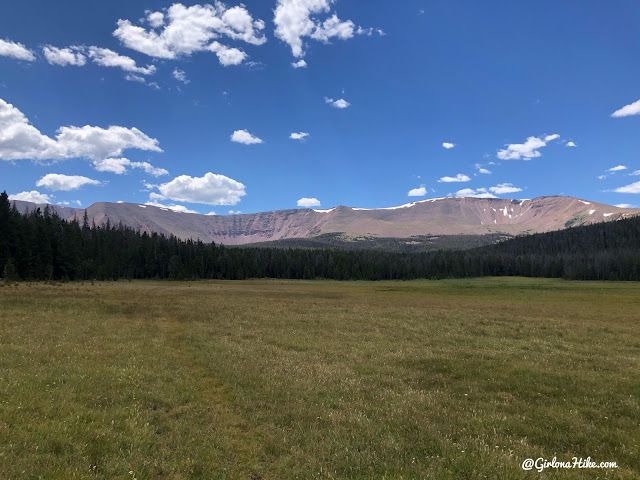 Pass "Long Meadow" – so pretty! From here you can kind of see where you are headed – to the cirque on the left!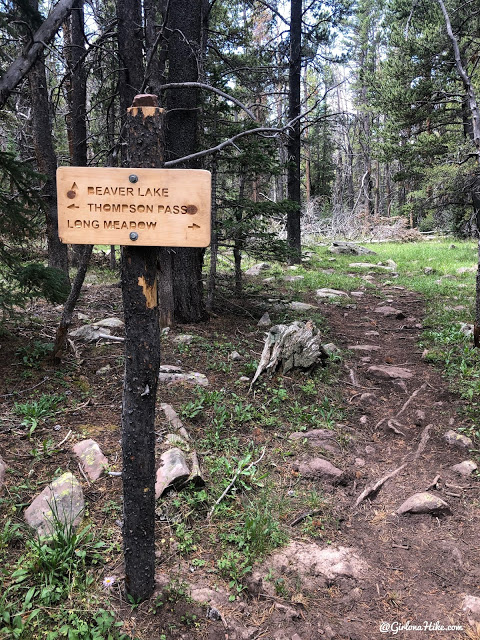 At 6.2 miles reach a second trail split, and turn right. You're only 1 mile from Beaver Lake!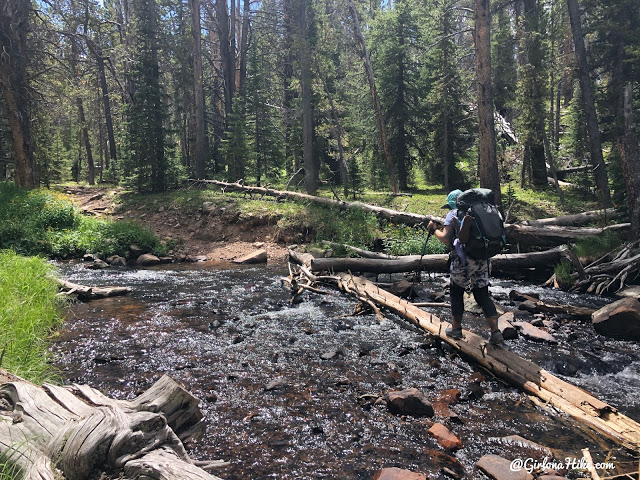 At 6.7 miles you come to what looks like a trail split, however, you need to cross the creek here. Do not follow the creek upstream. We initially did this, and quickly found we were following the wrong side of the creek. Earlier in summer, the water level may be higher and you might have to walk through the water to cross.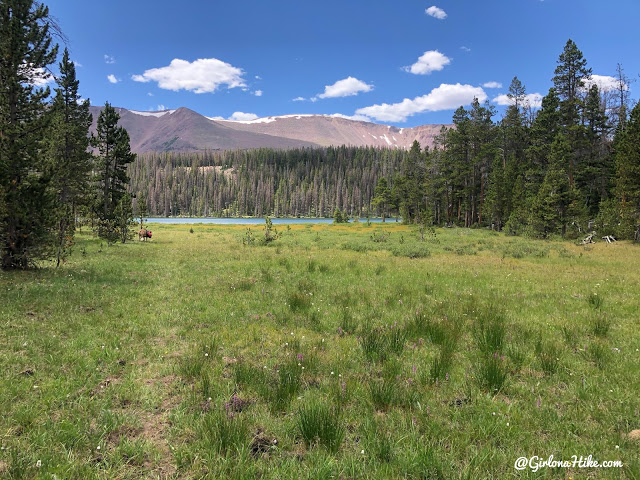 Getting our first glimpse of Beaver Lake!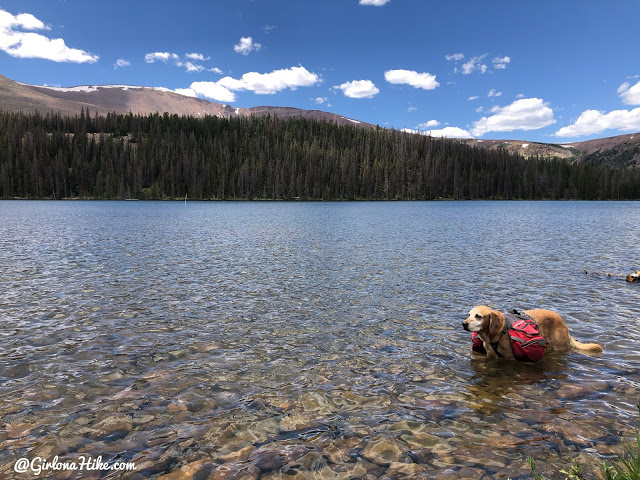 At 7.2 miles we reached Beaver Lake! The water was so clear!
One of our friends had done this hike about 3 weeks prior, and said that if he did this route again, that he would camp at Coffin Lake. We both felt good still, so we decided to continue hiking. To get to Coffin Lake, there isn't a trail. It's route finding and a little bushwhacking but we were up for it, especially if that meant finding a sweet campsite.

So we reached Coffin Lake at 8.2 miles, but there were literally no good campsites that would accommodate more than two tents on a flat area without rocks. We must've not seen the camping area he would have stayed at, I'm not sure, but we walked all around the sides of the lake.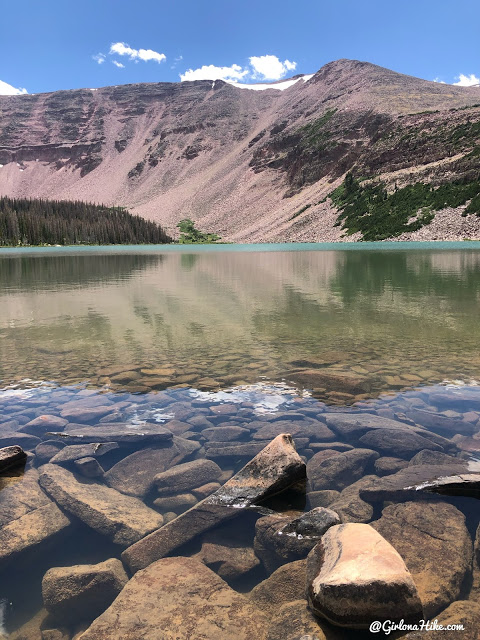 Coffin Lake was absolutely gorgeous, but after searching for a campsite with no luck, we ultimately decided to go back down to Beaver Lake.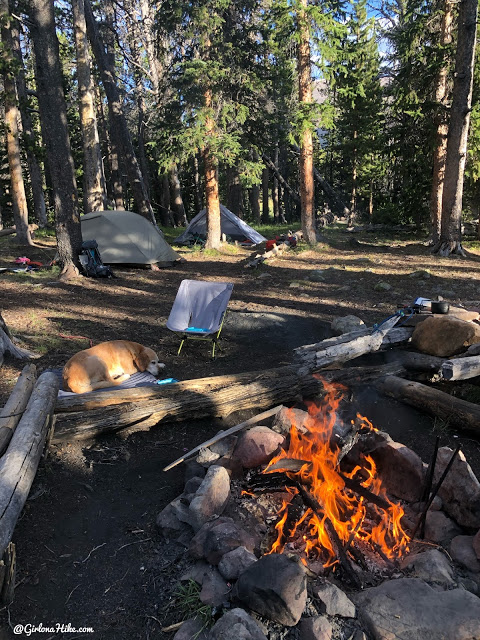 Ahh, now that's what we wanted! This first day we ended up backpacking about 9.5 miles total only to find a perfect campsite back at Beaver Lake. Now if I were to do this again, I would highly recommend camping at Beaver, then do just a short day hike up to Coffin.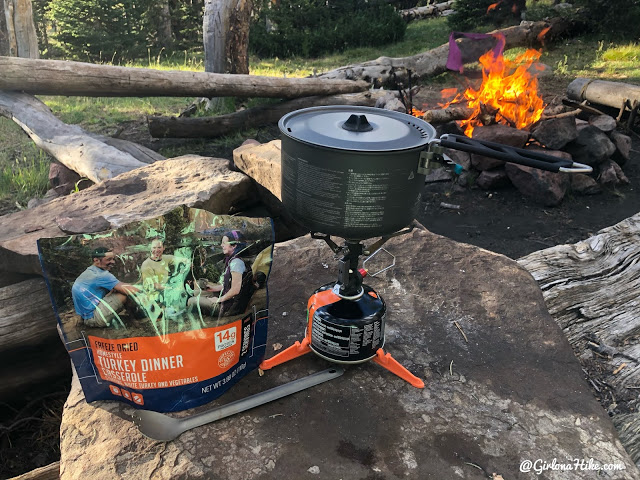 Really hungry, I made one of my favorite meals – Turkey Dinner. Mm mm, so tasty! Ashley brought her stove set up, so we shared her system.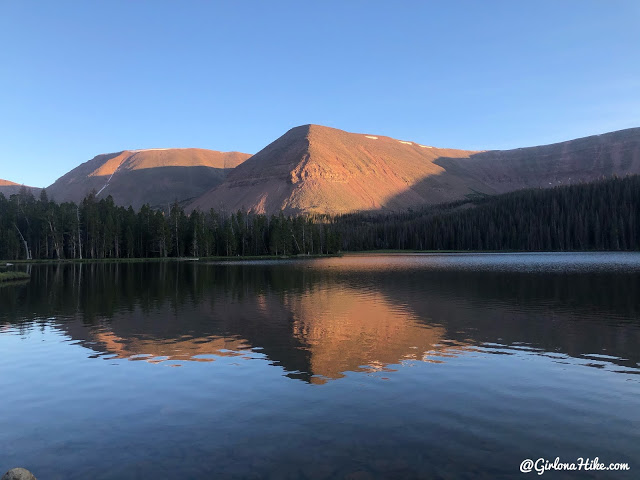 Nice evening on the lake. In one day we only saw two other hikers, plus saw a moose, elk, and bald eagle!

Just beautiful! This was seriously the quietest lake I've been to in the Uintas – nobody else was camped up here the weekend we went.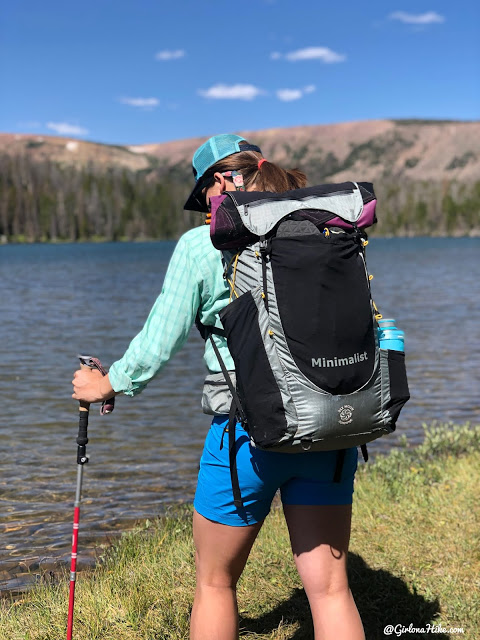 Time to head out! For this trip I used my Six Moon Designs Minimalist (38L) pack. You can also get 10% off your order from them using this link, and the code "GoWild19" at checkout! My Lunar Solo tent by SMD plus my REI sleeping bag, and all my normal gear were all tucked inside this pack. I didn't have any hip or should pain from this pack yay! I forgot my hanging scale, but I don't think this weighed more than 20-25 lbs for one night. I really like how this pack sits on me, and I love the front vest-style pockets.
Check out my video!
Trail Map
My track via Gaia GPS – the best tracking app! Get your app here for a discount.
Recommended Gear
Nearby Hike
Backpacking to Gilbert Lake & Peak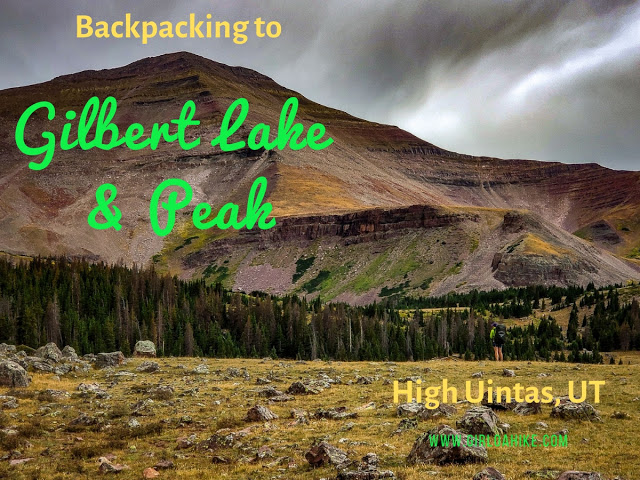 Save me on Pinterest!