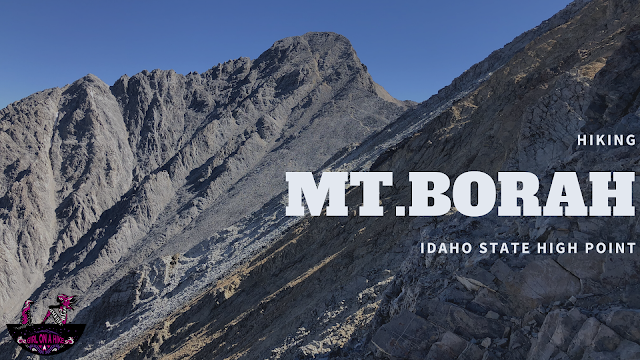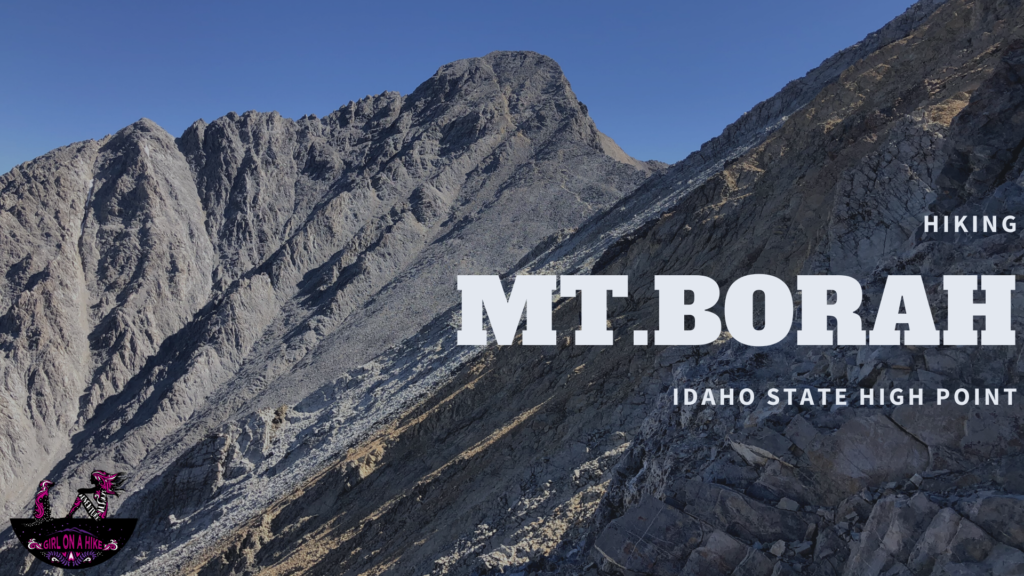 Hiking to Mt.Borah (12,662 ft), Idaho's state high point, is located in the Lost River Range within Challis National Forest. This peak is not for the faint of heart or weak. 
About
The trail gains 5,200 ft in just 4.2 miles and crosses the famous "Chicken Out Ridge" (COR). There is nothing technical along the main trail, but COR is considered a class 3 scramble. It has really good hand holds and while a rope is provided in one spot, you don't really need to use it to get up/down.  Always check your that your hand holds are safe and stable before putting your weight on it. This is a super popular trail since it's the tallest mountain in Idaho, so on a Saturday in August we saw closet to 80 other hikers. During the week you will see less people, but it's still a popular spot.
The best months to hike this are July, August, and early September. Be sure to start hiking early to not only beat the afternoon heat on the lower section of trail but also the crowds. Even in summer months be sure to wear layers & bring plenty of water. While it was 86F in the valley, on the summit it was around 45-50F! Continue reading for FAQs below.
Directions
From the town of MacKay, Idaho drive North on HWY 93 for 20 miles, and turn right at the big brown sign for Mt.Borah/Borah Campground. Drive to the very end of this dirt road, for 3 miles. Here is a driving map. You do not need 4×4 drive. There is a port-a-potty.
Trail Info
Distance: 4.2 miles one way
Elevation gain: 5,200 ft
Time: It took us 7.5 hours RT but most people plan for 8-10 hours RT
Dog friendly? No, read below
Kid friendly? Maybe, read below
Fees/Permits? None
FAQs
When is the best time to visit?
Typically the best months to visit are late July, August, and early September. Thunderstorms and afternoon showers are common during summer months. There is also a year round possibility of snow at this elevation, so pay close attention to weather and be prepared for any change in conditions.
Where can I camp?
The Borah Campground right at the TH only has about 6-7 campsites and fill up fast. It is $5/night. If you can't get a spot, many people camp in their cars at the TH or along nearby dirt roads. The next closest actual campground is Joe T. Fallini Campground on the Mackay Reservoir about 20 minutes south.
How difficult is it to hike Borah and Chicken Out Ridge (COR)?
This depends on your peak-bagging experience, fitness level, & pack weight. There are no technical areas along this hike, and it is possible to avoid COR if you want to (we accidentally did this on the hike up) and just stick to the trail. You should have a few big peaks/ridges under your belt. This is not for a beginner hiker. As always, the lighter your pack, the easier your hike will be.
Is this good for kids?
Maybe. We saw several kids (at least 20 kids or so) I'm guessing between the ages of 8-18. They looked like they had done big peaks before and they had their own pack on plus trekking poles. I really think it depends on the kids' experience and fitness level.
Can I bring my dog?
There are no rules that dogs can't do this hike, however, I highly recommend to NOT bring your dog. The first time we attempted Mt.Borah we brought Charlie along. Friends that have done Mt.Borah, and also know his skill level and peak bagging experience (he's done well over 100 peaks with me), said he would probably be fine. So we brought a short rope just in case and made him wear his backpack/harness. We dropped his pack and kept the harness on for what would be the last mile. However, as soon as we got to the very first scramble section he freaked out. We were within 0.8 miles of the summit and he would not stop whining – I knew we had to turn around. We talked about going one-by-one to the summit, but I didn't want to go solo. So we called it quits and turned around.
The 2nd time we went back (this blog post), we left him home with a friend and we jokingly said, "I'm sure after that section, he would have been fine." But, as we approached the same section and continued further, there was no way I would have wanted him to be up there. Even if we could have coaxed him into hiking the ridge, the rocks along would have torn up his paws. The lava rock even hurt my hands, so it would have totally sucked to be up there with ripped pads. So, dogs could probably do it IF you are willing to carry them but I doubt it would be fun for them (or you). I'm really glad I didn't have to stress about him.
What's the elevation gain like?
5,200 ft in just 4.2 miles! Super steep. Poles are helpful for the first 3 miles, then you'll want to put them in your pack for the ridge.
What about water?
There is no water source along this trail. You will need to carry all your water for the day. I brought 2 liters and that was just enough. 3 liters is probably better especially if you think you'll take longer.

Let's get to the hike!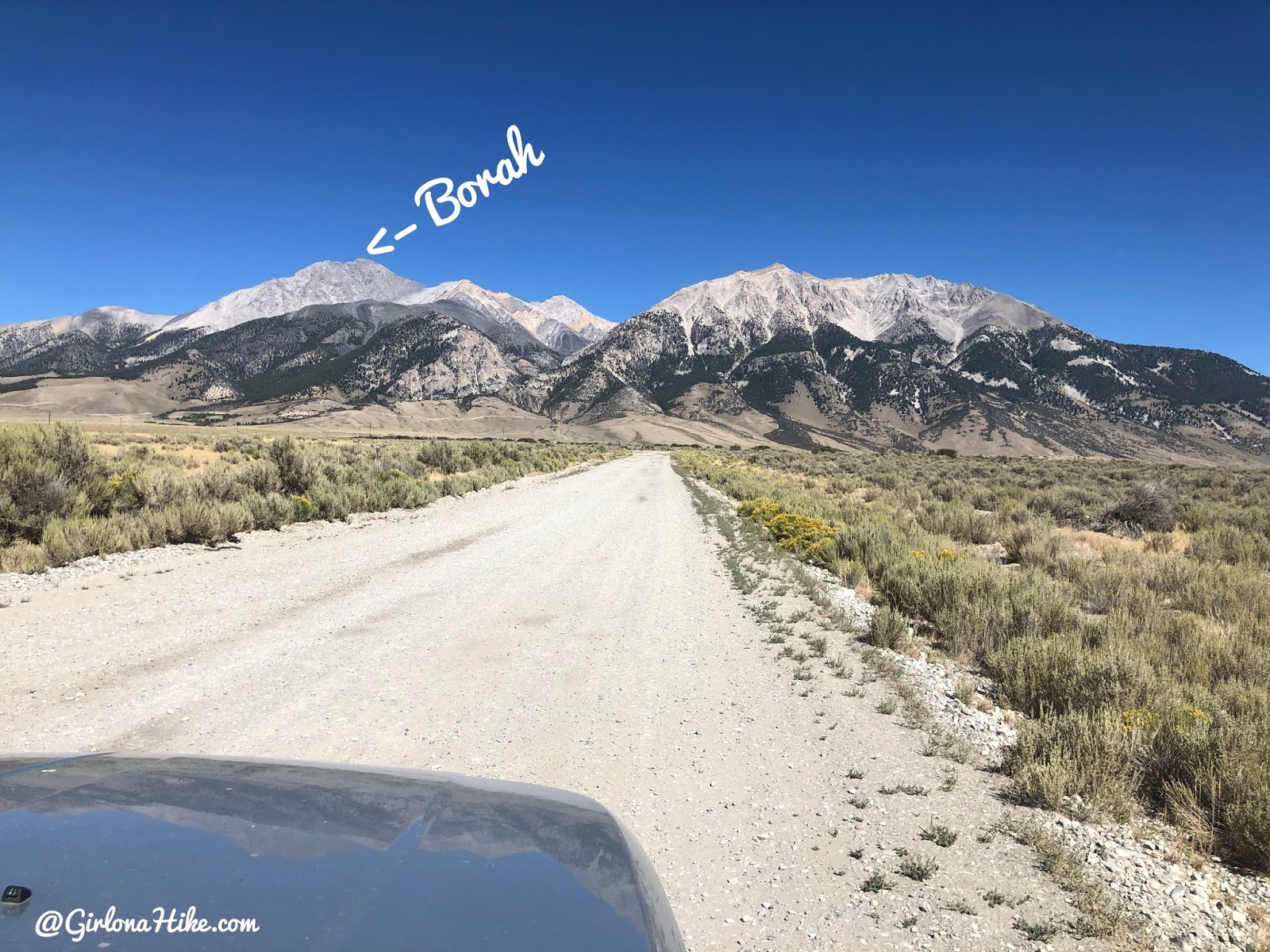 Driving up to the TH, with a nice view of Mt.Borah!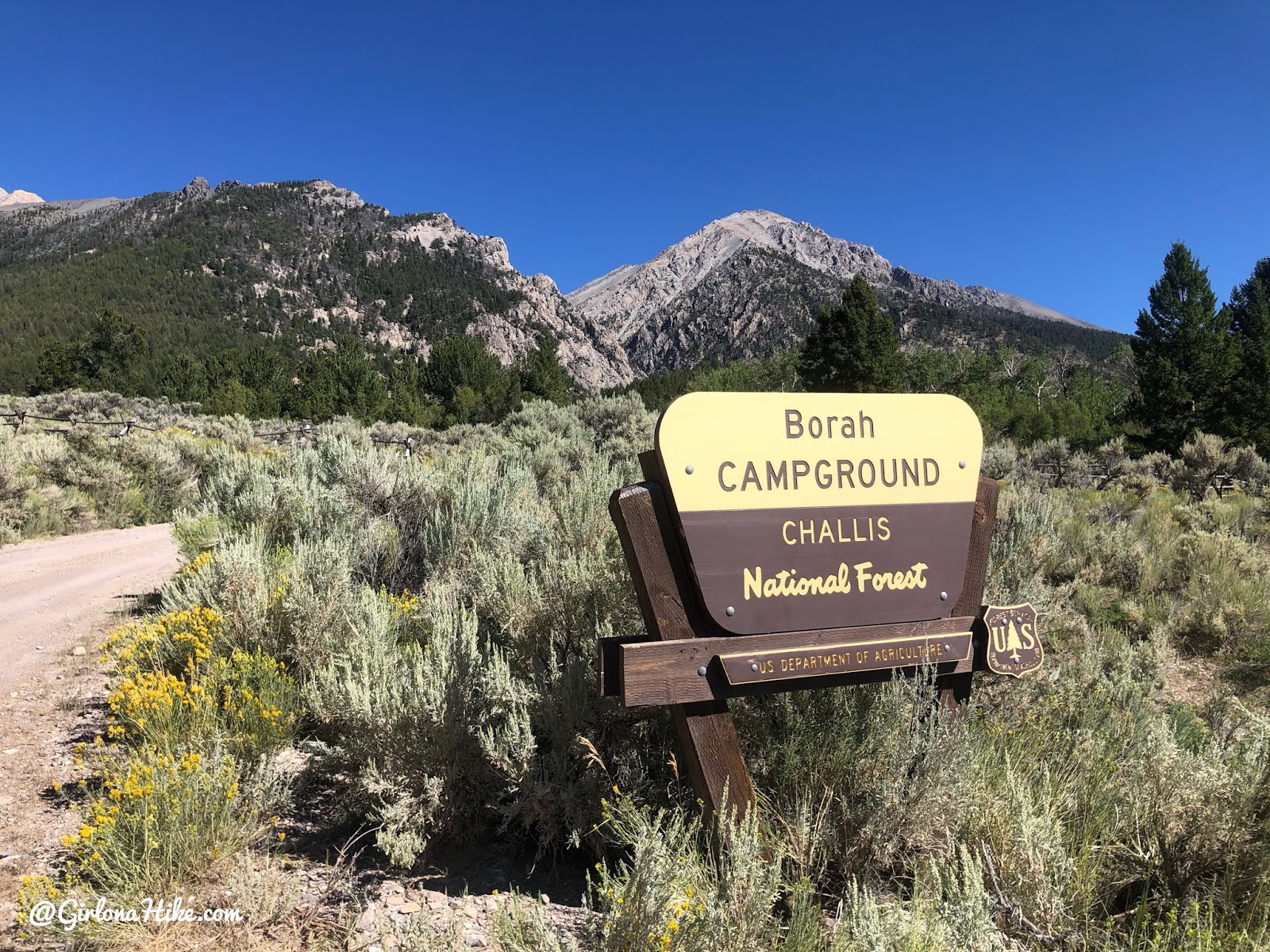 The campground only has about 6-7 campsites and fill up fast. It is $5/night. If you can't get a spot, many people camp in their cars at the TH or along nearby dirt roads. The next closest actual campground is Joe T. Fallini Campground on the Mackay Reservoir about 20 minutes south.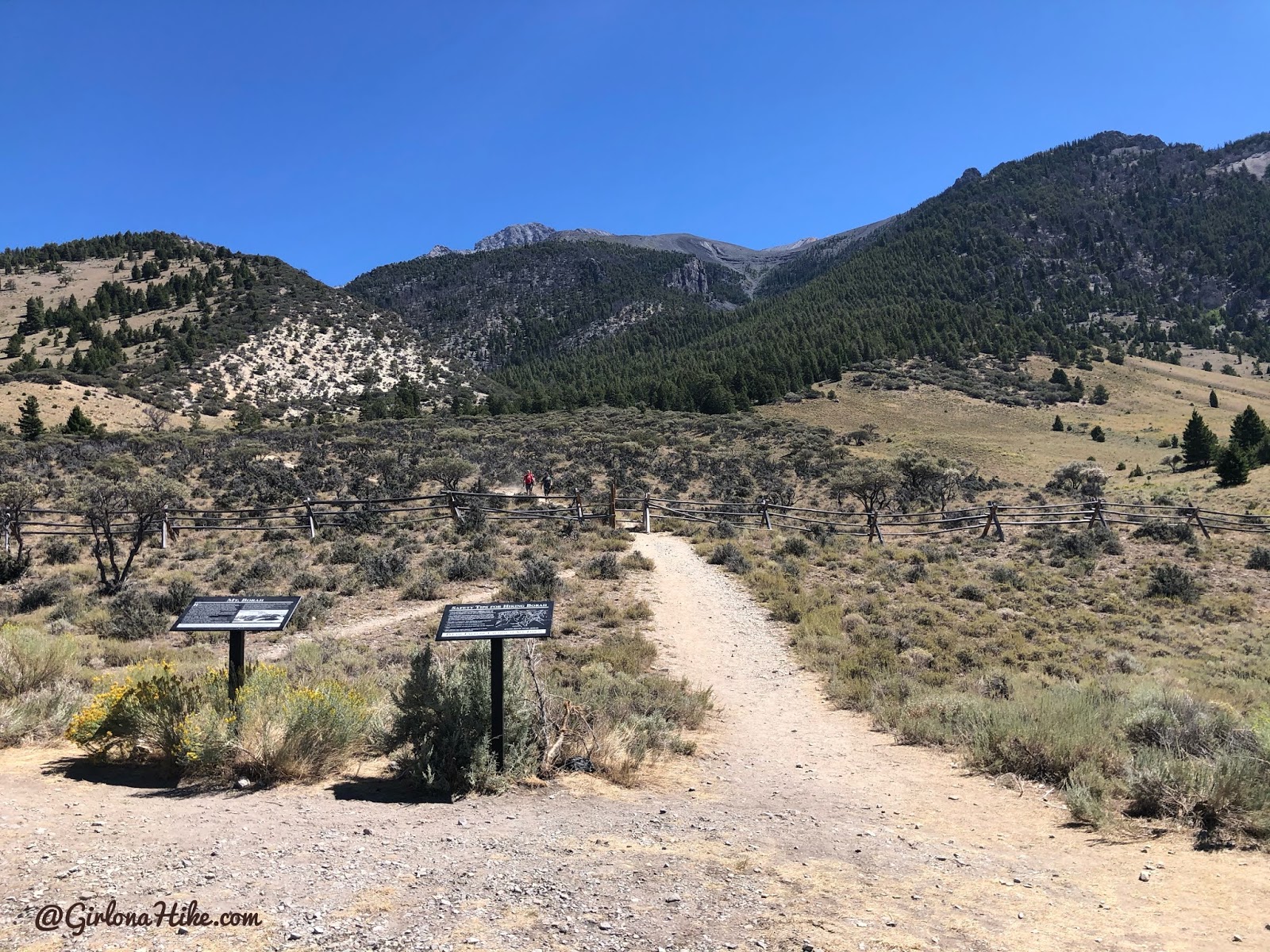 We started hiking at 5am, so I took this photo when we were done. The official TH and trail is well traveled. The first mile leads you up through a sagebrush field, and eventually turns into Bristlecone Pine trees.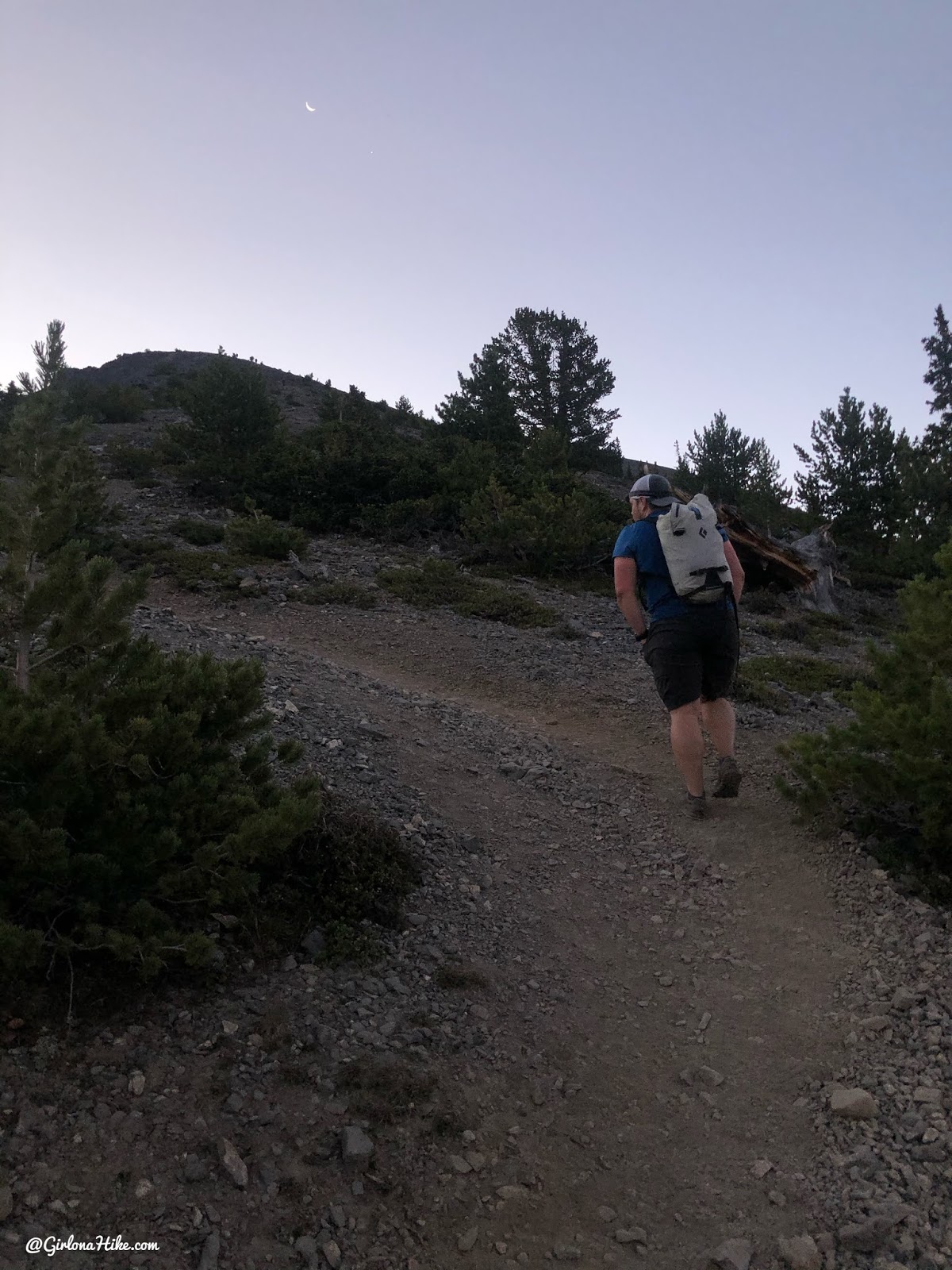 The trail is immediately steep. At mile 1 you will reach the first small saddle, and begin hiking up countless, short switchbacks.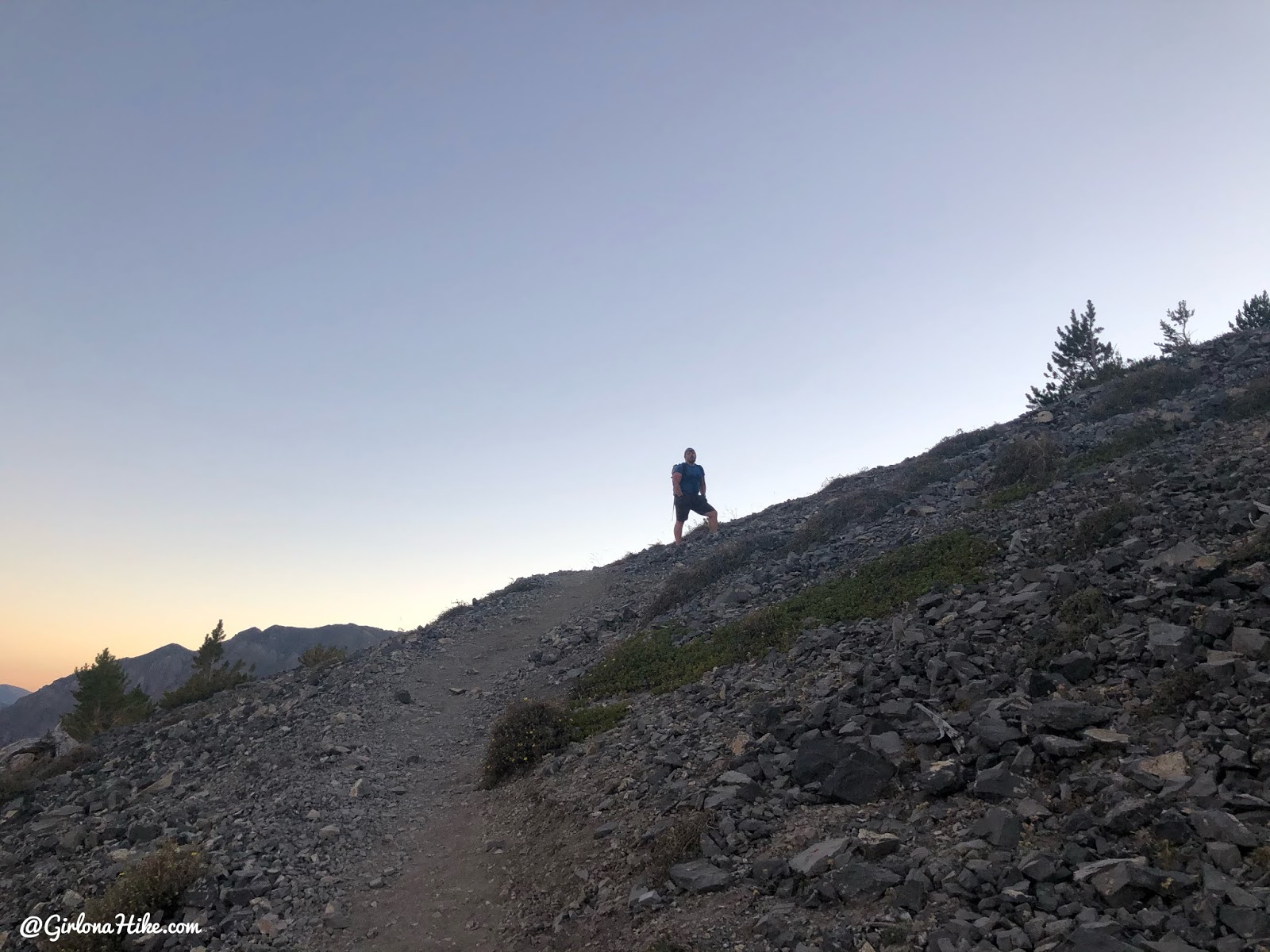 Eventually, you will leave tree line. Finally the sun was coming up!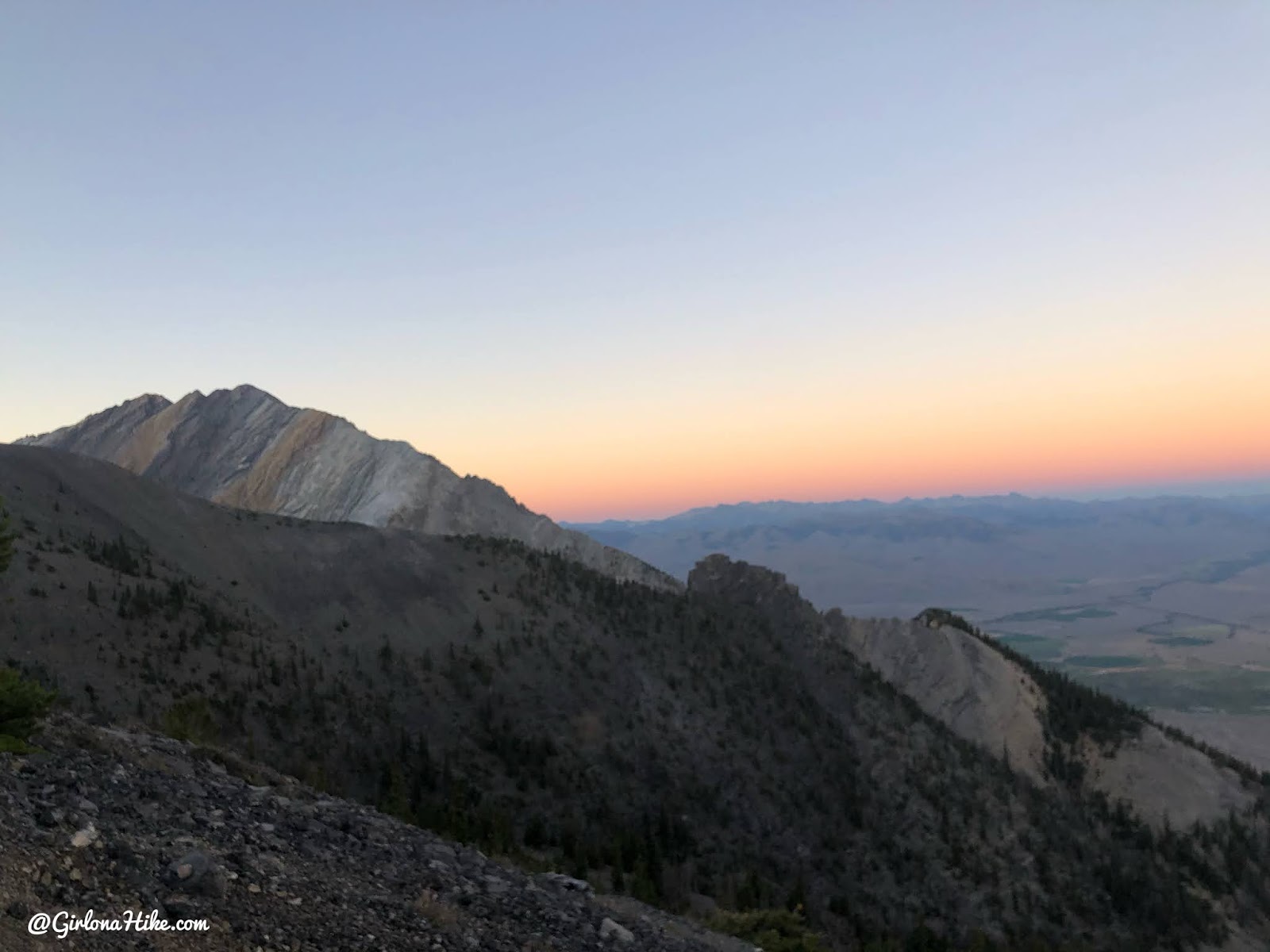 Beautiful but hazy skies appearing around 6:45am.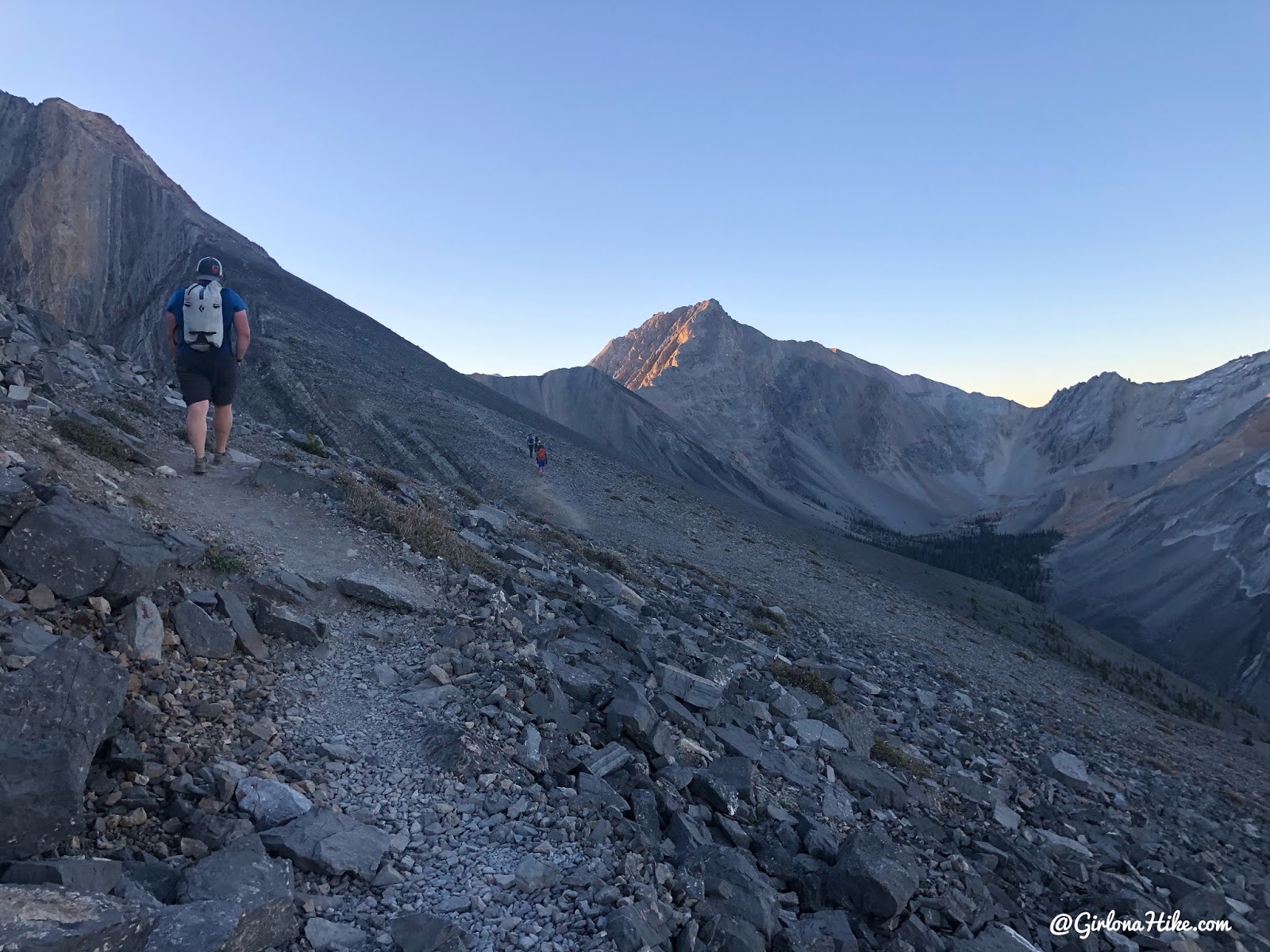 As you get higher, you get amazing 360 degree views. The trail goes straight up above Ian's head, along the ridge.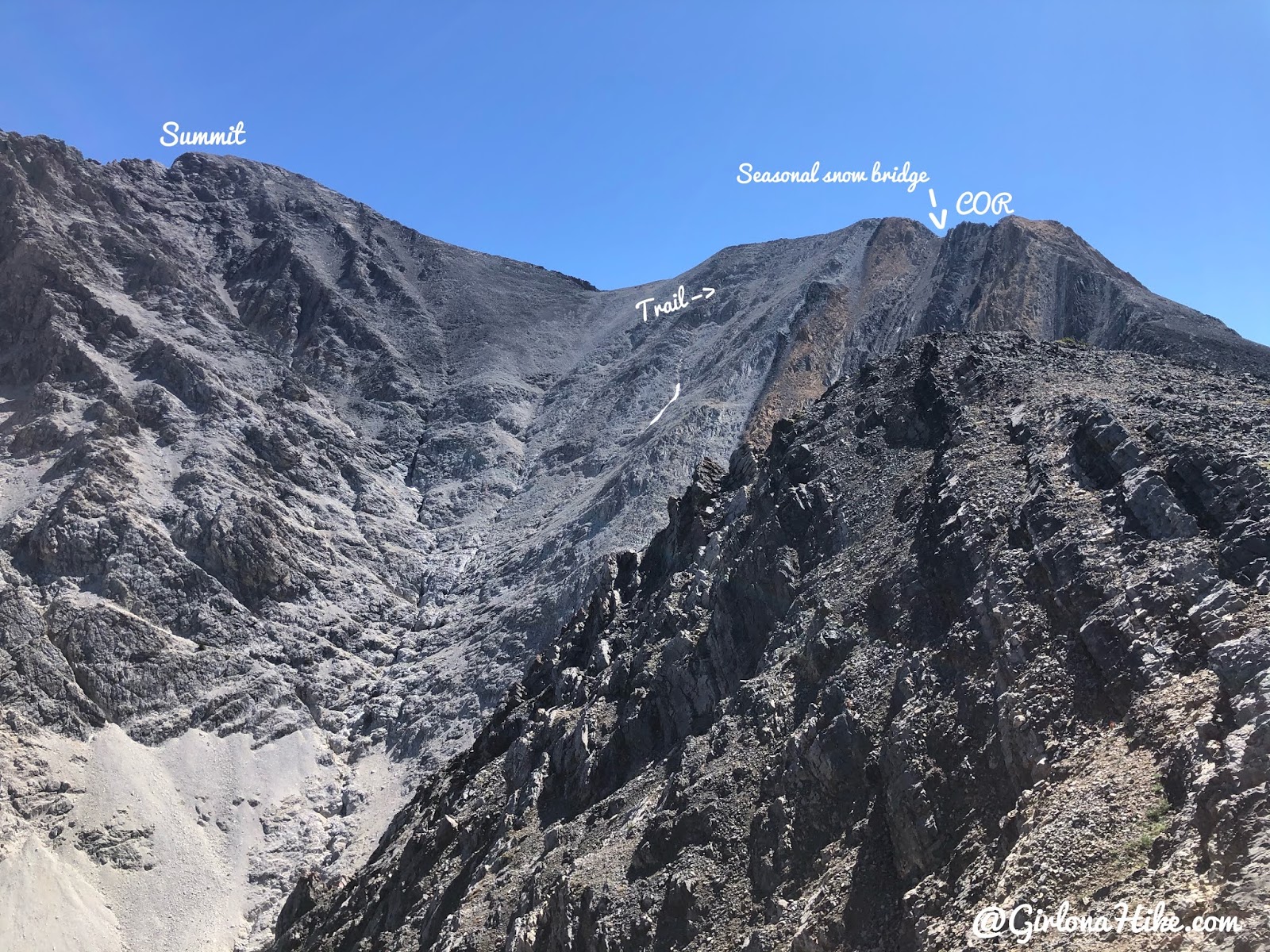 Another picture I had to take on our way down to get better sunlight, but here you can see exactly where everything is! Summit on the left, the main trail, where the snow bridge would normally be, and COR. When we first attempted this in July, the snow bridge was there. Only 3 weeks later it was totally gone!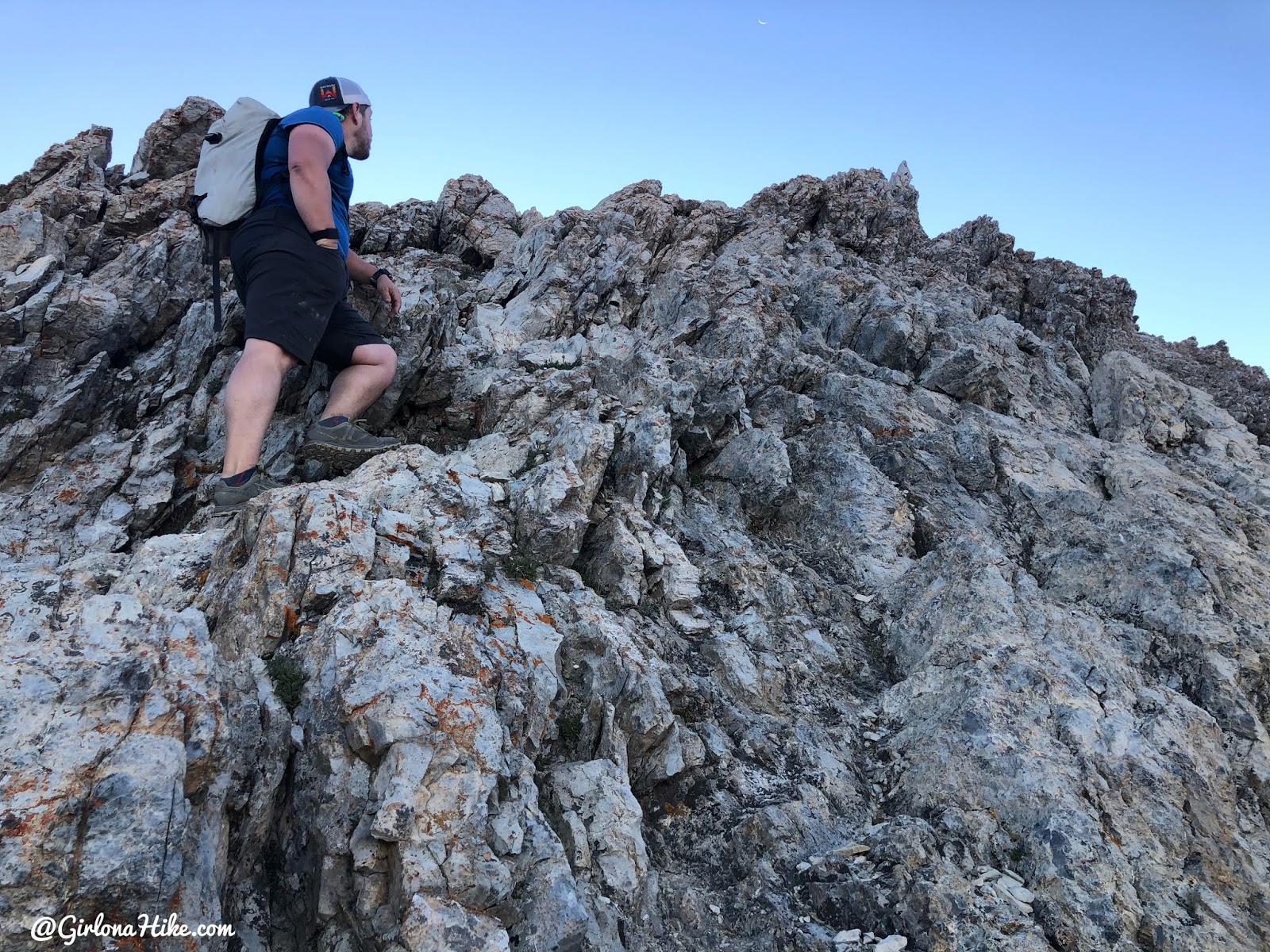 At 3.3 miles reach the beginning of the scramble and rocky ridge. By now, you should have put all your valuables in your pack so nothing falls out. Don't leave anything in outside pockets. I left my one water bottle with electrolytes in the side pocket and it fell out! This looks intense but there are very good hand holds.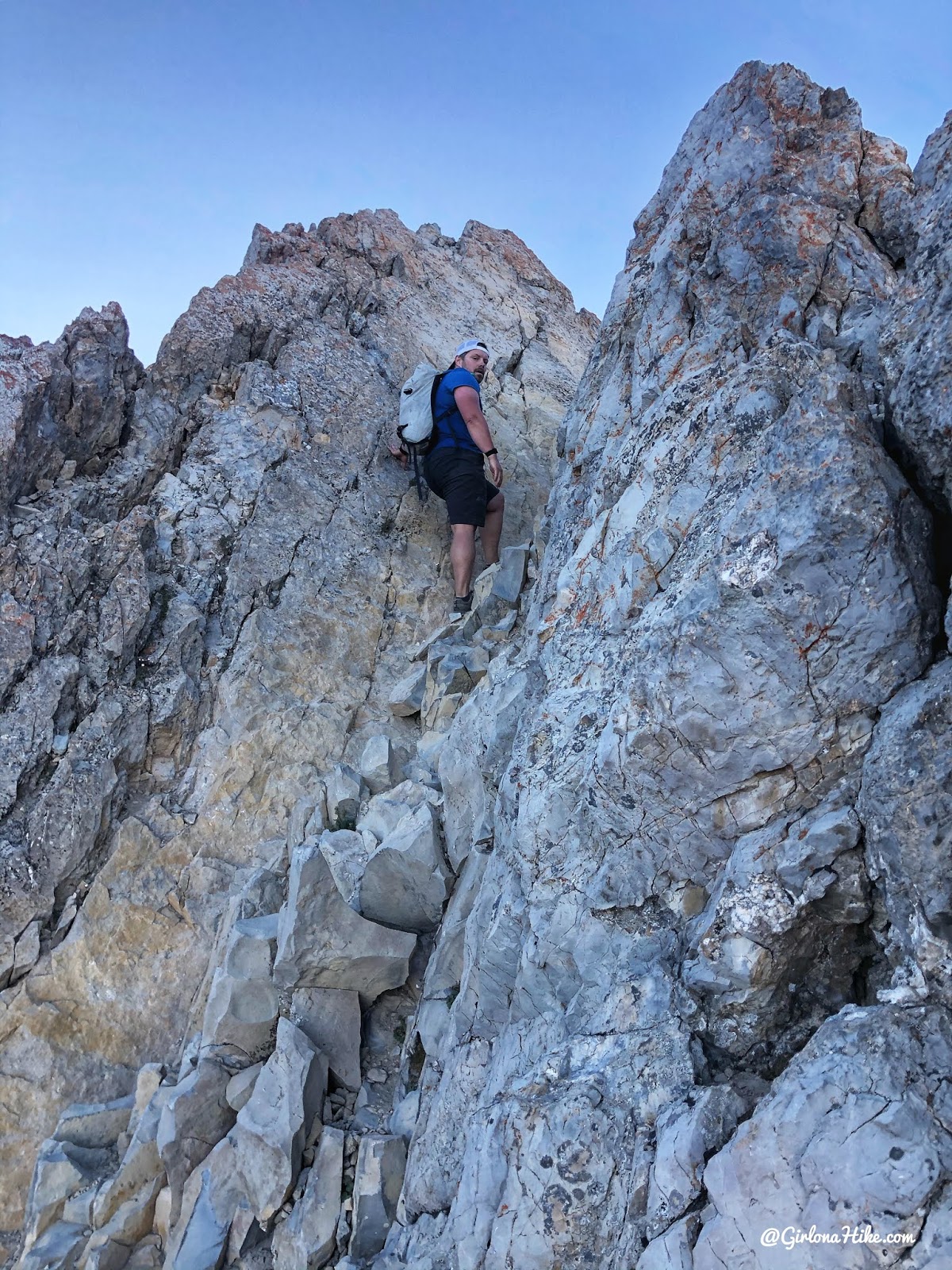 Ian leads the way – he is way more comfortable with scrambling so I just follow him.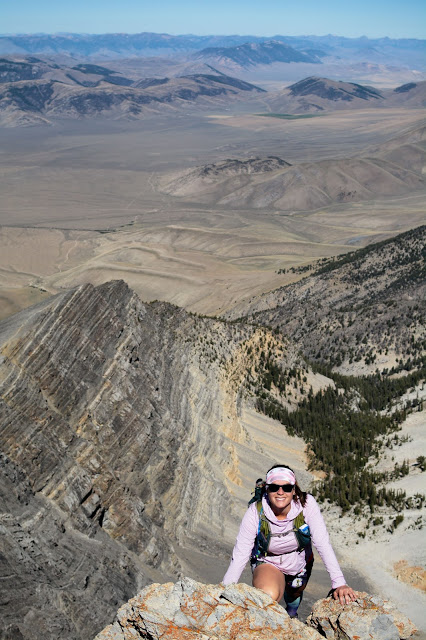 Popping up and over the beginning of the scramble! What a cool view!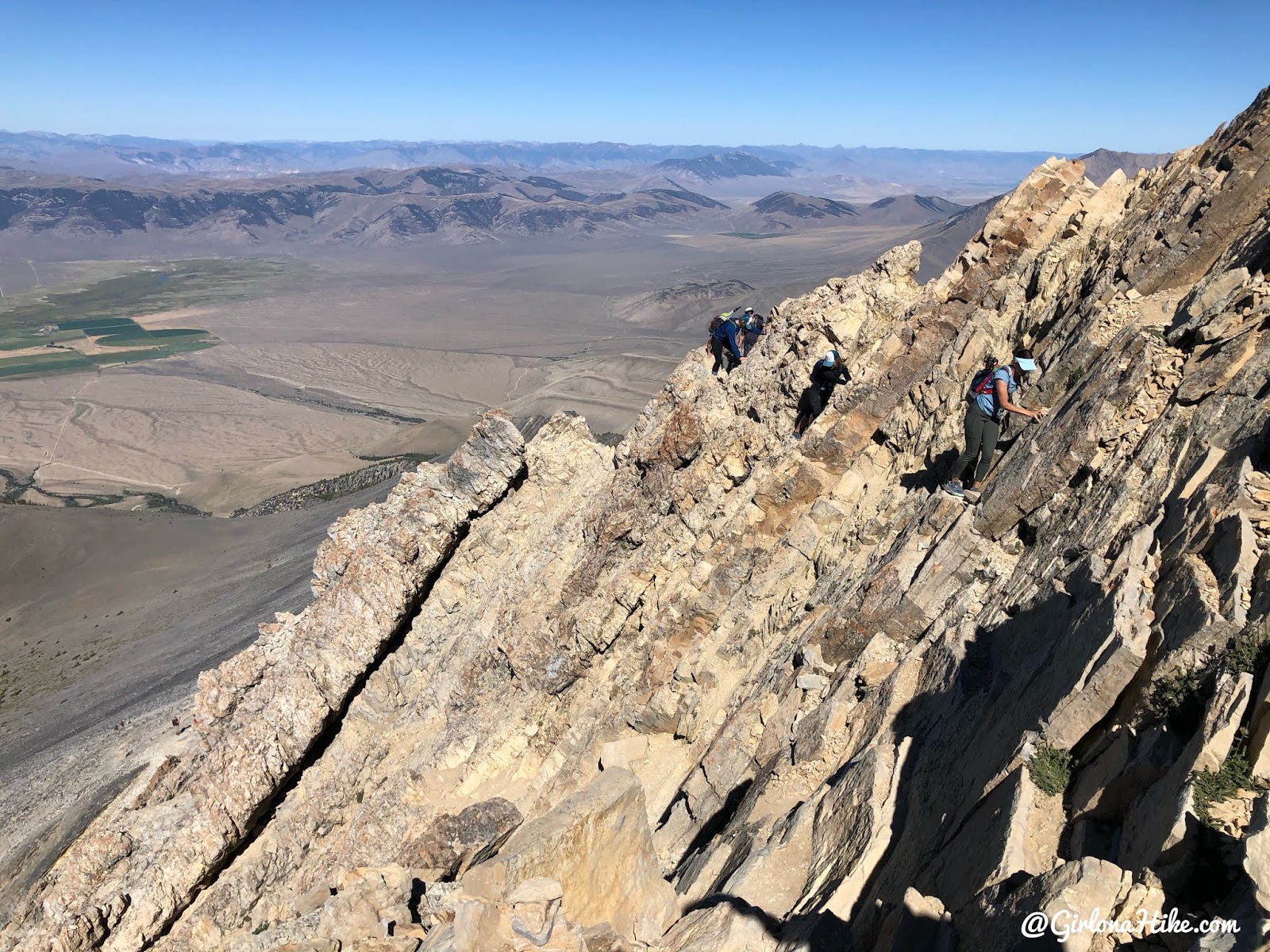 This is looking back at that first scramble.You'll have to hike across a slab section – but again, all with really good hand holds.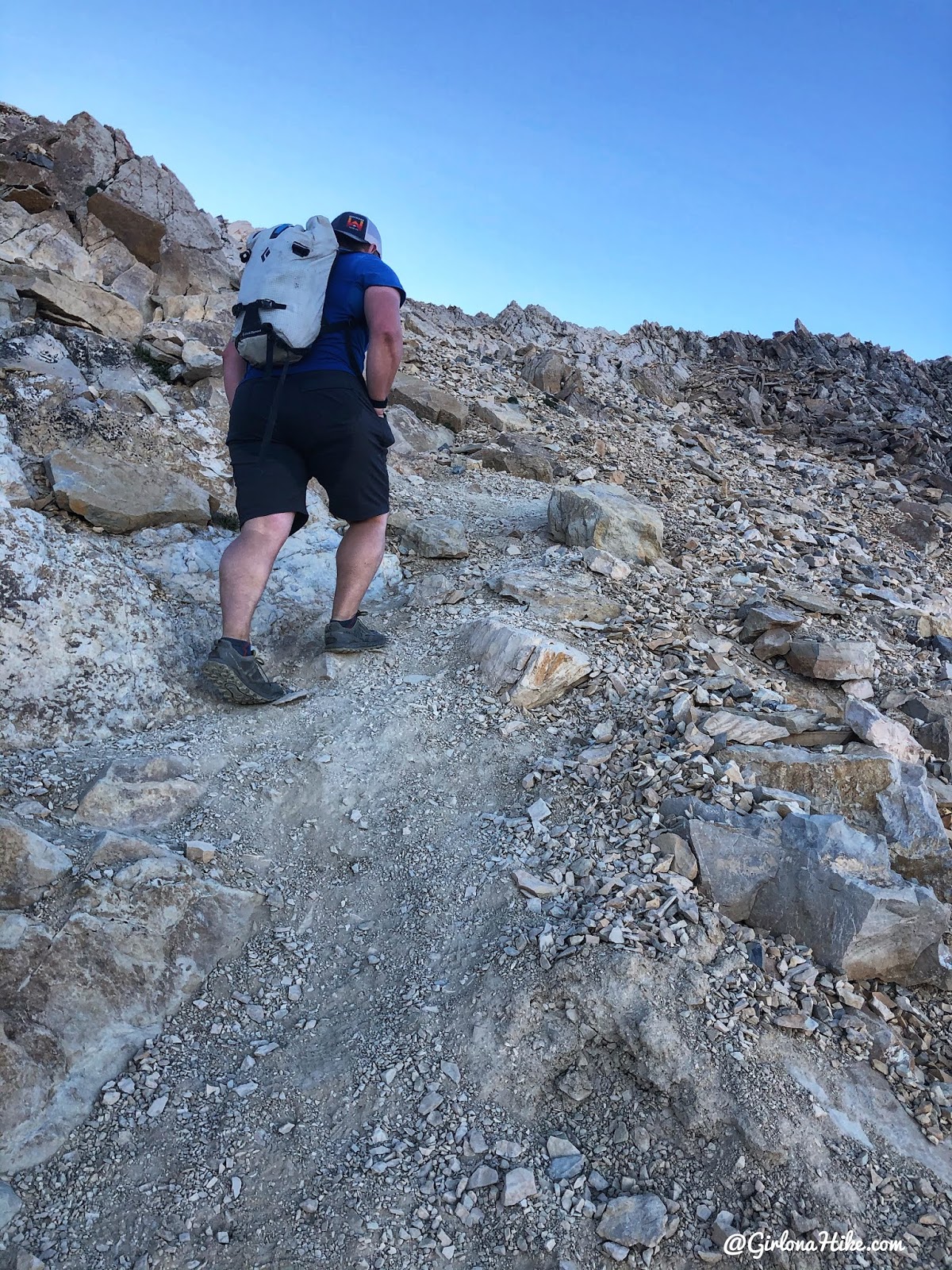 Catch the trail again, and hike up another steep section to a small saddle.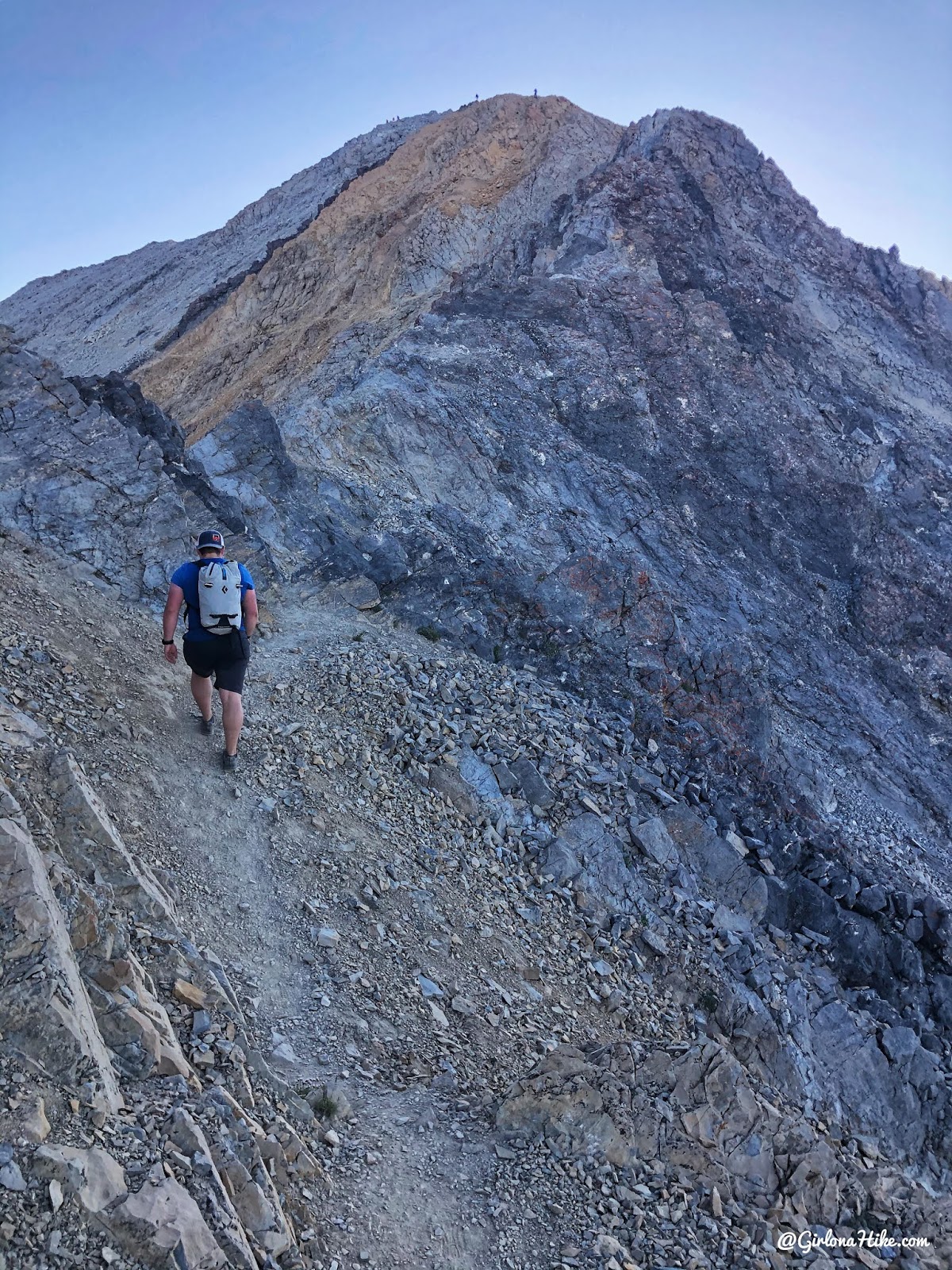 As you reach that small saddle and turn the corner, you now have your first view of COR! We accidentally followed the trail around the corner to the left and bypassed COR. This is a great option if you're too scared to complete the COR, however, instead of having great hand holds you are on a ledge with loose scree. Choose your poison!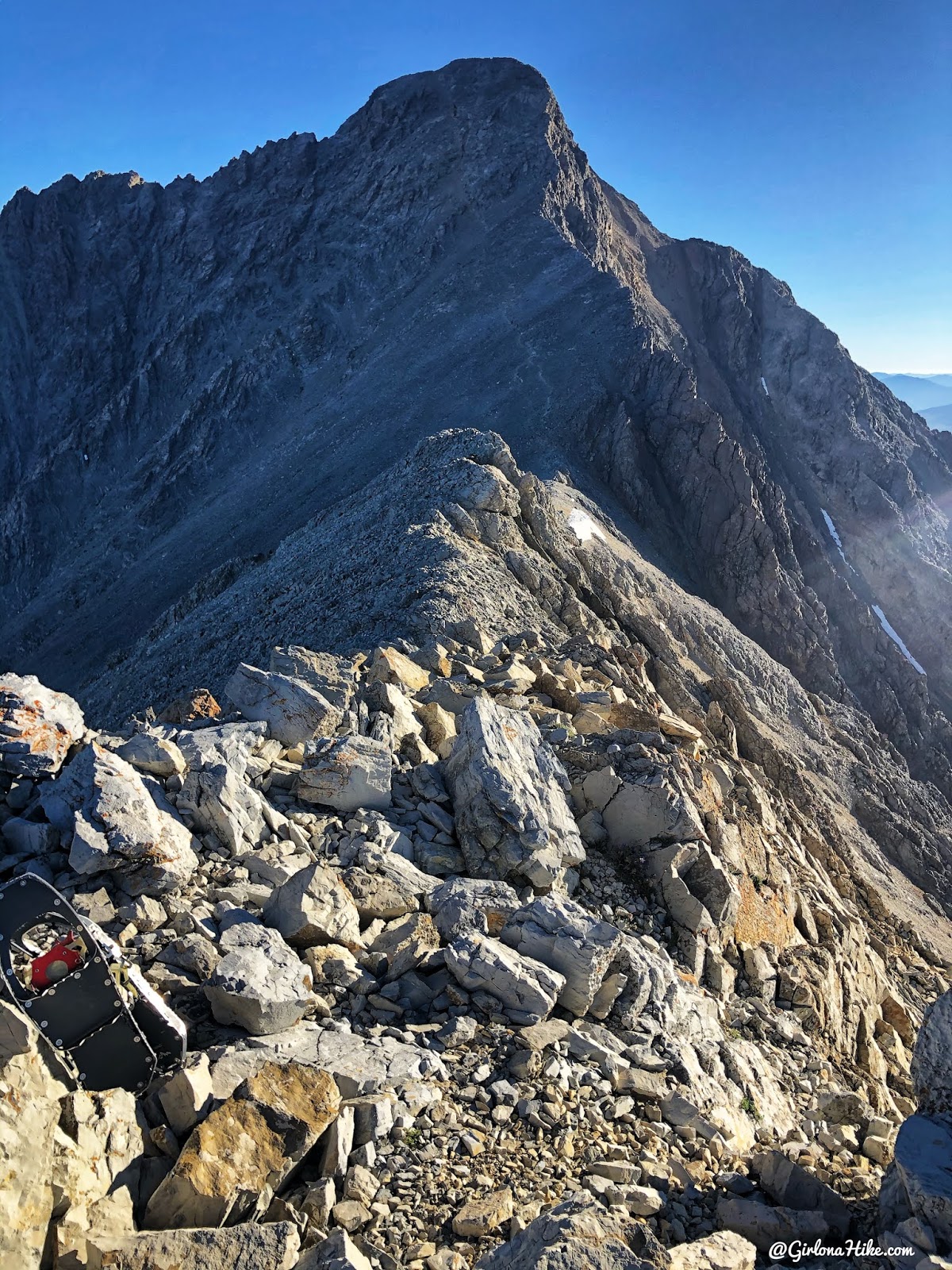 Once we reached the base of the climb from COR (where the rope is) we actually went up and over the next ridge instead of sticking to the main trail. From here, you can see where the trail goes up to the summit. You're so close now!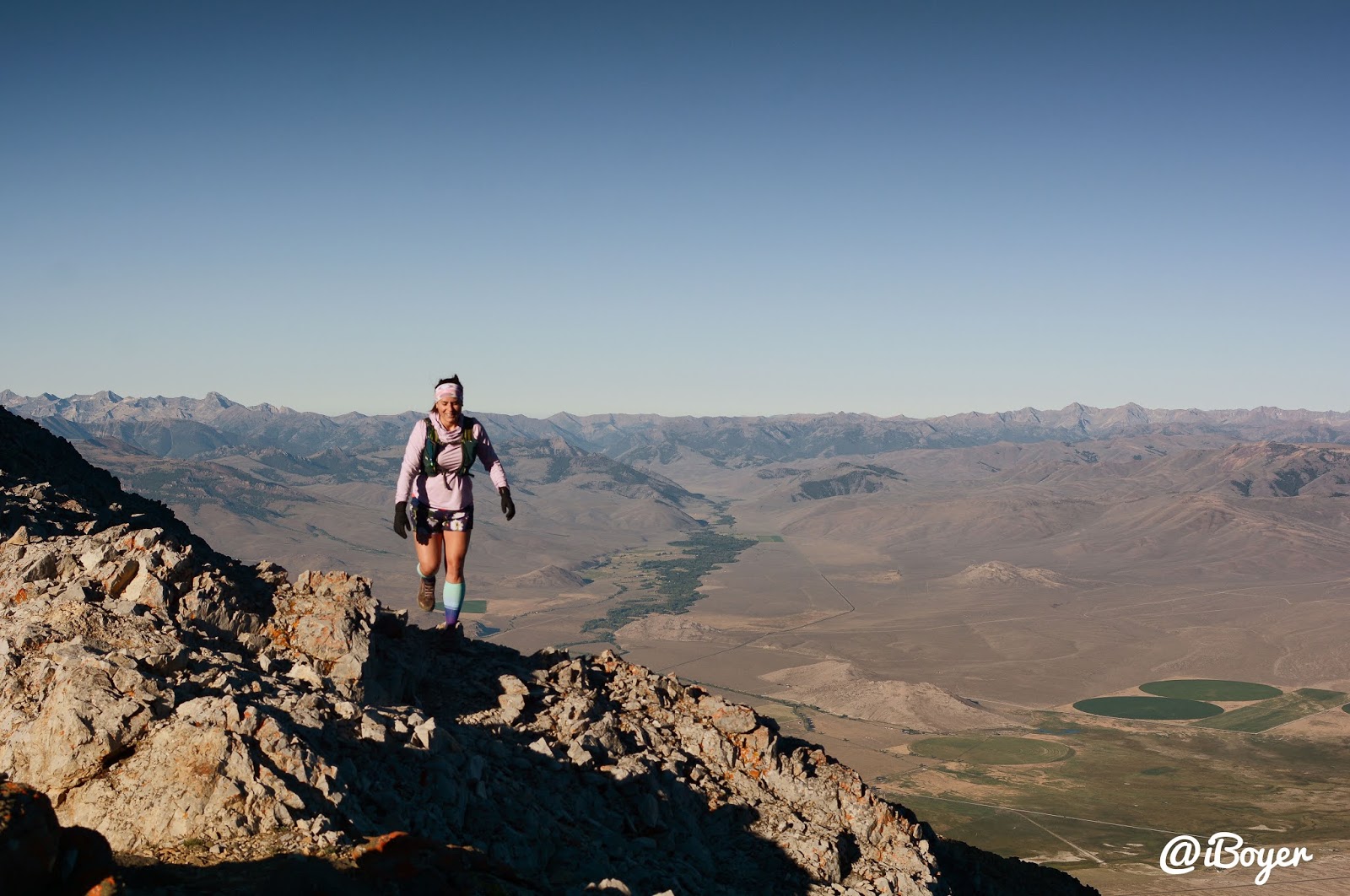 I actually really liked the ridge, this stuff is fun to me! What a cool view down to the valley below! 
Two Tips
You'll notice I'm wearing gloves, which I recommend bringing. Bring a set of gloves to protect your hands from the sharp rocks. The rocks in the shade were really cold, so I was glad I had protection. I just picked up a cheap pair of

wind-stopper gloves

that way if they tore I wouldn't be upset. Plus you just never know what kind of weather will hit and they're super light to carry. 
Compression socks are another key item – the super intense elevation will make your legs jelly not matter what. These help me recover so much fast and not be as sore! I was surprised to only see about four other hikers wearing them. These are from

ProCompression

and I have several pairs and love them for really big hikes/runs.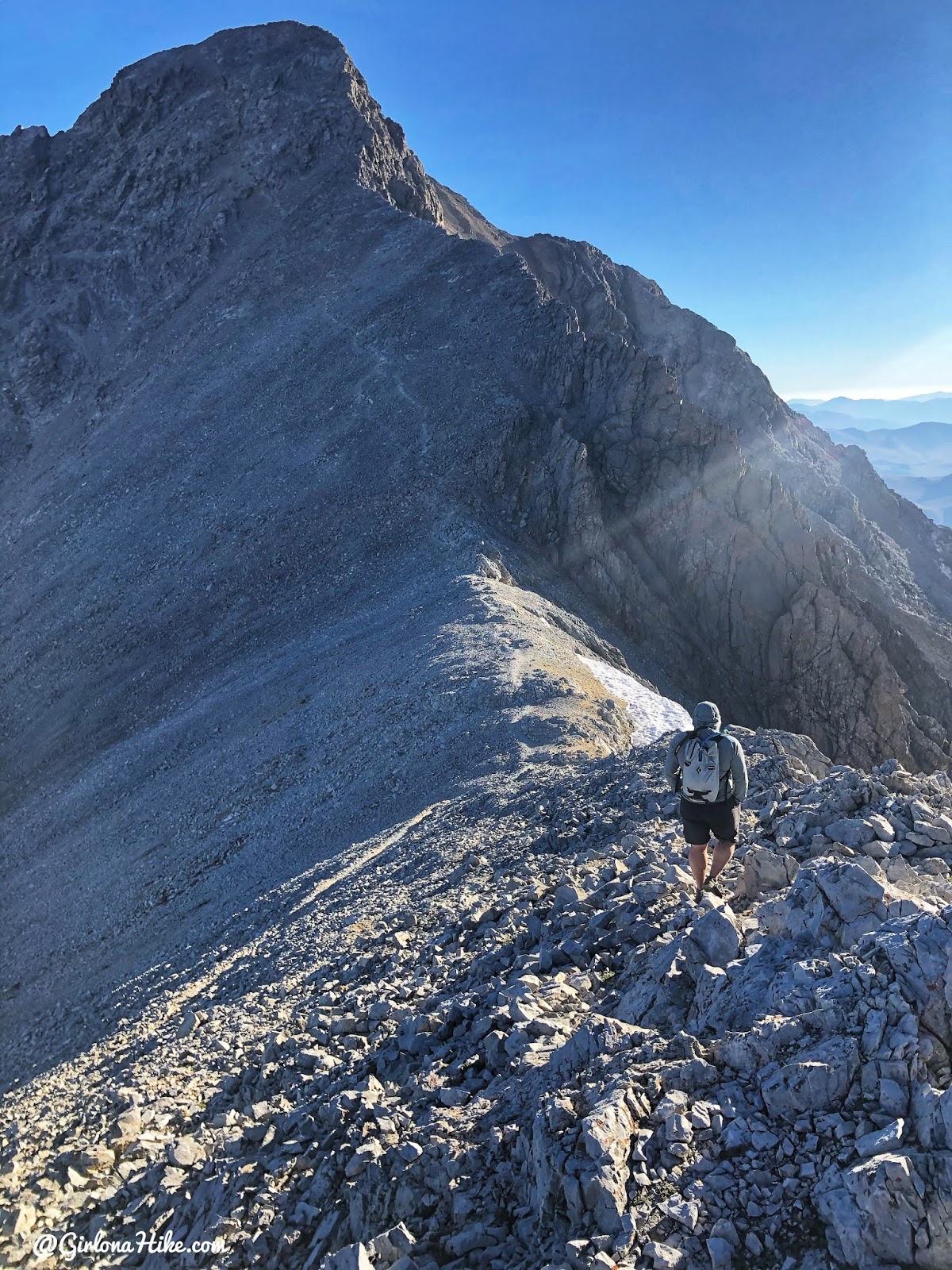 We followed the ridge down and caught the main trail again.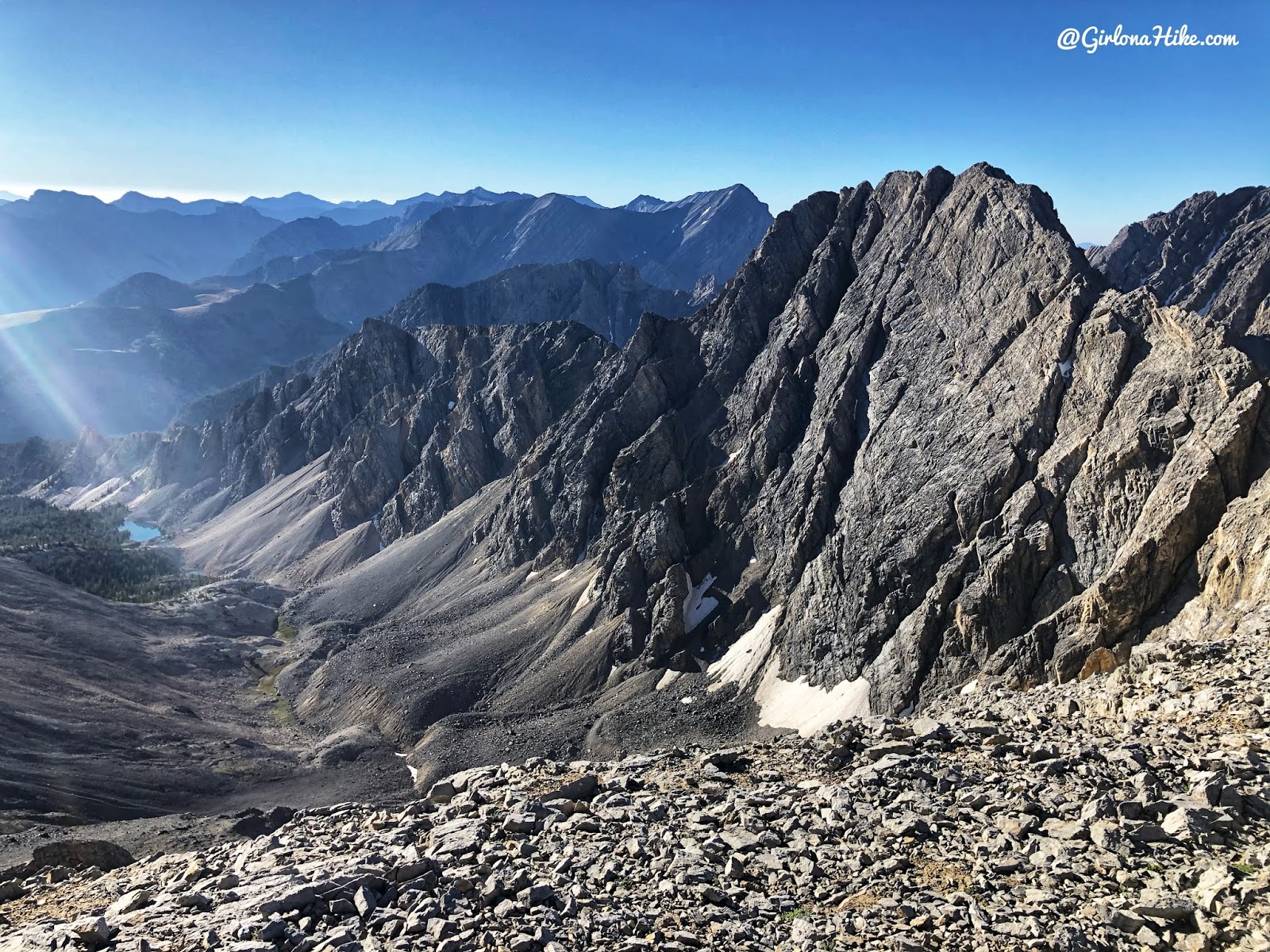 On the last saddle with a great view!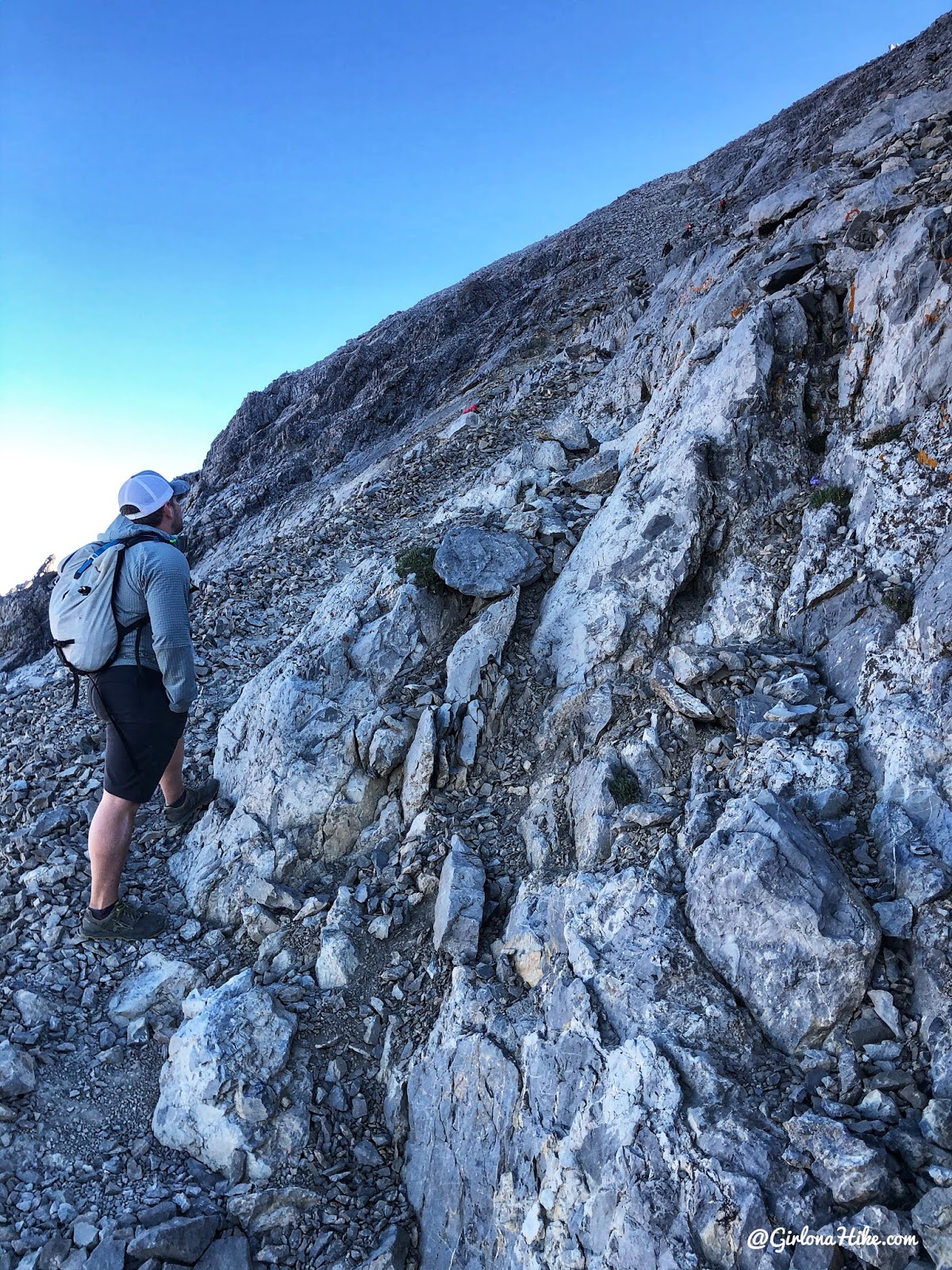 Last stretch was the hardest for me. By this point you are already at 12,000 ft so the elevation just really slowed me down, not to mention you have already gained about 4500 ft up to here. Thankfully no elevation sickness! Drinking electrolytes will help a ton with preventing that (at least it does for me!).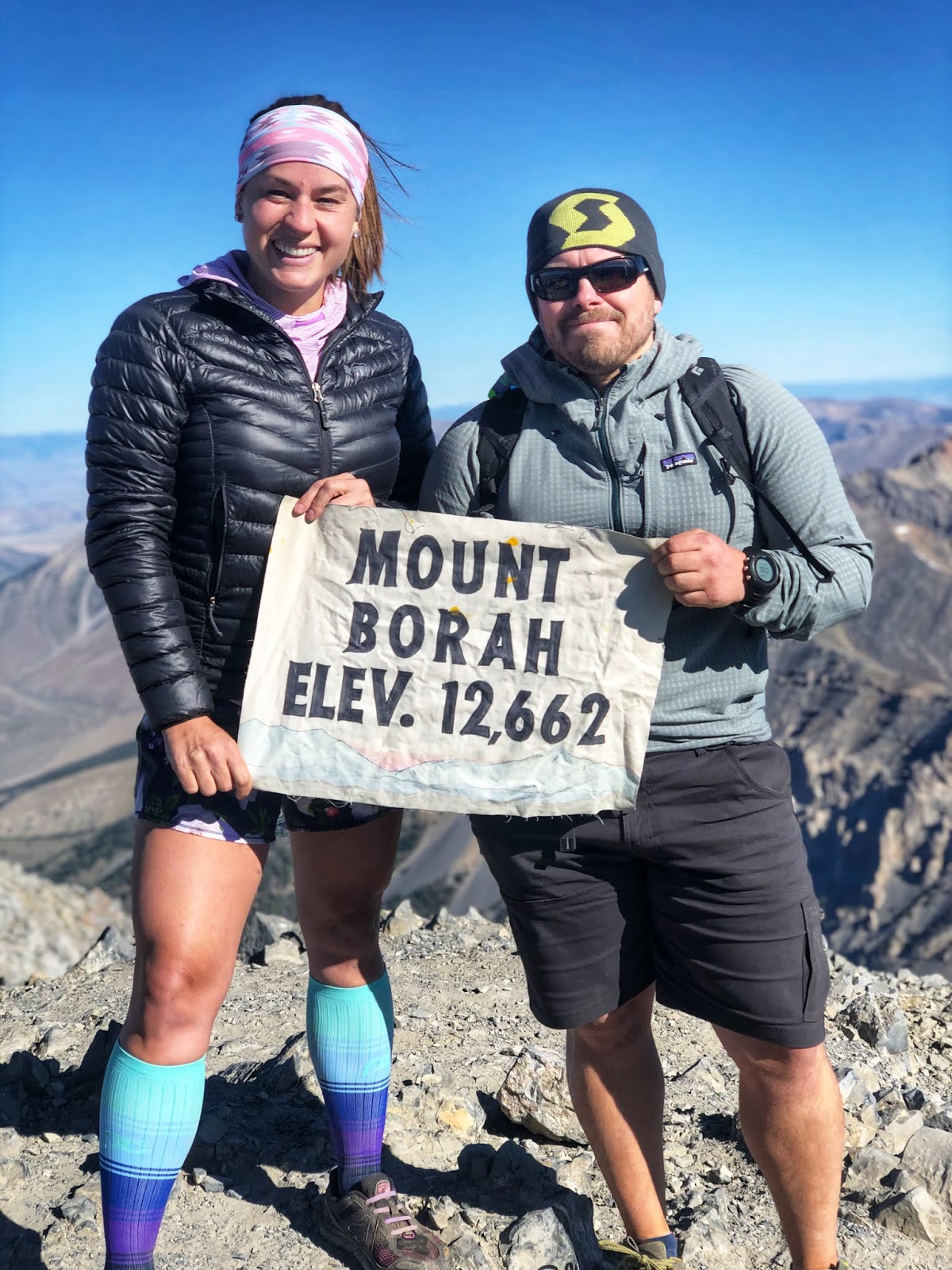 4 hours and 10 minutes to the summit! Whoo hooooo! Wow, what a workout that was but I was so happy to be on Idaho's tallest mountain! Couldn't have asked for a better partner to do this with too. Side note, I have no idea why I look like a giant next to Ian here I must have been on a rock haha!
This really cool flag was already on the summit. We only spent about 20-30 minutes on the summit to eat, take my shoes off, and take some photos. We were concerned with hiking out with the heat on the lower section of the trail, and the amount of hikers coming up later than us, and trying to pass people on the ridge.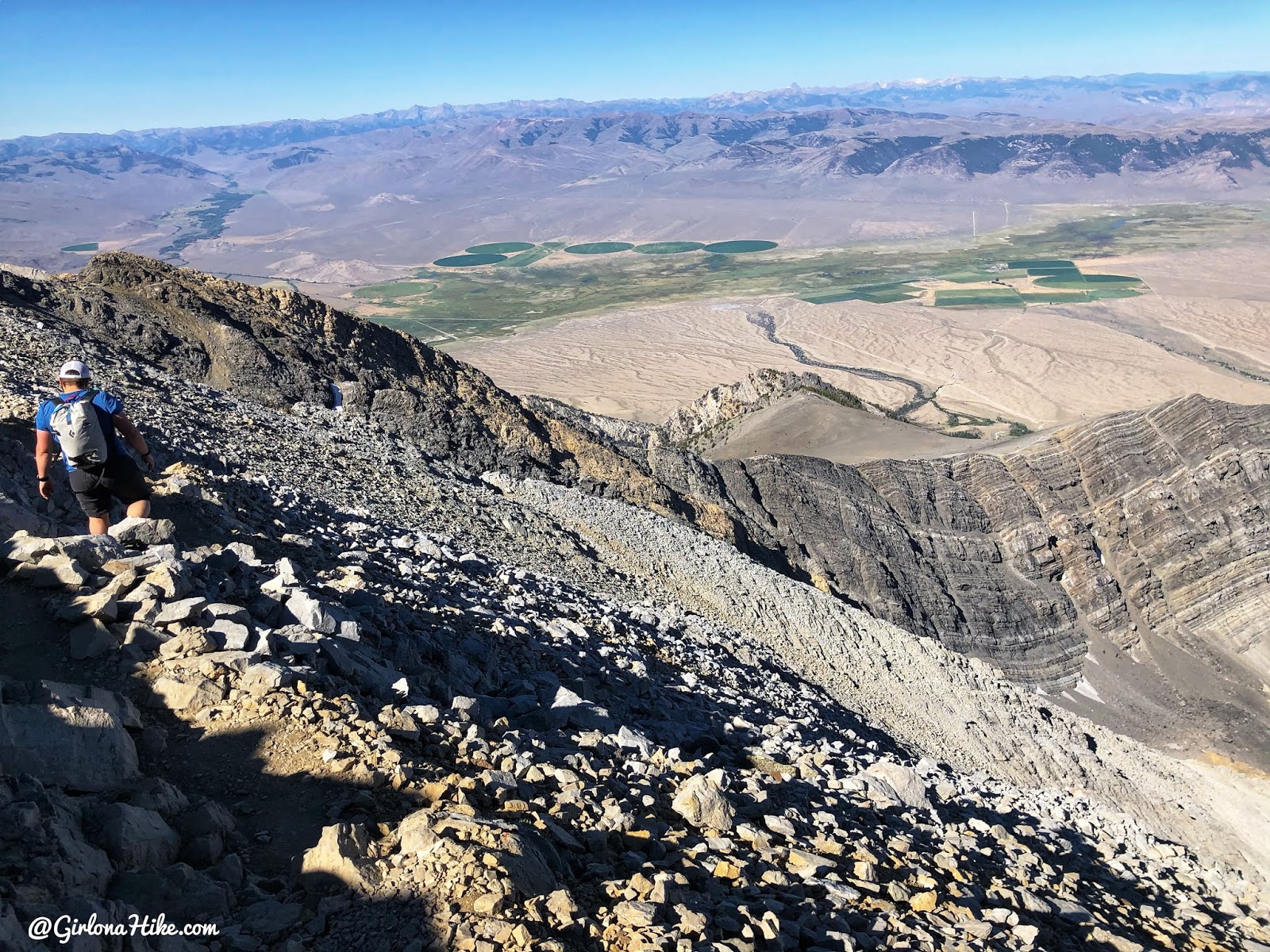 Time to head down! Really cool to see the entire ridge we hiked up. We took the main trail back to COR.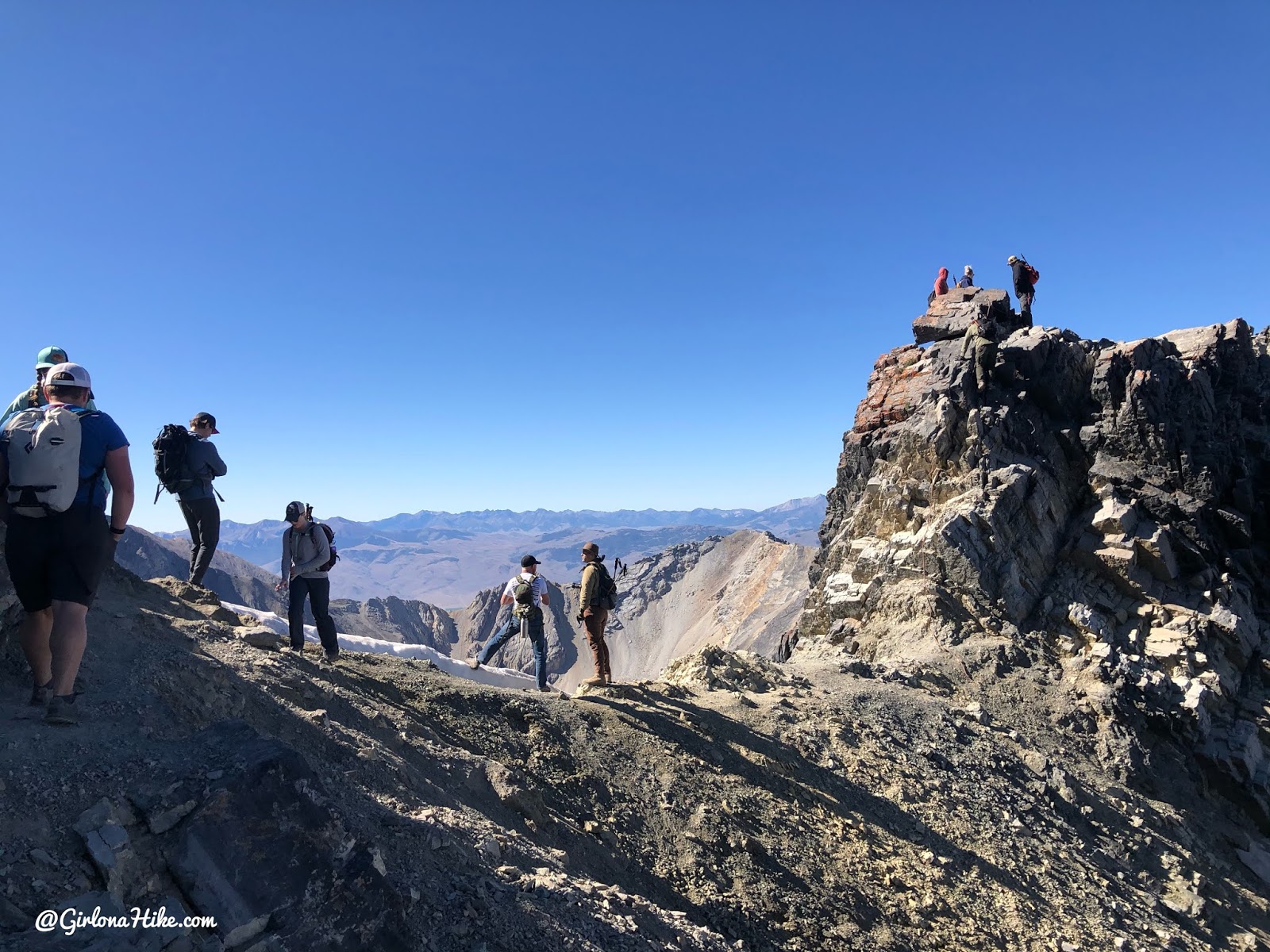 The "what it really looks like" photo with tons of people at the rope section for COR. We waited for about 10 minutes for people to come down before we could get up. You really don't need to use the rope – the hand holds are really good in this section.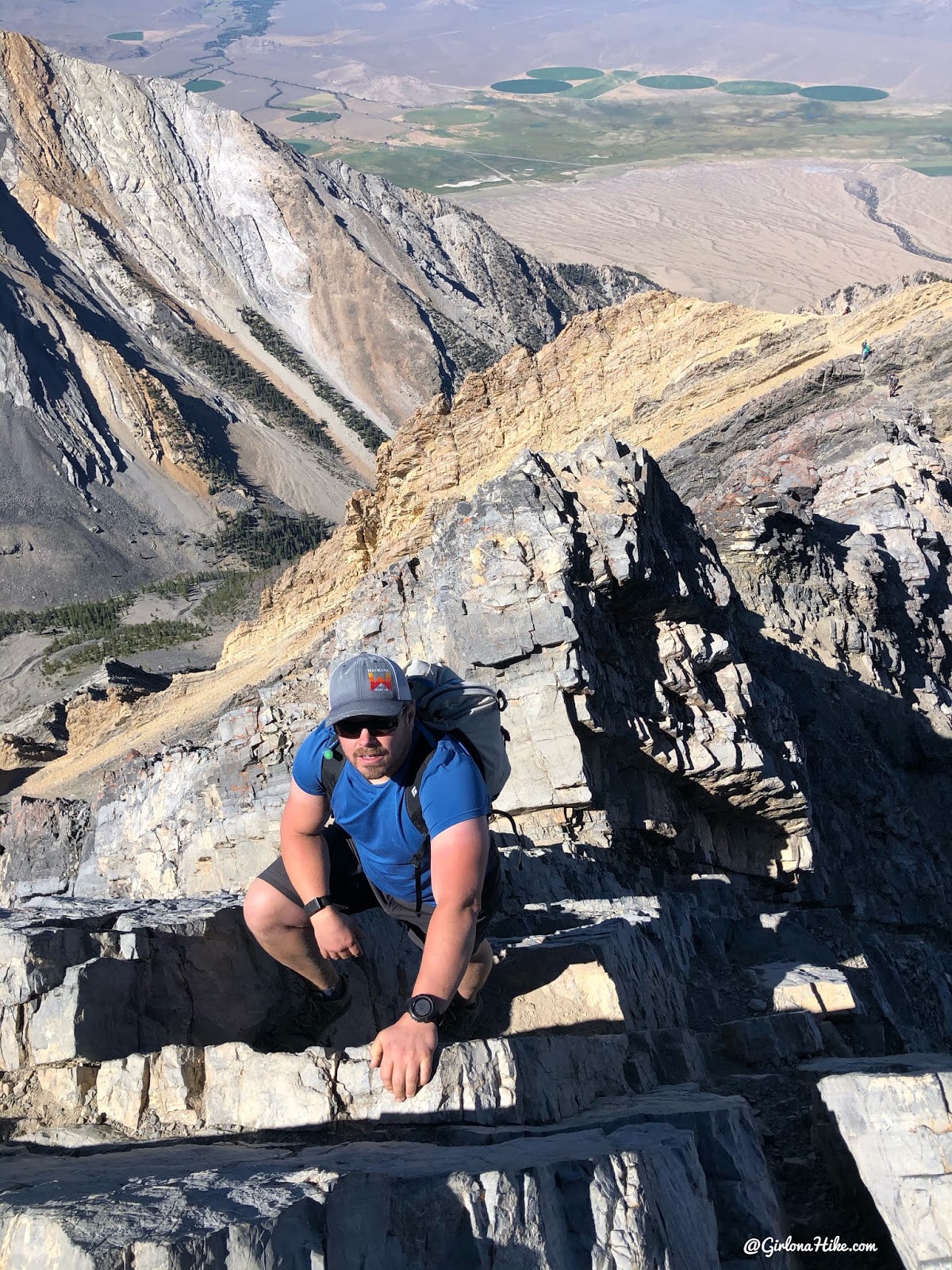 Since we accidentally bypassed COR on the way up, we took it down! It's really big step-like features, you can't fall off. When I saw photos from other people doing it, it looked kind of scary, but it wasn't bad at all. To put it into perspective though, Ian and I have done a lot of ridges and big peaks. I think if you've never done a hike similar to this before it will be scary and hard, but not if you have experience in this kind of terrain.
Couldn't believe hikers were still coming up this late in the morning. We both agreed 5am was a perfect start time to not only beat the heat, but the 80 or so hikers we passed on the way down.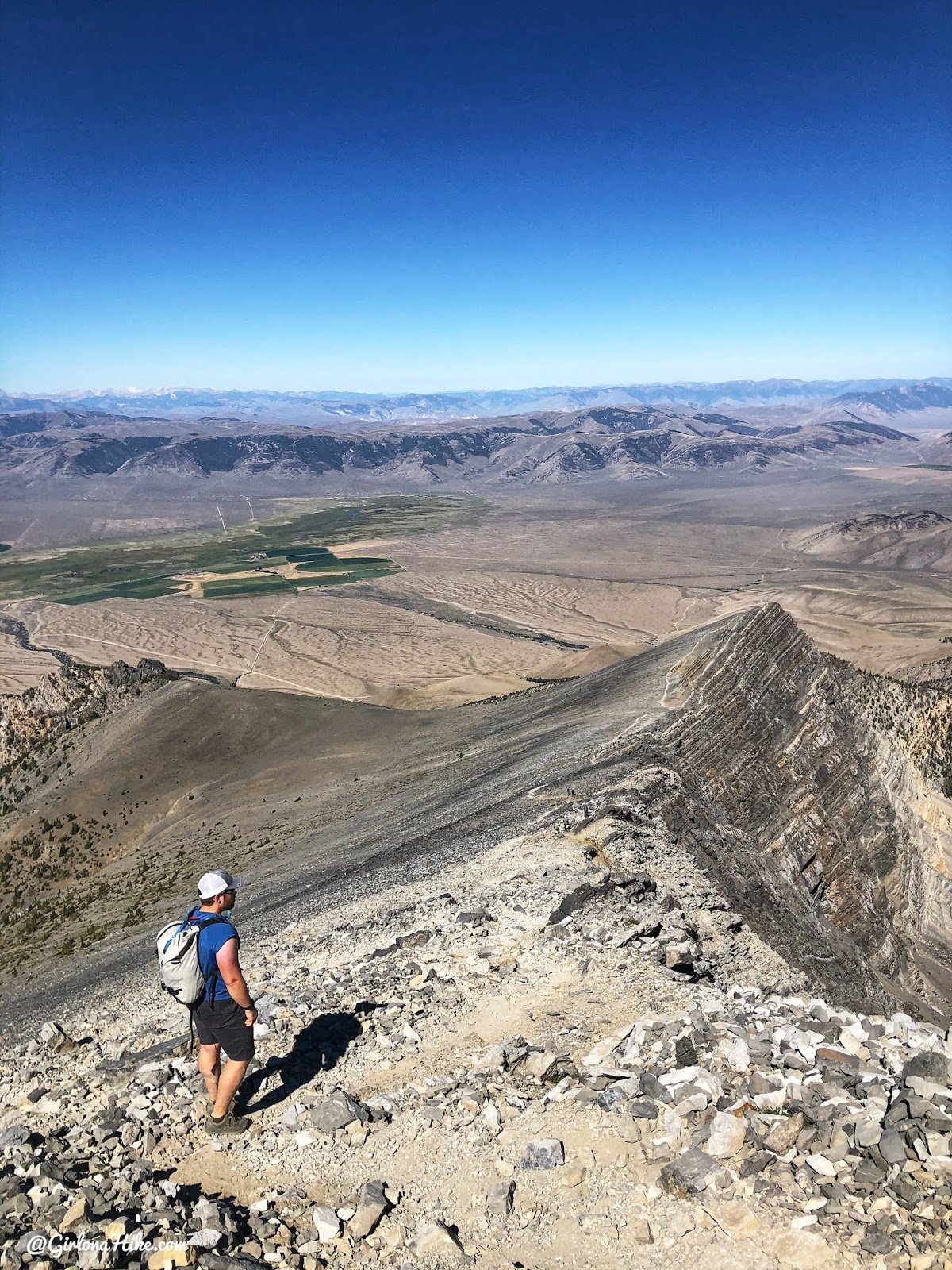 Can't get over these views! What a great day!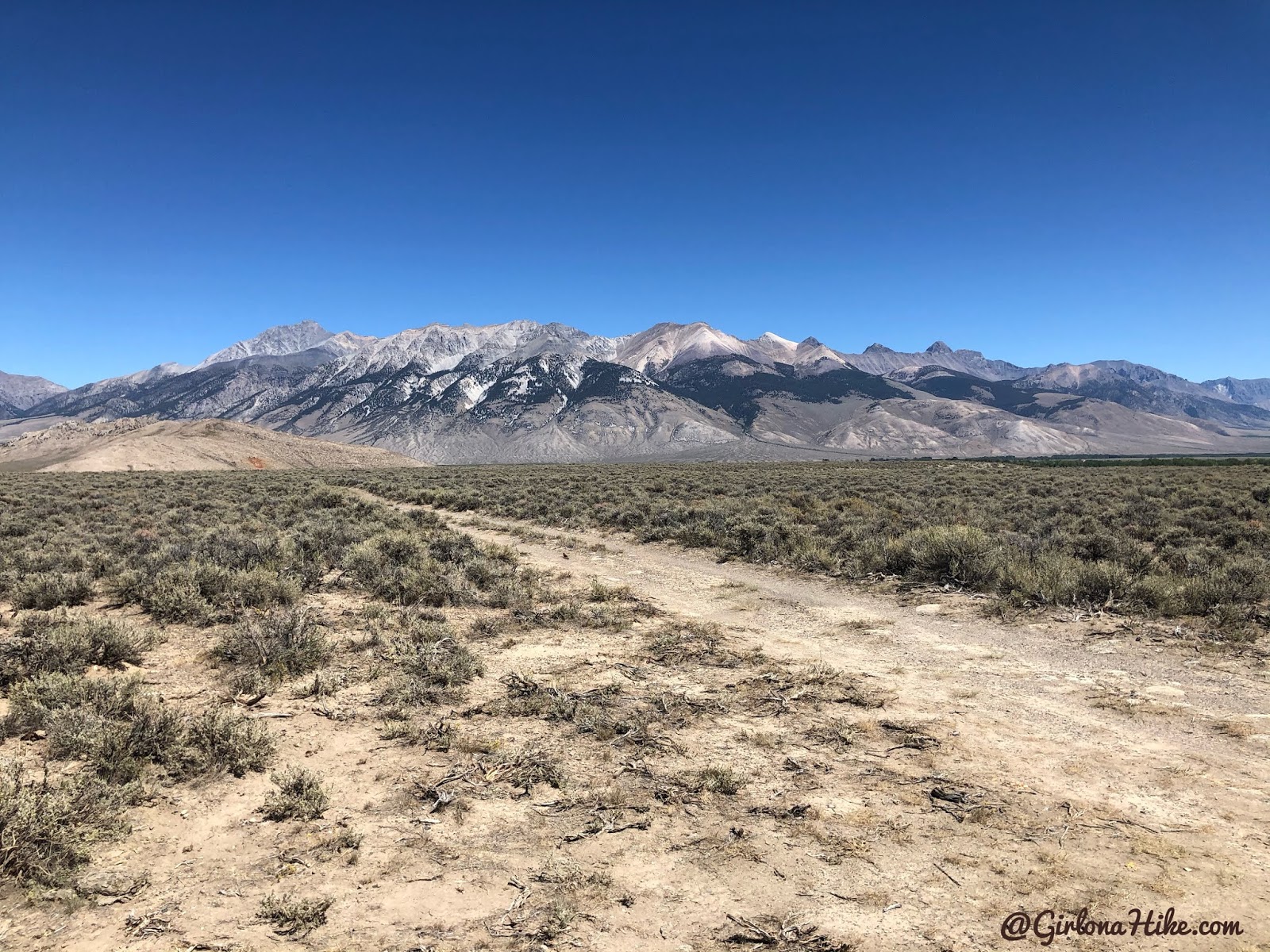 The Lost River Range from a distance (Mt.Borah far left). So cool that we hiked Idaho's tallest point!
Check out my video!
Trail Map
My track via Gaia GPS – the best tracking app! Get your app here for a discount.
Recommended Gear
Nearby Hike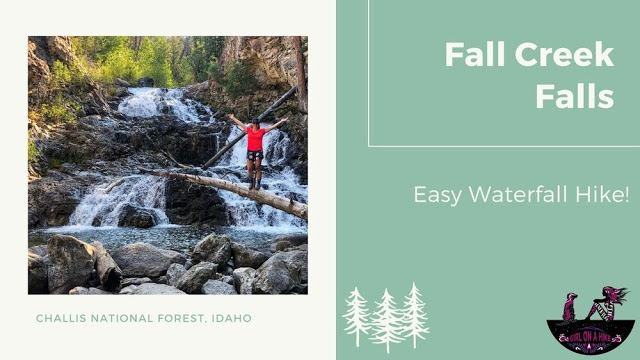 Save me on Pinterest!