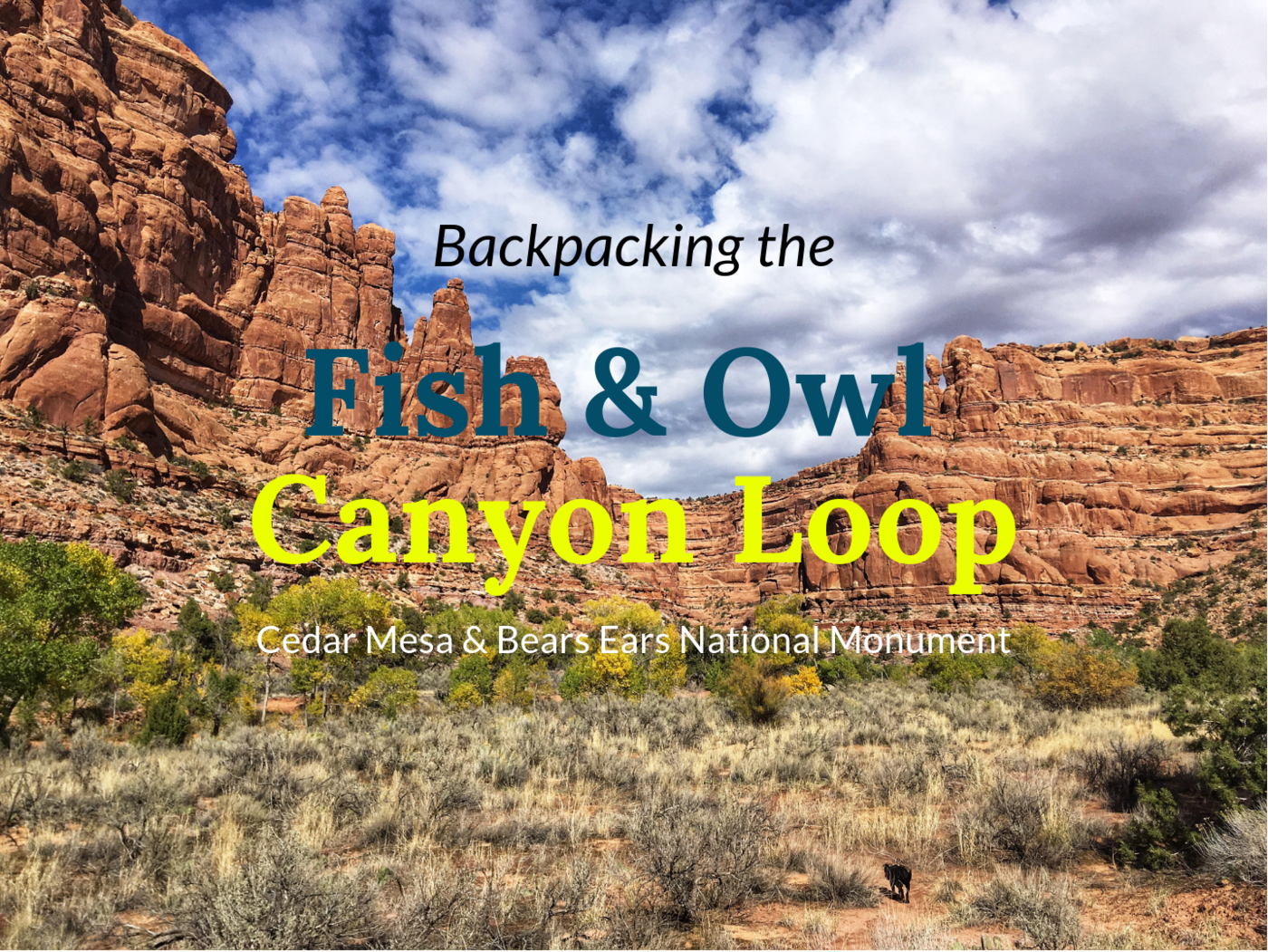 Backpacking Fish & Owl Canyons, Cedar Mesa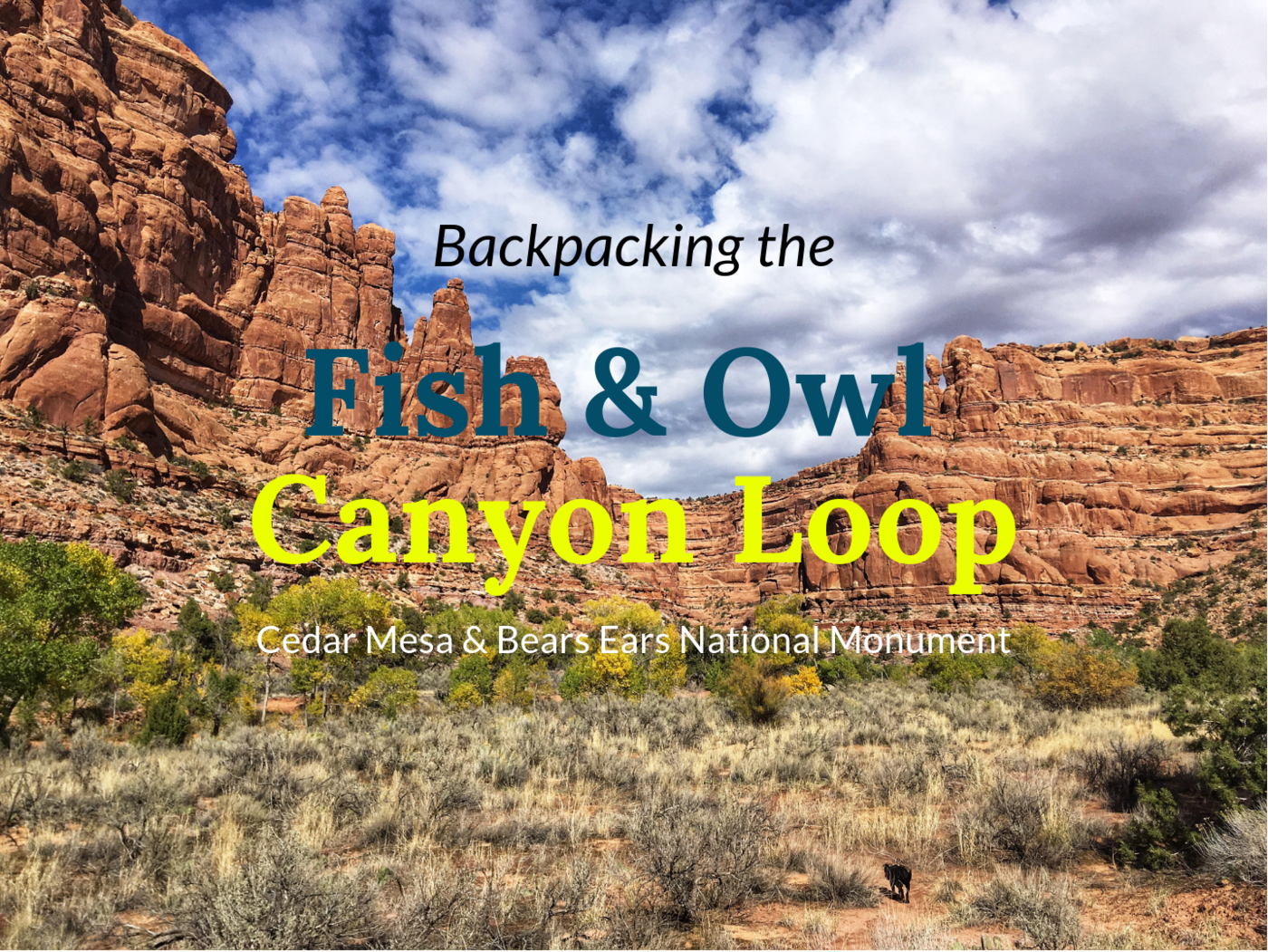 Fish and Owl Canyons, located in the Cedar Mesa area of Bears Ears National Monument, is a popular loop hike for backpackers looking to discover ancient ruins and kivas, hike through desert terrain, visit Neville's Arch, and explore two scenic, deep canyons. This area is recommended for intermediate to advanced backpackers due to the distance, rugged terrain, light route finding and scrambling.
About
This area was getting so popular in the 1990's and early 2000's that the BLM had to enforce a permit system – today only a total of 20 people (plus dogs) may be in the canyon at one time. This gives the canyons a very peaceful and solitary feel. On the other hand, this means that there is zero cell service, and the closest ranger station is about 10-15 miles away so you need to be fully self-sufficient. Owl Canyon tends to be dry most of the time, unless there are recent rains. Be prepared to carry water for 7 miles. Fish Canyon, on the other hand, typically has water, though the ponds may be stagnant. The best advice is to top off when you see a pool of water.
There are three ways you can choose to hike this loop.
1) Clockwise: Hike down Fish Canyon, and up Owl Canyon (the most popular). By going this way, you will need to down-climb a 10 ft section of slick rock. You will also descend about 900 ft to the canyon floor in around 1 mile.
2) Counterclockwise:  Hike down Owl Canyon, and out Fish Canyon (our route). By going this way, you will need to climb up a 10 ft section of slick rock. You will also descend about 700 ft to the canyon floor in around 3 miles (easier than the first option).
3) Start at the East Entrance near Comb Wash (the longest route, least popular). This route adds on about 7-8 miles one way, so if you complete the loop as well, this would be a 31-33 mile RT hike (plus your own exploring).
Directions
Here's a driving map from SLC. Total drive time is about 5.5-6 hours one way. The last stop for gas/services is in Hanksville, UT.
GPS of the Kane Gulch Ranger Station:
37.524152,-109.8972302
GPS of the trailhead:
37.4749836,-109.819802
Trail Info
Distance: 17 miles (loop)
Elevation gain: 760 ft
Time: 1 night minimum
Dog friendly? Yes (see notes below)
Kid friendly? Maybe, see notes below
Fees/Permits? Yes, you do need a backcountry camping permit. Reservations are highly encouraged and are $8/person. A maximum of 20 people are allowed in the canyon at one time, so they do sell out. You can also try to get day-of permits, but aren't guaranteed due to high visitation to this canyon. Day permits are also available and can be picked up and purchased right at the TH.
Reserve a Backpacking Permit Here
FAQs
When is the best time to backpack here?
April & October seem to be the best months – the temperatures aren't too hot, and in Spring the desert flowers are in bloom. Summer months are extremely hot and dry, along with monsoon season; winter is cold along with high winds. Due to the quick changes in weather, be aware of flash flood danger.
Can I bring my dog here? Is this a good trail for them?
Yes, dogs are allowed. Technically they are required to be on-leash the entire time, however certain areas are more safe to take them off leash (for example climbing down certain areas of the canyon). Dogs should be able to hike for long distances and over sandy terrain. Dog poop is not required to be packed out. The sand can get really hot on paws, so I recommend bring dog booties and a doggie first aid kit just in case.
Is this kid friendly?
Not for younger kids, but teenagers who have backpacking experience and can carry their own weight & water should be fine.
How deep is the water? Is there a good water source to filter from?
Owl Canyon is mostly dry, unless there are recent rains. Be prepared to carry enough water for 7 miles to the Owl/Fish confluence. Fish Canyon typically has a small stream year-round, but the water source may be from pockets of old water.
Can I hike this in either direction?
Yes, definitely! You really can't go wrong with either direction, however hiking in the opposite direction of what we did will be a steeper downhill, and requires going down the 10 ft crack. For us, we felt better hiking up the crack and was easier to push the dogs up above us, rather than lower them. It really depends on preference and comfort level.
Make sure you download a map of the area onto your phone, or have a paper map available.
How hard is the trail?
This depends on your experience, fitness level, pack weight and weather. There's one small technical area (a 10 ft crack to climb) in this route, but hiking through sand, brush, and slickrock are required. You should have a few backpacking trips under your belt, and be comfortable carrying up to 30-40 lbs for hours on end. As always, the lighter your pack, the easier your hike will be.
More weight = harder hike.
Can I just do this as a day hike?
Yes! Day permits are available as well, but again, reservations are recommended. Plan on spending a full day for a day hike. If you hike at a 30 min/mile pace, plan on 8-10 hours of hiking plus time for exploring the ruins and little side trails. Start really early in the morning to beat the heat, and I would still recommend carrying a water filter.
Will I need a shuttle?
Because this is a loop hike, you will not need a shuttle. However, a higher clearance car is needed to reach the trailhead, down the 5 mile dirt road.
What guidebook do you recommend?
We used two books for this route. We read both and combined the information to make the most of our trip. This map is also helpful. We never carry books while backpacking obviously, so we took photos on our phone so we'd have the info with us on the hike.
Day 1
Distance: 5 miles
Elevation: 1,847 ft descent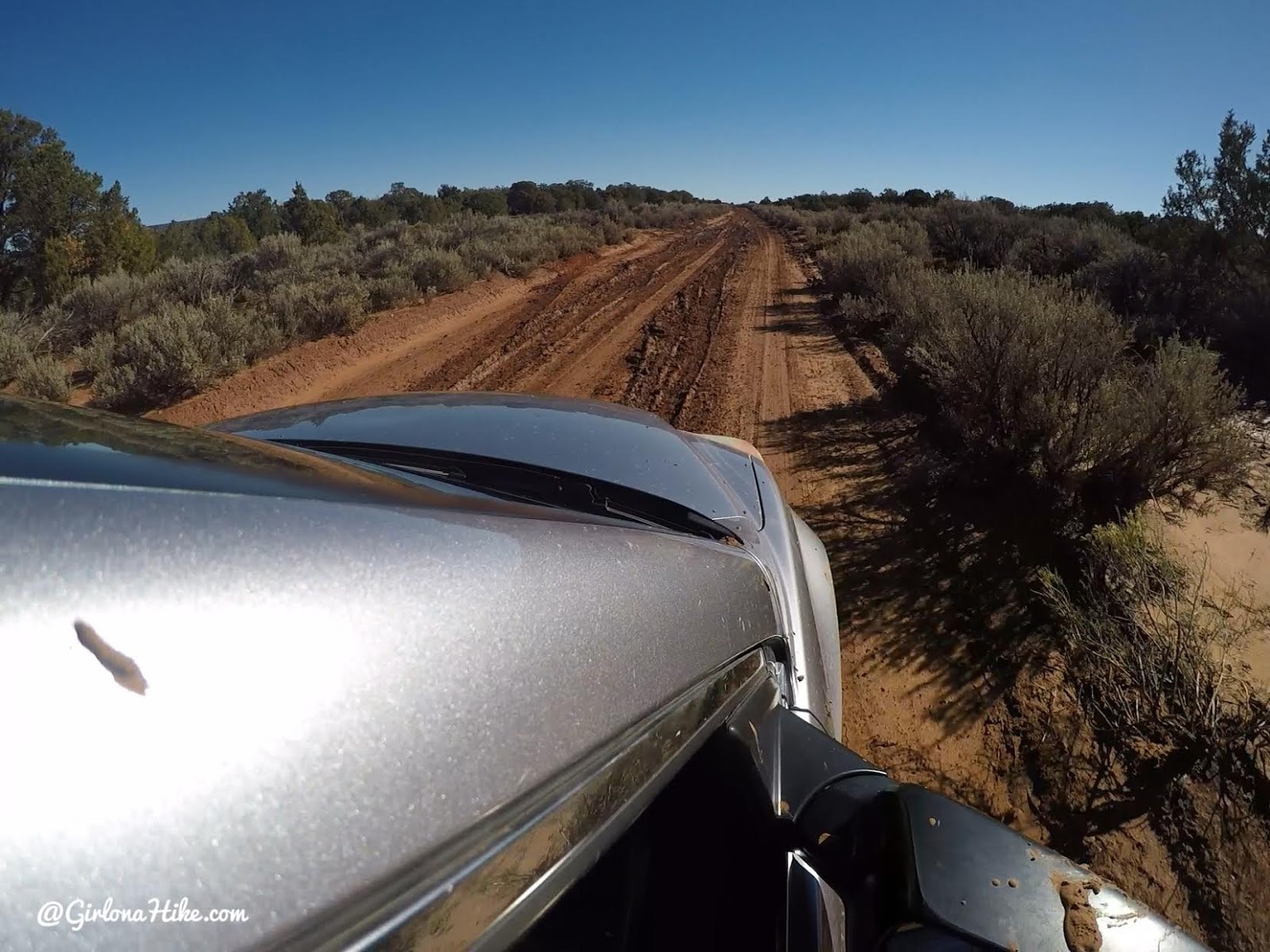 The road leading to the TH can be quite bad – especially after heavy rains like we experienced. It was so bad our car was sliding around. We were told that the road was better past the first 1/2 mile so we did our best to get through the mud puddles and as expected the road did improve and we made it safely in our CR-V. Most of the time this road is dry, but it's still a good idea to drive an SUV or larger.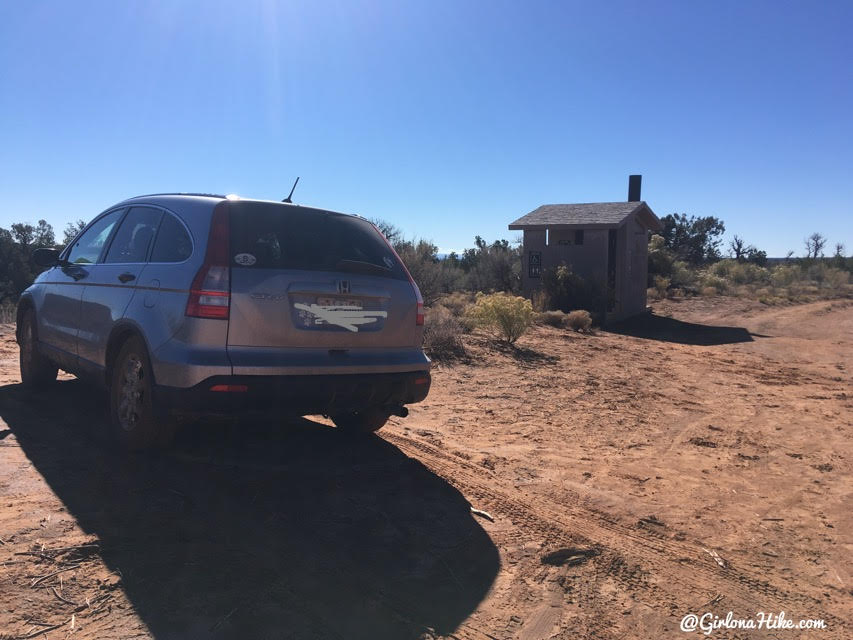 The TH has about 20 parking spaces and port-a-potty.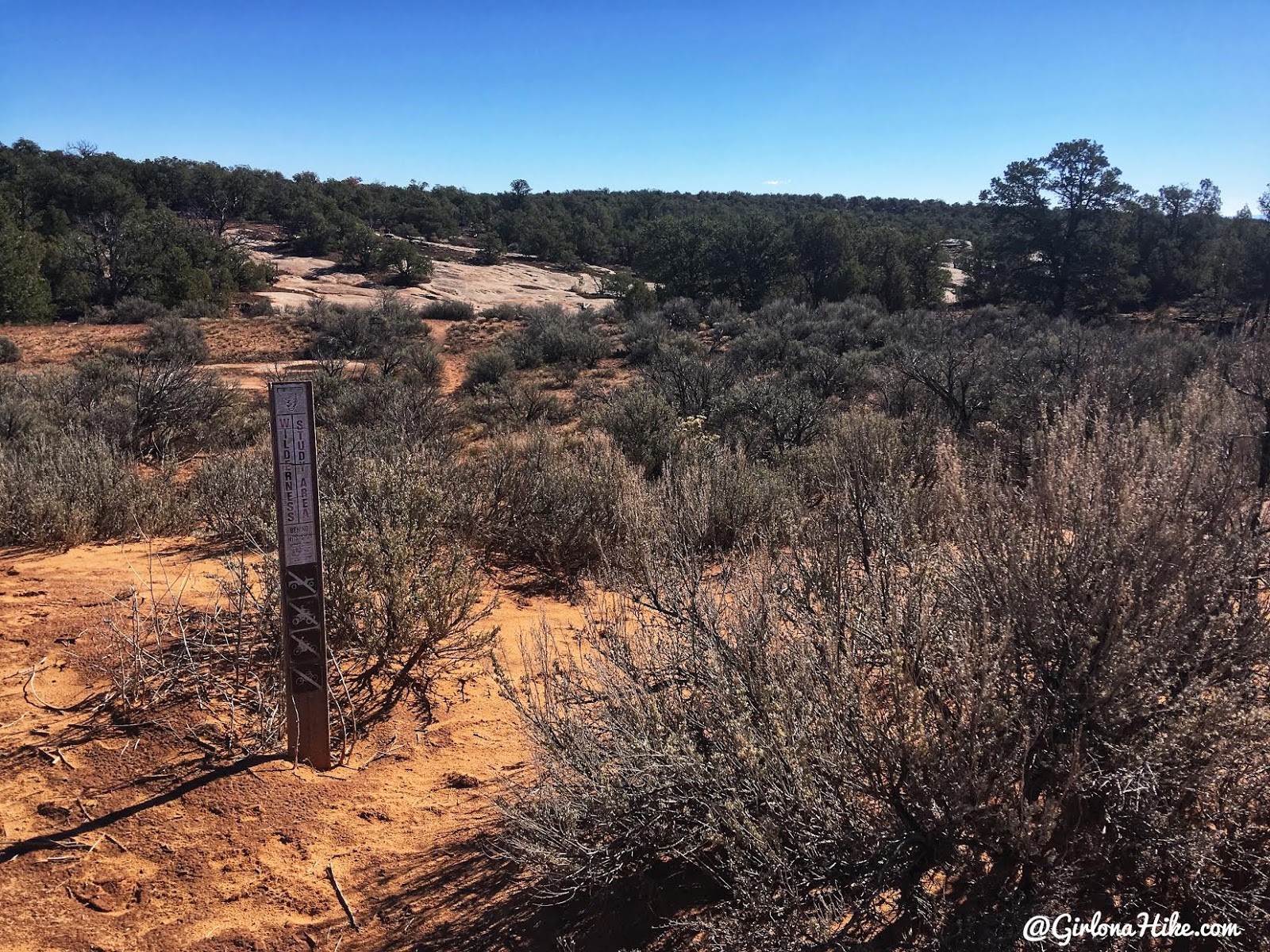 Start by following the brown wilderness signs. Within 2-3 minutes you'll walk through what seems like a dry stream bed with cairns.
 Keep an eye out for another brown trail sign. This is the last one you'll see for awhile. From here you'll need to rely on cairns and/or your map.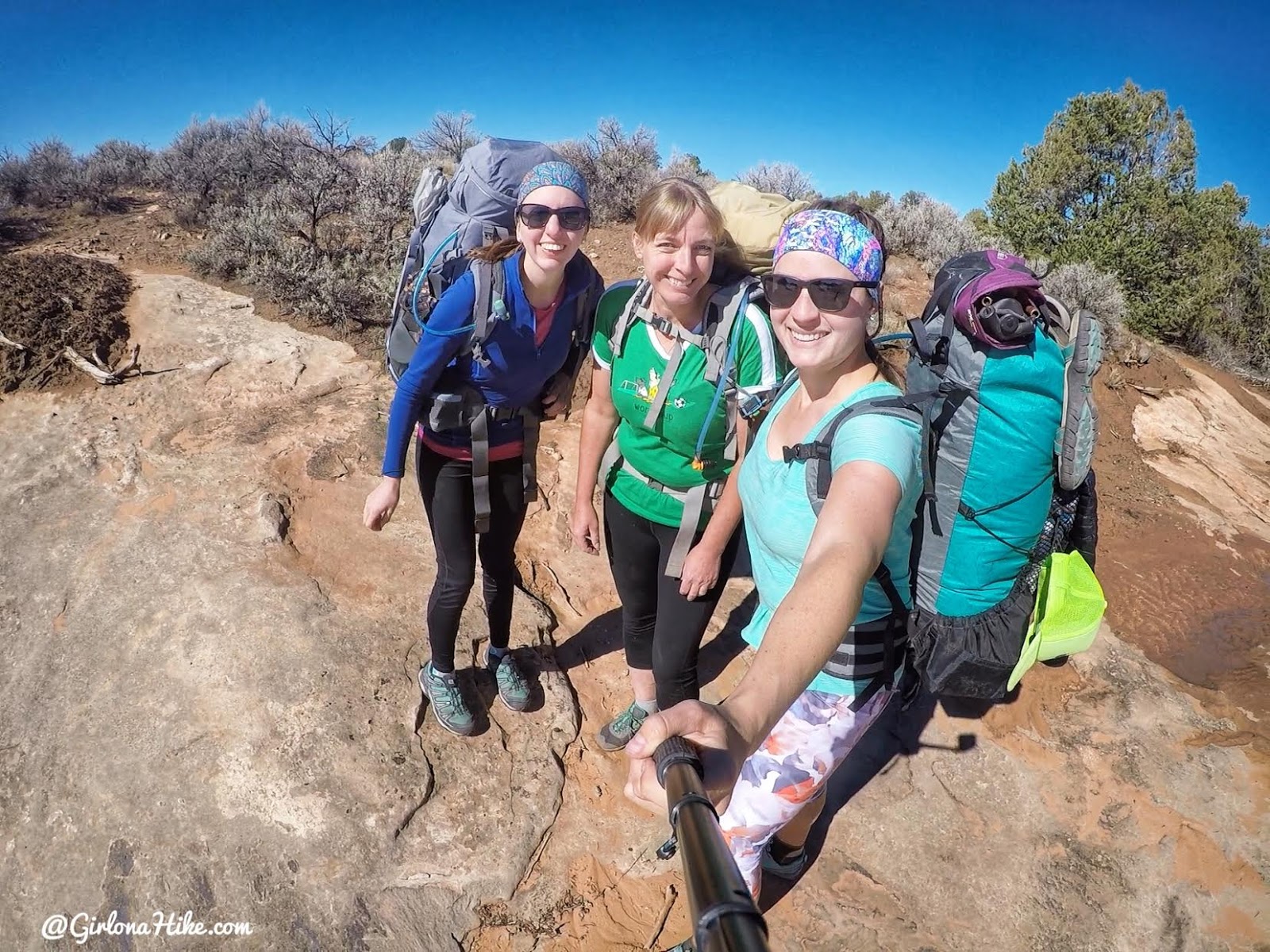 Girls trip woot woot! Check out what pack I'm using here!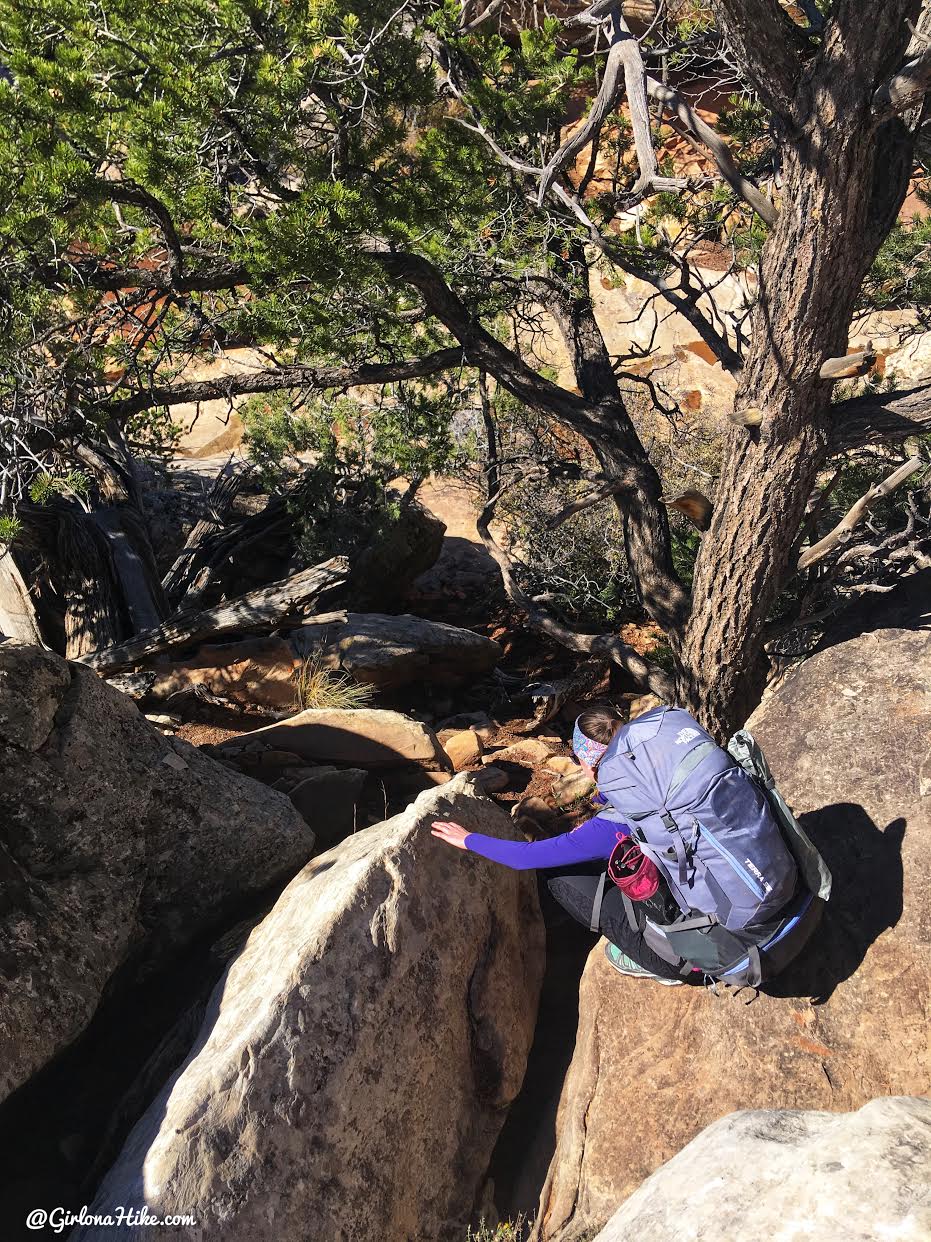 Time to start our descent! Heather leads the way.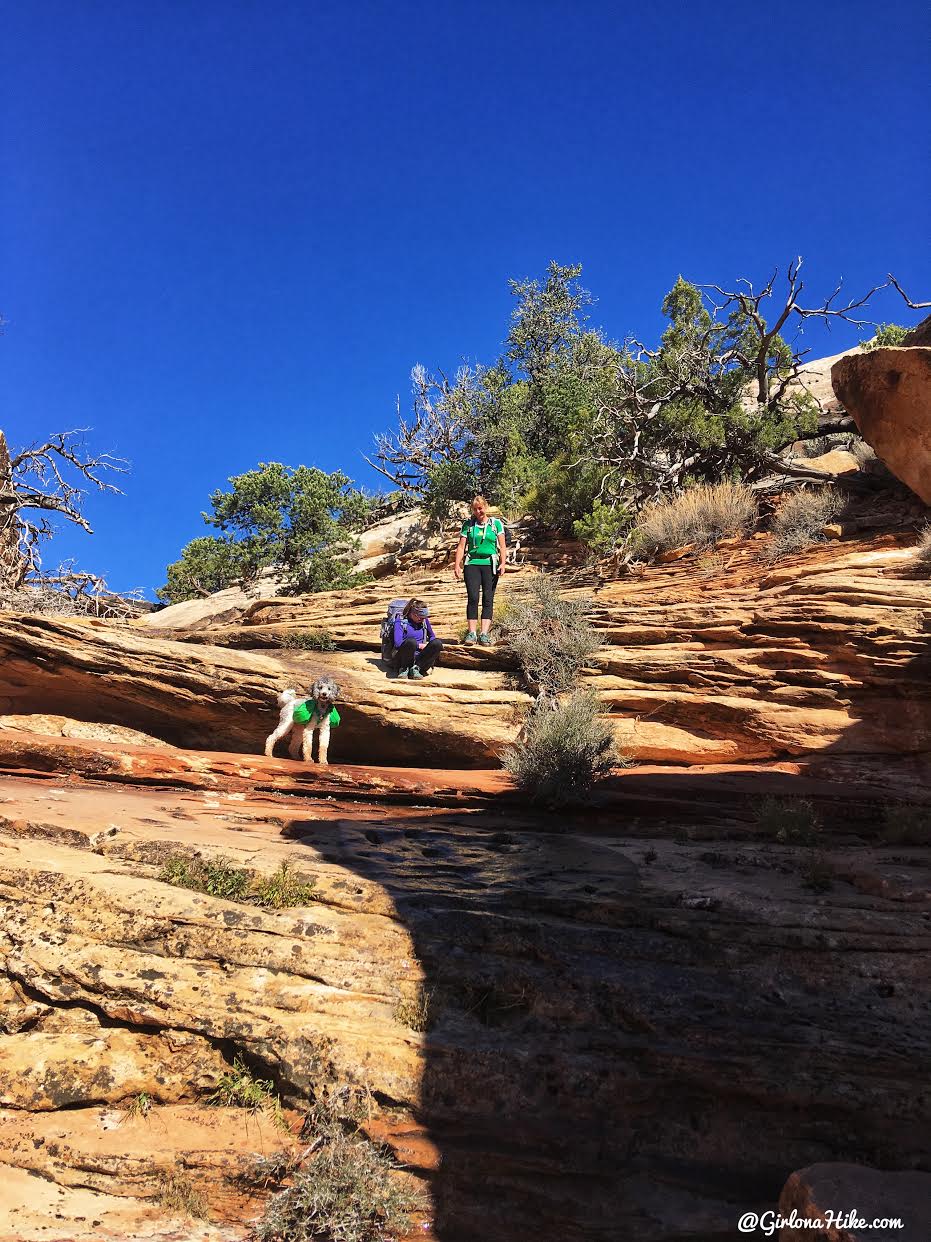 This is where you'll want to take the dogs off leash, so they can safely hop down ledges without pulling you with them.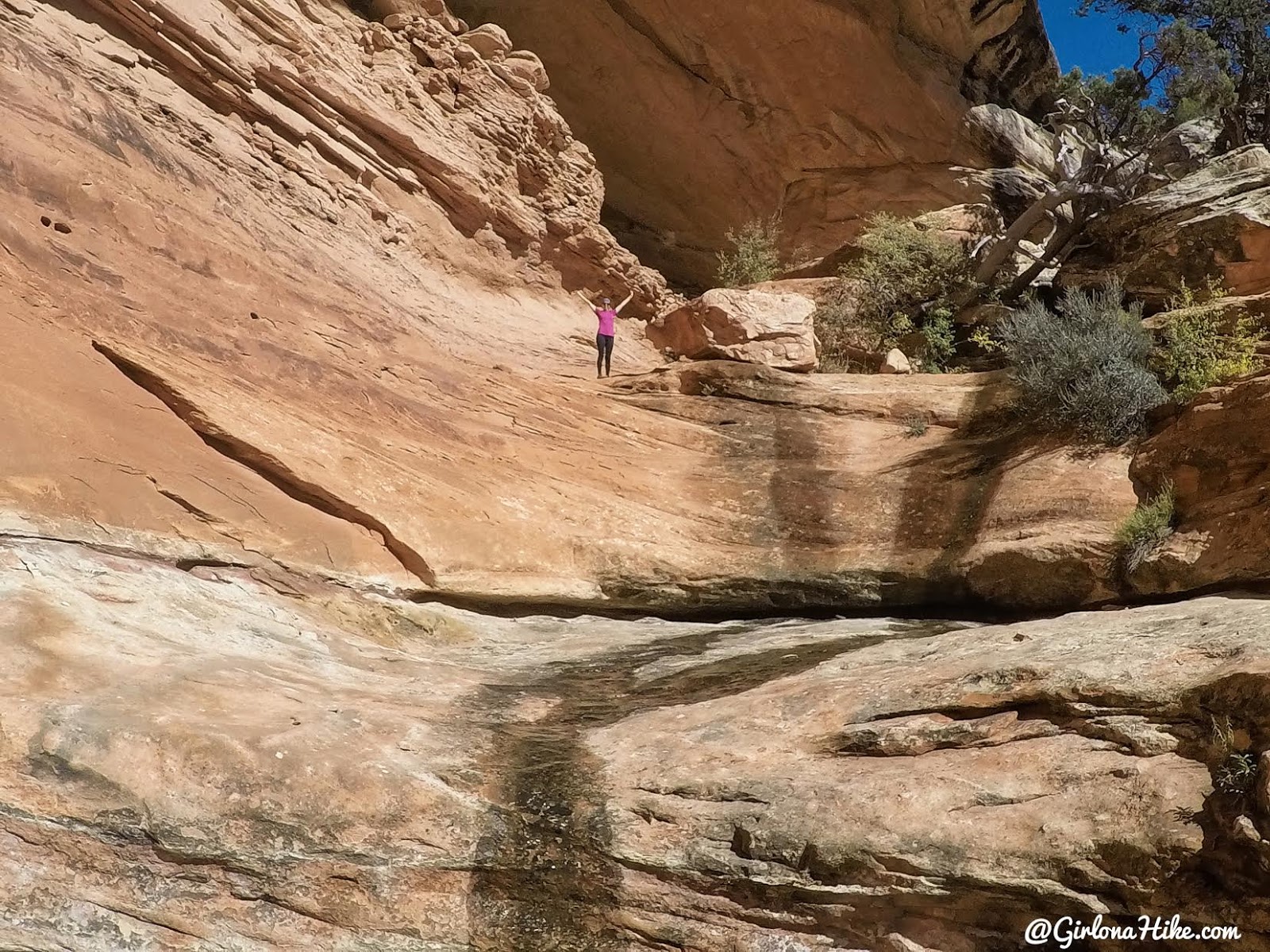 Finding our first ruins within 15 minutes of hiking.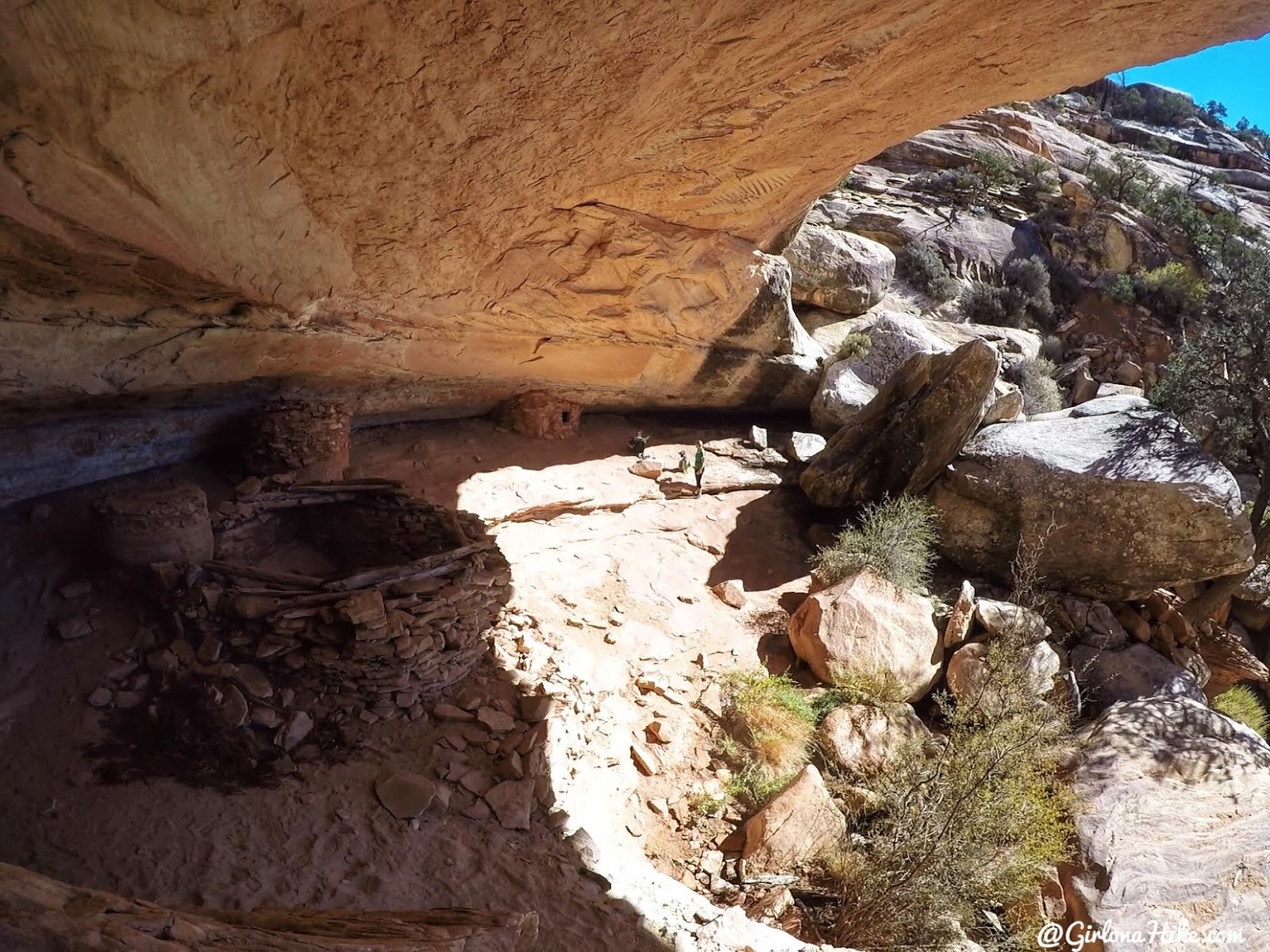 This was probably the best one we saw the entire trip. Starting off with a bang!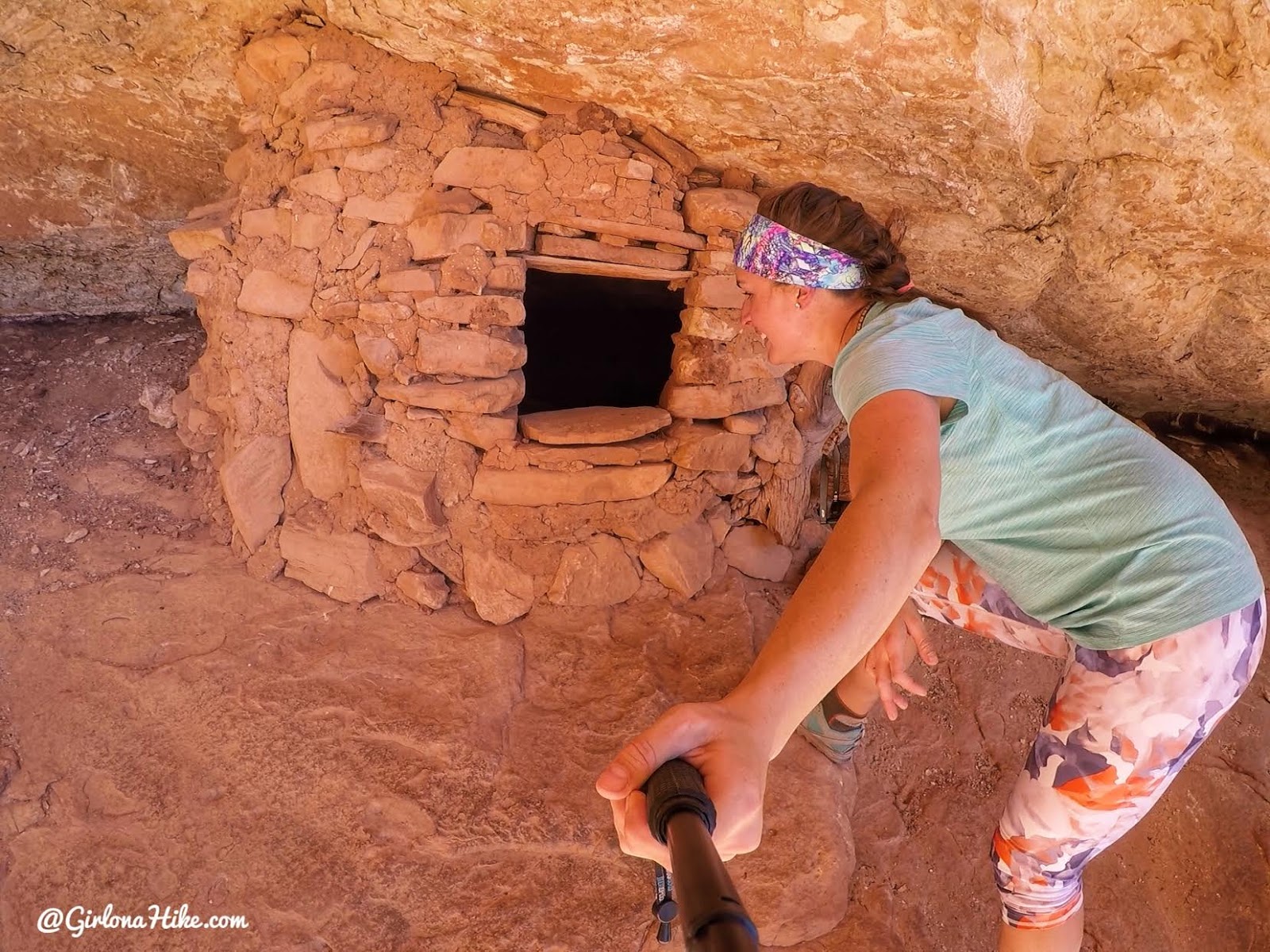 How in the world did they fit anything in here!? The opening was so tiny!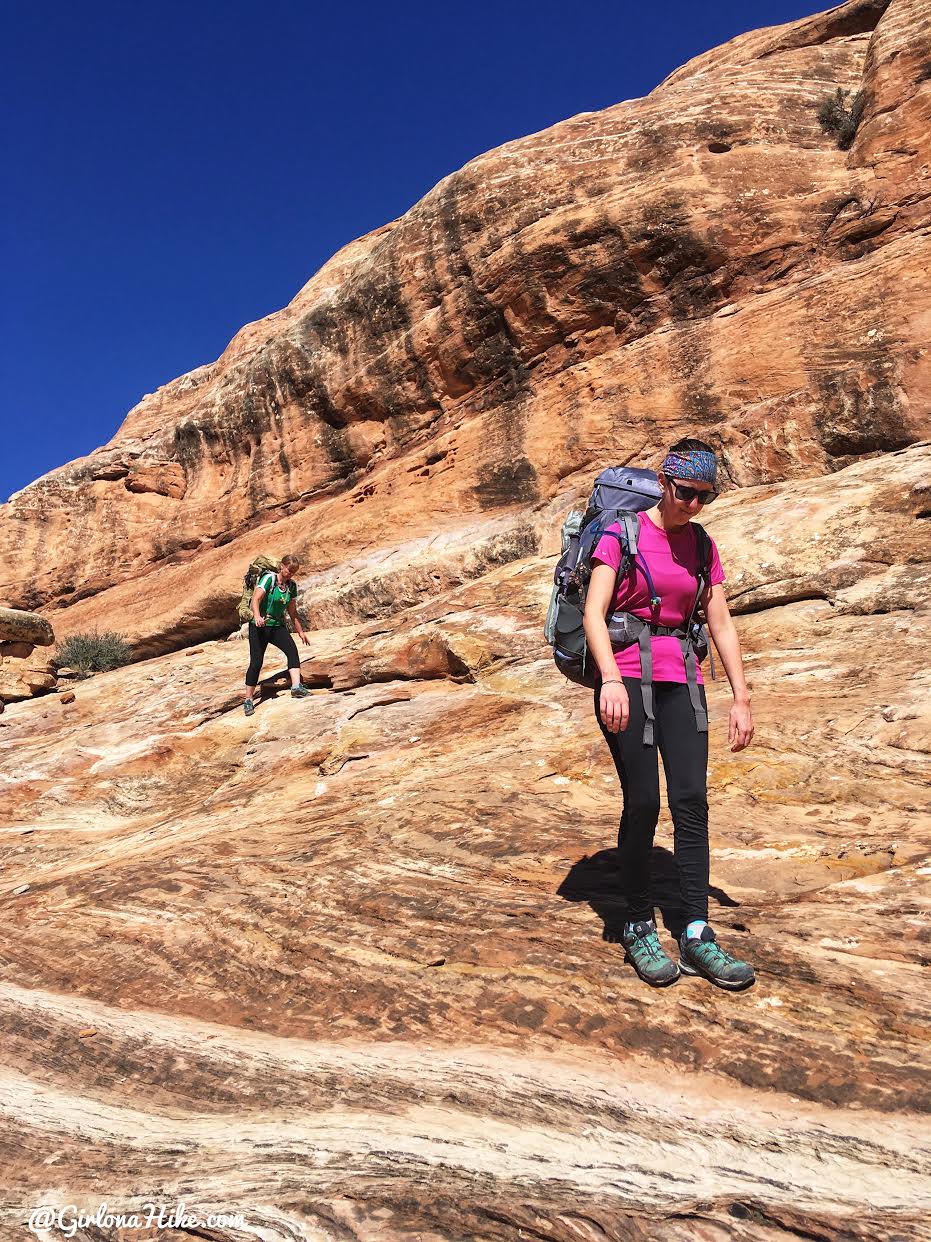 Continuing down-trail over slick rock. By mid-day it was already in the mid 60s – a perfect backpacking temperature for October!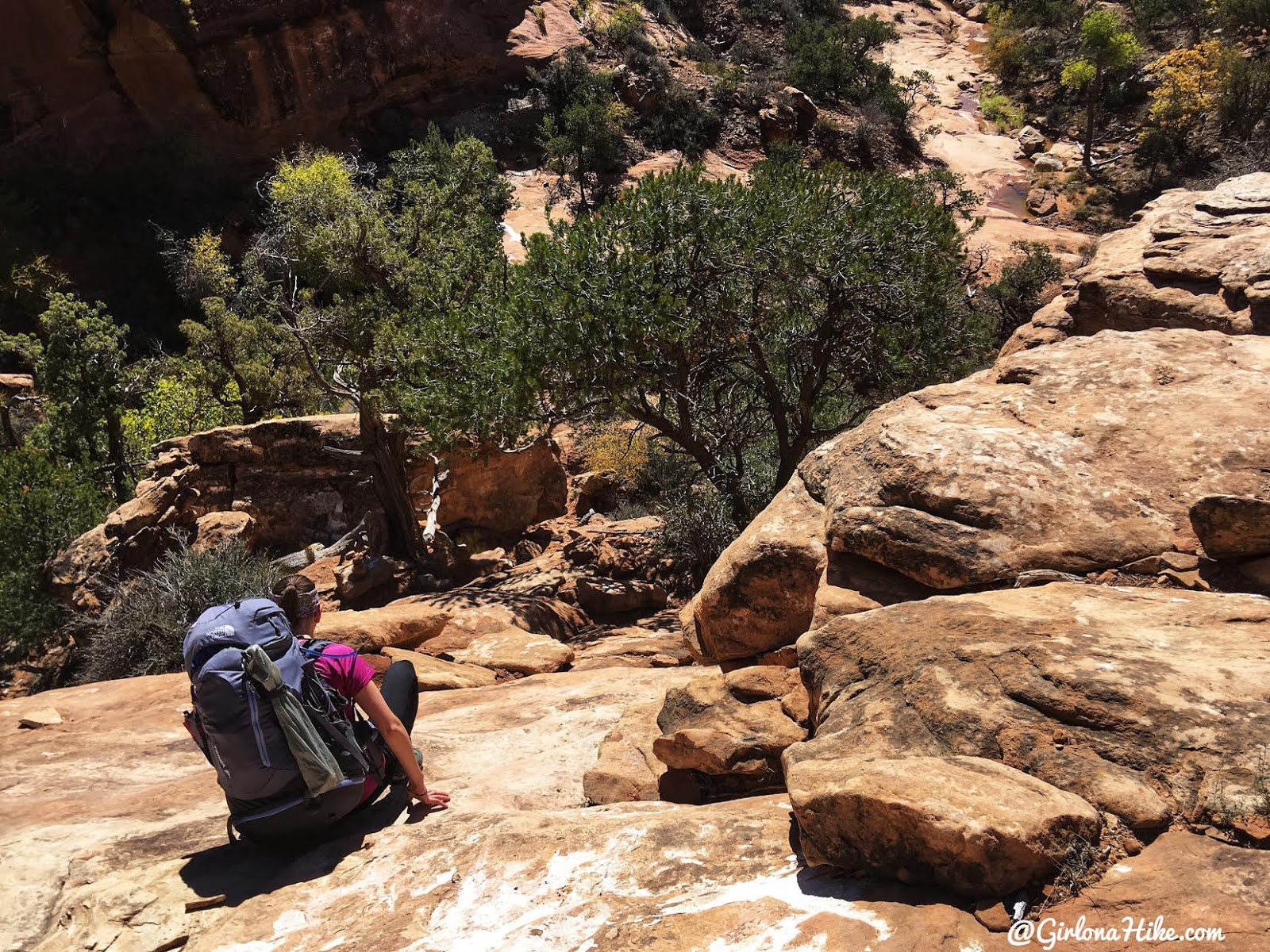 Most of the slick rock you can just walk down, but sometimes its a little safer to butt-scoot down.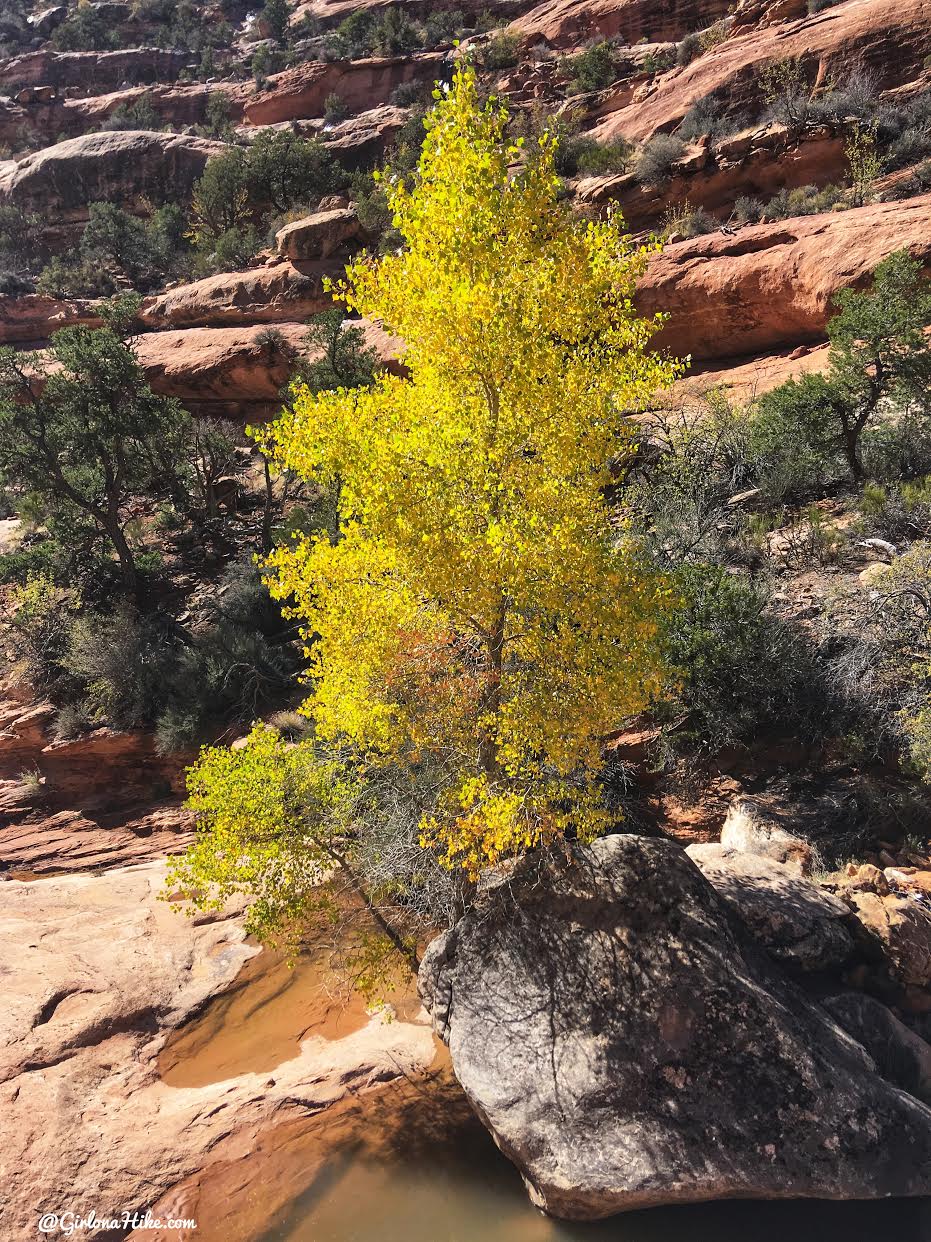 Amazing Fall colors in the canyon!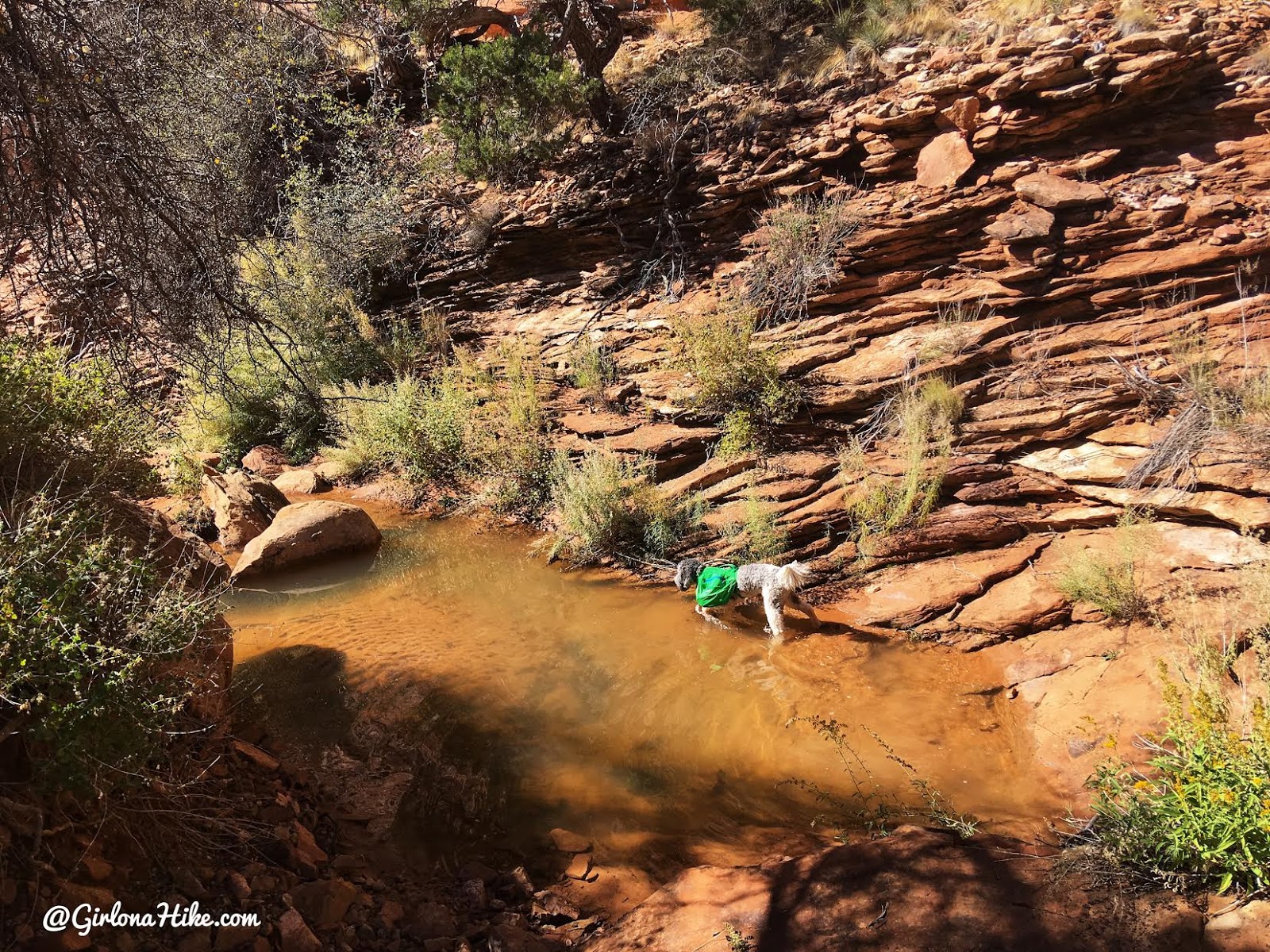 Thankfully because of the recent heavy rains, there were puddles everywhere for the dogs to drink from and to cool off their paws.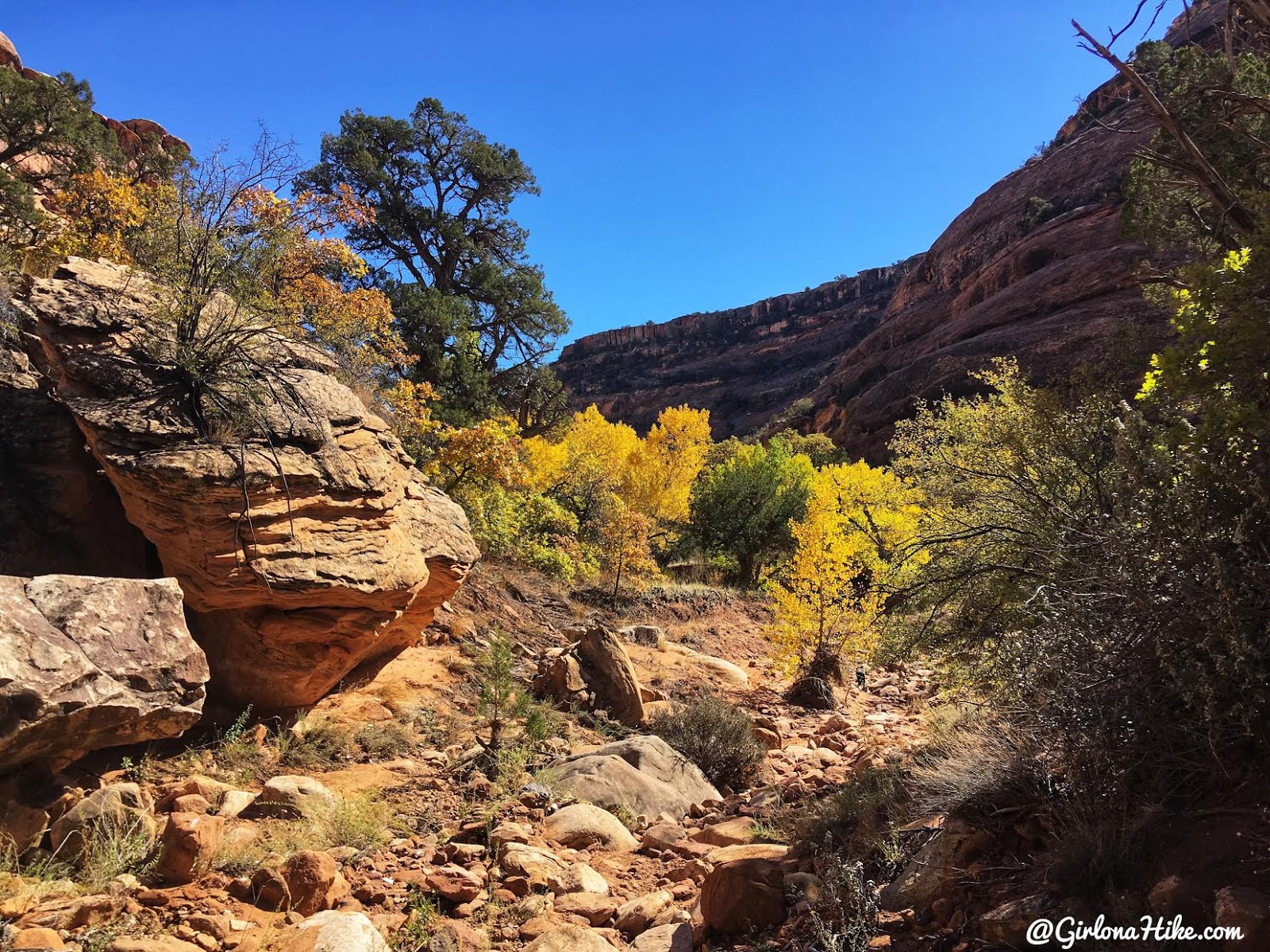 Finally at the bottom of Owl Canyon.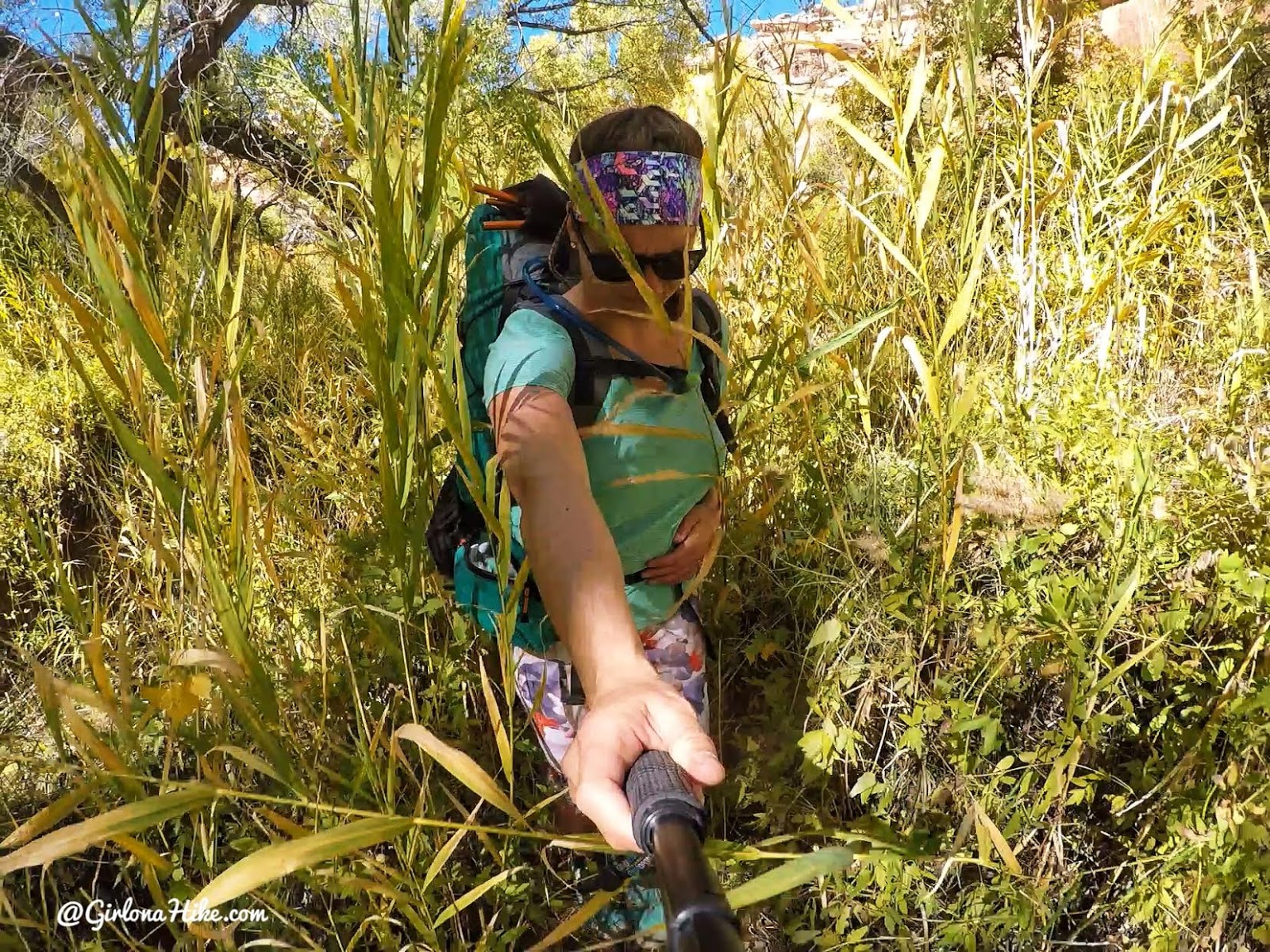 About 40% of the time you will be bushwhacking through very tall grass. Wearing sunglasses or a hat will help protect your eyes from getting whacked. I also highly recommend wearing full pants. I had on capris and my calves got very scratched up.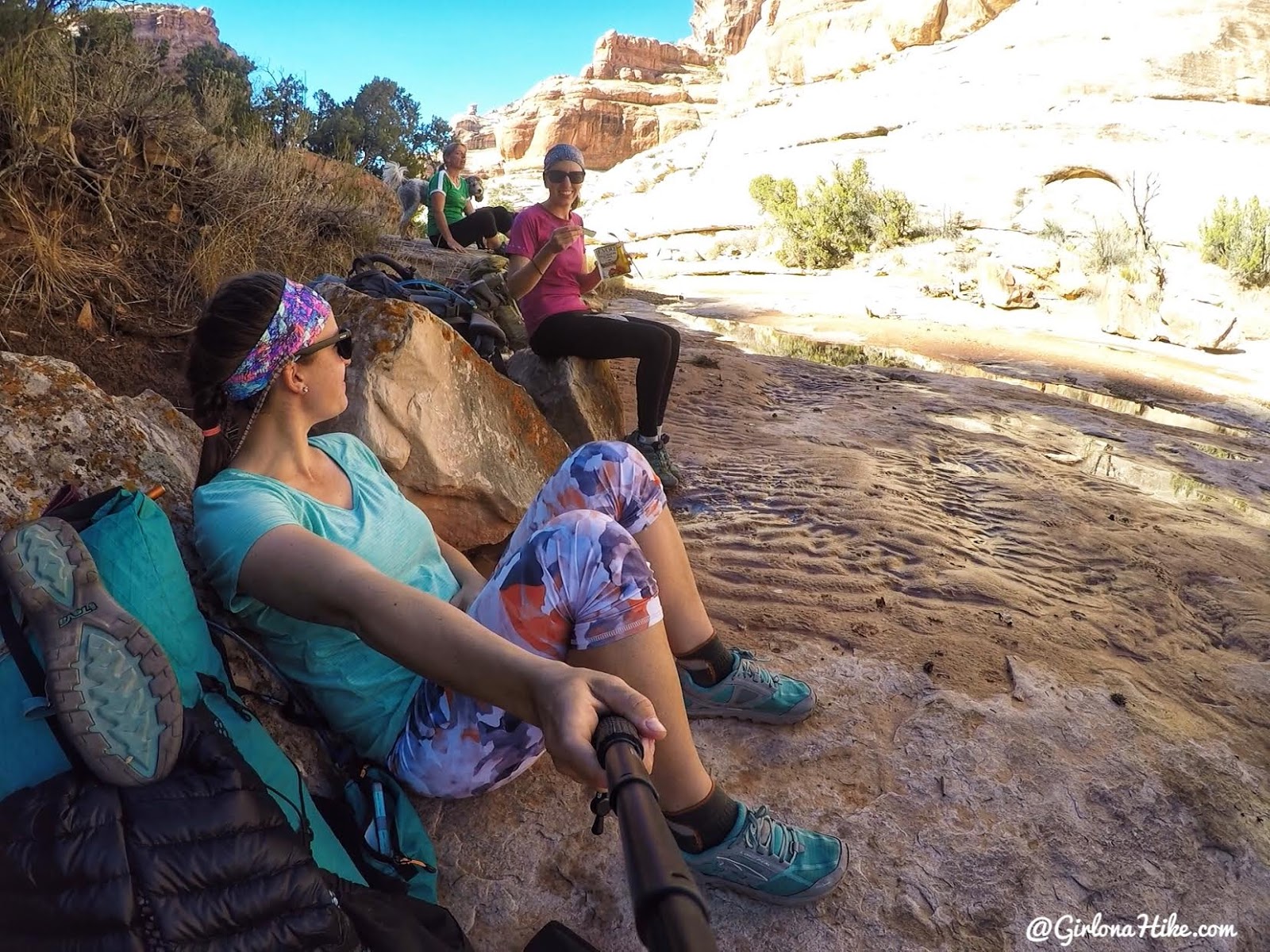 Taking a snack break in the shade.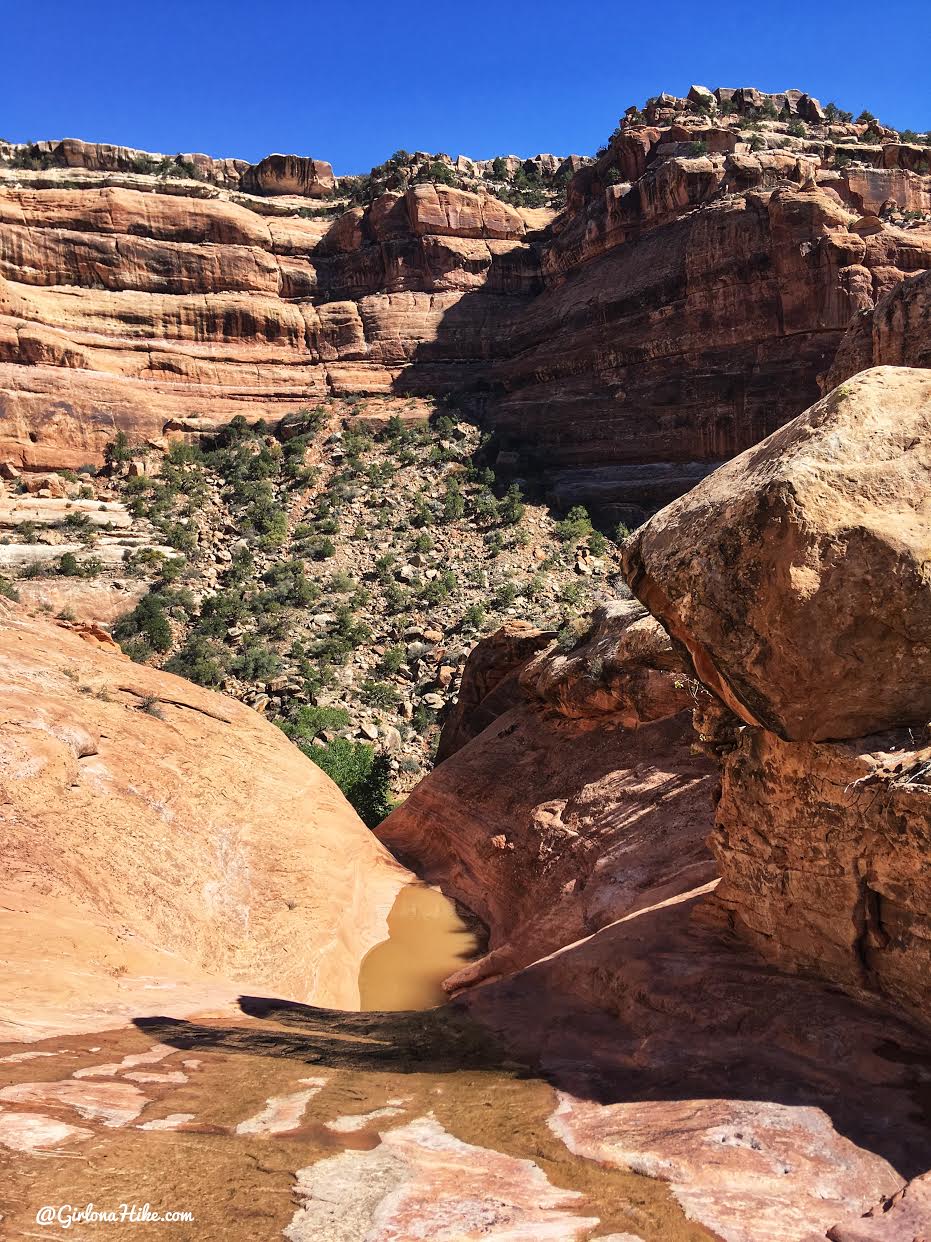 The first and biggest "waterfall" – though on the dry side.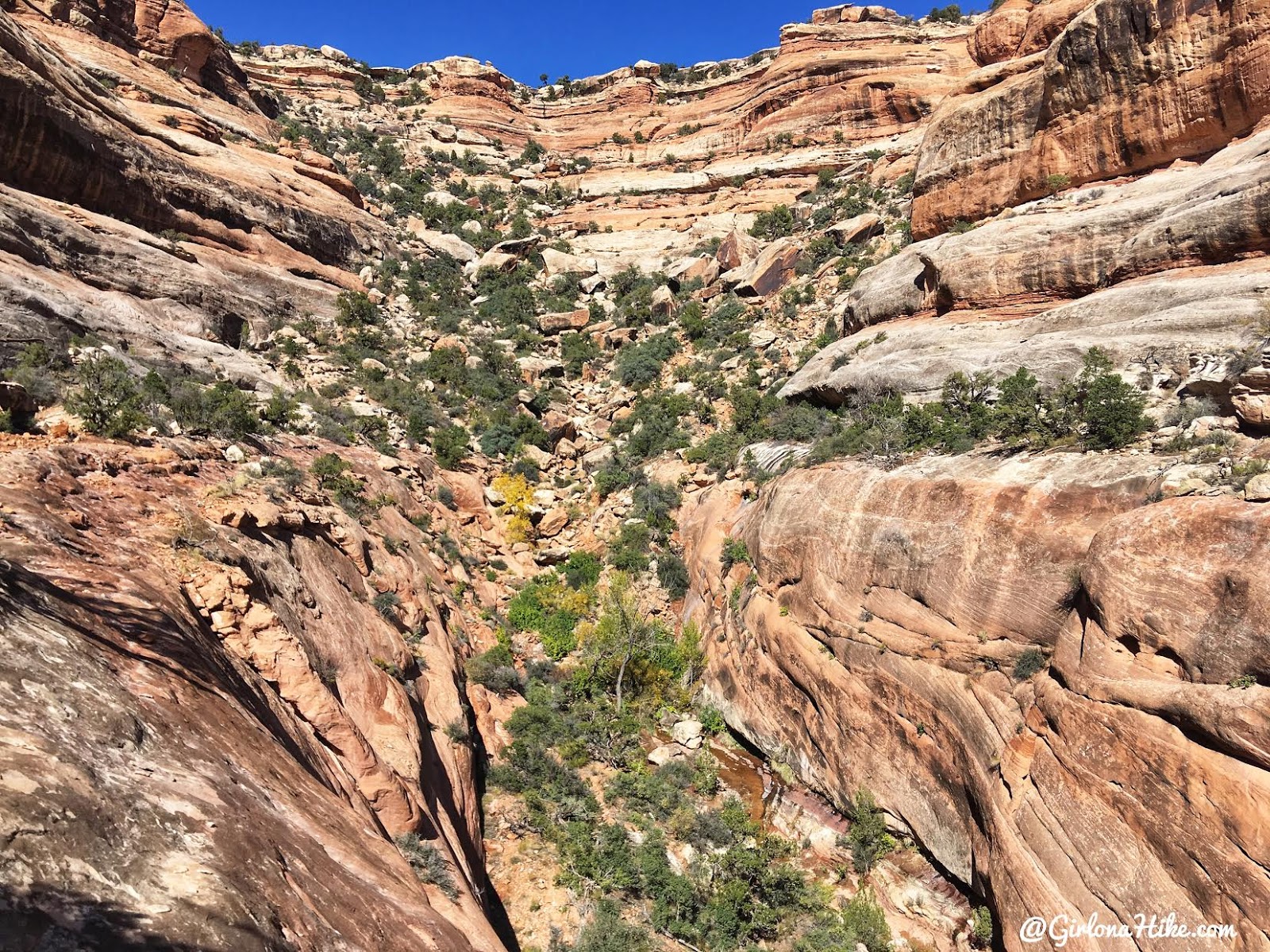 The trail will guide you around the waterfall so that you get to the bottom of it safely. You'll end up hiking along this ledge, then down through those trees.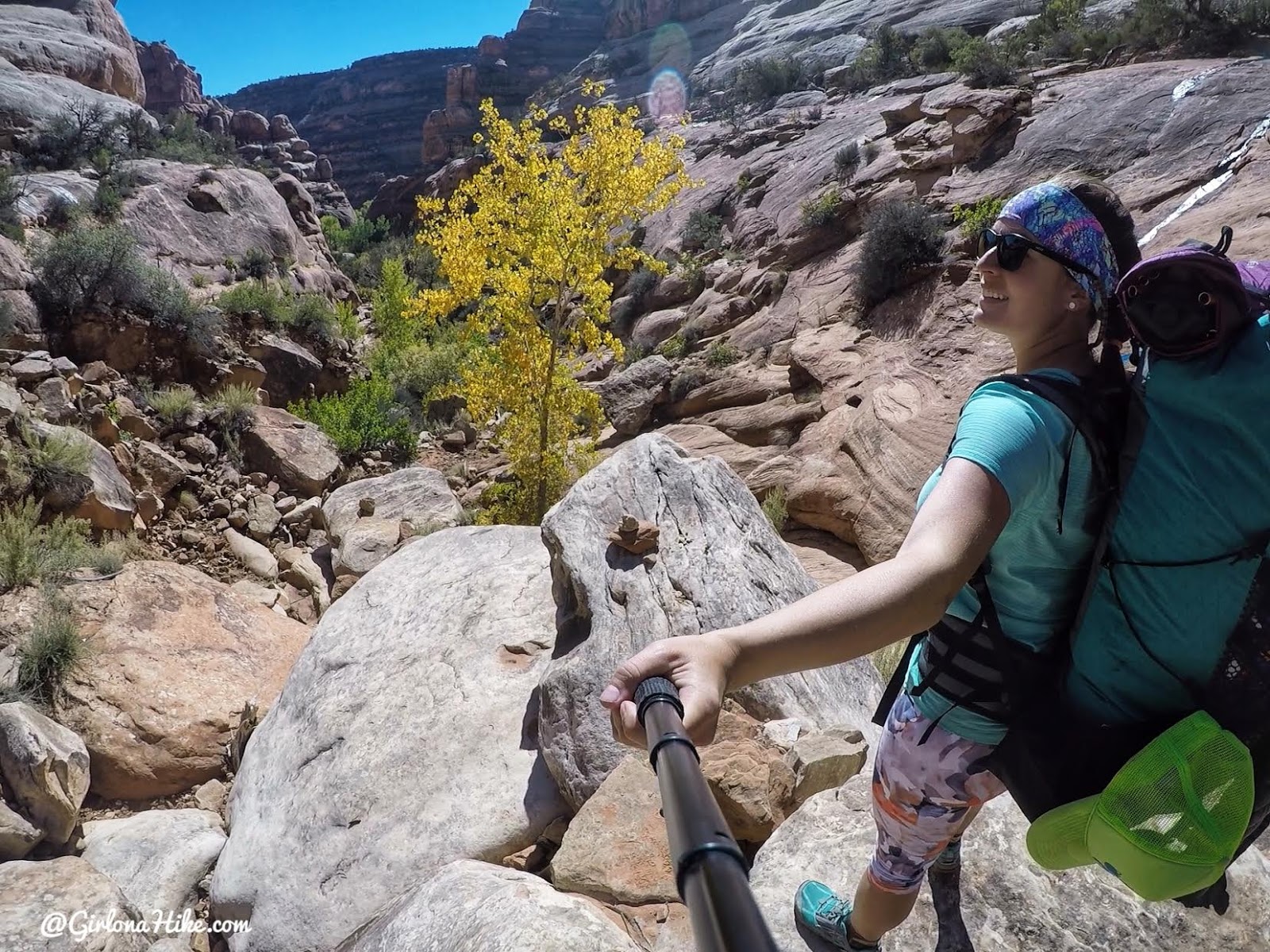 A tiny bit of scrambling down some boulders. I love this stuff!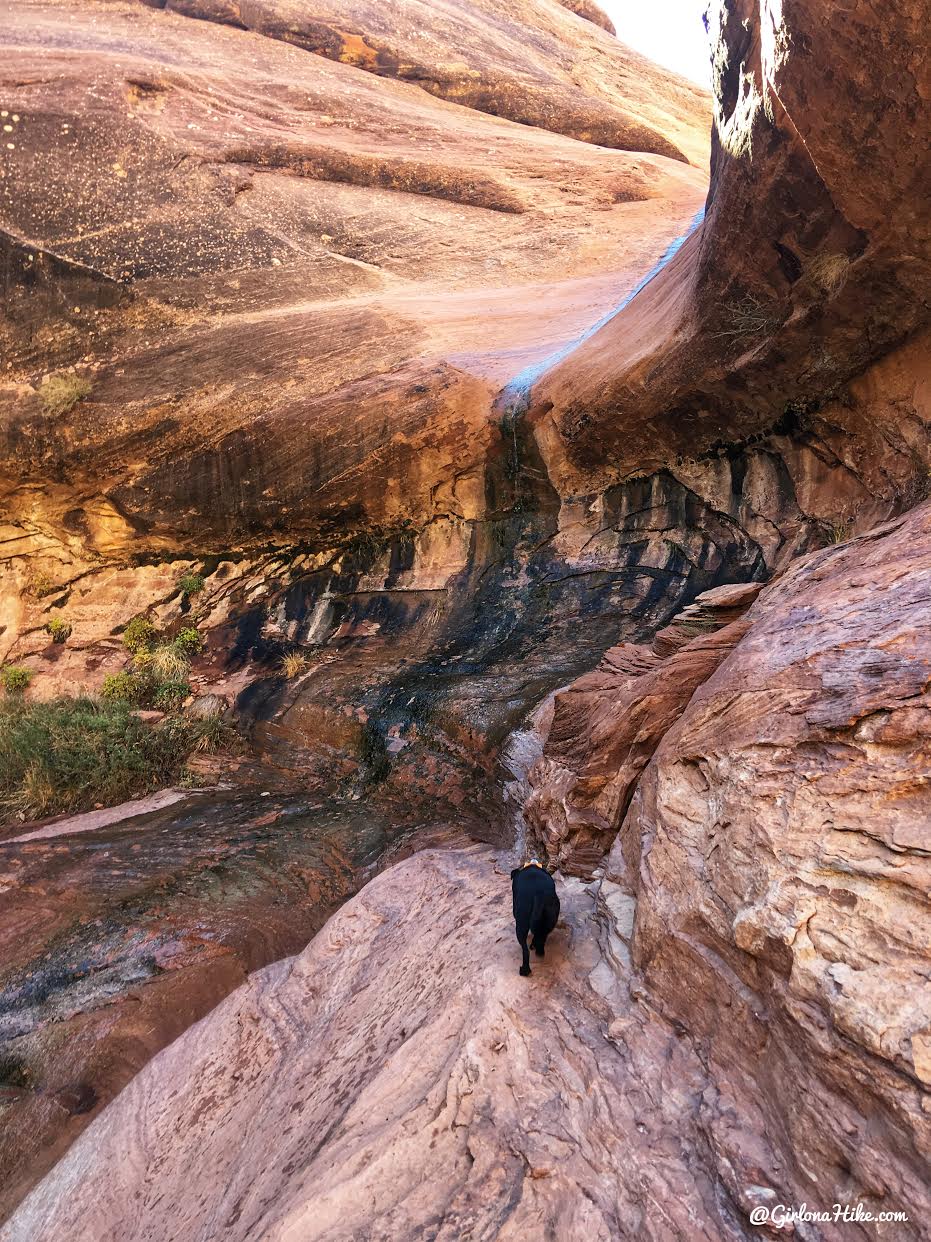 At the base of the first waterfall, at exactly 2 miles.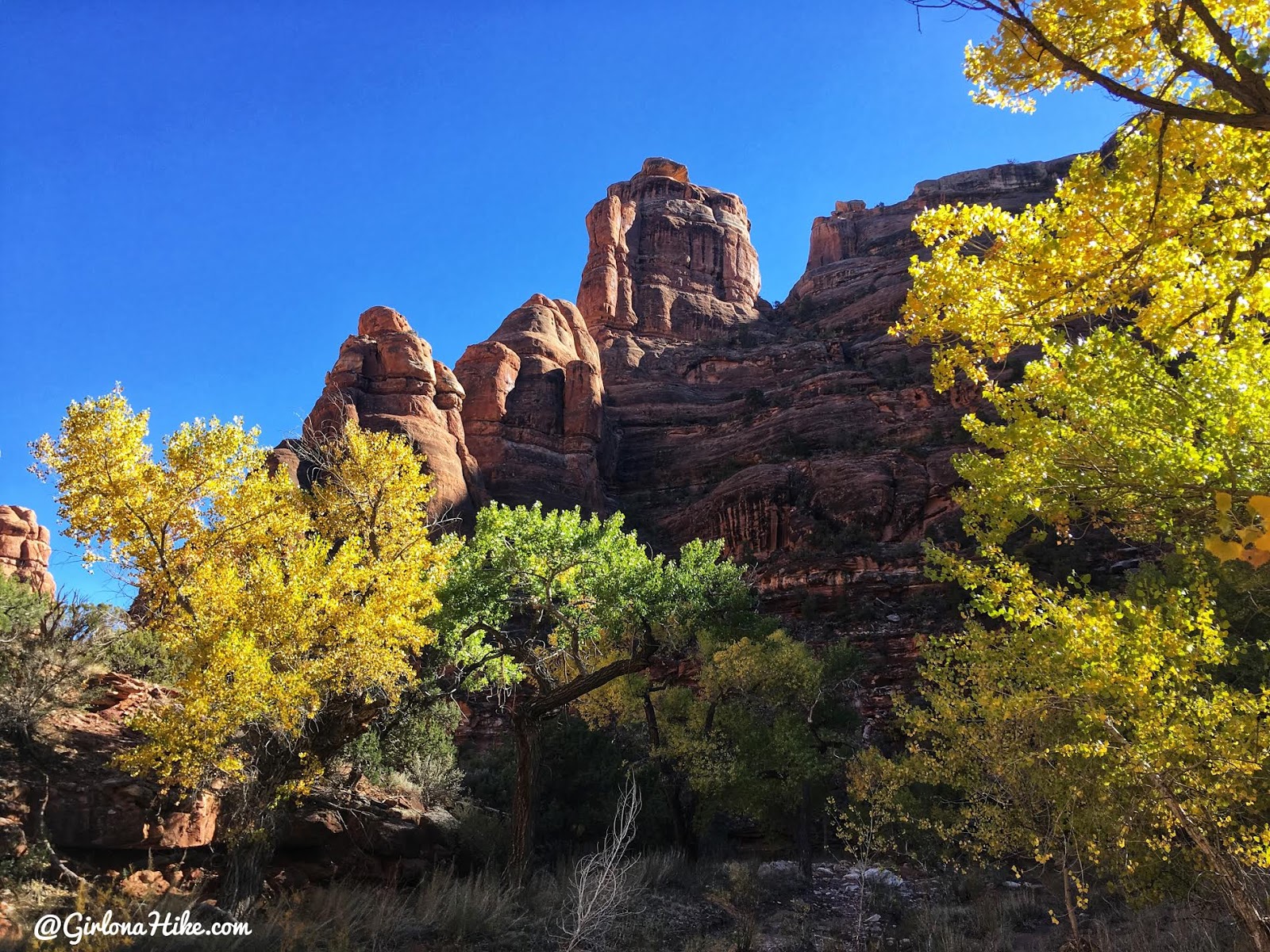 Can't get over the deep blue skies, red rock, and yellow Cottonwoods!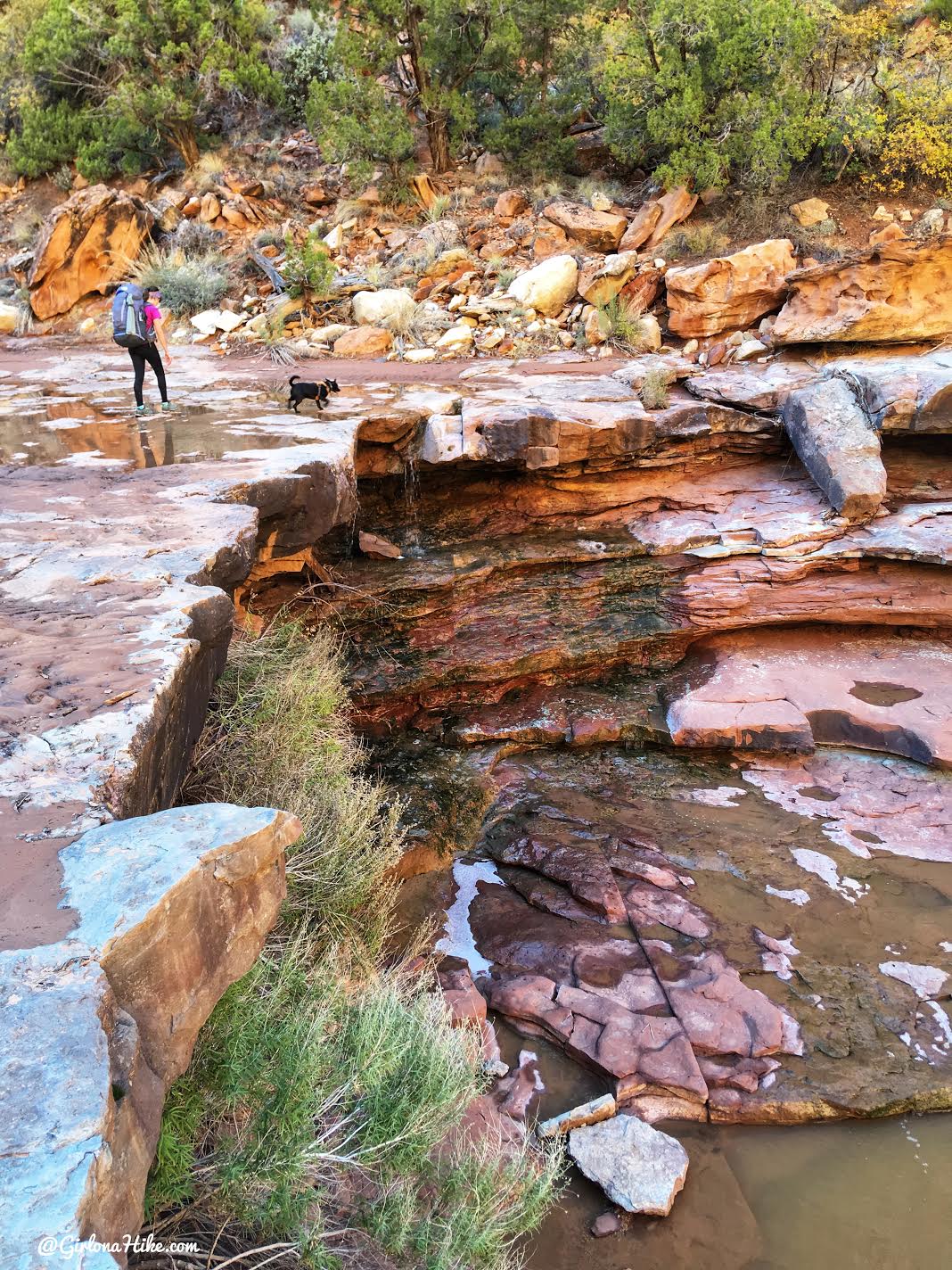 Checking out another pour off. At 2.9 and 3.6 miles you'll hike around two more waterfalls.
 At 4.9 miles you'll have your first view of Neville's Arch!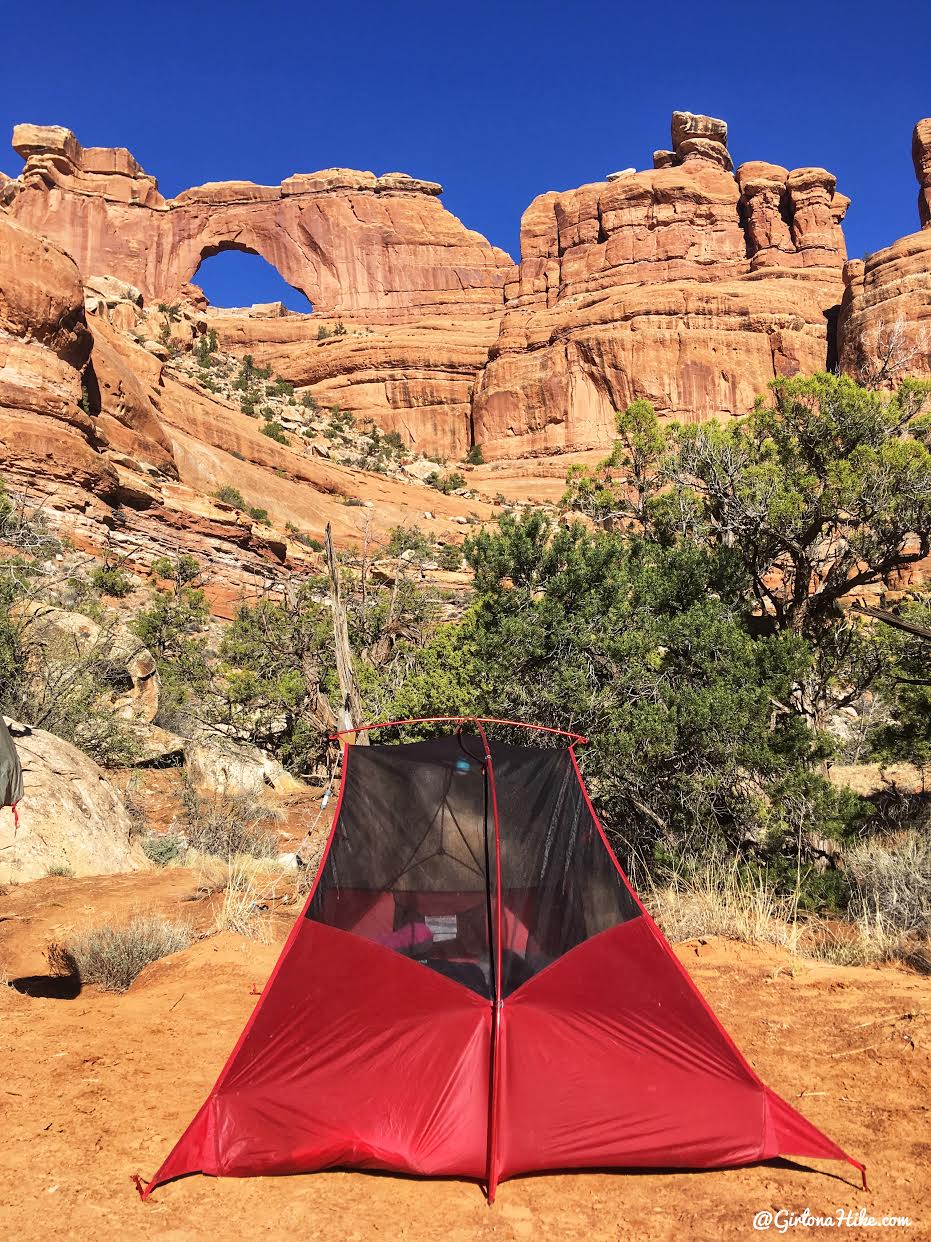 There are about 3 awesome camp sites just below the arch. They are close to each other, however.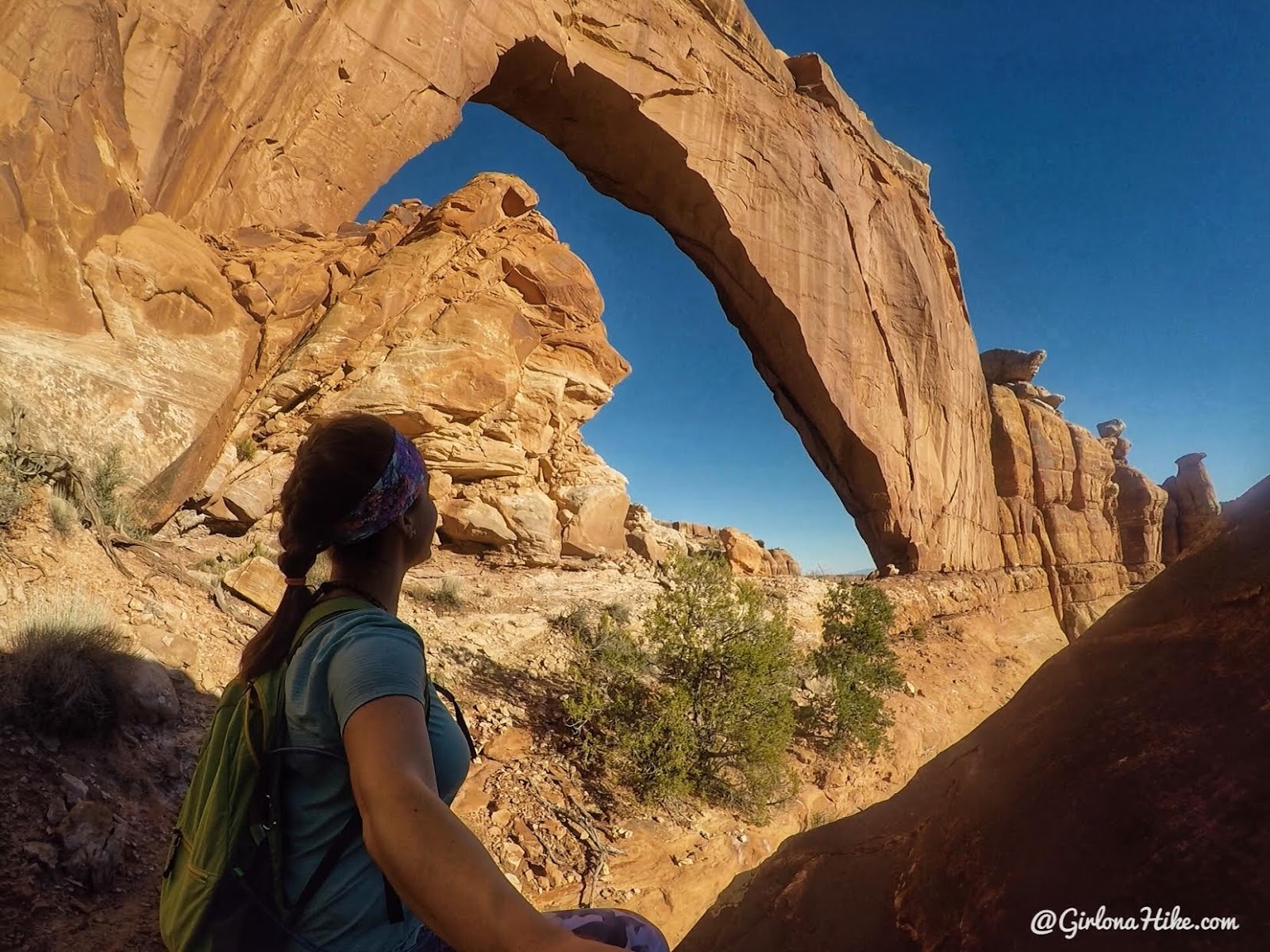 I didn't feel like I got a workout hiking down hill all day, so I decided to hike up to Neville's Arch. It was the highlight of the trip for me – I loved the challenge of route finding, and seeing the views from the top. I didn't include my track to the arch – that's for you to figure out, but it was about 1/2 mile and 850 ft gain.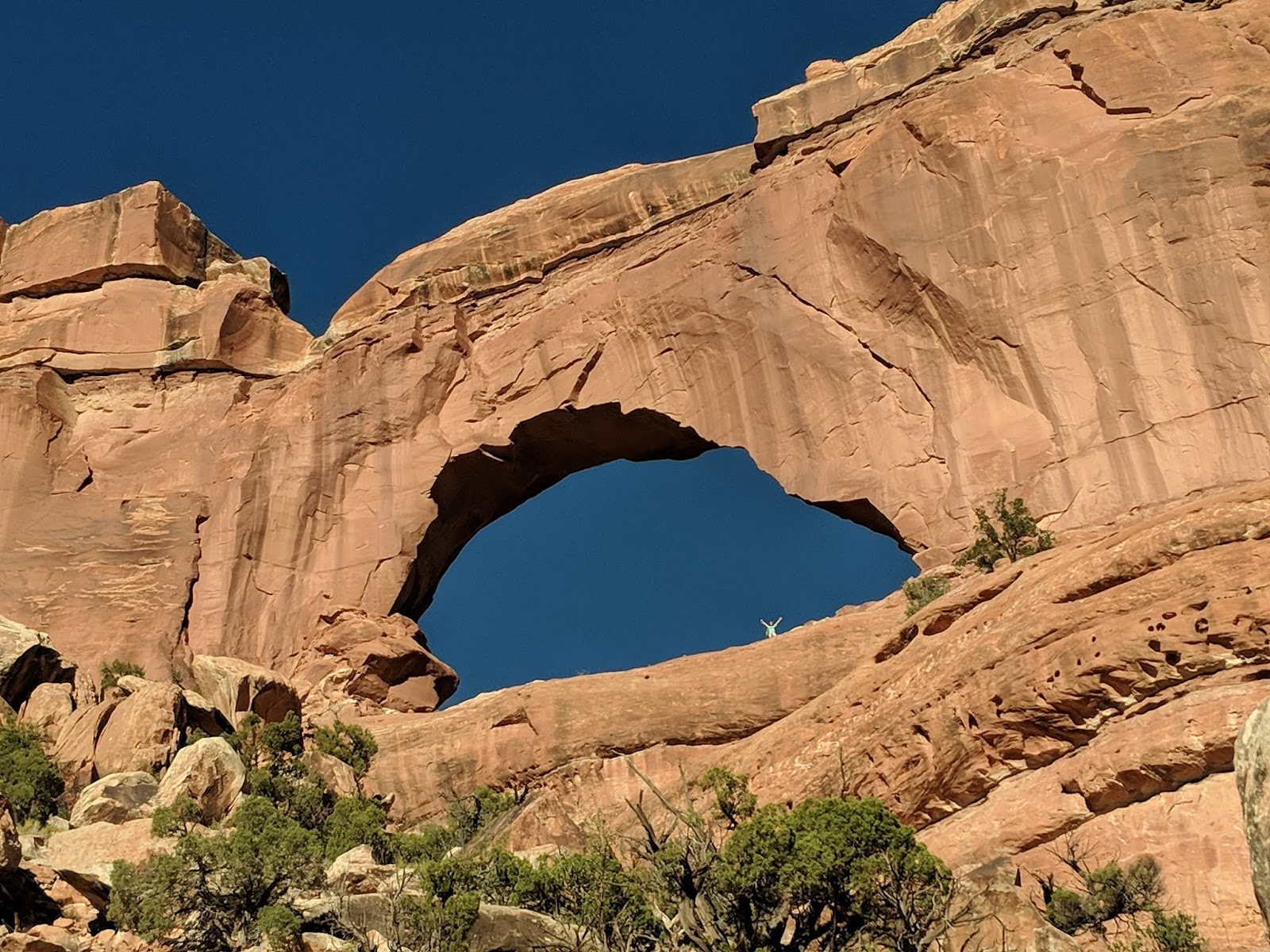 Heather was able to get a photo of me in the arch!
Wow, it's huge! Neville's Arch reminded me a lot of Jeep Arch near Moab.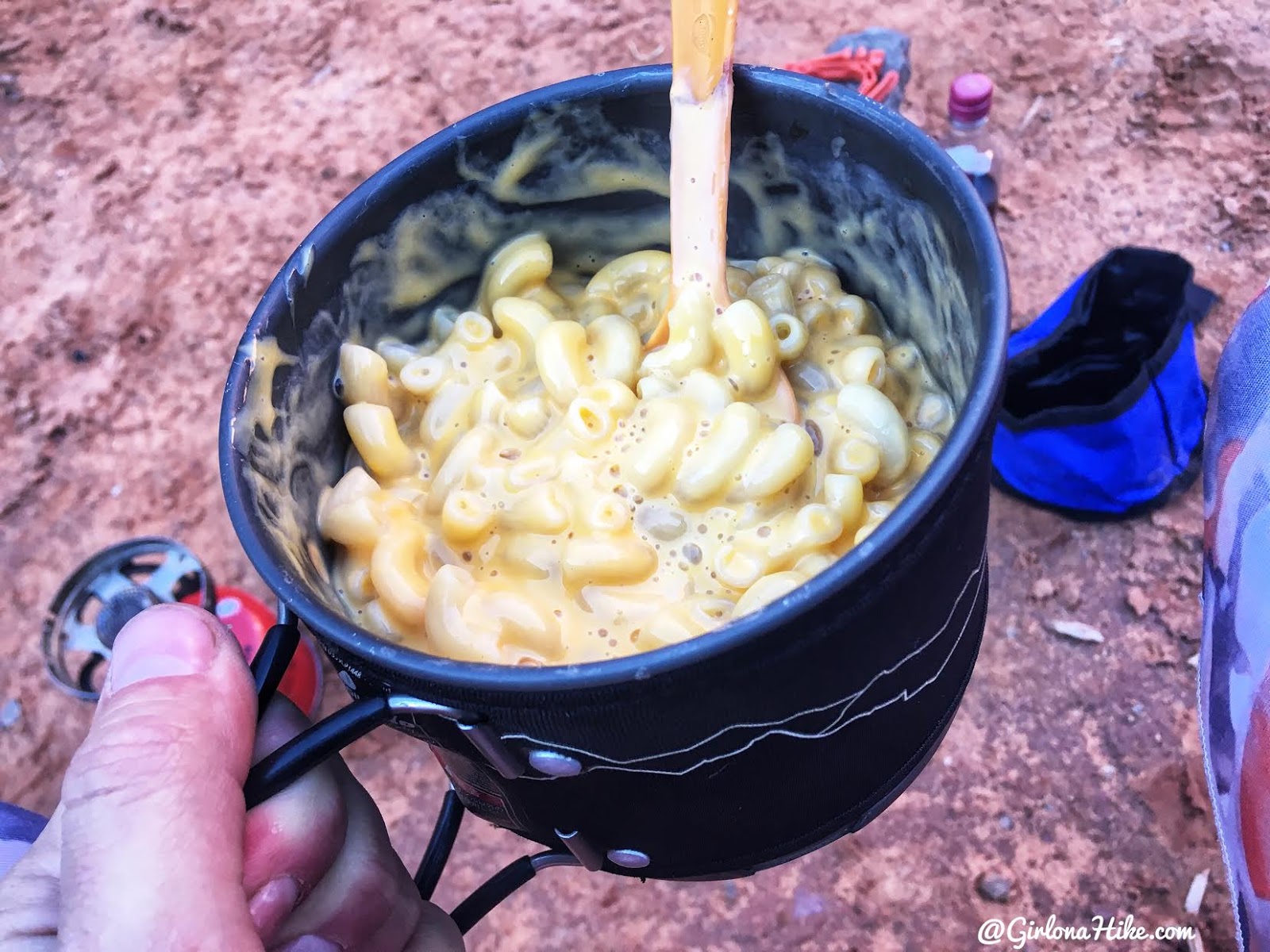 I wanted to try something different for dinner. I always get dehydrated meals, but this week I was short on money and as I was browsing the aisles I walked past the pasta boxes. Only $2.50 per box of Mac and cheese – how have I not bought these before!? Yes you actually have to boil the noodles and squeeze the cheese in yourself, but it saves you almost $7 compared to Mountain House. And omg, it was sooo good! I'll never buy dehydrated Mac and cheese again. The only thing I would do differently is carry a Tupperware container to mix the noodles and cheese in and eat out of that. The pasta left a slight film on the jet boil, but was fairly easy to clean.
Day 2
Distance: 8 miles (including a 2.5 mile day hike)
Elevation gain: flat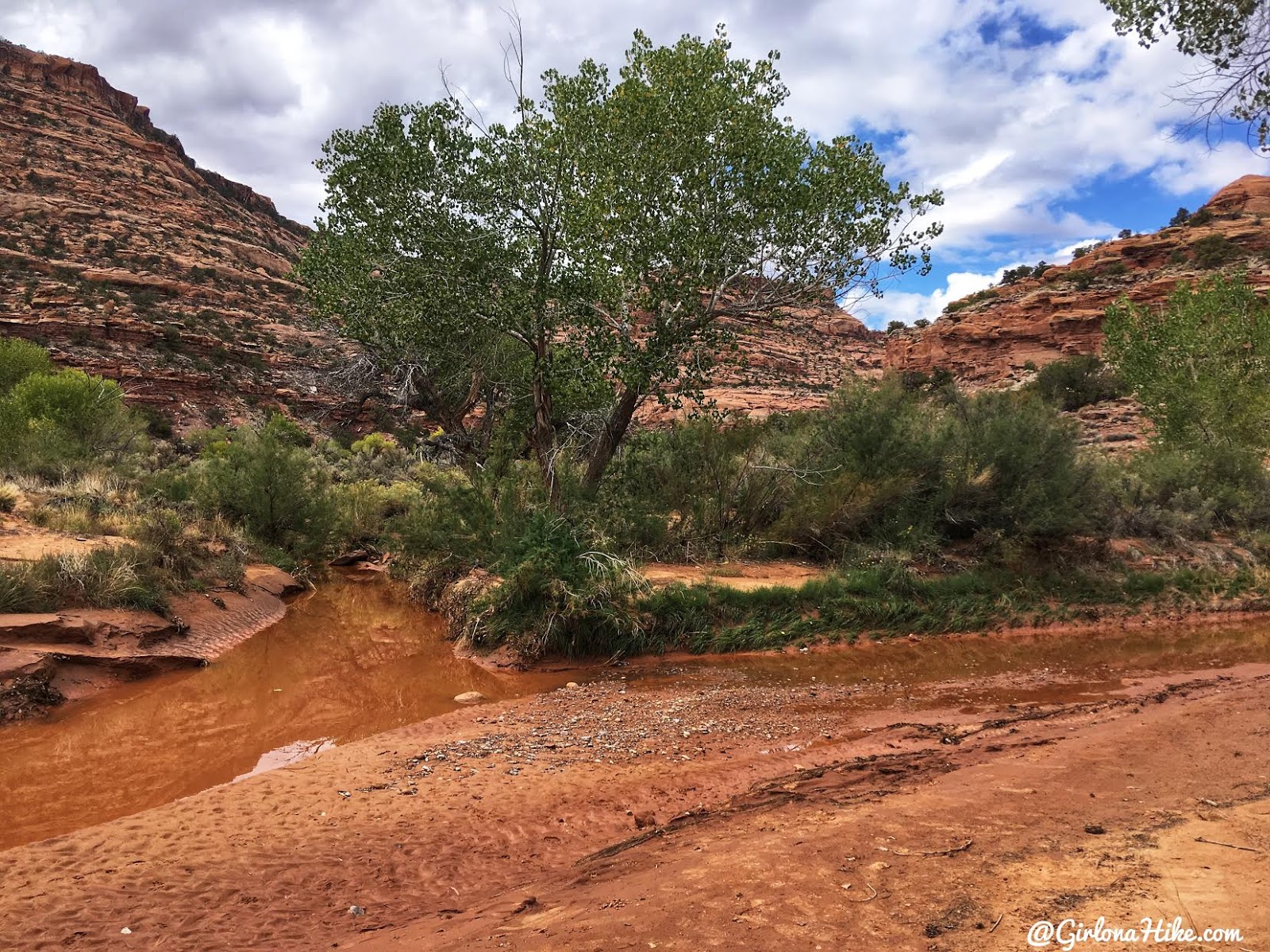 Day 2 we made our way down to to the confluence. This is where Fish and Owl Canyons meet – typically Fish Canyon has water year-round though the levels might be quite low.
The plan from here was to drop our backpacks, use our little daypacks, and hike down the canyon about 2-3 miles then turn around, as we scouted out ruins.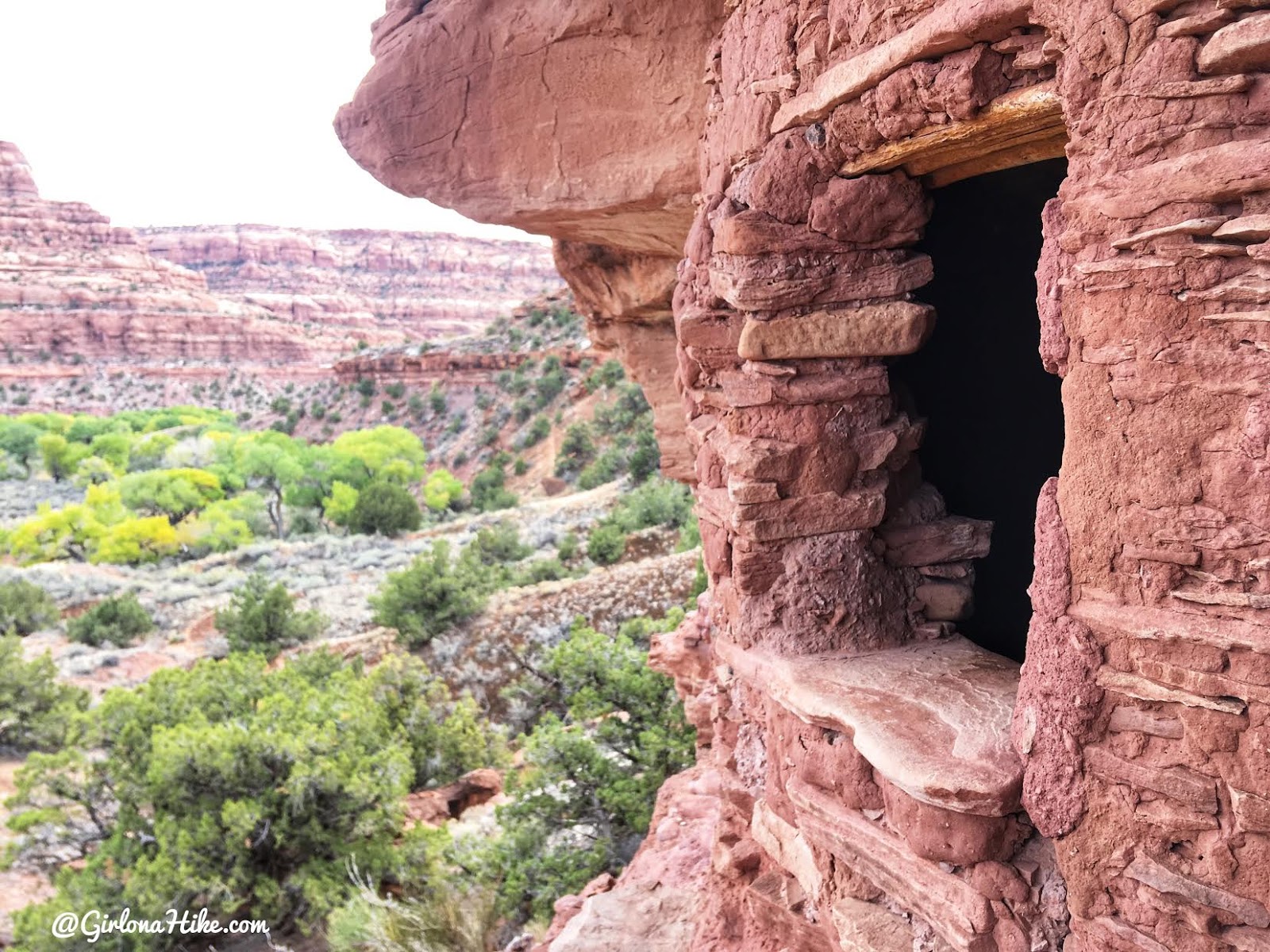 We quickly lost the trail and the bushwhacking was getting pretty bad, but we finally spotted our first ruin of the day.

Enjoying the view from the ruins.

Because it took us so long to hike even 1 mile, we decided to call the rest of the canyon quits and return to the confluence. We still needed to hike at least 5-6 miles up Fish Canyon to find our next campsite and we didn't want to lose daylight.
Hiking "up" Fish Canyon. By 2pm the trail was sooo hot! I really wished I had shorts on, but at the same time my legs kept getting cut up by all the bushwhacking.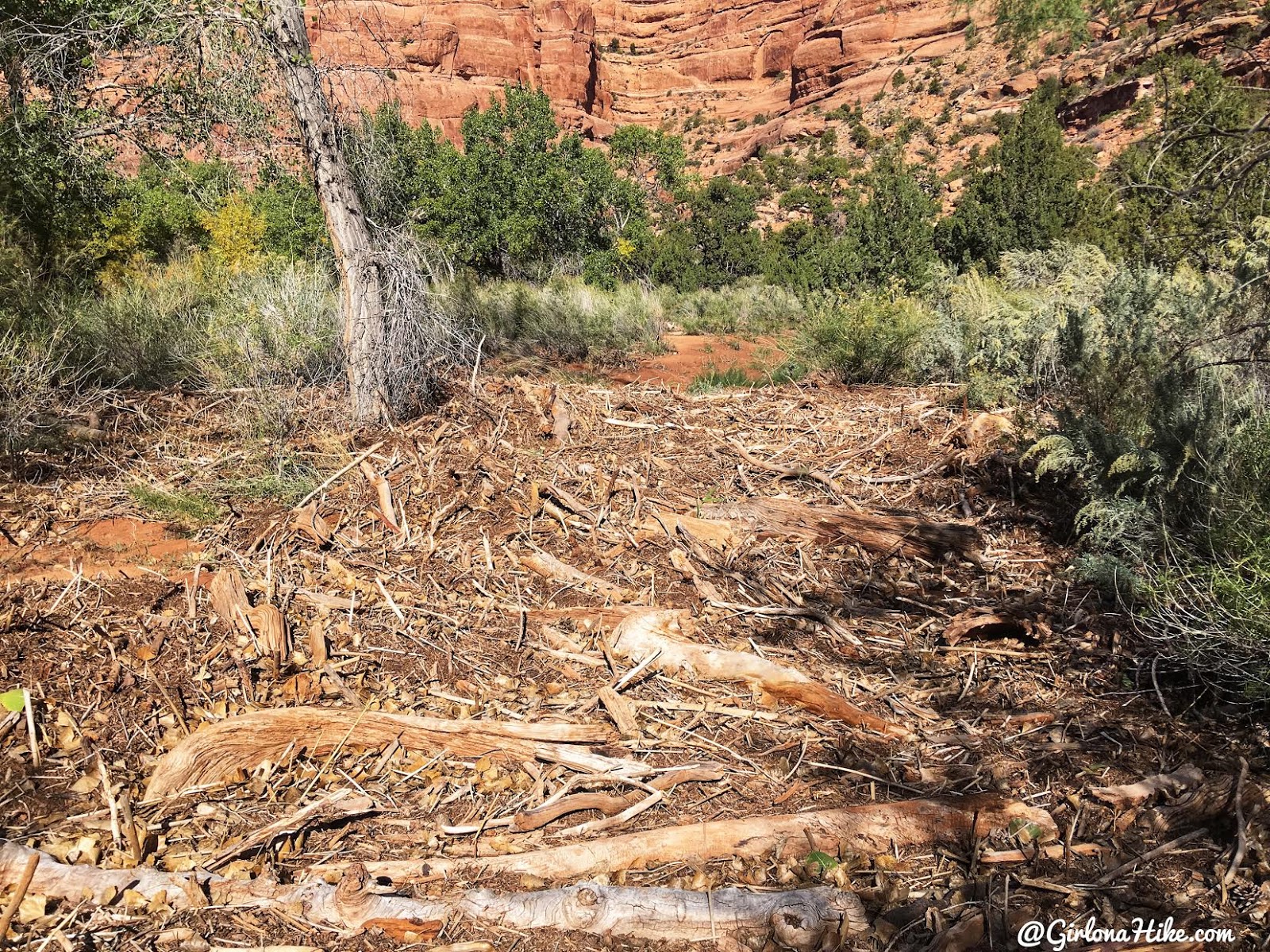 The "trail" led us over a flash flood debris zone. Crazy to see all this wood piled up!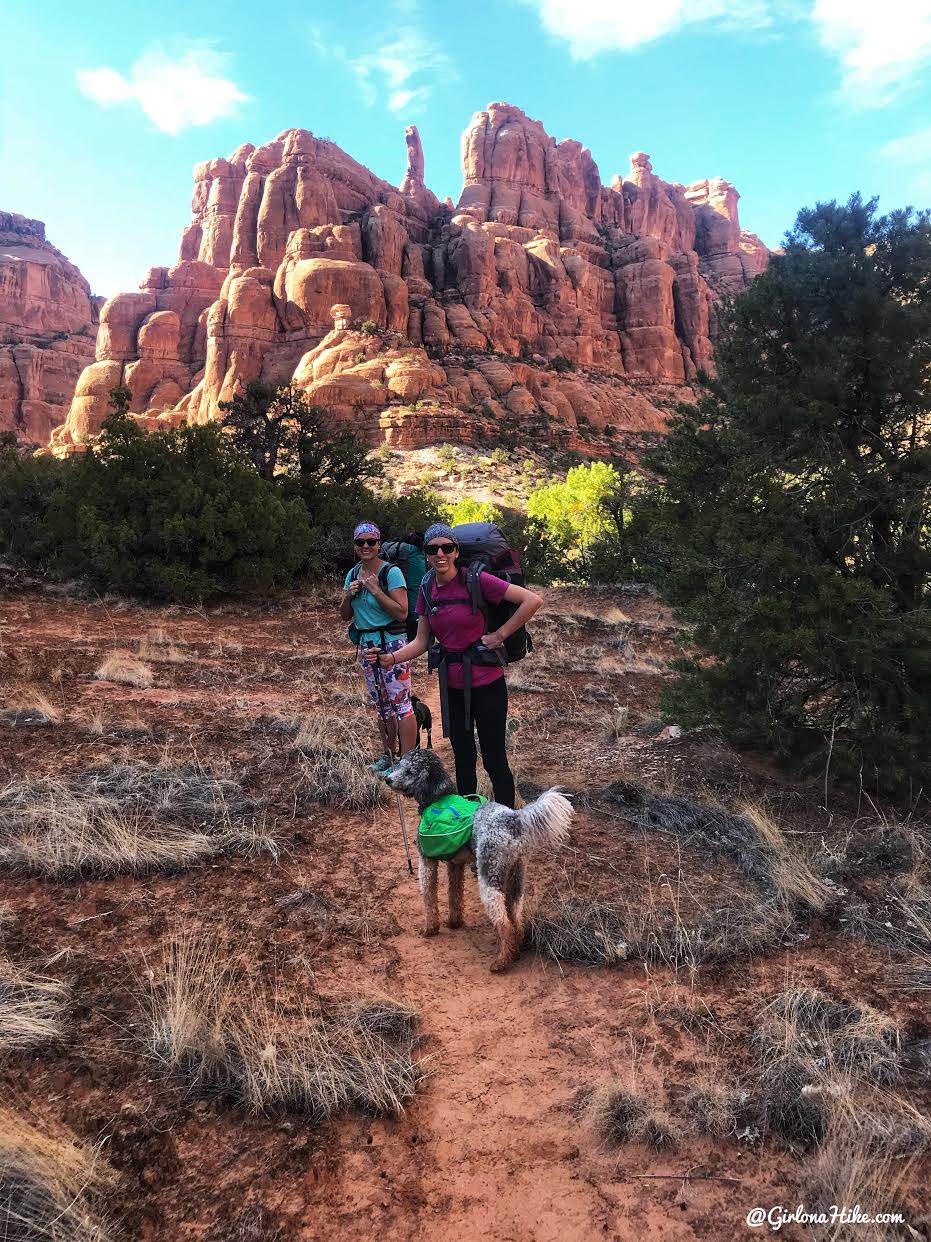 Ahh finally some shade. Only halfway to where we would end up camping. Side note – there are only two decent campsites in Fish Canyon. The first is about 3 miles up Fish Canyon and the second (where we would camp) was 6 miles up canyon. Make sure you either stop when you see one, or have the energy to go another 3 miles.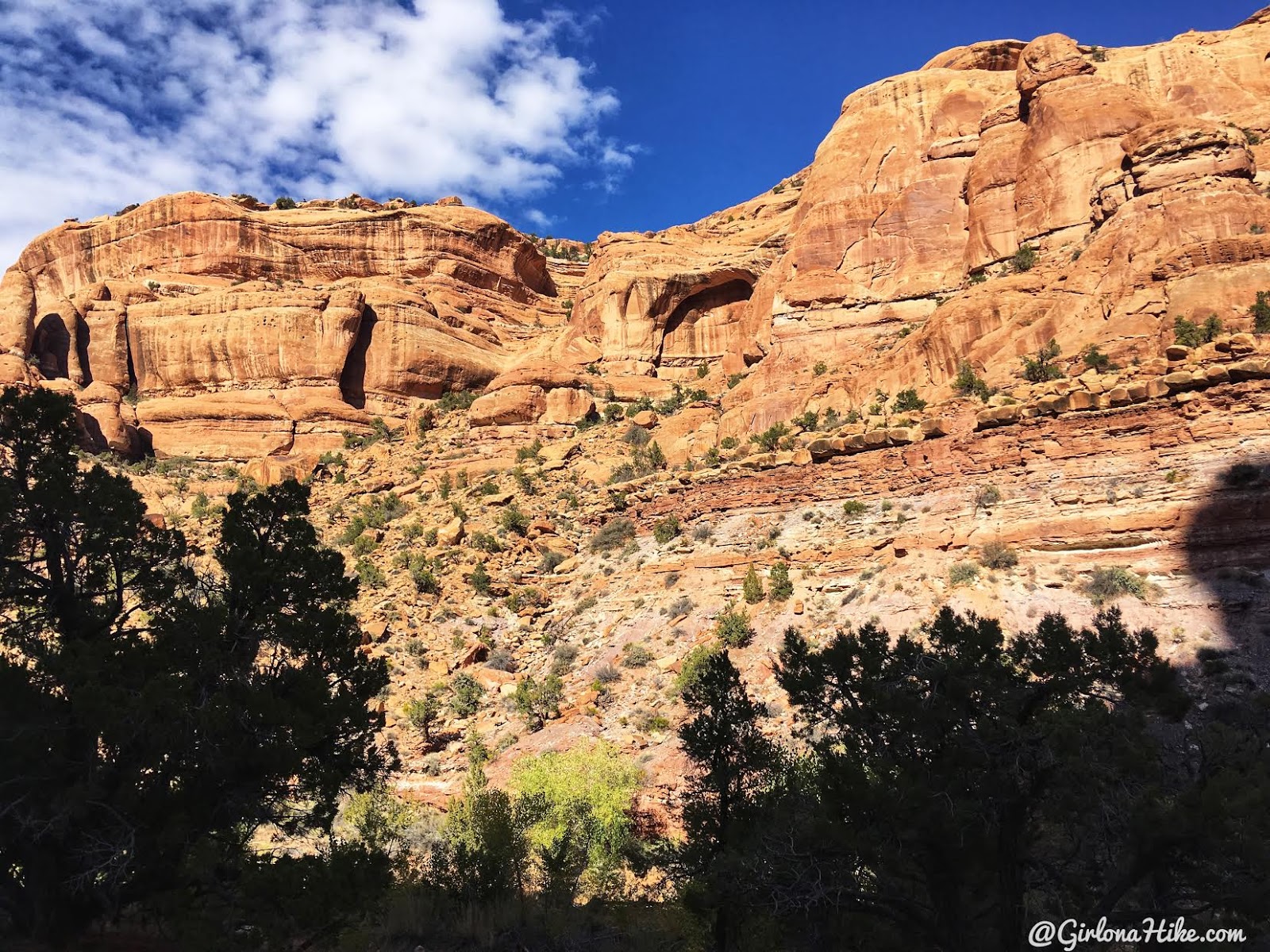 Look for another unnamed arch about 2.4 miles up from the confluence.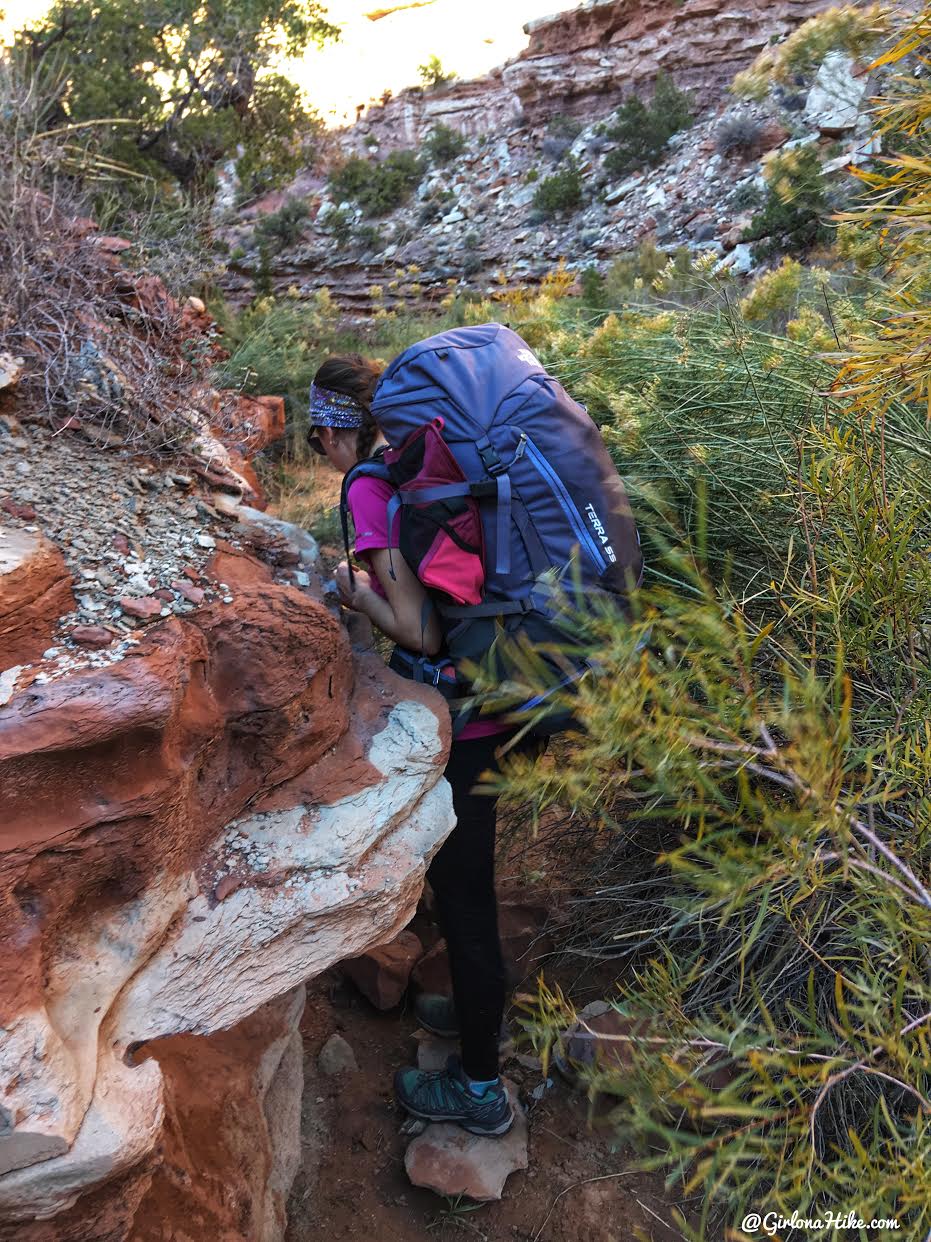 Heather leads us through tall rocks and grass. The other thing about Fish Canyon – there's very little to no trail. Some sections seemed better, and often times it would have been easier to just walk up the creek but we didn't have water shoes with us.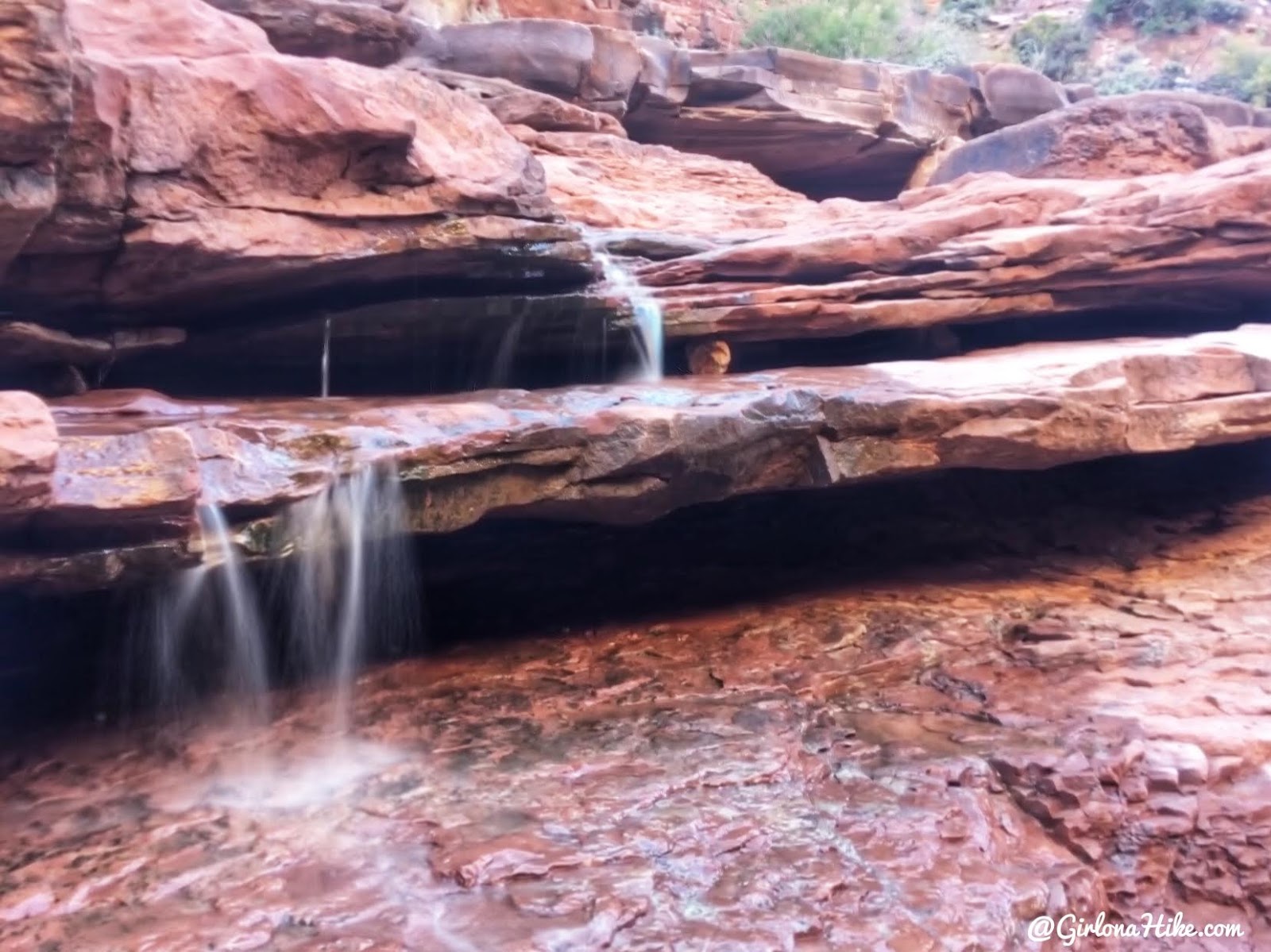 Passing by some small falls.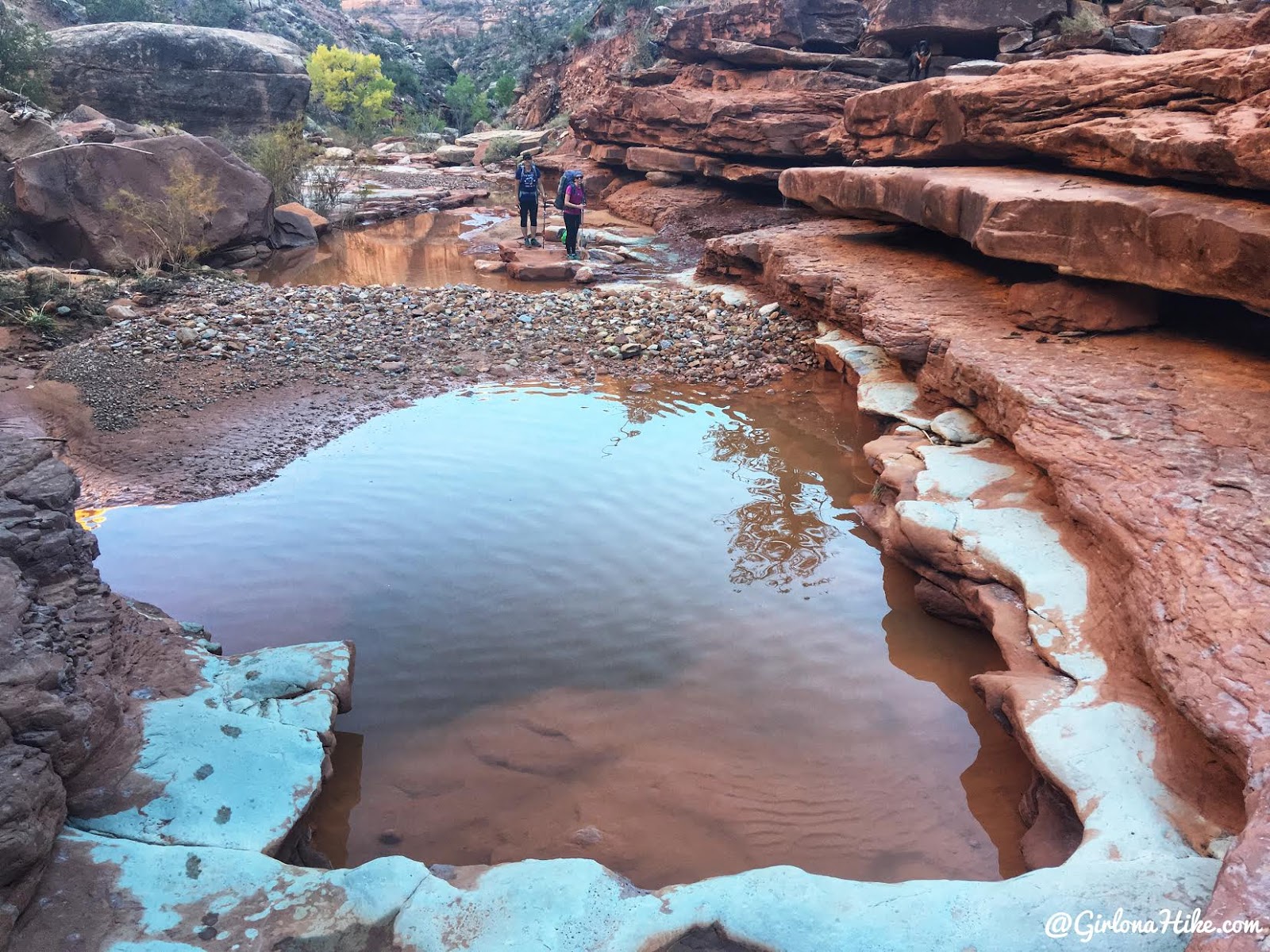 There are some big pools of water which are nice to filter water from if you need to stop and take a break.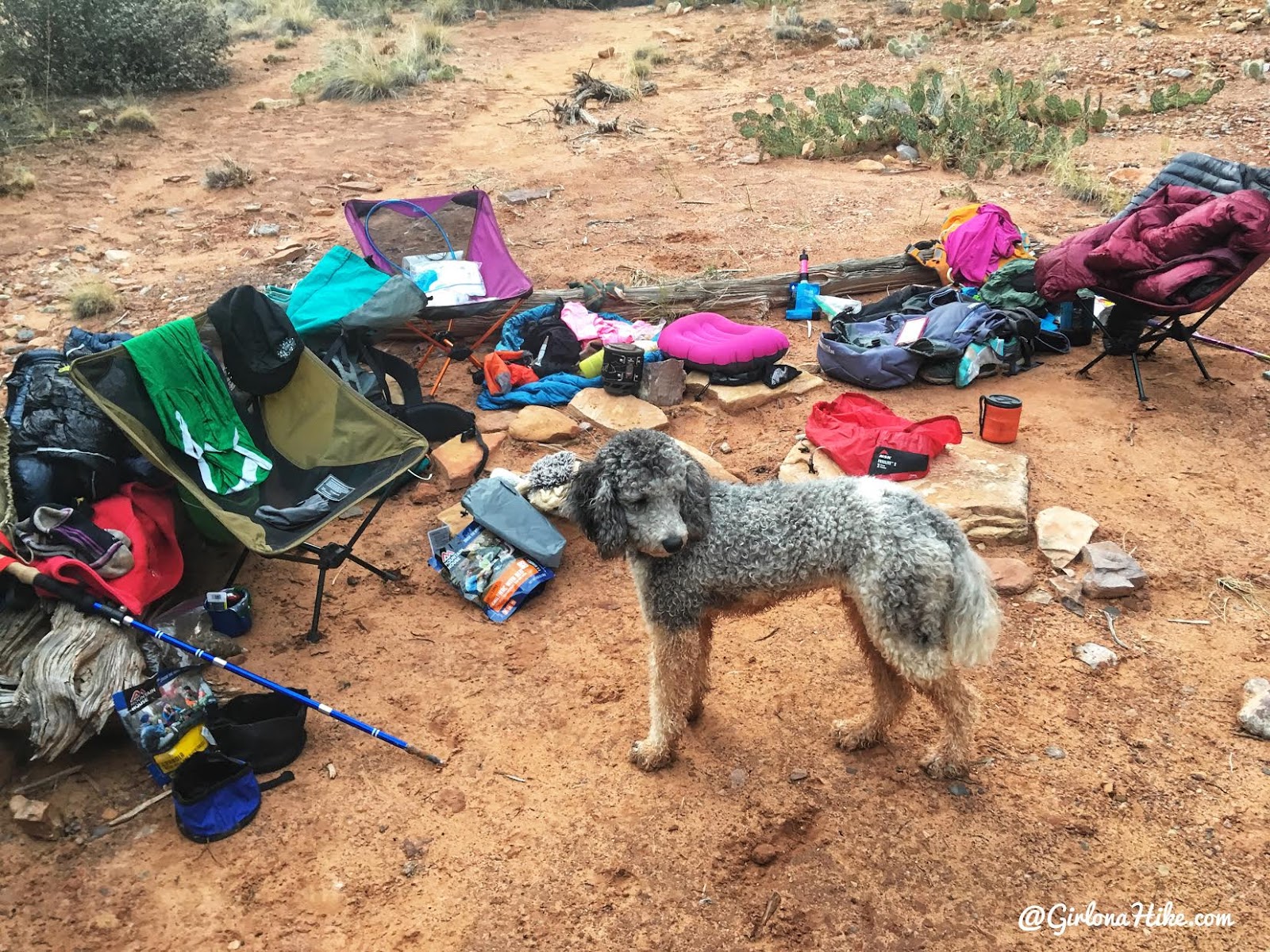 An explosion of gear haha! This is what camp really looks like when we get there.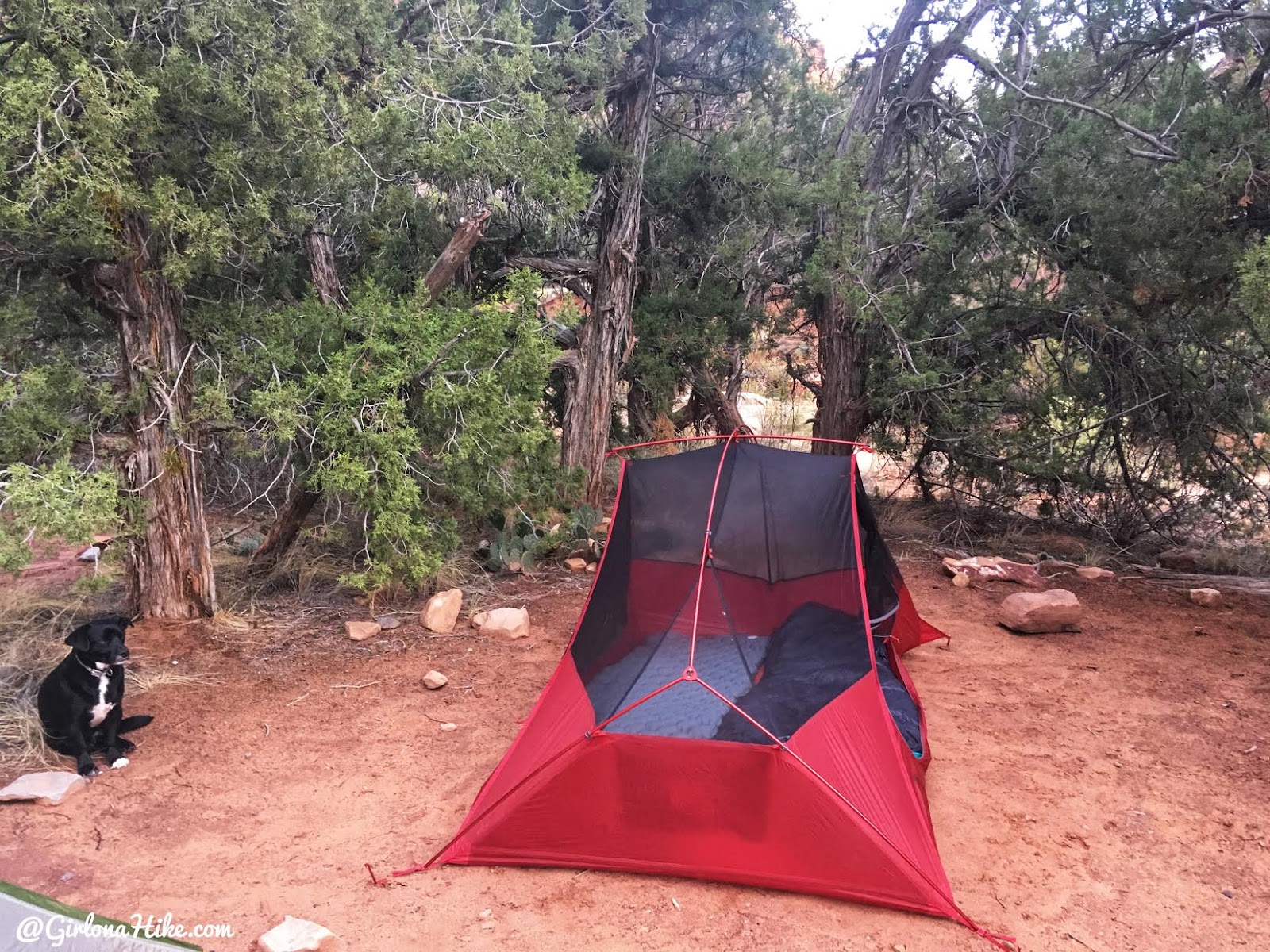 And now the "nice" photo of camp LOL! Day 2 we ended up backpacking 8 miles and our day hike was only 2.5 miles RT. A big day!
Day 3
Distance: 3.8 miles
Elevation gain: 996 ft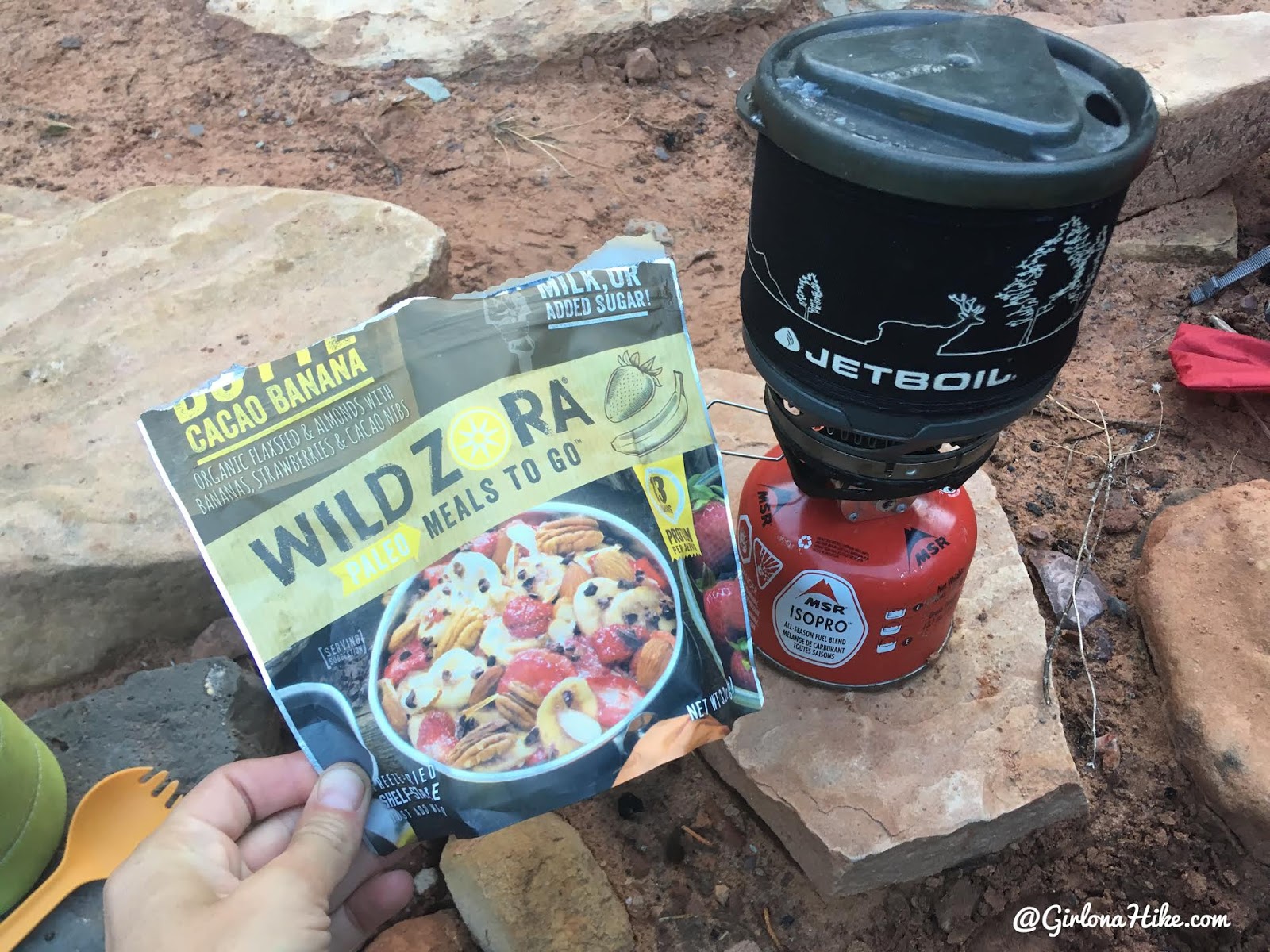 The previous two mornings I ate oatmeal, but I saved what I thought would be the "best for last". The Wild Zora meals are paleo meals to go, and it was a Cacao Banana oatmeal that you can add hot or cold water too. The mornings were kind of chilly so I made it  hot, and omg it was the worst meal I've ever tasted. It was so bad I could only eat two bites. I am normally easy to please with food, but this was disgusting!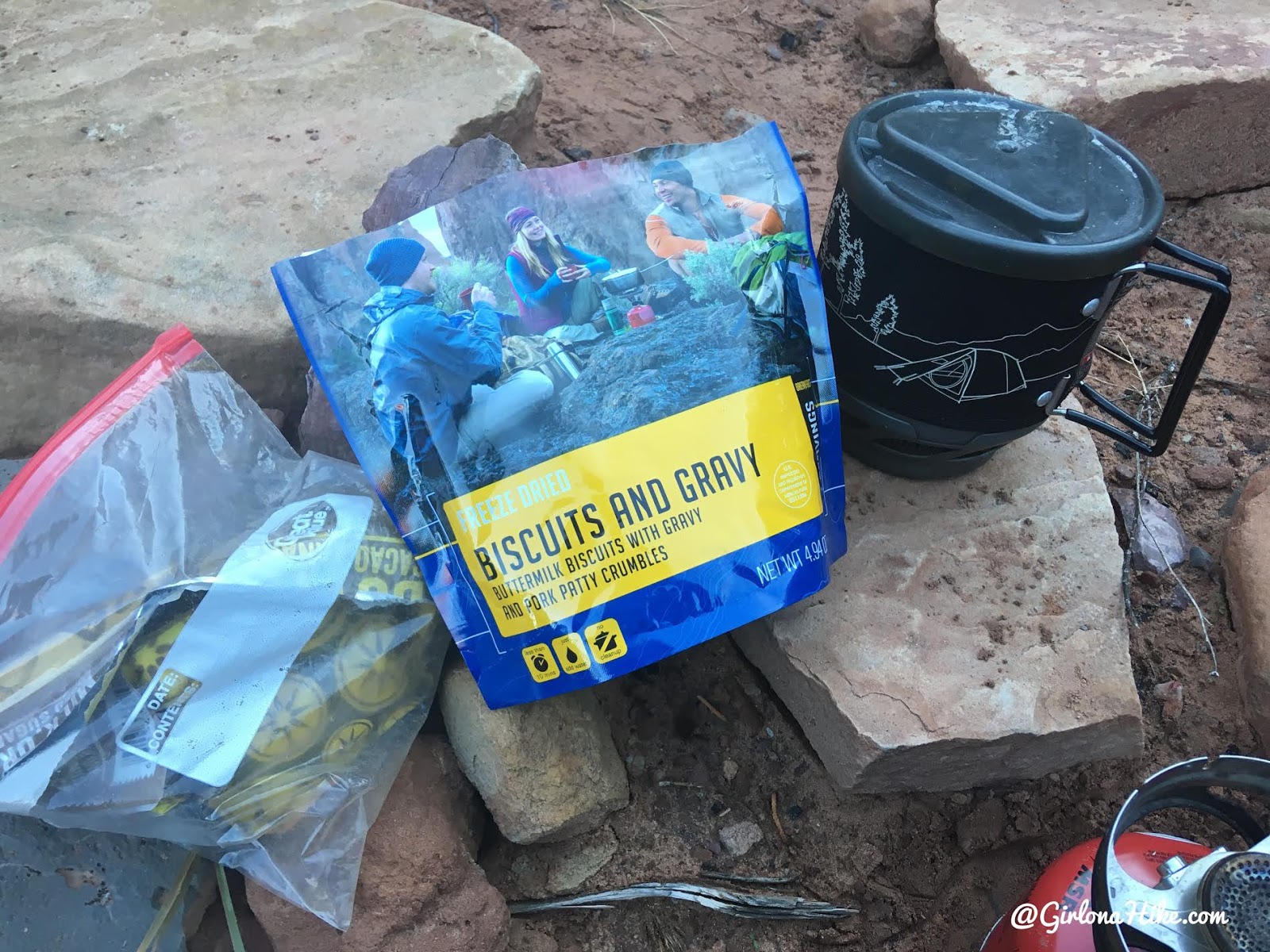 Thankfully Julie wasn't up for eating a big meal and she gave me her biscuits and gravy – Wild Zora in the trash. What a life saver – this is my favorite dehydrated breakfast. Thanks Julie!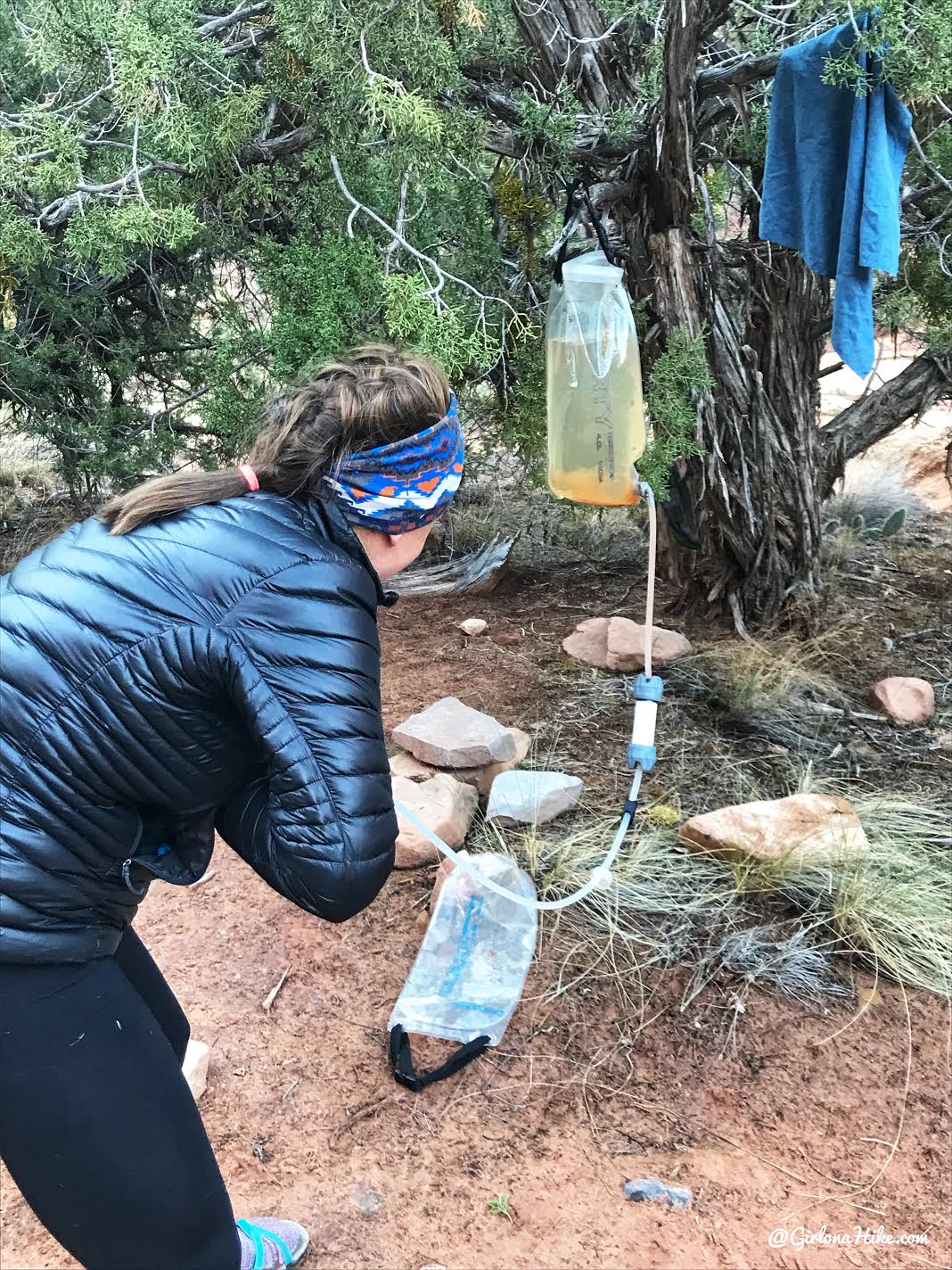 The next order of business was to back flush the Platypus Gravity Filter. I back flush it at a minimum once a trip, but because the water was so sandy we back flushed almost twice a day. You can see the darker dirt at the bottom of the bag hanging up – that all came out of the filter. Gross! All you need to do to backflush it is have either a Sawyer Mini or Smart Water Bottle (it has a perfect nozzle to fit in the filter) with you on the trip. Fill your water bottle up with water (preferably clean), stick the nose into hose (haha that sounds funny), then forcefully squish the water bottle or Sawyer Mini so that the water goes up and back out of the filter. Dump out of the dirty water, and start your filtering process over so that the filter is clean and flows twice as fast.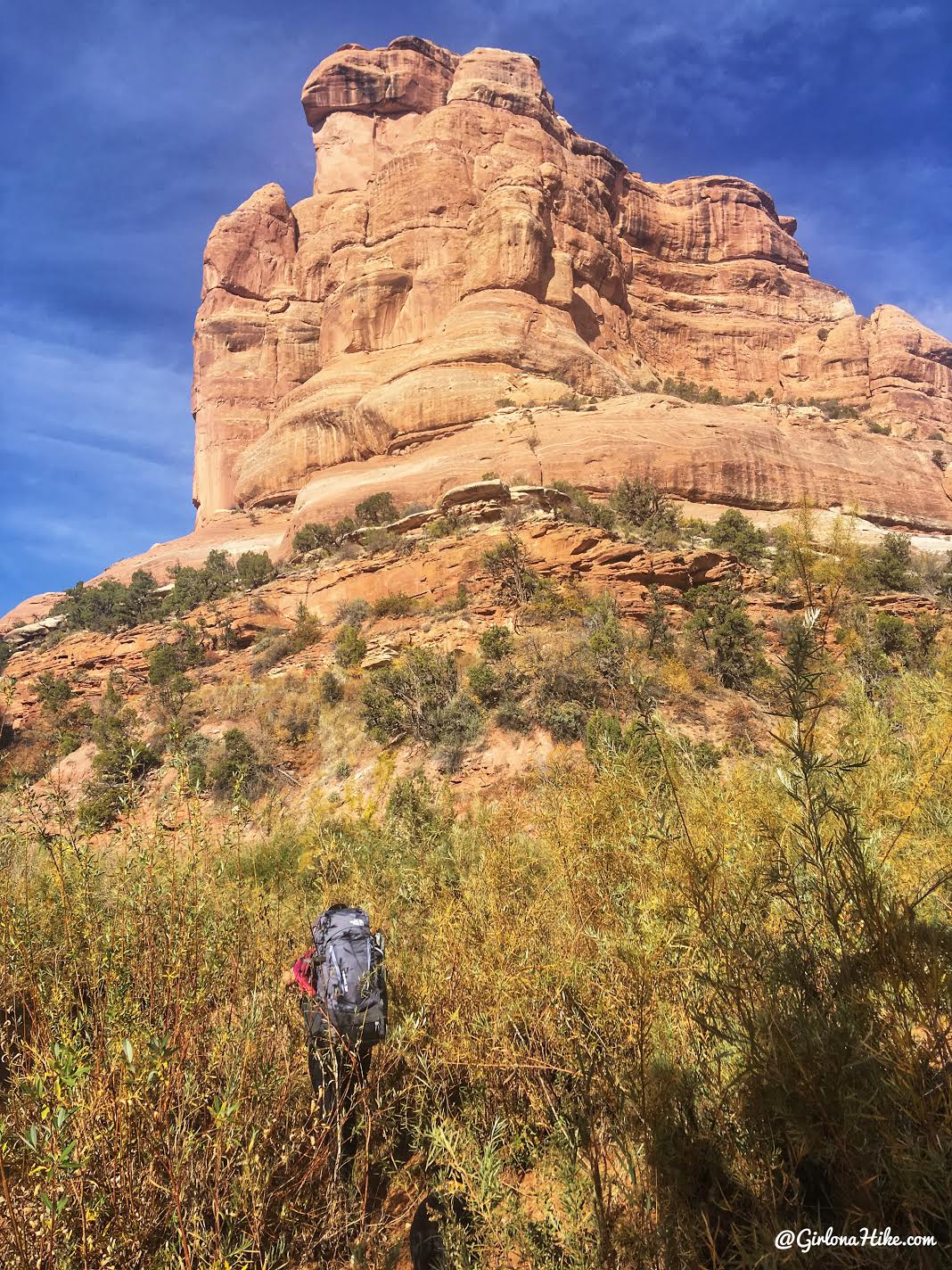 We knew we only had about 4 miles to reach the cars, so we made our way up canyon again. We kept track on our phones/map so when knew when to look for the canyon exit.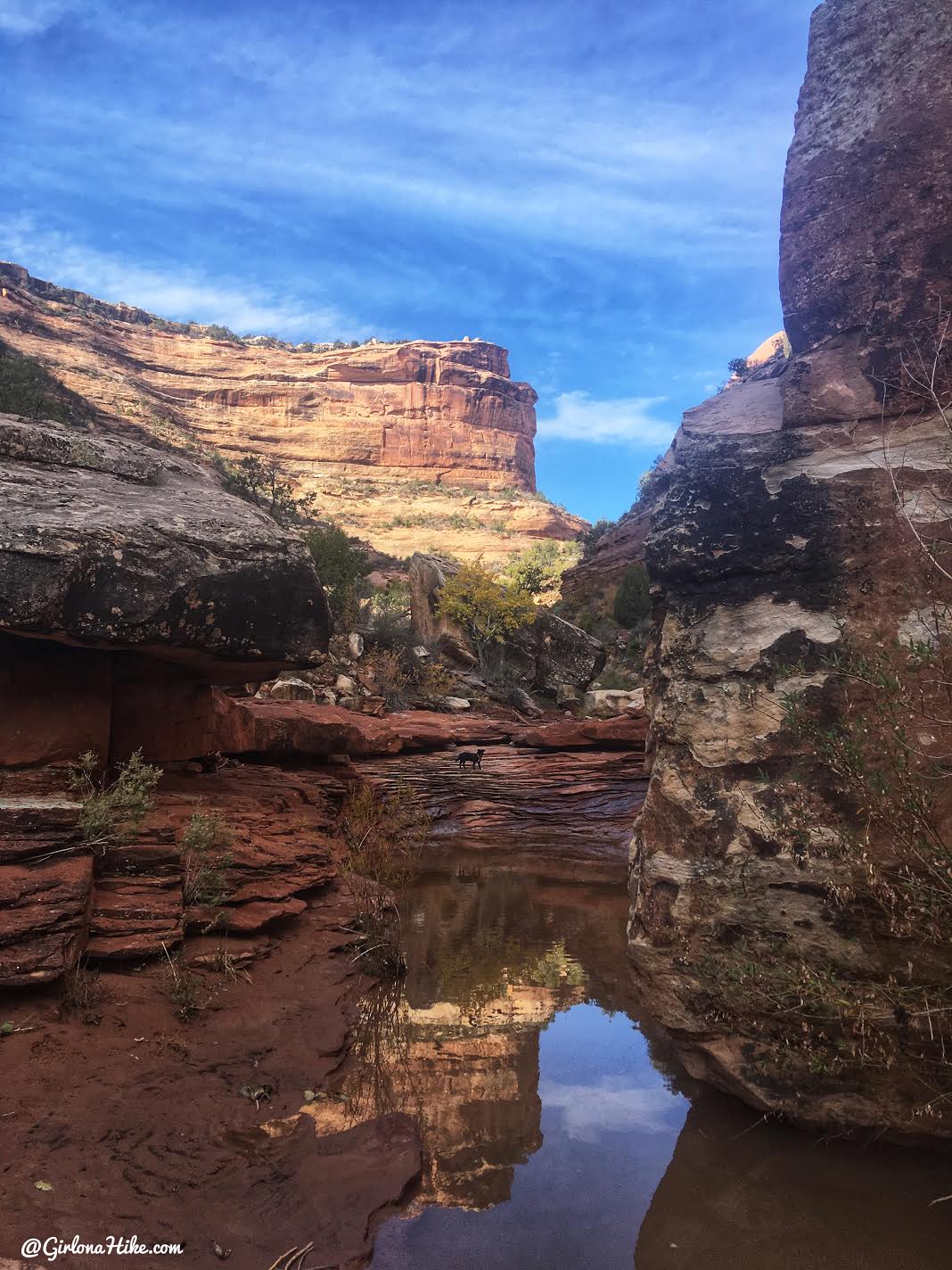 Passing by some more pools of water. So pretty!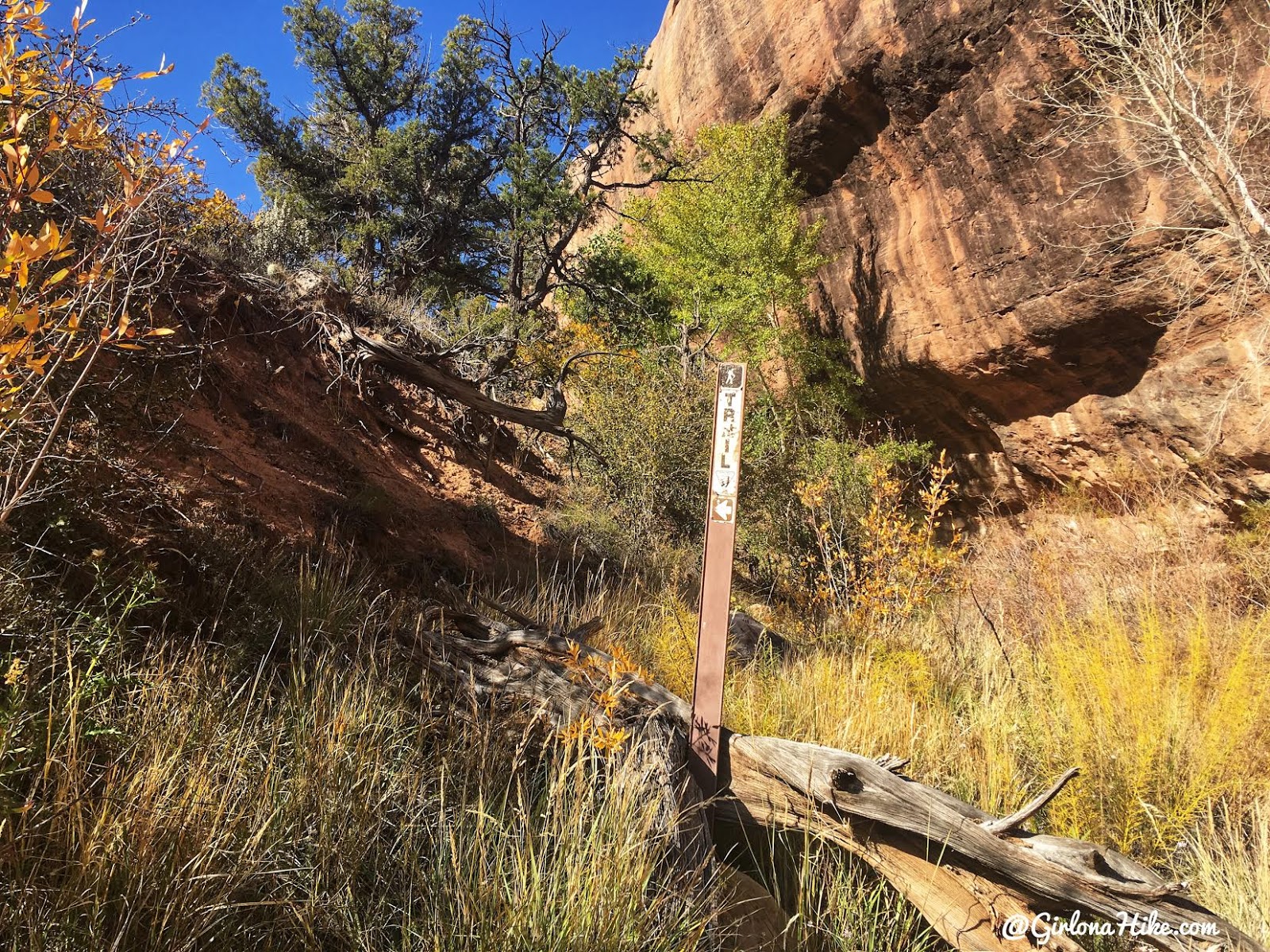 We knew it was time to exit when we saw the one and only tall brown trail maker sign. Time to hike up a steep hill!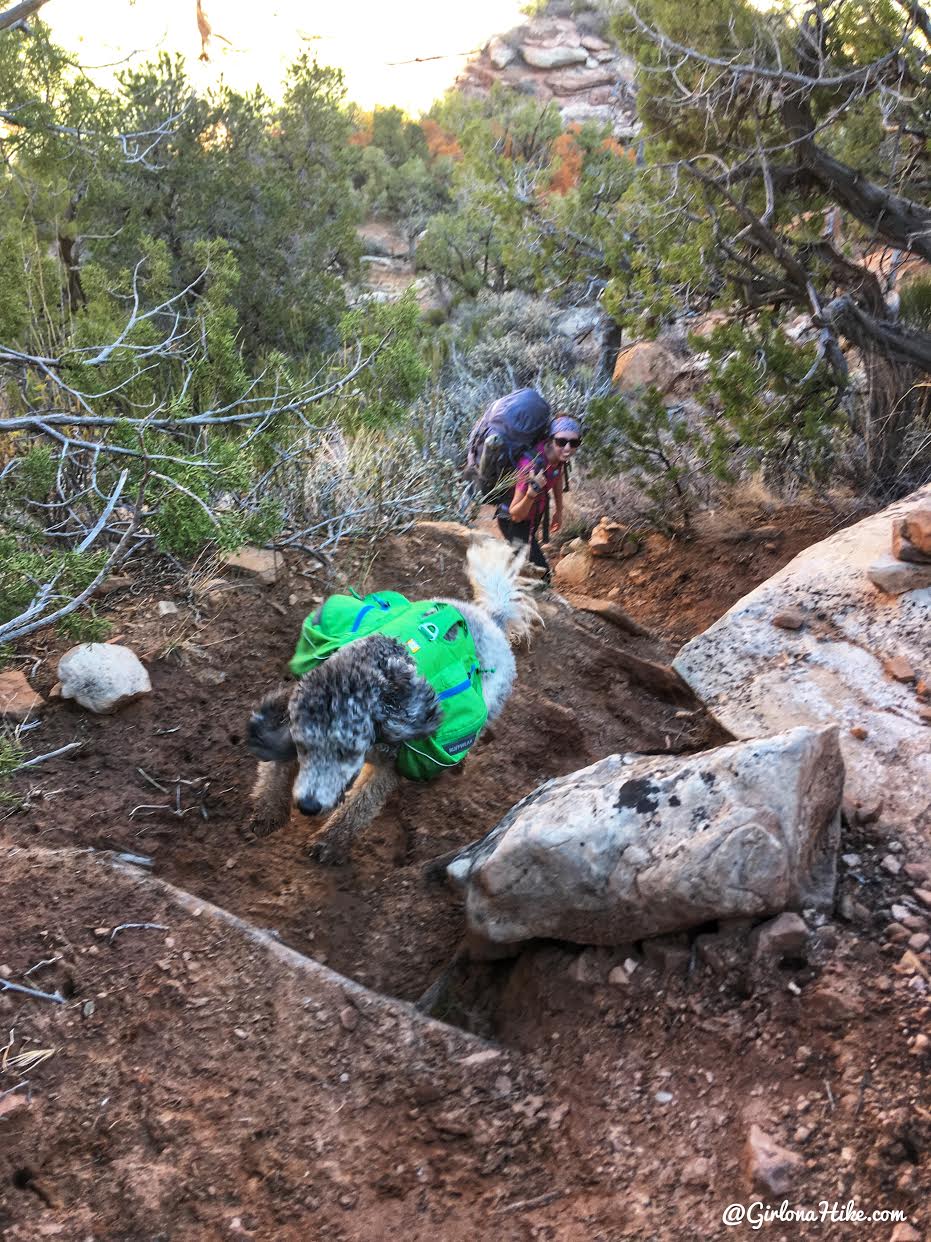 For me and the dogs, the uphill wasn't bad. Heather and Julie were experiencing some bad hip pain, and took their time to climb up the 900 ft ascent.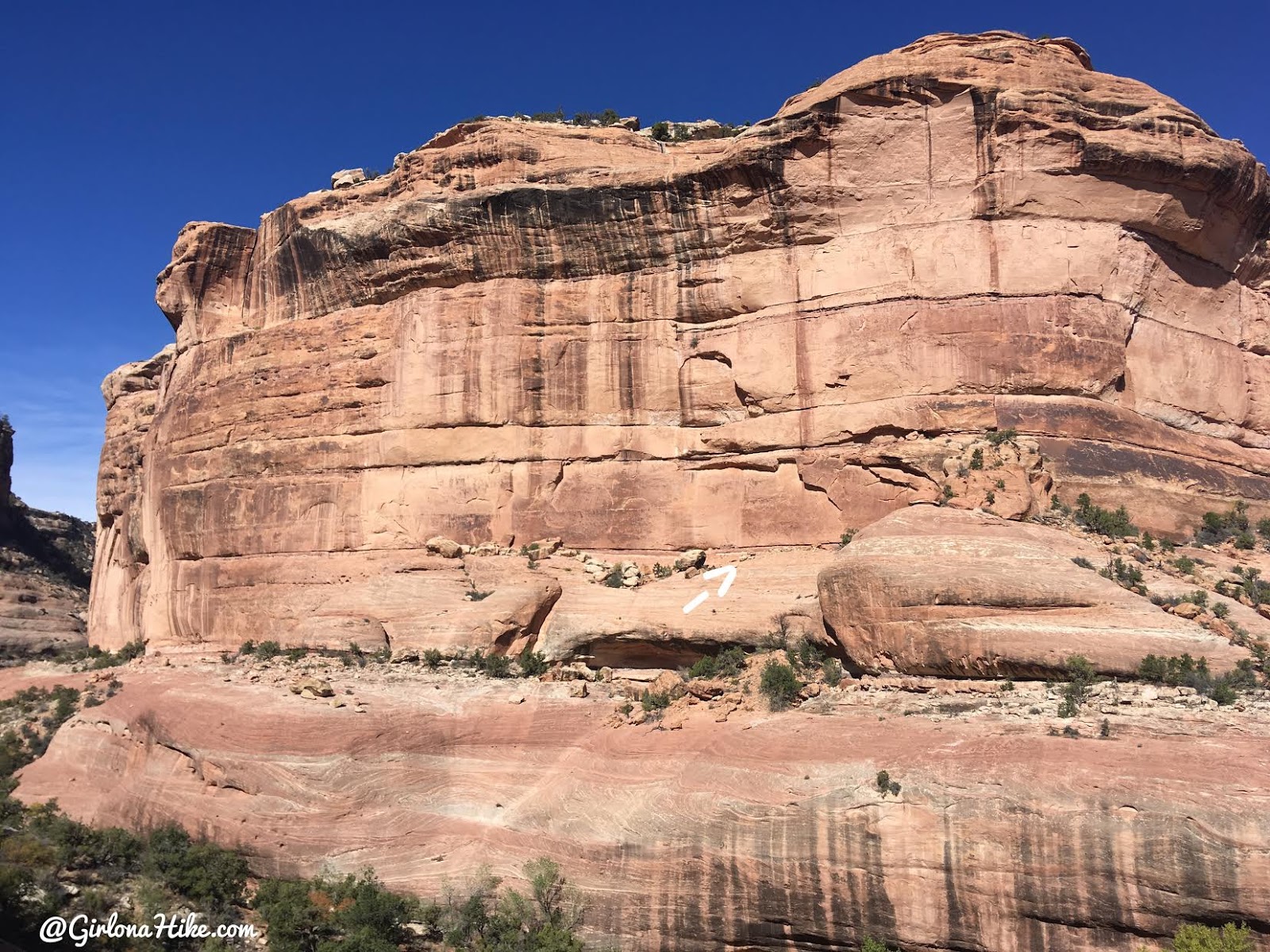 As you get higher up, look for the small kiva built into the crack of the wall. It's really tiny and binoculars will be helpful to find it. I recently bought these binoculars for backpacking because they are so small yet have good magnification.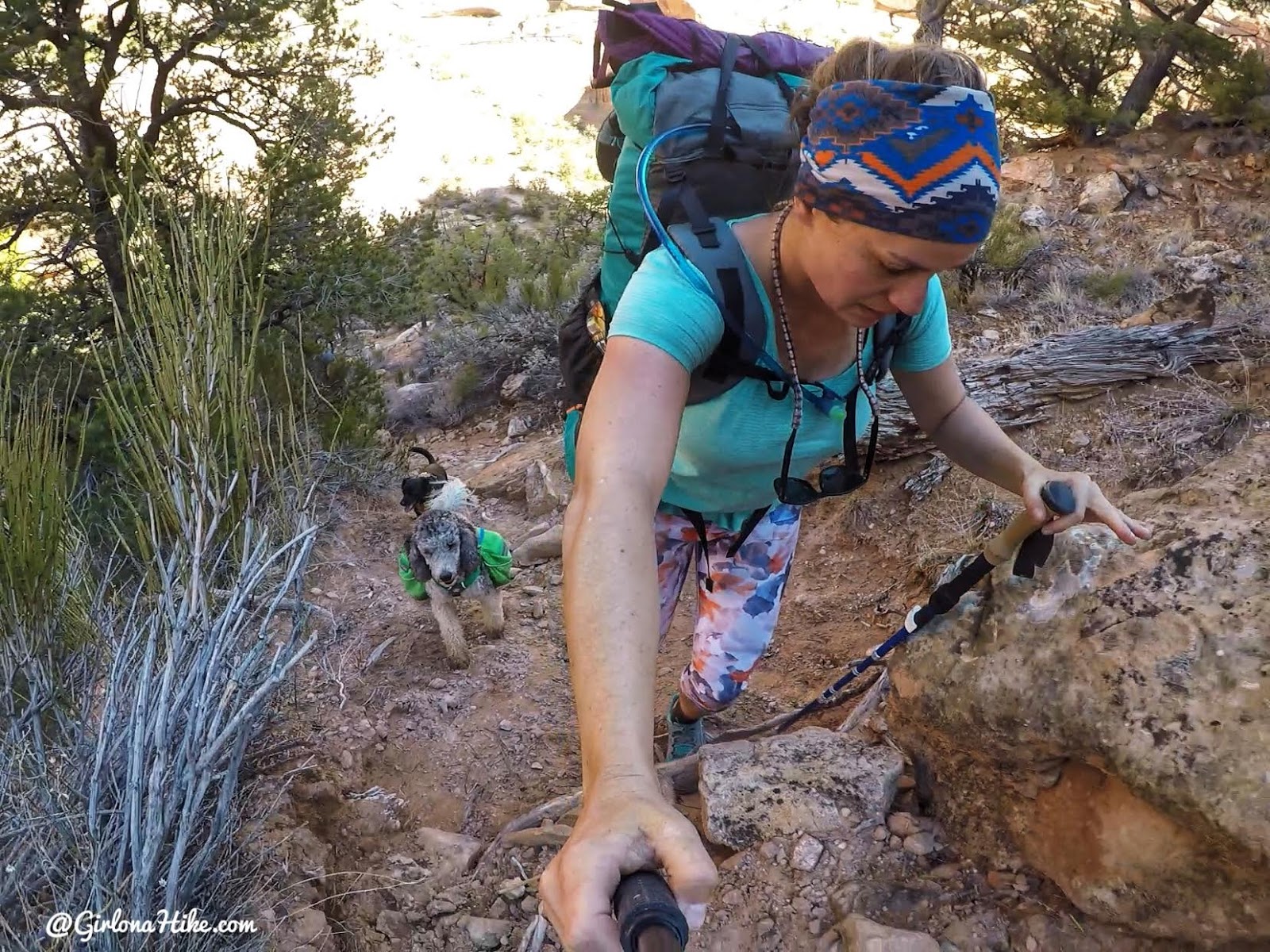 There's some light scrambling as you get higher. I ended up putting my pole away because it just got in the way of me being able to use my hands.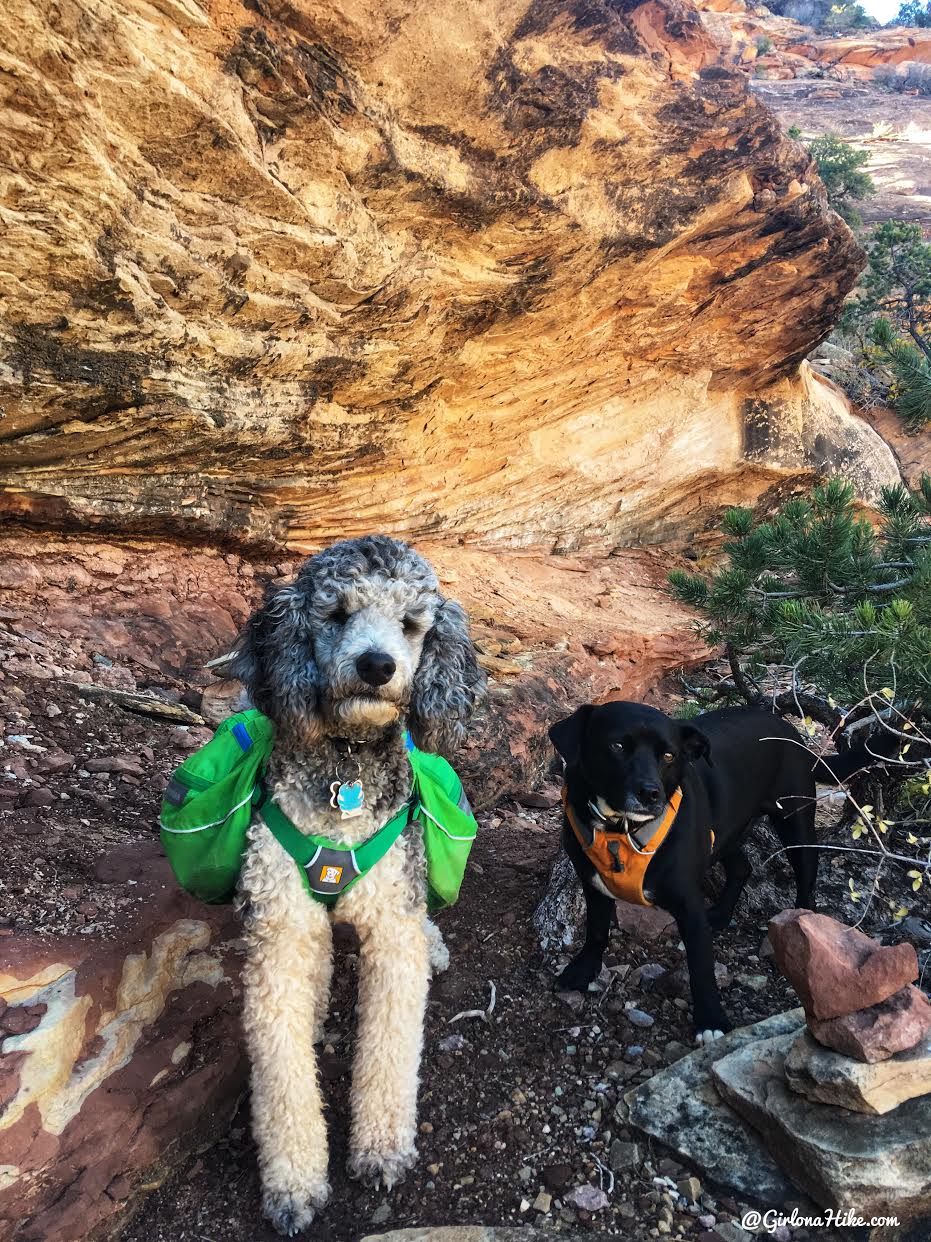 Charlie and Watson did such a good job! My Charlie had to stay home because of a paw injury but Little Charlie (as I call him) is a 1 year old, 30 lb Standard Poodle, and Watson is a 3 year old Reservation Mutt. They both love backpacking with their mamas!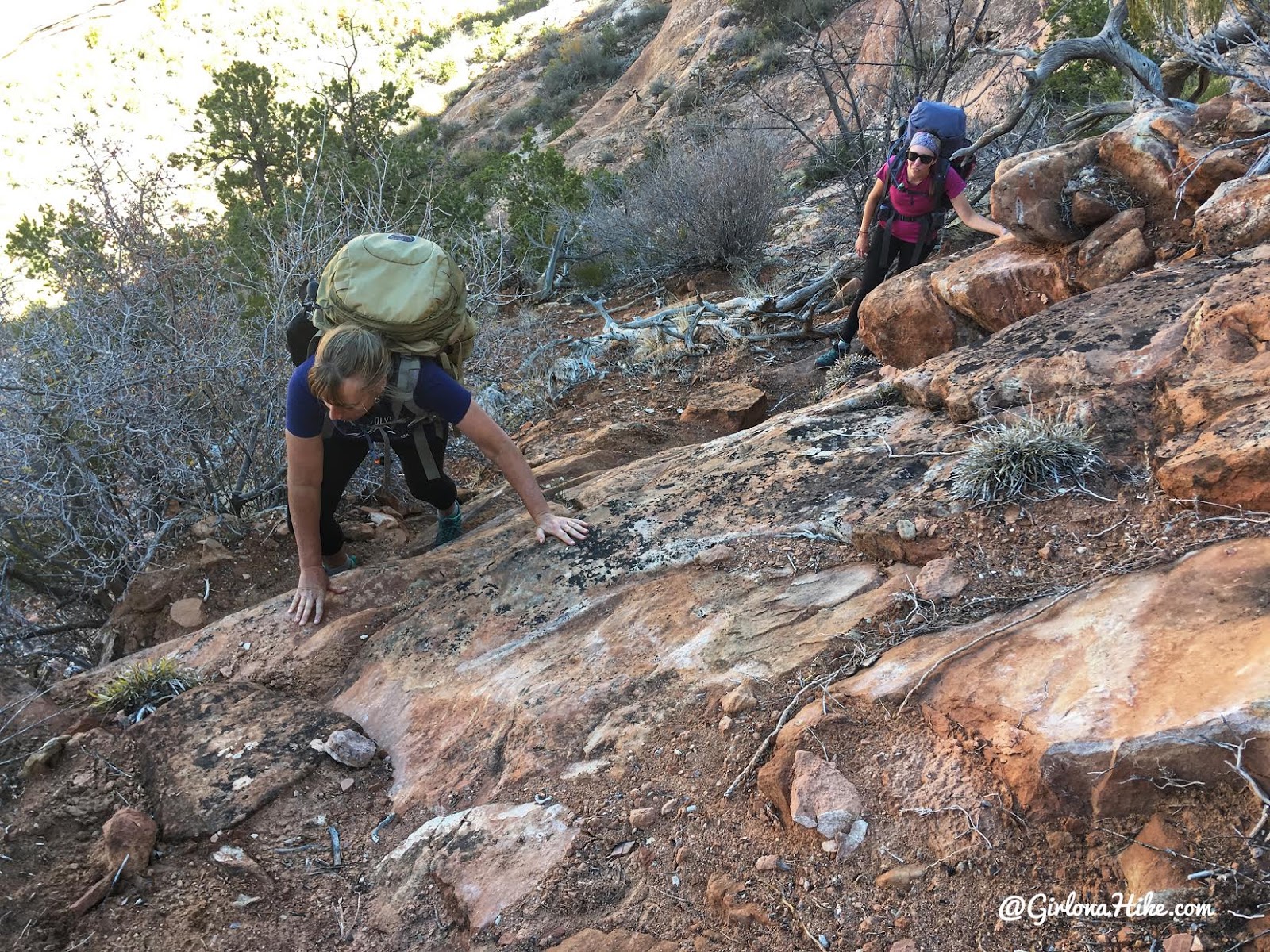 You will need to use all fours to get up some sections of the ascent to the ridge. I was really glad we decided to do this route counter clockwise, because it would be harder to go down this section with a heavy pack. At least going up, you can push your weight up with the help of a pack.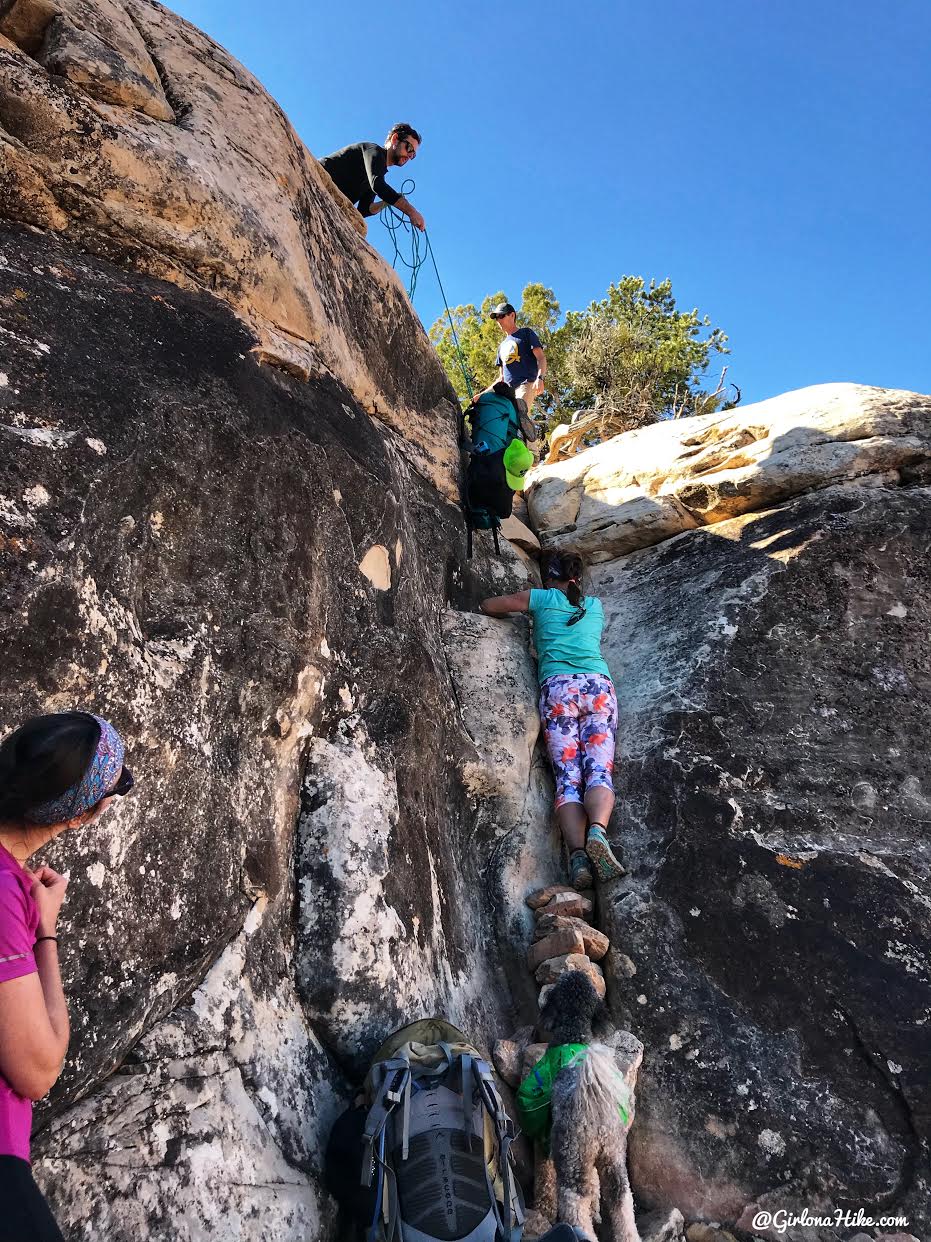 At last, we reach the 10 ft crack we'd heard about. Thankfully another group of 3 men we kept leap frogging on the trail waited for us, and helped get our pack and pups up. It's a fairly easy climb up, with two really good hand holds. I went first, and thought I might be able to climb with my pack on, but it was too awkward, so I took it off. I tied some paracord to it, and the guys hoisted it up for me.
Next it was time to pass the pups, and we created a line to pass them one by one. These dogs are both only 30 lbs so it wasn't hard at all, but I could see it being more difficult with heavier dogs, like my Charlie who is 70 lbs. You'll definitely want to carry a small 15-20 ft paracord with you, just in case.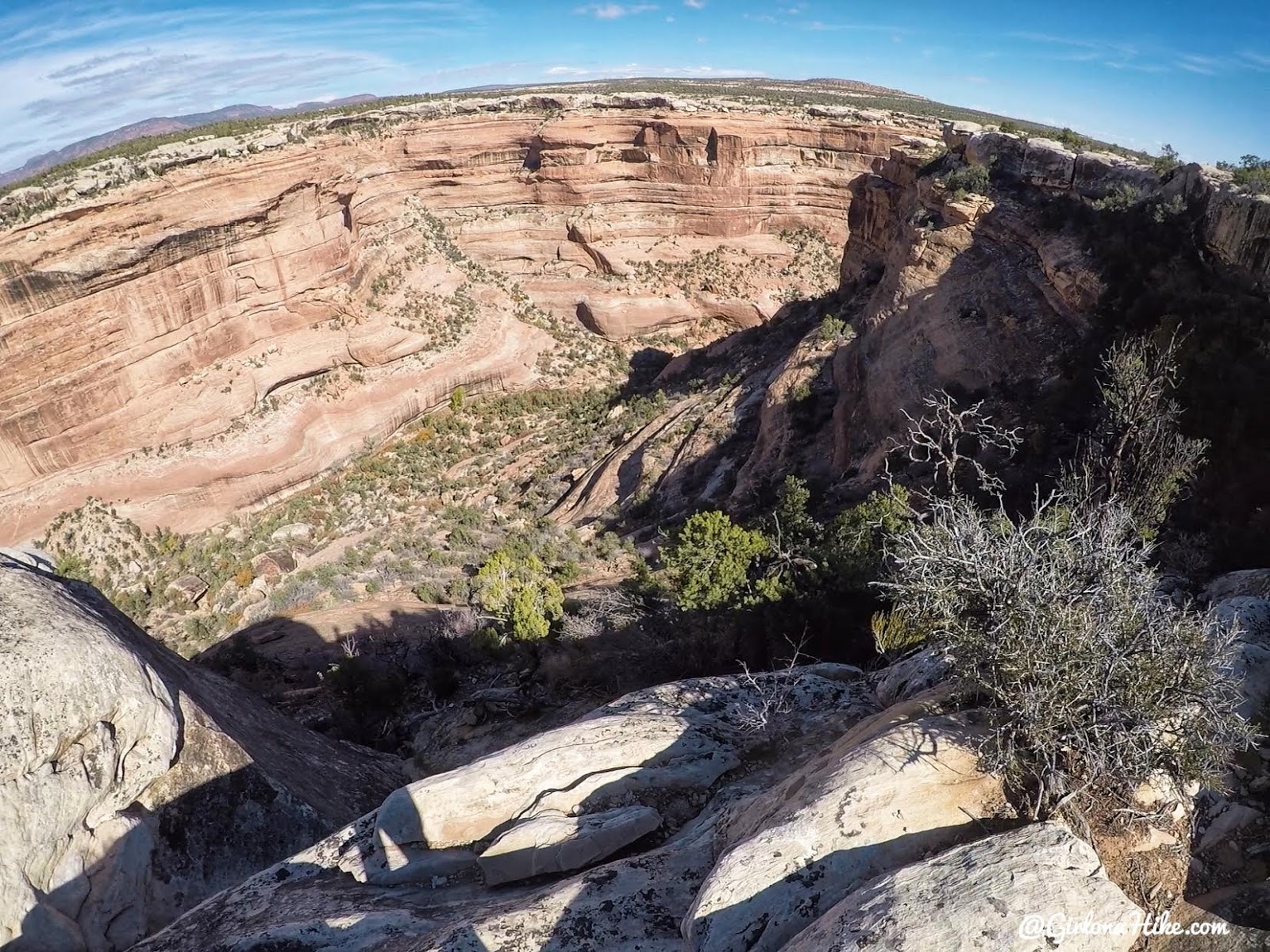 Looking down Fish Canyon – see ya later!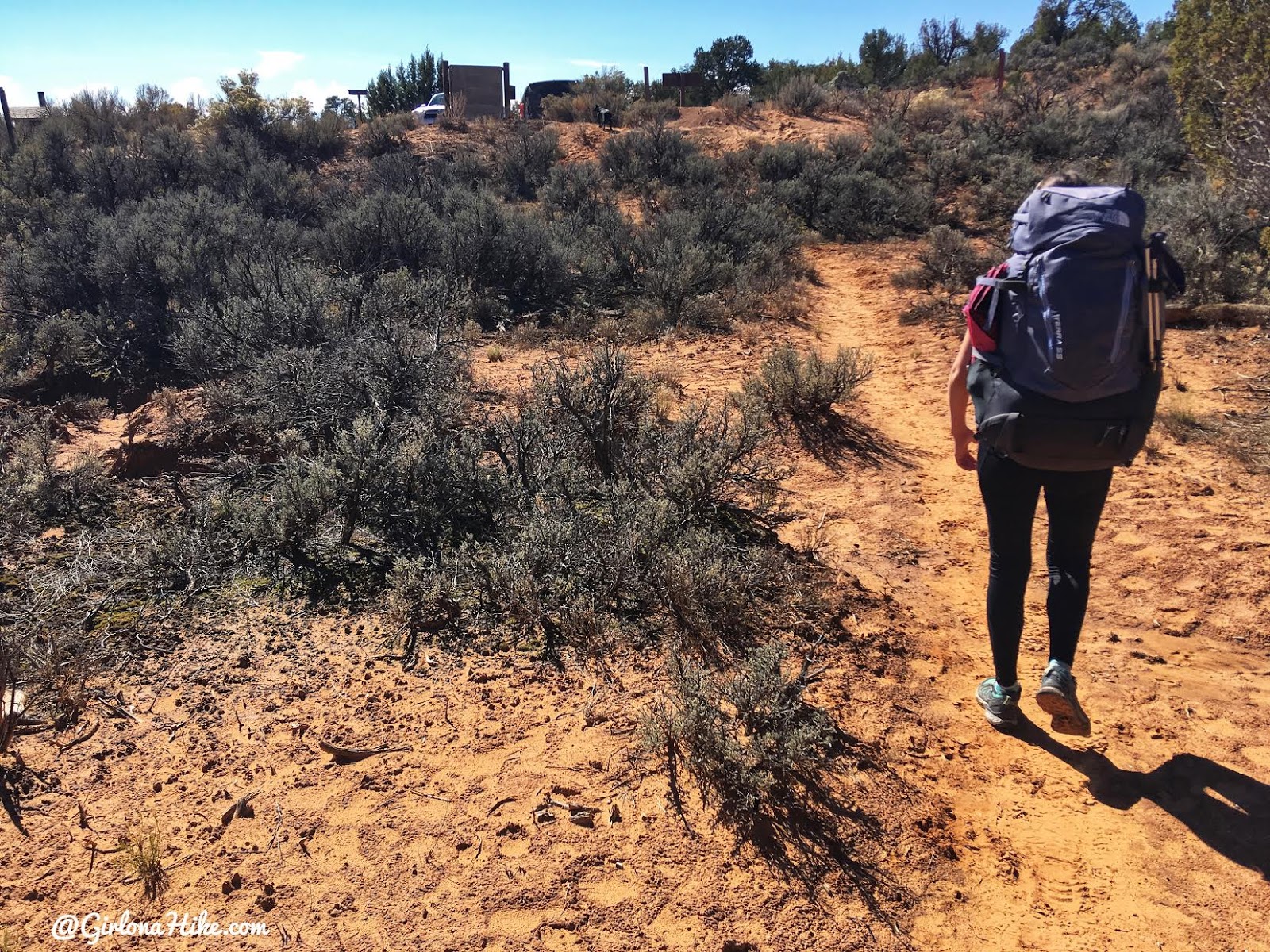 The next 1.7 miles was across sandy, rolling hills, and through lots of cryptobiotic soil and Juniper trees. The trail was really well marked with cairns, and we made it back to the cars safely.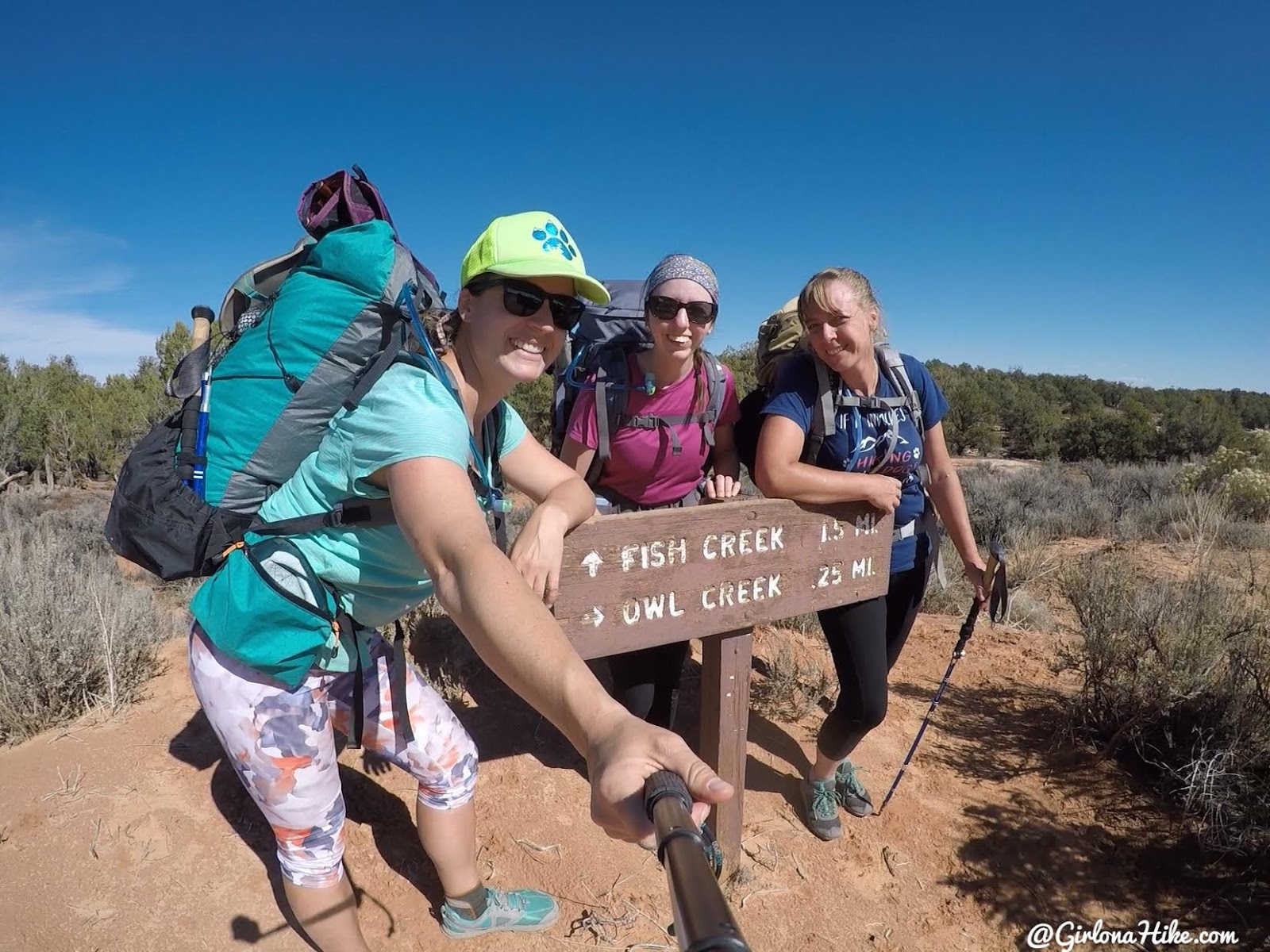 Another awesome backpacking trip in the books 😉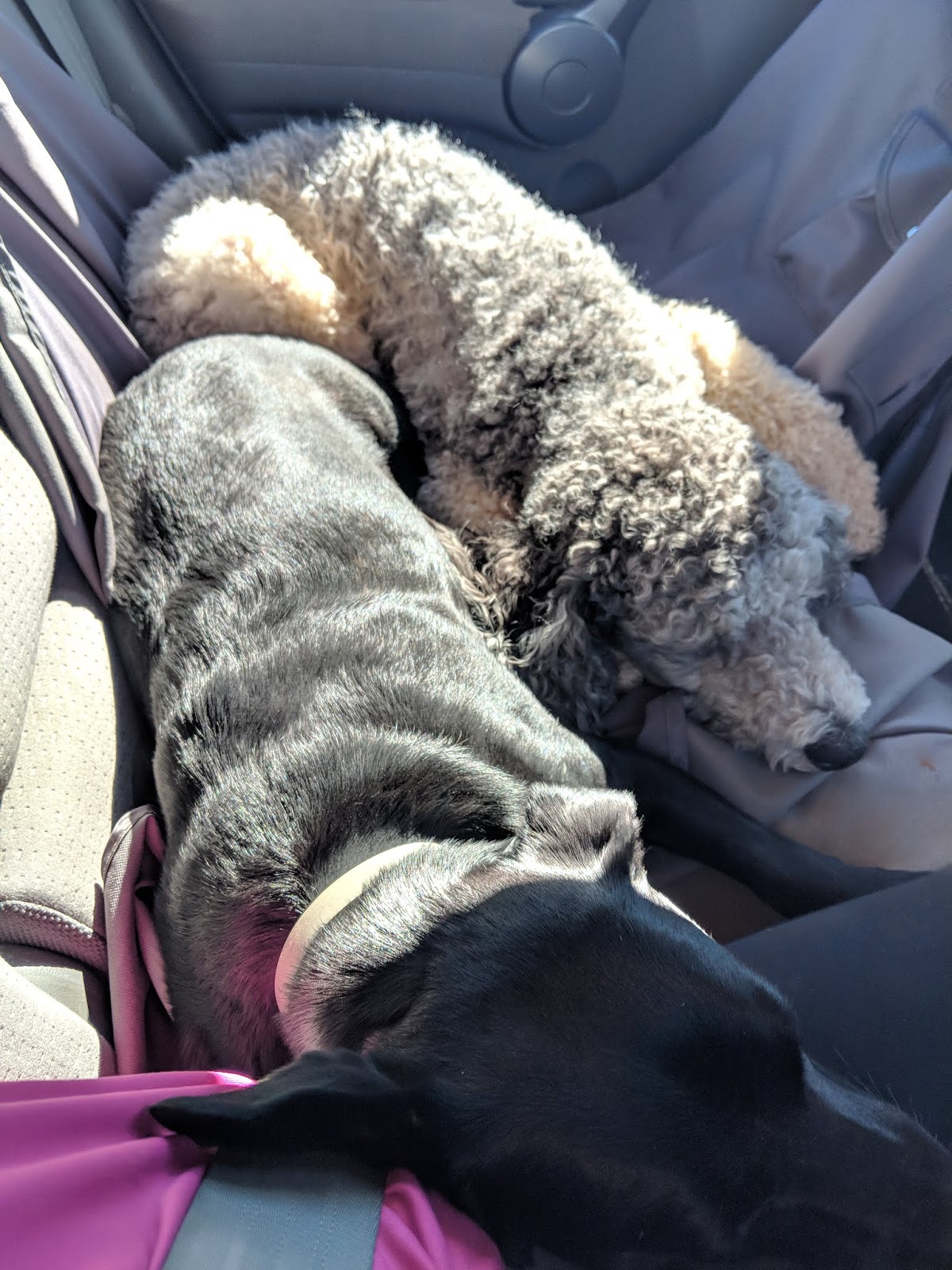 We finally wore out the dogs!
I recommend keeping a cooler in your car for when you are done with your trip – stock it with frozen water bottles and a few snacks to hydrate when you get back. A beer or two would help too haha!
Trail Map
My counter clockwise track via Gaia GPS – the best tracking app! Get your app here for a discount. The yellow pin is where the crack is located.
Recommended Gear
Nearby Hike
Hiking at Natural Bridges National Monument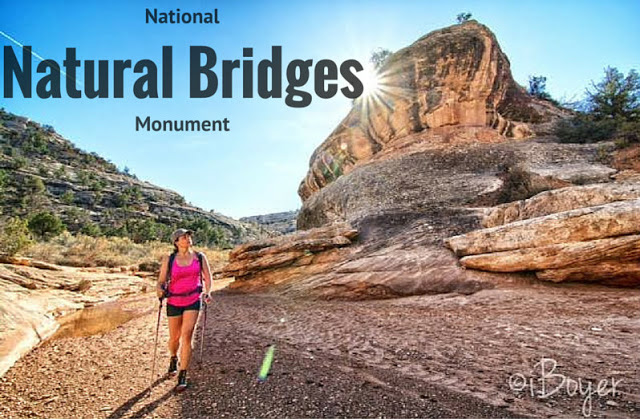 Save me on Pinterest!