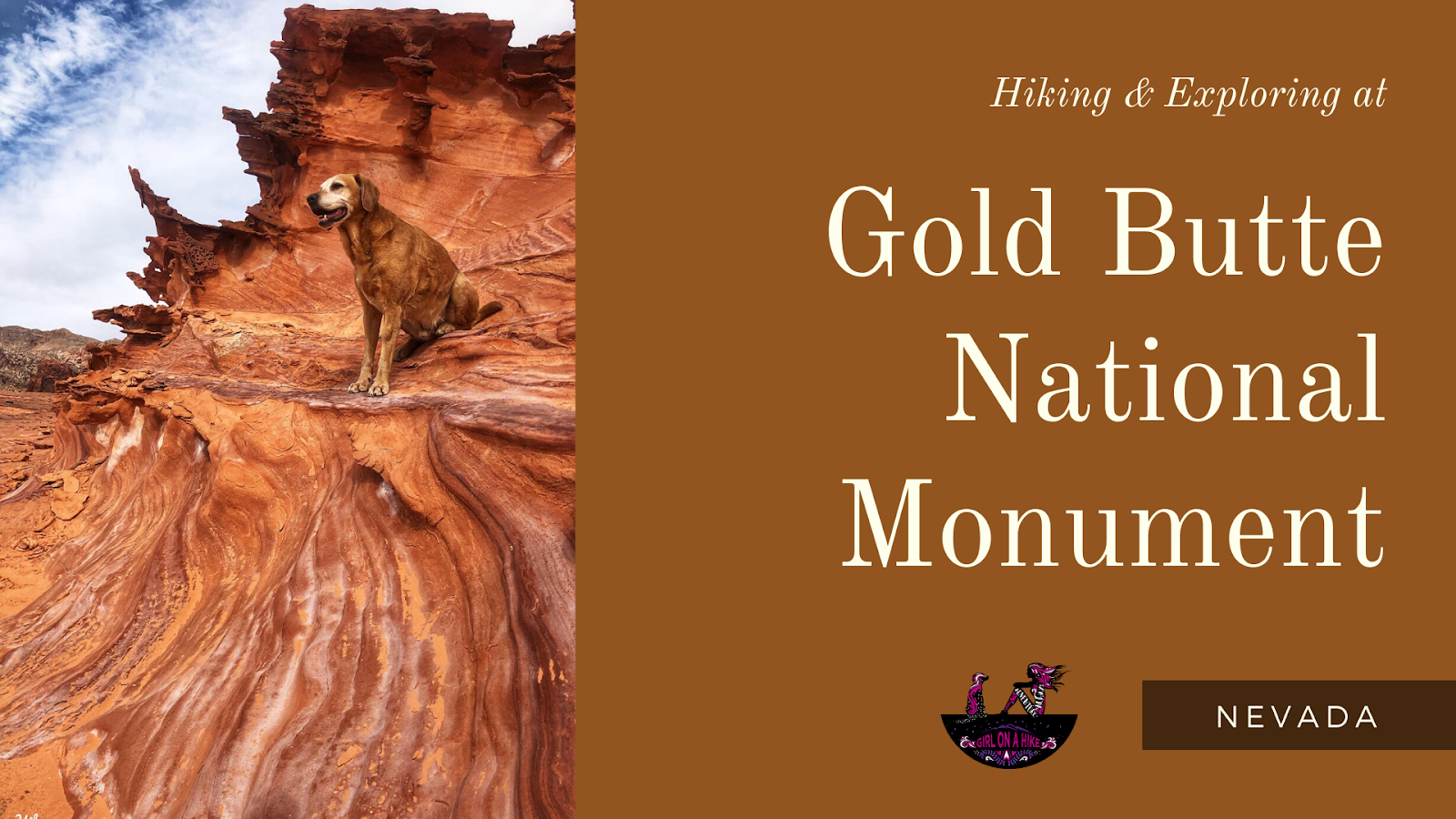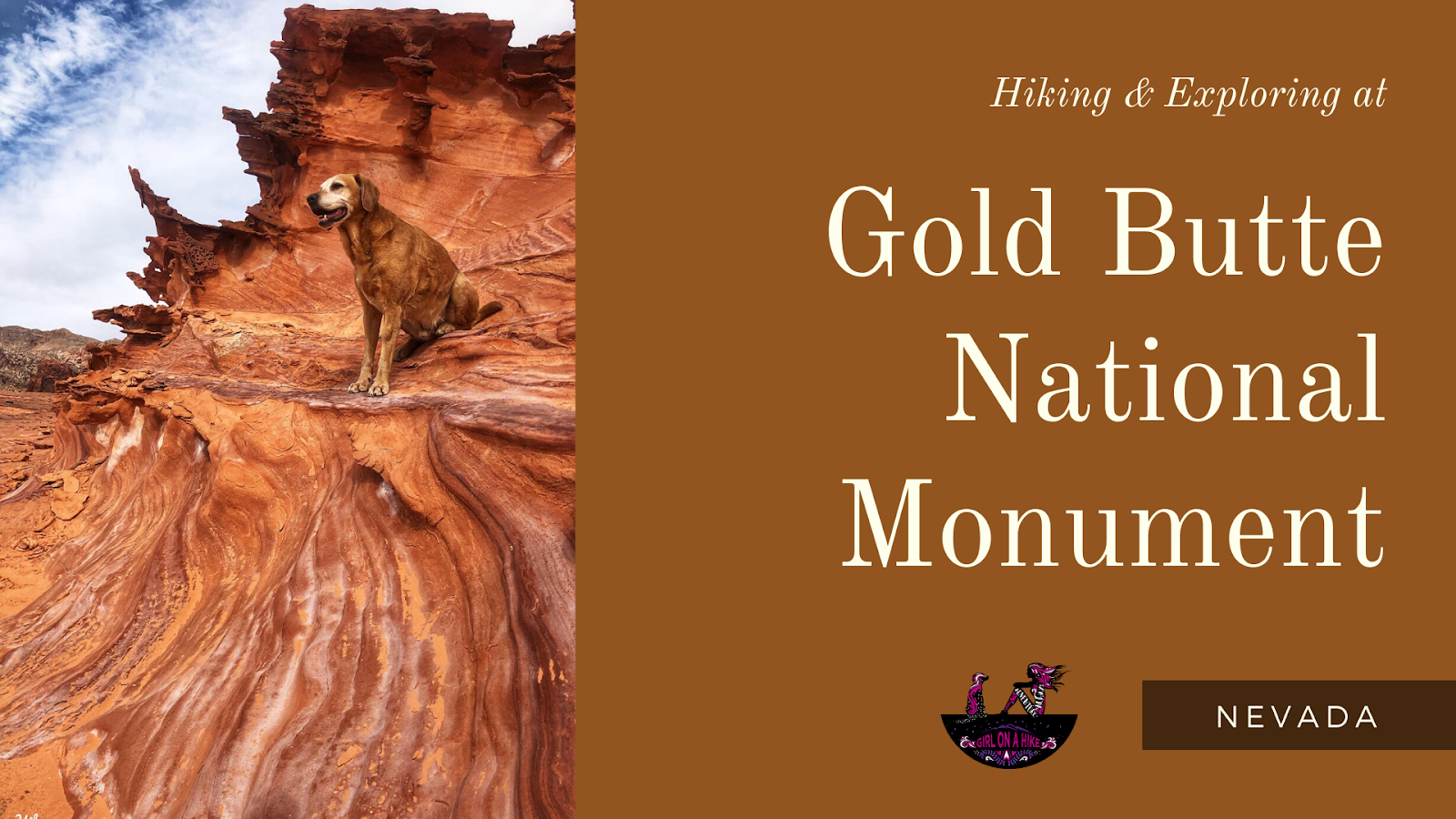 Gold Butte National Monument (GBNM) is located just 2 hours outside of Las Vegas, Nevada, 1 hour from Mesquite, NV and encompasses 300,000 acres of land. One of the newer monuments since 2016, GBNM is home to endless sandstone, rock art, old mining equipment, arches, wildlife, and even a ghost town. Most people come here to ride their ATV around to all the sites, and others like me, come for the hiking and geological features.
About
This area is sacred to the Moapa Band of Paiute Indians and the Las Vegas Paiute Tribe – petroglyphs and shelters dating over 12,000 years old can be found here. Biological diversity ranges from Douglas Fir and White Fir in the higher elevations, and cholla and Joshua Trees in the lower areas. The only pocket of Arizona cypress in Nevada can be found in GBNM as well.
This monument is free to explore and camp at, dog & kid friendly, and offers endless views. However, there is very little shade and no water, so be prepared with plenty of water, food, spare tires, a detailed map, and gas. There is no cell service.
Directions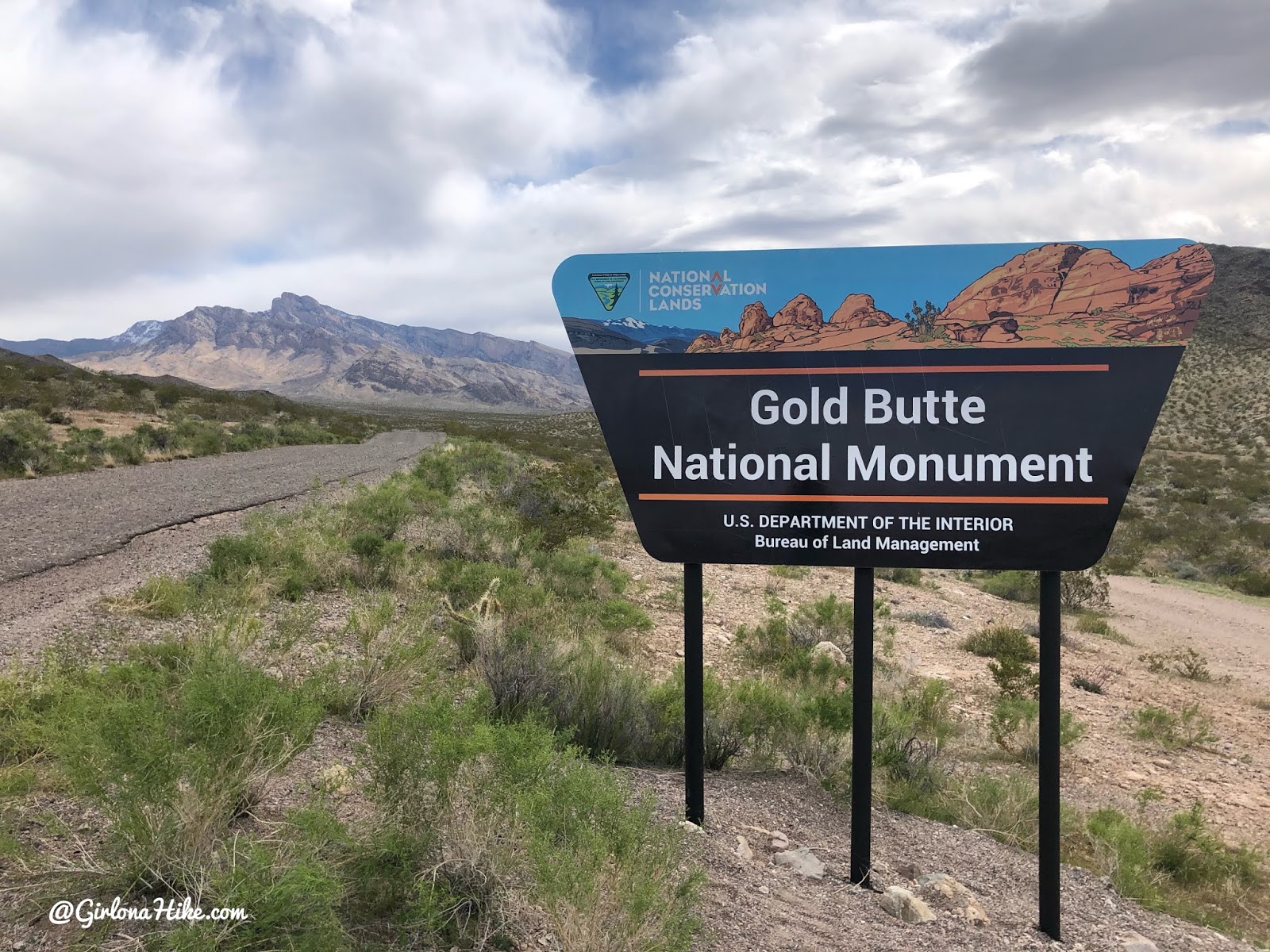 From Mesquite, NV head south on I-15 and take exit 112 for HWY 170 and turn right at the bottom of the ramp. Drive 3.5 miles and turn right at the sign for Gold Butte/Whitney Pocket. Drive 21 miles until you reach Whitney Pocket. While it is only 21 miles it will take you close to an hour to reach this area because the road is awful – deep pot holes and patch work are rough on the car making you drive around 25-30 mph the entire way.
If you have a Jeep or something similar and know about deflating tires, this is the road you'll want to do that on. 4×4 cars are not needed up until Whitney Pocket – after that I would advise an SUV or larger with 4wheel capabilities.
Here is a driving map.
Trail Info
Trail info varies per hike
CCC Dam
Distance: n/a
Elevation gain: 15 steps
Time: 10 minutes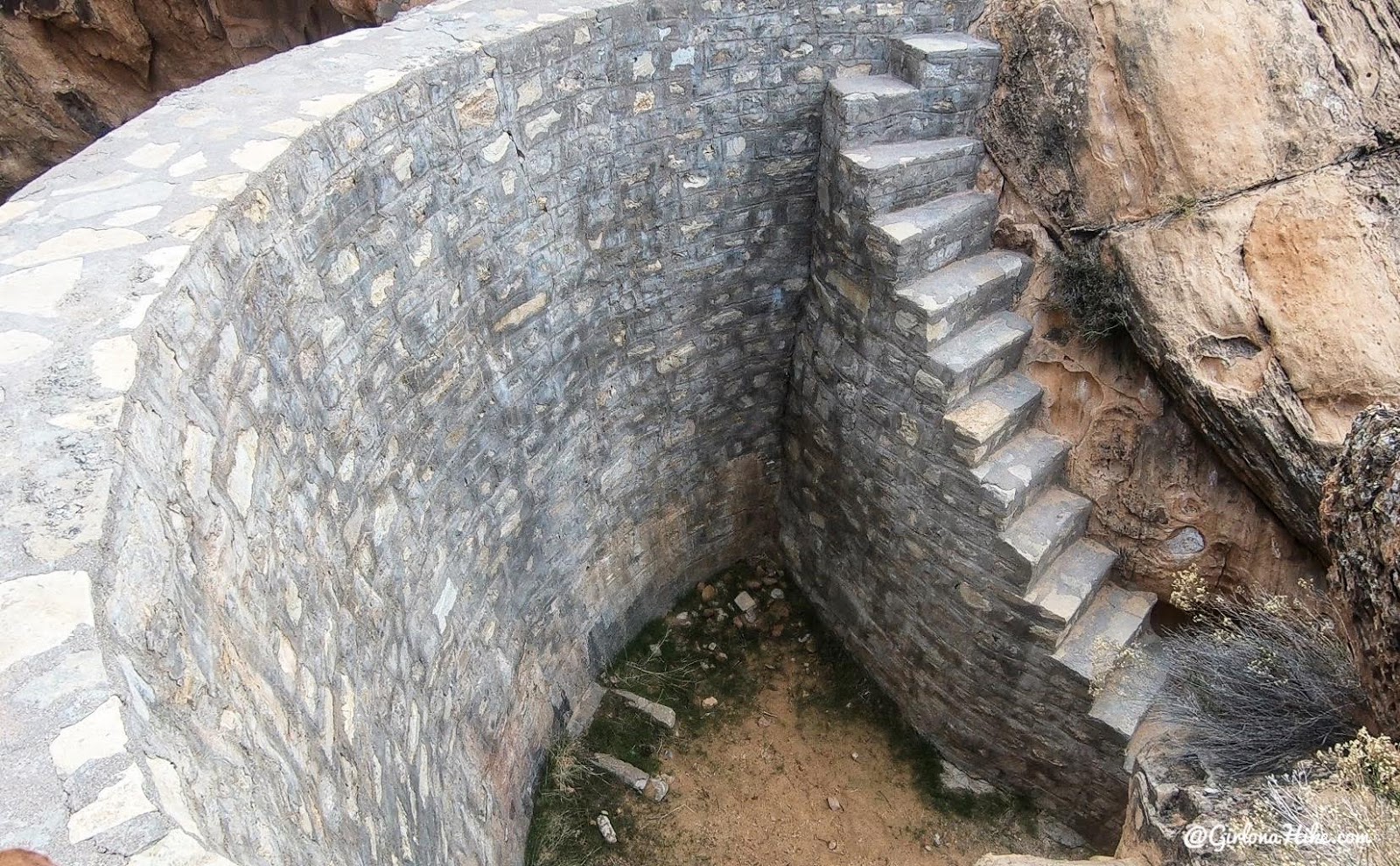 The CCC did a lot of work in the Gold Butte area including building this dam right at Whitney Pocket. Given the dry desert landscape and lack of water behind the dam, I was curious why this was even built. During the 1800s the west had been unusually wet, historically, so that gave ranchers plenty of forage for cattle but also gave them a wrong impression of the climate. By the 1900s the land was drying out and the ranchers began building dams and other water control structures like permanent troughs. Even though the dams helped for awhile, eventually the ranchers were forced to move north to a wetter climate.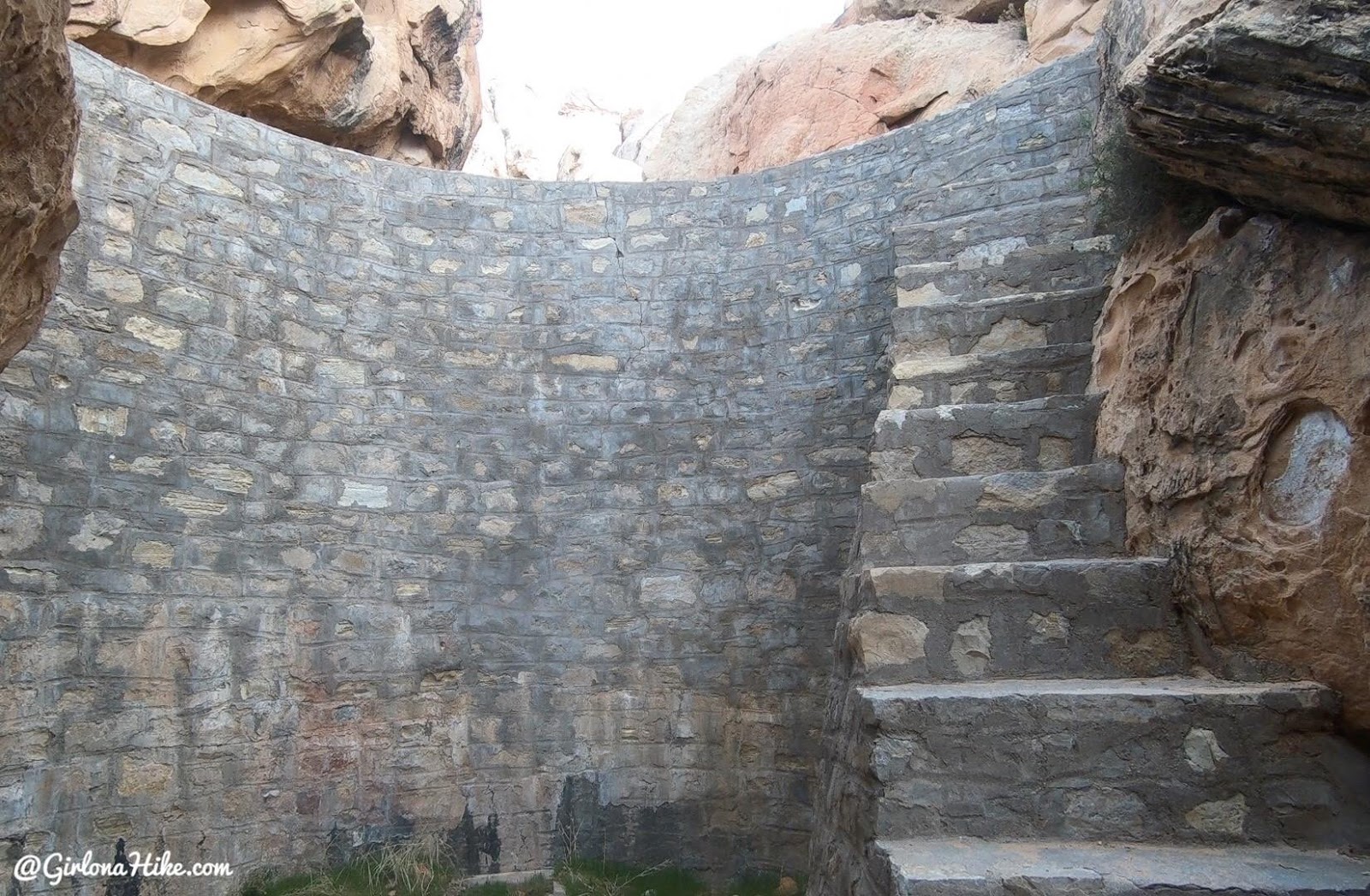 This dam has lasted since the 1930s – let's keep it clean and preserved for a long time!
Doodlebug Arch & Whitney Pocket Overlook
Distance: 4 miles RT
Elevation gain: 350 ft
Time: 2-4 hours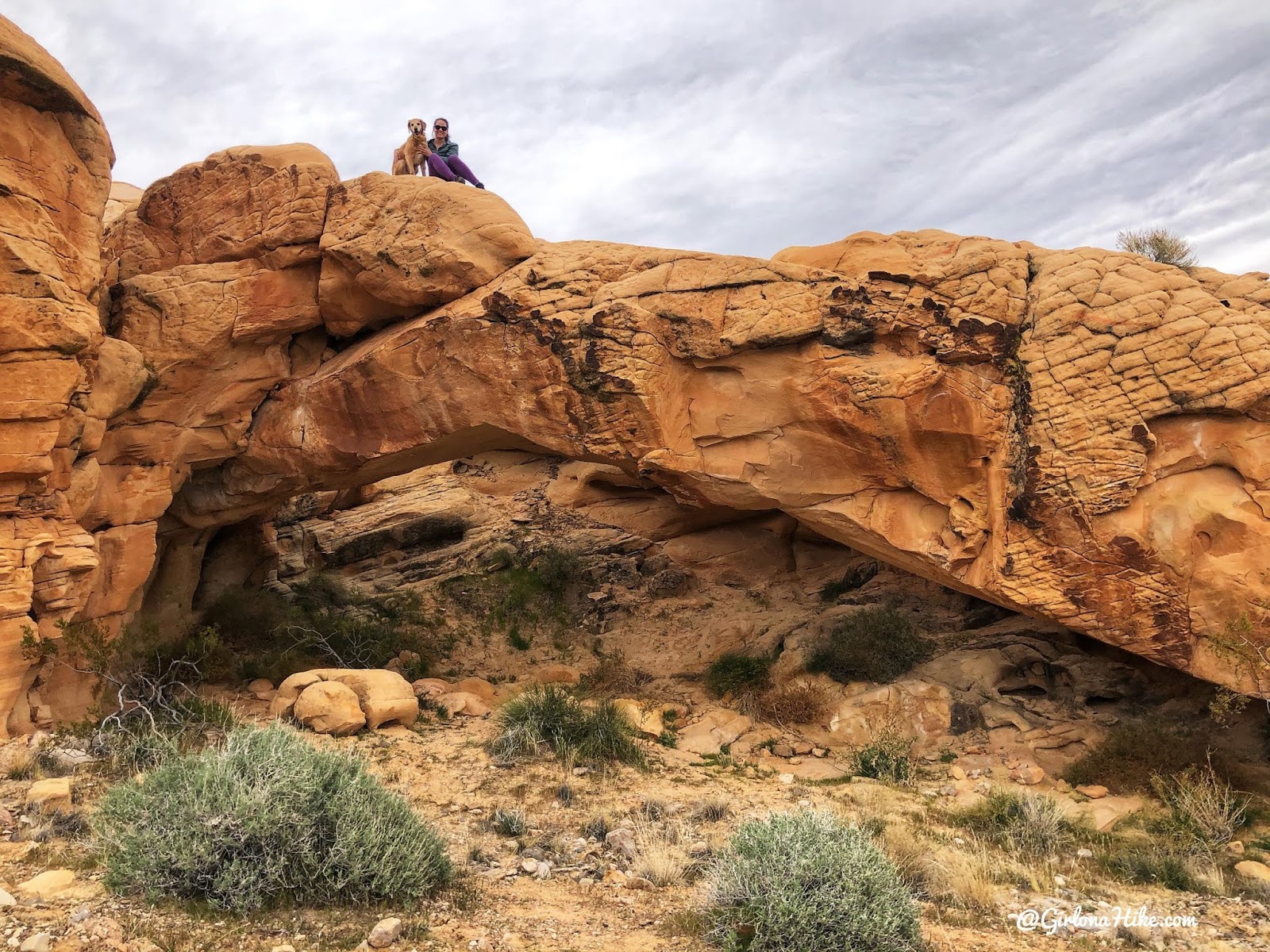 There is only a trail half of the time, so using a GPS or map will be key. Make sure you are comfortable with route finding before attempting this hike.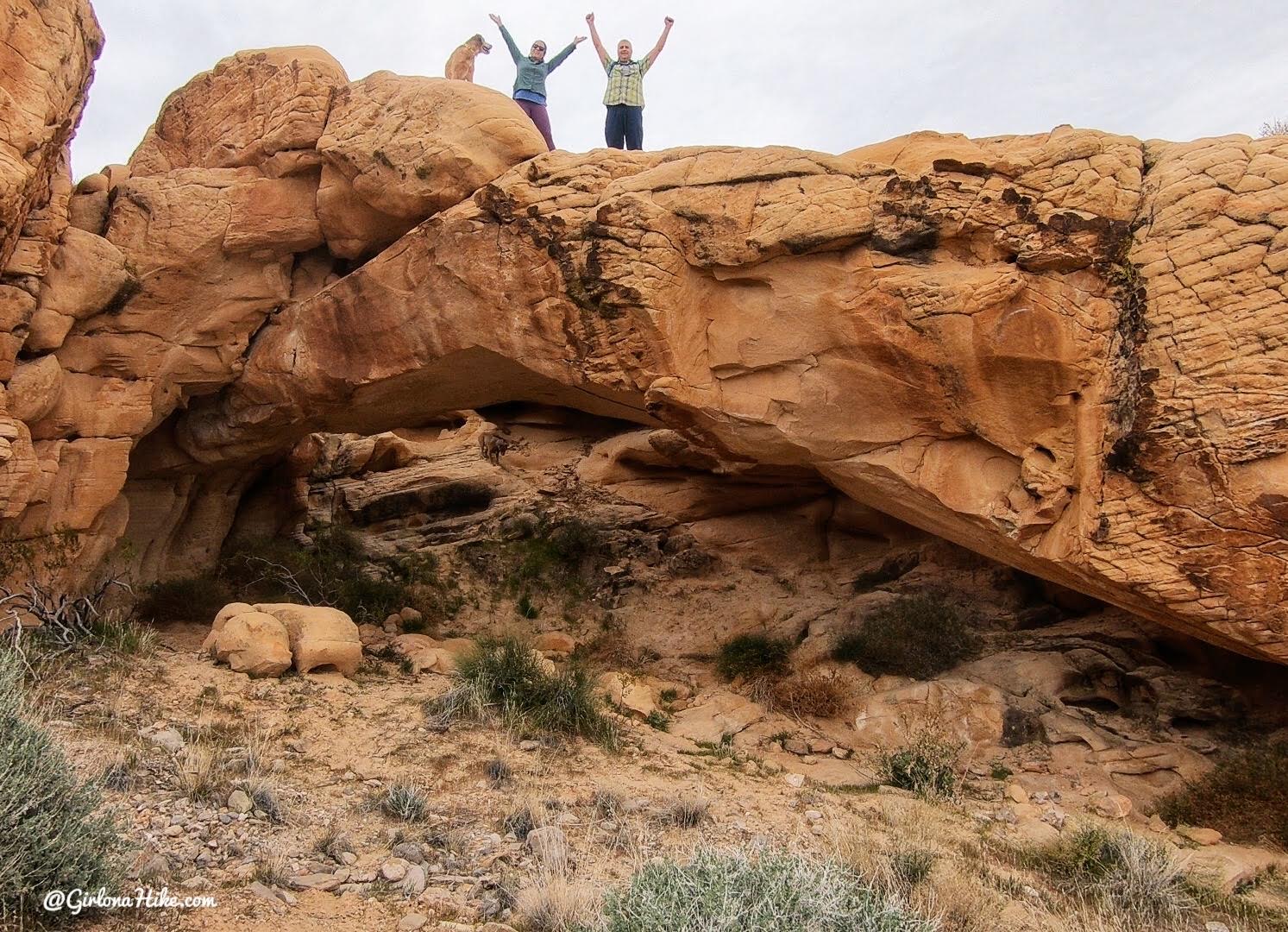 The arch itself is about 40 feet long and 20 feet high. I was surprised at how large it was. You can easily climb to the top. There is a small trail around the left side or you can go under and up through the arch.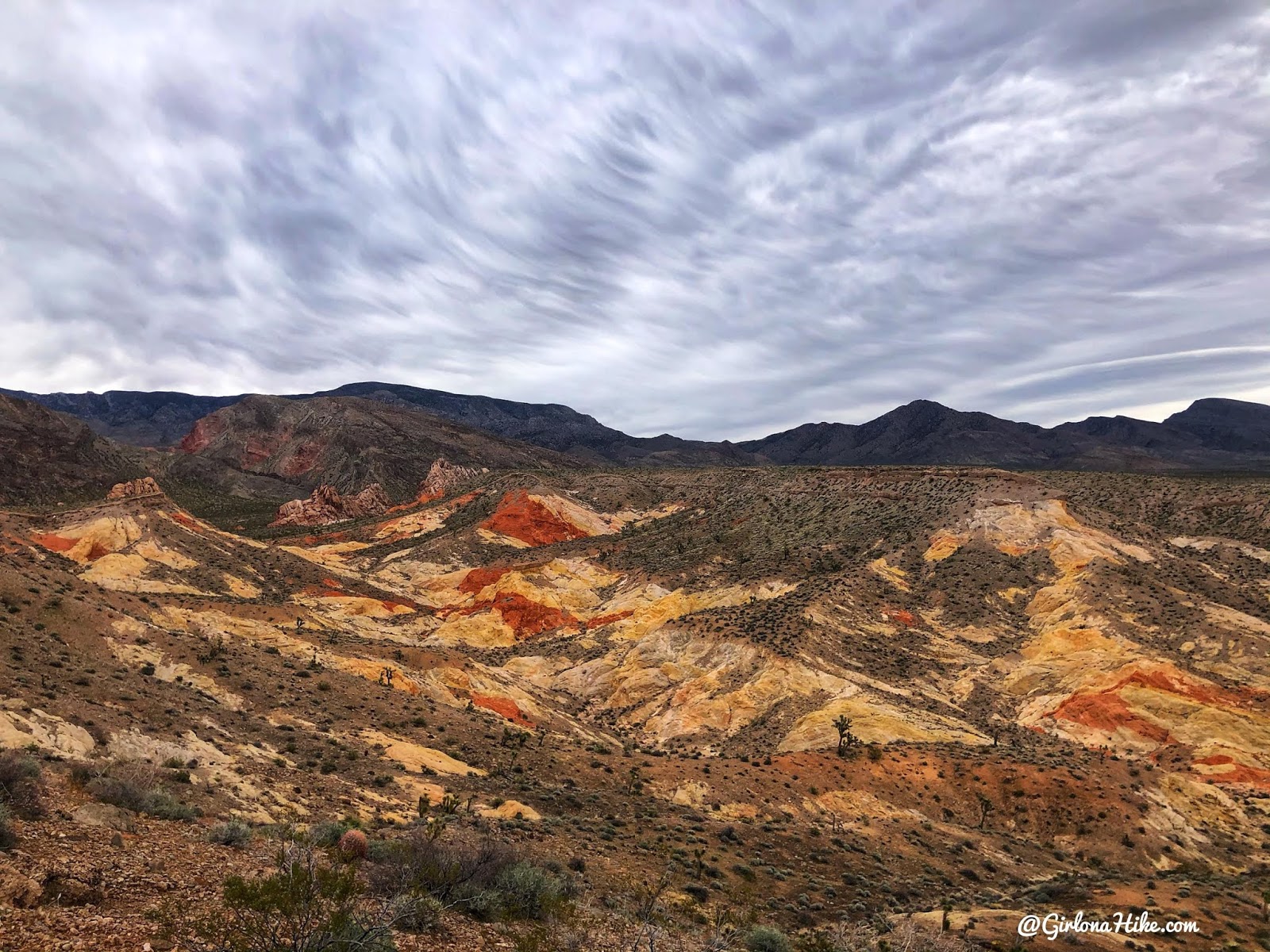 Our original plan was to hike through this canyon below, Amber Cat Canyon, but I followed my GPS route wrong so we ended up on top of it! I actually liked that better because it took us right to the Whitney Pocket Overlook.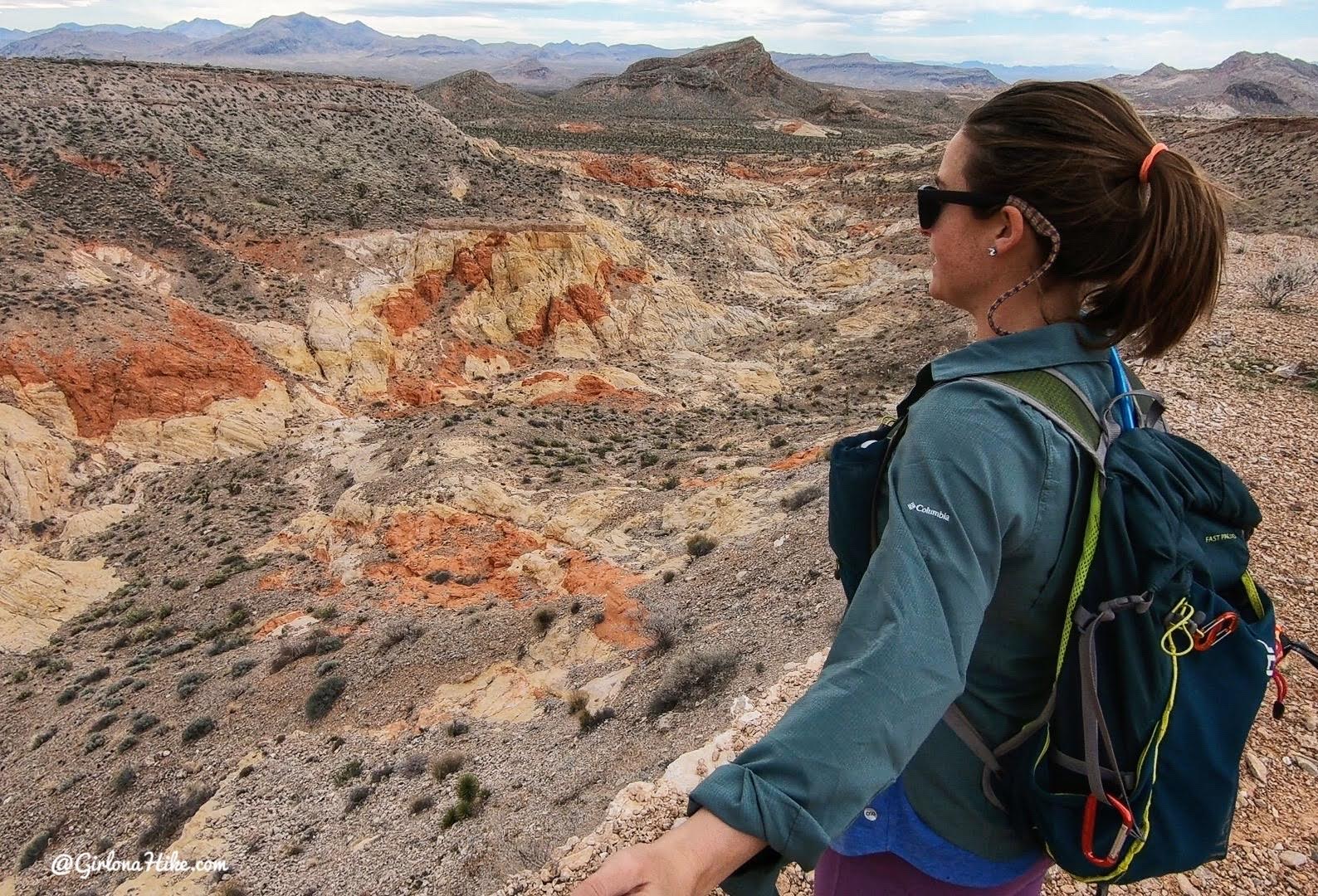 Sometimes going the "wrong" way ends up being really cool! From here, there is an actual trail that leads you right back to the TH (not in this photo, but it's off to the left of the overlook).
Falling Man Trail
Distance: 2-3 miles RT
Elevation gain: 250 ft
Time: 2-4 hours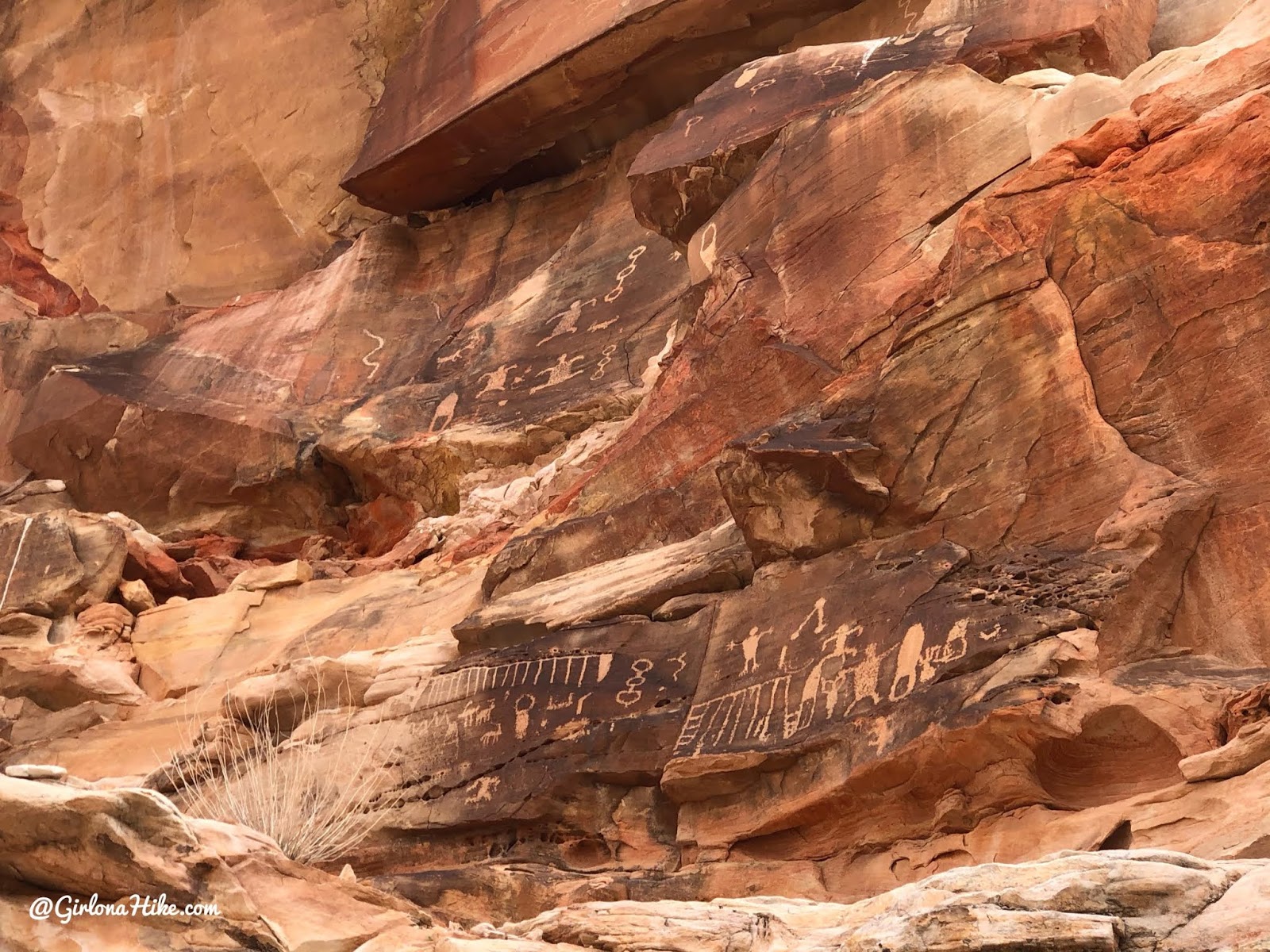 This area is opposite from Doodlebug Arch area – this has trails going everywhere so it can be confusing. It's really best to go in with the mindset of just wandering until you find something cool.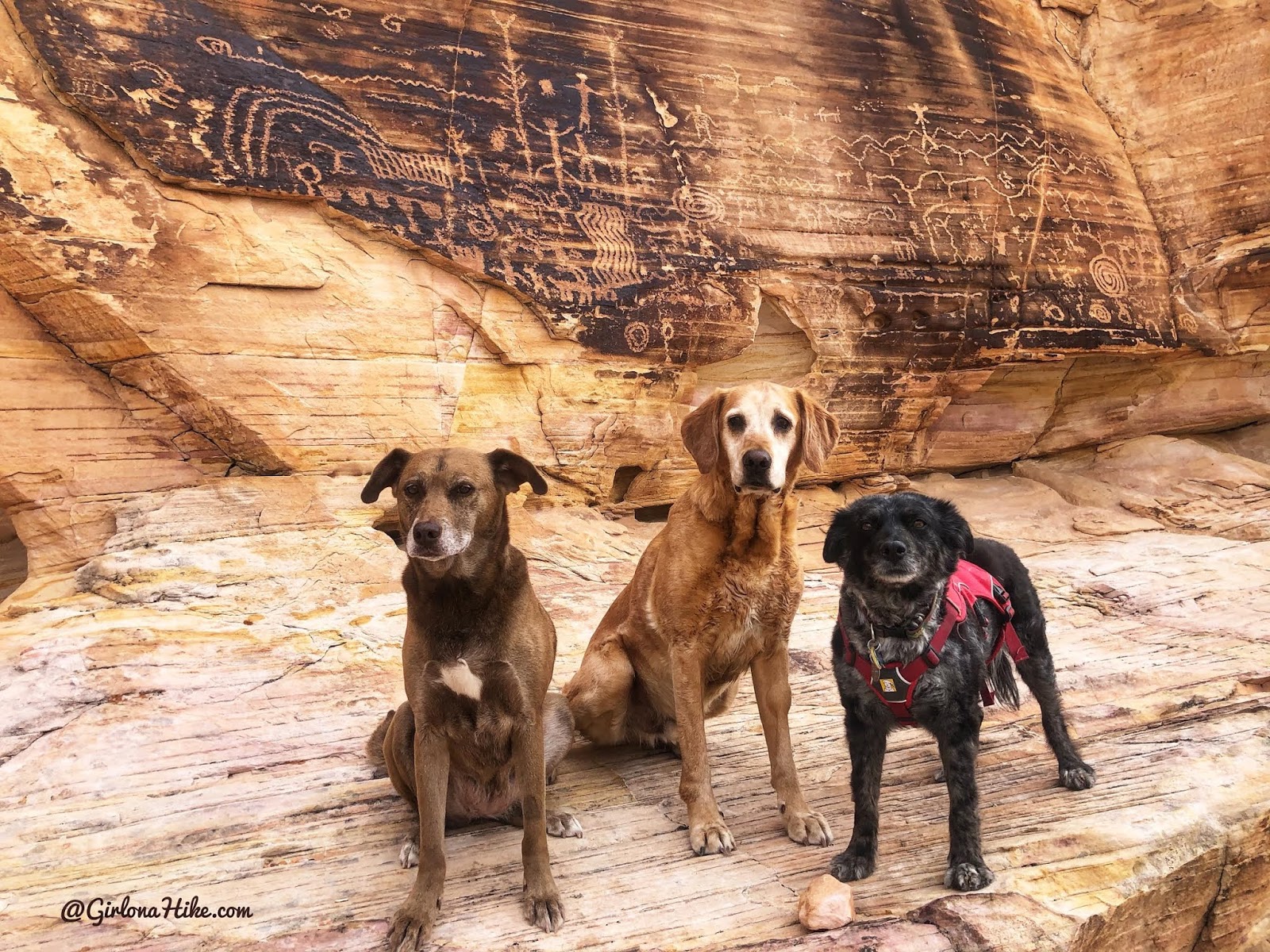 If it weren't for my friend showing us around and been here before, I would have had trouble finding this without GPS points. We didn't even see everything – there are so many petroglyphs in Gold Butte National Monument!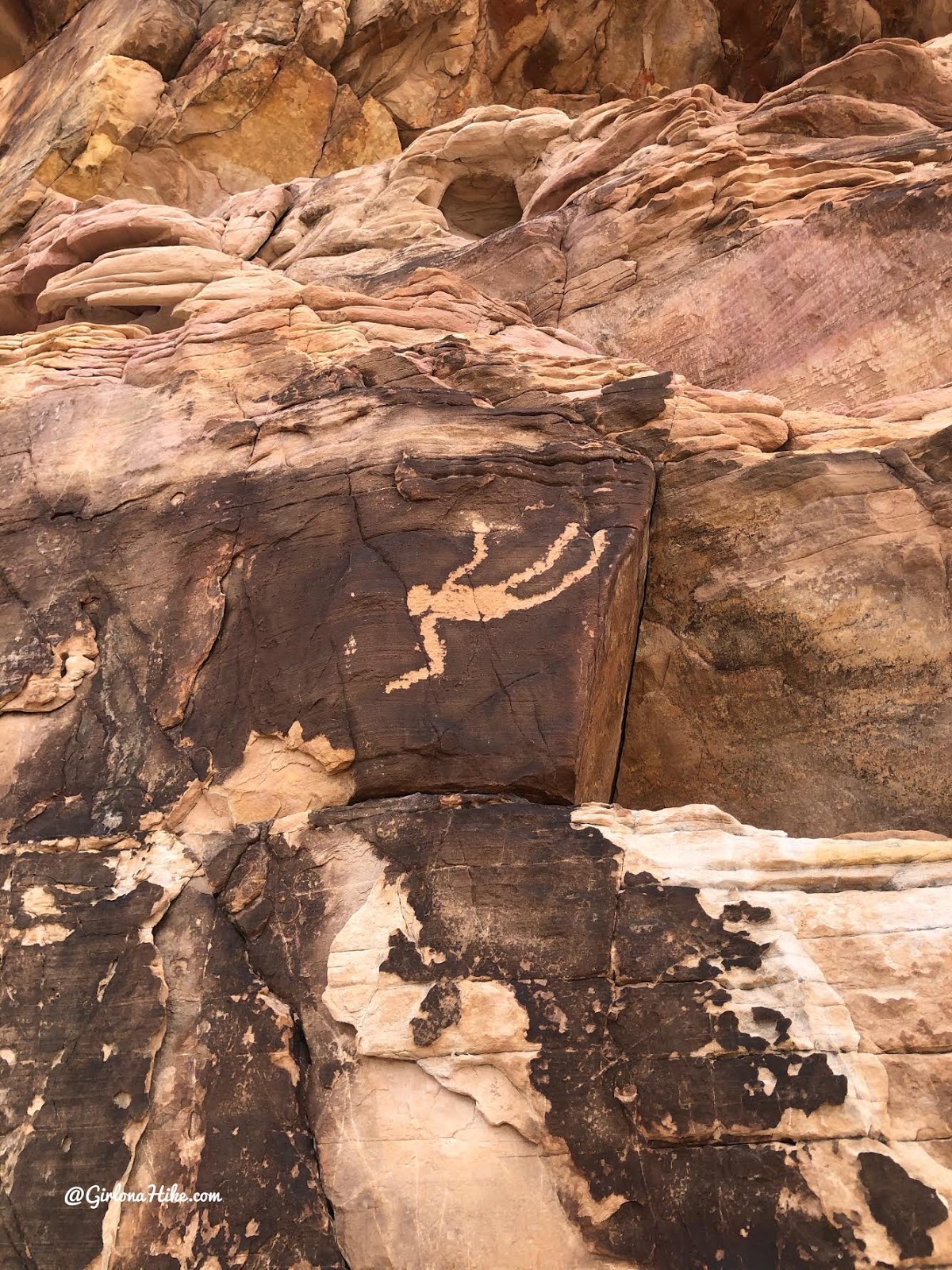 "Falling Man"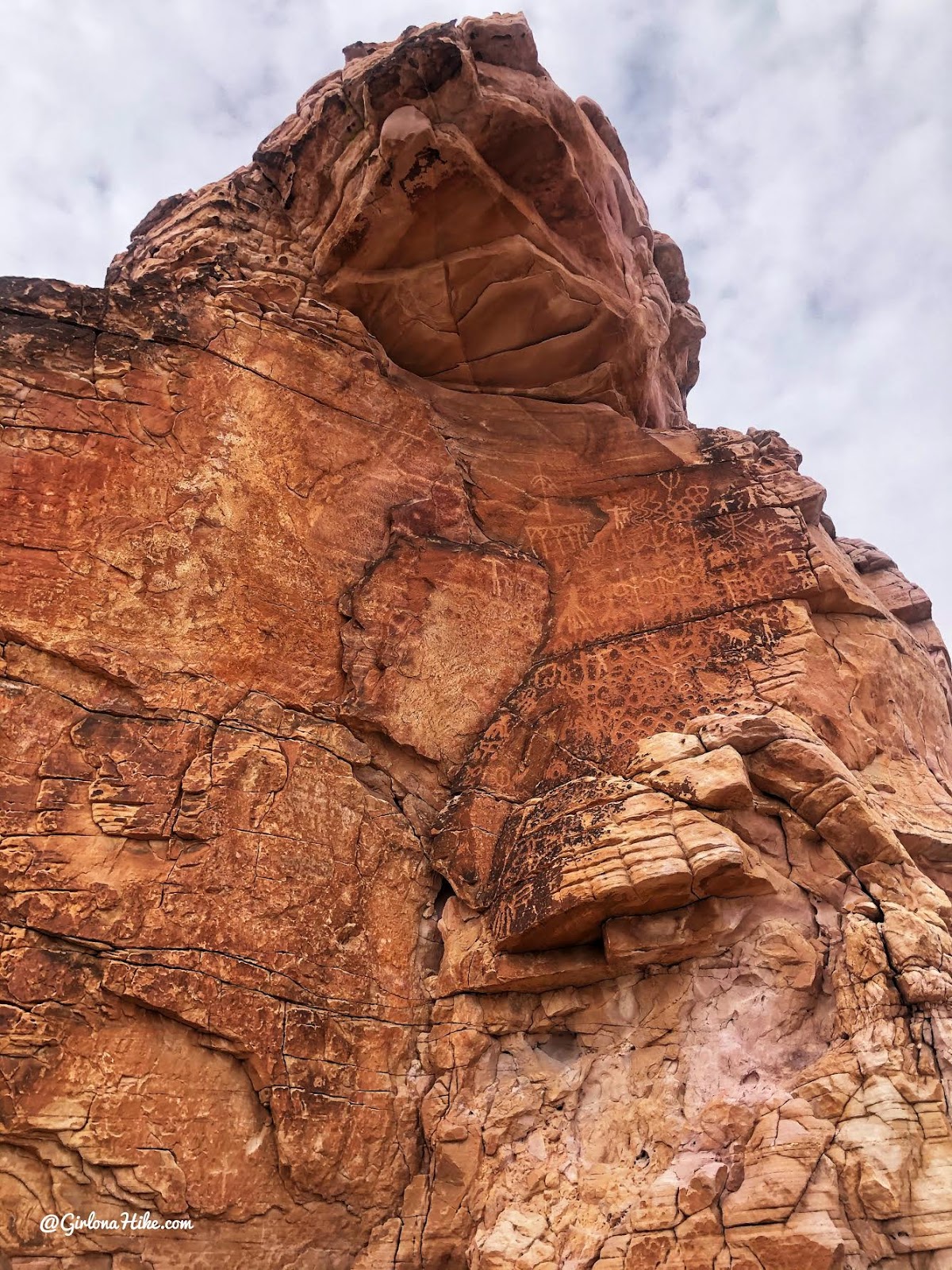 "Newspaper Rock"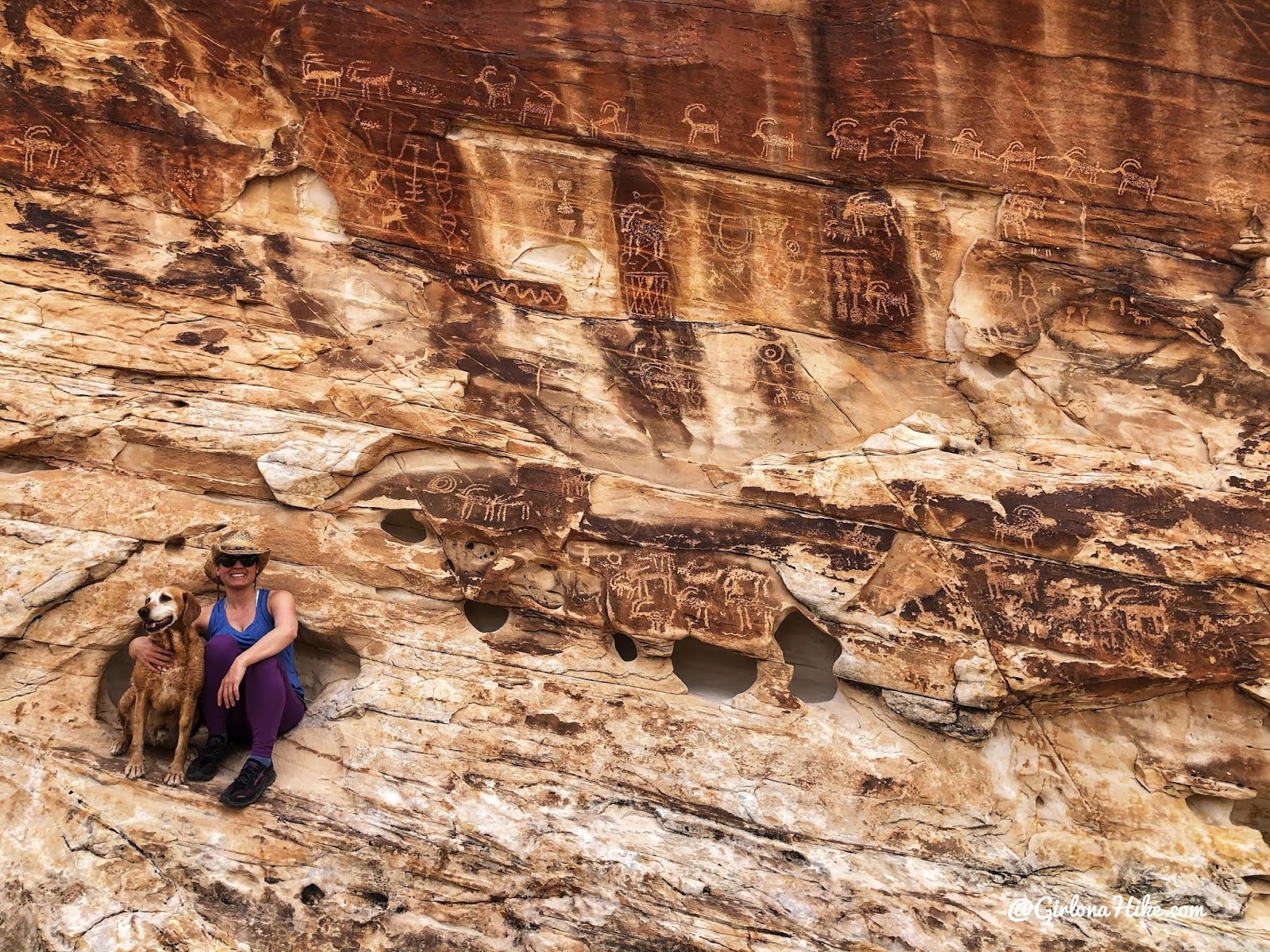 "23 Goats"
Really cool area! Even though this trail is short its packed with history and geology!
Little Finland Area
Distance: varies
Elevation gain: varies
Time: 1-3 hours to explore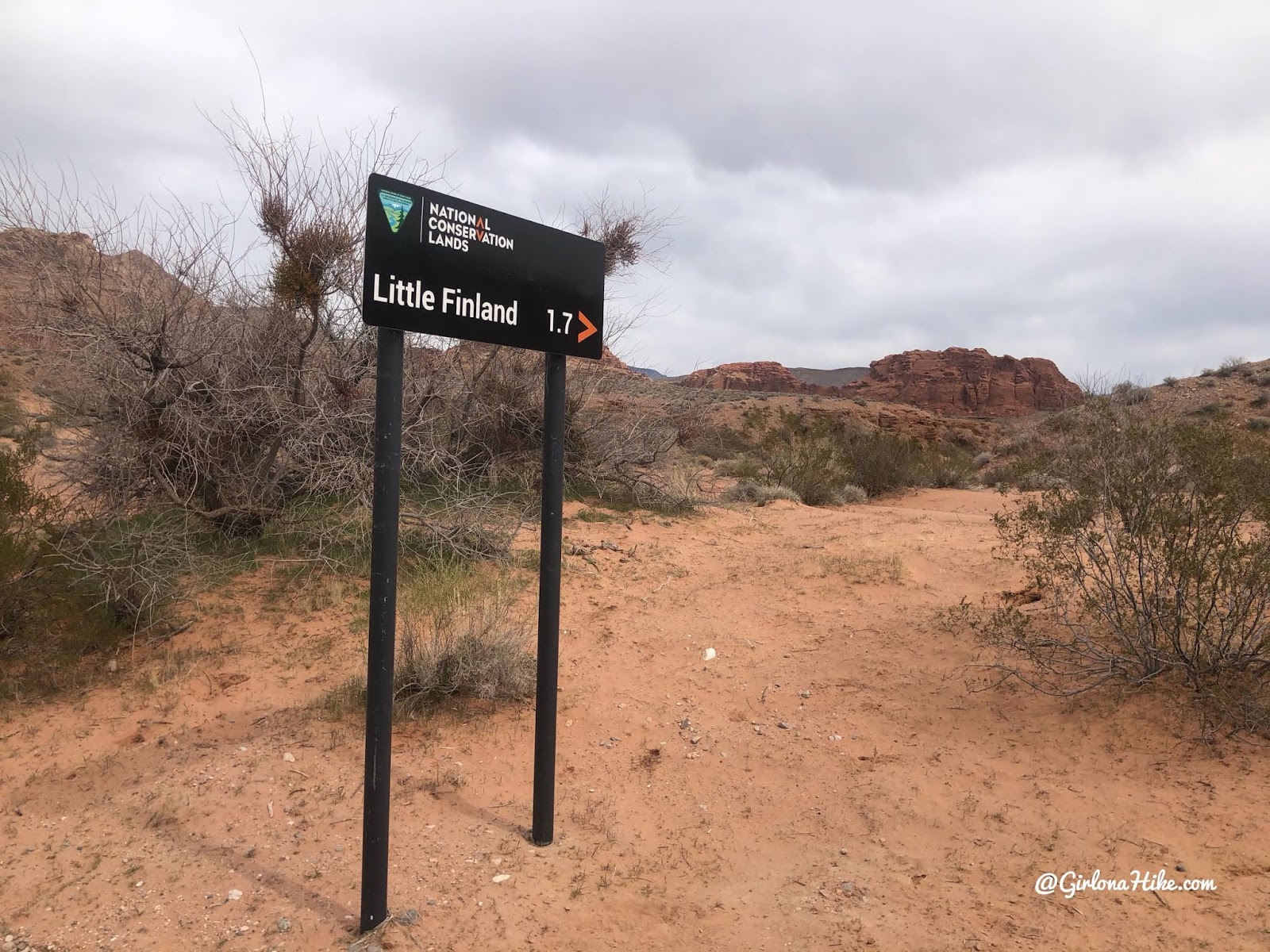 The last sign for Little Finland. This road is the worst out of all the locations on this blog post – deep ruts, washboard-like, and sandy. It's best to have a 4×4 car for this road (once you turn off Gold Butte Rd), and if you have a Jeep to deflate the tires. Even with the low tires we still bounced around a lot. Do not attempt getting here a day or two after a rainstorm.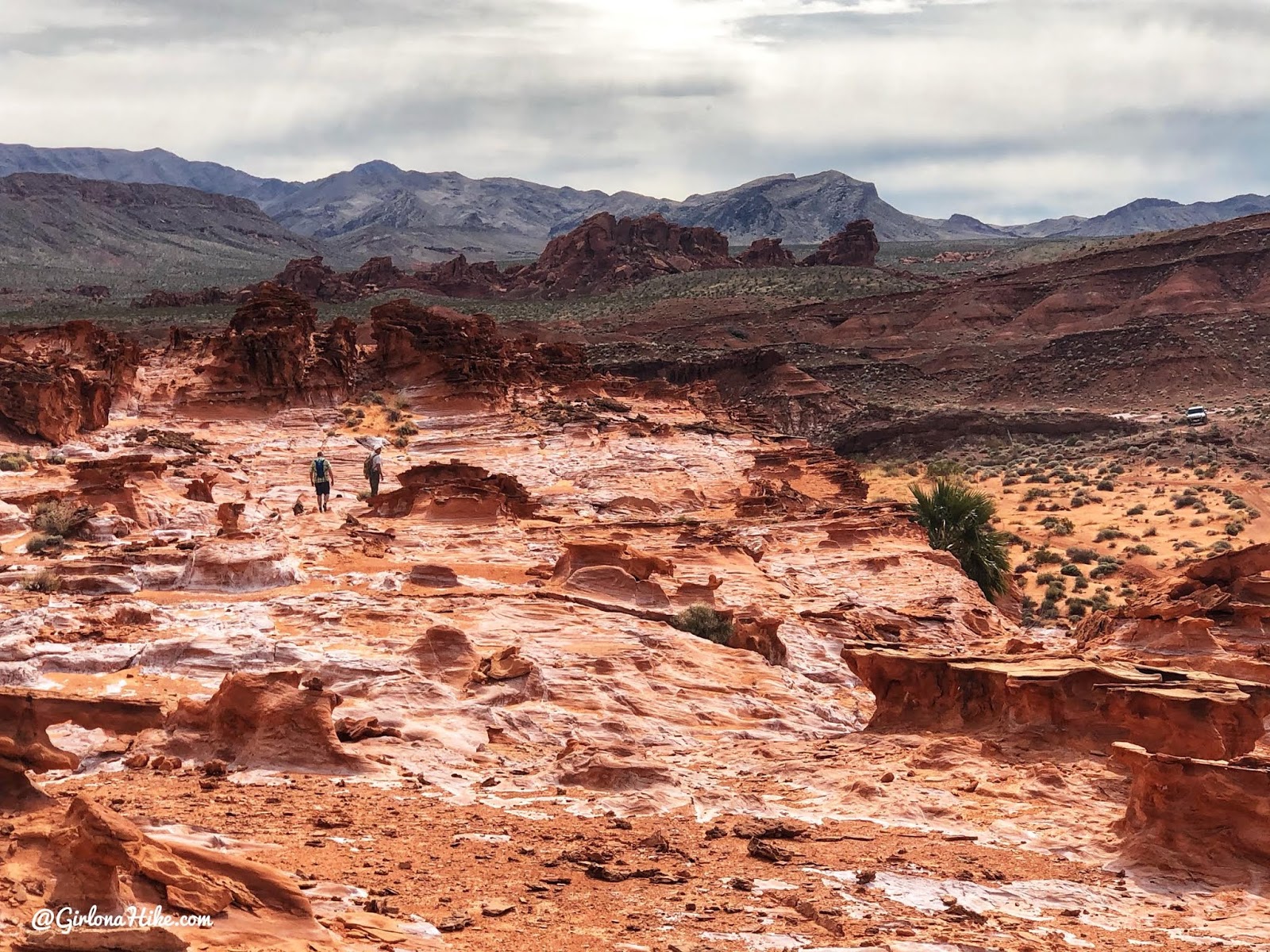 Wow! What a different world out here. This area is quite large.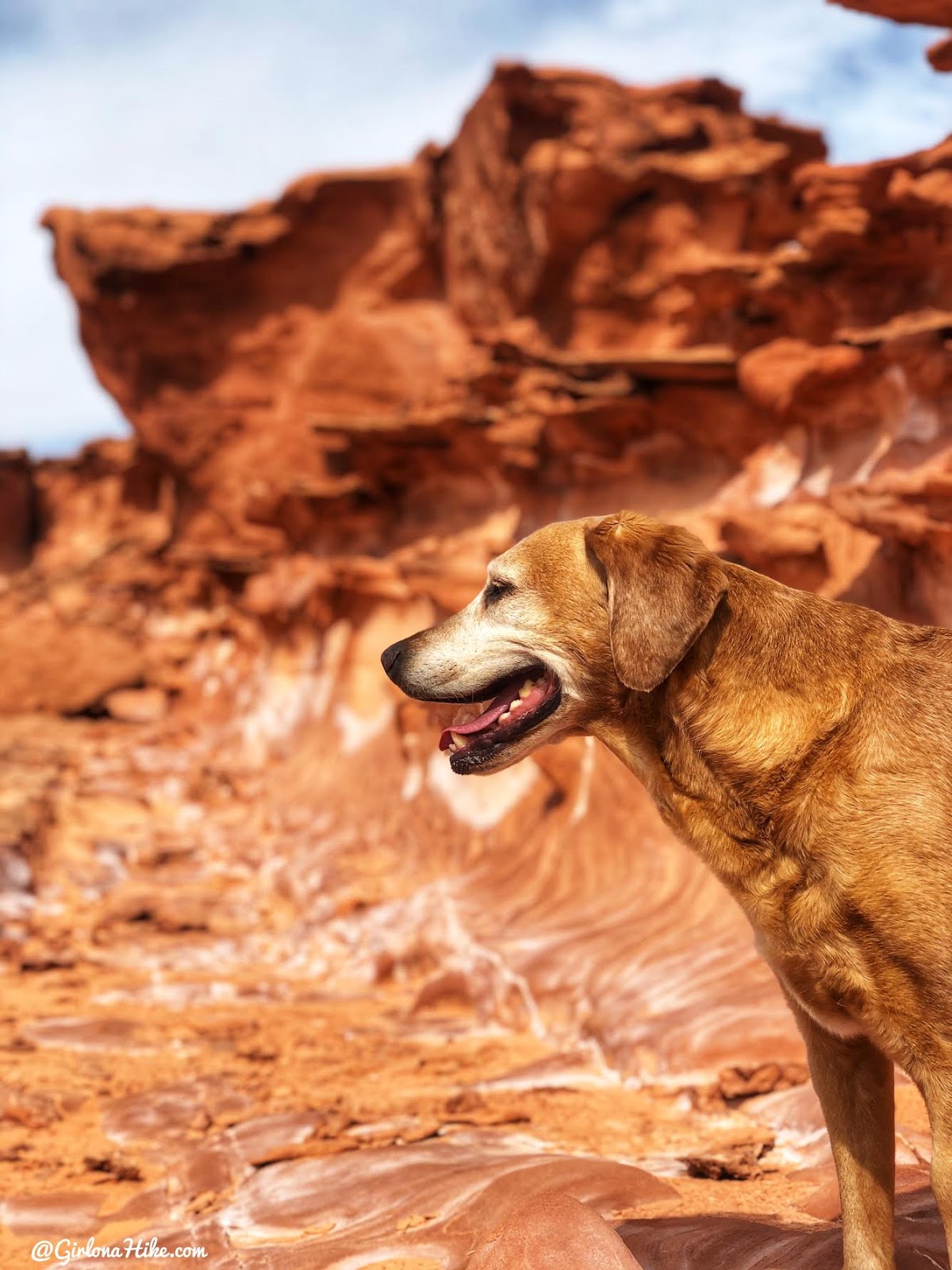 The sun finally came out for about an hour while we were here. Charlie was starting to get hot and it was only 65F.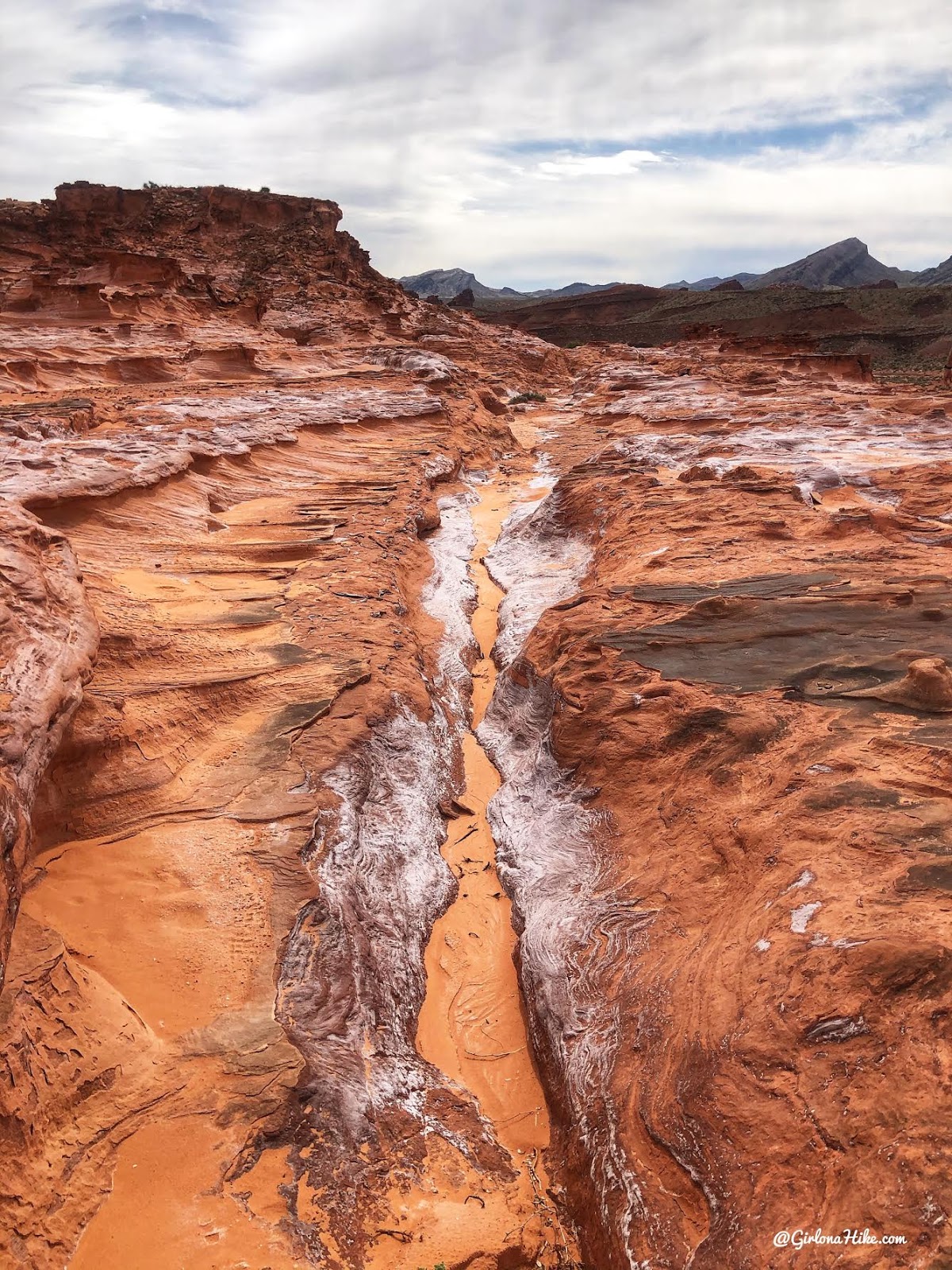 I loved this area so much – the geology in Gold Butte National Monument is super interesting and makes for great photos.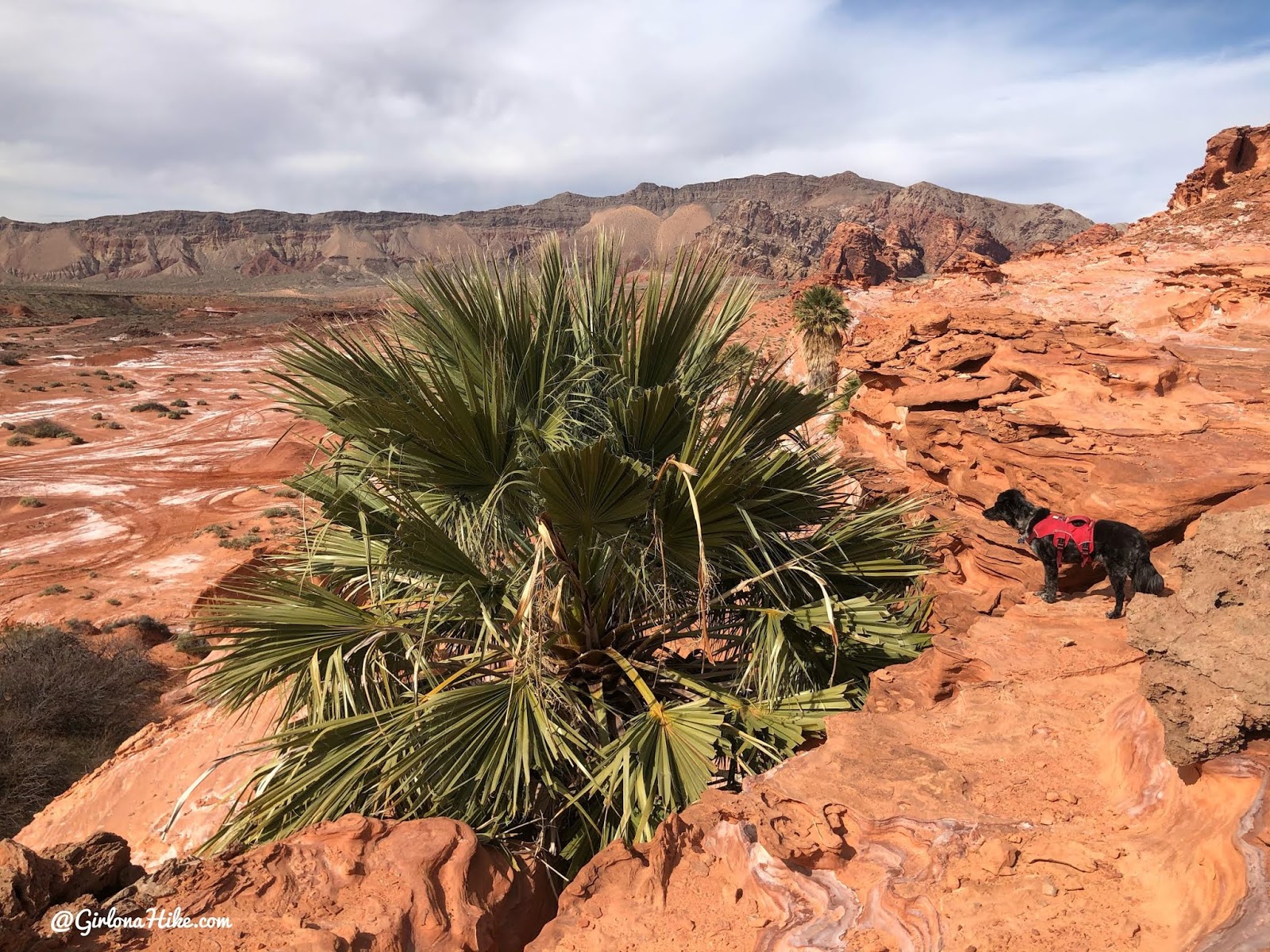 Palm Trees!? Only in the middle of the Nevada desert will you find natural, giant Palm Trees. This one had to be at least 60 feet tall.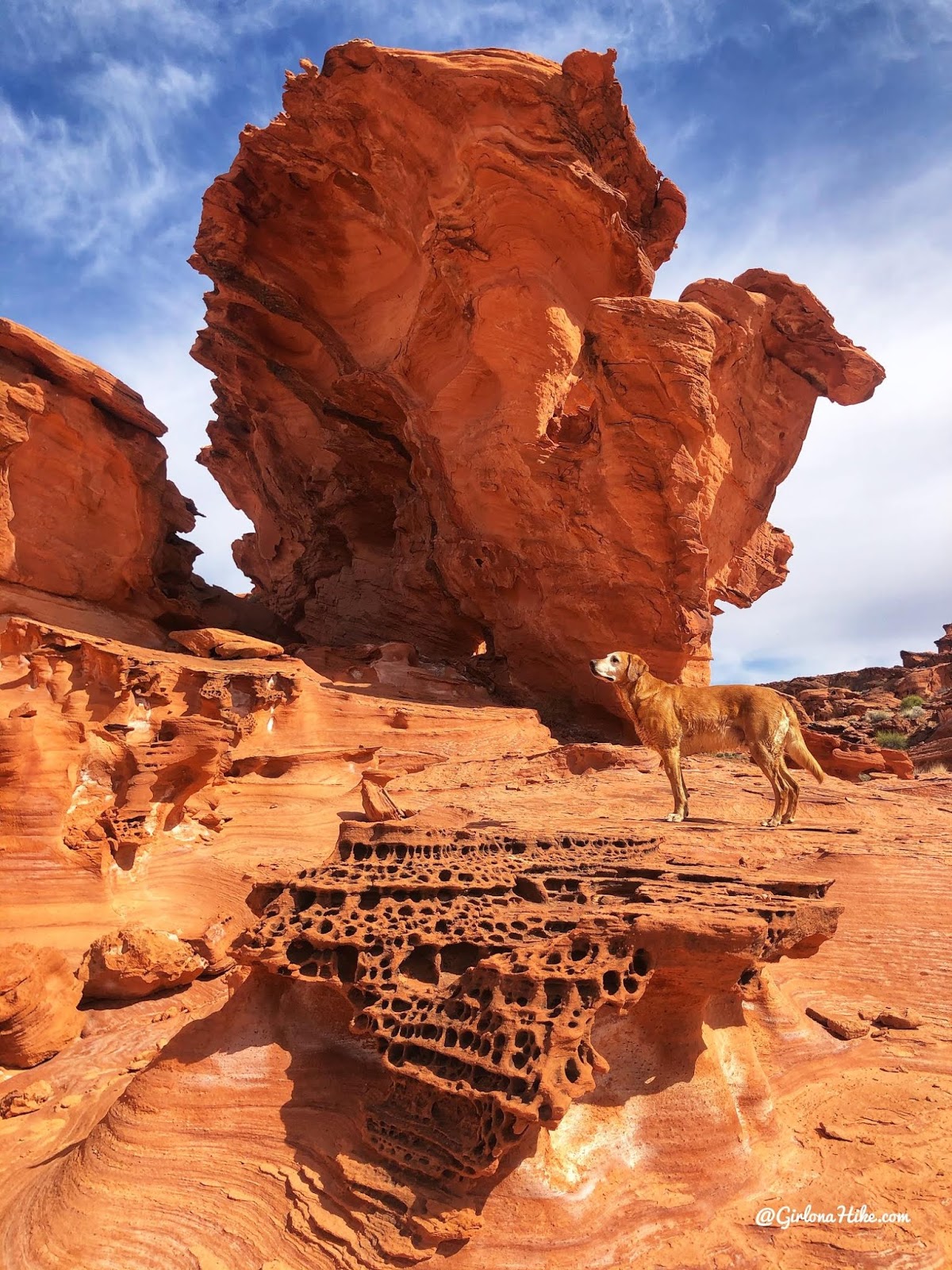 Explorin'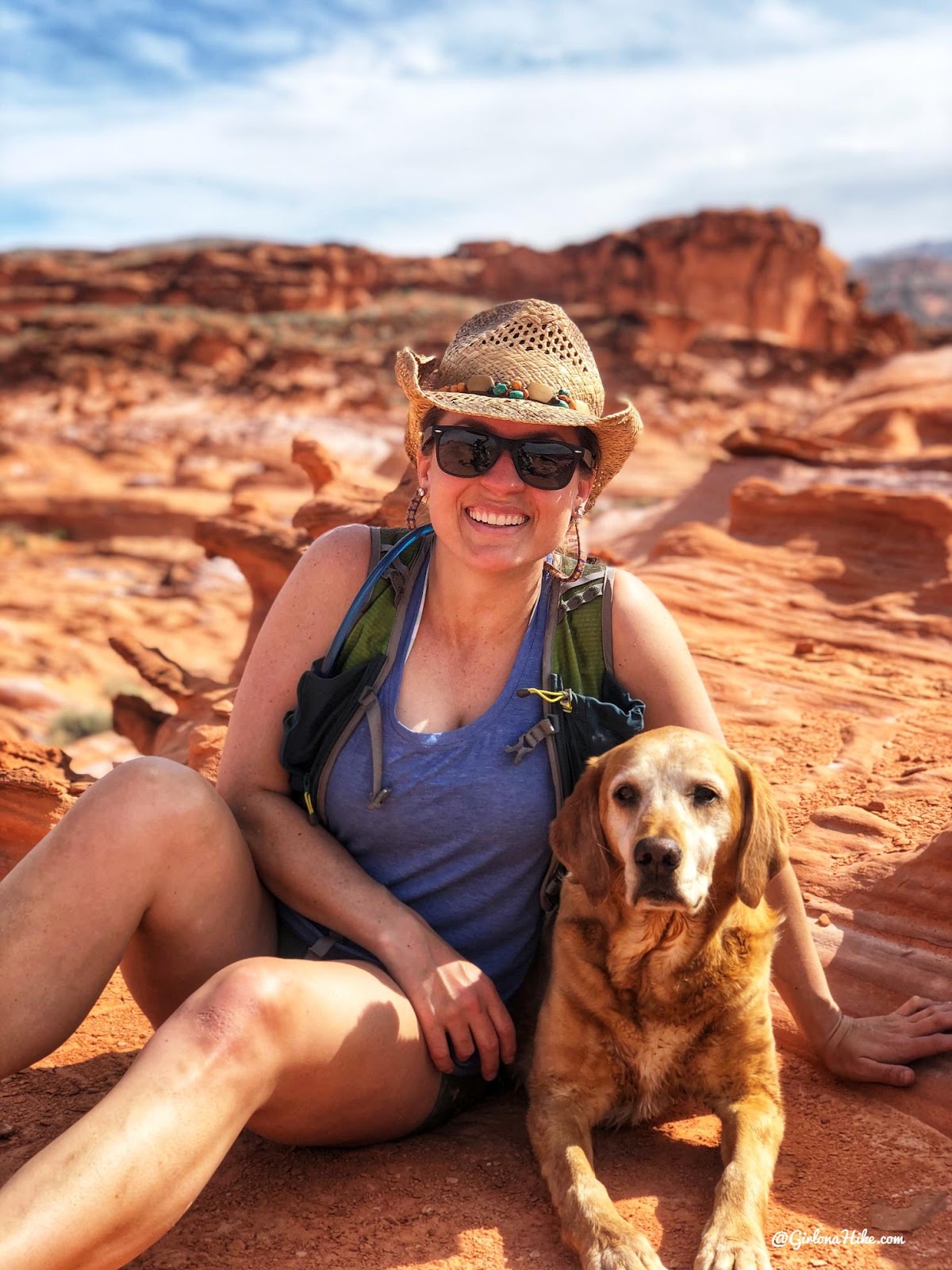 Love adventuring with my baby!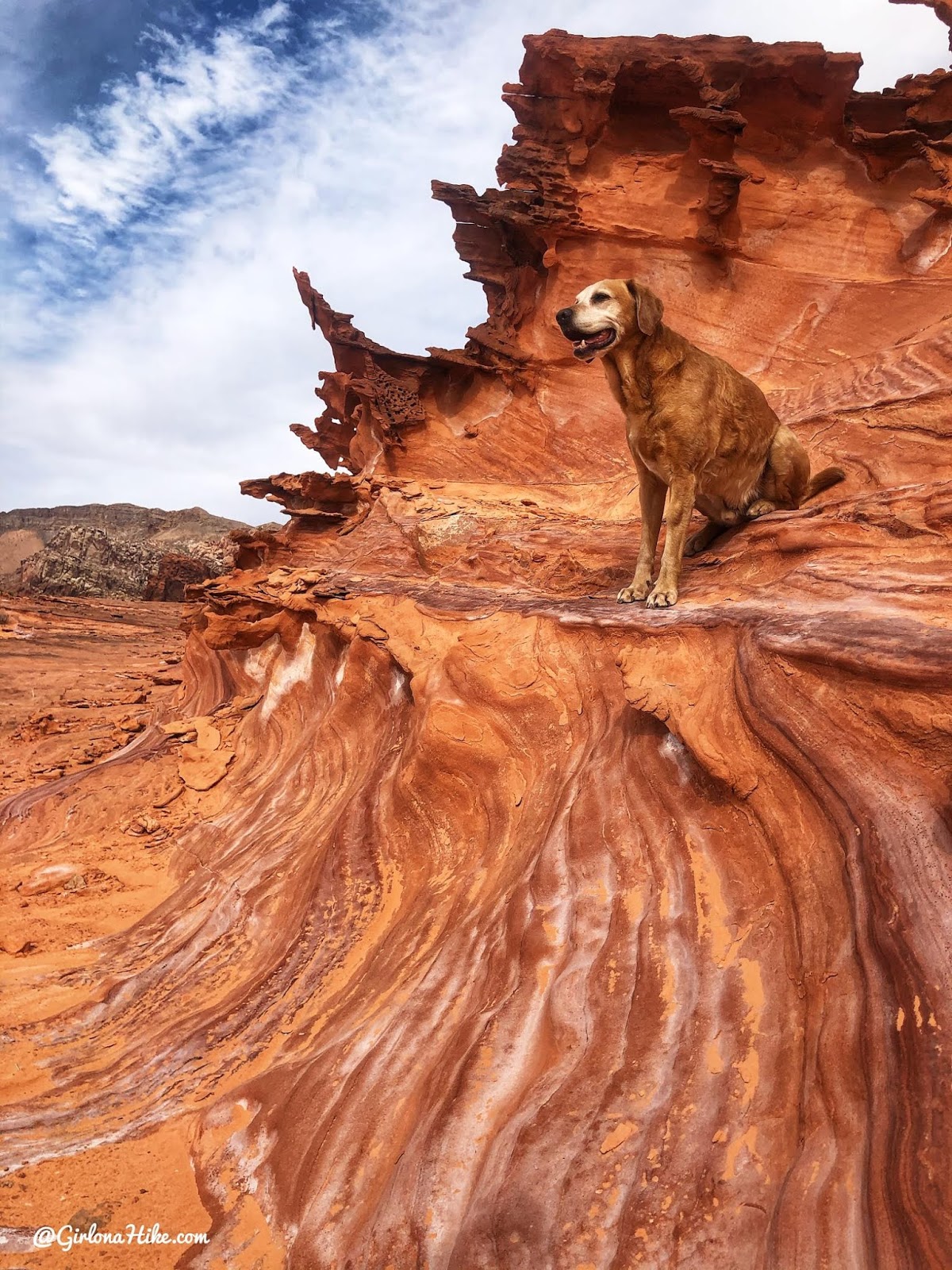 Love the striations in this rock. This was definitely our favorite location of out everything listed in this post! Little Finland reminds me a lot of Fantasy Canyon, but that has black/brown rock and is much smaller acreage-wise.
Devils Throat
Distance: n/a
Elevation gain: n/a
Time: 5 minutes to view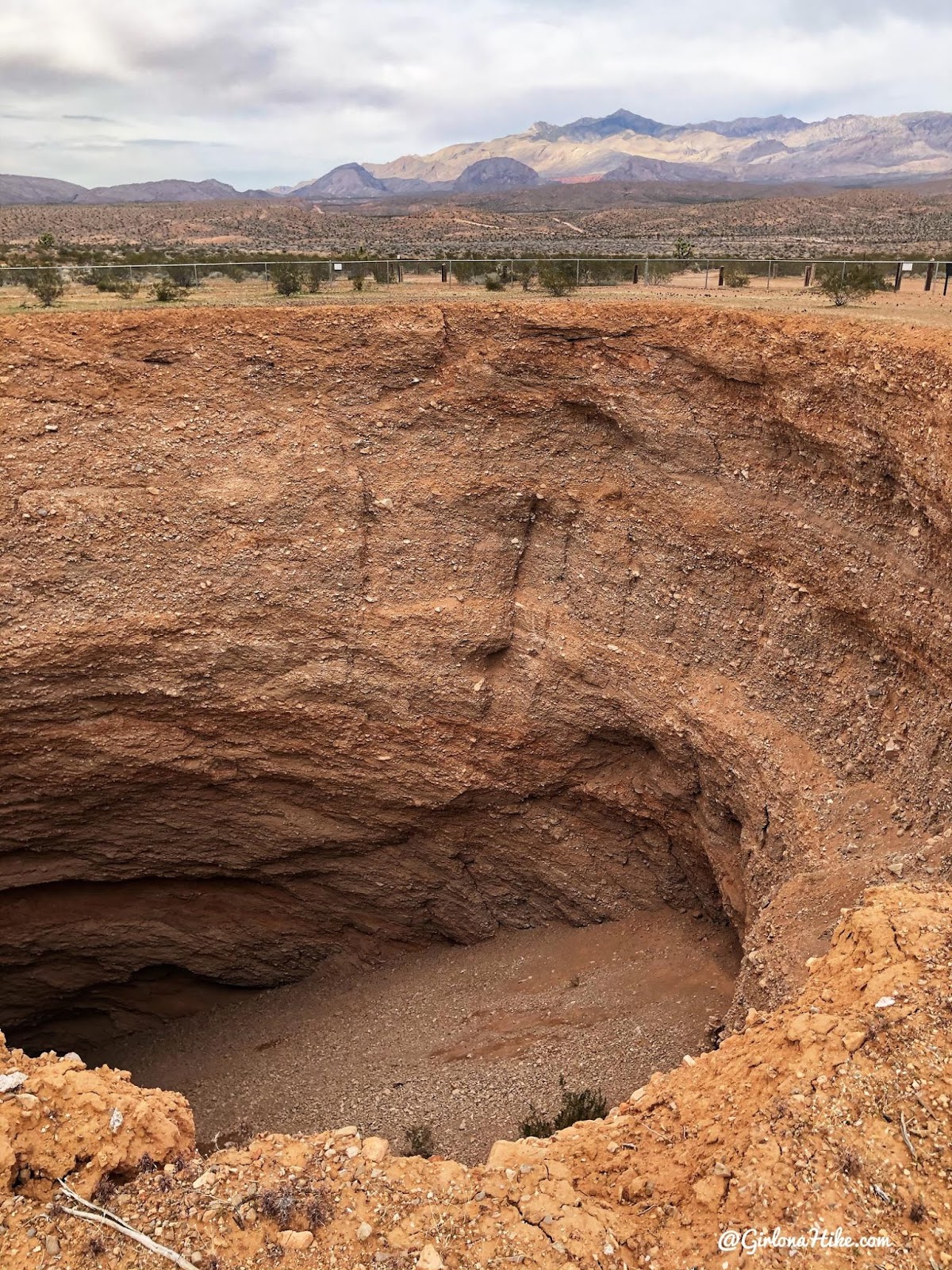 A giant sinkhole in the middle of nowhere! This hole is currently (as of 2020) 120 ft wide by 120 ft deep with a gravel bottom and no outlet. When the cave first collapsed the throat was narrower but over the years the sides have collapsed. Various fences have been placed to keep people at a safe distance back form the edge but they too keep collapsing and the fences fall in. There is currently a fence around it but the gate isn't actually locked. Nice view of Virgin Peak to the North.
Devils Nostril
Distance: n/a
Elevation gain: n/a
Time: 5 minutes to view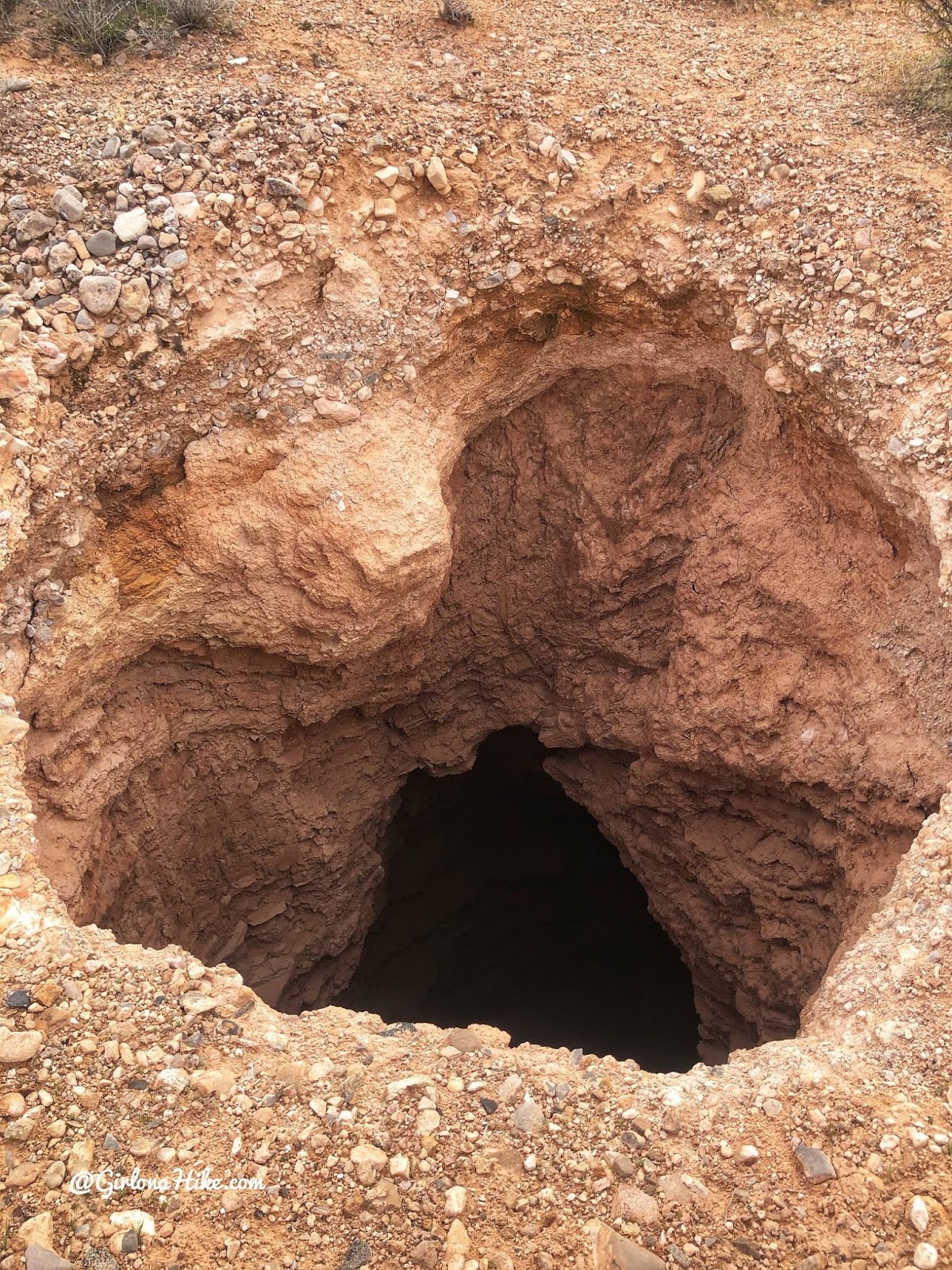 A smaller sink hole in the middle of nowhere. This one was also caused by the roof of a limestone cave collapsing.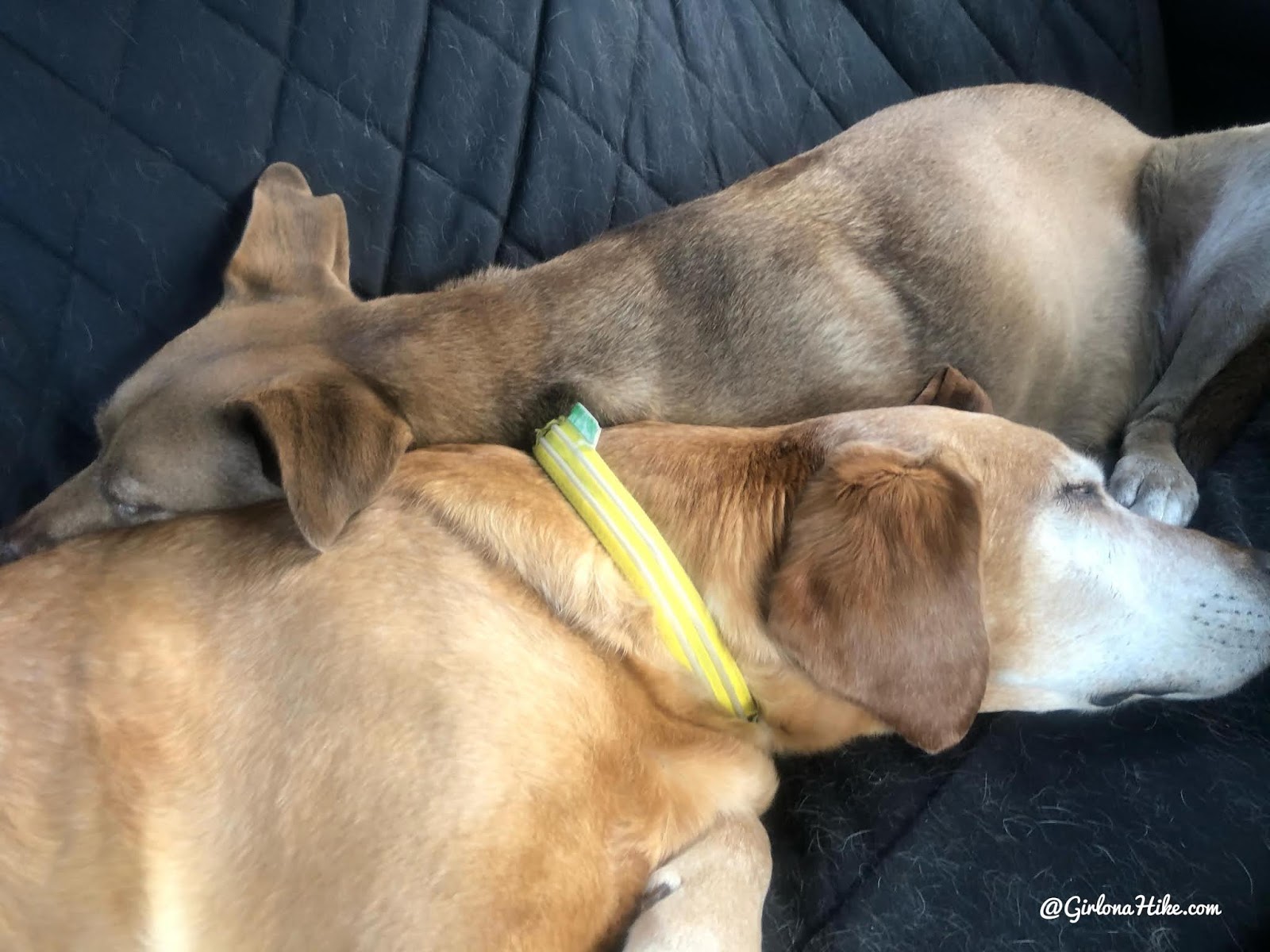 The sign of a successful trip with the pups!
Check out my video &

Subscribe

!
Keep in mind my routes aren't on a particular trail, a lot of it is just hiking cross-country and constantly checked my Gaia GPS to know where I was going. Most of this area is a lot of "drive & see" kind of places as well.
Recommended Gear

Save me on Pinterest!