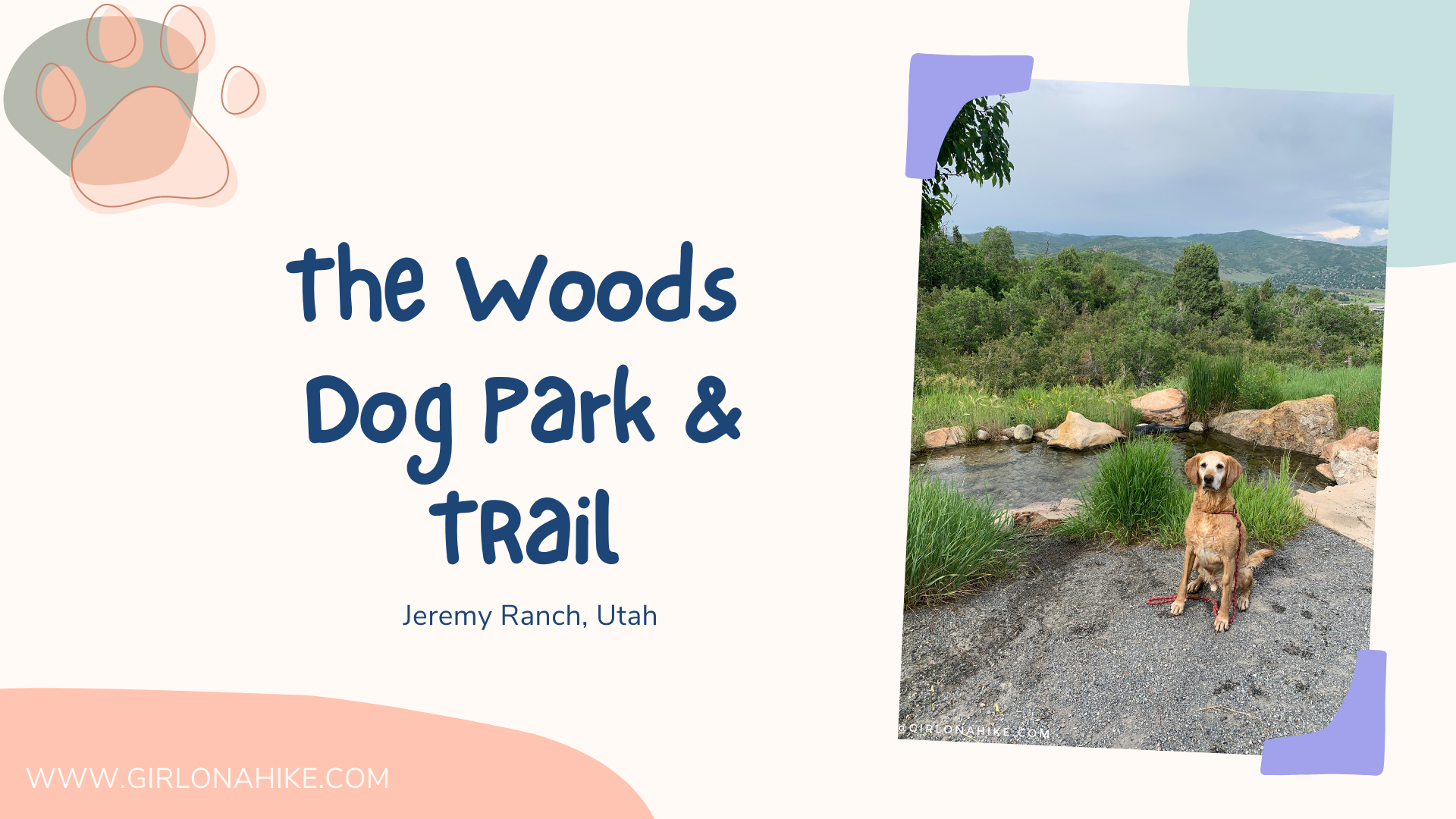 The Woods Trail & Dog Park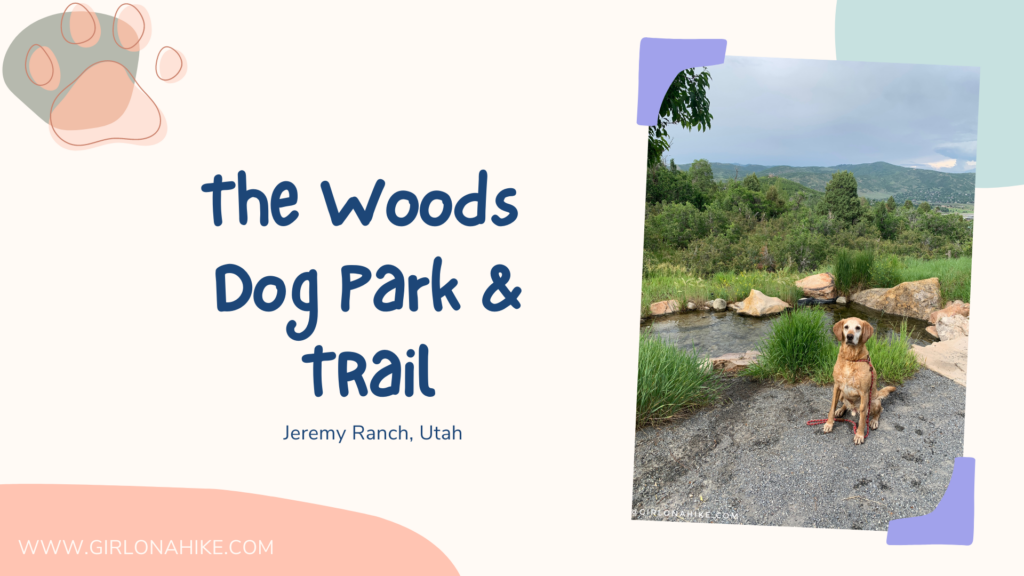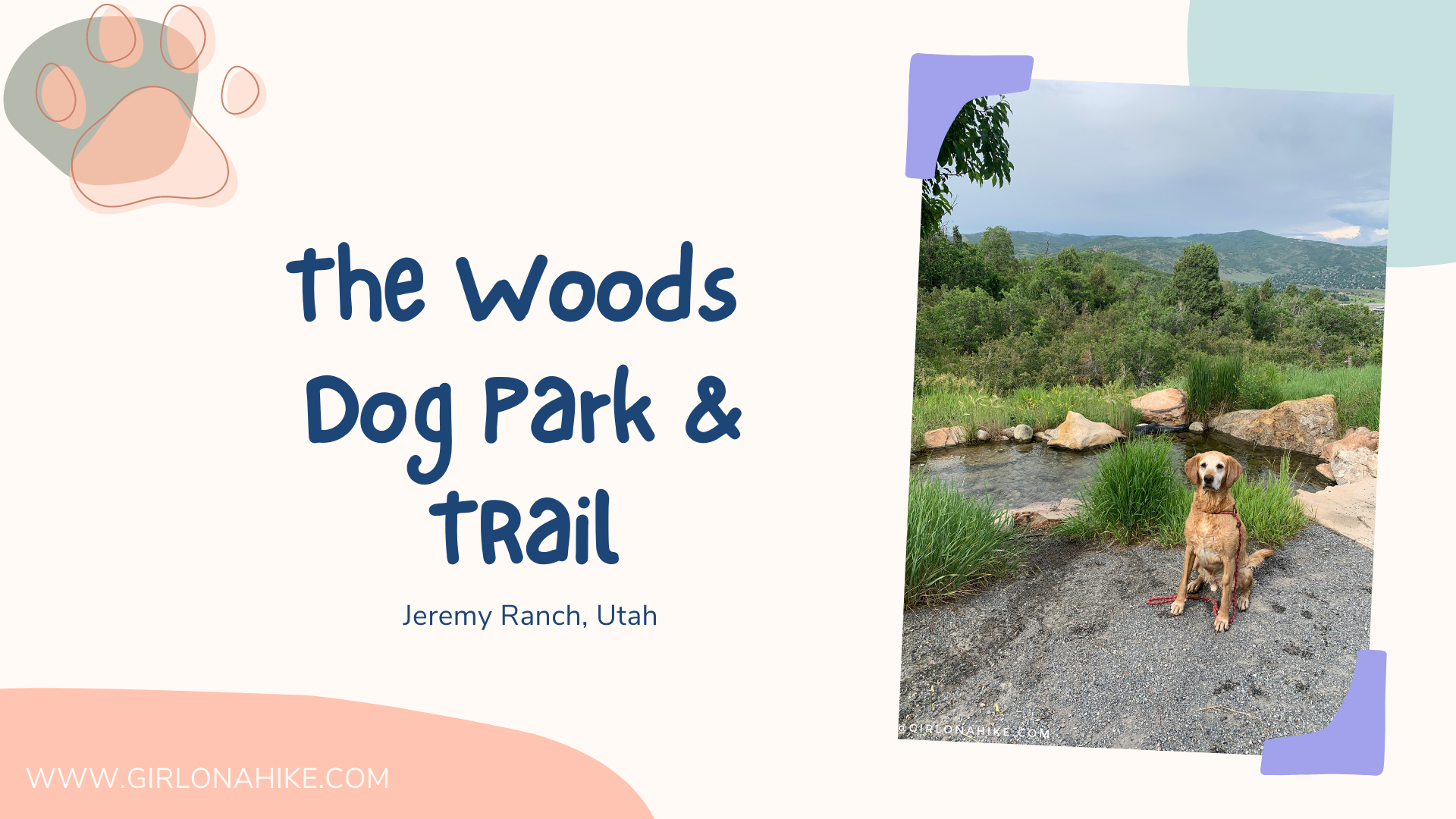 The Woods Trail & Dog Park is one of Jeremy Ranch, Utah's dog park. It is located in a neighborhood to the north of I-80, & this small dog park is fenced in for your furry pal to run around and get his energy out. After playing ball, grab your leash and take your choice of two trails starting from the dog park – the easy 0.5 mile loop that wraps around the pond, or the longer 1.3 mile loop that weaves its way through the neighborhood with view of Summit Park Peak.
The Woods dog park is well maintained by the Snyderville Basin Recreation District. It's probably the cleanest dog I've been to in the SLC area! The fenced in area is small, but there's plenty of room to play ball and let your dog loose. There is a restroom at the parking lot, trash cans, doggie poop bags are provided, and a small bench under a shelter if it's raining.
Directions
From SLC, head East on I-80 and take exit 141 for Jeremy Ranch. Turn left at the bottom of the ramp, then left at the next stop sign (gas station will be kitty corner to this stop sign). At the round-a-bout, continue straight on Rasmussen Rd. Pass the tennis court on your left.
At the next stop sign (Sunrise Dr), turn left. Drive straight until you see the sign for The Woods Trailhead, and park there. Address is 4275 Sunrise Dr, Park City, Utah.
Here's a driving map.
Trail Info
Distance: 1.3 miles RT
Elevation gain: 130 ft
Time: 1 hour
Dog friendly? Yes! (off leash in the fenced park, on leash for the paved walk)
Kid friendly? Yes!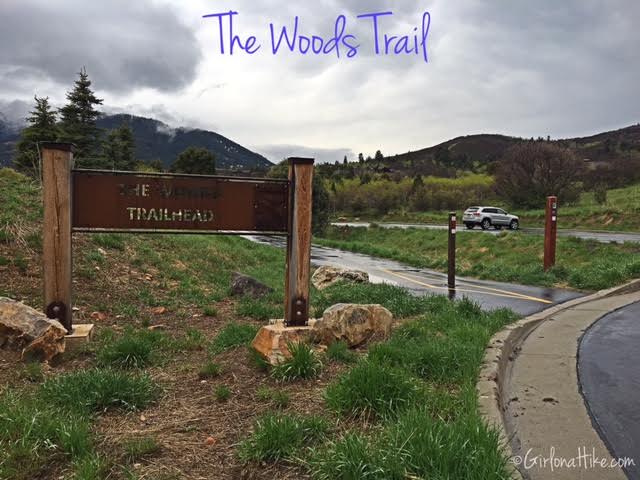 The Woods Trailhead and parking area.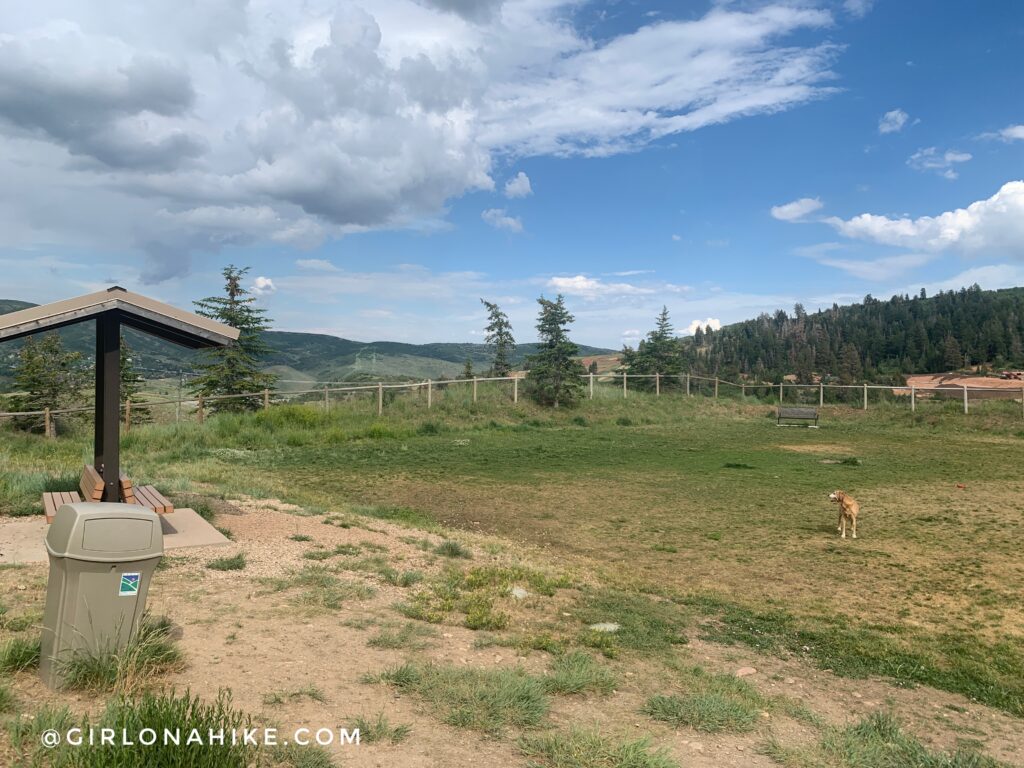 Walk down the paved path until you see the fenced in dog park on your left.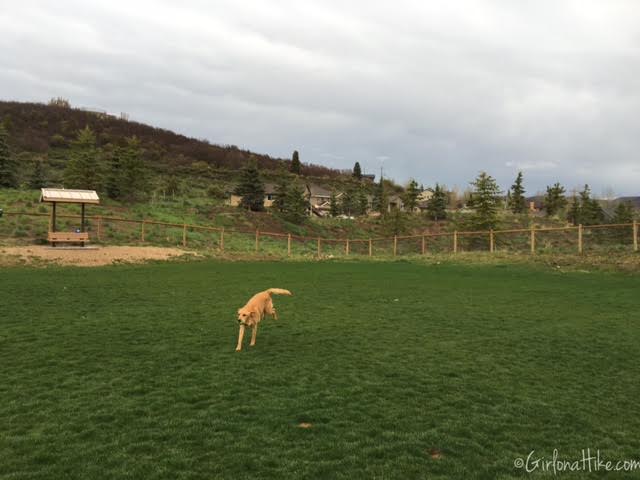 Romping around in his usual fashion.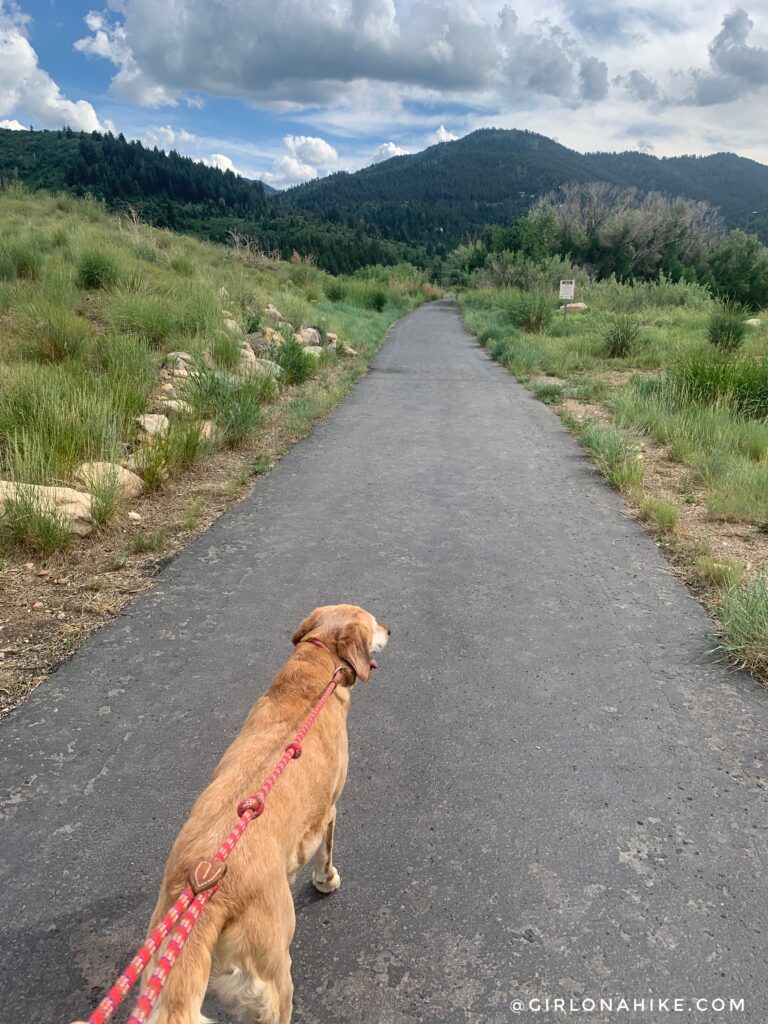 After playing in the dog park, we decided to walk the easy trail. It starts out paved, but soon turns to a gravel path.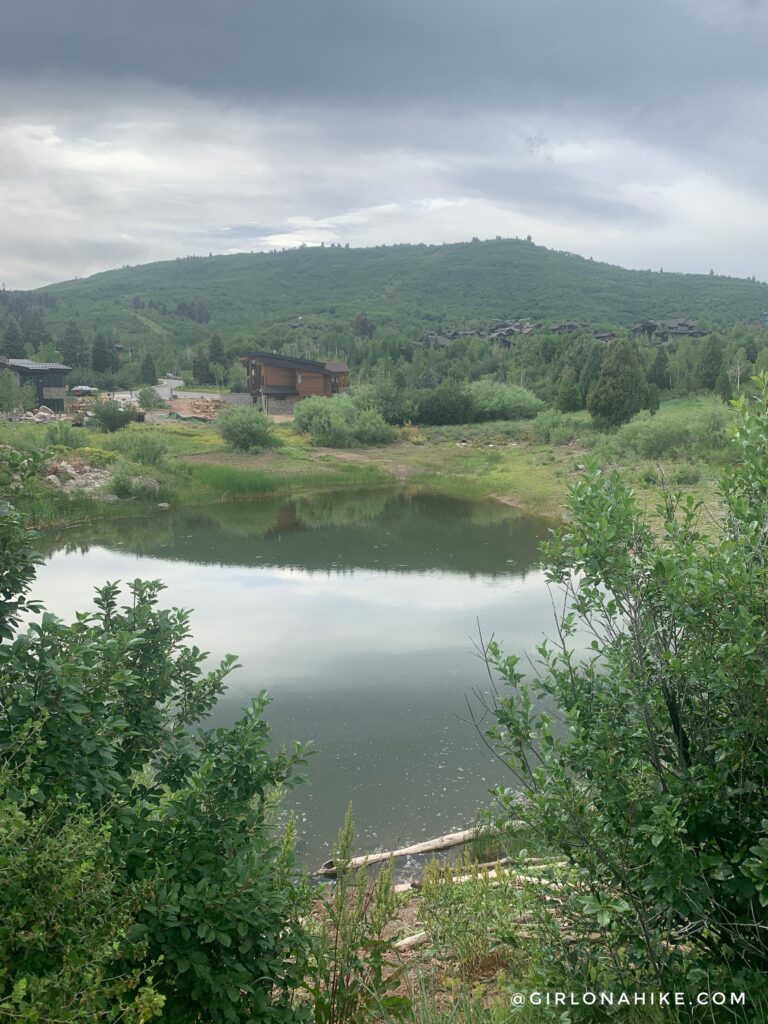 Walking by the neighborhood pond. I tried not to let Charlie swim in it – the water didn't look the cleanest.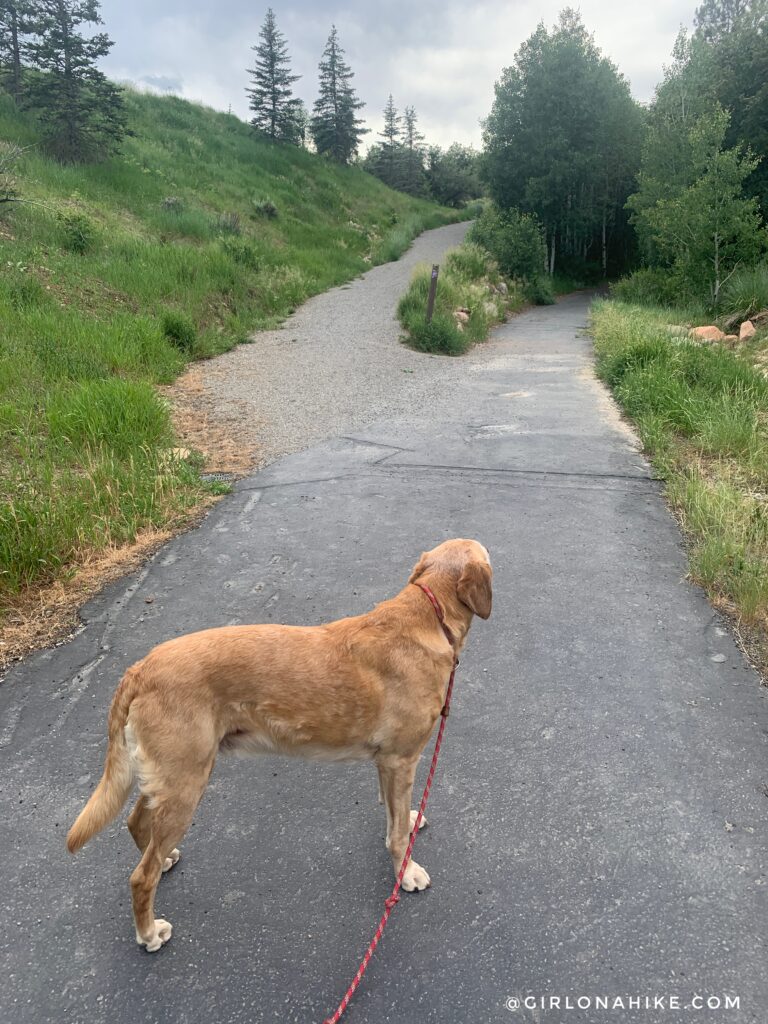 You will come to a trail split – turning right will put you on the 0.5 mile loop, and heading left is the 1.3 mile loop. Charlie has a lot of energy, so we went left.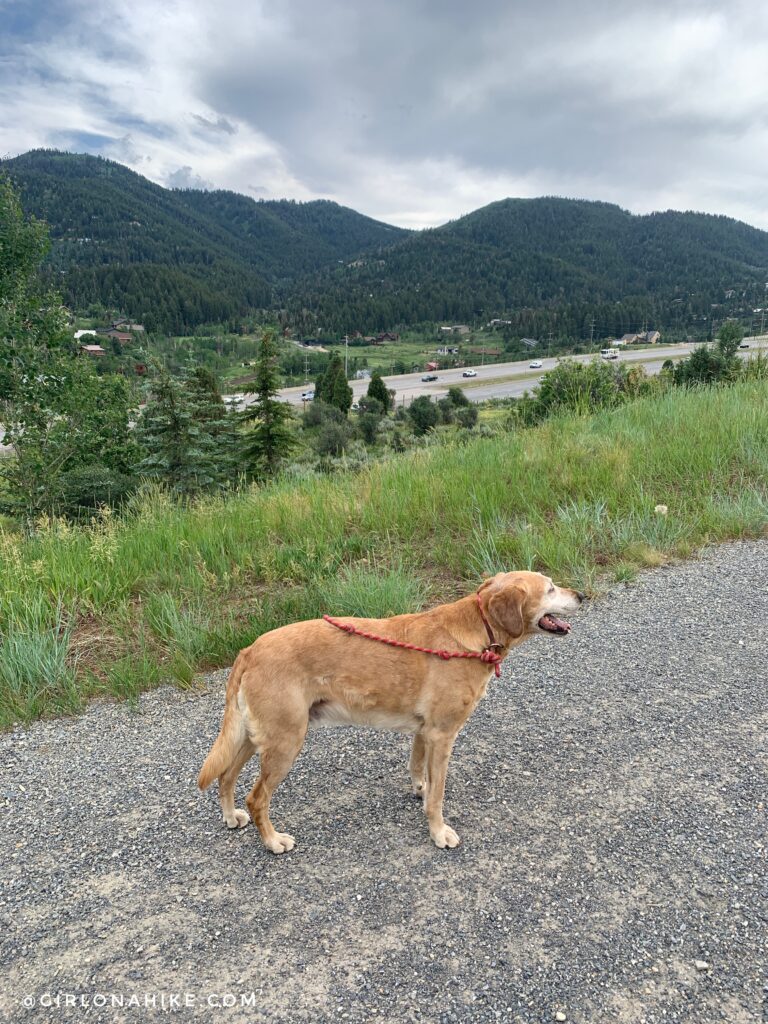 After gaining a tiny bit of elevation, you will have a great view of the Summit Park Peak & area off I-80.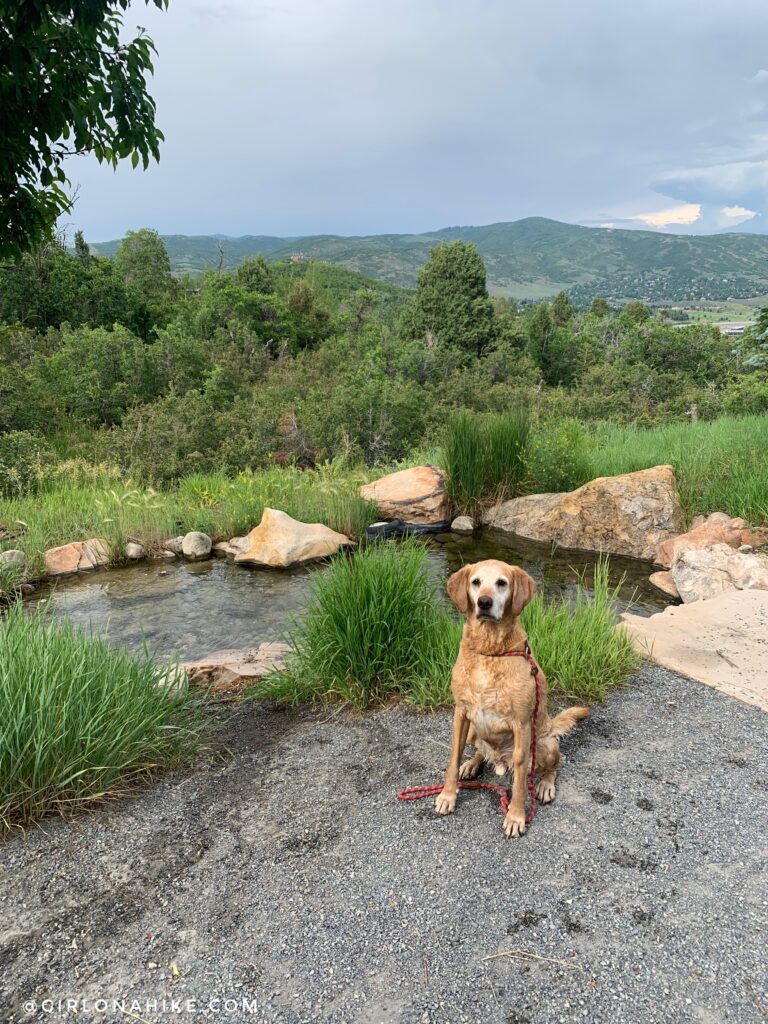 Passing by another man-made decorative pond. It does a good job in making you feel like you are in the wilderness (for about 2 seconds!). This view isn't bad either!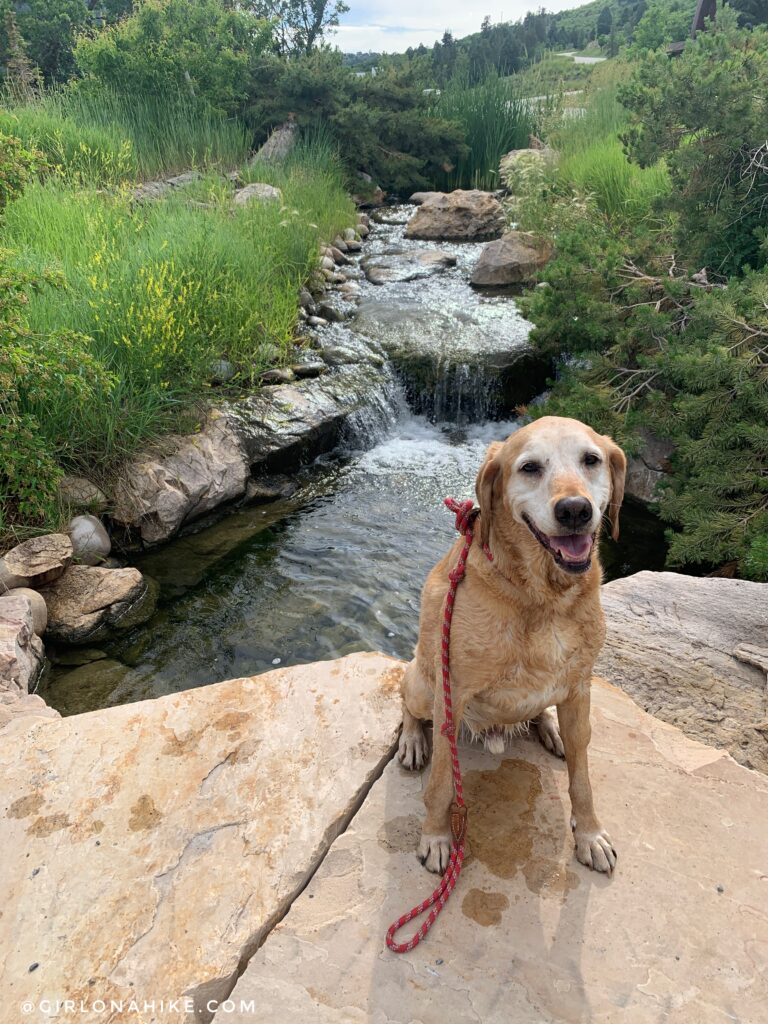 Even though it was only 70F, he was kind of hot so I let him take a drink from the running water. It was cleaner than the pond, and I didn't want to worry about bad algae in it. He was much happier after!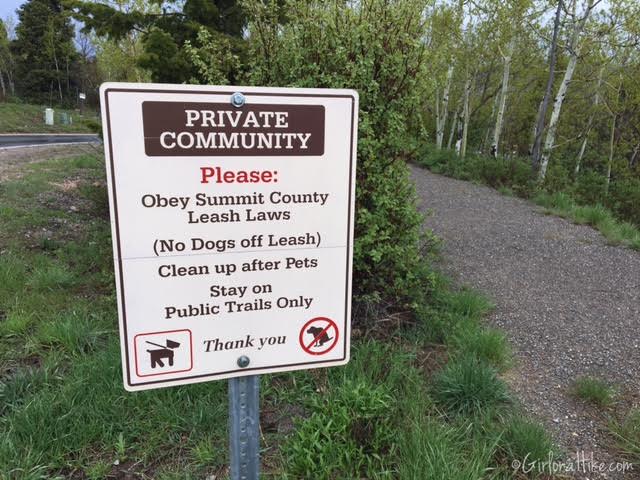 This was the first sign I saw about being in a private community. Just ahead, cross the street.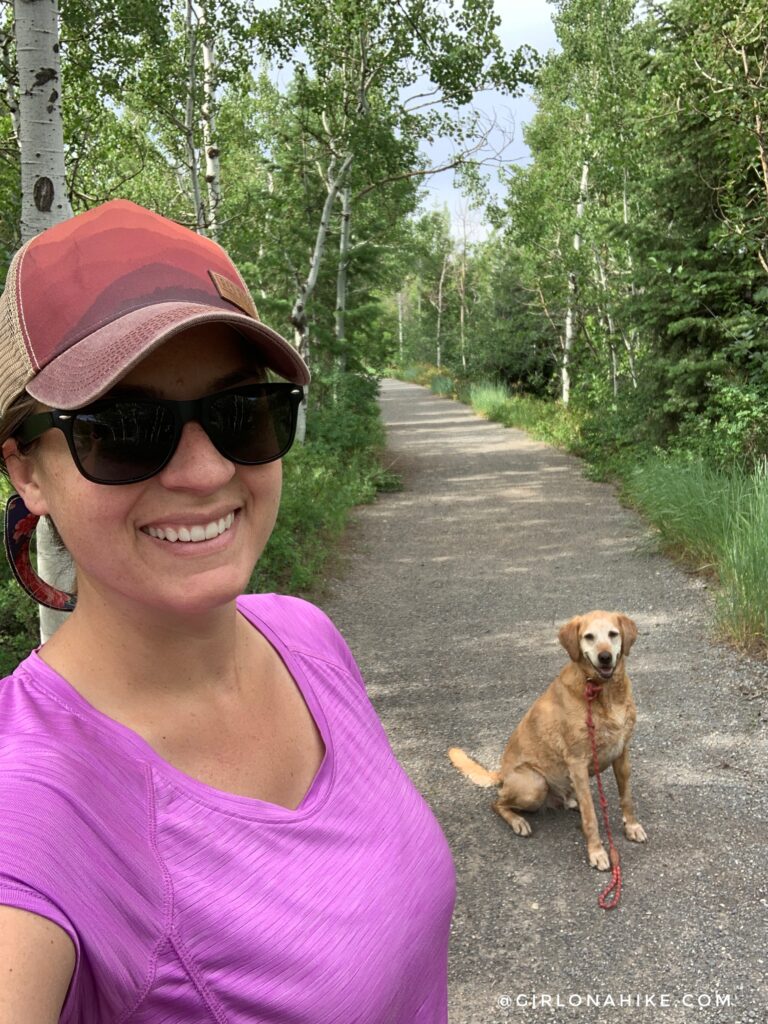 Next, we took a quick break to catch our breath and snap a pic. I really liked this section of the path with all the Aspen trees.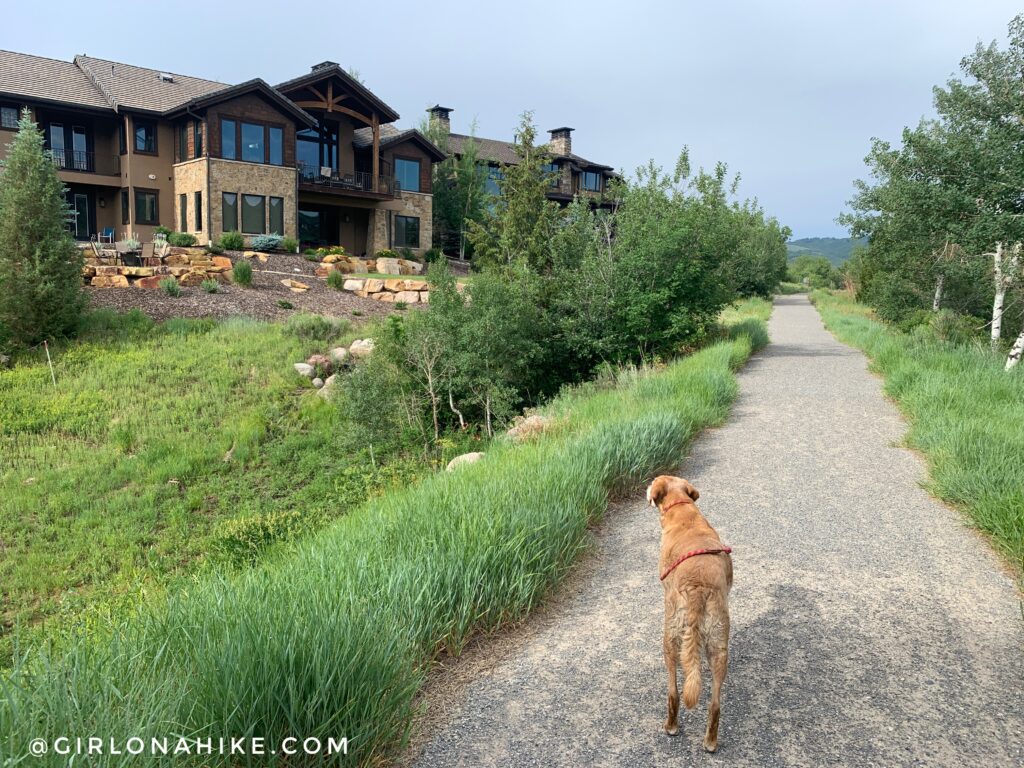 The Woods Trail will take you behind really large homes.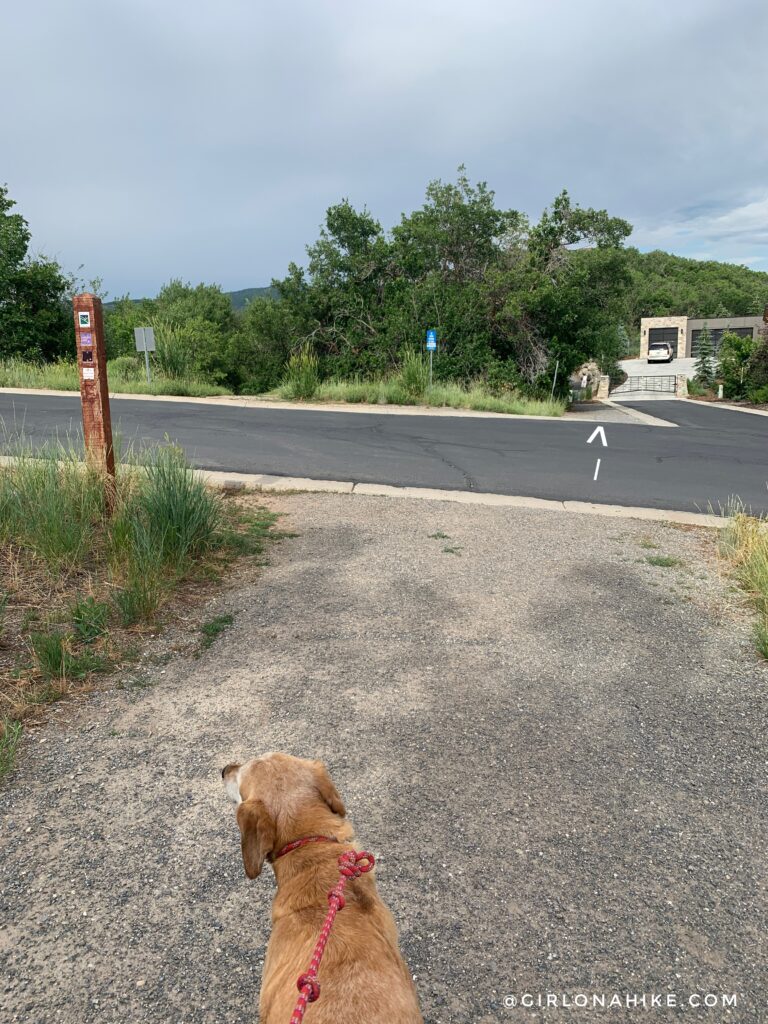 Cross the road again, then continue on the path straight ahead.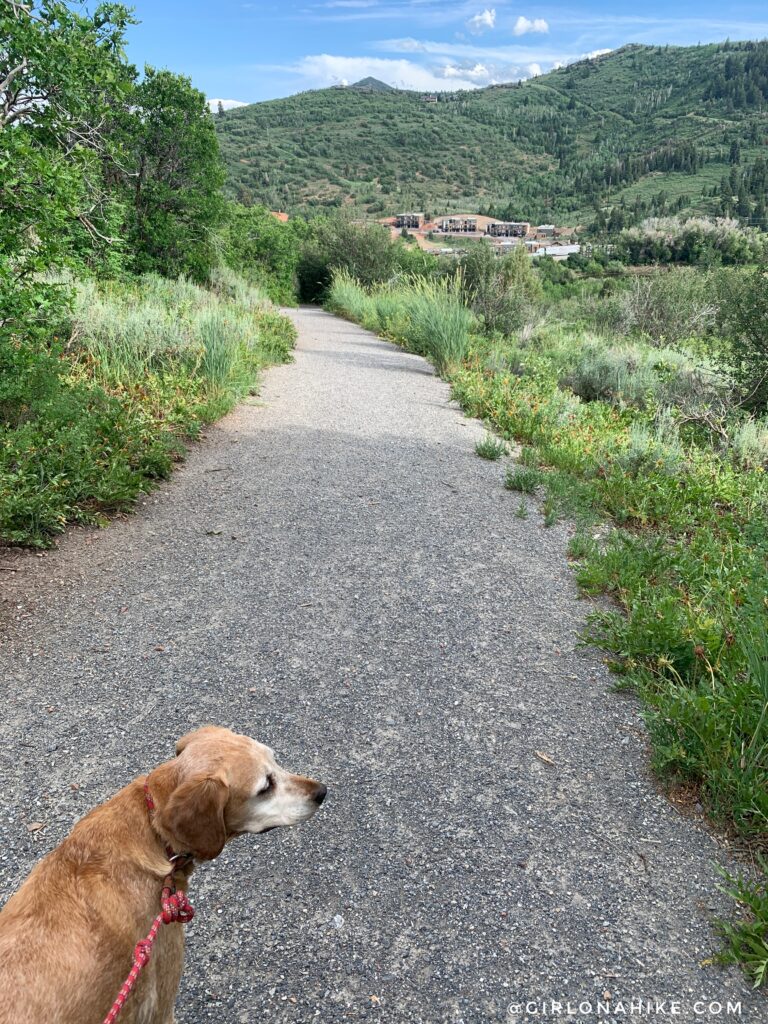 Make your way back to the parking lot.
In conclusion, The Woods Trail & Dog Park is perfect for strollers, puppies and older dogs who need short walks, good for dogs who need to be on-leash, and for people like me, recovering from foot surgery and need something easy! 
Trail Map
Paved, on-leash 1.2 mile loop.
My track via Gaia GPS – the best tracking app! Get your app

here

for a discount.
Recommended Gear
Nearby Hike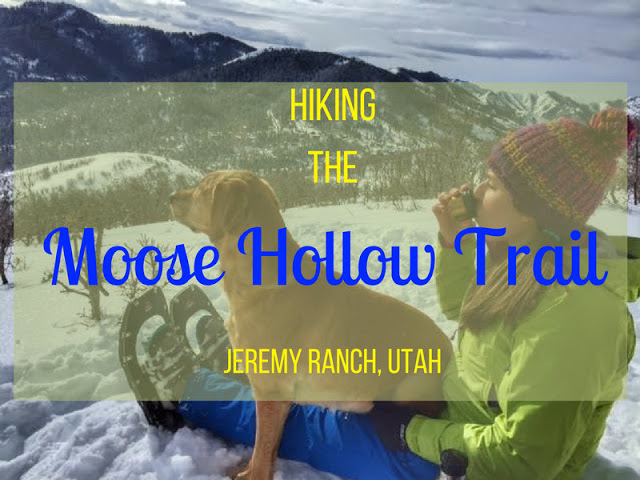 Save me on Pinterest!