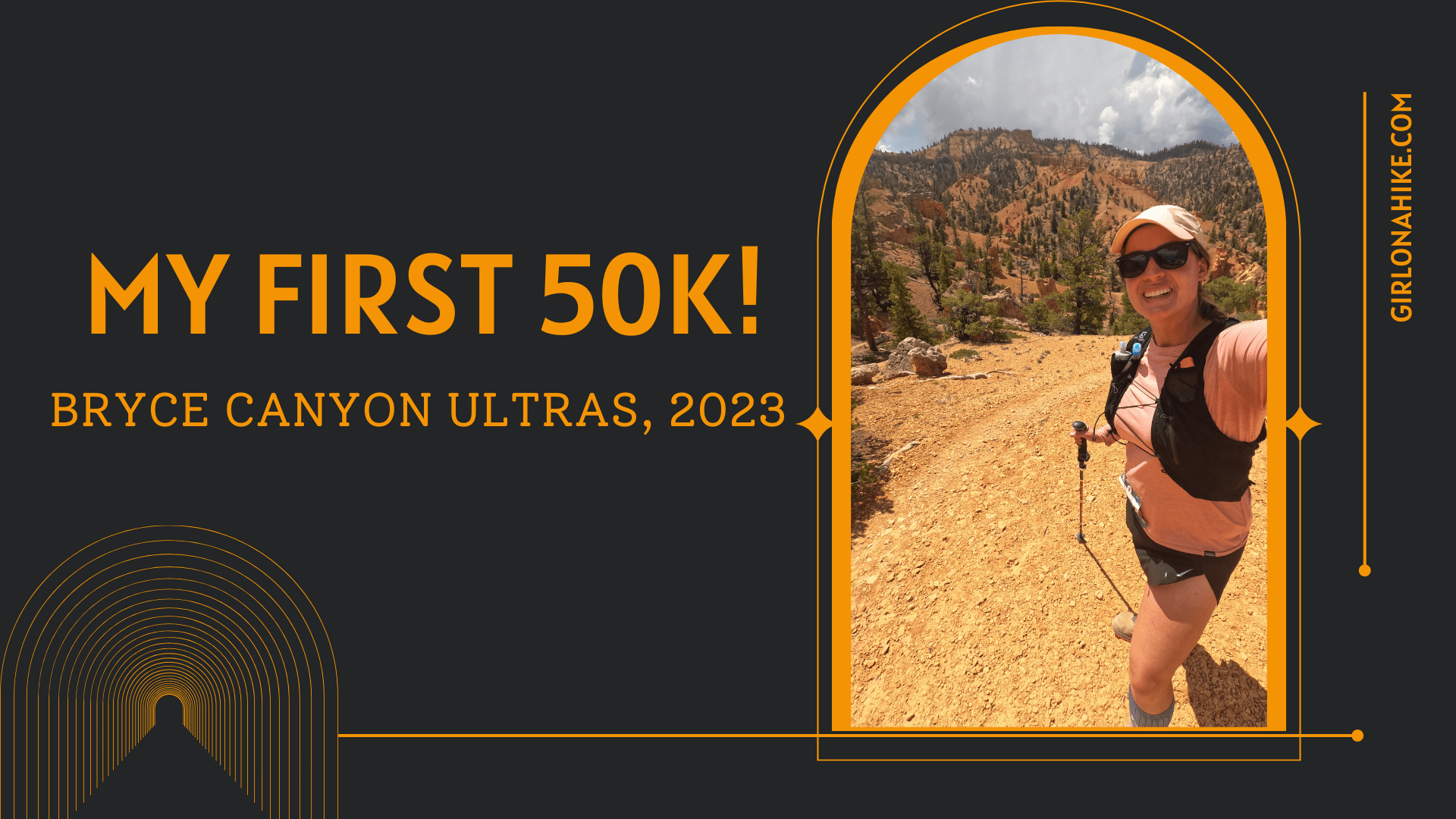 Running the Bryce Canyon Ultras 2023 – My first 50k!

If you've been following me for the last 6 months or so, you know I've been working hard and training for the Bryce Canyon Ultras 2023 – My first 50k!
About
The Bryce Canyon Ultras offers a scenic, mountain course that runs around the northern half and western edge of the Paunsaugunt Plateau, offering spectacular views above and below the hoodoos. The race is run at high elevation, with most miles on this difficult course between 7,000 – 9,000 ft. While it's called a 50k (31 miles), it's actually 2 miles longer at 34 miles (so really a 55k)! This is a tough course for newbie runners, gaining a total of 5,600 ft! Your legs better be in shape for this one.
I somehow got the elevation gain mixed up and thought it was only 3,000 ft, so that is what I trained for. Not 5,600ft! My legs were complete trash the few days after the race, struggling to get up and down stairs. I always do a ton of research ahead of time when planning a trip/race, so I was really bummed out I got that wrong. Lesson learned, always double and triple-check the race stats!
I thought I'd put together some fun stats over the course of this cycle to see how much effort really goes into 50k training! These stats include ALL activities with mileage, not just running because…it all counts, right? I think it's also helpful for people to see who is even considering running an ultra!
✅ 20 weeks total (I started my training plan the day after Christmas!)
✅ My highest monthly mileage was 232 miles in April
✅ My highest weekly mileage was 72 miles
✅ My average weekly mileage was 40 miles
✅ Longest training run was 26.2 (twice!)
✅ 342 hours of activity
✅ 932 miles total!
✅ Trained through the most intense winter recorded in Salt Lake/Wasatch Mountains!
✅ 0 ski days 😂
Even though this was a really tough first 50k, it was absolutely worth it! The Bryce Canyon Ultra was very scenic, I met several really cool people, I was surrounded by amazing and inspiring runners, I had perfect weather (despite one section being incredibly hot), I ate and hydrated well, and stayed strong mentally. I thought they put on a really good event.
Would I do another? Yes, but maybe not an official race. You all know I like doing my own thing and not being timed. I already have a few more running goals for 2023 and 2024 planned! I think it is safe to say you'll be seeing more ultra running on my blog.
Gear I Carried
The aid stations at the Bryce Canyon Ultra were very well stocked with all kinds of snacks, hot foods, pickle juice, water, and medical supplies. However, it's always wise to eat what you know will work for your body and not give you stomach aches with a new food. So while I carried my own food, I did grab a few snacks from the aid stations, mainly trail mix and fresh, hot bacon.
✅ Salomon Adv Skin 12 running vest
✅ 1.5 liter bladder and one 17 oz soft flask
✅ enough food for 30 miles
(mainly Spring Energy gels, pretzels, bars, salt stick chews, and energy jelly beans)
✅ one trekking pole
✅ gopro 10
✅ Noxgear 39g mini Bluetooth speaker (I ended up not using this)
✅ Zoleo Satellite communicator (I ended up not using this, as I had cell service at the Hilldale Aid Station)
✅ kleenex, pee rag, bandaids, mini sunblock, hat, and headband
Directions
Vacation Races will send you a race day PDF guide that will provide this. The event for all race lengths begins near Hatch, Utah.
Trail Info for the 50k
Distance: 33.8 miles RT (it's more than a 50k so be prepared for that!)
Elevation gain: 5,600 ft
Time: varies! 
Dog friendly? Dogs are allowed at the finish line but must be kept on a leash
Kid friendly? Yes, the event is (not the actual race)
Fees/Permits? Fees vary by race length and when you sign up. The earlier you sign up the cheaper it is.
Watch my video
Because this was a race and I felt the pressure of time, I didn't take photos, I only created a video. I think this gives a better experience for you to see what it was really like too.
Trail Map
My track via Gaia GPS – the best tracking app! Get your app here for a discount.
Recommended Gear
Nearby Hike
Hiking the Cassidy Trail in Red Canyon