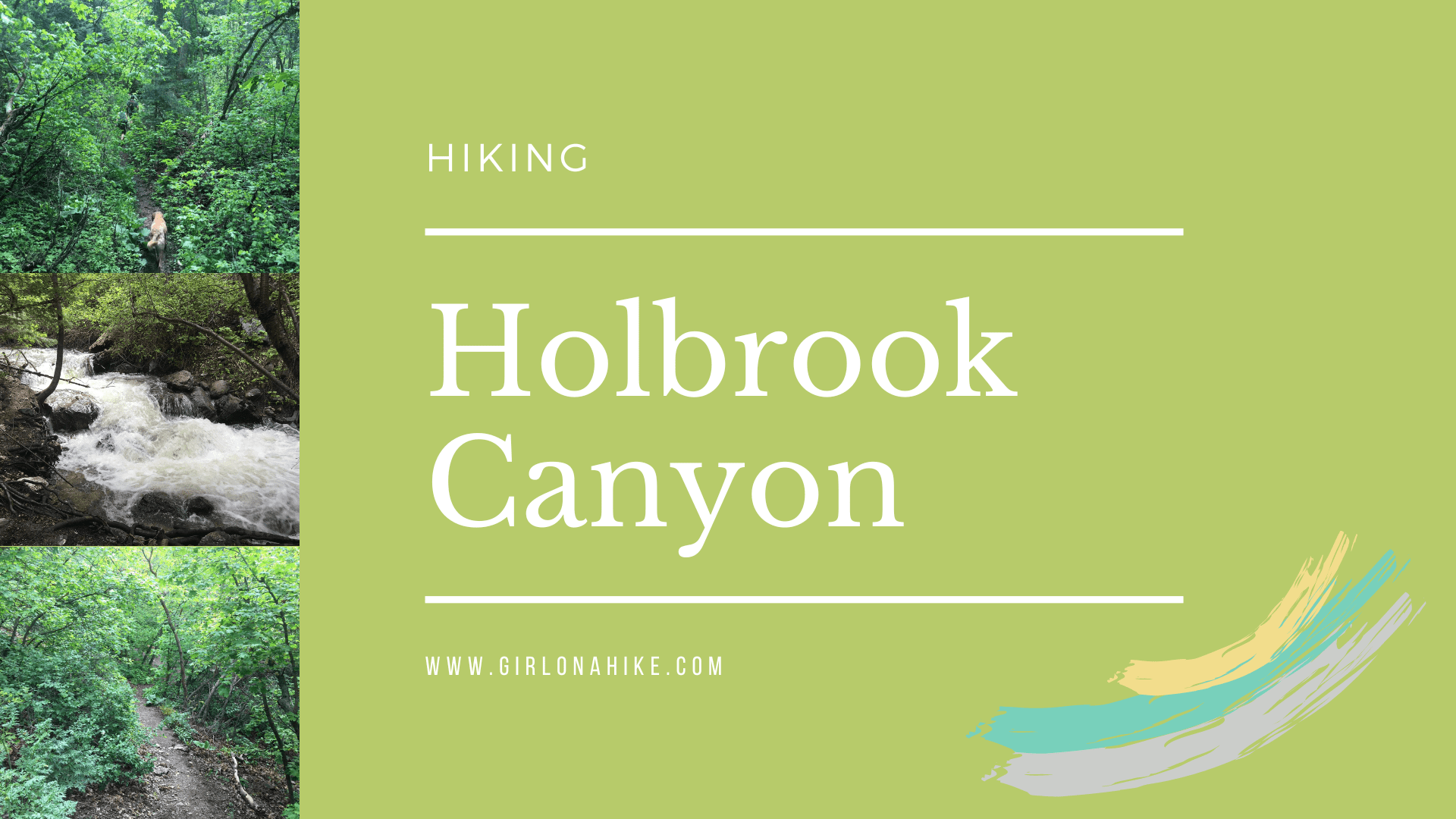 Hiking Holbrook Canyon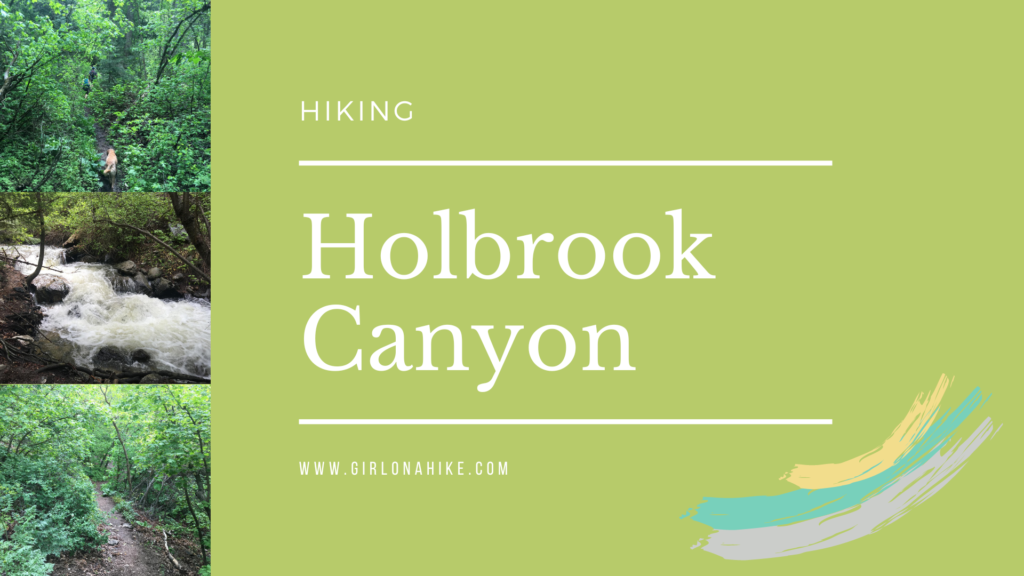 Holbrook Canyon in Bountiful, UT is one of my favorite trails in Davis County for a few reasons. Dogs are allowed off leash, it follows a stream, its really well shaded, not too steep, and you can choose your mileage.
About
If you follow Holbrook Canyon all the way, you can reach the ridgeline, which is about 5 miles one way. Since we started at 6:30pm, we hiked 4 miles round trip. I was surprised at how high the stream was flowing – I've never seen it that high. Be prepared to wear water hiking shoes, such as Chacos or Keens.
The other option that is new for 2023, is to hike Holbrook Canyon as a loop! There is a brand new trail cut with long switchbacks. I first did this loop counterclockwise, but I think next time it will be better clockwise. I would rather get the hot, dry, dusty section over with first, then end in the water. I think the dogs would agree!
Directions
From SLC head north on I-15 and take exit 317 for 400 N in Bountiful, UT. Head east on 400 North. At the stop sign on 1300 E, continue straight. The road will bend south, and just after the Bountiful Temple, the trailhead and parking lot will be on your left. The parking lot can fit up to 12-15 cars, and restrooms are available. Here's the map link.
Trail Info
Distance: 4 miles RT (or further if you have time)
3.5 miles if doing the loop
Elevation gain: 1,100 ft
Time: 2-4 hours
Dog friendly? Yes, off leash
Kid friendly? Yes, kids love the bridges!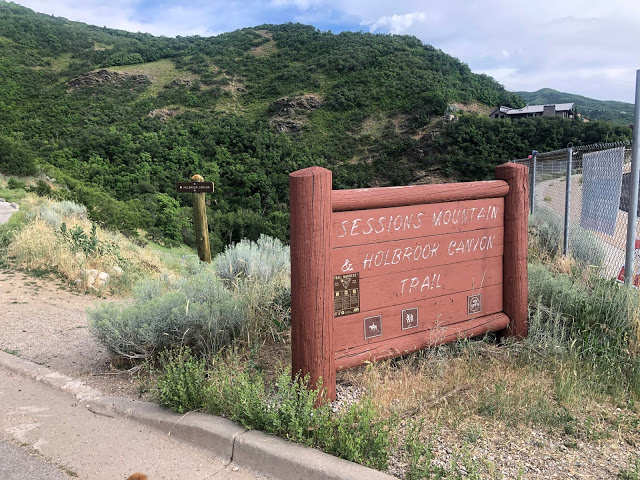 Official TH.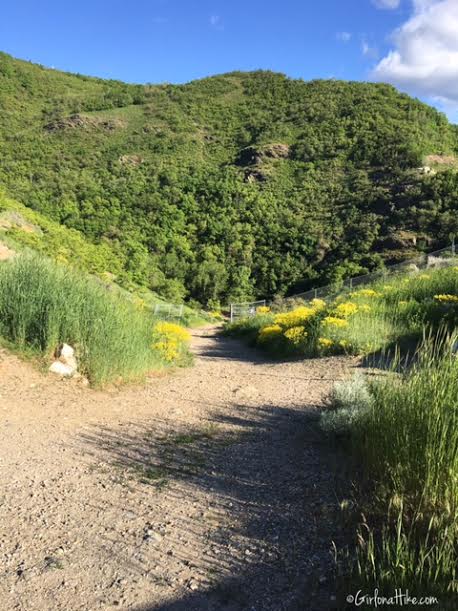 Head down the path that starts directly in the parking lot, on the south side.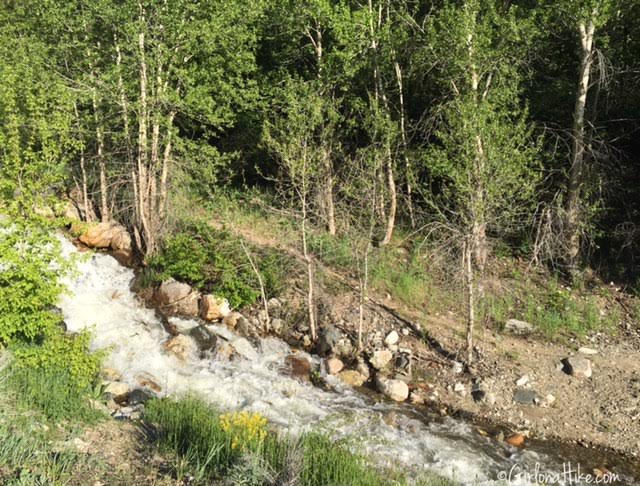 You immediately see the stream, as the trail continues along it on the North side.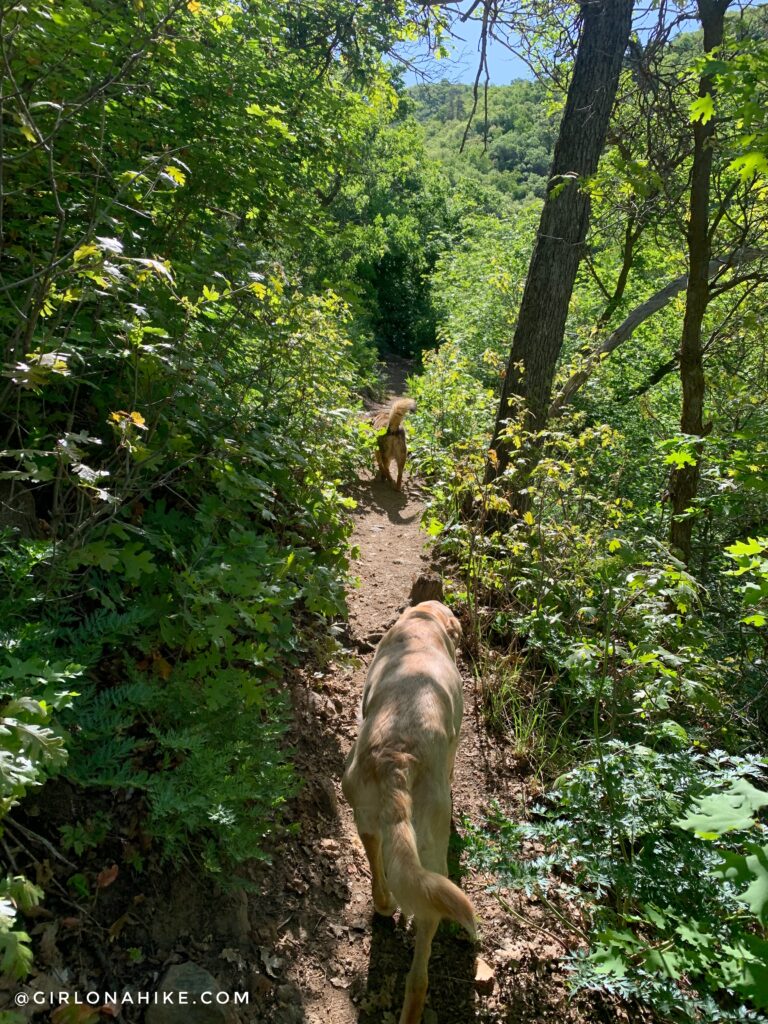 This trail is very well shaded.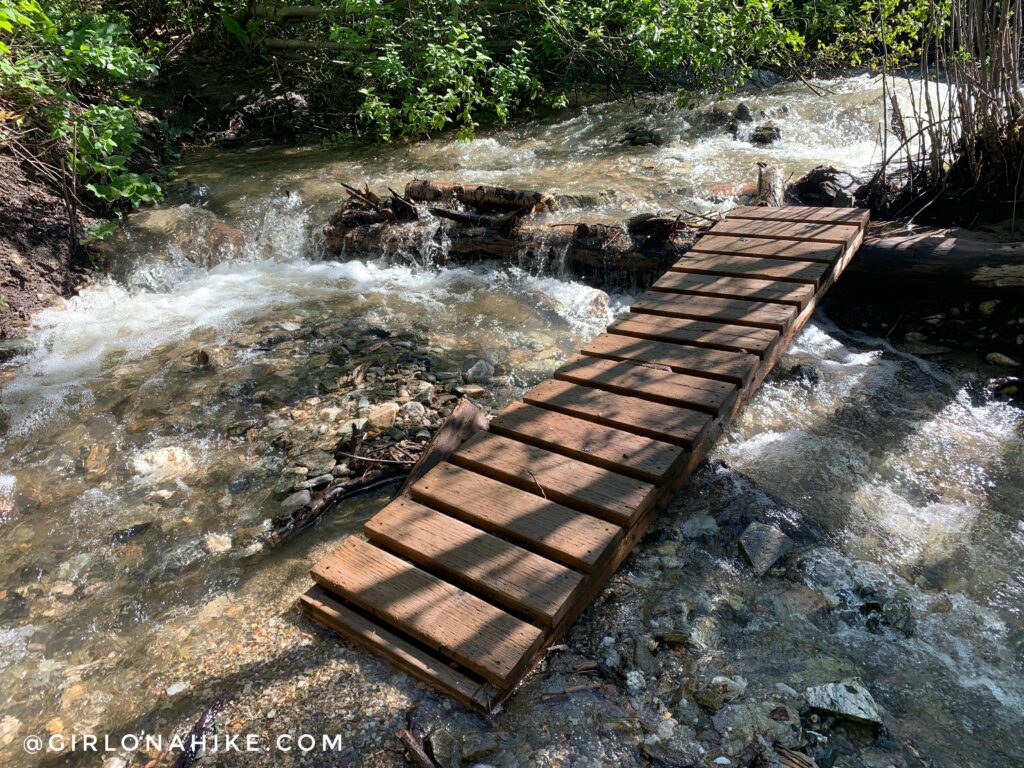 First stream crossing, about 10 minutes into the hike.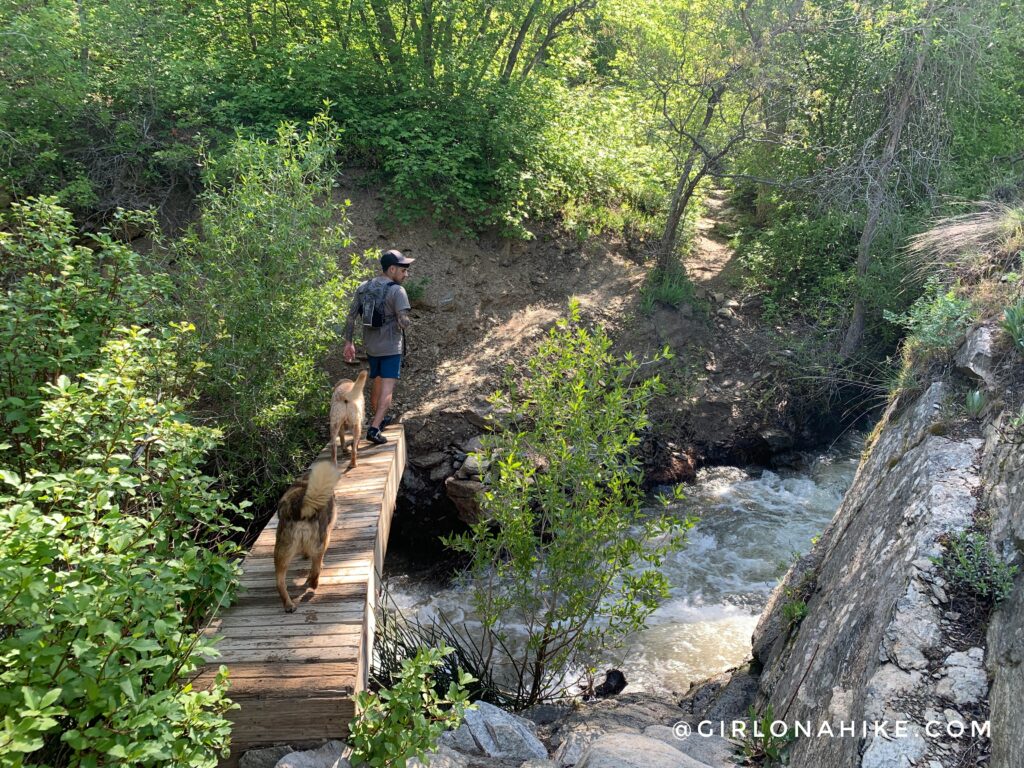 2nd bridge. It was a little wobbly.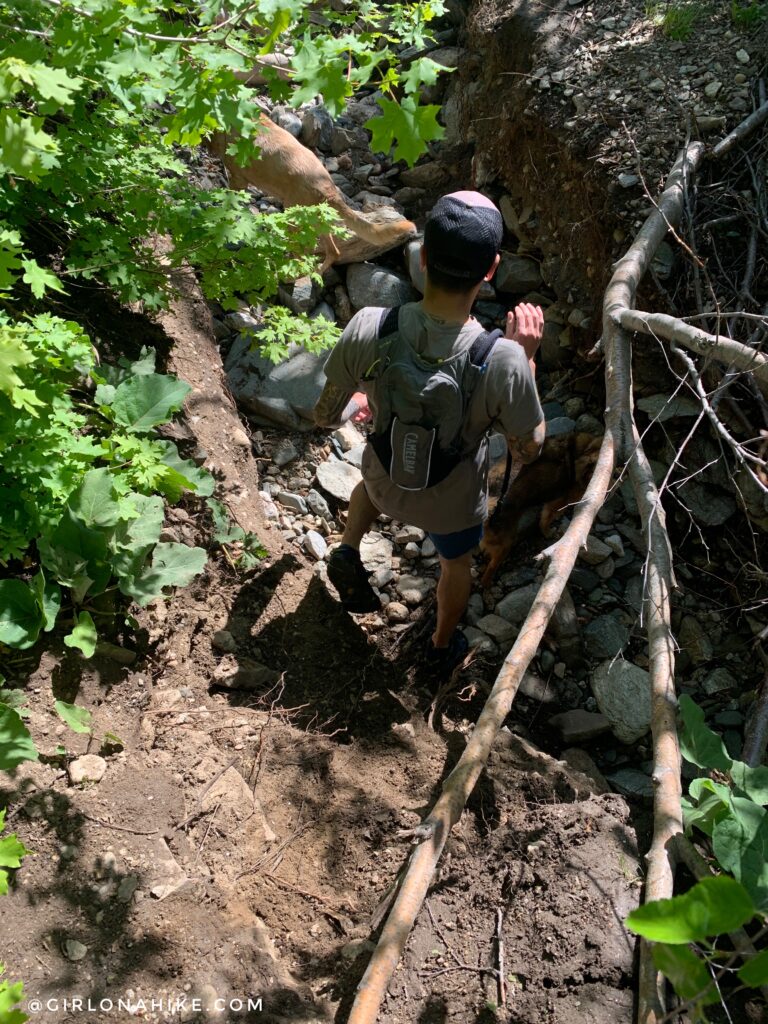 These are the only two bridges left after strong waters washed away the rest from the major snow year in 2022-2023.
There used to be a bridge here, but now even the trail has gotten washed out.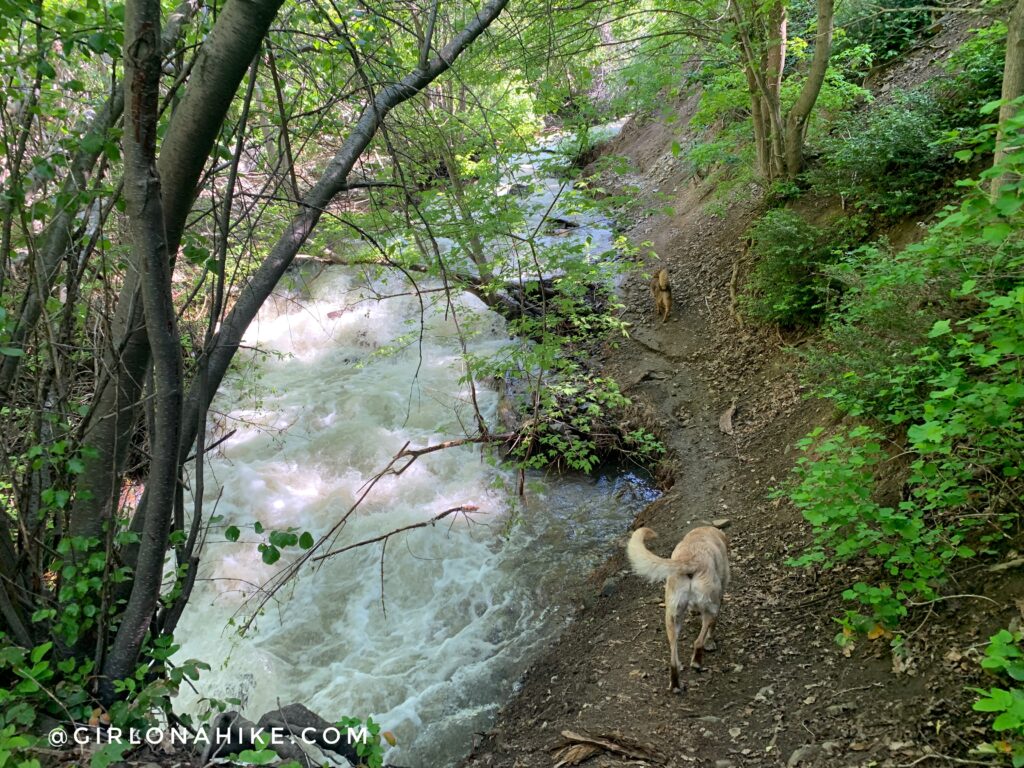 When crossing the creek, be very careful where you step! You never know how deep it can be.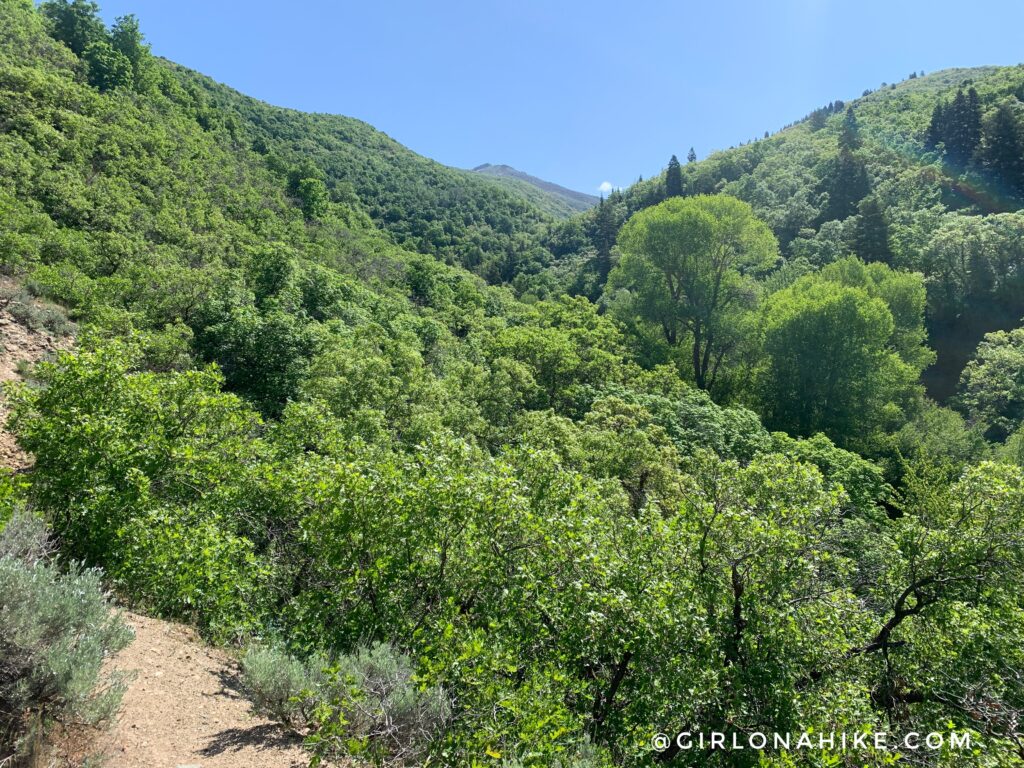 The trail climbs a little elevation, and you get a really pretty view of the canyon.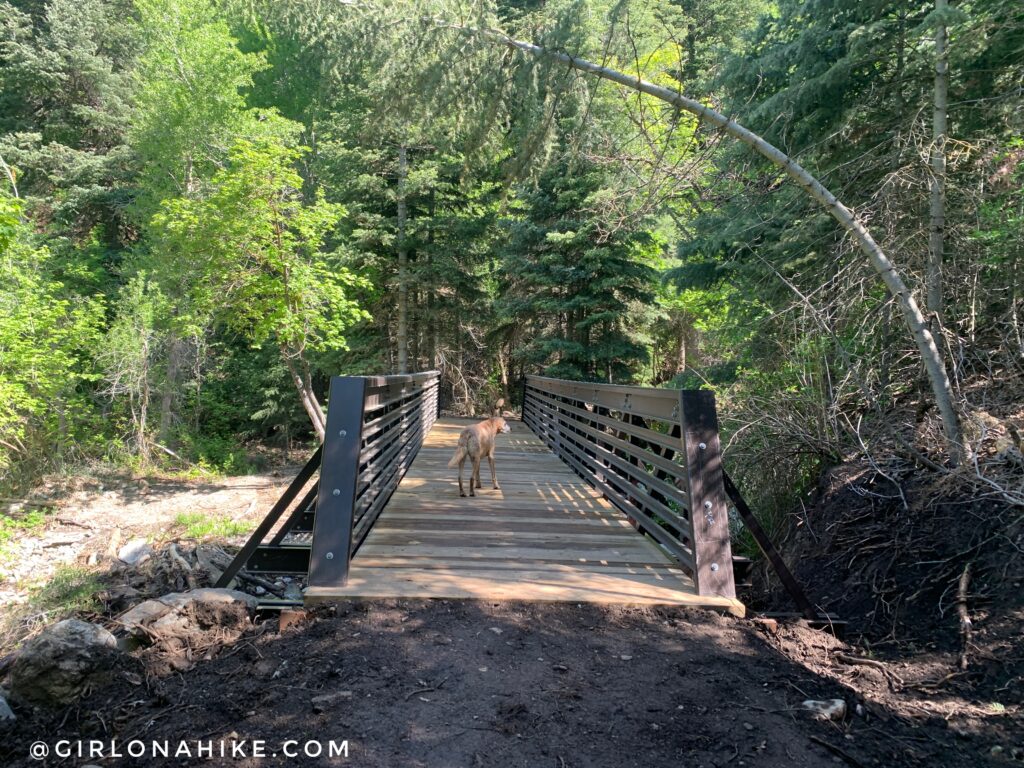 Also brand new for 2023 – a bridge! This also used to be another water crossing, but I guess it got washed out enough it was time for an upgrade. This is right at mile 1.
From here, you can continue up the canyon and find a good spot to turn around and make your way back to the car the way you came. OR, take the new trail split up the switchbacks. The new trail split is right after this bridge, but is not yet signed.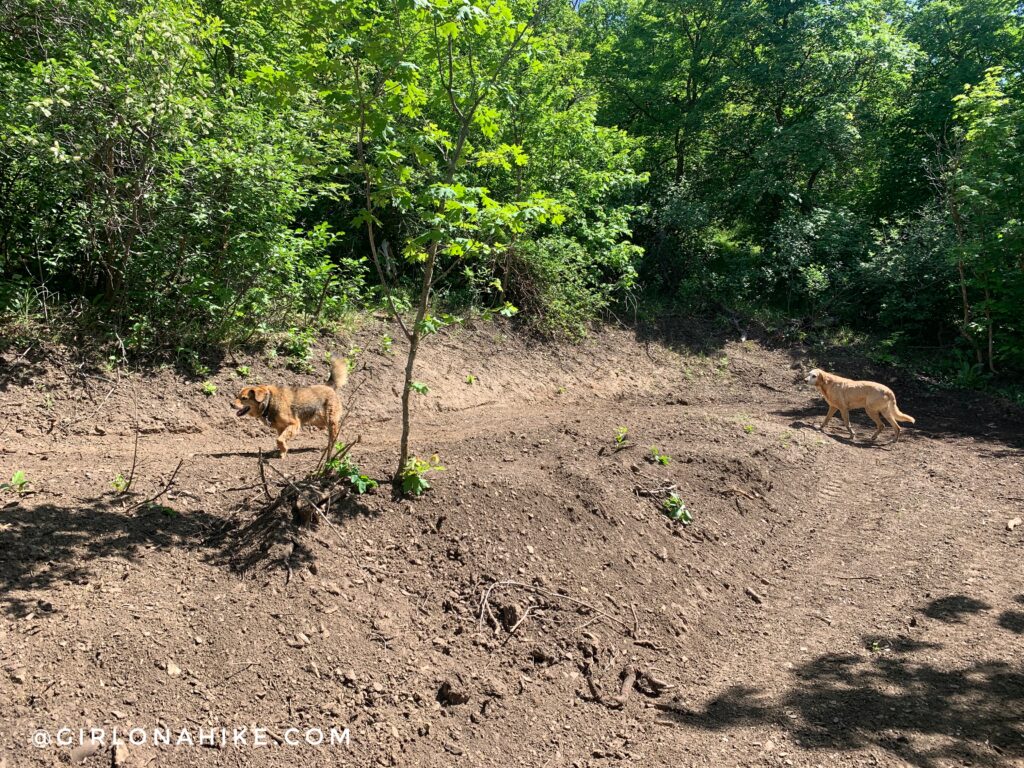 Charlie and Chewy make their way up the switchbacks. It was only shaded in a few sections, which is why I recommend doing this hike clockwise instead.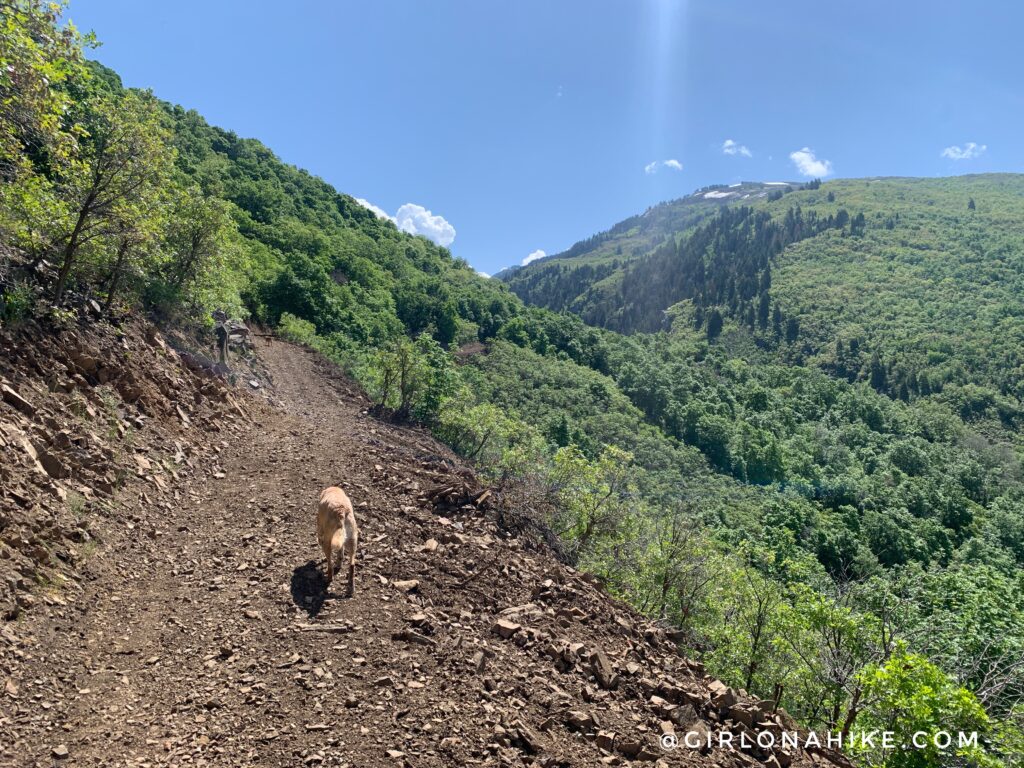 The switchbacks do offer great views of Holbrook Canyon!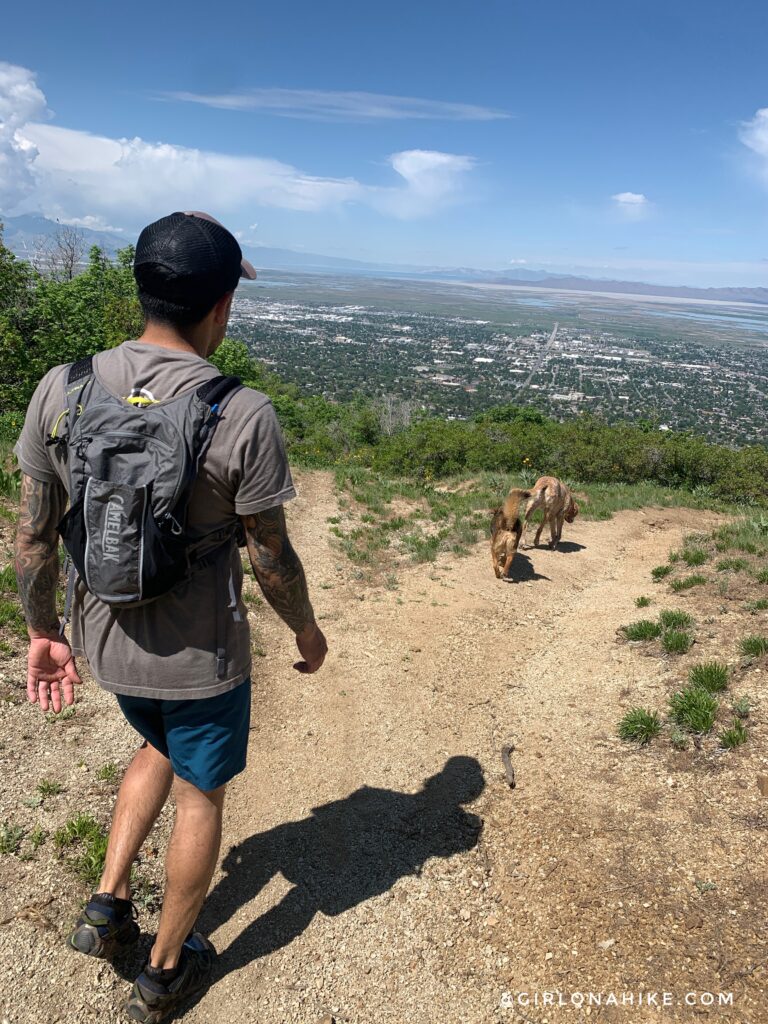 You'll reach the 4-way intersection and now you'll hike West, heading down a steep hill looking out to Bountiful, Utah!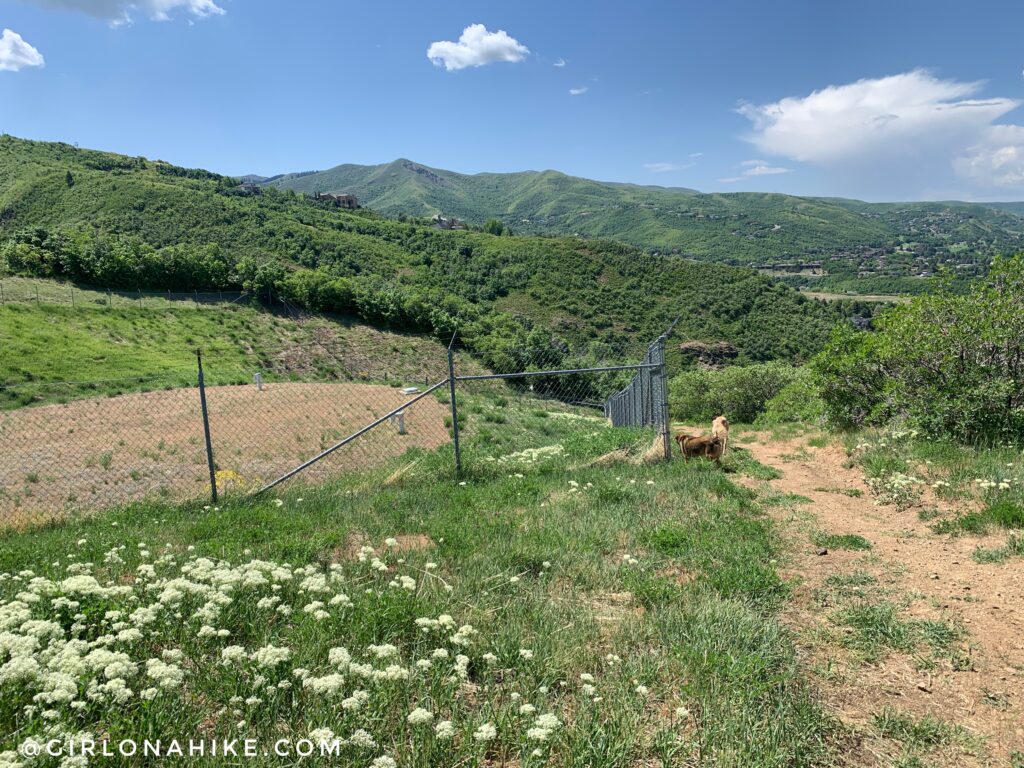 Hike past the water tank, and you'll soon back back to the parking lot.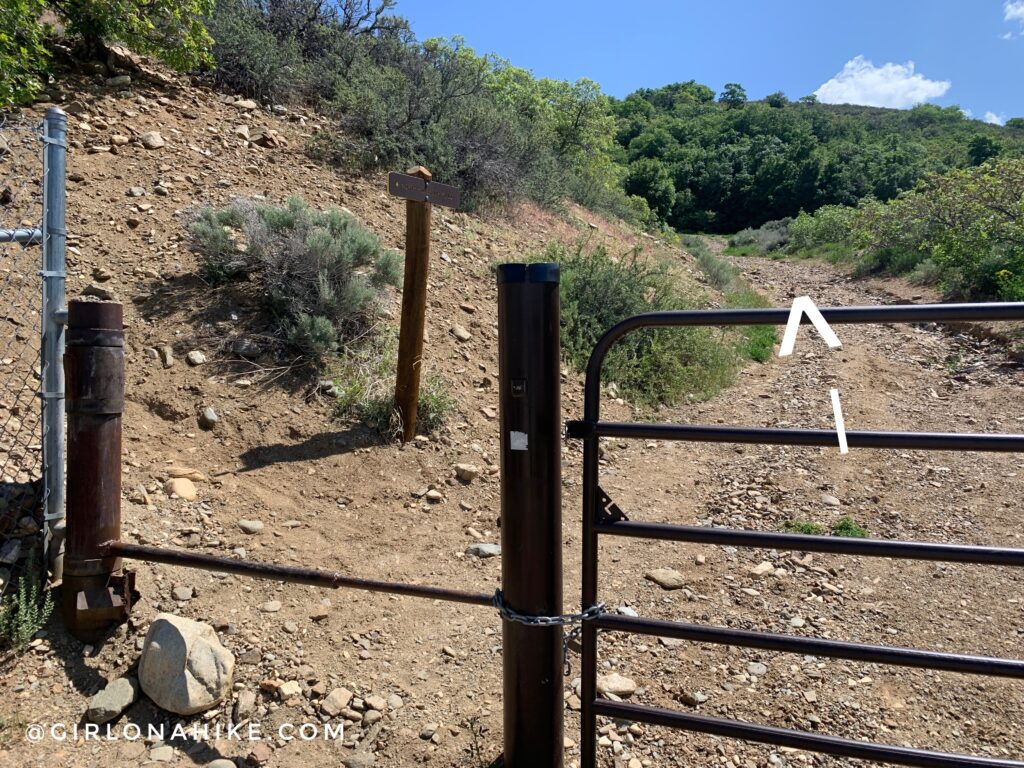 This is where you will come down from, OR, if starting here make sure you stay straight (right) and don't turn left like the sign says.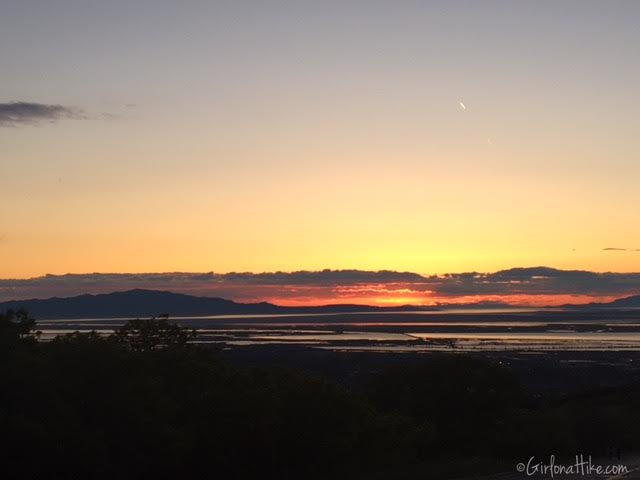 Another time I hiked this, we caught a beautiful sunset over the Great Salt Lake.

Frary Peak

is the peak on the left.
Trail Map
My track via Gaia GPS – the best tracking app! Get your app here for a discount.
Recommended Gear
Nearby Hike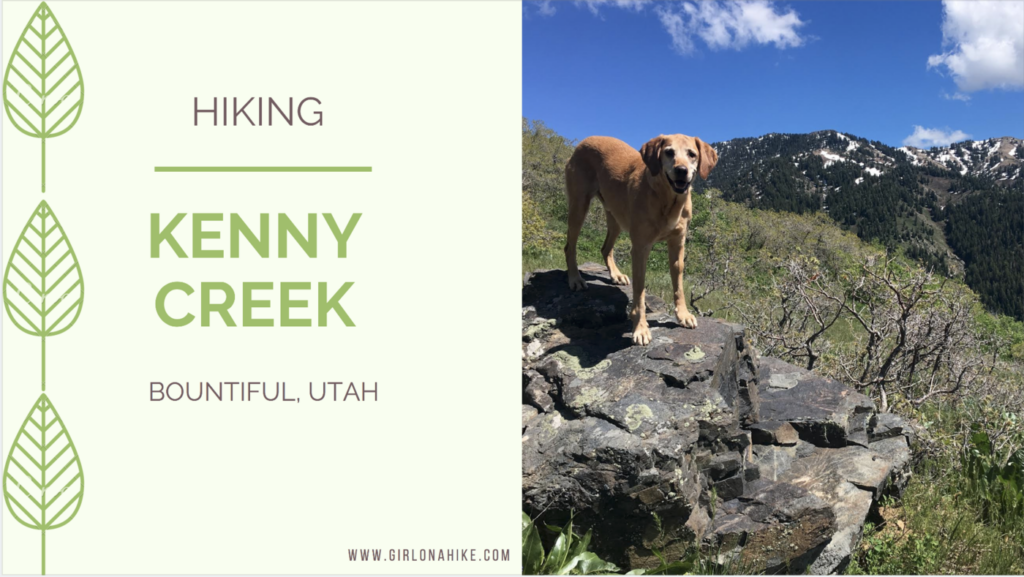 Save me on Pinterest!