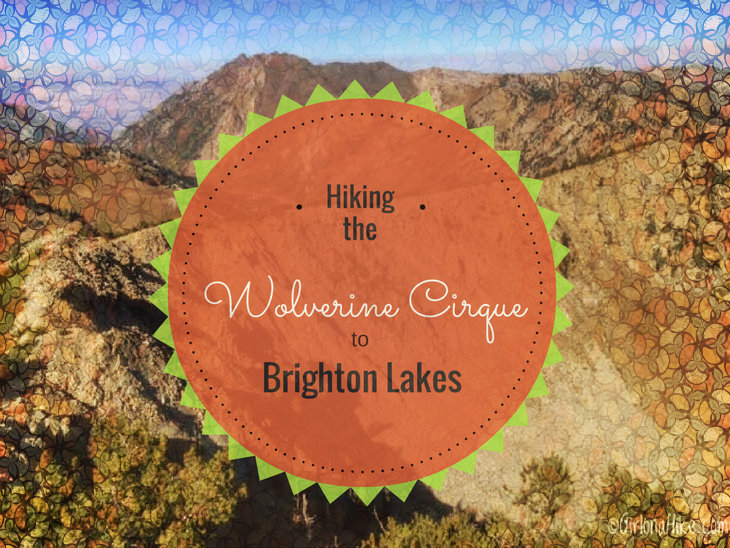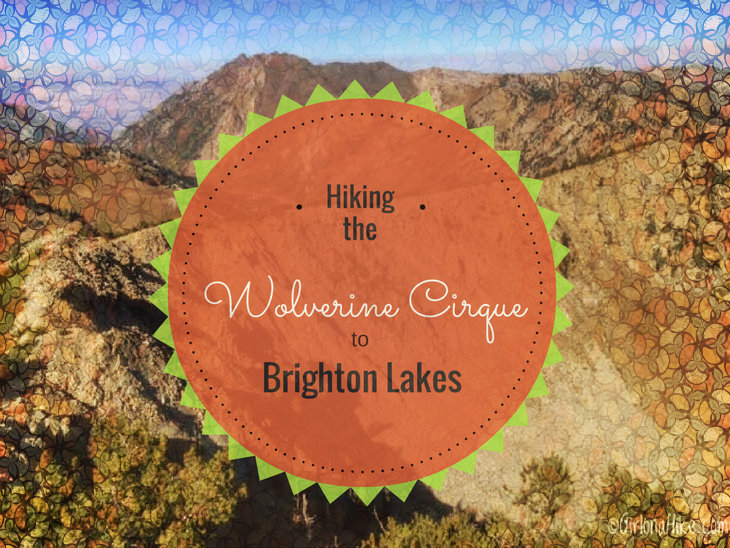 Mt. Wolverine & the Wolverine Cirque above Brighton Ski Resort is a very popular backcountry skiing destination during winter. But hiking this route in Summer, is just as fun and very scenic, and for Peak Baggers, you can knock out up to six peaks in one day.
Directions
This can be done as a point-to-point hike, but to really see everything, turn it into a loop and take half a day to explore. On this route, I was able to summit four peaks, pass four lakes, and see some of the Wasatch's best 360 degree views.
The best thing about this route, besides being a loop, is that there is no scrambling required for any of the peaks. The four peaks you will get summit are Patsy Marley (often unnamed on many maps, but still a worthy summit at 10,525 ft), Mt. Wolverine (10,795 ft), Mt. Millicent (10,452 ft), and Mt. Tuscarora (10,640 ft). 3 out of the 4 peaks are right on the trail, except Mt. Millicent. Hiking to Millicent will require you to hike off trail, picking whatever seems like the best/safest route to you, and also has the most boulders. 
I did this loop hike in a counter clockwise direction, but you really could do it either way. I met a guy on Mt. Wolverine who was doing the same route as me, but backwards. Beginner hikers may not like the longer distance and sheer drop offs in the Cirque, but otherwise most people should be able to complete the loop. If at any time you do get tired, you could backtrack and skip out on some peaks. Be prepared to spend 4 hours (for faster hikers) and up to 6-7 hours (for slow hikers) to complete the loop. This route is very exposed to sun and wind, so it is wise to carry a light jacket with you (even in summer), hat, gloves, and plenty of water and food. This route is best done in Summer and Fall. Dogs are not allowed on this route do due Big Cottonwood Canyon's watershed rules. 
Directions
From SLC, head south on I-215, then take exit 6 for Wasatch Blvd and head south. Turn left for Big Cottonwood Canyon, and drive to the very end of the road. Look for the Solitude Nordic Center/Lake Solitude parking lot on your right. This is where the loop begins and ends. Here is a map.
Trail Info
Distance: 7.8 miles (loop)
Elevation gain: 2,719 ft
Time: 4-6 hours
Dog friendly? No, dogs are not allowed in BCC
Kid friendly? No
Fees/Permits? None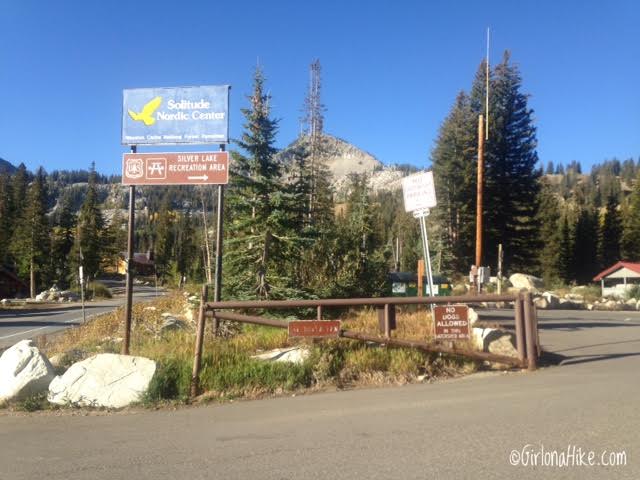 Begin by parking in the Solitude Nordic Center area, then walk behind the building to the boardwalk.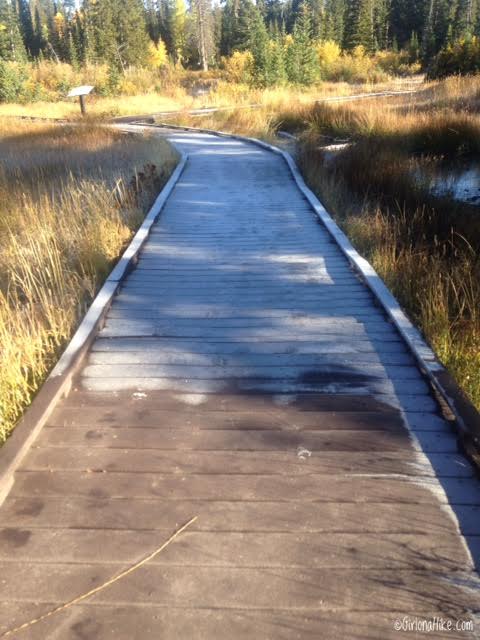 It was a frosty morning! Wasn't expecting that, and I was in shorts! The canyons are typically 15-20 degrees cooler than in the valley, so that is why I always recommend bringing a light jacket. Once on the boardwalk, turn right and follow it around Silver Lake.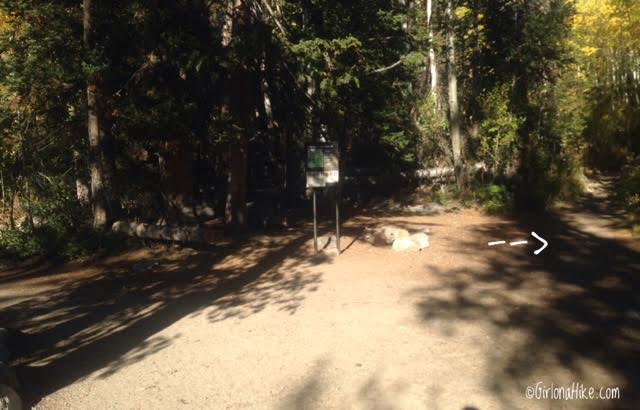 This is the first 3 way intersection you come to. Turn right/straight for the Twin Lakes Trail, which leads up to the Twin Lakes Reservoir. This is your trail. If you turn left, it will just wrap around Silver Lake.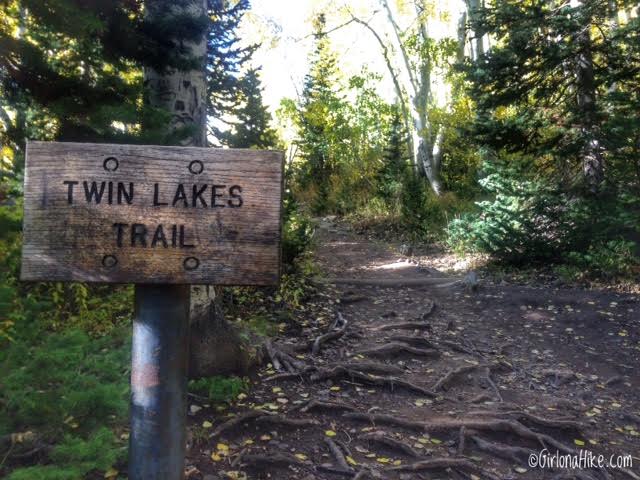 At the next 4 way intersection, turn left, following the sign for Twin Lakes.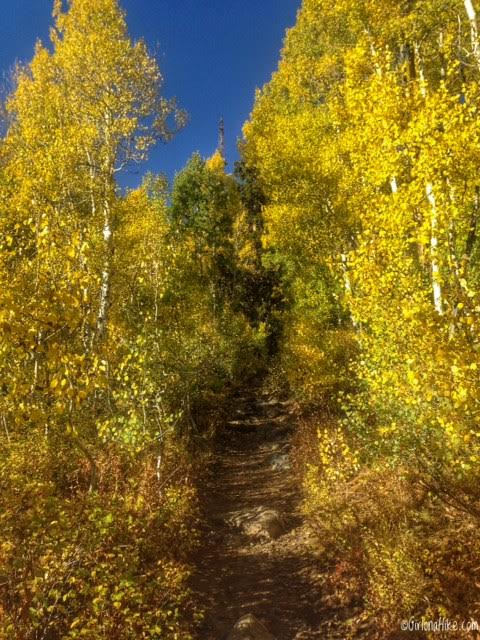 Beautiful Fall colors!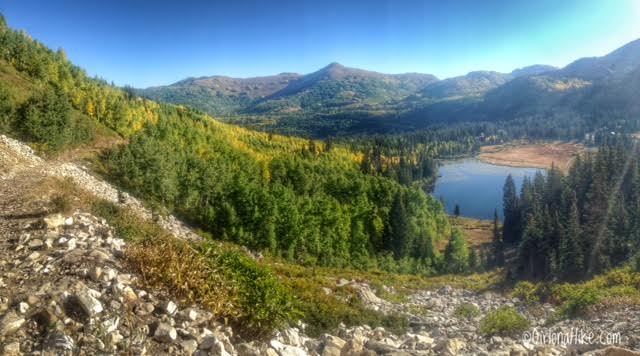 You should now be hiking above Silver Lake.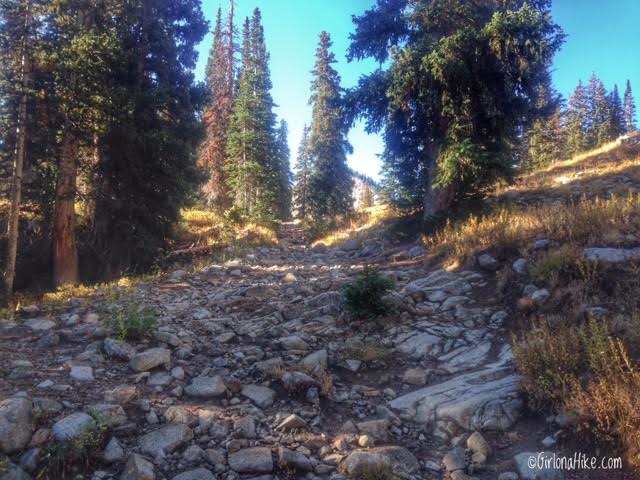 The trail is fairly rocky, but not bad at all. When you get to the top of this trail (a large, wide dirt road), turn right for Twin Lakes.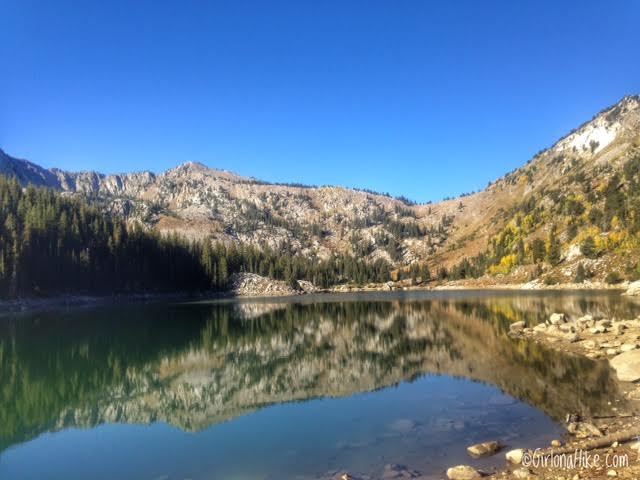 Twin Lakes Reservoir!
See that small saddle straight ahead? That is where you want to hike towards, and your first peak, Patsy Marley, is the high point on the left.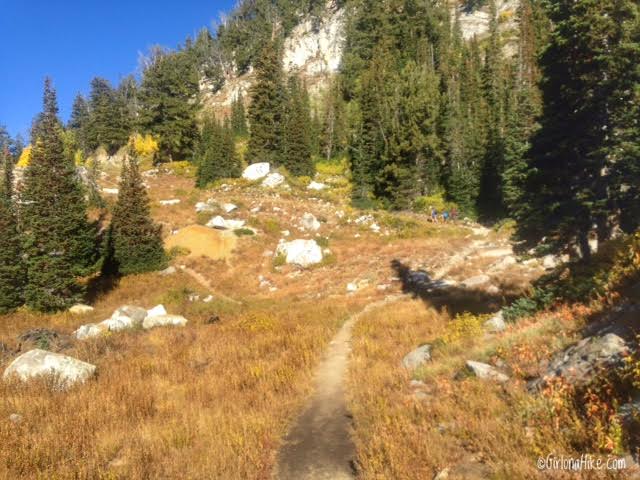 To get to the saddle, take the trail heading to the right of Twin Lakes.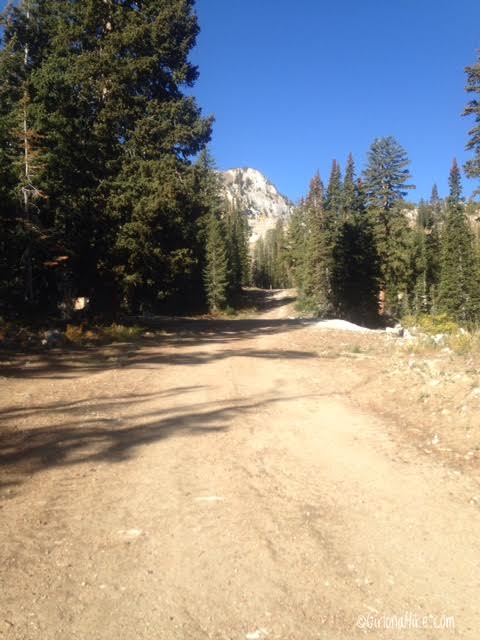 Once the trail flattens out, you'll now be hiking in Solitude Ski Resort. Follow this dirt road, a ski run called "Back Door", up for another 1/4 mile.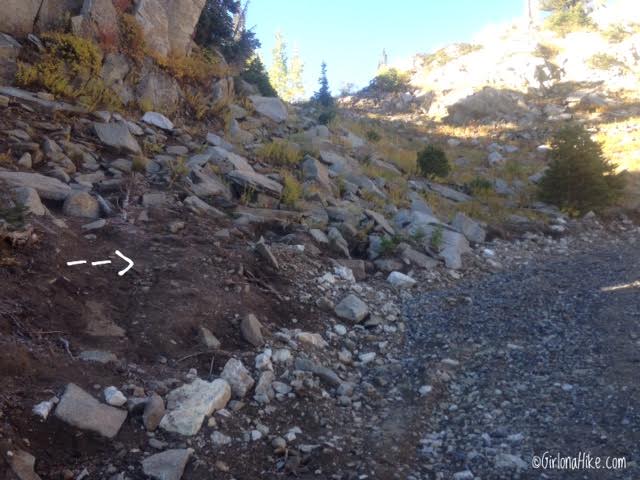 You'll see this small, unsigned turn off leading up to the left. This is your turn to reach the saddle below Patsy Marley Peak. If you hiked all the way up to the Summit Lift, you've gone too far.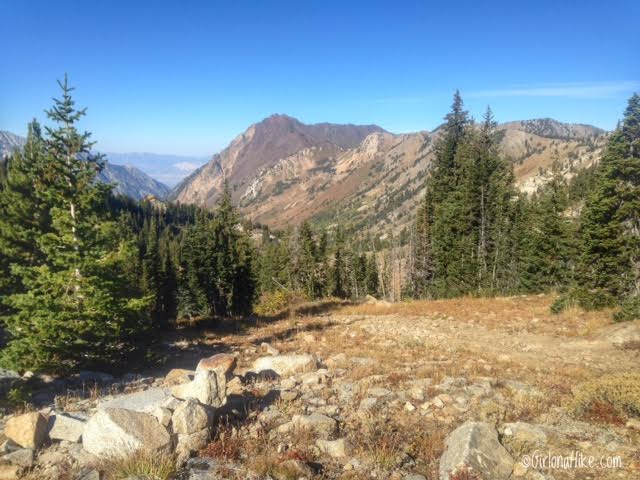 At the saddle, you'll have an awesome view from here on out of Mt. Superior & Monte Cristo Peaks to the West.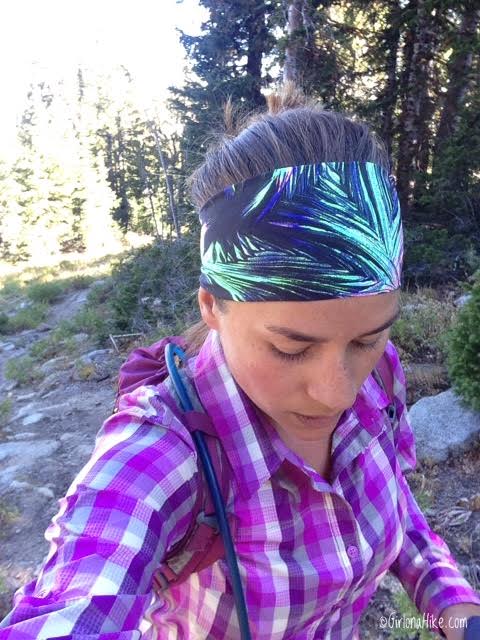 Working hard uphill.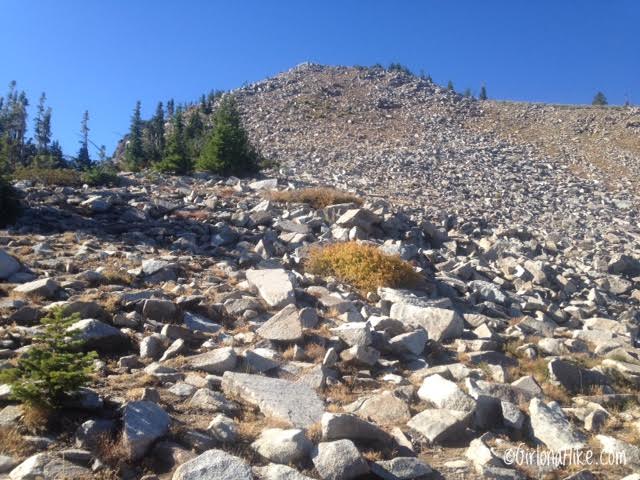 Looking up the boulder field to Patsy Marley Peak. It looks bad, but its actually pretty easy. Only the last 50-75 ft was the toughest because of the steepness. Nice thing is, no rocks were loose.
Summit of Patsy Marley Peak! Took me 1 hour 16 minutes to this point. This is looking down on the Twin Lakes Reservoir, where I just hiked up from. It was breezy and chilly on the peak, so I was glad I also brought along my newest beanie.
 From Pasty Marley, just follow the ridge over to your next peak, Mt. Wolverine. It's pretty easy ridge walking, but I did loose the trail twice. Thankfully I was able to bushwhack my way back to the trail in no time.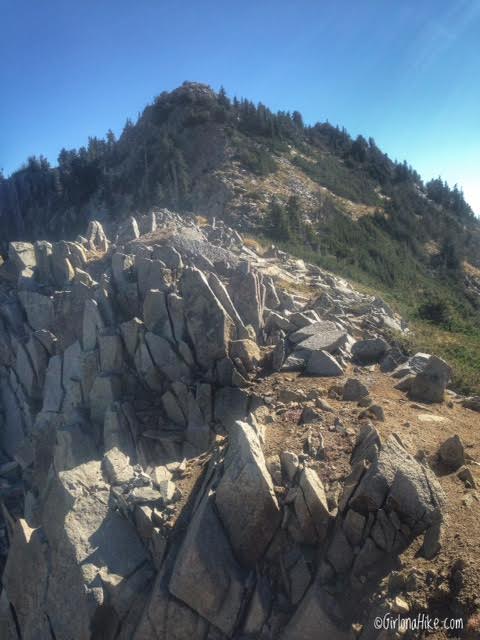 The last 100 yards leading up to Mt. Wolverine are the steepest, but again, not hard.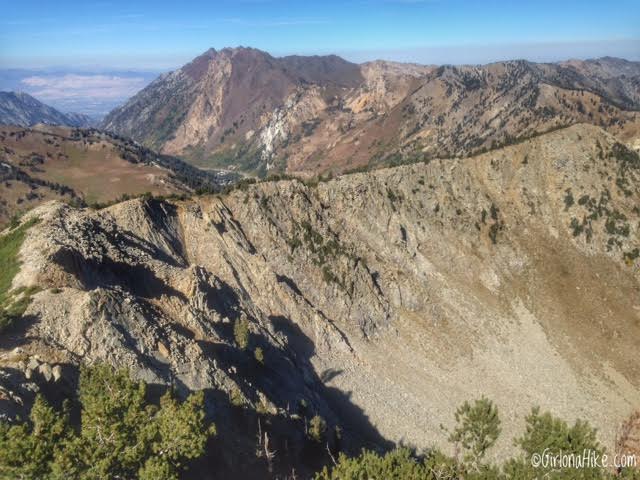 On Mt. Wolverine looking back at the ridge I just hiked across. This is what is referred to as the Wolverine Cirque, below the ridge. In Winter, many backcountry skiers will skin up to this ridge, then drop down these various, steep chutes.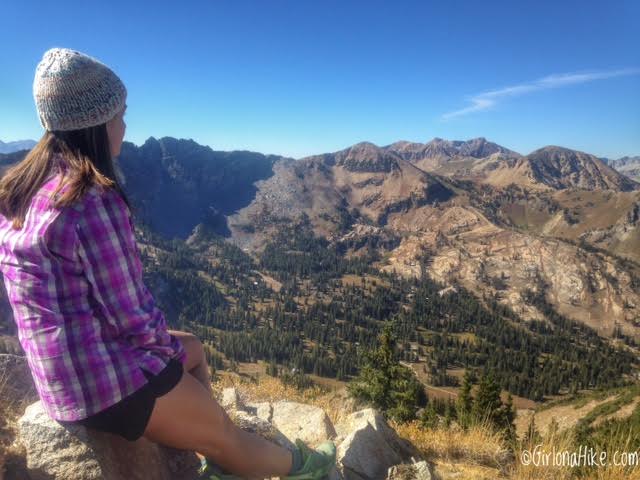 On Mt. Wolverine looking SW. That rounded peak in the middle is Sugarloaf Peak, and in the far distance, American Fork Twin Peaks. So cool to see all these other peaks I have hiked to this summer.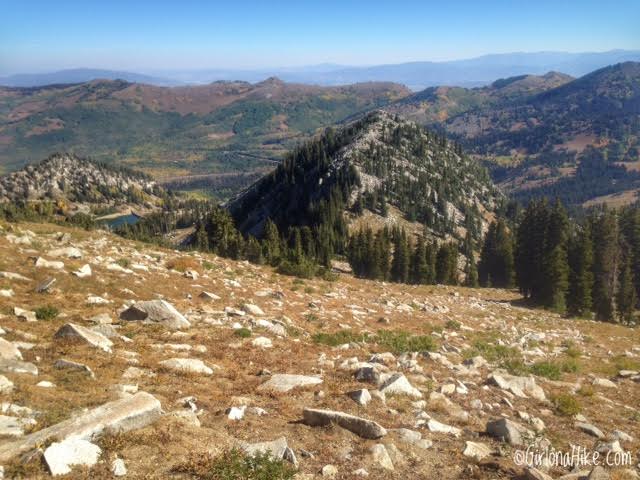 To bag Mt. Millicent, you'll need to hike off trail. I just followed the ridge down to the small saddle, then up to the peak. It took me roughly 20 minutes from Mt. Wolverine to Mt. Millicent. Not bad!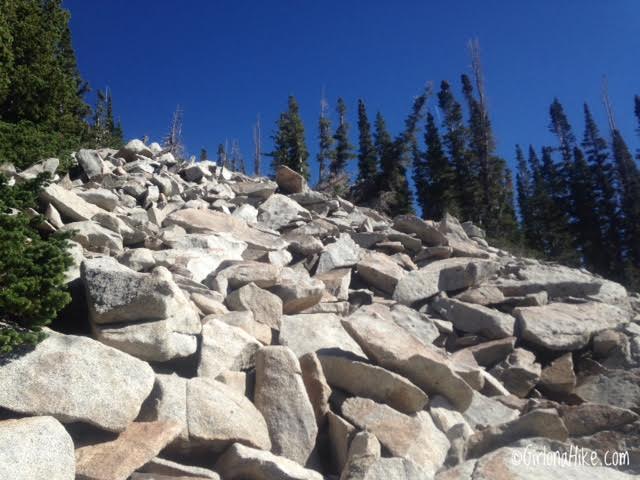 The boulder field leading up to Mt. Millicent. Many of these boulders are unstable, so watch your footing.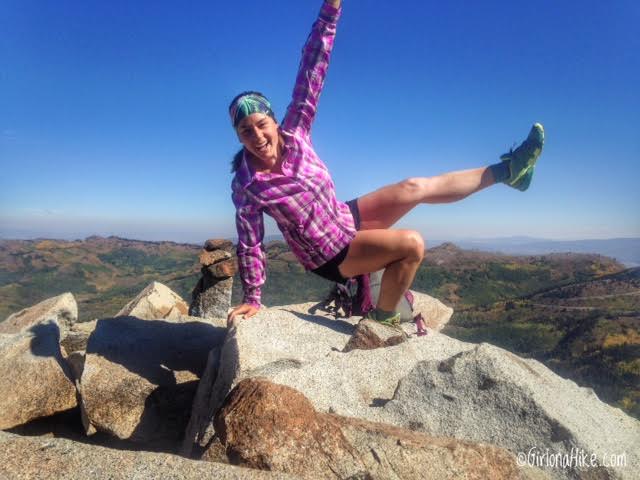 I tried many self-timed summit jump photos, but all failed haha, so I ended up doing this weird pose. Sometimes selfies don't work out the way you want lol but the one that works out ends up being fun anyway.

Panorama shot from Mt. Millicent, looking down into the Brighton Lakes area. After summiting this peak, hike back over to the main ridgeline, connecting to Mt. Tuscarora (see my maps at the end of this post).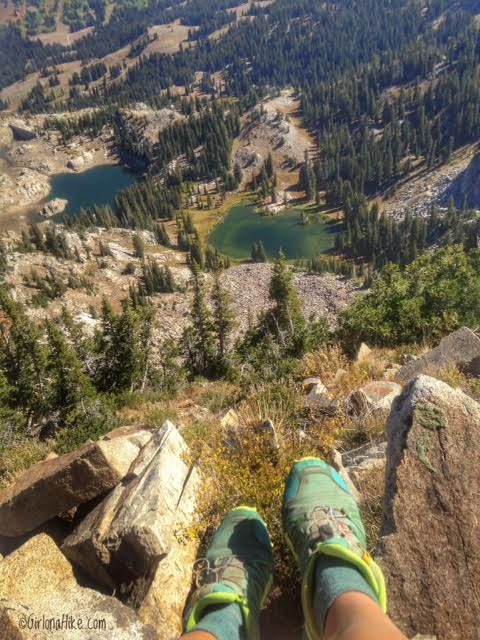 On the summit of Mt. Tuscarora! Looking down to the empty Lake Mary (left), and Lake Martha (right). Eventually you will hike past these lakes towards the end of the loop. Once you are done taking in this awesome view, continue down the ridge towards Catherine Pass.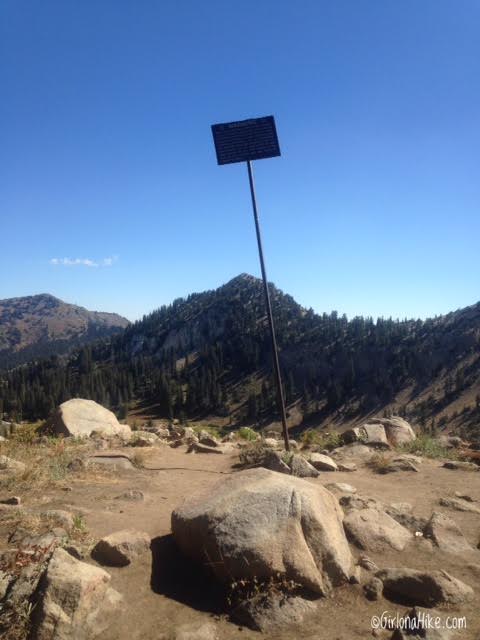 Catherine Pass.
This very tall sign is for when the snow levels are really deep during winter for skiers. This is also a big trail intersection. Continuing East along the ridge will take you up to Sunset Peak, south will take you back to Alta, and North will take you down past Brighton Lakes (they way you want to go to make the loop). As mentioned before, I only knocked out 4 peaks, but you could do 6 by continuing on to Sunset Peak, and Pioneer Peak, then hiking back to Catherine Pass.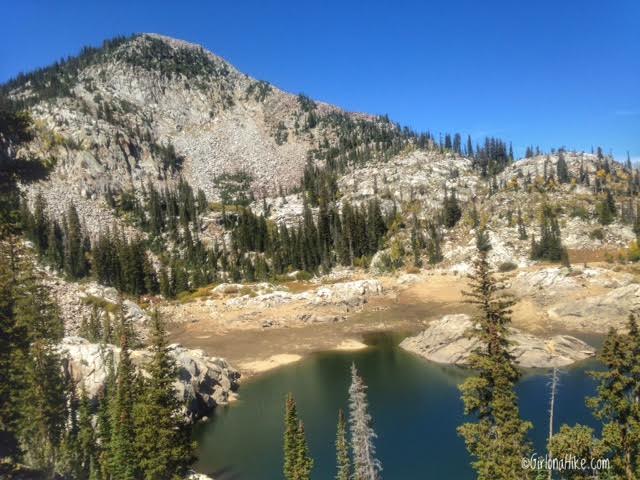 Hiking down via Brighton Lakes, and the very empty and drained Lake Mary. Swimming is not allowed in any of the lakes in Big Cottonwood Canyon, however some people chose to ignore the signs, and one young girl even died this summer attempting to swim here. Water temperature in this lake is 35F, so hypothermia can happen quickly.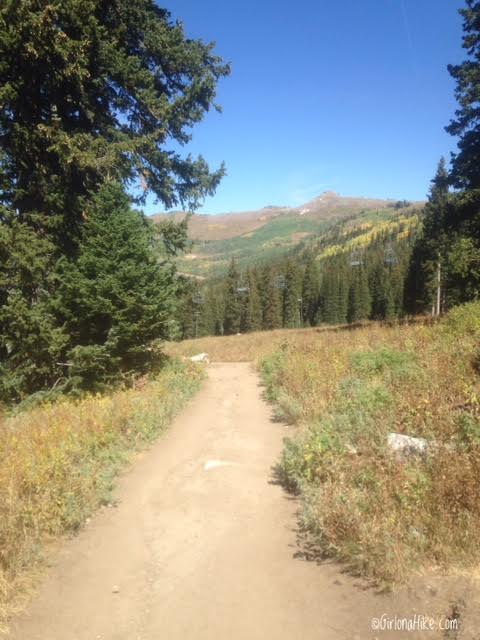 Once you hike past the Brighton Lakes, you'll follow this very populated and well-traveled trail down to the Brighton Ski Resort entrance. I probably passed 100 people on just this section of the trail alone. I was very surprised to see many people carrying beach towels up, and even one dog. I'm hoping that they people carrying beach towels up came to sunbathe, and not swim, and the guy with the pug dog, well, he knows he was breaking the law.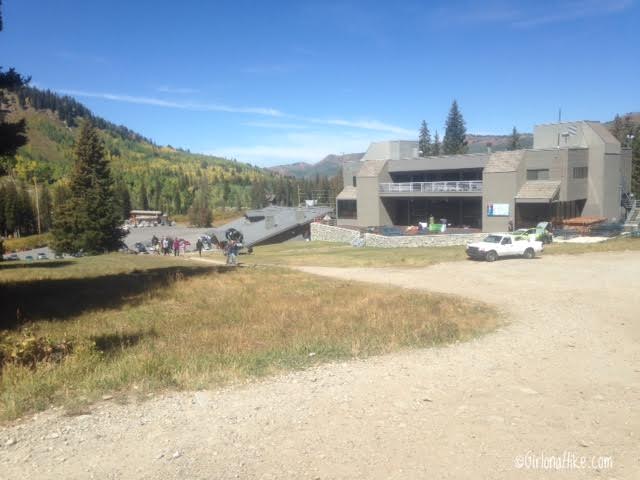 Once back at Brighton Ski Resort, find your way back to your car. Since I parked at the Solitude Nordic Center, I had to walk back on the road for about 5-10 minutes.
Trail Map
My track via Gaia GPS – the best tracking app! Get your app here for a discount.
Nearby Hike
Sunset Peak via Catherine Pass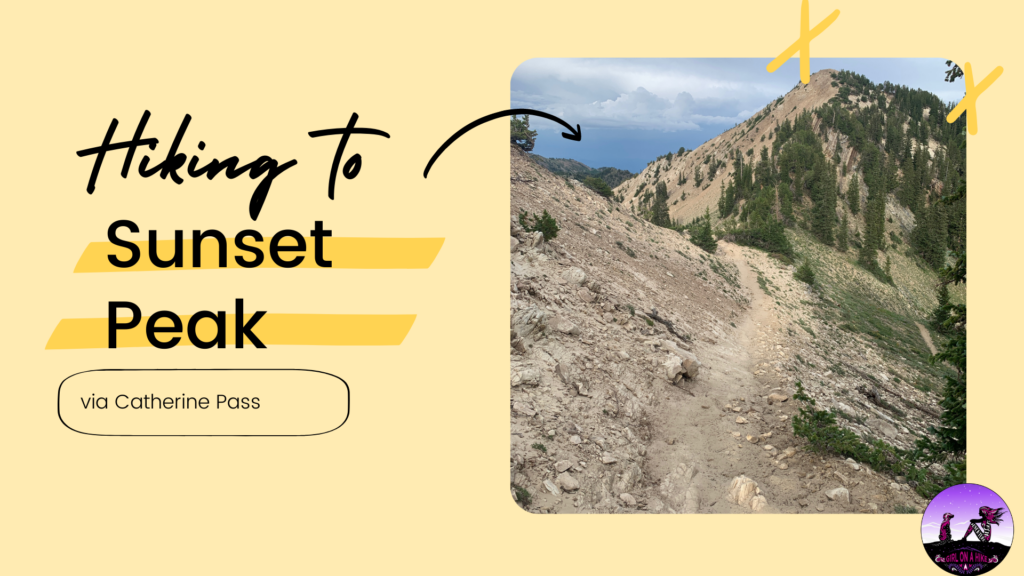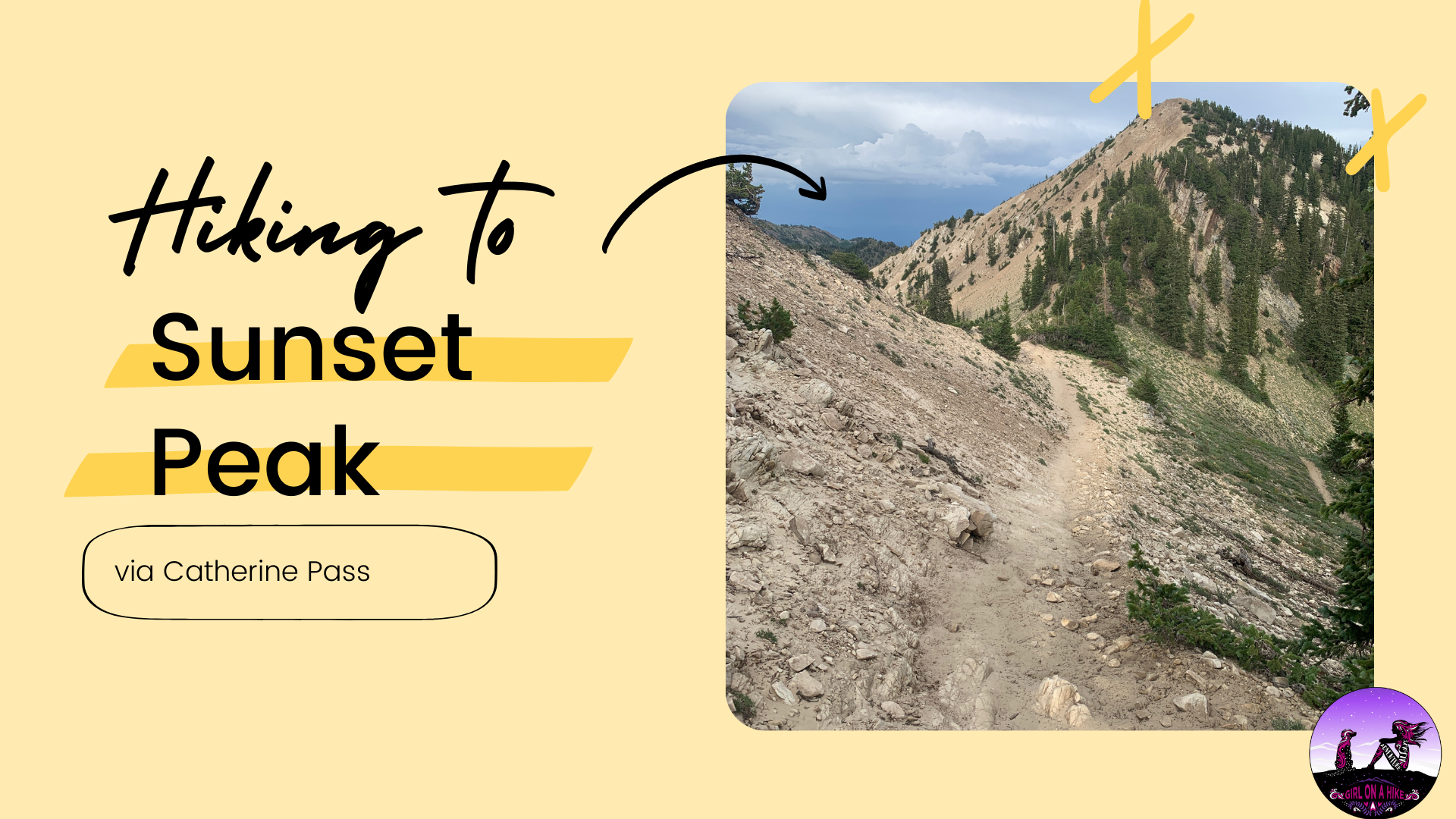 Save me on Pinterest!