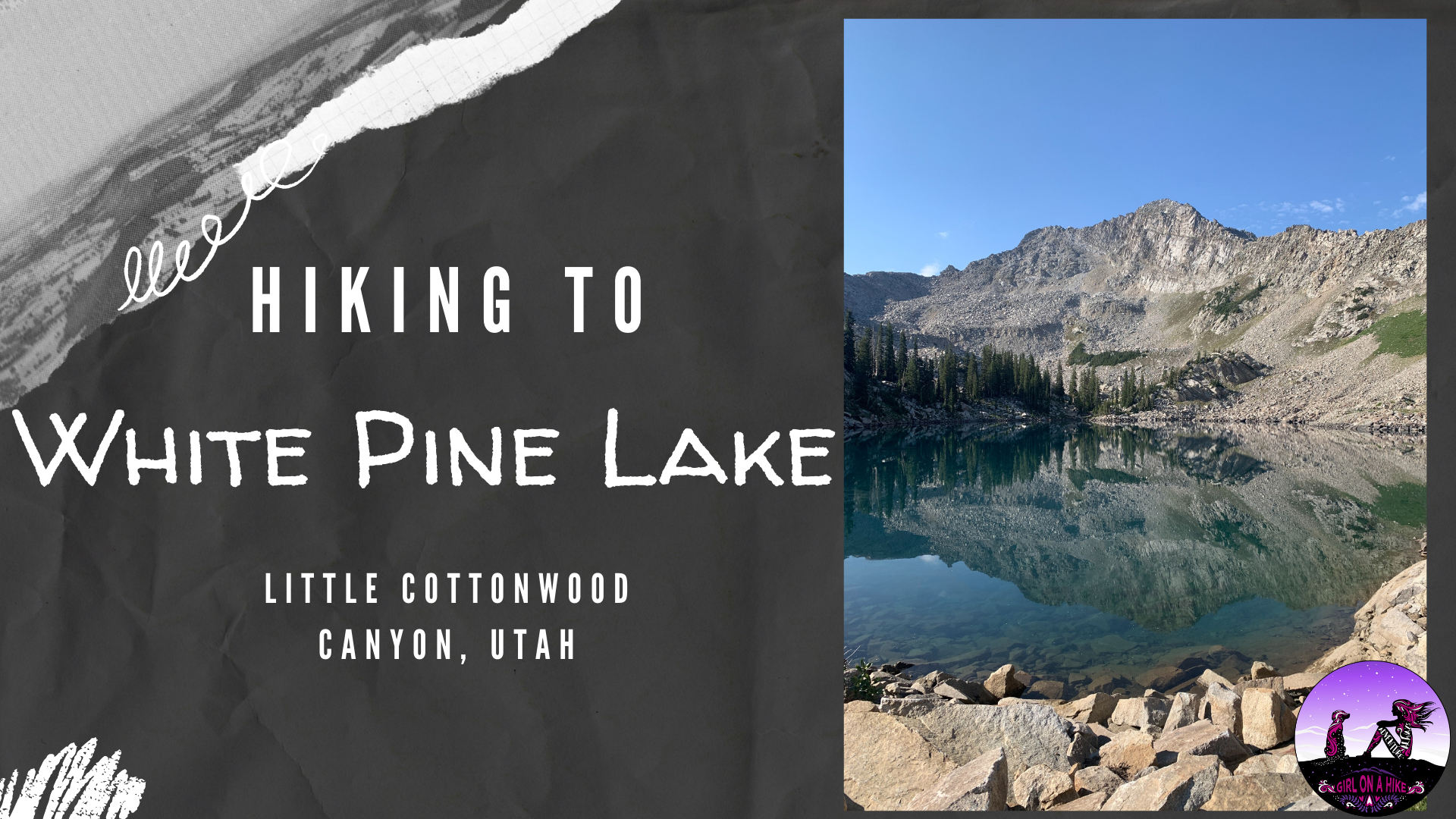 Hiking to White Pine Lake, Little Cottonwood Canyon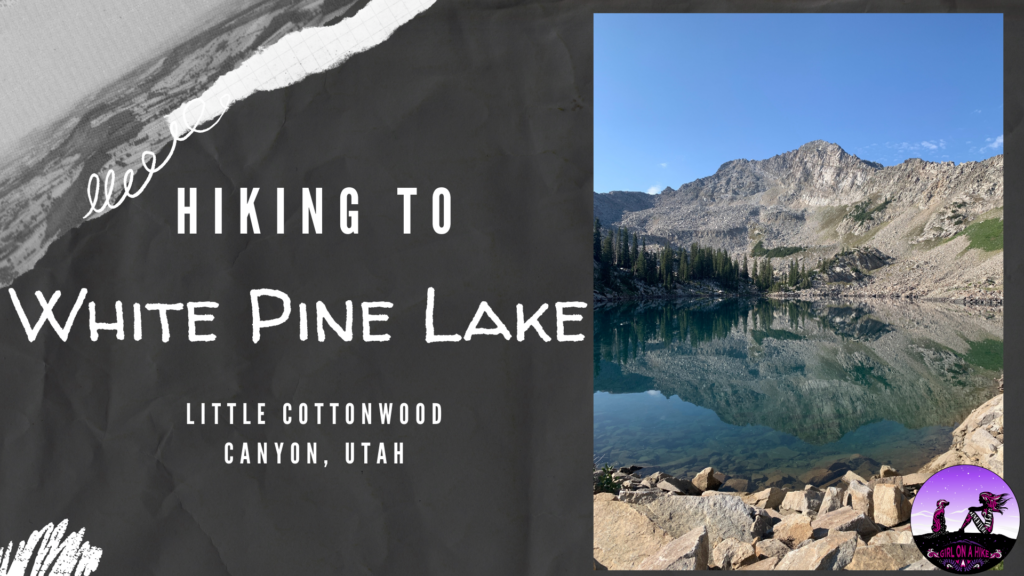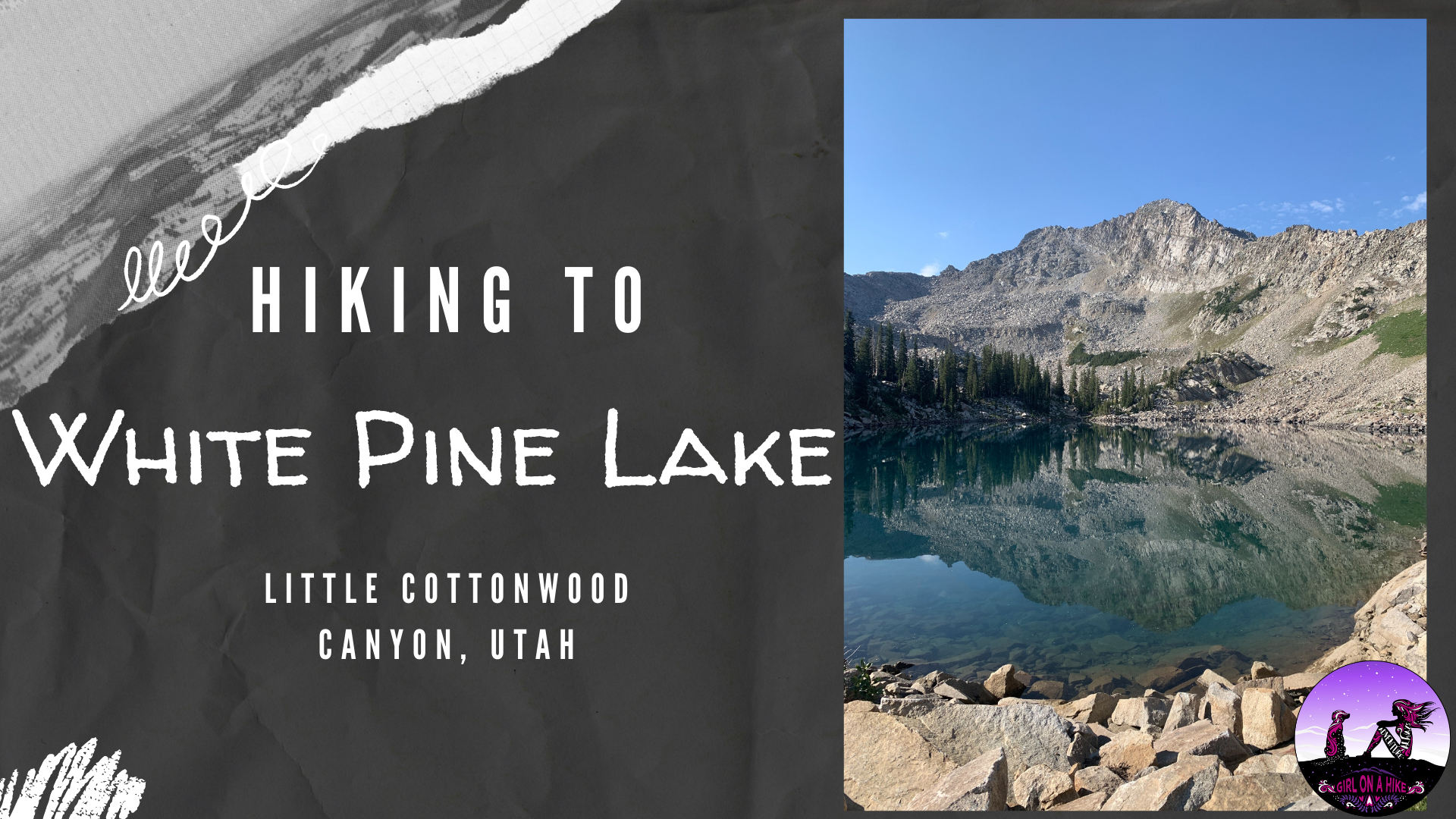 White Pine Lake in Little Cottonwood Canyon (LCC) sits at 10,200 ft, and is surrounded by several peaks. The trail follows an old mining road, so it is very wide and gradual. Even though you'll hike 5.5 miles one way, you'll only gain about 2,500 ft – not bad by Wasatch standards.
The trail is only accessible in Summer months, typically from June until October. Dogs are not allowed on this trail due to it being within a watershed area (all of LCC is off limits to dogs). Start early to beat the crowds and heat. My friend Sarah and I parked at 5:30am on a Saturday, and 5 minutes later several more cars arrived completely filling up the parking lot. By the time we got back, cars lined the sides of the main road if they were able to find extra spots. As with any hike, be prepared to carry at least 2 liters of water, a snack, long sleeve shirt (even in summer it can be chilly at the lake), and sunblock.
Directions
Drive 5.4 miles up LCC and turn right into the parking lot for the Red Pine/White Pine TH. Here is a driving map.
Trail Info
Distance: 11 miles RT
Elevation gain: 2,500 ft
Time: 4-8 hours
Dog friendly? No, dogs are not allowed in LCC
Kid friendly? No
Fees/Permits? None
The starting point for this trail is the same as Red Pine Lake & Gloria Falls, and follows the same path for the first mile.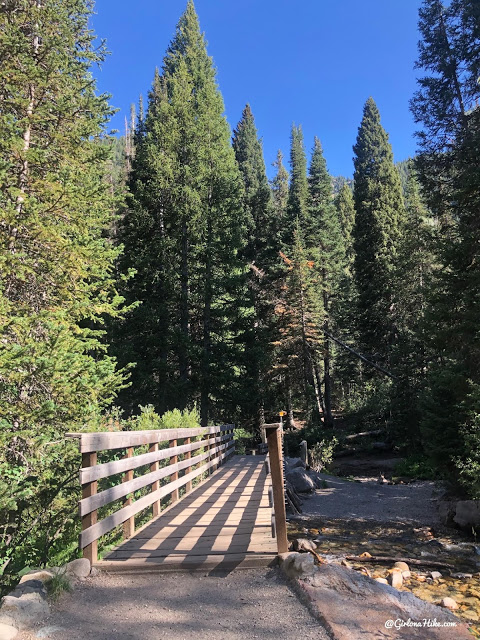 Cross the bridge and stay right.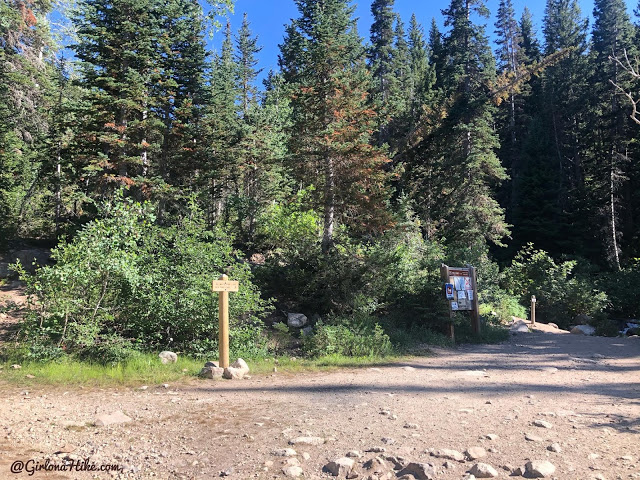 At 1 mile reach the trail junction for White Pine Lake – stay left.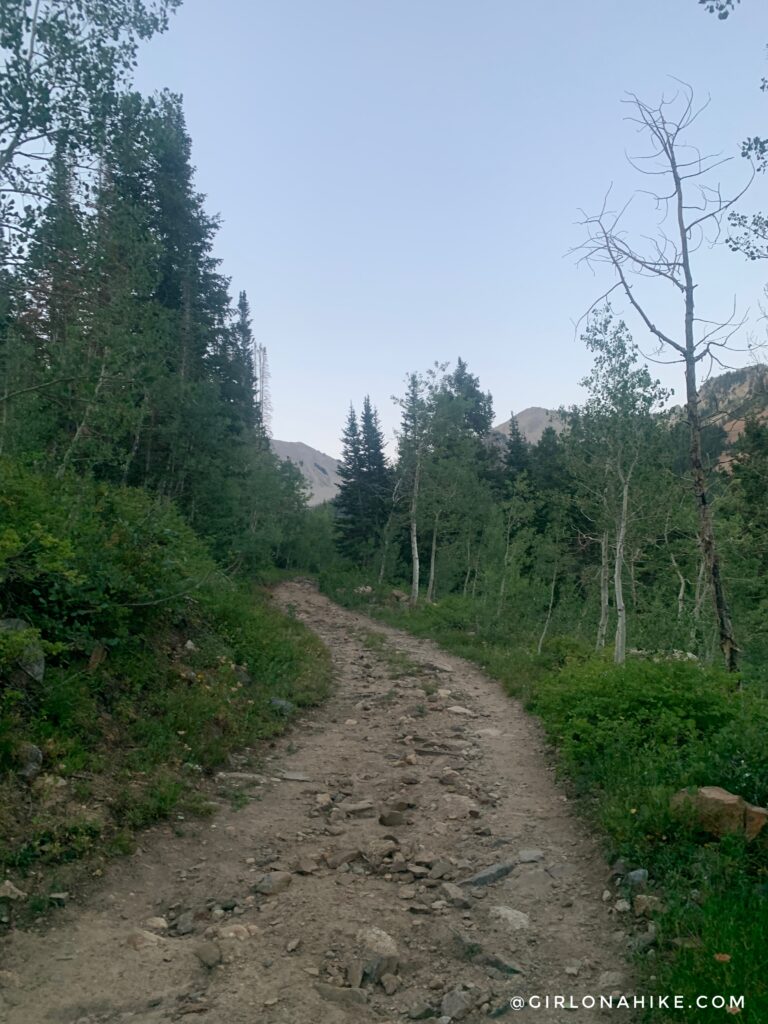 The trail is gradual the entire way, and the first 1-2 switchbacks are on the rocky side.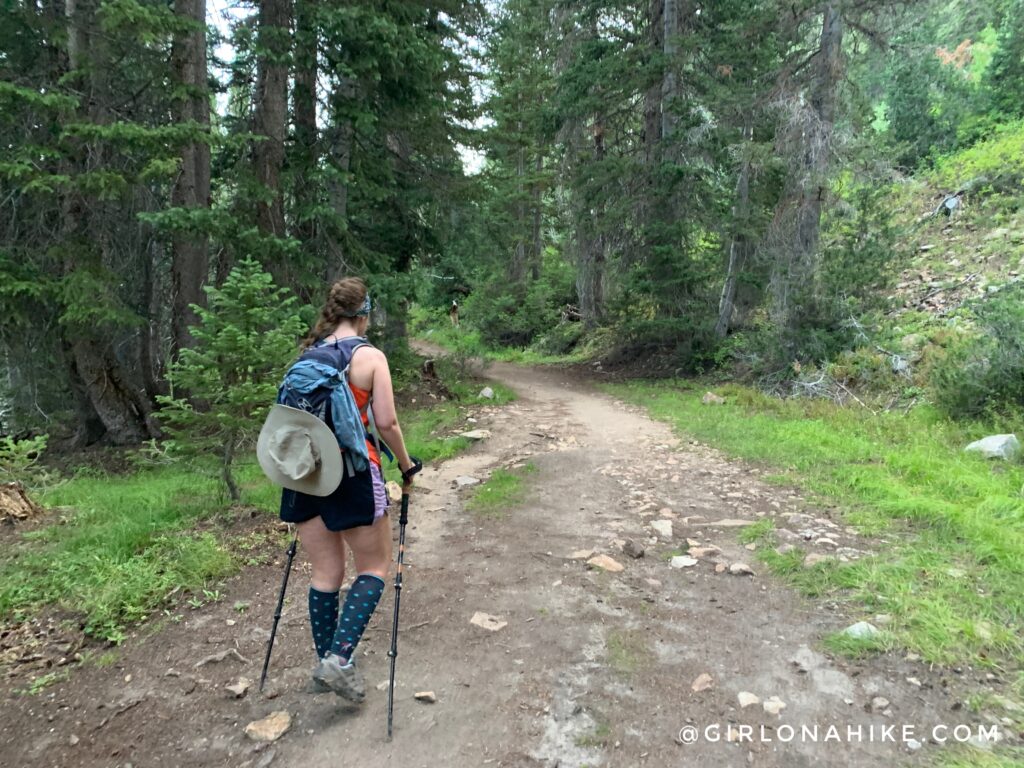 Eventually the trail flattens out some, and you will continue working your way up countless switchbacks.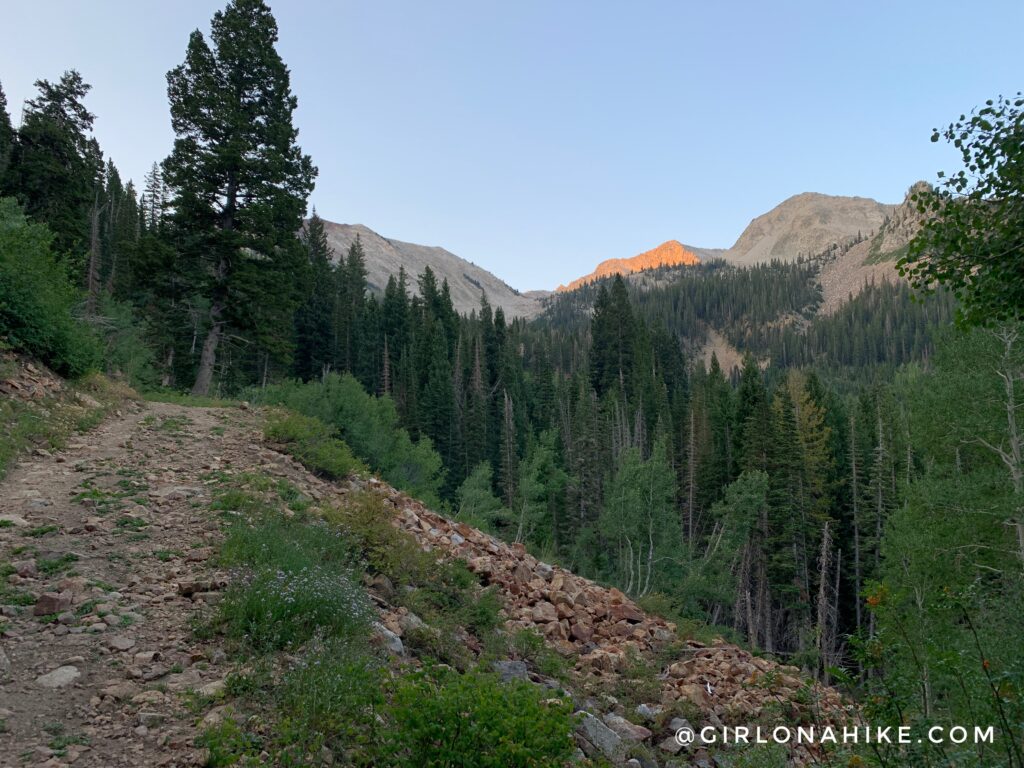 The best part about start this hike early is that you will be in the shade most of the time. You can see the sun is barely hitting White Baldy as we hike up.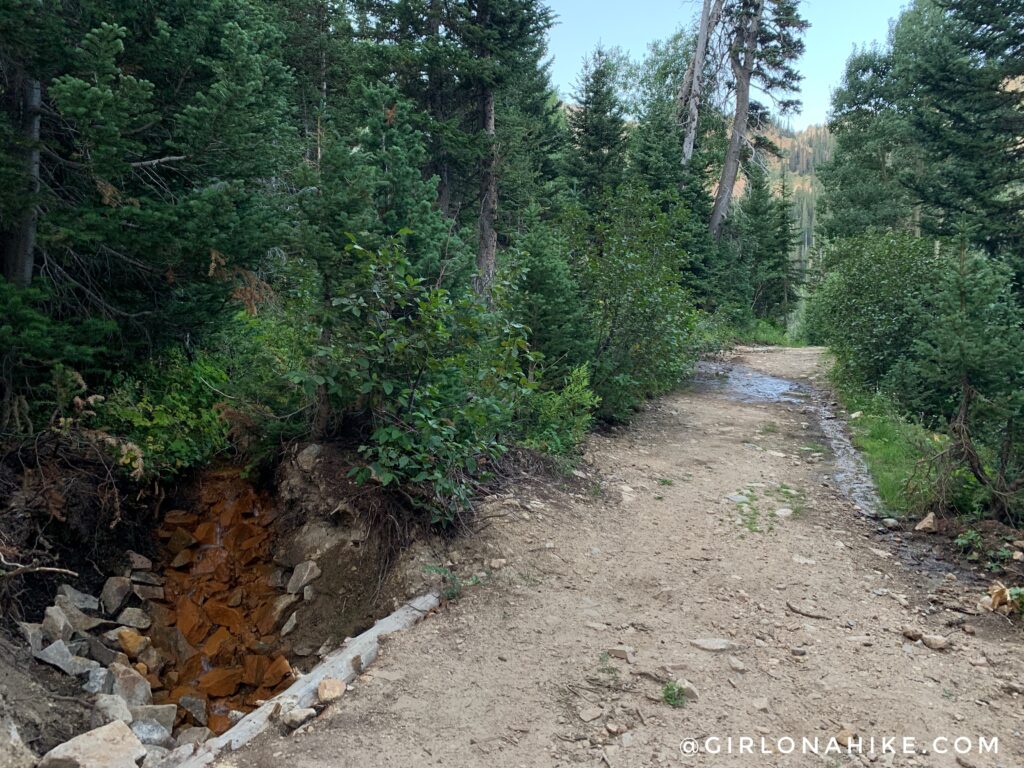 You will also cross several "bridges" to allow for all the natural springs to flow underneath.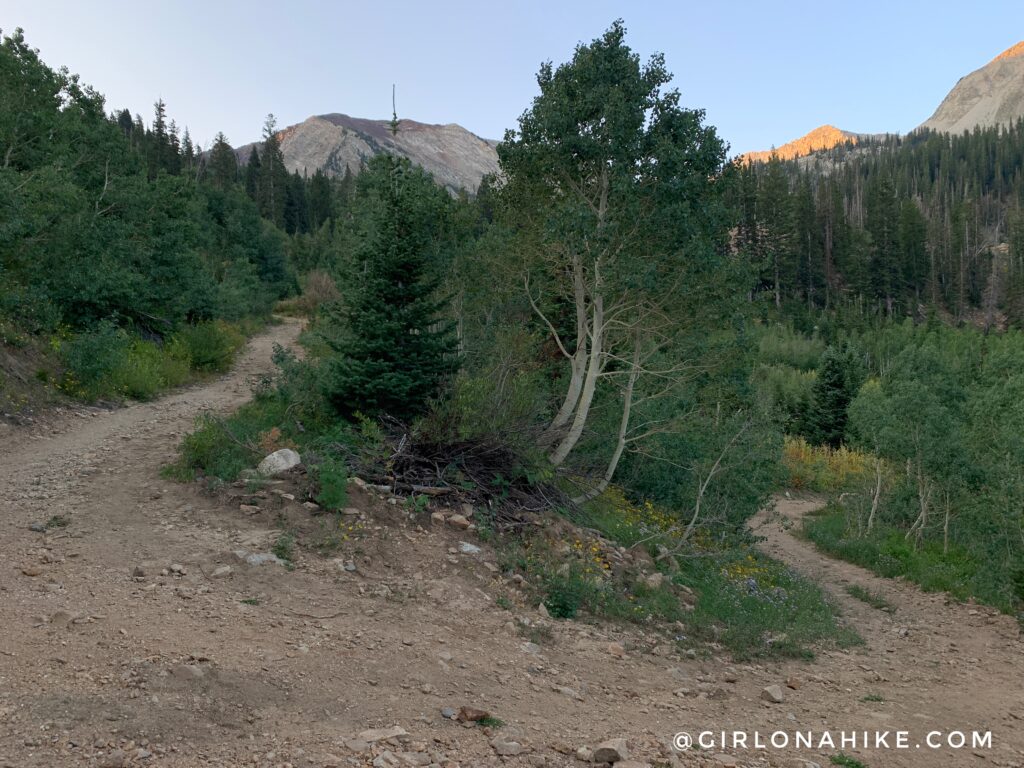 Whew, more switchbacks. At least, we were getting higher up in elevation now!
Wildflowers lingered in mid-August.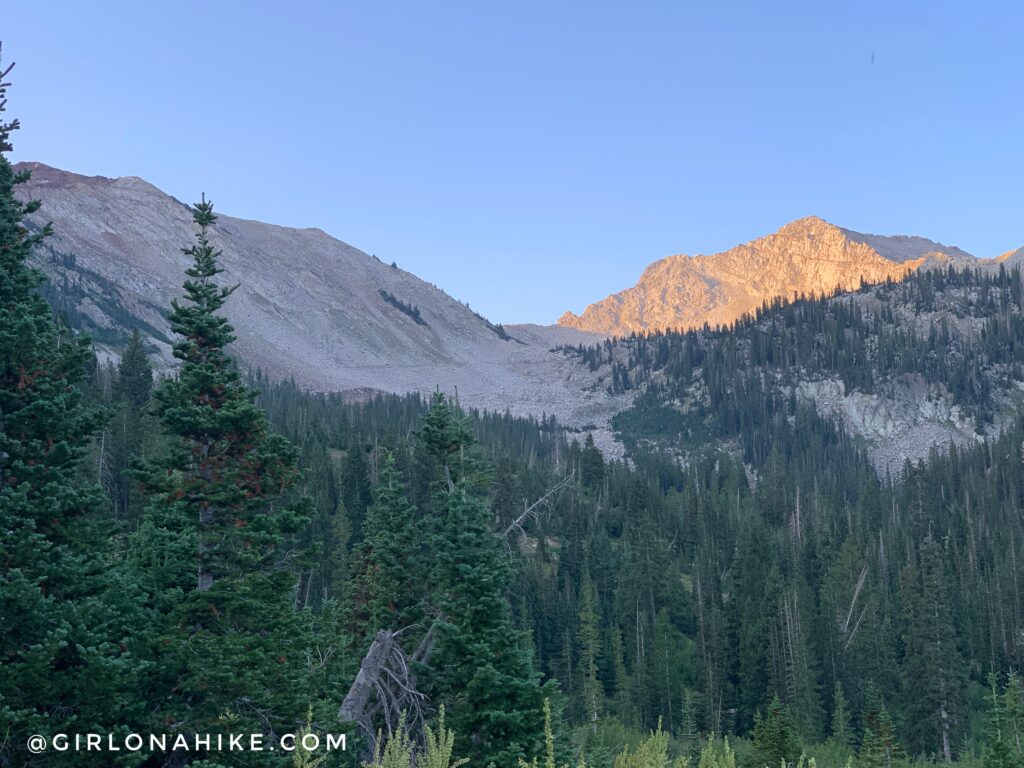 See the line cutting across the mountain on the left? That's the trail! We were getting so close.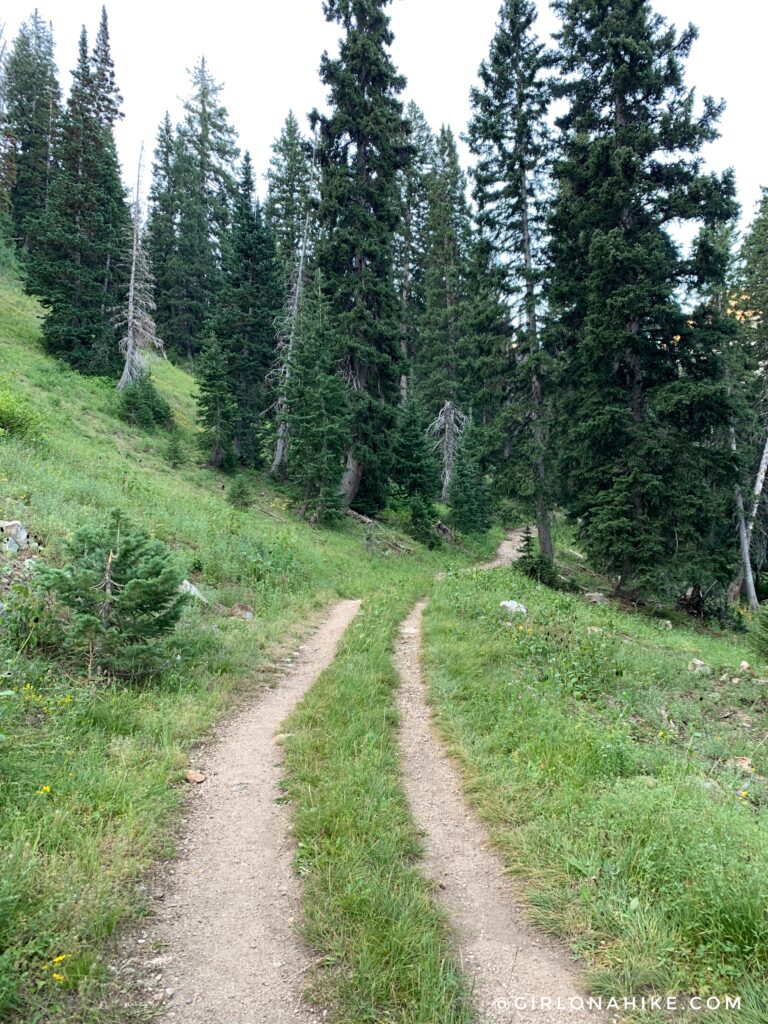 I love a good, smooth single track. Running this on the way back down was so nice!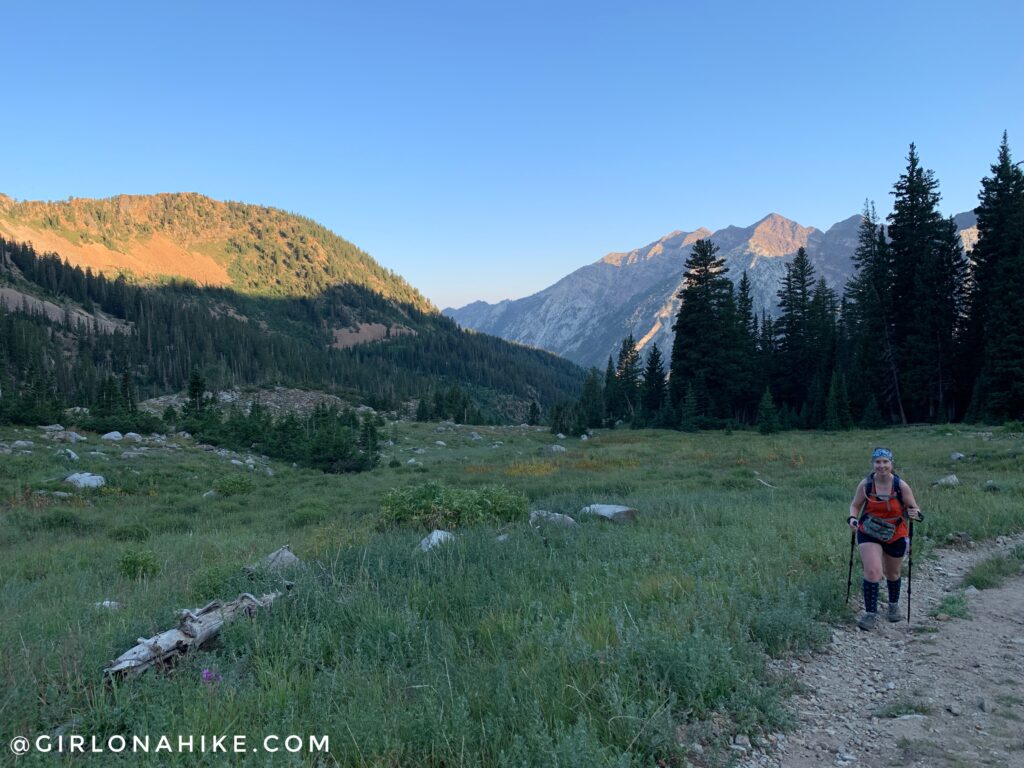 Don't forget to look behind for some awesome views!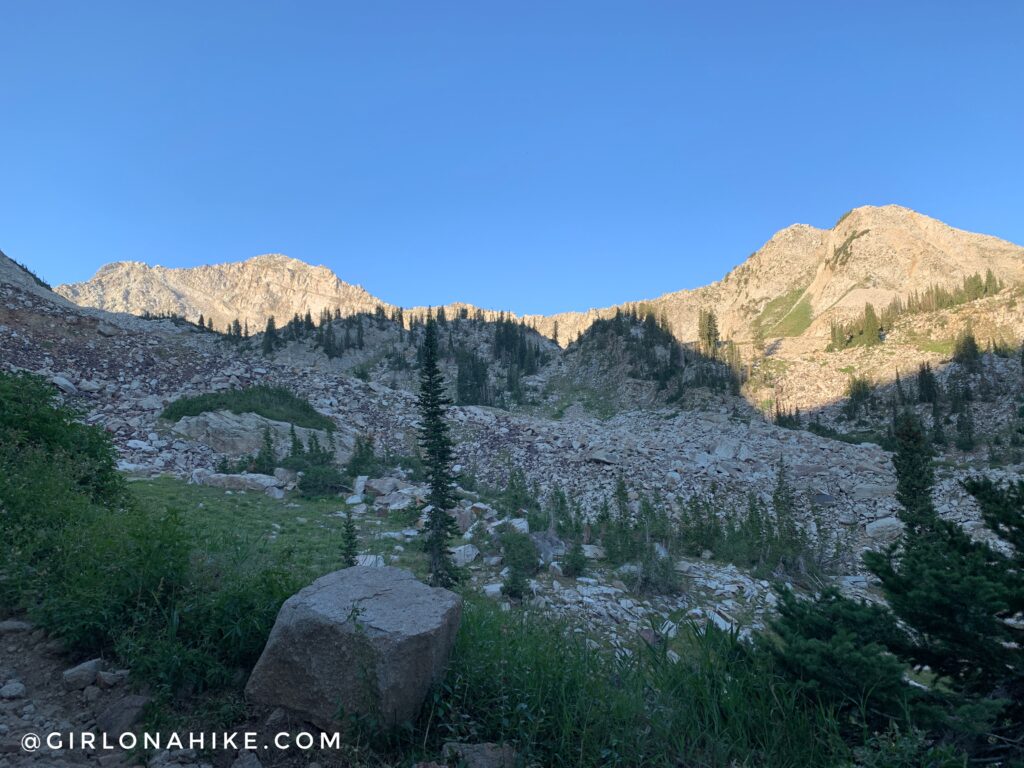 White Baldy on the left, Thunder Mountain on the right. The lake is in the middle, just beyond the tree line.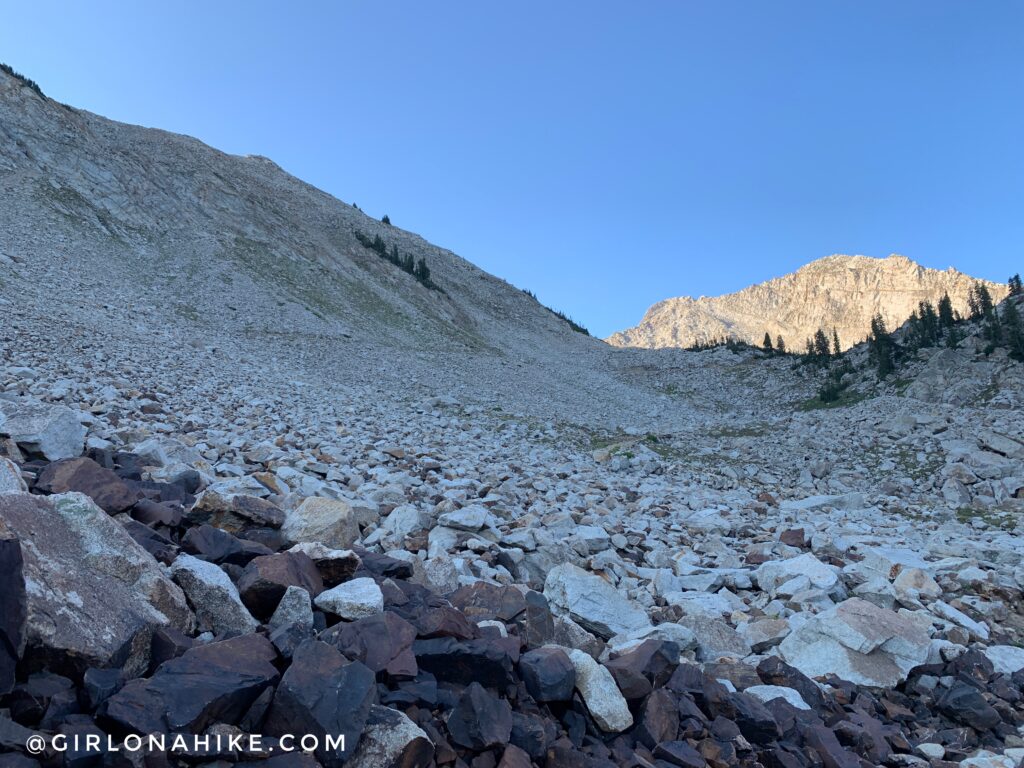 Last mile, here we go!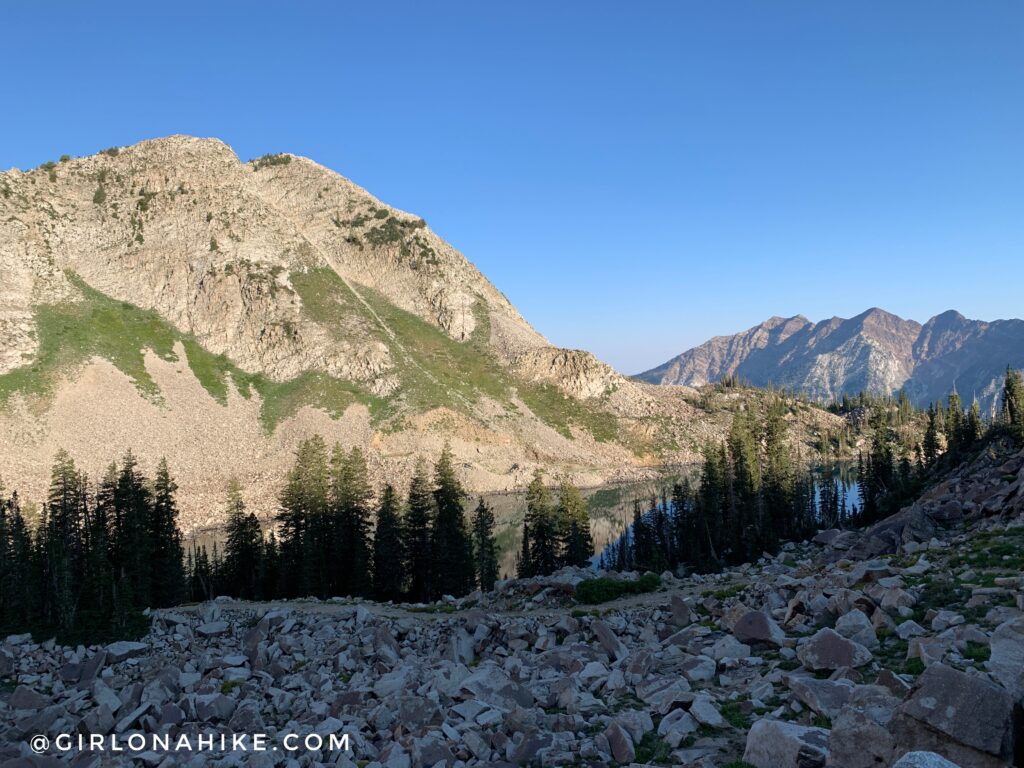 The trail dips down for the last 1/4 mile – don't forget you have to hike back up this on your way out.
Ahh, just in time for the sun to hit the lake. It took us 2 hours 48 minutes to reach White Pine Lake.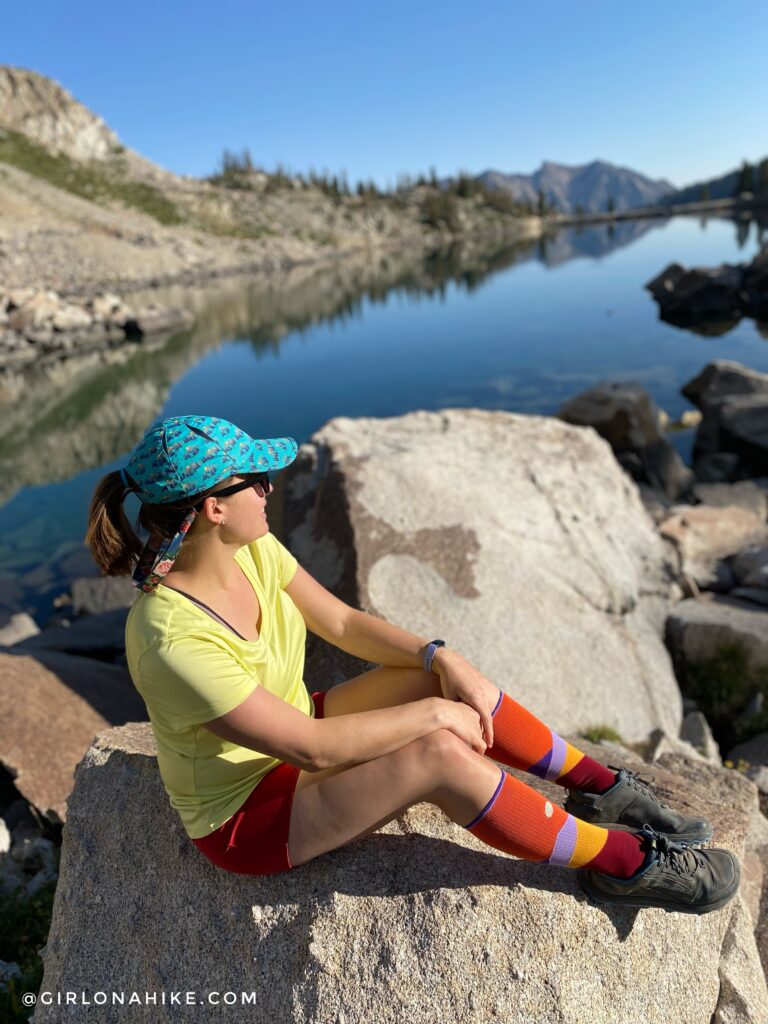 Time for a break! I like taking my shoes off to let my feet air out while I have a snack. Also, if you've never tried compression socks before they are a leg-saver! I love the Lily Trotters brand – get 10% off entire order, use the code "girlonahike" at checkout.  Read about all the benefits of why you should wear them here.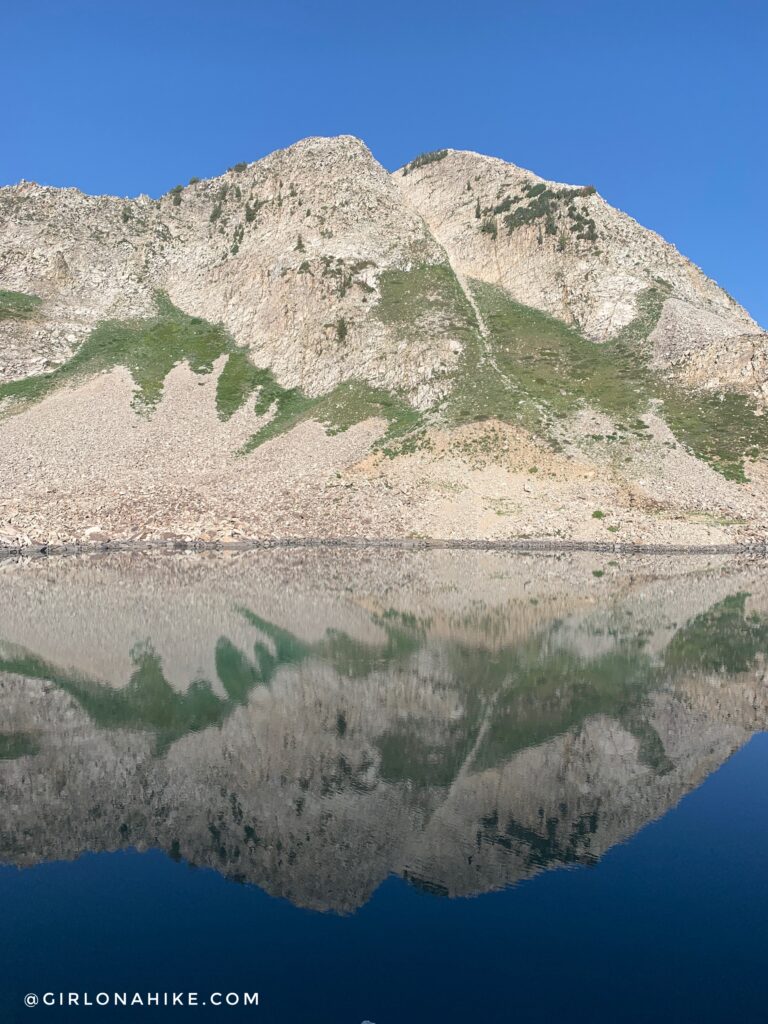 Reflections from Thunder Mountain.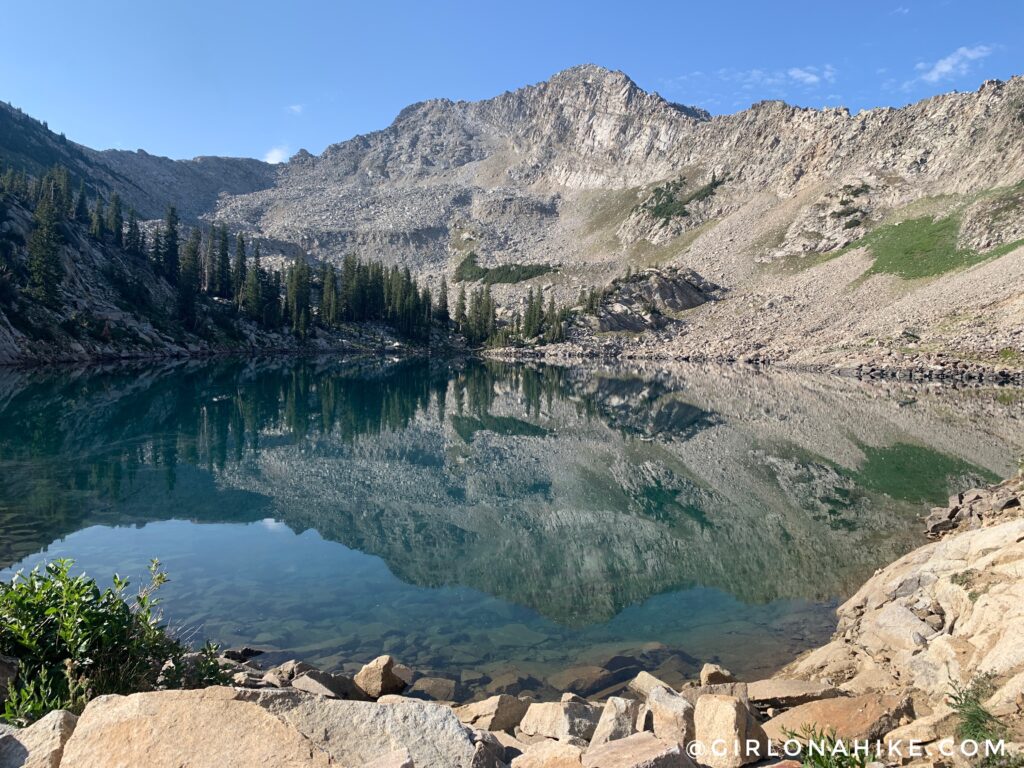 Ahh there we go, my favorite view!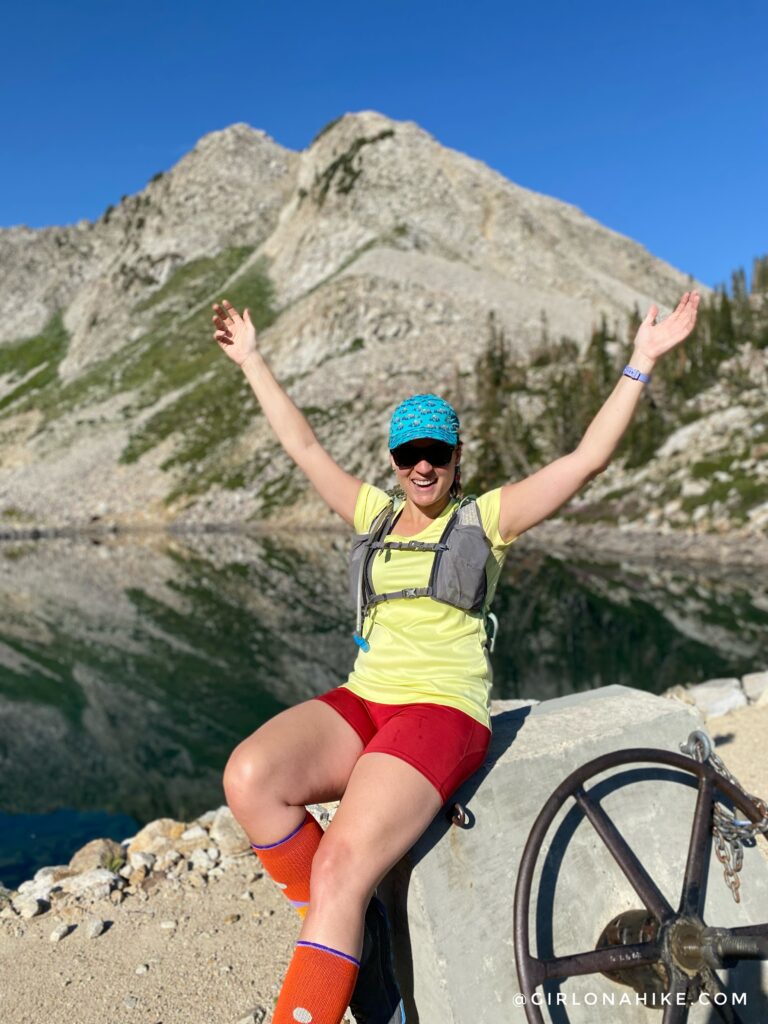 What a great day on the trail! I had a blast jogging back down, and my new Get Sprints hat saved my face from sunburn! Having the right gear can make your hikes/runs so much more enjoyable!
Check out my 1 minute video!

Trail Map
My track via Gaia GPS – the best tracking app! Get your app here for a discount.
Recommended Gear
Nearby Hike
Hiking to Gloria Falls and Red Pine Lake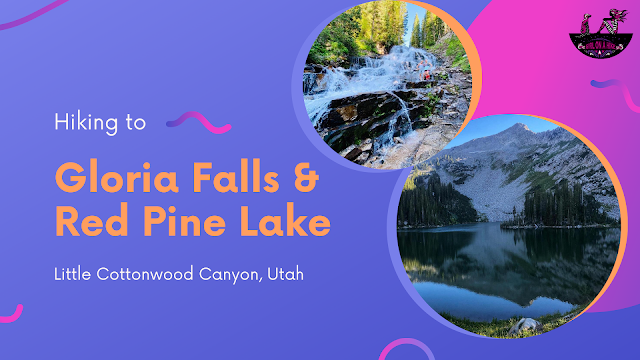 Save me on Pinterest!