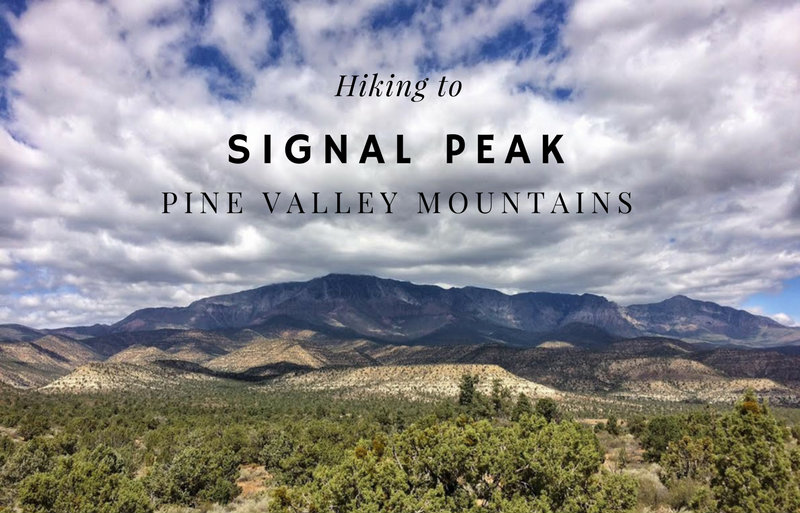 Hiking to Signal Peak, Pine Valley Mountains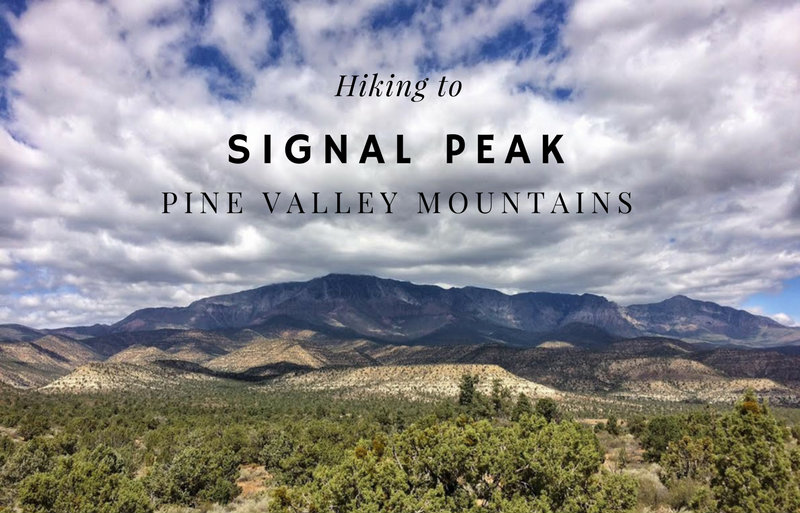 Signal Peak (10,365 ft) is the high point for both the Pine Valley Mountains and Washington County. It you are a peak bagger looking to summit all of Utah's County High Points, you'll be hiking this one. The main route starts from the Oak Grove Campground, and follows the trail up the South ridge very steeply, before dropping into forested areas, and then hiking off trail to reach the summit.
About
This is a very dry hike, and you wouldn't want to hike this in the middle of summer because the temperatures in the St. George area can be extremely hot. The best time to hike this route is in Fall, when the temperatures are cooler. You'll need to carry all your water for both you and the dogs. The nice thing about Signal Peak is there's nothing technical about it – dogs and humans can easily hike it, taking a full day to complete. 
We hiked to Signal Peak on a Saturday, and didn't see any hikers the entire day. Trekking poles will be very helpful since this is a steep hike – coming down was harder than the uphill at times. If you wanted to turn this into a quick overnight, there are plenty of campsites past mile 3, however, again, you would need to carry all of your own water. 
Directions
Use this map, if you are driving from SLC.
Heading south on I-15, you'll take exit 23 for Leeds, UT. Drive through the Silver Reef neighborhood, and eventually the road turns to dirt. Turn right at the sign for Oak Grove Campground, and drive to the very end where the trail starts and the campground is. Small, compact cars should be able to make it as long as the road has been graded.
Trail Info
Distance: 10 miles RT
Elevation gain: 4,000 ft
Time: 7-9 hours
Dog friendly? Yes, off leash
Kid friendly? No
Fees/Permits? None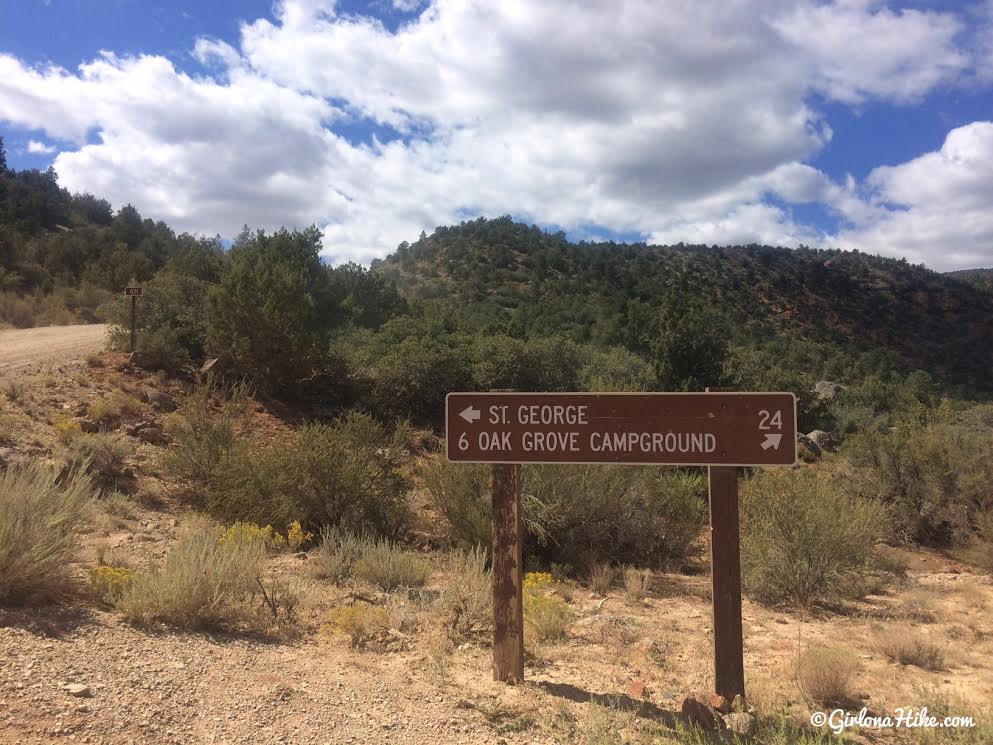 Turn right for the Oak Grove Campground, off FR032.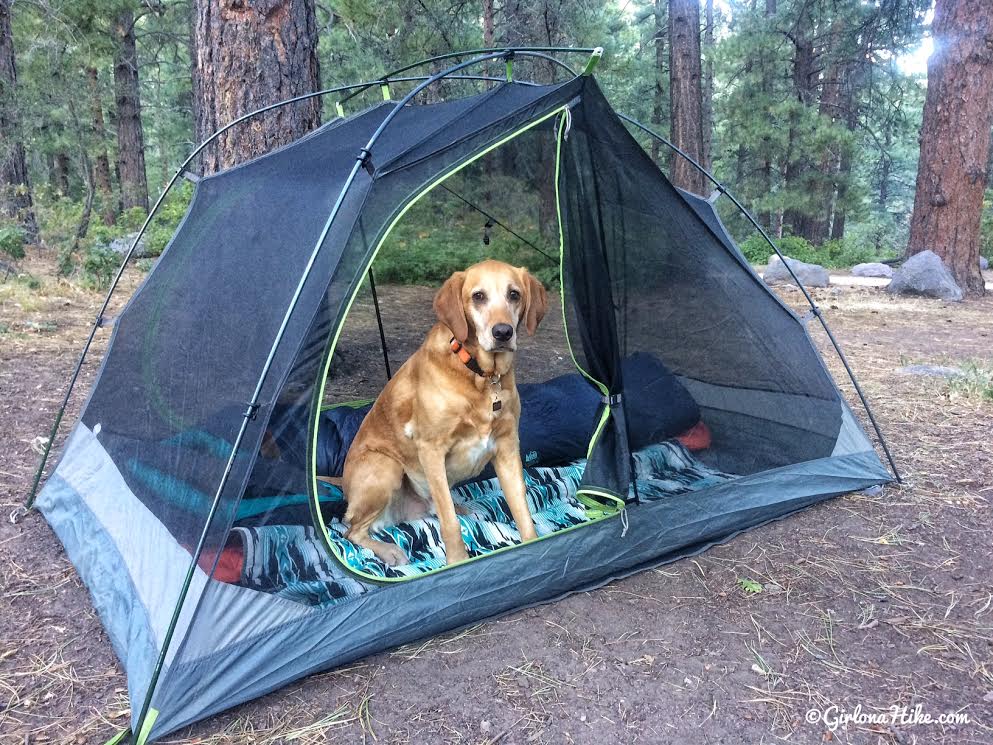 We stayed at the Oak Grove Campground 2 nights. It's only $5/night per site, and each site has a table, fire ring, and grill. There's two port-a-potty's in the campground too. The campground is only open during the summer months when the road FR032 is also open. The campground was full both nights, since there are only 6 sites. RVs & trailers can easily fit here too.
 The trailhead starts from the campground.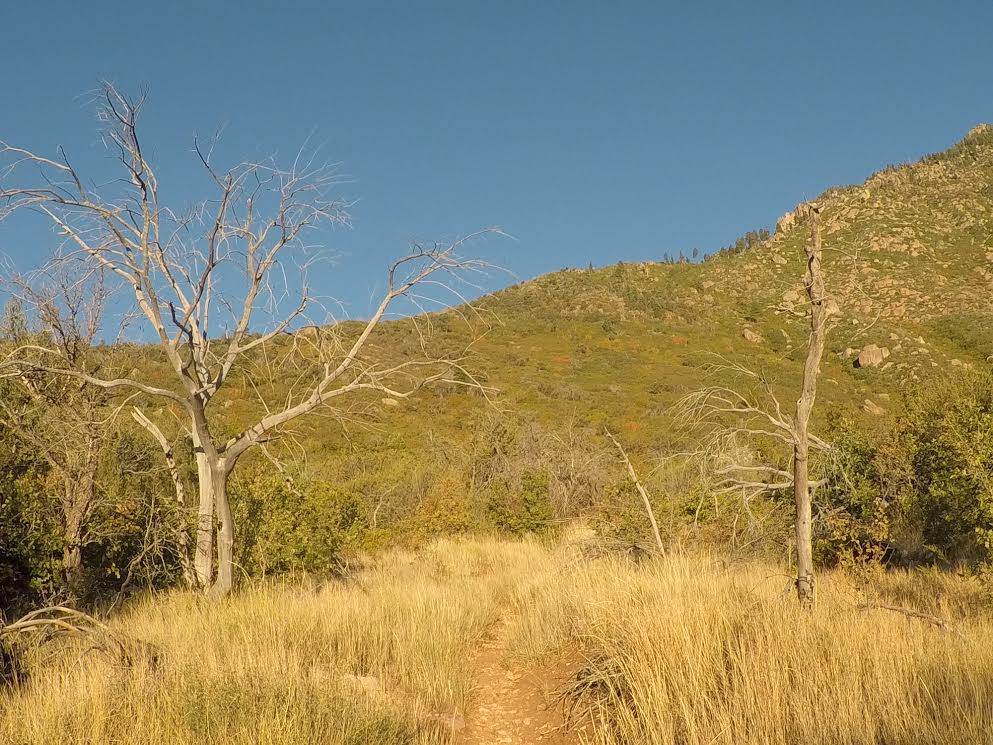 In the first 5 minutes you'll see an unsigned trail split – stay right. You should be hiking West.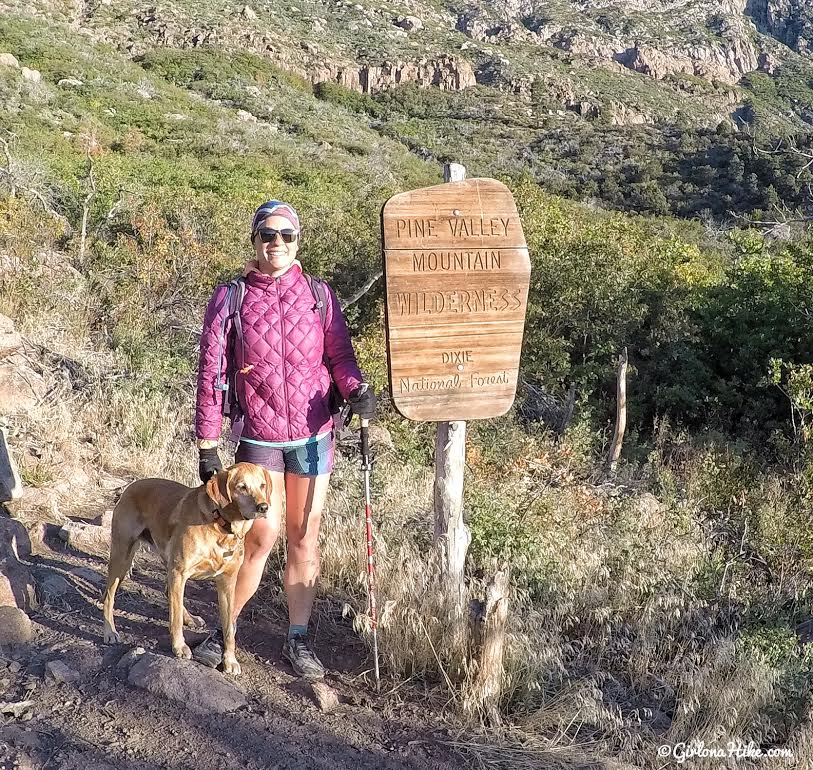 You'll quickly come to the Pine Valley Mountain Wilderness/Dixie National Forest sign. After this sign, you'll hike up the first of many switchbacks. It was pretty cold in at 7:45am! All layers on, but ready for the sun. We quickly took off layers as we hiked.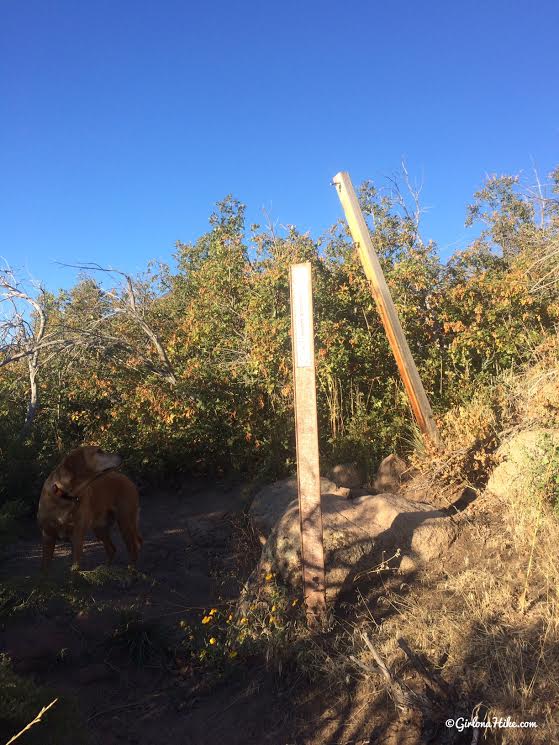 You'll see these two blank posts and the trail now curves West again.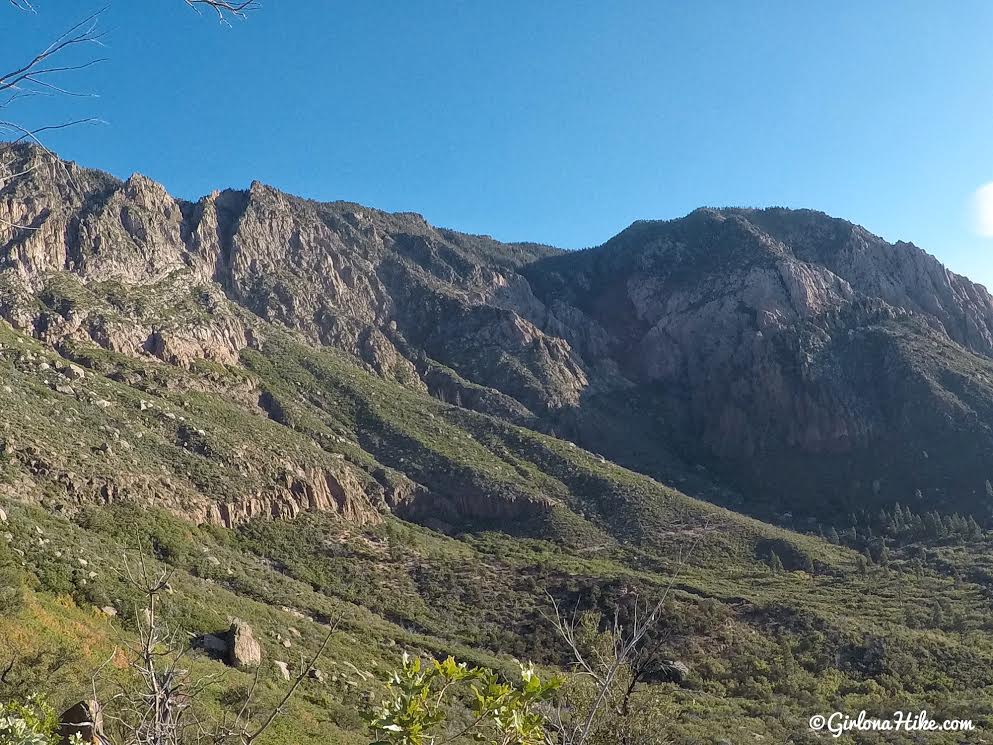 Working up higher you will have great views of the East facing cliffs.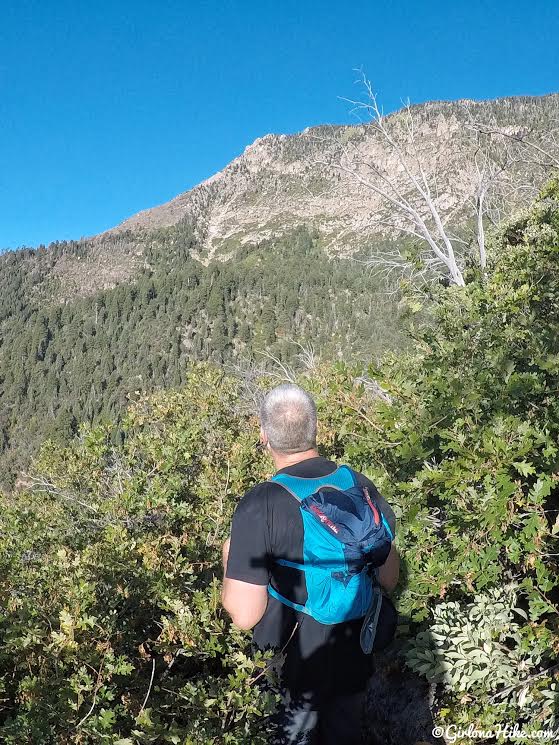 You can see how overgrown the trail can get. It's never hard to loose the trail, but it does get quite brushy through all the oak (hence, the name oak grove).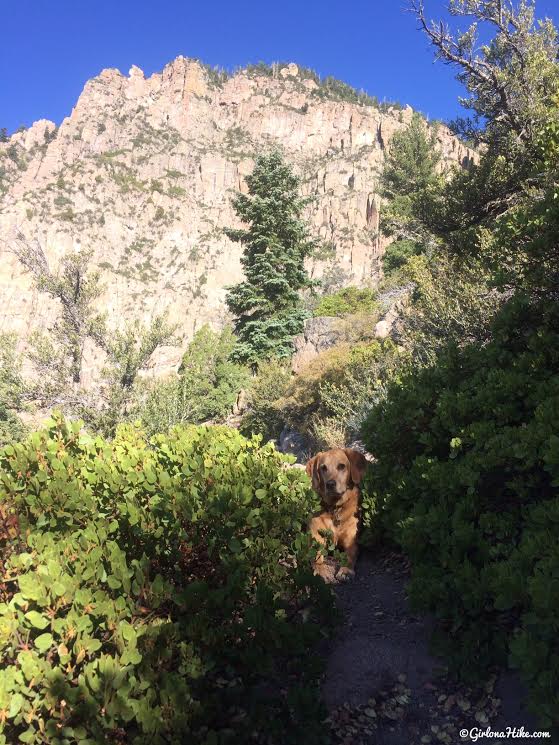 Charlie takes a quick break in the shade. The next set of East facing cliff walls are pretty amazing in the morning hours!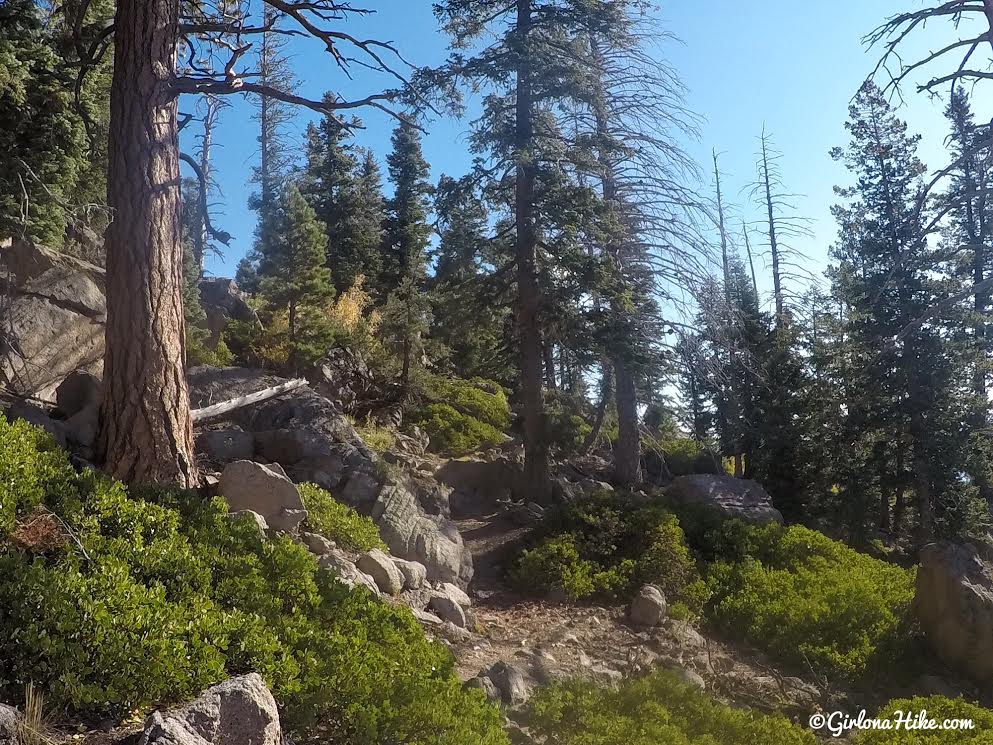 After what seems like endless scrub oak and tiny switchbacks, you'll see a change of scenery as you start to climb in elevation. It was nice to see Spruce trees.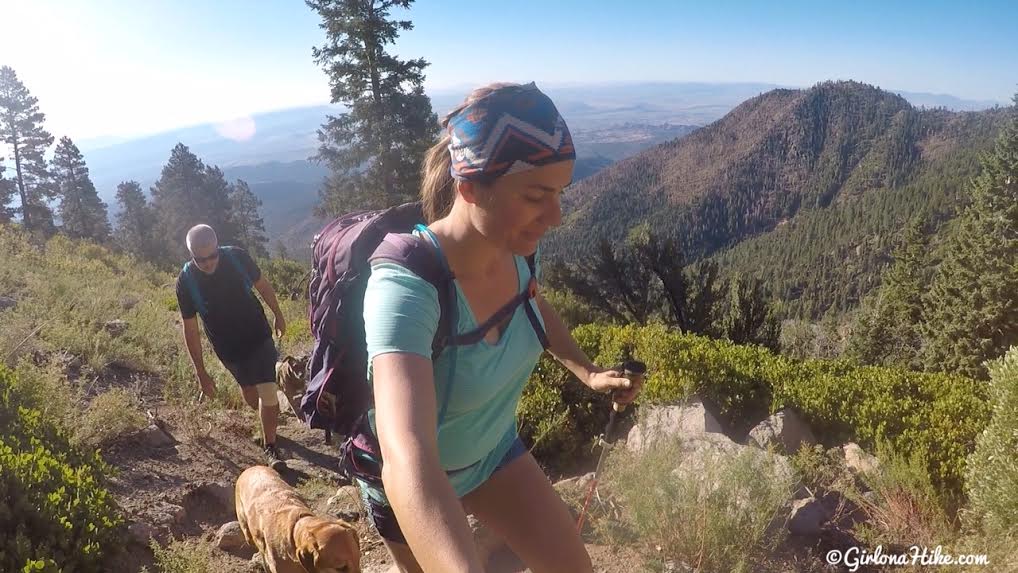 Ughhh these switchbacks are a killer workout…. the smiles started to fade lol!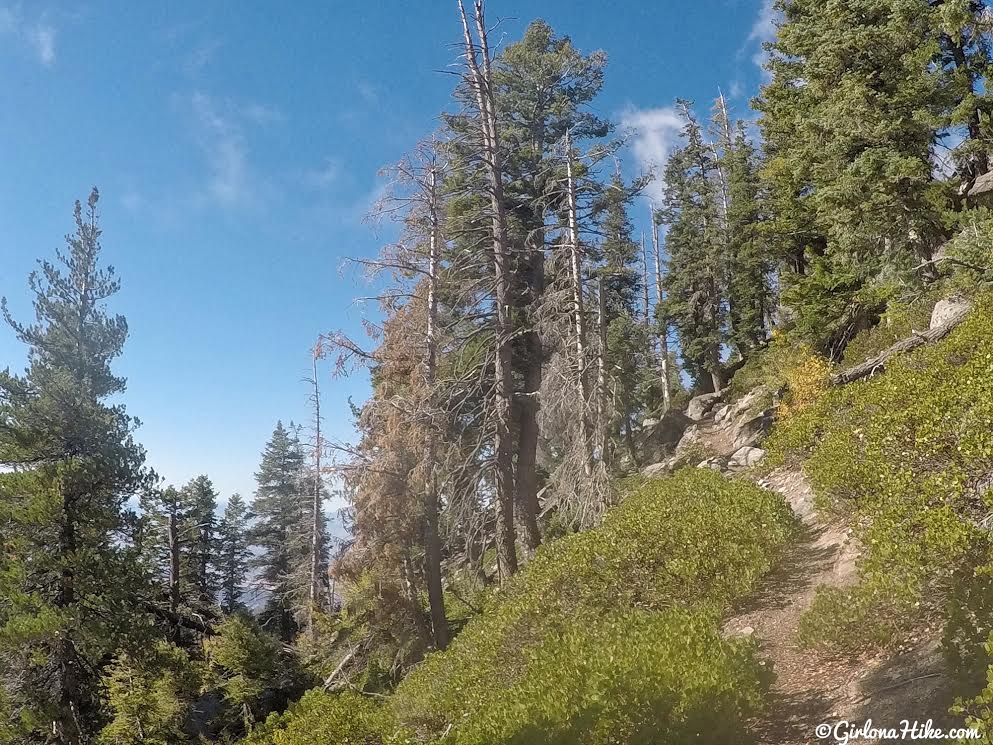 Are we almost done with the switchbacks??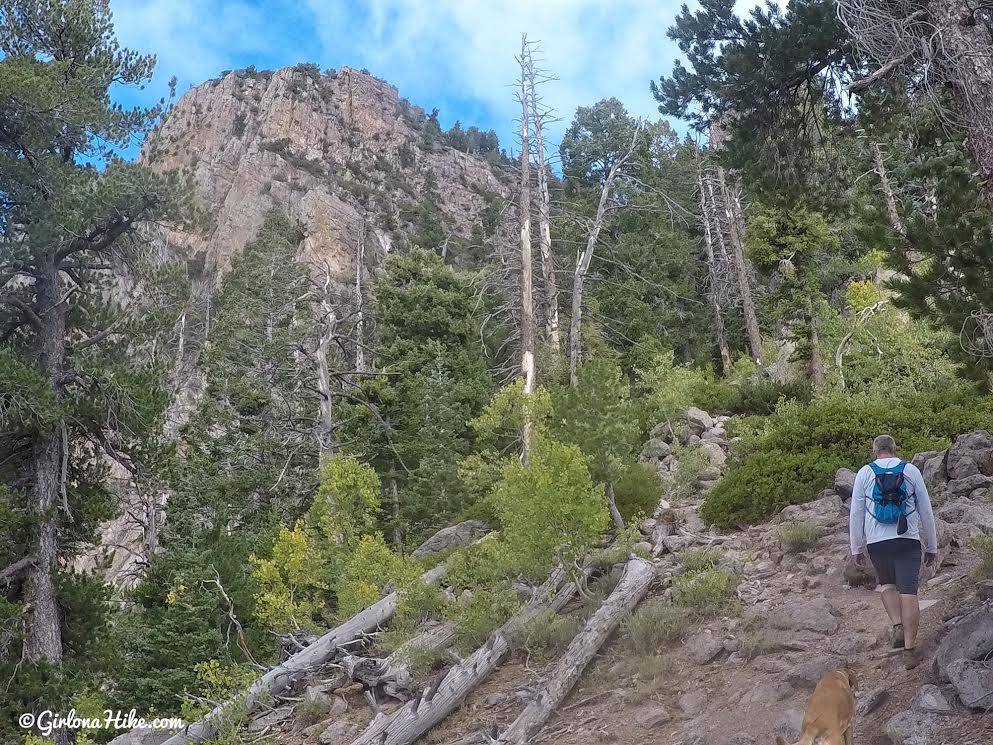 Just kidding, more switchbacks!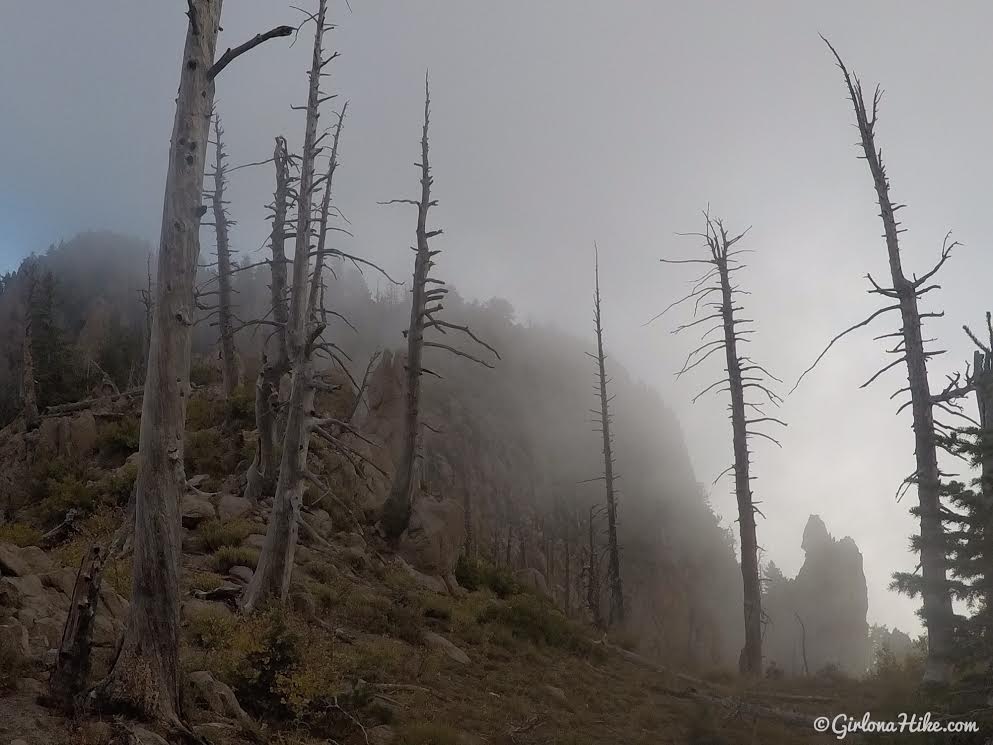 Finally, we reached the ridge. By this point the temperatures had dropped about 20F and clouds socked us in. We put a layer back on, as well as a hat and gloves. Once you reach the ridge, you'll drop down through a very forested area with some nice camp sites. I wouldn't want to carry a big backpack up what we just did though. It took us 3 hours just to reach this point with a day pack.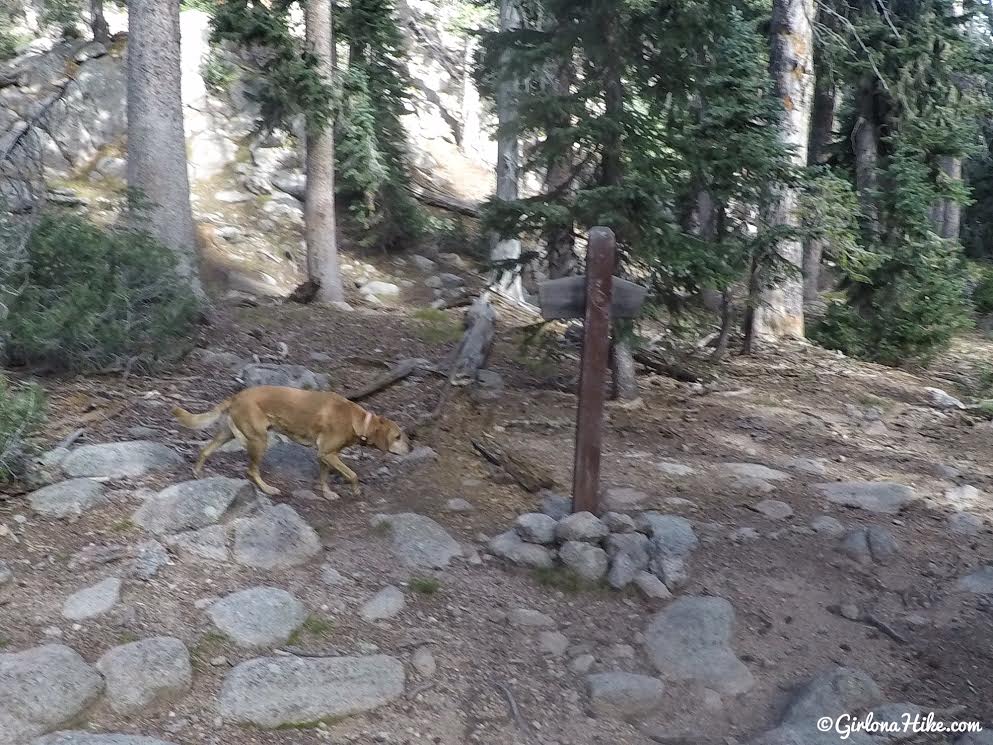 After you drop down the ridge and cut through the forested area, you'll approach the trail split sign from behind. Turn left (south), following the sign for "Further Water", which refers to the meadow ahead.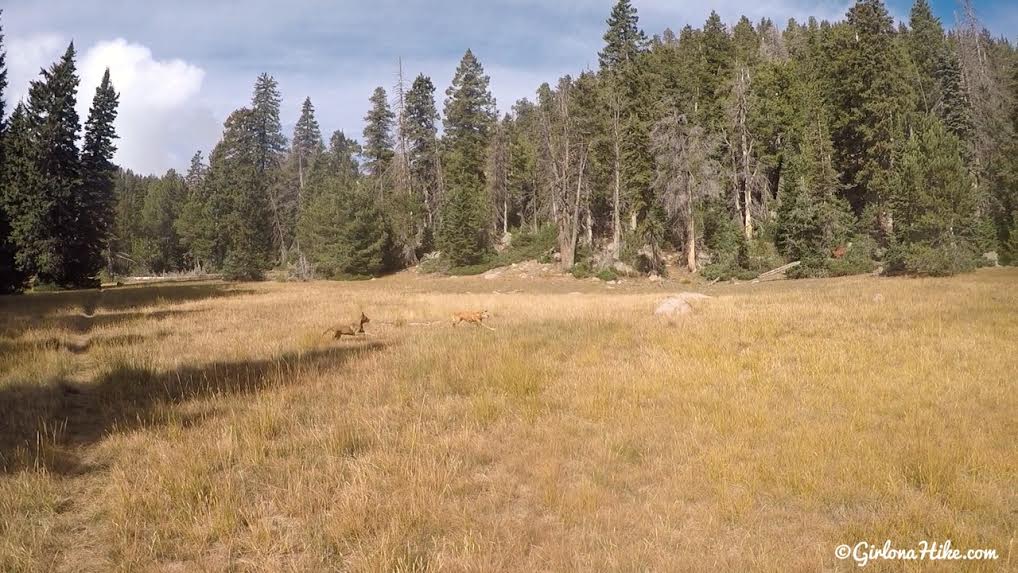 Deer Flat Meadow – the dogs had a blast running through the grass and in much cooler temperatures. Once again, you'll hike through a second forested area, and drop in elevation again.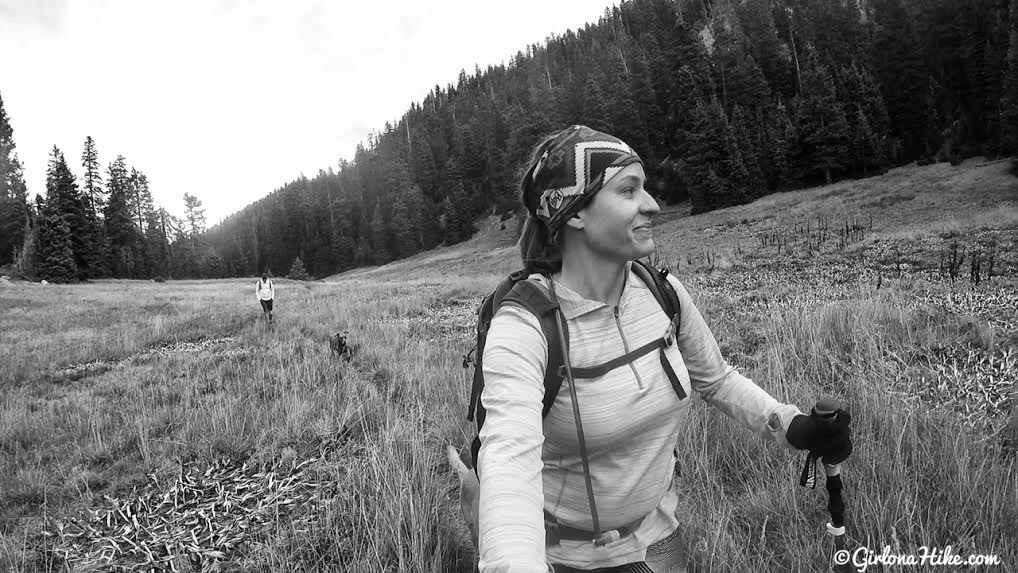 Then you'll come to "Further Water", another long, narrow meadow. Lots of campsites around here as well.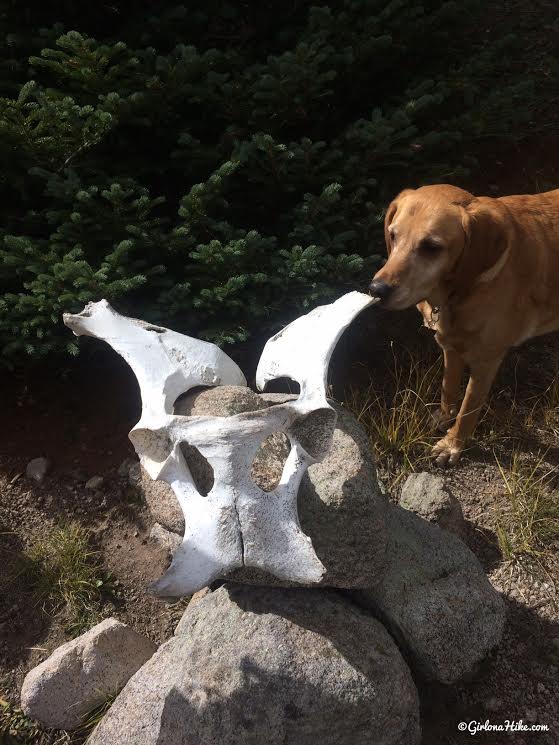 The skull was in the Further Water Meadow – horse or cow?? Charlie inspects it.
At the end of the meadow is this large cairn. From here, the trail continues to wrap around the North side of Signal Peak. Hike past Further Water Meadow roughly 100 yards.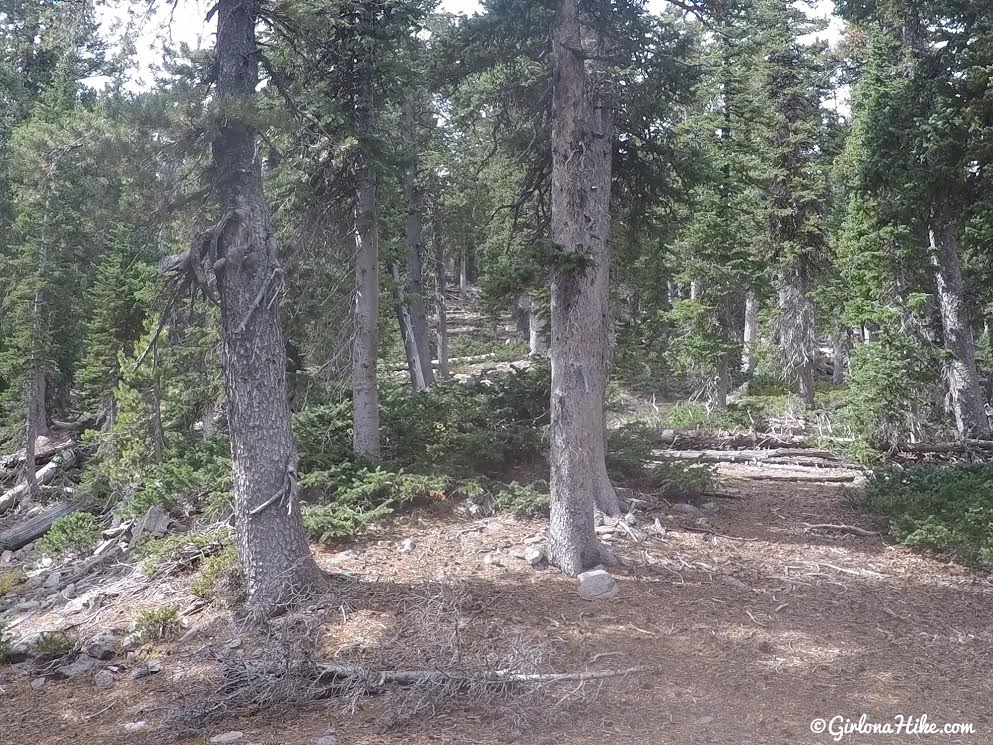 Once you hike up that 100 yards or so, pick a comfortable place to start hiking off trail. There's no official trail to the summit, and you may see cairns randomly placed. We followed the NE ridge the whole way. Make sure you have a GPS or good map handy. I kept looking at my Gaia GPS to make sure we were hiking in the right direction. It's not super steep hiking up the ridge, there's no bushwhacking involved, and you can see through the trees pretty well. You won't be able to see the official summit until you get there. Look at my map below to see our route along the ridge.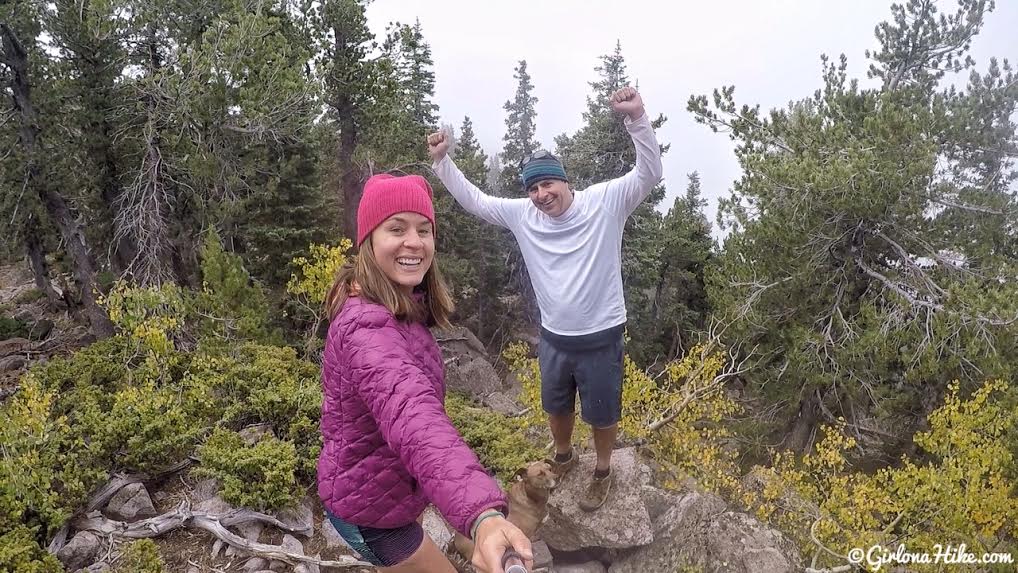 4 hours to reach the summit of Signal Peak – and we couldn't see a thing!
Of course, as soon as we summited it started to flurry and we were both only in shorts! My friend didn't even bring a jacket – uh oh….we quickly ate 5 crackers then started to head down to keep moving and to stay warm.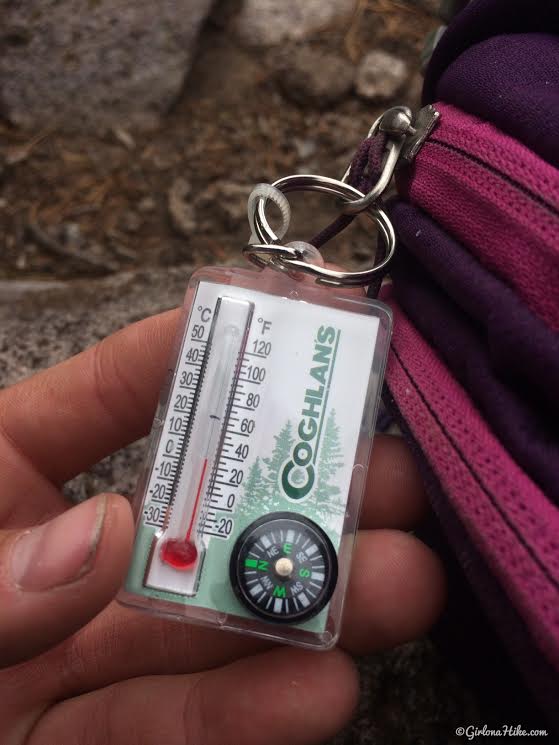 30F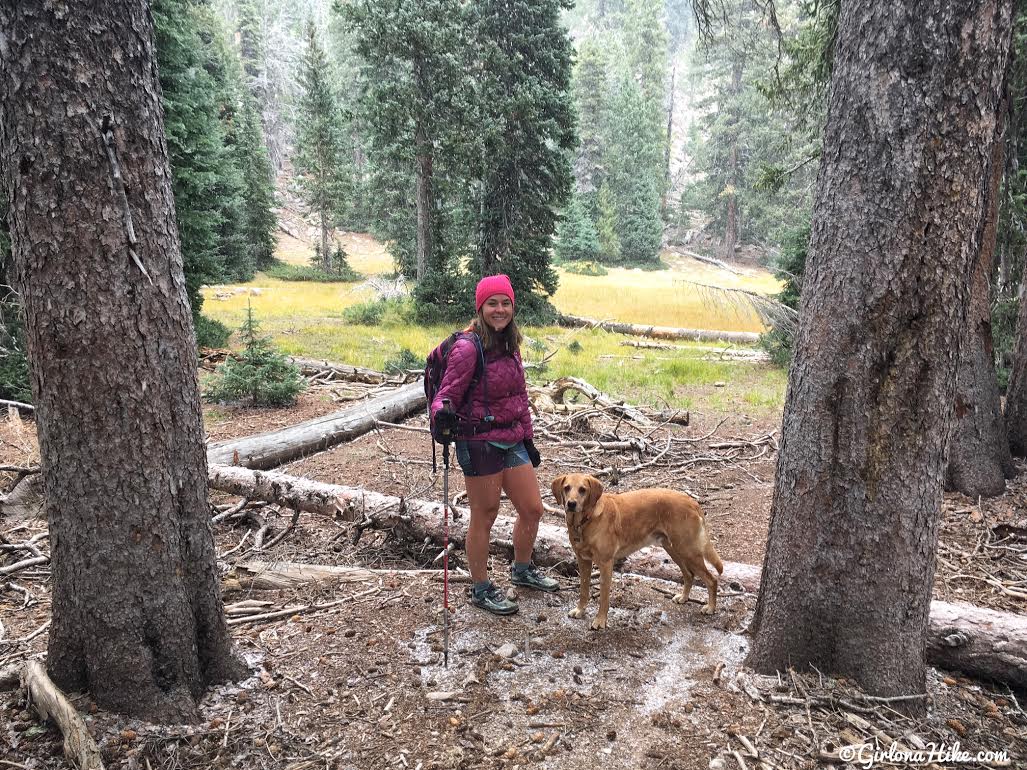 On the hike back, the snow really started to come down! Can't say I've hiked in shorts in the snow for a long time. As long as we kept moving my legs didn't get too cold.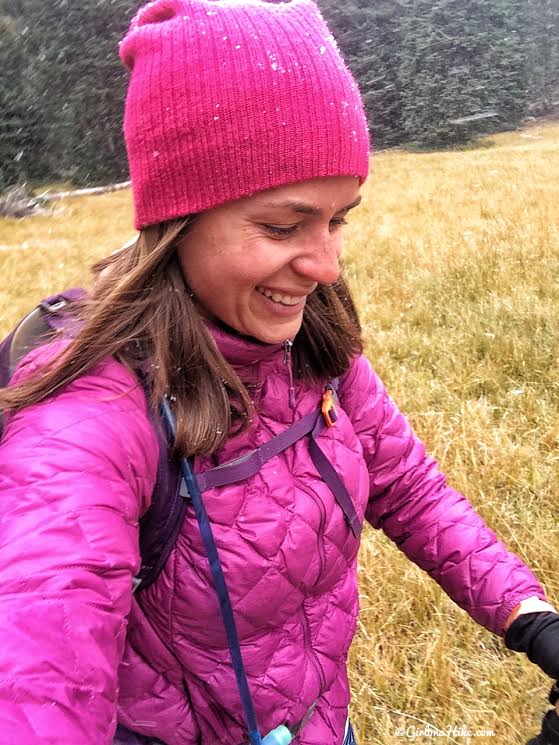 Snow!
I was SO glad that about a week ago I threw cheap gloves and a beanie in my pack just in case. They sure came in handy this hike!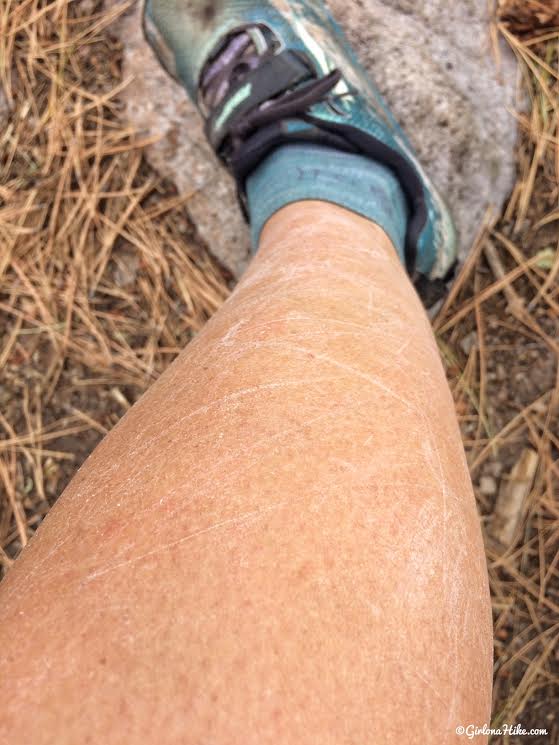 Next time I do this hike, I would wear pants. Not only did I get cold, but I cold pretty scratched up from all the scrub oak and brush. No fun!
Trail Map
My track via Gaia GPS – the best tracking app! Get your app here for a discount.
Recommended Gear

Save me on Pinterest!