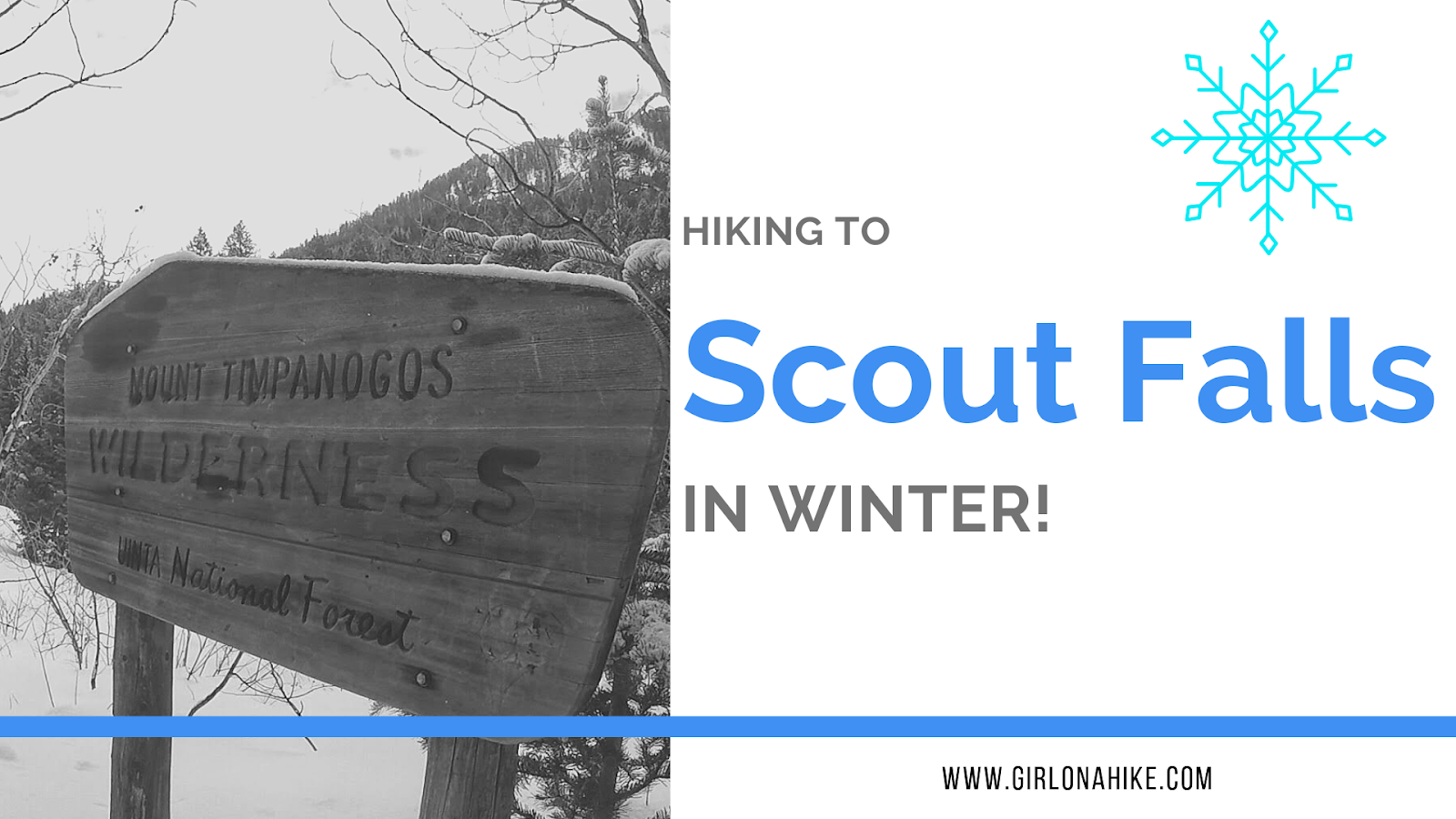 Hiking to Scout Falls – in Winter!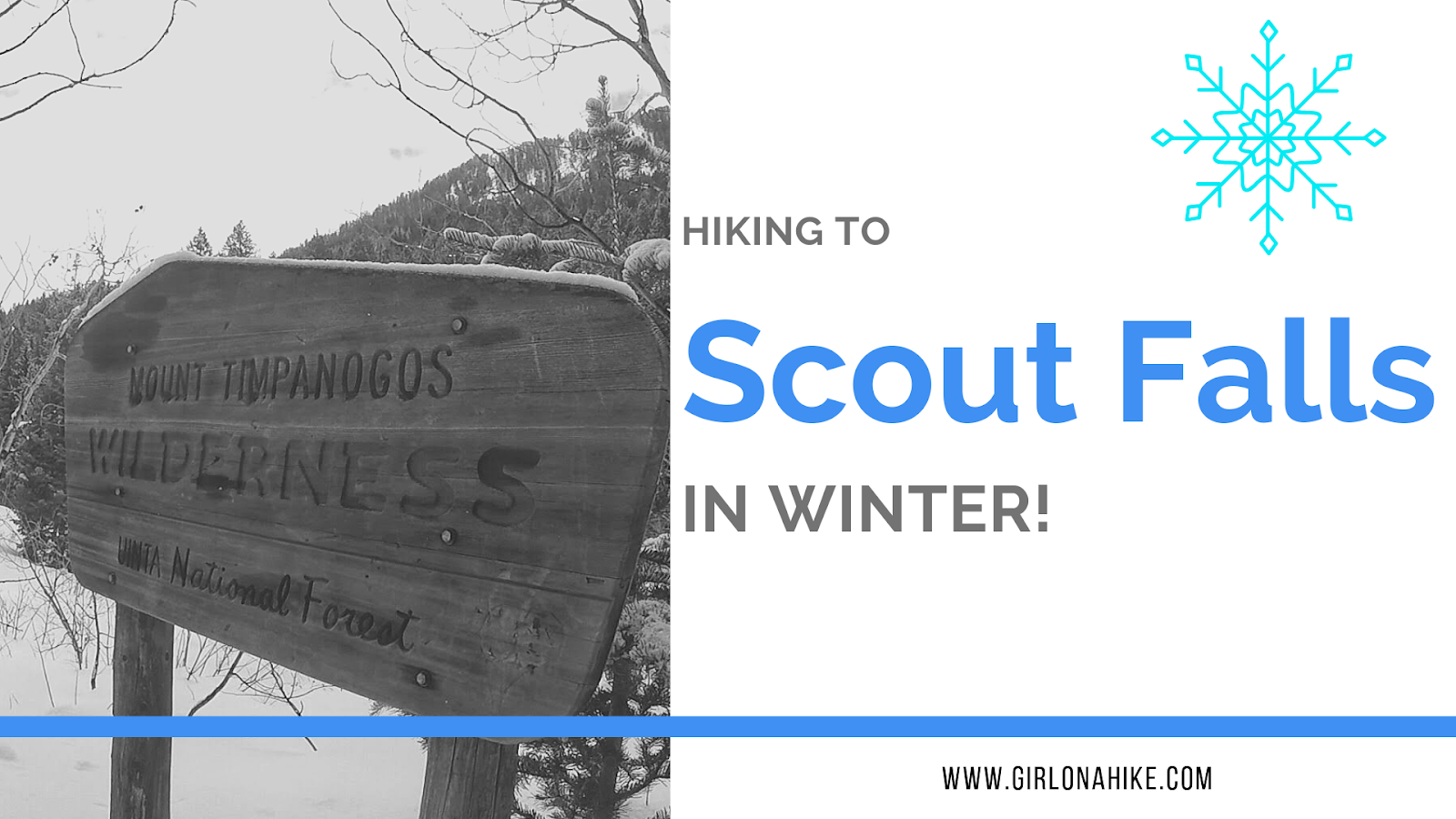 Scout Falls is a popular waterfall located right off the Timpooneke Trail on the way to Mt. Timpanogos. In summer, it's a fun spot to cool off on your hike or filter your water for the long trek to the summit. Normally it is only 1.5 miles to reach the falls but in winter it is 4 miles one way since the road is closed at the winter gate. It's been a goal of mine to see the fall in winter, with long icicles, frozen over.
About
But to get to Scout Falls, I was going to do things a little different. Another goal of mine has always been to rent a Fat Tire Bike. A Fat Tire Bike is just an off-road bike with oversized tires, designed for low ground pressure to allow riding on soft, unstable terrain, such as snow, sand, or mud. I decided that I would ride the bike as far up as I could, whether that was just on the snow covered road, of if the conditions were good enough, to continue riding to the falls. Not only would this complete my goal, but it would make the trek in that much faster.
I had no idea how to handle a fat tire bike, so I contacted Bingham Cyclery in downtown SLC. They set up the bike for me, made sure the tires had the right pressure, adjusted the seat, and gave me some tips on what to do. Their rental staff was awesome in helping me out, especially as a total newbie.
So this post is a two for one deal – not only is it a trail guide but I also give some tips on riding a fat tire bike for the first time!
Directions
From SLC, head south on I-15 and take exit 284 heading East. Take the commuter lane to avoid lights. Drive all the way into AF Canyon until you reach the winter gate, which begins at the Pine Hollow TH. Google maps will show this section of road closed during the winter, but it is open until the winter gate.
Here is a Driving Map.
Trail Info
Distance: 7 miles RT
Elevation gain: 1,183 ft
Time: 3-5 hours
Dog friendly? Yes, off leash
Kid friendly? Maybe, depends on snow
Fees/Permits? 
$6 fee to access AF Canyon for a 3 day pass or Free with an annual AF Canyon or National Park Pass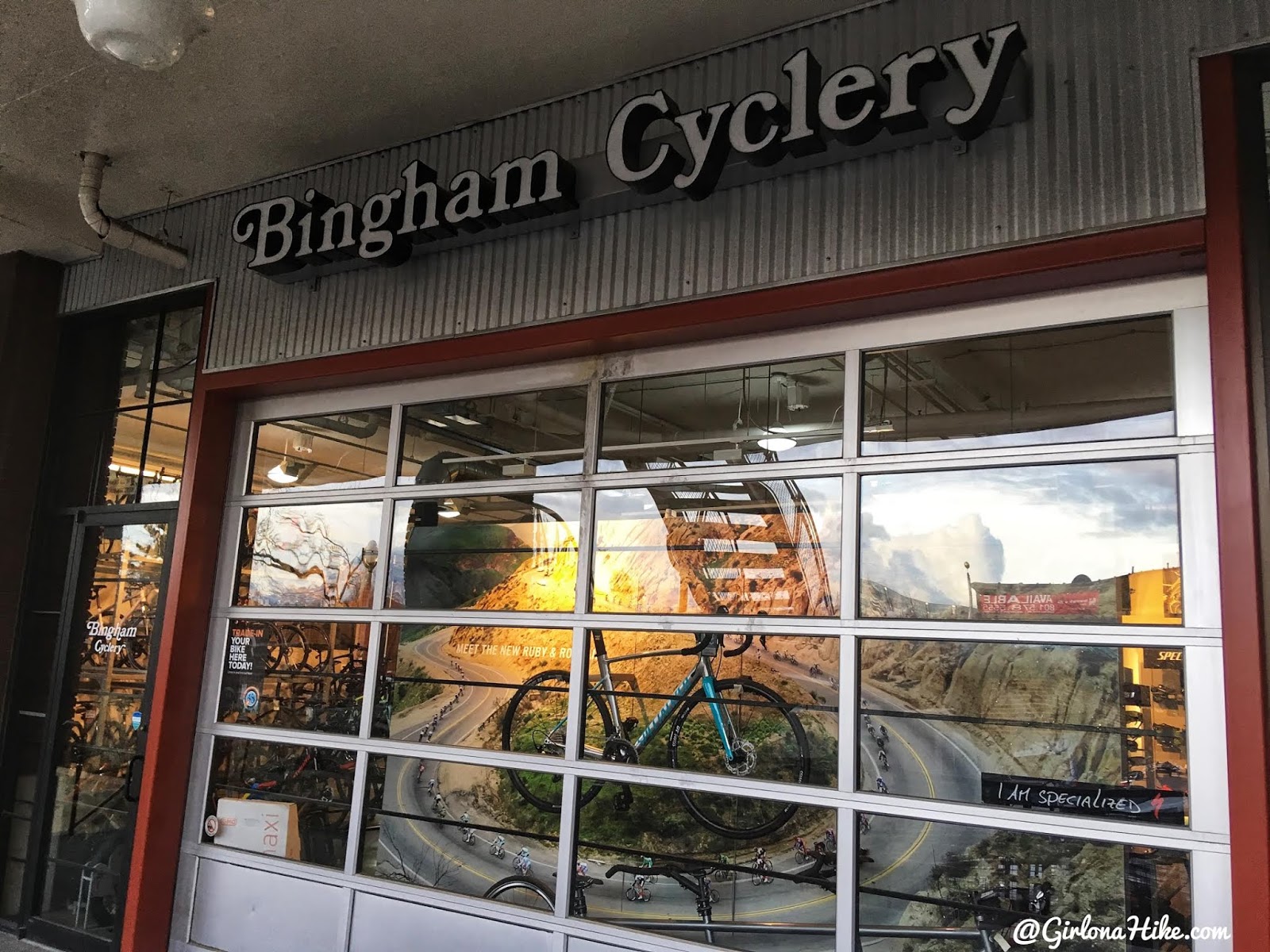 First stop in the morning (besides grabbing my favorite Chai) was Bingham Cyclery off 3rd West & Broadway. I made the reservation for my fat tire bike a week prior because the SLC store picks up the rentals form the Ogden location only once a week. So make sure you give yourself (and them) enough time to make the transition. I picked the bike up at 10am, and was out the door by 10:30am.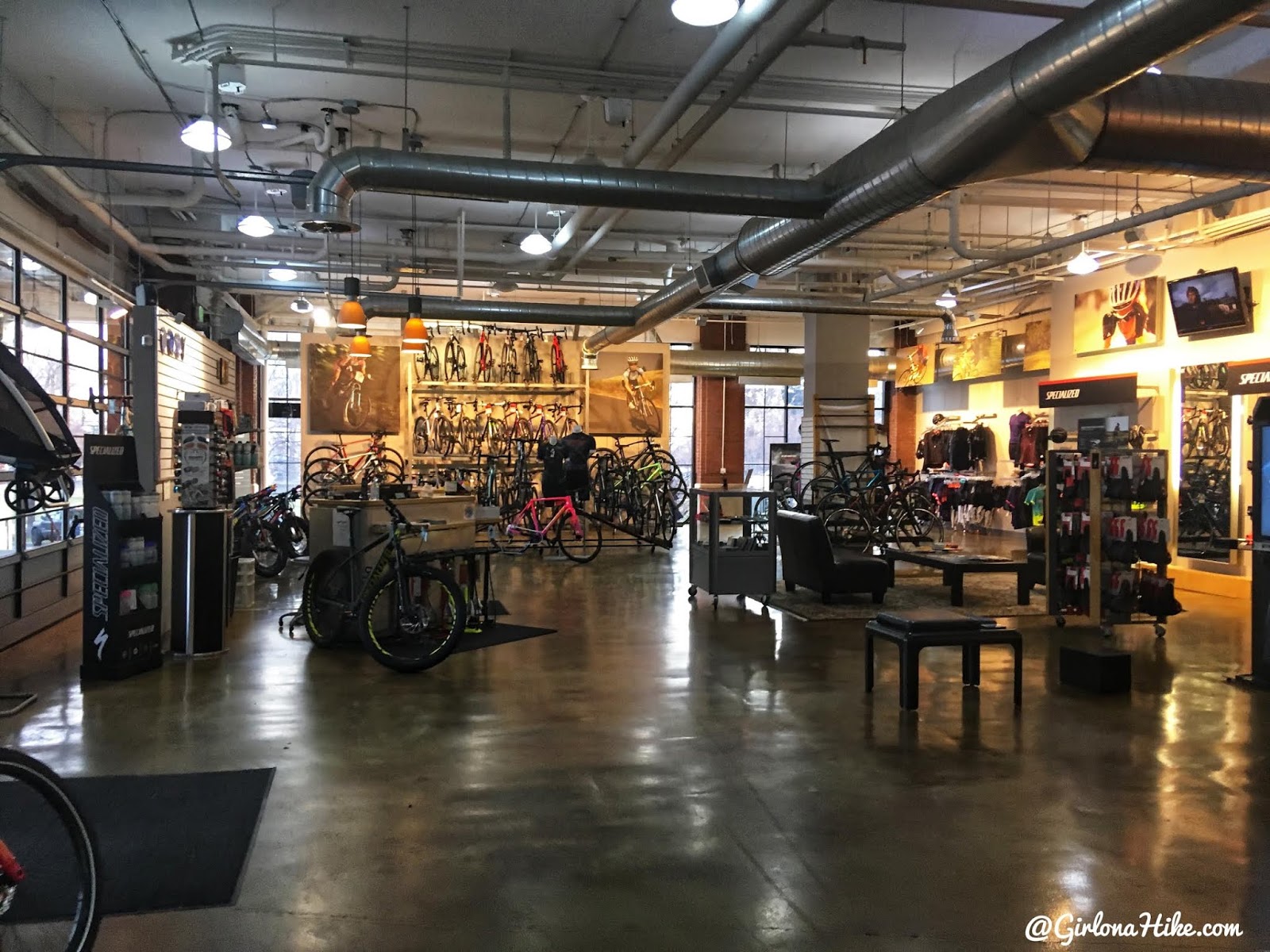 Bingham Cyclery has TONS of bike gear, accessories, and road & mountain bikes to choose from. Their downtown location is very open, located close to the highway, and as mentioned before, awesome customer service. They didn't treat me like I didn't know anything (I didn't 😉 ) but were still helpful.
I reached the TH by 11:30am.
Begin by parking at the Pine Hollow TH, which is the same TH to access the Pine Hollow Overlook. This is where the winter gate is.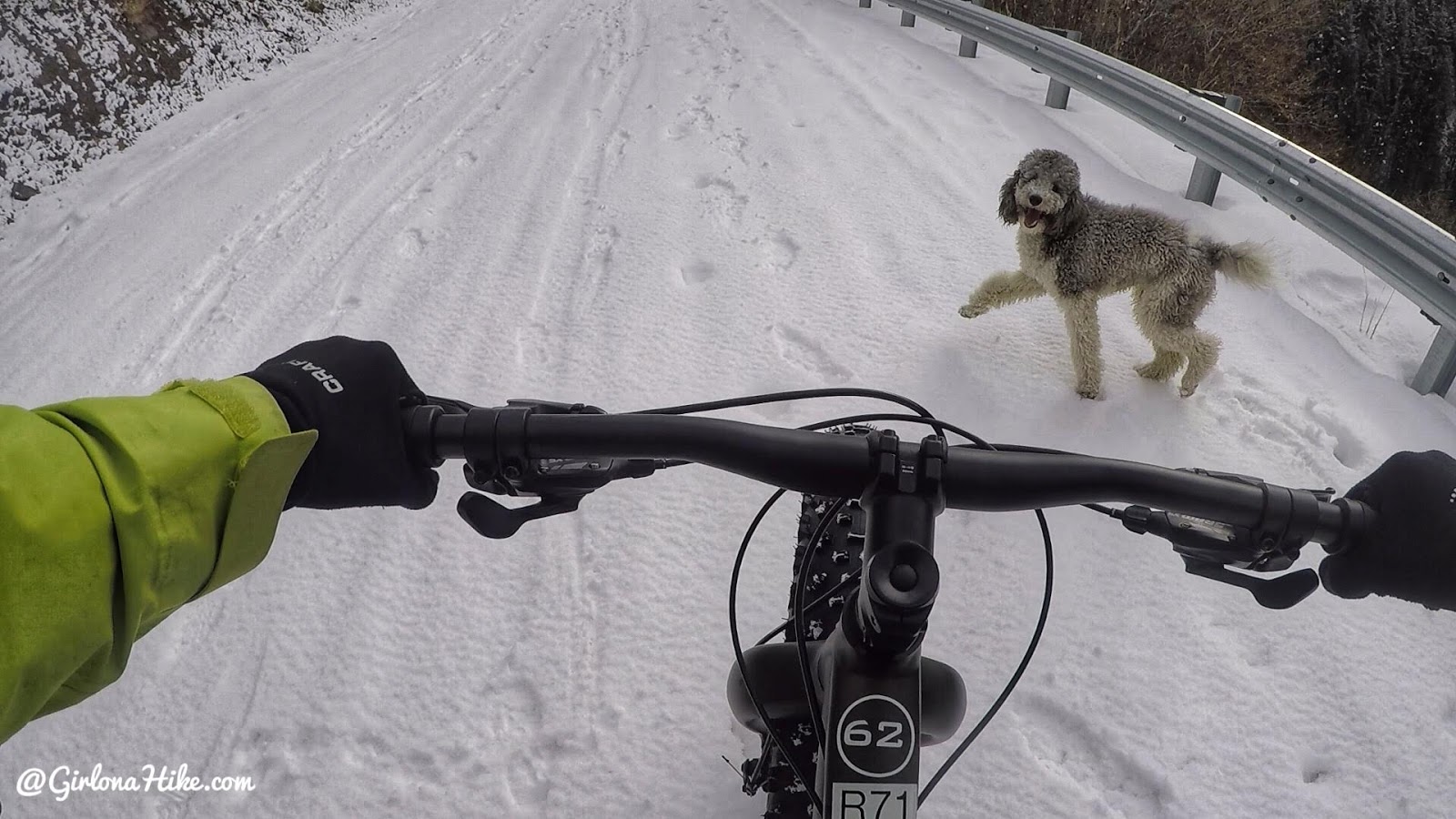 Ready to go! This is "Little Charlie" as we call him when both Charlie's are with me. He's a 1.5 year old Standard Poodle, and weighs only 30 lbs. He loves running and hiking with us, so I picked him up on my drive down to take him along while his mom was at work.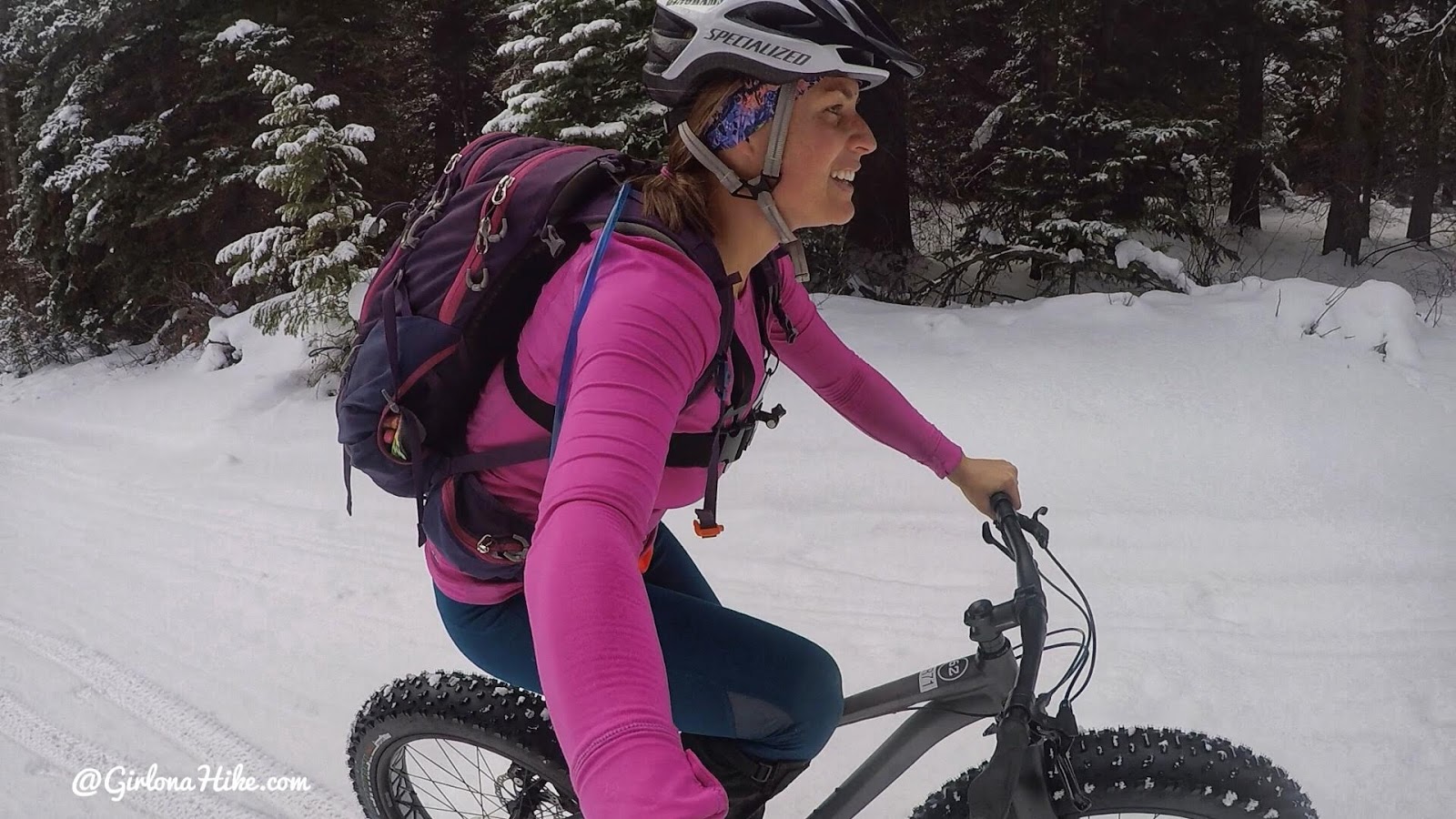 Here's my first tip on riding a fat tire bike – don't be in a rush.
Riding a fat tire bike is hard work! I had to stop every 1/4 mile or so to stop and catch my breath. A few people passed me and I thought, "Ugh, why can't I be that fast!?" But I had to realize this was my very first time riding, and just getting out and doing this was the goal.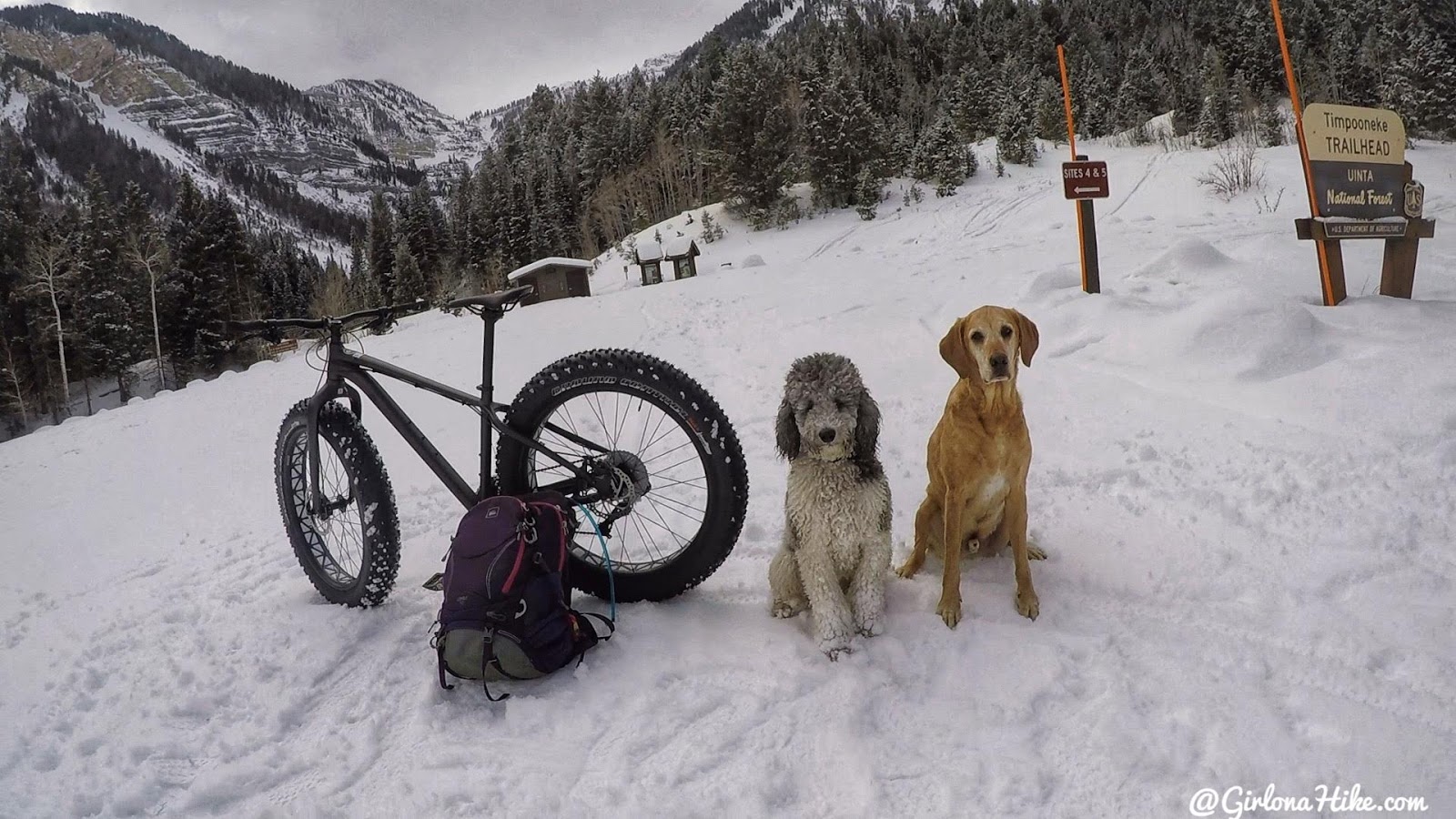 Simply follow the road signs to get to the Timponeeke TH. The Charlie's and I stop for a photo op. It's rare to see this parking lot completely empty! In summer it's packed tight with cars lining the road to hike up to Mt. Timpanogos.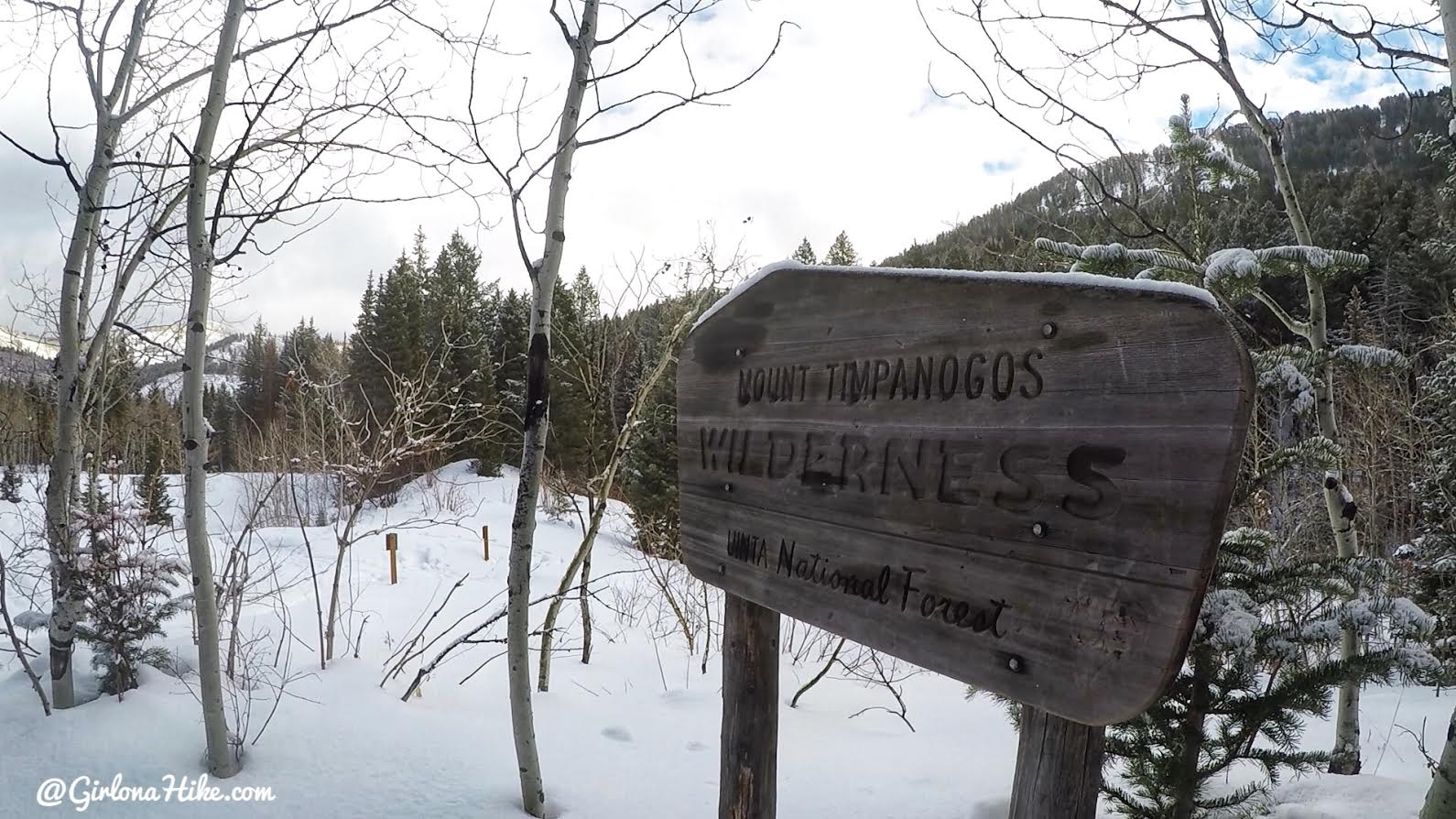 The snow wasn't packed down, so I dropped the bike and begin hiking up the trail to Scout Falls. You'll pass the TERT (Timpanogos Emergency Response Team) station, and this wilderness sign.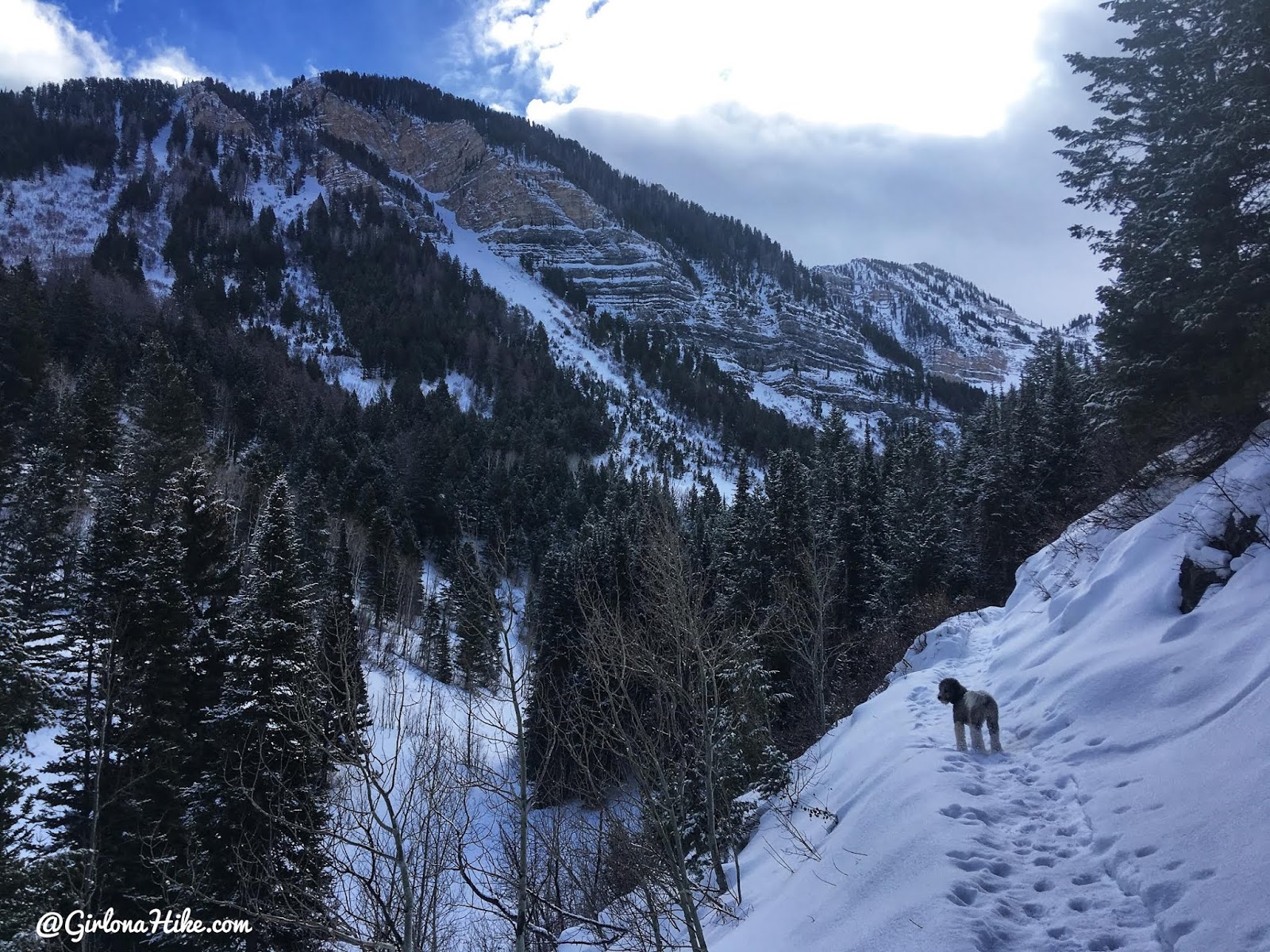 The trail wraps around the NE side of a hill, before heading South.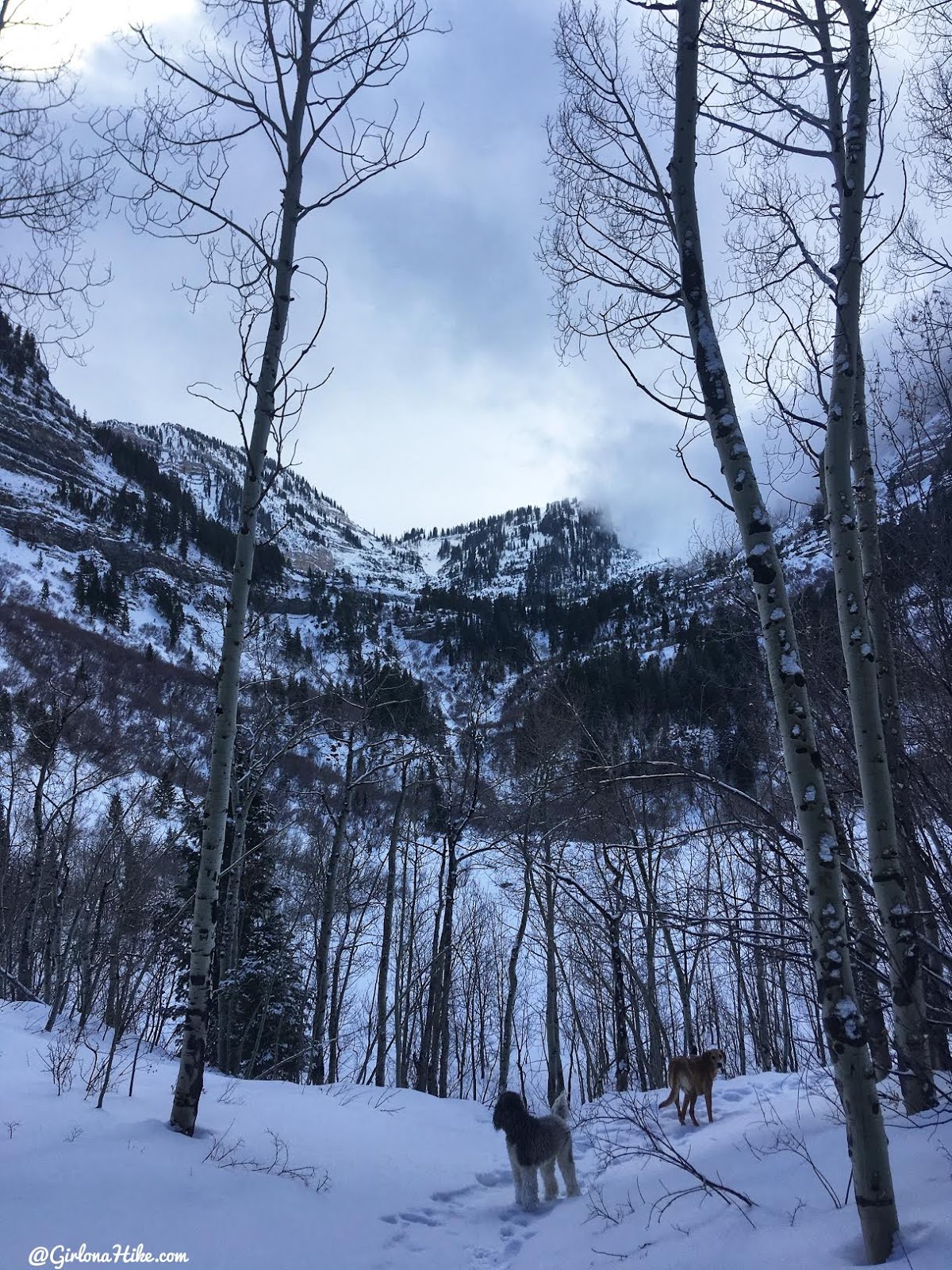 Then the views begin to open!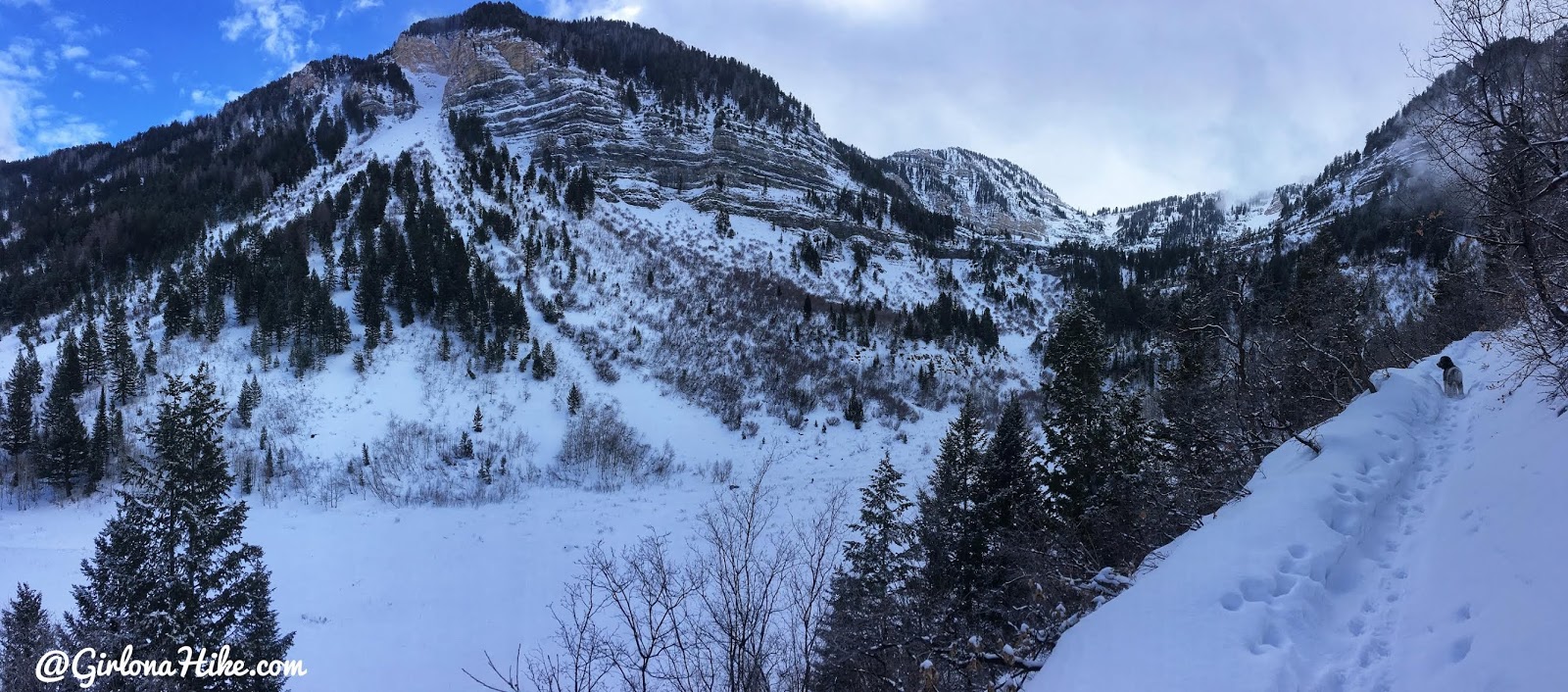 You'll then hike on the West side of a large meadow.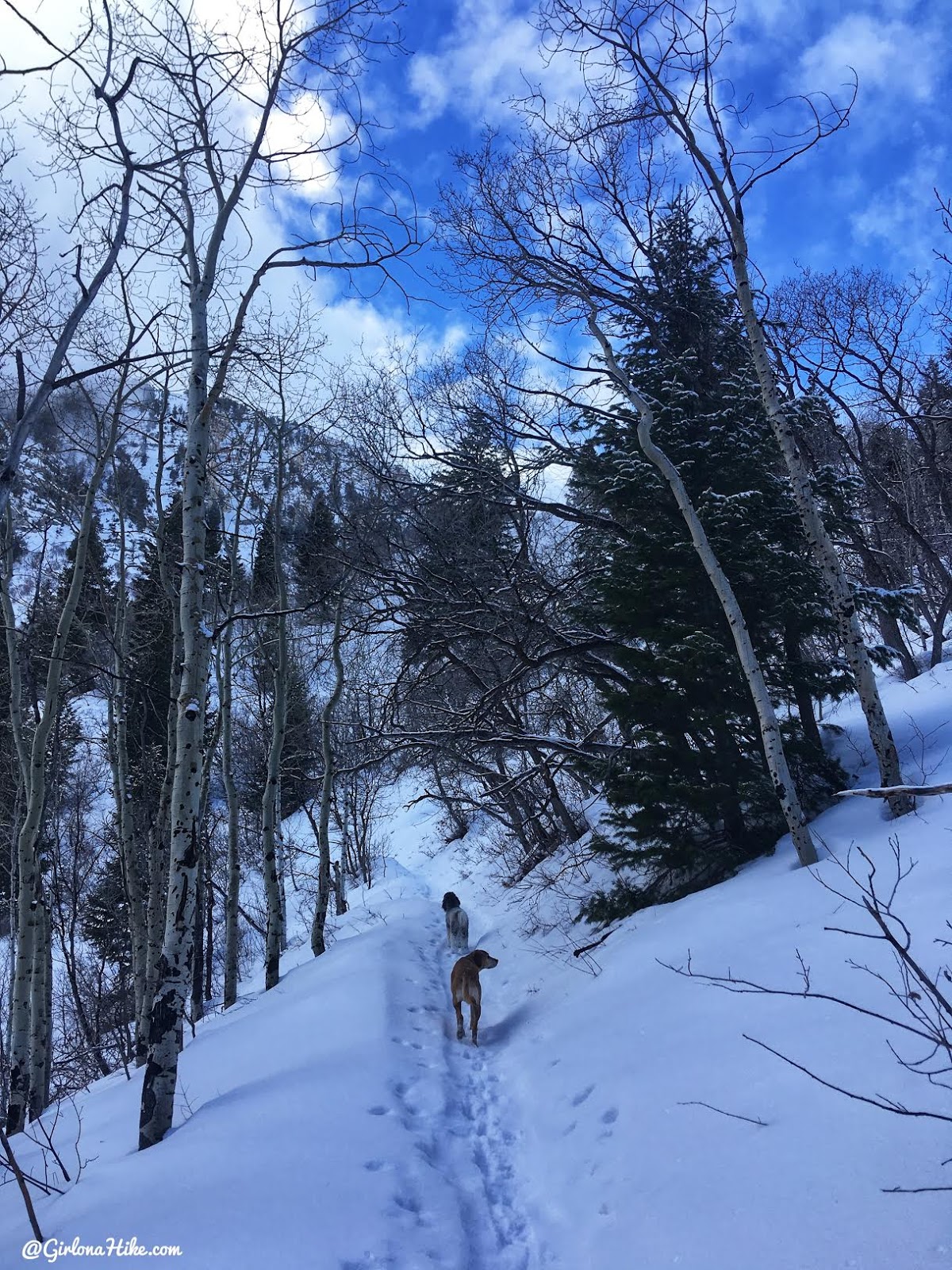 This was difficult in Winter because nobody had been up here in awhile and I keep post-holing through the snow. I wished I had my snowshoes with me!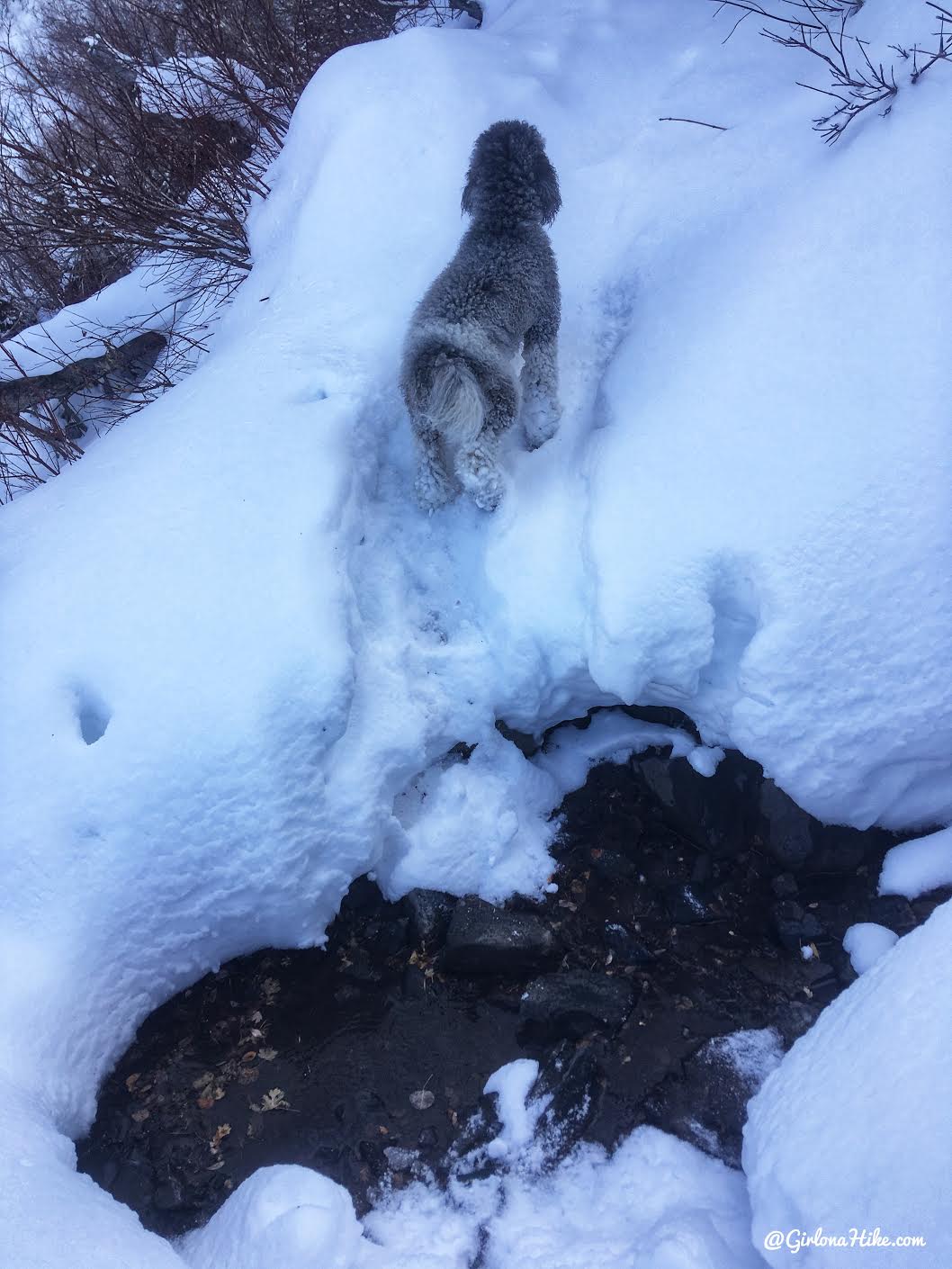 There was one small trickle of water we had to cross over. It seemed that past this point there not even the faintest tracks. I had to begin plowing through on my own.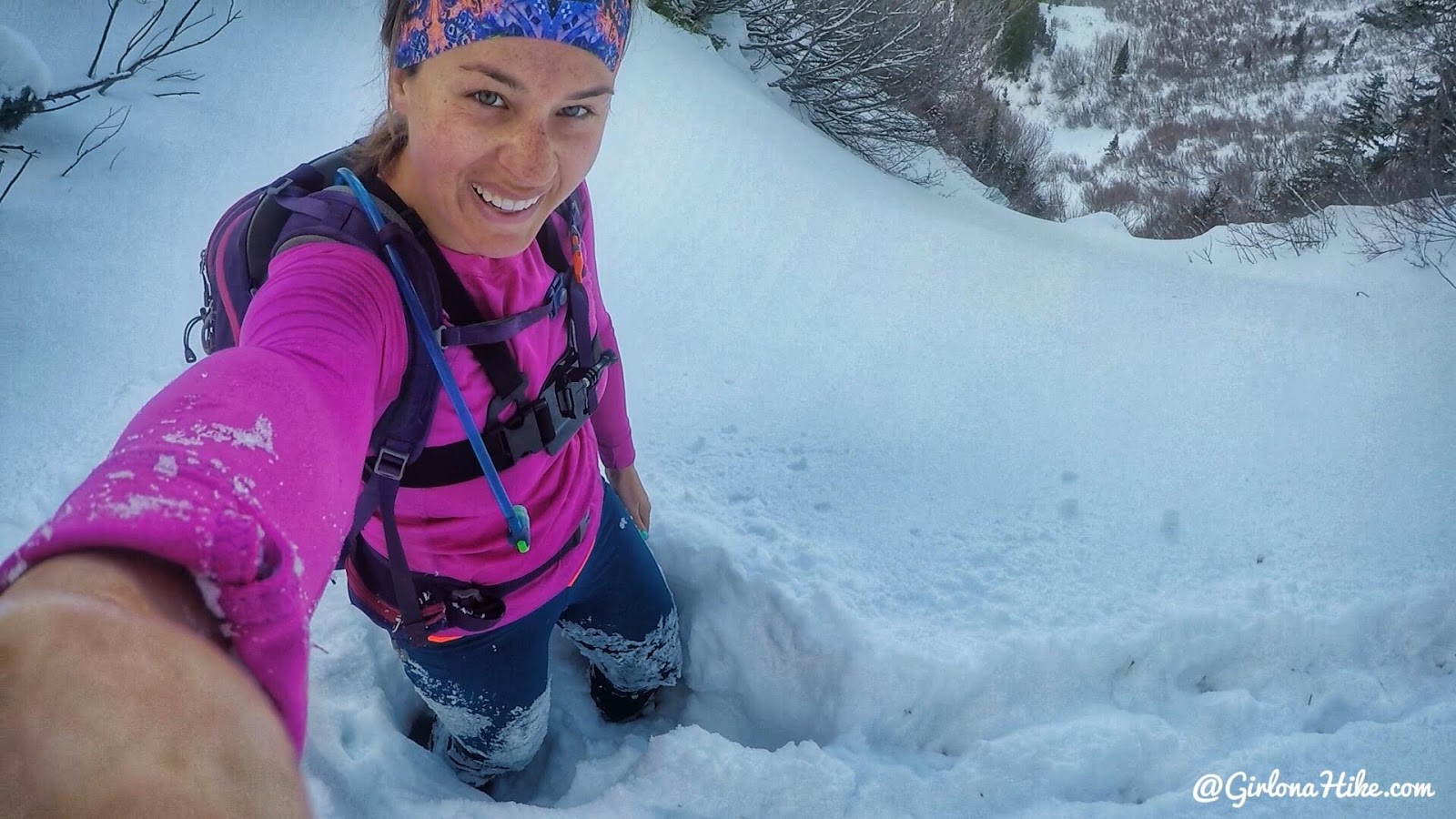 Eventually I found myself in thigh deep snow, and snuggled to get myself out. I was also not in a good position here, as you can see I was turning a corner and there was a steep-ish gully with a clear path. Avalanche danger rang in my head, so I quickly tried to get out and push on further. But, it was more of the same. I knew at this point it wouldn't be safe to continue, nor did I want my leggings soaked.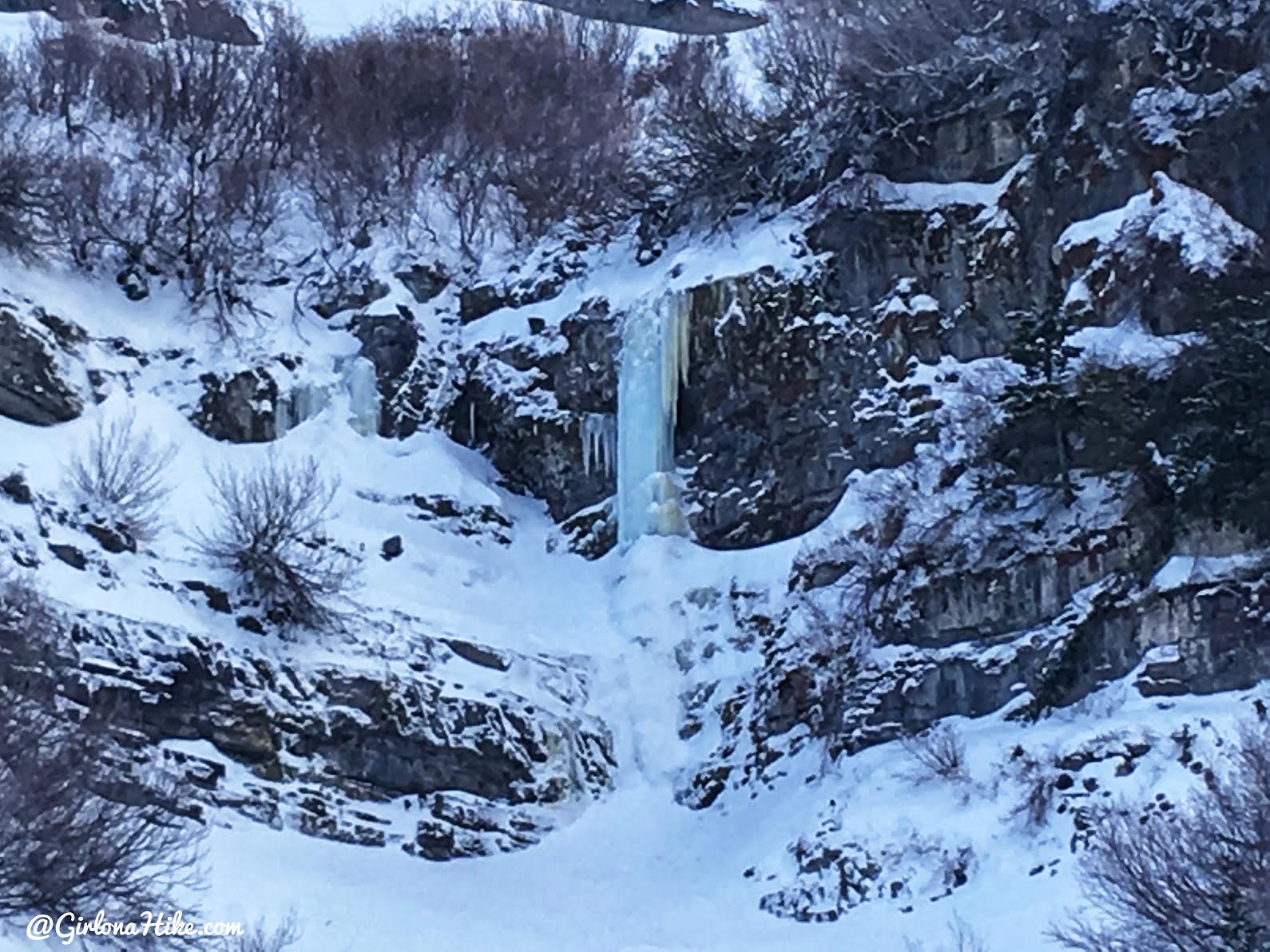 I only hiked up another maybe 20 feet so I could see Scout Falls from below.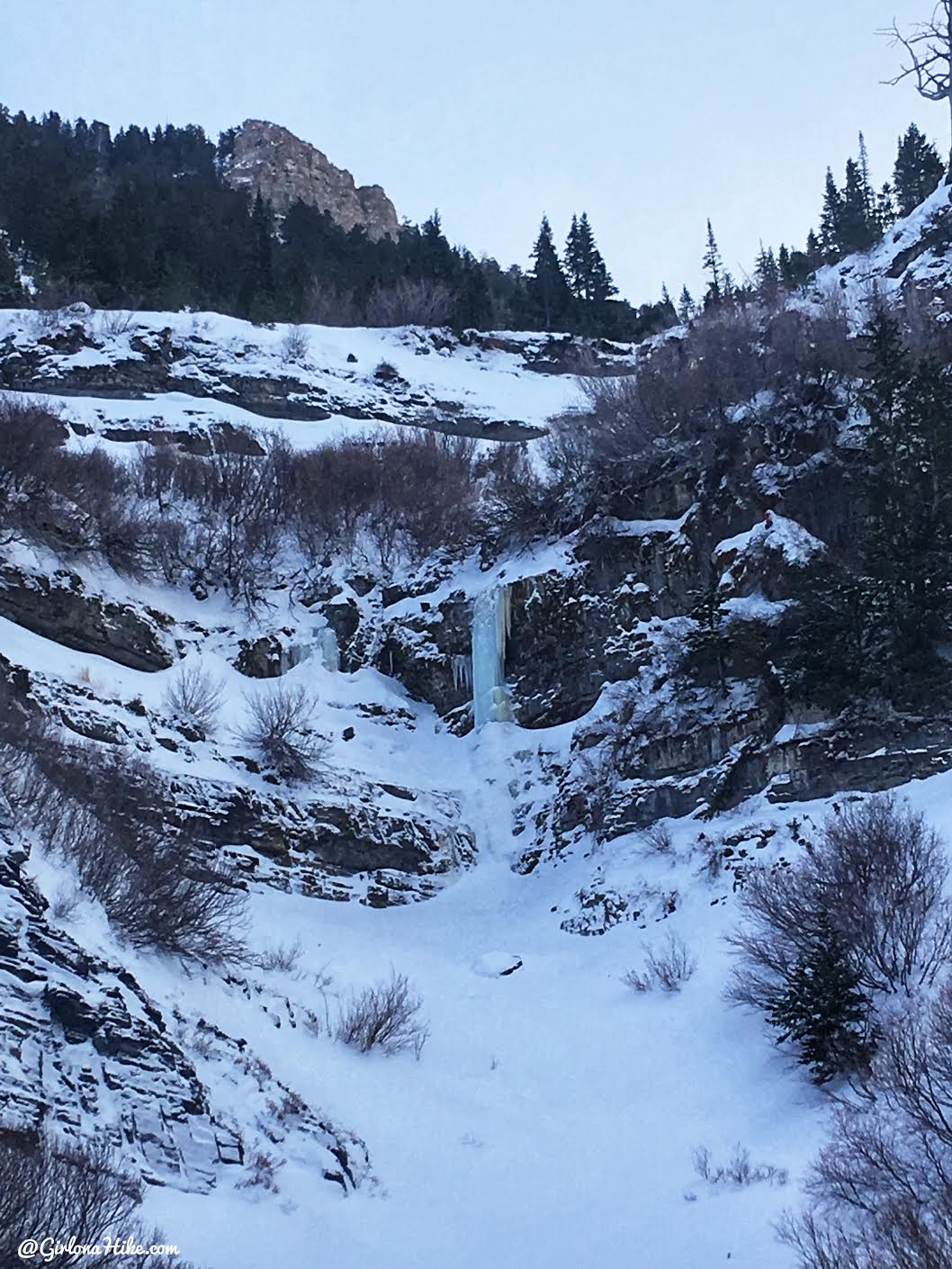 I'm super bummed I didn't quite make it, but safety is always key, especially when I'm hiking solo with the dogs. I was glad I could at least see it!
See what Scout Falls looks like in summer here!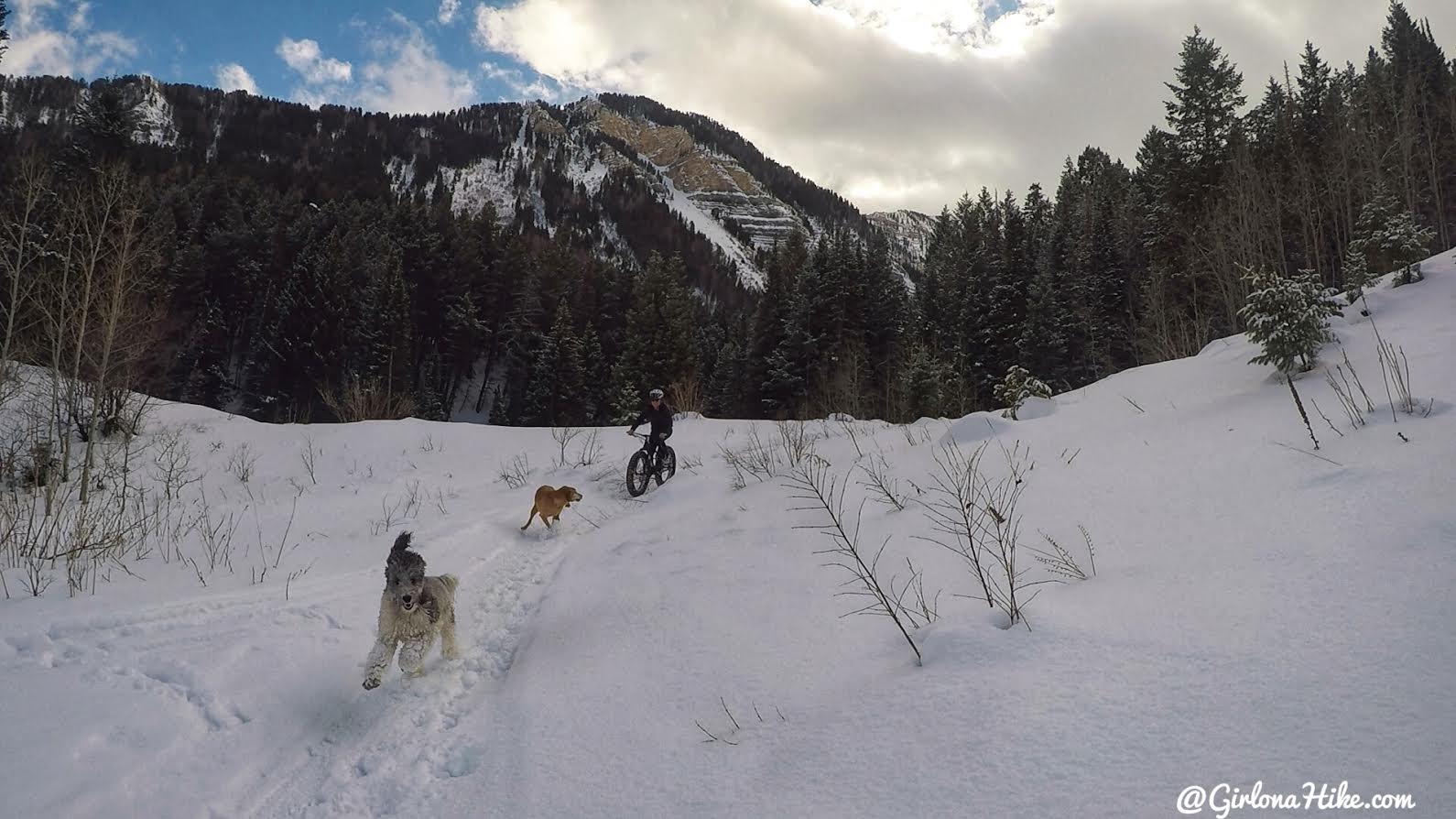 We turned around and I tried to run back down the trail, tripping every once in a while as I post-holed in the snow. Eventually I picked the bike back up and we flew downhill.

Here's another tip for riding a fat tire bike – make sure the trail you pick is hard packed snow. Small patched of ice are ok, but treat any ice longer than the length of your bike with respect and caution other it will slide out from under you.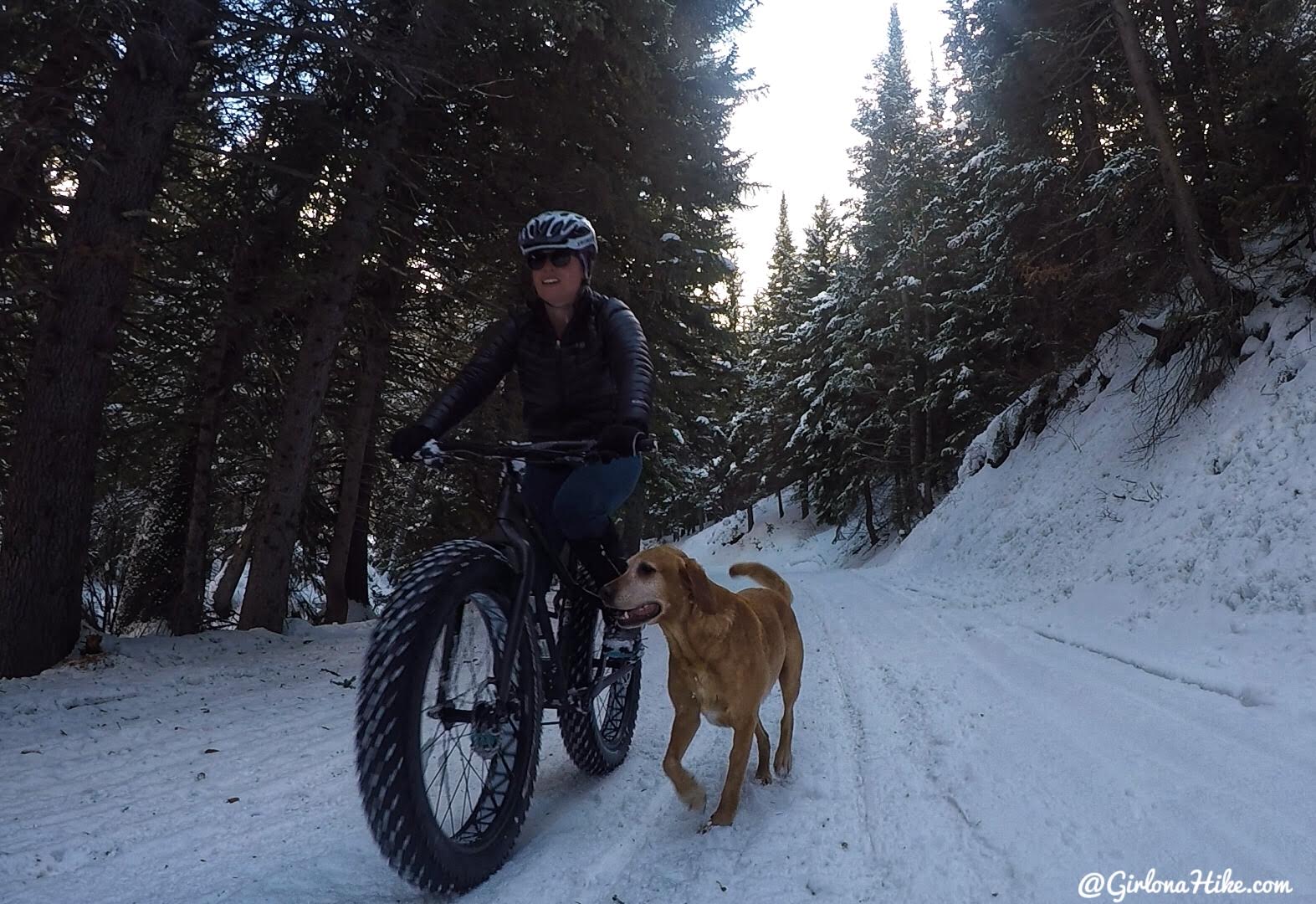 My third tip – for your first ride chose a winter road, not an actual trail. You'll have plenty of space to move around, fall off or stop if you have to, and let faster riders pass. Roads will likely not be as steep either, making it easier to ride uphill. They will also be packed as opposed to a rarely visited trail (like Scout Falls).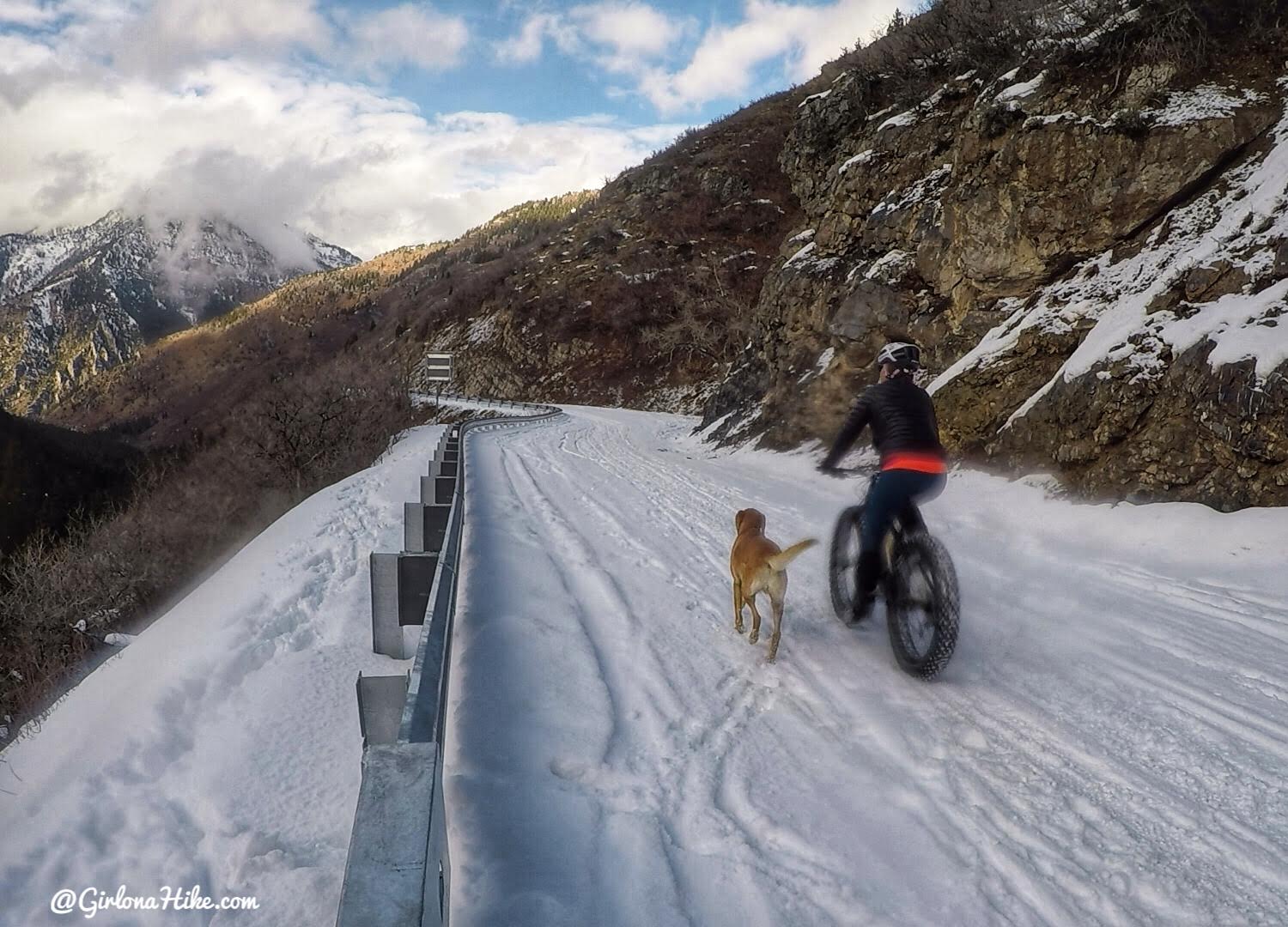 Charlie and I never went super fast, but I did pick up a little speed on the way down just to see how it handled.  It was bumpy over other people's foot prints and post-holing, but as long as I stayed off those I felt fine. The bike handled really well.
Another tip – don't slam down on your brakes or the bike will skid on the snow and you'll fall off. Try to gently press down on the brake if possible.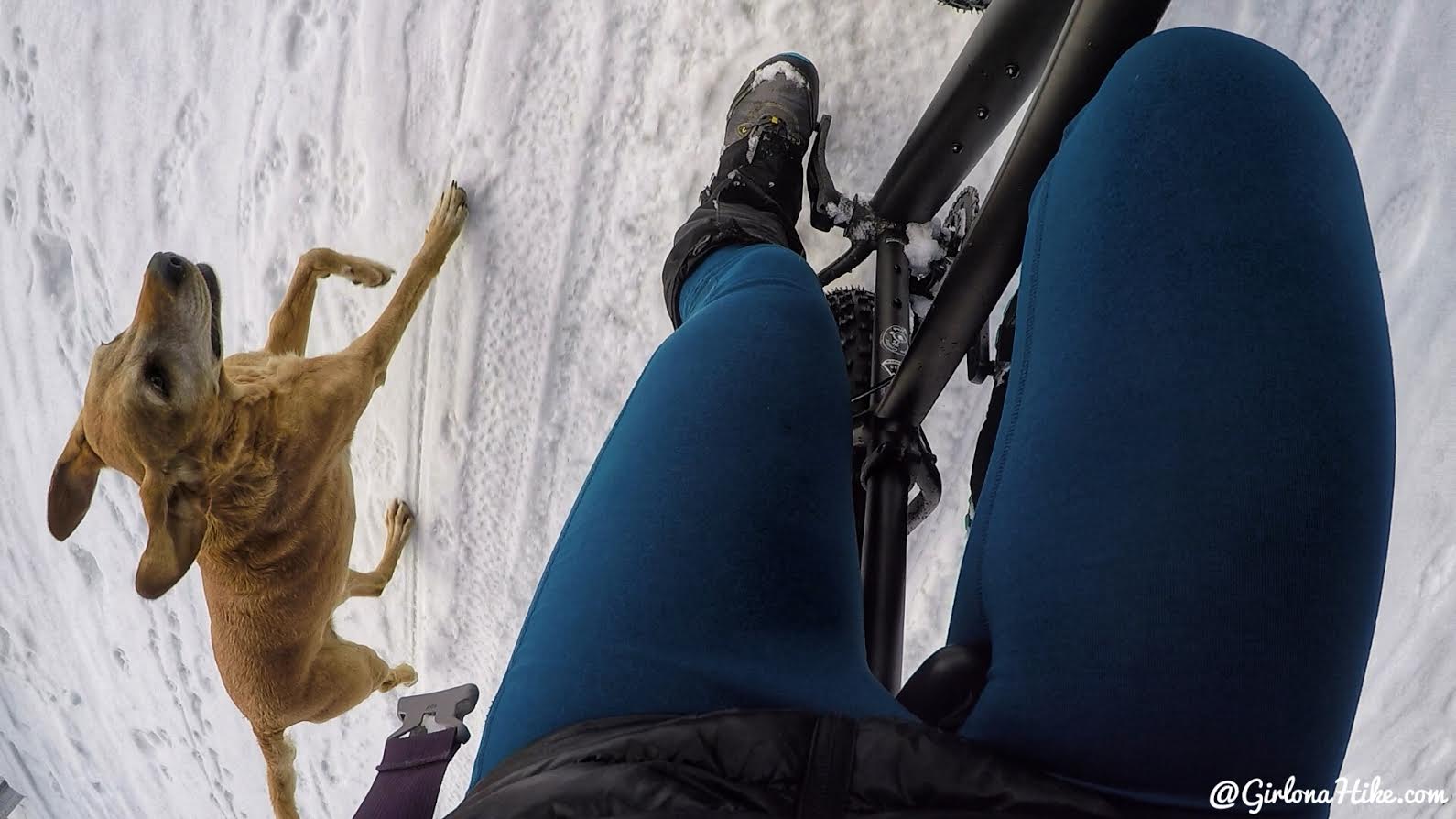 Charlie loved picking up speed with me, and it was fun to see his ears in his aerodynamic mode LOL!
Check out my first ever YouTube video!

Once again, huge shoutout to Bingham Cyclery! Check them out on Facebook, Instagram, and Twitter!
Trail Map
My track via Gaia GPS – the best tracking app! Get your app here for a discount.
Recommended Gear
Nearby Hike
Hiking to the Pine Hollow Overlook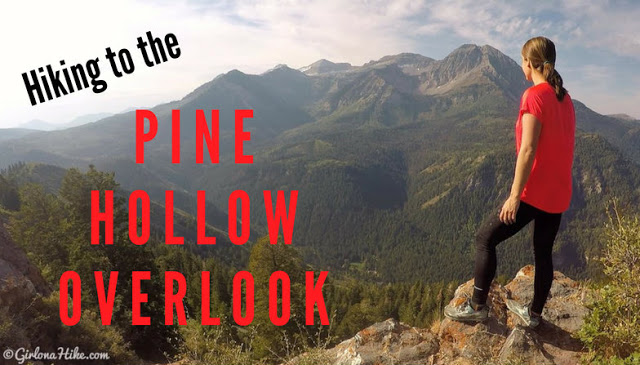 Save me on Pinterest!