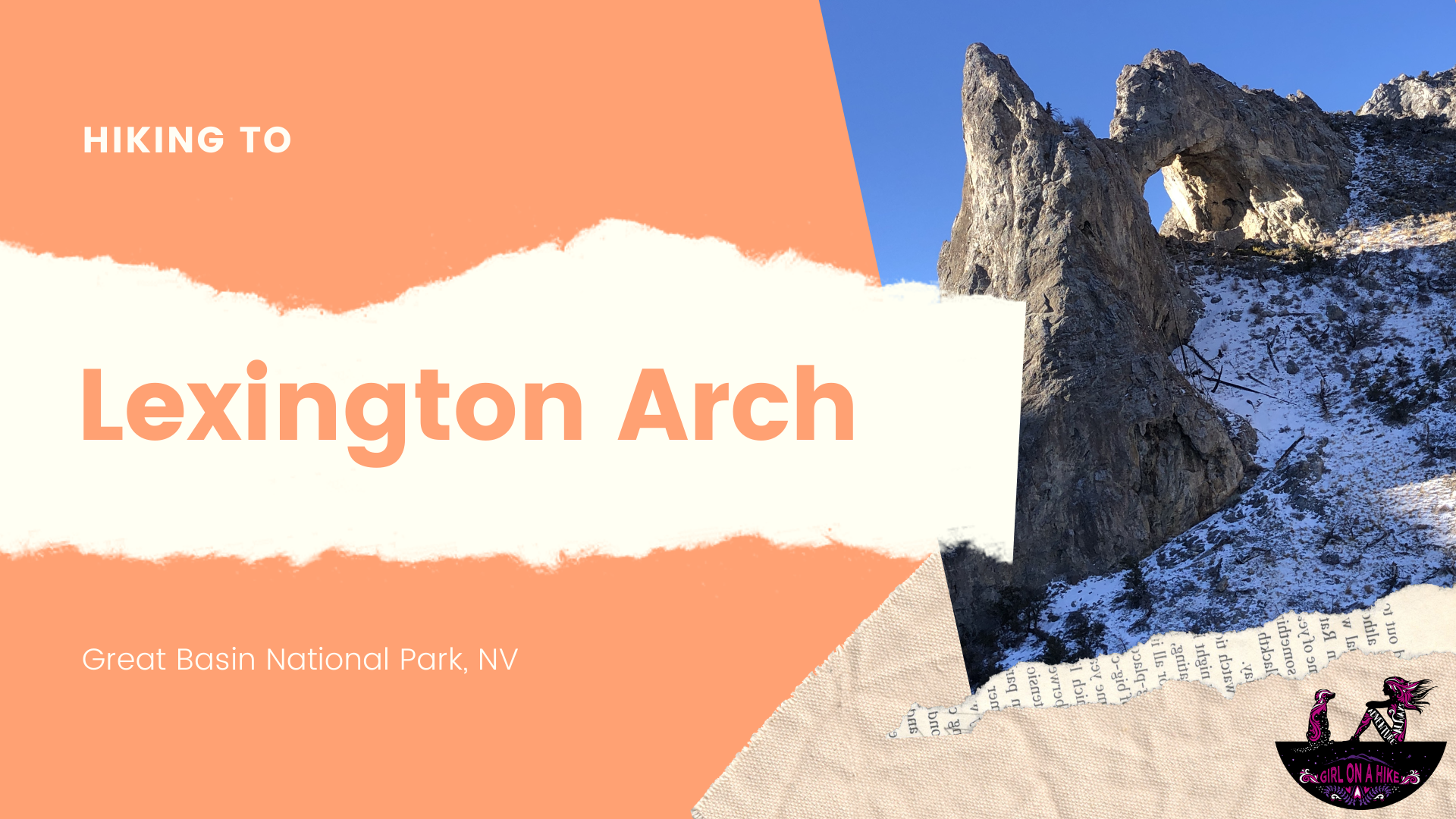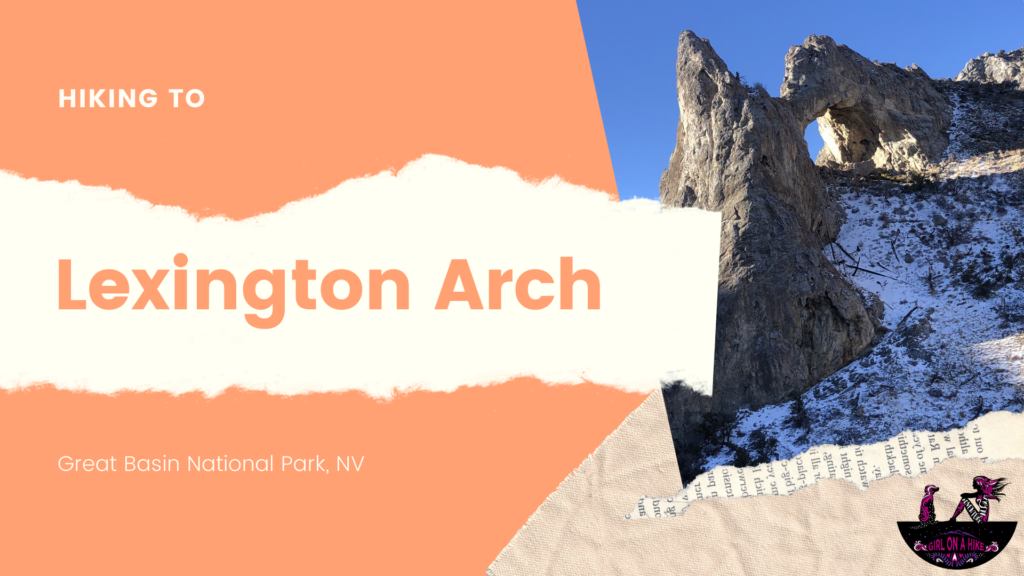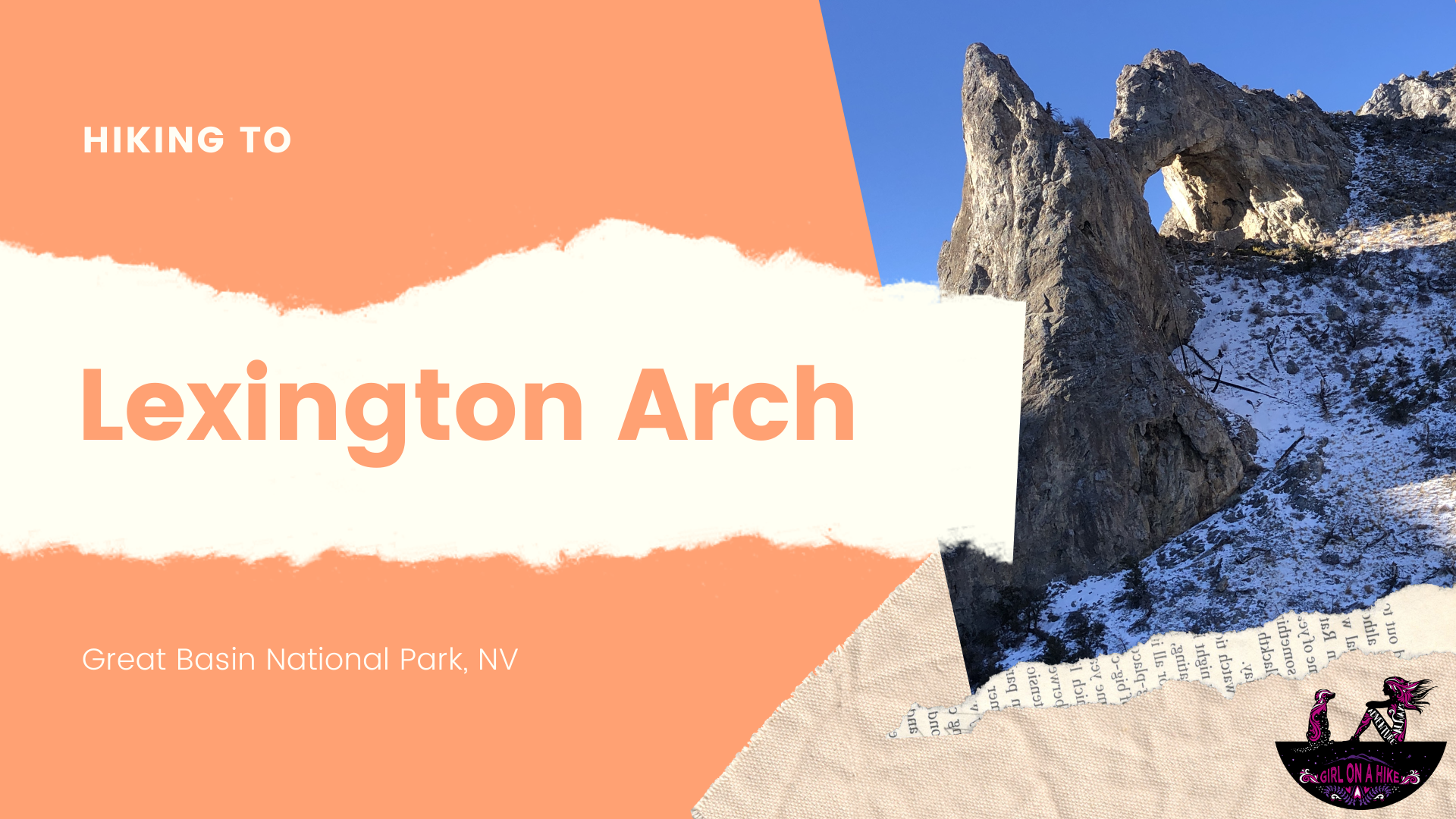 Lexington Arch is located within Great Basin National Park, yet very few people make the trek to it due to it not being in the main area of the N.P. In fact, access to the trailhead was closed for a long time due to the "Strawberry Fire" of 2016. Then a flash flood ripped up the road leading to the original TH. Now, hikers have to add an additional mile of hiking before reaching the official TH.
About
Lexington Arch is actually not an arch (formed from the forces of weather) at all, but a natural bridge carved by the flowing waters of a stream or river!
"It is possible that long ago when Lexington Canyon was less deep, the waters of Lexington Creek flowed through a cave in a wall of the canyon and in the process enlarged the tunnel that later became Lexington Arch. If this happened, then it is truly a natural bridge."
The hike up the overlook bench is gradual, as several switchbacks help you gain 1,400 ft to an amazing view of the arch. You can continue to underneath it, but since I hiked this in December, there was too much snow for me to feel comfortable hiking solo to get that far. It seems like this hike is great year round, however, if you go in Summer months I would start early to beat the heat.
There is zero shade and water on this trail, so be prepared with water, sunblock, and food. Even in Winter, I hiked in my tank top! Be aware that this trail is in the middle of nowhere with no cell service, and the closest gas station is about 45 minutes away a the Border Gas Station & Motel.
Directions
From HWY 50, drive south on HWY 159 for 8 miles. At the "T" turn left. Drive another 5 miles, past Pruess Lake and look for the tall sign for Lexington Arch and turn right onto the dirt road.  Reset your odometer and drive 10.5 miles – continue to follow the signs. Around the 10.3 miles, there is another road split that is NOT marked. Turn left here, and pull off to park on the right side of the road.
Up until this point the road is well-graded and you do not need 4×4 drive. You can only continue for another 3/4 mile or so, but this is the best place to park unless you have a lifted jeep or truck. The old/original TH is no longer accessible due to a washed out road. Here is a driving map off HWY 50 near Garrison, UT. You can also see my driving route at the end of this post.
Trail Info
Distance: 5 miles RT
Elevation gain: 1,400 ft
Time: 2-3 hours
Dog friendly? Yes, off leash
Kid friendly? Yes
Fees/Permits? None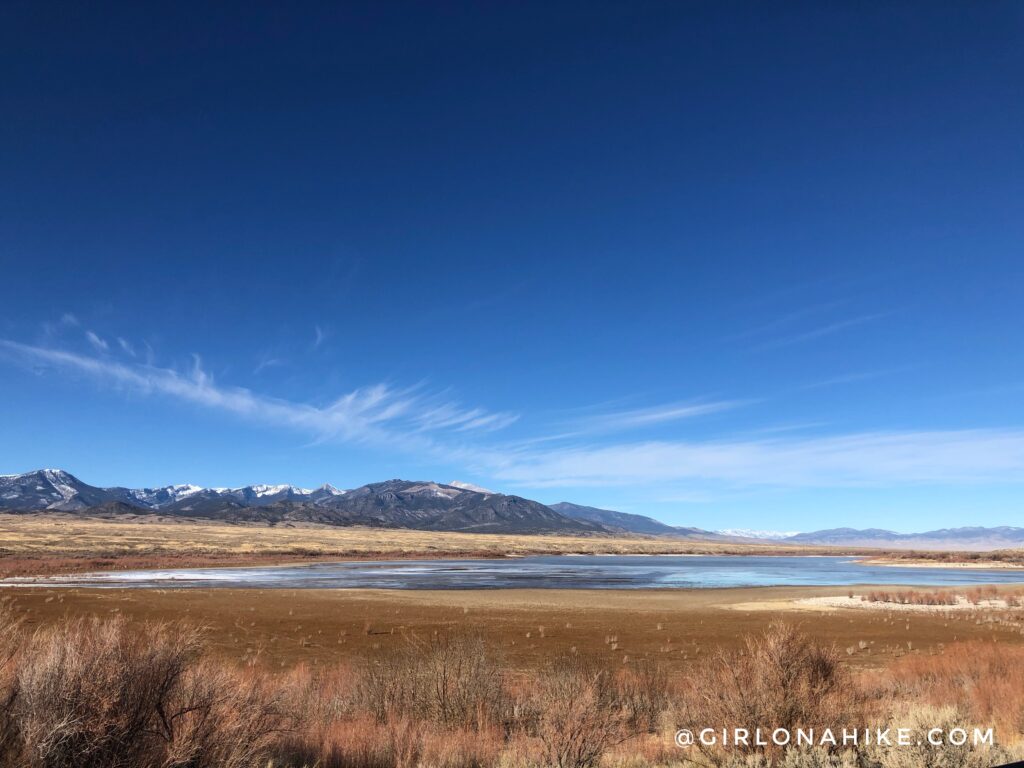 South end of Pruess Lake. What a beautiful day!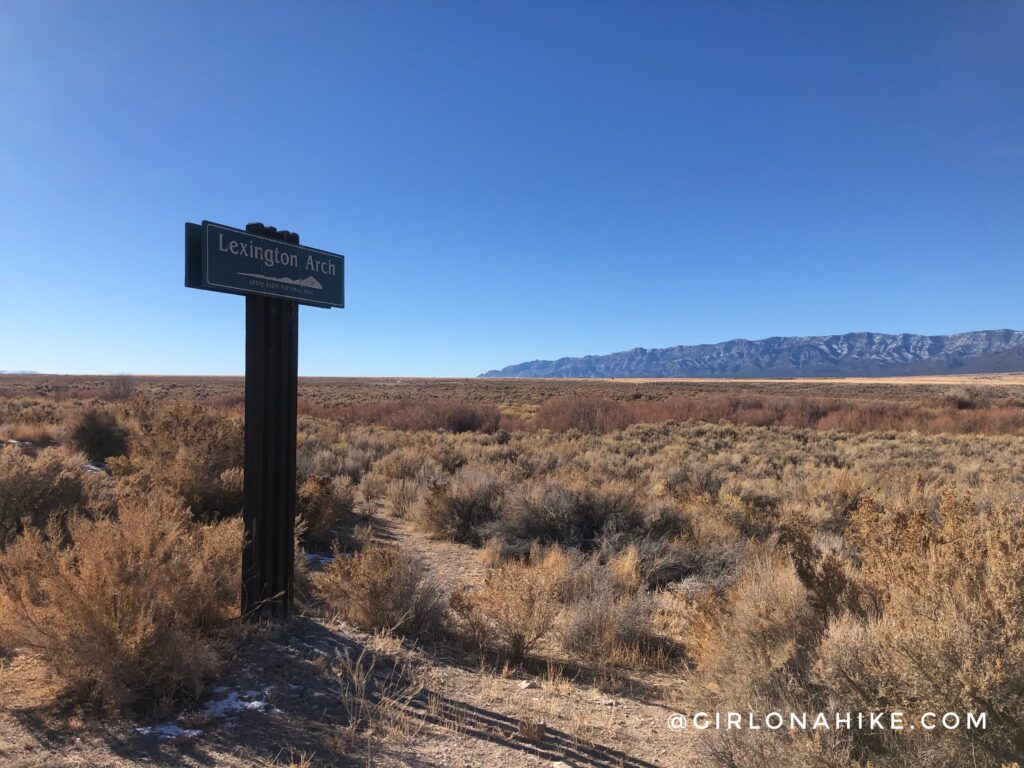 Turn right at the tall sign for Lexington Arch.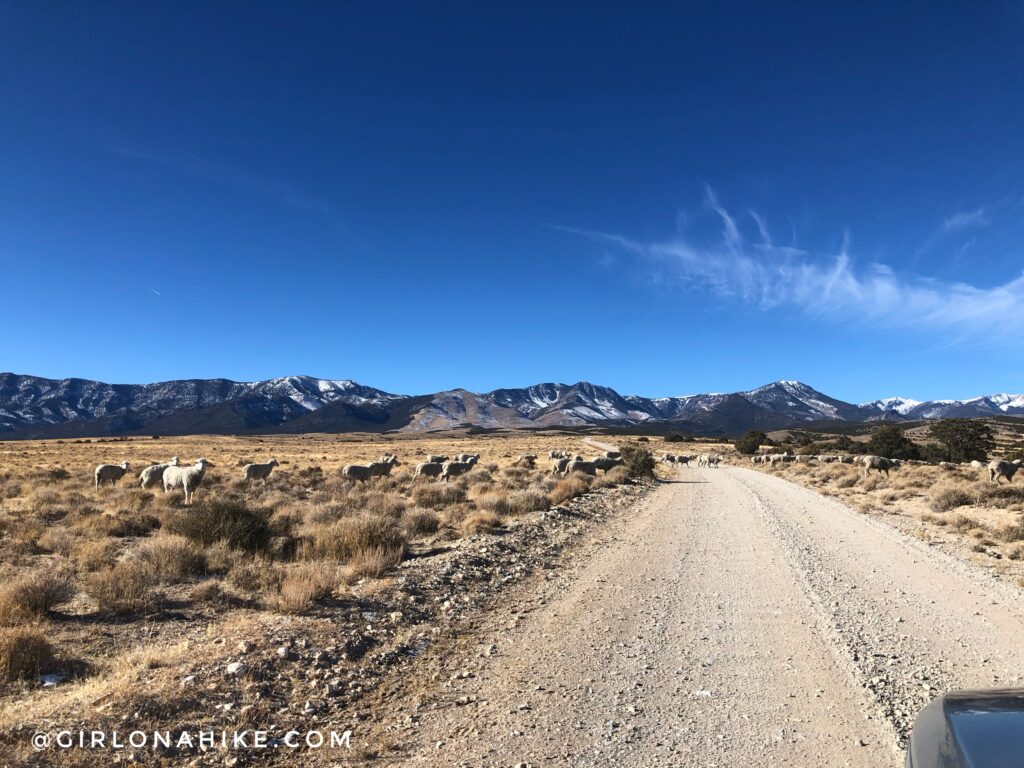 Drive slowly, as sheep and dogs may be running around this area.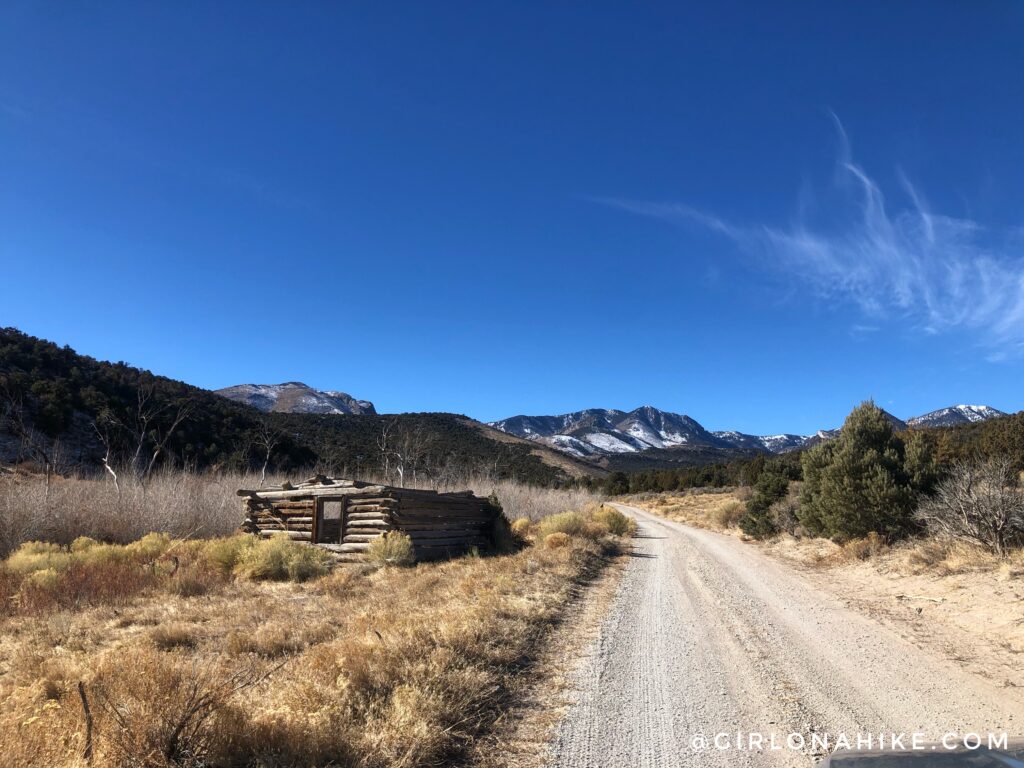 Pass by an old cabin on the left. Continue straight.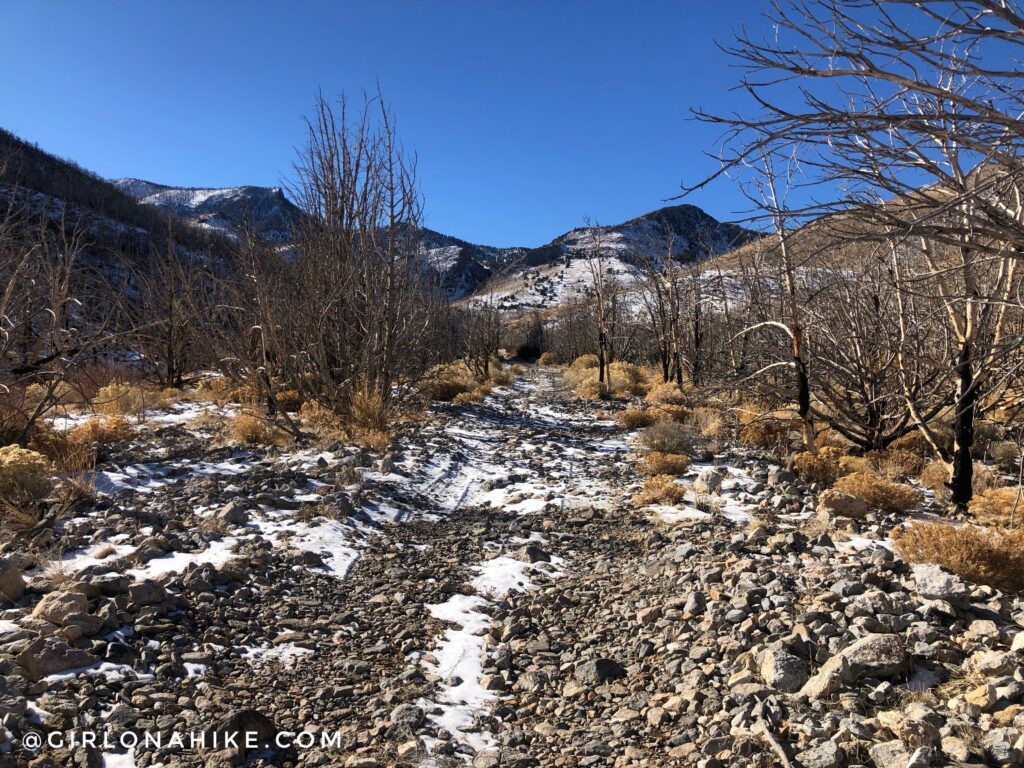 Next, when you get to the last unsigned road split, stay left, then pull off and park on the right. This is the old road that you used to be able to drive up. Now, it has been completely washed out and only continues for another 3/4 mile or so. It's best to just park at the split, because the road gets rougher as you hike up.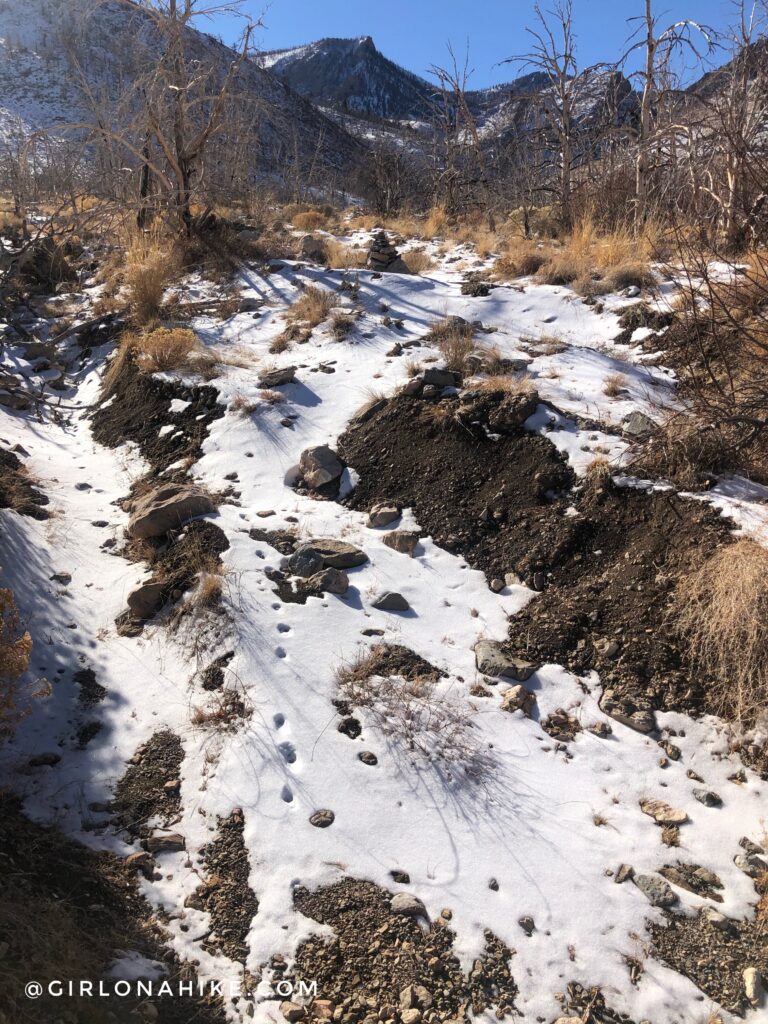 It must have been a pretty bad flash flood to rip up the road like this. Medium sized cairns mark the way to the old TH.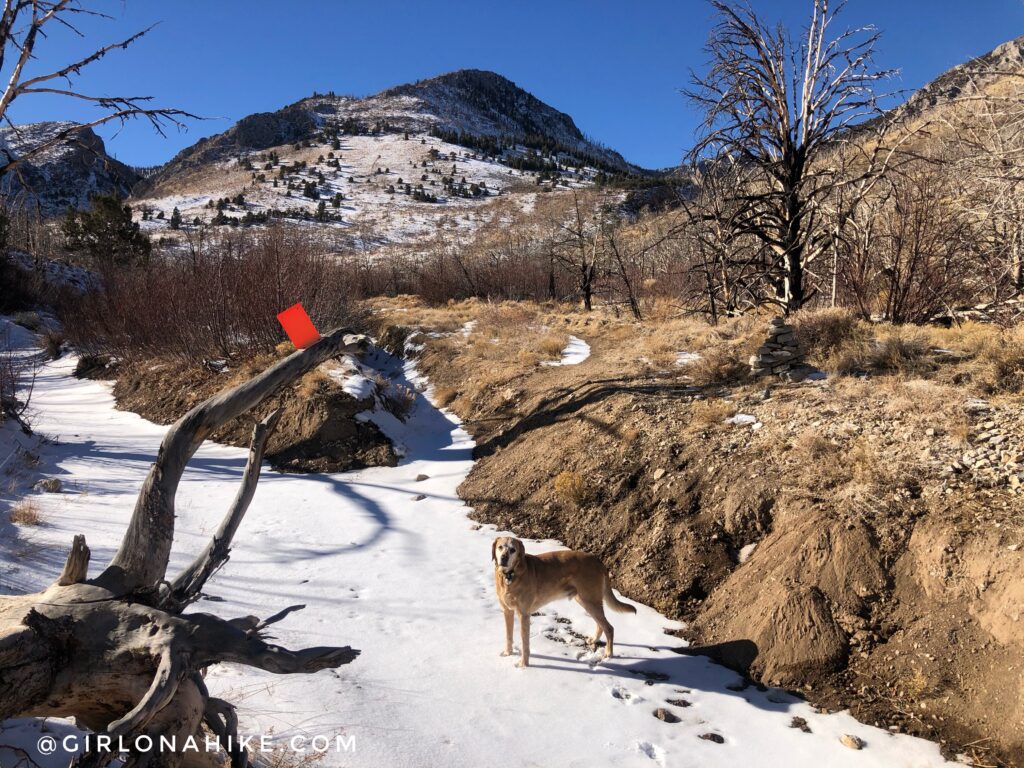 As a guide, some old trees are marked by these orange flags. The hill straight ahead is where you will be hiking up switchbacks.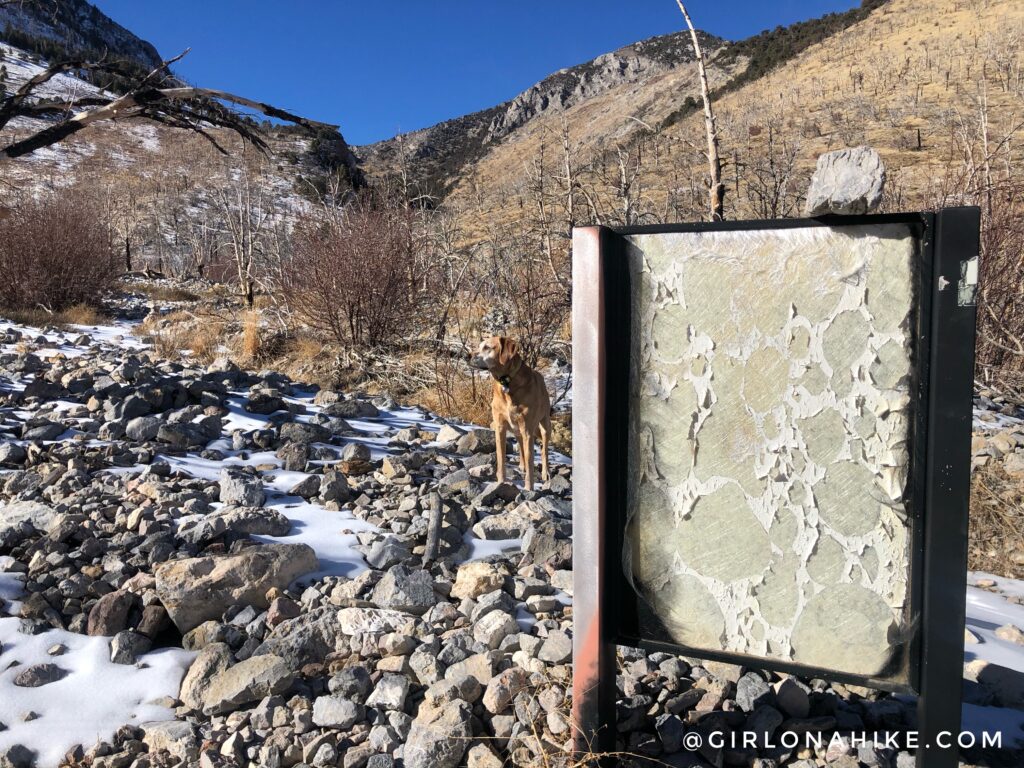 But first at around 1 mile, pass the old TH sign. This is where you used to be able to park and begin hiking prior to 2016.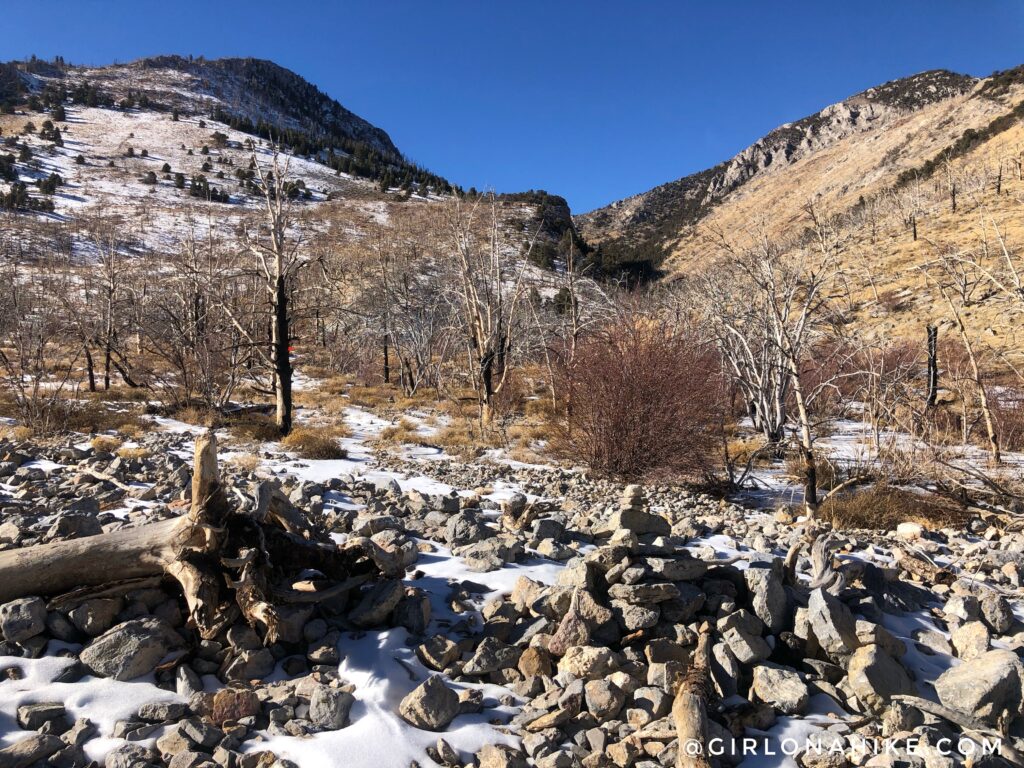 More cairns leading through the area.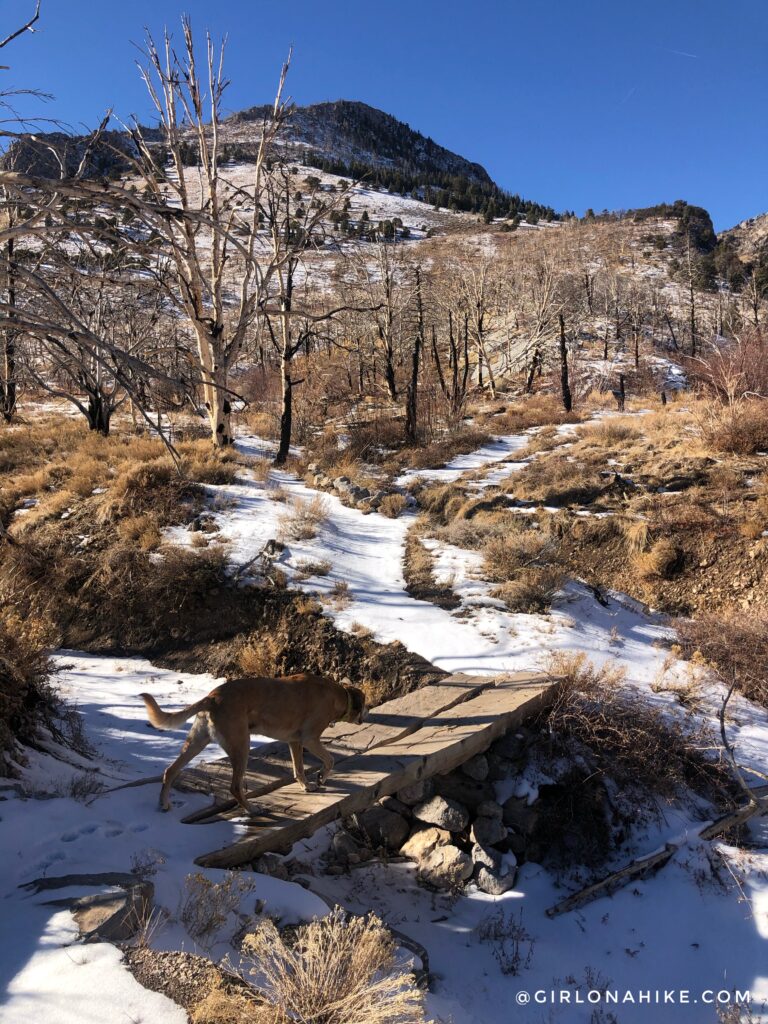 Cross a small bridge.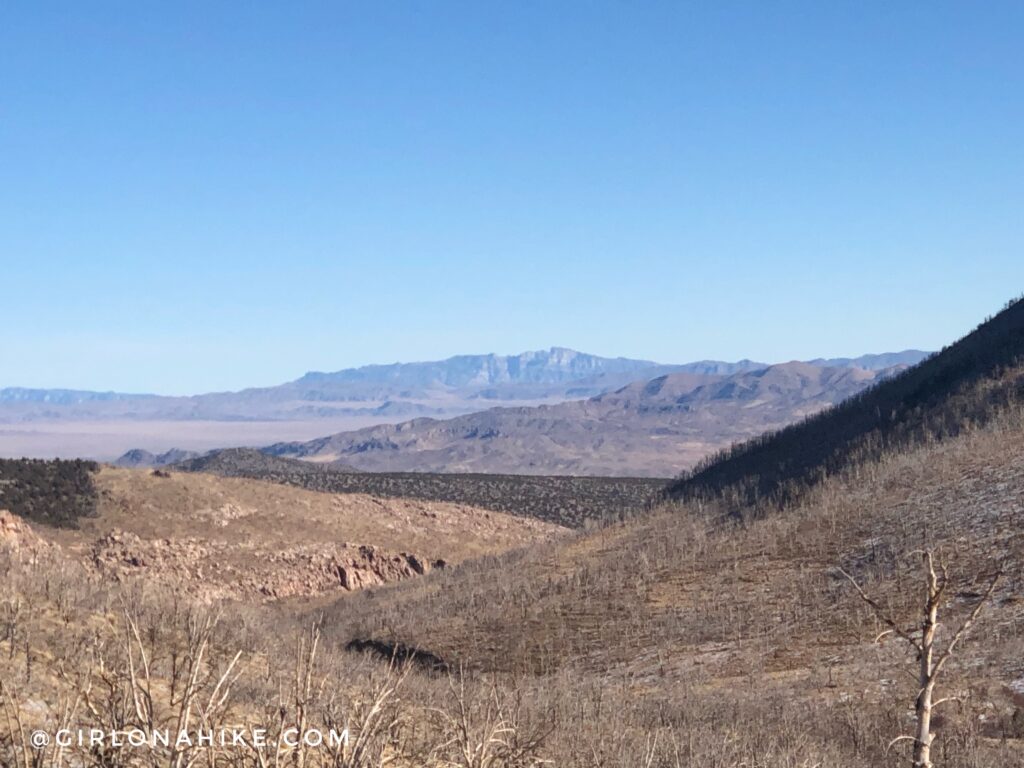 Don't forget to look directly East – you should have a great view of Notch Peak in the distance on a clear day like this day.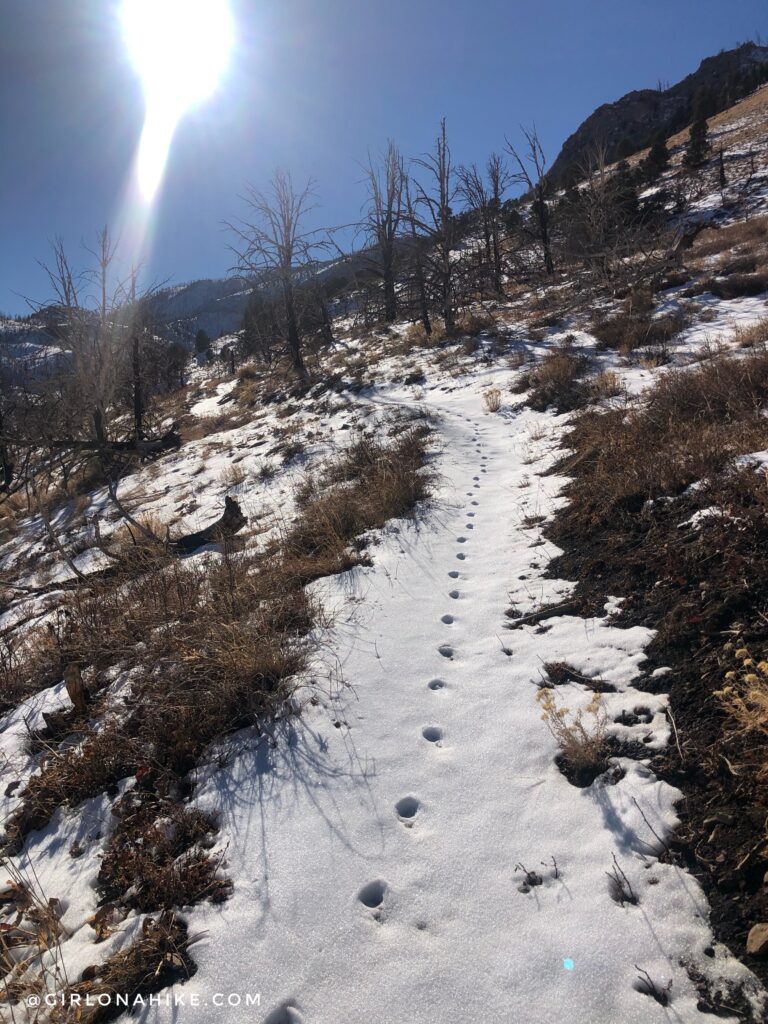 Time to start hiking up those switchbacks. It looks like the coyote beat me to the trail that morning. Charlie picked up on all kinds of smells.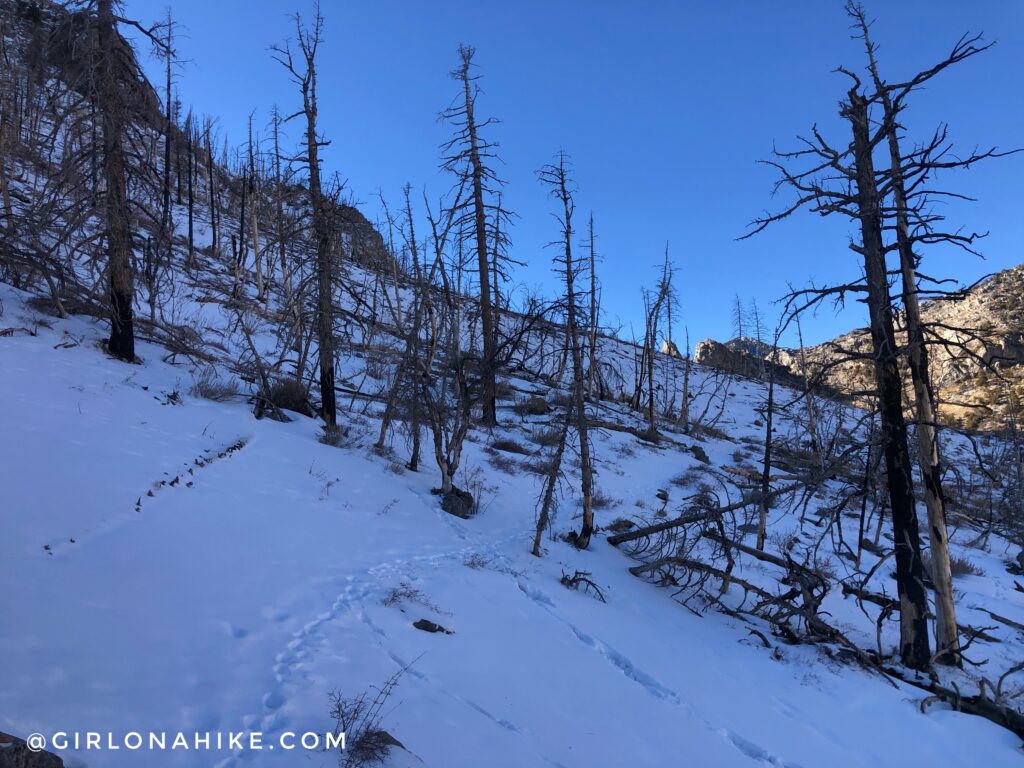 After about 12 switchbacks, the hike crosses a North facing slope. The snow started to get deep here, and I didn't have snowshoes.
Finally at around 2.5 miles we reached the bench/overlook and had an amazing view of the arch! I was really hoping I could get up to it or underneath, but didn't want to risk hiking across another steep, snowy slope by myself. I called it good here.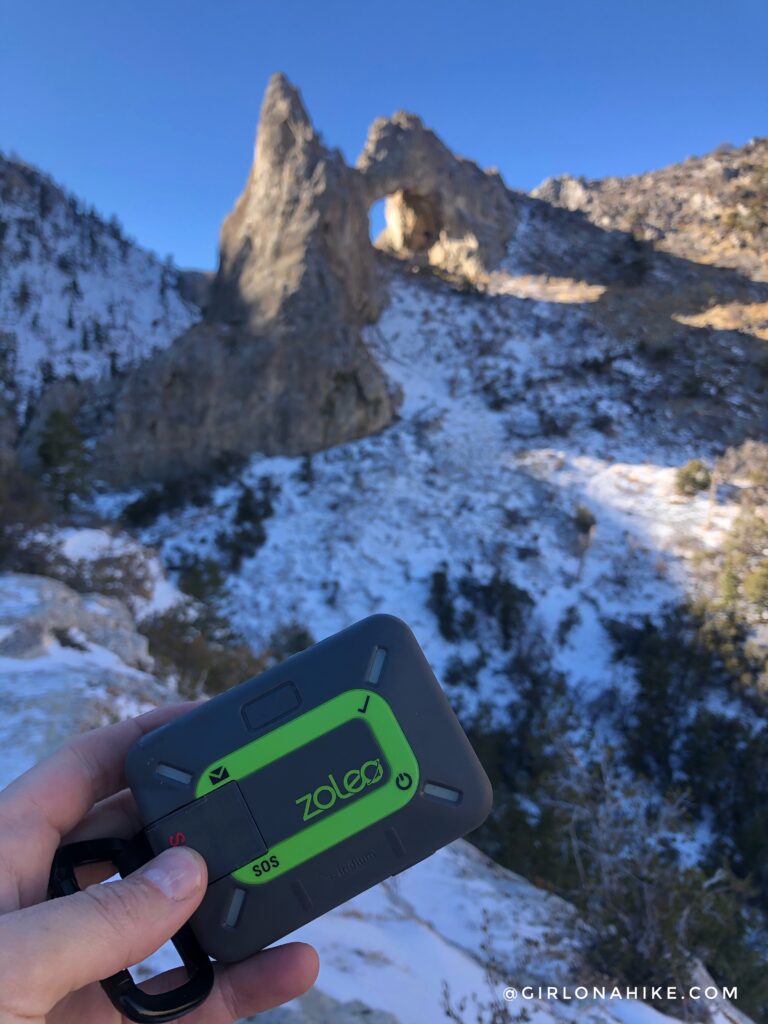 Since I hike and travel solo a lot, I don't ever leave my ZOLEO satellite communicator out of my pack. I checked in my with partner, to let him know I made it safely.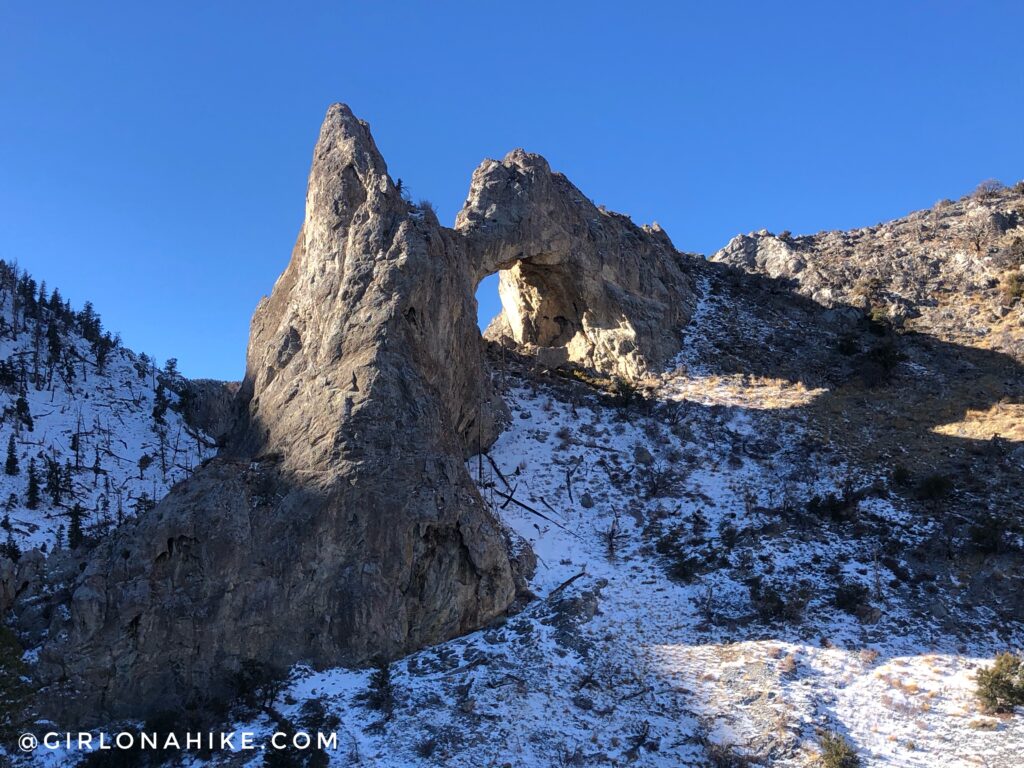 One last look at Lexington Arch before heading back!
Check out my video & subscribe!
Trail Map

My track via Gaia GPS – the best tracking app! Get your app here for a discount.
Recommended Gear
Nearby Hike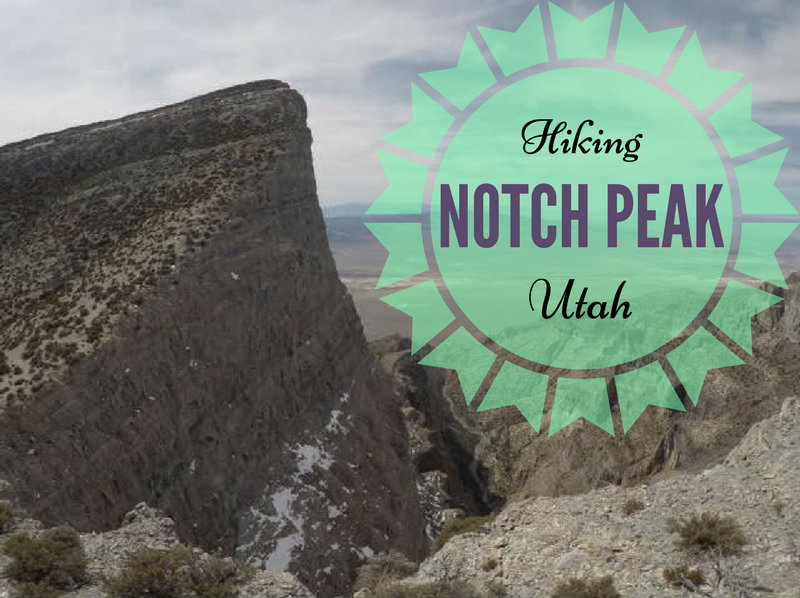 Save me on Pinterest!