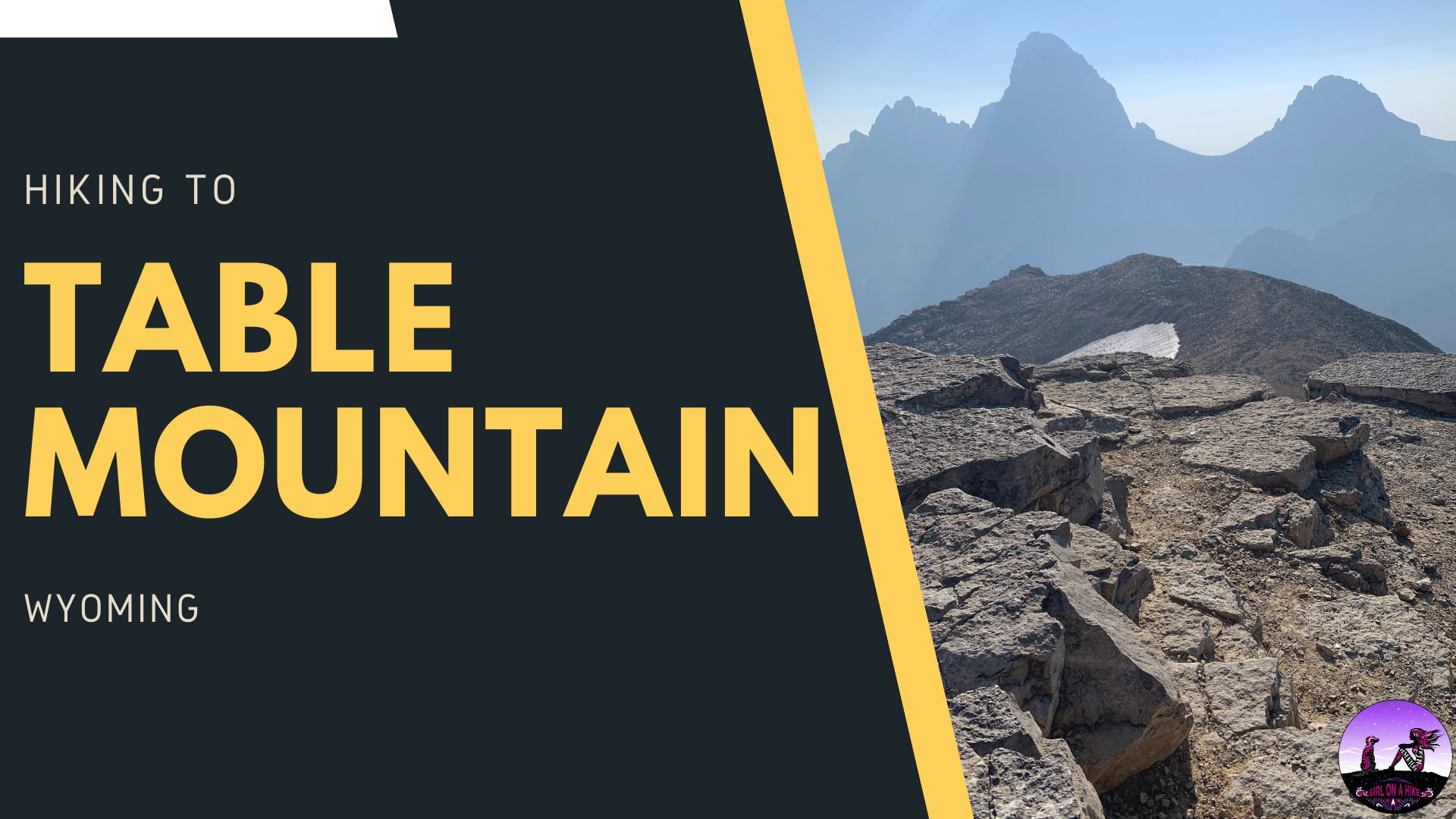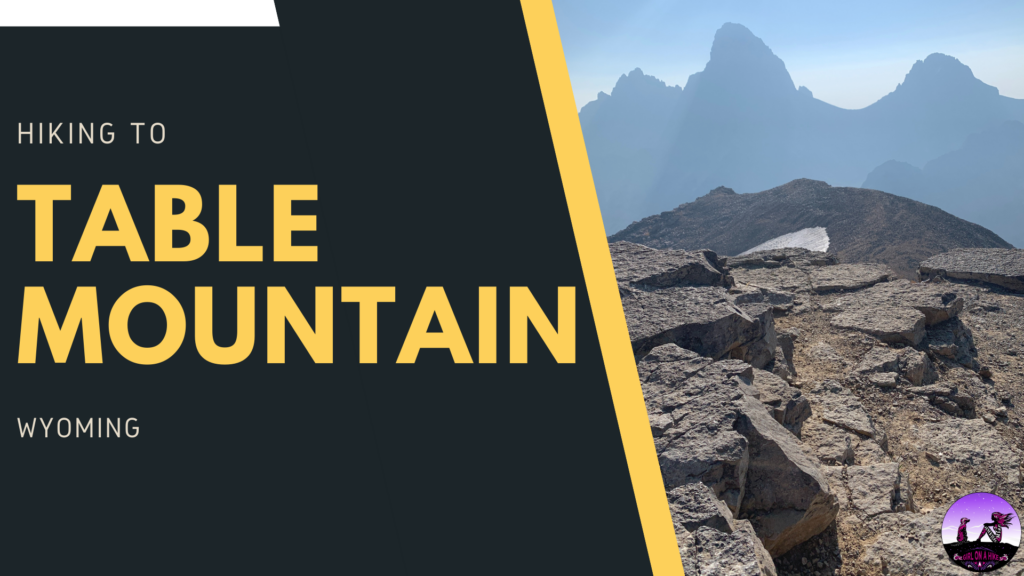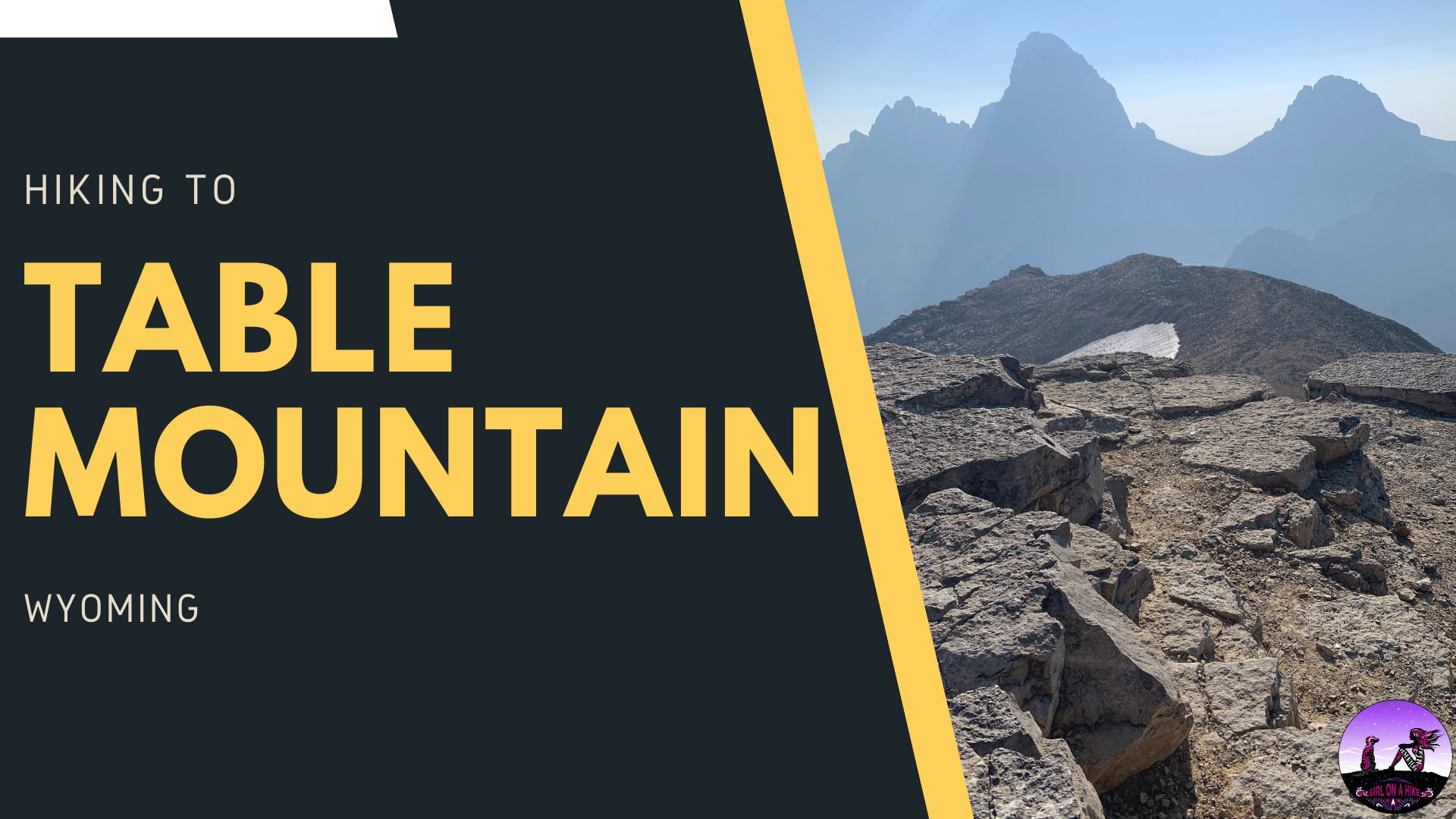 Table Mountain (11,106 ft) is located within the Jedediah-Smith Wilderness of Wyoming, and features amazing views of the lesser-viewed side of the backside of the Tetons. The Grand Teton, South, and Middle Teton are the star of the show here, as they tower over Cascade Canyon.
About
The Route
The best part about this area is that you can turn it into a loop hike. The most popular route is to hike to Table Mountain in a counterclockwise direction – UP the "Face Trail" and DOWN the "North Teton Trail 024". This hike isn't for the weak, however. In just 4 miles one way along the Face, the trail gains 4,300 ft in elevation! Whew, it's a tough one. If your legs weren't in shape before, they will be after this hike. I highly recommend wearing compression socks – your legs will recover way faster. Check out my discount page for a 10% off code for Lily Trotters compression socks.
Timing / Weather
Timing this hike can be a little tricky – go too soon and you'll encounter snow, even in July. Go too late (like me, in early September), and you'll get smoky, hazy views from nearby fires. Your view of Grand Teton won't be quite as grand as it would without smoky skies. Keeping an eye on weather is key as well – afternoon thunderstorms are common in this area, so starting your hike early is wise. I started hiking at 6:30am, but wished I started at 5:30am. By the time we got back to the car around 1pm it was quite hot.
Dogs & Water
Dogs can hike this trail off leash, but be sure to carry enough water for them. You won't cross a stream until roughly mile 7-8. I carried 1 liter of water and 0.5 liter of electrolytes for myself, and Charlie used his small backpack to carry his own 1 liter of water. I also brought along my mini water filter bottle to filter water in case I could only find a spring. I did end up using it to refill my 1 liter bladder, however the stream was running well the last 4 miles of the hike out for Charlie to drink from.
Directions
From Victor, ID head North on HWY 33. Turn right in Driggs, ID for E Little Ave. Drive 6.6 miles through the town of Alta, WY. Then turn right again for Teton Canyon road. Drive to the very end of the dirt road. There are two trailheads – if doing the loop you can park at either one, but make sure you start at the "Face Trail" at the very end of the road by the port-a-potty if doing the loop counterclockwise as described here. I met a couple coming up the North Teton Trail who missed the correct trailhead for the Face Trail.
Here is a driving map.
Trail Info
Distance: 10.5 miles RT (loop)
Elevation gain: 4,300 ft
Time: 6-8 hours
Dog friendly? Yes, off leash
Kid friendly? No
Fees/Permits? None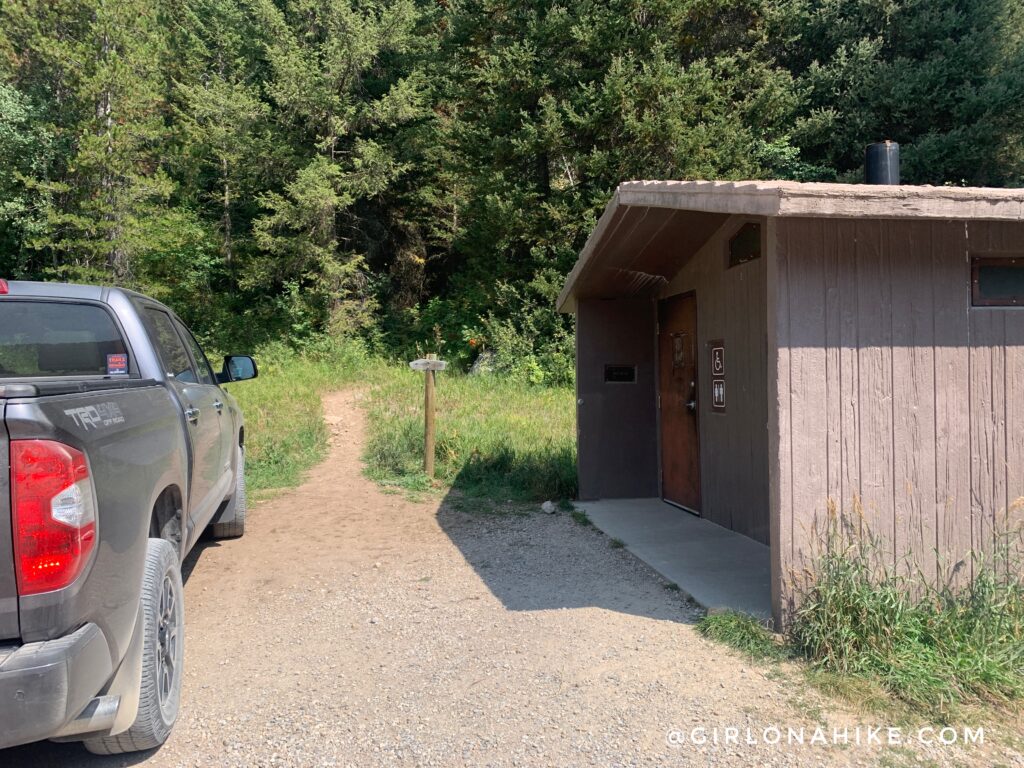 The Face Trail starts at the end of the road next to the restroom. I actually took this photo after I was done hiking since I started in the dark.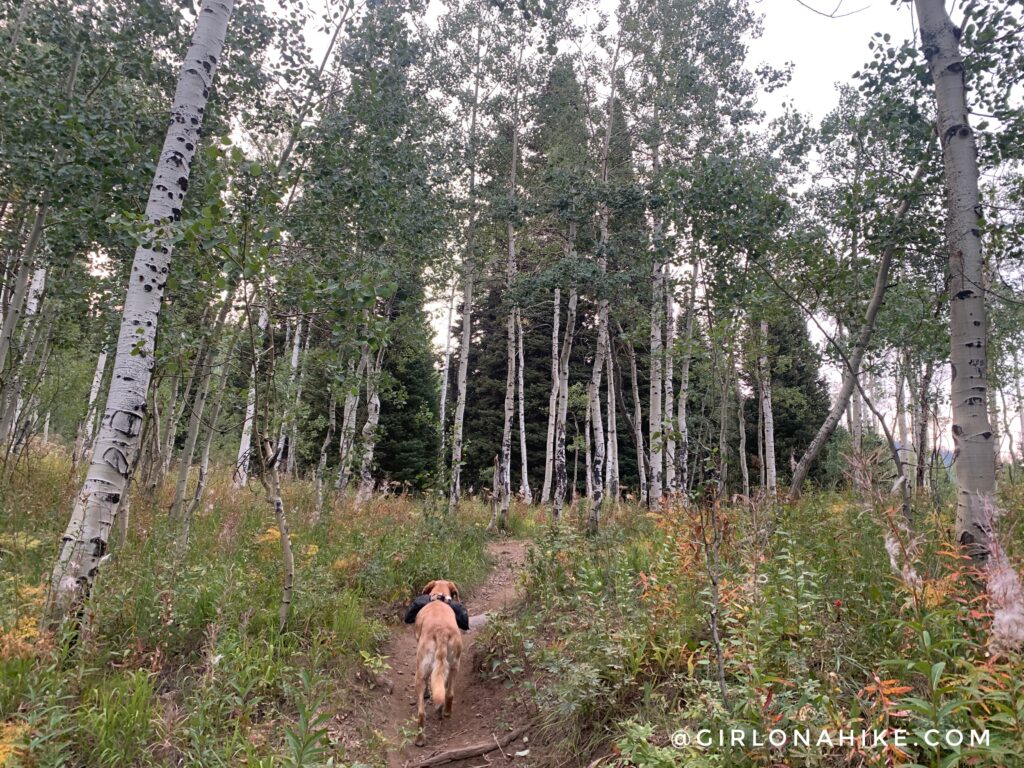 This photo doesn't really show it, but the first mile is the worst out of the entire hike, gaining 1400 ft!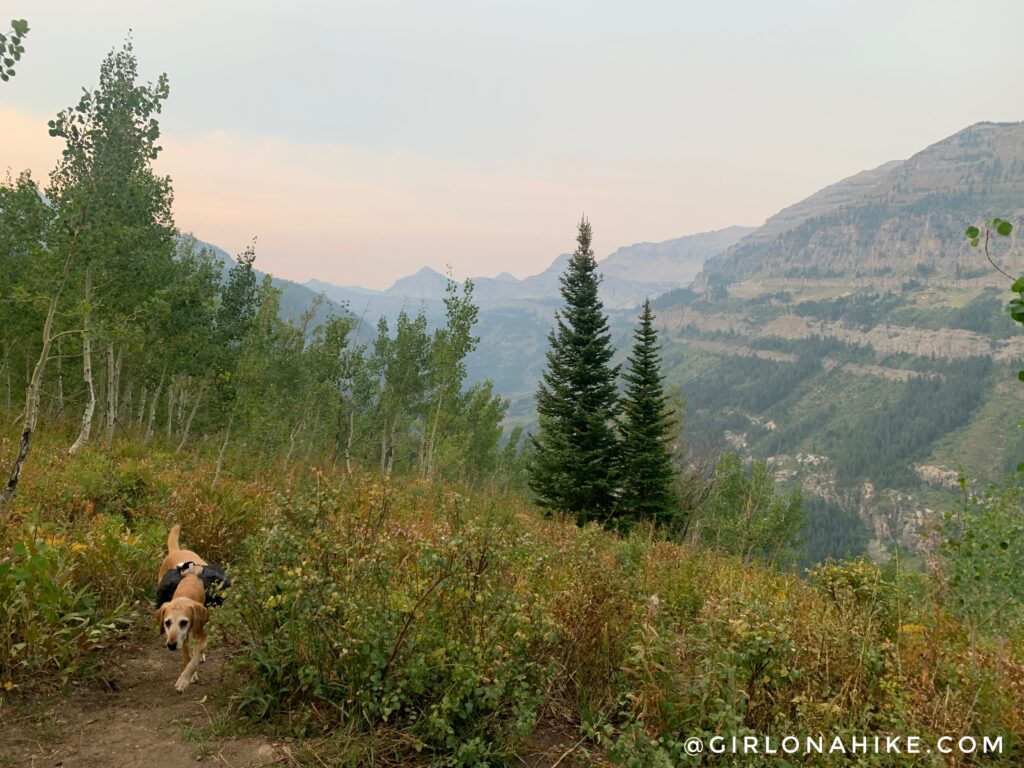 At 0.6 miles there is a small overlook to the right. The sun was starting to come up and I knew I wouldn't have clear views, sadly. From this spot you are looking over to the Alaska Basin area.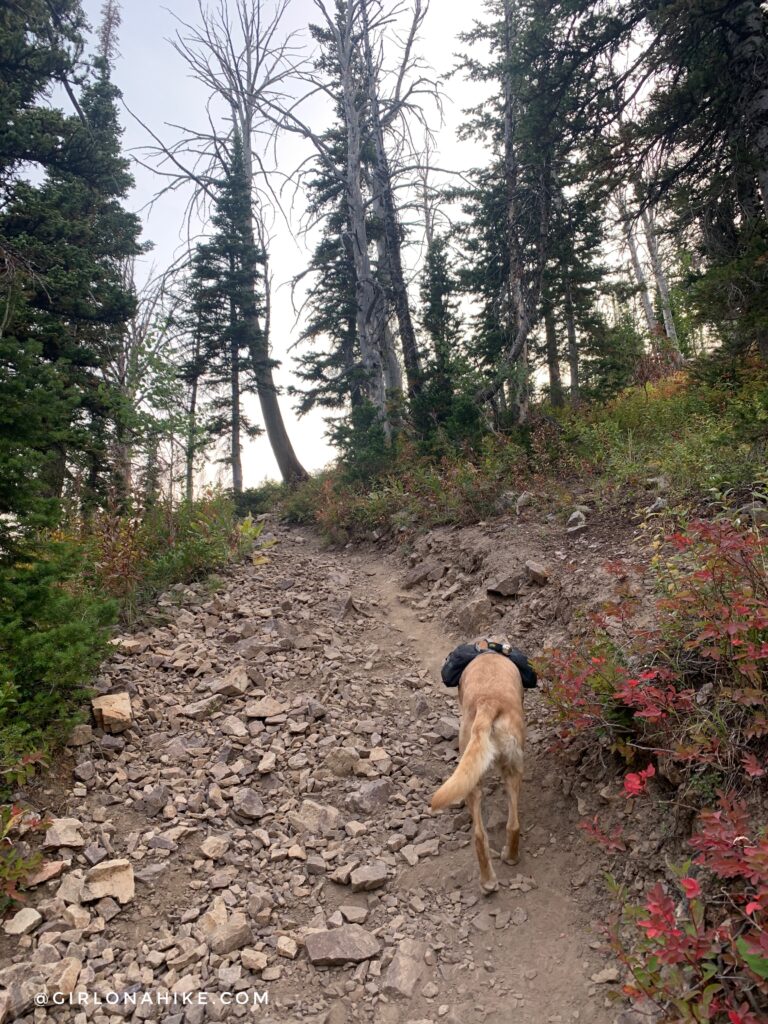 The first mile is very steep, with loose rock.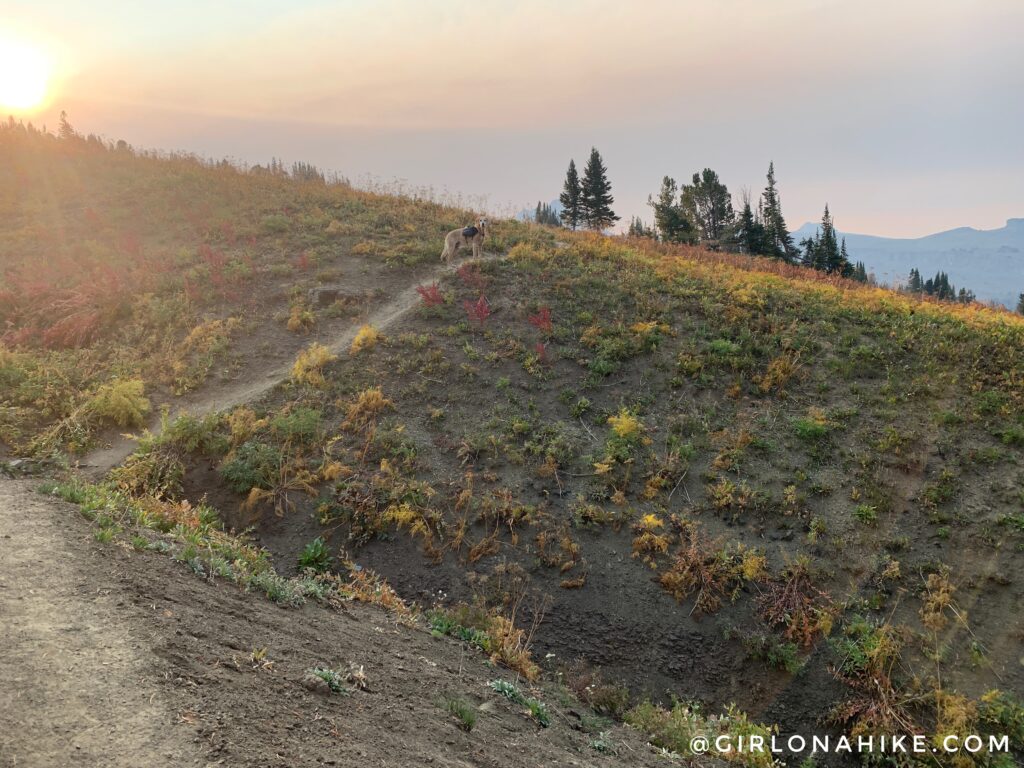 Eventually the trail levels out, or at least feels like. The elevation still steadily increases, however it definitely feels like a relief from mile 1!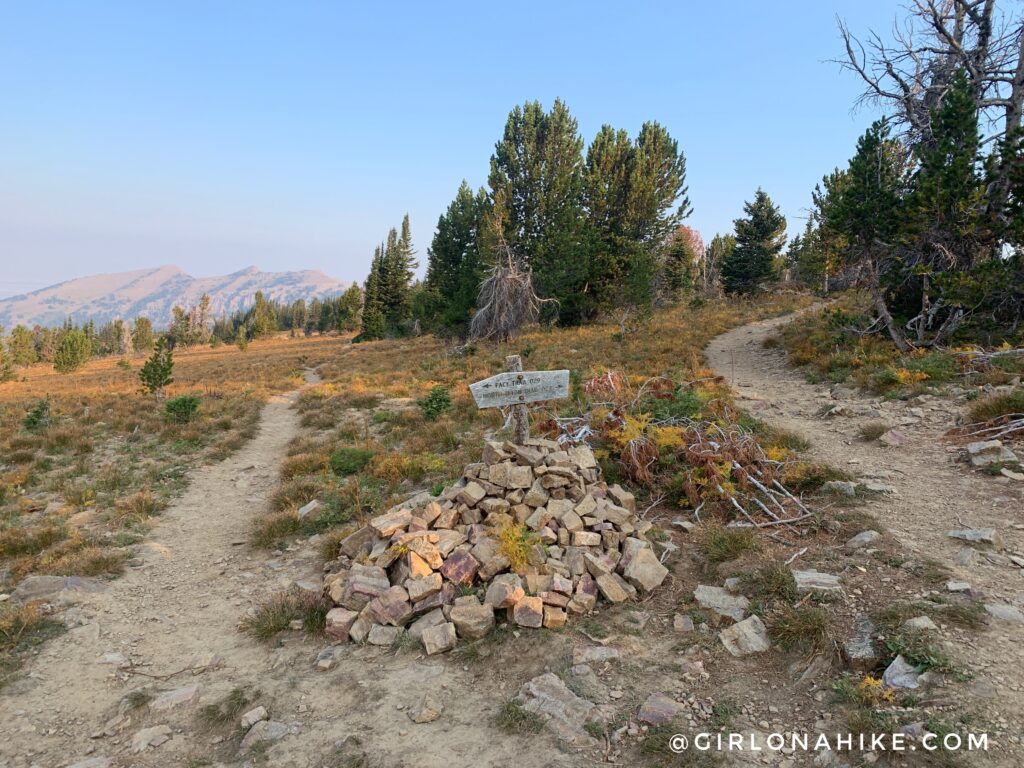 At 2.5 miles you will reach the trail junction (this is looking back at it, you will approach from behind the signs). If doing the loop counterclockwise, this is where you will split off to the right when heading down the North Teton Trail 024. For now, continue straight.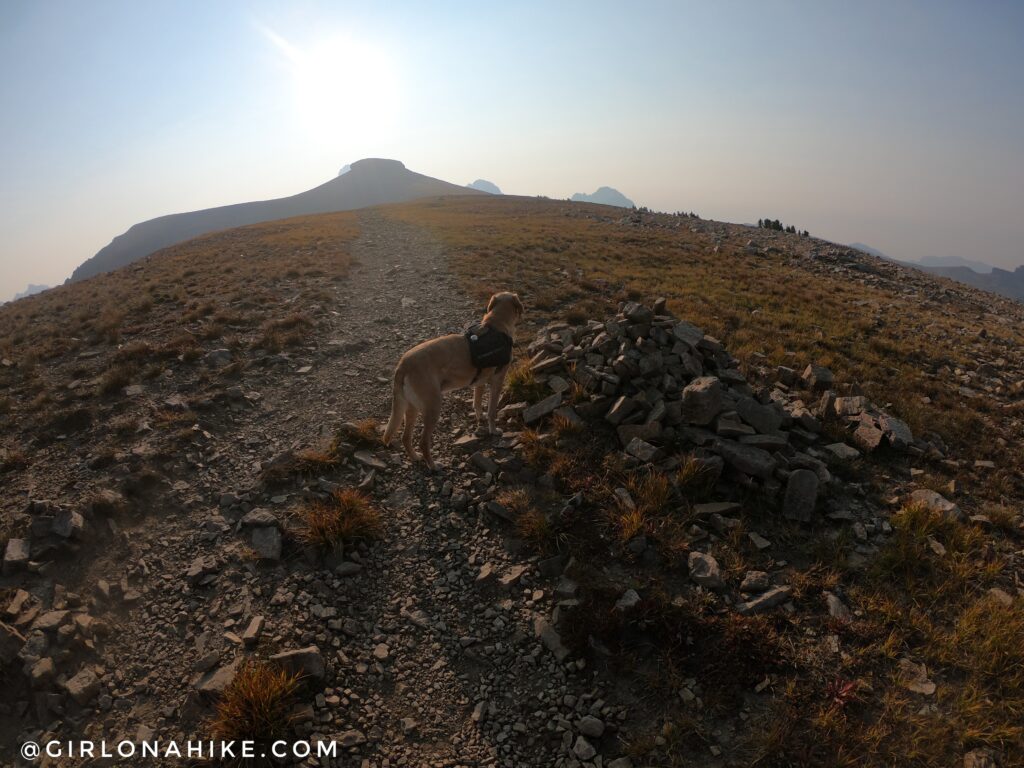 The trail really opens up now and this ridge can be windy. We finally had our first really good view of Table Mountain, just ahead. Giant cairns are spaced along the trail, as it is now also a very wide trail.
The last 1/3 mile is the other hard section. It once again gets very steep with loose rock. Just up ahead, Charlie needed one boost up a rock.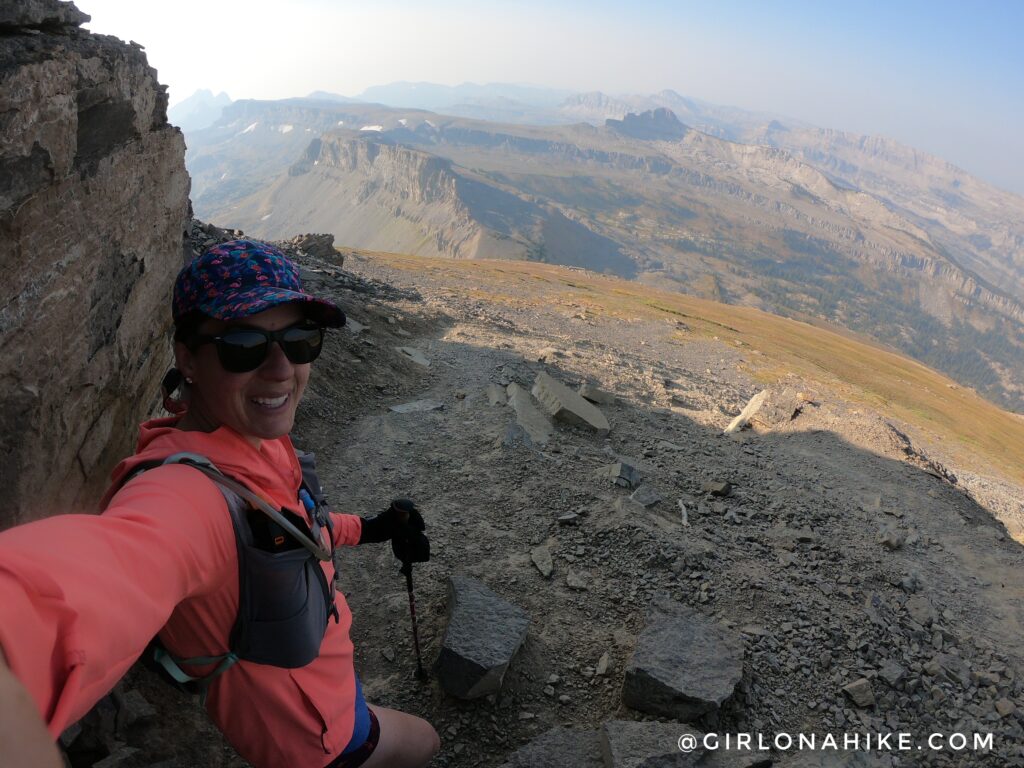 Same spot, but from my point of view. Wow, look at all those peaks out there! It started to get cold here again from the wind, and I had to put my gloves back on.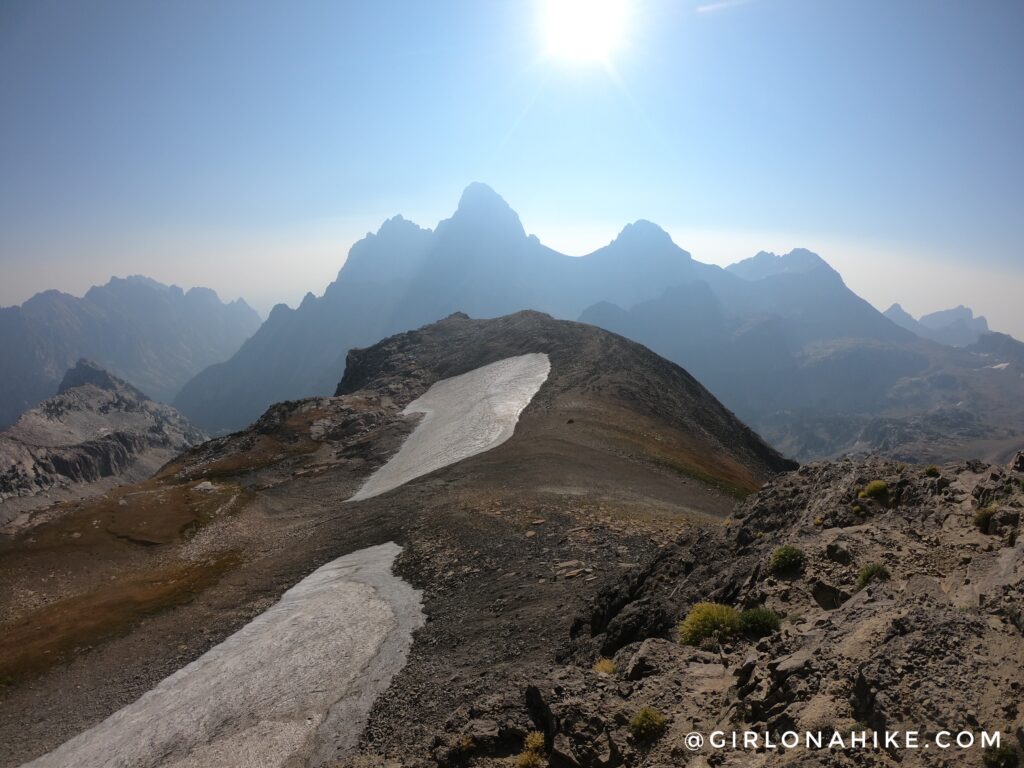 Once you climb up the last small rocky section, BAM! You'll get an amazing view of the Tetons! Wow, they seemed so close! I was pretty bummed about the smoky skies, but what can you do?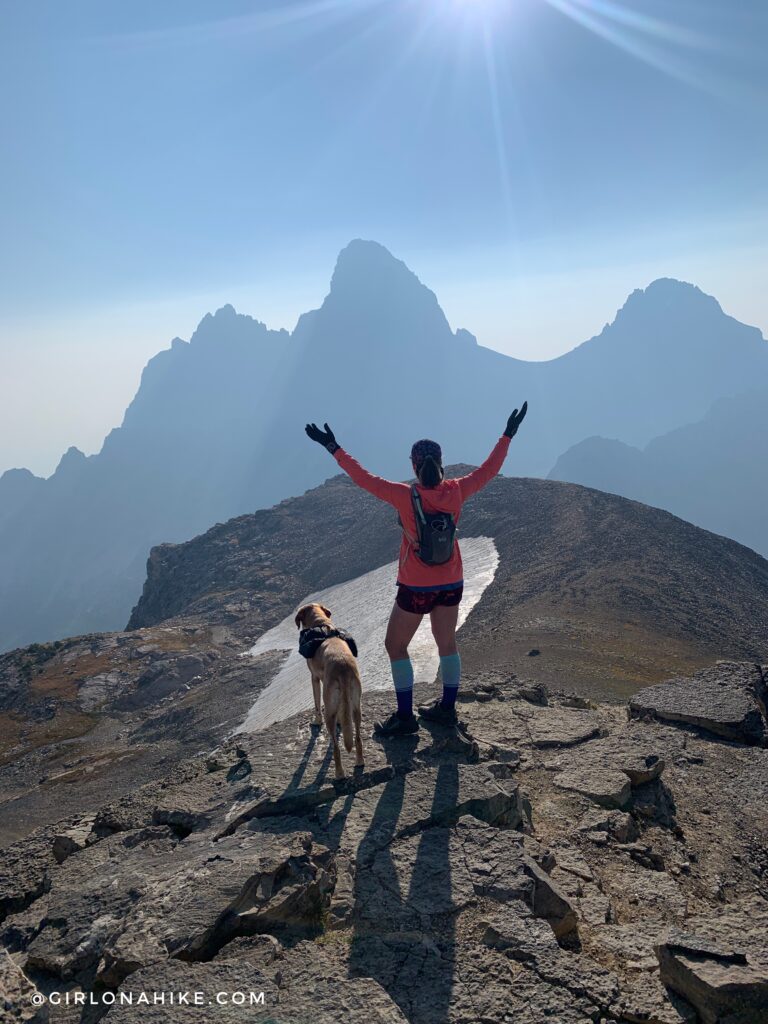 There was one guy who started hiking about 15 minutes ahead of me, and we were both on the summit together so of course I asked him to take some pics!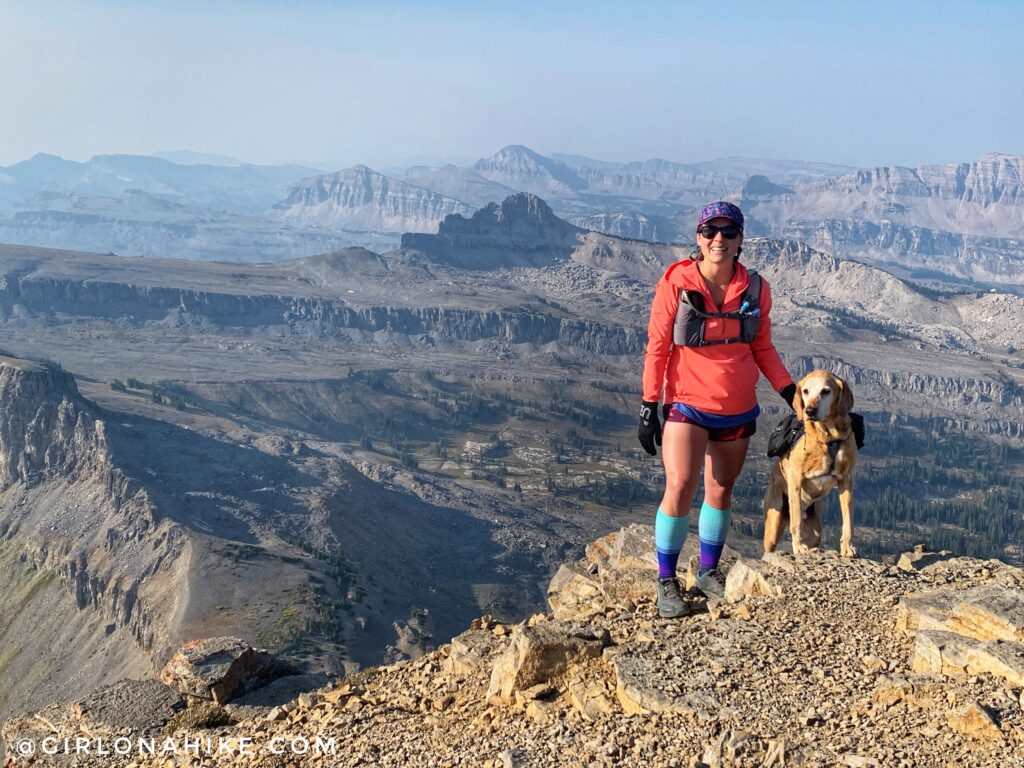 On Table Mountain looking South. The peak to the left of my head is Battleship Mountain.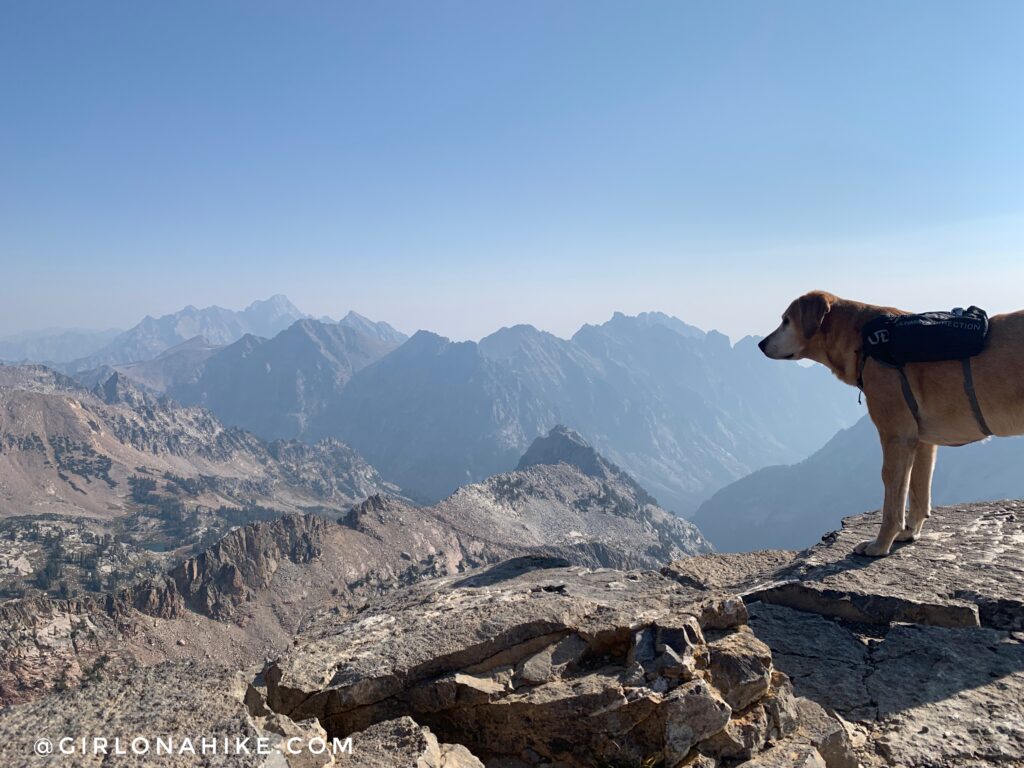 Charlie takes in his views, looking North. Because the views weren't as clear as I had hoped for, we only stayed on the summit for about 20 minutes. Enough time to have a snack, take my shoes off to dry out my feet and prevent blisters, and take some pics. Restart your mileage on the way down.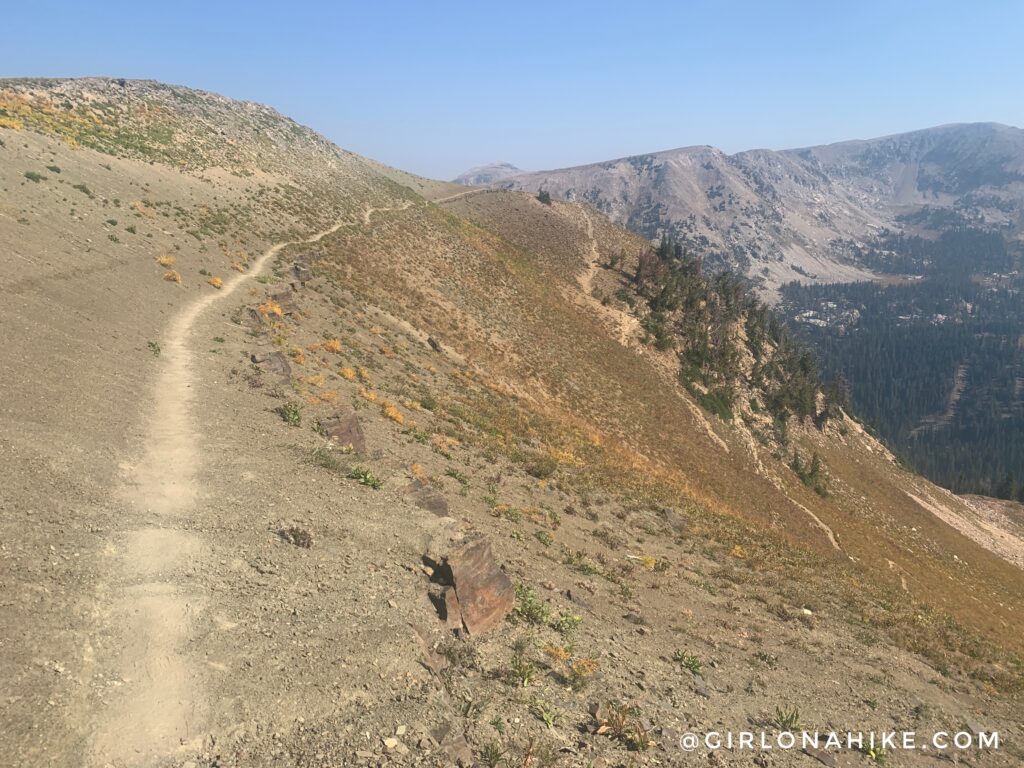 Time to head back down! At the split I again, stayed right. At this point off to the left at mile 1.75 is an erosion sign.
Even from the top of Table Mountain you can see this trail making switchbacks. I knew exactly where I was headed. My plan was to jog down as much of this North Teton Trail as I could, but most of it ended up being either too steep or too rocky for me.
Finally out of the steep switchbacks and a little level ground before dropping further into the canyon.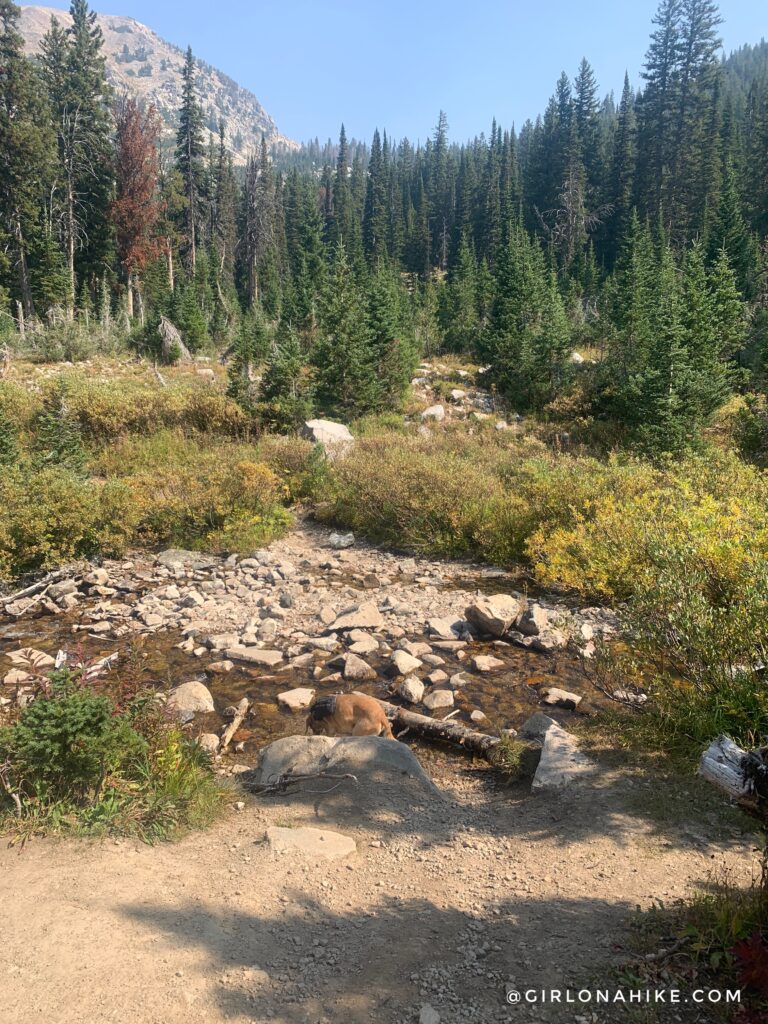 At mile 3.2 cross your first stream, hooray! Charlie was very happy to take a dip, and I filtered fresh water at the very next stream crossing where I found more shade. You'll hike through tall foliage and through several meadows for the next 2-2.5 miles.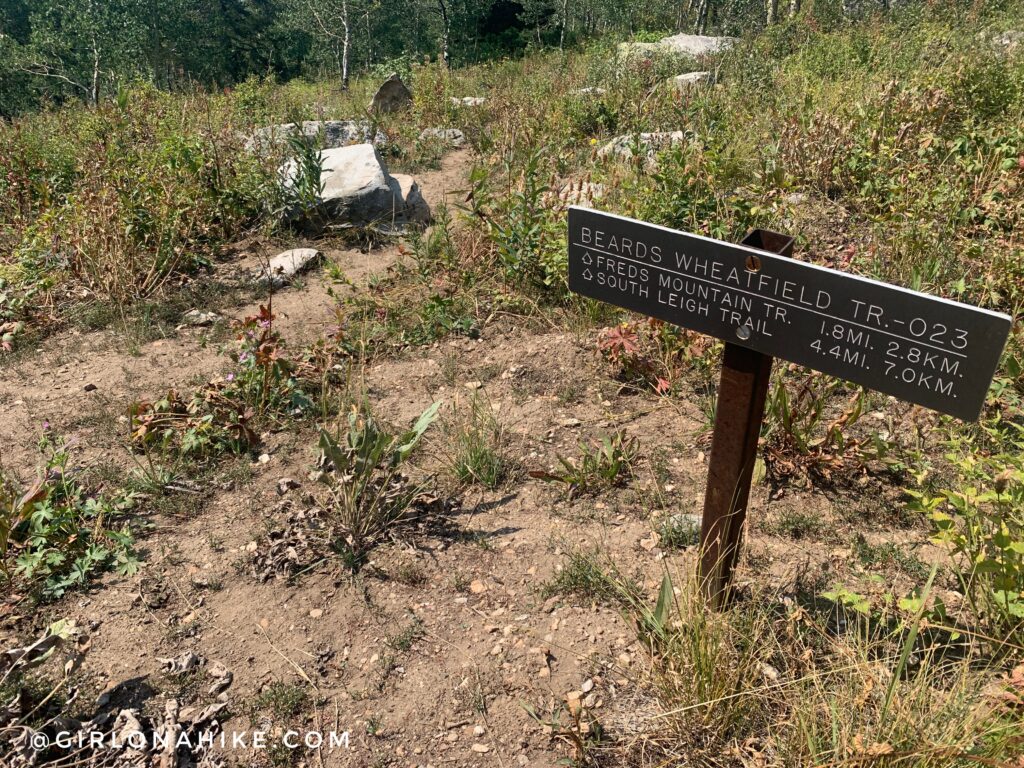 Around mile 5 pass the junction for Beards Wheatfield. Stay straight.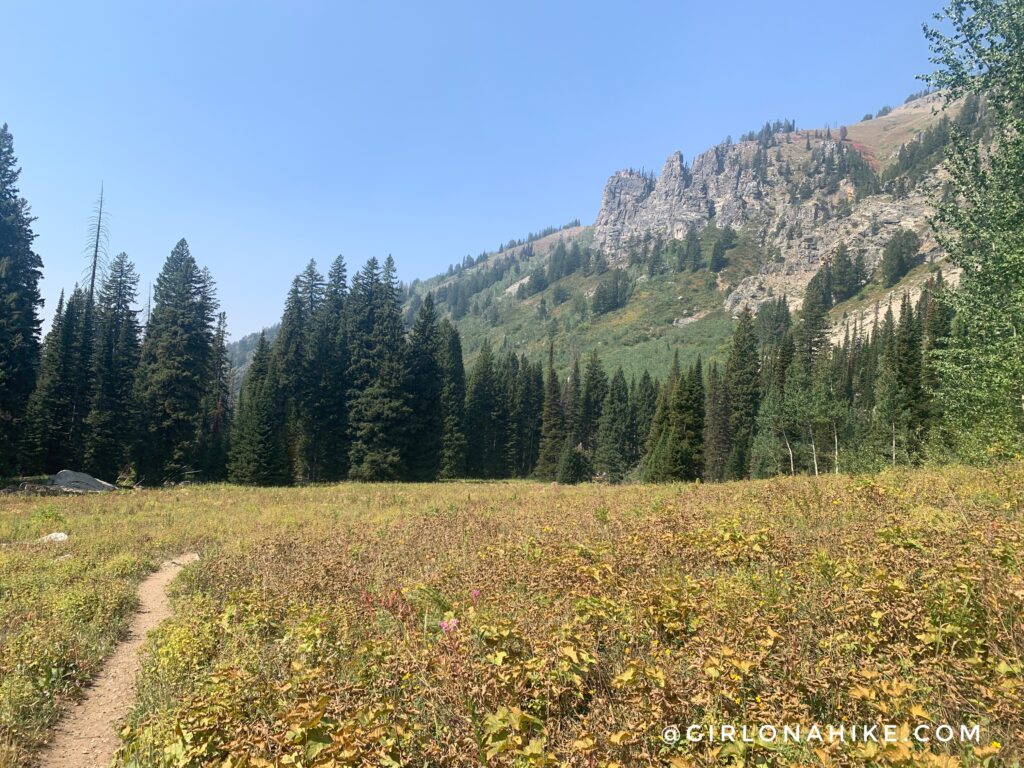 Ok, now it seemed like the meadows never ended and it was getting hot. I was ready to be done. I will say that I think in wildflower season this would be way prettier. With all the dead and dried out leaves it was on the boring side. However, I am still glad I took this route down to save my legs compared to hiking back down the Face trail.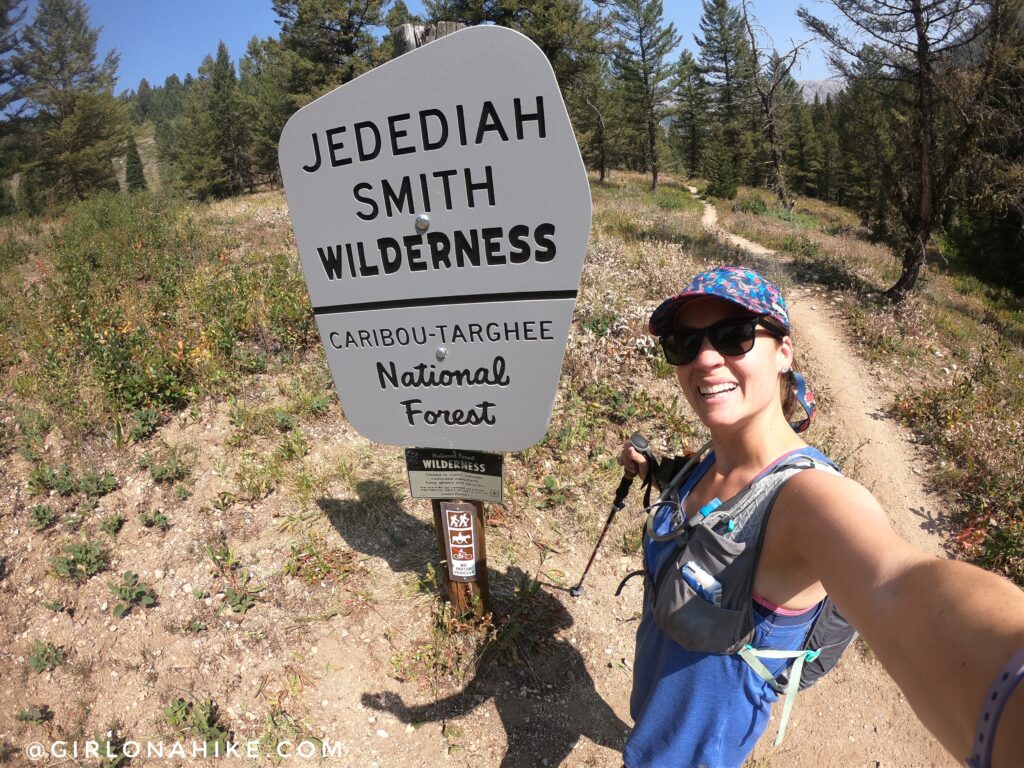 Passing the wilderness sign. Looked brand new!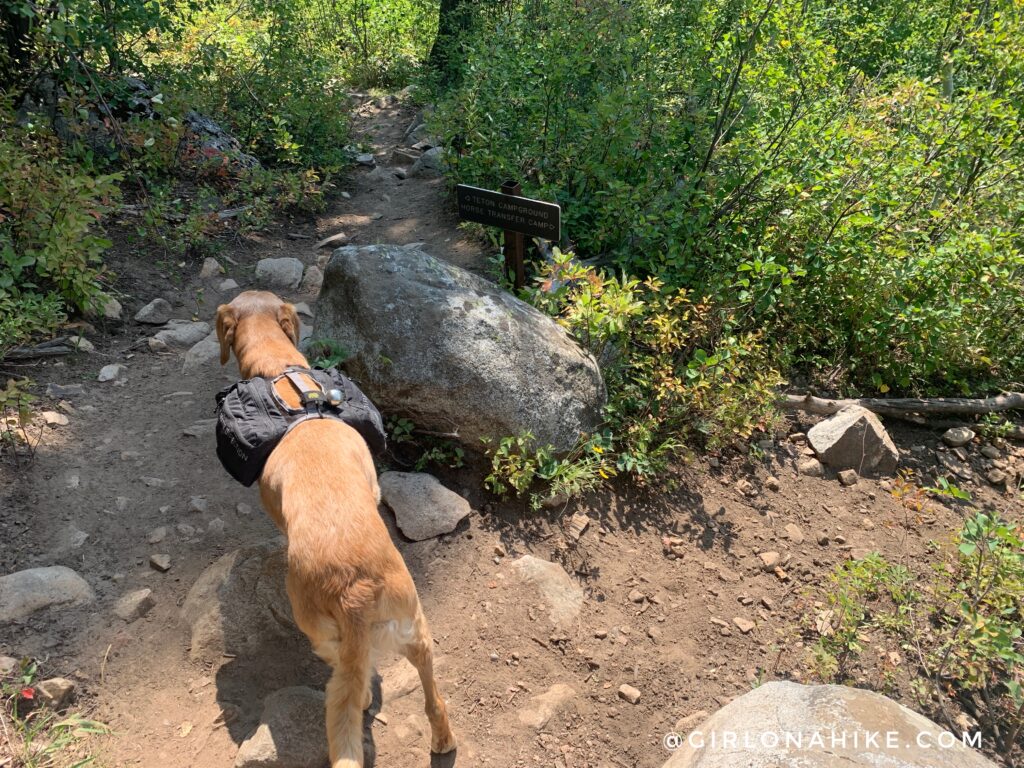 At mile 6.3 you'll reach the last trail split – stay straight again. Going right will take you down to the horse transfer area.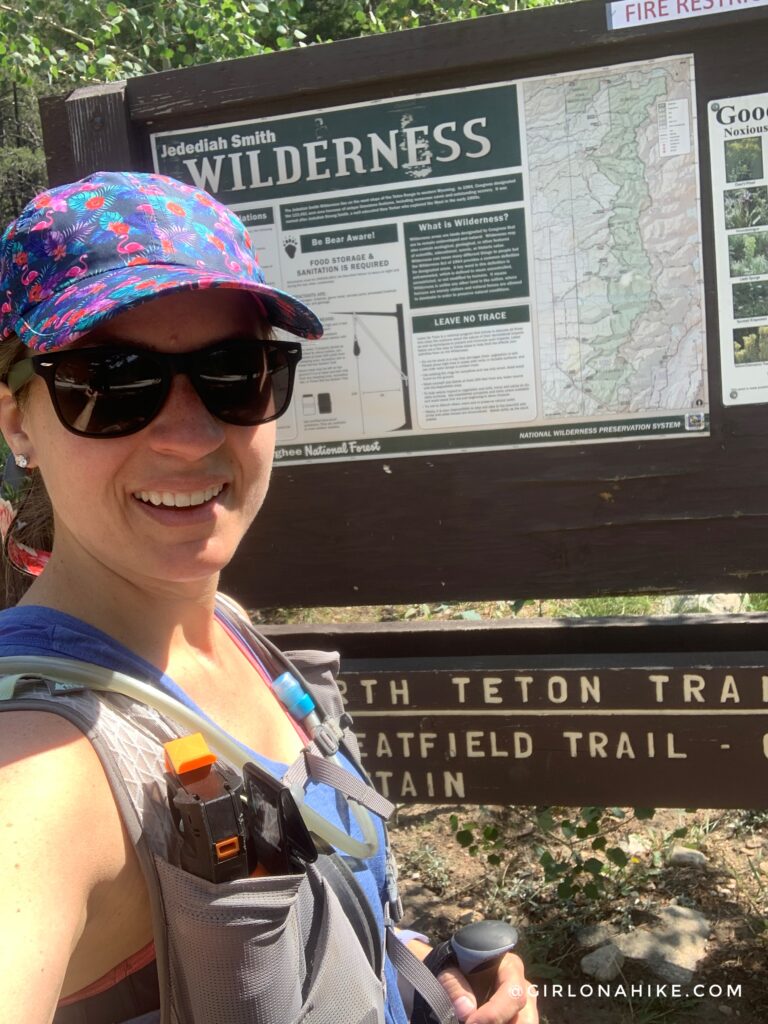 6.5 miles – back at the official TH for the North Teton Trail 024.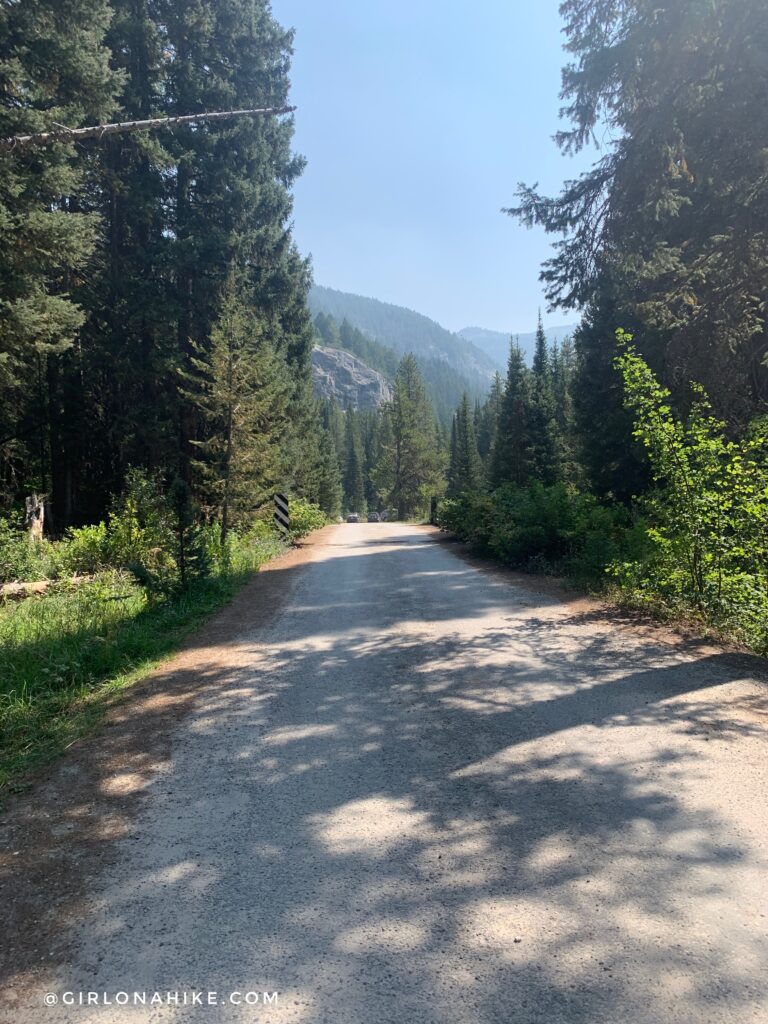 If you parked your car at the Face Trail, you will need to walk a short section of the road back (about 5 minutes or so). Whewww what a day! So ready to be done.
Watch my video!
Trail Map
My track via Gaia GPS – the best tracking app! Get your app here for a discount.
Recommended Gear
Nearby Hike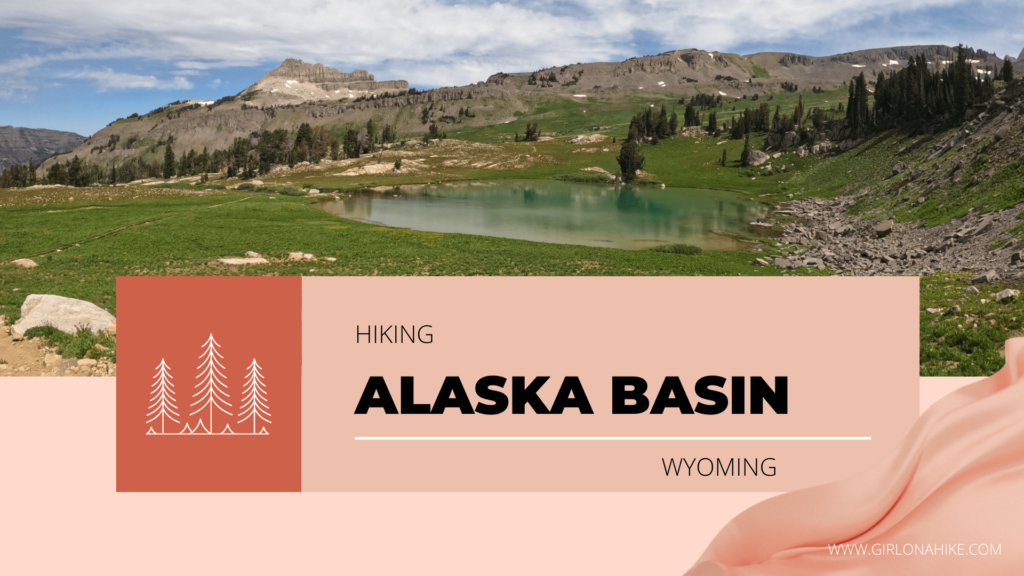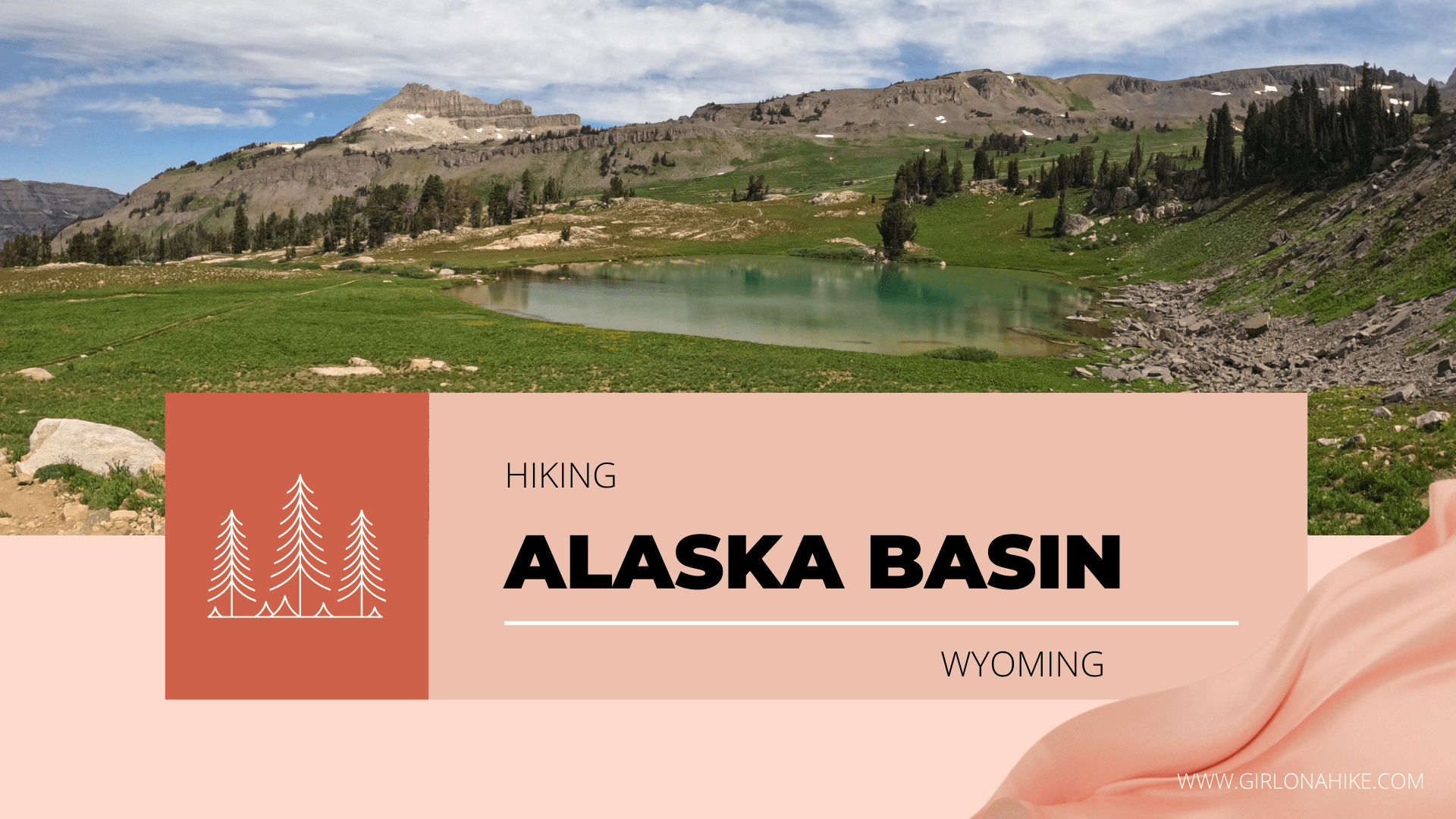 Save me on Pinterest!