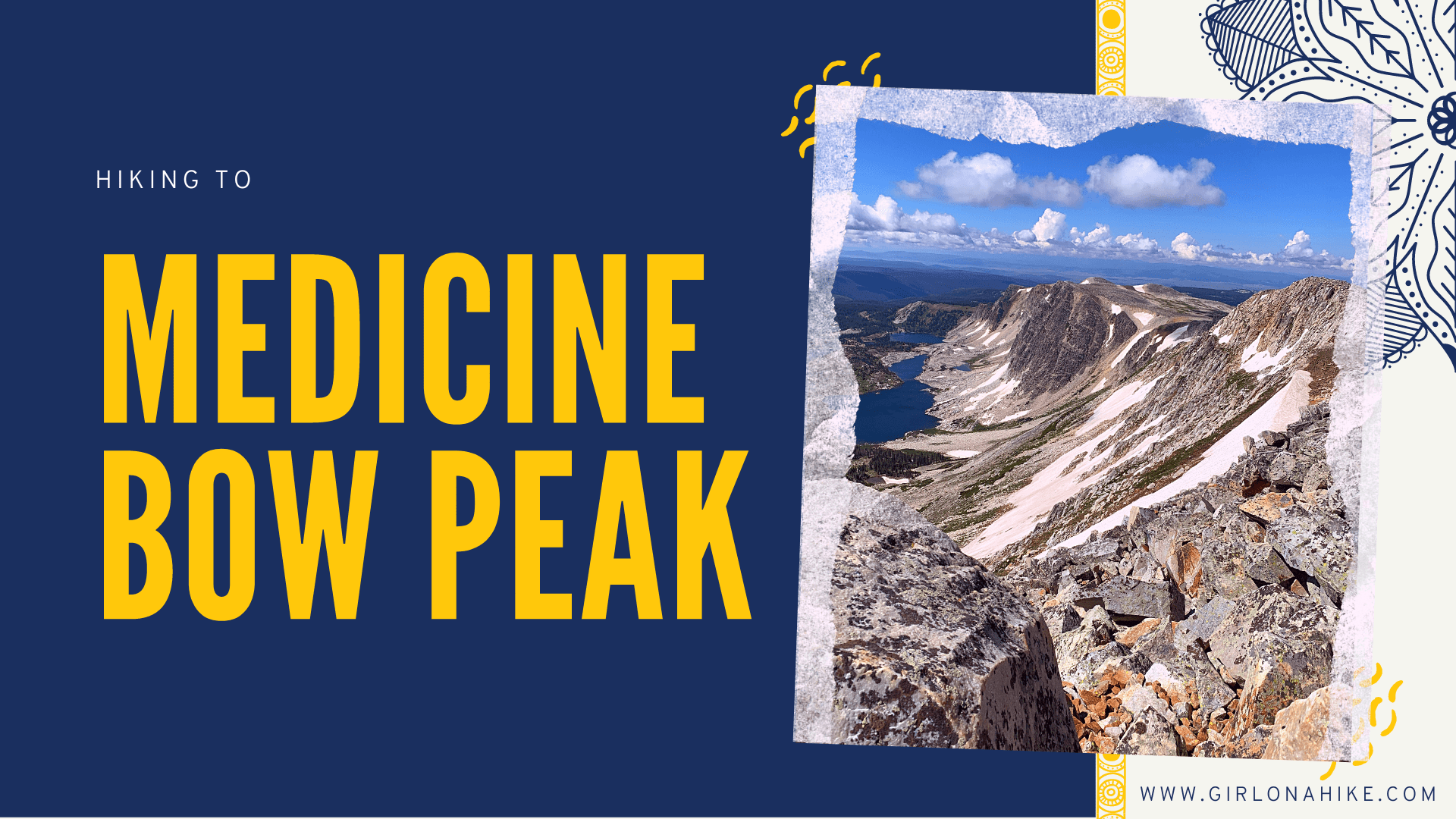 Medicine Bow Peak (12,018 ft) is the highest peak in the Snowy Range in the Medicine Bow Mountains of Wyoming.
About
Medicine Bow Peak is also the highest point in southern Wyoming. It is about 35 miles west of Laramie, WY, and about a 5.5-hour drive East of SLC. This hike is best done as a loop, as you get to experience the full range of what these mountains have to offer. Everything from crystal clear lakes to high alpine meadows, amazing views, and of course, the peak – this route has it all. We hiked this loop clockwise and enjoyed the variety, plus we hiked DOWN the steepest part.
You can also hike this starting from the Gap Lakes TH. This is the shortest route at only 3.4 miles RT, but it is also an out and back and is quite steep.
The one major thing to note is that the drivable Snowy Range Pass does NOT typically open until July 15th. It has opened some low snow years as early as July 4th, but that is generally rare since the Snowy Range peaks at 11,000 & 12,000ft. Plan your trip accordingly!
Dogs are allowed off-leash; however, we encountered many unfriendly dogs, and the owners let us know. You should always have a leash handy in case of wildlife or unfriendly dogs/people. Dogs should be comfortable hiking over very rocky terrain and at high elevations.
Several campgrounds are in the area, and free backcountry camping along dirt roads (4×4 needed). We stayed two nights at the Sugarloaf Campground, which was excellent (and only $10/night)! They do not take reservations, as the entire campground is first come, first serve. We arrived Friday at 7 am, and only three spots were left! By 10 am, the campground was filled up for the weekend so get there as early as possible.
Directions
From the SLC area, head East on I-80 past Rawlins, WY. Turn south on HWY 130, then left, continuing on HWY 130. This will take you up to the Snowy Range, and the trail for the loop option begins at the West Marie Lake Trailhead.
Here is a driving map.
Trail Info
Distance: 7.2-mile loop
Elevation gain: 1,578 ft
Time: 3-5 hours
Dog friendly? Yes, off leash
Kid friendly? Yes, ages 10+
Fees/Permits? None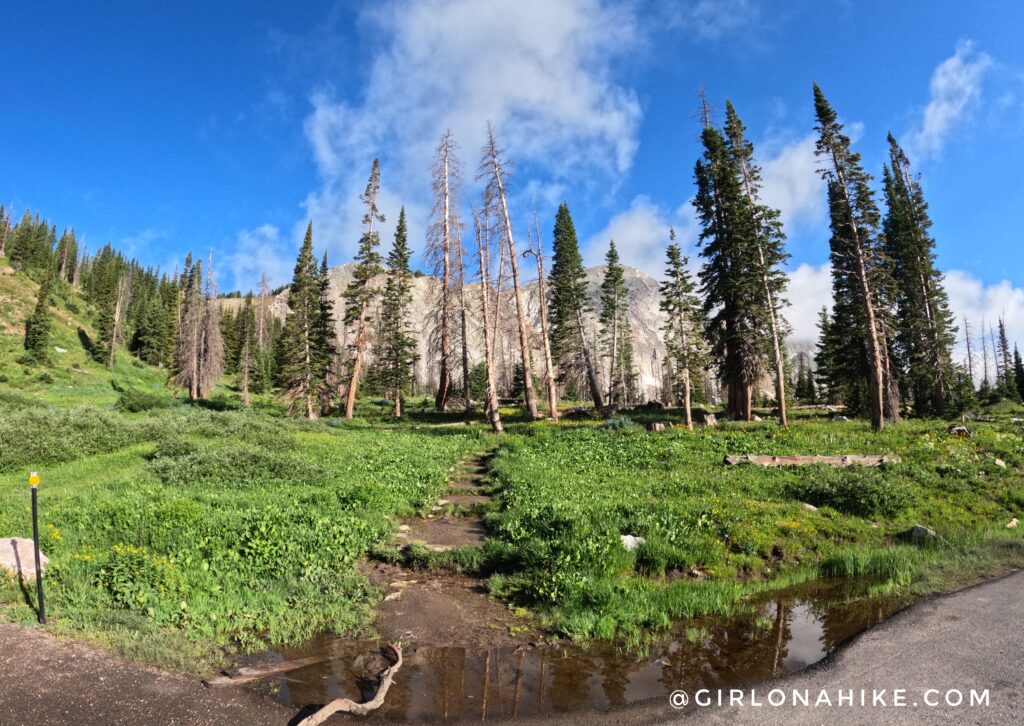 The loop route for Medicine Bow Peak begins at the West Lake Marie Trailhead. The parking lot gets packed on weekends by 8 am! No sign tells you where to start, but it is the NW corner across from the port-a-potty.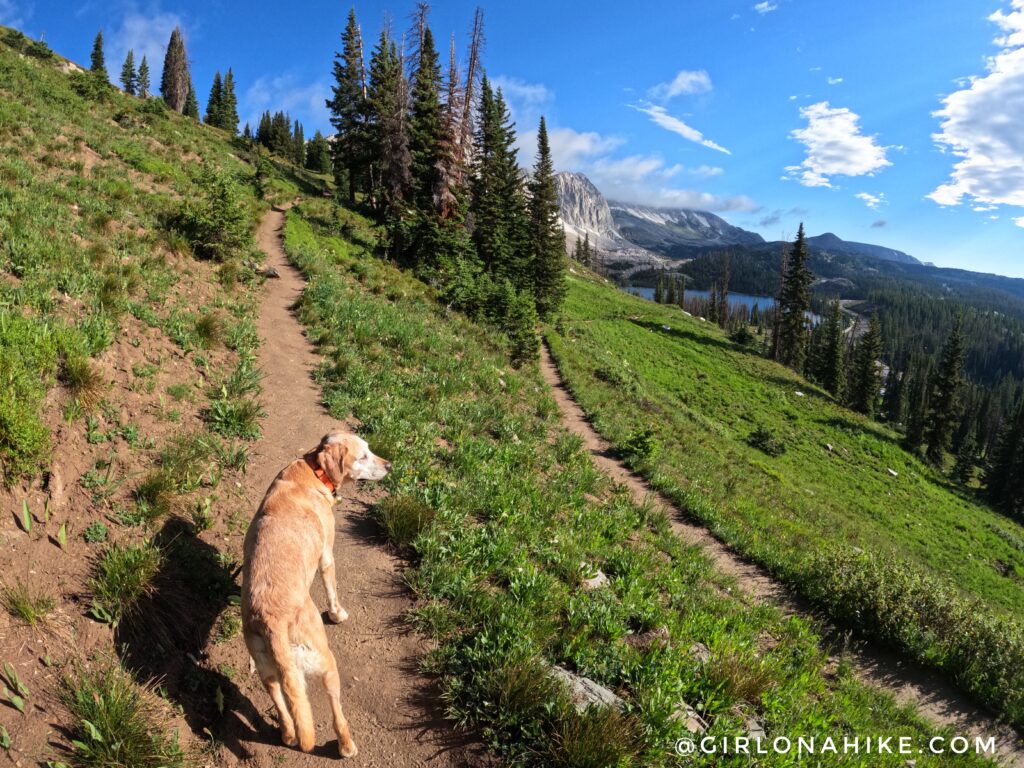 You will gradually hike up a few long switchbacks.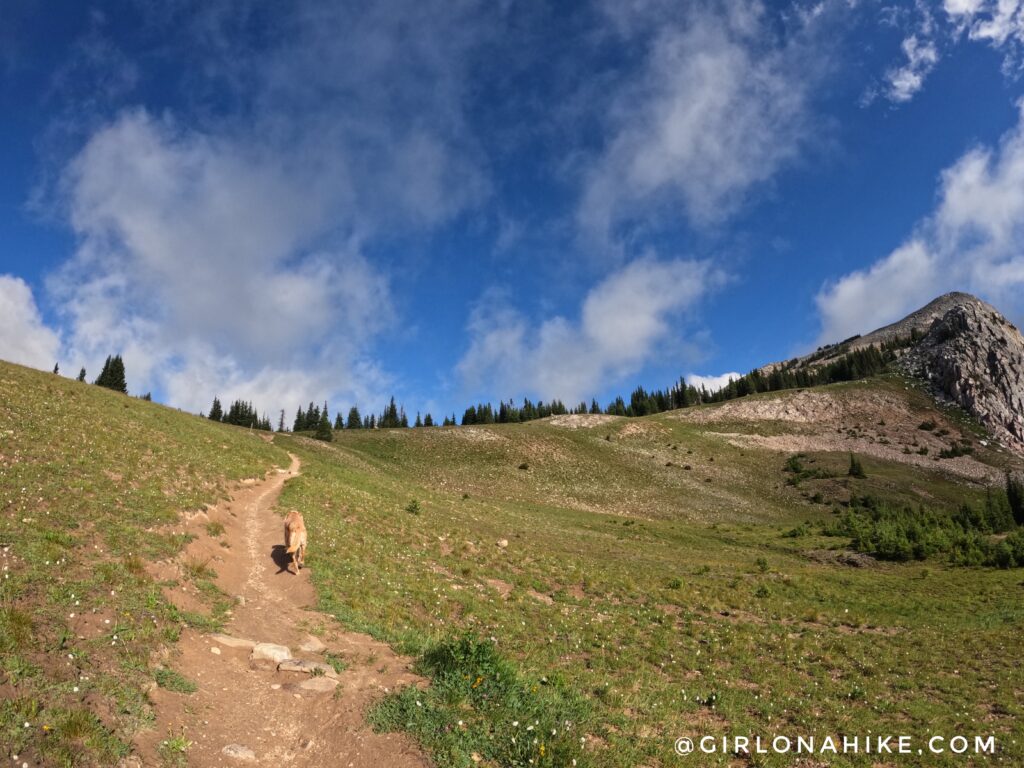 Reach the first small saddle, then turn right.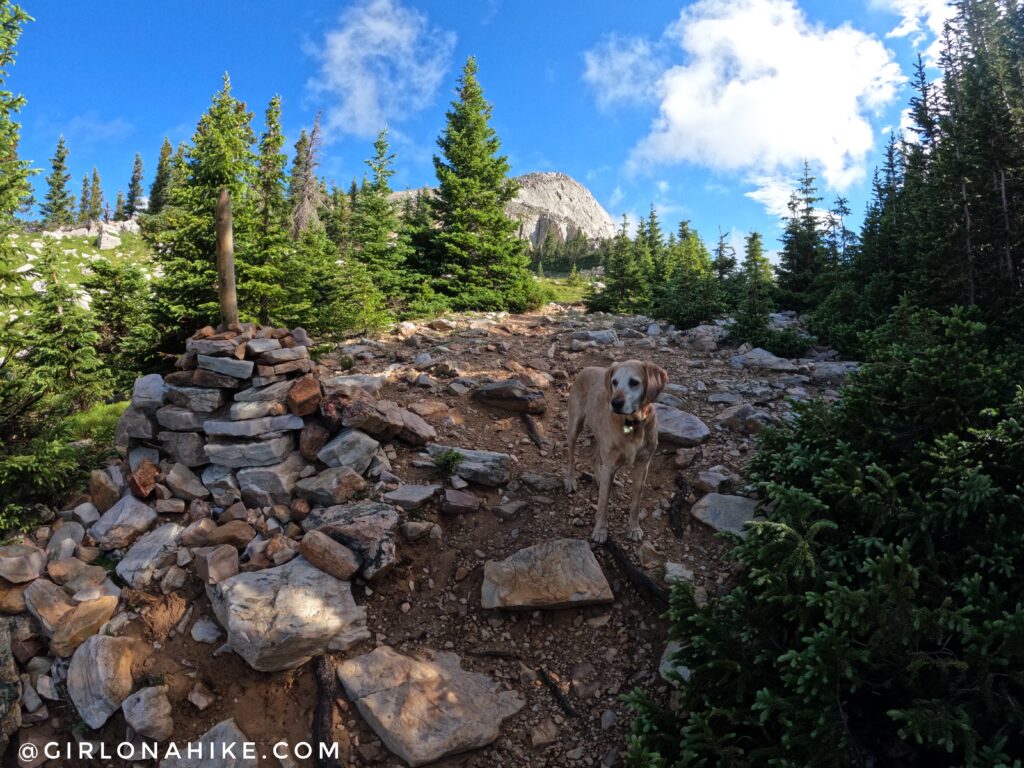 Charlie leads the way along the rocky trail, which is marked by these large cairns with big sticks. While it looks shady here, this trail is 95% exposed. You'll hike through a boulder field next.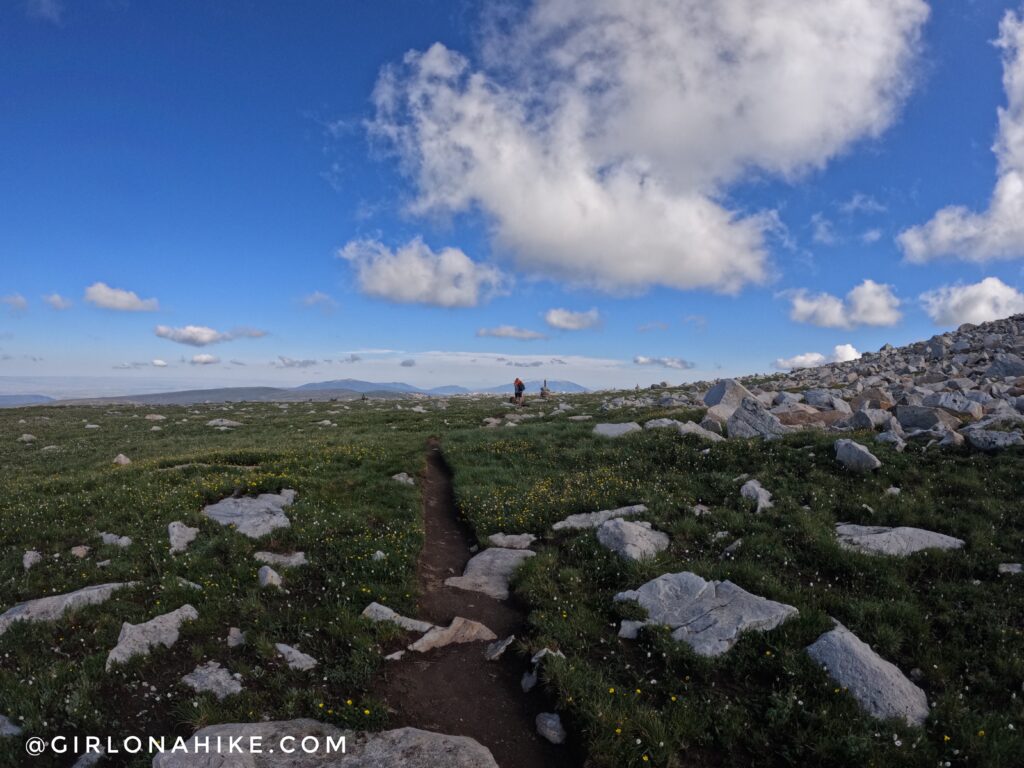 Then, you'll reach the top of what feels like a plateau. The trail is very well marked with the giant cairns. In July, the flowers were also in bloom!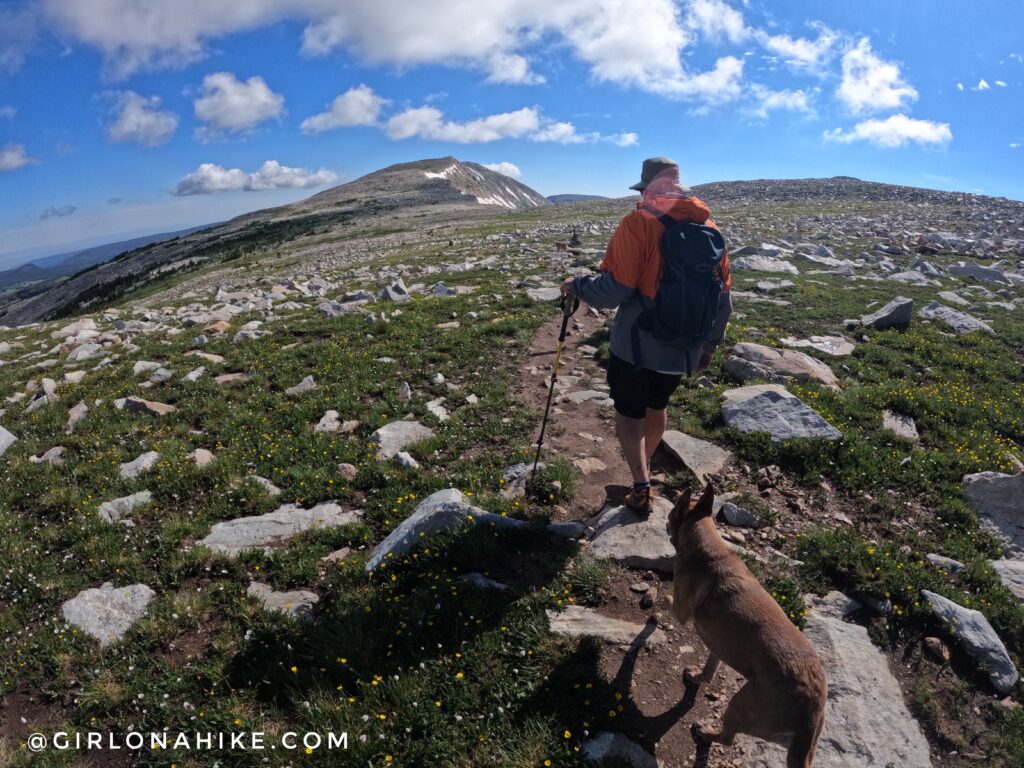 While it was sunny, we both put on our rain jackets because the wind was intense and made it feel colder. Always bring layers to the mountains – you never know what may happen. The previous day when we arrived, it rained on and off probably five times, which is why we both brought our jackets.
From here, you still can't quite see Medicine Bow Peak. You'll hike through another boulder field with a sign that says cabin, but nothing is there.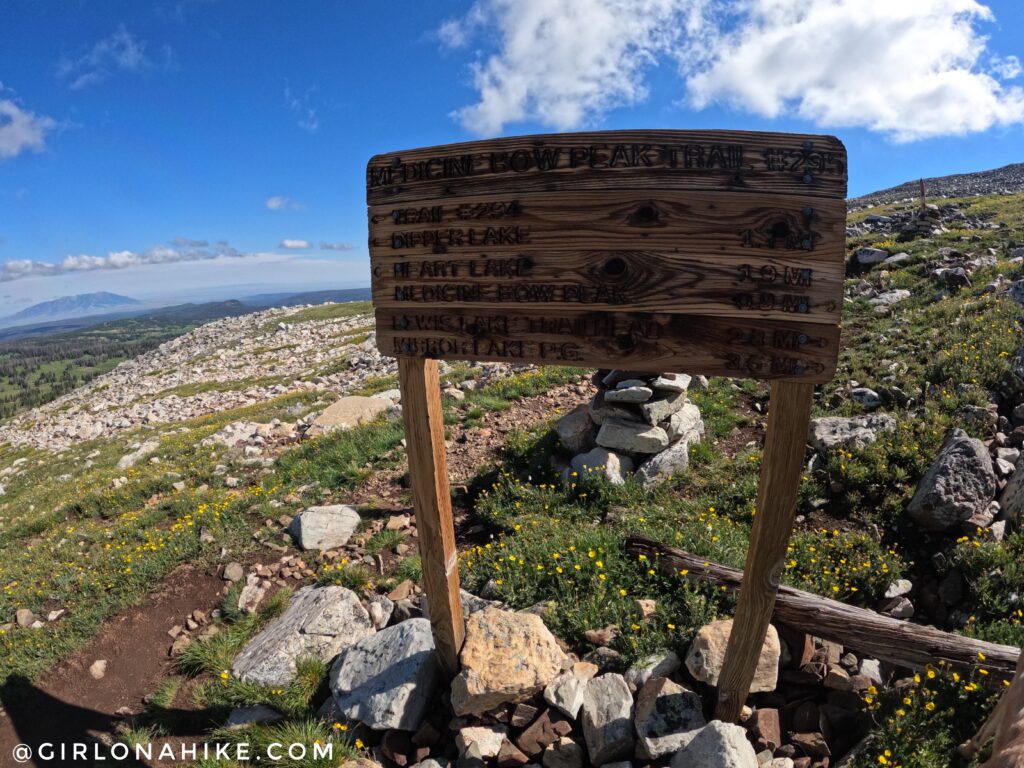 At mile 2.7, you will reach the first trail split. Going left will take you to the lakes, so turn right uphill.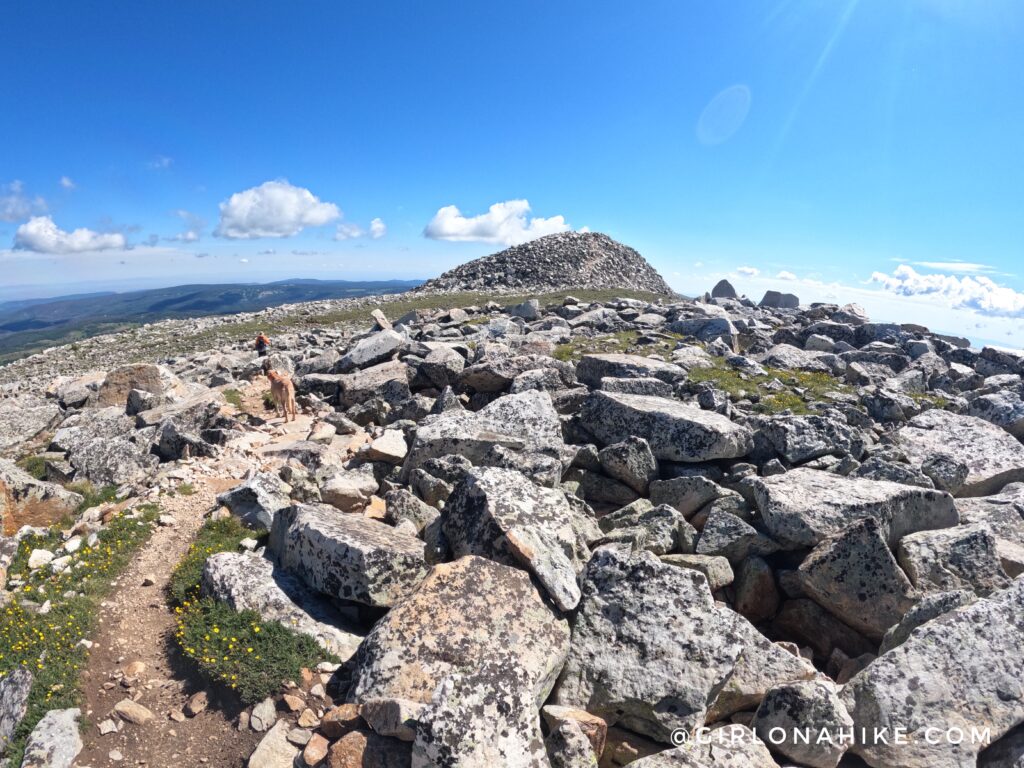 After a little more climbing, you will once again feel like you are in a flat area – but now you can see Medicine Bow Peak! Whoohoo!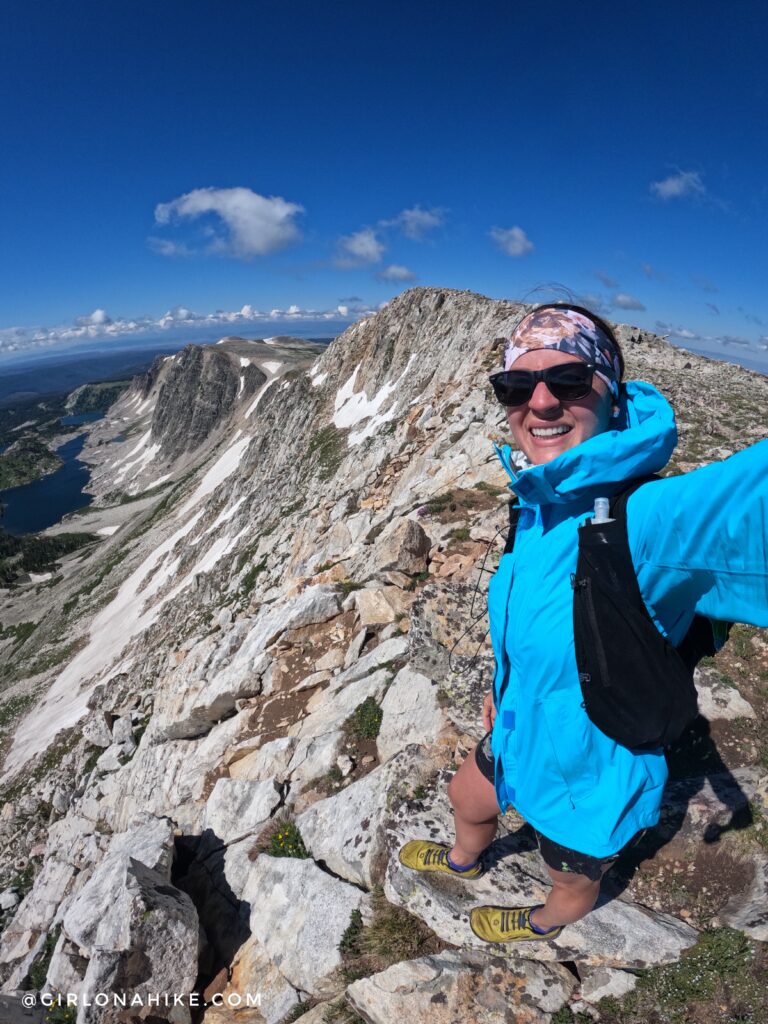 I couldn't help but stop at the saddle before the peak to…take a peak! Wow, what a gorgeous day. I wear the Jack Wolfskin rain jacket/shell, which you can get here on Amazon.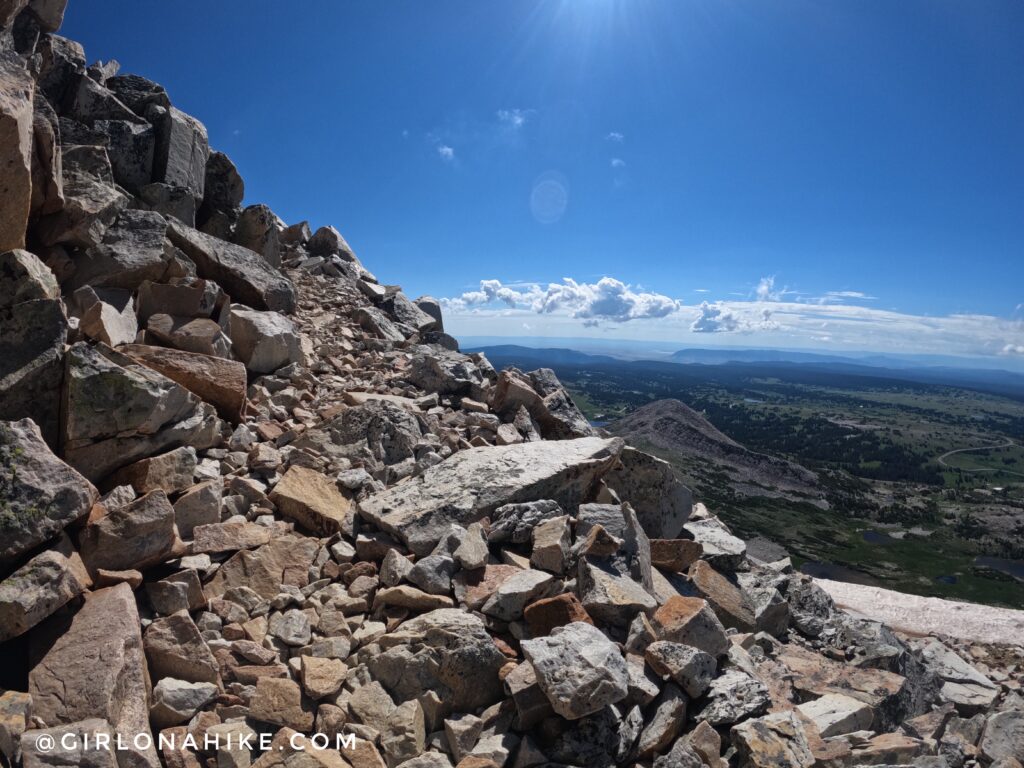 Last little push to the summit.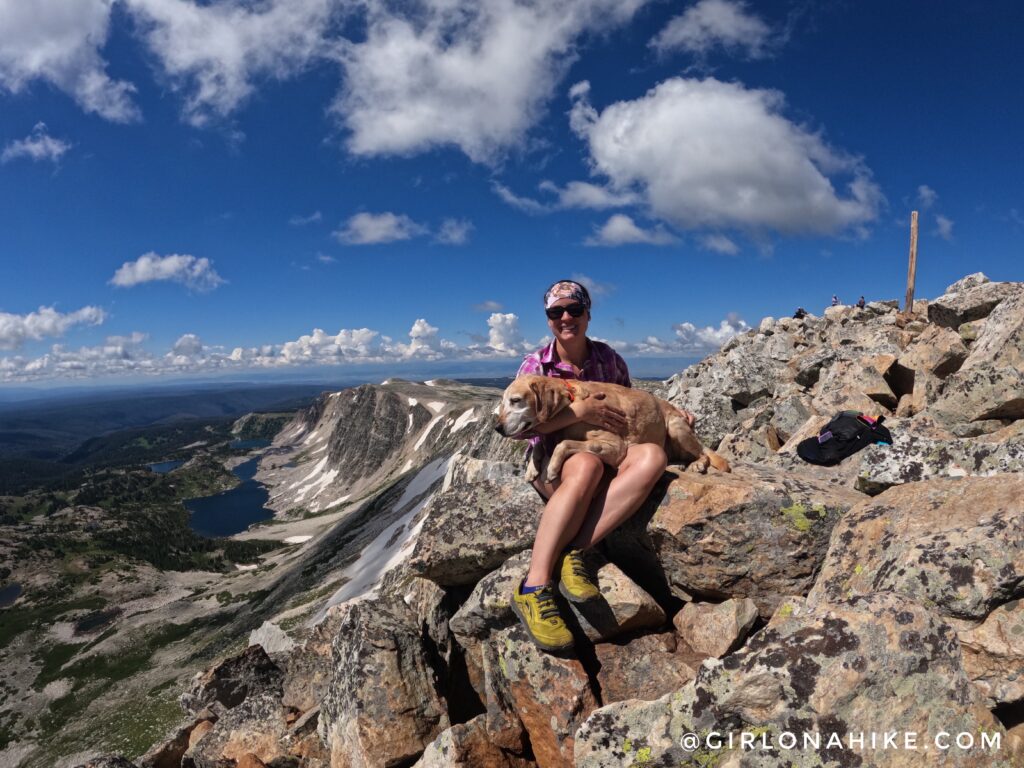 And we made it! I was SO proud of my old man Charlie for making this trek (he is ten years old here). His peak days are slowly going away, so I was thrilled he did this one with me.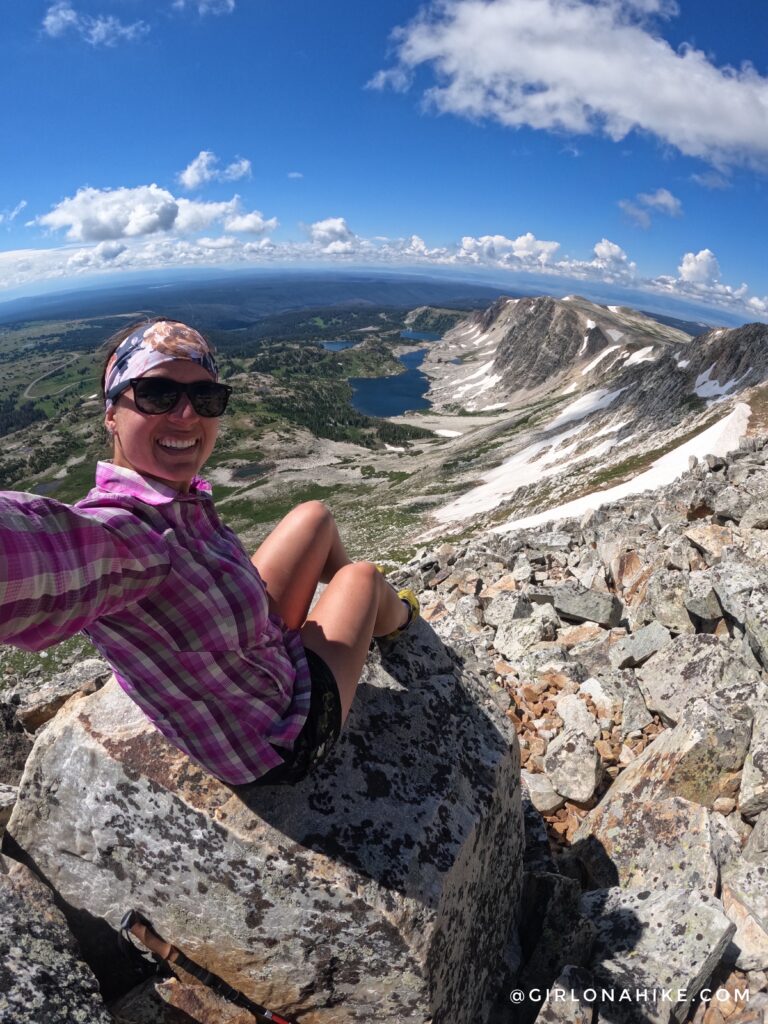 I mean…c'mon! These views were just amazing.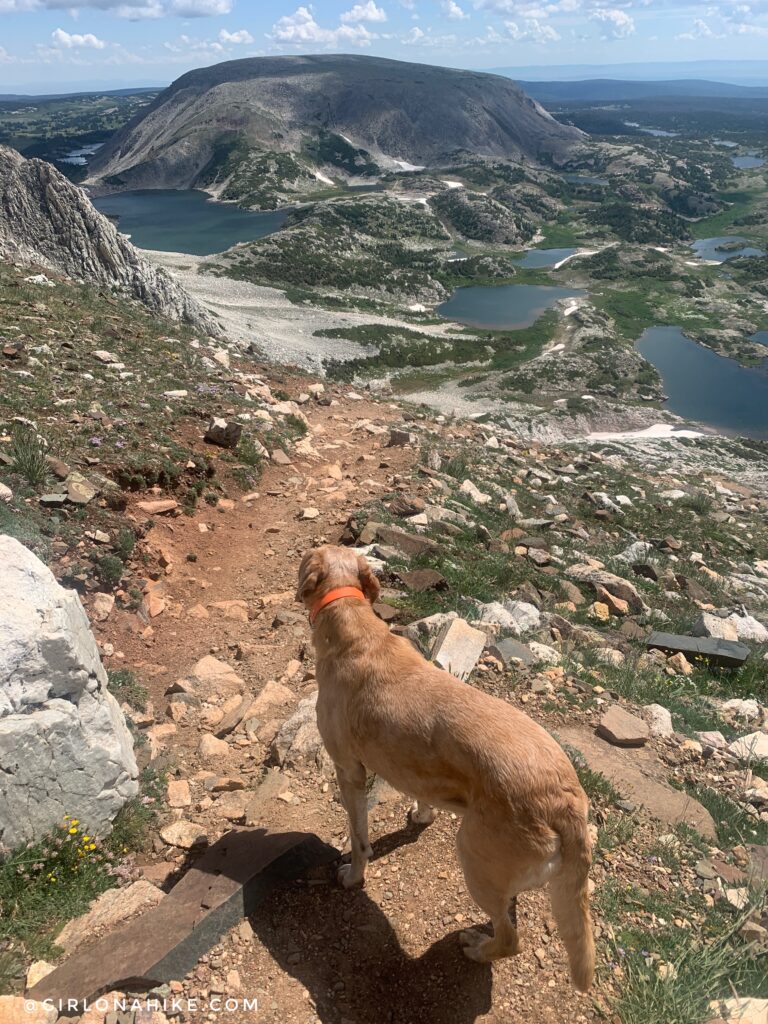 Now it's time to start making a loop by dropping down the steep rocky section to the pass where the Gap Lakes TH intersects.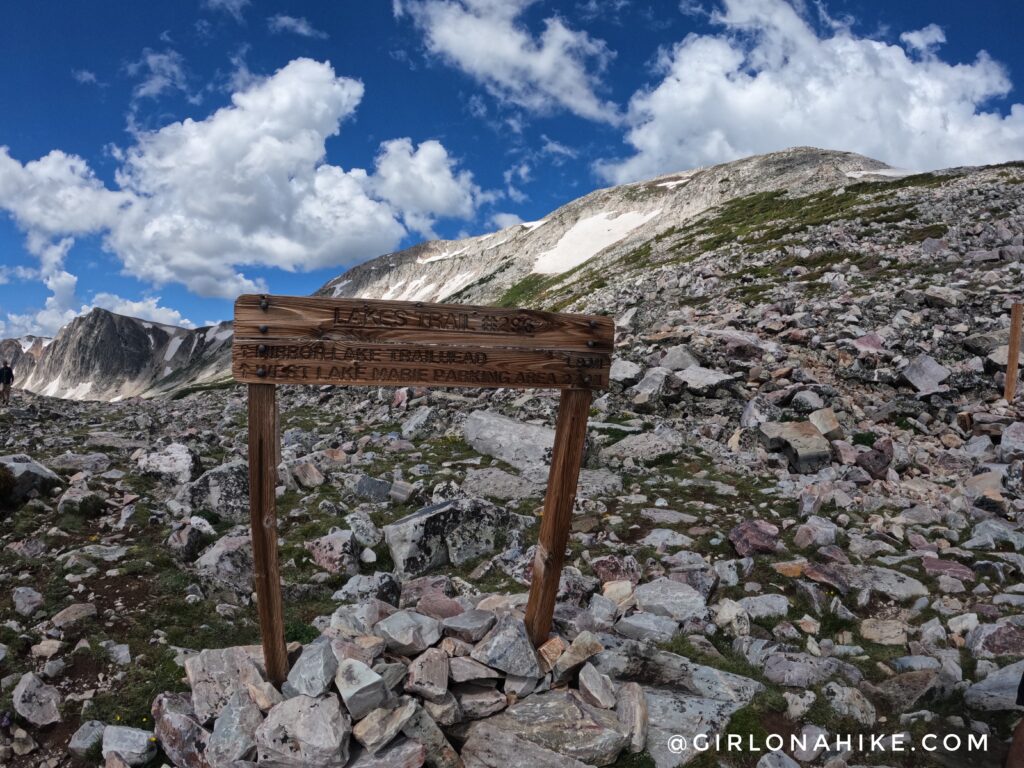 After what felt like a long down-climb, we reached the next saddle with the sign. If you were to do this as an out and back from the Gap Lakes TH, this is where you would meet the main trail and then hike UP the steep section to Medicine Bow Peak.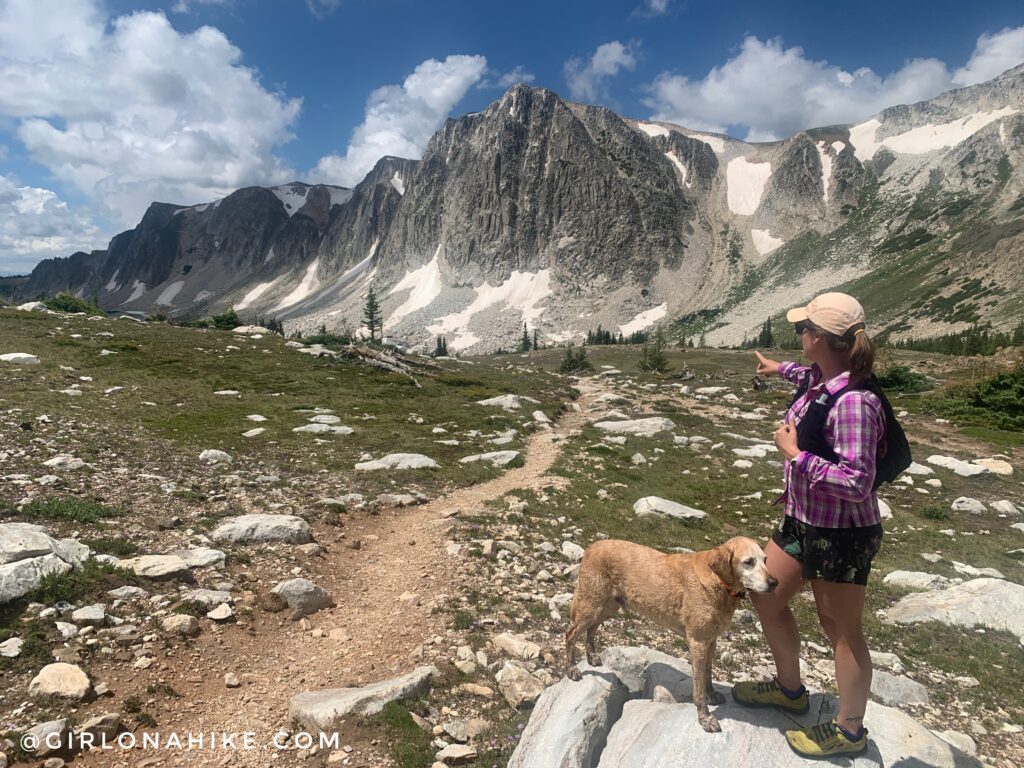 Every turn, we just kept saying, "WOW!" On our way back, we stopped at a few lakes so Charlie could swim and drink more water. He loved it!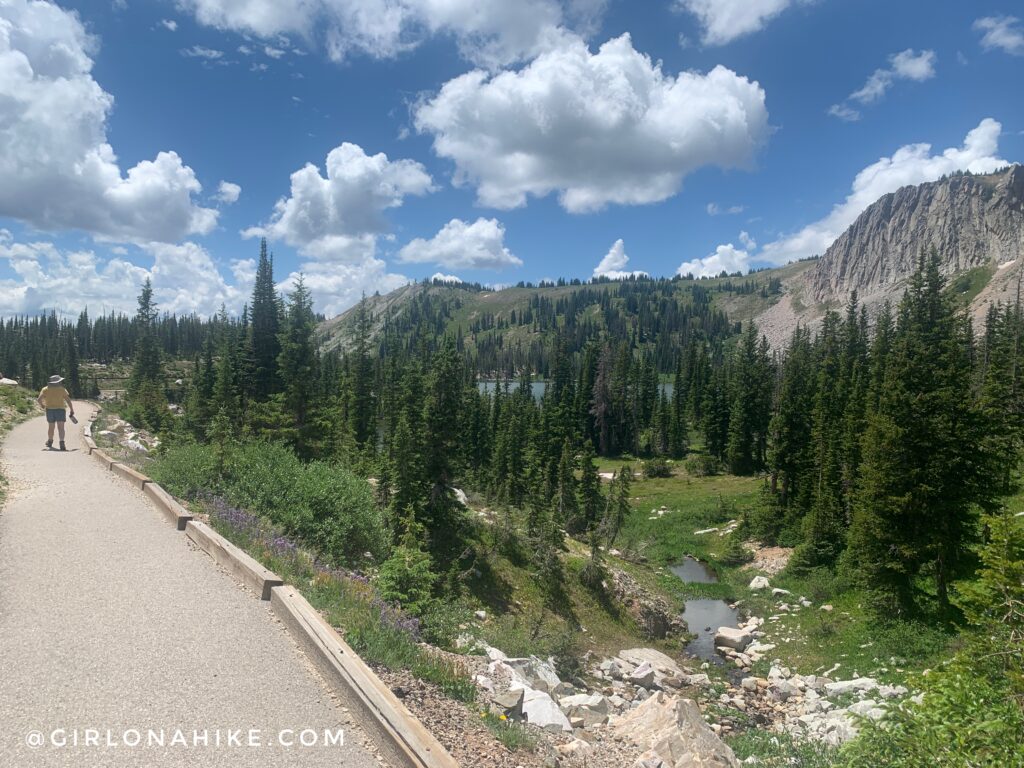 Once you reach the "Lakes Trailhead" parking lot, you'll need to walk along the paved pathway to return to your car at the West Marie Lake TH. Dogs now have to be back on the leash for this last section.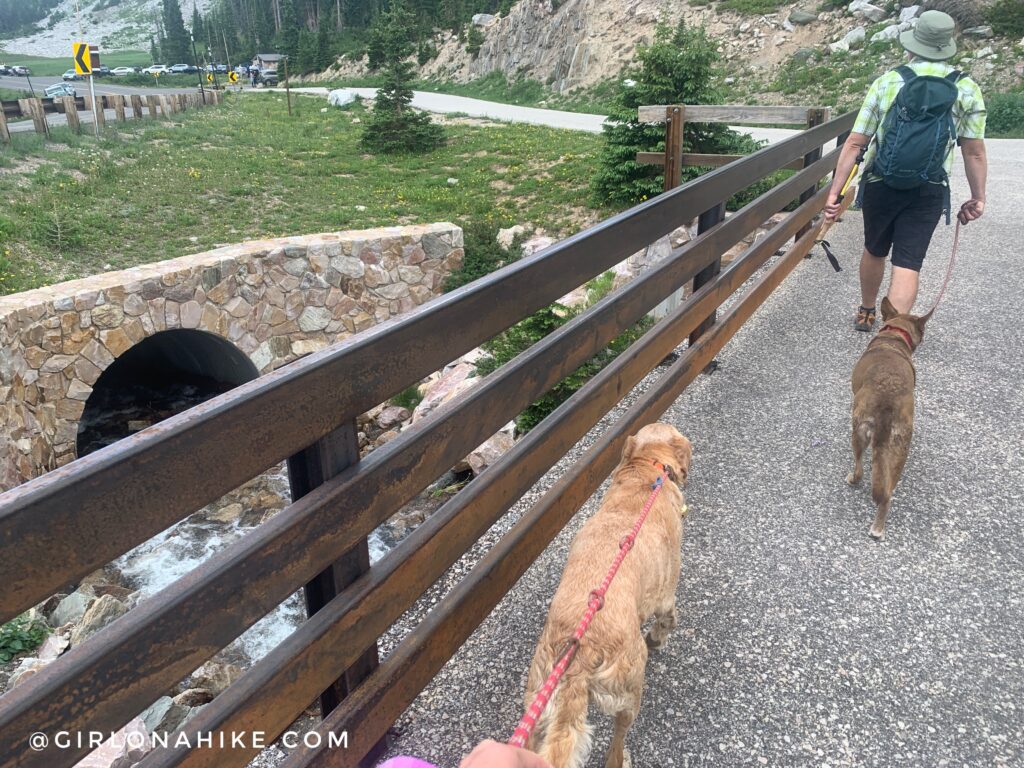 Cross the bridge, and now we can see the parking lot where we started!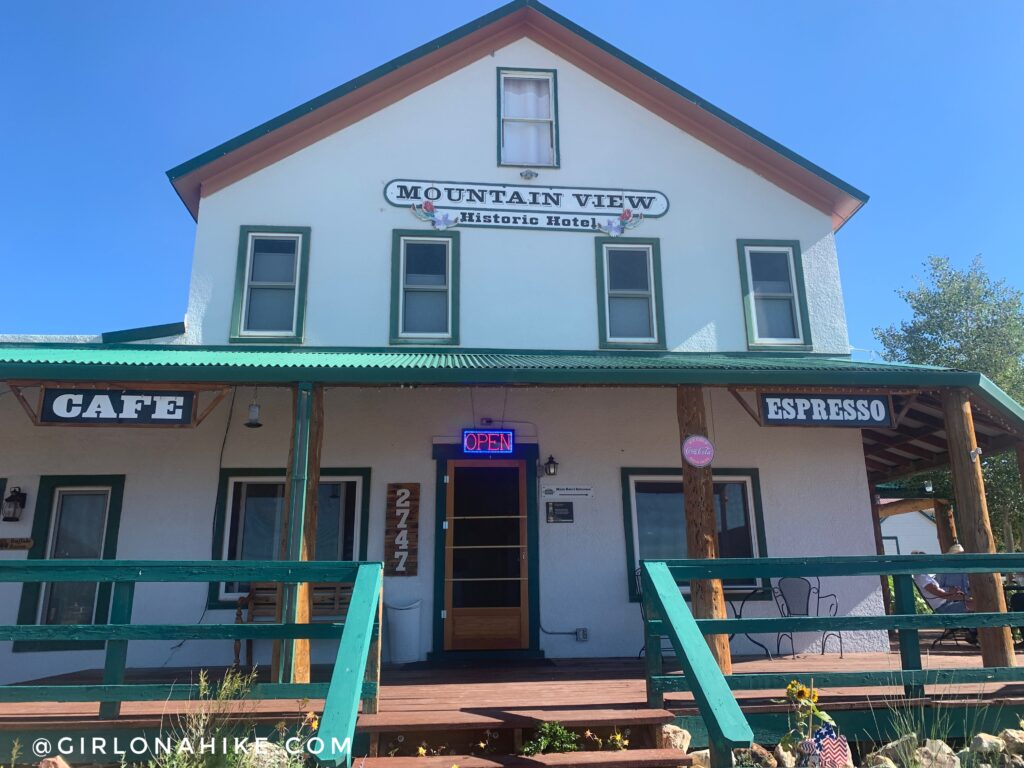 Are you in need of good, strong espresso, chai, tea, scones, or breakfast food? The Mountain View Inn was soooo good that we actually went two days in a row for drinks and scones! The tiny town of Centennial also has a gas station, firewood, ice, etc.
Check out my video!
Trail Map
My track via Gaia GPS – the best tracking app! Get your app here for a discount.
Recommended Gear
Recommended Hike
Hiking to Wyoming Peak, Wyoming Mountain Range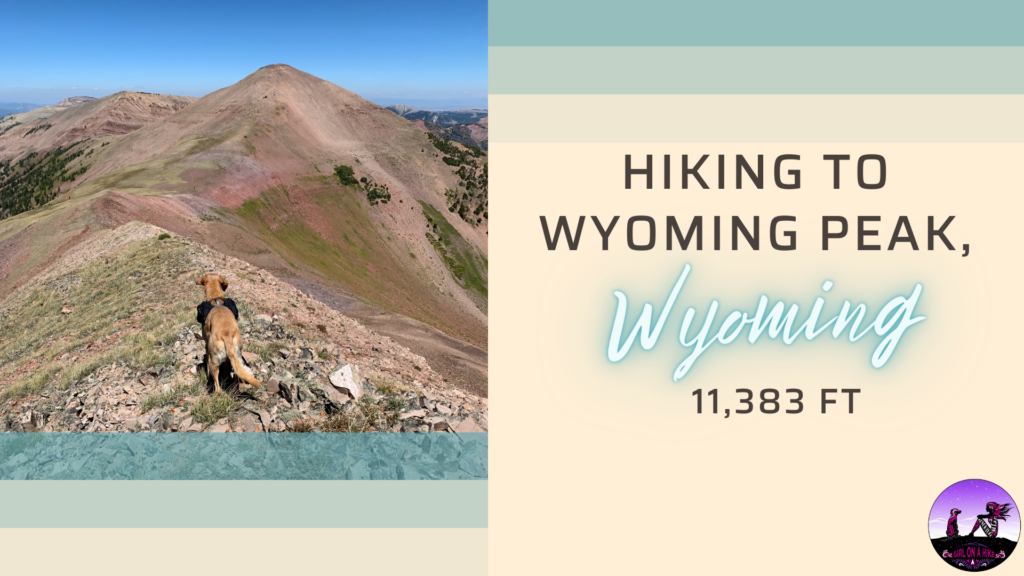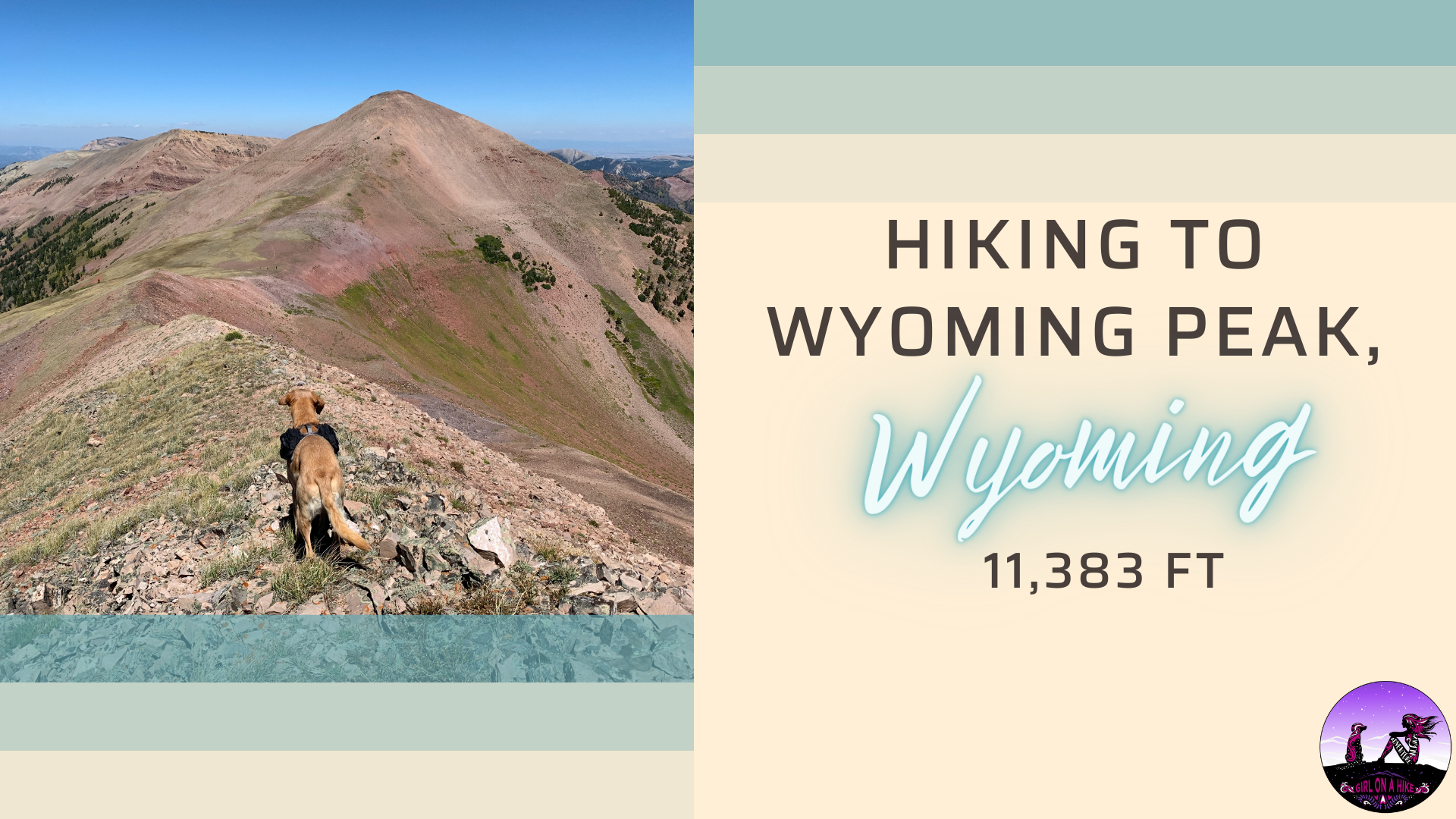 Save me on Pinterest!