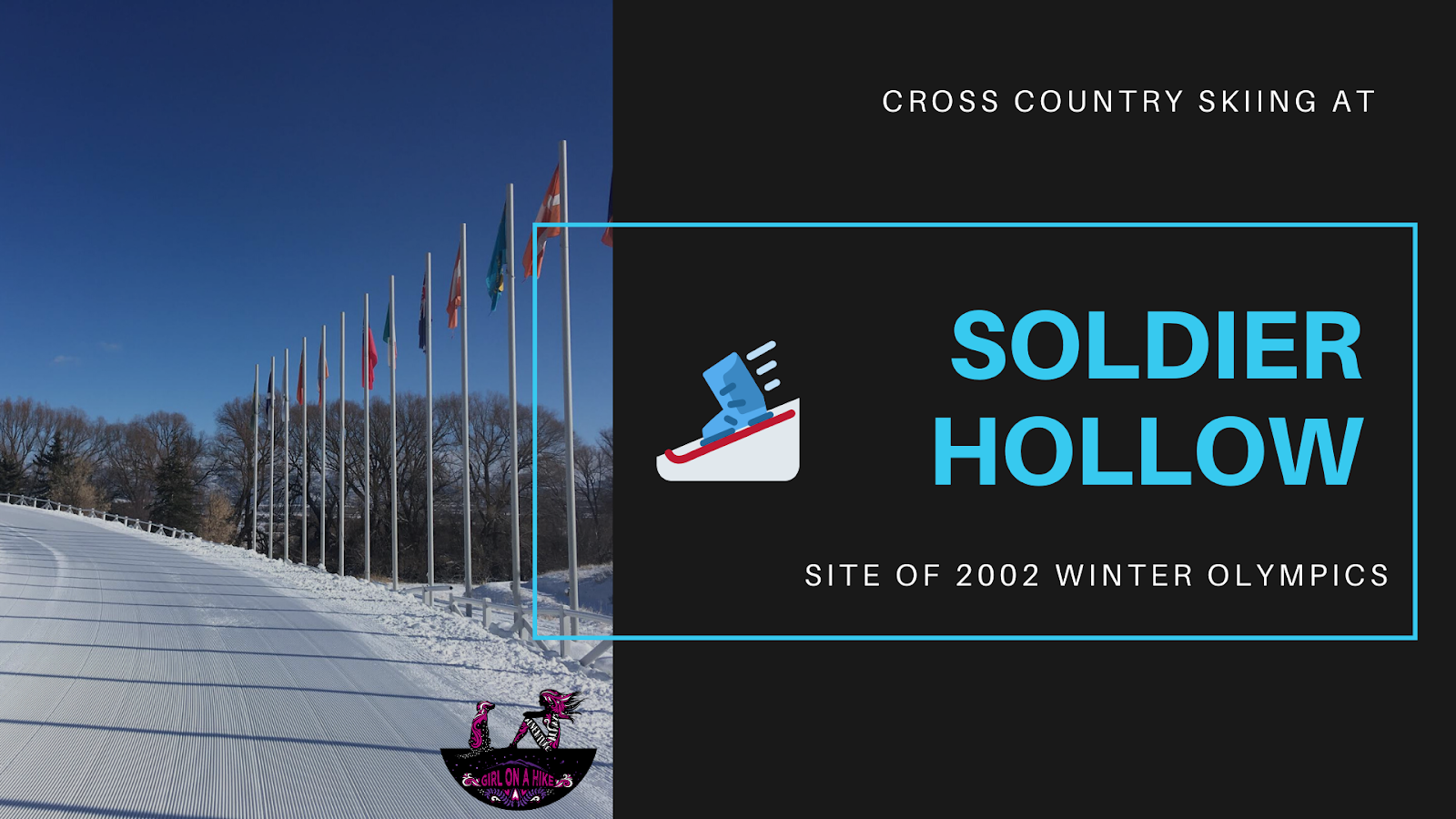 Cross Country Skiing at Soldier Hollow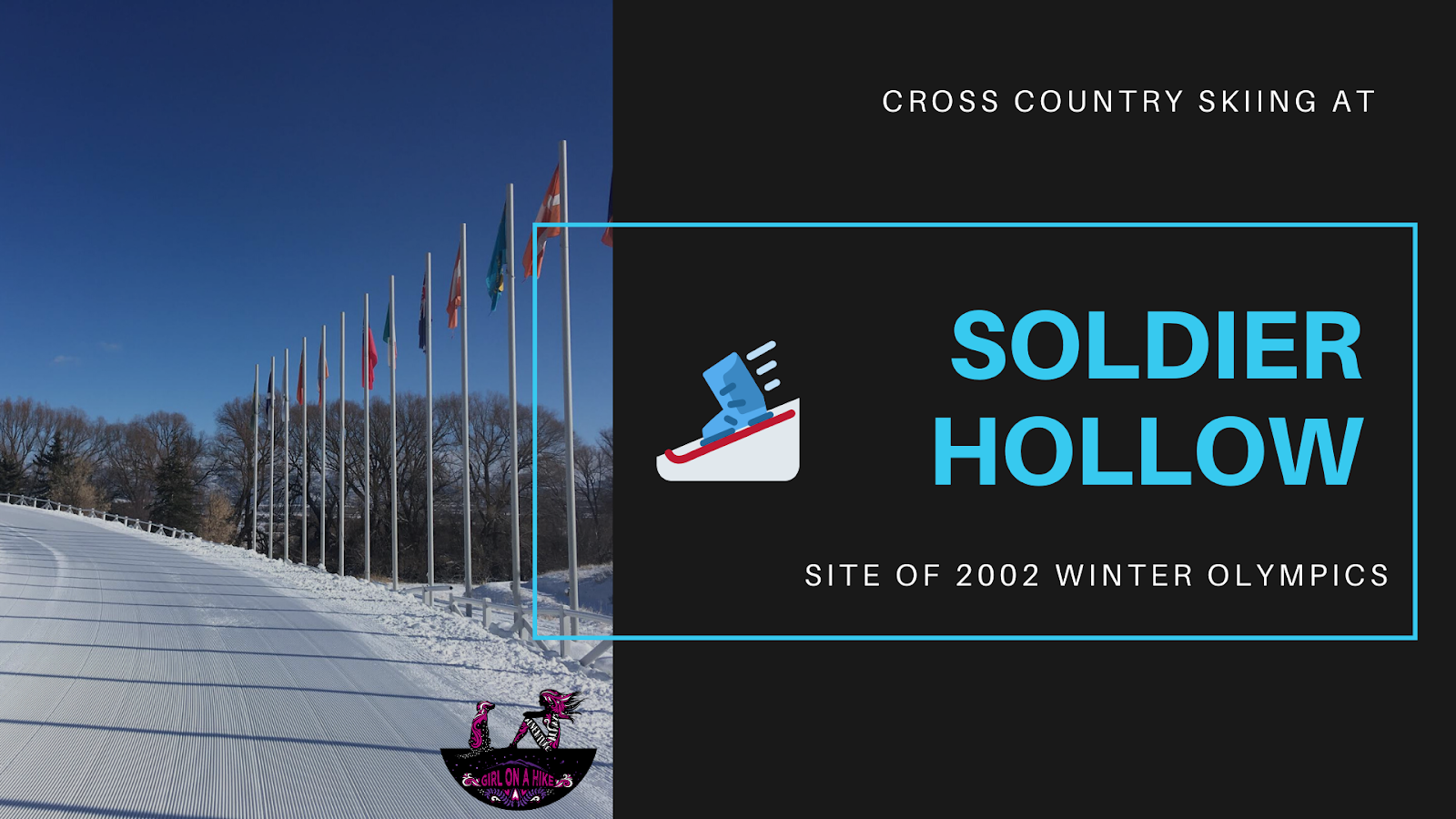 Soldier Hollow is a small resort located in Midway, Utah and attracts locals for not only the groomed classic & skate ski trails, but also for its snow tubing hill. 
About
It was also the site of the 2002 Winter Olympics, for Biathlon & Nordic events. The Nordic Center lodge sits at an elevation of 5,645 ft, so man-made snow in winter is a must when open for the short three months (December to March). The low elevation just doesn't get the same volume or type of snow as the rest of the Wasatch Mountains. Despite this, Soldier Hollow still offers 31 km (20 miles) of ski trails.
Directions
From SLC, head East on I-80 past Kimball Junction, UT, then south on HWY 40 for 13 miles. Turn right on River Road. At the round-a-bout, take the 3rd exit, continuing on River Road. Turn right on Main Street, then left on Center Street. Drive 1.8 miles then turn right on Tate Lane. At the next stop sign for Stringtown Road, turn left. Follow this road until you reach the Nordic Center, about 1 more mile uphill.
Here is a driving map.
Ski Trail Info
Distance: 20 miles (32 km) total; I did ~ 5 miles RT
Elevation gain: varies, ~ 400 ft
Time: 1-3 hours
Dog friendly? No, dogs are not allowed here
Kid friendly? Yes
Fees/Permits? $10 day pass (no half day option)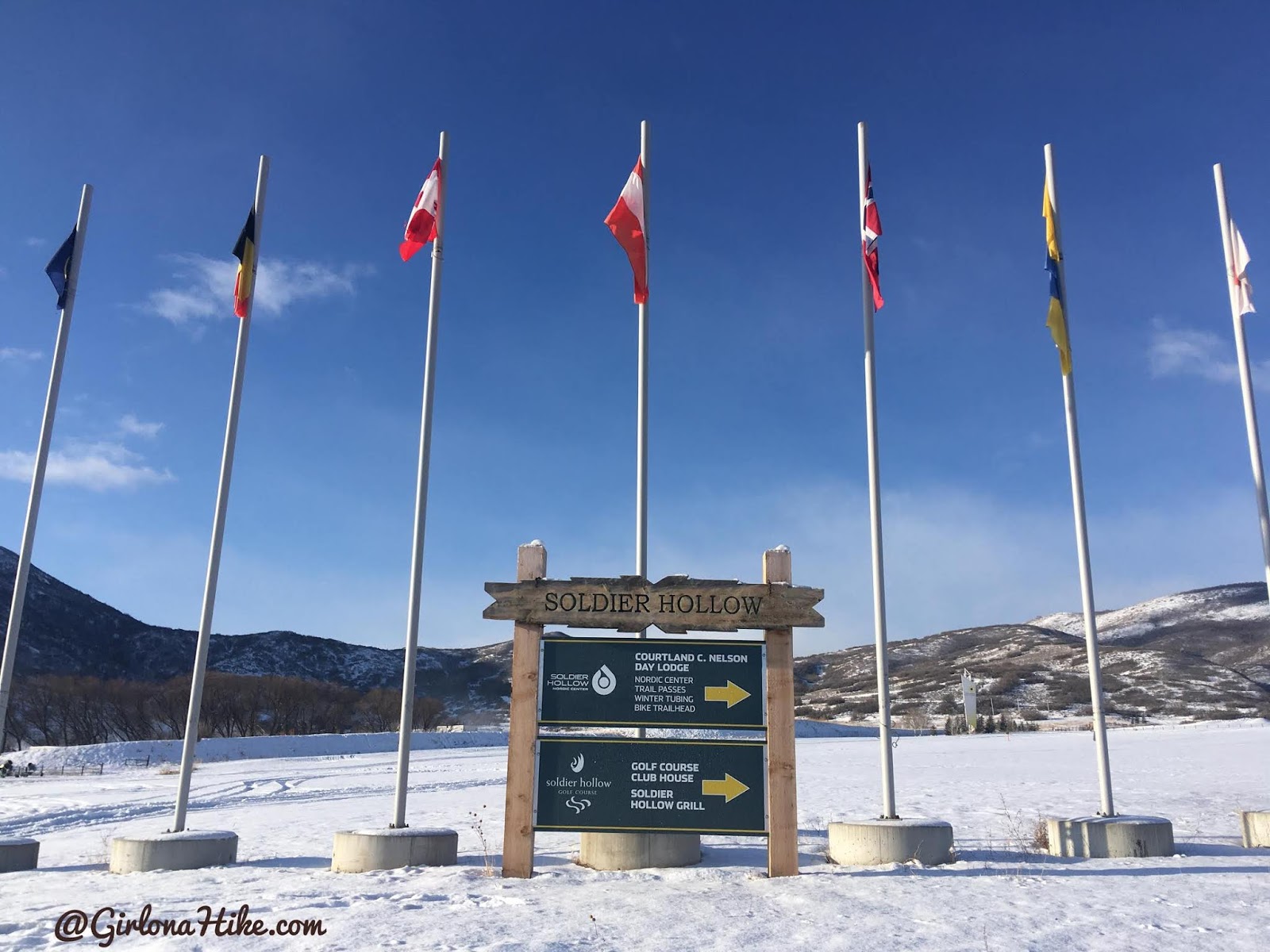 Entering Soldier Hollow! Stay right for the nordic center.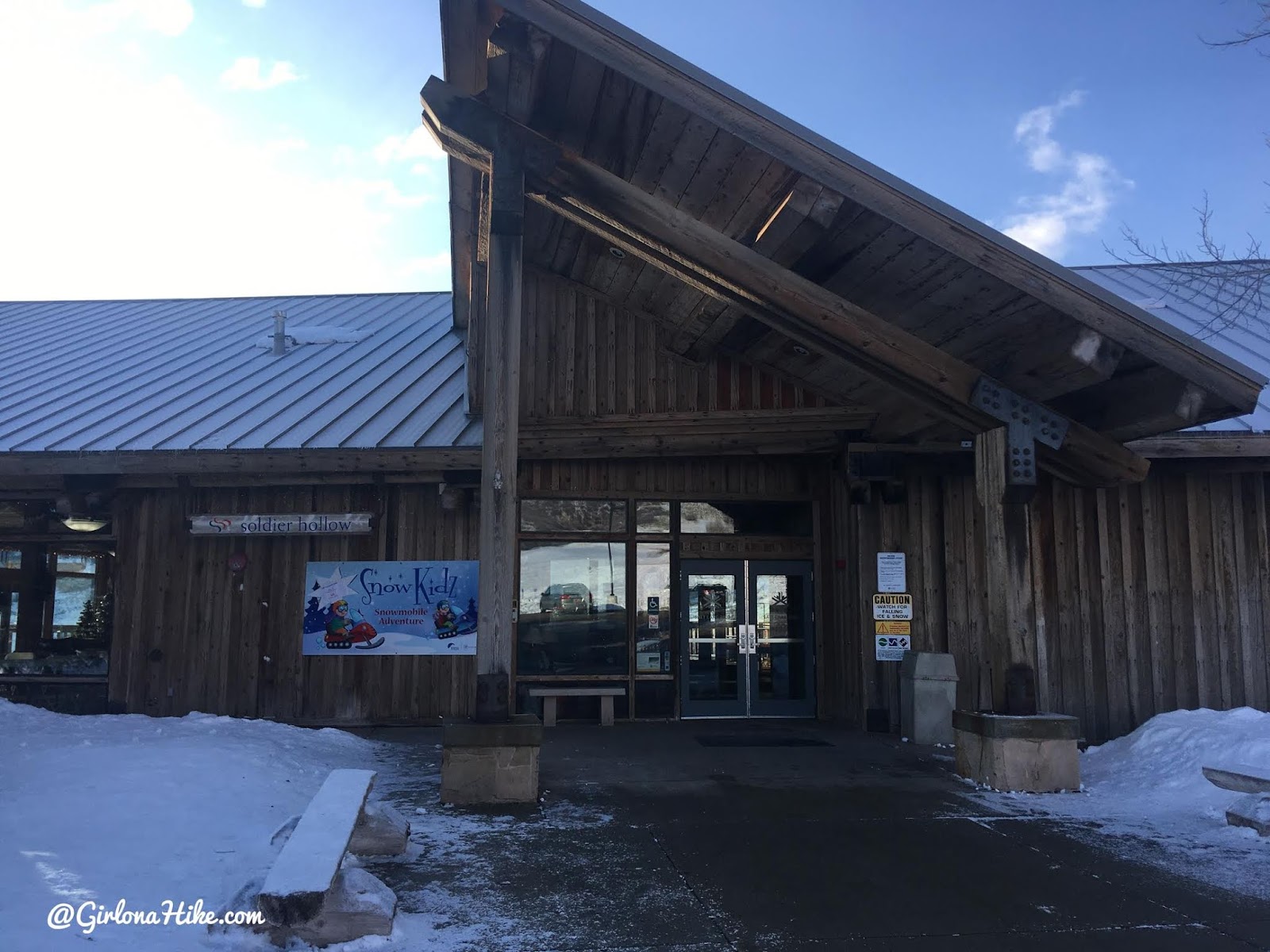 To get ski tickets and rentals, go through this building to the back deck, take the stairs down to the next set of doors, and go in there. The upper ticket desk is for the tubing hill, but restrooms are located just to the right inside these doors.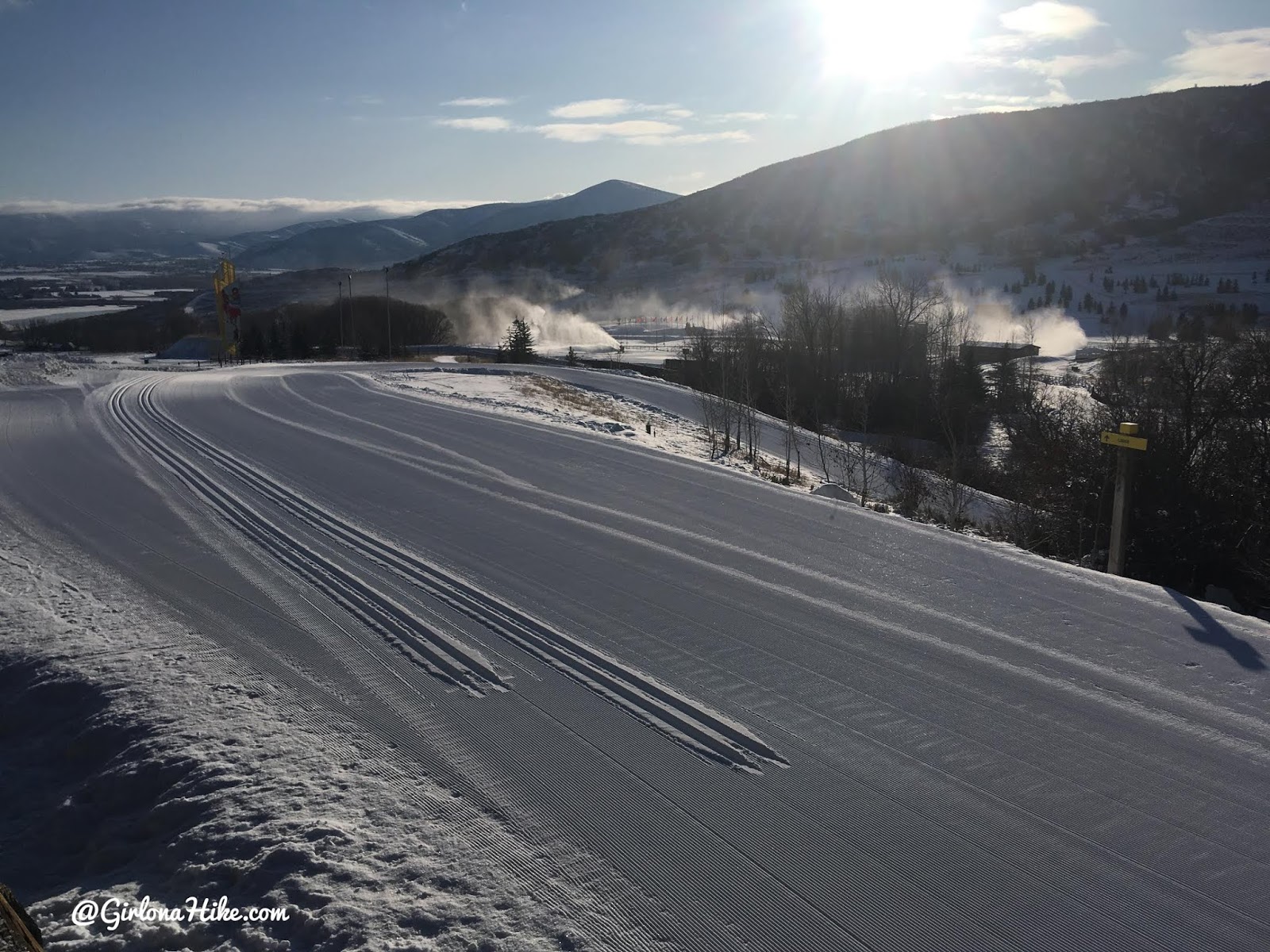 Standing on the back deck, look at those fresh tracks!
 Everything is very well signed, BUT, there are tons of trails everywhere. I had to stop so much to check the map because I wanted to "stay on course" for a route the guys at the shop suggested. After stopping close to 10 times I decided to bag that idea and just ski towards whatever looked good. Starting out, I made my way towards The Hollow.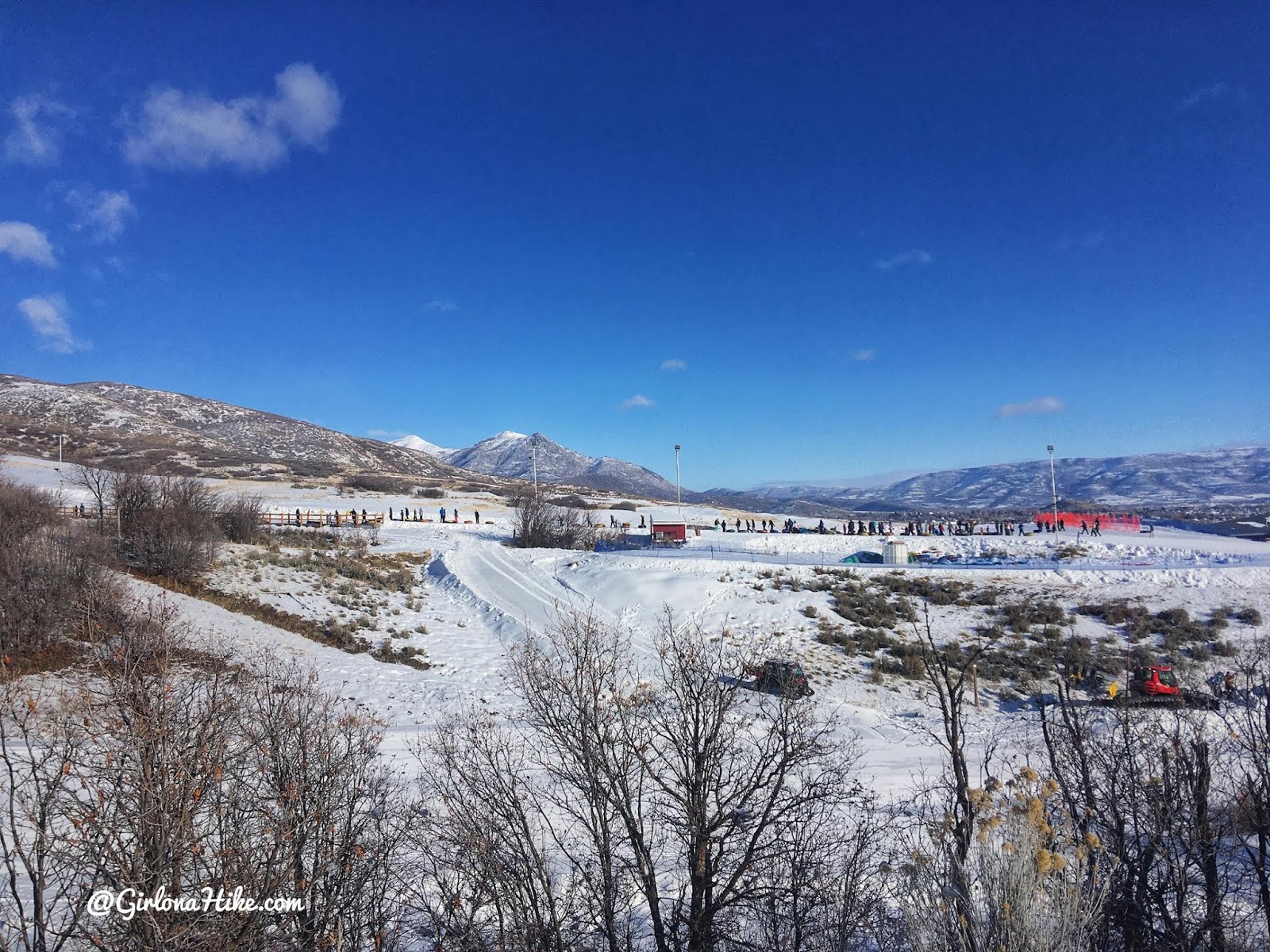 Looking across one of the ski trails to the tubing hill, The music was blasting SO loud! By 10am that area was packed.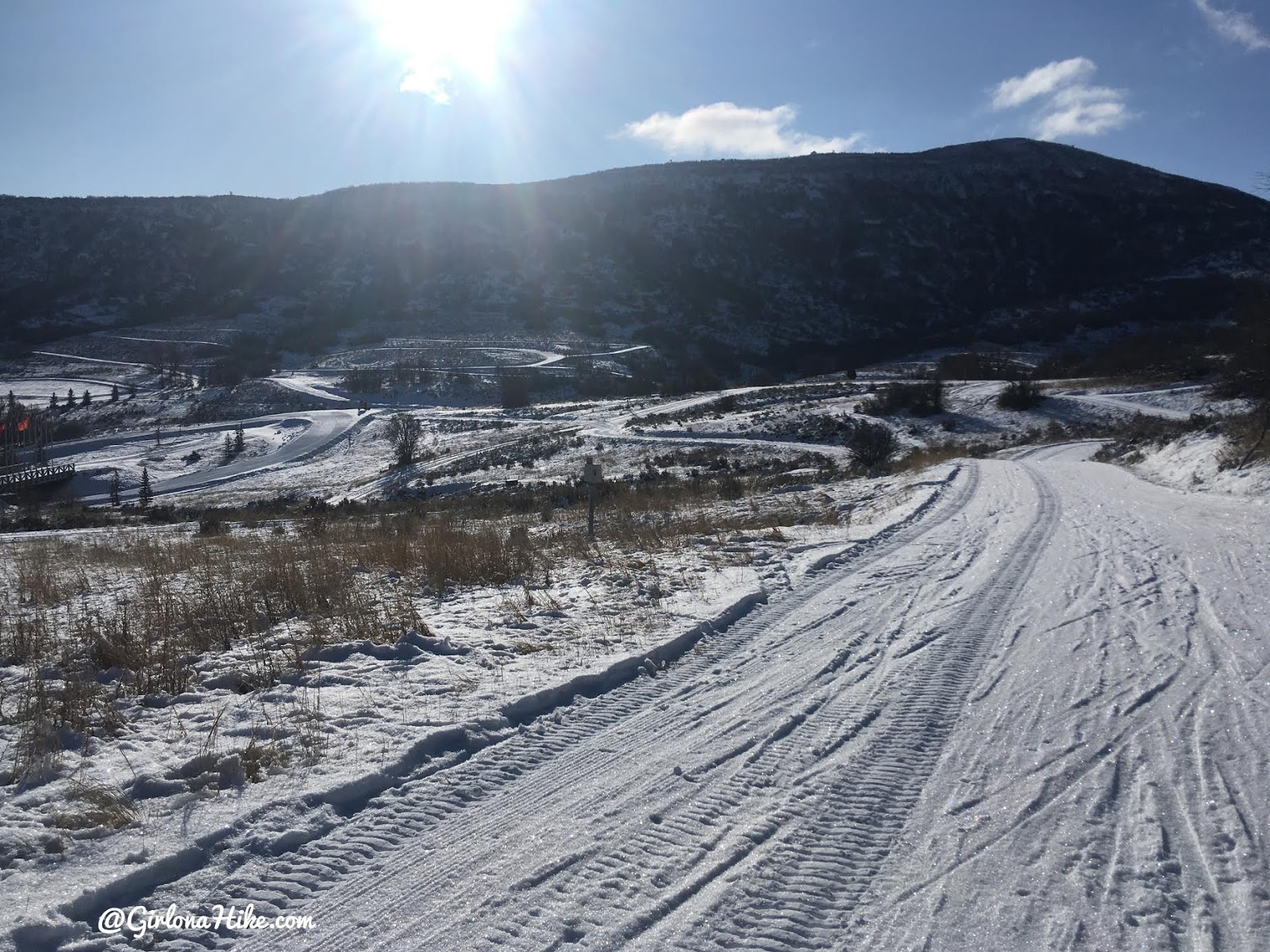 I started skiing by 9:30am and there was only about 1 mile of groomed trails. I expect that if you open at 9am, all the trails will be groomed. Not here, and not even on a Saturday. Super bummed about that since I did pay for it.
 I once again gave in, and followed mostly un-groomed trails. At least I had these cool mountains behind me to look at. Did I mention no dogs allowed here? Another bummer. So far Soldier Hollow wasn't impressing me for a resort.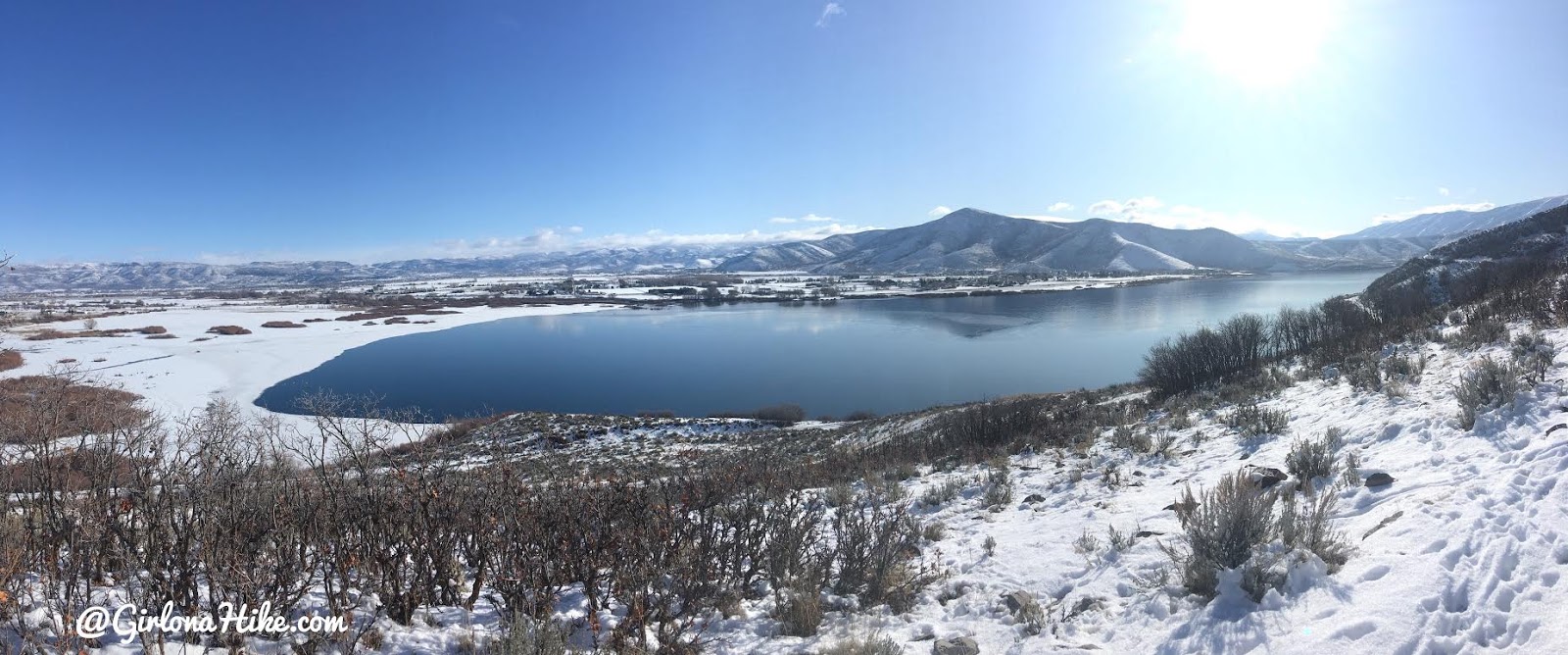 Ok, finally! A sweet view. At the end of the Pony Express, I saw a small trail heading off the ski trail. You know I had to check it out! I walked up maybe 100 ft, and had this view all to myself of Deer Creek Reservoir. So pretty! Definitely my favorite part of the day.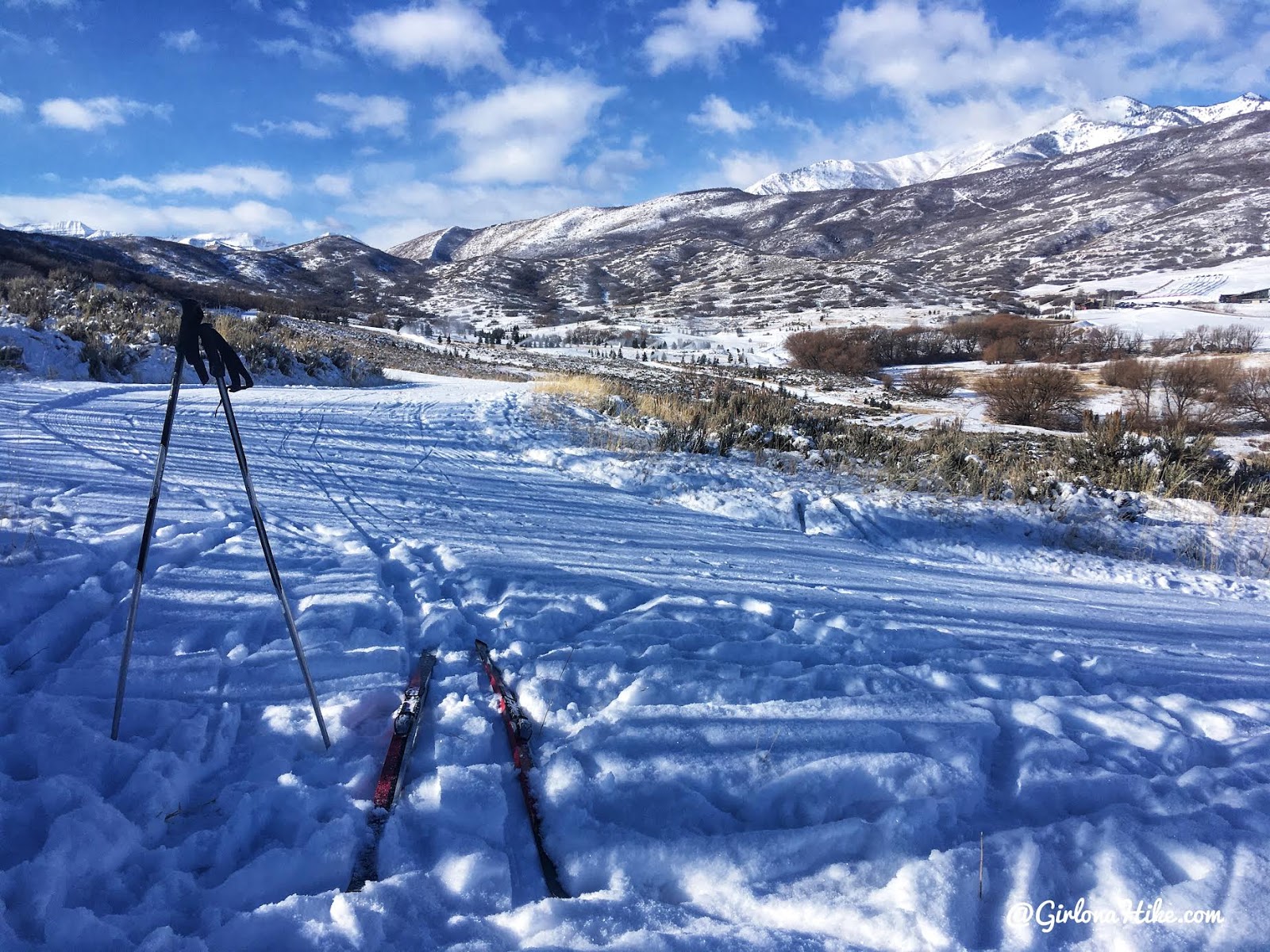 Time to head back to the lodge. I felt like I picked all the uphill areas and was getting tired. When I looked back I had another nice view, this time of Mill Hollow Peak.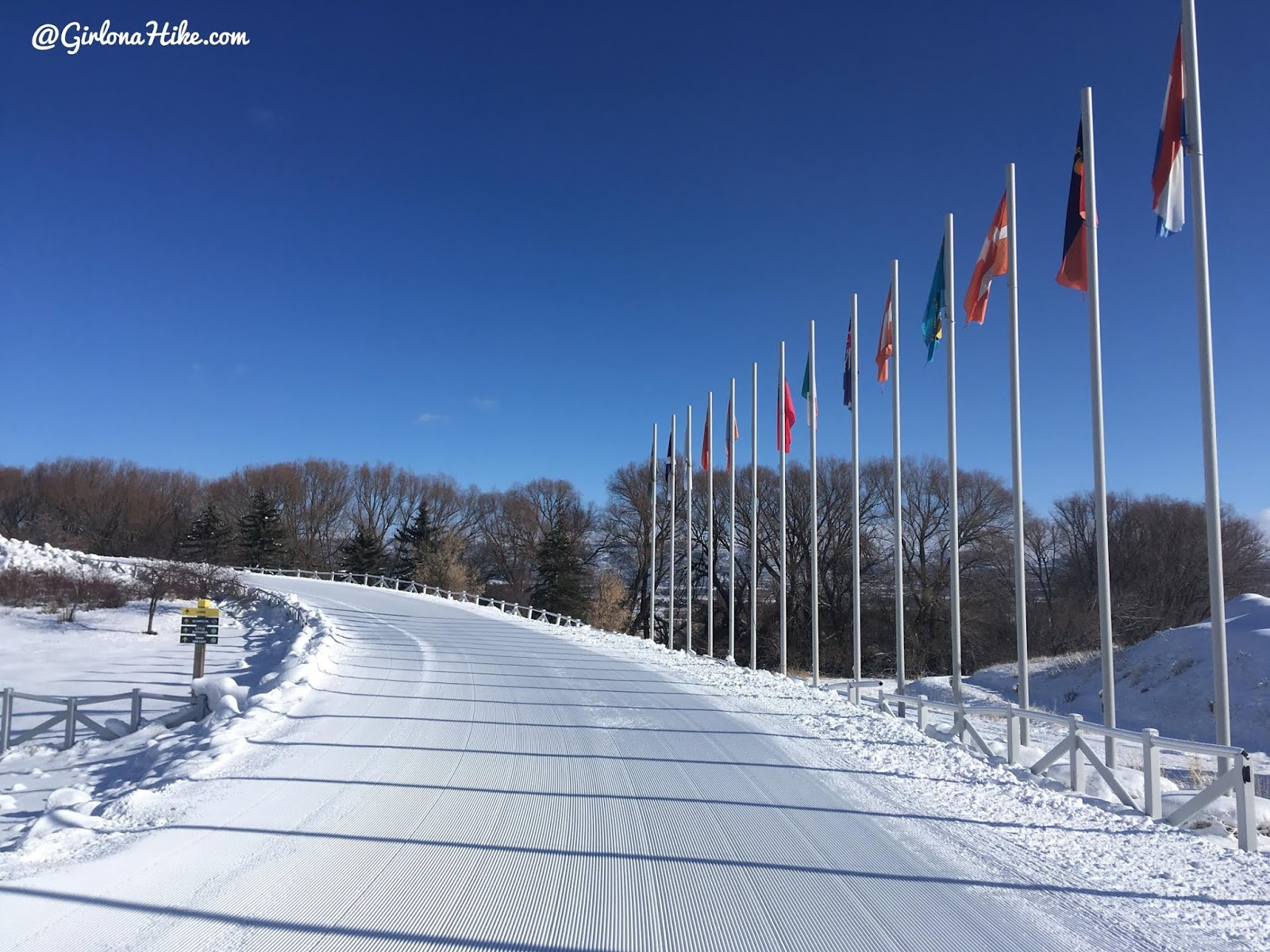 Skiing past all these flags, and back on a groomed track, I did feel like this must have been a special place back in 2002 during the Olympics.
Making my way back, past the Biathlon area.
Here's how I would break down my time at Soldier Hollow:
PROS
– mostly groomed trails (seems like after 11am)
– affordable at $10
– great views of the reservoir and mountains
CONS
– no dogs allowed (sad Charlie!)
– a bit of a drive (1 hour) from SLC
– mostly man-made snow due to low elevation
– blasting music from the tubing hill was annoying
Would I come back? Probably not. I really missed Charlie's excitement and company, hardly any of the trails were groomed, and was disappointed with the noise level blasting from the tubing hill. However, I really enjoyed the view of Deer Creek Reservoir. Overall I would rate Soldier Hollow a 3 out of 5 stars. Not my favorite, but glad I have now skied here at least once.
Trail Map
My track via Gaia GPS – the best tracking app! Get your app here for a discount.
Recommended Gear
Nearby Hike
Want a short hike instead of skiing?
Check out Chair Peak at Deer Creek Reservoir!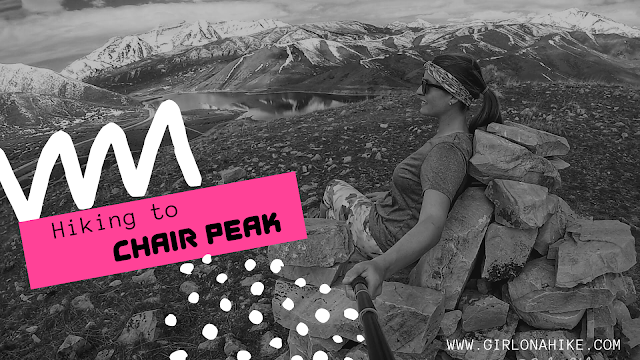 Save me on Pinterest!