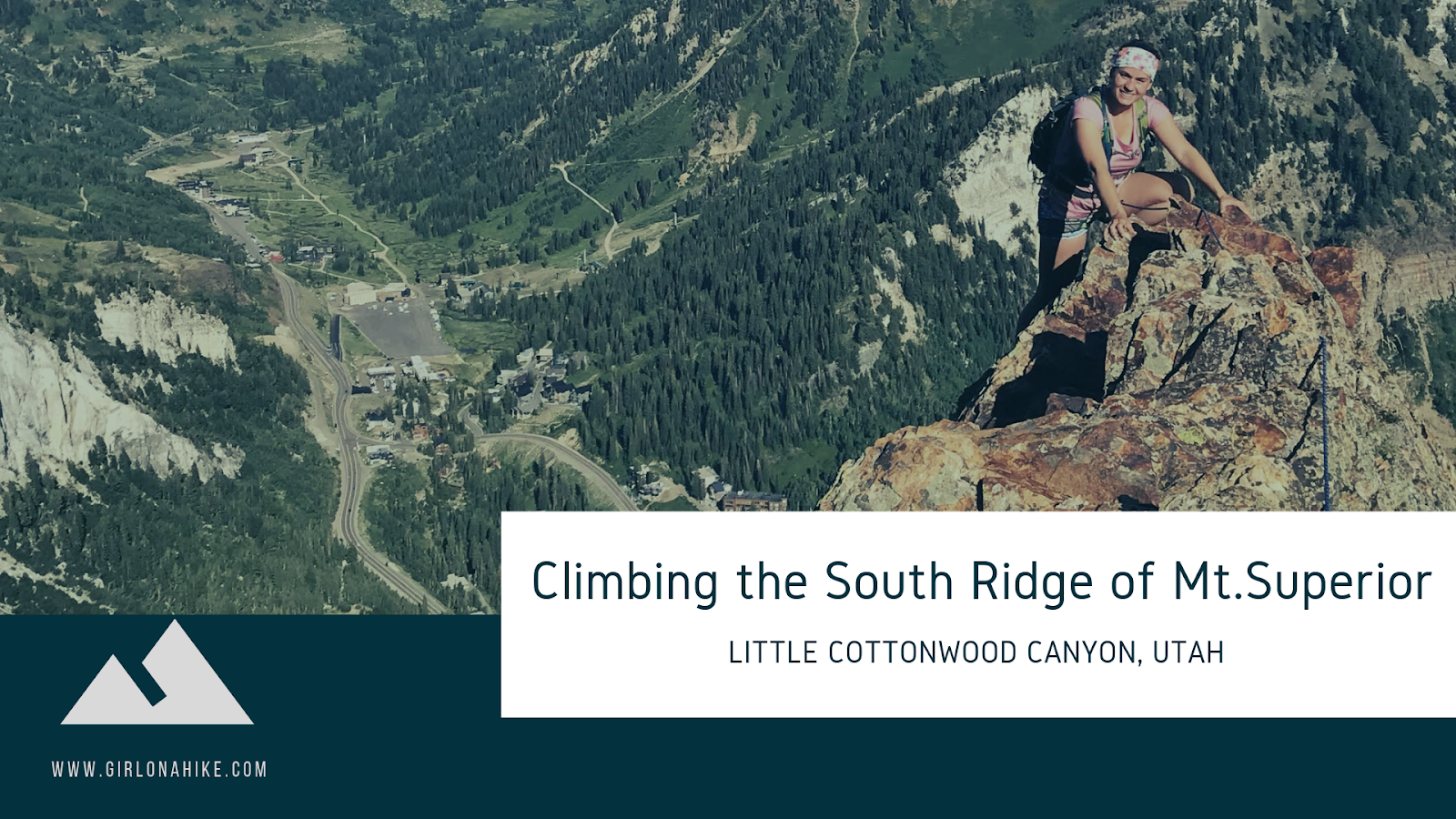 Climbing the South Ridge of Mt.Superior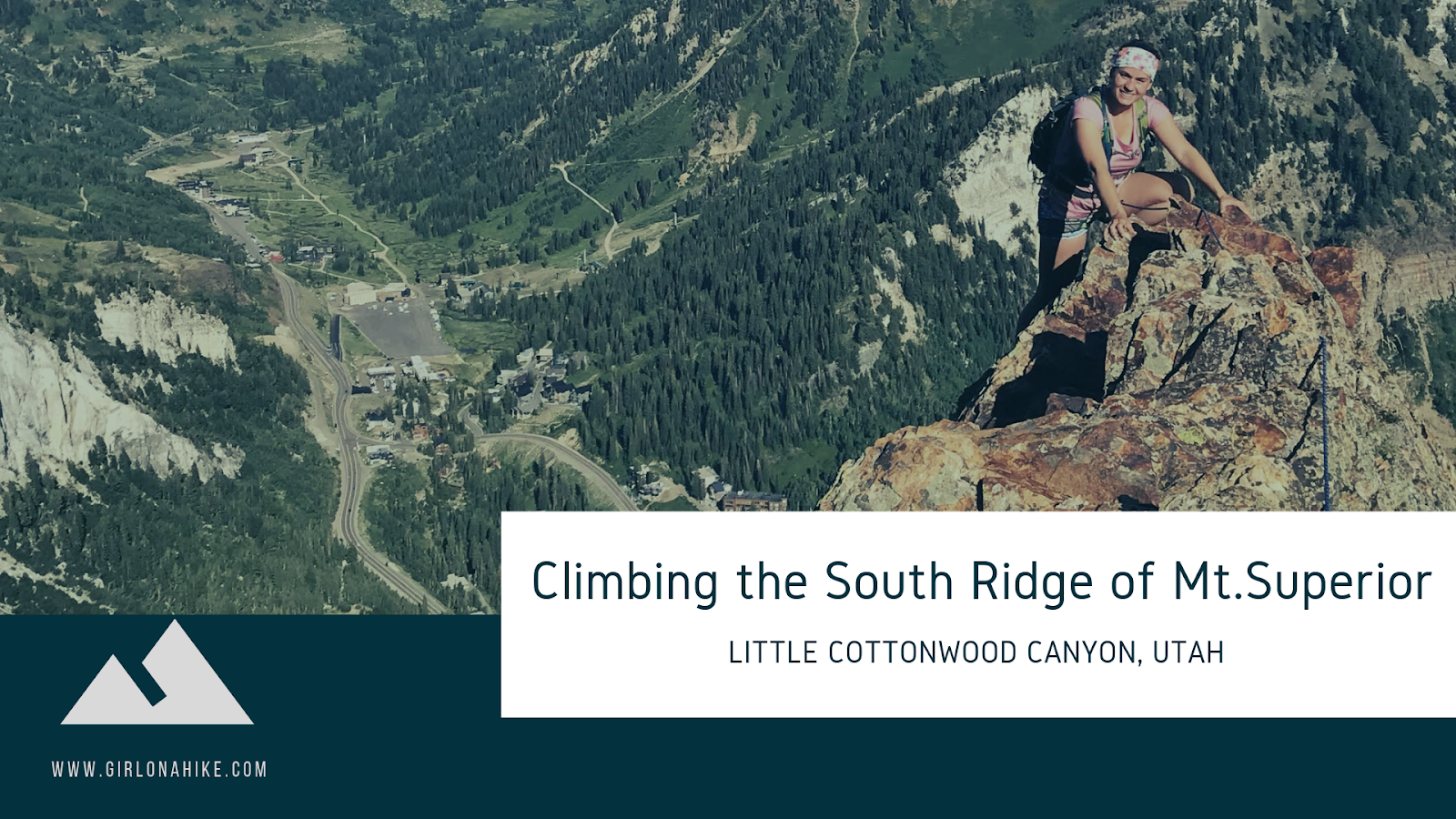 The South Ridge of Mt.Superior is a popular class 5 scramble to reach the summit. You can hike this on an actual trail this route, however the appeal of taking the South Ridge is that is offers a more challenging & technical approach. The South Ridge of Superior is considered a "Wasatch Classic" scramble with a lot of exposure and big views. It is highly recommended that if this is your first time taking this route, to go with someone who knows the way and can also help coach you through tough and exposed spots.
While I do consider myself an experienced peak-bagger, and have done other hard ridge scrambles, I did need a rope & harness to complete this ridge. More experienced climbers can do this without rope, but the exposure is what left me feeling unsure. While there is no trail, you just aim straight up the ridge, scrambling over 5.4 & 5.5 climbing sections.
Directions
Drive up Little Cottonwood Canyon for 8 miles, and park at the "Our Lady of the Snows Center" on your left. Here's a driving map.
Trail Info
Distance: 5 miles (loop)
Elevation gain: 2,550 ft
Time: 4-8 hours
Dog friendly? No, dogs are not allowed in LCC
Kid friendly? No
Fees/Permits? None.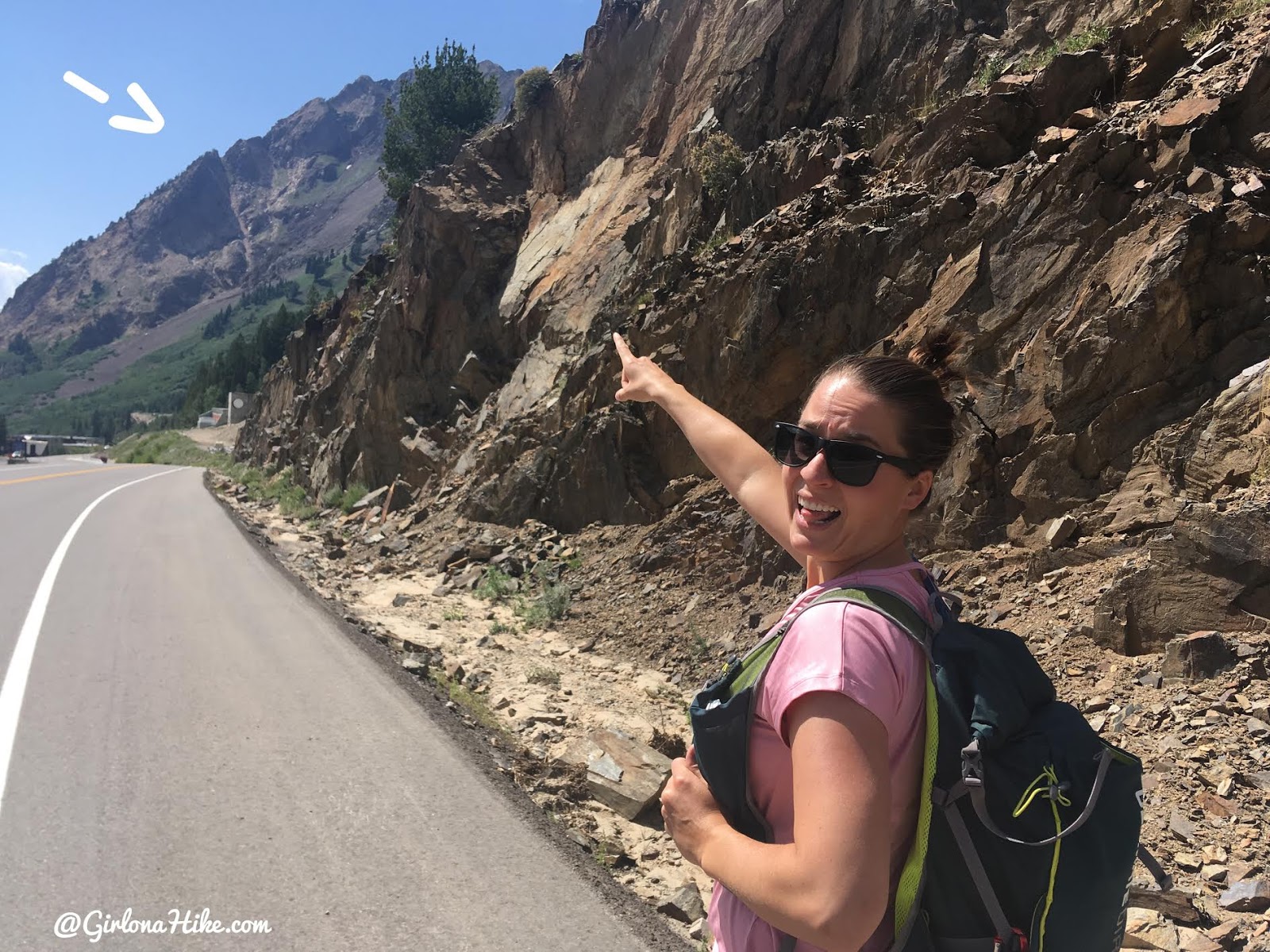 Start by parking at Our Lady of the Snows Center, then walk down the LCC paved road, until you each the TH.
Ok I admit I was nervous about this ridge. I've done a lot of hikes and over 100 peaks, but for some reason this one spooked me. It just looked SO steep! Was I going to be able to do this??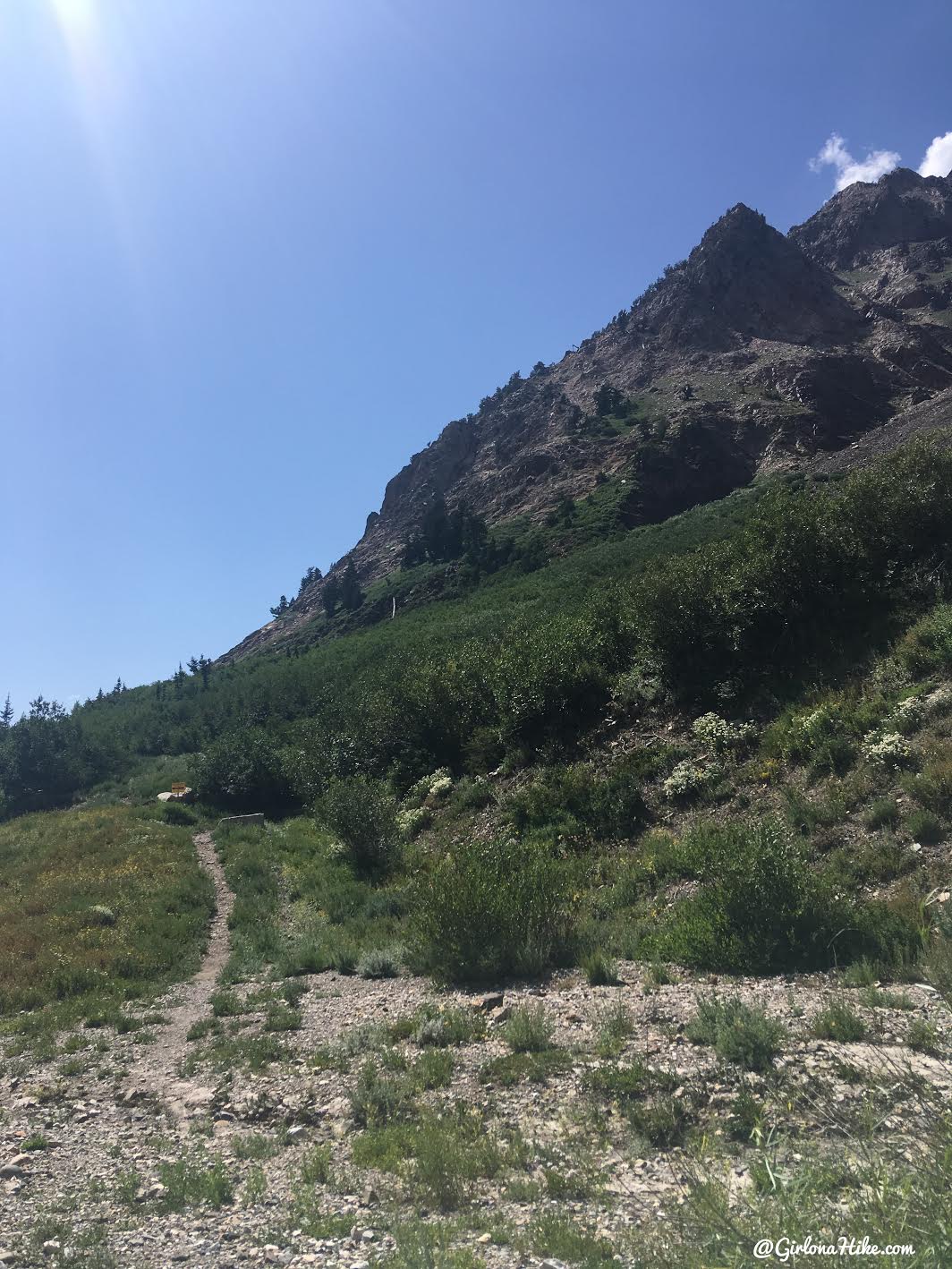 The "trail" begins at
GPS: 40.5858944,-111.6537787 This is about 0.2 miles past the last Snowbird entrance on the left (North) side of the road. There is a large pull-out and you'll see the trail begin here.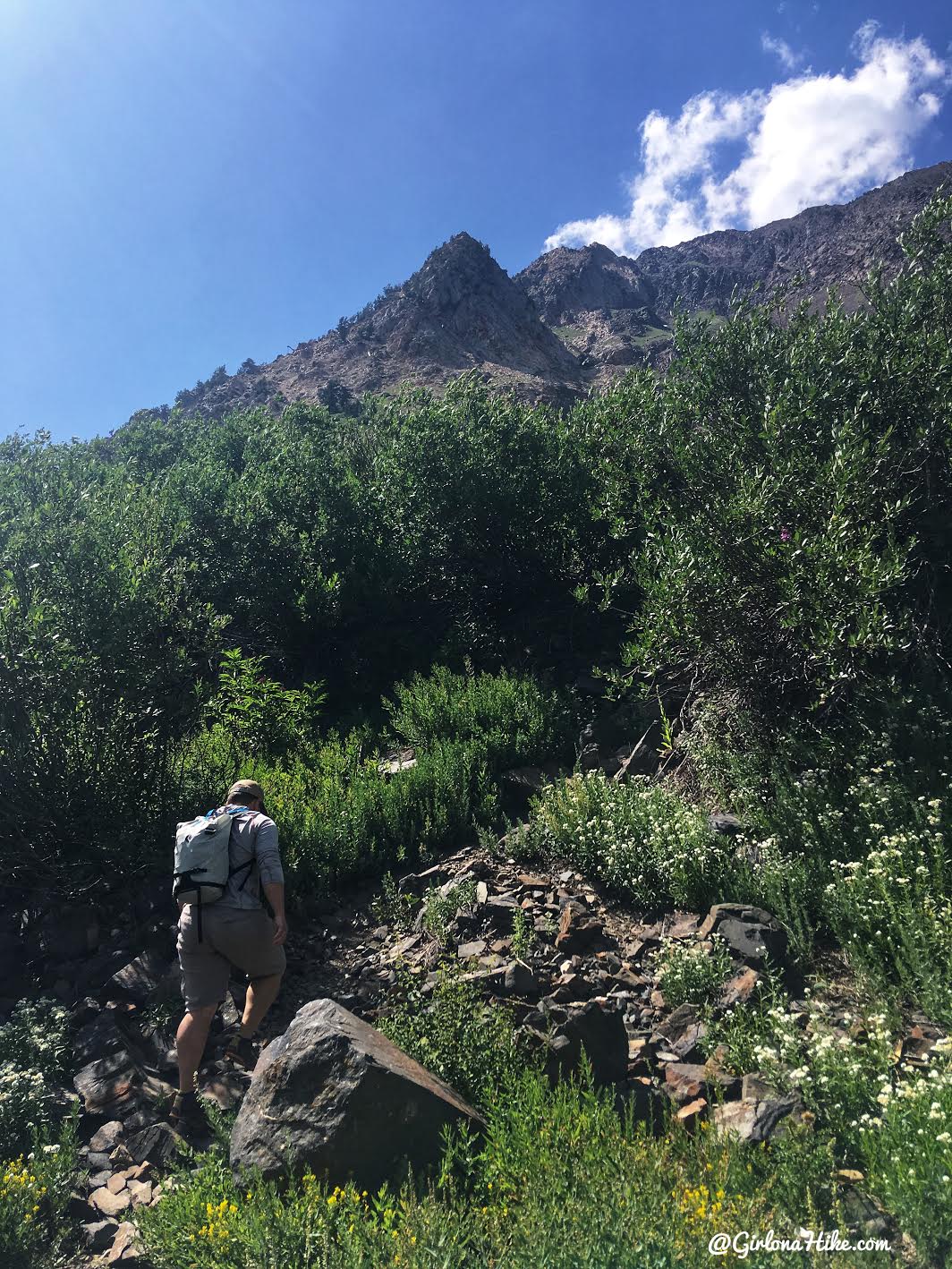 Follow the "trail" up as it cuts through loose shale rock.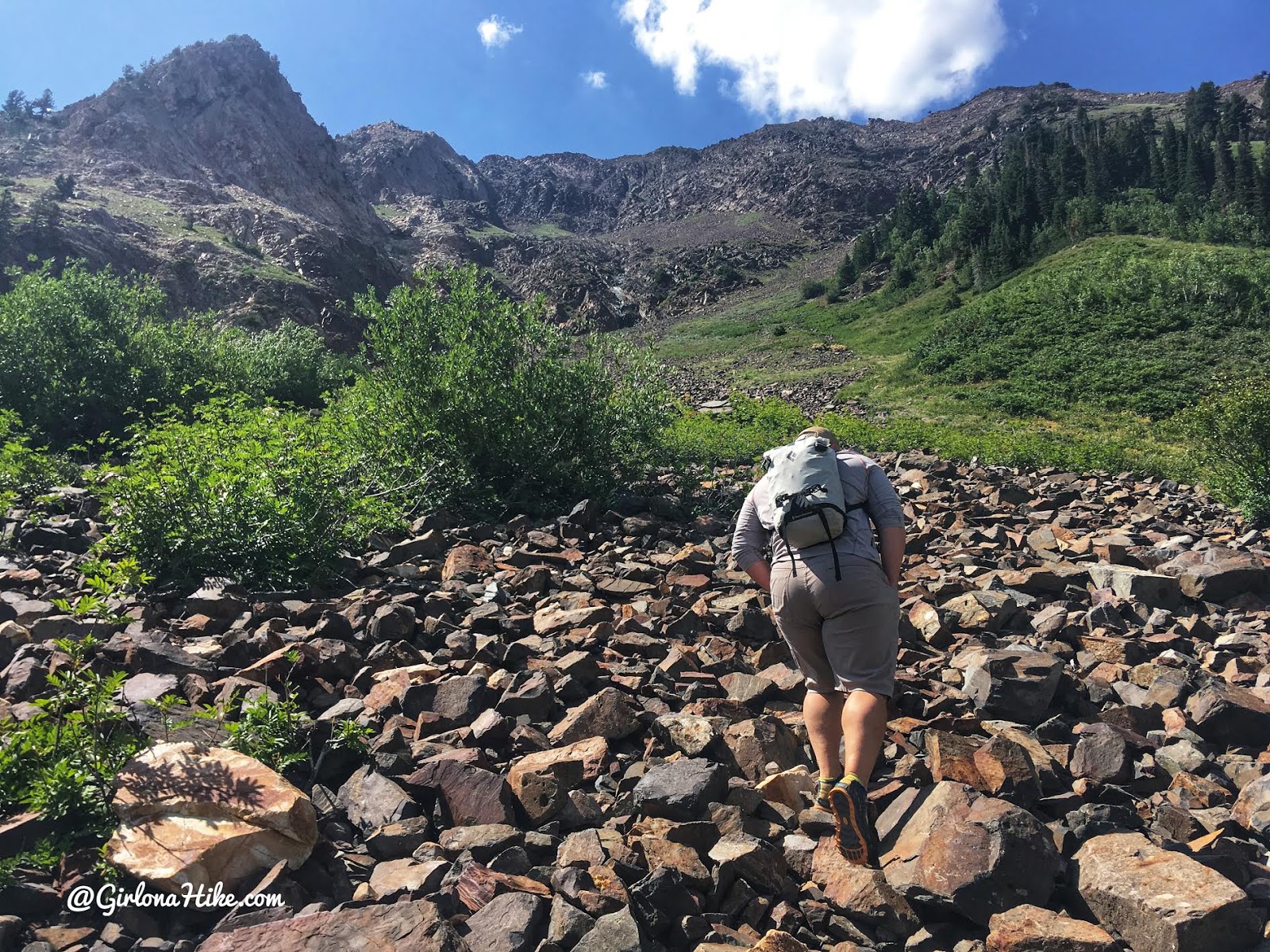 You really need to go with someone who knows the way. From here, it seemed there were several trails branching off from the shale rock area.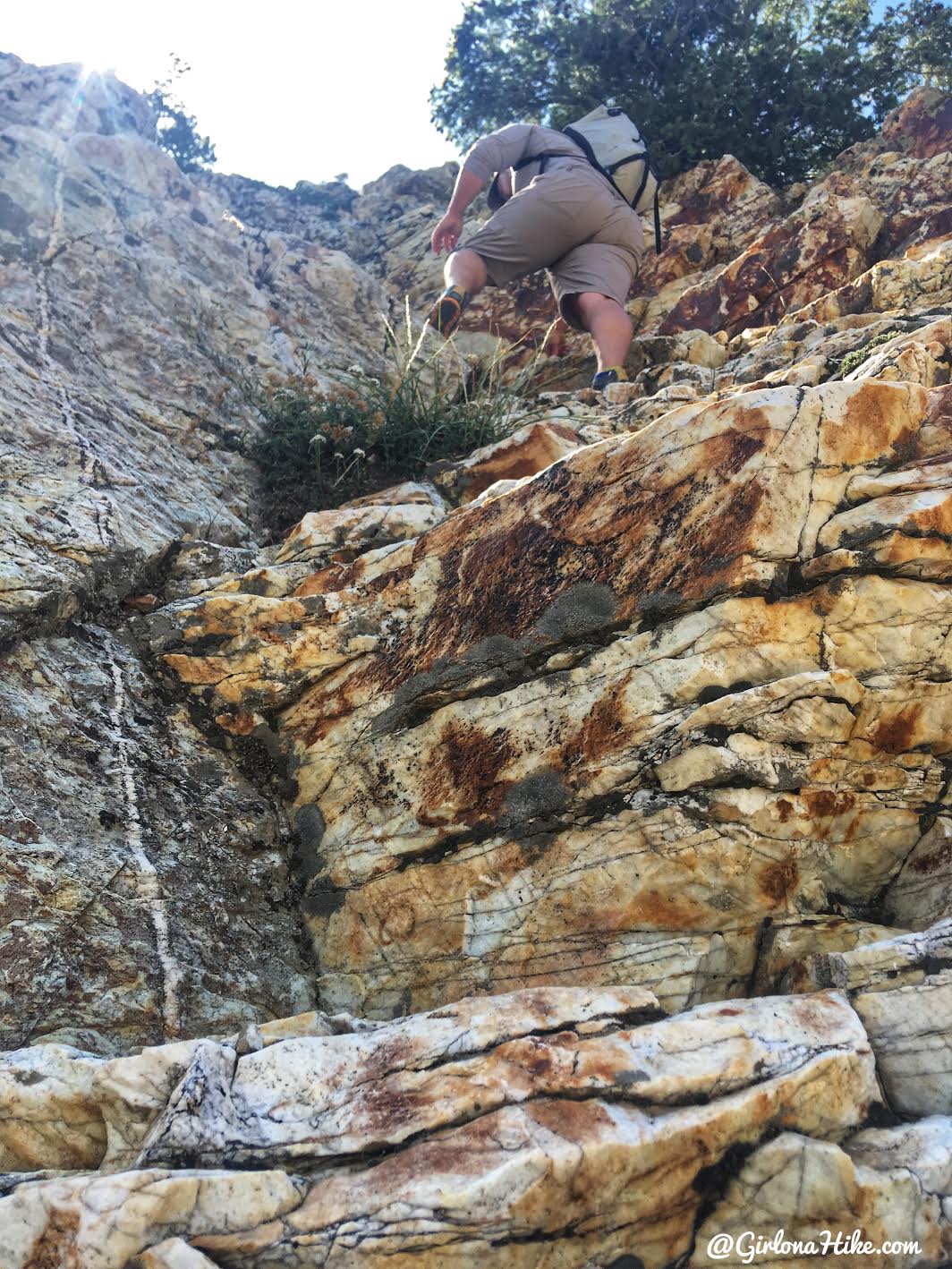 After hiking up the shale rock for about 15 minutes, we found ourselves at the base of our first scramble.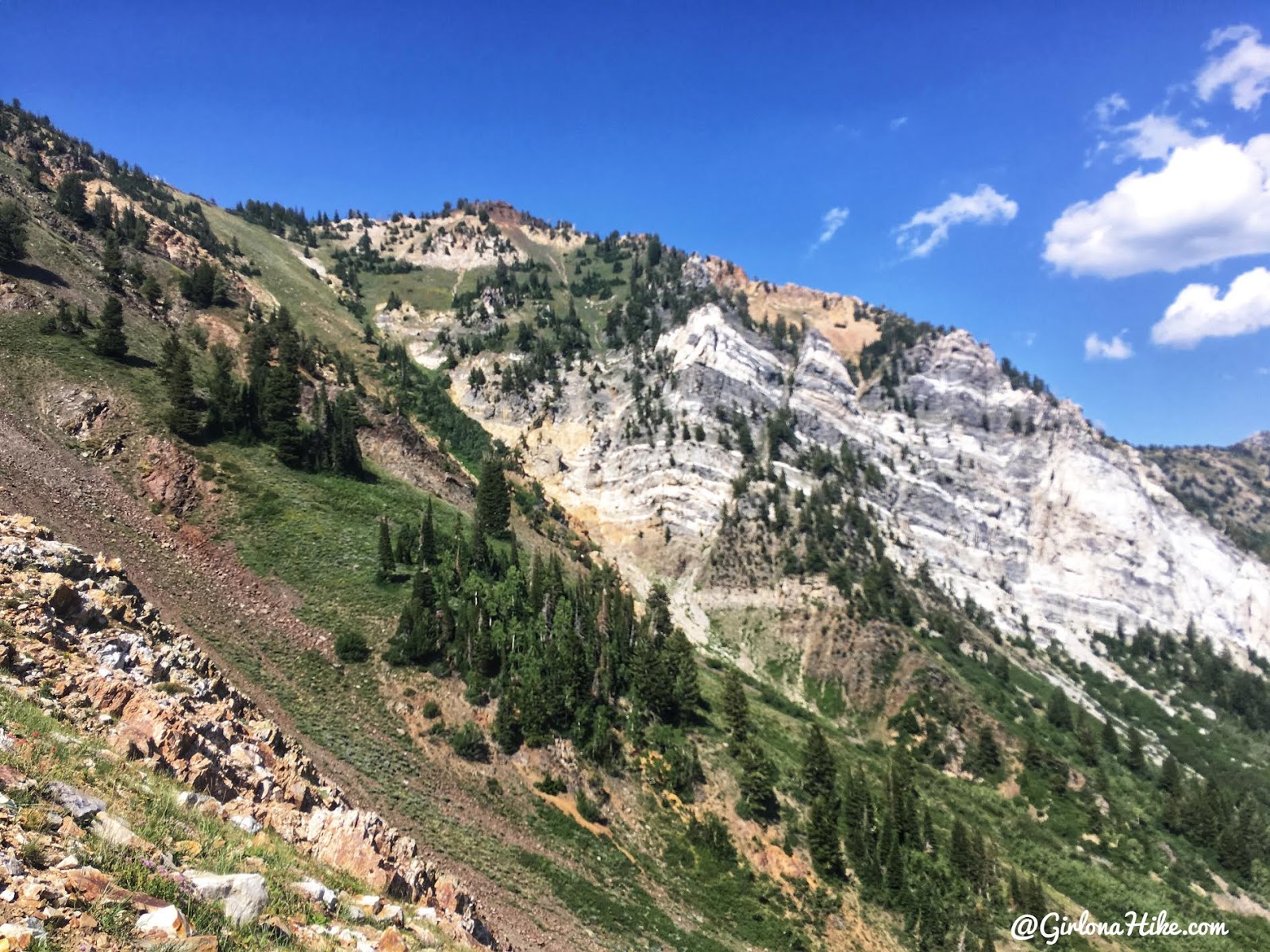 As you climb higher, don't forget to look at the views all around!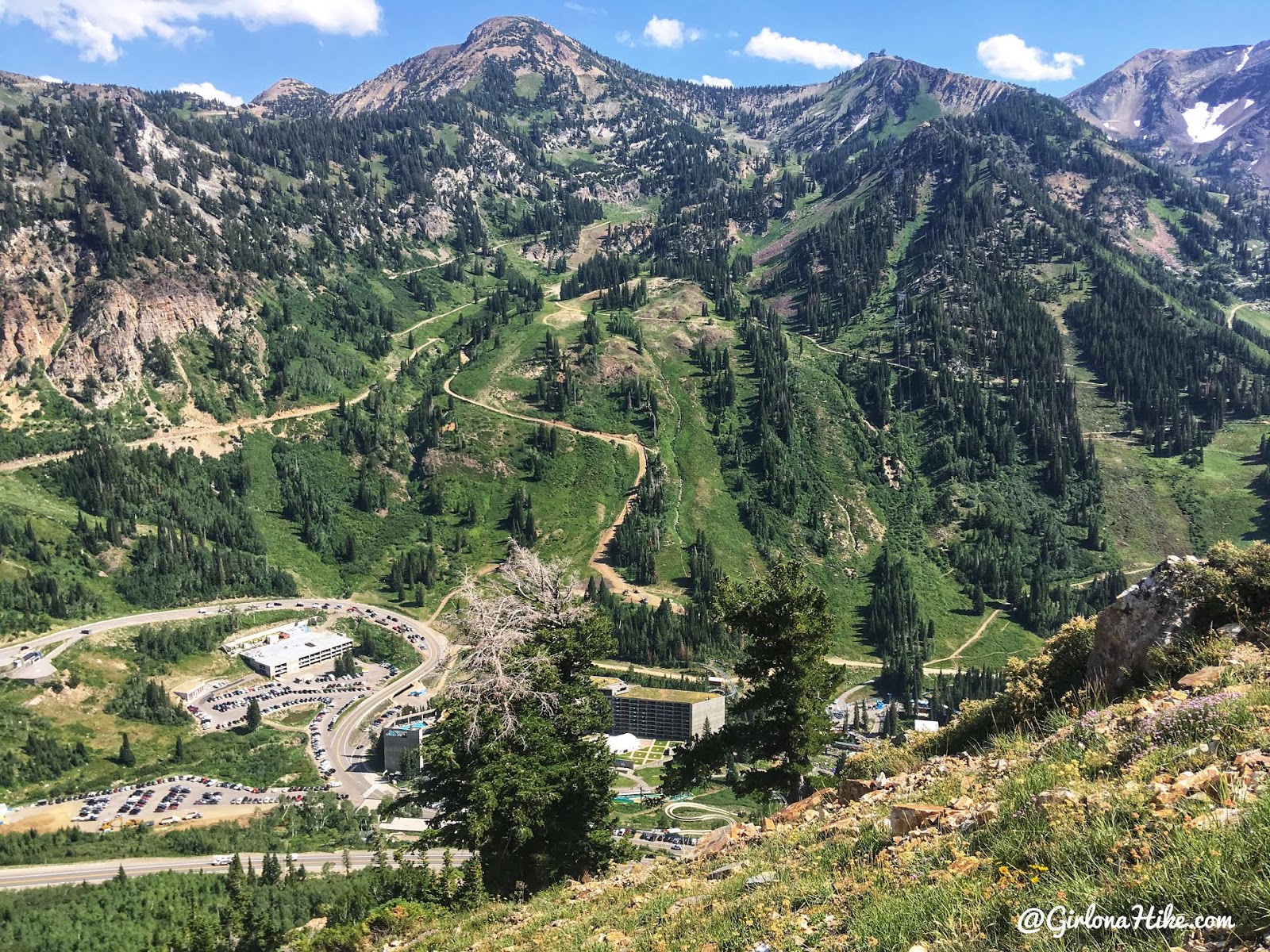 Looking back down to Snowbird!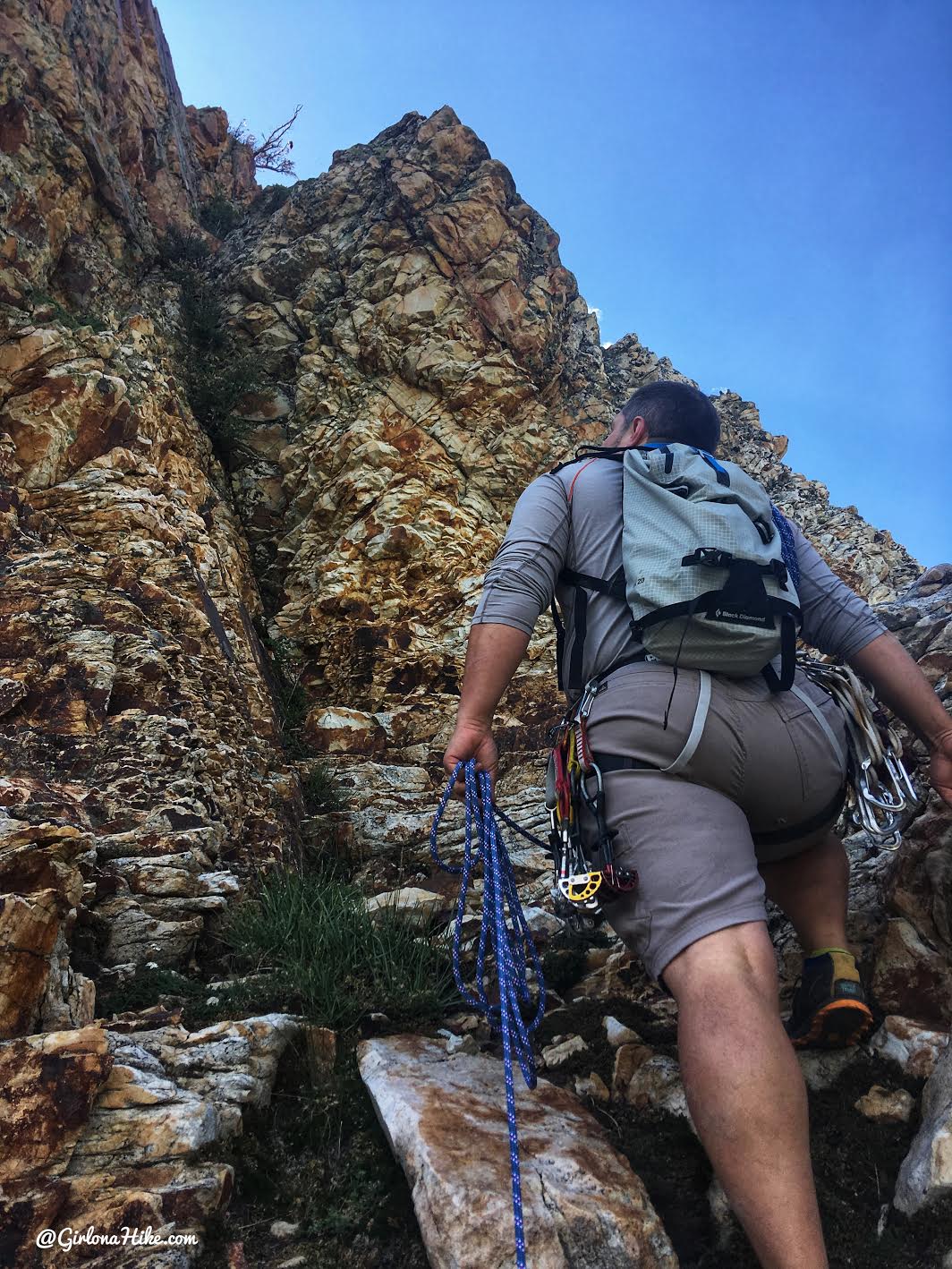 I've always seen people on Instagram and Facebook groups posting pictures of them hiking the South Ridge with no rope or anything. So I assumed if they can do it, so can I. This was not the case for me.

This is a trad climb – you will need a few pieces of gear plus at least a 50 ft rope.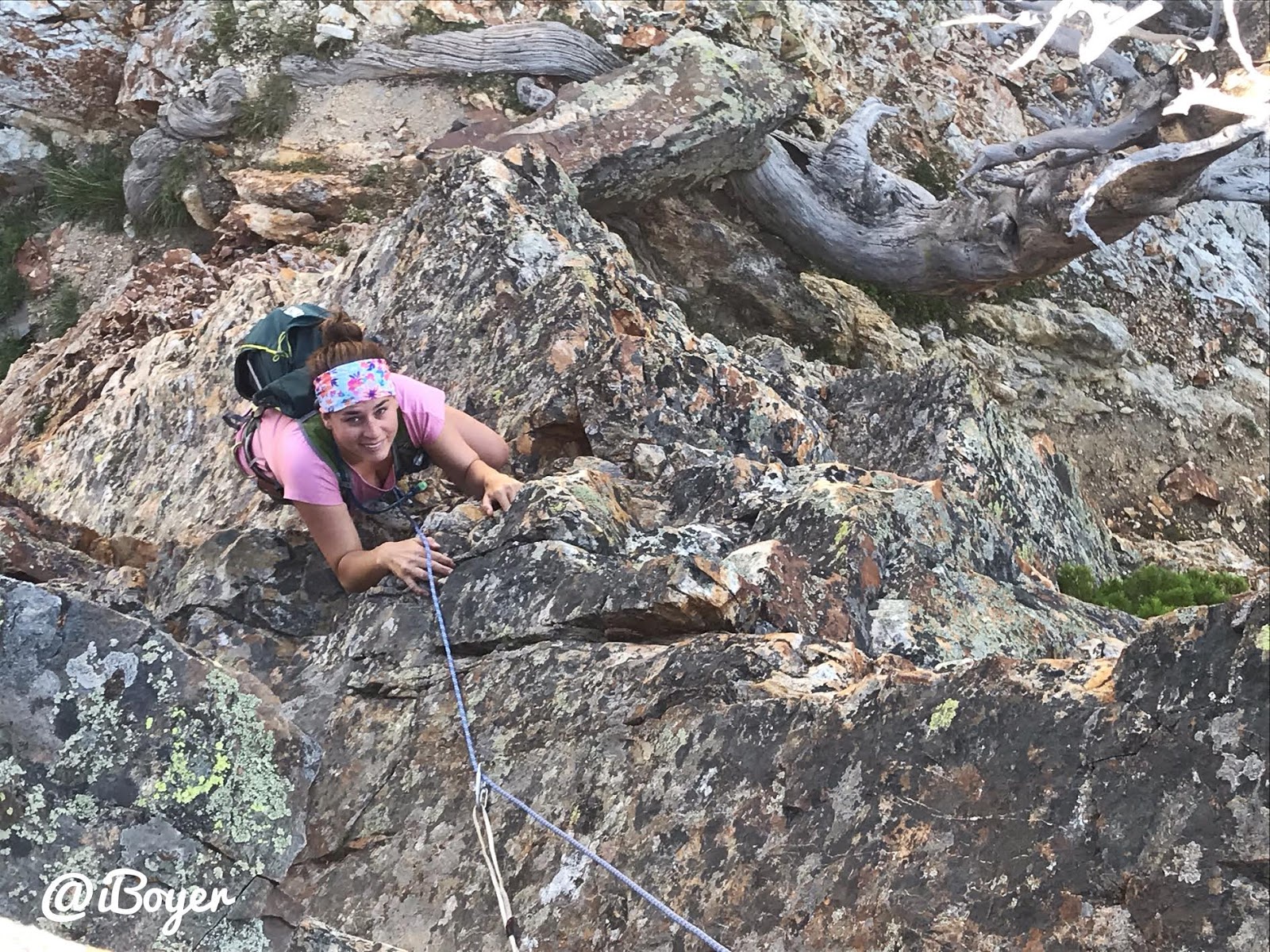 I was so nervous that I needed to be roped up and tied in to my harness. I was mad at myself for needing the assistance and wanted to climb without the rope, just like I had seen others do. Why was this so challenging for me? I climb! I bag peaks every weekend! I was getting frustrated.
On the way up, I saw lots of pipes and platforms sticking out from the small ridge over and was informed that it was to do with winter backcountry avalanche control.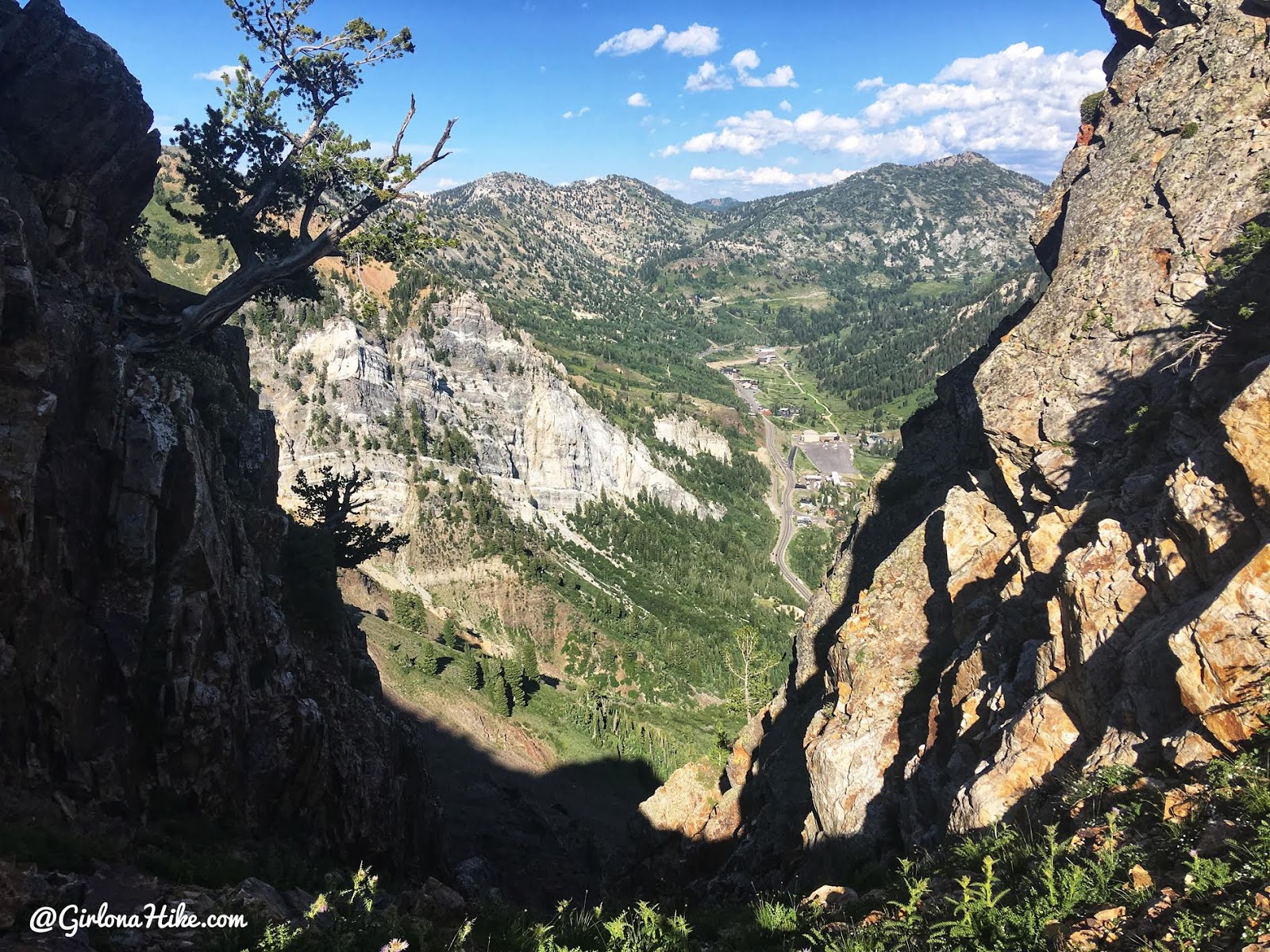 Looking down Suicide Shoot – a popular chute for backcountry skiers.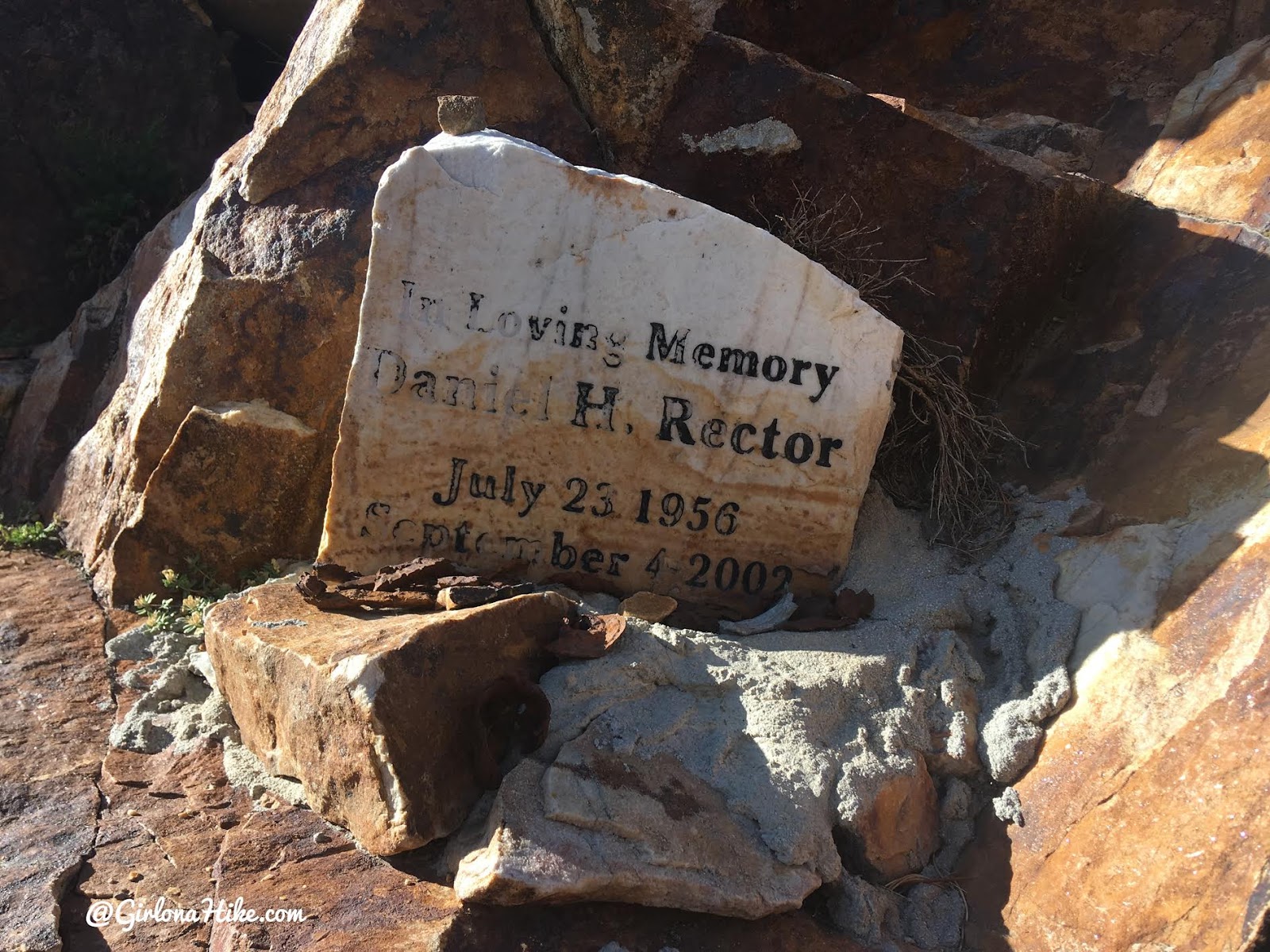 This wasn't very reassuring – so sad to think about a death up here!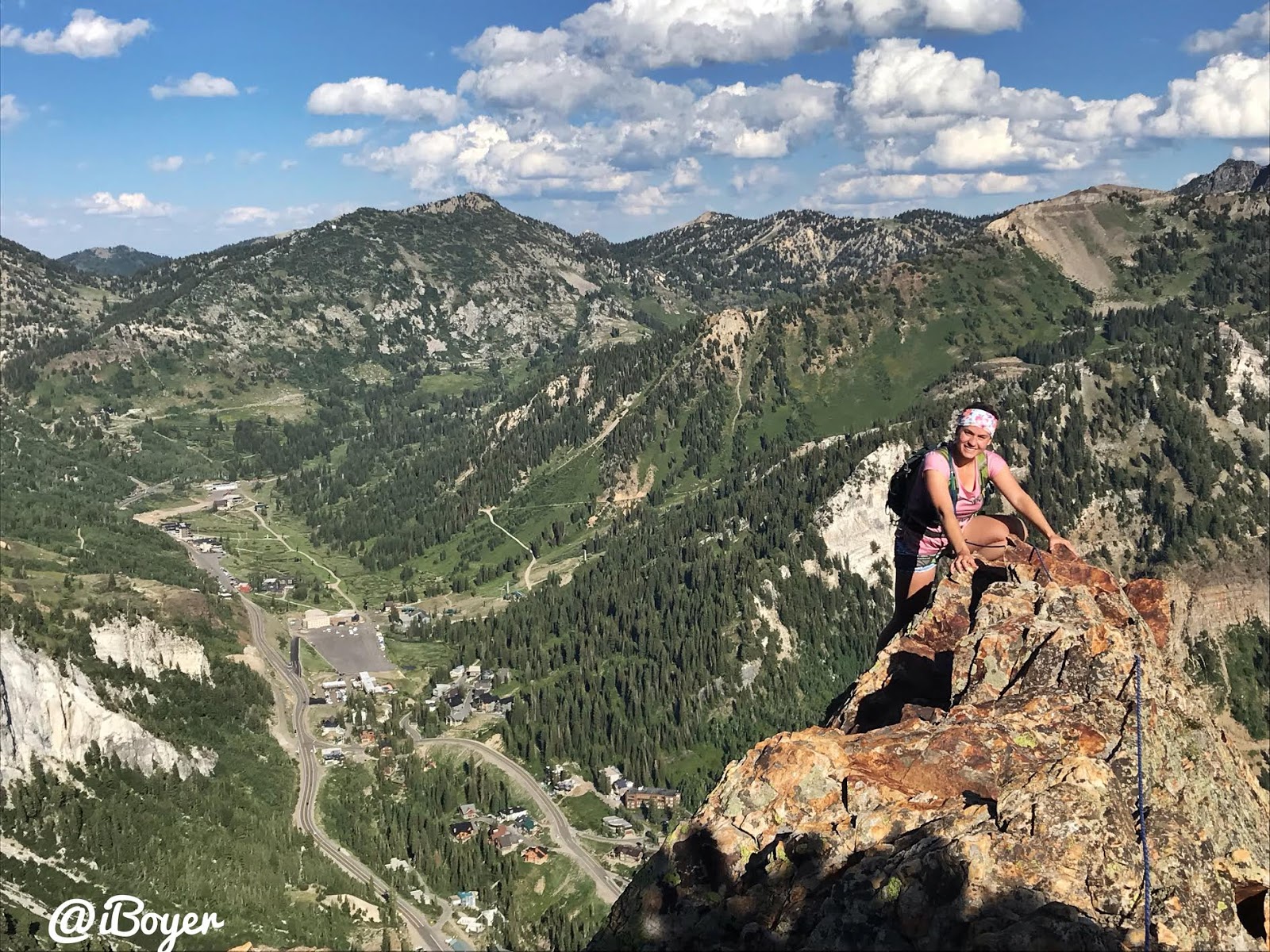 I started to feel a more comfortable on the exposed ridges. As about 8 people flew past us, I just had to realize that I felt safer with a rope and had to not care what people thought about me. Even if I didn't look "cool" with a rope on this ridge, I had to realize that being safe was better than being sorry!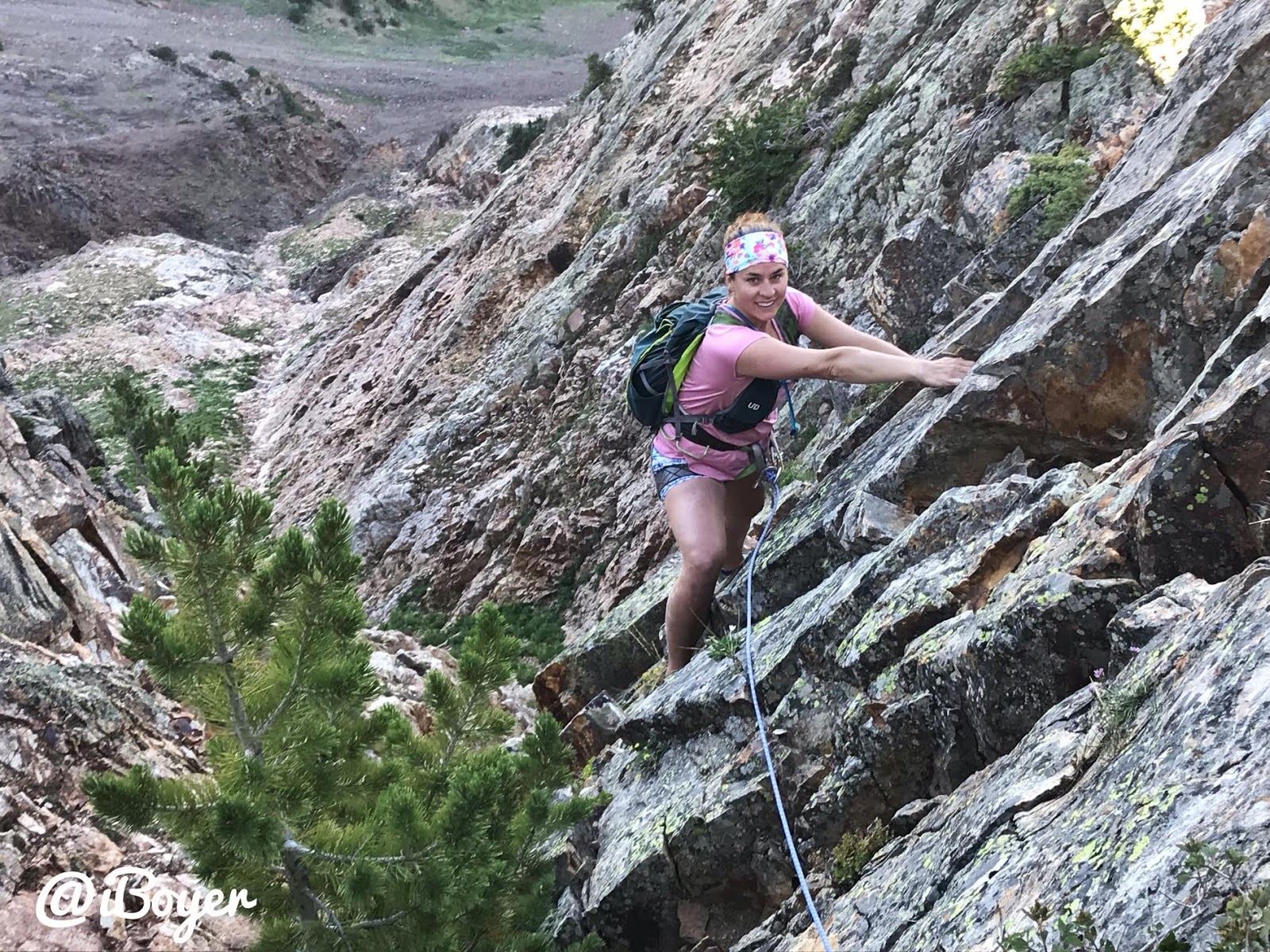 I had a LOT, and I mean a lot of negative self-talk on this ridge. I knew Ian was getting annoyed, and I had to realize that it wasn't making things any better. I tried to smile in photos, even though I had a death grip on these rocks and my mind was not in a good spot.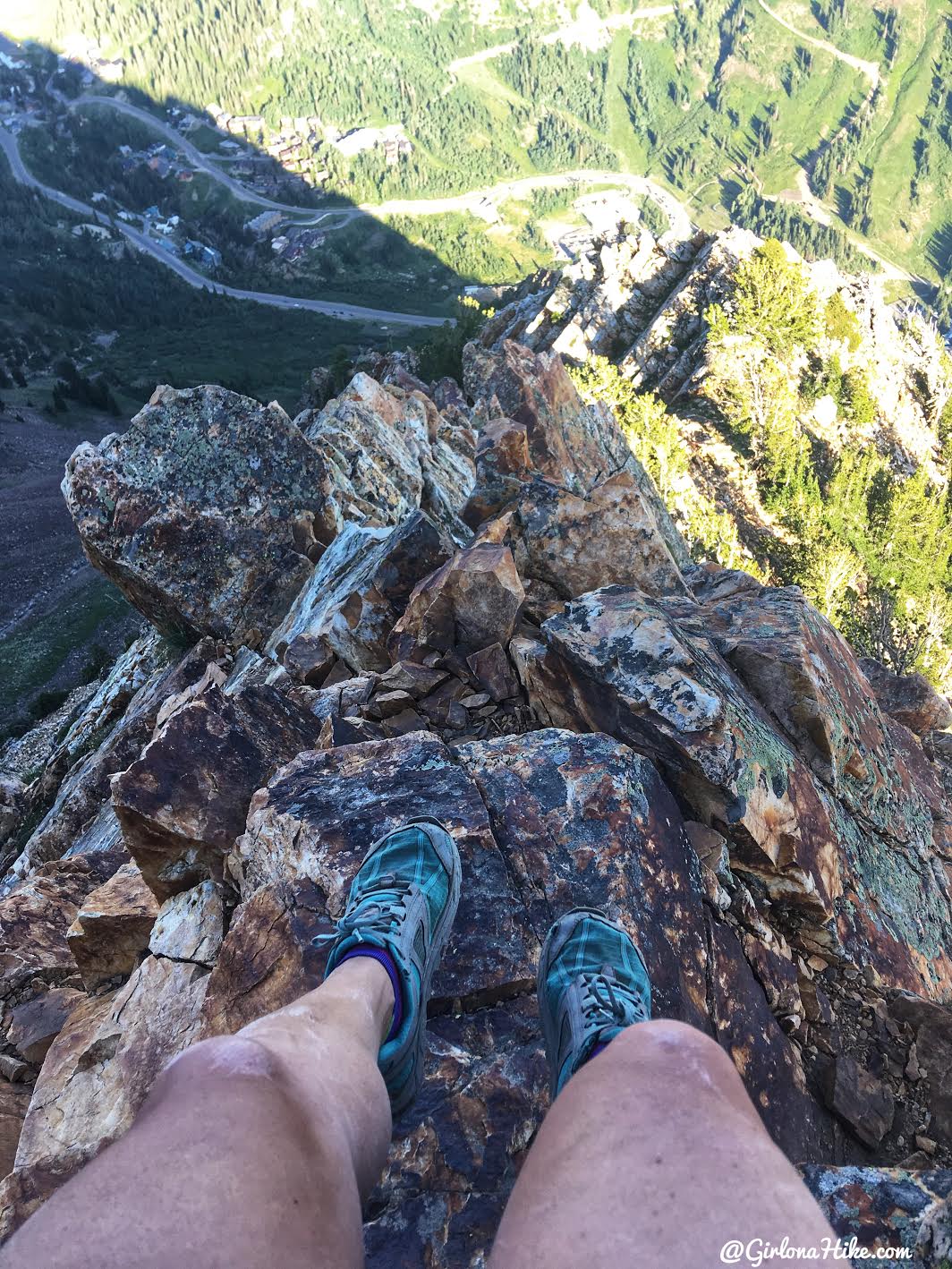 I had to take so many breaks. This shows just how narrow the ridge is. No more than 3 feet across at most.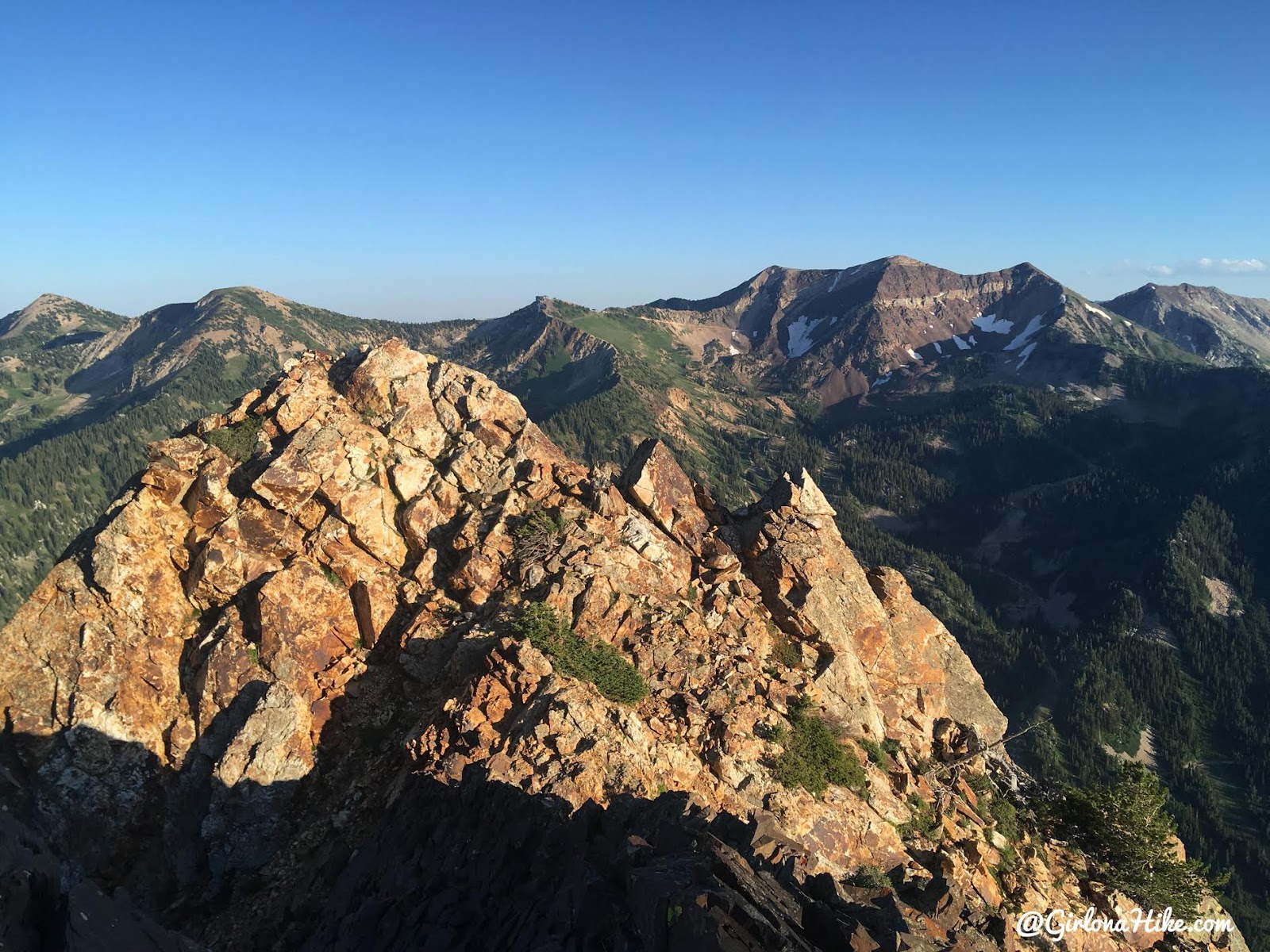 I started to look around at my views again, and started to relax more on the flatter parts. The sun was starting to go down, and I was worried we wouldn't make it to the summit by dark. At least my view of American Fork Twin Peaks was awesome!
Finally, the rock changed from the light brown to a very dark brown, almost black, and I knew we were close. The hardest climbing was behind me now.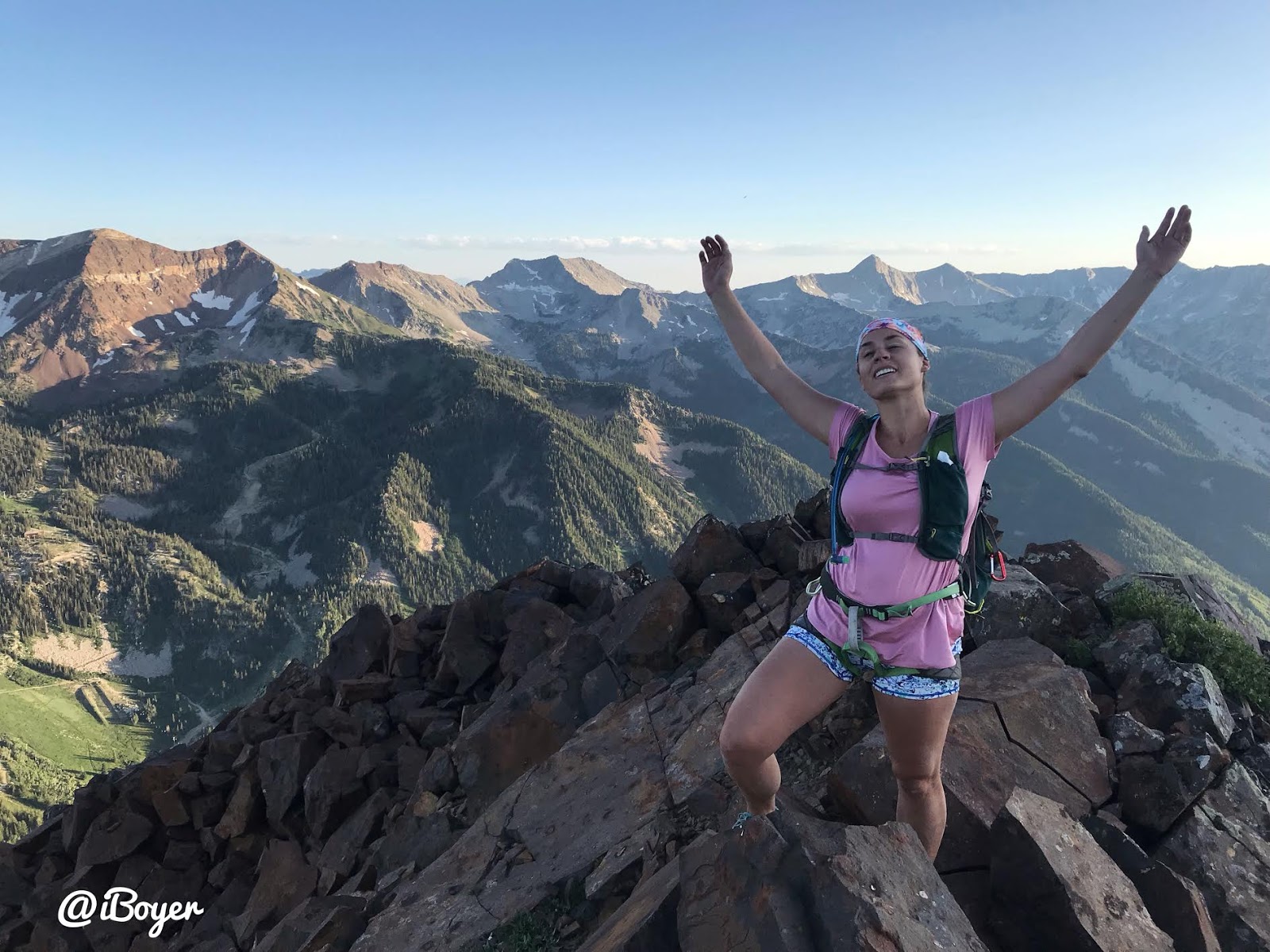 I disconnected from the rope, and on a flat spot, finally felt some relief. Finally, I made it through the worst part! I was extremely exhausted here, but I think Ian said something like, "pretend like you're happy!" haha!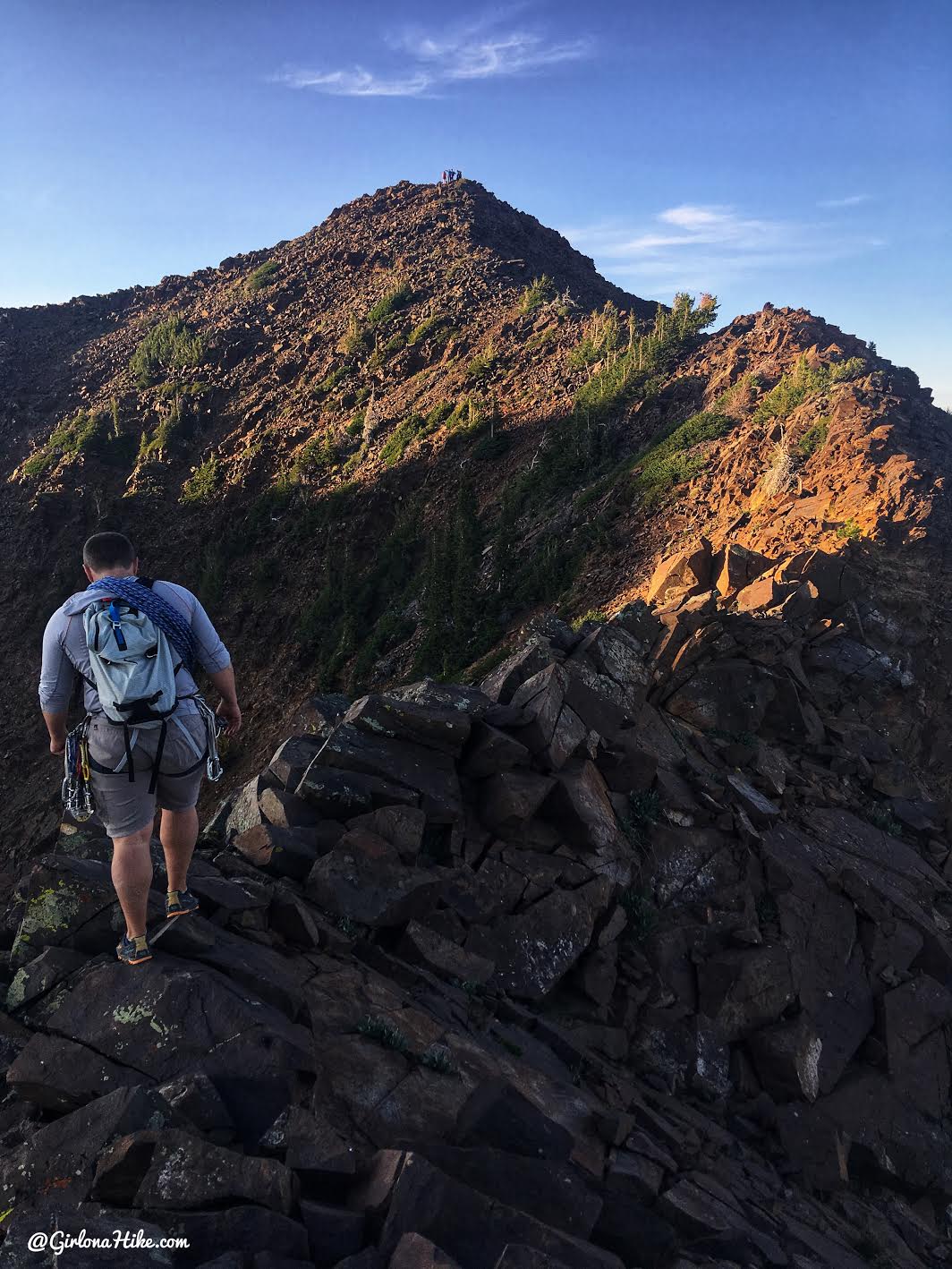 Finally, we could see Mt.Superior.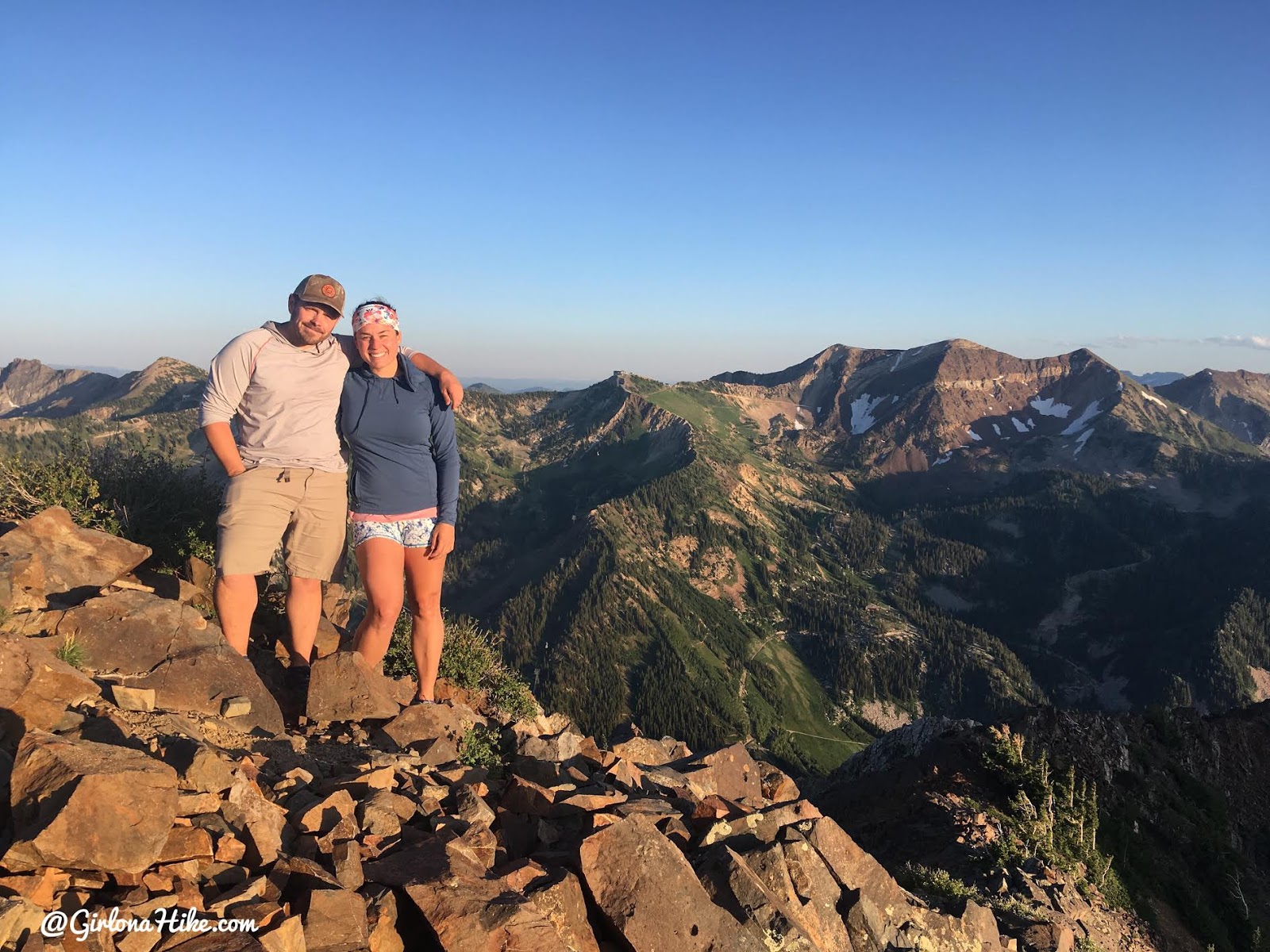 It took me 4.5 hours to reach the summit via the south ridge. The fastest known time (FKT) for comparison is 59 minutes by local Chris Cawley!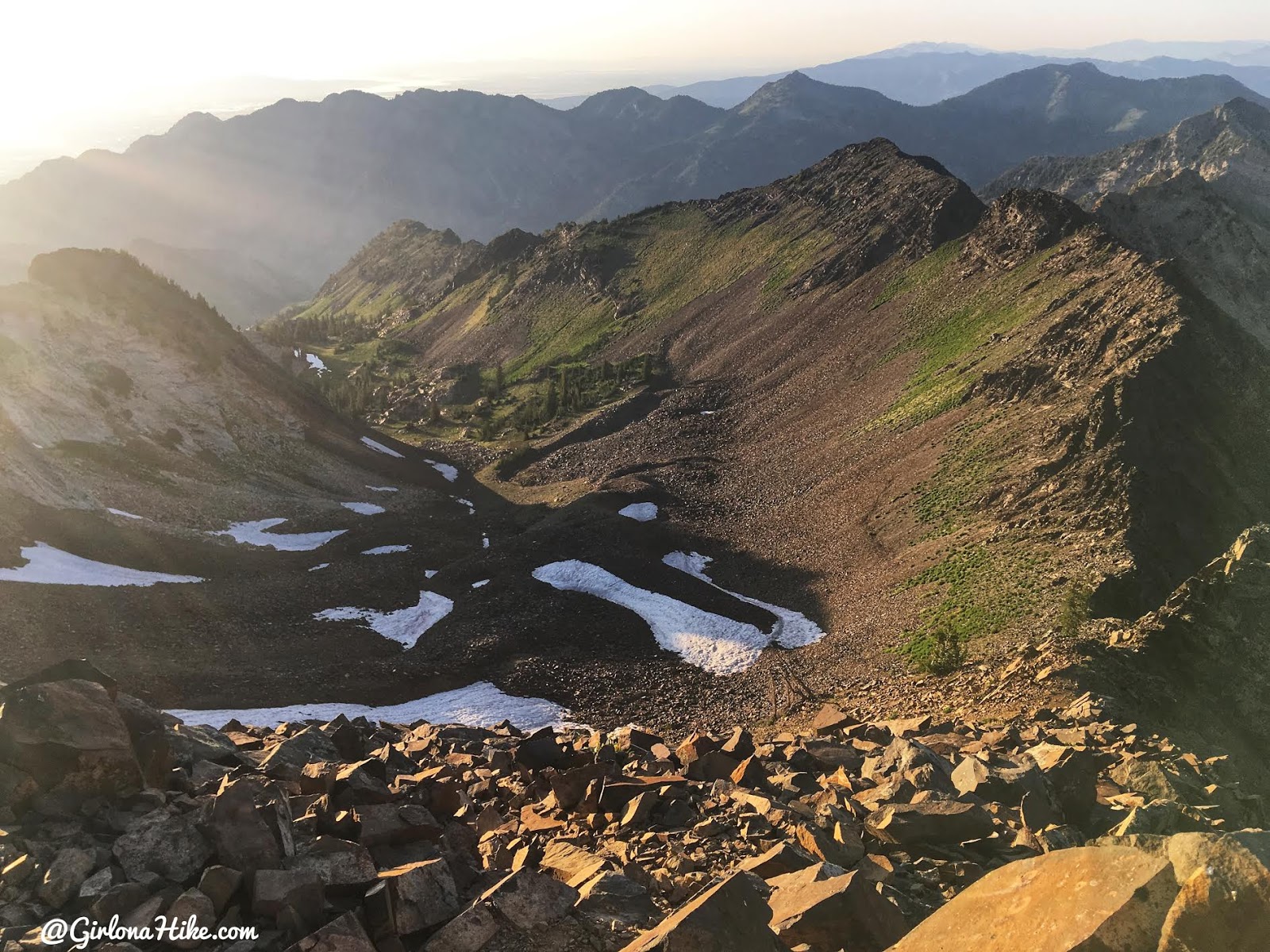 Looking down to the upper Lake Blanche basin, and Cardiac Ridge on the right.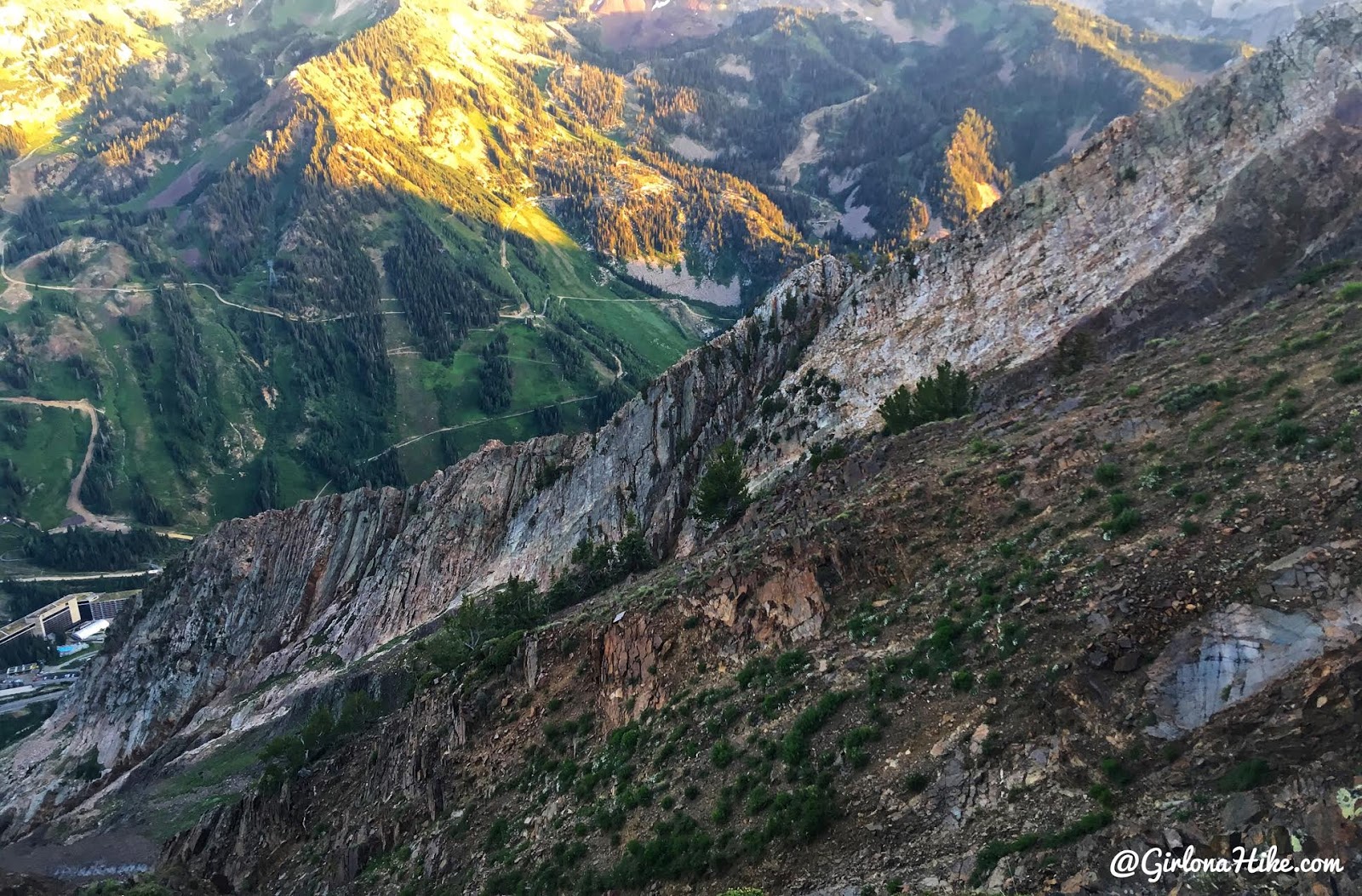 We stayed on the summit for about 5 minutes, then because it was already 8pm, I wanted to start hiking down. We took a minute to stop and look at the south ridge. Wow, did I just do all that?! Crazy. Doesn't look so bad from this angle!
Making our way down the actual trail.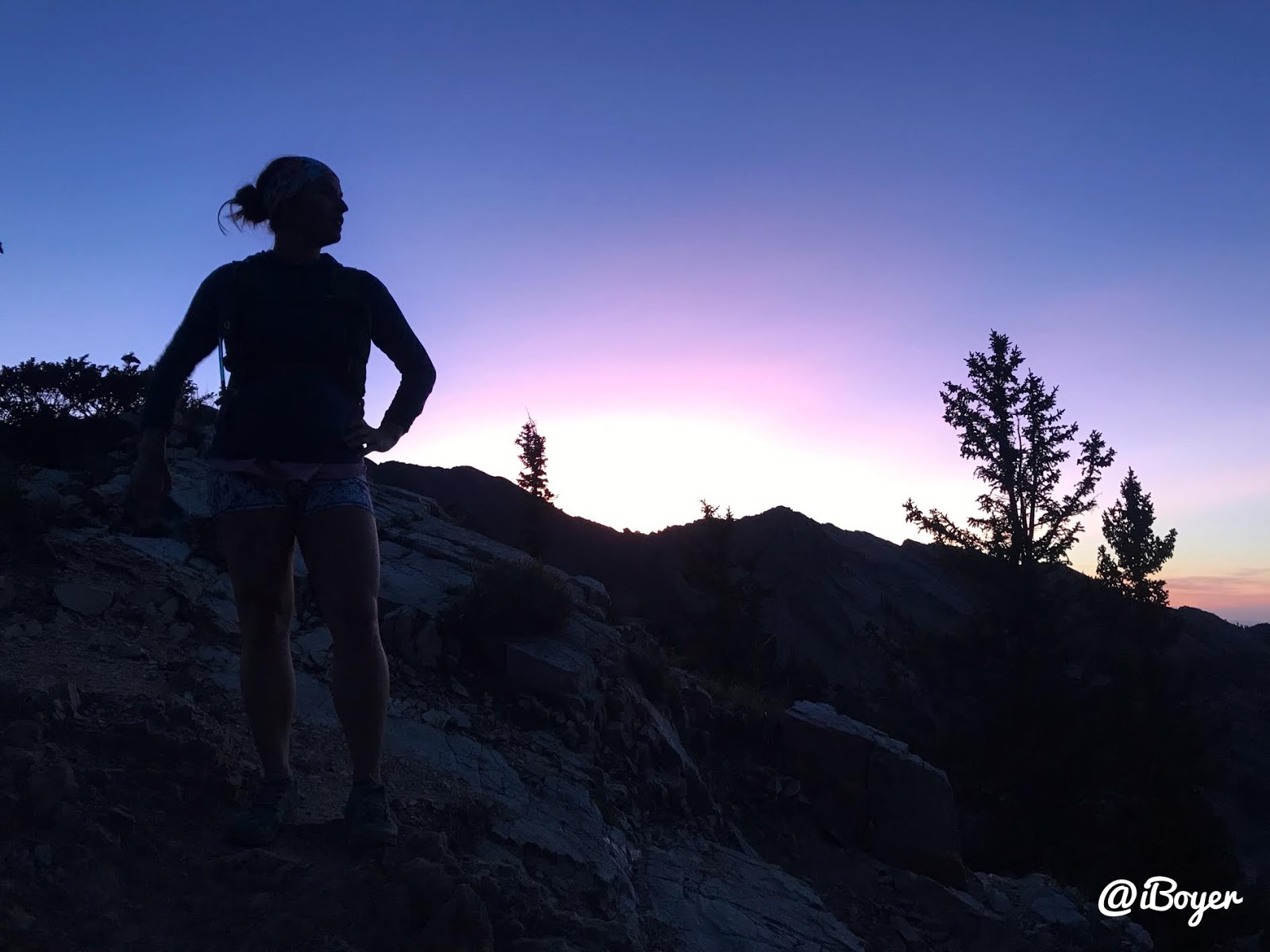 Our 5 mile loop took us 7 hours to complete. I'm not happy about how long it took us, but sometimes thats just how things go. I'm just glad I completed it, and will probably never do it again. It was not only physically, but also mentally, exhausting!
Trail Map
My track via Gaia GPS – the best tracking app! Get your app here for a discount.
Recommended Gear
Nearby Hike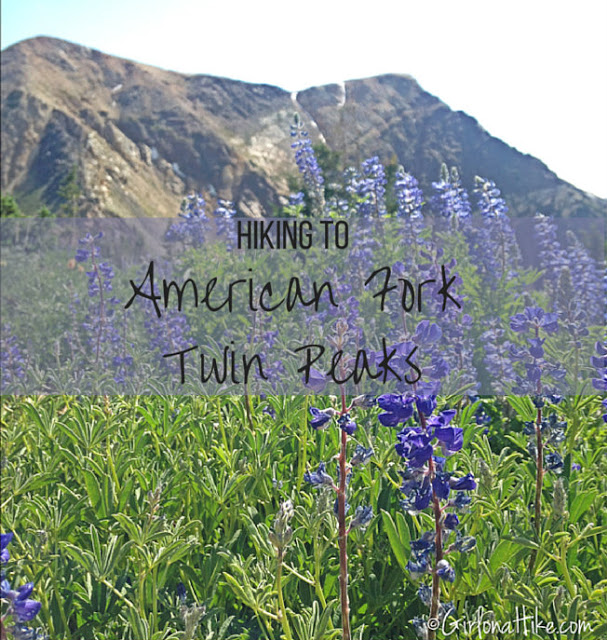 Save me on Pinterest!