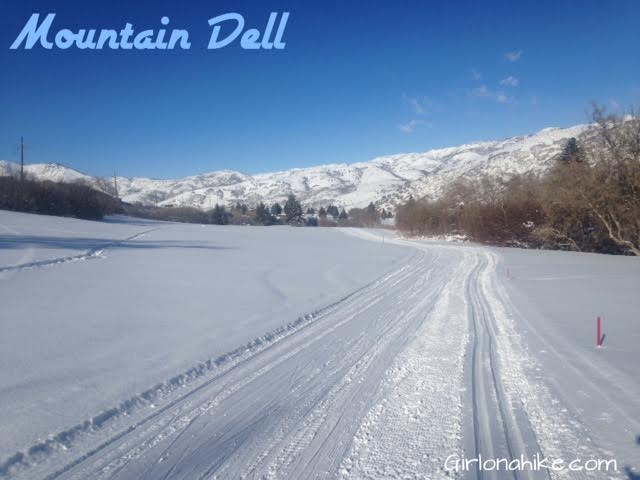 Cross Country Skiing at Mountain Dell Recreation Area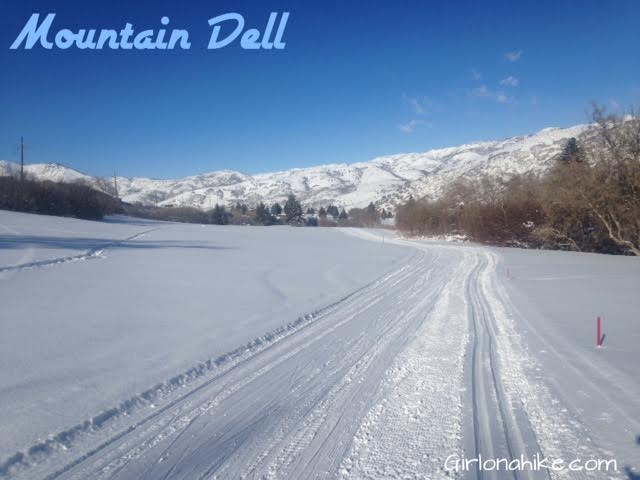 Mountain Dell Recreation Area is a cross country (xc) skiing area and sledding area in the Winter, and converts to a golf course in Summer. During Winter, Mountain Dell is maintained by TUNA.
About
The Utah Nordic Alliance (TUNA) is a non-profit organization, and it's main activities are centered around XC skiing and racing, with race programs, trail grooming, maintaining the TUNA Yurt in the Uintas, offers family ski tours, and a social program. They also publish a monthly newsletter called TUNA News. Mountain Dell is the only ski venue that sets tracks daily. My usual, go-to, xc skiing area is the winter road up Millcreek Canyon, but this area is rarely groomed, making xc skiing a bit hard due to the choppy snow. It's also a bit hard to ski where snowshoers are allowed, making the snow even harder to get a nice glide on. I do love xc skiing in Millcreek because dogs are allowed (odd days only), but this weekend I was in need of a groomed track and nice glide. I had never been to Mountain Dell (mainly because my dog can't come), but this weekend found me there, soaking in the sun and tracks.
Directions
 From SLC, head East on I-80 through Parley's Canyon. Take exit 134 for Mountain Dell, and follow the brown signs. To start at the Nordic Area, park on the south side of the brick building.
Here is a driving map.
Trail Info
Distance: Mountain Dell offers 10K of groomed trails
Elevation gain: varies
Dog Friendly? No, dogs are not allowed here due to the watershed rules
Kid Friendly? Yes
Pricing: Free parking. $7 day pass, $55 season pass for TUNA members, and $80 season pass for non-TUNA members.
Mountain Dell does NOT rent gear. You need to have your own gear or rent from any of the local ski shops in town, such as REI, Canyon Sports, Wasatch Touring, etc.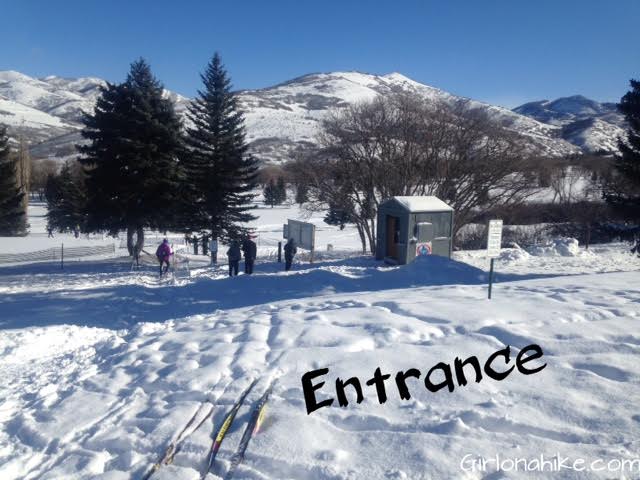 Here is the entrance to Mountain Dell. Someone is there to collect fees, and there is also a map to look at. You can see the map at the end of this post.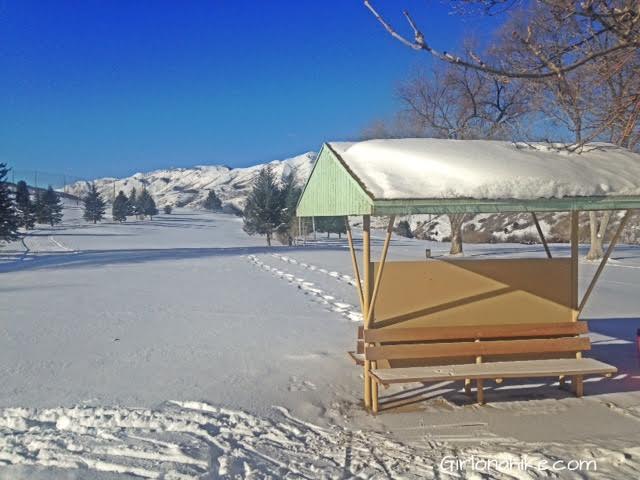 Skiing around the track, there were a few nice, covered benches to take a quick break.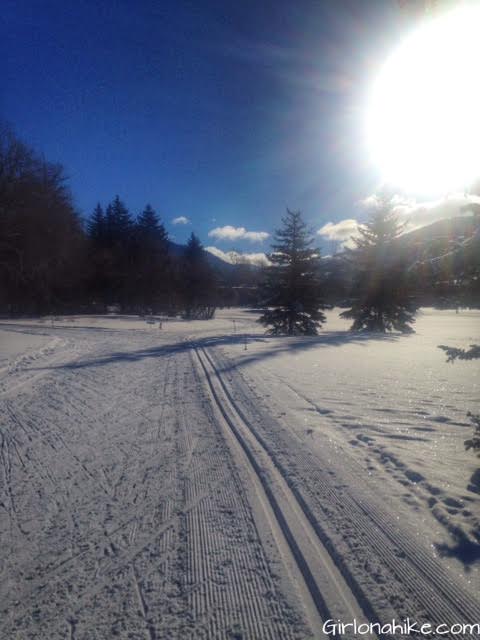 Ahh, groomed tracks!
If you haven't skied on groomed xc ski tracks before, the wide open section on the left is for Skate Skiers, and the track on the right is for Classic Skiers. Always be courteous and announce when you are about to pass the person in front of you.
Click this link to see:
What's the difference between Skate & Classic xc skiing?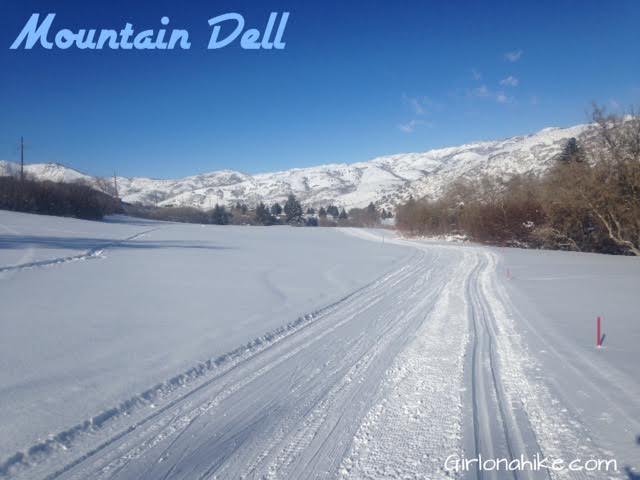 Working my way around the track. What a gorgeous, blue bird day!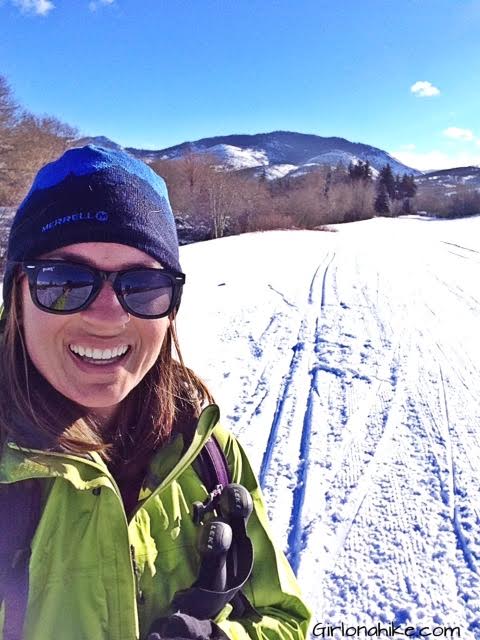 So happy to be outdoors!
Final thoughts on this area…
The "Pros" of skiing Mountain Dell are the groomed tracks, and the quick, easy access from SLC.
The "Cons" of skiing at Mountain Dell are that dogs are not allowed, and it cost money.
I probably won't return here because of the "cons". Although I loved the groomed tracks, it really makes a difference to me
that my dog can't tag along. Charlie skis with me other places, and absolutely loves it. Plus, I can ski several other places that don't charge a fee.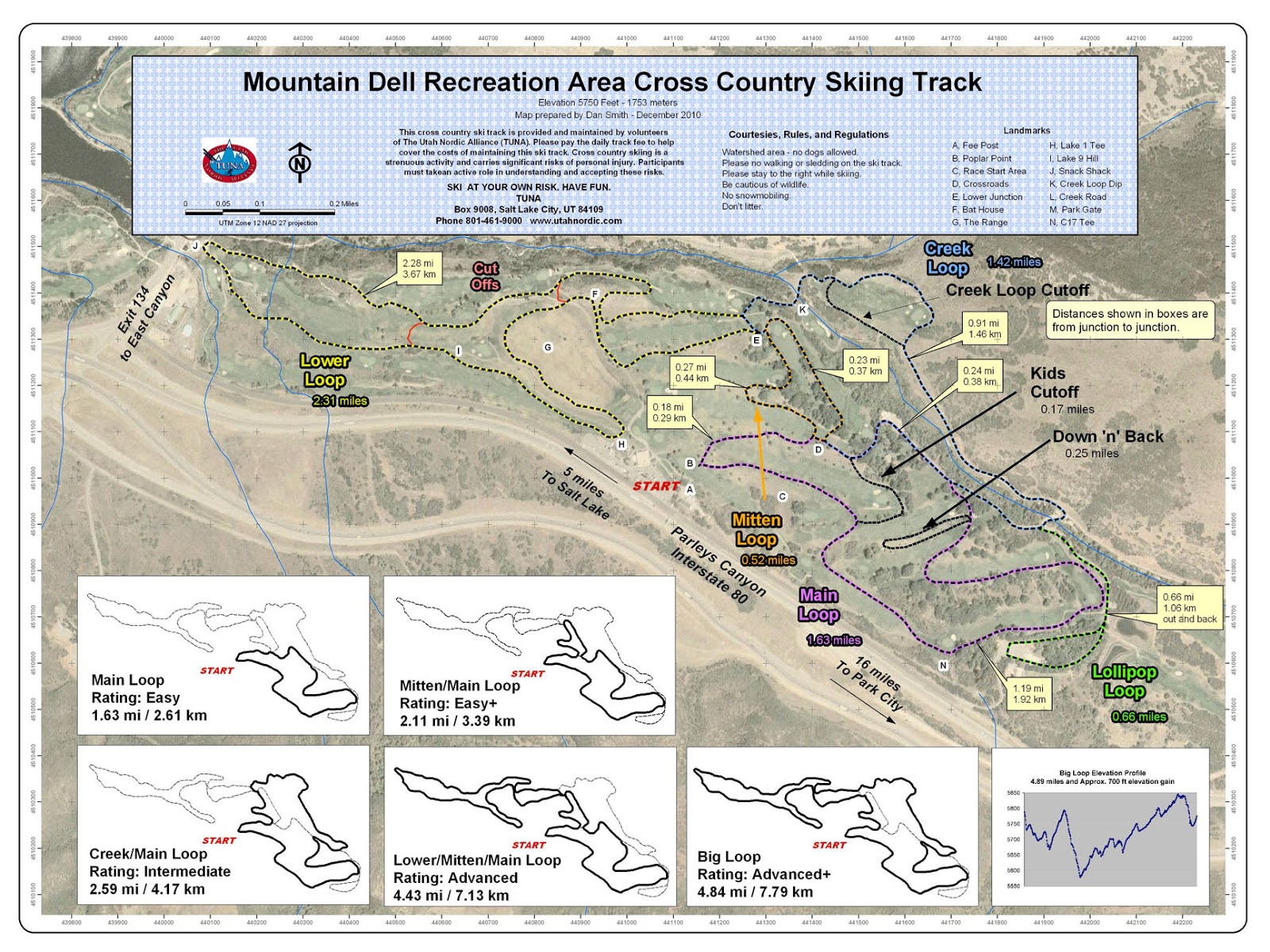 Map of Mountain Dell (courtesy of TUNA)