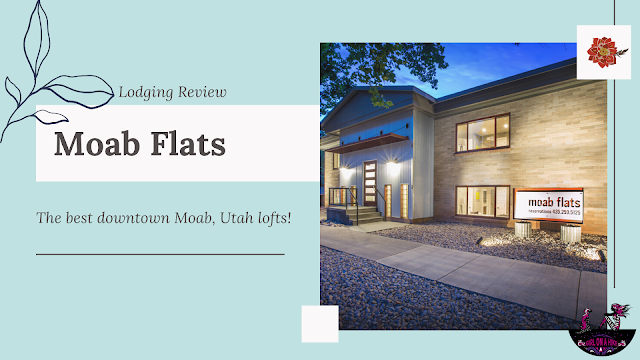 Lodging Review: Moab Flats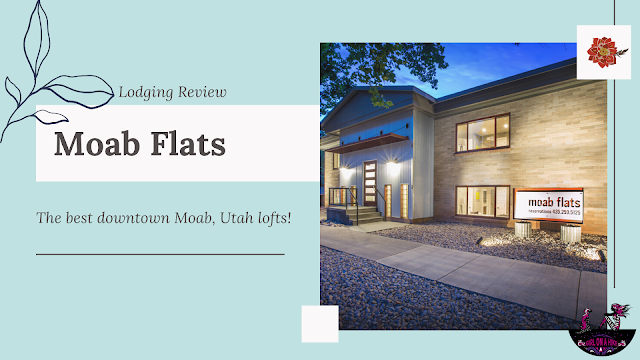 Moab Flats is Moab, Utah's best downtown lofts! Ok, that is just my opinion, but you definitely need to check this place out if you love exploring Moab, but need something dog-friendly and its just too hot (or cold) to camp.
About
My friend and I love hiking in the LaSals every summer, but as most of you know, summer is the hottest time in Moab with temperatures usually near 100F every day. However, if you escape to the mountains temps are much cooler. My other favorite time to visit Moab is winter when there are no tourists, and the sand won't burn the dogs' paws. But then it's too cold to camp! What's a girl who loves to camp to do?
That's right – find a dog-friendly place to stay out of the extreme weather. Moab Flats offered everything we would need for a weekend – full kitchen, enough room for up to four people and two dogs, laundry, wi-fi, etc – all within 1/2 block from Main Street. Let me show you inside two of Moab Flats properties and everything they offer!
COVID-19 Precautions
All units are contactless entry, which means no lobby, and no one to come in contact with when you arrive for your stay. Moab Flats is adhering to local health guidelines in regard to sanitation to ensure guests have a fun, cozy, and clean experience!
Moab Flats – Main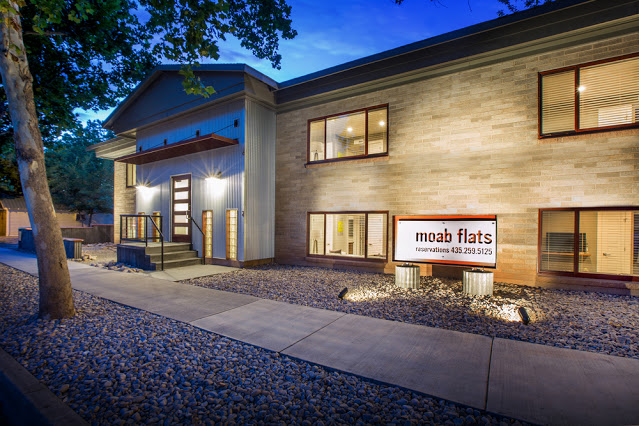 In the 1950's, Moab was booming from the mining industry and was originally a quirky mid-century housing for local workers. However, in 2014 the owners of the property completely renovated and restored this unique location to offer a little bit of vintage and a little bit of modern, while still providing comfort and relaxation in the hear of Moab's downtown area.
You can search for availability and book a room at Moab Flats here.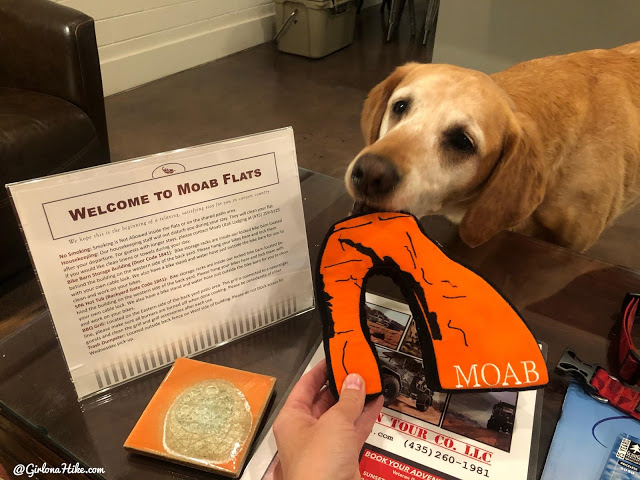 One of the biggest draws for us to stay here was how dog-friendly they are. Pets are allowed on in four rooms, all on the first floor for quick access to outside for potty time. They even provided poop bags for us and a cute little Arches dog toy – how sweet! There is an extra pet fee of $15/dog per night. They also provide a sheet to lay on top of bedding and furniture to protect everything and keep dog hair at bay.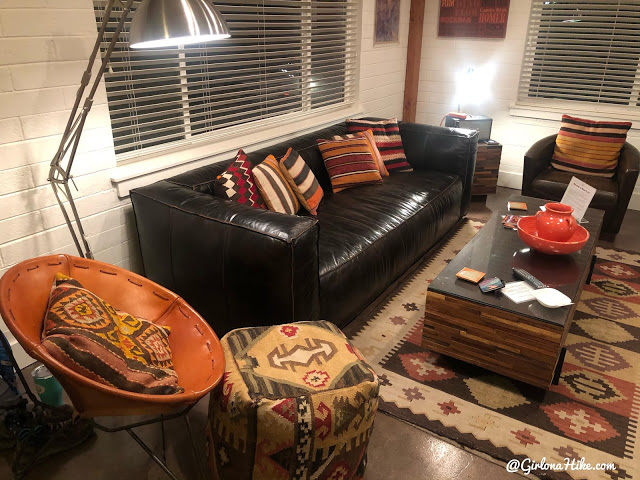 The living room – so cute! Super comfy and roomy. I really liked the decor in this room. In fact, many of the textiles are made from reclaimed fabric from around the world including recent and tribal kilms, Navajo blanket rugs, and surreys from India. This particular flat is 630 sq ft. – much better and more spacious than a 200 sq ft. hotel room!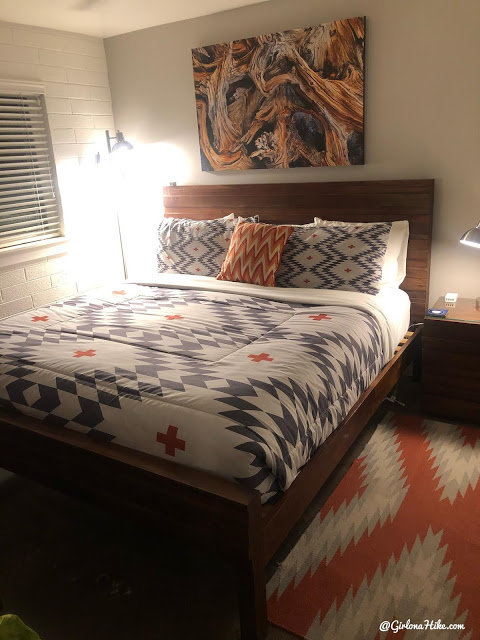 The main bedroom with a king bed. Loving the Aztec theme in here! There is also a large closet to place gear and clothes, a dresser, a ceiling fan, and TV in this room.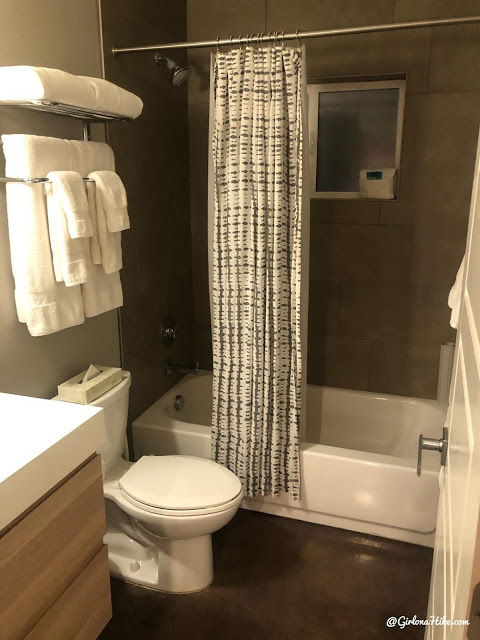 Nice sized bathroom – plenty of soap and shampoo in here if you forgot yours.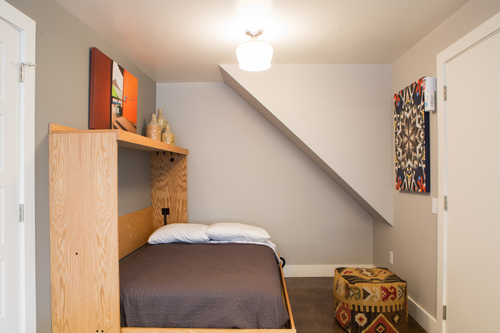 The Murphy bed.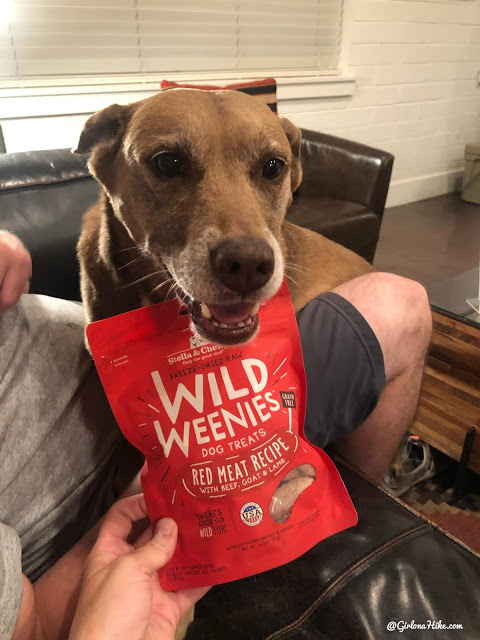 Mama enjoys her treats from our welcome gift bag from the Moab BARKery – happy girl!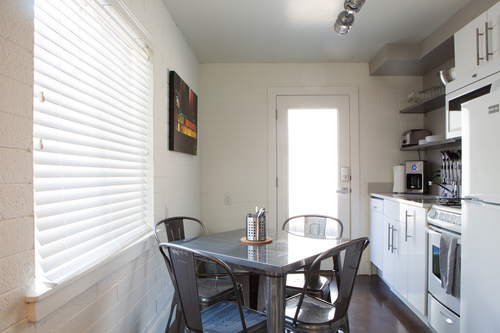 Perfect sized kitchen! All utensils, plates, cups, plates, etc are all provided.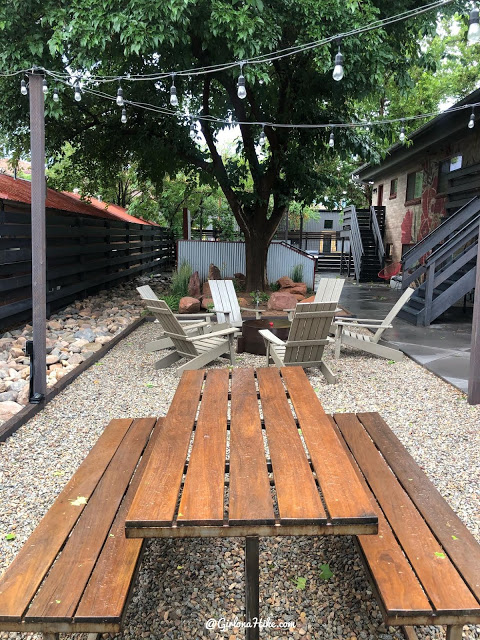 This patio is awesome! The backyard has a fire pit, large hot tub, plenty of seating to have friends over, and a BBQ. There is also a shed to work on your bike and to keep locked up while you're out on the town or go for a hike instead. They also have a hose for washing off your bike or dogs' paws, so you can enter through the back door without getting the floors dirty inside. It is an open-style yard so the other patrons could be out there enjoying it with you.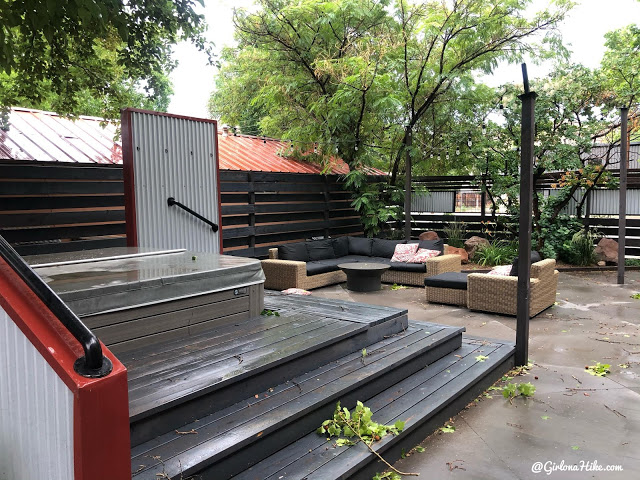 Hot tub and second half of the backyard retreat.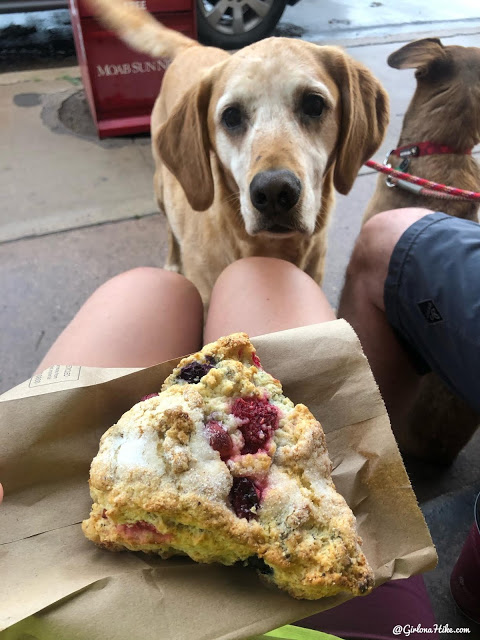 Make sure to stop by the Red Rock Bakery, literally a 3 minute walk from Moab Flats, to grab your coffee and locally made scones. So tasty! Dogs are not allowed inside, however, the are benches out front. Charlie is waiting for his piece!
Purple Sage Flats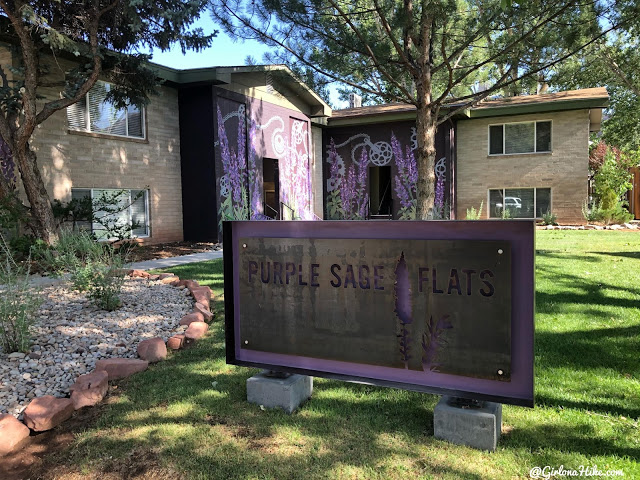 Purple Sage Flats is another property owned by the same couple, and was also renovated in 2014. You can search for availability and book Purple Sage here, then type in Purple Sage Flats. This property is a mere 3 blocks from Main Street. It only took us about 10-15 minutes to walk into town for dinner.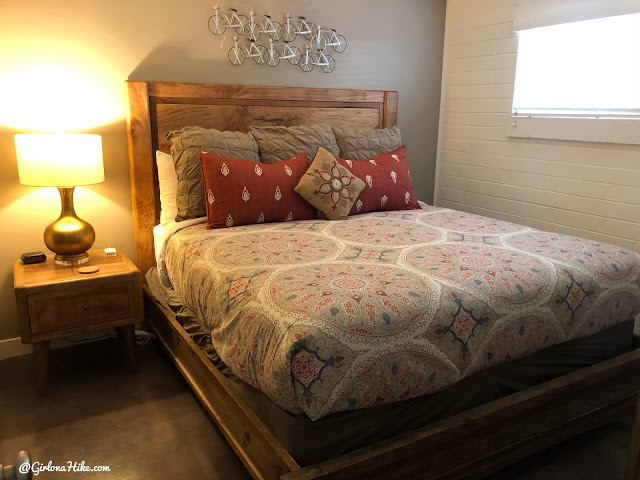 This room had a much more modern, vibrant feel, yet still cozy. Much of the wood furniture is built from reclaimed materials certified by the Forest Steward Council. Four rooms are pet-friendly in this area as well.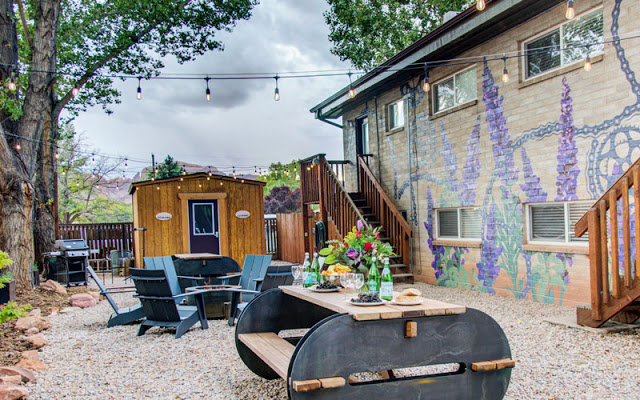 Another beautiful backyard retreat! The only thing these rooms have that a different is laundry is not located inside – the outdoor shed has several washer/dryers with detergent available for free for customers.


I absolutely loved both properties and it was so nice to have our dogs inside with us and be so close to town and hikes. Both rooms were very clean, and it was nice that there is contact-free check in – no worrying about arriving at a late time or having to get a key from someone. They just email you instructions and you can let yourself in with a key code. Everything was very well kept and clean. I loved that they provided dog poop bags for us, and a special sheet to put on the furniture so they dogs could snuggle us. Be sure to follow them on Instagram @moabflats and tag #staymoab #moabflats from your stay.
I highly recommend staying here – I will be back this winter!
Check out my video review!

 
Nearby Hike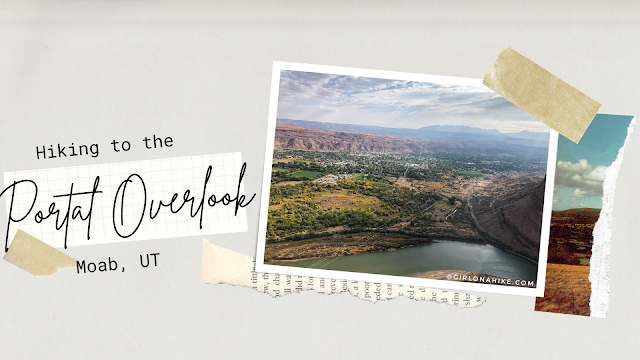 Save me on Pinterest!