Hiking the Wild Rose Trail
The Wild Rose Trail is located in North Salt Lake along the foothills and is a popular trail for hiking, running, and mountain bike riders. It sees way less people in Winter, so it's a perfect time to take your dogs. Dogs are allowed off-leash year round but it's best to take them in Winter so you don't have to worry about bikes flying down the trail, and it's a much cooler hike. This trail can get pretty hot in warm months, and there's no water available for your pup. 
This would be a perfect trail for very beginner hikers or a hike to take children on. You can pick your distance and the elevation gain is extremely gradual. Because this trail sits at 5500 ft elevation, the snow melts faster that higher elevation hikes, and can be quite muddy in Spring.
Directions
Head north on I-15 and take exit 312. At the first light (Eagle Ridge Dr) turn right, then continue straight around the round-a-bout. Follow Eagle Ridge Dr as it winds its way through the neighborhood; watch out for the many potholes. Turn right on Eagle Pointe Dr, then left on Sky Crest Lane. The parking lot can fit about 30 cars, and restrooms are available (however they are closed during winter). Here's a driving map.
Trail Info
Distance: Varies, but we hiked 2.5 miles RT
Elevation gain: 400 ft
Time: 1-3 hours
Dog friendly? Yes, off leash
Kid friendly? Yes, all ages!
Fees/Permits? None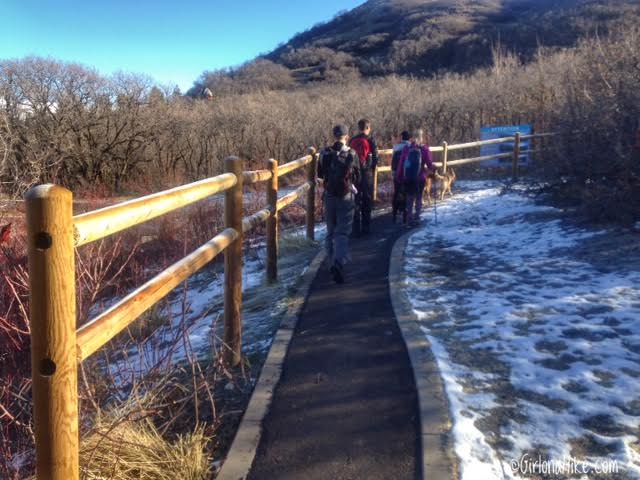 The trail starts by following the narrow paved path along the wood fence.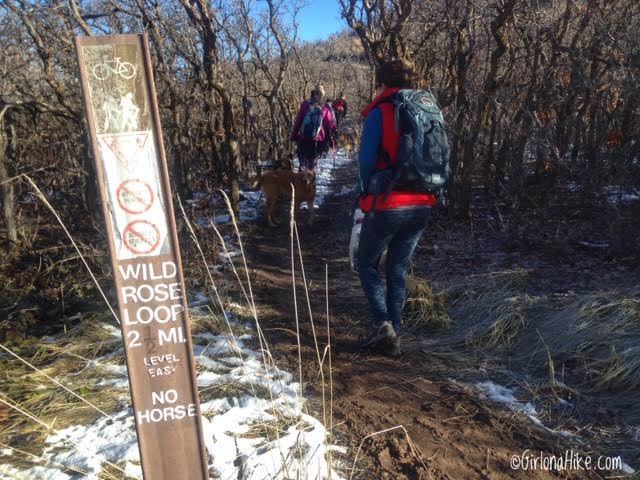 Great thing about the Wild Rose Park & Trail is that you can choose your own distance and route, as there are several mini loops. At the first intersection, we chose to head left.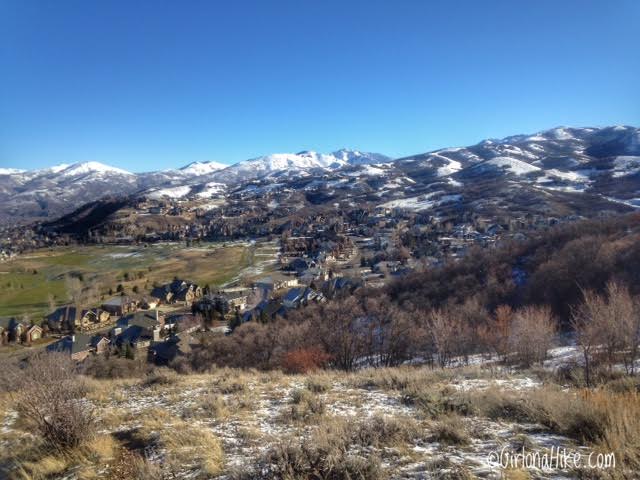 Within the first 1/2 mile you have great views of Bountiful and the Eaglewood Golf Course.
 Part of the trail was still in the shade since we started hiking at 9:45am. Thankfully the snow along the trail had already melted off from the warm weather we had last week. The mud was still frozen since we started hiking early enough, but by 11:30am the frozen mud also started to melt as well.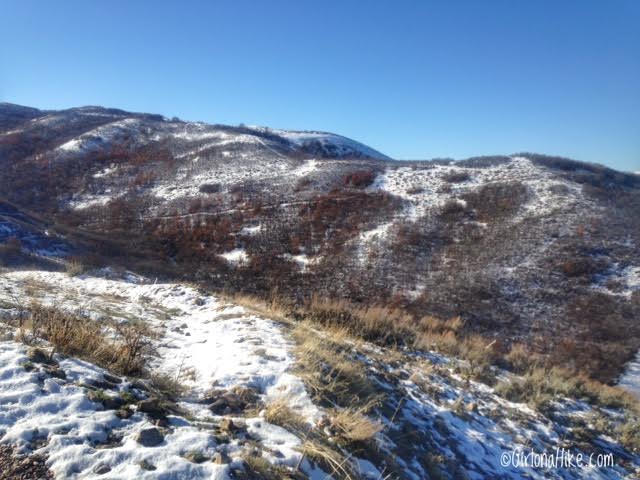 For the most part, you can see the entire "bowl" of mountains you will be hiking around.
 Working our way to the ridge. Look at these deep blue skies!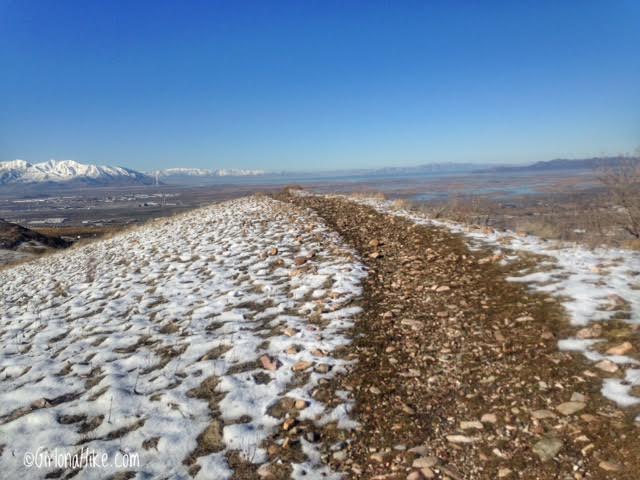 We took a detour over to Sunset Point. There's a bench at the end of the overlook, with great views of the Salt Lake, and on a clear day like today, you can see Deseret Peak and Stansbury Island.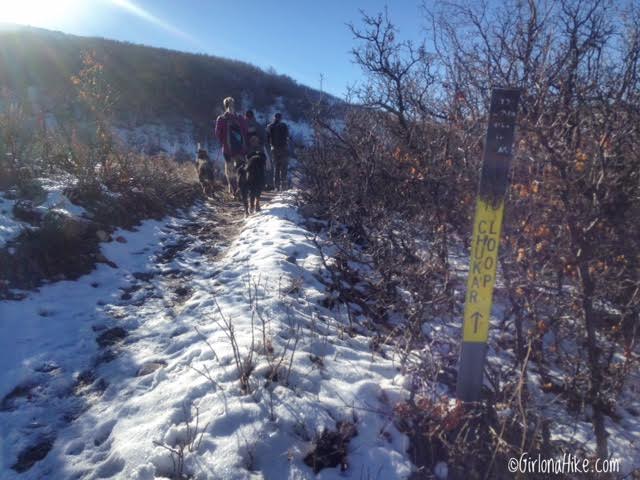 We headed back along the ridge, and made our way to the Chukar Loop.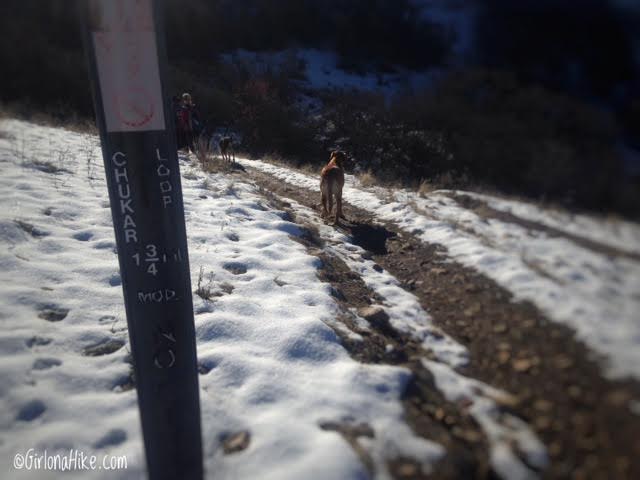 Charlie leads the way. I thought this sign was funny – you don't normally see it as 1 3/4 miles, usually signs will put 1.75 miles.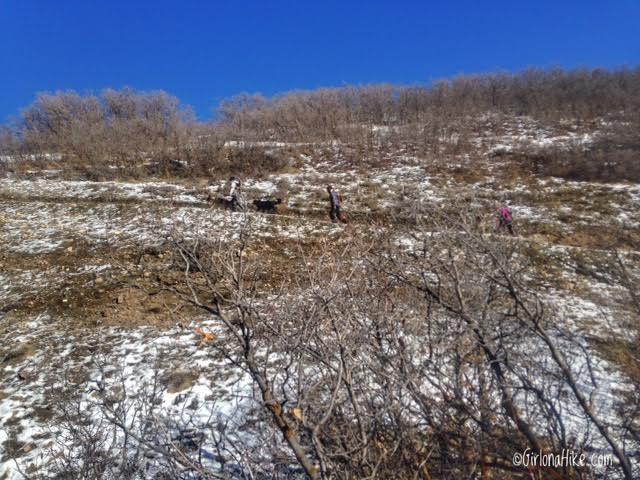 The Wild Rose Trail is mainly really long switchbacks, hiking above and below where you just were. At times it was really confusing. We were like, "Weren't we just here?!" Thankfully at each trail split there is a map showing exactly where you are.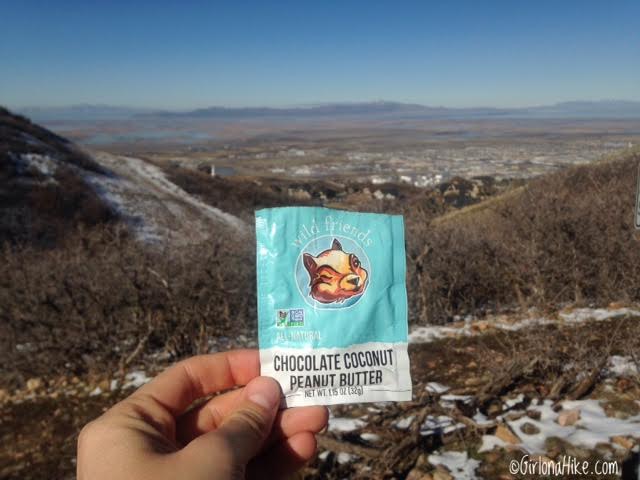 My new favorite hiking snack!!! These things are going to be perfect for backpacking this as well. Wild Friends makes these single serve packets of peanut butter that come in a variety of flavors. I picked these packets up at Harmon's for about $1.20-1.50 each. I love that they only have 5-6 natural ingredients depending on your flavor: roasted almonds (or peanuts), organic agave, organic vanilla, unsweetened dark chocolate, & sea salt. In one packet they pack 6 grams of protein and only 5 grams of sugar. Also check out their regular jars of peanut and almond butter.
March 2020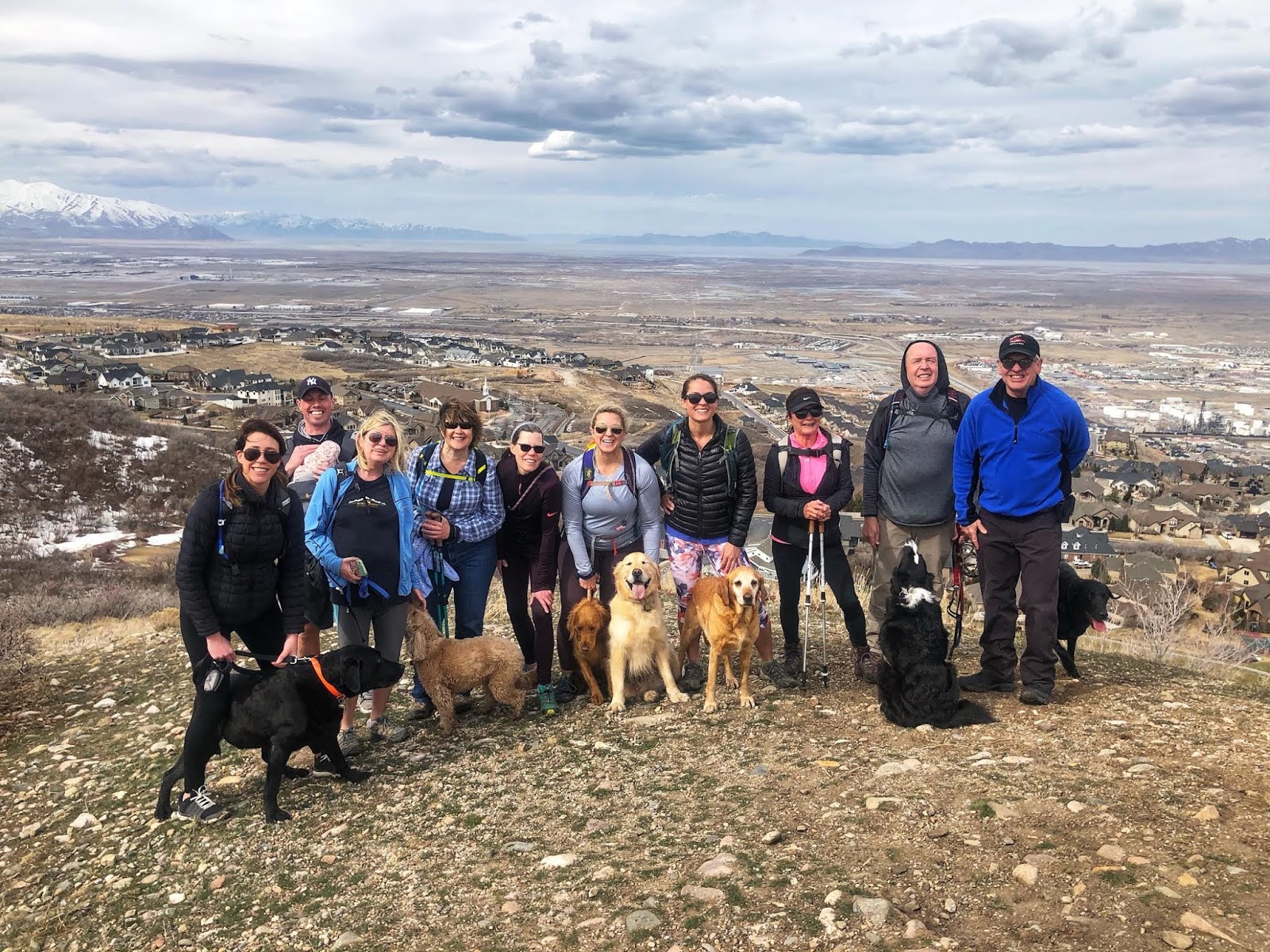 Another muddy/icy hike with a dog hiking group.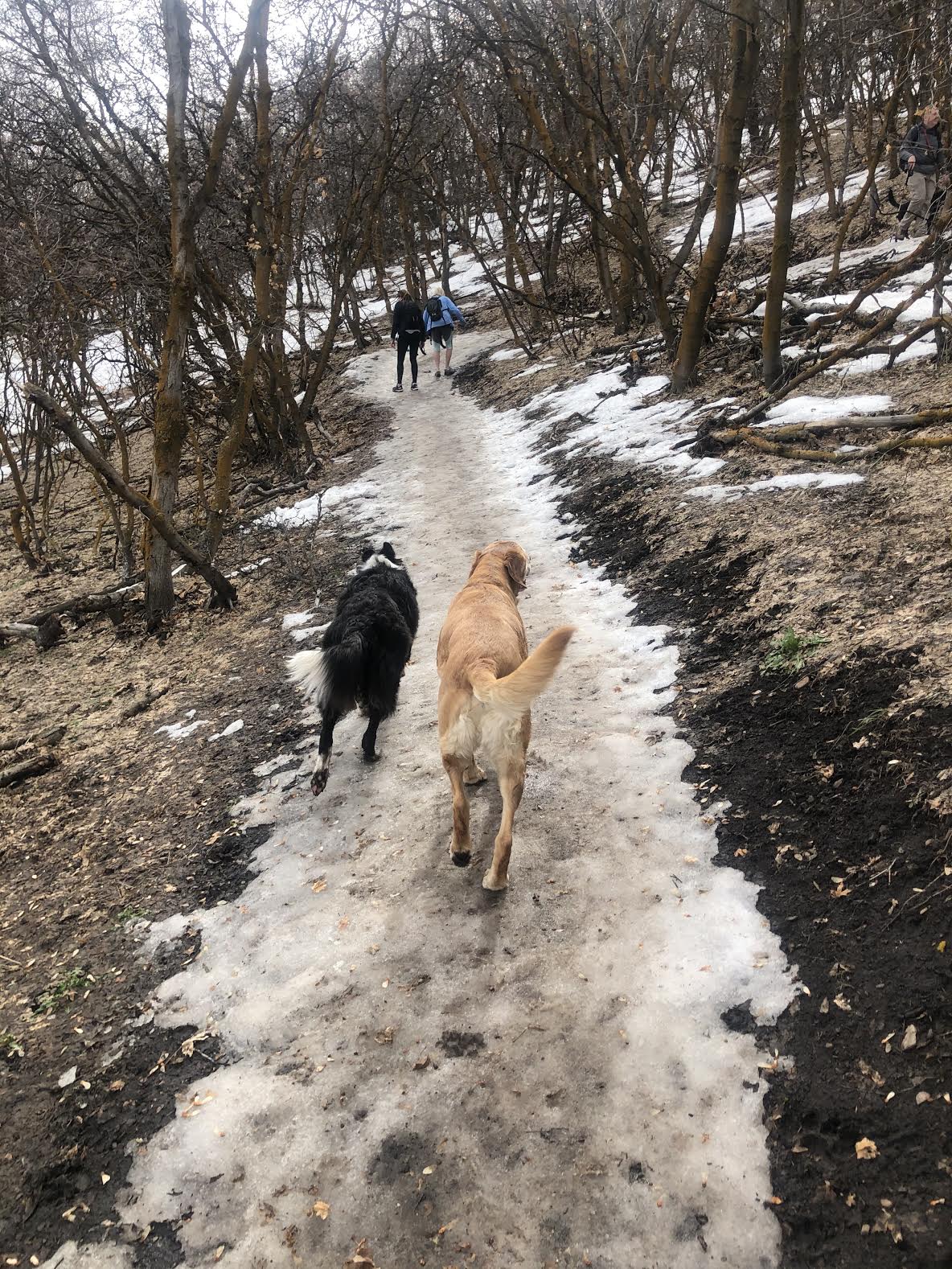 Spring in Utah! Mud and ice.
Trail Map
My track via Gaia GPS – the best tracking app! Get your app

here

for a discount.
Nearby Hike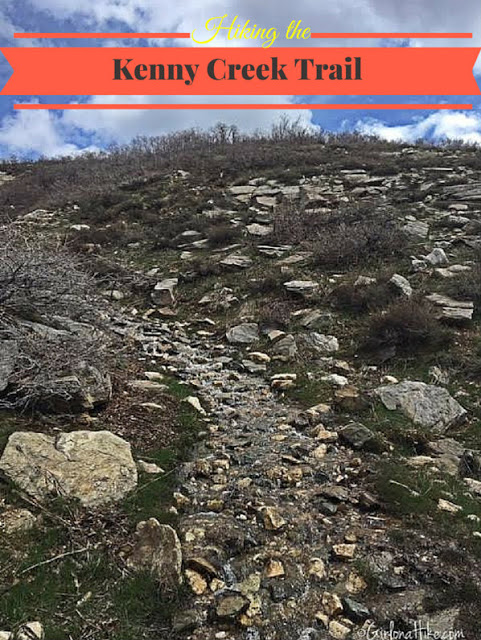 Save me on Pinterest!