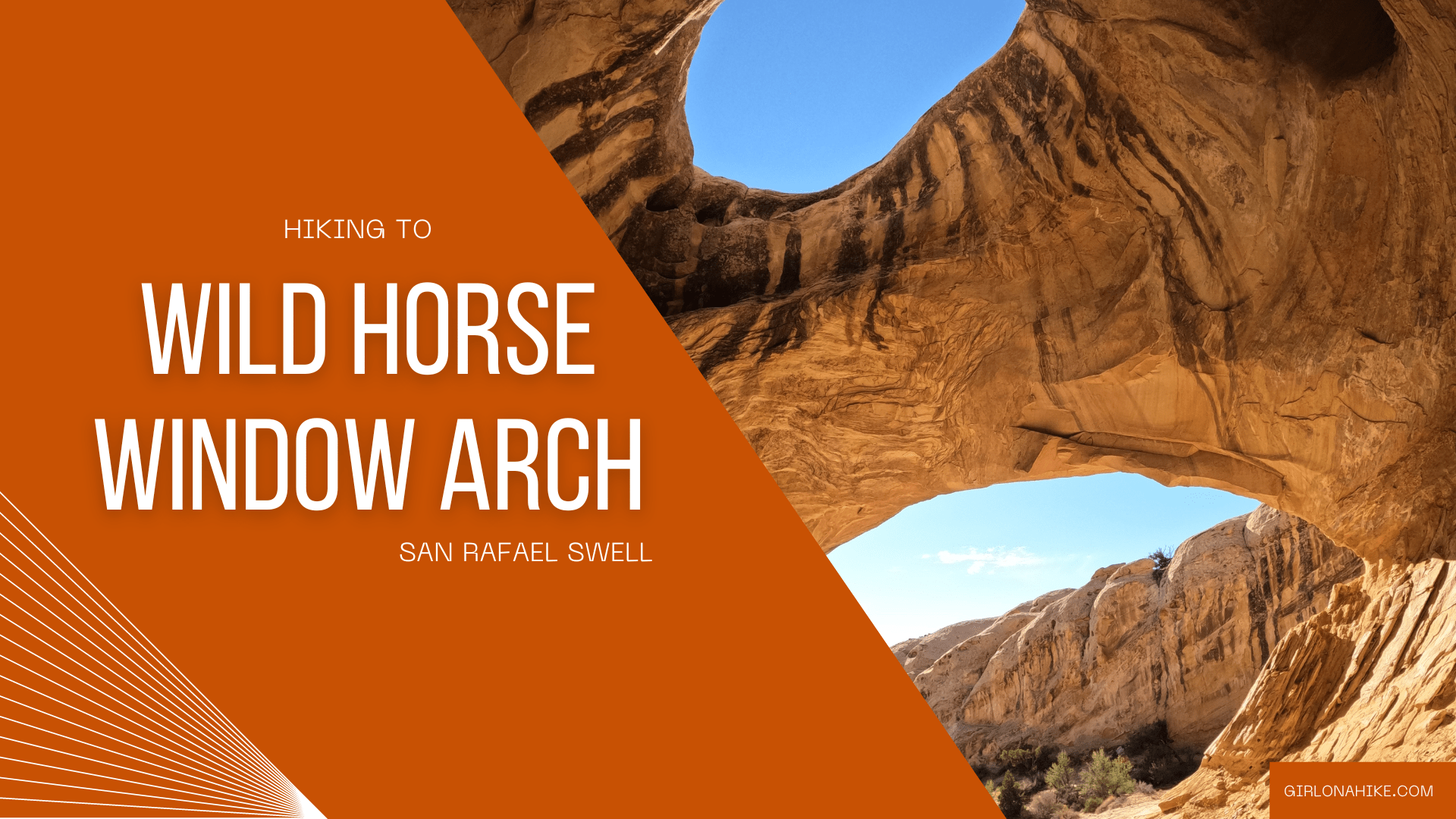 Hiking to Wild Horse Window Arch
Wild Horse Window Arch sits in the heart of the San Rafael Swell near Goblin Valley State Park. This arch is actually visible from the road leading to Goblin Valley yet very few make the trek to this cool arch. 
About
There are several nicknames such as "The Eye of the Swell" and "The Eye of Sinbad". Older maps refer to it as Skylight Arch, but whatever you call it, it's worth the hour or two it will take to see this massive area.
There's no official trail, and that's partially what makes this fun. You get to explore on your own, yet at the same time will be lead to a great destination.
There's zero shade and you'll be hiking cross-country in the desert so at least 1 liter of water per human and dog should be carried. Dogs are allowed off-leash here, but be careful of cactus, hot sand, and mucky water.
Other resources will say this is kid-friendly, but I wouldn't bring children here. It can get hot quickly and hiking over Slickrock will be tiring for them.
If you happen to be in the area for

Goblin Valley

,

Little

Wild Horse & Bell Canyon Slots

, or just the San Rafael Reef in general, this is definitely worth a stop. There's plenty of free dispersed camping on the surrounding BLM land, or you can camp at Goblin Valley State Park where they have restrooms, showers, picnic tables, and shaded areas. You can

make a reservation here

.5
Directions
From HWY 24 follow the signs for Goblin Valley. At the first 4-way intersection, turn left, again heading for Goblin Valley. Drive 0.3 miles, and turn right off onto a dirt road. Drive another 0.3 miles to a pull-out on both sides of the dirt road and park here.
You can use this map, but sometimes it doesn't land directly in the parking area which is why the written directions are nice. There are no signs for this trail/parking area.
Trail Info
Distance: 2 miles RT
Elevation gain: 220 ft
Time: 1-2 hours
Dog friendly? Yes, off leash
Kid friendly? Ages 10+
Fees/Permits? None
GPS Location of arch: 38.65315, -110.67612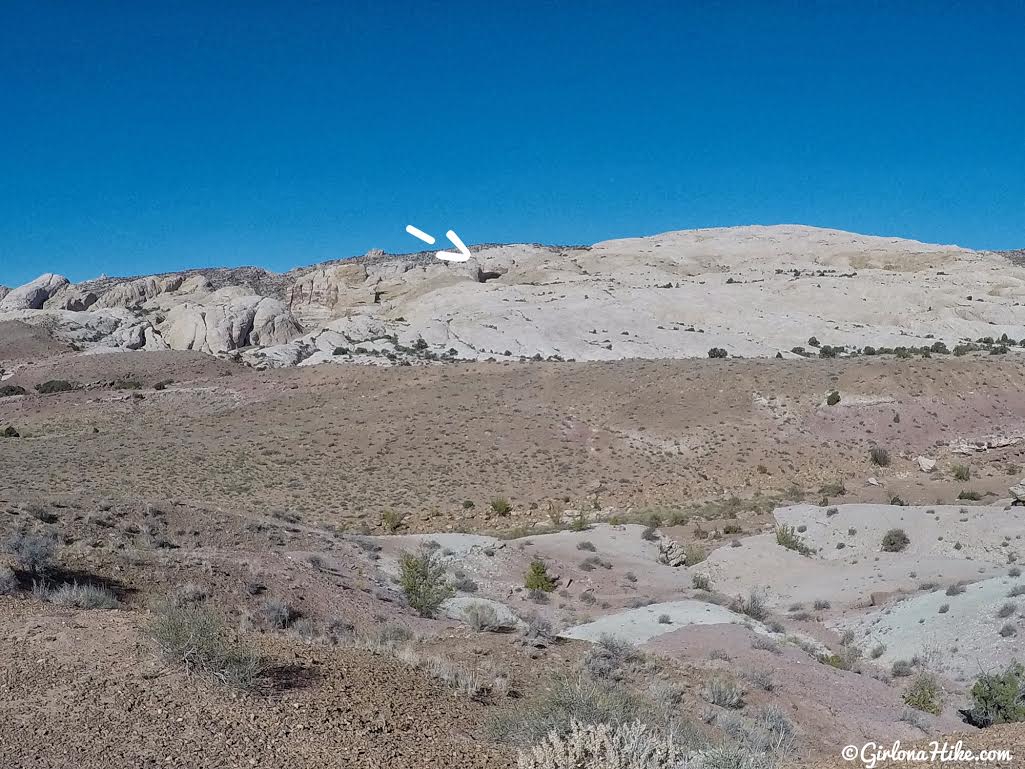 From where you park, you can see the arch in the sandstone. This will be your destination!
Head down the small ridge to the wash. You should see a faint trail with lots of bootprints heading down. You can still see Wild Horse Window Arch in the top right corner of this photo.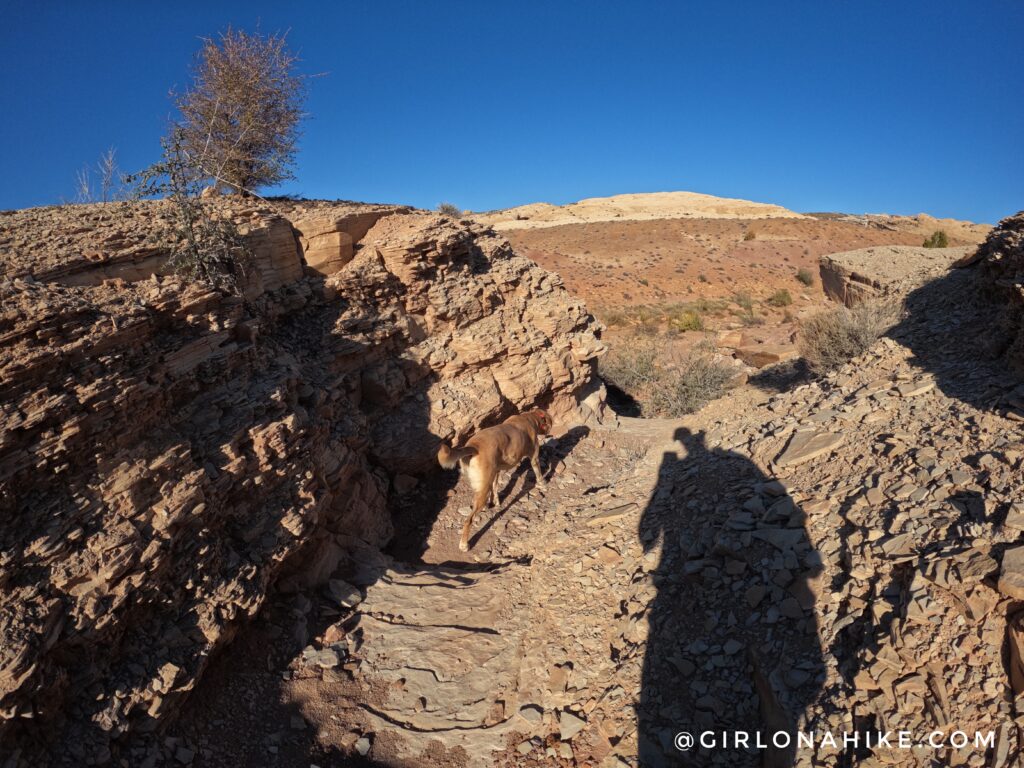 Don't follow the trail as it wraps around and south – make sure you aim for this small gulley and drop down.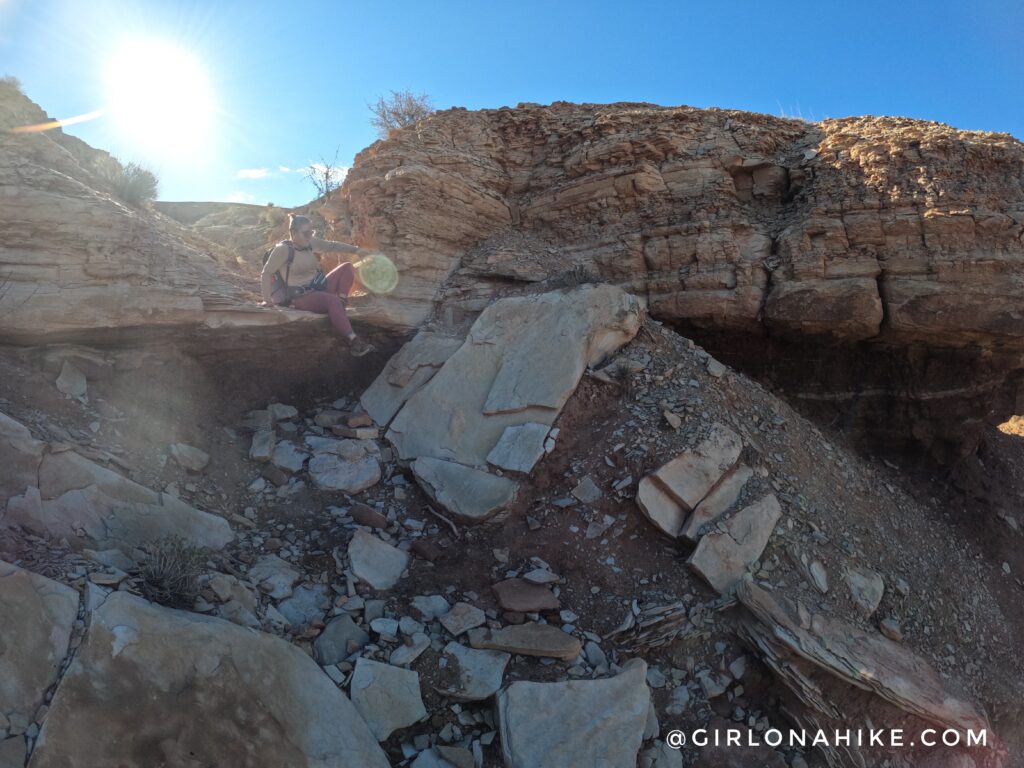 It's a very short climb down, you don't even really need to sit down but it's safer.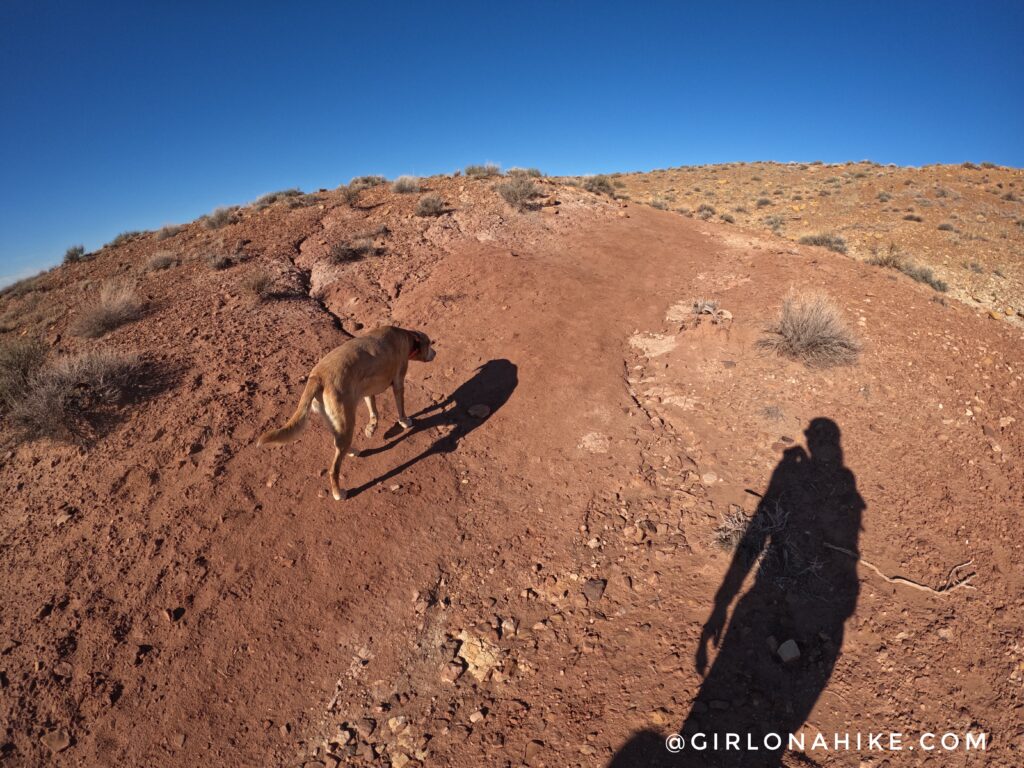 Next, cross the wash, then pick up the faint trail uphill over a sandy hill.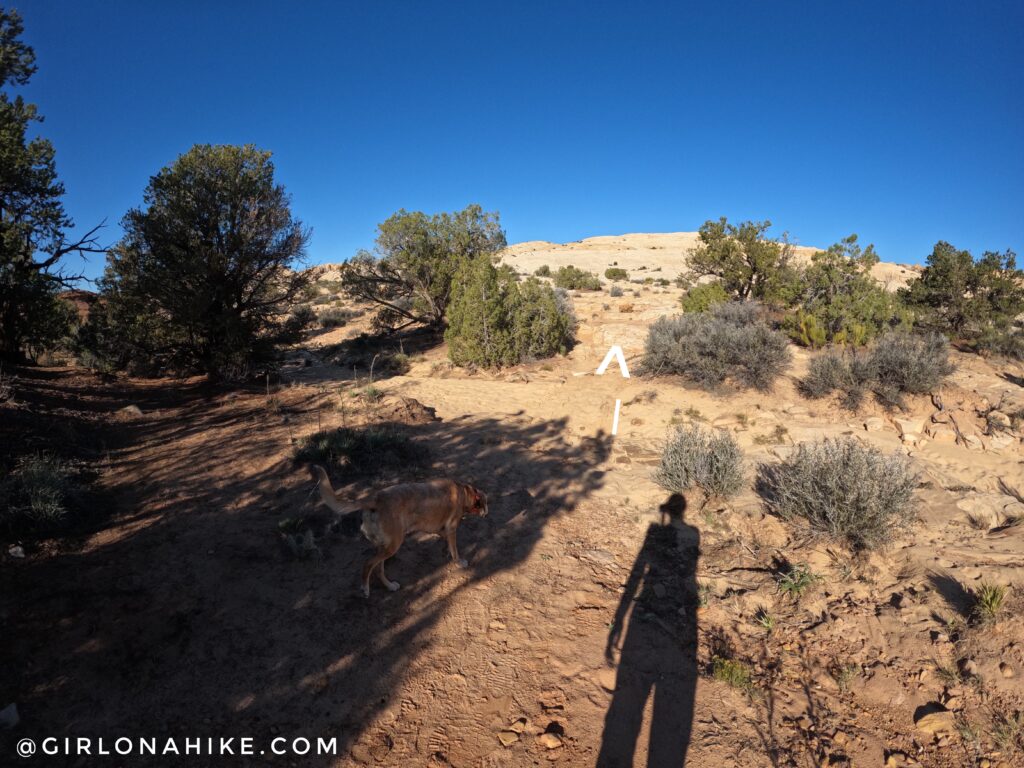 Once you reach this next small ridge, just aim directly West in a straight line to hike in the direction of the arch. There may or may not be cairns placed for directions.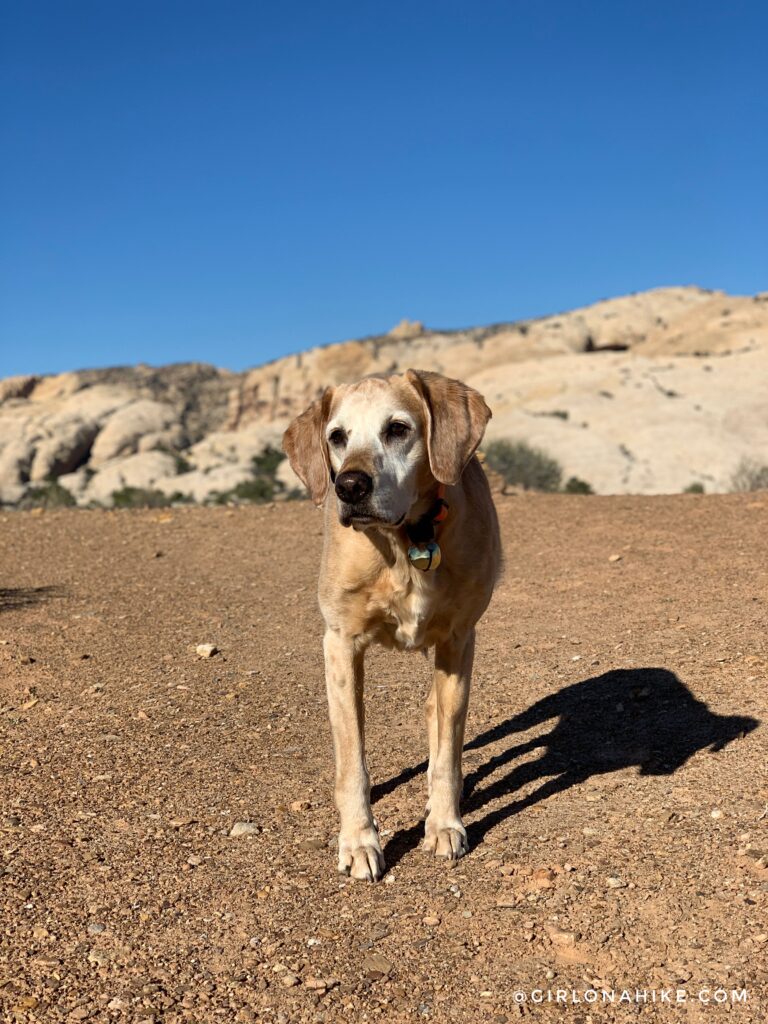 Once on the slickrock, you'll hike up and down several hills. Cairns are randomly placed to help guide you, but really you should have the Gaia GPS (or another outdoor app) downloaded with a map of the area to guide you. Again, you can always see Wild horse Window Arch (the black area in the top right corner).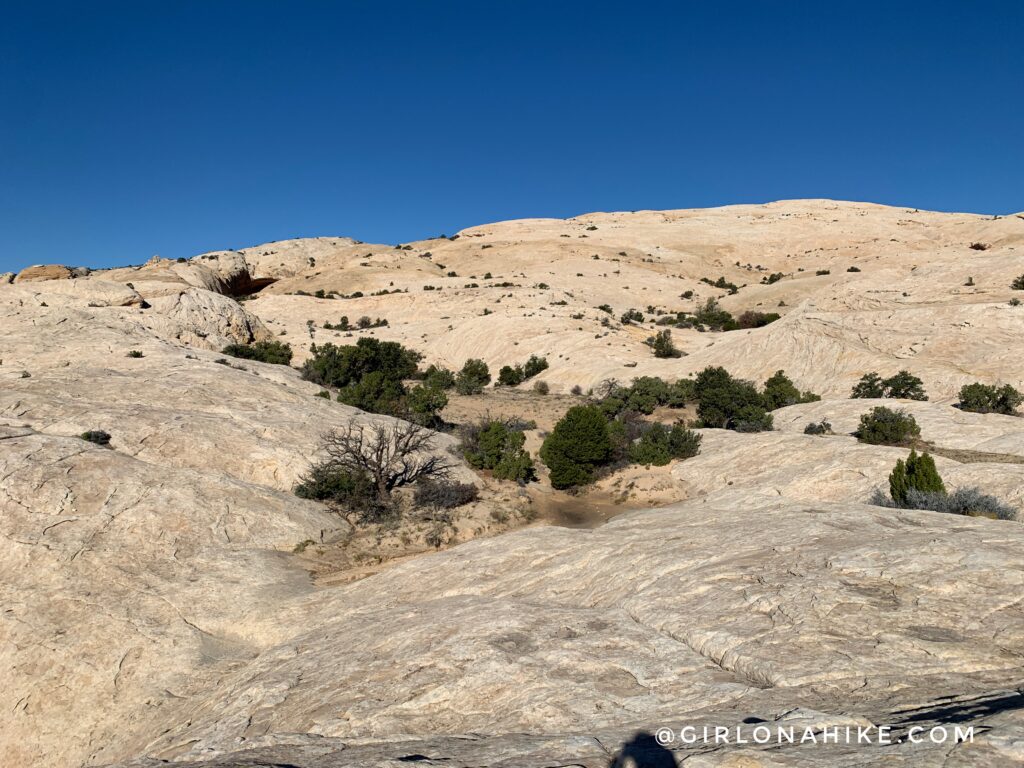 So close now! Just one more sandy section,.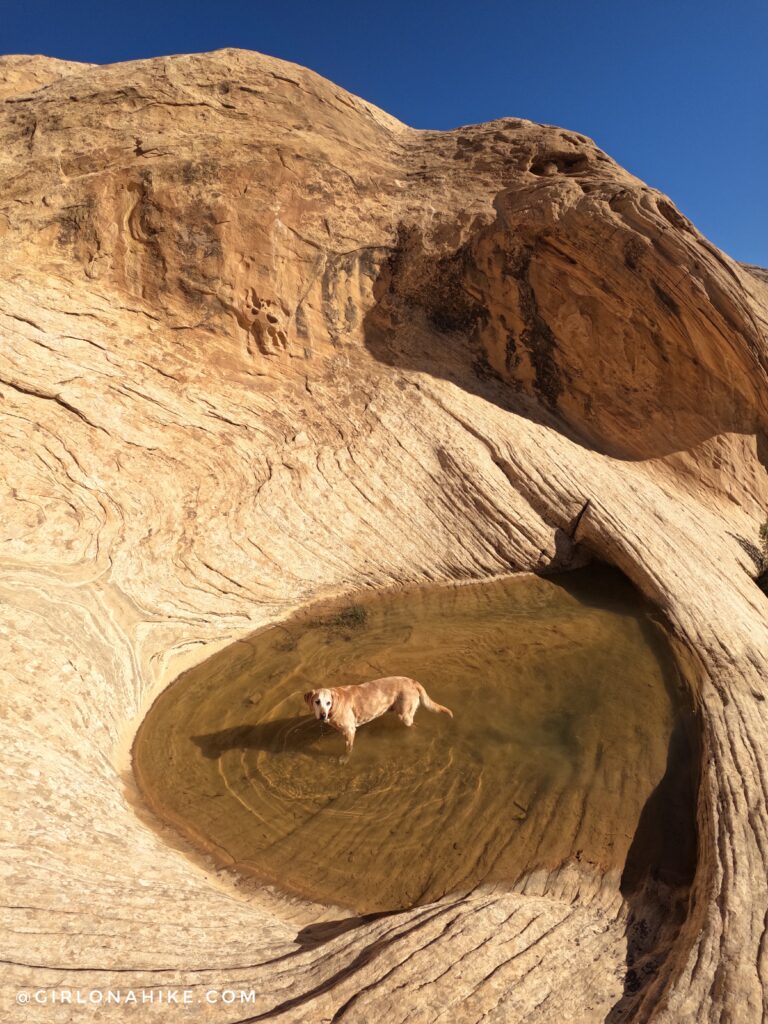 Charlie found a water hole to cool off, and it wasn't even that hot. It was maybe 50-55F! If you do hike here with dogs I would avoid hiking here in Summer, and any other time of year start early in the morning to the sand and rock is cooler for their paws. Make sure you carry at least 1 liter of water per dog.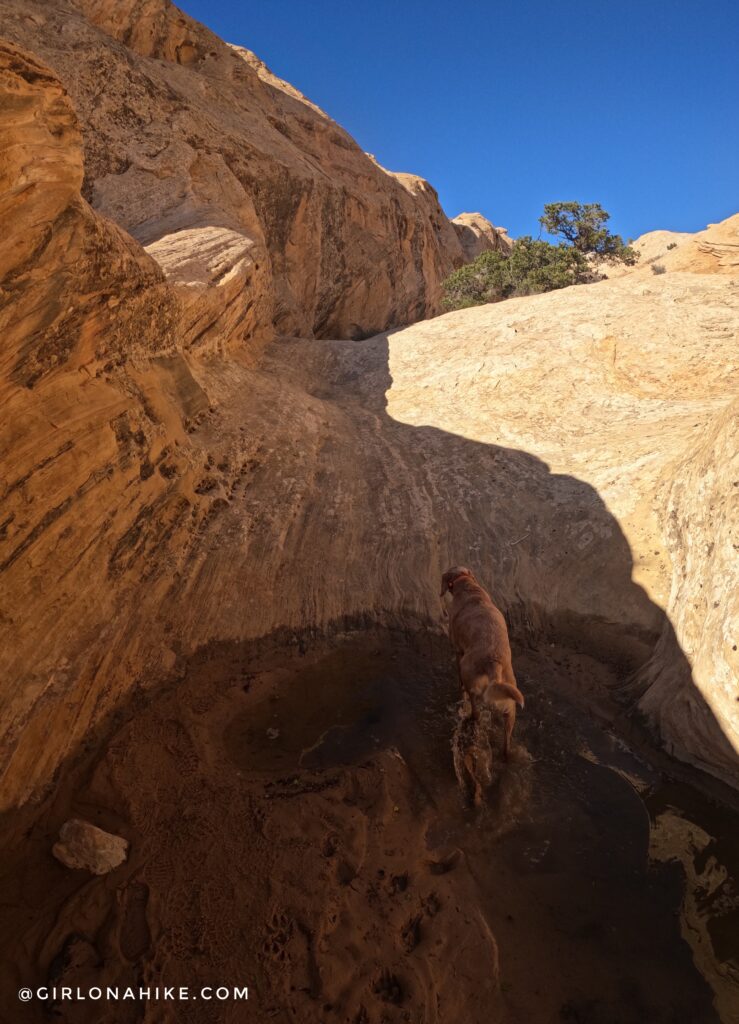 Keep hiking West. Sometimes this next water hole might be full and you have to climb around it. Today it was easy to walk right through.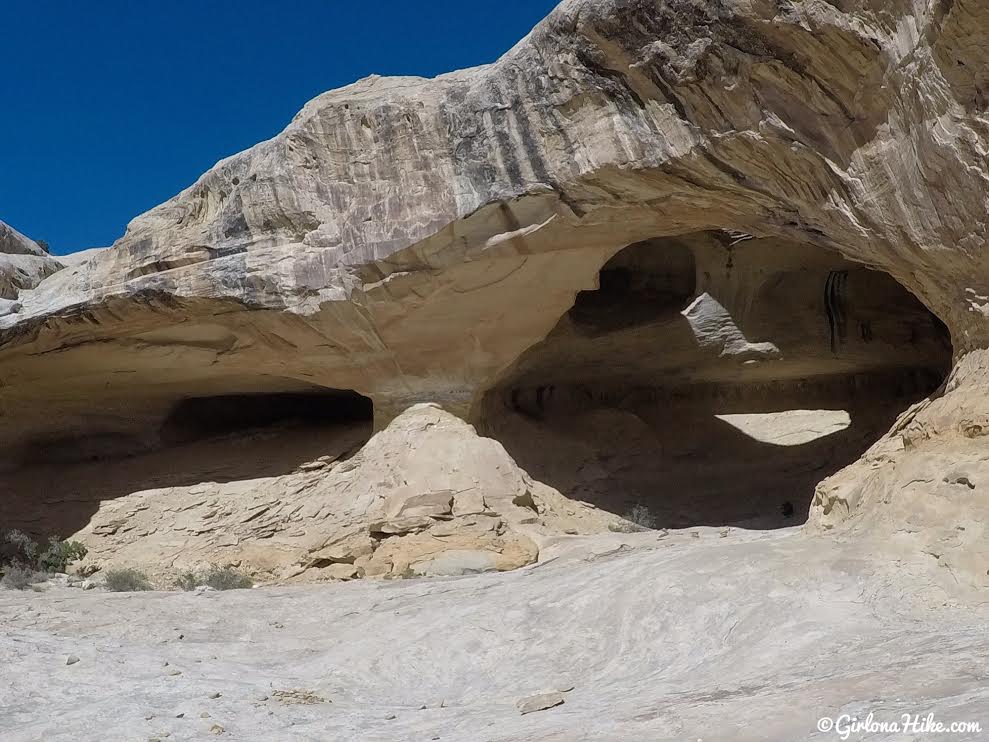 At exactly 1 mile you will reach Wild Horse Window Arch!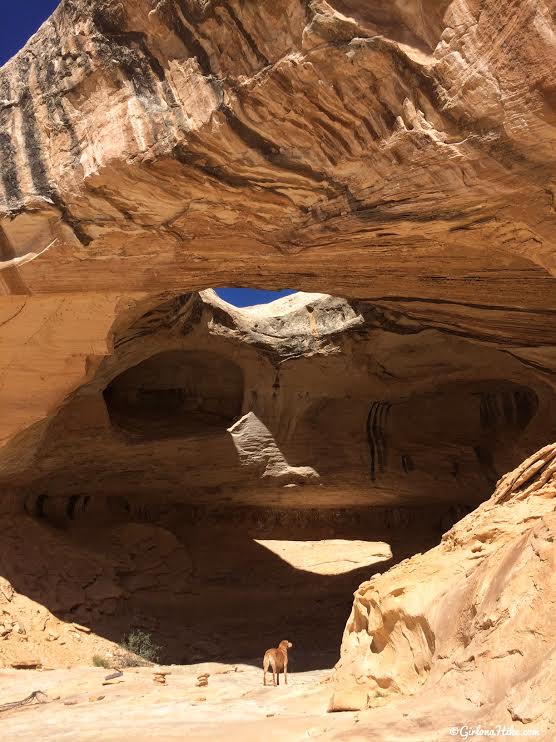 Charlie shows just how large this arch is.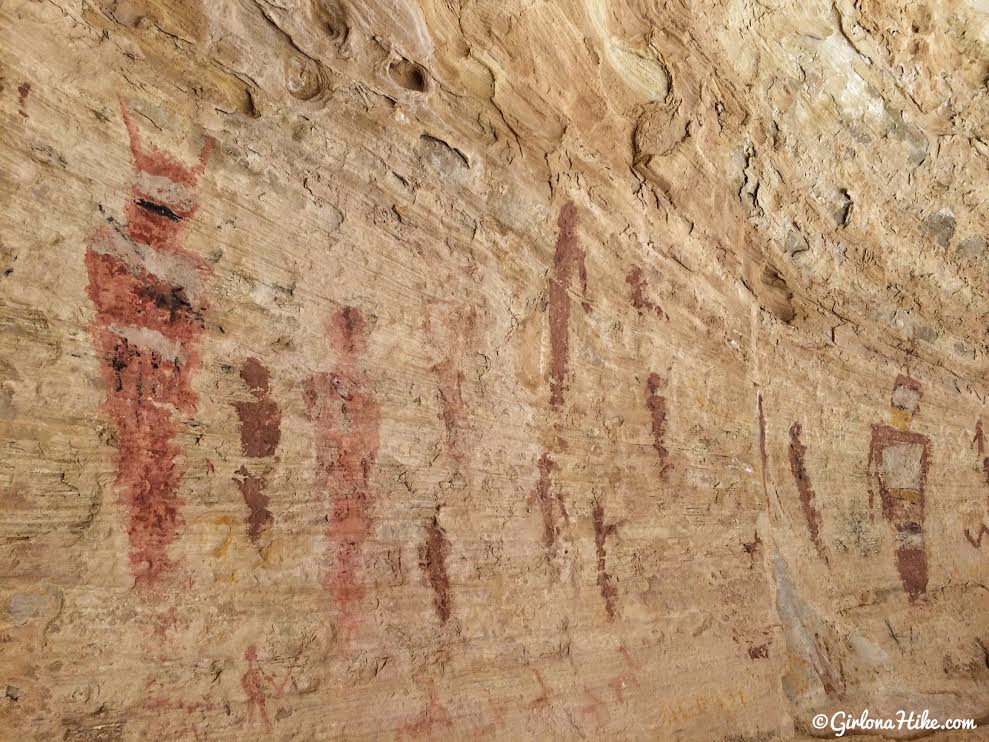 Cool pictographs inside the cave area.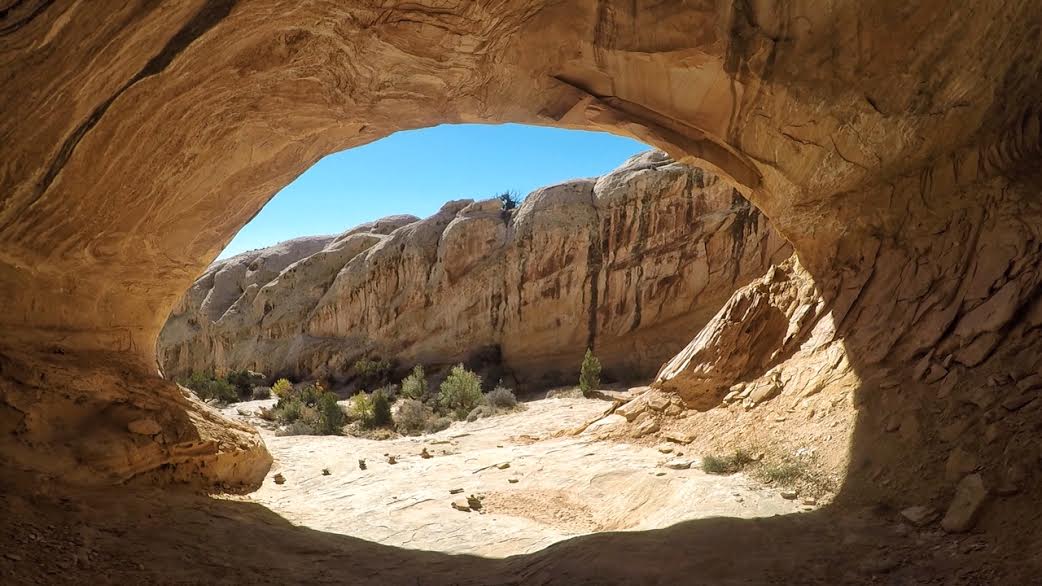 My favorite view from inside Wild Horse Window Arch!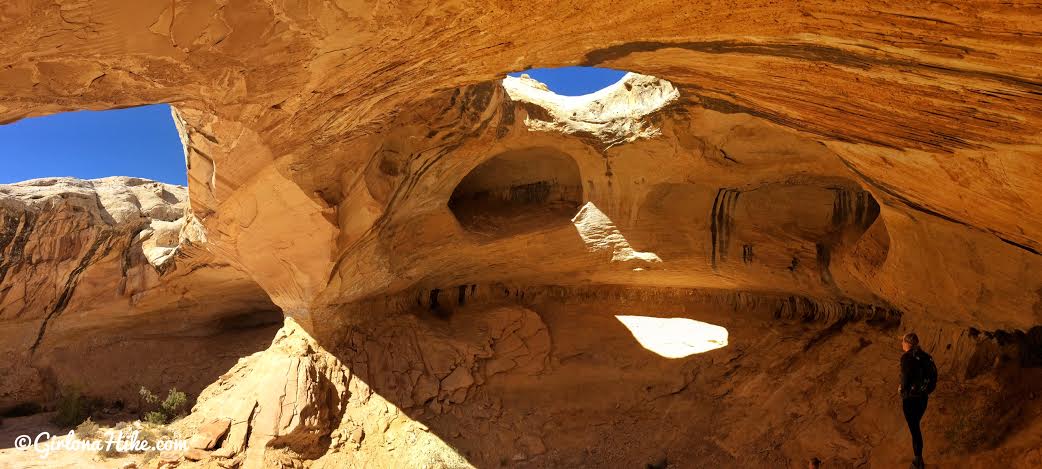 Pano inside the arch.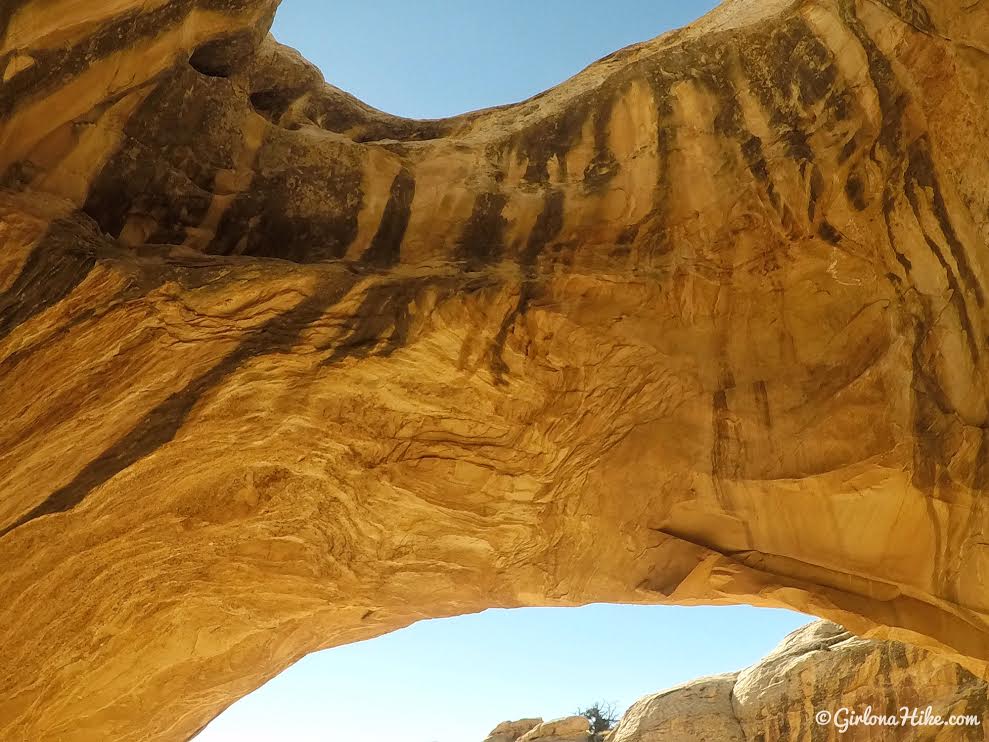 I loved how gold & yellow the arch looked underneath during the morning hours. If you hike here in the afternoon you won't get the same lighting.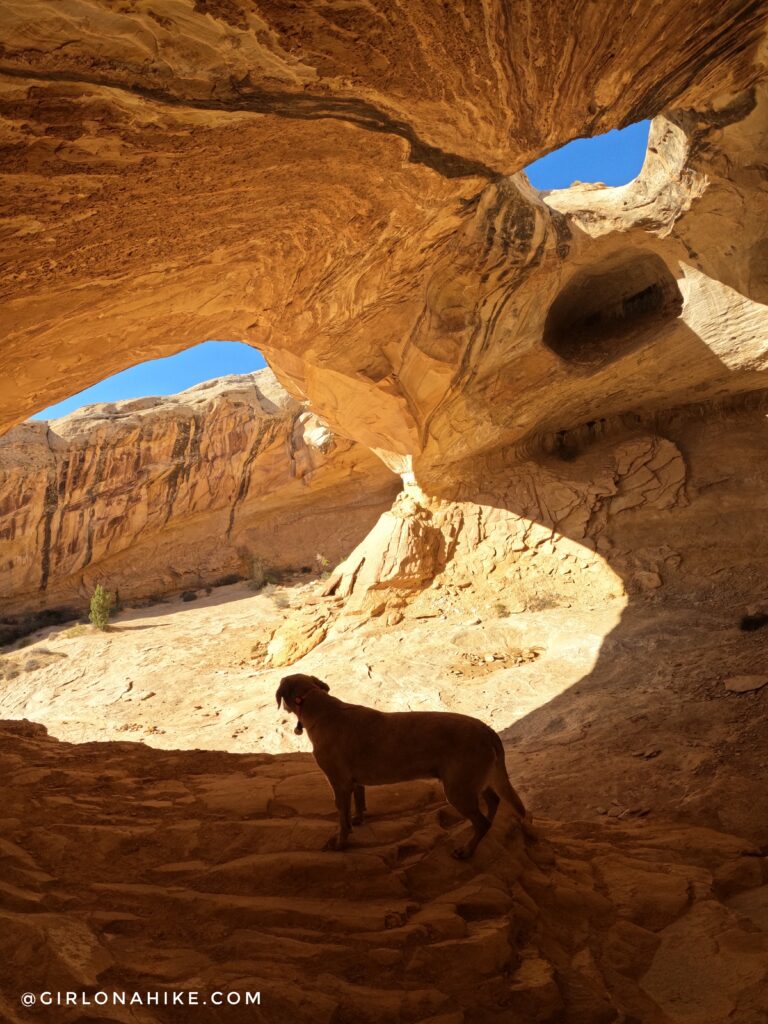 Charlie loved exploring this area! It was also much cooler in the arch which he prefers.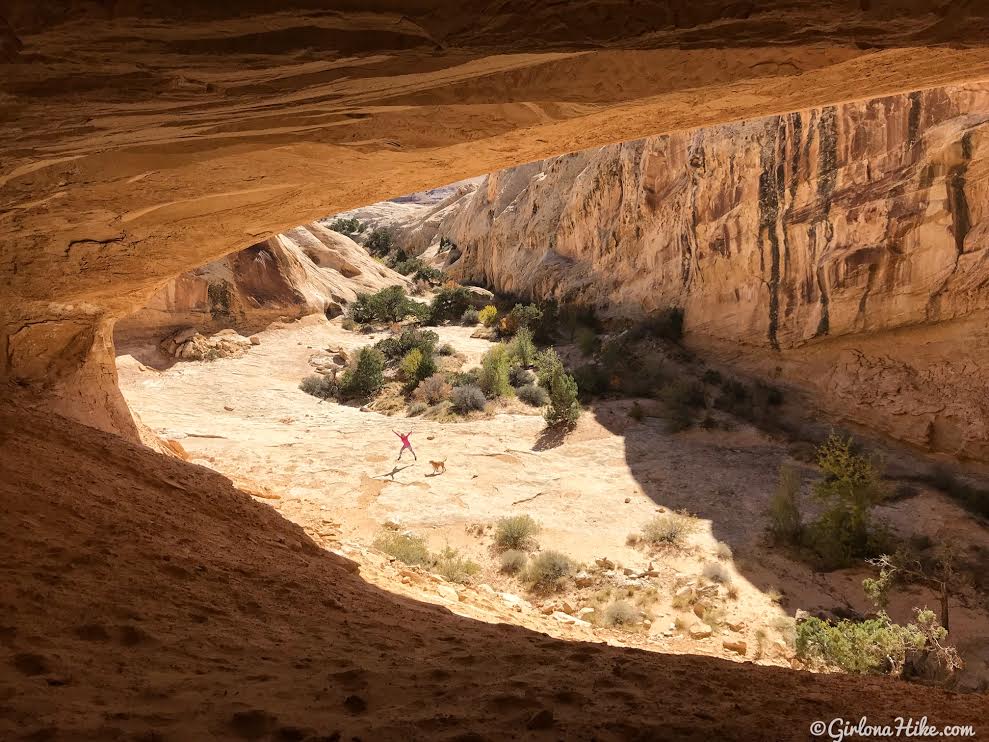 Wild Horse Window Arch was such a fun, cool arch! I highly recommend it.
Trail Map
My track via Gaia GPS – the best tracking app! Get your app here for a discount.
Recommended Gear
<
Nearby Hike
Hiking Farnsworth Canyon, San Rafael Reef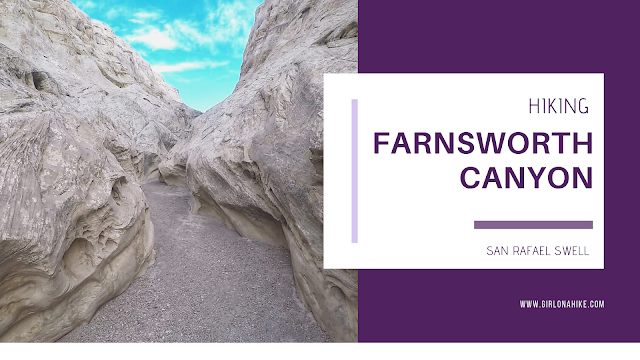 Save me on Pinterest!