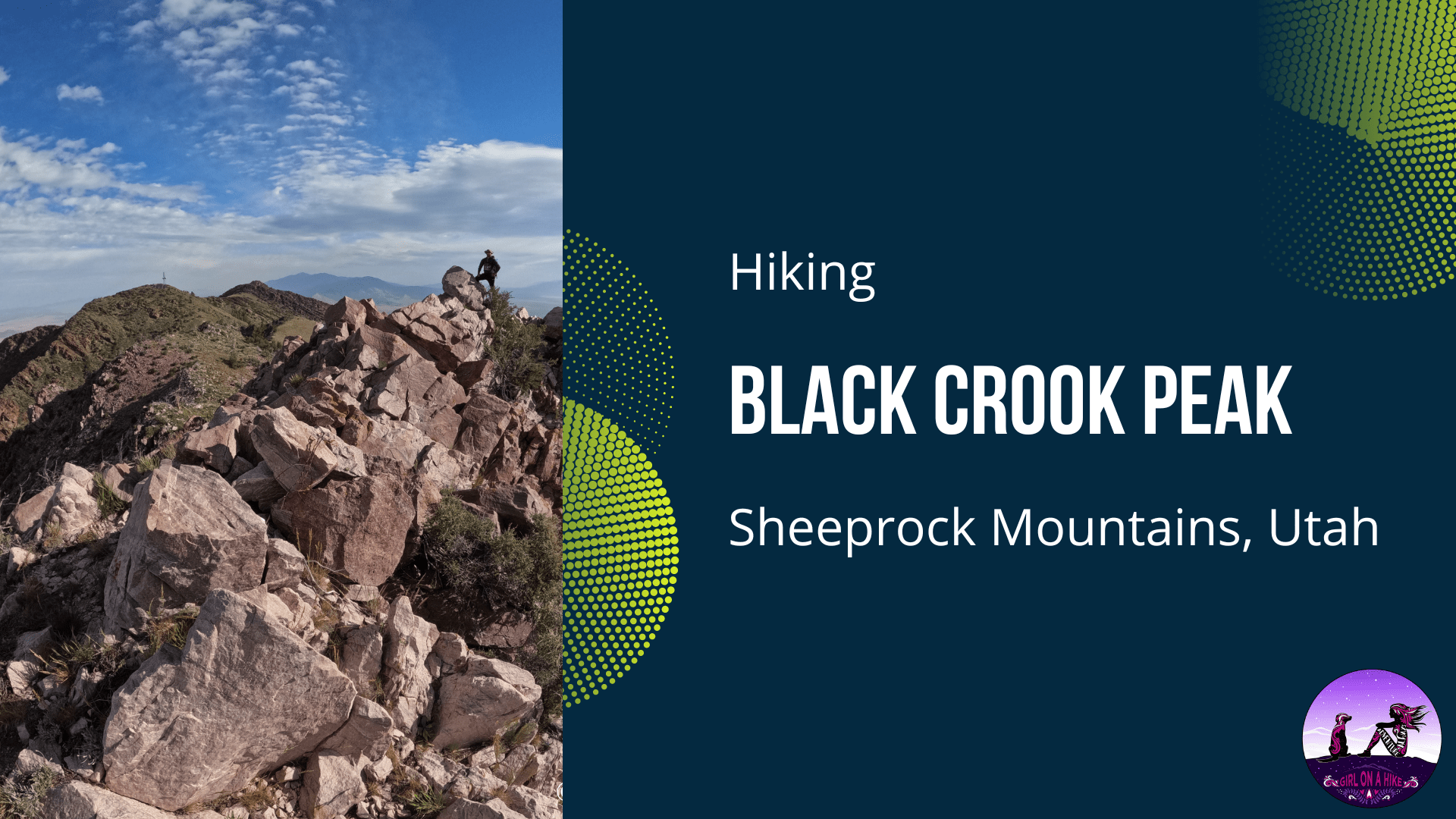 Black Crook Peak (91,93 ft) is the highest point in the Sheeprock Mountains of Utah, about an hour and fifteen minutes southwest of Tooele, UT.
About
Black Crook Peak is a West Desert gem – amazing views, no people, blooming desert flowers, and includes a fun light class 3 scramble. However, this also means there's no trail! This hike is definitely not for the beginner hiker. You should feel comfortable with route finding, remoteness, and ridge scrambling.
The great thing about hiking this with no trail is that there is no right way to do it! Another route you could take is from the Southeast ridge – you can check that out on my friends blog, StavIsLost.com.
Black Crook Peak has 3074 feet of prominence and is listed as #36 on Peakbagger.com's list of Utah peaks with the most prominence. This is a popular list to complete among peak baggers. I am personally not working on this list, however, Black Crook Peak had a lot of other intrigue for me, as mentioned above.
Directions
It's easiest to type in "Erickson Pass, UT" and have Google Maps guide you. From SLC to the pass is about 2 hours. I like going through Tooele best just because it is the last best stop for gas, food, and water. Once you reach Erickson Pass, Maps doesn't understand how to reach the unofficial TH. So, reset your odometer and turn left, up the slightly rocky hill on FR565. Follow this as you drive through sagebrush and over one cattle guard. The road gradually gets worse, and 4×4 is needed.
At the first "Y" in the road, stay left, and you will now be on FR592. Stay on this as far as your car can make it, or until you reach the only grove of trees next to a creek with a big enough space to turn around. This is the ideal spot to park, camp, and begin hiking. See my map below for my routes. Total driving mileage from Erickson Pass to here is about 3 miles, but will take you around 30-40min because of how slow you have to drive over the rocks.
Trail Info
Distance: 5 miles RT (Depending on how far you can drive, will determine how many miles you will have to hike)
Elevation gain: 2,000 ft
Time: 5-7 hours
Dog friendly? Off-leash, but not recommended for dogs
Kid friendly? No
Fees/Permits? None
FAQs
When is the best time to hike Black Crook Peak?
I have attempted it twice in winter, the first time December of 2019 and January 2021, in what seemed like low snow years. However what happens in the Wasatch doesn't translate to other mountain ranges as I have found out. First, the roads weren't drive-able making my hike in at 5 miles longer (one way). By the time I got to the base of the peak, I was already exhausted. Combine that with deep snow, and avalanche danger, it just wasn't a good time to go. So, lesson learned – just wait for Summer when the roads and route are dry.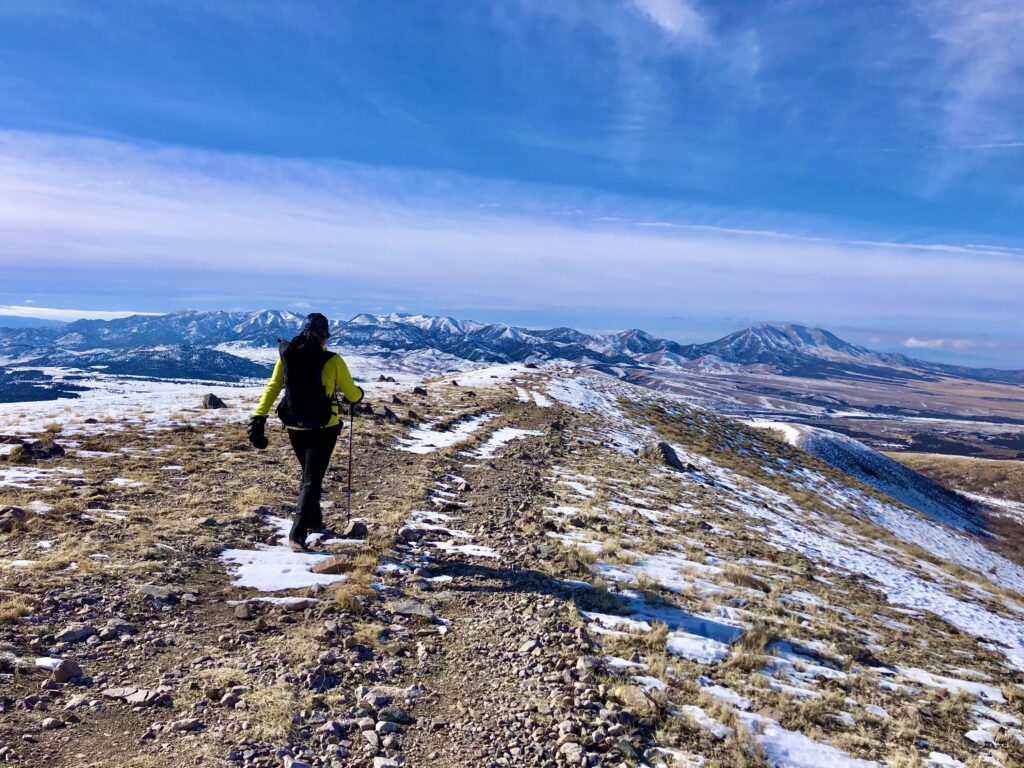 It doesn't look bad here, but this was after we turned around at mile 6, making this a 12-mile day, without even getting close to the summit.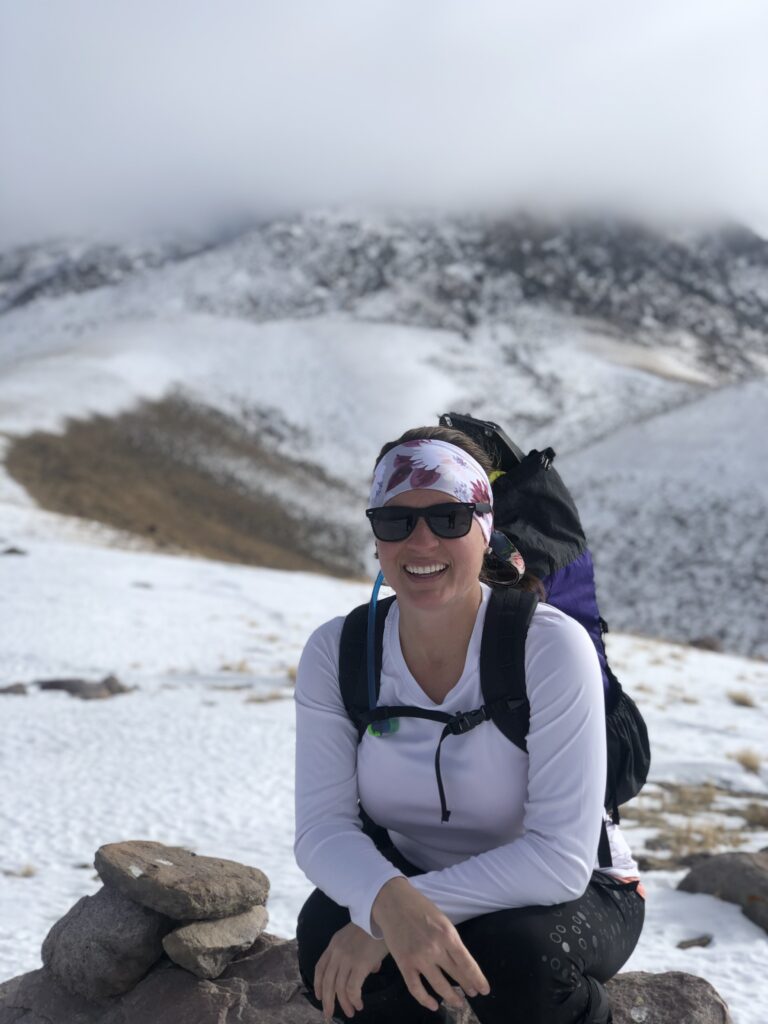 The problem with doing this in winter is also the short amount of daylight, and your pack is much heavier with all the layers.
Can I bring my dog?
Yes, it's technically off leash and dogs can do it, however, I don't recommend bringing them. There is zero water, very little shade, and a LOT of cactus. I would hate for something to happen to Charlie in the middle of nowhere – the closest Vet is in Tooele, about an hour and fifteen minutes away. I just wasn't comfortable with that idea.
How bad is the road?
I would highly not recommend bringing small cars – as long as you have an SUV, you can make it most of the way. The road is graded but doesn't get cleared up often due to its remoteness. Plan on a rough, bumpy ride. Once you get to Erickson Pass is when you will need to engage 4×4. I currently have a Dodge Nitro which has 8.1 inches of ground clearance and I hit the underside pretty hard three times. I decided to pull off about 3/4 mile away from where we actually started hiking. From this spot marked on my map below, I then hopped into my friends lifted Jeep, and rode the rest of the way. If I were to do it over again, I would have just parked my car at Erickson Pass, and rode in his Jeep for that entire section of road to save my car from getting beat up. If you have a Jeep, Truck, 4Runner, or ATV you can make it all the way to where we started hiking.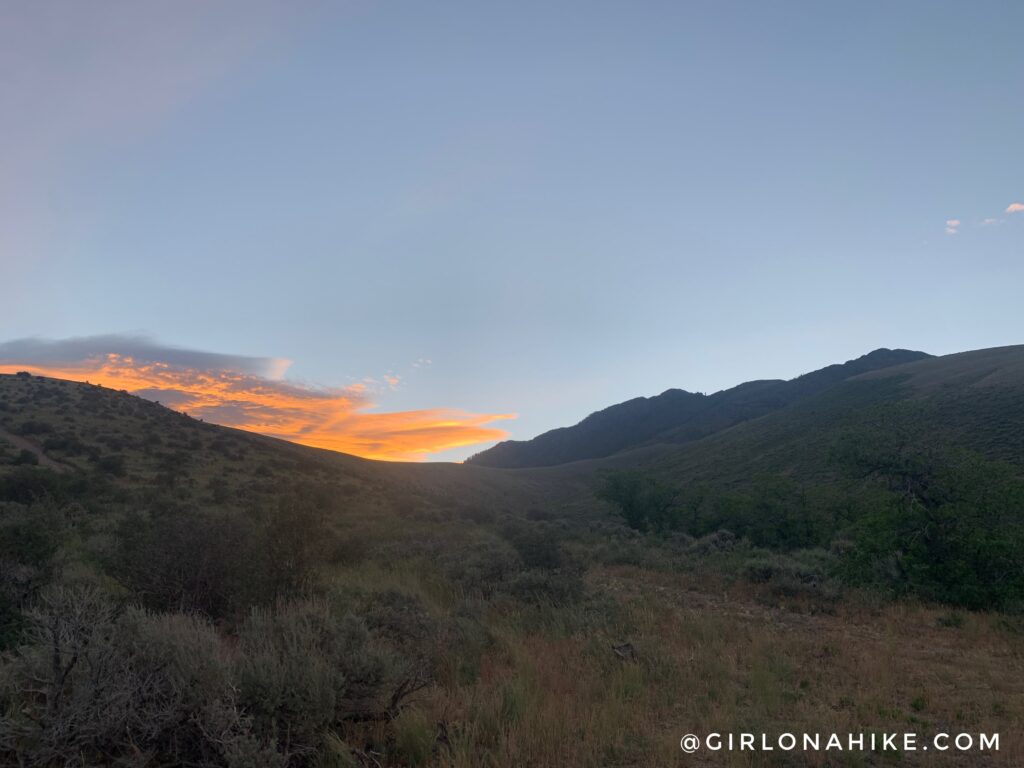 Because this is a long drive from SLC, we drove out the night before and camped at the 2nd parking area I have marked on my map below. Then the next morning we woke up, and drove the Jeep the rest of the way to where we started hiking. Depending on how far you can drive, will determine how many miles you will have to hike. Start by following the jeep road to the left in this photo. We were on the trail by 6am.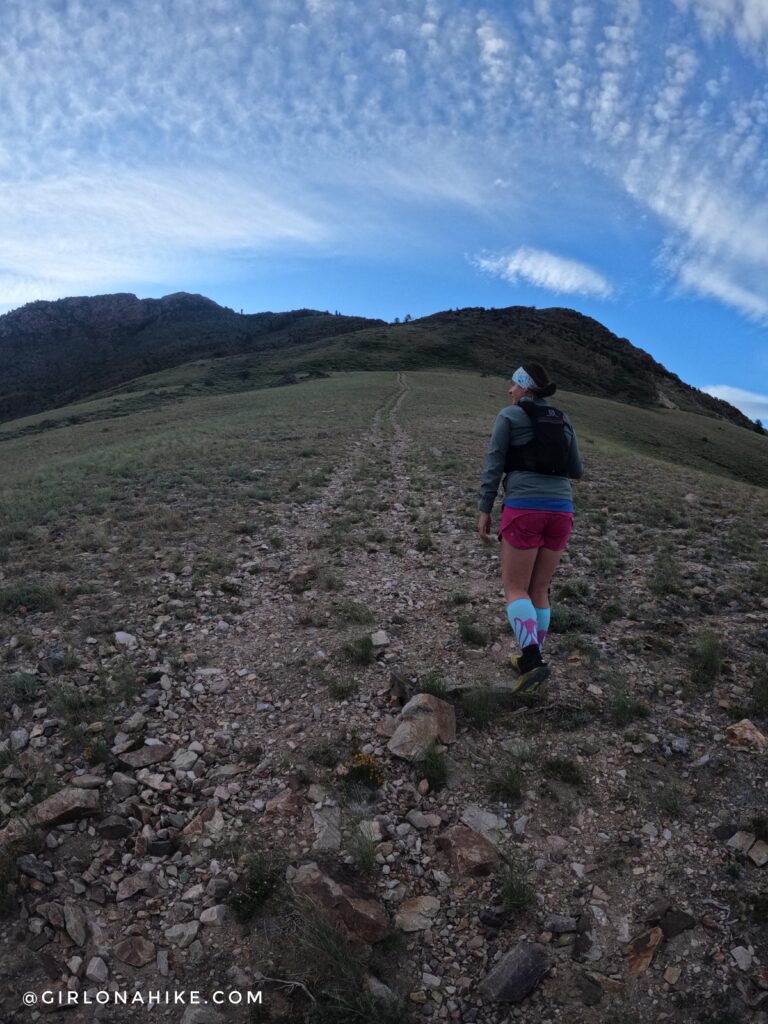 There are many old jeep roads in the area, as the Sheeprock Mountains are full of mines that are no longer in use and closed off to the public. The road gradually gets steeper.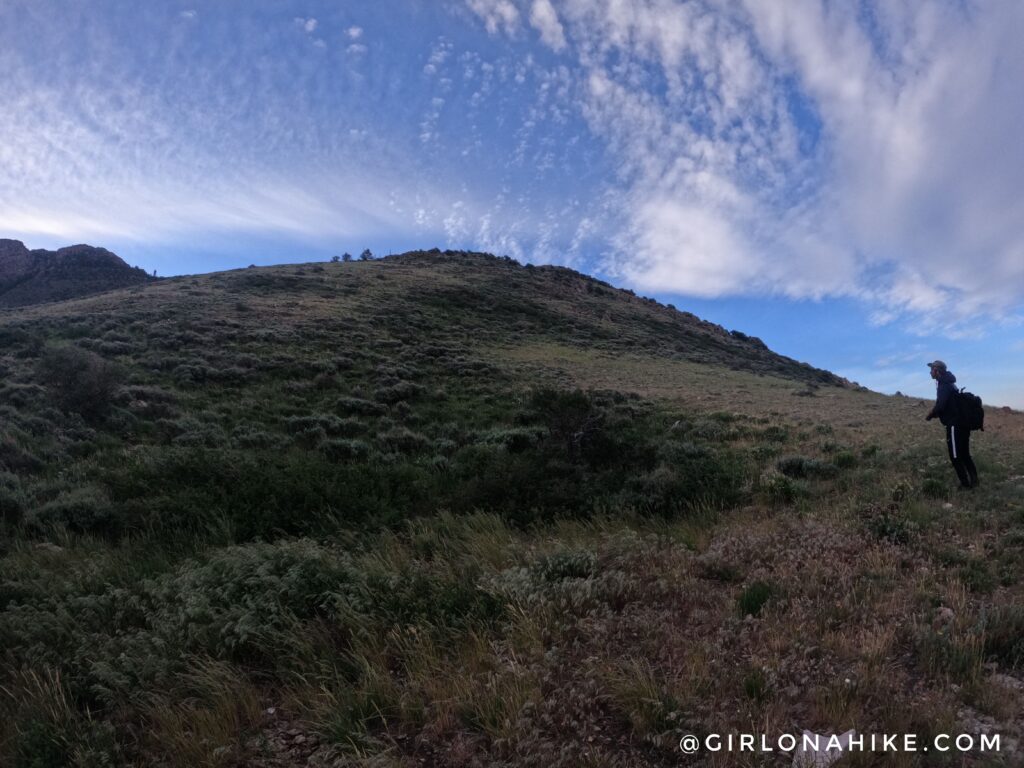 The old jeep road fades out, and now the fun begins. Start by crossing through this sagebrush patch to reach the ridge.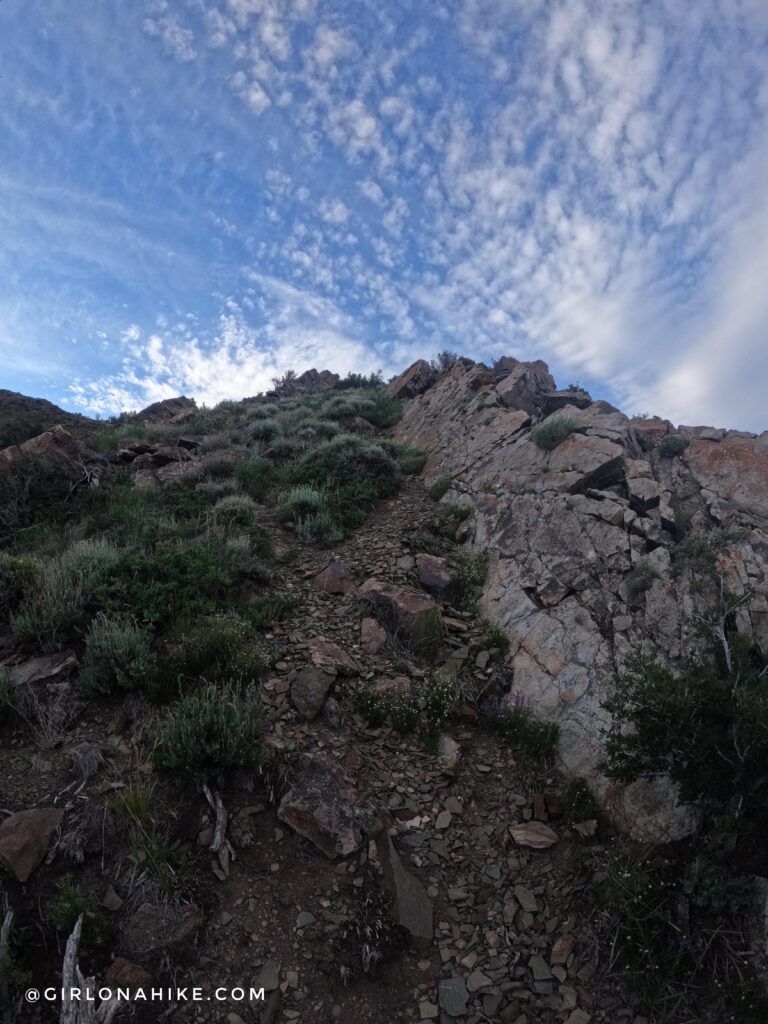 Now that you are on the ridge you will encounter two steep rock sections. You can either hike along side it, or on top! For this first one, we stayed to the left of it following a decent game trail.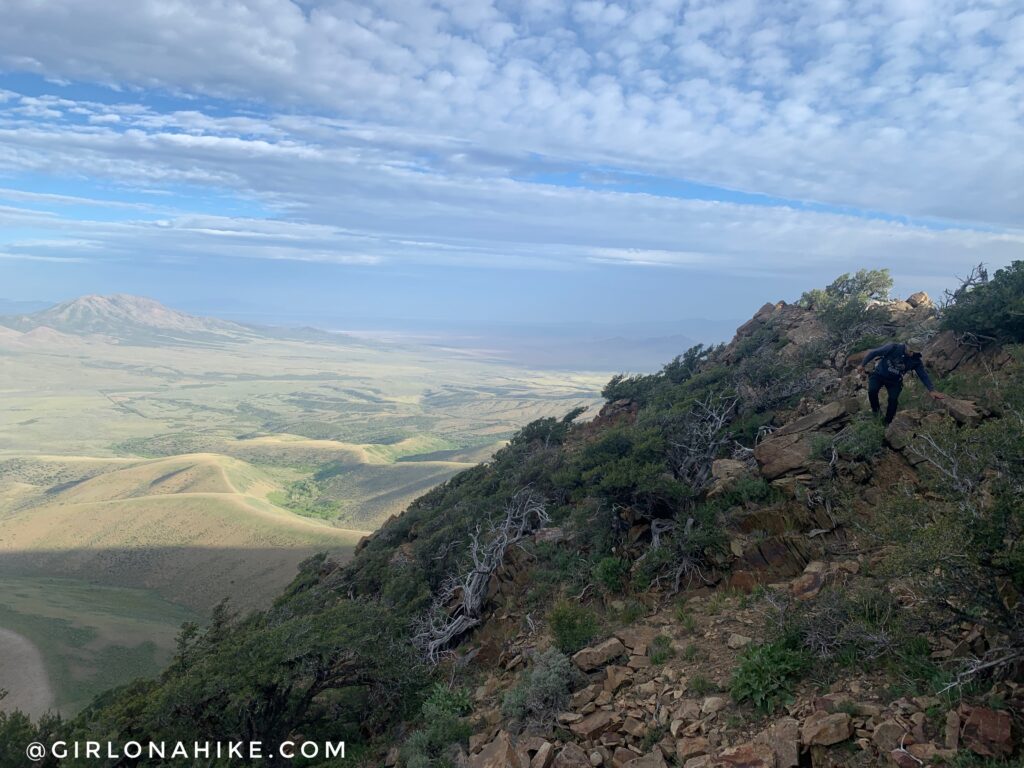 Sometimes the scree was too loose, and we dropped off the ridge a few times. However, we always tried to stay on top when possible to avoid dropping in elevation.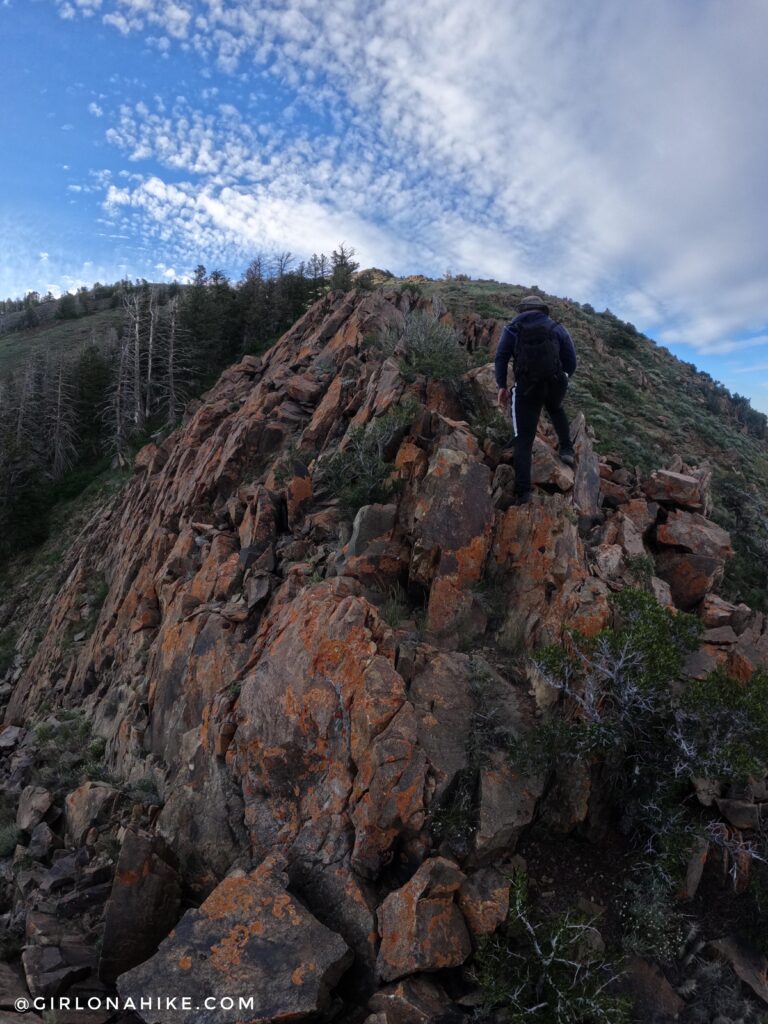 The second rocky ridge arrived and this time we climbed on top of it – it was so fun! This light class 3 scramble had really sturdy rock and good hand holds. The hardest part was honestly avoiding the cactus in between some of the rock.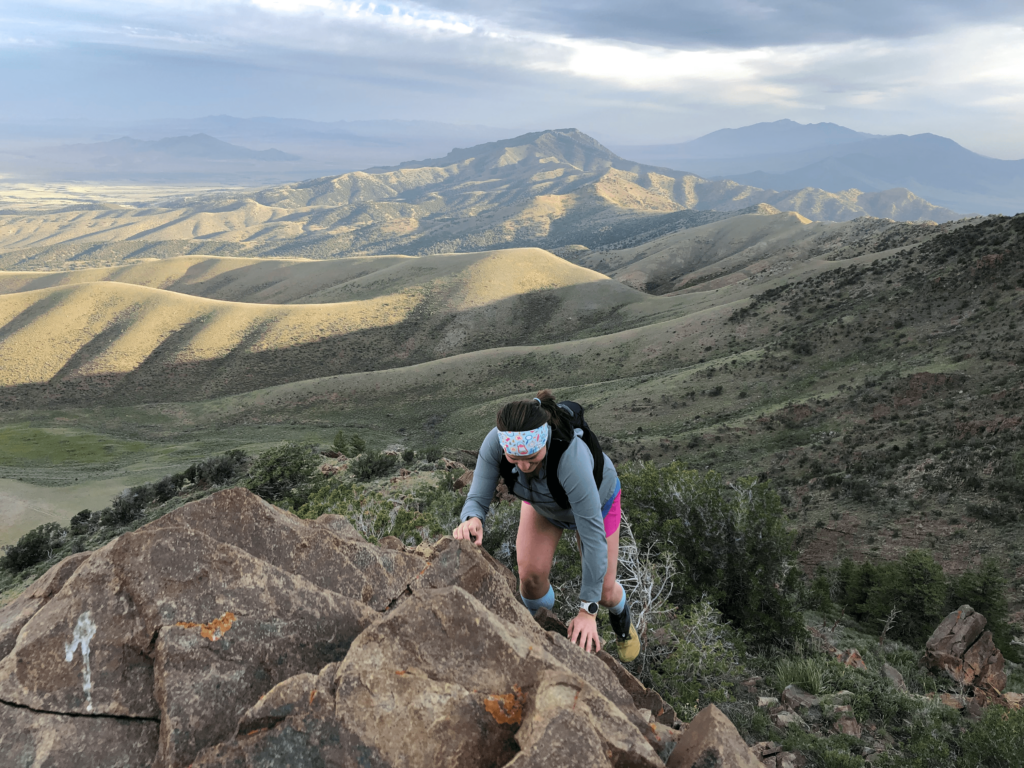 Whoo hoo, my kind of fun! I felt like I hadn't done a proper ridge hike in a long time so this was really fun and refreshing for me. And wow – that view behind me was so pretty!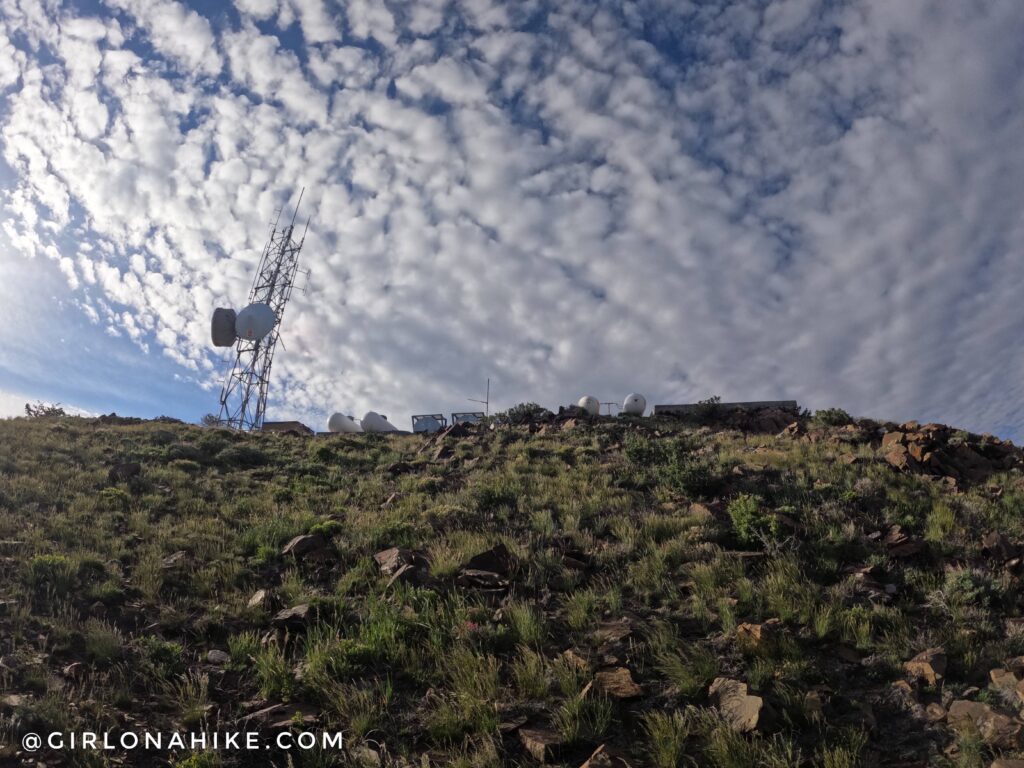 Eventually you will reach the communication tower. We took a break here to take in the views.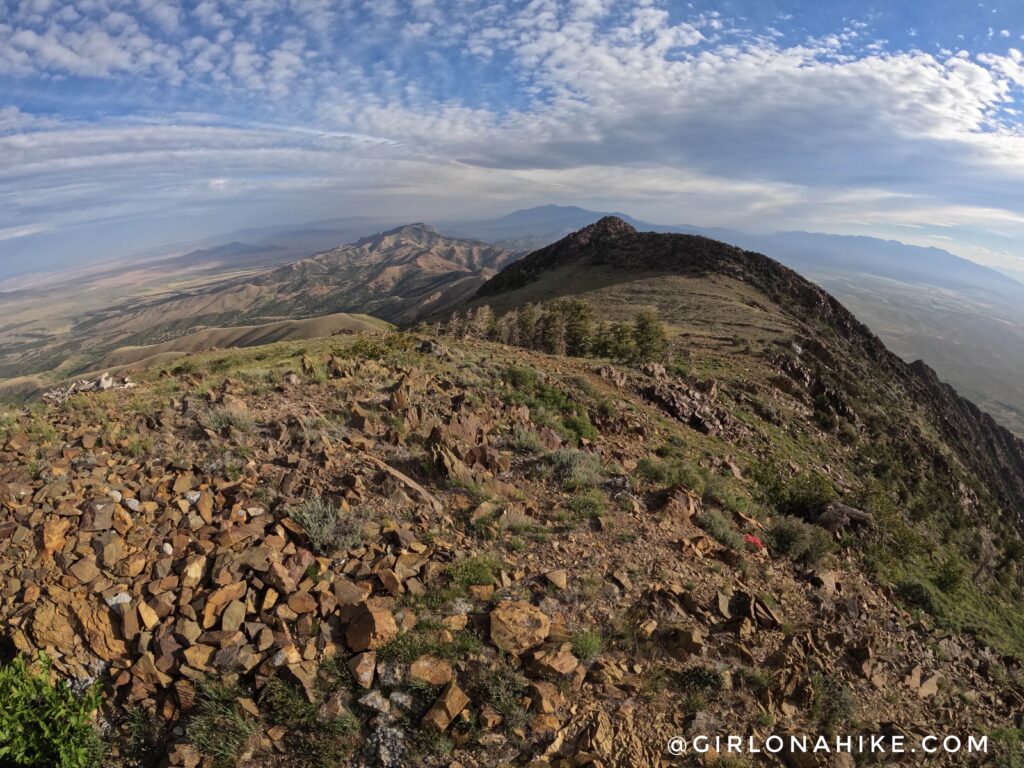 Sheeprock Mountain ridge to the North. It's a little hard to tell, but the peak directly in the center in the distance is Deseret Peak! I wish I had brought binoculars to see it better.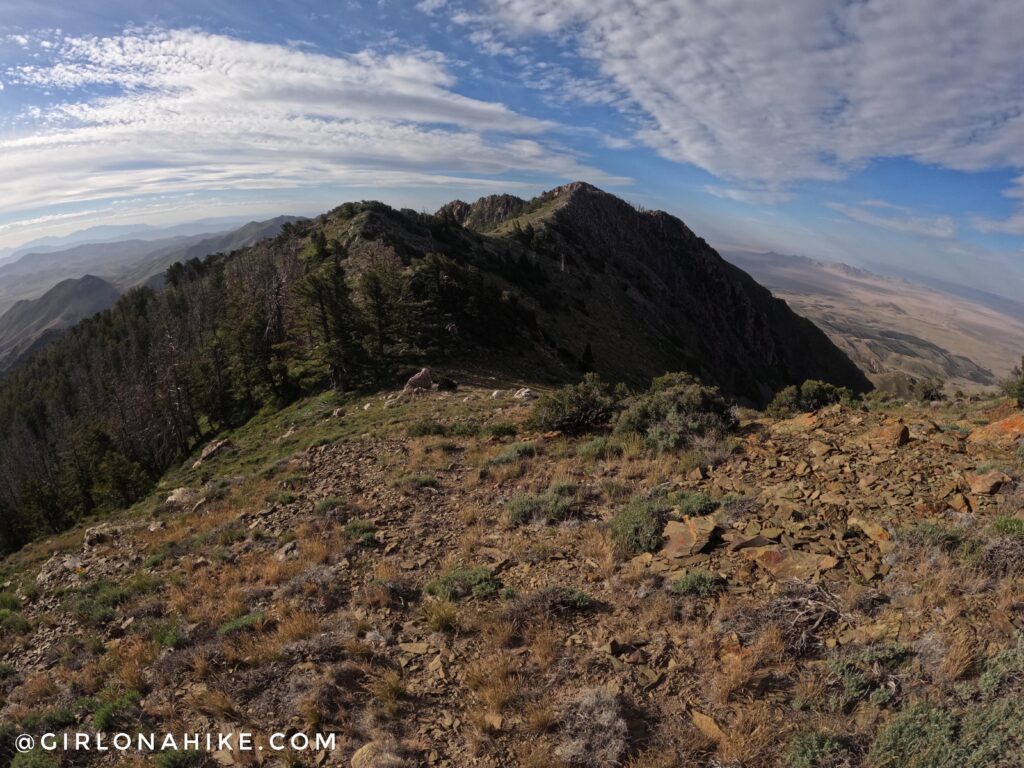 Sheeprock Mountain ridge to the south – where we are headed! Now all you have to do is drop down from the tower, and follow the ridge South. Black Crook Peak is in sight!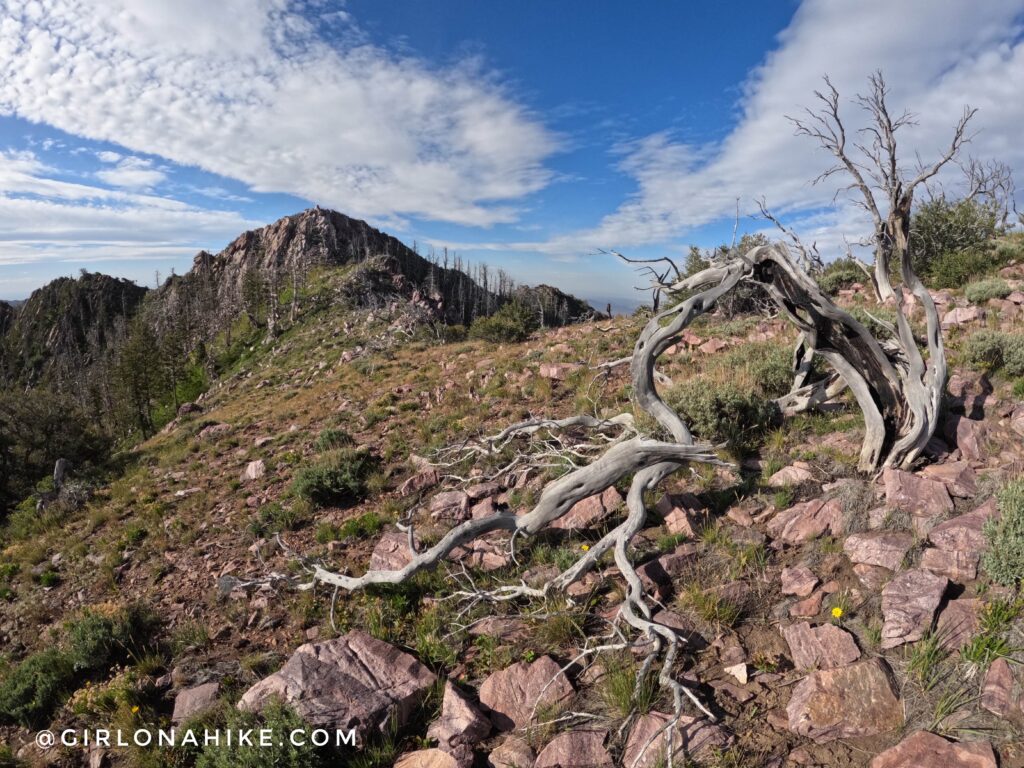 I loved the terrain on Black Crook Peak – from desert cactus flowers, bristlecone pine trees, old dead creepy trees (haha!), and aspen's, it really had a wide range since its apart of the Great Basin Desert.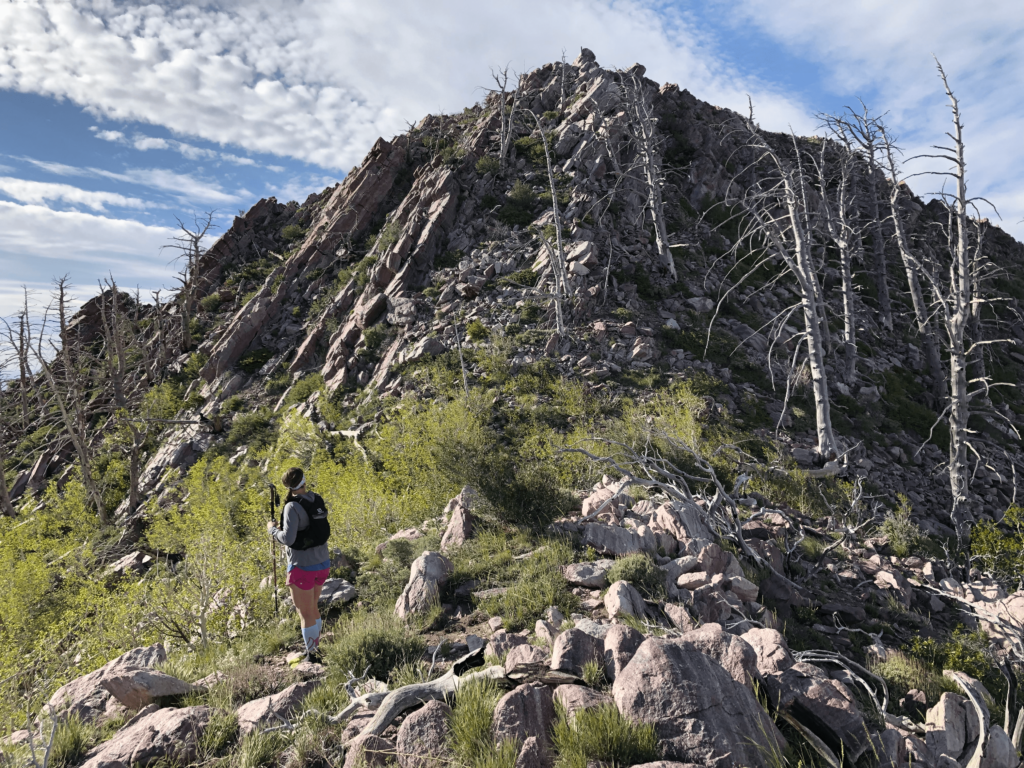 Last stretch, here we go! Another short class 3 scramble.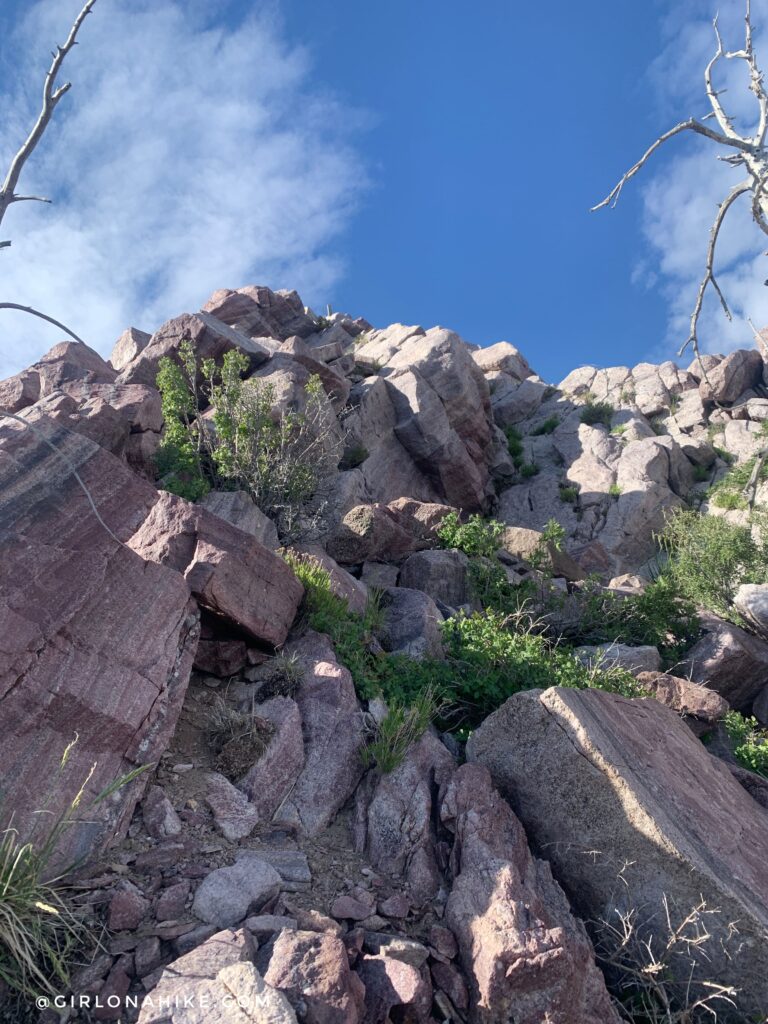 This section only lasts maybe 30 ft.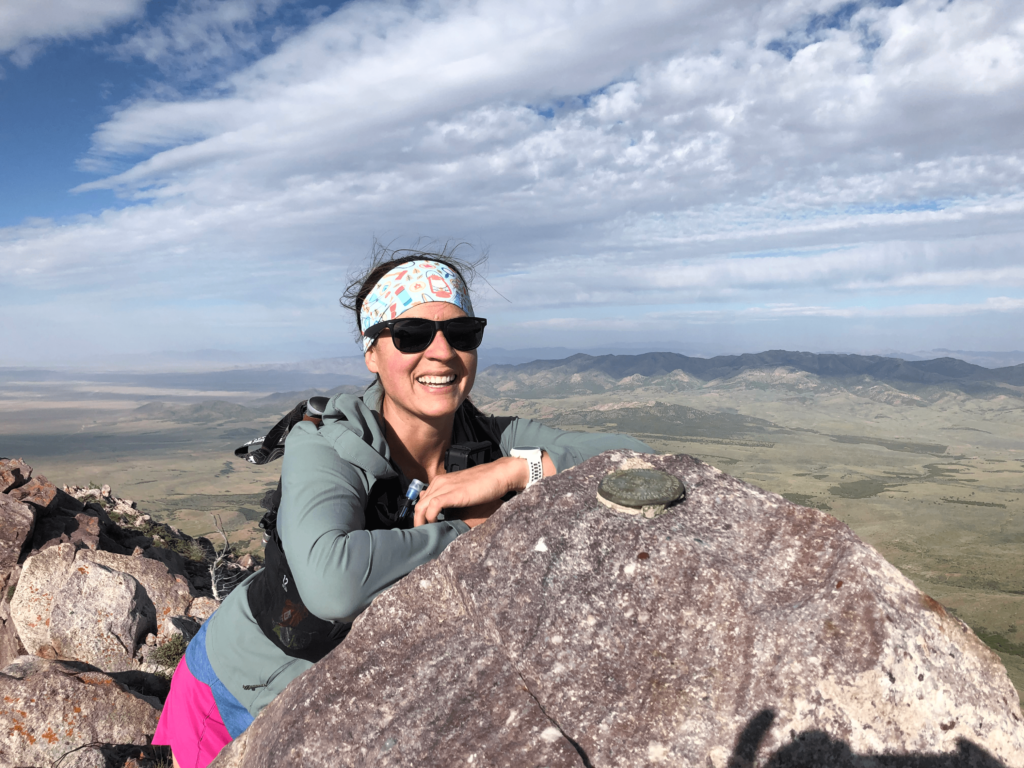 3rd times a charm – finally on the summit and so happy!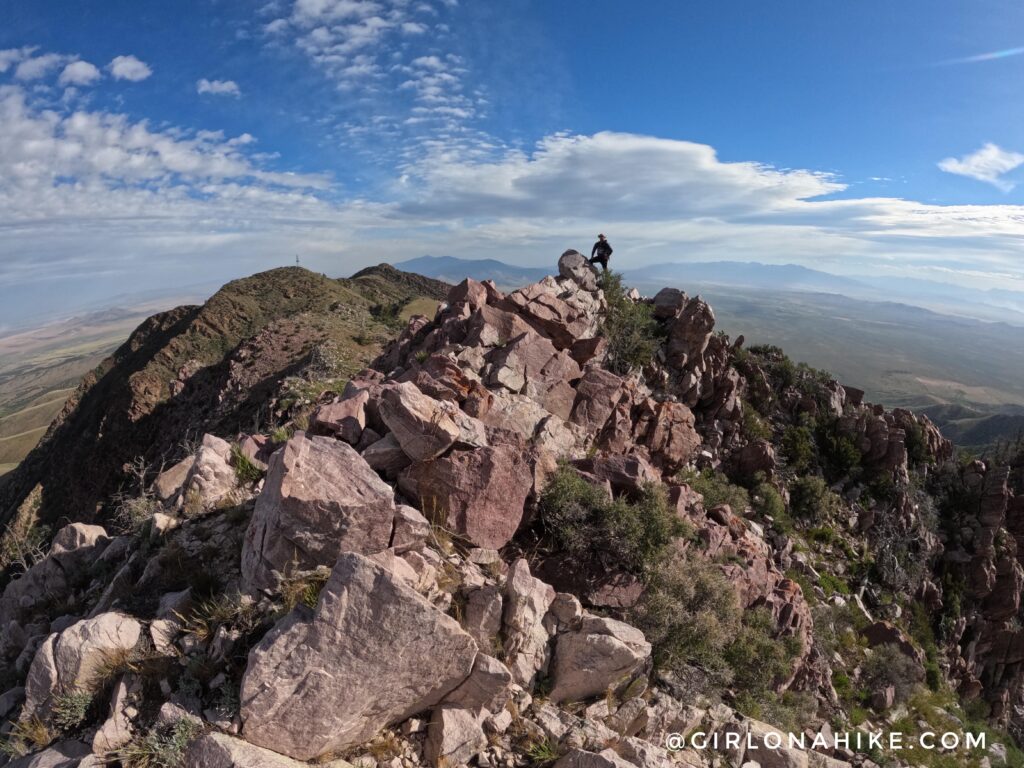 Looking back at my buddy, Felix on the peak!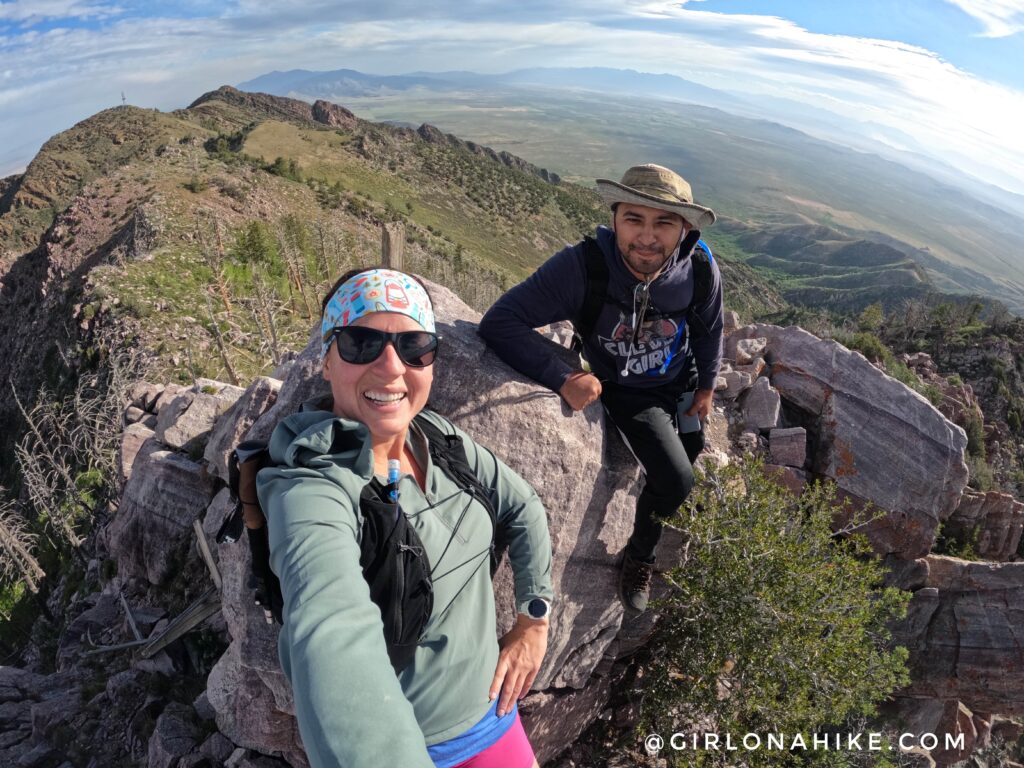 We had such a good time! Overall, including our breaks, it took us exactly 5 hours to complete.
Check out my video &

subscribe

!
Trail Map
My track via Gaia GPS – the best tracking app! Get your app here for a discount.
Recommended Gear
Nearby Hike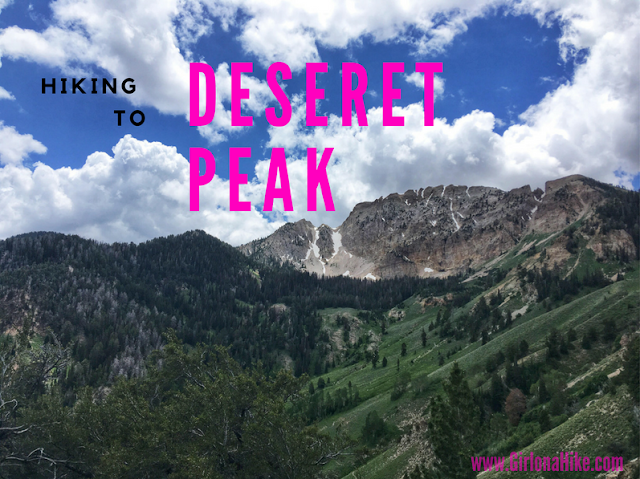 Save me on Pinterest!