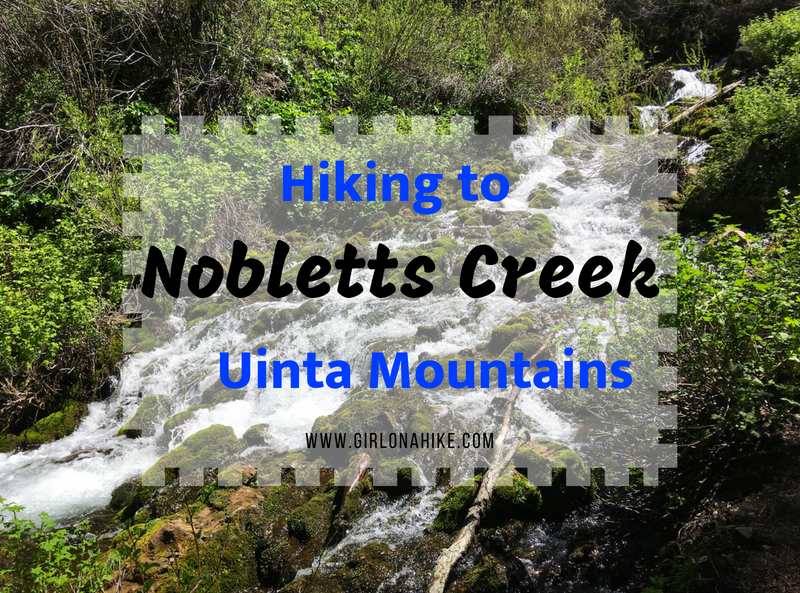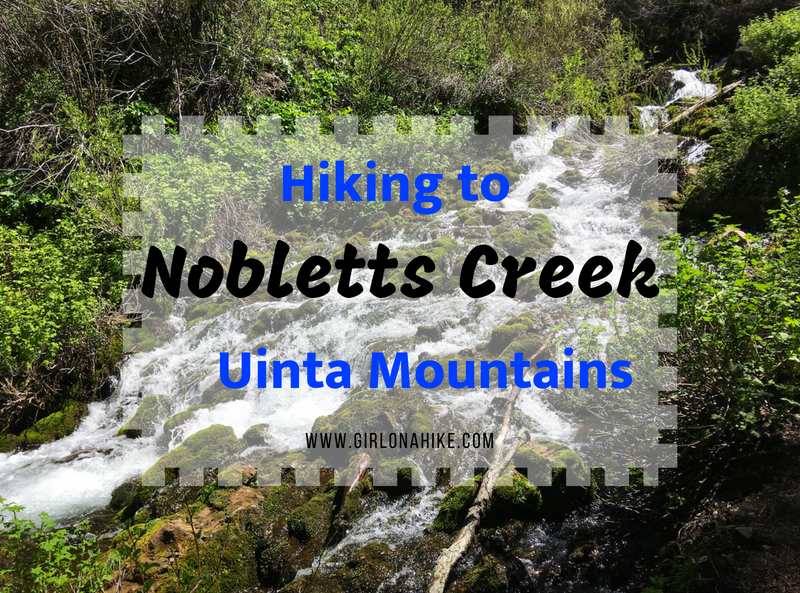 Noblett's Creek, located in the Southwestern end of the Uinta Mountains, is a good early/pre-season hike when the rest of the high elevation hikes in the Uintas are still covered with snow and mud. Because Noblett's Creek is at an elevation of 7,400 ft it is typically ready to hike by end of May/early June (depending on the snow pack from Winter). This trail is really short at only 2 miles round trip, making it perfect for families and kids.
Dogs are also able to hike here off leash. Please be advised that this is a very popular trail, and only well-behaved dogs should hike here (or should be on leash). On a Sunday we passed probably 15 people in one hour! This hike is accessible year round, and you don't need 4×4 drive to get here since it's located right off Highway 35. There is plenty of shade and water, so if it's hot consider wearing water shoes like Chacos or Tevas to stomp around in the water to cool off.
Directions
From SLC head East on I-80 through Parley's Canyon. Take exit 146 for HWY 40 south towards Heber, UT. Take exit 4 towards Kamas, UT. At the Kamas light, turn right onto HWY 32. Drive 2 miles, then turn left at the 4-way stop in Francis, UT. Drive about 12 miles on HWY 35 until you see the Nobletts Creek parking lot on the left.
Here's a driving map.
Trail Info
Distance: 2 miles RT
Elevation gain: 239 ft
Time: 30 minutes – 1 hour
Dog friendly? Yes, off leash
Kid friendly? Yes
Fees/Permits: None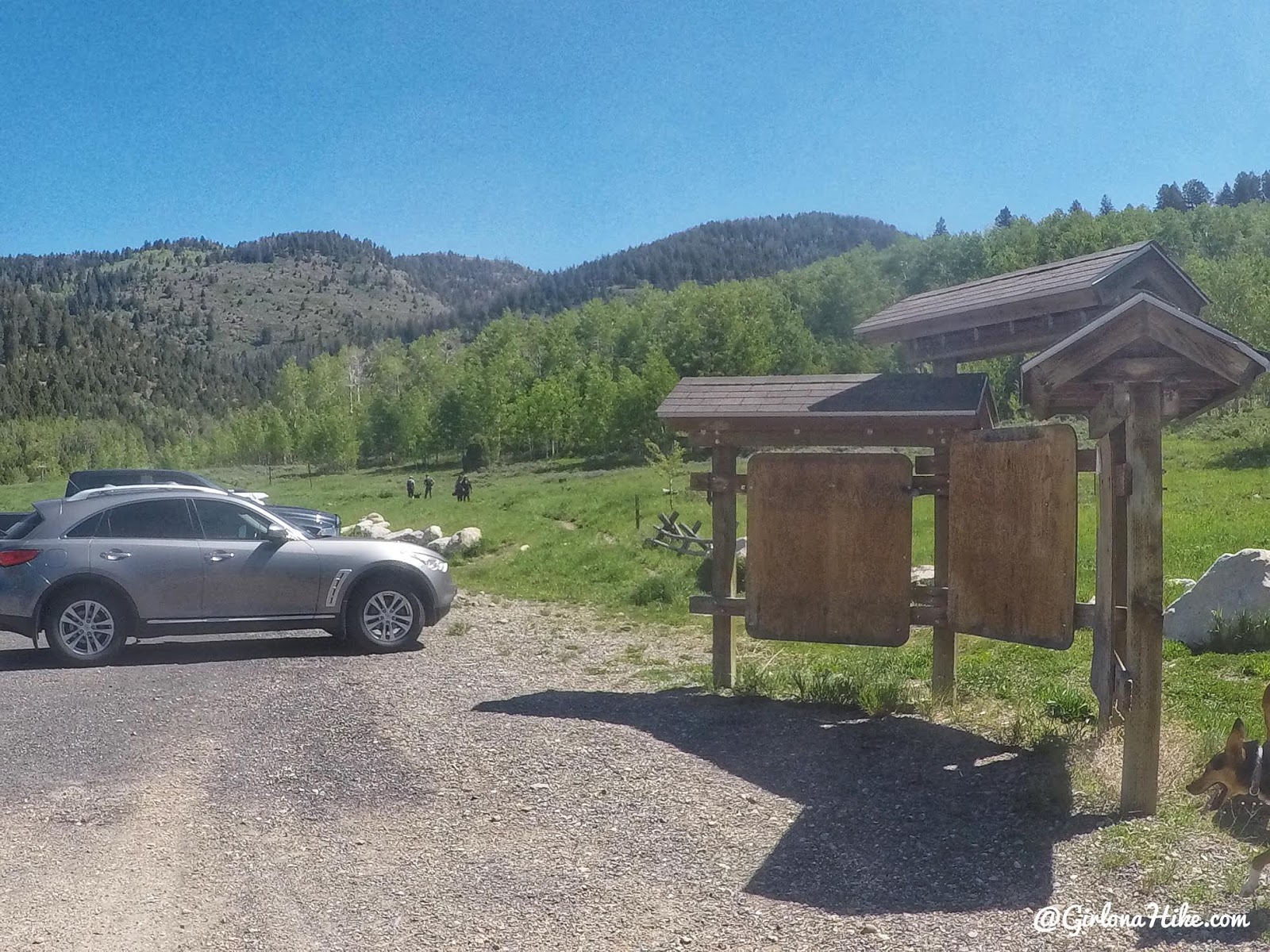 Off HWY 35, you'll see two signs for Nobletts Creek and the parking area on the left. You can't miss it, it's one of the biggest parking lots ever.
 The trail is super easy to follow and very well marked.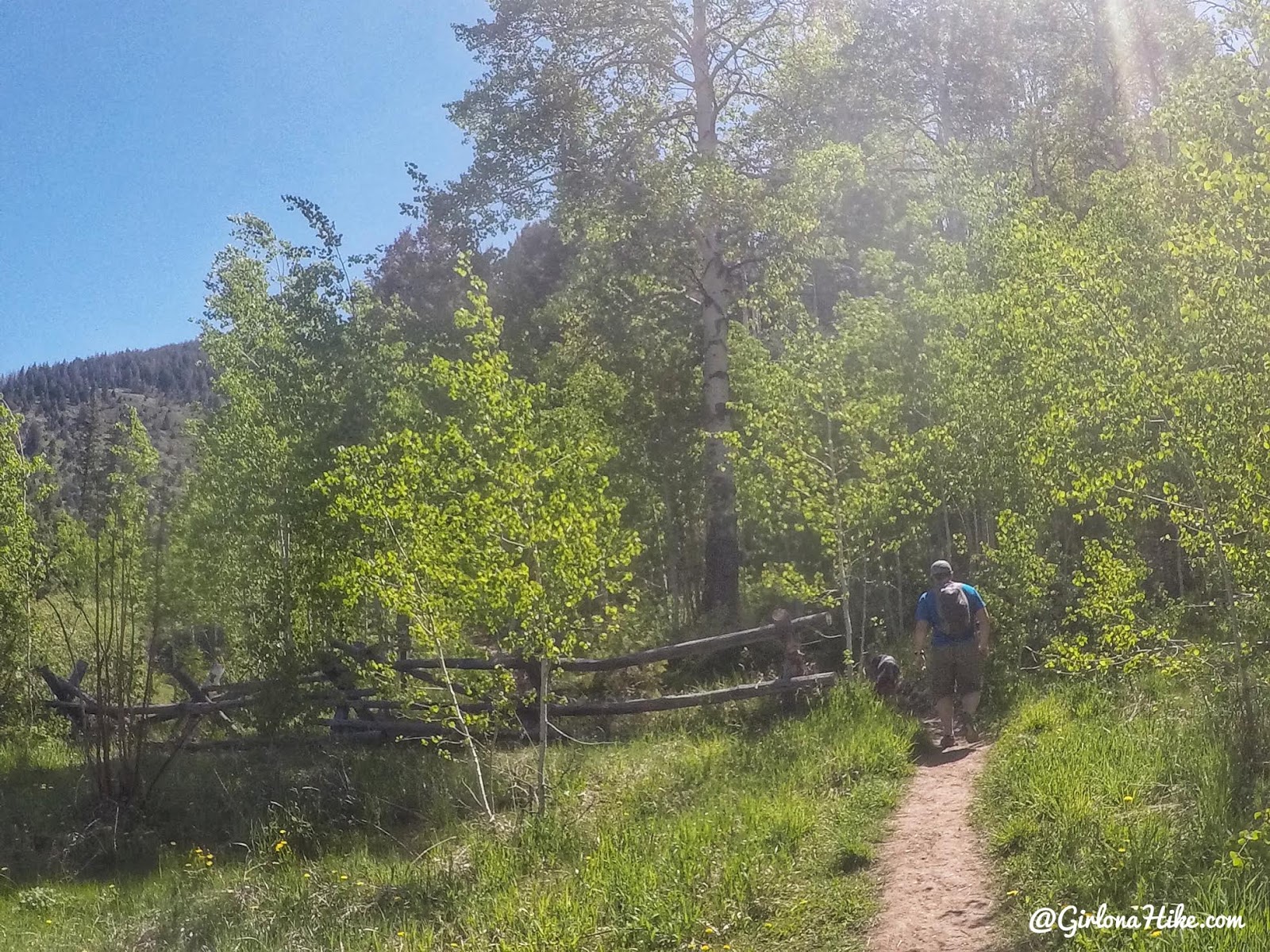 You'll walk down a short but steep-is hill, then turn right. Pass by this old wood fence.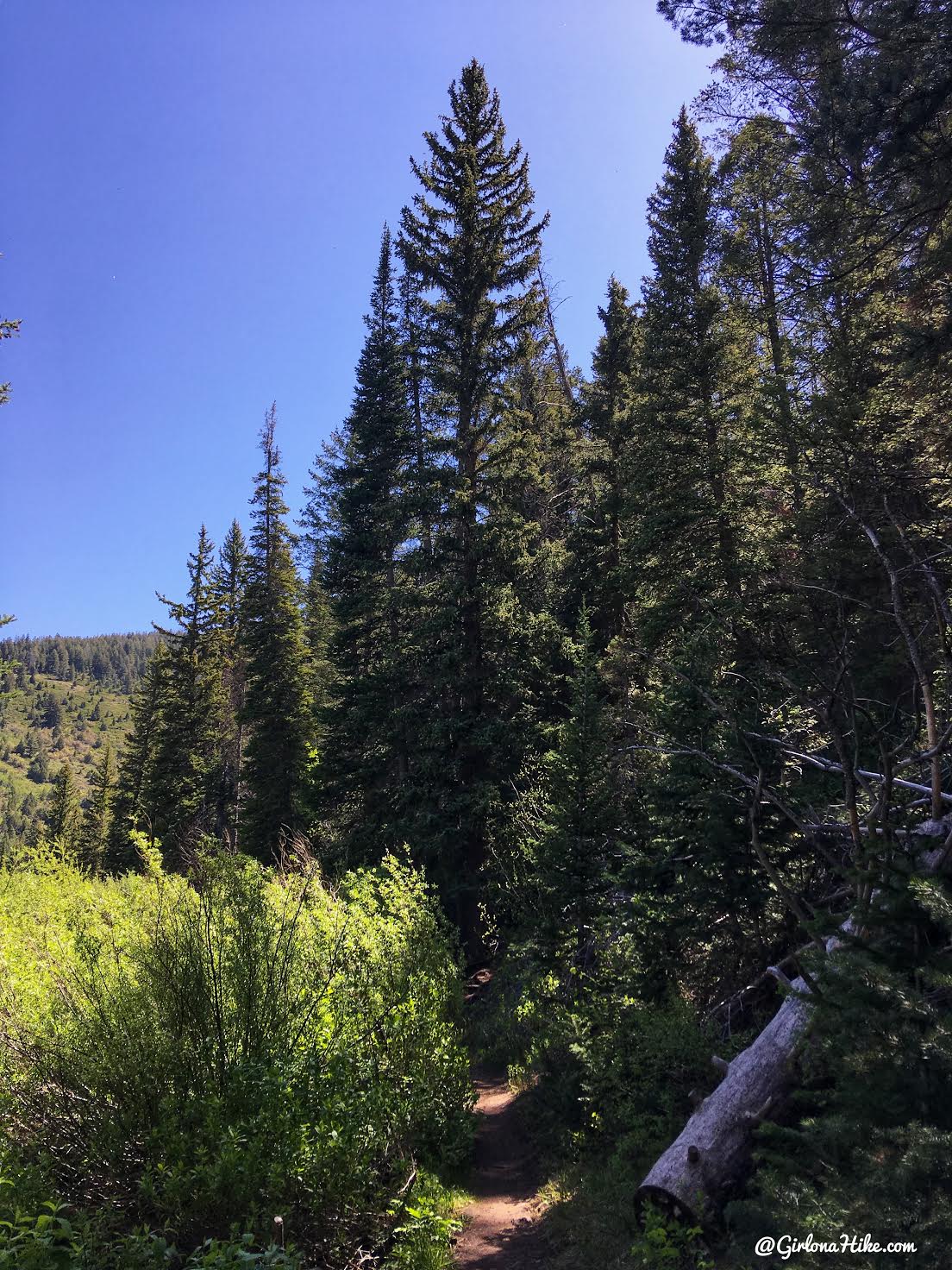 This trail is very well shaded as well.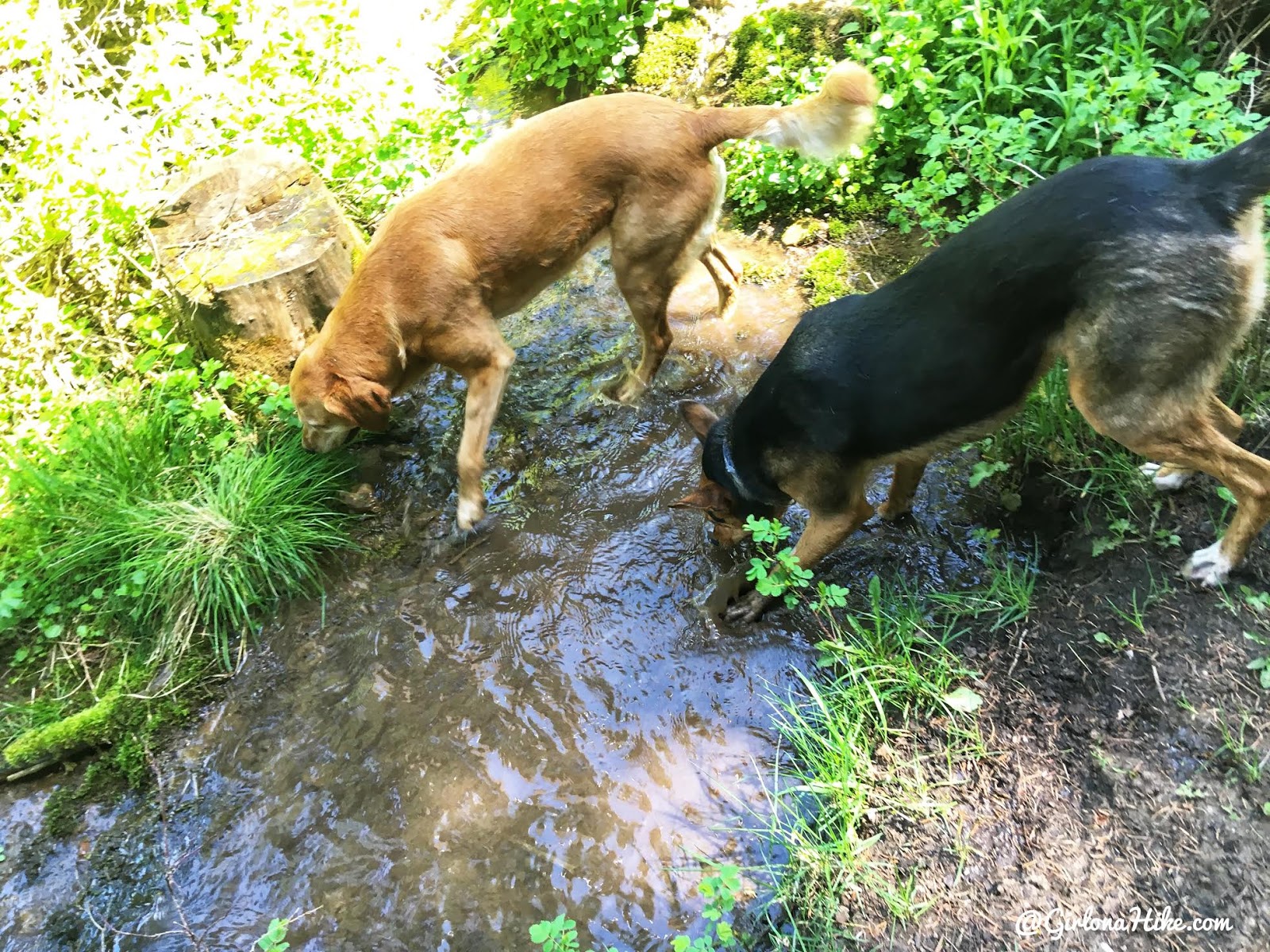 Plenty of water for the dogs right along the trail!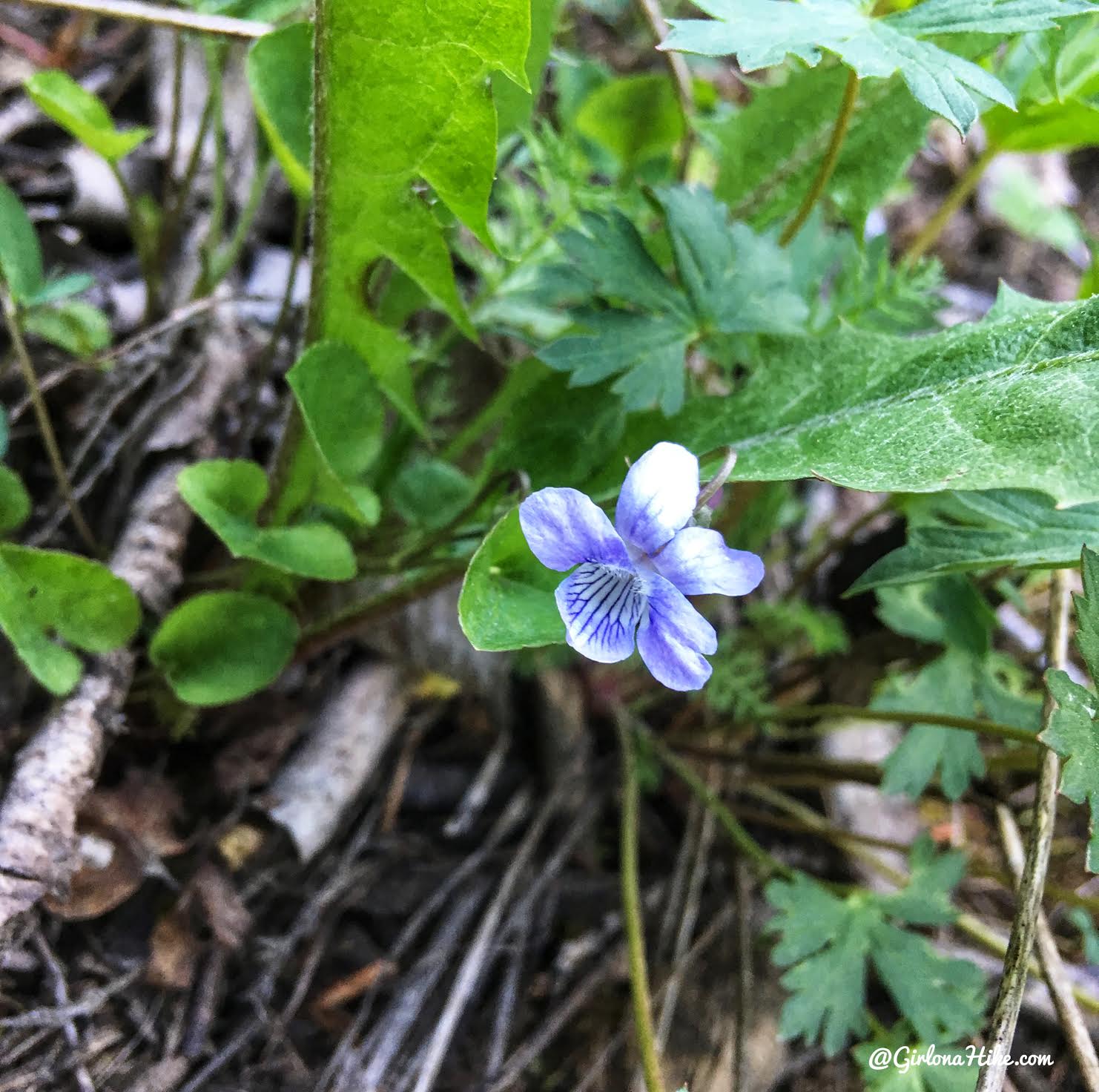 This is a Birds Eye Speedwell flower.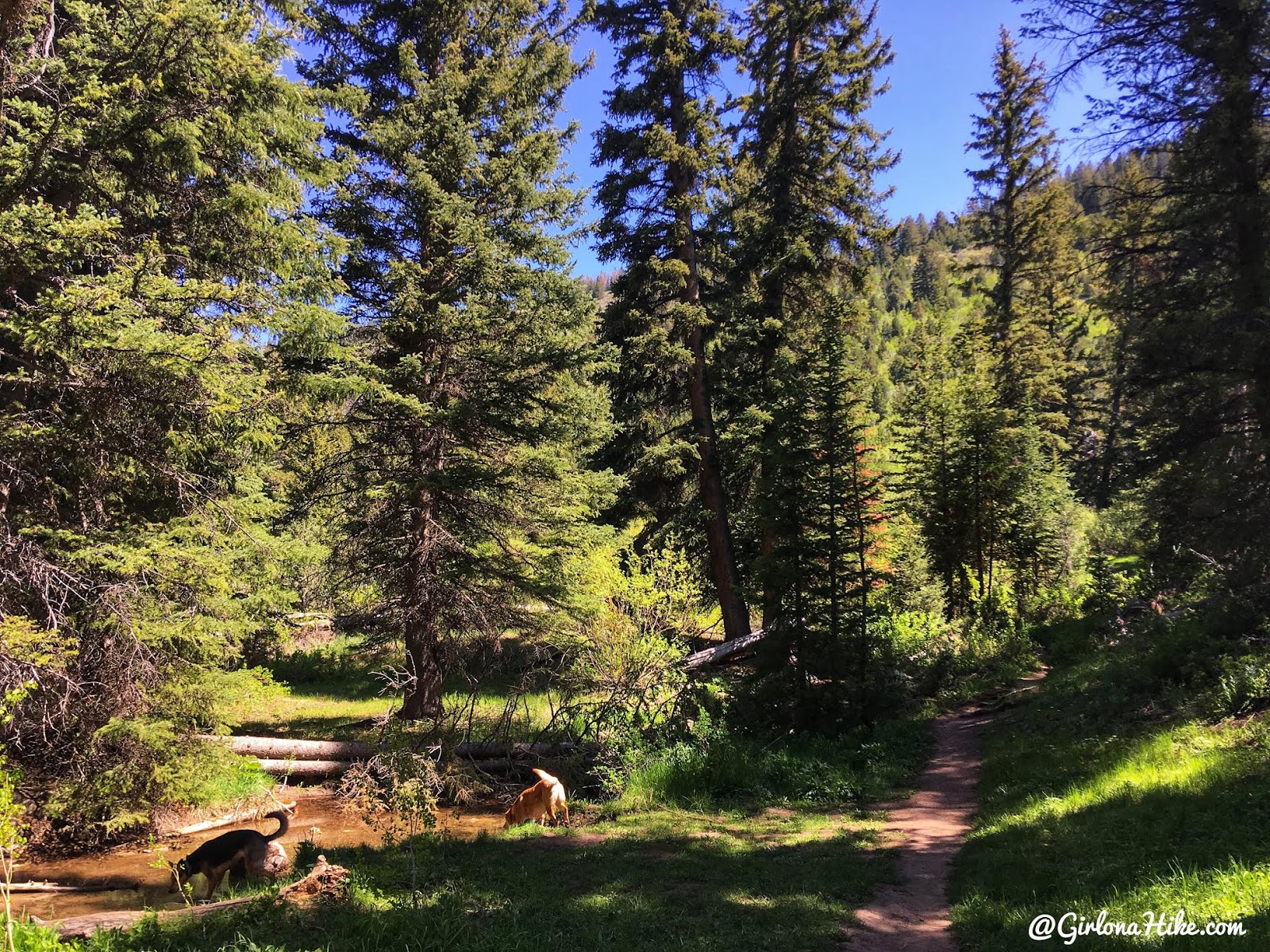 More water stops for the pups. Look how green it is! So pretty.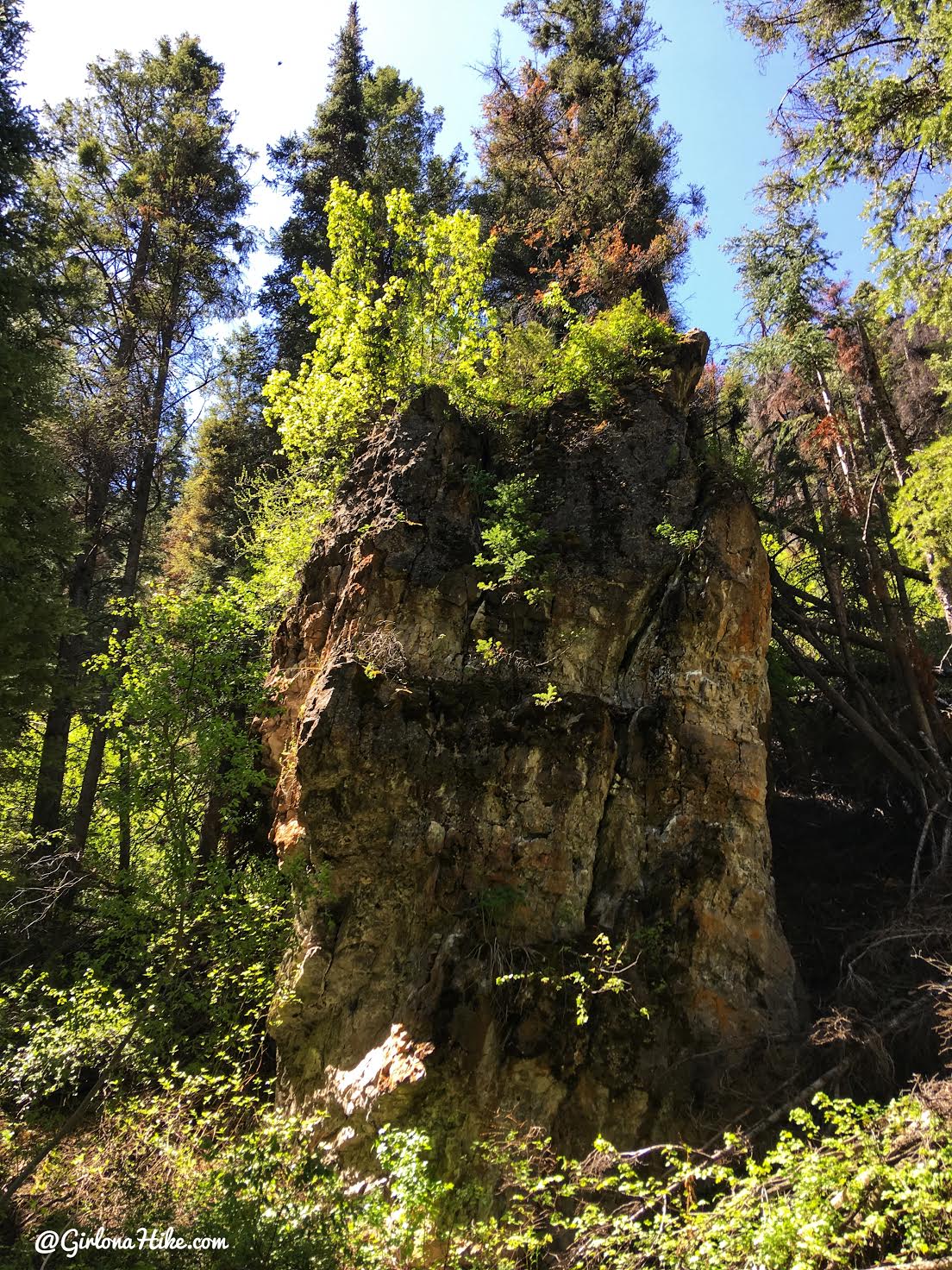 There's also really interesting rock on the right side of the trail.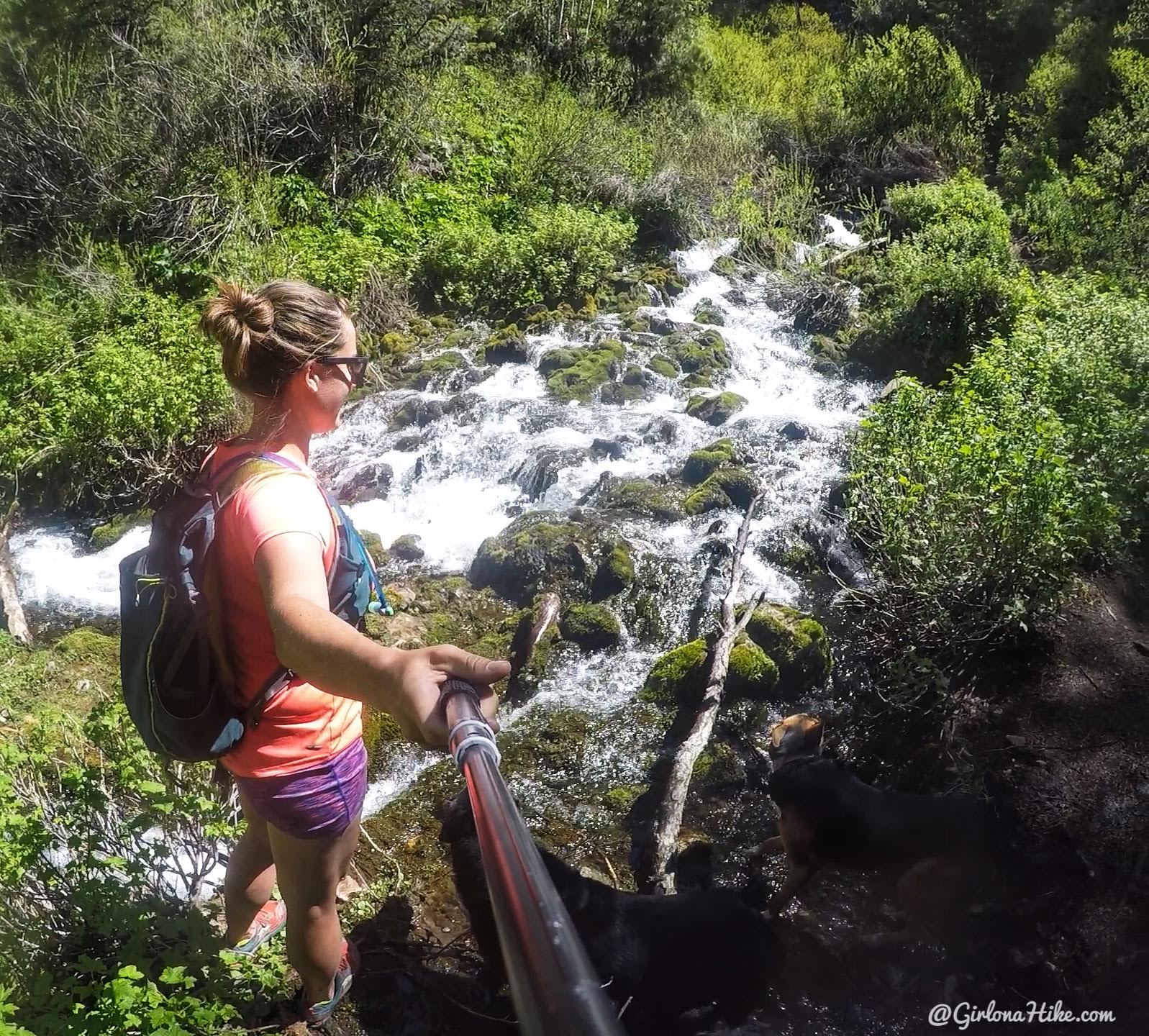 Made it to the cascades in only 25 minutes at a casual pace.
Noblett's Creek reminds me a lot of the Cascade Springs in American Fork Canyon.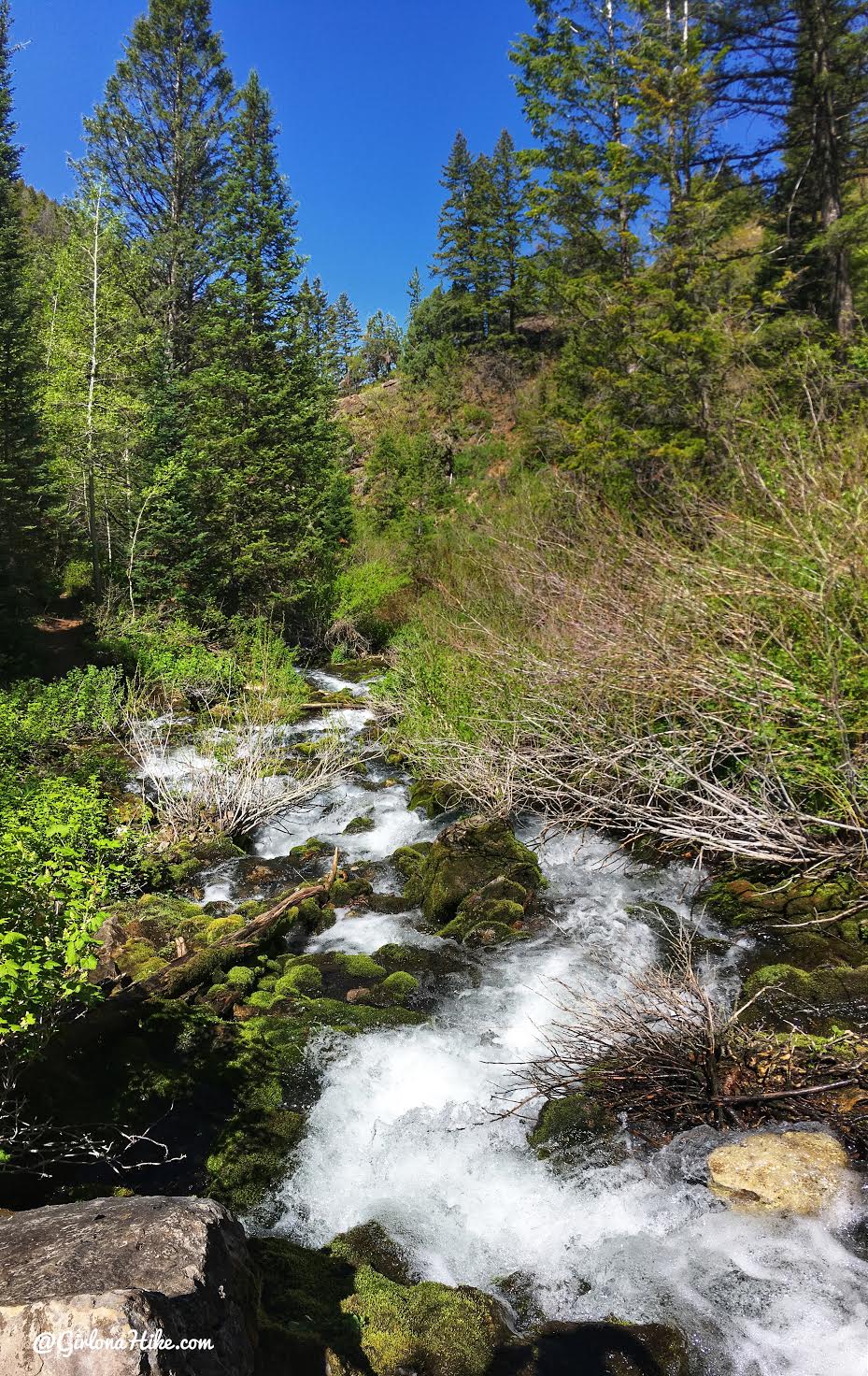 Top of the falls looking down.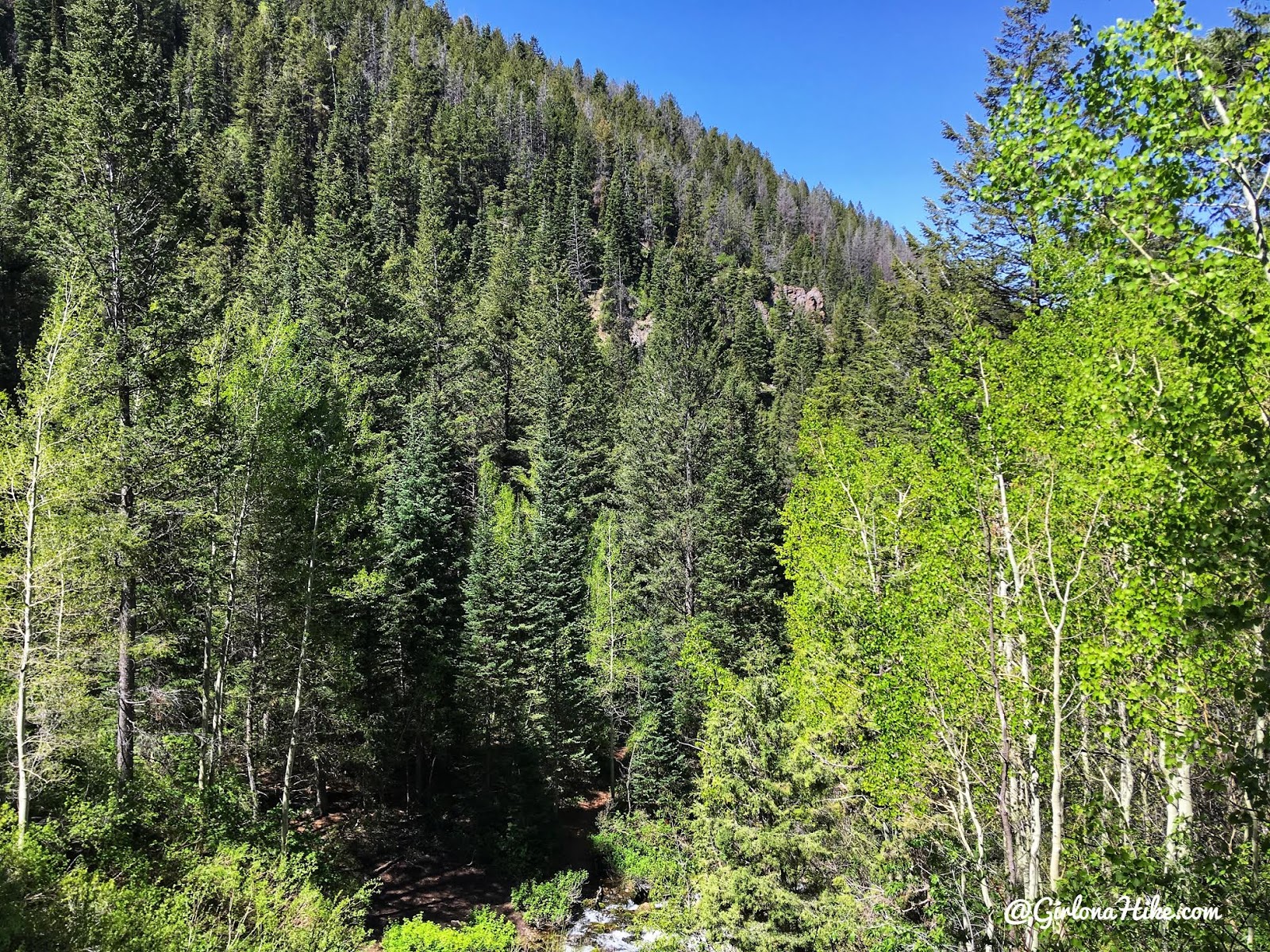 There is a "End of Trail" sign right at the cascades but the trail keeps going so we checked it out. We went up maybe another 100 yards and it kept getting steeper and the trail faded. I would definitely not bring kids past the spring.
Trail Map
My track via Gaia GPS – the best tracking app! Get your app here for a discount.
Nearby Hike
Hiking to the Kamas Overlook Trail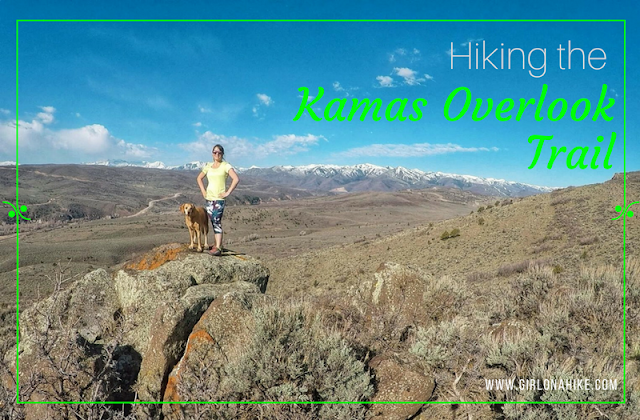 Save me on Pinterest!