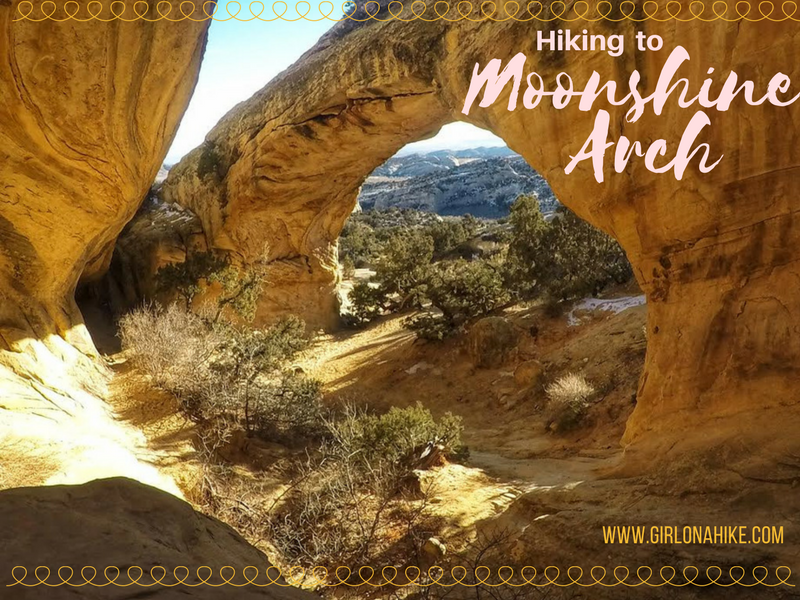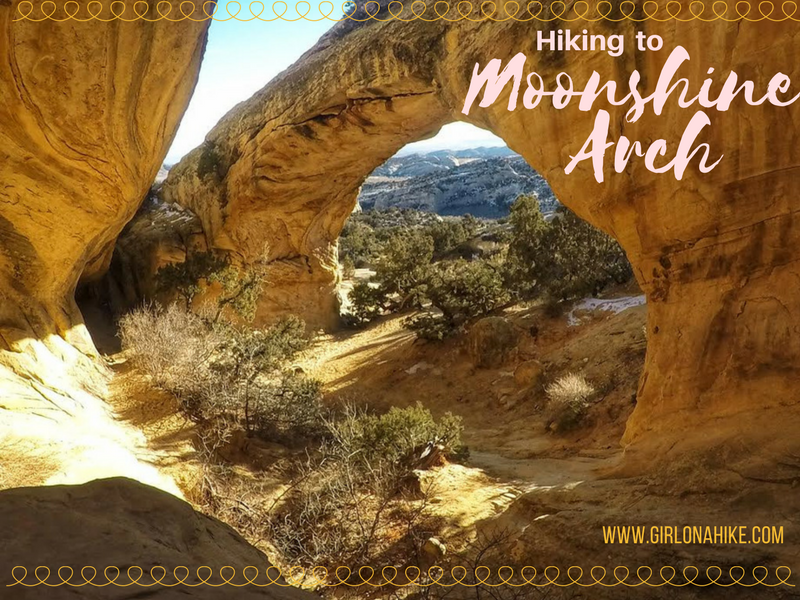 Moonshine Arch is located about 7 miles north of Vernal, UT. Not to be confused with the Moonshine Wash Slot Canyon in the San Rafael Swell, this short trail leads to an amazing arch that is 40 ft high, and 85 ft long. The trail is 90% sand and 10% slickrock, so because of this I highly avoid hiking here in Summer months if you bring your dog (the sand/rock will be too hot for their paws). The best time to hike here is in the afternoon, when the sun lights up the arch and alcove. This trail is super short, so it's great for kids or families visiting from out of state to hike to. Be aware that this trail crosses through an open cattle range, so always have a leash handy and don't disrupt the cattle or other wildlife.
Directions
From Vernal drive 6.6 miles North on HWY 191, and turn left onto a dirt road (there are no signs). Drive 0.5 miles to a 4-way intersection and turn left (you should see a blue Moonshine Arch metal sign). Drive another 0.7 miles until you reach the end of the dirt road and a green gate (you will also see a now brown metal arch sign). Park here. Google maps doesn't understand how to drive on dirt roads, so here's a screen shot of the driving map. The road is usually well-graded but after a rain/snow storm small cars might not be able to make it. My little Sonata made it to the gate.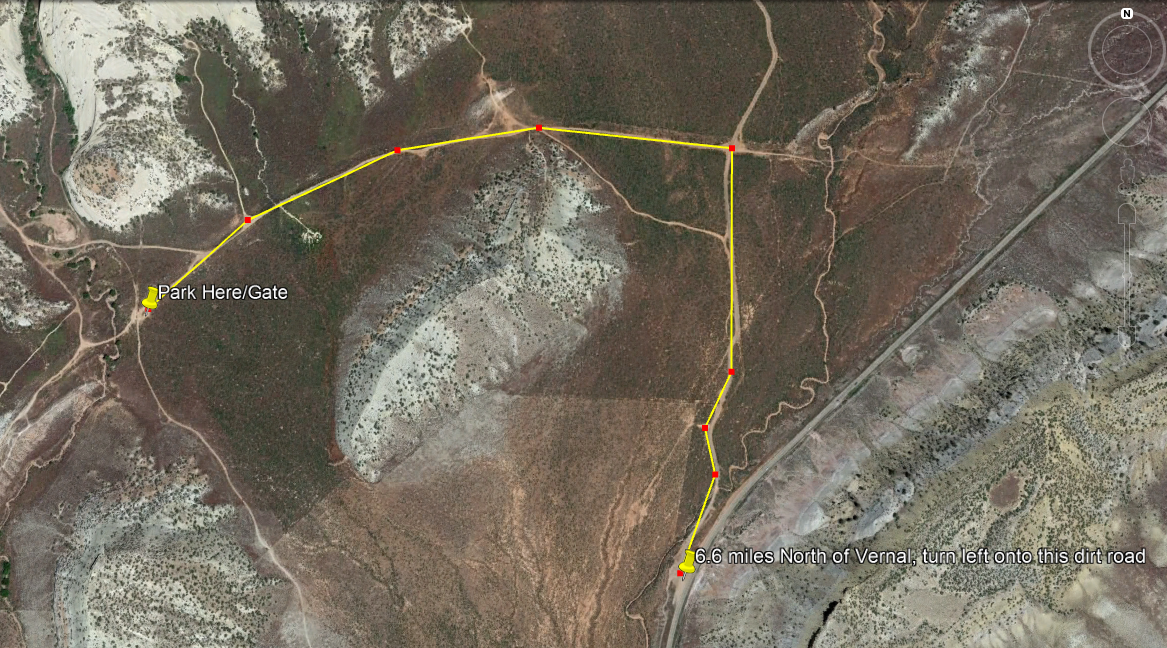 Trail Info
Distance: 1.5 miles RT
Elevation gain: 200 ft
Time: 1 hour
Dog friendly? Yes, off leash 
Kid friendly? Yes!
Fees/Permits? None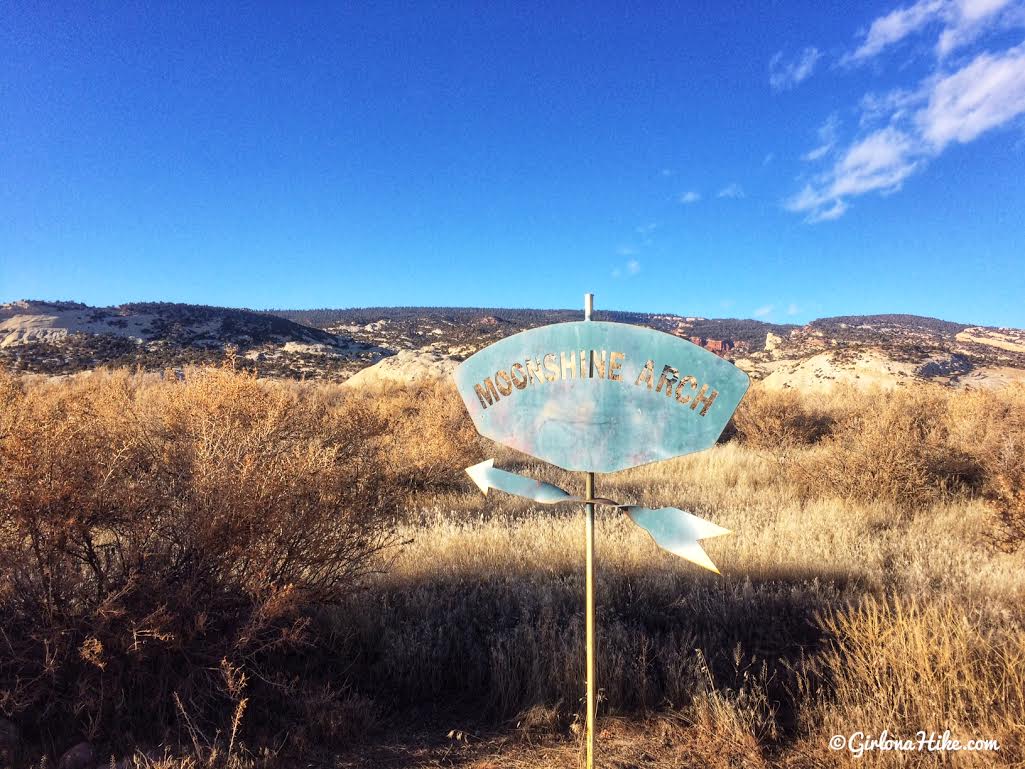 After you turn off HWY 191, your'll drive to the first 4-way intersection (0.5 miles), and turn left. There is this blue metal sign.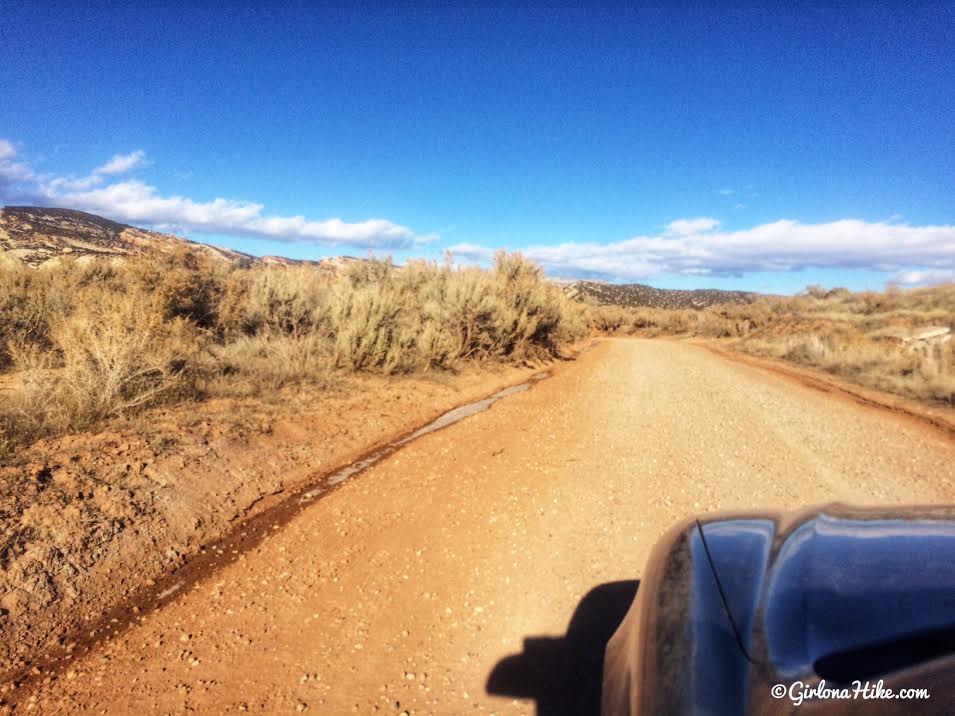 The road wasn't bad at all.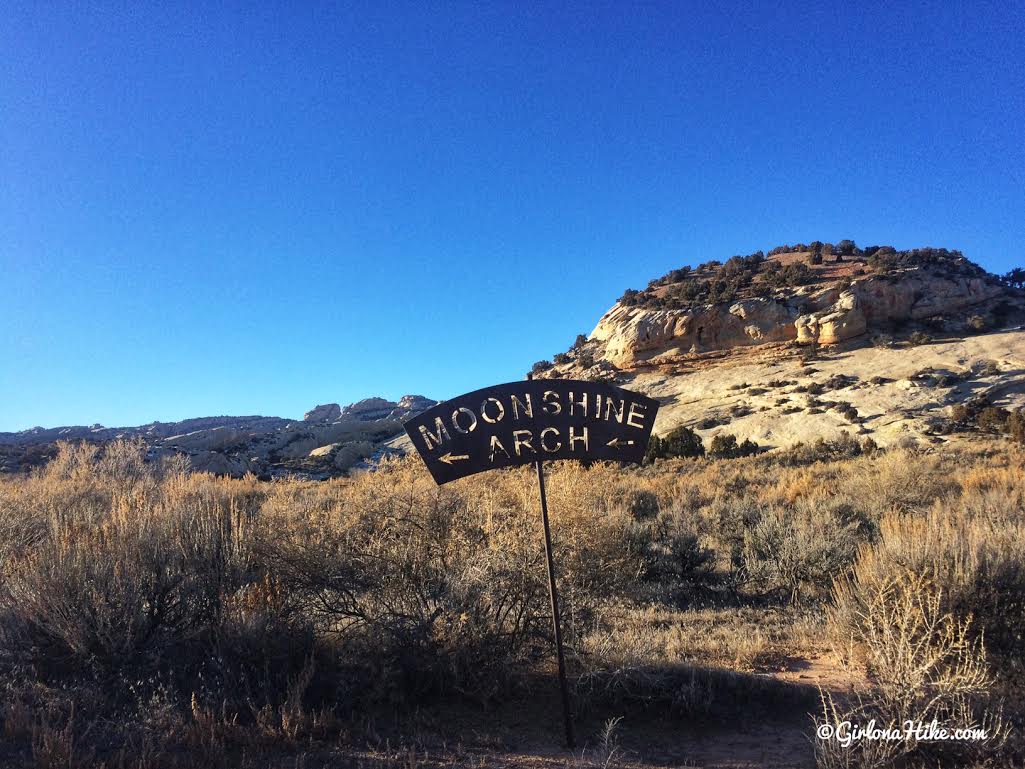 The next sign you'll see is where near the parking area. You can park here if it's a busy day, or drive just a little further to the green gate.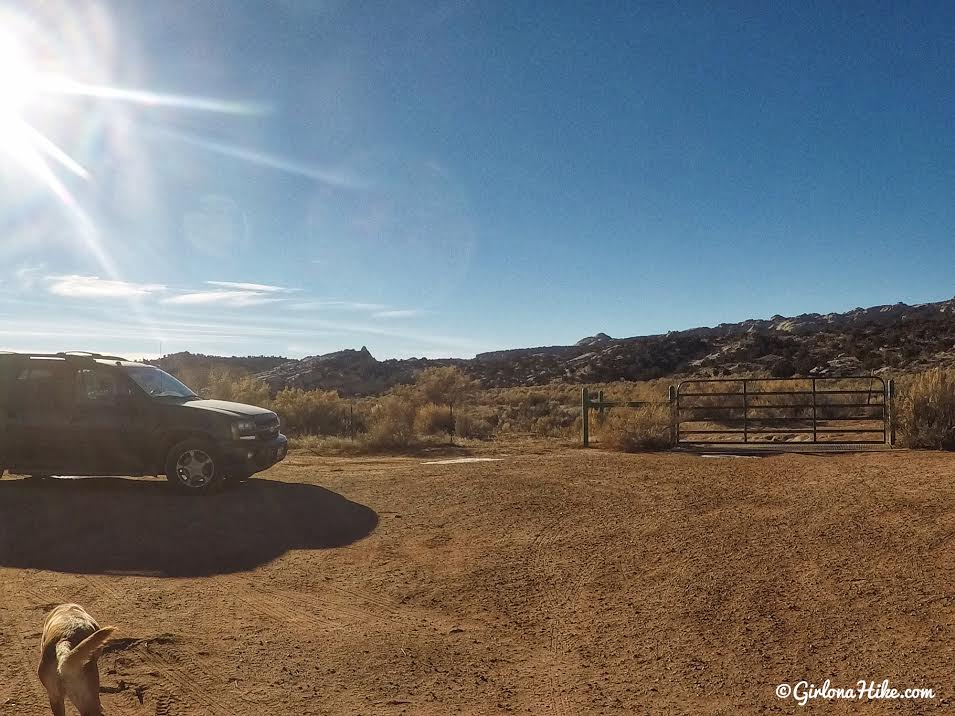 End of the road – start by hiking through the green gate. Make sure you close it so the cattle don't escape! We hiked on Christmas Day and only saw one other hiker.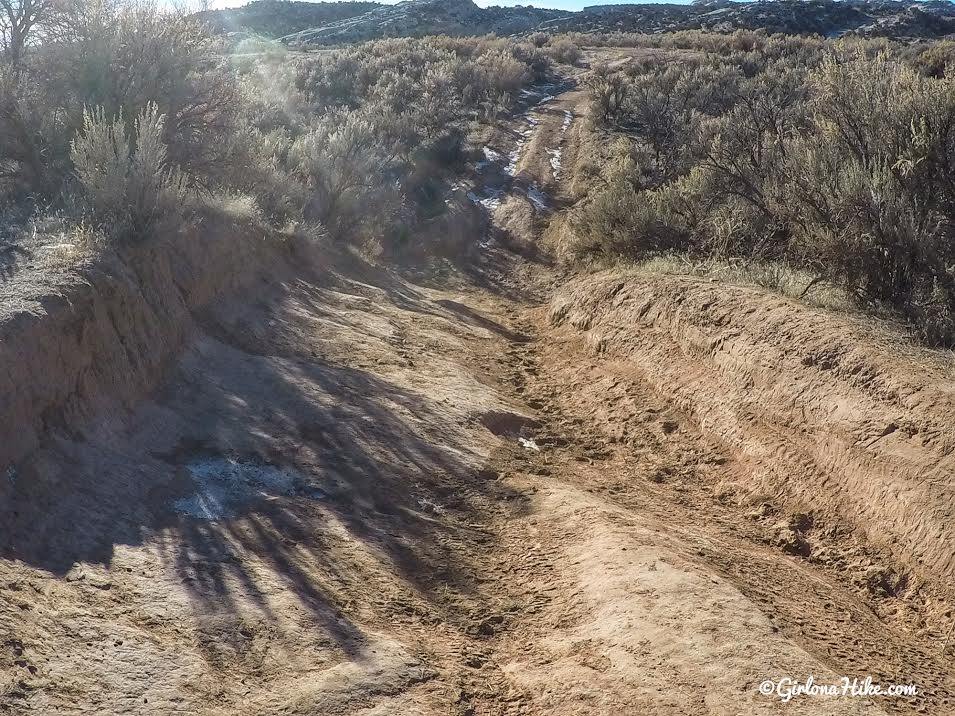 You'll hike down a really rough, old Jeep road. At the top of the road, turn right.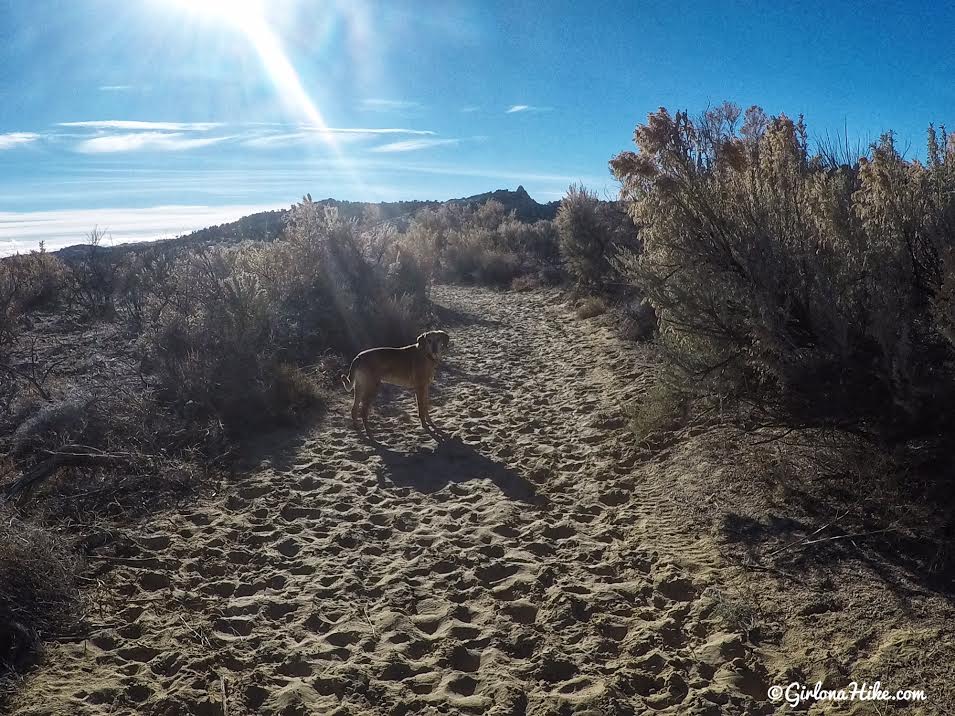 Immediatley turn left (you'll see another green gate to prevent you from hiking straight), and you'll hike through the worst part of the sandy section and through really tall sage and juniper trees.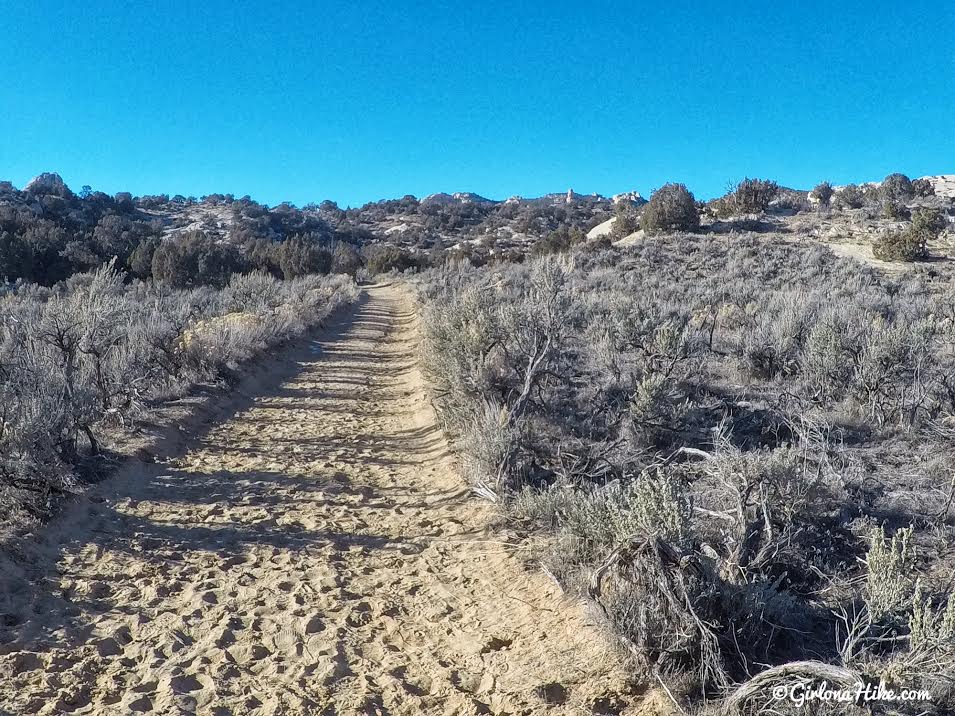 At the next intersection, turn right. So remember it's a right, left, right to get here. Follow this as it turns into slickrock.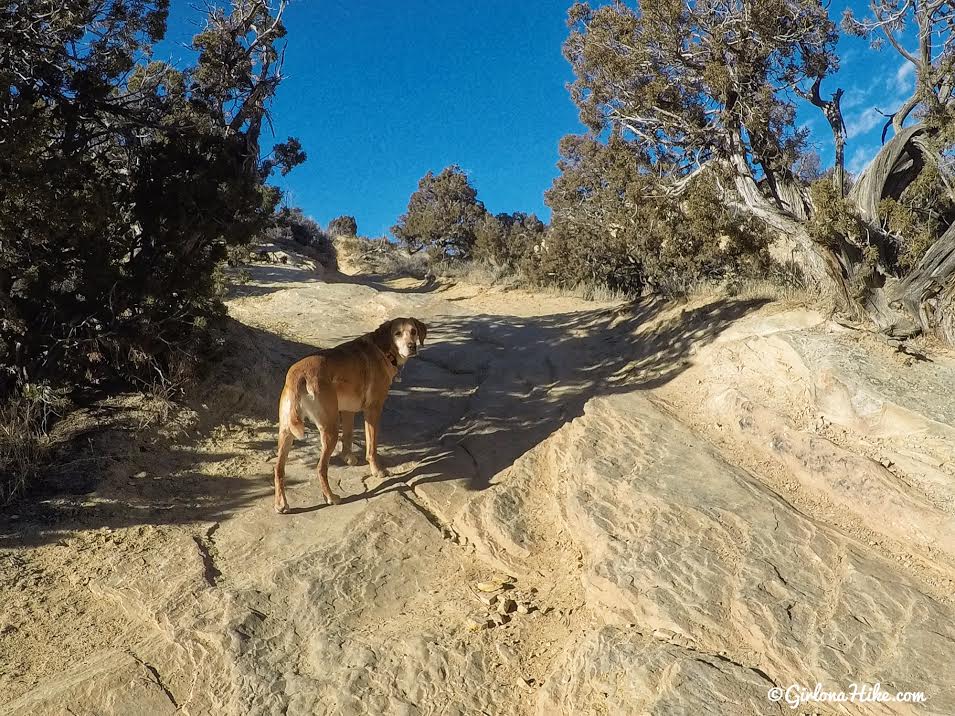 The trail stays wide, as you are now hiking uphill to sort of a ridge. Don't take any of the narrow trails leading off of this wide jeep road.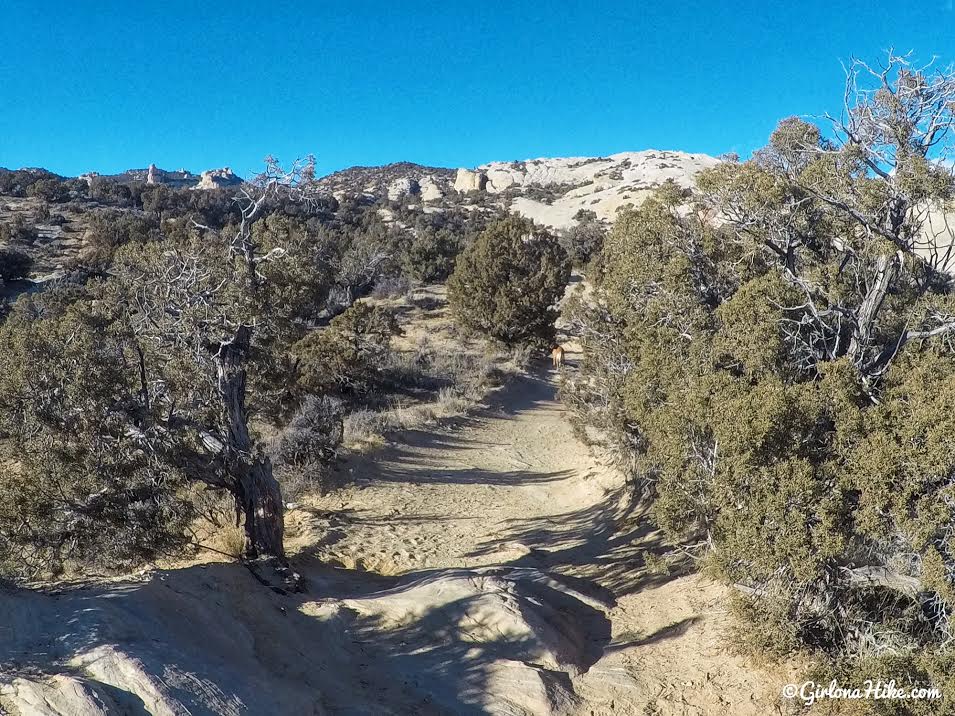 On top of the ridge, and you can actually see where the arch is. See that black, shadow area straight ahead? That's Moonshine Arch!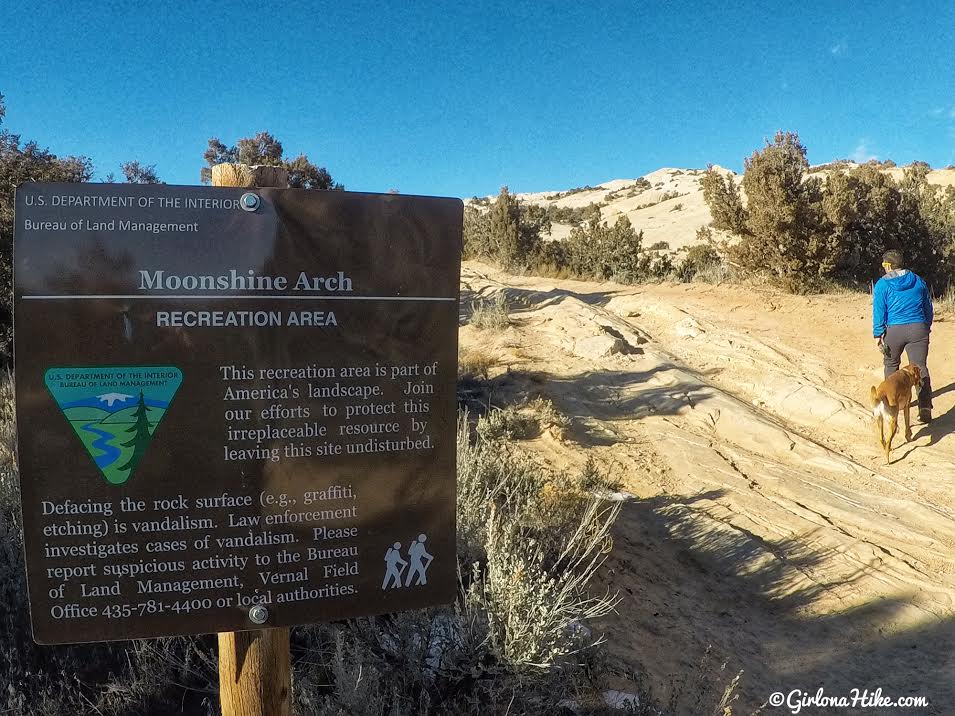 Pass the brown sign.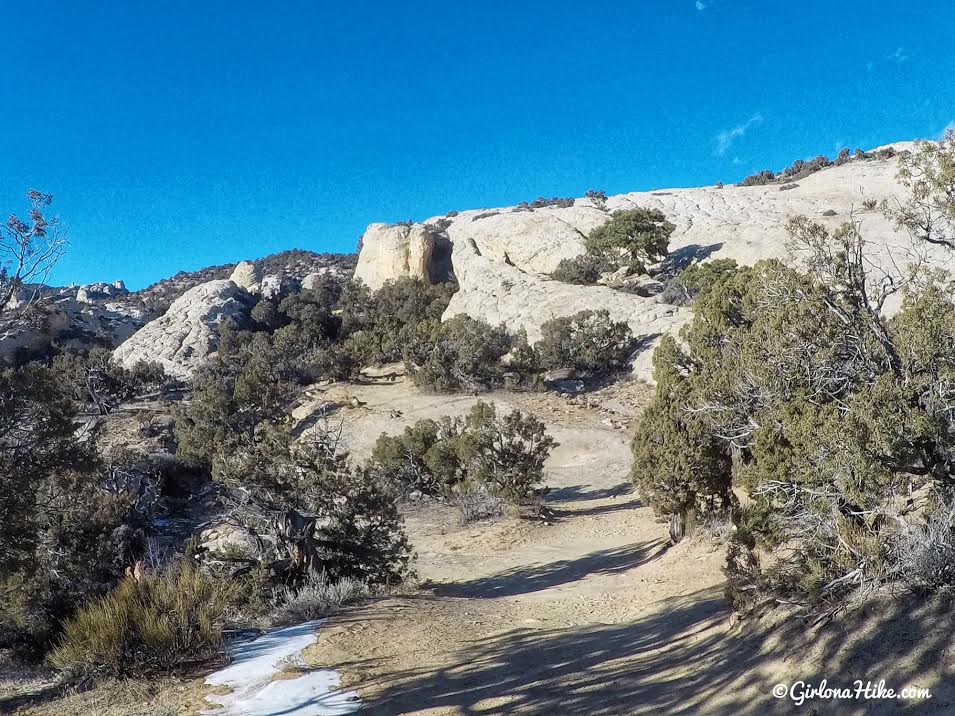 Keep hiking along the old Jeep road. Still aiming for the black shadow.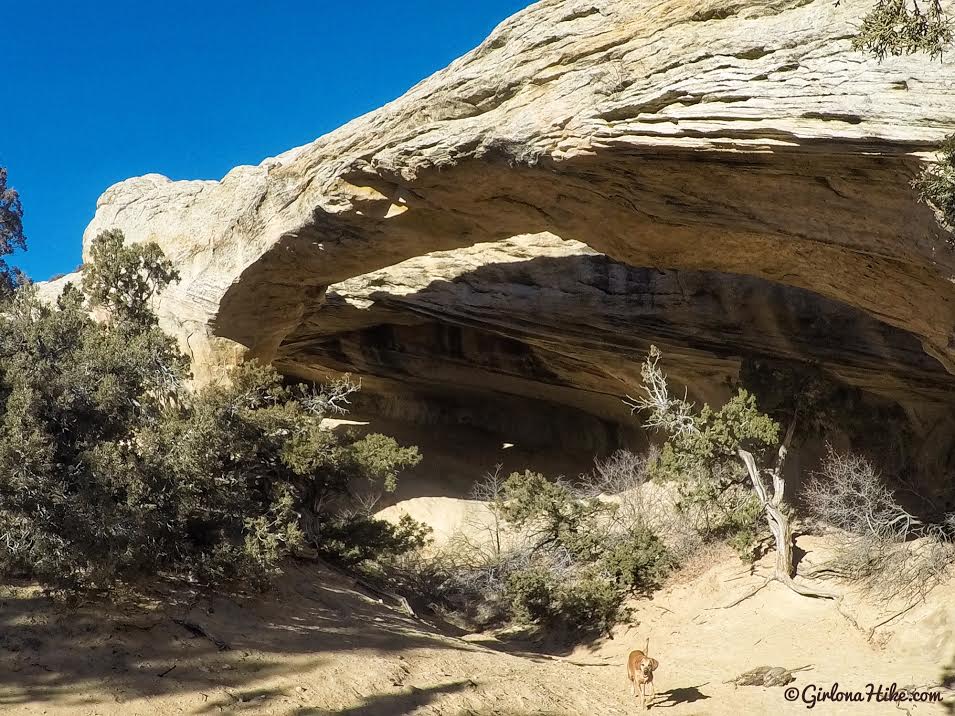 It only took us 20 minutes to reach Moonshine Arch. From here, you can explore the area on your own.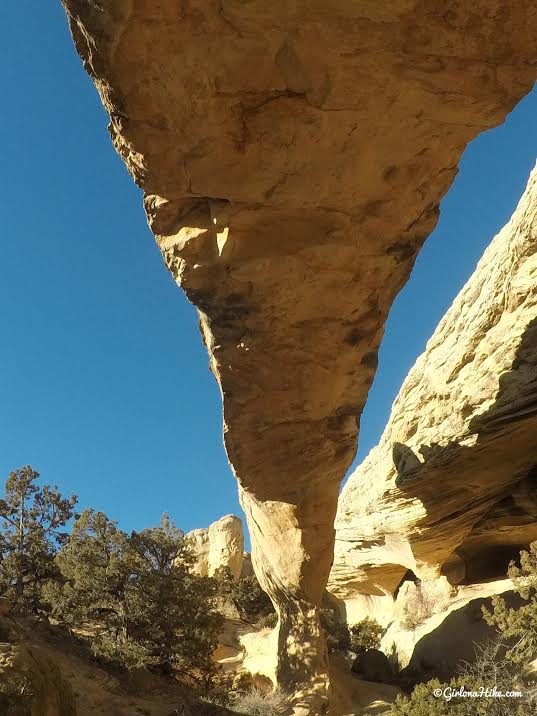 I was surprised how big this arch was! Totally unexpected in this part of Utah.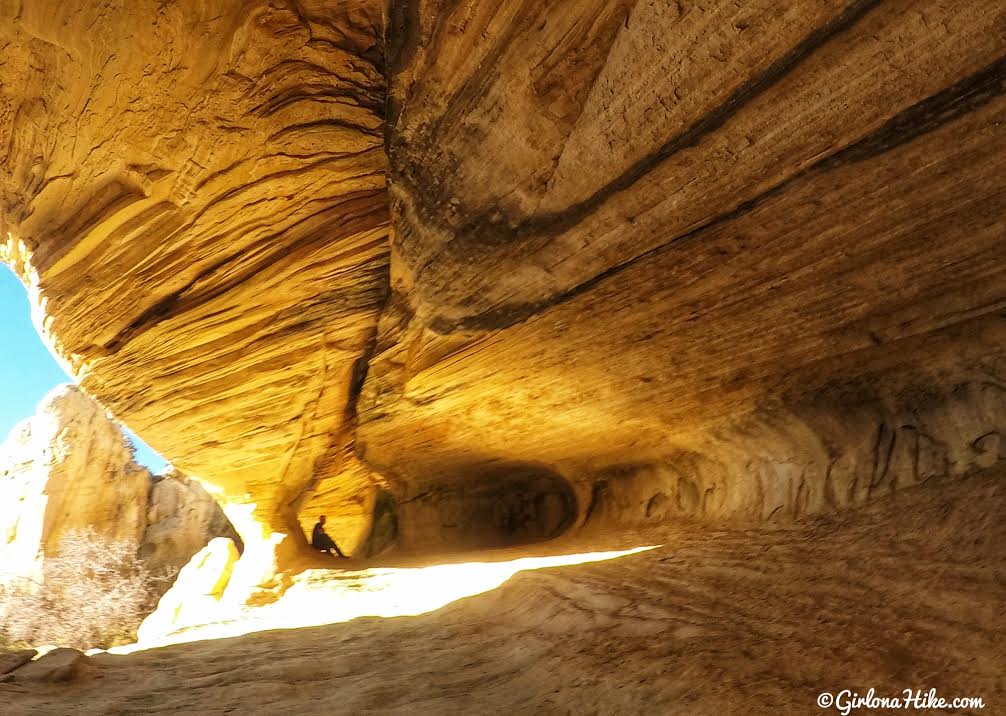 Exploring the alcove.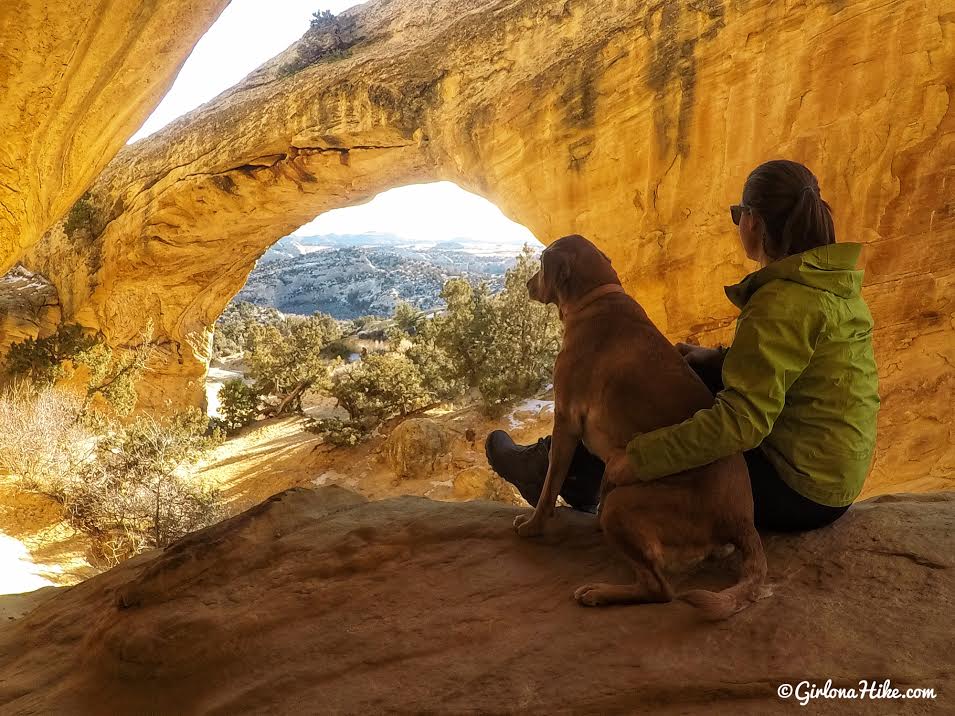 Taking in the view with my baby!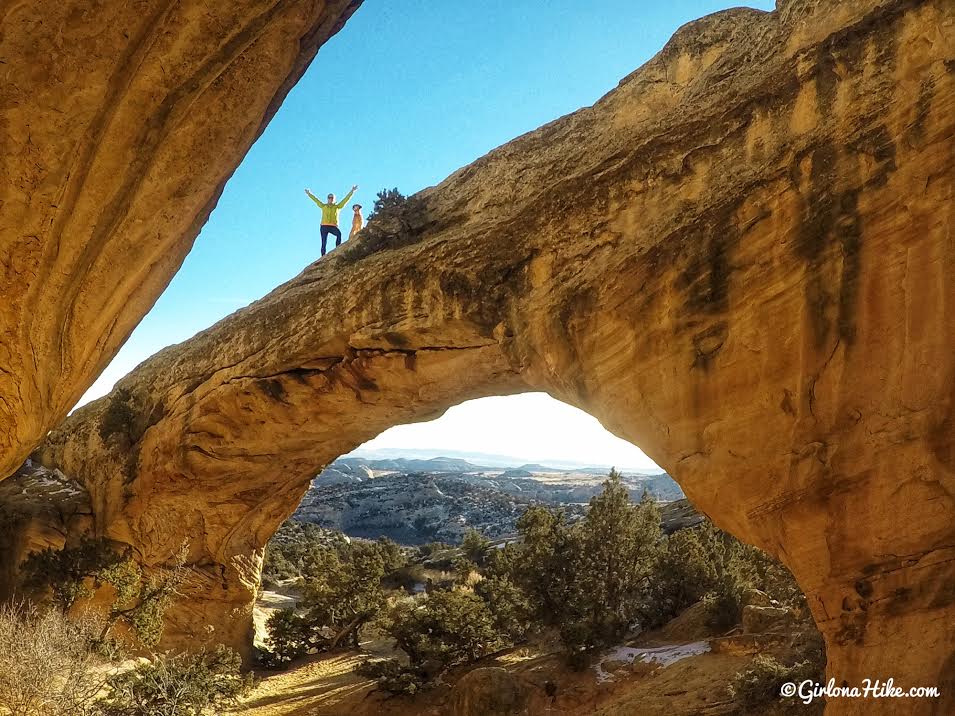 It's really easy to climb to the top – just hike up and in between the mini gully to the East (left) of the arch in this photo. It's hard to tell in this photo, but you can actually see quite far in the distance towards Vernal from here!
Trail Map
All the jeep roads can get confusing, so just remember from the parking lot/gate, walk down the rough road, then it's a right-left-right. Get your Gaia GPS app here for a discount.
Save me on Pinterest!