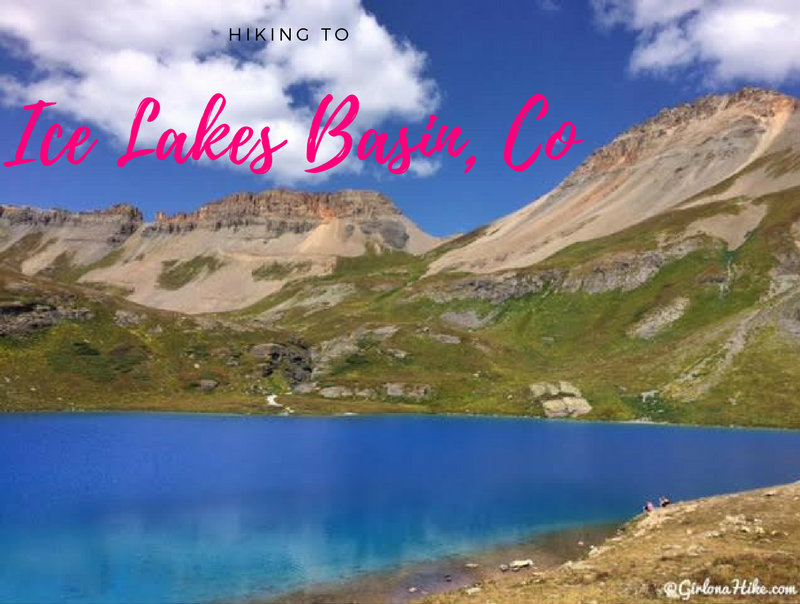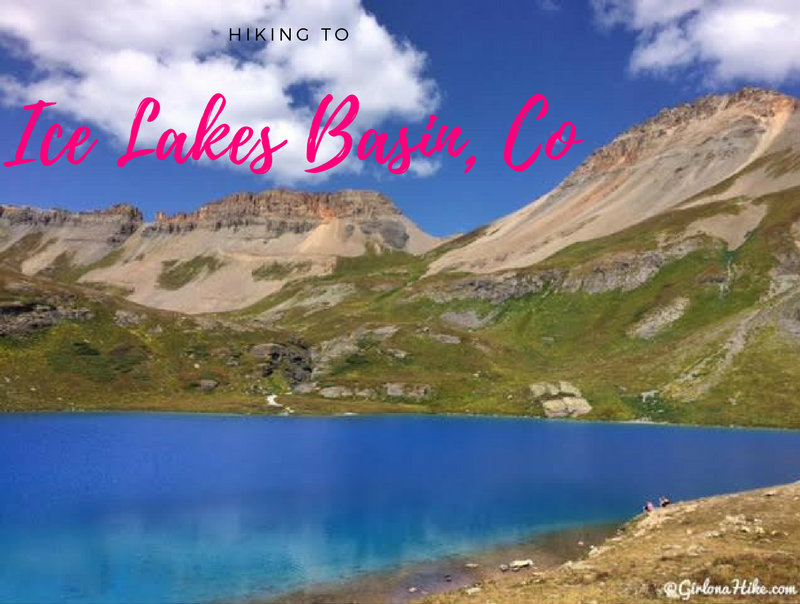 Ice Lakes Basin is located near Silverton, CO, a mecca of hiking, backpacking, and camping! Ice Lakes Basin sits at an elevation of 12,500 ft, and the trail begins at 9,900 ft. Because of this, some people get elevation sickness or have a hard time breathing on this hike, especially since it's somewhat steep the entire way. This popular hike offers several lakes, stream crossing, peak viewing, and gorgeous overlooks that can't be beat. 
About
Ice Lake is the bluest lake I have ever seen in high alpine terrain. There is such a contrast of the surrounding peaks to this lake, that the color of blue really pops. The color comes from rock flour, or glacial flour, which is fine-grained, silt-sized particles of rock, generated by the mechanical grinding of bedrock by glacial erosion. When sediments enter a river or lake, it turns the color iridescent blue-green, turquoise, or milky white. Ice Lakes Basin is home to three major glacial lakes – Ice Lake, Fuller Lake, and Island Lake and each lake is a different color.
Because this hike has become so popular in recent years, you'll want to start hiking early in the day or during the week when there will be less people. Backpacking is an option here, but again, can get quite crowded especially on holiday weekends. We hiked here over Labor Day weekend and it was insanely crowded. If you can look past the crowds, this hike is totally worth it. Dogs will enjoy this hike as well as there is plenty of stream crossings and lakes to swim in. 
Directions
If you are driving from Silverton, CO use this map.
Use this map if you are driving from Ouray, CO.
Trail Info
Distance: 9.2 miles RT
Elevation gain: 2,600 ft
Time: 5-7 hours
Dog friendly? Yes, off leash
Kid friendly? Yes, 10+
Fees/Permits? None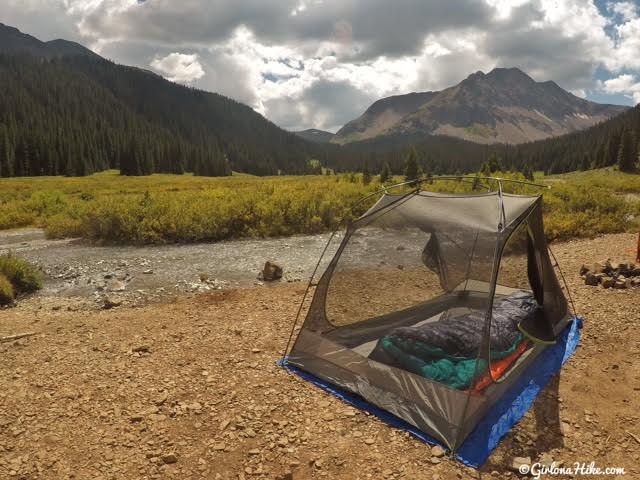 Car camping is available the entire dirt road along South Fork Mineral Creek road. The South Fork Mineral Campground is available for $25/night and even RVs can camp there. There is plenty of free camping is available along the entire road, and the best sites are past the Ice Lakes TH, along the 4×4 road. You will need 4-wheel drive to make it past the trailhead since the road is extremely bumpy and steep at times. We camped at this spot for 3 nights right on the river, and had amazing views of Rolling Mountain.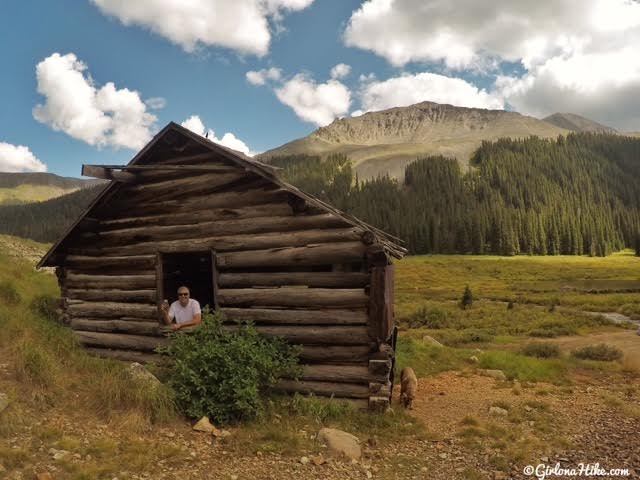 Silverton area, and the San Juans in general, were huge mining areas. You'll find several mining structures along the 4×4 road past the TH.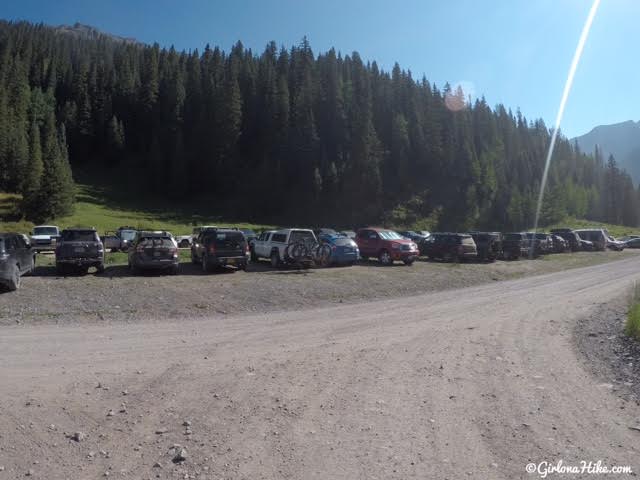 The parking area for Ice Lakes Basin is huge. Restrooms are available.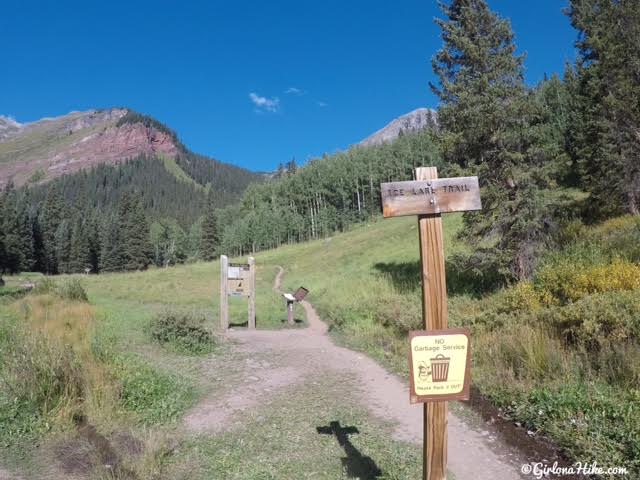 The trail starts in the NW corner of the parking lot.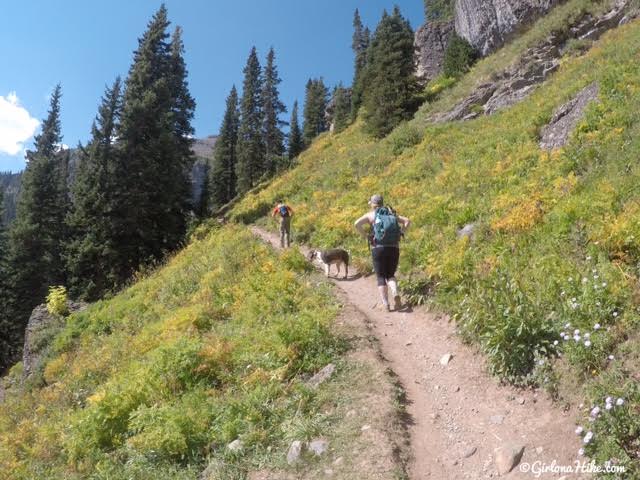 You'll hike up endless, steep switchbacks.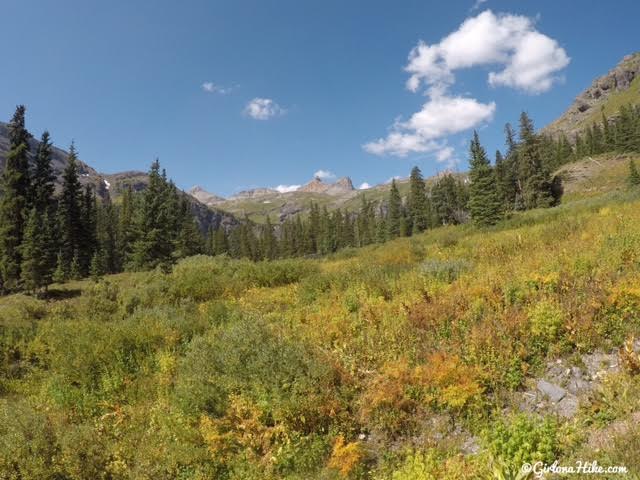 The Fall colors were already starting!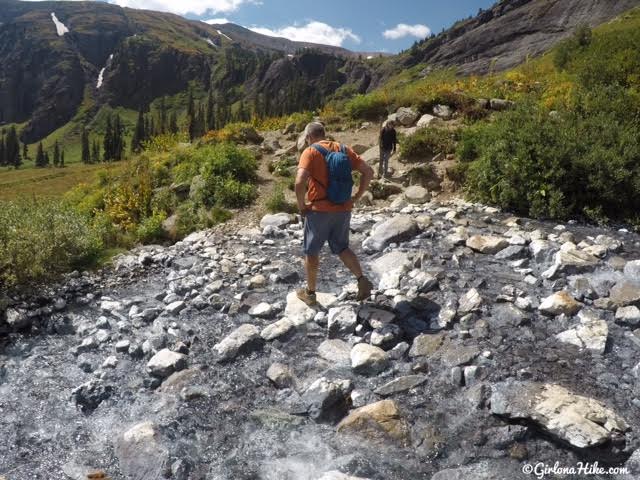 You'll cross several creeks. As you hike higher up in elevation, you'll cross this very white/grey stream bed. You should also be able to see several waterfalls along the trail.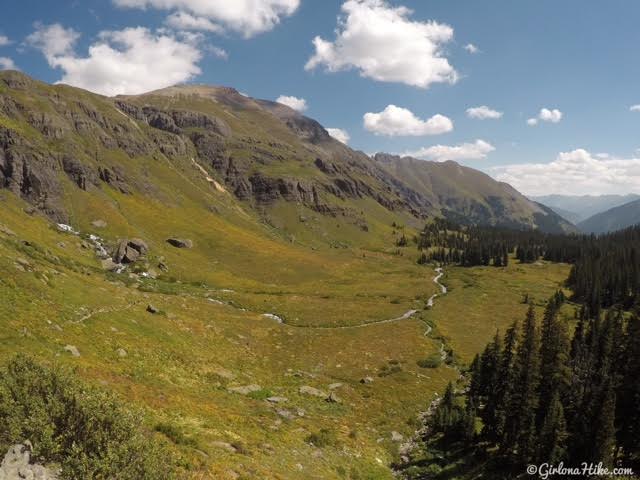 Looking back down to Lower Ice Lakes Basin.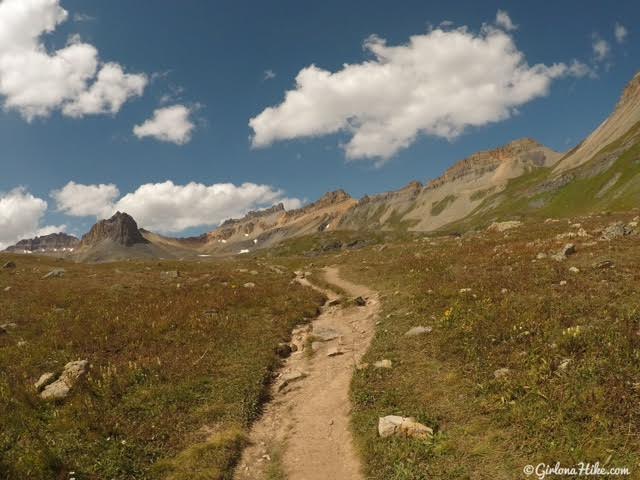 Keep hiking, you're almost there….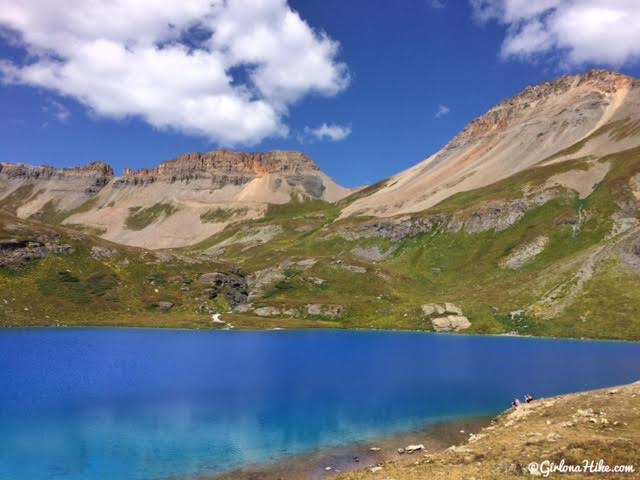 WOW! All of us were in total shock with how BLUE Ice Lake was – it was unreal. I have never seen anything like this at this elevation. Mind blown!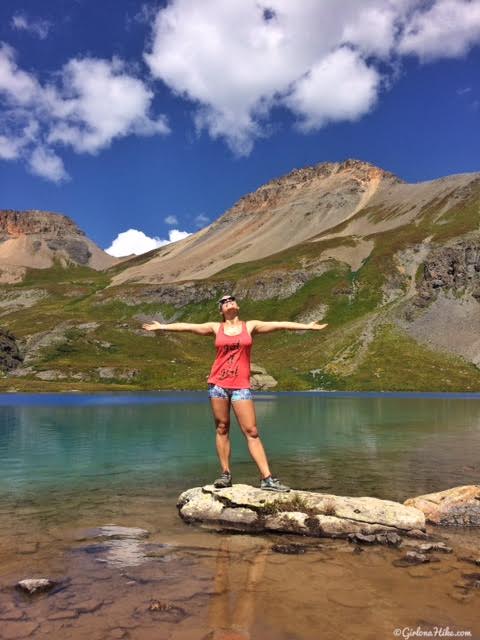 Soaking up the sun!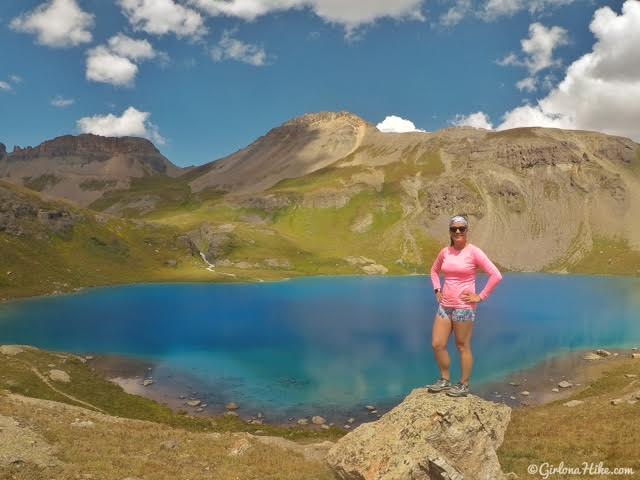 Hiking up higher around the lake.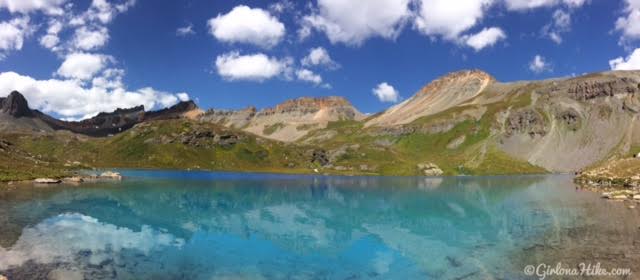 Panorama of Ice Lake.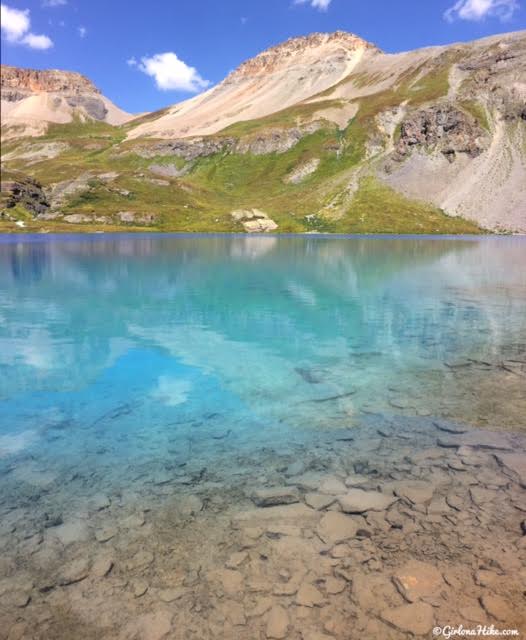 I just can't get over how pretty this lake is!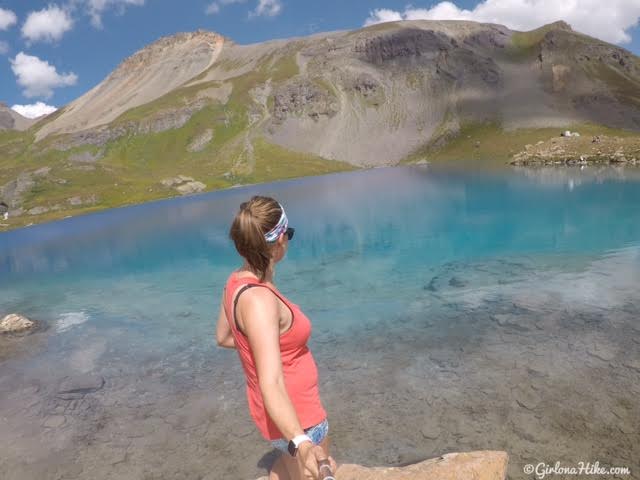 I wished I could have swam in the lake but it was getting chilly and the water temperature was ice cold.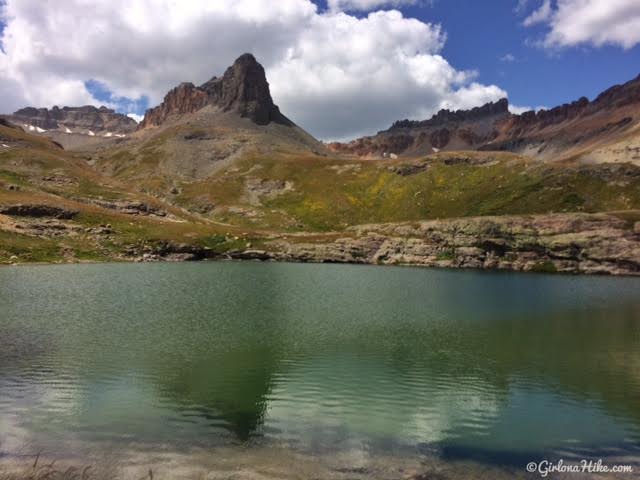 We explored over to what I am calling mini Ice Lake (it's unnamed on maps).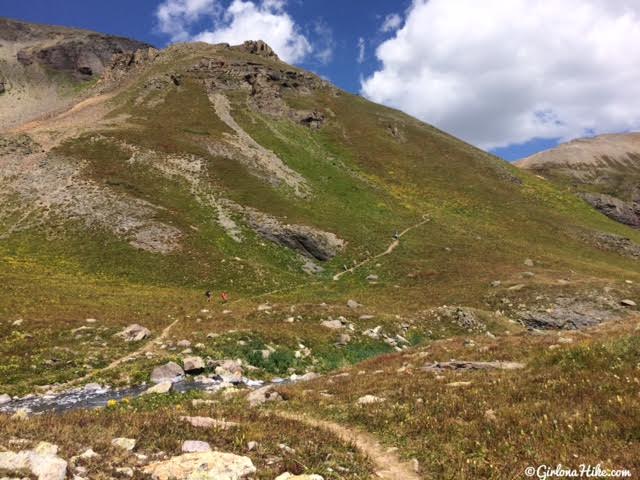 We then headed over to Island Lake. The trail heads NE from Ice Lake.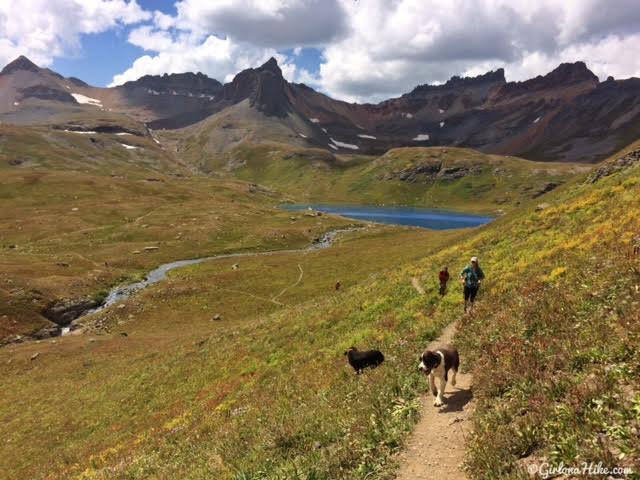 Looking back to Ice Lake.
Island Lake!
Now this lake was really GREEN! It's amazing how even 1/2 mile away this lake could be a totally different color due to the geology. Still extremely clear water, but different color reflected.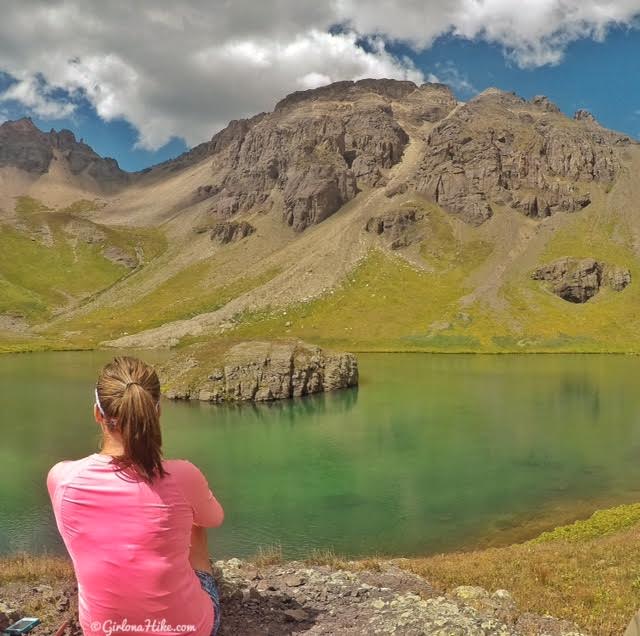 The afternoon clouds were starting to roll in, and temperatures started to drop.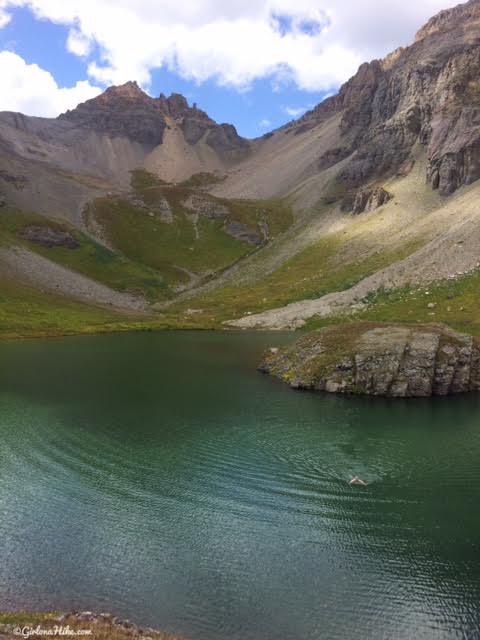 However, my friend took a refreshing swim out to the island!
The peak is US Grant Peak, 13,767 ft.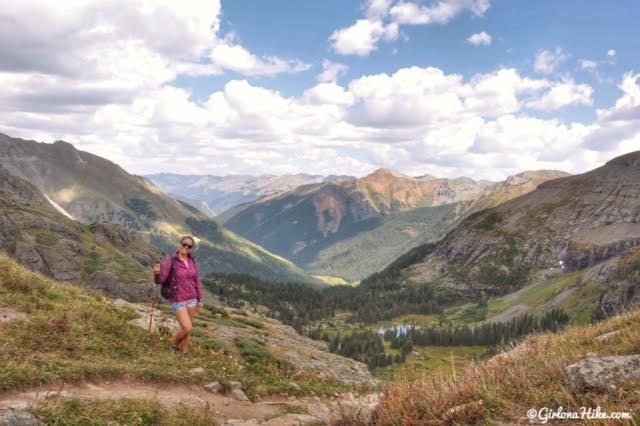 Heading back down, I was now hiking in my puffy coat. Make sure you bring warm stuff year-round – you never know what the weather can do at this elevation.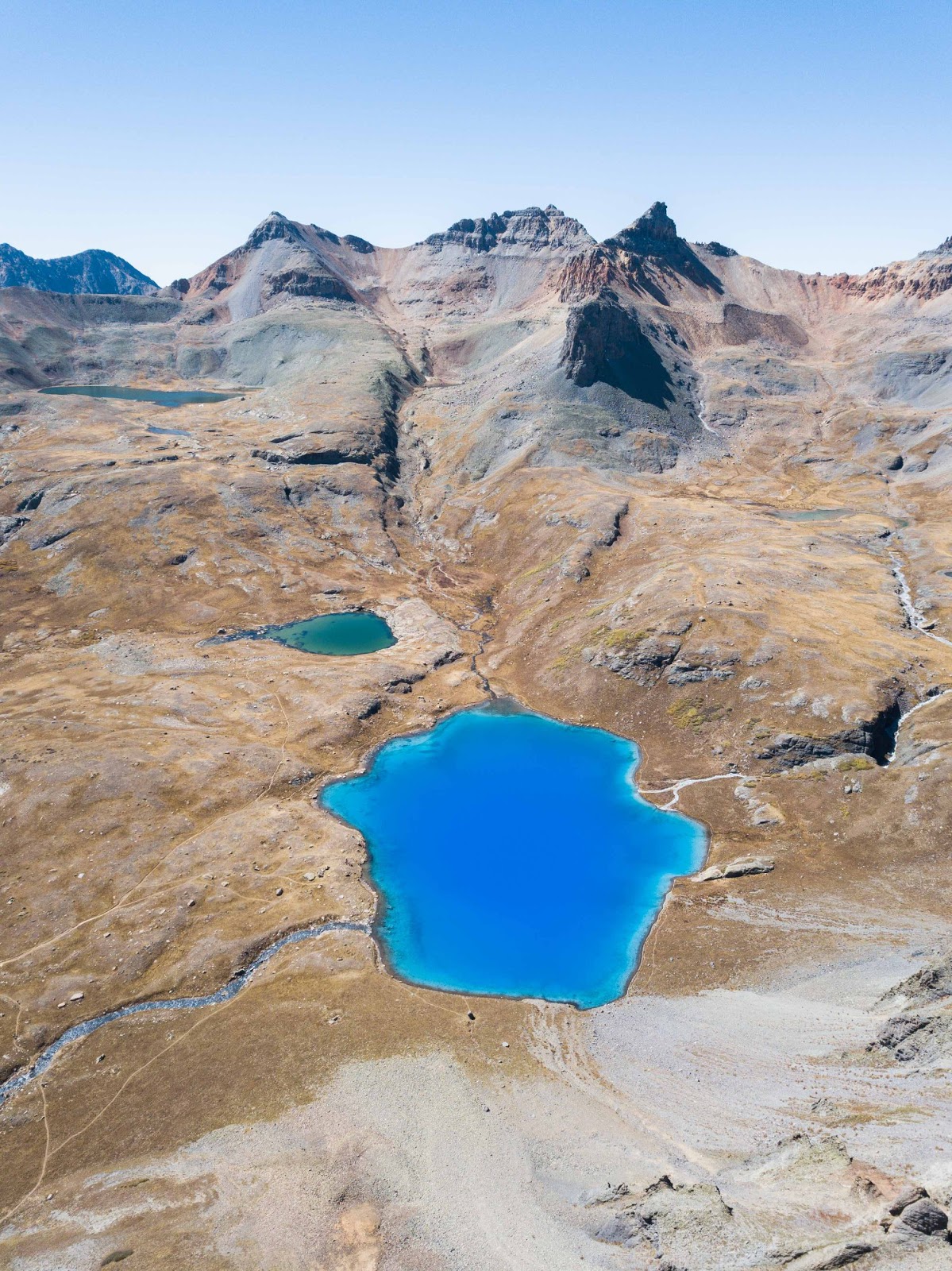 Love this aerial view take by Matt Geffert.
Trail Map
My track via Gaia GPS – the best tracking app! Get your app here for a discount.
Recommended Gear
Nearby Hike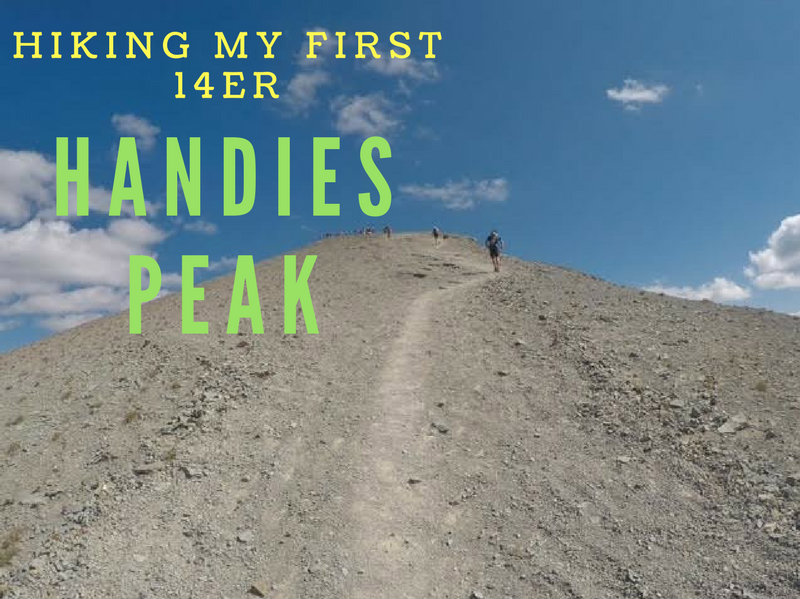 Save me on Pinterest!